Abarth 124 Spider Review

Written by
heycar editorial team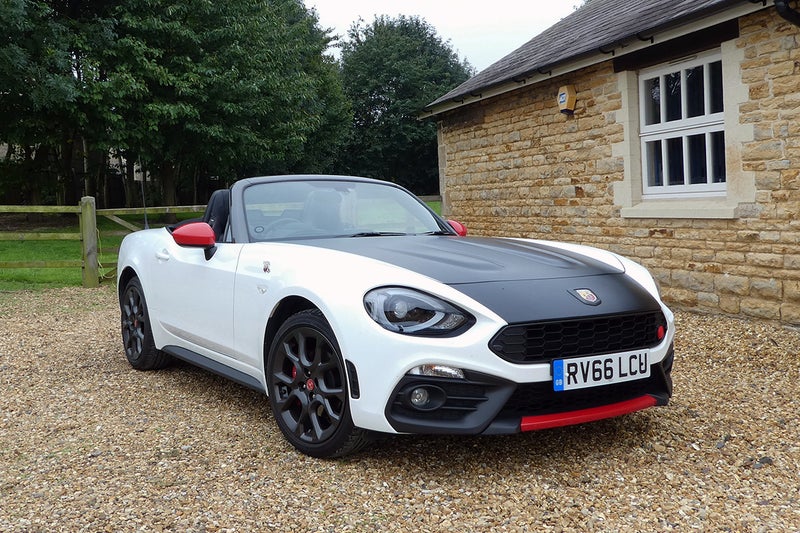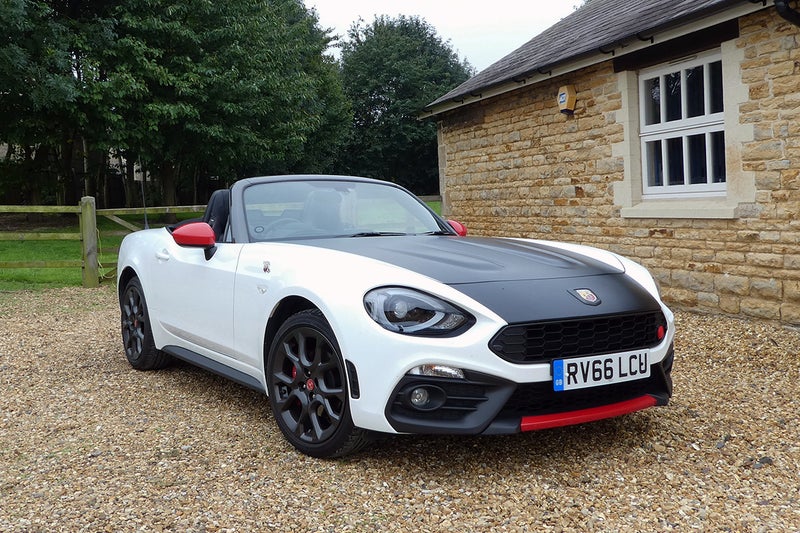 1/10

heycar rating
"Mazda MX-5's less popular twin"
Launched: 2016

Convertible

Petrol
Quick overview
Pros
Muscular styling with an Italian twist
Benefits from Mazda heritage and reputation for durability
This Abarth version is one of the best takes on the MX-5 recipe
Cons
MX-5 offers more heritage
Inconsistent power delivery from the turbocharged engine
Interior could be differentiated better from the MX-5
Overall verdict
On the inside
Driving
Cost to run
Prices and Specs
Overall verdict
"The Abarth 124 is the best MX-5 that isn't actually an MX-5. There's plenty of power, lots of touches that let you know you're driving something special and a drive that offers a lot. Well worth considering over the more familiar MX-5."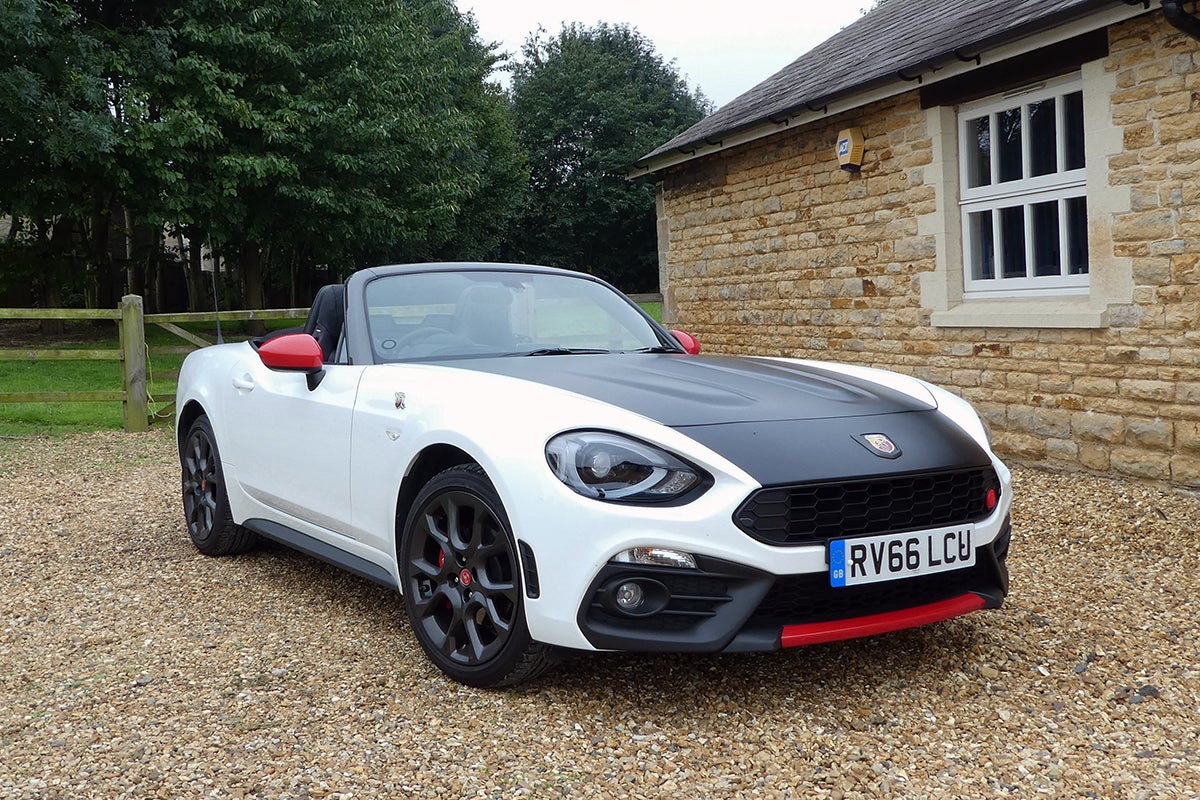 If you're thinking that you've seen the Abarth 124 Spider somewhere else before … you're right. It's better known as the Mazda MX-5 and Fiat sells it too - albeit in a less powerful form.
It has its own style, but the Abarth 124 Spider shares much in common with the Mazda MX-5 and is built in the same factory in Japan. It was also built alongside the Fiat 124 Spider, which has now been discontinued in nearly all markets.
This roadster takes inspiration from the pretty Italian sports cars of the 1960s and in a world of same-again crossover designs, the Abarth 124 Spider is, figuratively and literally, a breath of fresh air. This is part of a dying breed: small and affordable sports cars are few and far between, so we must cherish every opportunity we get to try a new one.
The Abarth 124 Spider is far more than a copy-and-paste Mazda MX-5. The softer, arguably more elegant, styling is matched by a marginally softer driving experience, along with a subtly different interior. Clever use of materials and Italian brio makes the cabin appear slightly bespoke, even though a great deal of it is lifted from the MX-5.
Under the bonnet there's a 1.4-litre MultiAir petrol engine delivering 170PS. That might not seem like a lot, but thanks to the car's low weight and the fitment of a turbocharger, the 124 Spider offers plenty of real-world poke.
If you want something a little easier to live with day-to-day, you can also buy a Fiat version, which uses the same 1.4 turbo engine but with power dialled-down to 140PS. It isn't quite so exhilarating to drive, but is much easier to live with. Though, that said, it is a very rare machine.
The fire-breathing Abarth 124 Spider offers nine-tenths of the precision and focus of the MX-5, but with a softer and more comfortable ride. You'll also find that it benefits from a satisfyingly short-throw gearbox, although an automatic transmission is available if you want to be even more laid-back.
Don't expect it to be practical, but you get a touch more boot space than in the MX-5 and there's enough capacity for a long weekend somewhere interesting.
The Abarth 124 Spider is a rare car indeed and used prices are surprisingly affordable. It's possible to pick up an Abarth 124 Spider for less than an entry-level Ford Fiesta.
With Mazda reliability and heritage from building the MX-5 for more than 30 years, combined with decent performance and Italian charm, the Abarth 124 Spider offers something unusual and ultimately something really special.
Is the Abarth 124 Spider right for you?
There's a saying that everybody should own a two-seater sports car at some point in their life. But, whether it's before the pitter-patter of tiny feet or the need for something more practical, not everyone achieves it. But, if you can afford a weekend toy before you need a family SUV, owning a topless sports car is a rewarding and enriching experience.
And this, the Abarth 124 Spider is one of the best you can get. It's based on the brilliant Mazda MX-5, sharing an interior and platform with its Japanese sibling, but Fiat has done enough to create a sports car that's dripping in Italian flair.
Ultimately it's a decision for you - do you have room in your life for a two-seat sports car with limited practicality? However, the combination of affordable prices and low running costs means there should be nothing stopping you. Get caught in this Spider's web and you'll be rewarded with a journey to work that's more of an adventure than it is a commute.
What's the best Abarth 124 Spider model/engine to choose?
The Abarth 124 Spider is powered by the same 1.4-litre turbocharged MultiAir engine that's in the Fiat 124 Spider, but while the Fiat offers a healthy 140PS, the Abarth delivers a much sportier 170PS.
Out of the three versions of this Mazda MX-5-based sportscar that's available (MX-5, Fiat 124 Spider and this), it's the Abarth 124 Spider that's actually the best. Just don't tell Mazda. While that might upset the MX-5 purists, you can't overlook what the Abarth 124 Spider has to offer: the Record Monza exhaust delivers a rich and evocative soundtrack for your aural pleasure.
Not that we'd rule out the Fiat 124 Spider. It's less hardcore than the Abarth 124 Spider and has a more soft-focus take on the Mazda MX-5. Both the Fiat and Abarth are rarer than the better-known Mazda MX-5.
What other cars are similar to the Abarth 124 Spider?
No points for guessing the most obvious candidate here. Yep, the clearest rival to the Abarth Spider 124 is... the MX-5 built alongside it at Mazda's Hiroshima plant in Japan.
Outside of this, there's the Toyota GT86 and Subaru BRZ, which both follow a similar recipe, although these Japanese tearaways offer strictly tin-top thrills. If neither of those are for you, it may be worth considering the more expensive Porsche 718 Boxster or Alpine A110.
Comfort and design
"The Abarth 124 Spider benefits from the fact that Mazda has been building small two-seat sportcars for a very long time and has been able to refine the recipe."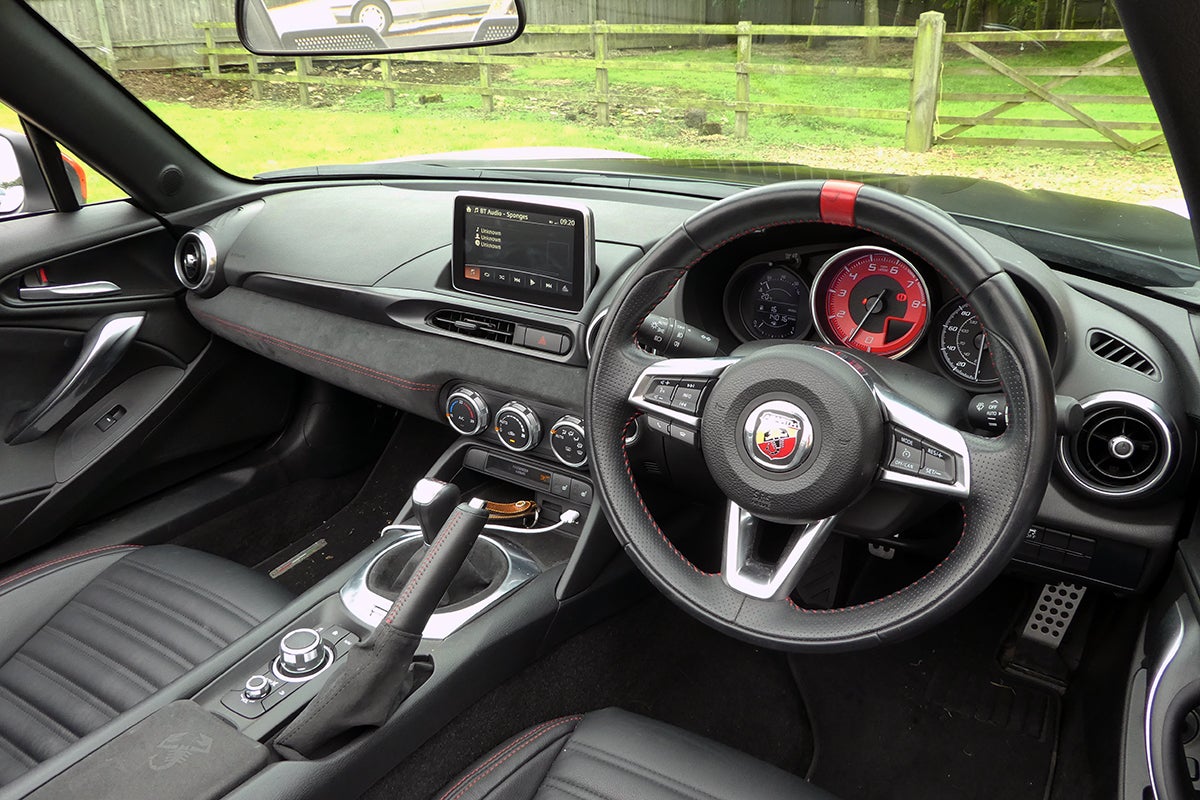 Thanks to the company's experience in making the world's most popular sports car, the low-slung driving position is spot on, while the seats are supportive yet comfortable.
But, it's not all good news. The seats don't slide back very far, while the steering wheel adjusts for height but not reach. Roof up, headroom is restricted. Roof down, you'll be peering over the top of a windscreen.
The cabin will be familiar to anyone who has driven an MX-5, Fiat has used soft-touch materials and coloured accents to make it feel as tailored as an Italian suit. Some models boast an upholstered lower dashboard and instrument cluster hood, as well as piano black dashboard accents.
But the seat material gives the 124 Spider a rich and opulent feel than you won't find on the Mazda MX-5. It looks and feels ready for a tour of the Italian lakes with your significant other by your side.
Where the Abarth 124 Spider ups the ante over the Fiat 124 Spider is with racing seats, a steering wheel with red detailing, a racing tachometer, plus swathes of Alcantara on the instrument panel cover, handbrake and gear stick gaiter, lower dashboard and armrest.
Where the Fiat may be a latte, the Abarth is an espresso. Either way, you'll get a kick from the 124 Spider.
Quality and finish
This is one of those areas where you benefit from Mazda's input into design and manufacturing. Forget about any concerns about Italian build quality, as the Abarth 124 Spider is a little different. It shares many components with the MX-5 – a car it is built alongside in Japan – the build quality is excellent.
Inside, everything is well screwed together, with the key touch points delivering a feeling of quality. Subtle details like stitching on the leather seats and the soft-touch plastics used on the dashboard cement the impression that the interior is built to last.
While it's true that some plastics in the lower half of the cabin look a little on the cheap side, this is true of many other cars and needs to be viewed in the context of price.
The hood can be opened or closed in a matter of seconds - but it is done by hand. It may lack the spectacle of an electrically operated roof, but this means there's less to go wrong. And if it starts to rain when it's down - and lets face it, it will - the roof can be closed in a matter of seconds.
Infotainment
This is one area where the Abarth 124 Spider is noticeably better than the Fiat version. The Fiat version gets a system that's controlled via a rotary dial positioned between the seats, but can feel a little slow, especially in map mode.
But the Abarth 124 Spider has a seven-inch infotainment system as standard with a Bose audio upgrade. It comprises a seven-channel amplifier and nine speakers, four of which are embedded in the headrests. It's a great system, although the soundtrack from the exhaust could be all the entertainment you need.
Space and practicality
You're not buying the Abarth 124 Spider because it's practical and that's just as well. You'll need to be quite inventive with packing if you're off on holiday in a 124 Spider. Frankly, anything beyond a long weekend will be a struggle.


Boot space is a miserly 140 litres of luggage capacity, which is precisely half the space you'll find in the back of a Mazda 2 supermini. On the plus side, the 124 Spider holds 10 litres more than the Mazda MX-5. Every litre counts, right?


Some buyers opt for the aluminum boot lid carrier kit that offers an additional 10kg of luggage capacity, but costs a whopping £1,000. It does complete the look, mind, with or without your fine Italian luggage strapped to the back.


There isn't a traditional glove box up front. Instead, you get a small lockable compartment behind the seats. A pair of movable cup holders, which can be mounted on the transmission tunnel, are also fitted as standard. Alternatively, one can be fitted to the right of the passenger's right leg. If you're feeling flush, black gloss cup holders (£200) or silver satin cup holders (£180) are available from the accessories catalogue.


Your money may be better spent, however, on a shelf net for the lockable luggage compartment. You can also order a cargo net for the boot, which could be useful when you're carrying home bottles of Italian red from Tesco. Every little helps.


While the 124 Spider isn't the last word in practicality, it does offer a few nods to making weekend trips easier and if you want space, you can always buy a Fiat Tipo estate. Or rent a Ducato van.


The GT version of the Abarth 124 Spider deserves a special mention. That's because it features a detachable carbon fibre hard-top for the closest you can get to a Mazda MX-5 RF (which has an electric folding hard-top). It weighs just 16kg and boasts a glass rear window with a defrost function. For all-weather fun, the GT could be just the ticket.
Handling and ride quality
"It may a have a similar silhouette to the Mazda MX-5 and be built at the firm's Hiroshima factory, but the Abarth offers a totally different driving experience to the little Japanese sports car. This is great news, as there are too few two-seat sports cars as it is, so another spin on a classic gives buyers more options."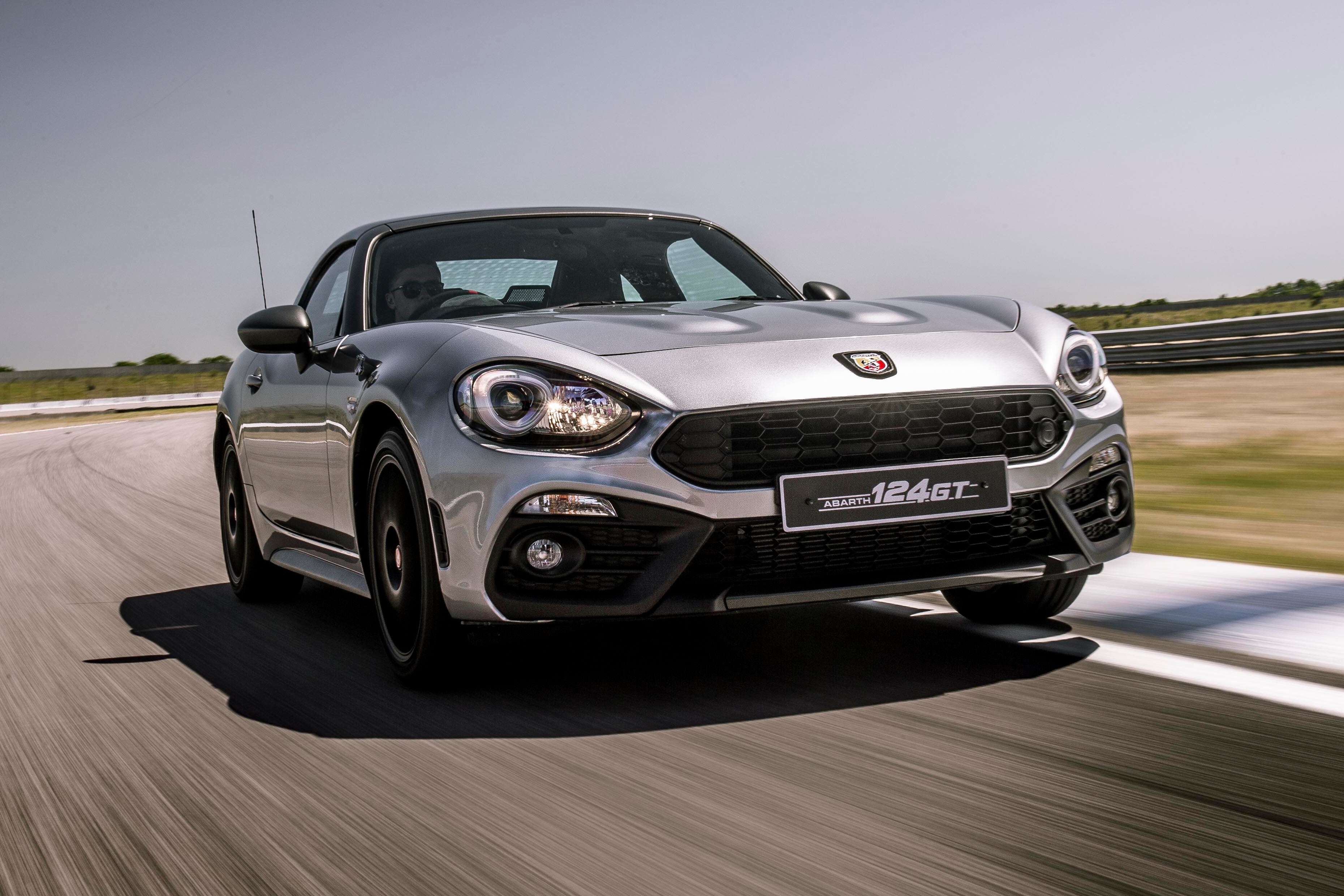 In reality, it offers around 90 percent of the precision of the Mazda MX-5, with greater ride comfort than its Japanese sibling. We doubt you'll miss that last 10 percent.
The Abarth 124 Spider is every bit the match for the MX-5. Unlike the standard version, the Abarth 124 Spider gains a limited-slip differential, which translates to greater agility in corners.
There's also a Sport button for improved throttle response, meatier steering and a less intrusive traction control system. Throw into the mix a strut brace and you've got the recipe for the most focused 124 Spider you can buy.
It's not perfect, one bugbear is with the steering - it doesn't offer tremendously communicative steering, which is one of the MX-5's hallmarks. The 124 Spider also errs on the side of understeer, which isn't something you can say about the Mazda.
You also get a great soundtrack with the Abarth 124 Spider, which gives it the edge over the MX-5 for us. Sorry to be a party-pooper, Mazda fans.
Engines and gearboxes
The Mazda MX-5 offers a choice of two non-turbocharged engines, but the engine is a Fiat-produced one in the 124 Spider, a 1.4-litre turbocharged MultiAir. In this Abarth 124 Spider it produces 170PS, but in the Fiat version it comes in at a lower 140PS.
Behind the wheel of an MX-5, you'll be rewarded for exploring the upper reaches of the rev counter, with the 1.5 and 2.0-litre engines thriving on being taken by the scruff of the neck.
But, it's a different experience in the Abarth, with the 1.4 turbo creating a highly individual vibe. Power delivery is a little inconsistent, with a momentary lag replaced by a surge of power as the turbo spools up. It runs out of puff at the top end, at the point where the MX-5 starts to sing a happy tune.
But this is nit-picking. The throttle response is excellent and a big improvement on that offered in the Fiat version. in the Abarth, which also adds a fruity soundtrack to the trifle. Without the aural delight, the MultiAir can sound a little flat.
The six-speed gearbox has a stubby gear lever and is a joy to use, accompanied by a wonderfully short-throw shift. Quite why you'd want to ruin things by ordering the automatic transmission is anyone's guess, but the slush 'box does seem to suit the relaxed nature of the 124 Spider.
As for the performance figures, the Abarth 124 Spider impresses. Whereas the Fiat will complete the 0-62mph sprint in 7.5 seconds, the Abarth gets there in 6.8 seconds. Top speeds are 134mph for the Fiat and 144mph for the Abarth. In both cases, the automatic transmission blunts performance.
Refinement and noise levels
It may be a sports car, but the Abarth 124 Spider is remarkably refined.
And it makes all the right sorts of noises. The Abarth 124 Spider gets a Record Monza exhaust system and this does its best to mask any noises within a radius of a few hundred yards. Seriously, it's like the Royal Philharmonic Orchestra setting up next to a jobbing busker in a subway.
Things are surprisingly calm in the cabin, roof up or roof down. There's a small amount of wind noise with the roof retracted, but a subtle deflector between the roll hoops keeps it to a minimum, while leaving the windows up also helps a little.
Much work was done to reduce wind noise and buffeting, right down to the position of the seat belt mounting. The body was designed in such a way to deflect wind above the heads of the occupants, but if you're really tall, you could find that your head undoes the work put into the aerodynamics.
With the roof up, road noise is the biggest intrusion, but it's no deal-breaker. Turn up the stereo.
Safety equipment
There hasn't been a Euro NCAP crash test for the Abarth 124 Spider, but the Mazda MX-5 was given a four-star rating in 2015. It scored 84 percent for adult occupant protection, 80 percent for child occupant protection, an impressive 93 percent for pedestrian safety, and 64 percent for safety assist systems.
You could expect a similar result had the 124 Spider been tested.
An impressive level of safety kit is included, with all versions featuring front and side airbags, ISOFIX child seat mounting points, roll bars, an active pedestrian safety system and a passenger airbag deactivation switch.
There's no spare wheel, so all versions come with a Fix&Go puncture repair kit.
The hard-top on the Abarth 124 GT offers an 80 percent wider view compared to the soft top, so it could be a worthy consideration if you plan a lot of winter driving. Greater visibility is a definite safety feature.
MPG and fuel costs
"The turbocharged engine is remarkably efficient and offers the Abarth 124 Spider surprisingly good fuel economy. All versions offer a combined 44.1mpg with a manual gearbox, dropping to 42.8mpg in the automatic version."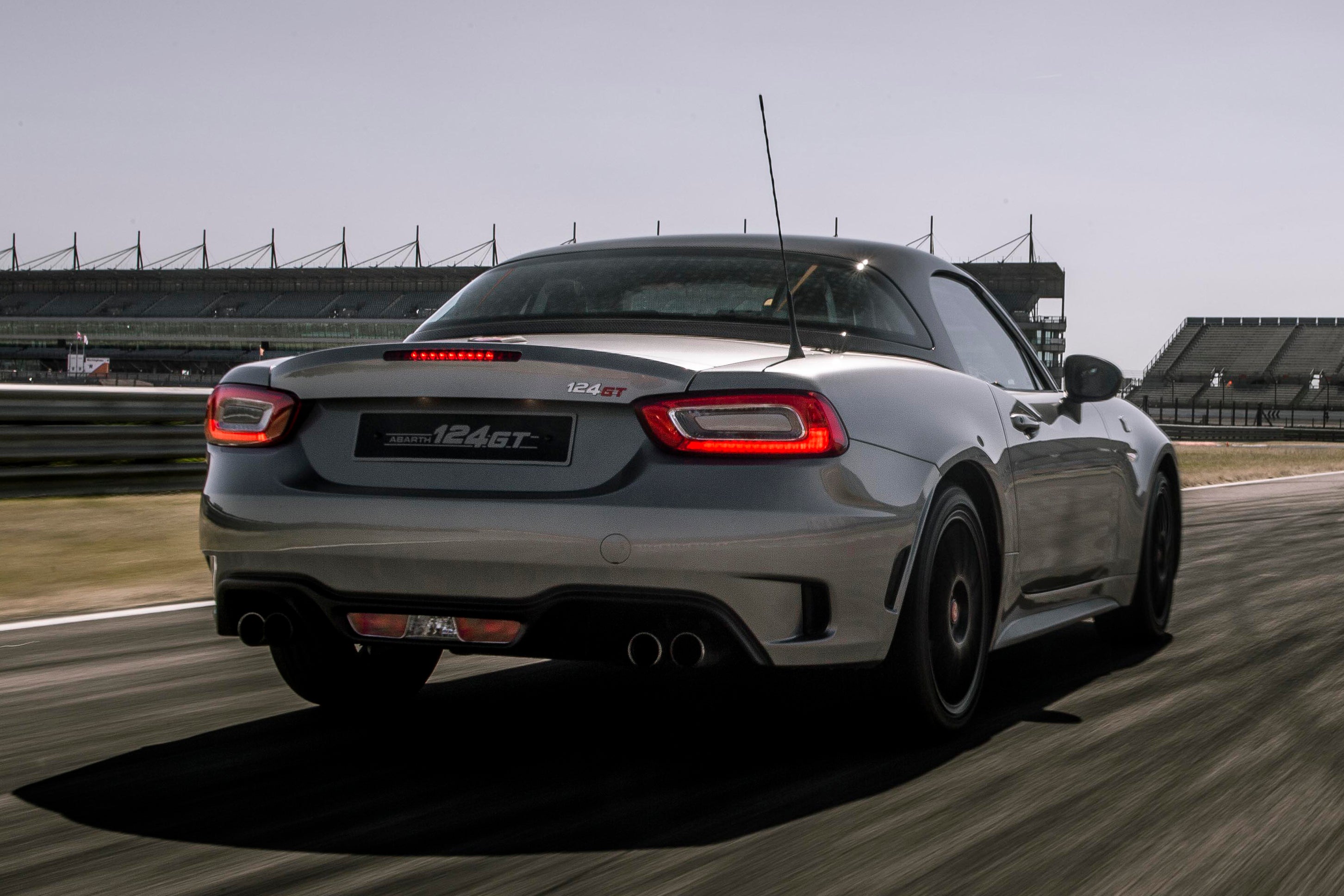 CO2 emissions range from 148g/km to 153g/km, depending on the transmission.
Insurance groups and costs
This isn't a cheap car to insure, but that's not the point and not the reason you buy one. You're looking at Groups 29 to 31 for an Abarth 124 Spider, compared to a 25/26 for a Fiat 124 Spider.
In comparison to the Abarth 124 Spider, the insurance groups for the Mazda MX-5 range from 25 to 34, depending on the version.
VED car tax
Abarth 124 Spiders registered before 31 March 2017 are subject to a Vehicle Excise Duty (VED) road tax rate of £165 (manual gearbox) to £205 (automatic).
Those cars registered after 1 April 2017 see a showroom tax of £215 for the manual and £540 for the automatic. The cost falls to £150 per annum from year two.
How much should you be paying for a used Abarth 124 Spider?
"This is a surprisingly affordable two-seat sportscar."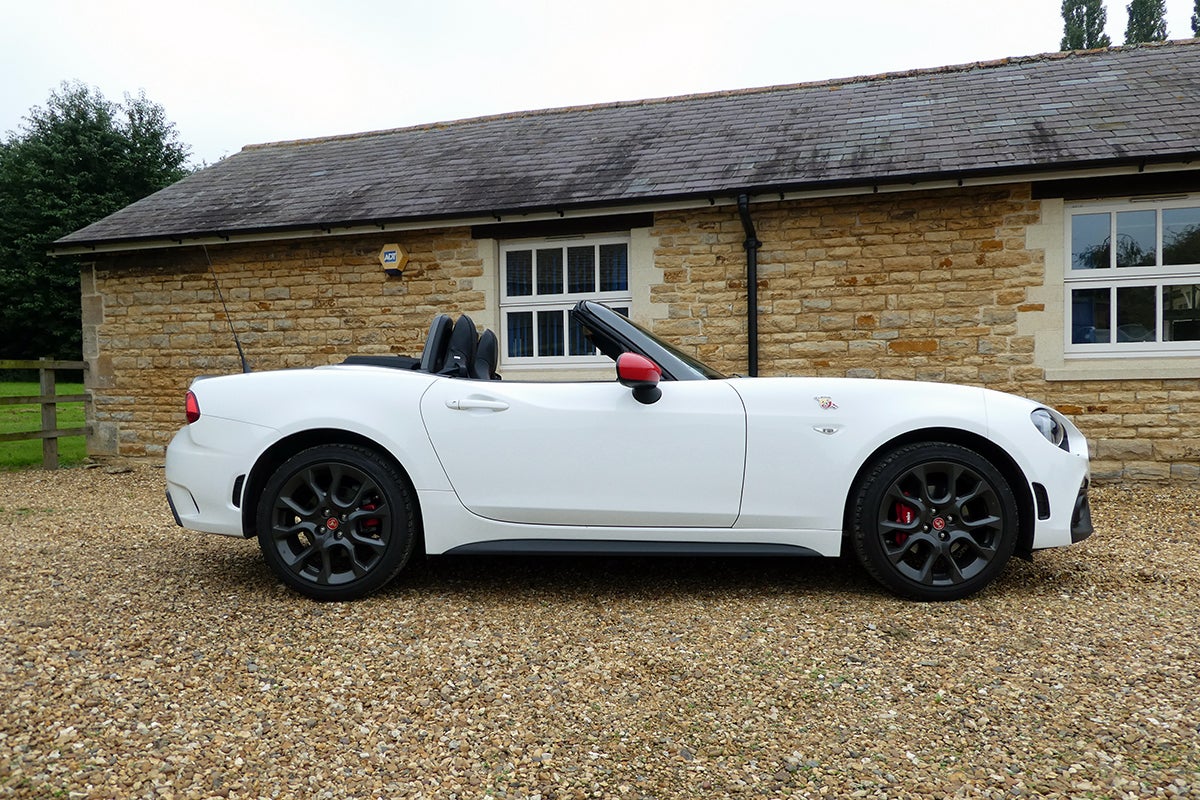 The earliest examples of the Abarth 124 Spider have dropped below £16,000. And, with this kind of budget, you're likely to pick up a one-owner car with up to 40,000 miles on the clock. Expect to pay upwards of £20,000 for a later car with attractive specification.
Trim levels and standard equipment
Abarth 124 Spider Scorpione comes with climate control, Record Monza exhaust, keyless start button, electric windows, leather and fabric upholstery, infotainment system with Bluetooth connectivity and touchscreen. No automatic transmission is available and the colour palette is limited.
Abarth Spider gains additional colour options, including the option of a matte black bonnet and boot lid, along with more aggressive styling details.
Abarth 124 Spider cars for sale on heycar
2
Number of cars available
£20K - £21K
Price bracket of these cars
Colours available on heycar
Keep me updated by email with the latest advice, news and offers from heycar
By submitting, you agree to our
privacy policy
.