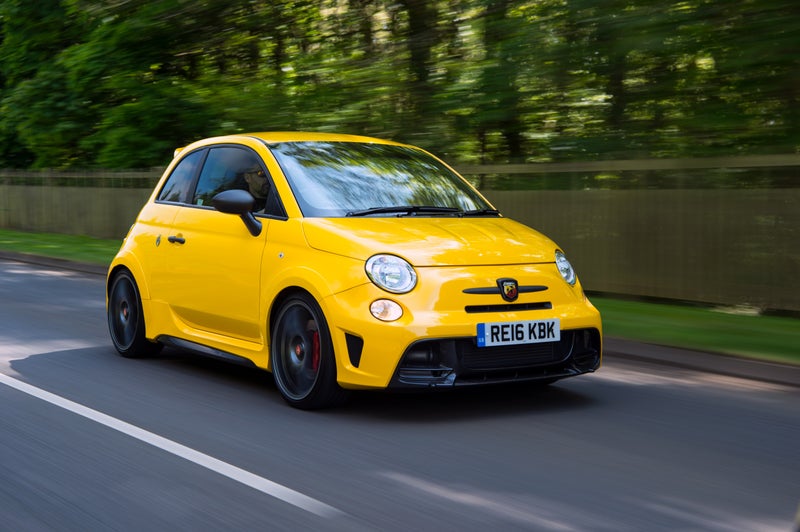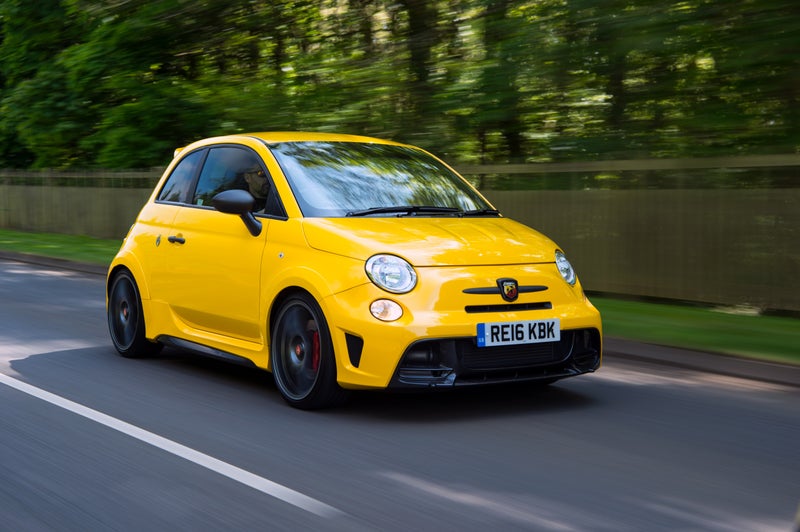 1/10
heycar rating
"Hilarious but flawed hot hatch"
Launched: 2016

Hot hatch

Petrol
Quick overview
Pros
Hilarious little pocket rocket
More exclusive than rivals
Running costs won't be ruinous
Cons
Sold in limited numbers
Uncomfortable on a long journey
Image won't appeal to everyone
Overall verdict
On the inside
Driving
Cost to run
Prices and Specs
Common questions
Overall verdict on the Abarth 695
"Fiat describes the Abarth 695 as a track car that can be used on the road – but does it deliver? Well, on paper the answer has to be yes. Performance is keen with 0-62mph taking less than 6.0 seconds, while the car tips the scales at less than a tonne."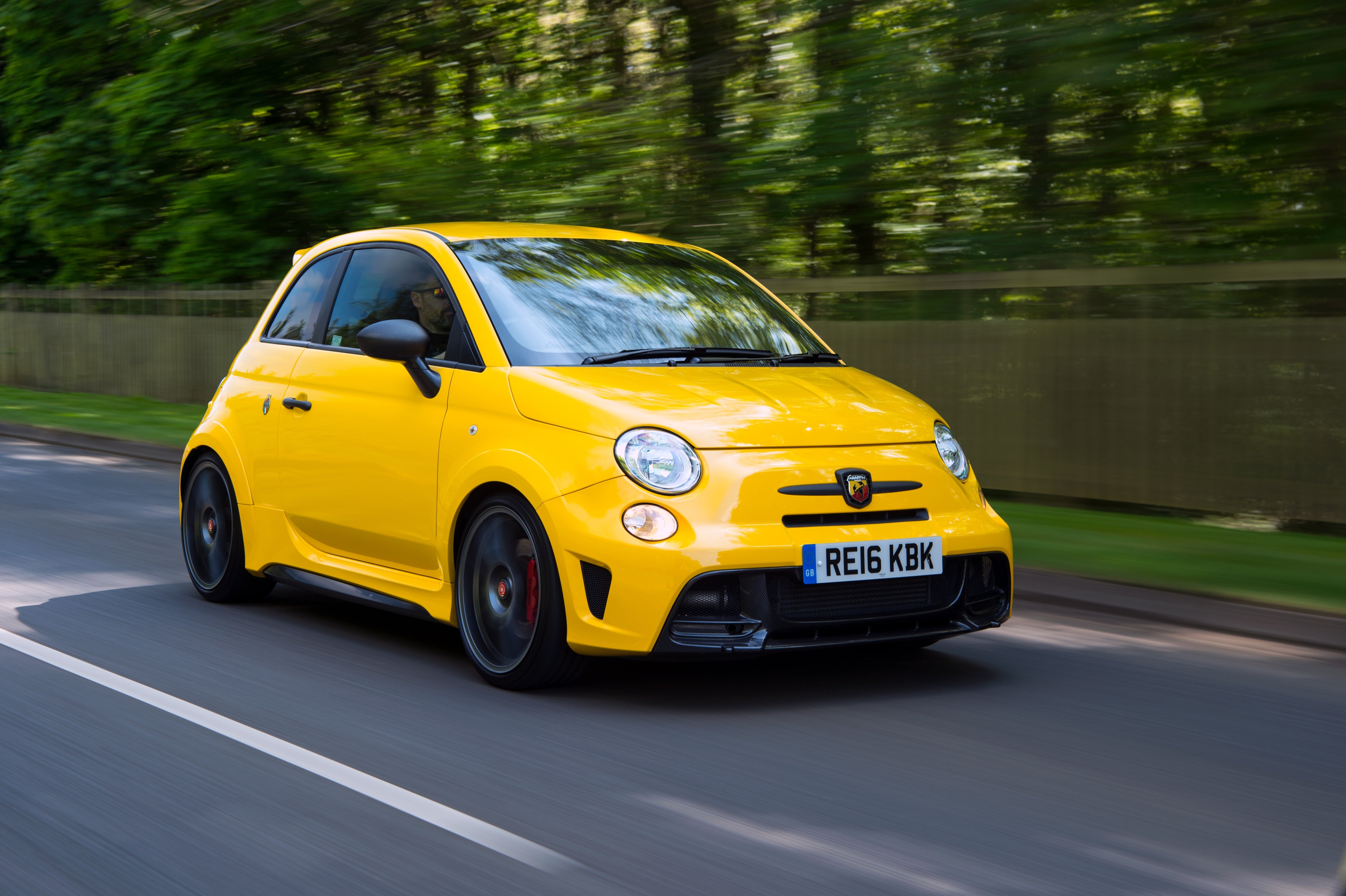 There's even a racing-spec dog ring gearbox for hard and fast changes. There is, however, a catch – when it was new, an Abarth 695 Biposto would set you back at least £32,990. And even more if you wanted this bonkers hatch to go racing in.
With a list price of over ten grand more than the top-spec Abarth 595 Competizione, what do you get for your money? Well it's more a case of what you don't get. Gone are the fog lights, radio and the air-con, while also missing are the back seats and the interior door handles.
There are plenty of racing flourishes, but you'll need to decide whether or not they justify the price. On your way to the office in stop-start traffic, you'll be snug and secure in the figure-hugging bucket seats and firmly strapped in with the garish red four-point racing harness. Don't worry about your helmet – that's stashed securely in the rear cargo net, next to the bread you needed to pick up from the shop. Still, opt for the Biposto version and at least you got out of taking the kids to school as you've 'only got two seats.'
Fiat has made sure that this mad Abarth looks the part. The ultra-light OZ rims and body kit with wider wheel arches and side skirts set the car off a treat. While the front bumper and rear spoiler have been redesigned to maximise air flow. Inside there's plenty of carbon fibre, while outside the hole for the aerial is sealed with a milled aluminium cap wearing the 695 logo. Fancy. It even comes with some sporty decals but, er, you have to apply them yourself.
Under the bonnet is where the car really earns its racing stripes. The turbocharged 1.4-litre T-jet engine now delivers 250Nm at 330rpm and – drumroll please – 190PS at 5500rpm. How? Improved breathing and bolting on a bigger turbo. Simple.
You might expect all this to add up to a Fiat 500 that had been possessed by a manic, feverous, Italian spirit, but in truth the extra horses are all completely useable with the power delivered in such a smooth, progressive fashion you almost forget you're in a racer. You can't even hear the engine. There's no shove in the back as you get going and keeping the engine on the boil needs very little work, especially if you keep that 'sport' button depressed and opt for the dog ring gearbox.
And it's this gearbox where the 695 really shows off its racing pedigree, both literally and metaphorically speaking. The gator-less turret is either a thing of great beauty or the automotive equivalent of a pair of incredibly tight leather trousers. Probably a bit of both. What does it do? The gearbox basically means you don't have to use the clutch for upshifts, if you get the shift right.
So the Abarth 695 is sheer lunacy and a total waste of (a lot of) money, right? Well, no. It has been designed as a road car for the race track and can trace its lineage to the Trofeo Abarth series racers. So it's out on track where the car starts to make sense, especially with the dog 'box.
It takes a bit of getting used to, but once you've got the knack it's very rewarding. Gun the engine until you're nearly at the limiter, take a deep breath and with a strong hand bang it into the next forward gear. You mustn't pause, and you mustn't hesitate otherwise you'll spend the rest of the lap recovering and you'll need a plaster for your ego. It's brutal, and a bit like driving a hopped up classic Mini with its straight-cut 'box, only without the whine. The dog 'box, though, was an £8500 optional extra.
Yep, that's right - £8500 for the dog 'box. And that's not the only performance option, either. Have a seat and help yourself to an espresso while I run through the options list. The Lexan polycarbonate door windows were another £1775. Plus the aluminium bonnet (and a few other bits) for £2990. Oh, and don't forget the carbon pack: £3770. That's £17,035 for that little lot, plus £32,990 for the car. A grand total of £50,025.
Comfort and design: Abarth 695 interior
"The Abarth 695 Biposto is pretty hardcore. You don't even get a radio, while closing the doors requires a pull on the fabric race-car-like door handles. Even the back seats have been chucked in the skip – in their place, you'll find a metal bracing bar running the width of the car."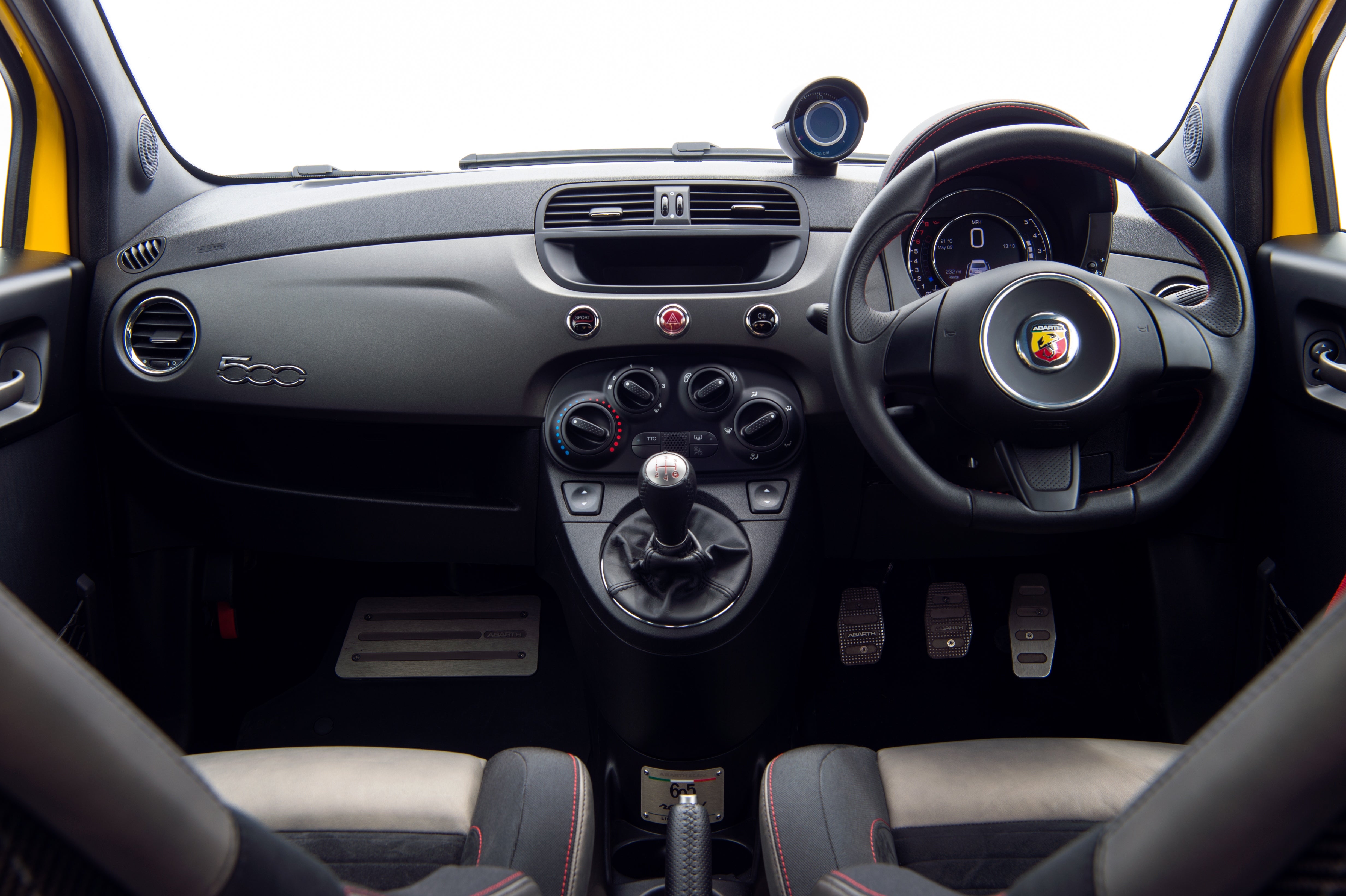 If you want the performance of an Abarth 695 but with a bit more luxury, look for an Abarth 695 Rivale. This comes with posh blue leather seats, a touchscreen media system and a polished wooden dashboard – not to mention rear seats.
Of course, there's no hiding the fact that this is a car based on the little Fiat 500. Even the classy Rivale model has no shortage of cheap plastic finishes, and anyone but the smallest of children will moan about having to squeeze themselves into the back seats.
Handling and ride quality: What is the Abarth 695 like to drive?
"Out on the track, you're inspired by rev-happy engine – from its lumpy idle to its monstrous exhaust note at full chat, it's a hoot all the way from 3000rpm to 6500rpm. The huge Brembo anchors haul the car up, allowing you plenty of time to set the car up and turn in. The electro-mechanical steering feels good, but it's only when a judder of torque steer that violently shakes the wheel that you realise it might not be quite as good as you first thought."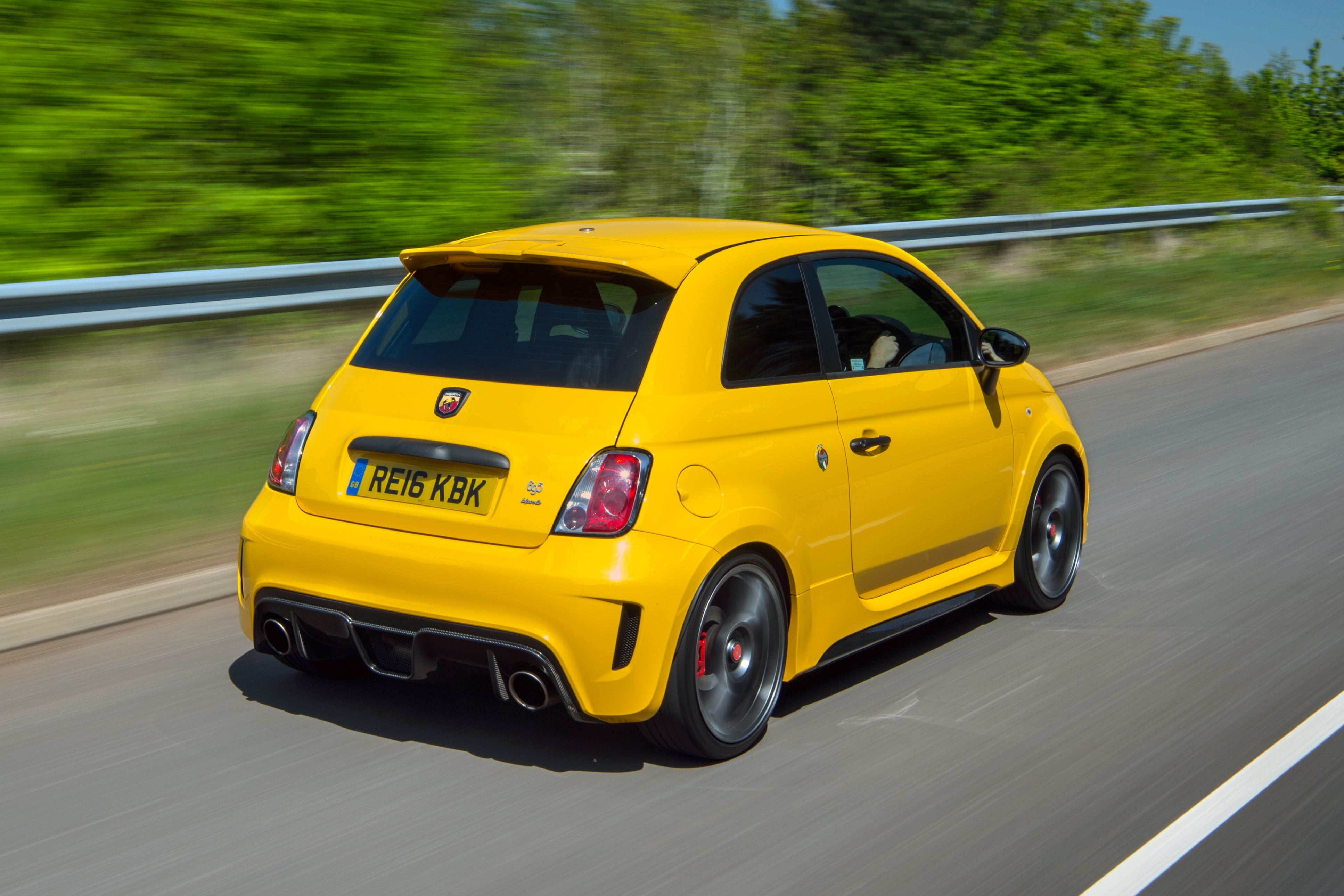 It's out on the public road that the 695 reveals its biggest surprise yet. You'd expect it to be spine-rupturing crashy. As nail-bitingly fidgety as a smoker on a jury duty lockdown. About as relaxing as watching a Tory MP call a police offer a pleb. In other words, a total pain to live with. But it really isn't, especially with the standard gearbox.
It's quite a pleasant little car with a decent ride, much nicer steering than the rest of the range and enough oomph to get you round a crawling caravan on a B-road. You could happily marry it, settle down and have a few kids. Not quite the 4am, falling out of a nightclub with a page three model, headline-grabbing dalliance you might expect.
MPG and fuel costs: What does an Abarth 695 cost to run?
"Despite the laugh-out-loud factor on offer, the Abarth 695 shouldn't cost you a fortune in fuel."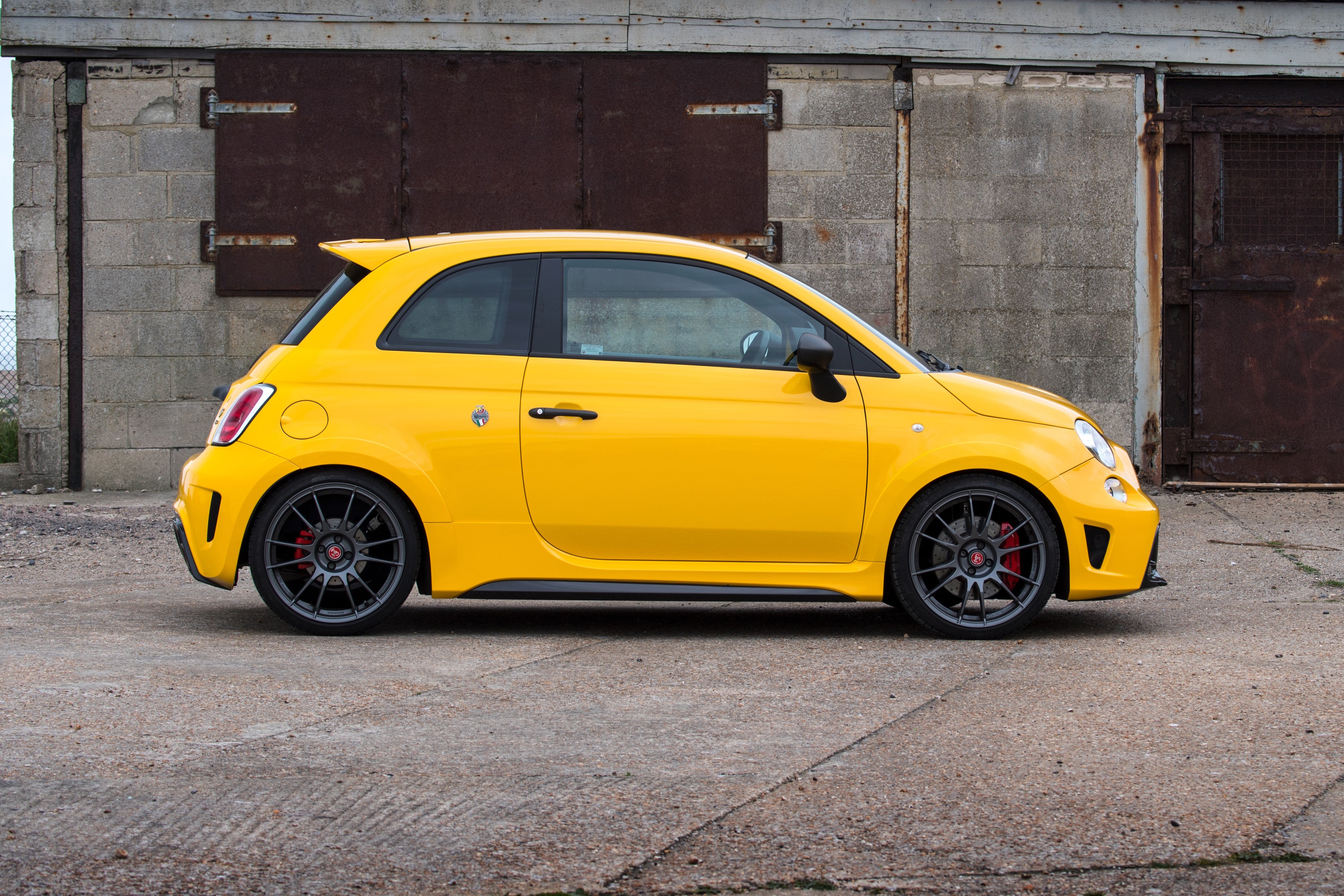 Officially, Abarth quotes combined fuel consumption of 45.6mpg. That's better than a Ford Fiesta ST but not as frugal as a Volkswagen Up GTI. Of course, if you exploit the Abarth 695's performance to the max, it'll be significantly thirstier – but even so, it'll be a relatively affordable performance car to run.
If you're a young driver, you'll probably want to shop around for insurance quotes before parting with your cash.
How much should you be paying for a used Abarth 695?
"The Abarth 695 Biposto comes with a pretty racy standard kit list. Exterior highlights include lightweight 18-inch alloy wheels, carbonfibre details (including side skirt inserts, front spoiler and rear diffuser), matt grey paint and an Akrapovic twin exhaust system."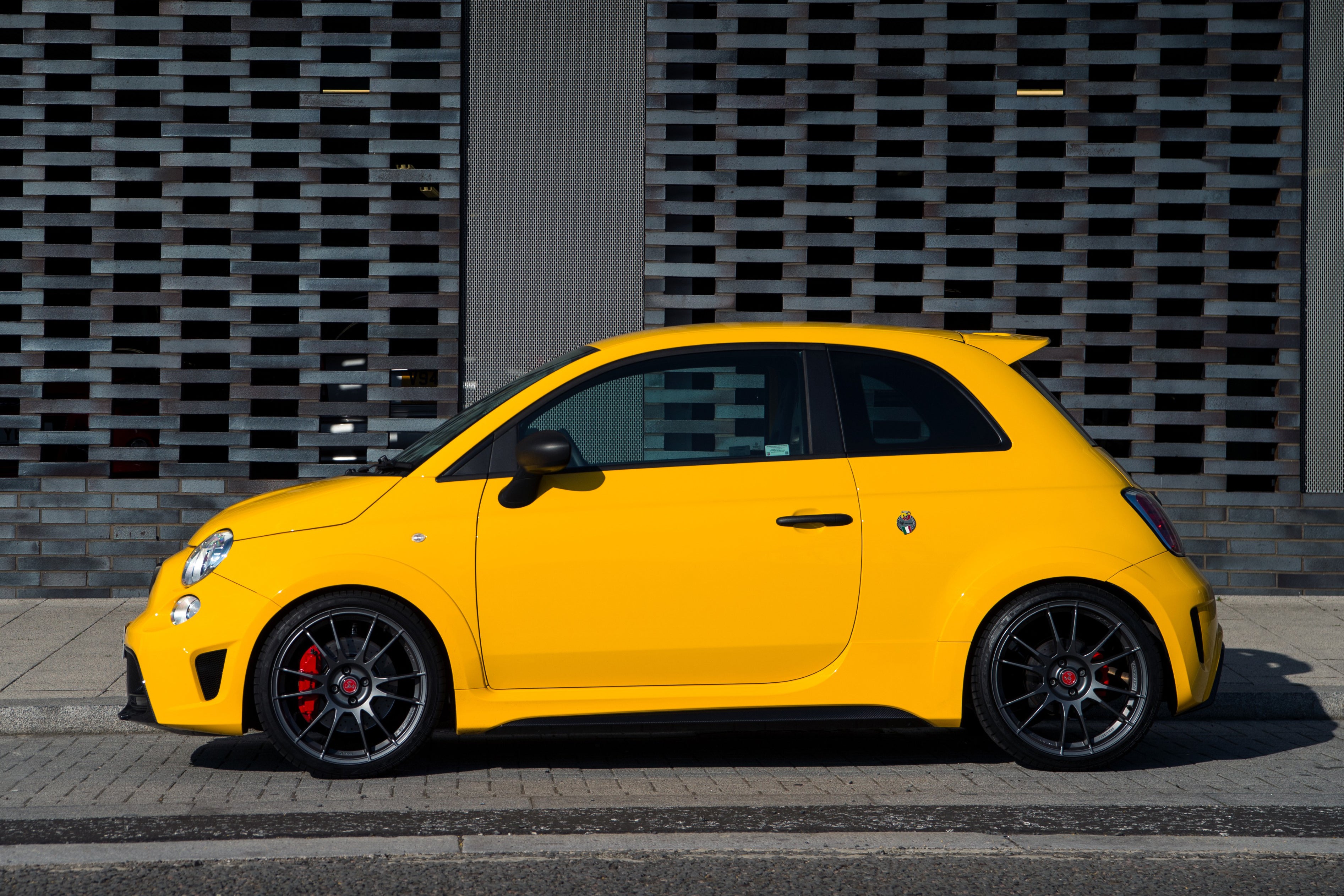 Brembo brakes with oversized discs are on hand to stop the car, while hydraulic shock absorbers with racing springs will keep it on the Tarmac. Inside, you'll find part-leather and Alcantara sports seats as well as aluminium sports pedals and racing door panels.
The Abarth 695 sold in tiny numbers compared to the 595 (or, indeed, any similar hot hatch). That means they're hard to come by on the used market, but they are out there. Prices start from around £17,000.
Ask the heycar experts:
common questions
What's the difference between the Abarth 595 and 695?
Both the Abarth 595 and 695 use the same 1.4-litre turbocharged petrol engine – but the 695 has power boosted from 140 to 190PS. That means it'll accelerate to 62mph in 5.9 seconds – 0.8 seconds quicker than the 595.

Is the Abarth 695 based on a Fiat 500?
Yes. The Abarth 695 is a pocket rocket version of the Fiat 500. It's based on the Fiat and is made by the brand's sporting subsidiary, Abarth.

What engine does an Abarth 695 have?
The Abarth 695 uses a turbocharged 1.4-litre petrol engine which delivers 190PS and 250Nm of torque. It'll accelerate from 0-62mph in 5.9 seconds while top speed is 143mph.

Answered by
heycar editorial team
Abarth 695 cars for sale on heycar
112
Number of cars available
£23K - £23K
Price bracket of these cars
Colours available on heycar
Keep me updated by email with the latest advice, news and offers from heycar
By submitting, you agree to our
privacy policy
.