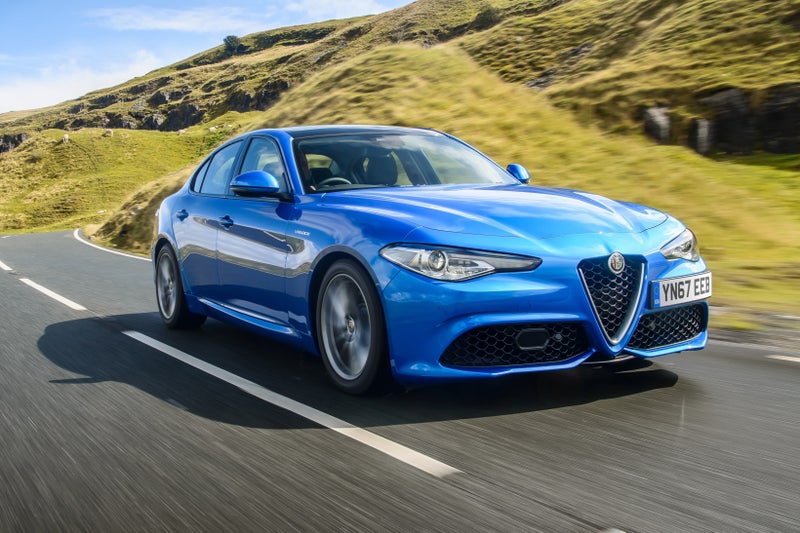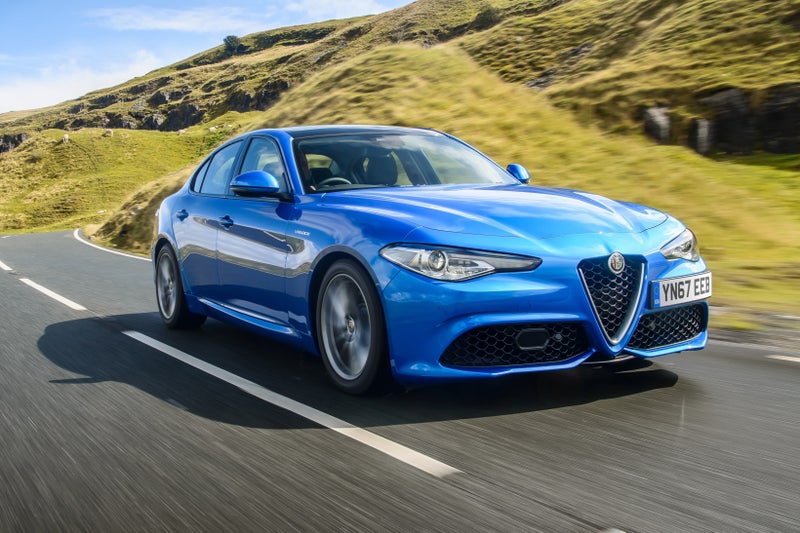 1/10
heycar rating
"Great to drive, costly ownership"
Launched: 2016

Premium

Petrol, Diesel
Quick overview
Pros
Major handling fun
Looks a million dollars
Improved cabin quality
Cons
Limited choice of engine and trim options
Cramped rear seats
Petrol engines' CO2 emissions
Overall verdict
On the inside
Driving
Cost to run
Prices and Specs
Common questions
Overall verdict
"The Alfa Romeo Giulia certainly looks the part. It's aggressive, sleek and distinctive. What's more, on paper at least, there is a Giulia for everyone, with the range encompassing everything from efficient diesels to supercar munching V6 petrols."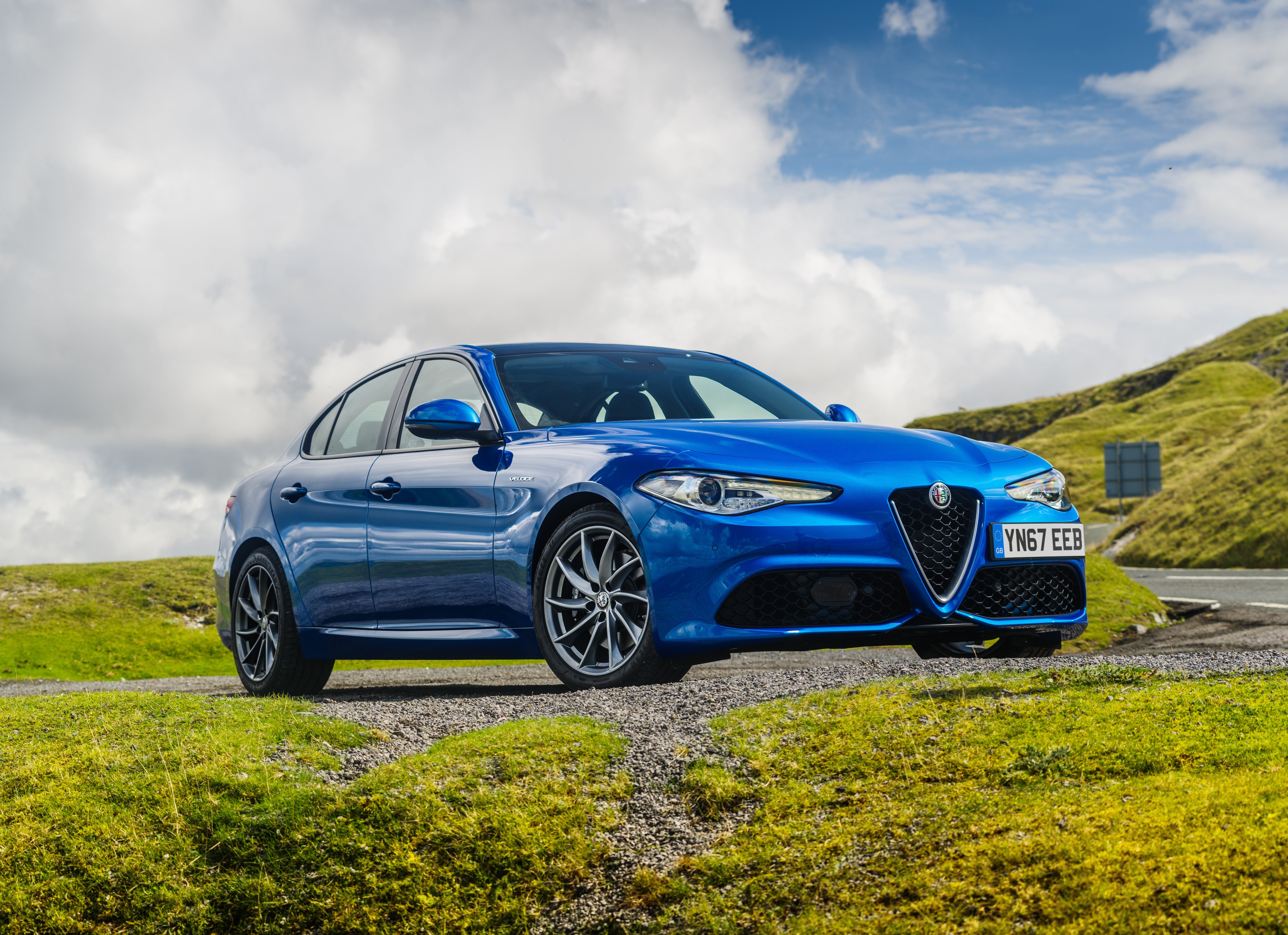 As you might expect, the diesel continues to make up most of the sales, with the majority of Giulias being aimed at fleets and family buyers. This puts the Italian into direct competition with the Teutonic triumvirate of Audi, BMW and Mercedes, but the Alfa holds its own.
Helping the Giulia to appeal to those who want something with a sporting feel, the rear-wheel drive Giulia is very much geared towards driving pleasure, with firm suspension, responsive steering and torque-packed engines. The four-cylinder turbo petrol and turbodiesel motors are responsive and punchy, or if you want to get a proper move on there's the 2.9-litre V6 GTA with a mighty 510PS.
Claimed economy is strong with the four-cylinder motors, which is good news for company car drivers. Officially, the diesel Giulia will return more than 52.3mpg which is on par with most rivals. All 2.2 diesels get an eight-speed torque converter automatic gearbox as standard, which delivers power to the rear-wheels with smooth precision, making it easy to take advantage of the Giulia's grippy and balanced chassis.

The petrol-powered models also use an eight-speed auto as standard and the only downside to this is the optional large steering-wheel mounted paddle shifters feel a little too far away from your fingers for easy operation.
The fit and finish of the cabin isn't as good as German rivals, but it's an improvement over previous Alfa Romeos and has made yet more strides in the right direction with the facelift at the tail-end of 2019.
The infotainment isn't anywhere near as advanced as those found in a BMW, Audi or Mercedes-Benz. However, this was another area that was improved with the 2019 update and the Giulia now comes with an 8.8-inch touchscreen display in the centre of the dash that lets you drag and drop icons to customise the screen to your preferences. There's also a 7-inch colour screen in the middle of the main dash binnacle.
Space is reasonable, with enough room for four adults at a push. The boot's also good enough, with 480-litres of space on hand, although a shallow opening can make fitting bulky items in tricky and only the higher-spec models get drop-down rear seats. It's also worth noting there is not an estate version of the Giulia to broaden its appeal next to the German competition.
That's not to say you should dismiss the Alfa Romeo Giulia. It has some very likeable traits that make it a genuine alternative to the mainstay of many otherwise bland looking upmarket saloons. Its superb handling is the main reason you will buy a Giulia, but its other traits are sufficient to make it a rewarding longer term proposition.
Is the Alfa Romeo Giulia right for you?
The Alfa Romeo Giulia clearly has the BMW 3 Series in its sights as the main target for buyers. This is because the rear-wheel drive Giulia's key talent is its handling prowess. We've seen this before from Alfa, with the 156 notably, and it's a ploy that has worked. However, the downside is the small executive saloon market has moved on since the days of the 156 and these cars have to be very able all-rounders to garner sales success.
Even so, the Giulia wins plaudits for its looks and the four-cylinder turbo petrol and diesel engines are good to use and decently frugal next to the competition. They also come equipped with a slick eight-speed automatic gearbox as standard on all models.
Inside, the Giulia is comfortable, if not the most spacious car in the class. It's also had the build quality improved with a facelift in late 2019. This applies to the rampantly fast GTA model too that is a very creditable alternative to the likes of the Audi RS4 and BMW M3.
What's the best Alfa Romeo Giulia model/engine to choose?
It would be good to recommend the 2.0-litre turbo petrol engine in the Alfa Romeo Giulia as it zings and revs in a way that matches the car's fun nature. However, reality bites with this engine due to its carbon dioxide emissions and that makes it a non-starter for the many company drivers who form the bulk of owners for this kind of car.
Instead, the 2.2-litre turbodiesel is the more cost-effective motor to choose. Be warned, though, as Alfa Romeo only offers each engine in limited number of trims, so you may find the engine you want is not offered in the specification that suits your needs. This is the case with the diesel, which is not available in Veloce trim, so you'll have to pick between Super or Speciale.
As for the outrageously quick GTA, it has its own standalone trim and specification. If you're in the market for a super fast, super exciting saloon, this Alfa more than fits the bill.
What other cars are similar to the Alfa Romeo Giulia?
The BMW 3 Series is the most obvious rival to the Alfa Romeo Giulia because both have a sporting sensibility designed to appeal to keen drivers. In the case of the BMW, it does this while offering a much broader range of engines and trims to customers, making it a more appealing choice for many.
The Audi A4 and Mercedes C-Class are the other big hitters from Germany and each is a delightful car in its own way. We should also mention the Jaguar XE as a British alternative to the Alfa and another with a focus on sporting fun. The Lexus IS has similar ingredients to the Alfa but doesn't make the grade, while the Volvo S60 has a distinctly Scandi flavour that we find alluring.
Comfort and design
"You could stick a Fiat badge on the Giulia's steering wheel and no one would bat an eyelid. It does feel a bit more special than other Alfa Romeos, but it's still nowhere near the standards set by Mercedes-Benz and Audi. Minor details like the rotary control for navigating the infotainment feels flimsy and light, as does the volume control. And the air vents. And the door handles. Everything you touch, basically."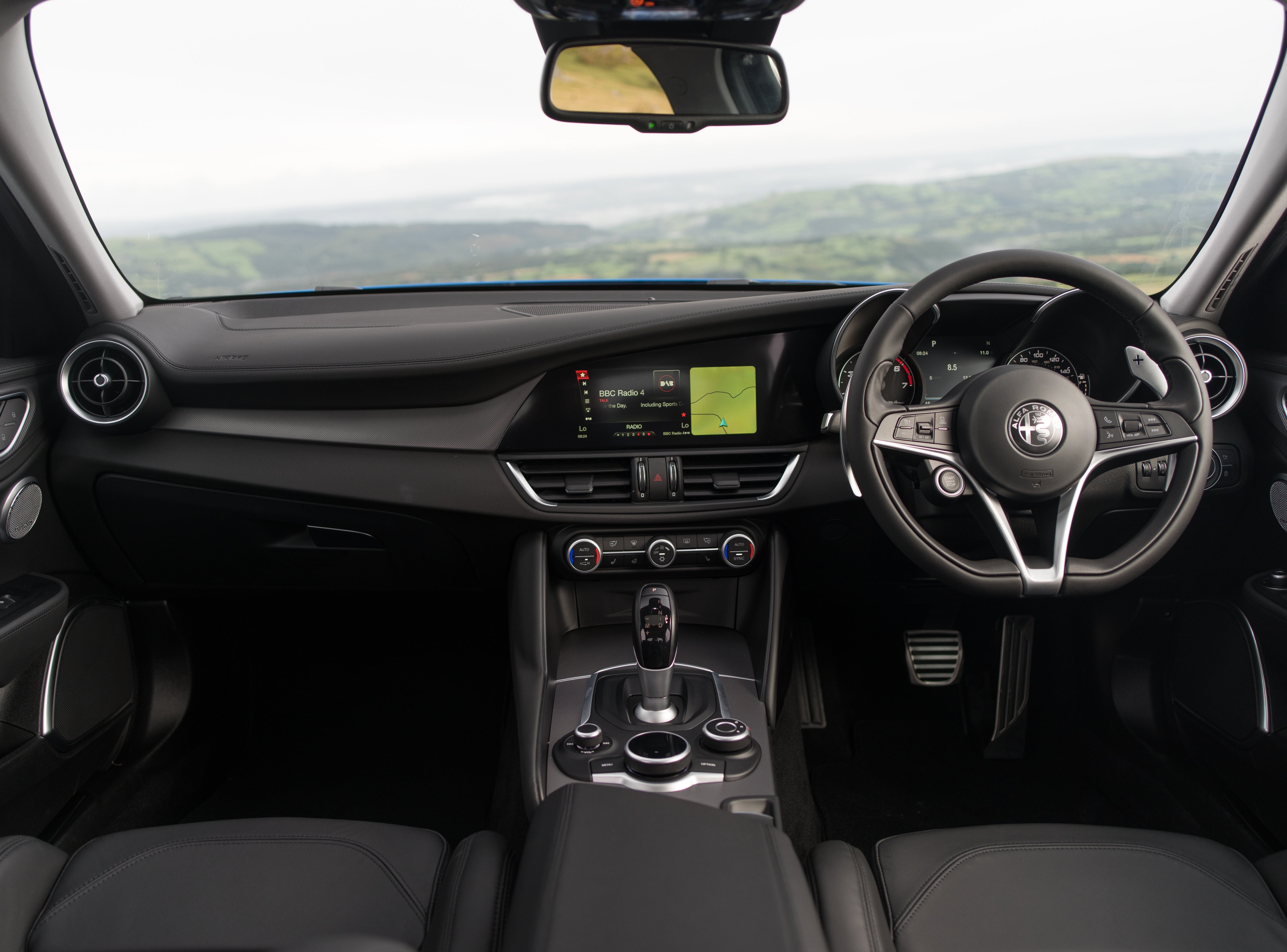 It's different, at least. The swooping dashboard looks rather swish and there's now a 7-inch TFT screen in the middle of the main dials to project important info to the driver. There's also an 8.8-inch infotainment display in the centre console that uses, at least, a touchscreen.
Adjusting the driving position is easy enough, though some may find the Alfa still places them lower in the car than they might want. However, there are various cubby holes for storage that are now a big bigger and easier to access, although the glovebox is unusually small.
Optional twin sunroofs do a good job of brightening up the interior, with the front one being electrically operated should you want to let in more air. You can also brighten up the Giulia's interior with a range of options and extras to make it as sporting or luxurious as you want it to be.
Quality and finish
This was an area where the Alfa Romeo Giulia fell seriously behind its rivals until a facelift and update in late 2019. Even then, it was more a case of getting up to par for the class rather than striding ahead of the competition.
One of the main areas to be improved was the upgrade to an 8.8-inch touchscreen for the infotainment that is easier to use and personalise. Just as importantly, almost anywhere your hands or fingers come into contact with the Giulia now feel more substantial and sorted. This is exemplified by the leather-bound lever for the eight-speed automatic gearbox.
The steering wheel has also been improved to feature the buttons and functions needed to work in harmony with the car's improved autonomous driving systems. It all combines to make the Giulia feel more worthy of its asking prices and sit more easily next to the vault-like build quality of the Audi A4 and Mercedes C-Class. Even so, reach down around the base of the driver's seat and you will still find some sharp edges to the plastics that are just not present in the Alfa's German opposition.
Infotainment
Alfa Romeo has made a huge improvement to the Giulia's infotainment thanks to an upgrade at the end of 2019. Before that, you were saddled with a screen that was not as intuitive as its rivals and did not have a touchscreen. Now, the Giulia has an 8.8-inch touchscreen that can be paired quickly with your smartphone through Android Auto or Apple CarPlay to access music and apps.
The touchscreen also lets you slide and drop icons on the display to personalise it to your tastes, which is handy when you want to prioritise certain functions to get at them quickly.
Alfa has also fitted a 7-inch TFT screen in the centre of the main instrument binnacle. It provides a variety of displays for information such as sat-nav instruction, journey information and speed. This is operated from steering wheel buttons and is as easy to use as any we've tried.
The Giulia also comes with Alfa's Connected Services, so you have on-board connectivity. It can help with sat-nav instructions and safety with the My Assistant function that can send out an SOS call in the event of a collision with your exact location.
Space and practicality
Cars in the small executive sector are often excused for not offering as much rear space to passengers as family cars. That seems unfair to us and the Alfa Romeo Giulia is an example of how you can pair upmarket appeal with mainstream space.
Getting into the back of the Giulia is a little trickier than in the likes of a Ford Mondeo or Vauxhall Insignia as the Alfa has a low-slung roof line. However, once inside, the Giulia provides enough space for two six-foot adults to sit in more than adequate comfort due to the amount of head, leg and shoulder space on offer.

You can forget about carrying a third adult in the Giulia, though, as the central rear perch is narrow and has a noticeably raised cushion. It does, however, come with a three-point seat belt to securely keep kids in place when driving. There are also two Isofix child seat mounts fitted in the rear bench on the outer pews.
Head round to the boot and the opening is quite compressed and the lower edges curve upwards at the sides to further limit what you are able to fit into the compartment. The boot itself is a decent size at 480-litres, though some of this space is wasted due to interruptions from the side walls and the shape of the load bay. It's also worth pointing out you have to pay extra to get the 40-20-40 split and tip rear seat that is standard in the other higher grade Giulia models. With the rear seat folded, you can fit longer loads, but the rear bulkhead gets in the way of anything too large, so it's better viewed as somewhere to stick your golf clubs or skis.
One other point to bear in mind with the Giulia is Alfa Romeo does not offer an estate version, so the saloon is all you've to choose from. In terms of boot practicality, it's not as good as its German rivals for versatility but outright space is in the right ball park.
Engines and gearboxes
"The Alfa Romeo Giulia GTA has its own 510PS 2.9-litre twin-turbo V6 petrol motor. It's a jewel of an engine and defines this car's brutally fast character. If you can afford the asking price, insurance and fuel bills, you are in for a treat on every trip."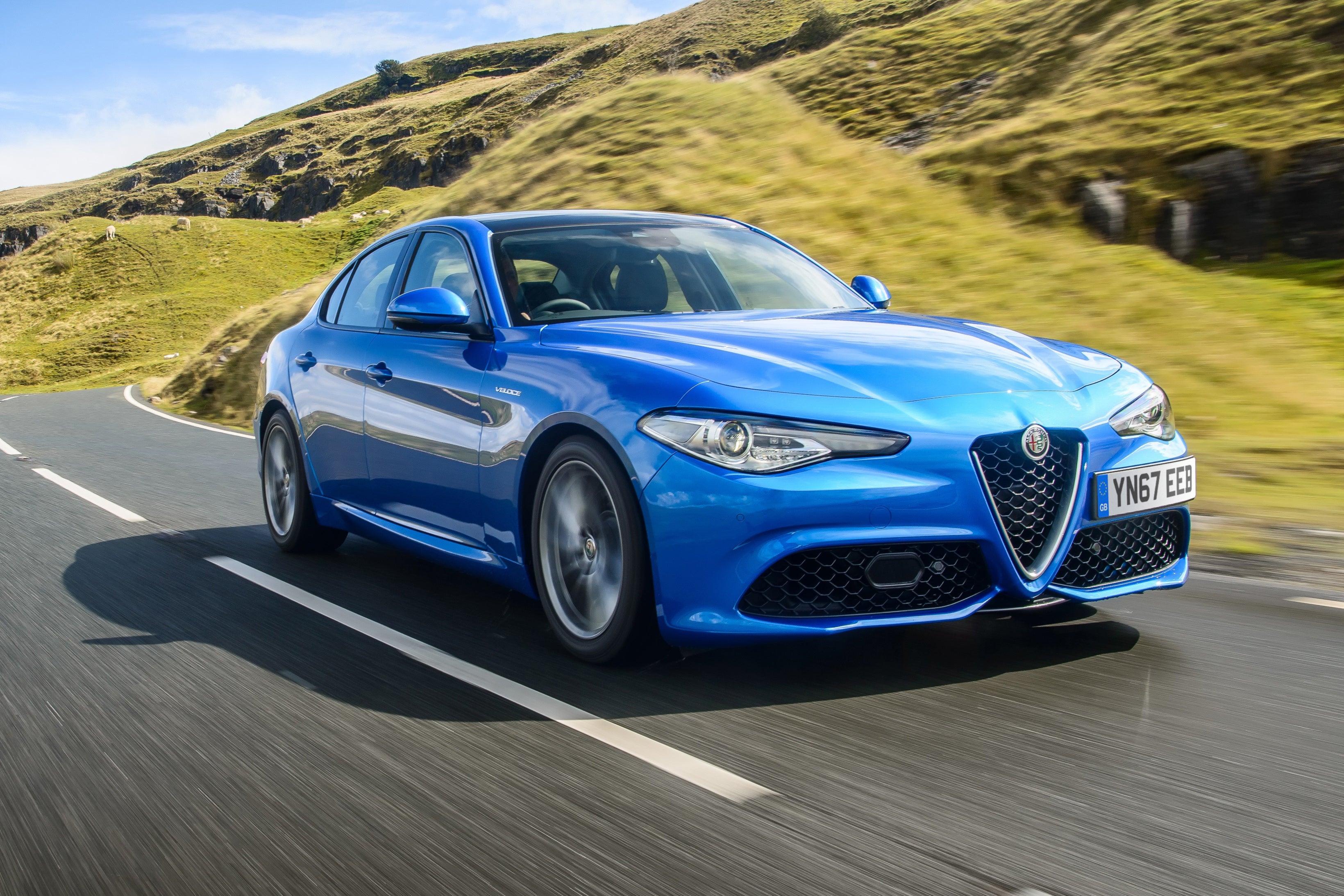 For almost everyone else, the choice is between a 2.0-litre turbo petrol and 2.2-litre turbodiesel. If you can't stretch to the GTA, the 280PS 2.0-litre petrol in the Veloce Ti is a very good second choice thanks to its rev-happy nature and 0-62mph in 5.7 seconds.
More likely is you'll look to the 200PS version of the petrol engine, which is still no slouch as it can cover off 0-62mph in 6.6 seconds and feels every bit as eager working its way through the eight-speed manual gearbox used in every Giulia.
However, it's the diesels that make the most sense for their economy and lower emissions. This 2.2-litre unit comes in 160- and 190PS forms, with the more powerful unit taking care of 0-62mph in 7.2 seconds and the 160PS follows one second later. On the road, you won't notice this and both have lots of low rev shove so you can be as lazy as you like or make full use of the power for more spirited driving. Better still, on the motorway, these diesels are in their element with plenty in reserve if it's needed.
Refinement and noise levels
For a car with an obviously sporting intent to its looks and drive, the Alfa Romeo Giulia makes a virtue of refinement in all but the GTA model. Pick this fastest of all Giulias and its rorty, snorty V6 is only ever a dab on the accelerator pedal away from making itself known. It's a soul-stirring noise, but can become wearing on long trips, especially with the amount of road noise kicked up by its fat tyres.
In the rest of the Giulia range, engine noise is impressively well suppressed regardless of which engine you choose. The diesels make a little rumble when started from cold and there's a little roar when any of the engine's are worked hard, but they all settle to a quiet background hum at a cruise. This is more prevalent in the diesels than the petrols, but no worse than most of the Alfa's rivals.
Road noise is also ably quelled, but some wind noise enters the cabin at motorway pace. We should also note the eight-speed automatic gearbox can occasionally hesitate when shifting gears, which upsets the car's normally calm equilibrium.
Safety equipment
Alfa Romeo is to be applauded for its 98 per cent score for adult occupancy safety for the Giulia in Euro NCAP tests. It also rated a very high 81 per cent for child safety onboard and earned an overall five-star award.
Every Giulia comes with twin front, side and curtain airbags as standard, as well as three-point belts for all five occupants. There are two Isofix child seat mounts in the back seats and a front passenger airbag deactivation switch to allow a rear-facing child seat to be used.
All Giulias come with an ESP traction and stability system that cannot be fully disengaged to help protect its driver and occupants. There's also autonomous emergency braking to detect approaching hazards and apply the brakes if the driver fails to notice the impending danger. Alfa also fits a lane keeping assistance function to warn the driver if the car is wandering off line.
Only the Nero Edizione gets Active Cruise Control as standard to maintain a safe gap to the car in front. There is Driver Assistance Pack Plus too that comes with rear-view camera, all-round parking sensors, Blind Spot Detection, rear traffic alert and automatic high beam assist for the headlights. If your budget cannot cover this, there is also the Driver Assistance that comes with just the rear-view camera and parking sensors.
MPG and fuel costs
"There is quite a marked gap between the fuel economy of the petrol and diesel models in the Alfa Romeo Giulia range. The best the petrol motor can muster is an official combined consumption of 36.2mpg for the 200PS unit. The 280PS version of the 2.0-litre turbo petrol registers 33.6. Real MPG figures suggest the 200PS can get close to its claimed figure but the 280PS unit is closer to 30mpg"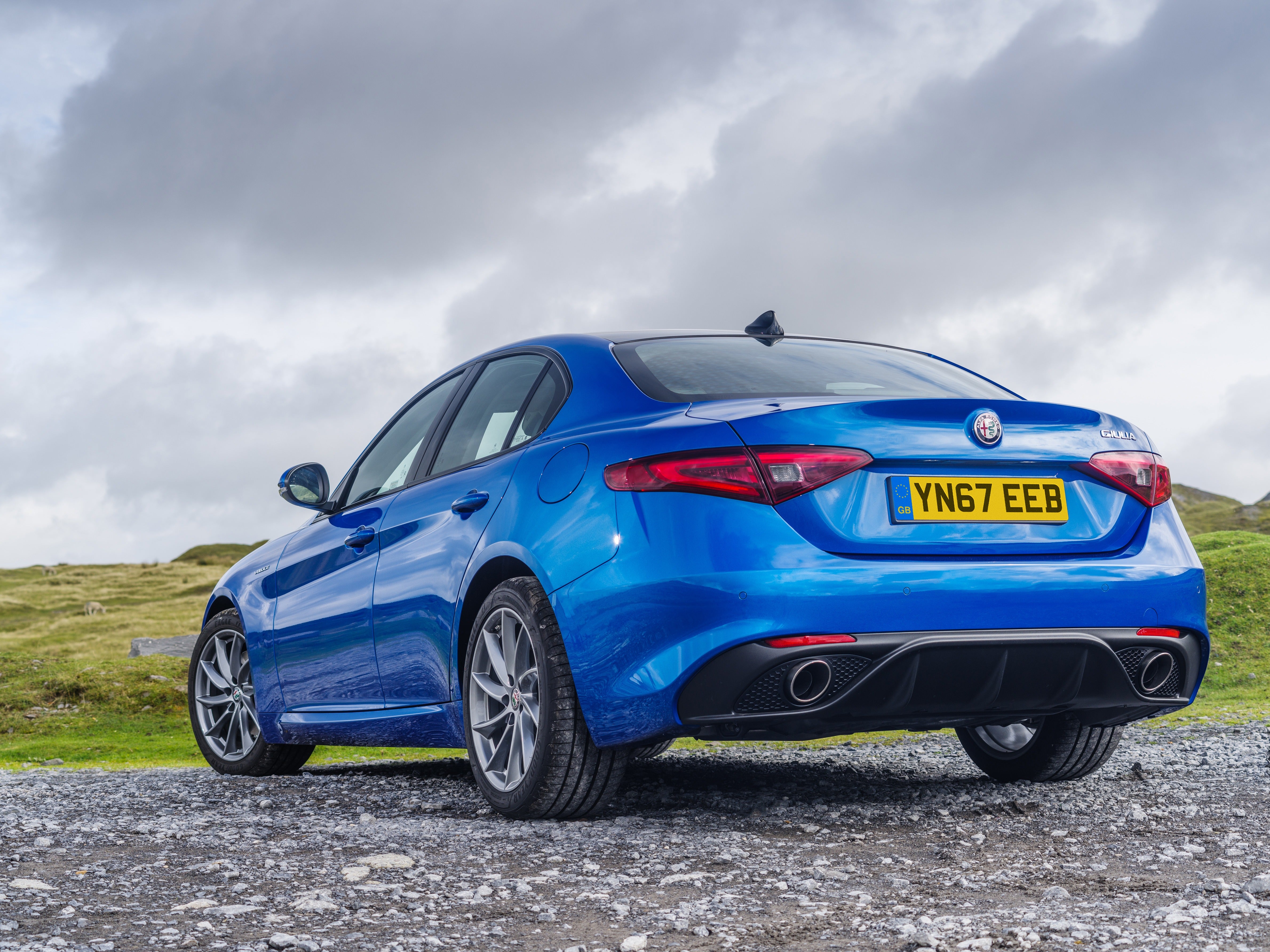 For the diesels, the 160PS engine has a claimed best of 53.3mpg and the 190PS is 1mpg behind. There are no Real MPG figures for these two engines but experience suggests they return close to 50mpg in normal driving conditions.
Insurance groups and costs
The entry-point Alfa Romeo Giulia Super comes with the lowest insurance rating of group 22, which is lower than many of its key rivals. This is the for the 2.2-litre turbodiesel model, but if you want this trim and a petrol engine, you will pay insurance premiums based on a group 24 rating.
The roles are reversed for the higher powered versions of these two engine types, with the 280PS turbo petrol Veloce model sitting in group 25. Take the 190PS diesel Speciale and it falls into group 29. As for the Veloce Ti petrol, it's in group 36, while the GTA resides all the way up in the heady heights of group 46.
VED car tax
Buyers of the Alfa Romeo Giulia GTA will need to be prepared for a first-year VED payment of £1850 due to the car's emissions and a price tag exceeding £40,000. For the more modesty priced 280PS Veloce models, you'll pay £1305. Take the 200PS petrol model and VED is the same.
For more affordable rates, the 190PS diesel comes in at £870 for the first year's road tax, but only the 160PS model gets close to being easy on the wallet with its £540 bill.
How much should you be paying for a used Alfa Romeo Giulia?
"A four-year old Alfa Romeo Giulia with around 40,000 miles under its front bumper will cost from around £16,000. This will get you a diesel or petrol version in Super trim and with a full service history. If you choose to buy from a franchised Alfa dealer, it will be a little more expensive, probably around £1000 higher, but you have the peace of mind of a used warranty."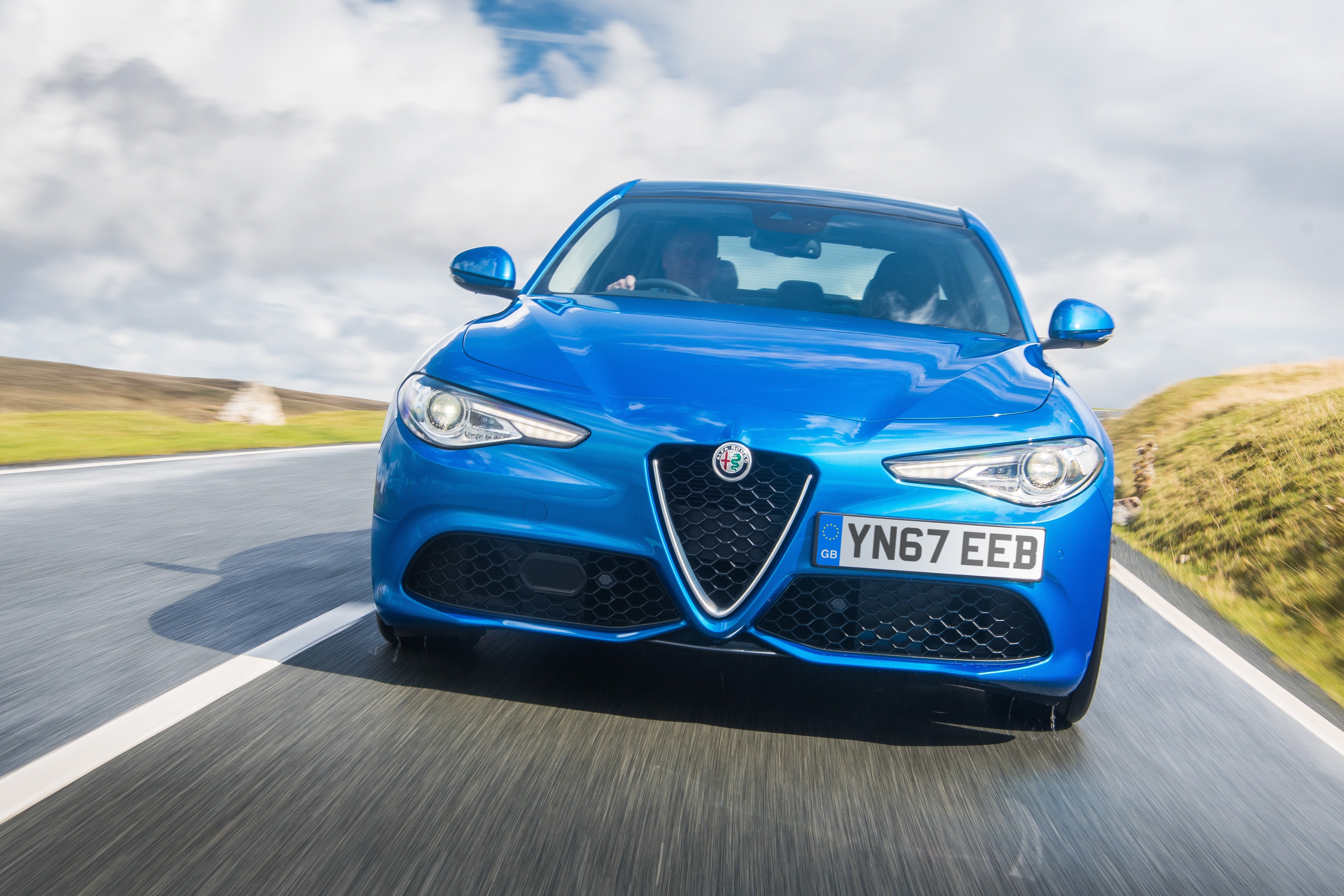 Take a nearly new or pre-registered Giulia and there are some good savings to be had. If you don't mind a car with 1000 miles on it and one previous owner in the logbook, you could be looking at saving £9000 on a turbodiesel 2.2 TD 190 Speciale. For a petrol-powered Giulia, there are also generous economies of £7500 on a 2.0 TB Nero Edizione.
Trim levels and standard equipment
Which trim level you choose may be decided by which engine you want, so be careful to check the Alfa Romeo Giulia range mixes these two key factors how you want them. The entry-level trim is the Super and it comes with 17-inch alloy wheels, automatic headlights and wipers, and LED rear lights. You also get Alfa's DNA driving modes, cruise control, and rear parking sensors. In the cabin, there's climate control, cloth upholstery, leather-bound steering wheel, and the Alfa Connect 8.8-inch infotainment touchscreen with sat-nav, eight speakers, Apple CarPlay and Android Auto.
Next is the Nero Edizione that adds 18-inch wheels, active cruise control, headlight washers and adaptive headlamps. This version also comes with a dark finish to the outside trim and badges, while inside it has a split and fold rear seat and Alfa Connected Services to give internet access.
The Speciale has Bi-Xenon headlights, rear privacy glass, electrically folding door mirrors, sports bumpers and a rear diffuser for a sporty appearance. The interior has electrically adjusted and heated front sports seats, leather upholstery and a heated steering wheel. The Veloce model adds to this with aluminium paddle shifters for the gearbox mounted behind the steering wheel and the Convenience Pack. This brings keyless entry, front parking sensors, headlamp washers, driver's side dash storage and upgraded braking system.
Take the Veloce Ti and you get 19-inch alloy wheels, red-painted brake calipers, and carbon fibre-effect grille and door mirror caps. The heated seats have eight-way electric adjustment and are trimmed in Quadrifoglio leather and Alcantara. You also get the Climate Pack with heat reflecting windscreen, rear air vents and USB ports in the front and back. This version also has the Lighting Pack as standard with headlight washers and adaptive headlamps.
Ask the heycar experts:
common questions
Is the Alfa Romeo Giulia a good car?
The Alfa Romeo Giulia is effortlessly stylish and its looks are accentuated by the fact that it is a relatively rare sight on the road compared to rivals like the BMW 3 Series, Audi A4 and Mercedes C-Class.

Is the Alfa Romeo Giulia reliable?
It is fair to say that Alfa Romeo doesn't have a great reputation for reliability and the Giulia isn't immune from this – we have experienced electrical faults and poorly fitting trims. If you're buying secondhand, we would advise getting on with a fastidious service record.

Does the Alfa Romeo Giulia have a Ferrari engine?
The Alfa Romeo Giulia Quadrifoglio has a Ferrari-derived twin-turbocharged V6 that develops 510PS and gets the car from 0-62mph in 3.9 seconds and onto a top speed of 191mph.

Alfa Romeo Giulia cars for sale on heycar
99
Number of cars available
£17K - £62K
Price bracket of these cars
Colours available on heycar
Keep me updated by email with the latest advice, news and offers from heycar
By submitting, you agree to our
privacy policy
.