Alfa Romeo Stelvio Review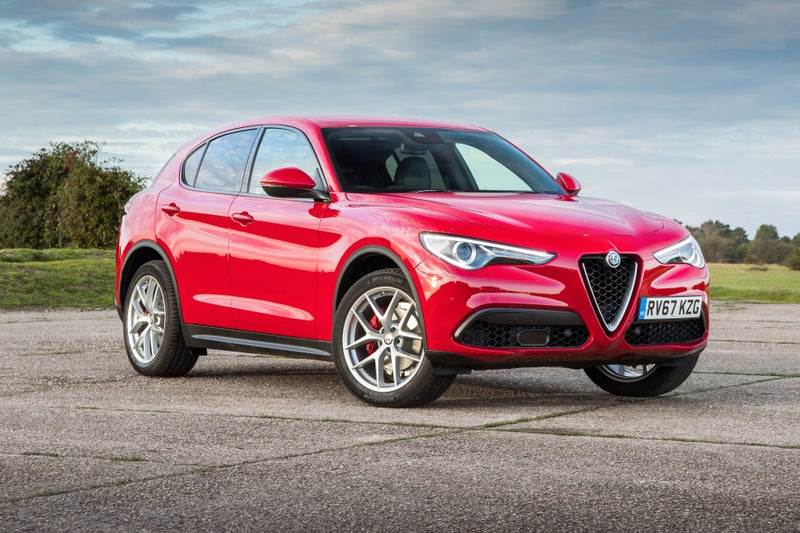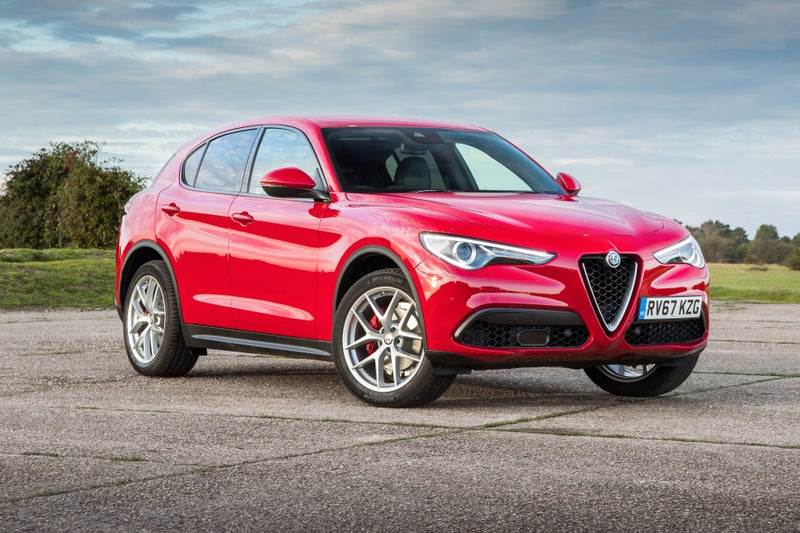 1/10
heycar rating
"Stylish compact SUV from Italy"
Launched: 2017

SUV

Petrol, Diesel
Quick overview
Pros
Excellent handling for an SUV
Impressive range of engines
Appealing styling and image
Cons
Still not as plush as German rivals
Rivals are a little roomier
Odd brake pedal feel.
Overall verdict
On the inside
Driving
Cost to run
Prices and Specs
Common questions
Overall verdict
"SUV buyers are a fashion-conscious lot - that's precisely why so many people buy them - so it's a wonder there aren't more cars like the Alfa Romeo Stelvio. You see, however fashionable they are, most SUVs of this size and type - cars like the Audi Q5, BMW X3, Mercedes GLC and Volvo XC60 - couldn't look more conservative if they were wearing a blue rosette and a Boris wig. Next to these rivals, the flamboyantly styled Stelvio stands out a mile."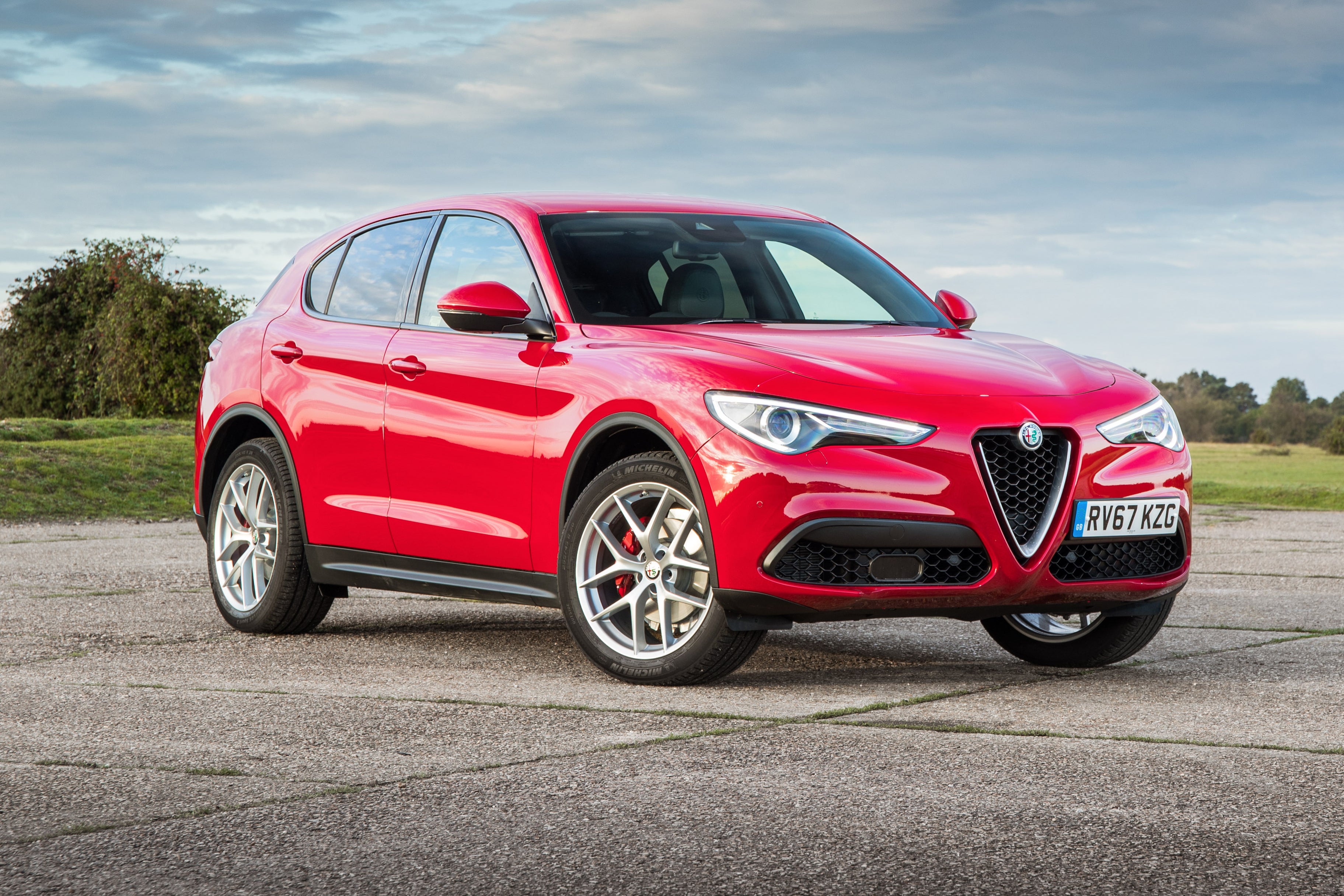 Under the skin, a lot is shared with the Giulia saloon. That includes its range of strong 2.0-litre petrol and 2.2-litre diesel engines, and an eight-speed automatic transmission that comes as standard on all versions. All-wheel drive is optional on lower powered versions and standard towards the top of the range. Sitting at the very top of that range is the Stelvio Quadrifoglio, an SUV that's capable of dusting it with most supercars thanks to a 2.9-litre twin-turbocharged V6 with a truly monstrous 510 horsepower.
On the road, all versions of the Stelvio have impressive handling for an SUV. There's very little body roll, strong grip and quick steering, so quick in fact that it takes some getting used to. Despite this ability in the corners, the Stelvio also manages to ride pretty smoothly, keeping you comfortable over all but the very roughest of roads. The only fly in the ointment is the fly-by-wire braking system that lacks feedback through the pedal.
On the inside, you'll notice typical Alfa features such as deeply-recessed instrument dials and a starter button on the steering wheel. For the most part, quality is pretty good, too, and a facelift in 2020 made it even better with some new interior surfaces, but compared with the impeccable standards of rivals from Audi, BMW or Mercedes, it's still a little way behind.
That said, practicality is all you'll need it to be. There's a decent amount of leg and headroom in each of the five seats, so adults and lanky teens will be able to get comfy, and you'll have plenty of space for bulky child seats. The boot's a good size too, and the load area is wide and flat. However, if you're really looking to maximise family-friendliness, the Audi Q5 is even better, with more passenger space and a bigger boot.
All in all, the Stelvio is a good all-rounder, doing a thoroughly decent job in all areas and a really good job in some. It might not be one of the best SUVs, but if you like the flamboyant styling, and you enjoy your driving, it's definitely worth considering.
Is the Alfa Romeo Stelvio right for you?
People love SUVs because they combine the practicality that a family needs with the style and desirability that you just don't get from an MPV. And the Stelvio is arguably more stylish than any of its premium mid-size rivals thanks to its glamorous looks, its Italian heritage, its desirable badge and its relative rarity. It's not the most obvious choice in the class, but it's certainly one of the more interesting.
It'll also suit you if you prioritise driving fun over comfort. That's not to say it isn't comfortable - it's fine - but where it really dazzles dynamically is in a set of bends where its tight body control and quick (sometimes too quick) steering combine to make direction changes feel lively and alert.
What's the best Alfa Romeo Stelvio model/engine to choose?
For most buyers, we reckon things are best kept humble. The entry-level diesel engine will be more than powerful enough for most, and will keep purchase prices down. You'll make up your own mind whether you want it with rear- or four-wheel drive: the rear-driver is significantly better on fuel, but the other one will be more handy on the two snow days we have per year.
Trim-wise, though, we'd spend a little extra upgrading from Super trim to the Sprint version, because it adds desirable items like active cruise control and heated leather seats to the already generous kit list.
However, we wouldn't blame you if you decided to go all-out and buy the bonkers Quadrifoglio version, with its insane pace and unruly-but-fun handling. Just make sure that you've got plenty of petrol money and an endless supply of brave pills.
What other cars are similar to the Alfa Romeo Stelvio?
Premium mid-size SUVs aren't exactly in short supply, so the Stelvio's rivals are numerous. The most obvious will be the best-selling German trio of the Audi Q5, BMW X3 and Mercedes GLC, and you also have the super-popular Volvo XC60 as well.
Then you have slightly less successful - but no less desirable - rivals such as the Jaguar F-Pace, Porsche Macan, Range Rover Evoque and Volkswagen Tiguan. Also, there's the crowd of slightly less premium cars of the same size than do pretty much the same job, cars like the Honda CR-V, Kia Sportage, Mazda CX-5, Peugeot 3008 and countless others.
Comfort and design: Alfa Romeo Stelvio interior
"By modern standards, the Stelvio's dashboard has quite a lot of buttons (most manufacturers like to incorporate as many functions as possible into the infotainment system), but there aren't so many that you'll feel bamboozled. All the buttons are big, well-marked and logically placed, too, so it's nice and easy to find and hit the one you want at a glance. "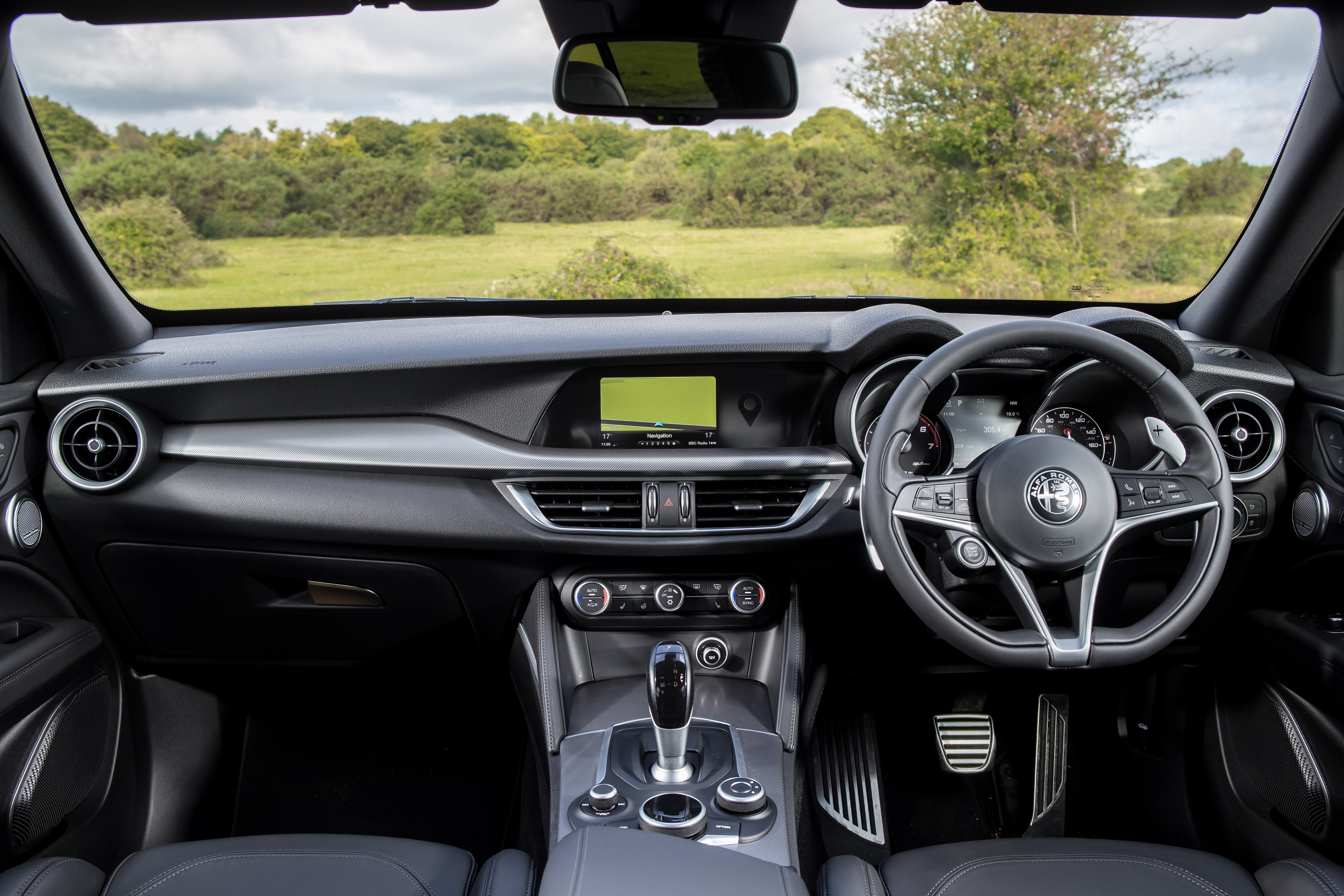 We haven't tried the entry-level version yet, which comes with manual seat adjusters, but the rest get electrically moving seats that make it easy to dial in a comfy seating position. The seats themselves are nice and supportive, too. The steering wheel also moves to help you get comfy, but there could be more travel in the reach adjustment.
Visibility isn't ideal, either. The window pillars at all four corners of the car are pretty chunky, so the front ones can get in the way when you're pulling out of junctions, while the rear ones hamper your over-the-shoulder view. However, you do get parking sensors at both ends, plus a reversing camera, to help with manoeuvres.
Quality and finish
Inside, the Stelvio shares a lot with the Alfa Romeo Giulia, and that's a good thing. The quality of the materials on show is generally pretty good, with squishy surfaces in all the right places and nice touches like real, open-grain wood inlays. A facelift in 2020 improved things further thanks to some new interior finishes, and generally, everything feels solidly put together.
That said, it's not perfect. A few of the other surfaces - like the plastic surrounding the rotary infotainment controller - don't feel as premium as the rest, while the centre console flexes a little bit when you rest your knee against it. For those reasons, it's still a little way behind the impeccable quality you find in rivals from Audi, BMW and Mercedes, but it still feels like a high-end environment.
Infotainment: Touchscreen, USB, nav and stereo in the Alfa Romeo Stelvio
All versions get the same 8.8-inch screen to take care of all the Stelvio's various infotainment functions. Like most rivals, it uses touch-screen functionality, but you also have the ability to scroll through the on-screen menus using a dial controller found on the partition between the two front seats. This is much easier and less distracting to use on the move. The menus are logically arranged, too, making the system impressively intuitive to operate, while the graphics look sharp and slick. However, if you crave the familiarity of your smartphone's operating system instead, Apple CarPlay and Android Auto are both standard.
Most of the other functionality you'd expect is covered, too, including navigation, DAB radio, a Bluetooth phone connection and various connected services. Lusso Ti models and above also get a wireless phone charger and an upgraded stereo system.
All cars get a digital screen between the analogue dials in the instrument cluster, which can be configured to display the information you'd like to see, such as sat-nav instructions or driving data. All the info is pretty clear and it works well.
Space and practicality: Alfa Romeo Stelvio boot space
Whether you're sitting up front or you're relegated to the rear, you shouldn't feel short of space when sitting in the Stelvio. Both rows have decent head- and legroom, allowing adults and lanky teenagers to stay comfy. That said, some rivals are even more generous with interior space, meaning even more comfort.
The boot capacity is 525 litres, which is a little less than rivals such as the Audi Q5 give you, but it's still plenty for shopping trips, suitcases, pushchairs or anything else you'd want to carry in a family car. For bulky objects like furniture flatpacks, you can also fold the back seats down, and because the rear seatback is split into 40/20/40 portions, you can do this in a variety of different ways for extra versatility. There's no step between the seatback and the boot floor, either, although the former does lie at a slight angle, leaving you with a gently sloped load area.
Handling and ride quality: What's the Alfa Romeo Stelvio like to drive?
"While it's an SUV, the Stelvio looks to maximise the fun aspect of the driving dynamics, and underpinnings shared with the sprightly Giulia saloon provide a strong starting point. For such a tall car, the Stelvio has impressive body control in bends, with little in the way of roll even when you're pushing on or changing direction suddenly. And despite its cornering ability, it's also fairly comfy over lumps and bumps, particularly if you avoid the biggest 20-inch wheels."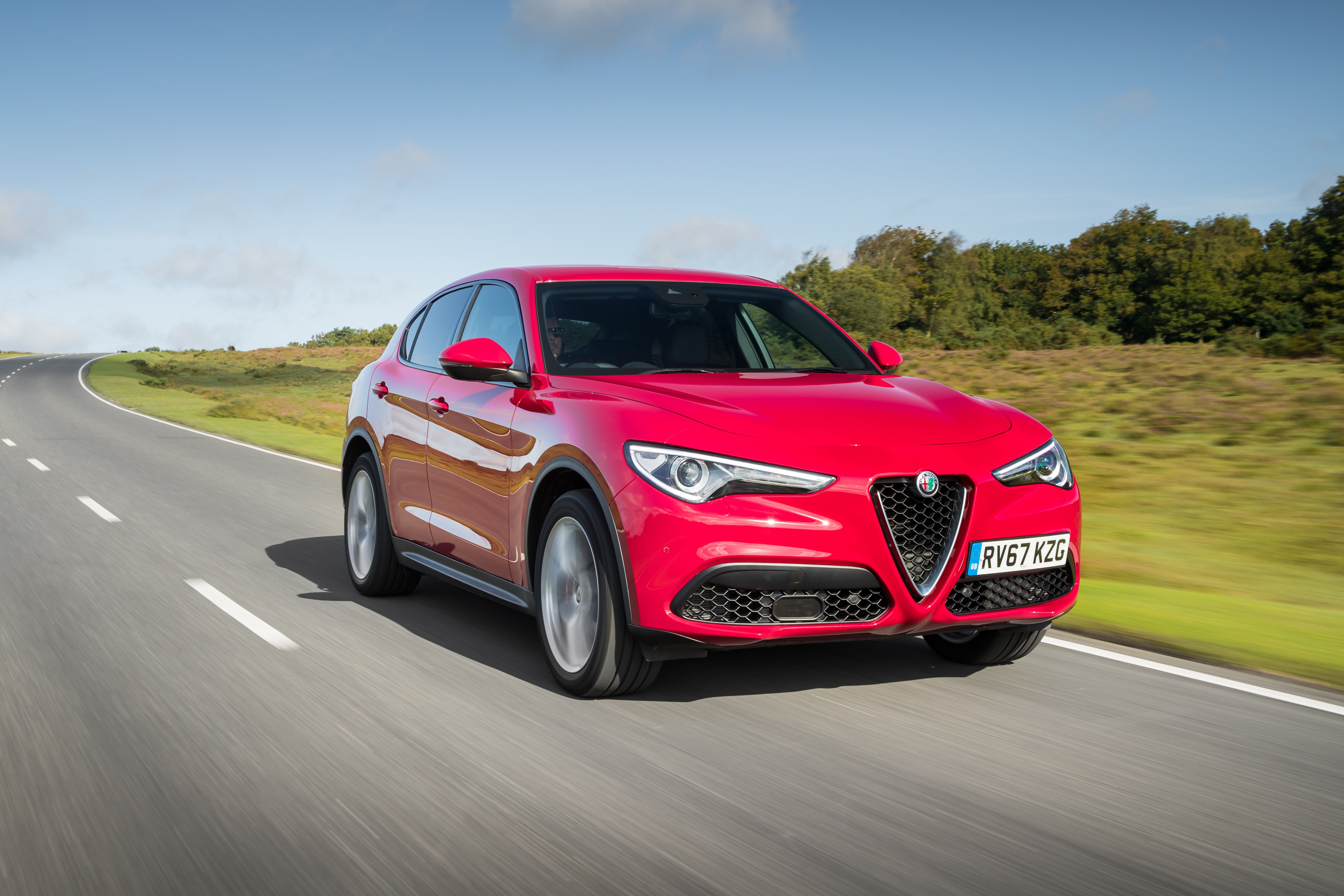 Having said that, it's not perfect. The fast steering might feel sporty, but it's rather unusual in an SUV and takes a bit of getting used to. Until you do, you might find your car prone to jerky direction changes. The brakes also feel rather odd; the pedal uses a 'fly-by-wire' system with no direct connection to the hydraulics, so it doesn't provide you with much feel or feedback.
All cars have the Alfa Romeo DNA system, which has Dynamic, Normal and All-weather driving modes. The system changes various settings including throttle response and gear change patterns, but to be honest, it never makes a great deal of difference to the Stelvio's on-road character.
Bear in mind, too, that this is an SUV and not an off-roader. If you want to venture off the beaten track, the all-wheel drive and hill descent control will help to an extent, but you'll be much better off with a Land Rover Discovery Sport.
What engines and gearboxes are available in the Alfa Romeo Stelvio?
The engine range for the regular Stelvio is very straightforward, with 2.0-litre petrol engines and 2.2-litre diesels, two of each. Go for petrol and there are 200PS or 280PS power outputs, while the diesels provide either 190PS or 210PS. The lower-powered diesel has either rear-wheel drive or four-wheel drive, but the rest get all-wheel drive as standard.
Basically, all of them are smooth, eager and punchy, with plenty of power available from the mid-range. Even the entry-level ones shouldn't have any trouble with slip roads or overtaking, while motorway cruising is subdued and relaxed. These will be perfectly adequate for most drivers, although the more powerful choices do add a fair bit more sparkle for those who enjoy their driving.
If you reeeally enjoy your driving, you'll probably want to consider the Quadrifoglio range-topper. It has a monstrous twin-turbocharged V6 giving 510PS, and this means seriously rapid, supercar-scaring performance.
All cars have an eight-speed automatic gearbox that's impressively smooth and responsive, and in any driving situation, it always serves up the right gear for the job at the first time of asking.
Refinement and noise levels
While all the Stelvio's engines are pretty smooth, meaning you're well protected from unwanted vibrations, none of them are particularly quiet. The petrols are surprisingly coarse, even when you're just trundling along gently, and when you stick some revs on the dial, the note you hear turns a bit raspier.
The diesels grumble and murmur away for too much of the time, too. None of them will have you reaching for the earplugs or begging for mercy, but it's also true that they make appreciably more noise than the super-refined engines in an Audi Q5. There's more wind-and road noise to be heard than in the Audi, too, so it's not as civilised on the motorway, but again, it's nothing that'll have you screaming at your passengers to be heard.
The Quadrifoglio, however, is a different kettle of fish entirely. The noise this engine makes is all part of the joy it gives you. The pulsating boom it gives off as it rolls along will have passers-by thinking there's a Spitfire coming down the street, rather than an SUV. And that's at low urban speeds: stand on the throttle pedal, and there's a glorious metallic moo as it hurls you towards the horizon, and every high-rev downshift causes the exhaust to spit and crack satisfyingly. It really is something to behold.
Safety equipment: How safe is the Alfa Romeo Stelvio?
The Stelvio has achieved the full five-star rating in Euro NCAP crash tests, and much of that impressive result is down to the plentiful amount of standard safety kit the car comes with. Even better, the standard roster is pretty much the same no matter which version of the Stelvio you pick, so buyers of cheaper versions aren't penalised in this important area.
Automatic emergency city braking with pedestrian detection is provided, as are several airbags and a lane departure warning system. If you add the optional Driver Assistance Plus Pack, you get a few more clever safety measures on top, including blind spot monitoring and an adaptive cruise control system that will pretty much drive the car for you in traffic.
MPG and fuel costs: What does a Alfa Romeo Stelvio cost to run?
"The Stelvio's official WLTP fuel consumption figures look really encouraging. The cleanest rear-drive 190PS diesel will deliver a figure of 54mpg, while the four-wheel drive version and the 210PS version both give 50mpg."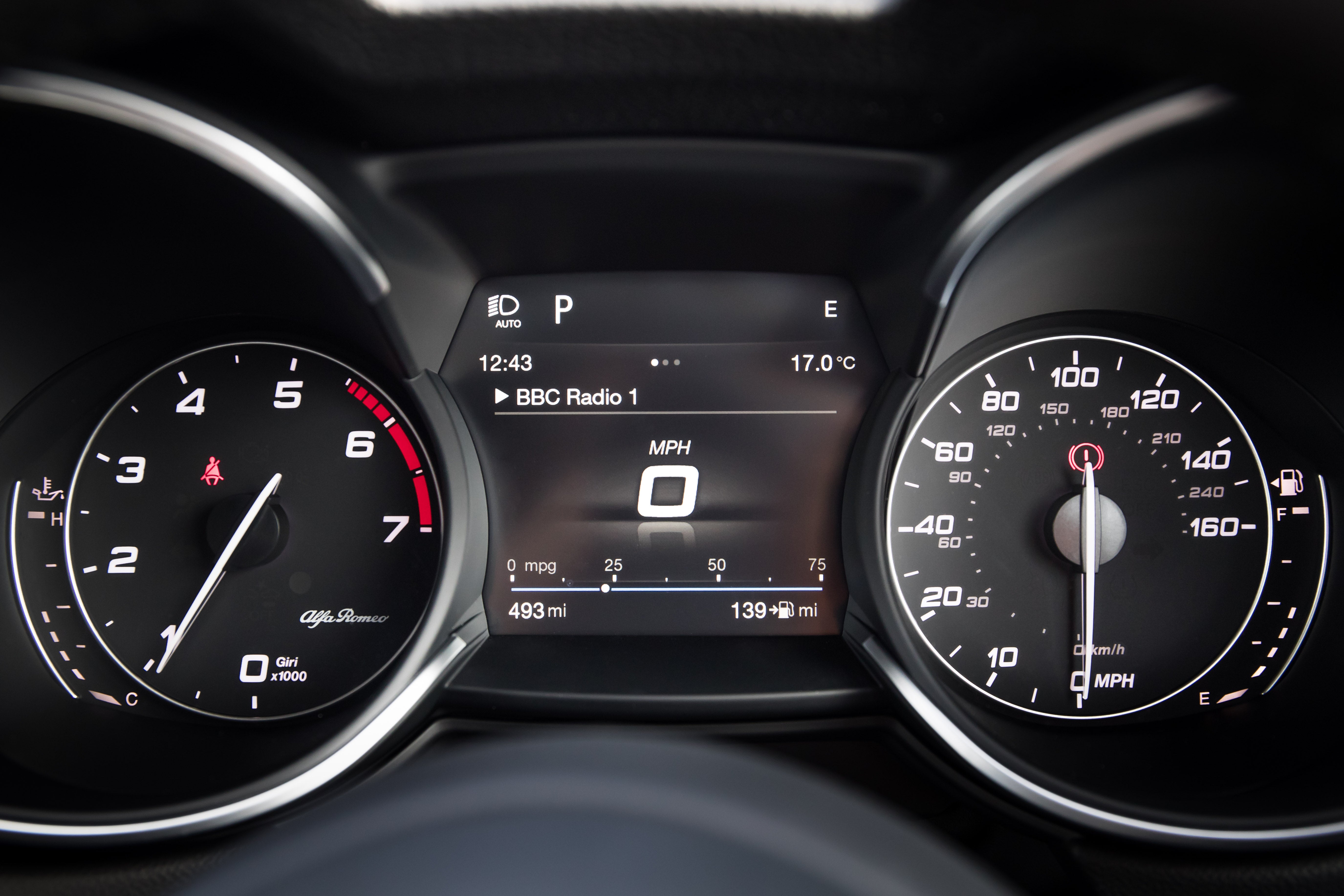 Both regular petrols return 40mpg, while even the Quadrifoglio has an official figure of just under 30mpg. With all these figures though, it'll be difficult to replicate them in the real world. And if you drive the Quadrifoglio like it's supposed to be driven, it probably won't be long until you're down to a single-digit return.
Insurance groups and costs
Insurance groupings for the most modest versions start in the low twenties, while the more powerful variants of the regular car get up to around the mid-thirties, so while premiums won't exactly be a snip, they won't be ruinously expensive, either. It'll be a very different story if you've got your eye on the Quadrifoglio versions, though. Its meat-head engine puts it in group 50 for insurance, which is the priciest bracket there is.
VED car tax: What is the annual road tax of a Alfa Romeo Stelvio?
The Stelvio was released in 2017, after the Government changed the tax regulations to introduce a flat rate of £150 for petrol and diesel cars, and a £325 surcharge for cars that cost over £40,000 when new. A handful of versions sneak just under that threshold, and thus escape the surcharge, but do bear in mind that if the car you find has any optional extras fitted that took the original price above £40k, the charge will still apply. If that's the case, or you pick a pricier version, you'll pay £475 per year between years two and six of your car's life, and annual bills will then drop back down to £150 after that.
How much should you be paying for a used Alfa Romeo Stelvio?
"At the time of writing, brand new Stelvios started at around £40,000 for the rear-wheel drive 190-horsepower diesel, and rose to more than £70,000 for the fire-breathing 510-horsepower Quadrifoglio. Model-for-model, those prices are a wee bit lower than for the equivalent Audi Q5 or BMW X3, but the difference might not be as big as you expect. "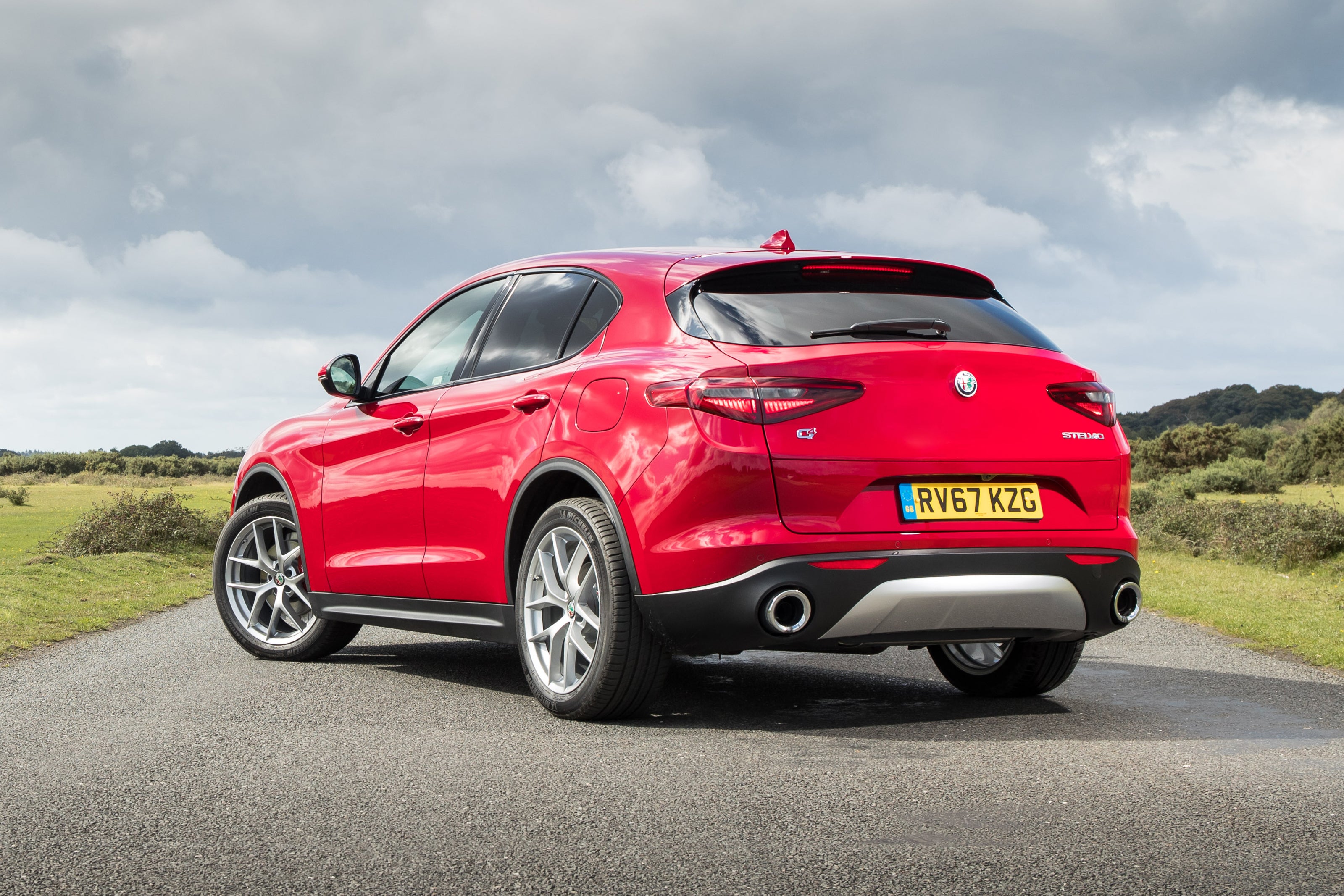 However, the Stelvio's resale values are comparatively shaky compared to its German rivals, and while that could prove expensive for new-car buyers, it'll be music to the ears of used car buyers, who will likely pay significantly less for a Stelvio than they will for a Q5 or X3. And with the Stelvio having been around since 2017, finding a good used example won't be too much of a struggle, either. The examples we've seen start at around the £25,000, and these are fairly high-spec versions, too.
Trim levels and standard equipment
To be fair, we can't see much missing from the kit list of the entry-level Stelvio, known as the Super. It comes with goodies including dual-zone climate control, part-leather seats, alloy wheels, a powered tailgate, cruise control, parking sensors at either end and a reversing camera. Upgrade to the Sprint version, and you'll also get active cruise control, as well as heated leather covers for the seats and steering wheel. This is our pick, because we think it provides the best balance between kit and cost.
The Lusso Ti adds powered front seats, posher leather trim, a leather dashboard, keyless go, an upgraded stereo and a wireless phone charger, while the Veloce adds a few visual upgrades, but not much more. The Quadrifoglio adds all sorts of other performance-enhancing kit on top of its crackerjack of an engine.
Ask the heycar experts:
common questions
Is the Alfa Romeo Stelvio reliable?
It's hard not to fall for the Stelvio's looks, but as is the worry with Alfas, reliability is a concern. While there hasn't been any major recalls or reported issues, but Stelvio owners are still finding reliability questionable.

Does the Alfa Romeo Stelvio come with Apple CarPlay
While the Stelvio comes with a pretty decent infotainment system, the good news is that both Apple CarPlay and Android Auto are standard across all trim levels.

Is the Alfa Romeo Stelvio All-Wheel Drive?
Regardless of what trim level or engine you opt for, all Stelvio models come with Alfa Romeo's Q4 All-Wheel Drive system.

Alfa Romeo Stelvio cars for sale on heycar
91
Number of cars available
£21K - £73K
Price bracket of these cars
Colours available on heycar
Keep me updated by email with the latest advice, news and offers from heycar
By submitting, you agree to our
privacy policy
.