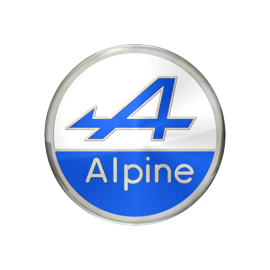 Alpine
Alpine (pronounced 'Al-peen') is a French sports car manufacturer with a history for rallying. In 1973, the A110 1800 won the World Rally Championship - beating rivals from Porsche, Lancia and Ford - while a win at the Le Mans 24 Hour race followed in 1978. Today, Alpine's a subsidiary of Renault, relaunched in 2017 with the A110 sports car. It's a niche model, but one that's attracted a lot of plaudits in the press, and in 2019 it was runner-up in the annual European Car of the Year awards. The Alpine brand has developed an enthusiastic following in the UK, with many owners happy to consider it a serious alternative to Porsche or Lotus.
Models
Which Alpine is right for me?
Alpine only sells one car at the moment: the two-seater A110 sports car, albeit in a variety of flavours (Pure, Légende, S and Limited Edition). It's a left-field alternative to the likes of the Porsche Cayman and Audi TT, with a mid-engined layout and a race-car-esque cabin. If you care about little more than how well a car drives, you'll love the Alpine A110.
Tell me something I don't know about Alpine
Renault was originally working with British brand Caterham to relaunch Alpine. The brands entered a 50/50 partnership, with each expecting to launch a €40,000 sports car and selling 3000 a year. Caterham had 110 engineers based in Norfolk working on the project, but money ran out before it made production. Caterham pulled out in 2014 and Alpine went on to launch the A110 alone.