Alpine A110 Review

Written by
heycar editorial team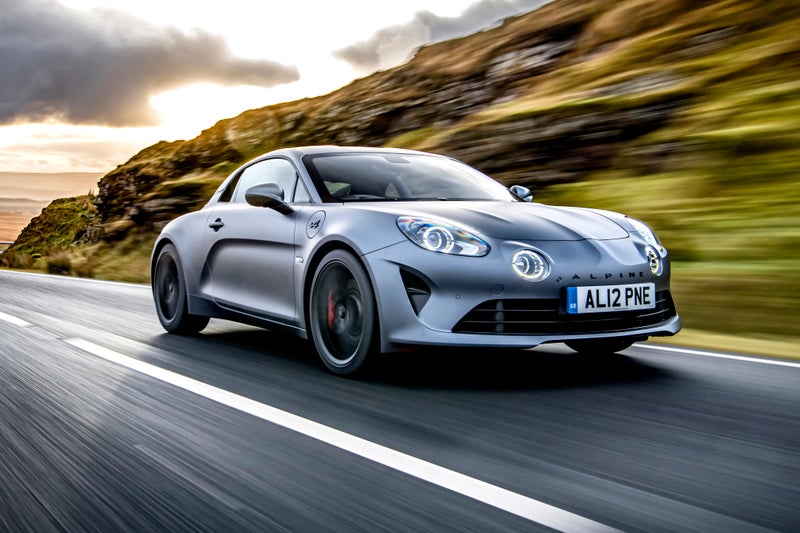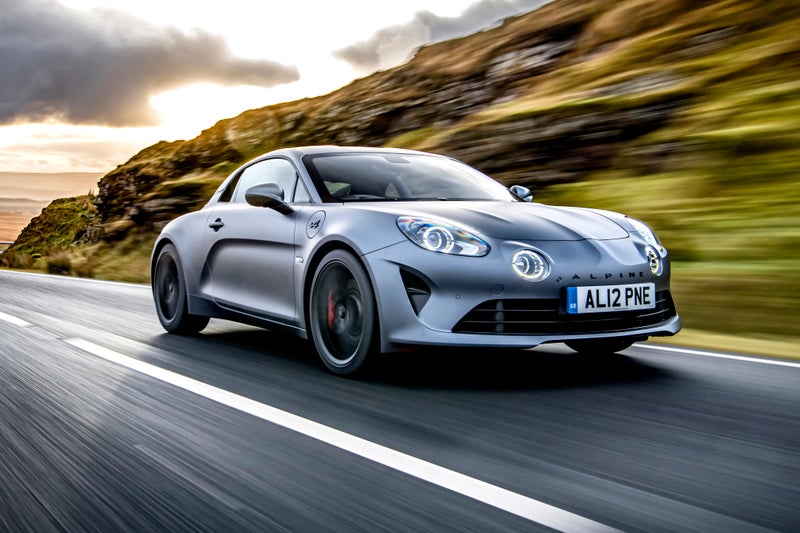 1/10

heycar rating
"Sports car perfection, with provisos"
Launched: 2017

Performance

Petrol
Quick overview
Pros
Brilliantly engaging, light and fun car to drive
Surprisingly economical if you're not always in a hurry
It's different, and demonstrates you've not just followed the sports car norm
Cons
You'll get in it and wonder if you've really spent just £50,000 on those interior plastics
If you want to carry anything more than a couple of squashy bags, forget it
For such a driver-focussed car the lack of a manual transmission is a clear oversight
Overall verdict
On the inside
Driving
Cost to run
Prices and Specs
Overall verdict
"Enthusiastic drivers of the world rejoiced when the first critiques of the A110 came back with raving reviews, this a sports car that harks back, not just visually, to a bygone age where driving was engaging and fun, without an emphasis on big power and ridiculous speeds."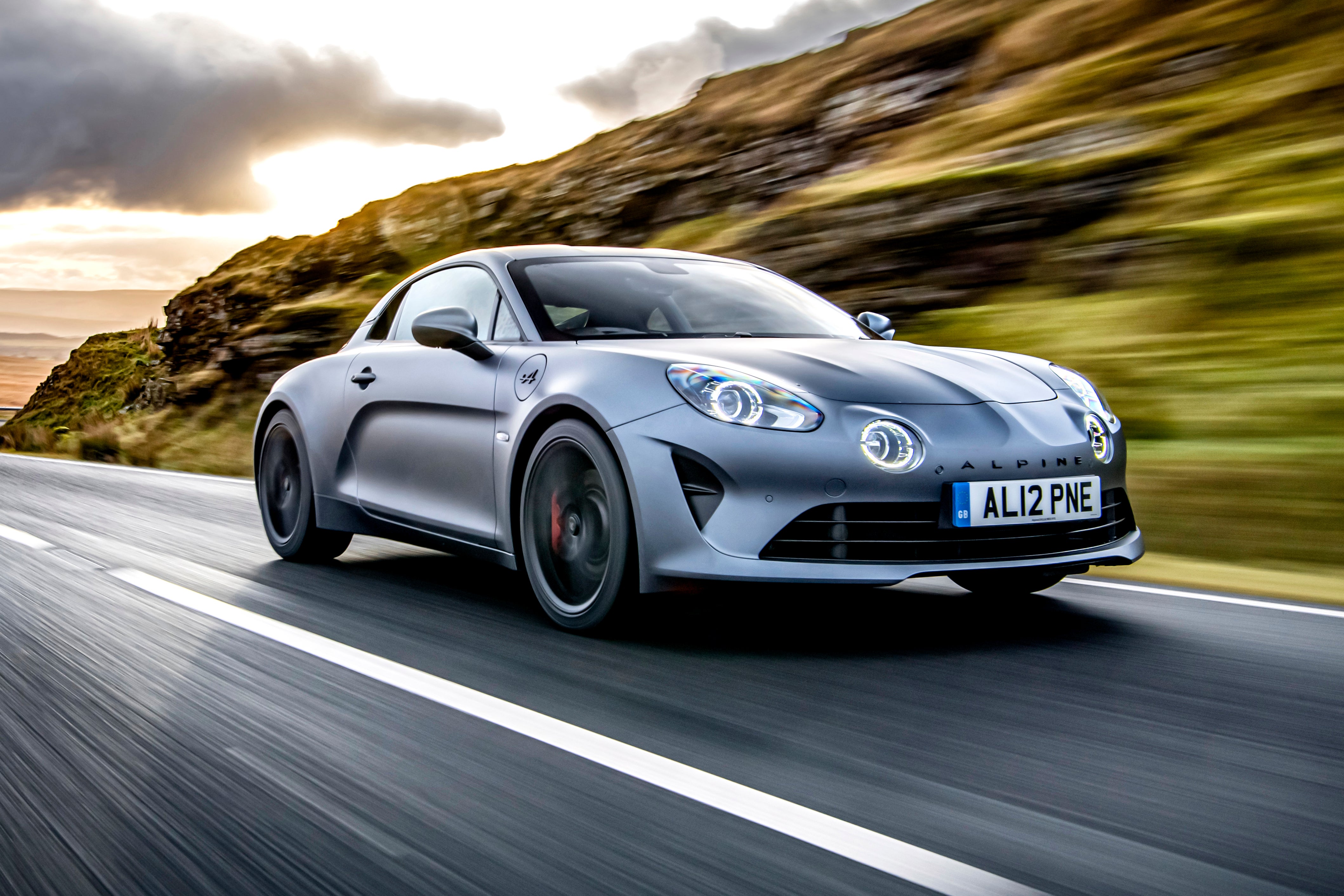 You pay for that with some compromises, but, to its core audience, they're well worth it. A purist, old-school driving car, which you'll have to be committed to live with, but the rewards are arguably worth it.
The Alpine A110, pronounced 'Alpeen' should you not know (which, frankly, you could be forgiven for) is a French sports car that was introduced to shake up the sports car market. Renault decided to revive a badge from its past, building a modern interpretation of the company's most successful sports car, the Alpine A110.
Renault has long owned the company, and in either a masterstroke of brand revival, or mad moment of ill-considered motorsport nostalgia, decided to re-introduce it and take the fight to established sports cars brands.
It's not just the name that evokes Alpine's illustrious motorsport past, but the shape of the A110, it echoes closely that of the original from the late 1960s. Compact, light and balanced, Alpine's nod to the past is not only very deliberate, but it also bucks the trend for weightier, big power sports cars, to tremendous effect.
The A110 is a car very much aimed at a purist driving enthusiast audience and Alpine has put tremendous effort into making it as light as possible. As such, the entry, Pure A110 weighs in at around 1100kg. That is hundreds of kilos less than the majority of its rivals.
That low weight allows modest power, but no less scintillating performance. Indeed, no A110 is more powerful than 300PS, and the majority are 252PS, with the biggest output of 292PS reserved for the range-topping A110S and Legende GT models.
In all there is performance to rival, and better, some very good rivals. Any A110 will reach 62mph quicker than a standard specification Porsche Cayman S, for example, which is admirable given the power deficit, but while it impresses against the stopwatch, it's in the corners where the Alpine really shines.
We're not sure whether it's something in the water in France, or just childhoods being driven around in fine-riding Citroens, but French chassis engineers have an incredible knack of giving incredible driving engagement and chassis balance, allied to a supple comfort and ride that takes the edge off even our tortuously surfaced roads.
To achieve that, while still offering the sort of feel and detail that demanding drivers demand really is a dark art, but it's one that the people at Alpine have evidently mastered.
A hugely entertaining driver's car, then, but there is a pay-off to that. It's not just the fact that most of your friends won't have heard of the French sports car firm, or, perhaps rightly, wonder why you didn't just buy a Porsche like everyone else does.
Whether they'd be right is down to what you want from your near £50,000 sports car. Yes, gulp, that's £50,000. If you want useable performance, huge entertainment at road speeds and the sort of rich feel that's lacking in most of its competition, then step this way.
If you want an interior and infotainment befitting of that not insignificant outlay, or indeed the sort of practicality that might make it a daily driving proposition rather than an occasional plaything, then you might want to look elsewhere. However, if you've gotten this far (well done) you're obviously interested, so, read on…
Is the Alpine A110 right for you?
If Monte Carlo is about rallying to you and not casinos, then why aren't you already out driving your A110? You value your driving, relish it, even, and you don't want a Porsche Cayman – because that's what everyone buys. You'd consider an Audi TT as too blunt a tool and you've probably owned a Lotus Elise haven't you...
The A110 is fairly singular in its intent, it's a car to enjoy driving in. You'll not have the space or any of the practicality of something like a Ford Fiesta that it weighs less than, but you'll happily put up with some compromises for the utter joy it brings. All that sound familiar? Then there's an Alpine salesman who wants to meet you, desperately.
What's the best Alpine A110 model/engine to choose
As with many sports cars, it's the most basic, cheapest one that is arguably the most appealing. Alpine offers the A110 in three trims, Pure, Legende and A110S, with the Pure and Legende doing with 252PS versions of the 1.8-litre turbocharged four-cylinder engine while the A110S getting a 292PS tune of the same Renault-sourced engine.
At a little over a tonne in weight the Pure and Legende's output is more than adequate, allowing a 0-62mph time of 4.5 seconds. Indeed, the S only betters that by a scant 0.1 seconds and if you can notice that then you should consider being a racing driver for a living.
All feature a seven-speed paddle-shifted twin-clutch automatic transmission and while you need to spend a bit of money on extras like a Sports Exhaust to experience the Pure model at its best, it's still the one we'd recommend.
The S, for all its bigger power actually denies the A110 of some of its core appeal, its tauter suspension and larger tyres robbing it of some of its finesse on the road, for little gain in actual real-world speed.
What other cars are similar to the Alpine A110?
The Alpine A110 operates in a relatively narrow bandwidth, its focus on driver appeal. At one extreme end of the spectrum you could suggest very pure cars like Caterhams, Ariel Atoms and suchlike, even if the Alpine isn't quite so extreme in its compromises. In reality it probably sits between something like a Lotus Elise and a Porsche Cayman, erring closer to the Porsche in concept, but more like the Lotus in execution.
Indeed, the A110 is a pretty difficult car to categorise, largely because it's not directly comparable to anything else, even if its price and performance do make it sit alongside things like that Porsche, however comfortably or not.
Comfort and design
"A low, focused sports car, the A110 isn't really designed with comfort in mind. You'll have to clamber into the sports seats, but once you're in there they're hugely supportive and provide good long-distance comfort."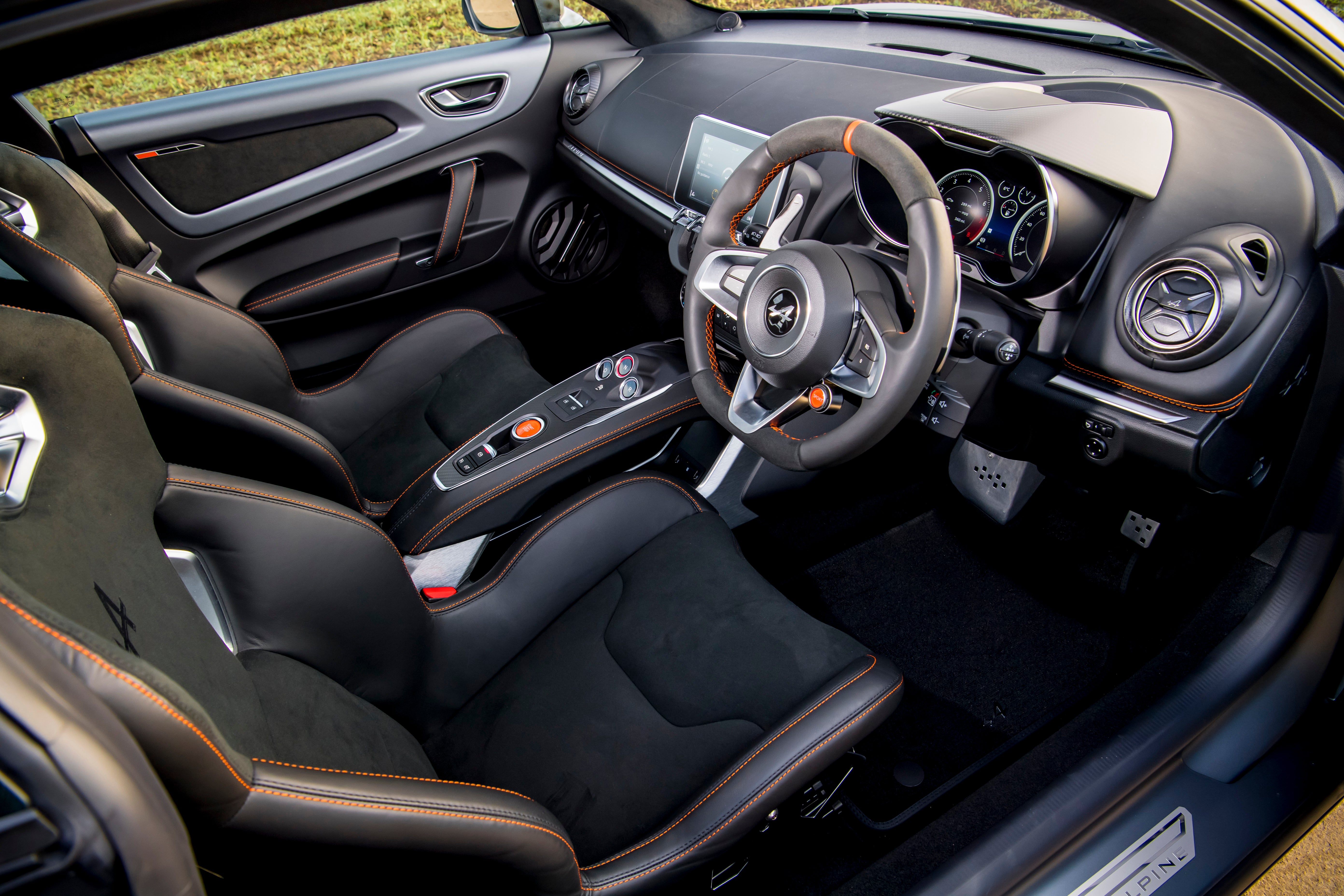 The suspension's clever trick of being supple yet controlled also pays dividends over some choppier, busier riding rivals, making the A110 a useable long-distance proposition should it need to be.
Where it falls short is in areas around the interior. The infotainment is fiddly and slow while the digital dash looks a bit cheap. A set of proper analogue dials in front of you would be so much more appealing and easy to read, too.
You'll need to get used to things rattling around inside, as, in a quest for absolute minimum weight, Alpine has omitted useful things like a glovebox. Or even door bins to chuck a phone or some sweets in.
At least the heater and ventilation controls are conventional, Alpine resisting the trend of many to put these into the multimedia touchscreen. A pair of big, simple rotary dials allow you to quickly and easily set your preferred temperature and airflow.
The cabin layout is fit for its intended purpose then, even if that purpose does mean some compromises in usefulness, the expectation being that you'll be enjoying driving too much to care about the fact that there's nowhere useful to put your phone, wallet, etc when you're in it.
Quality and finish
The Alpine A110's chief, and most unforgivable, failing is its interior. Looking in from outside it all, superficially, looks good, a flying centre console, nicely designed steering wheel and instrument cowl behind it and deeply bolstered sports seats.
Getting in reveals some of the subterfuge, with many of the materials falling significantly short of expectations of a car with a price tag, which with a few options pushes it into the £50,000 category.
We're used to parts sharing in sports cars, even Aston Martin does it borrowing bits from Mercedes-Benz. But here, and unsurprisingly, the Alpine borrows a lot of its interior bits from its Renault parent company.
The stalks and switches from a £10,000 Twingo city car really aren't befitting in something commanding the price the Alpine does. Consider, too, that it's in a class that sees it line up alongside with a car like the Audi TT, with its beautifully designed and executed interior, or indeed those Porsche Cayman models.
Even the people at Toyota realising in its joint venture with the BMW's Z4 to produce its Supra, that Toyota should use the premium maker's interior parts.
Experience of Renault interiors does suggest that some of those materials might look even less impressive in a few years time, let alone a decade or two.
Infotainment
Like all the interior switches, dials and stalks, the infotainment is a version of something that can be found across Renault's model range.
It's not a particularly impressive system to feature in a mainstream, volume car line-up. Even re-branded to suit the Alpine, when it's placed in a car that counts rivals from Porsche, Audi and BMW, it falls significantly short of expectations.
The navigation mapping lacks the clarity and detail of the best systems out there, or indeed what you'll find in your pocket on your smartphone, the operation of the Alpine's infotainment feeling particularly clunky and slow.
There's connectivity on offer, but it's last generation levels of it, the Alpine doing without either Apple CarPlay or Android Auto, which are a specification given among its rivals in this class. What should be simple things, like adjusting the volume, or changing radio stations needs practice and patience.
Likewise, the digital instrumentation lacks the sharp looks of things like Audi's Virtual Cockpit, and the inability to have the A110 in Sport mode without its instrument dials changing to a fussy layout is a frustration.
Space and practicality
The A110 is light in weight and clear in focus, but that focus does not relate to practicality. Indeed, Alpine makes the A110's compact dimensions a virtue in its goal to create an entertaining driver's car.
That might be true, it being a small car, outside, but the cockpit is decently accommodating, drivers of 6ft and over able to get comfortable behind the wheel. The steering column moving for rake and reach helps, here, as does the low position of the seat in the cockpit.
If the driver and passenger are decently accommodated it's at the expense of space for much else. No small +2 seats in here, the A110 a strict two-seater. There's actually next to no stowage in the interior, the cabin's width not intruded into by anything as useful as a door bin.
Likewise, reach under the dashboard in front of the passenger and you'll not find a glovebox. Keep your phone, keys etc in your pockets then, as the only solution Alpine offers is an optional cargo net and interior storage case which cost £460 when new. Most buyers didn't bother.
For more substantial luggage you've a choice of boots, the A110's mid-engined layout meaning there's one up front and another in the back. Don't think that means you can be wanton with your packing, as stuff for more than a weekend away, packed in soft bags will fill the combined 196 litres offered by the front (96 litre) and rear (come on, you can do the maths here) boots.
Forget trips to the cash and carry to stockpile bogroll, flour and yeast the next time there's the suggestion of a pandemic as you'll be doing well to get a week's worth of shopping in. And give up golf, nobody plays it these days and you'll not get your clubs in the boot even if you wanted to.
It's a sports car, so to criticise it too much for being impractical is perhaps unfair, but an Audi TT will feel like an estate car in comparison (712 litres if you fold its rear 'seats'), while that oft mentioned Porsche Cayman's similarly combined front and rear boots is over double that of the A110 at 435 litres.
Handling and ride quality
Just brilliant - and deserving of the praise heaped upon it when it was launched - the A110's ability to both deliver driver engagement and fun, allied to a supple, cosseting ride is pretty much unsurpassed.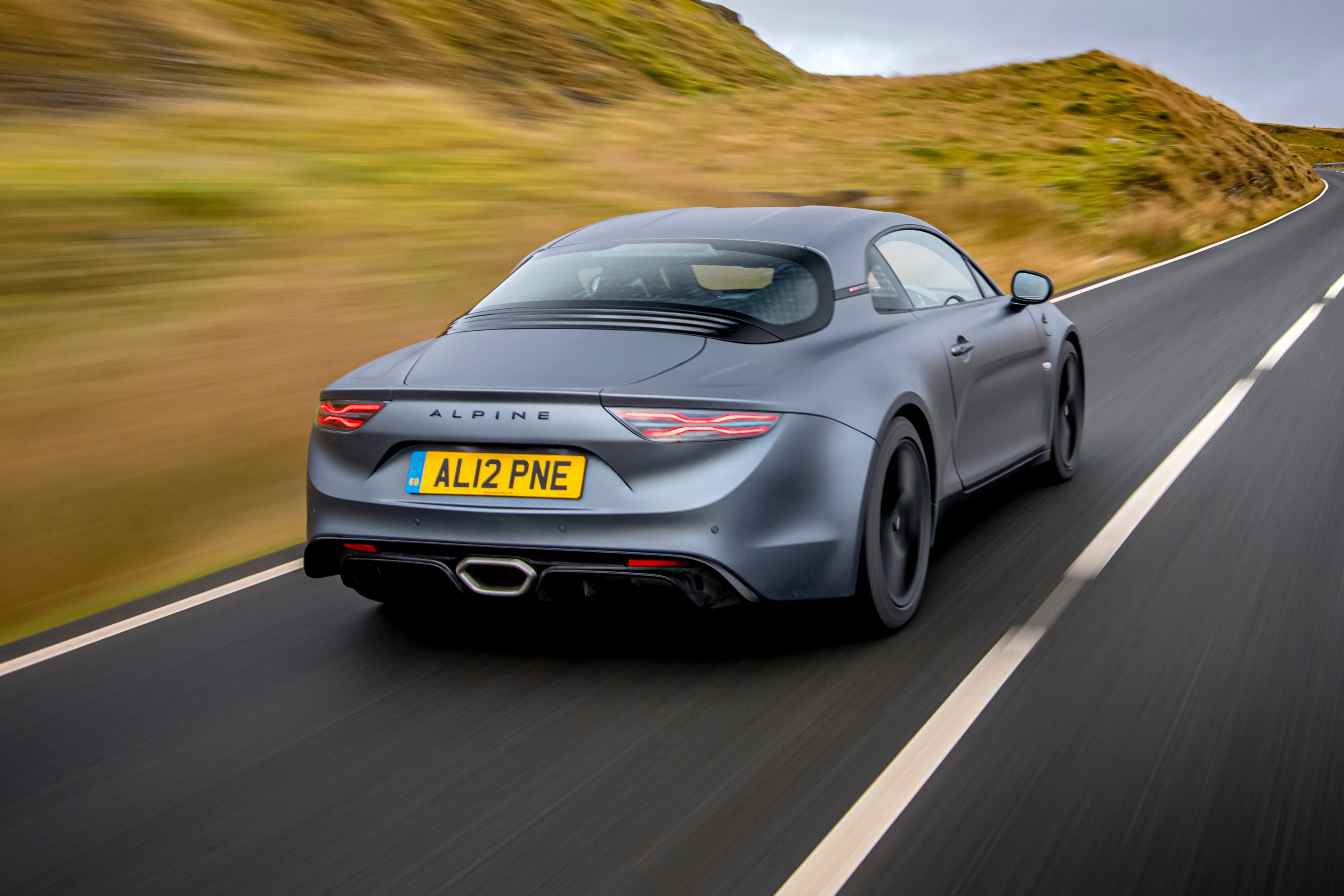 French chassis engineers seem to be alchemists in the ride and handling department, and the Alpine A110 is arguably the current zenith, certainly among its sports cars rivals, indeed, if not of all cars on sale today.
Alpine really has proved you don't need variable, driver selectable damper modes, instead just setting up a passive double wishbone system perfectly, with superbly judged spring and damper rates.
It rides well, even on the terrible Tarmac that makes up a good portion of roads in the UK, yet it does that without feeling detached, or resulting in any loss of body control.
You really do have the sensation of the car moving with you, beneath you. It's this that makes it so appealing. That manifests itself with fine steering, in weighting, speed and precision, the A110 seemingly pivoting centrally, the steering response detailed and quick.
Push it hard, as you might on a track and not only is that fine chassis and weight distribution even more evident, but so too are the lofty limits of grip on offer. There are no surprises should you breach those grip levels, either. This a talented chassis that can be exploited, and enjoyed – and not just by the most expert of drivers.
The A110S should build on this with its more focussed set-up, but while it would certainly be a bit quicker around a circuit, the tauter suspension, allied with the larger tyre footprint robs it of some of the standard car's delicacy on the road.
That the A110 amuses at normal, safe road speeds on all roads, from motorways to country roads, with all the stability and traction control systems still on, is testament to this.
Indeed, the A110 a sensation-rich riposte to the sport car market's obsession with massive grip, ever rising power outputs and detail dead steering allied to multiple-choice, brittle to rock hard suspension. And that makes it pretty special indeed.
Engines and gearboxes
One engine powers the Alpine A110, a four-cylinder turbocharged 1.8-lite unit that also sees service in a number of RenaultSport's hot Clio and Megane models.
In the Pure and Legende power output is 252PS with torque of 320Nm, while the A110S, introduced in late 2019, gets a modified version of the same 1.8-litre turbocharged engine with its output increased to 292PS.
Torque stays the same with the A110S, at 320Nm, that produced from 2000rpm to 6000rpm, which gives the engine great low rev flexibility. There's reward if you rev it out though, with peak power in each developed in at 6000rpm, giving the incentive to run it up to its redline.
Do that and the paddle-shifted seven-speed twin clutch automatic transmission reacts quickly, changing the driving modes through from Normal through Sport and onto Track.
This changes the mapping of the engine and transmission, as well as slightly raising thresholds for the stability and traction controls to allow you to revel in its performance more. And hear more evocative notes from the sports exhaust if you've optioned it.
However impressive the paddle-shifted automatic proves, it's a real shame that Alpine doesn't offer such an analogue, engaging and puristic driving car with a manual transmission and a third pedal, particularly as it would have been true to the original car it apes.
Refinement and noise levels
The A110 might not be practical as such, but that's not to say it couldn't be used on longer journeys. The suspension's supple ride and the comfortable, supportive sports seats make it a surprisingly able long-distance cruiser, while the fine economy on sustained cruising speed is useful.
Refinement when doing so is admirable, there's not much in the way of wind noise, being low and slippery in its shape, while there's not a great deal of tyre on the road, so, consequently there's not a great deal of road noise. What engine sounds there are, aren't entirely unwelcome, indeed, most of the time they're enjoyable.
We're not suggesting you pick an A110 for a lengthy daily commute, but, should you have one and need to do the occasional longer journey, or drive it not just for the sheer joy of doing so, then it's not out of its depth. In fact it's actually quite adept, so long as you can accept its other compromises, of no luggage space and the fiddly, frustrating infotainment.
Safety equipment
There's no Euro NCAP, or other, independent crash tests for the tiny volume Alpine, but Renault's track record for passenger safety is admirable, so it's safe to assume that the A110 will have been built along similar principles.
There's ABS, with emergency brake assist, driver and passenger airbags, traction and stability control systems, while its agility and those strong brakes should help it avoid an accident in the first place. There's no spare wheel, a victim of Alpine's obsessive weight saving, instead you get an inflation kit and some gloop to fix punctures.
The entry Pure model does without parking sensors, front or rear, these are a cost option. The next model, the A110 Legende gains front and rear parking sensors, as well as a reversing camera. Oddly, the highest price model, the A110S loses the reversing camera from its specification.
All can be fitted with the higher performance braking system from the A110S, though it's an expensive option at over £2,000. There's no option for Isofic on the passenger seat, either.
MPG and fuel costs
"For a car that's so driver focussed its economy is impressive, but perhaps not surprising given its light weight. On the tough, relatively realistic WLTP economy testing protocol the A110 achieves 39.2mpg."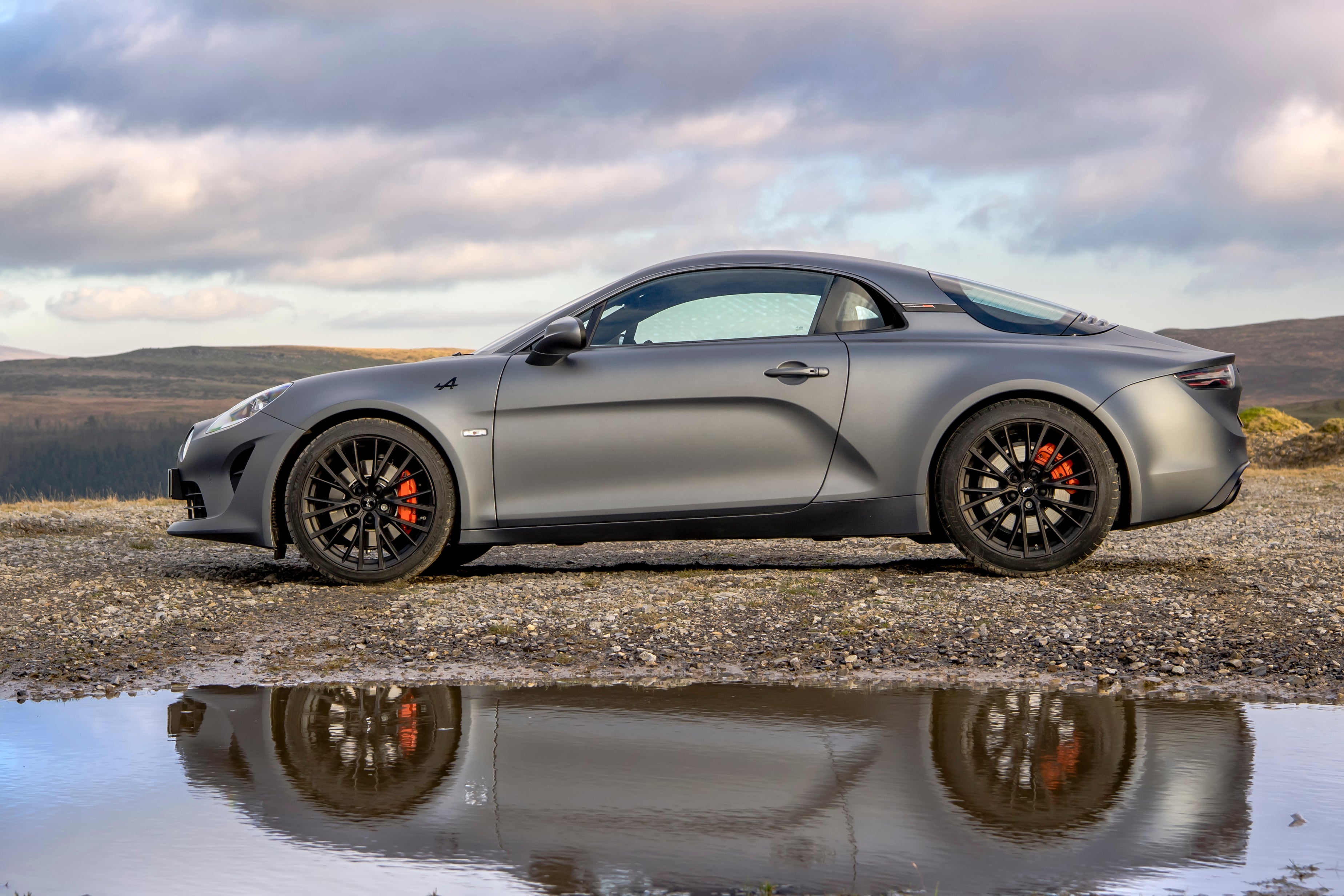 You're not punished too much if you go for the higher power A110S, it recording a combined figure of 38.6mpg. On a long cruise you might even better those figures, but it's such an enjoyable drive the expectation is you'll get less…
Insurance groups and costs
The A110's insurance groupings of 44 and above is comparable to its rivals. Keep it garaged, perhaps even put it on a limited mileage policy if it's an occasional plaything and you'll save some money. All come with a three year 60,000 mile warranty, with the first two years being unlimited in miles.
VED car tax
With a price tag north of £40k, the Alpine is hit with the extra £325 a year showroom tax for the first five years. That means you'll pay £475 a year in tax - ouch.
How much should you be paying for a used Alpine A110
"A trawl of the classified demonstrates that residual values for the A110 are incredibly strong."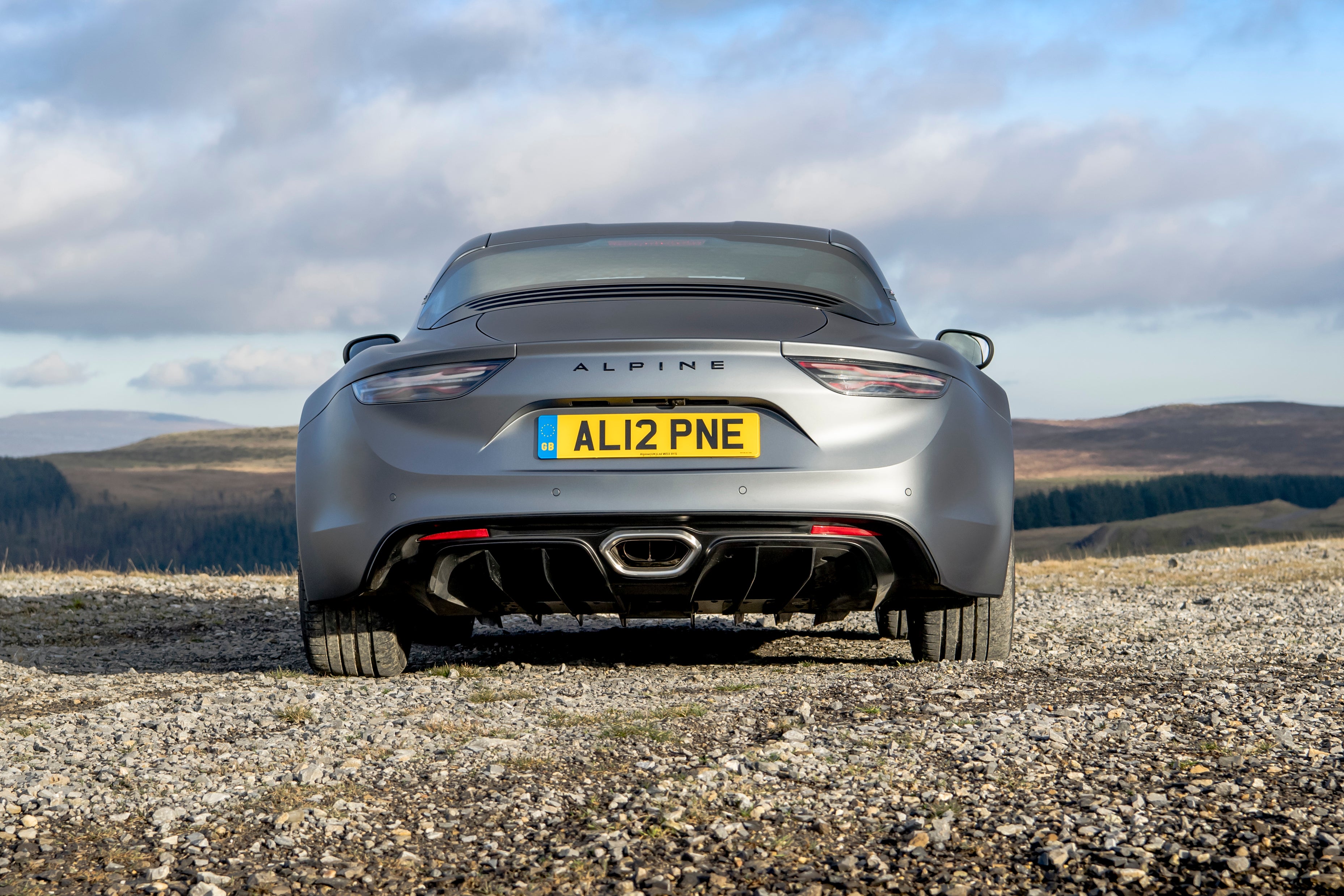 That or sellers are rather optimistic – some being wildly so. It pays to be patient but the chances of getting a bargain are slim...
Trim levels and standard equipment
The Pure is arguably the perfect, basic, specification if you're really committed to Alpine's purist philosophy, but it's difficult not to be seduced by the Legende above it, as it adds a few desirable things to the standard equipment.
You gain useful front and rear parking sensors and a reversing camera, aluminium pedals, an improved audio system and larger 18-inch alloy wheels (over the 17-inch wheels of the Pure). The A110S gets the sports exhaust (an option on both the Pure and Legende which is worth looking for) as standard, it also gets a higher performance braking system among its range-topping specification.
As easy as it is to be seduced by the promise of the A110S's greater power, the performance differential is smaller in reality than you'd thin. Indeed, the A110S's changes to the chassis actually lessen the appeal of the A110.
Occasionally there are special models, the A110 was introduced with the Premiere edition, while Alpine is offering a Color (sic) Edition based on the A110S throughout 2020. Expect more specials in time as Alpine attempts to maintain interest in its small volume, niche model.
Alpine A110 cars for sale on heycar
5
Number of cars available
£51K - £54K
Price bracket of these cars
Colours available on heycar
Keep me updated by email with the latest advice, news and offers from heycar
By submitting, you agree to our
privacy policy
.