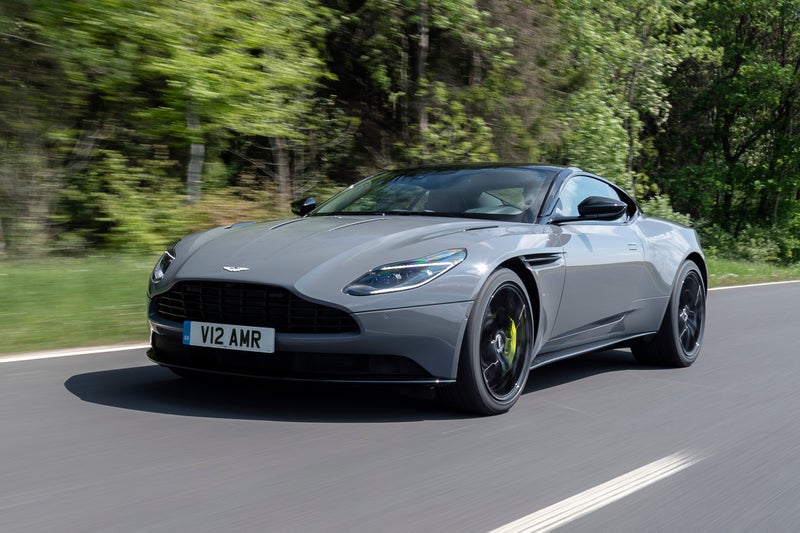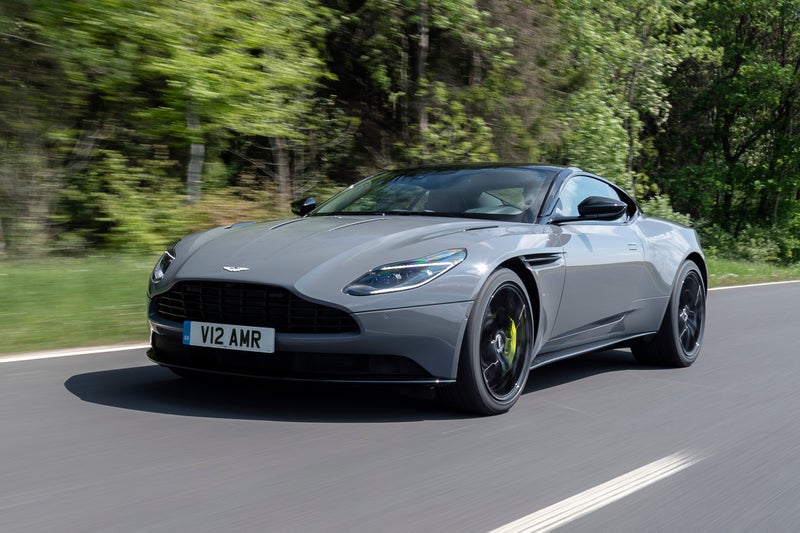 1/10
heycar rating
"Glorious, but imperfect Grand Tourer. "
Launched: 2016

Performance

Petrol
Quick overview
Pros
Stunning to look at
Aston Martin badge carries significant cachet
Huge performance, sports car agility when you want/need it
Cons
Interior largely beautiful but some cheap parts and old-tech jars inside
Full Grand Touring credentials are let down by some wind and tyre noise at speed
Expensive to buy and own, while reliability might be a concern.
Overall verdict
On the inside
Driving
Cost to run
Prices and Specs
Common questions
Overall verdict
"If you've worked hard enough to afford the DB11, it will undoubtedly make you feel special when you drive it, which is a huge part of the appeal of cars like this. A Porsche 911 Turbo will be significantly faster and a Bentley Continental GT is even more luxurious, but the DB11 spans that divide convincingly with a foot in each camp while still feeling distinct in its own way. Traditional GT appeal, wrapped in a beautiful body, the DB11 is desirable but, ultimately, bettered in many ways."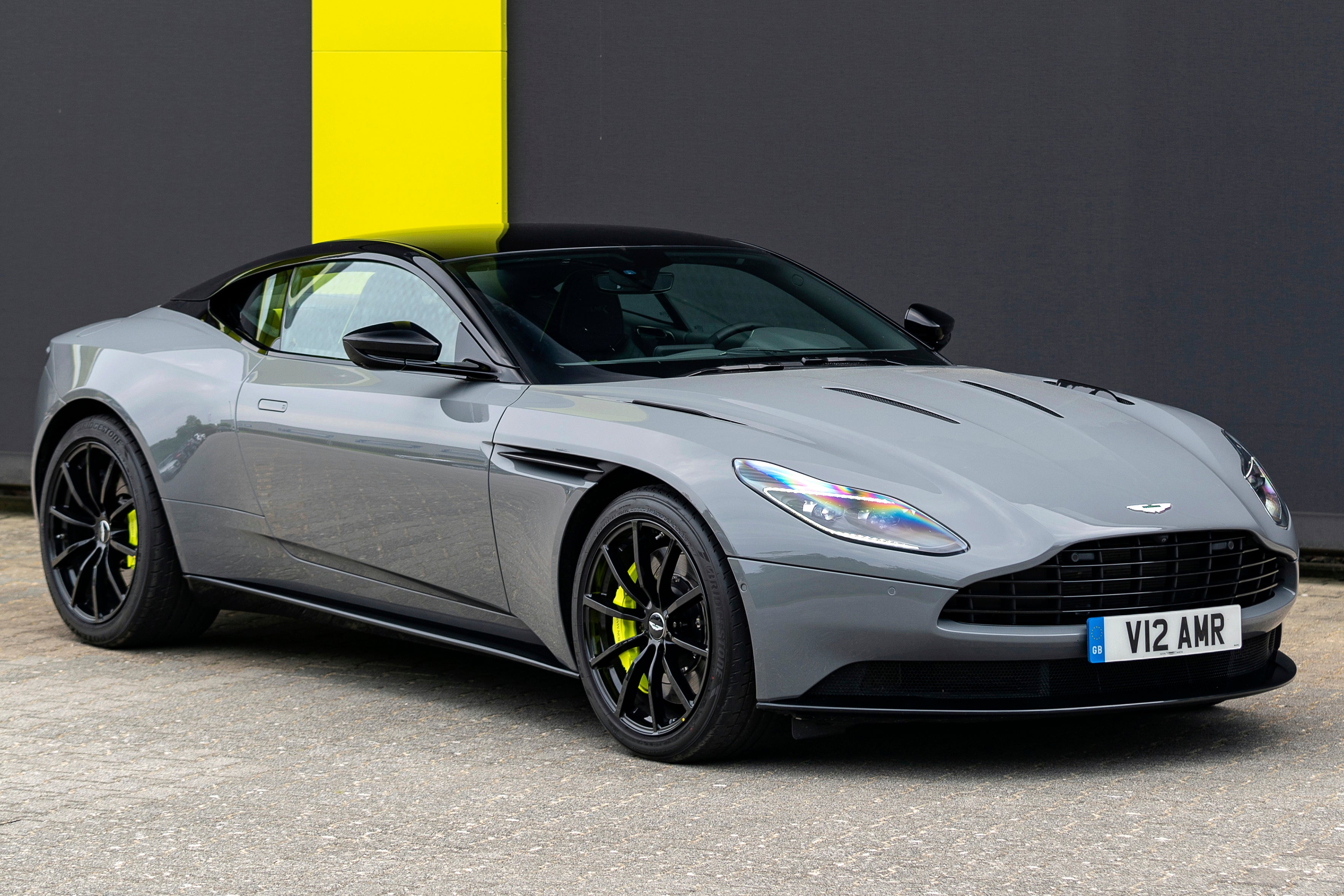 Aston Martin has always appealed to the eye as much as it has the soul and the DB11 absolutely exemplifies that, being both stunning to look at, as well as engaging and enjoyable to drive.
Replacing the successful DB9, it might have been all-new back in 2016, but it was already trailing behind its Grand Touring (GT) rivals in some areas then. Notably things like infotainment and driver aids.
The DB11 makes up for that with its sensational styling, indulgent luxury and performance, as well as that emotive badge appeal. If you're in the market for a big, powerful and indulgent Grand Tourer that's a bit more sporting at heart than some of its rivals, then the beautiful Aston Martin makes a rather compelling case for itself.
The range includes coupe and Volante models, Volante being Aston Martin's way of describing a convertible. There is a choice of two engines, a 4.0-litre twin-turbocharged V8 which makes up the majority of the DB11 choice, or a twin-turbocharged V12.
That V12 has been discontinued from the regular DB11 line-up, instead being reserved for the AMR (Aston Martin Racing) model at the top of the line up.
As the flagship AMR's name suggests, the AMR is a DB11 with a more sporting focus, riding on lower, firmer suspension, using bigger brakes and that more powerful V12 engine. It's only offered as a coupe.
While the AMR V12 might be the range-topping model, the V8 isn't exactly lacking in performance. Indeed, the difference is infinitesimal against the clock and on the road the lighter V8 actually feels nimbler than its V12 relation.
Unlike some rivals which offer four-wheel drive, all DB11s drive the rear-wheels only, through an eight-speed automatic transmission, which offers manual control via steering wheel-mounted paddle shifters.
The most obvious direct rival to the DB11 is the Bentley Continental GT, it too being British, hand built, available with a choice of V8 and 12-cylinder engines and having a starting around £150,000. Other alternatives include the Rolls-Royce Wraith, though it's hugely more expensive with a starting price around £100,000 more.
Italy offers some rivals via Ferrari, with either its GTC4 Lusso or Portofino models. Other alternatives include cars like BMW's 8 Series, the Mercedes-Benz S-Class Coupe, Lexus LC500 or Porsche 911 Turbo. Like all these rivals, the DB11 offers rear 'seats', but it's very much a 2+2, that +2 only for occasional use, ideally for small children.
A competent 2+2 GT, then, with a more sporting edge than many rivals, the DB11 is an impressive all-rounder. The indulgent interior is let down a little by some obviously bought in parts from other manufacturers, the infotainment feeling last generation – because it is – and there's none of the more sophisticated driver aids available like you'll find on something like the Mercedes-Benz S-Class Coupe.
Is the Aston Martin DB11 right for you?
You've grown out of Ferraris and Lamborghinis, Porsches are great but they're too common and while the idea of a Bentley Continental GT appeals, you're still a decade from admitting defeat and buying the big, luxurious grand tourer.
The DB11 fits in nicely then, being both indulgent, hand-built and exclusive, with a GT flavour mixed with a sports car edge. The AMR V12 could be a last hurrah, but really, the V8's the one to go for. Do it, you've worked hard for this.
What's the best Aston Martin DB11 model/engine to choose?
Open or closed? That's the real question here, so coupe or cabriolet (Volante), as the engine choice is simple – you want the V8. The V12 AMR, enjoyable as it is, doesn't add so much over the cheaper, better balanced V8s to make it worth splurging so much more money on.
We'd probably err towards a V8 coupe over the Volante, but that's our preference, there being nothing at all wrong with the Volante. Indeed, it's arguably more glamorous. Perhaps it will depend which house you park it at - if it's your holiday home go all in with a V8 Volante, if you're using it daily to get to your business, then the coupe.
What other cars are similar to the Aston Martin DB11?
The DB11's more sporting bent over its true GT rivals does widen its potential audience. There's a good chance a DB11 owner will have owned - and likely still does - own a few Porsche 911s. There's likely to be a Ferrari or two in that buying history and perhaps, given the British nod, a few special, faster Jaguars.
None really compare directly, the Bentley Continental GT is worth considering, especially as the current car is a good bit more agile than its predecessor, while Rolls-Royce's Wraith is the super luxury firm's idea of a driver's car it's crushingly expensive, one perhaps to buy when you've sold the company and retired, rather than while you're still busy running it.
Comfort and design
"Getting into the DB11 is a bit of an event in itself, the doors rising slightly as you open them, the cabin that greets you being a mix of old school hand-crafted luxury, mixed with some familiar technology."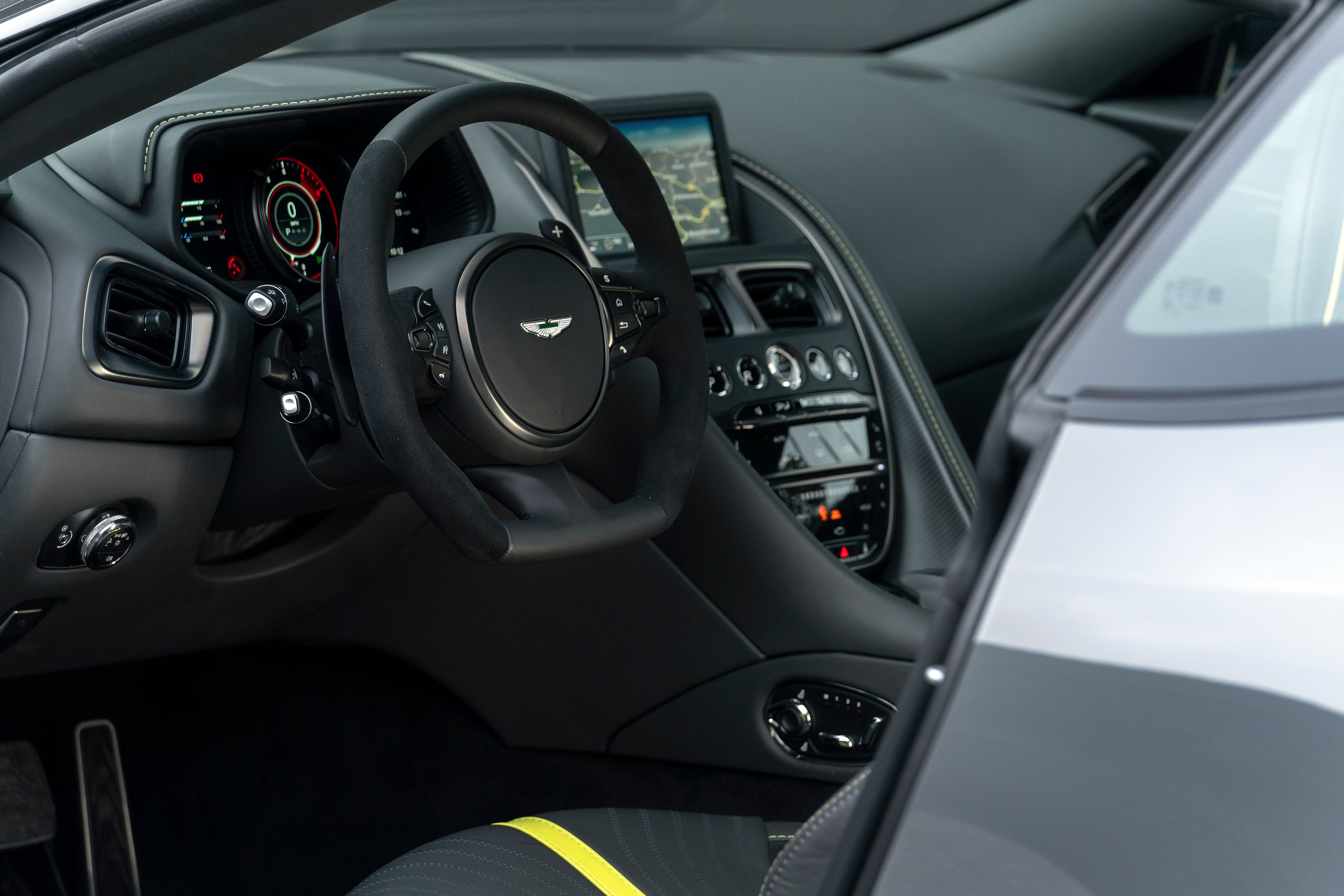 As a 2+2 there's a pair of seats in the rear, but they're tiny, so best forgotten about for anything but very occasional use. Aston Martin long did away with anything as simple as a regular automatic gear shifter, the engine started by a big central button in the dash, then Park, Reverse, Neutral or Drive selected by pushing a button.

On the move you can change the automatic's eight ratios via the paddle shifters, mounted to the steering wheel – it also having buttons to control things like the variable dampers for the suspension, the differing drive modes as well as the two digital displays that surround the large central dial in the instruments ahead of the driver.

The seats are comfortable and supportive in the front, the interior layout not without its quirks, but that's arguably part of the DB11's old-school appeal.

The seats might be comfortable, but the high instrument pack, as well as the height of the top of the dashboard and rake of the screen do mean visibility out front isn't brilliant, particularly when manoeuvring. Likewise the view out the rear window and over your shoulder isn't great, either, making the DB11 sometimes difficult to place on the road, as well as park.

Quality and finish
Personalisation is the norm at this rarefied level of car ownership and new Aston Martin DB11 buyers have an almost infinite choice to do exactly that.
Leather or Alcantara finishes for the seats, door, and dash areas can all be specified in any colour or finish, likewise the majority of other materials can be picked to individual tastes, whether it's a more technical look with carbon fibre or traditional with wood trim in infinite veneers and colours. Even the carpet can be had in different thicknesses in the DB11.
It all feels indulgent and luxurious. There's a but, though. For all the evident craftmanship and skill in creating the DB11's interior, there are areas that let it down. Things like the cheap-feeling air vents really jar to look at and in operation.
Some obvious parts sharing from Mercedes-Benz (and a 12-volt outlet cover from Ford) does lessen the impact and appeal of the DB11's interior somewhat. Aston Martin isn't alone in buying in certain components from other manufacturers, but others do more successfully.
Infotainment
Understandably, perhaps, given they're incredibly expensive to develop, Aston Martin borrows its media from Mercedes-Benz. It's not the latest system, either, so the screen is small at just 8.0 inches and operated by a dial and pad rather than by touch.
It's all a bit slow while the display and operation reveal its vintage. So too does the fact that it's not possible to have either Apple's CarPlay or Android Auto, even as an option, though Bluetooth, aux-in and USB connection of smartphones is possible – but you'll be limited to what you can do with them.
As standard there's a 400-Watt stereo, that could be upgraded to a 700-Watt Dolby Pro Logic System, or an even more powerful 1000-Watt Bang & Olufsen BeoSound system, which sounds incredible.
Elsewhere inside the DB11's cabin you'll have to get used to the operation of things like the ventilation and heating. It's fiddly thanks to the use of a touch panel, rather than easier knobs, while controlling the view either side of the instruments via the wheel-mounted buttons does require patience. Best find a set-up you like, then leave it alone...
Space and practicality
As a GT the DB11 harks back to an era where owners might pack light, jump in it on a Friday night and thrash across Europe to gamble in Monte Carlo, party in Paris or hang about in Antibes.
Cheap air travel might have ruined that romantic notion, but the idea of a big, easy GT remains. The DB11 largely fulfils it, for two, as you wouldn't want to squeeze anyone in the back pews for more than a few minutes. And certainly not a cross-continental dash. If you've tiny children, baby seats should fit, but it will take practice getting them in and out of it, particularly if they're rear-facing.
Those sat up front are generously accommodated, though storage is light, Aston Martin having omitted to add a glovebox, there's a small compartment between the front seats with an electrically operated sliding lid which doubles up as a cupholder should you need it.
Think of those rear seats as additional storage, supplementary to the boot, which at 270 litres is moderately capacious, though the tight and narrow opening to access it does limit its usefulness – golf bags (remember those) will need the bigger hitting sticks removed to get them in easily. There's no spare wheel in there either, instead you get a tyre inflation kit and tyre sealant.
Handling and ride quality
"The DB11 might have its top billing as a Grand Tourer, but Aston Martin has always erred towards the more sporting end of that broad spectrum. There's double wishbones up front for the suspension, the rear being a multi-link set-up, these set up slightly differently between the coupe, Volante (convertible) and AMR V12 models."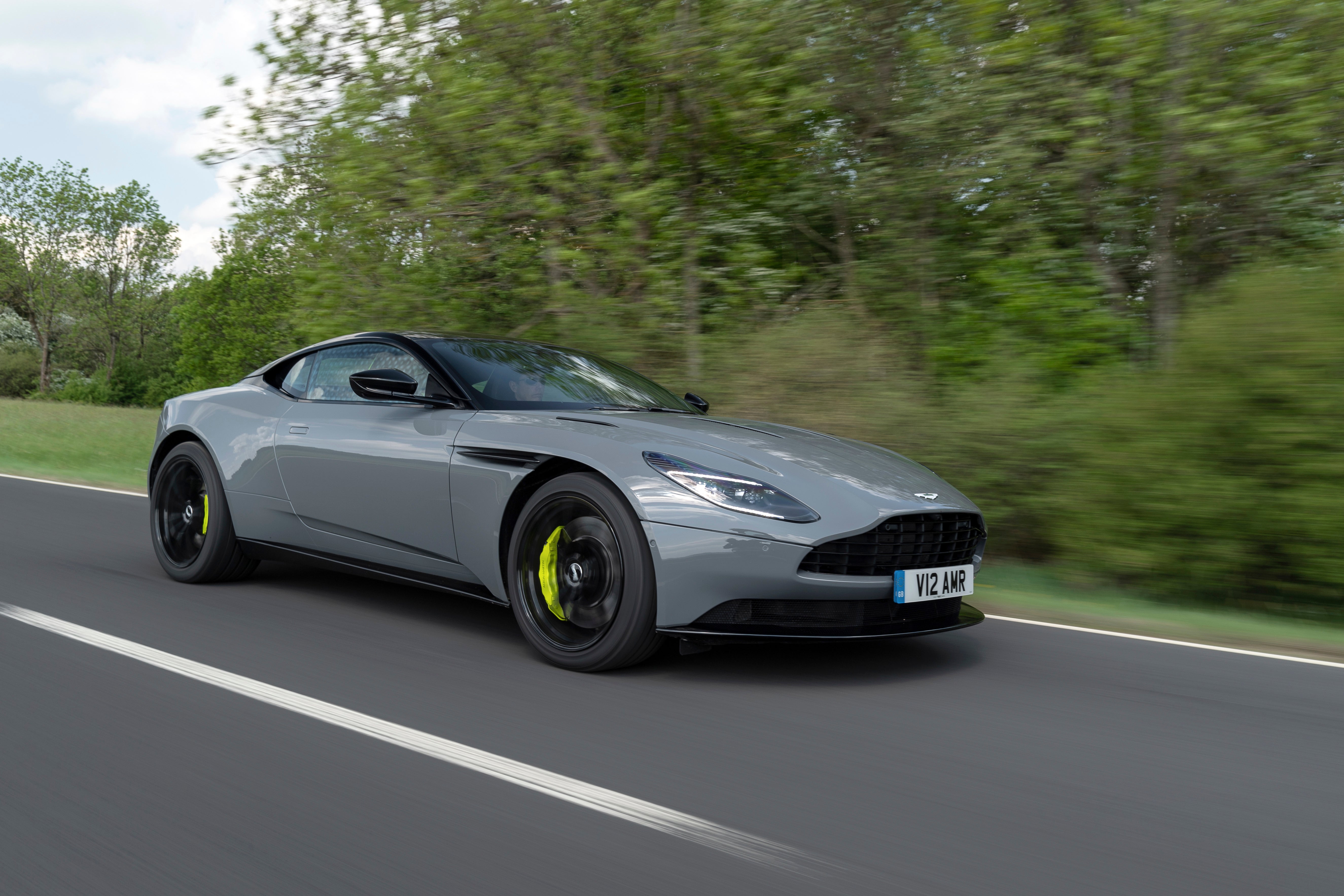 All models feature adaptive dampers, allowing you the choice of GT for the best ride quality, Sport upping the firmness for some additional impression of agility, and Sport+ taking that up a level. It's focus being best reserved for when the tarmac is glass smooth if you don't want unnecessary interference from the road surface.
The AMR ups that intensity further, it's intent being a more focussed driver's machine, with the most indulgent power unit under its bonnet in the guise of Aston Martin's 5.2-litre twin turbo V12. The suspension is modified, with stiffer anti-roll bars for greater sharpness to steering inputs and tauter body control. The trade-off for that greater sharpness being a slight deterioration in ride comfort.
All come on 20-inch alloy wheels as standard, which ride respectably in GT mode. You'll not feel quite as cosseted as you might in other GTs, but the DB11 does have a wider breadth of talent. And while the suspension can get a bit busy on rougher surfaces, it's rarely inconvenient or genuinely uncomfortable.
The pay-off is in its agility, the DB11 feeling surprisingly nimble given its scale and GT credentials. It's among the most sporting to drive of its contemporaries. The steering is light and accurate, more so in the lighter V8 than that V12 AMR, though in both the quick turn in and decent weighting is slightly dulled by the lack of any real detail through the chunky steering wheel's rim.
Huge grip and stability, Aston Martin's switchable stability and traction control systems, allied to an electronically controlled limited-slip differential underline the DB11 has been designed to be enjoyed behind the wheel. And by and large it proves so on the road.
Engines and gearboxes UK specific
When it was introduced the DB11 was powered exclusively by a 5.2-litre V12 engine, though a 4.0-litre V8 quickly followed. The V12 has been discontinued across the line-up, though it survives in the AMR Coupe, in 630PS form.
The bulk of DB11s are powered by a sophisticated 4.0-litre twin-turbo V8. It, like the infotainment inside, it is bought in from Mercedes-Benz, specifically its AMG high performance division. That's no complaint, as in honesty if you're going to buy in engines from anywhere, AMG is as good a place to do so as any.
It's not short on performance, with 503PS and 675Nm of torque, it can reach 62mph in just 3.9 seconds and onto a top speed of 187mph. And it's got a rousing soundtrack to match the eye-widening performance, that crackles with intent even when you start it.
The V12 is more powerful, with 630PS and 700Nm of torque, but that greater output only allows the AMR to shave a scant 0.2 seconds off the 0-62mph time and adds an entirely unneeded 21mph to the top speed.
Even so, it'll take a determined AMR driver to shake off the standard DB11, both engines offering huge flexibility thanks to their twin turbo set-ups, with huge low and mid-range acceleration on offer in each.
The eight-speed automatic transmission works well with both engines, though it's at its best when driven using the steering wheel-mounted paddle-shifters, particularly when you're really enjoying the DB11's performance.
Refinement and noise levels
Both engines produce what might be considered noise, but that is more correctly described as sound. It's welcome too, from the rousing flare at start up, to the rich mechanical tones and exhaust notes when you're driving it hard, the engines - and the sounds they make - are a good part of the DB11's appeal.
Switching driving modes ups not just the intensity and speed of the controls but, similarly, generates more evocative, rousing sounds, which is entirely welcome. What's not is the presence of tyre and wind noise, the large low profile tyres of the DB11 bringing some road noise into the cabin, while there's a notable amount of wind noise at motorway speeds.
The DB11 is sold in such small numbers that it doesn't factor on independent crash testing programs like Euro NCAP, though it's passed all the necessary worldwide tests to be homologated for every market. It should protect you well in an accident, the stiff structure and, indeed, the sheer volume of car ahead of you, helping protect the occupants inside.
Safety equipment
Standard safety equipment includes all the electronic driving aids like anti-lock brakes with brake force distribution, emergency brake assist, stability and traction control and torque vectoring, while there are dual stage driver and passenger front airbags, curtain, side, knee and head airbags as well as pelvis and thorax seat-mounted airbags.
Isofix mounts in the rear seats means child seats can be locked in place tightly, while there's the option of an Isofix mount in the front passenger seat. There's no spare wheel in the boot, if you get a puncture you'll need to use the inflation kit and sealant or call for assistance.
MPG and fuel costs
"You don't buy a 500+PS GT for over £150,000 and worry too much about running costs, so you're unlikely to be concerned about the frequent fills the DB11's fuel tank will require. "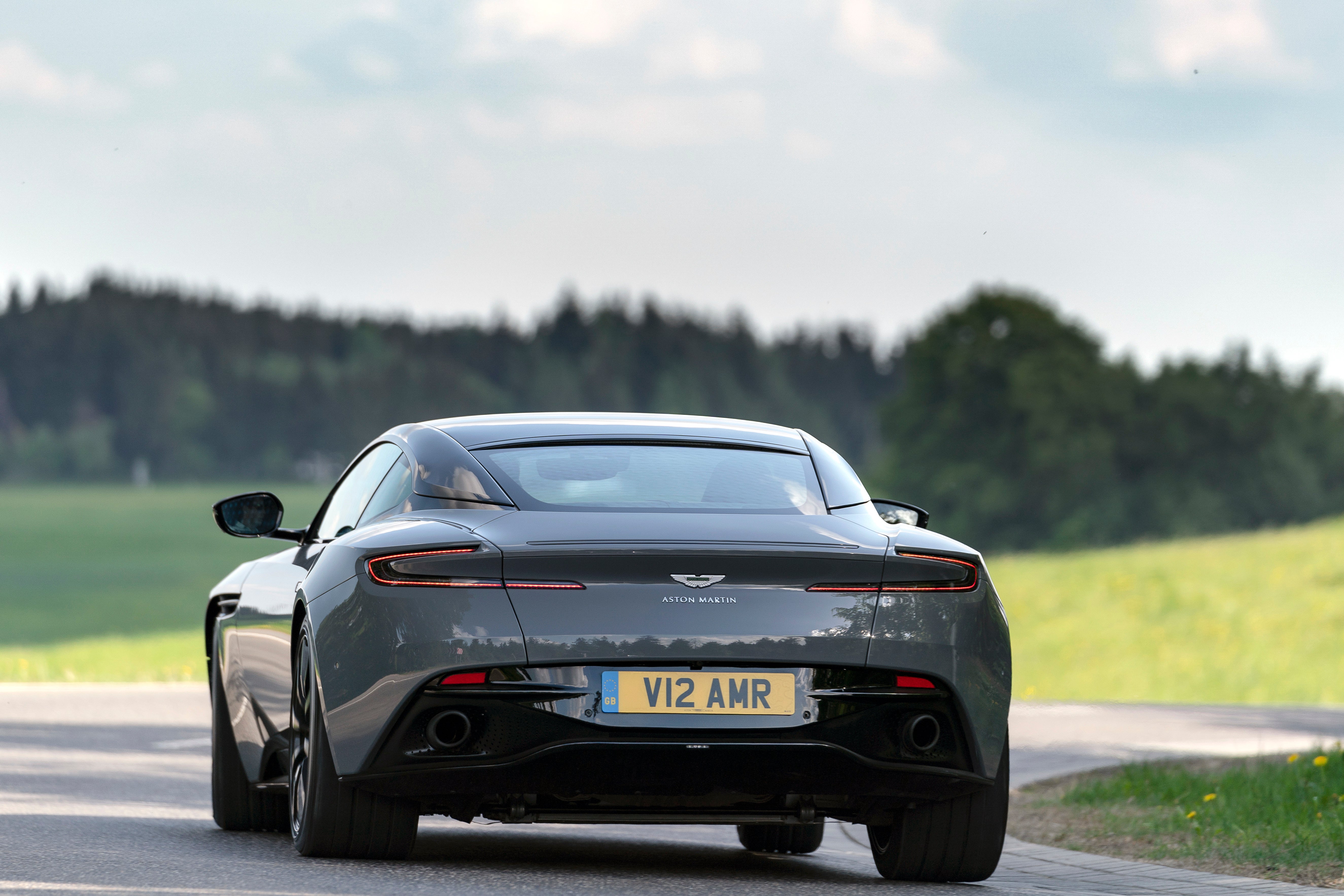 It's obviously more so with the V12 AMR, but use either as intended and you'll see fuel consumption figures in the early teens, if not single digits. Around town and on the motorway all that low-rev flexibility and eight-speed transmission helps, but you'll still be doing well to get anything approaching 30mpg.
Officially, and using the old measuring system, the DB11's V12 can achieve 24.8mpg average though that's improbable in real life. The V8 betters that with 28.5mpg and it's likely to be a little, and only a little, bit more achievable in real-world driving.
Insurance groups and costs
Insurance won't be inexpensive given the DB11's value, but it's likely owners will have other cars at their disposal and cover the DB11 on a lower mileage policy, or as part of a multi-car policy.
Obviously the V8s will be cheaper to insure than the V12 AMR, but there won't really be much in it. Again, it's an indulgence, for wealthy buyers, who'll accept that a sizable insurance premium is the price you pay for having worked hard enough to buy yourself nice things…
VED car tax
Again, taxing your DB11 isn't likely to be a worrisome outgoing, both, unsurprisingly, being at the top of the VED tax rates in the UK.
How much should you be paying for a used Aston Martin DB11?
"Buy used and there's plenty of choice out there, with a lot of one and two year old DB11s on Aston Martin forecourts."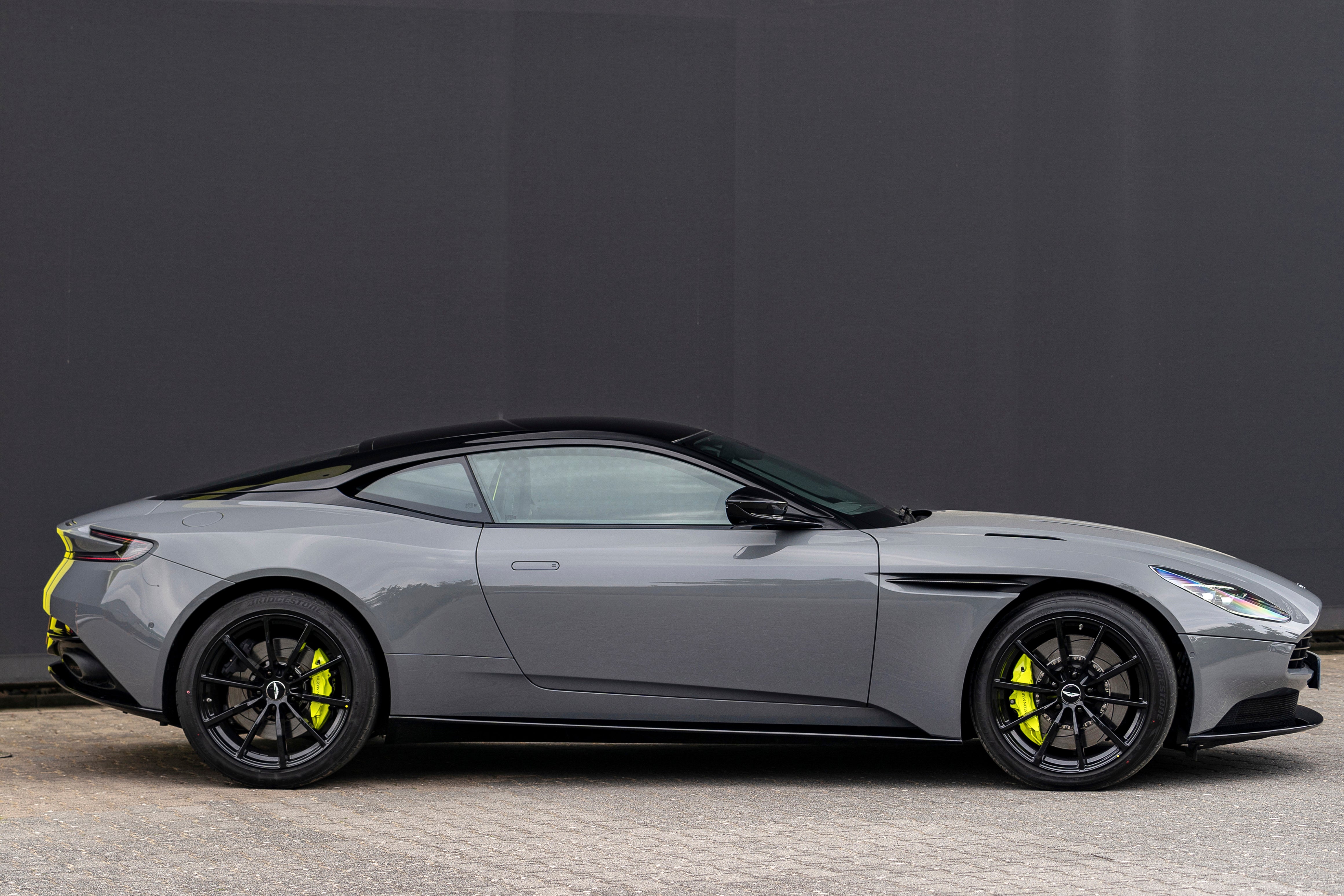 You'll miss out on the opportunity to specify it exactly how you want it, but, then, savings of about a third off the list price make a used DB11 a very tempting proposition. Aston Martin occasionally produces limited-run specials like the Classic Driver edition, but these don't command any real premium used.
Trim levels and standard equipment
Standard equipment in all is comprehensive, but, used, look out for cars that have been fitted with the premium 1000-Watt Bang & Olufsen stereo, electrically powered seat bolsters and, if you've young children, a passenger seat Isofix mount.
The V8 models make the most sense. For all the AMR's V12 bluster, it sits somewhat in the shadow of the Superleggera above it in the Aston Martin range, while the V8 cars feel like a well-rounded, desirable proposition. This is a car, when bought new will be infinitely personalised, listing what is and isn't included in the huge specification is pretty much moot, as they're all different when they roll off the production line.
Ask the heycar experts:
common questions
How fast is the Aston Martin DB11?
The Aston Martin DB11 has 5.2-litre V12 that will get you to 62mph in 3.7 seconds and hit a top speed of 208mph.

Is the Aston Martin DB11 a supercar?
It's fast. It's expensive. It's an Aston. It's a supercar - what else could it be?

Are Aston Martins worth it?
Owning an Aston gets you to entry to a very exclusive club. But the membership is pricey. If you're buying new, you'll have to deal with depreciation. If you're buying slightly less new then you'll need to budget for some serious maintenance costs. It's an investment.

Answered by
heycar editorial team
Who owns Aston Martin?
Daimler owns a 5% stake in Aston Martin and has a deal to supply engines, while Aston Martin Lagonda Global Holdings is listed on the London Stock Exchange.

Aston Martin DB11 cars for sale on heycar
107
Number of cars available
£89K - £170K
Price bracket of these cars
Colours available on heycar
Keep me updated by email with the latest advice, news and offers from heycar
By submitting, you agree to our
privacy policy
.