Aston Martin Vantage Review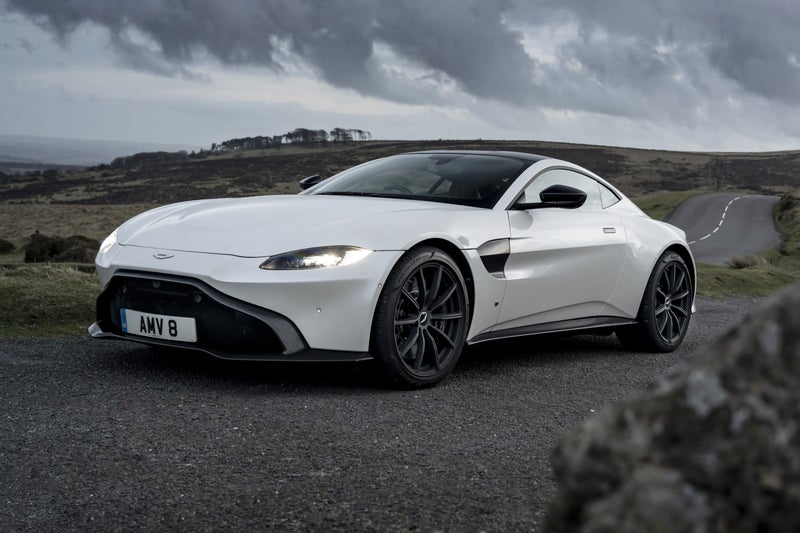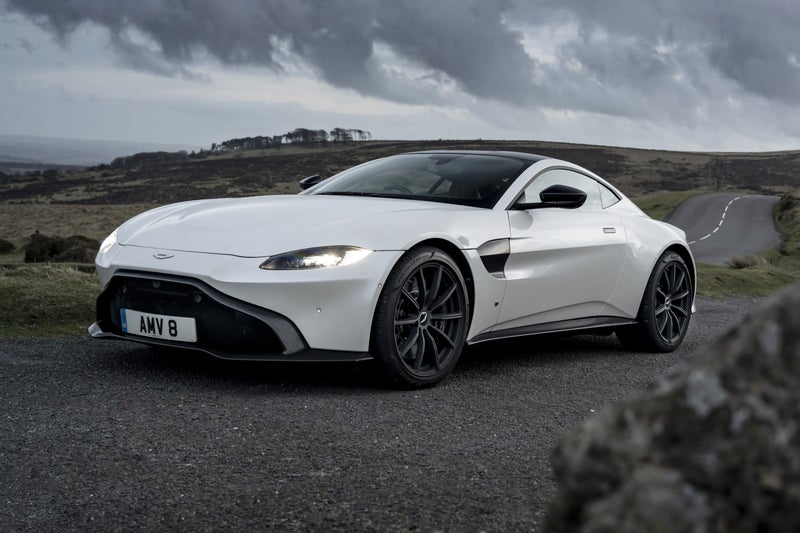 1/10
heycar rating
"Thrilling, overtly sporting Aston Martin "
Launched: 2018

Performance

Petrol
Quick overview
Pros
Huge performance from a character-rich drivetrain
Agile and entertaining in the bends
Surprisingly practical, with a decent (for class) sized boot and a hatchback to access it
Cons
The interior is a bit fussy in its style and operation
Not quite as naturally beautiful as its predecessor
Infotainment is old tech and there's no Apple CarPlay availability
Overall verdict
On the inside
Driving
Cost to run
Prices and Specs
Overall verdict
"A brilliant, engaging and enjoyable sports car, with huge performance and a distinctive, atelier feel that Aston Martin excels at. The pugnacious styling might be more divisive than the clear beauty of its predecessor, but it's striking, confident and far less traditional. Add some genuine usability and the Vantage is a very strong contender in its rarefied marketplace. Brilliant to drive, bold to look at, the Vantage is a special car."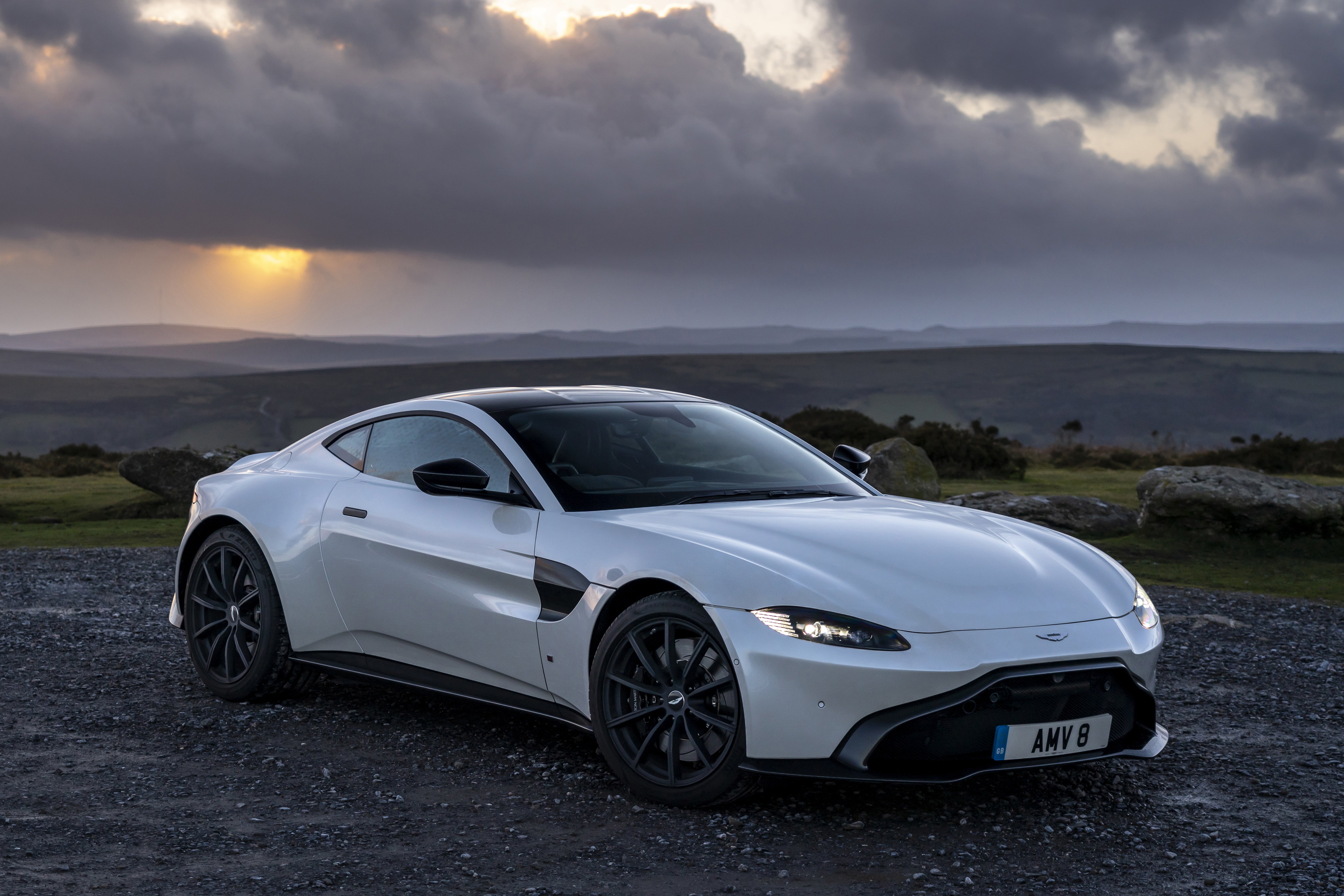 The previous Aston Martin Vantage was a popular sports car, being built for 12 years until it was replaced in 2018 by this all-new model.

It shocked, for a number of reasons, and not just the overt, bold style it introduced, but also the way it drove. For all the predecessor's obvious beauty, it always felt behind its rivals in the driving stakes, but with this Vantage that changed.
The Vantage is now a far more dynamic, engaging and enjoyable car, with a not inconsiderable 510PS output from its twin turbocharged 4.0-litre V8 producing huge performance..
That is crucial, as in the lengthy production run of its predecessor the sports car market accelerated, rapidly. Entry-level sports cars like the Vantage now expected to have performance that a decade or so back would have left you wide-eyed and slack-jawed in a supercar.
The Vantage delivers, with a 0-62mph time of 3.6 seconds and a 195mph potential top speed. Impressive numbers, for a car that's the entry-point to Aston Martin ownership, but then they need to be to compete with the broad church that spans its rivals that might be vying for a potential Vantage buyer's money.
That competition includes the omnipresent Porsche 911 in highly specified Carrera S and GTS guises, as well as the 911 Turbo, Audi R8, Ferrari 488 GTB, Honda NSX, Mercedes-AMG GTS, McLaren 570C and Lamborghini Huracan. Like most of these rivals the Vantage can be had in convertible, open-topped guise, as the Vantage Roadster, losing the roof adding around £2000 to the coupe's price.
Built from aluminium and assembled largely by hand at Aston Martin's UK factory, the Vantage oozes in indulgent, low-volume appeal. It will never sell in the same numbers as most of its rivals, that relative rarity a huge part of its appeal.
It's a very considered choice among some more obvious competition and one you're likely to have taken a good while reaching. The Vantage is a car that feels and looks very special indeed.
A new Vantage can be utterly unique to its owner, as Aston Martin offers an incredible choice of options to personalise a car. Virtually every surface inside or out can be optioned, whether that's the technical racy look of carbon fibre, outrageous eye-popping colour choices of paint, leather and fabric choices, or something more restrained and traditional. It means no two are likely to be the same but also means that you may have to learn to live with someone else's taste when buying used.
It's not cheap, indeed, the circa £125,000 list price is really just a starting point and we'd be amazed if a Vantage has ever been sold for less than £140,000. Many will roll out of the factory costing considerably more. That's not unusual in this class, indeed, it's welcomed by the owners, who are used to having exactly what they want.
Aston Martin added the AMR (Aston Martin Racing) model to its line-up in 2019. It's a lighter, more focused version aimed at enthusiastic drivers. Its key addition was a manual transmission, which Aston Martin has subsequently added to the entire Vantage range, a manual gearbox an unusual, though welcome option in this class of car.
Is the Aston Martin Vantage right for you?
It's improbable that you'll jump straight from owing something ordinary into an Aston Martin Vantage. Your garage floor will have undoubtedly had some wide rubber attached to some desirable cars parked on it.
It's almost certain you've owned a Porsche 911 (too common), a Ferrari 488 GTB (too showy) or a Jaguar F-Type (too unreliable) among a host of other cars on your route to Aston Martin ownership. If there's not an iconic classic British sports car, an E-Type or suchlike, squirrelled away in your big garage we'd be amazed, too.
If that's the case, the Vantage is very much the right car for you, the brawny Aston Martin might not have the rear 'seats' of the 911, but it's got a decent-sized boot. It's not too far off that Ferrari for performance either. And thanks to an engine borrowed from Mercedes-AMG, it should prove more reliable than that Jaguar.
Is the Aston Martin Vantage right for you? Hell yes it is, it's right for everyone, assuming you can afford it, of course.
What's the best Aston Martin Vantage model/engine to choose?
There's only really one trim, that being the one that the original buyer created with the configurator and the Aston Martin salesperson at the dealership. The AMR, with its 200 series model run, has sold out, though its legacy is now that you can have a regular Vantage with the seven-speed manual transmission instead of the eight-speed paddle-shifted automatic.
You have two choices then, manual or automatic, and open or closed roofs. We'd have a manual coupe, as for all the awkwardness of the manual's shift, that challenge means it's a joy to drive, and coupe because we simply prefer them to open-topped cars.
That said, you'd be entirely correct to buy a paddle-shifted Roadster, as, really, there's no incorrect choice here. You may have to endure someone else's terrible mistakes when it comes to colour and trim decisions, though.
What other cars are similar to the Aston Martin Vantage?
The most obvious, and common rival, for any car in this class is the Porsche 911 Carrera. They're everywhere, for good reason, but that's also a good reason to buy a Vantage instead. The closest car in concept is something like Jaguar's F-Type in its most powerful forms, though even so specified you'll be a big number away in price from the expensive Aston Martin.
You don't reach Aston Martin Vantage ownership without having owned at least a handful of its rivals, and, perhaps, some other Aston Martin models, the DB11, for example. If you're at this point, then similar cars to the Vantage aren't likely to sway your decision, not least because it's highly probable you still own them as well.
Comfort and design
"Striking. That's the first impression you get when you sit in the Vantage. Fussy and slightly over-styled might be the next. The Vantage is a riot of shapes, buttons, materials and finishes. It certainly lacks the restraint of its predecessor."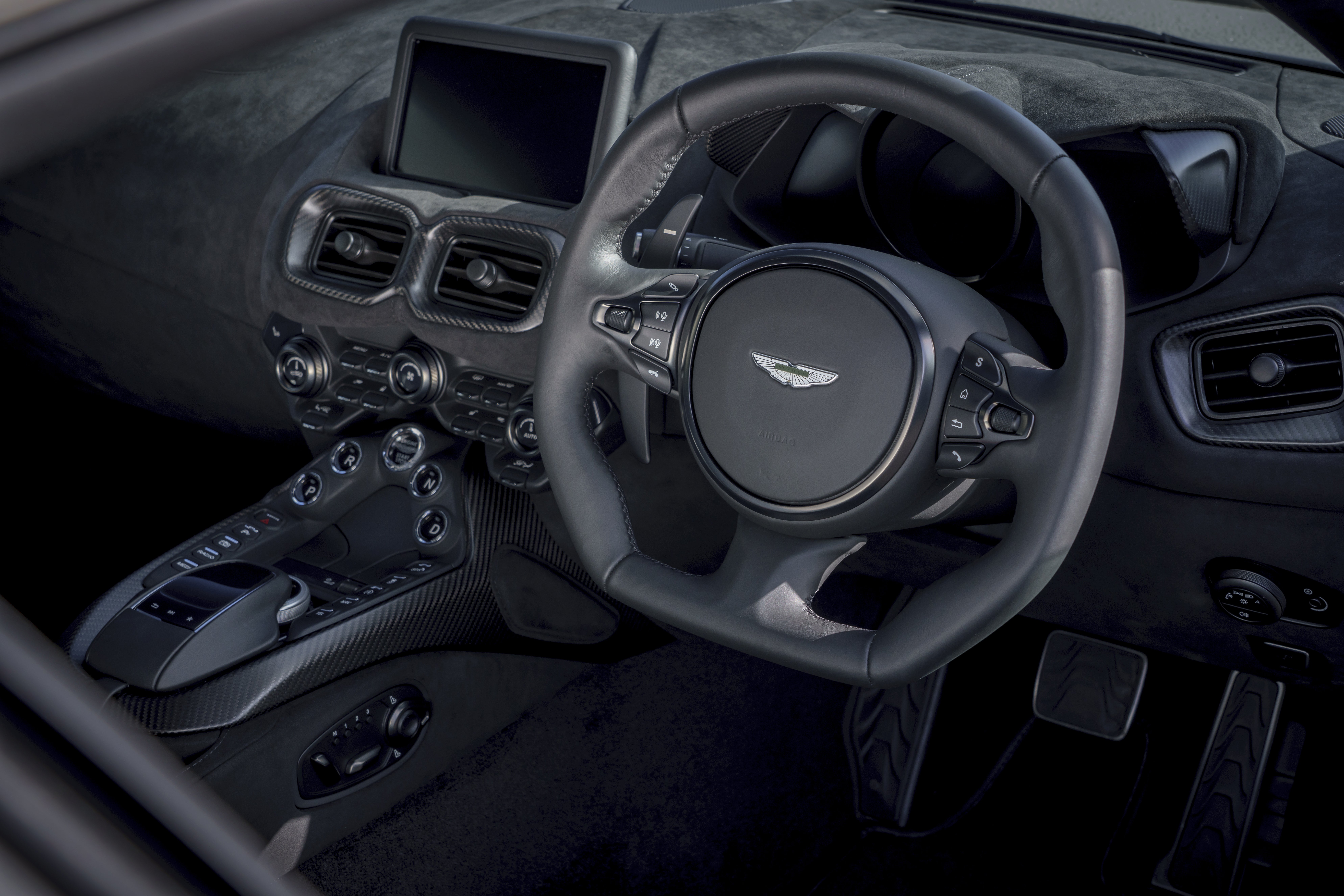 It's just on the right side of acceptable, though, even if we'd love it if Aston Martin would stop messing about with steering wheel shapes and simply make them round again. In fairness, there is a round(er) steering wheel available than the near square sports wheel.
The driving position is good, the seats being supportive and offering plenty of adjustment. There are different seat choices, so it's worth bearing this in mind when looking at used examples. The centre console is pretty fussy, but easy enough to use with Aston Martin's push button controls for the automatic gearbox clustered around the engine start button.
Ahead of you is a large digital rev-counter with a speedometer, either side of which are configurable screens showing anything from the navigation and entertainment settings on the right, to more conventional information like engine temperatures and suchlike on the left.
These are controlled via buttons on the steering wheel, which take a bit of practice. The drive modes are all selectable from the steering wheel and, mercifully, simple to change.
The view out is hampered slightly by the height of the bottom of the windscreen, likewise the thick windscreen pillars and sizeable rear-view mirrors do restrict the view out, particularly if you're sitting low in those sports seats.
Quality and finish
New Vantage buyers can have their cars trimmed with everything from wild coloured inserts, headlining to the door cards, dashboard top and every other surface imaginable. The busy design, and those many materials do, largely live up to their premium, hand-crafted status. But dig around the interior and there are some poorer quality plastics with evidence of some cost savings.
Lift the lid on the storage compartment between the front seats and the plastic inside is a bit scratchy and cheap feeling, while the 12v plug socket cover is the same as you'll find in any Ford from the last two decades.
Overall, it feels pretty special, but there's the odd let-down, admittedly if you go hunting for them. The more obvious parts sharing, Mercedes-Benz derived column stalks and a few other switches and knobs is acceptable, given Aston Martin's low volume status and no less apparent than in many rivals.
Infotainment
In a touchscreen world the Vantage, despite its 2018 introduction, is a little bit traditional in its infotainment offering.
The 8-inch central screen is small by today's standards, while its operation is by a rotary dial and touchpad down on the transmission tunnel. It's a Mercedes-Benz system with a flashed Aston Martin front.
It's not the most recent, with slightly clunky sub menus and graphics that aren't as good as you'll have on the smartphone in your pocket. It does work well enough with a bit of practice, and is light years ahead of the terrible system Aston Martin used to offer.
It's a shame that there's no proper Apple CarPlay connection, you can connect your phone or iPod, and operate them, but it's not the full-on experience that people increasingly expect.
Bluetooth, DAB, navigation and the entertainment options and more are all controlled by that screen, a lot of these also possible via the right-hand instrument screen and the steering wheel-mounted controls. Sensibly, Aston Martin leaves all the seat, air con and ventilation controls out of the screen operation, with banks of switches and knobs taking care of these.
Space and practicality
A two-seater, that's generously spacious in the interior, there's plenty of room for a couple of adults to get comfortable, even if they're at the taller end of the spectrum.
Oddment storage isn't overly generous in the cabin, with small door bins and a lidded arm rest between the seats, though there is a bit of space behind the seats if you want to wedge jackets or laptop bags in there.
Best, though, just to use the boot, which at 350 litres is fairly generous in its volume compared to its rivals. That it's accessed by a hatchback only makes that space more useful, even if you have to lift bags in and over a high lip to drop them in.
The shape and depth of the boot means you'll be best packing soft bags rather than hard cases, Aston Martin offering a choice of four or seven piece luggage sets in leather that are tailored exactly to fit that space. They're not cheap to buy new so a useful extra to look out for on used cars.
That spacious, useful boot, as well as the accommodating cabin does mean the Vantage is a more useable potential day-to-day proposition than many of its mid-engined, rivals. Indeed, the Vantage scores strongly here over cars like the Ferrari 488 GTB and Audi R8, which have tiny luggage compartments and are way more compromised in daily use.
Handling and ride quality
"Aston Martin's sports car, this is designed to be enjoyed on the road, and, perhaps occasionally, on track. Three suspension modes are available to you at your fingertips, ranging from Sport, Sport+ and Track."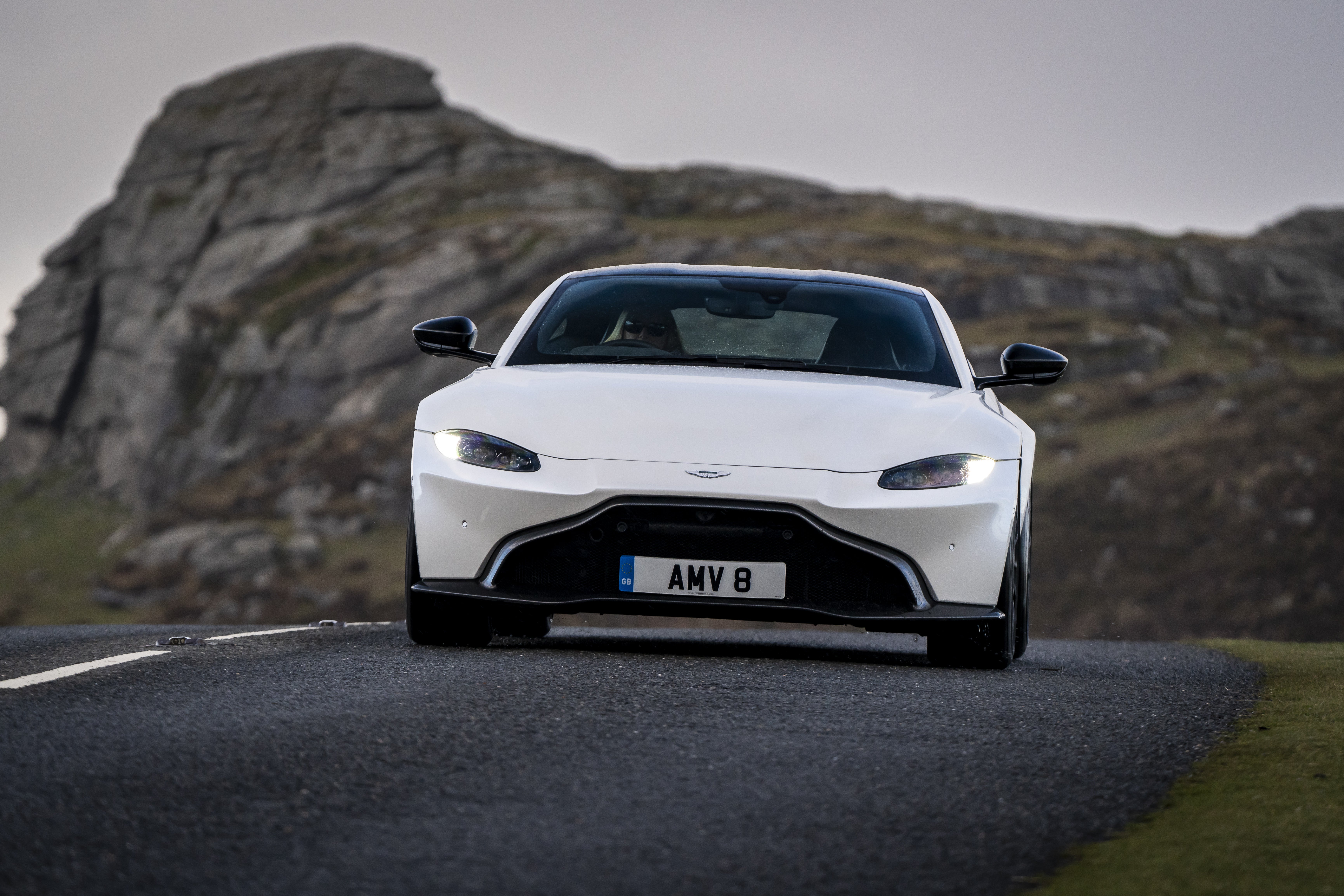 Aston Martin's chassis people actually suggest that Sport+ is the best choice to experience the Vantage on the road. Track, somewhat understandably, best left alone unless you're actually on one...
The short wheelbase, a sophisticated electronically-controlled limited slip differential and very well judged electronic stability and traction aids allow you to really revel in the Vantage's dynamic talents without feeling like you're being reined in.
These systems up their thresholds as you select ever more engaging driving modes. The steering weighting is excellent, that weighting backed with a bit of feel and the front wheels quick in response, the Vantage proving very agile, despite its not insignificant weight.
The suspension manages the tough job of fine control, both with the body roll and wheels, while achieving a ride quality that's acceptable for such an overtly sporting car.
Inevitably, the combination of a chassis designed to cope with such a prodigious output, allied to massive wheels covered with rubber band thin tyres, does mean the occasional thump or crash over the worst surfaces, but, overall, the ride is commendably good.
The manual equipped car does without the automatic's electronically controlled limited-slip differential, instead getting a simpler mechanical one. Ultimately that's to the detriment of its outright ability. But, really, you're unlikely to ever notice on the road and the manual car delivers such a more immersive driving experience you'll forgive it a slightly less clever differential as the price for it.
Torque vectoring, electronic stability and traction control all make it a car that's easy to exploit, on road or track, the chassis balance, its near perfect weight distribution also aiding that. It makes the Vantage a very appealing driver's car.
Engines and gearboxes
The 4.0-litre twin turbo V8 arrives at Aston Martin's production facility in a box from Affalterbach, Germany, where Mercedes-AMG is based. That's no bad thing, as if you're going to buy an engine from anyone, AMG is as good a place to start.
With 510PS, produced at 6000rpm, its twin turbocharged technology means that for all its high revving intensity, there's plenty of low-down response. Indeed, peak torque is sizeable at 685Nm, that maximum produced down at 2000rpm.
Mate that all to a sports exhaust (an optional extra and one well worth seeking out) and it sounds utterly magnificent, Aston Martin tuning the exhaust to give all manner of crackles, shrieks and tearing rips as you press the accelerator. It's as dramatic to hear, as it is to experience.
You can choose how to orchestrate all that drama and occasion with either the eight-speed paddle-shifted automatic or a seven-speed manual. Neither are perfect, the auto lacks the whip crack response of the best of its rivals – though it's all relative, it's still incredibly quick shifting – and the manual is a bit recalcitrant, with real patience and skill required to get the best from it.
A tricky shift across the gate, odd springing and weighting makes that manual a challenge, but it's one we rather enjoy and it reveals so much more of the Vantage's character, at much lower speeds, to make it a very desirable choice.
Refinement and noise levels
You'd be disappointed if you'd blown your hard-earned money on something as special as an Aston Martin Vantage and you couldn't hear it.
Indeed, the aural appeal of a sports car is a huge part of the overall experience and the Vantage doesn't disappoint. It makes all the right noises and crucially, at the right time. For all the engine's drama, it quietens down on a cruise, with only the odd flutter or crackle on lift off to remind and tease a little smile on a boring motorway drive.
There's a bit of tyre noise at motorway speeds, especially on brushed concrete sections, while wind noise is also apparent at speed. You can drown most of that out with the excellent audio, though.

The manual transmission is notably more noisy than the automatic, with a bit of gear whine at lower speeds, while sitting idling has the slight background chatter of the clutch release bearing make itself heard in the cabin. In all honesty, that's no complaint. The more physical, old-school appeal of the manual car rather suiting the mechanical sounds that come with it.
Safety equipment
Cars like the Aston Martin Vantage are too niche, built in too tiny numbers to feature on the radar of organisations like Euro NCAP for crash testing. To be sold worldwide though, the Vantage will have had to pass all the different global crash tests, so it's at least as safe as the next car.
Standard safety equipment in the Vantage's stiff structure includes ABS anti-lock attached to huge brakes, sophisticated stability and traction control systems, driver passenger front and side airbags. There's the availability of an all-round view camera for parking, as well as blind spot monitoring. Seatbelt pretensioners are fitted as standard, too.
MPG and fuel costs
"The 4.0-litre twin turbo V8 isn't going to be particularly parsimonious, but then, it is a 510PS sports car and economy isn't really its forte. Aston Martin still quotes the old NEDC measure for fuel consumption, rather than a more representative WLTP measure, claiming 27.3mpg."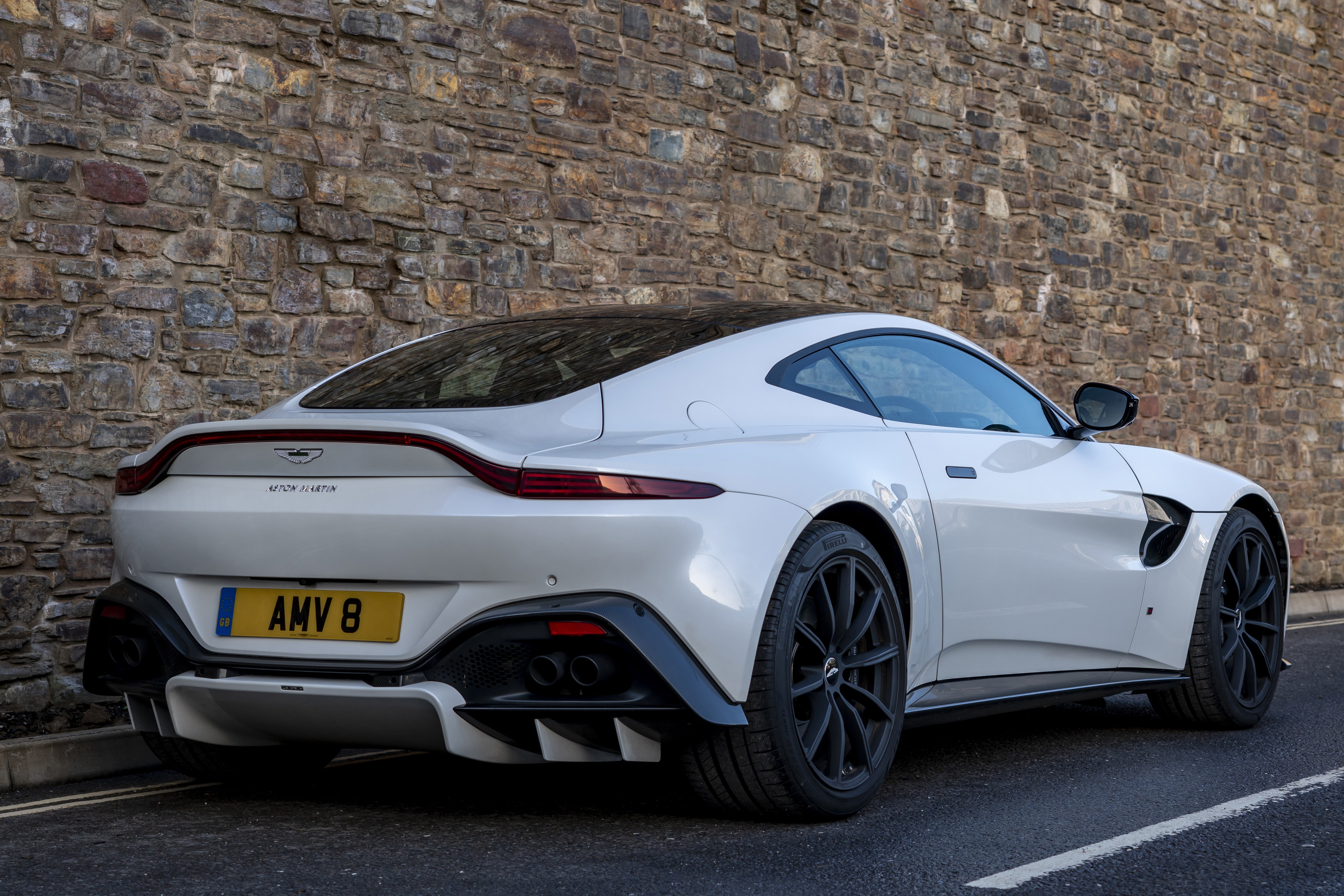 That's likely to be more like 22-24mpg with WLTP, and a bit closer to 20mpg in reality for day to day use. If it's a weekend plaything, the expectation is you'll drive it a bit harder, so expect mid-high teens, while track use might see it drop as low as single figures. You'll be having too much fun to care, though.
Insurance groups and costs
Insurance won't be inexpensive, but you'll have had a string of sports, GT and supercars before, and still, so you're unlikely to be surprised by this. Chances are you can put it on a multi-car policy, with a friendly insurer, who's got experience of your record and other cars. Servicing, for the first five years of ownership, is covered by Aston Martin.
VED car tax
No car in this category is ever going to do anything but attract all the tax the government can squeeze out of its owner. Accept that, and enjoy it, and take heart in the fact that all those taxes are going to pay for stuff that helps run the country, or at least it should do…
How much should you be paying for a used Aston Martin Vantage?
"There is a decent stock of nearly-new Aston Martin Vantage out there, most on Aston Martin's own forecourts as pre-registered or demonstrator models, offering a decent saving over a newly ordered car."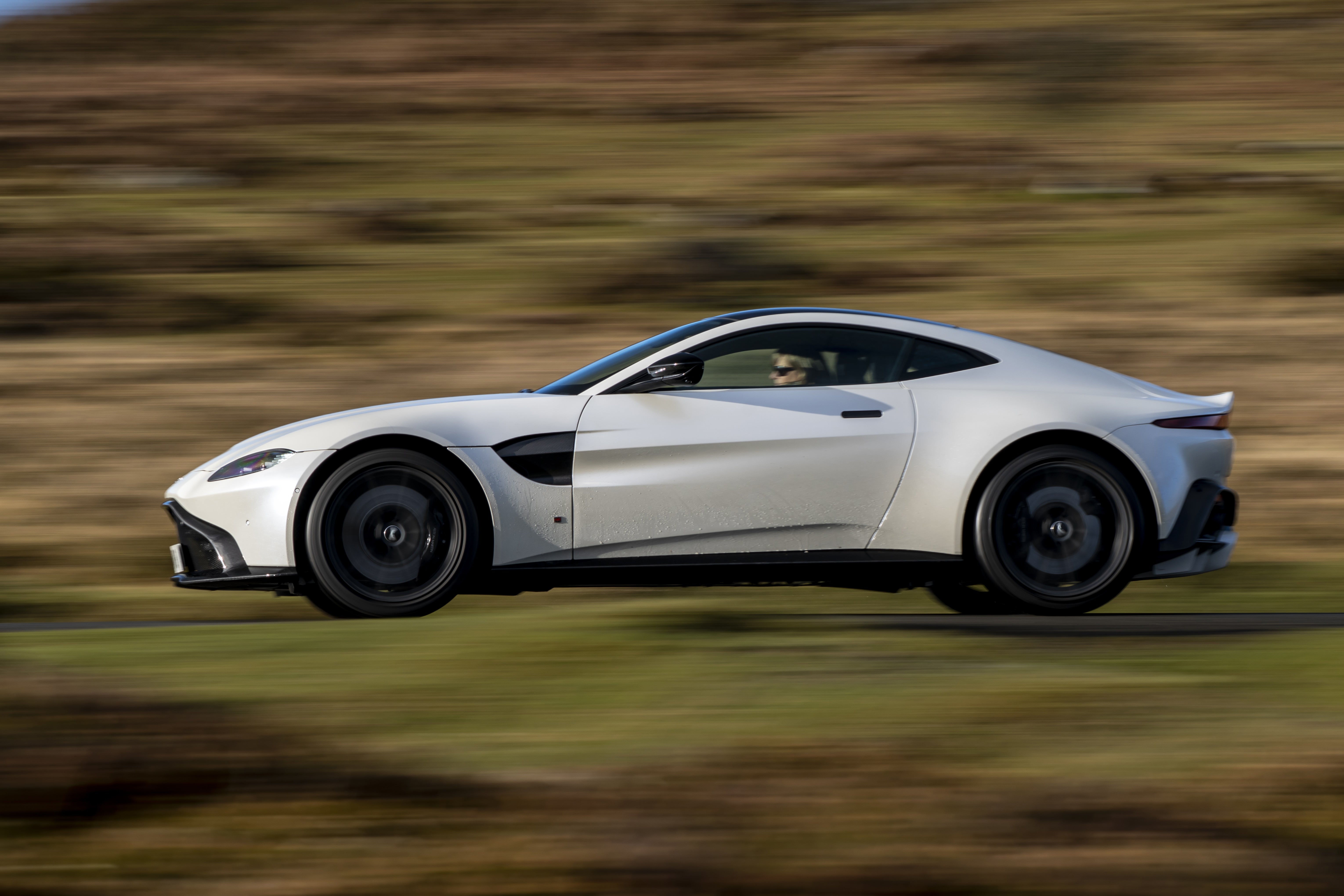 Prices start about £10,000 less than the list price for a coupe, and most come with very low mileages. If you want a Vantage, and can't wait, or aren't overly fussed about going through the lengthy options process, then buying a used one will save you time, and money.
Trim levels and standard equipment
There are no real trim levels, the Vantage coupe or Roadster. Certainly we'd suggest the sports exhaust is a must, while the automatic is a better choice if you're buying with an eye on resale value and ease – short term at least.
A manual car might be a keeper, and worth more in a decade or two due to its certain rarity. Play it relatively safe when choosing what colour car you're buying. More overt choices, however much you might like them, will restrict the potential pool of buyers in the future when you trade up to a new Vantage, DB11 or something else.
Aston Martin Vantage cars for sale on heycar
107
Number of cars available
£65K - £310K
Price bracket of these cars
Colours available on heycar
Keep me updated by email with the latest advice, news and offers from heycar
By submitting, you agree to our
privacy policy
.