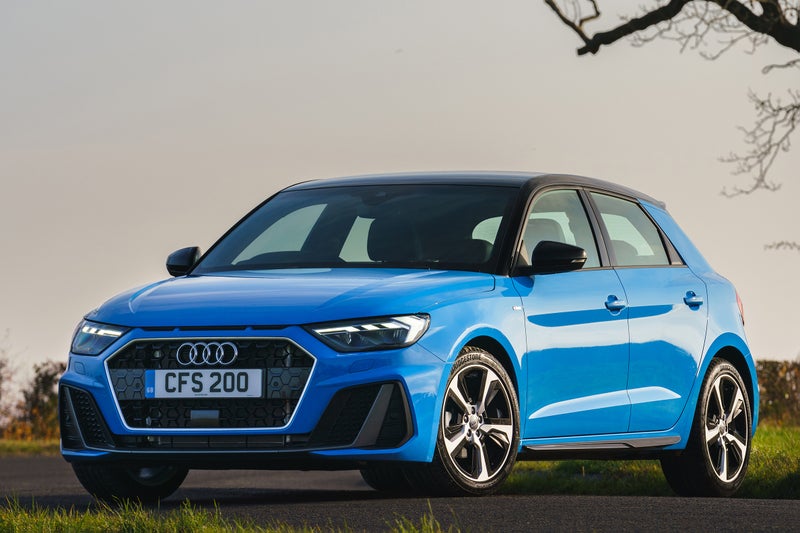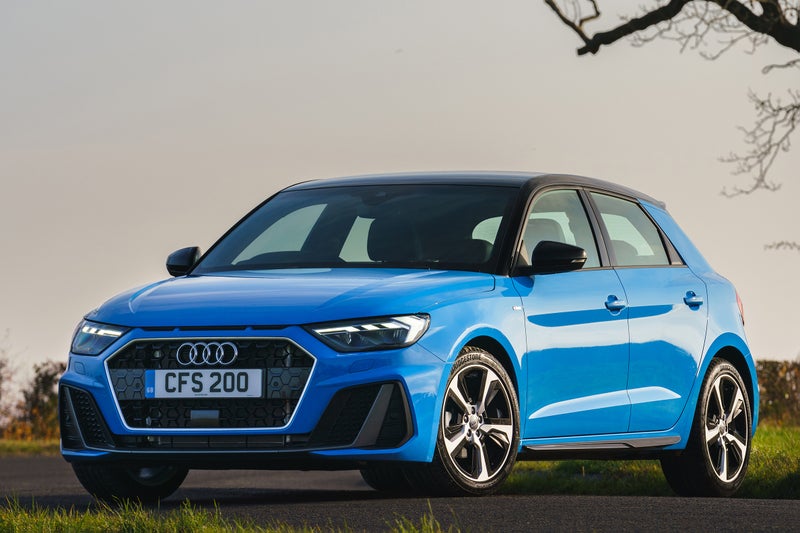 1/10
heycar rating
"Bigger, better, but not posher "
Launched: 2018

Small hatch

Petrol
Quick overview
Pros
Sleek looks
Wide choice of petrol engines
Plenty of room in the cabin and boot
Cons
Firm ride in cars with Sport suspension
40 TFSI doesn't feel as brisk as it should
Cabin quality disappoints in some areas
Overall verdict
On the inside
Driving
Cost to run
Prices and Specs
Common questions
Overall verdict on the Audi A1
"The second generation Audi A1 Sportback dares to be a little funkier than its predecessor, placing it ideally between the sobriety of the Volkswagen Polo and the style-led MINI. It makes the A1 a very appealing small hatch as you get much of the looks and all of the quality of larger Audis in a city-busting car."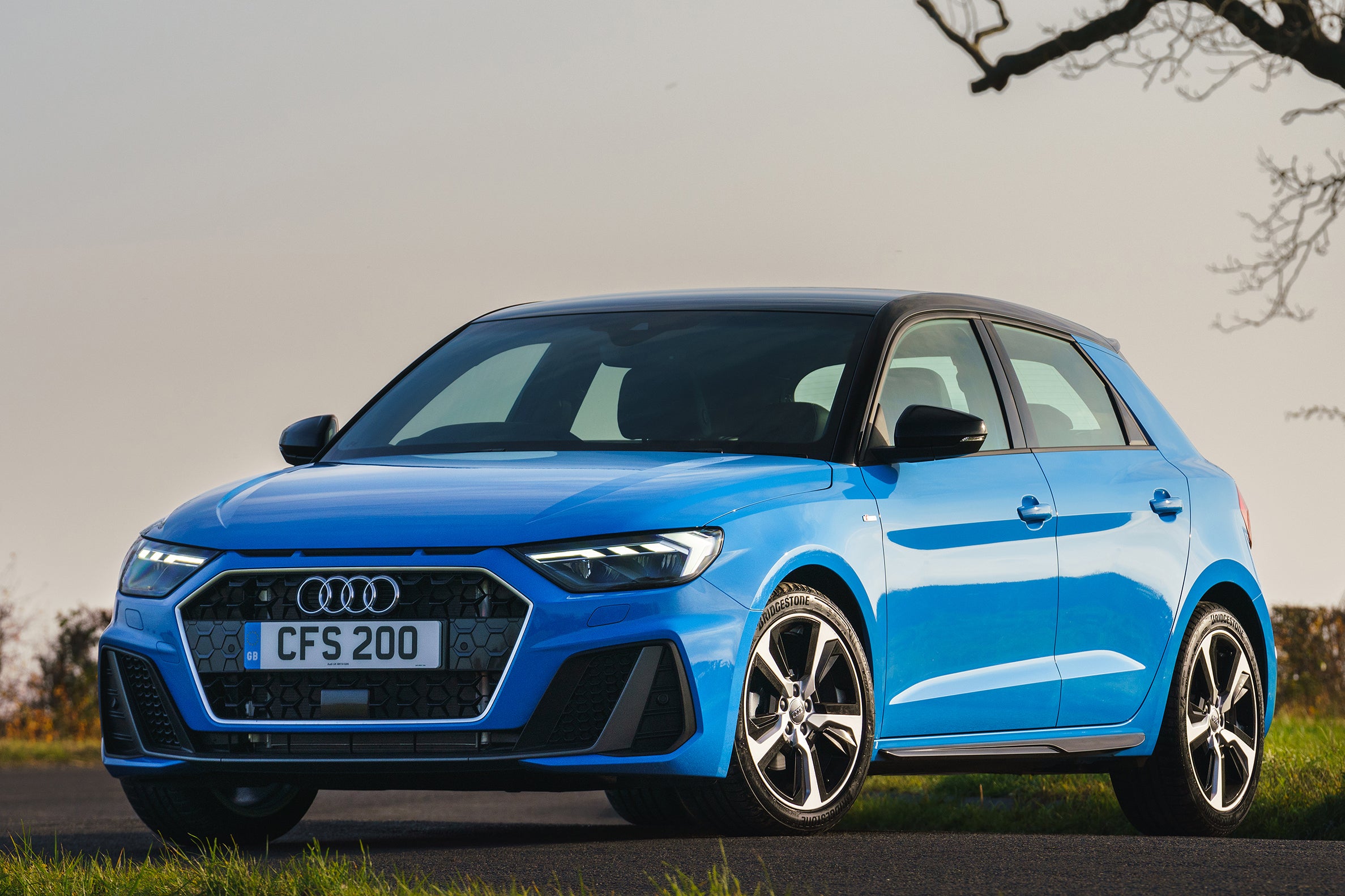 This is not to say the Audi A1 is a small car. Far from it as it has grown in every direction compared to the first generation of the model that was launched in 2010. When Audi unveiled this replacement in 2018, the A1 had ditched the three-door model and stuck solely to the five-door Sportback version. This makes the Audi A1 a more versatile and practical car for its owners, as well as giving the opposition more competition while not compromising on driving dynamics. We'll explain all in our 2022 Audi A1 review.
The Audi A1 Sportback is good to drive in town or on the open road, though Audi has yet to learn lessons from the original A1 about firm suspension settings. This latest A1 Sportback comes with a standard supple set-up, but models with the Sport suspension remain too harsh on most roads.
Also ushered in with this A1 Sportback is Audi's slightly confusing engine identifying nomenclature. It starts with the 95PS 25 TFSI petrol, which is the first of four turbo petrol motors on offer and has a five-speed manual gearbox or seven-speed S tronic auto. Next up is the 30 TFSI with 116PS and a choice of six-speed manual or the S tronic transmission.
Top of the pile for most trims is the 35 TFSI 1.5 with 150PS and only available with the S tronic gearbox. If you opt for the S Line Competition model with its 40 TFSI boot badge, you get a 2.0-litre turbo petrol motor with 200PS to make this the quickest Audi A1 Sportback in the line-up and this model also comes with stiffer, adjustable sports suspension.
As for trim levels, Audi launched the A1 Sportback with SE as the entry-point to the range, but this has since been renamed Technik. It's far from basic thanks to 15-inch alloy wheels, LED lights front and rear, while inside there's Audi's Smartphone interface and an 8.8-inch touchscreen for the infotainment.
Next in line is the Sport that adds larger 16-inch alloy wheels, rear parking sensors, cruise control and some sporty front seats. S Line customers are treated to 17-inch alloy wheels, exterior styling pack including a more aggressive front grille, and firmer Sport suspension.
There are three additional versions of the S Line, starting with the Contrast Edition that has 18-inch alloys, darkened headlight lenses, Python yellow paint. It also has a gloss black roof, door mirrors and other outside details in this finish. Choose the Style Edition and you get different alloys in a bronze finish, while inside there's and LED Ambient Lighting pack. The big change for the Competition is its more potent engine, but it also comes with red brake calipers and platinum grey wheels and door mirror caps.
Finally, the Vorsprung model ups the ante with its own 18-inch wheel design and front sports seats trimmed in Alcantara and leatherette. Audi also includes its MMI Navigation Plus with MMI touch infotainment as well as the Virtual Cockpit that lets you configure the main dash display with a variety of different screens.
If you're looking for the older version, you need our Audi A1 (2010-2018) review or Audi A1 Sportback (2012-2018) review.
Is the 2022 Audi A1 Sportback right for you?
There's a lot to admire in the way the Audi has styled the A1 Sportback. It has just the right blend of sporty and chic for those who will be drawn to the premium end of the supermini crowd.
Audi has also judged the cabin very well thanks to enough space in the cabin for it to work as your only car, though many will end up as the second in a household. We'd still be happy to use the A1 as the prime mover thanks to its ability to eat up motorway miles.
Every A1 Sportback comes well fitted out with standard luxury and safety kit, showing up many of its mainstream rivals. Even the most basic A1 makes it rivals seem a bit mean with their equipment, which makes the Sportback fit right in as a scaled down rather than scaled back small Audi. Audi also offers a 'crossover' version as such in the form of the Audi A1 Citycarver.
What's the best Audi A1 Sportback model/engine to choose?
With a broad range of turbo petrol engines to pick from, it's easy to tailor the A1 Sportback to your needs. If you only ever drive around town, the 25 TFSI 1.0-litre with 95PS will be all you ever need, but we reckon the 116PS version is the wiser choice for its greater flexibility.
Much as we like the extra power of the 2.0-litre 40 TFSI with 200PS, it doesn't feel as hot hatch swift as it should for a car that cracks 0-62mph in 6.5 seconds.
Which leads us like Goldilocks to the 35 TFSI with its 150PS. City drivers will appreciate the seven-speed S tronic dual-clutch gearbox, but we'd recommend most to stay with the easy action six-speed manual transmission. In this form, the A1 Sportback is a very strong supermini contender, especially of you avoid the more stiffly suspended Sport and S Line models or delete this when you order the car.
What other cars are similar to the Audi A1 Sportback?
Classy small hatch buyers are not short of choice and MINI is the big rival to the Audi A1 Sportback. The MINI is more overtly styled to stand out, which some will prefer more than others.
Competition also comes from the A1's cousins from elsewhere in the greater Volkswagen empire in the forms of the Volkswagen Polo, SEAT Ibiza and Skoda Fabia. All are very capable and the Polo especially has premium aspirations.
Don't forget the superb Ford Fiesta in its various guises, or the Renault Clio and Peugeot 208 that have many appealing strengths.
Comfort and design: Audi A1 interior
"Audi has found more space inside the latest A1 Sportback, helped by it being longer and wider. It also enjoys more headroom, so the front occupants are very well catered for. Both driver and passenger have height adjustment for their seats, and the driver can vary the angle and depth of the steering wheel to find the best seating position."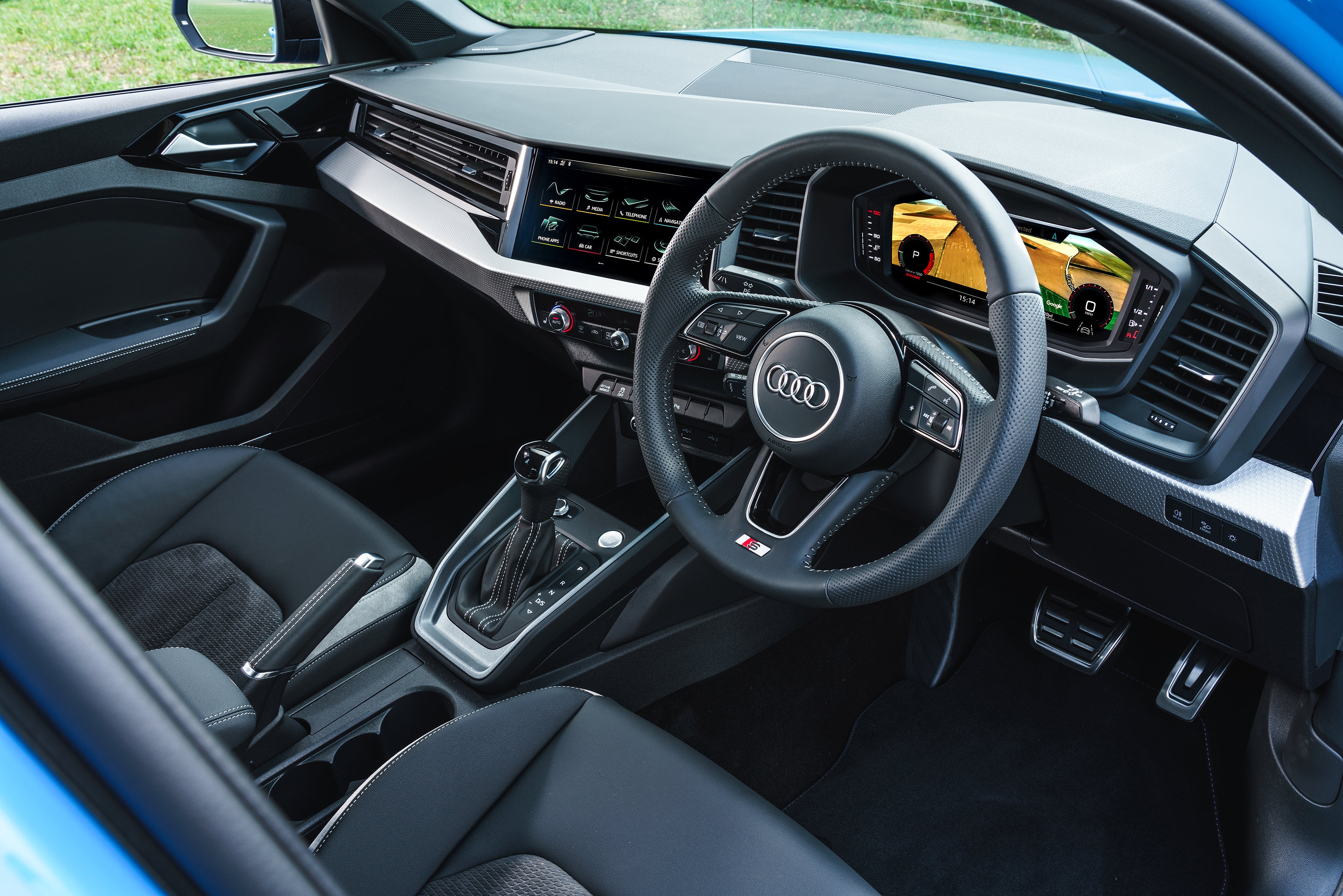 Glancing around the A1 Sportback from the driver's pew, vision to the front and sides is excellent. However, the view over the driver's shoulder when changing lanes or pulling out of oblique junctions is hindered by the thick rear pillars of the Sportback. This is a common problem for many small cars, but the Audi seems to suffer more than most.
Inside, the main dashboard has a jagged sweep across the width of the car. In front of the passenger is a broad air vent, while the rest of the dash angles in towards the driver. This puts the infotainment screen close by when you need to press a button on the display. Thankfully, these buttons are big and respond quickly to a prod.
The rest of the controls are positioned with Audi's usual close attention to ergonomics. Perhaps more unusual is a manual handbrake in the A1 rather than the electric type more often used in premium models nowadays. Still, it works well and doesn't get in the way when using the manual gear shifter.
Longer trips are made easy by the comfortable seats. Quicker versions like the Competition and Vorsprung have sports front seats, which look good but eat into rear legroom.
Quality and finish
Oddly for an Audi, the fit and finish of the A1 Sportback is a mixed bag. On first acquaintance, all seems hunky-dory with the world as your hands are greeted by soft-touch plastics and high-grade materials on the doors, steering wheels and controls.
However, more time spent in the A1 reveals some of the plastics that are not immediately obvious have been pared back. For example, the door panels feel quite cheap and not what we'd expect of an Audi or a premium small car with matching price tags. Even so, the Sportback's cabin feels robustly built.
All but the entry-point Technik model of A1 Sportback come with sports front seats to endow the cabin with more pizzazz. However, you have to head all the way up the range to the Vorsprung before you are treated to more than simple cloth upholstery as this model trades that for Alcantara and faux leather trim.
Infotainment: Touchscreen, USB, nav and stereo in the Audi A1
Choose any A1 Sportback and it will come with the 10.25-inch Digital Cockpit display. This presents the main instruments' information in a digital cluster that can be altered to show speed and revs more or less prominently. It can also show details on gear selection, time, radio and the telephone menu.
Most Audi A1 Sportback models come with the standard 8.8-inch touchscreen to operate the infotainment. The colour screen can connect to your smartphone using Bluetooth or a USB port to access music, phone calls, maps and other apps.
Only the Vorsprung model gains the larger 10.1-inch MMI Navigation Plus touchscreen as standard. This provides 3D city models to make it easier to work out where you are in relation to the map. It also has live traffic information, voice recognition and Audi's Virtual Cockpit that puts the navigation map in the main binnacle so it's easier to follow directions as you drive.
This system can also be added to other A1 Sportback models with the optional Technology Pack. If you choose it, you get a three-year subscription to Audi Connect Infotainment Services to access the internet. Phone Box wireless charging for Qi-enabled smartphones is included with the MMI Navigation Plus pack too.
Space and practicality: Audi A1 boot space
Audi has made the second-generation A1 Sportback longer and wider than the previous 2010-vintage model, measuring just over 4m long and a little over 1.7m wide. It's also lower, though this is in overall stance as there's increased headroom for all occupants to make the German small hatch feel much more roomy inside than before.
This is borne out more than anywhere in the rear seats where adults can now reside in reasonable comfort. Before, grown-ups were all but forbidden from sitting back here due to the restrictions on head room by the A1 Sportback's roof line. Now, with this latest generation, you can happily accommodate two adults in here.
There's a trio of three-point seat belts in the back too, plus a pair of ISOFIX child seat mounts. The middle seat belt is an ambitious thought for adults but makes the A1 able to carry your kids plus a mate safely. Big door bins will stash all their sweet wrappers, but that's it for storage in the hind quarters.
If you need to carry luggage, the Audi A1 Sportback's boot capacity now offers 335-litres of space, which puts it among the best in the small hatch sector. Fold down the 60/40 split and tumble rear seat back and you can access up to 1090-litres of cargo carrying clout through the wider than class norm tailgate opening. The load floor is flat and under the cover resides a get-you-home puncture repair kit in lieu of a spare wheel.
Move forward in the cabin and the two front occupants have plenty of space to stretch out. Each front seat has manual height adjustment and the driver can further hone the seating position with reach and angle movement for the steering wheel. Door bins, glovebox and a tray in front of the gear lever take care of storage.
The instruments and infotainment are easy to read and can be used most of the time through the steering wheel buttons. Audi also deserves praise for the oh-so simple rotary controls for the heat and fan settings. No need to look at the digital read-outs for these, just twist the dial to make the cabin warmer or cooler.
Handling and ride quality: What is the Audi A1 like to drive?
"There is a key decision you need to make when choosing an Audi A1 Sportback and that is whether you go for the Sport suspension or not. The Technik and, curiously, the Sport model both come on the standard suspension that gives the A1 a ride that's as cushy and cosseting as that found in the Volkswagen Polo, with which the Sportback shares much of its mechanical parts."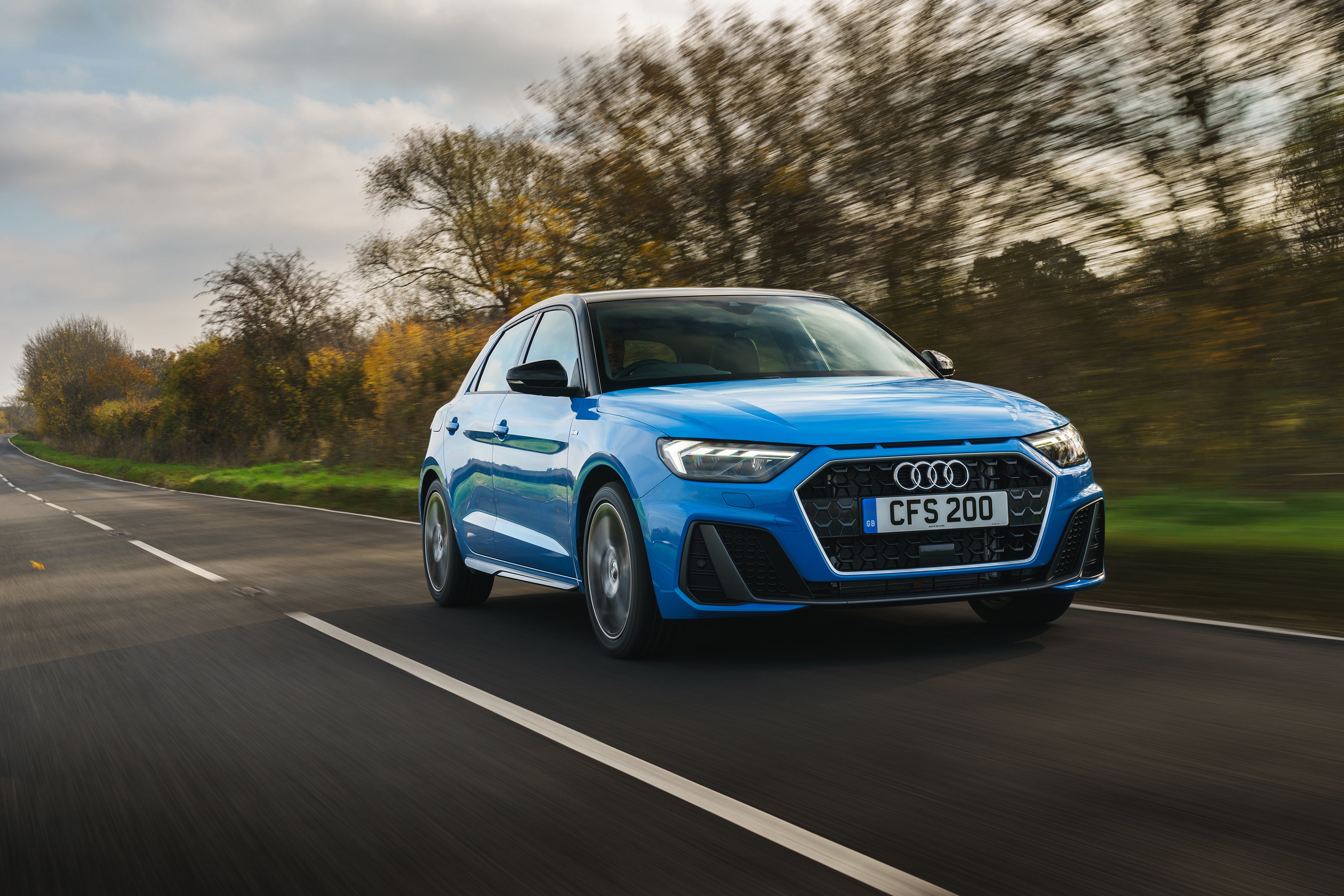 Things go awry with the rest of the trim levels that come as standard with the Sport suspension. On anything other than near perfectly smooth tarmac, the suspension jiggles its way along rather than flowing. It makes for tiring progress on many weather-beaten roads, though thankfully Audi lets you tick an option to revert to the standard set-up and we'd thoroughly recommend this.
The S Line Competition model gets round this quandary with its adjustable Sport suspension that lets you choose between comfort and dynamic settings using the Drive Select mode. It makes a difference, but we'd still rather have the Technik's more soothing suspension settings that are also helped by its smaller wheels.
In every other respect, the A1 Sportback's suspension works well to deliver sure-footed handling and confidence in corners. The steering is quick to follow the driver's instructions, although we find it falls short on the feel you get in a Ford Fiesta.
Still, in town the Audi A1 Sportback is simplicity itself to park and slot into tightly spaced bays. A bit more vision over the driver's shoulder would be appreciated when changing lanes on the highway. On these faster stretches, you'll also notice more road noise than in the likes of the Volkswagen Polo, which is step backwards from the previous A1's supreme refinement.
What engines and gearboxes are available in the Audi A1?
The A1 Sportback comes with a choice of four of Audi's TFSI turbo petrol engines, starting with a brace of 1.0-litre three-cylinder motors with 95- or 116PS. Choose the less powerful of these two, called 25, and you'll be best off sticking to town driving as it needs to be worked hard through its five-speed manual gearbox to give decent zip on the motorway.
This engine can also be ordered with the seven-speed S tronic twin-clutch automatic gearbox. It makes for smooth progress but dulls the driving experience. It's the same in the other engines where the S tronic is either an option or standard.
Take the 30 model with 116PS and it's noticeably peppier off the mark, though it still feels a little short on puff when driving along the motorway. As a result, we'd opt for the 35 TFSI with its 1.5-litre turbo petrol and 150PS that only comes with the S tronic auto. It's a much more rounded performer in every arena and inflicts no fuel economy penalty over the 116PS in the 30 TFSI. If your budget is elastic enough to include this engine in your decision, it's worth doing for its more relaxed cruising and zestier take-off in town.
For those who want the hot hatch experience in the A1 Sportback, the S Line Competition is the only model fitted with the 2.0-litre turbo petrol 40 TFSI engine. With 200PS, it's on a par with the Volkswagen Polo GTI, and turns in 0-62mph in 6.5 seconds. However, it doesn't feel as lively to drive as the Fiesta ST, delivering more of a brisk turn of pace rather than something to set the pulse racing.
Refinement and noise levels
Audi laid out a strong case for the original A1 Sportback as a premium small hatch thanks to its excellent refinement. Much of that hard work has been squandered in this second generation of A1 as it generates too much road noise at all speeds.
In town, unless the road is freshly laid and smooth, there is a background hum from the tyres. Head on to faster roads and that hum becomes a grating rumble that undermines the car's ability to take longer journeys without tiring its occupants unduly.
All of this is amplified in A1 Sportbacks fitted with larger alloy wheels and Sports suspension, which only serve to drum up more road noise and transmit it to the cabin. Stick with the Technik model and its 15-inch alloy wheels if you want an A1 with decent road refinement.
As for wind and engine noise, they are both kept to a much more considerate distance from the occupants' ears. Even when the engines are revved hard, which is needed more often than you might think, they retain good composure and don't become harsh to listen to.
Safety equipment: How safe is the Audi A1?
Choose any of the A1 Sportback range and you'll have twin front, side and curtain airbags to protect the car's occupants. Every car in the range also has ESP stability control and a hill hold assist to prevent the car from rolling backwards as you let off the handbrake on inclines.
All of this has helped the A1 Sportback achieve a very high 95% score for adult occupant safety and 85% rating for child safety in Euro NCAP crash tests. The Audi also manages 80% for safety assist systems. They include a lane departure warning alerts the driver if the car begins to wander across a road marking. Should the driver lose concentration on what is ahead, the emergency city braking system will apply the brakes if you don't and, in the event of a collision, it will even contact the emergency services itself.
Every A1 Sportback has twin rear ISOFIX child seat mounts and you can add to the car's safety kit with options such as a rear parking camera, parking assist, adaptive cruise control and automatic high beam assist to guard against dazzling oncoming cars.
Another option for the A1 Sportback is an integrated dash cam called Universal traffic recorder. You can pick between a single front-facing camera or one with front and rear cameras for full coverage.
MPG and fuel costs: What does an Audi A1 cost to run?
"The most efficient engine in the A1 Sportback is the 25 TFSI turbo petrol 1.0-litre unit. It has a claimed average consumption of 60.1mpg. We don't have Real MPG figures for this engine yet, but the slightly more powerful 30 TFSI version achieves 82% of its claimed figure, so it would be reasonable to think the 25 TFSI would be similar."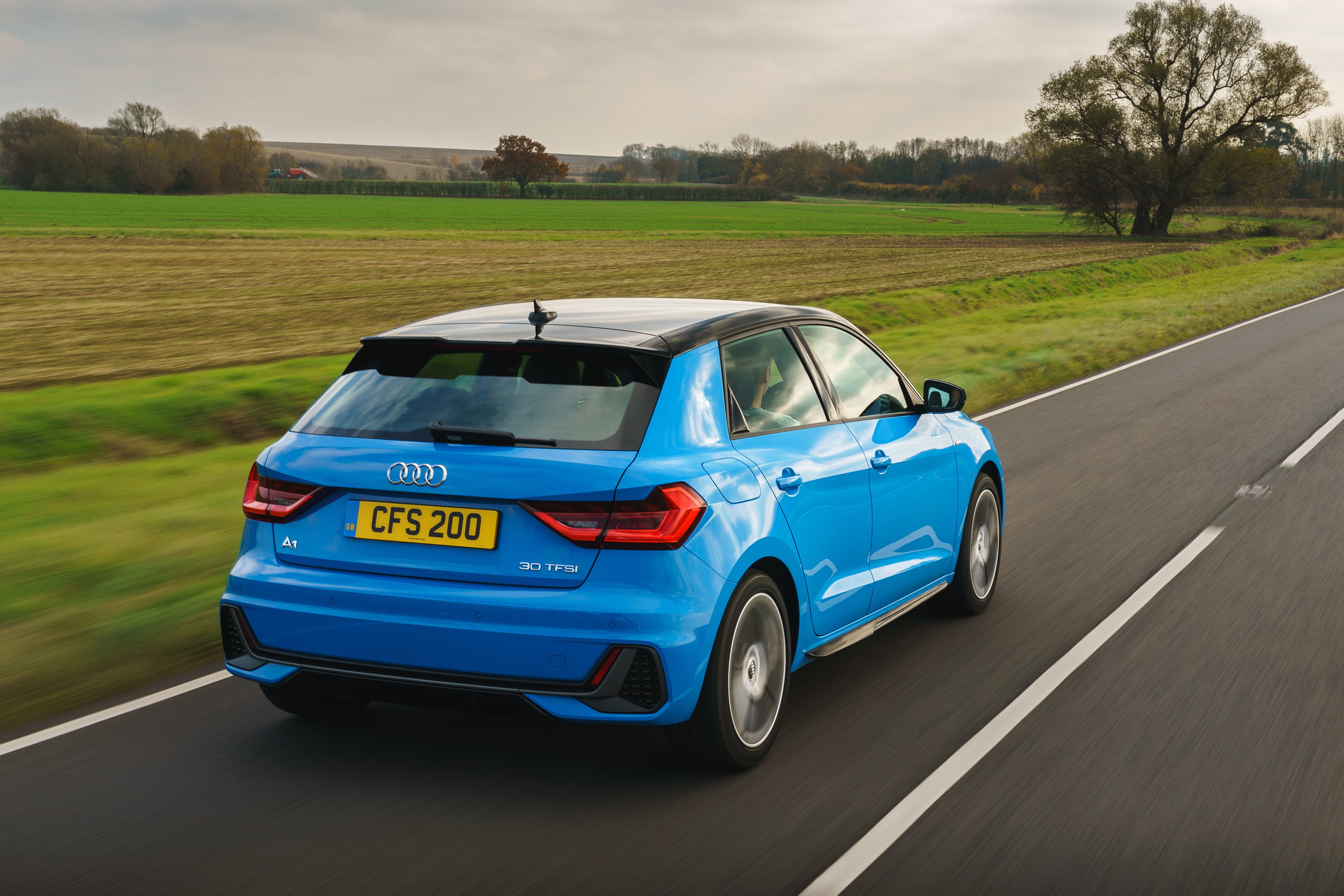 Choosing the more powerful 30 TFSI engine will not punish your wallet at the pumps. It has an official combined consumption figure of 57.6mpg with the six-speed manual gearbox and Real MPG sees it hit a very decent 48.0mpg.
How reliable is the Audi A1 Sportback?
We've heard of a few issues with the Audi A1 Sportback, with the most common based around some hesitation from the 1.5-litre TSI engine.
However, overall the Audi A1 Sportback is a very reliable car from the reports with had so far, with Audi as a brand scoring an above-average 9.12 out of 10 for reliability in the 2020 HonestJohn.co.uk Satisfaction Index.
Insurance groups and costs
Take the lowest cost route into Audi A1 Sportback ownership with the 25 TFSI Technik model and it sits in group 16 for insurance. This won't be cheap when it comes to premiums for young drivers, but it's not insurmountable.
Take our preferred 35 TFSI Sport and insurance jumps to group 25, while the 40 TFSI Competition sits in group 31. This makes the hot hatch version of the A1 Sportback affordable only for drivers with a few years of no claims built up or where insurance is included in a lease deal.
Take a look at our guide to the cheapest Audi models to insure if you're looking for what other Audis offer the most affordable insurance premiums.
VED car tax: What is the annual road tax on a Audi A1?
Drive home in a new Audi A1 Sportback with the 25 TFSI engine and it emits 105g/km CO2, so you'll pay first year tax of £155. That rises to £175 for the 30 TFSI with its emissions of 111g/km.
Opt for the 35 TFSI and it resides in the same band as the 30 TFSI, so costs you £175 in the first year and the same £150 per year after that. However, the 40 TFSI S Line Competition with its 137g/km CO2 output will push up your road tax in the first year to £215.
How much should you be paying for a used Audi A1?
"Expect to pay around £12,000 for a one-year old Audi A1 Sportback, which will come either from a franchised dealer or car supermarket. This will be a car powered by one of the two 1.0-litre TFSI engines."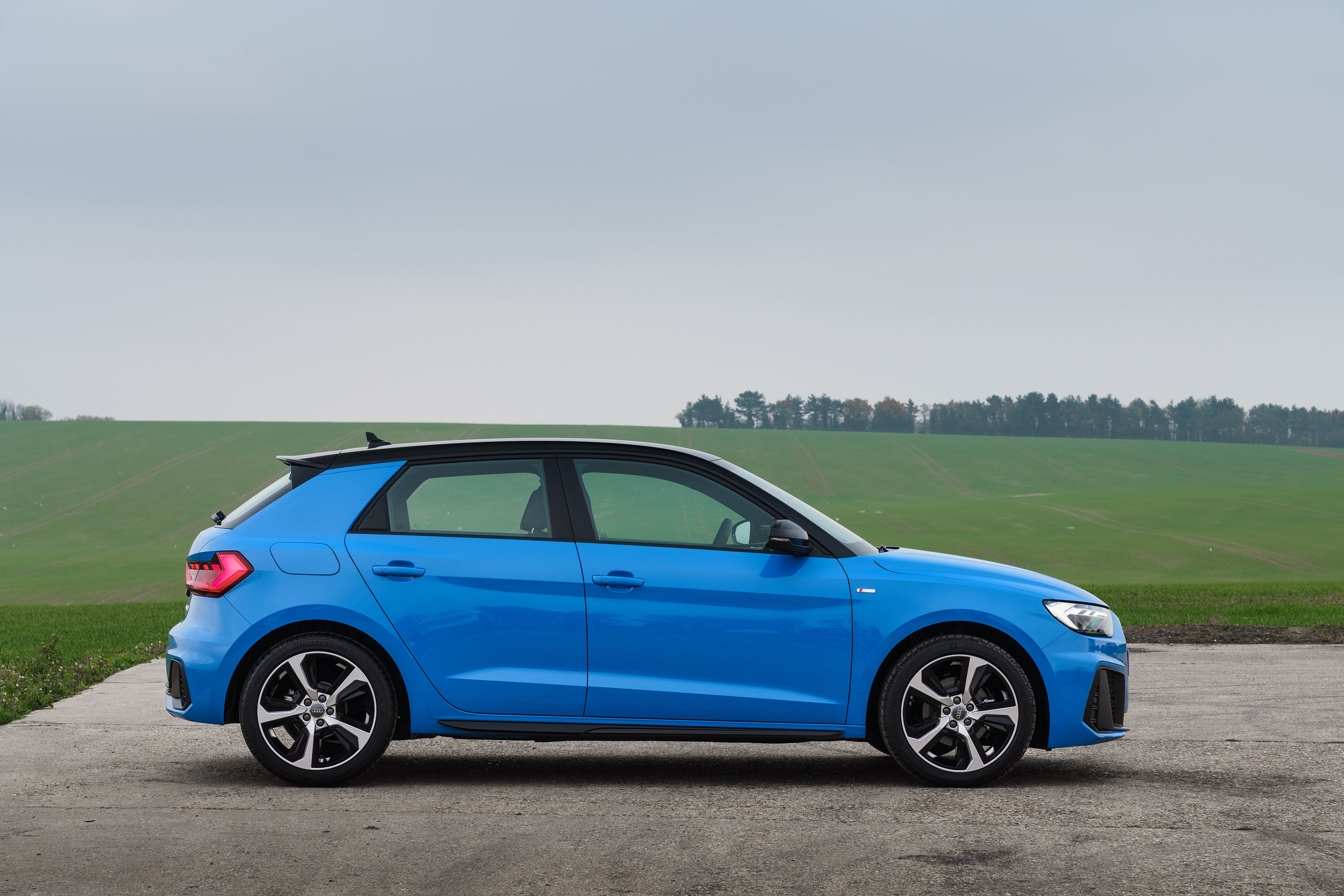 If you want the more powerful 1.5-litre 35 TFSI, you'll need to up that budget to £17,500 for a Sport with 5000 miles under its wheels. An S Line will cost you £500 more. For those wanting the thrills of the 40 TFSI S Line Competition, your budget will begin at the £20,000 mark, though this will net you a car with less than 2000 miles from new.
Trim levels and standard equipment
Audi believes in equipping the A1 Sportback to a high level as standard and the entry-level Technik has 15-inch alloy wheels, LED lights front and rear, as well as dynamic rear indicators that scroll across the lense when illuminating. You also get the 10.25-inch Digital Cockpit instruments, 8.8-inch colour touchscreen with voice control, electric front windows, air conditioning, and cloth upholstery.
Pick the Sport and it adds 16-inch alloys, front Sports seats, cruise control and rear parking sensors. It also comes with Audi Drive Select to offer Dynamic, Efficiency, Individual and Auto modes for the how the steering, engine and gearbox respond.
Seventeen inch alloys are part of the S Line's make-up, along with unique bumpers, front spoiler and sports seats. It also has firmer Sport suspension, which is shared with the Contrast Edition that is painted in Python Yellow with a black roof. The Contrast also has 18-inch wheels, darkened headlight lenses, rear privacy glass and part-Alcantara upholstery. Take the Style Edition and you get different 18-inch wheels, a bronze-finished Audi grille badge and leather upholstery.
The S Line Competition is the only car in the range to use the 40 TFSI 2.0-litre turbo petrol engine with 200PS. It also comes with its own red-painted brake calipers and adjustable dampers to let the driver select either comfort or sport settings.
Lastly, the Vorsprung version of the A1 Sportback gets ambient interior lighting, climate control and Audi's MMI Navigation Plus system with larger 10.1-inch infotainment screen. This model also comes with wireless phone charging and a Bang and Olufsen 3D Sound System stereo, park assist, rear view camera and Adaptive Speed Assistant to regulate the car's distance to the vehicle in front in traffic queues.
Ask the heycar experts:
common questions
Is Audi A1 a good car?
It's chic, stylish and sophisticated - but perhaps not sporty enough.

Answered by
heycar editorial team
What Insurance Group is an Audi A1?
Insurance groups for the Audi A1 are between 9 and 28.

Is an Audi A1 expensive to run?
You'll pay more to own one, but it'll hold its value, while servicing costs are cheaper than a Mini Cooper.

Audi A1 cars for sale on heycar
9,955
Number of cars available
£8.5K - £38K
Price bracket of these cars
Colours available on heycar
Keep me updated by email with the latest advice, news and offers from heycar
By submitting, you agree to our
privacy policy
.