Audi A3 Saloon Review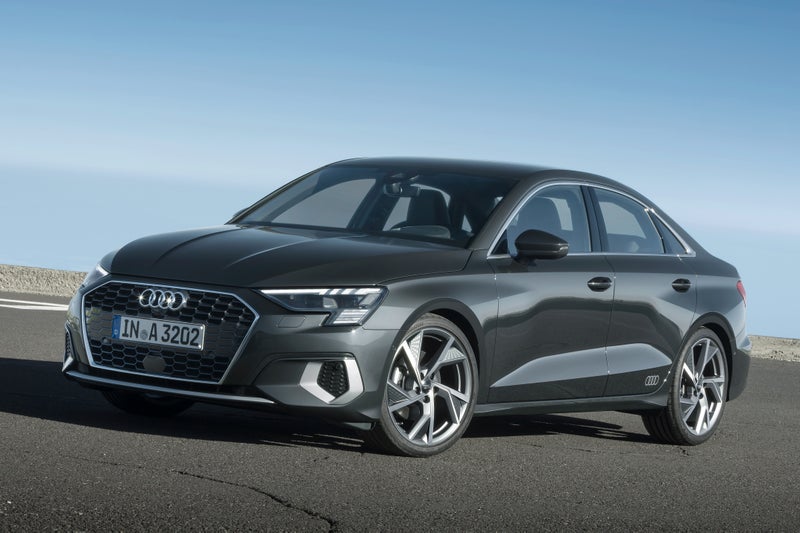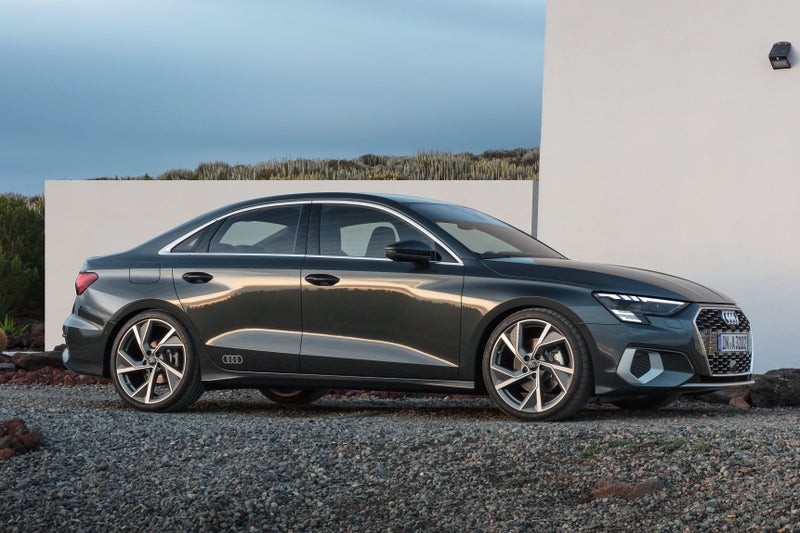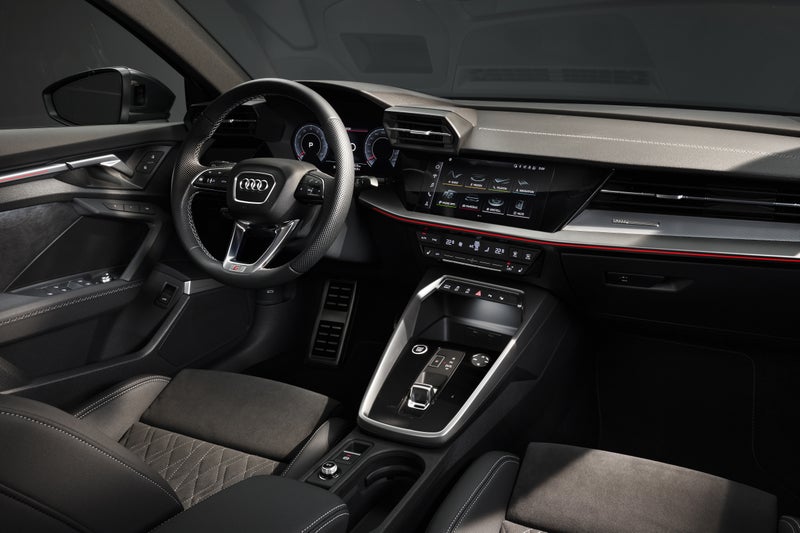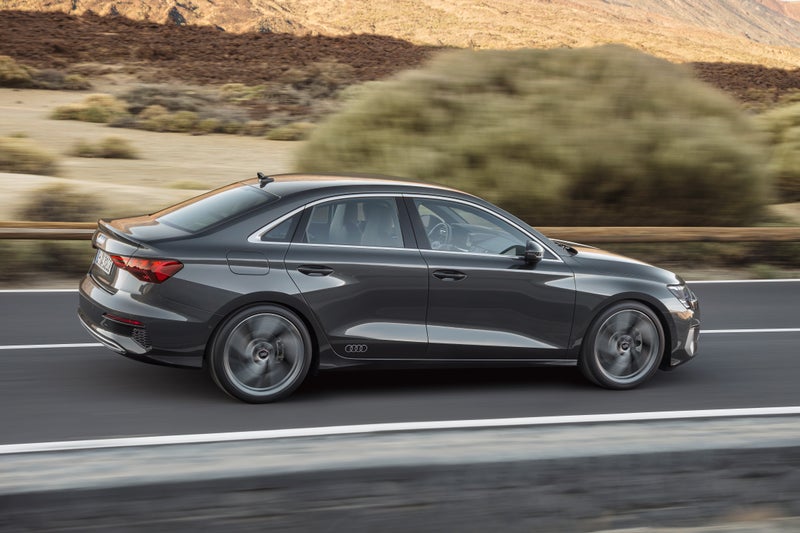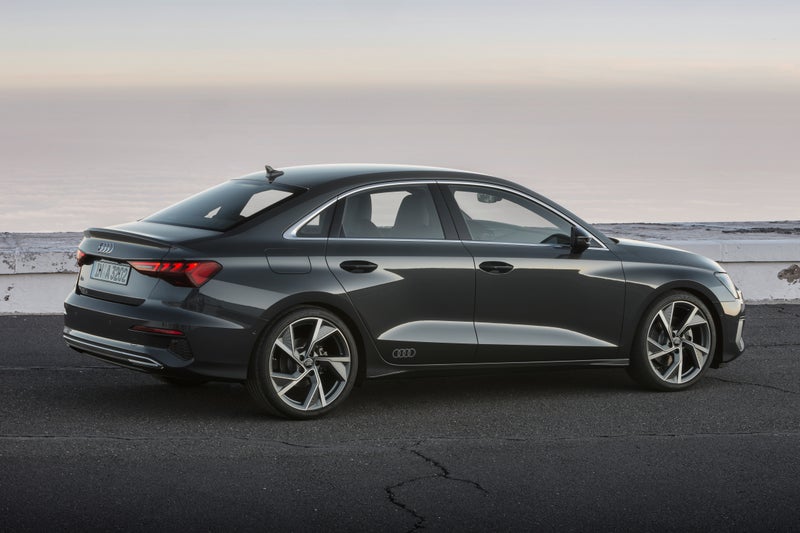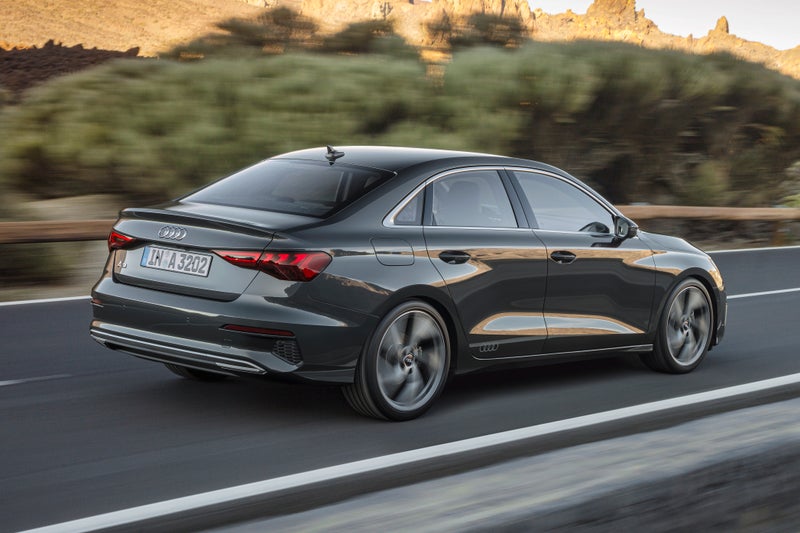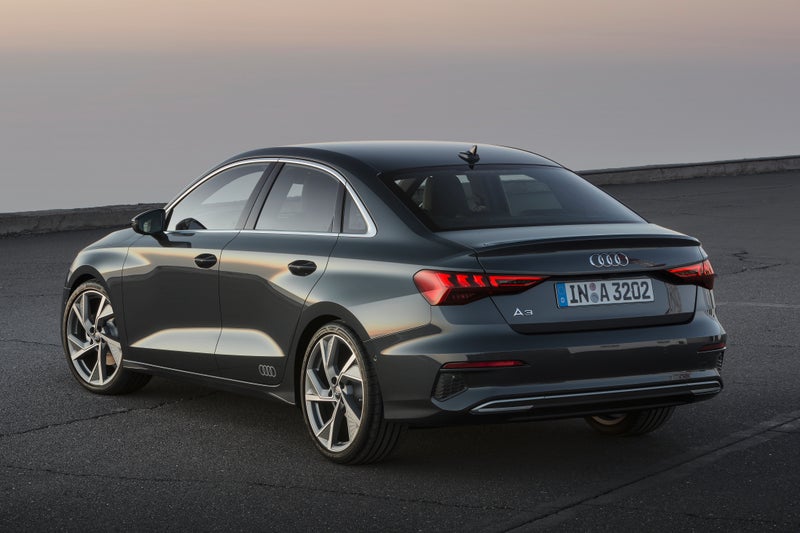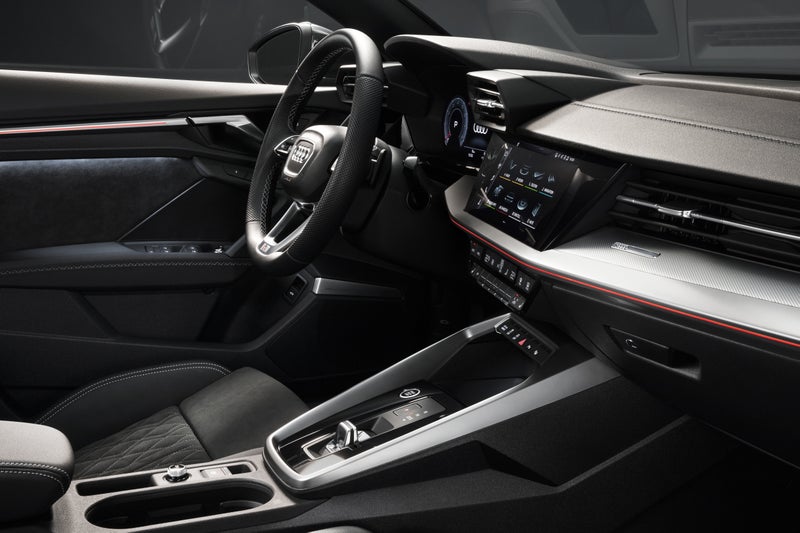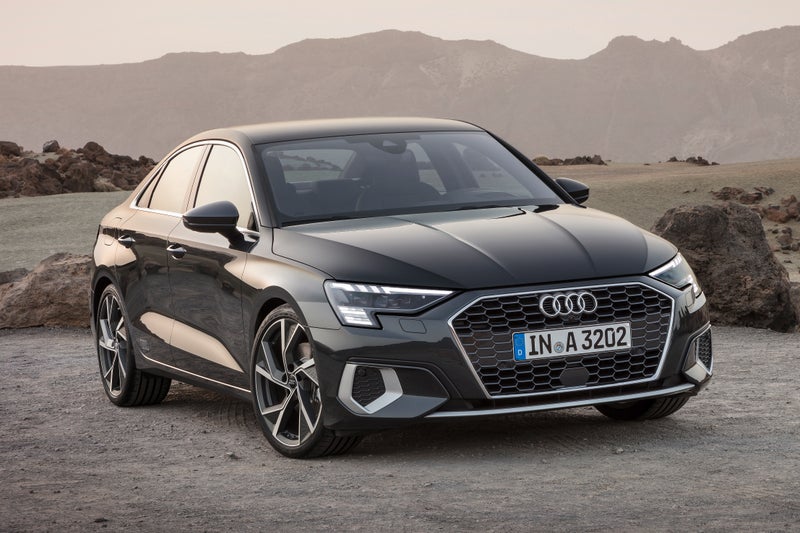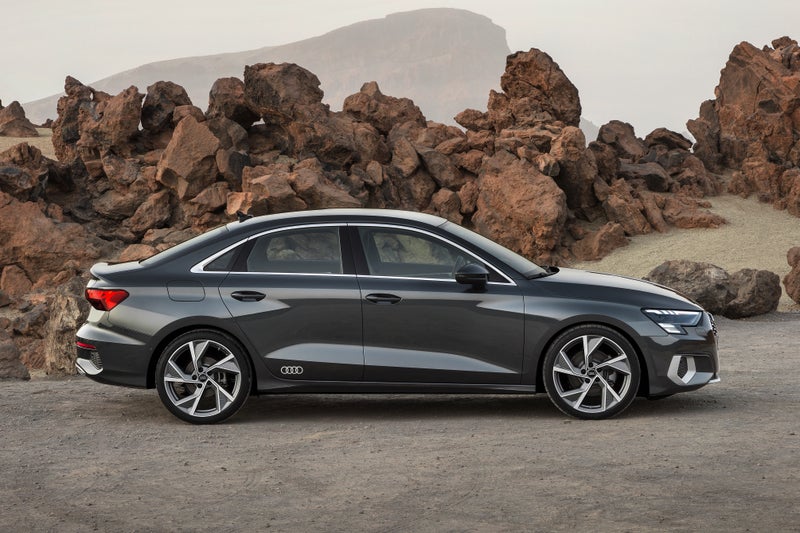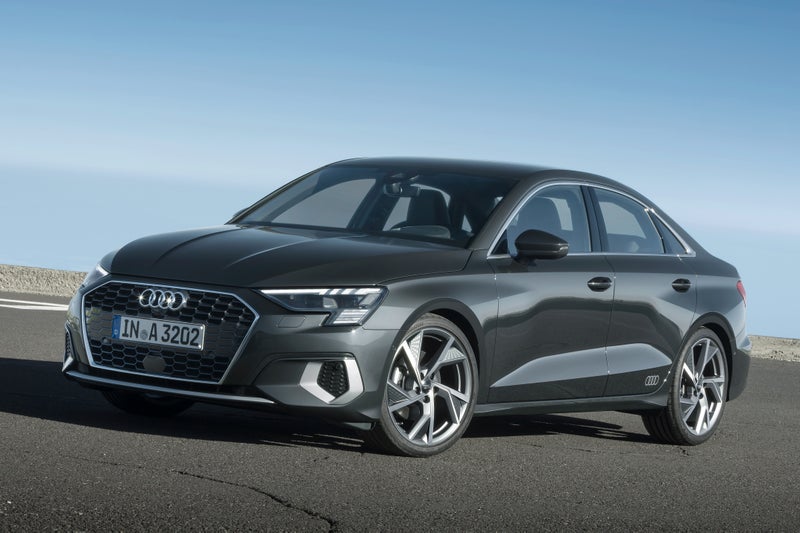 1/10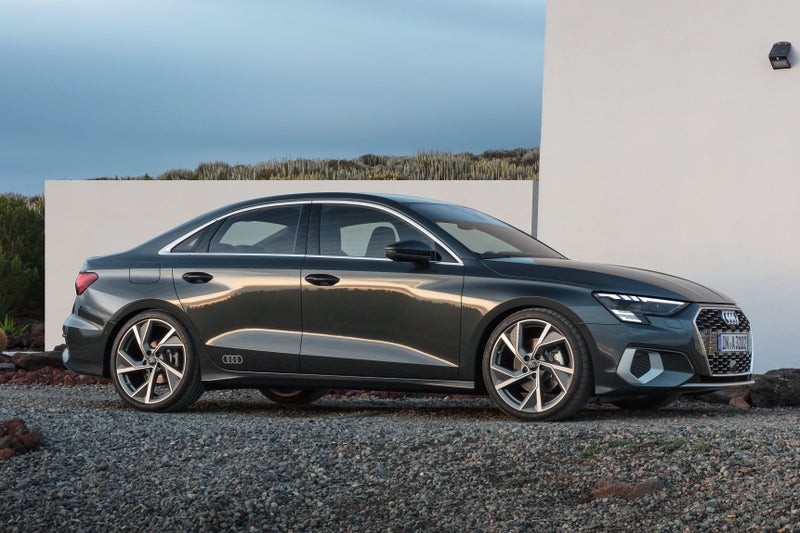 2/10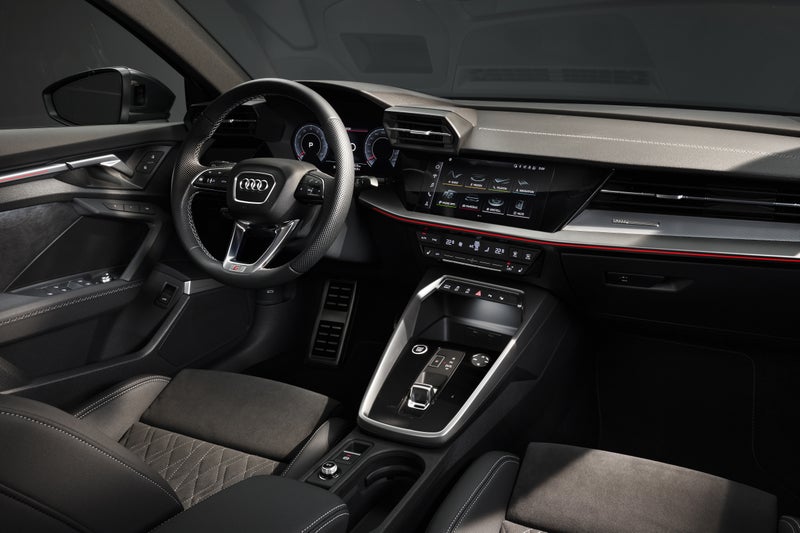 3/10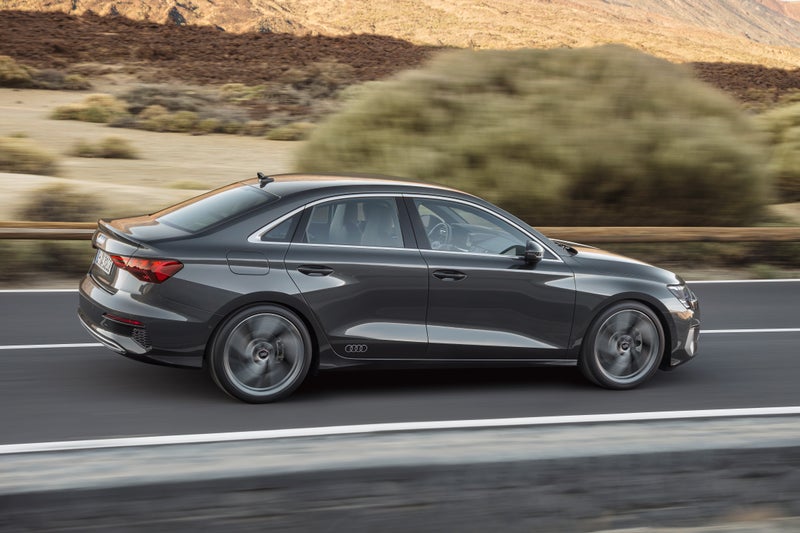 4/10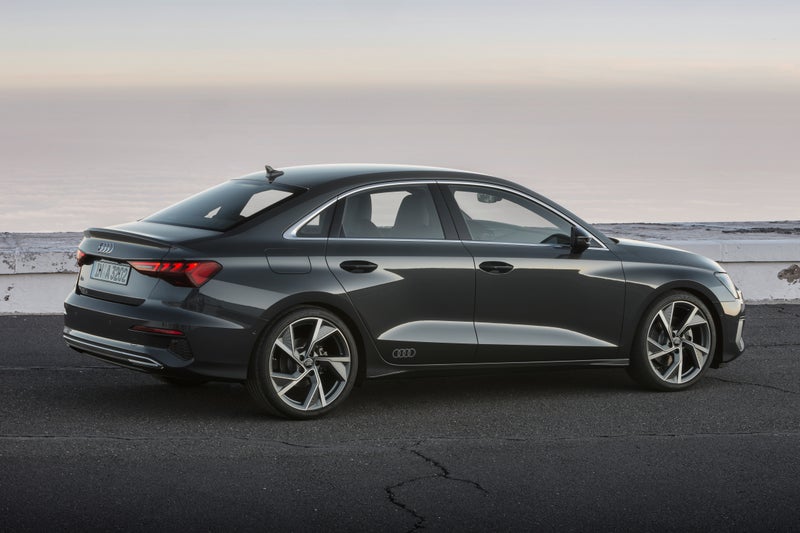 5/10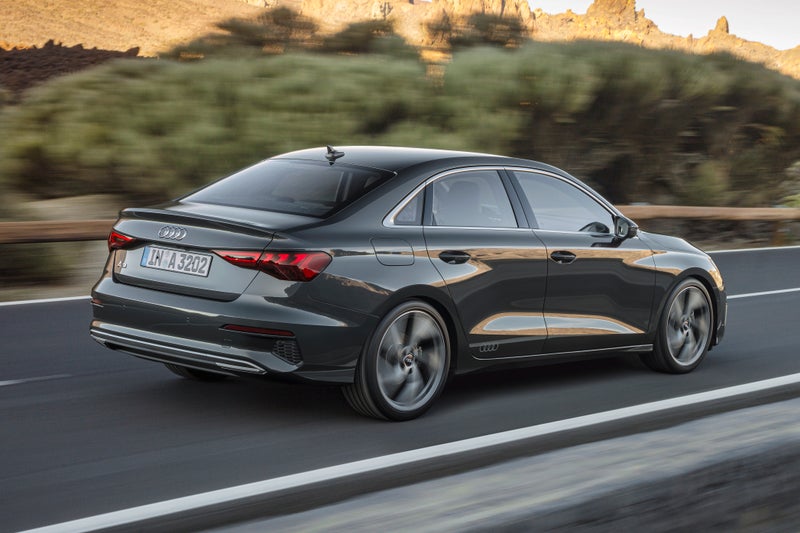 6/10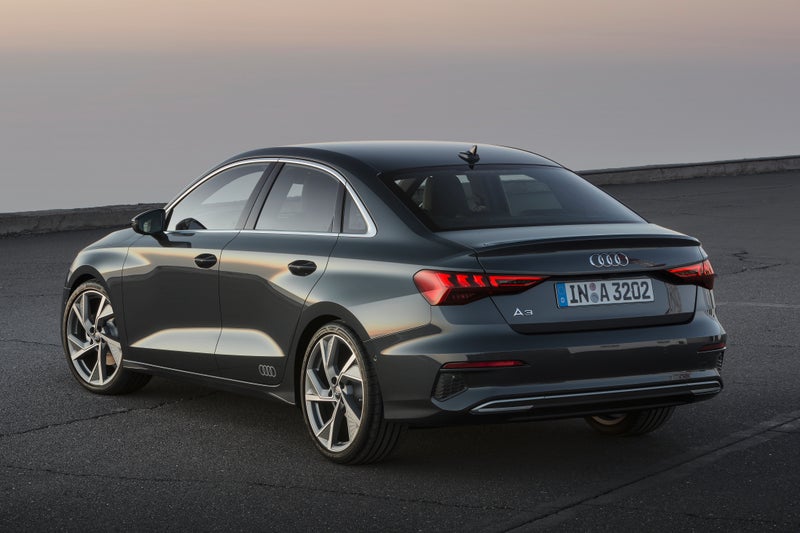 7/10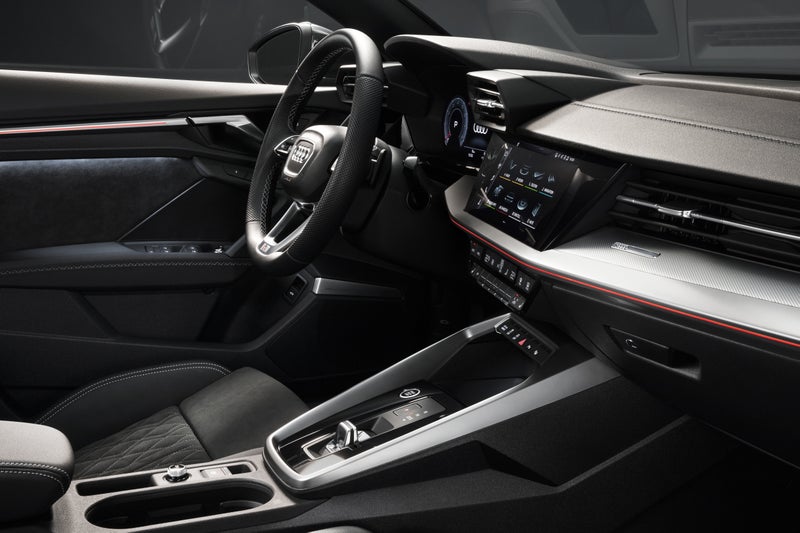 8/10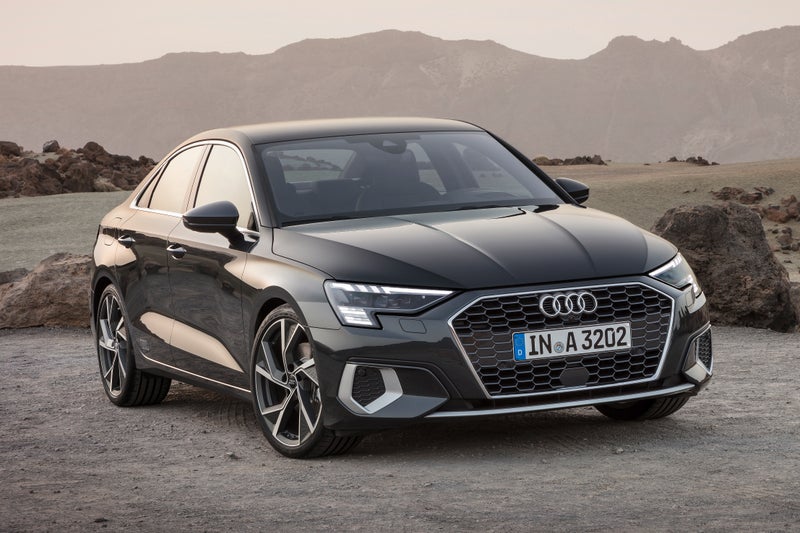 9/10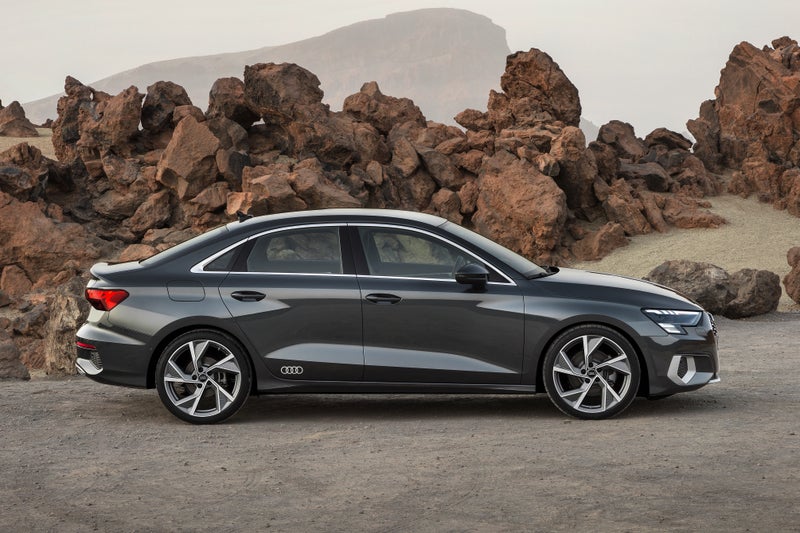 10/10
Launched in 2020

Premium

Petrol, Diesel
Launch year

2020

Body type

Premium

Fuel type

Petrol, Diesel


heycar rating
Classy and stylish compact saloon
Best bits
Very quiet and comfortable at motorway speeds
High quality and well finished interior
Upmarket image and a good alternative to the larger A4
Not so great
Boot limits practicality compared to the A3 Sportback
Tight for leg room in the back
Not the most exciting of things to drive
Read by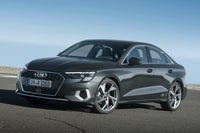 Overall verdict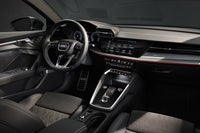 On the inside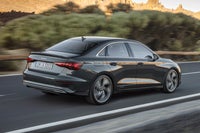 Driving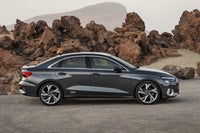 How much does it cost to run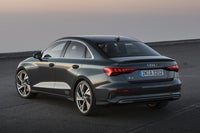 Prices, versions and specification
Overall verdict on the Audi A3 Saloon
"The A3 Saloon proves that small saloons don't have to be dull. With a sharpish design it stands out more than its hatchback counterpart plus the interior has the same quality appeal as larger Audi saloons. Classy and upmarket, it majors on refinement and comfort, making it ideal as a cheaper alternative to the Audi A4."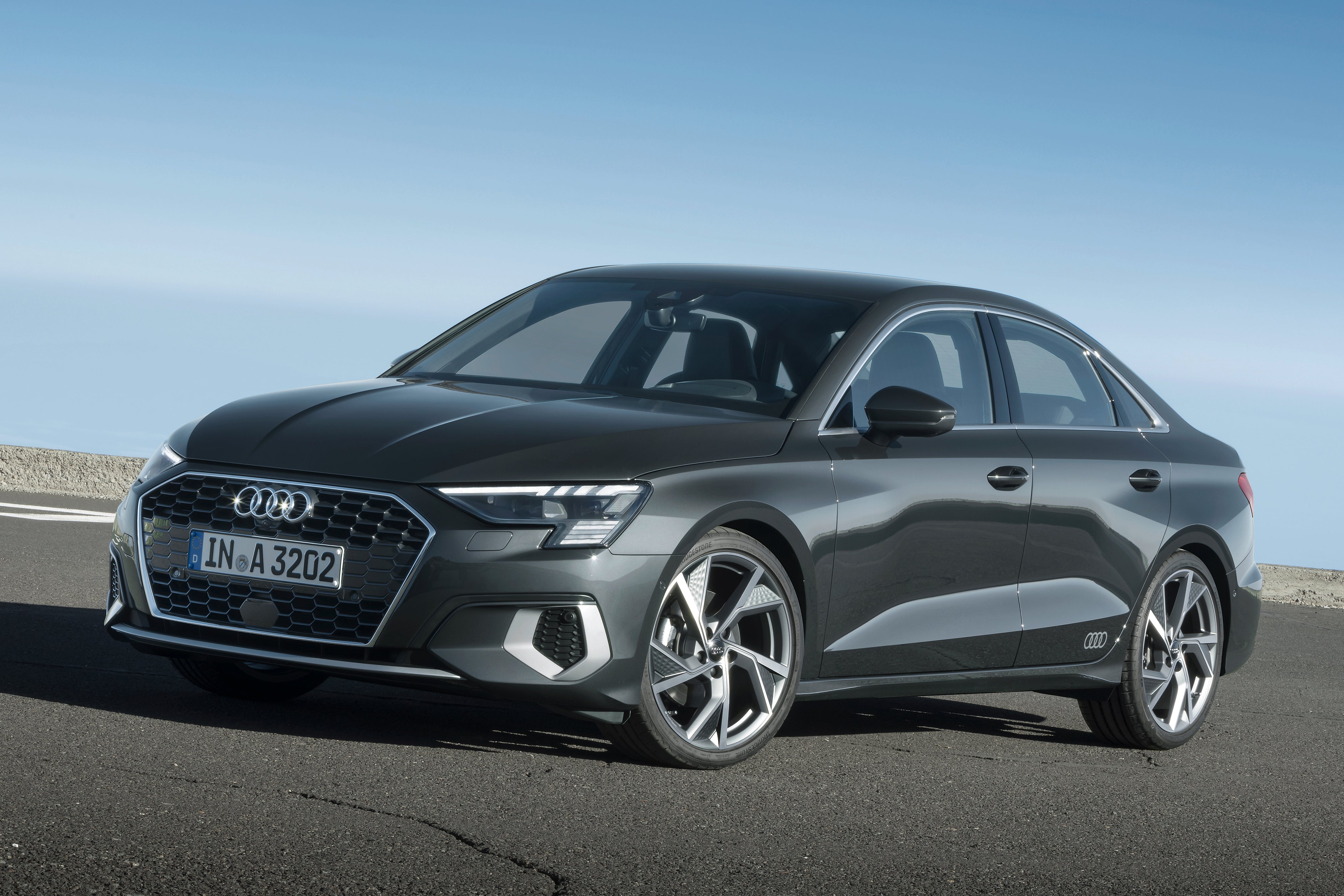 Of course the big question is why a saloon? Yes, they do exist apparently. The A3 Sportback - there's no longer a three door - is a popular choice for people wanting a high quality hatchback. It's also practical. And given that small saloons have never been big sellers in the UK, it would seem an odd move to introduce an A3 Saloon.
But while not an obvious choice, the A3 Saloon has quietly carved out a niche for itself - and indeed it's not alone. Mercedes has the A-Class Saloon and there's the BMW 2 Series Gran Coupe. And you know that if one of the big German three brands does something, the others won't be far behind...
Switching from the hatchback to a saloon design has been successful we reckon. While small saloons have traditionally been about as attractive as a hospital dinner, this one isn't half bad. In fact we quite like it, those sharp lines mean that at a quick glance, it's hard to tell it apart from an Audi A4.
Indeed, this is where a big part of its appeal will come from. For owners of an Audi A4 - or even Audi A6 - who are looking to downsize and want something cheaper to run but that still has that upmarket feel, the A3 Saloon could just fit the bill, rather than go for the default small crossover SUV thing.
True, it's not an especially sporty drive, but the A3 Saloon's forte is comfort and refinement, which you'll really appreciate on long motorway trips. Here there's very little difference with an A4, the A3 Saloon proving a relaxed and undemanding car on long journeys. It's what we'd describe as 'grown up'.
It's also sensible when it comes to running costs, with the 35 TFSI, powered by a 1.5-litre petrol engine, which has a mild-hybrid system, returning up to 50mpg with the S tronic automatic. This is the combination we think works best in the A3 Saloon, combining smooth performance with good economy. Again, it's not exactly full of thrills, but then again, this is a small sensible saloon. Cake eating and all that.
It's certainly packed with plenty of tech and all models have the Audi Virtual Cockpit as standard along with a top notch 10.1-inch touchscreen. Audi has one of the best infotainment systems around with a sharp display and an intuitive layout. All models get MMI Navigation Plus as standard along with Apple CarPlay and Android Auto if you're down with the kids.
And as for the rest of the cabin, Audi has form with designing some of the best interiors around. The A3 Saloon is no exception. The stylish design gives it a modern and upmarket feel, but it's also functional. Those in the back may find leg room on the tight side, but the boot is surprisingly big and you even get folding rear seats.
If you're after a compact saloon with a bit of quality and lots of refinement, the Audi A3 Saloon will tick all the right boxes. Whether we'd choose one over an A3 Sportback is another matter.
If you're looking for the hatchback version, you'll need our Audi A3 Sportback review
Comfort and design: Audi A3 Saloon interior
"Audi is renowned for having what many regard as the best interior designs around. The A3 Saloon is no exception with the same level of comfort you'll find in bigger and more expensive Audi models."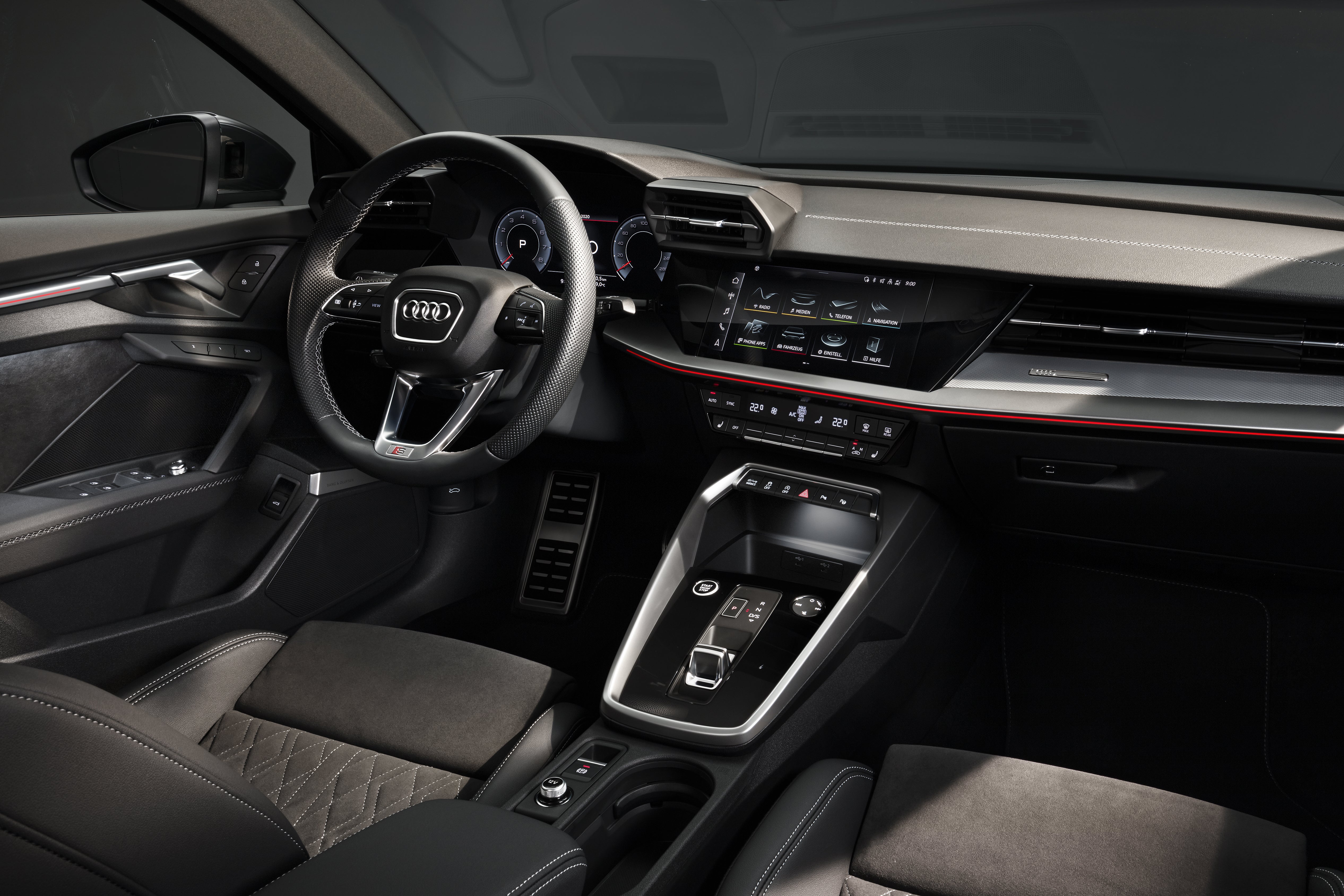 We've often talked about how good Audi interior design is so we won't keep banging that particular drum, but there's a clarity of design that's really hard to beat. Step out of an A6 and into an A3 and while you may not have as many screens and buttons, it will all be very familiar to you. It's easy to use but stylish too - it seems you can blend form and function.
The driving position is excellent with a low slung seat and lots of adjustment in the steering. Again, it really doesn't feel that different here to the larger A4.
Audi has ditched all the circular air vents and buttons of the previous generation A3, replacing them with an angular design. There are some nice touches like the row of switches below the infotainment screen, plus there's lots of metal and piano black trim which has become de rigueur these days. The seats on Sport models are pretty comfortable over long journeys while the S line model gets more supportive sports seats.
With minimal buttons, the interior design is clean and tidy, but there are at least separate controls for the climate, so you don't have to start jabbing at the touchscreen just to turn the temperature up on a cold morning.
Handling and ride quality: What is the Audi A3 Saloon like to drive?
"The A3 Saloon majors on serenity and refinement rather than sportiness, with a forgiving ride combining with quiet engines to make this feel reassuringly agreeable from behind the wheel. What it lacks in excitement, it makes up for in comfort."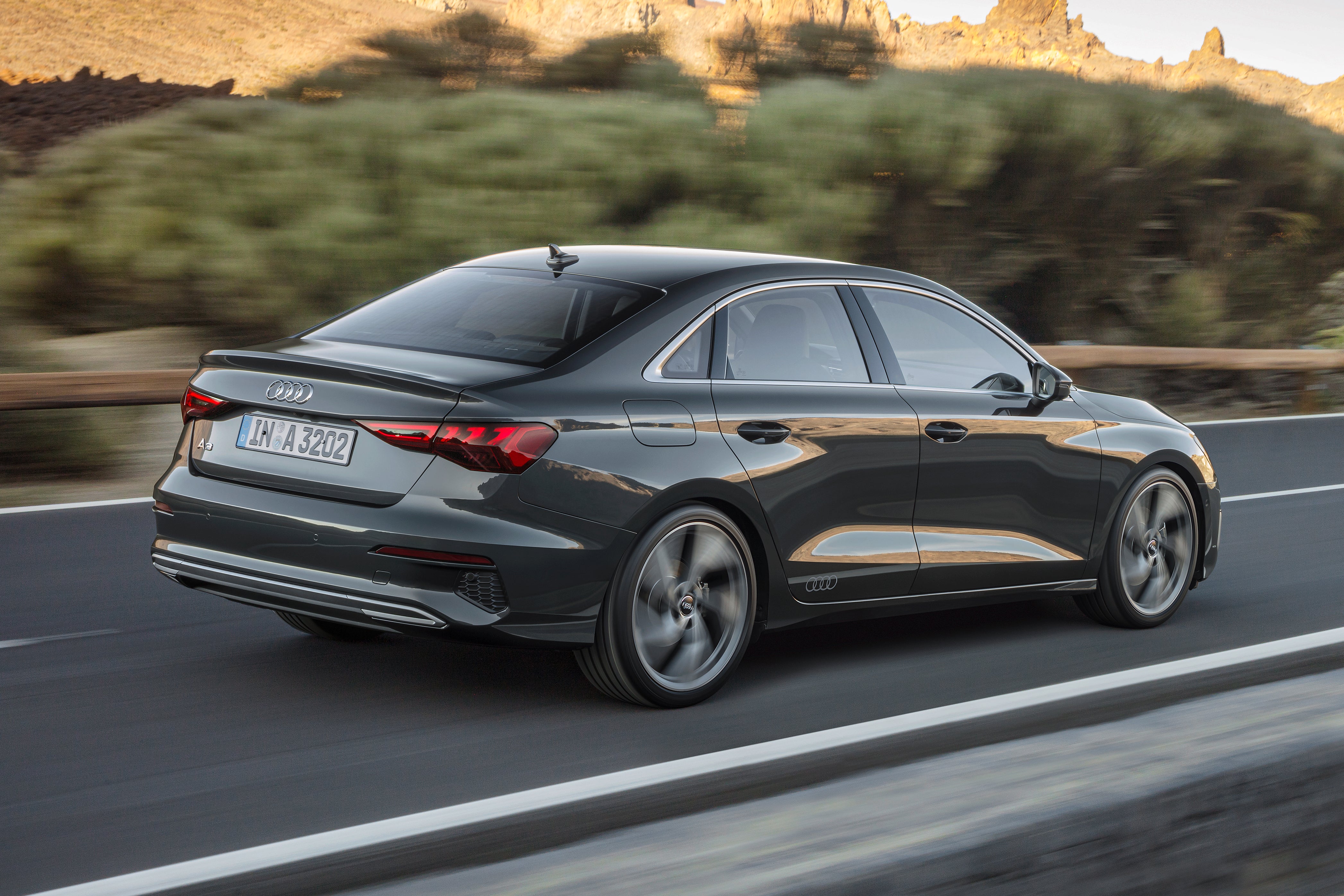 And for many drivers, especially those downsizing from something like an A4, this will be a big plus in the A3 Saloon. You know exactly what you're getting here - a comfortable and smooth riding car that is undemanding to drive.
Go for an S tronic automatic, which we'd recommend whatever engine you choose, and you'll find lovely quick and slick shifts that are barely noticeable, yet it responds well when you need power for that nippy overtake.
It's safe and reassuring through corners, whether tight country bends or high speed slip roads. True, the steering, although reasonably well weighted, isn't exactly enamoured with much in the way of feedback - there's little in the way of driver engagement here, but it's precise. The light steering is also great for those multi-storey car parks and parallel parking.
What does impress is how well the A3 corners. A3 Saloon models with less than 150PS get a standard suspension set-up while anything with more than power has a more sophisticated multi-link system. It's good but the standard set-up is so capable you won't feel like you've missed out. It blends handling and comfort superbly well, with little body roll through corners and plenty of grip.
You can go for the sportier S line models which get sports suspension and a 15mm lower ride height. This provides a firmer ride, not helped by the S line's standard-fit 18-inch alloy wheels. It's not uncomfortable, but we reckon the standard springs suit the A3 better.
It may be a saloon, but the high design of the boot means it's easy to judge where the back of the car is when parking, plus of course, all models come with rear parking sensors as standard anyway.
MPG and fuel costs: What does an Audi A3 Saloon cost to run?
"With all models - even the 40 TFSI - returning at least 40mpg, the A3 Saloon should be affordable to run. The TDI versions are of course the best for economy, with up to 64mpg according to the claimed figures."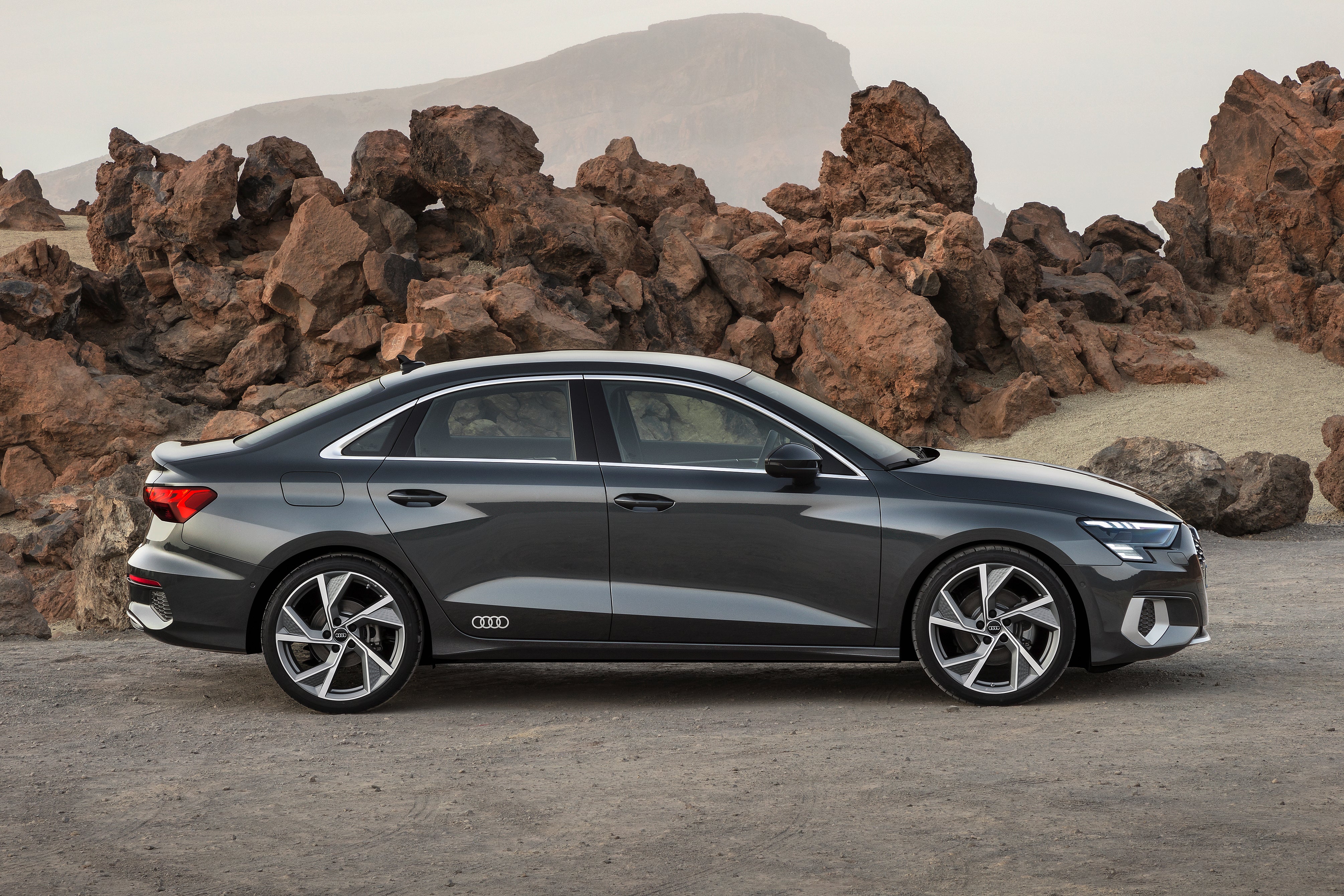 If you want outright economy then stick to the TDI models. The 30 TDI with the six-speed manual will see 64mpg according to the official WLTP figures which will give you more than 630 miles on a tank in theory.
But the petrols are hardly thirsty and the 1.5-litre engine in 35 TFSI, which would be our choice, will average 50mpg with the S tronic dual clutch gearbox. As an all rounder, we think this is the best specification in the range. The smaller 30 TFSI, with the 1.0-litre engine, should be good for 52mpg.
How much should you be paying for an Audi A3 Saloon?
"While list prices for the latest A3 Saloon start at around £25,000 for the 30 TFSI Sport, you can save money by looking for a pre-reg model. But given the A3's premium positioning, there aren't that many bargains to be found."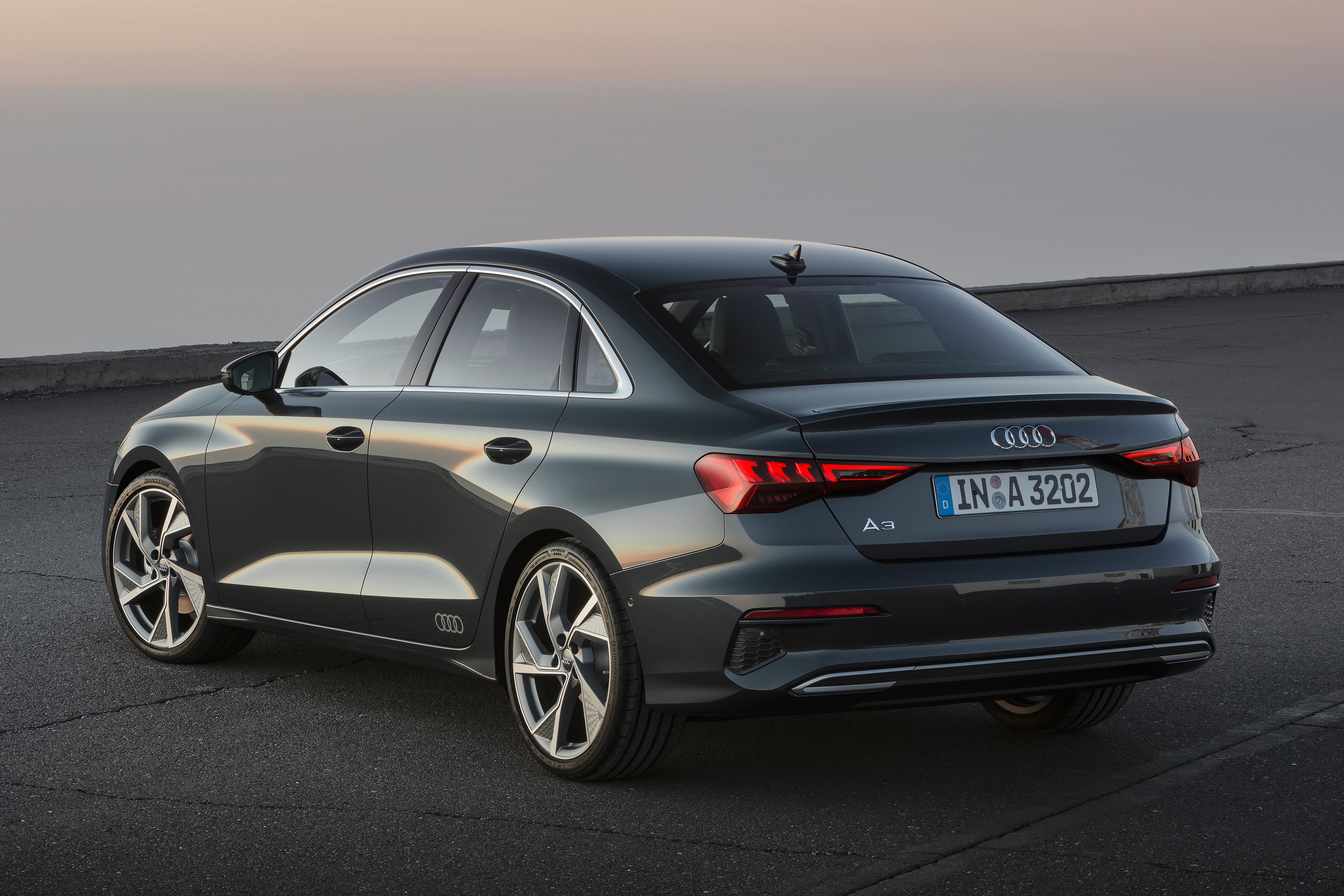 A quick scout of the classifieds will find you a pre-reg 30 TFSI Sport with 1000 miles on the clock for £24,000, which isn't a huge saving on the list price, but does at least mean skipping the waiting list.
You will of course find a lot more choice with the A3 Sportback due to its relative popularity, but with the A3 Saloon being well equipped as standard, you won't find any sparsely specified cars on the market. Buying an Audi Approved Used car is your best bet and will get you that new car buying experience, plus a 12 month warranty and roadside assistance.
Is the Audi A3 Saloon right for you?
If you want a classy, good looking saloon, the A3 Saloon makes a strong case for itself. Just like the hatchback A3 Sportback it's comfortable and easy to drive, if not that exciting. But what shines through is the quality - if you're downsizing from something like an A6 or an A4, the A3 Saloon has the same upmarket feel to it.
Don't expect the same space of course, you'll find rear leg room on the tight side, but this still very much feels like one of Audi's bigger saloons that's simply been shrunk down. With few around, it's also more exclusive than the A3 Sportback.
What's the best Audi A3 Saloon model/engine to choose?
Unless you're doing big miles, the 35 TFSI is the best engine to go for. It's a 1.5-litre petrol that's smooth and very easy to drive, especially if you opt for the seven-speed S tronic gearbox which suits it really well.
The 35 TDI is a 2.0-litre diesel with the same 150PS and a mainstay of the Audi range. It's incredibly quiet and refined for a four-cylinder diesel, plus of course it's very economical with a claimed 63mpg. There is also a lower powered 116PS version of the same engine used in the 30 TDI.
Later, Audi added the 30 TFSI which has a 1.0-litre engine with 110PS. It's great for around town and has a surprising turn of pace for a small engine. The entry-level trim is Sport which comes with pretty much everything you need for the money, so it would be our recommendation.
What other cars are similar to the Audi A3 Saloon?
Small saloons haven't traditionally been popular in the UK, mainly because they look terrible and aren't very practical. So you're not awash with rivals, the main one being the Mercedes A-Class Saloon which goes down a similar path of comfort and classiness.
Not to be left out, BMW has the 2 Series Gran Coupe while you could also consider the slightly larger Jaguar XE as a rival. And while not quite in the same premium league, if small four-door saloons are your thing, check out the Honda Civic Saloon and Hyundai i30 Fastback.
Quality and finish
There's a reason the Audi brand proves so popular with buyers and that's down to the quality of the interior. The fit and finish are second to none with a solid build quality that is designed to last. Soft touch materials are everywhere while everything you touch, from the steering wheel to the switches and column stalks, feel solid and precise.
All models, even the entry-level Sport, get leather seats that have a high calibre feel along with a sporty three-spoke multifunction steering wheel.
Go for an S line and you get a fancy LED interior lighting pack with ambient door lighting so you can change the colour of the interior lights to whatever you like. Purple and green anyone?
Infotainment: Touchscreen, USB, nav and stereo in the Audi A3 Saloon
Audi has really nailed infotainment in its latest generation cars and the A3 feels cutting edge with its high resolution and easy to navigate layout. Thanks to Audi's third-generation modular infotainment platform, called MIB 3, it has ten times more computing power than the previous system.
What that means in the real world is that the 10.1-inch touchscreen responds instantly to your finger and feels as slick as your modern smartphone. It also comes with Apple CarPlay and Android Auto which usefully work on Bluetooth so you don't need a cable.
If you want to keep the little people entertained, there's a WiFi hotspot, although you will need a SIM card for it. But it's useful if the kids have iPads that aren't phone enabled and really want to watch Peppa Pig on the move. Again...
The MMI Navigation Plus system is standard on all models, but we think most drivers will simply use an app like Waze or Google Maps via the Apple CarPlay or Android Auto. Both are a lot quicker and more accurate than the built in system.
Another Audi A3 standard feature is the 10.25-inch Virtual Cockpit. This is, in our opinion, the best digital instrument display around, with sharp graphics and numerous ways to customise it - changing the size of the dials or prioritising navigation directions.
There aren't any physical buttons for the infotainment system as it's all on screen, but there is at least a handy touch dial on the centre console for turning the volume up and changing tracks or radio stations.
Space and practicality: Audi A3 Saloon boot space
No prizes for guessing that the A3 Saloon isn't as practical as its A3 Sportback counterpart. That said, the boot is surprisingly versatile with a wide and square opening meaning you can get a bulky pushchair in (and various children's scooters) without any issues.
At 425 litres, the luggage capacity is exactly the same as in the previous A3 Saloon model and actually bigger than the 380-litre boot in the hatchback, plus the saloon also gets 40/20/40 split folding back seats with a centre armrest and cup holders.
This A3 Saloon is slightly wider and a fraction taller than before which means you're less likely to smack elbows with your passenger if that's ever a thing that's happened before. There's also a little more headroom in the front, which cultivators of man-bun and quiff coiffures will appreciate.
This is helped by the repositioned driver's seat, although what's not so good is room in the back. If you have a tall human up front, one of those that's more than say 6ft tall, rear legroom is what we'd call, on the extremely tight side. Fine for younger kids, but growing teenagers won't be happy.
What engines and gearboxes are available in the Audi A3 Saloon?
Your jaw probably won't be hitting the ground when you discover that the A3 Saloon uses the same engines as the A3 Sportback.
It was initially launched with two engines - both with 150PS. The 35 TDI is a 2.0 TDI that's used across the Audi range while there's also the 35 TFSI, powered by the impressive 1.5-litre petrol. Both are available with either a six-speed manual or a seven-speed S tronic but the latter is definitely the one to go for, regardless of engine.
The 1.5-litre TFSI has a cylinder-on-demand system along with a 48-volt mild hybrid system which recovers energy when slowing down or braking. It actually gives the engine an extra 50Nm of torque under acceleration from low engine speeds and means the A3 Saloon can also coast with the engine switched off in many situations. Economy win.
There's a three-cylinder 1.0-litre petrol, badged 30 TFSI, which punches above its weight in terms of performance . It's also the cheapest engine in the range. It may seem small but it's actually the most characterful unit here and ideal for around town.
Audi introduced a lower power version of the 2.0 TDI with 116PS, which is the most economical in the range, returning up to 64mpg with the six-speed manual, while you also have the option of the S tronic.
At the other end of the spectrum, Audi added the 40 TDI, using the same 2.0 TDI but with power boosted to 200PS. We know diesels are no longer popular but it's hard not to be swayed but the punchy performance and economy it offers...
Sitting at the top of the range (aside from the S) is the 40 TFSI, powered by a 2.0-litre petrol with 190PS. It's quick but doesn't really stand out enough from the 1.5-litre in the 35 TFSI to justify choosing it.
Refinement and noise levels
This is one area where the A3 Saloon really excels. While it may not be that engaging to drive, it is incredibly refined on the move, feeling as good as Audi's bigger saloons like the A6.
Sit at 70mph on the motorway and regardless of which engine you choose, the A3 Saloon is incredibly quiet with little road or wind noise, helped by a more streamlined design compared to the old version. This is also helped by the standard fit acoustic windscreen.
The 2.0-litre diesel used in the TDI models is one of the best around with smooth performance and very little noise. Most of the time it's easy to forget it's a diesel, thanks to impressive sound insulation plus there's no noticeable vibration through the pedals or steering wheel.
The petrols are very quiet, too - although you'll have to accept a slight three-cylinder resonance from the 1.0-litre 30 TFSI. It makes quite a characterful noise at high revs, but it's not particularly intrusive.
Safety equipment: How safe is the Audi A3 Saloon?
While the A3 Saloon hasn't specifically been crash tested by Euro NCAP, the hatchback A3 Sportback was given the maximum five star rating, so it's safe (no pun intended) to say the A3 Saloon is equally as good.
It was awarded an impressive 89% for adult occupant safety and 81% for child occupant safety, helped by a head airbag system with front side airbags integrated into the seat backrests. These unfold in front of the side windows and protect passengers in both the front and back in a side impact.
All models get Electronic Stabilisation Control (ESC), a tyre pressure loss indicator, seat belt monitoring and Isofix point as well as I-Size and top tether child seat mounting for the outer rear seats. Usefully the rear child locks can be switched on and off with a button, no more messing about with a screwdriver on the back doors.
All models come with Audi pre sense front, which combines a camera behind the interior mirror with a radar to prevent or mitigate accidents, plus there's collision avoidance assist and lane departure warning.
The top of the range Vorsprung adds pretty much every other assistance feature available on the options list including head-up display, traffic sign recognition, parking assist and adaptive cruise assist.
Insurance groups and costs
The cheapest model in the Audi A3 Saloon range to insure is the Sport 30 TFSI 110PS which sits in group 18 regardless of whether you go for the manual or DSG automatic. Go for the S line version of the same engine and this only goes up to group 19 - which is competitive with the Mercedes A180 saloon.
The 35 TFSI model which we recommend is group 24 to 27, depending on what trim you go for. It's interesting to note that the high spec Edition 1 models are more expensive to insure than the equivalent S line and Sport versions.
VED car tax: What is the annual road tax on an Audi A3 Saloon?
Launched in 2020, the Audi A3 Saloon is not available as an EV or PHEV (as yet) and the cleanest engine emits 111g/km of CO2.
As a result, all models will cost £155 a year from the second year onwards. While the petrols are RDE2 compliant, the TDI models aren't so you'll pay slightly more for your first year VED.
Trim levels and standard equipment
Sport-specific styling details inside and out mark out the lead-in model, which also offers features including 17-inch alloy wheels, Twin leather upholstery and dual-zone climate control.
Externally the S line adds more overt S line-specific sports styling, 18-inch alloy wheels, LED rear lights with dynamic rear indicators and privacy glass, and inside gains sport seats with S line embossing and contrast stitching plus upgraded inlays.
The Edition 1 adds features such as 19-inch alloy wheels, black exterior styling, Matrix LED headlamps with digital daytime running lights and electrically adjustable and heated front sport seats upholstered in a combination of Alcantara and leatherette.
On the top tier, the A3 Saloon Vorsprung takes this and adds a panoramic glass sunroof, Fine Nappa leather upholstery, the Audi Phone Box and Bang & Olufsen audio.
Learn more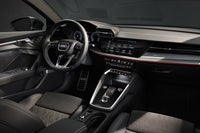 On the inside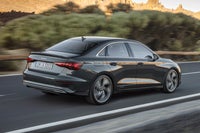 Driving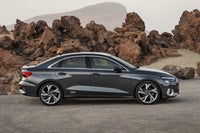 How much does it cost to run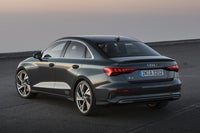 Prices, versions and specification
Ask the heycar experts:
common questions
Is the Audi A3 worth buying?
If you want a classy and premium smaller car, the Audi A3 feels more upmarket than much of the competition with impressive refinement. It's not cheap, but you can see where your money goes.

How reliable is the Audi A3?
This generation A3 is very new but the old model proved reliable overall and owners gave it a 9.6 out of 10 rating for reliability in the 2020 HonestJohn.co.uk Satisfaction Index. The main issues have revolved around the S tronic gearbox.

Does the Audi A3 hold its value?
Yes, certainly more than mainstream alternatives like the Honda Civic or even the Volkswagen Golf. So while it may not be a used bargain, it should hold its value better than others, with the exception of BMW, Mercedes and MINI.

Answered by
Russell Campbell
Reviews of similar cars
Quality checked, all cars less than 8 years old and warranty included
Looking for other Audi cars?
Quality checked, all cars less than 8 years old and warranty included
Keep me updated by email with the latest advice, news and offers from heycar
By submitting, you agree to our
privacy policy
.