A3 Sportback (2013-2020) Review
Audi A3 Sportback (2013-2020) Review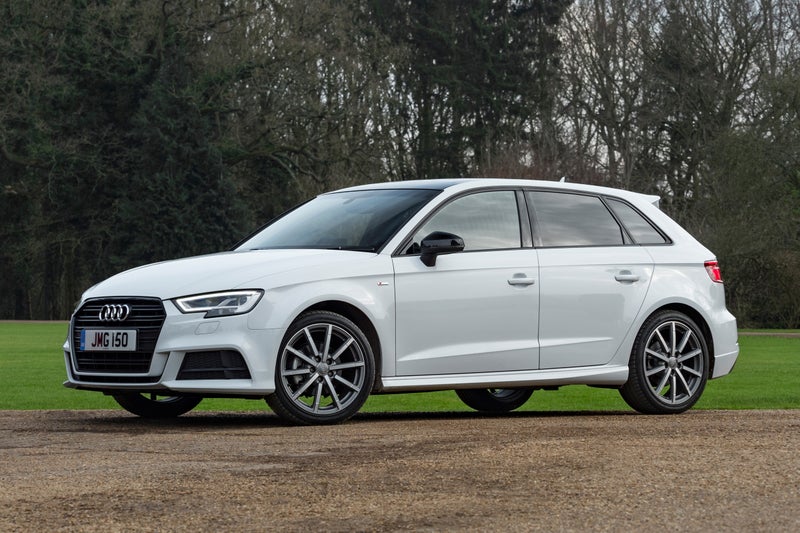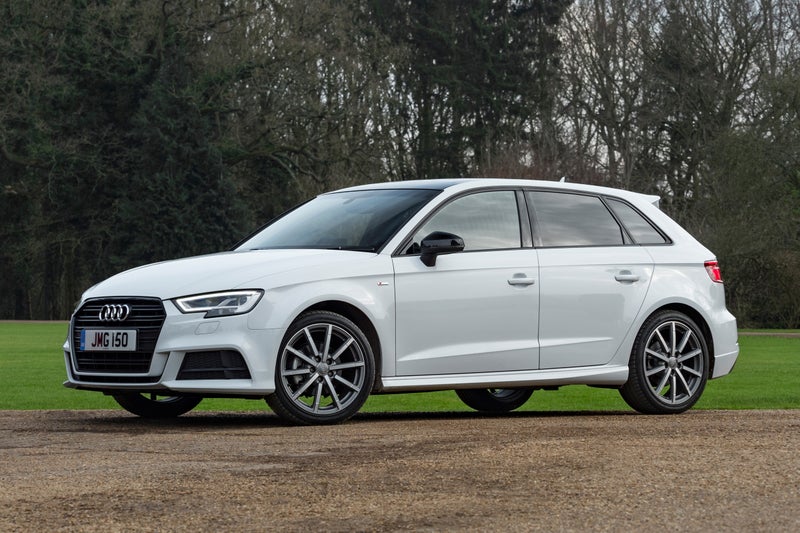 1/9
heycar rating
"Classy and practical family hatch"
Launched: 2013

Family hatch

Petrol, Diesel, PHEV
Quick overview
Pros
Classy interior still looks modern and takes wear well
Looks more stylish than rivals, especially in sportier S line trim level
Engines are refined and very efficient in the real world
Cons
Strong image means you'll pay more on the second-hand market
Some question marks over reliability - especially with the automatic gearboxes
Not as stylish as the three-door A3
Overall verdict
On the inside
Driving
Cost to run
Prices and Specs
Overall verdict on the Audi A3 Sportback (2013-2020)
"The Audi A3 Sportback has got a lot going for it. It looks great, has a brilliant interior that's ageing well and comes with plenty of standard kit for the money. It's also great to drive, with a wide range of efficient petrol, diesel and plug-in hybrid engines."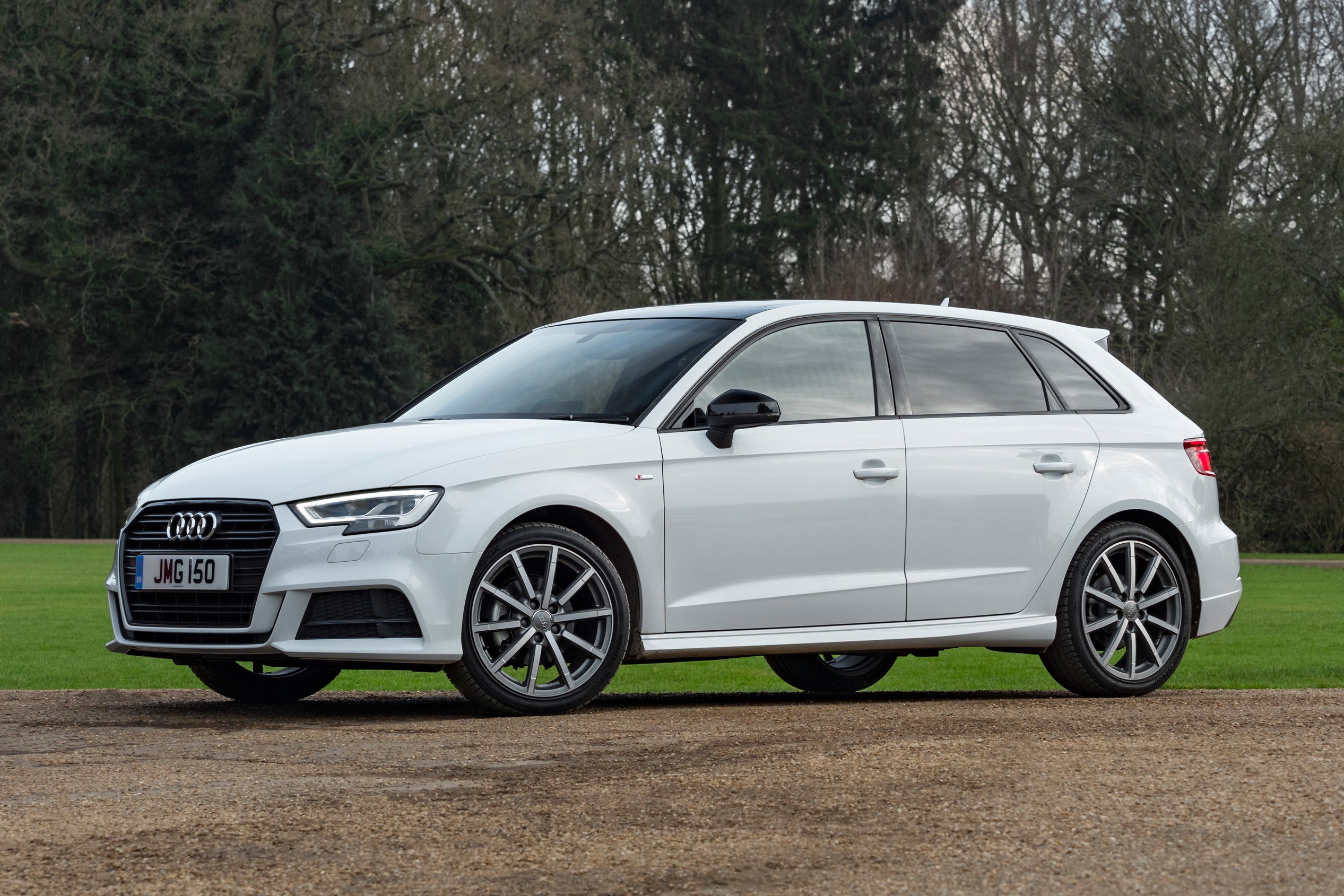 The 2013 Audi A3 Sportback is a hatchback that tends to be popular among those looking for something with a bit more status than a Ford Focus. The good news for used buyers is that the A3 is no more expensive to run than less 'posh' alternatives - and you needn't break the bank to buy a good one.
All A3 Sportbacks are well equipped but it's the S line and Black Edition models that catch your eye thanks to their sporting looks and flashy alloy wheels. If you're not fussed about these, the entry-level SE and SE Technik models make a lot of sense - they have most of the things you want and actually drive slightly better thanks to their standard suspension and smaller alloy wheels.
The A3 Sportback shares engines with similar-sized cars in the Volkswagen Group range, like the Volkswagen Golf, SEAT Leon and Skoda Octavia. That means you get a choice of the usual array of petrol and diesel engines - as well as a plug-in hybrid, badged the A3 Sportback e-tron. Catchy.
All the engines are refined and economical (well, as long as you avoid the bigger 1.8- and 2.0-litre petrols) and servicing costs shouldn't be any more than a Volkswagen Golf. One thing to avoid is the S tronic automatic gearbox as these can be troublesome compared to the robust manual.
While the A3 Sportback has fairly conservative looks on the outside, its interior is simply superb and still looks modern today. A clever 7.0-inch media system slides electrically out of the dash and was quite a party piece in its day. If you want things like Apple CarPlay and Android Auto, you'll need a later example introduced in May 2016.
This update also introduced a slightly revised look (not that you can tell easily - things like a more angular front grille and revised headlights), as well the optional Virtual Cockpit digital instruments. We like this - it looks really smart and makes the A3 Sportback's cabin feel that bit more special.
Naturally, the A3 Sportback is a more practical choice than its three-door counterpart. It stacks up well against the competition. In terms of space it has roughly the same interior (and boot) dimensions as a BMW 1 Series or Mercedes-Benz A-Class. Families might want to consider something a little bigger, but the A3 Sportback's rear seats are fine for occasional use and have Isofix points for child seats.
Essentially, the A3 Sportback is a very good small family car with a wonderfully premium interior and lots of standard equipment.
If you're looking for the newer version, you need our Audi A3 (2020-) review.
Is the Audi A3 Sportback right for you?
If you're after looking for a small family car but want something that feels a bit more special than a Volkswagen Golf, the Audi A3 Sportback is an excellent choice.
It's more practical than the standard Audi A3 thanks to a pair of extra doors and a slightly bigger boot, while there's a wide range of engines. If you've got a family to carry, you might like to look at something a bit bigger like an Audi Q3 or A4, but the A3 Sportback is a great option for those who don't want a car that's too big.
What's the best Audi A3 Sportback model/engine to choose?
The diesel engines were the most popular in the A3 Sportback when it was new, evidence of the model's popularity with high-mileage company car drivers.
They do suit the car well, with the 2.0-litre, in particular, offering an abundance of torque and providing a relaxing (and economical) driving experience. However, diesels don't really like covering lots of short journeys and spending a lot of time in town centres.
If you don't cover mega miles, buy a petrol. The 1.4-litre (and later 1.5-litre) petrol suits the car well, combining low running costs with decent performance. You don't have to look for a high trim level to get a good A3 Sportback, either. We rate the more affordable SE and SE Technik models as they're well equipped and more comfortable thanks to the standard suspension and smaller alloy wheels.
What other cars are similar to the Audi A3 Sportback?
If you're considering an A3 Sportback, you're probably also looking at the BMW 1 Series and Mercedes-Benz A-Class. We rate the 1 Series as an enjoyable driver's car but its interior is dated compared to the A3.
The Mercedes-Benz, meanwhile, never really hit the spot when it was new - and that still applies today. You could also consider left-field alternatives like the Volvo V40 or Lexus CT, as well as mainstream hatchbacks like the Volkswagen Golf, Mazda 3 or Ford Focus.
Comfort and design: Audi A3 Sportback (2013-2020) interior
"Audi interiors are perhaps the best in the business and there's no exception for thel A3. Audi says that when it came to designing the interior, the team were asked to make it just as premium as the luxury A8."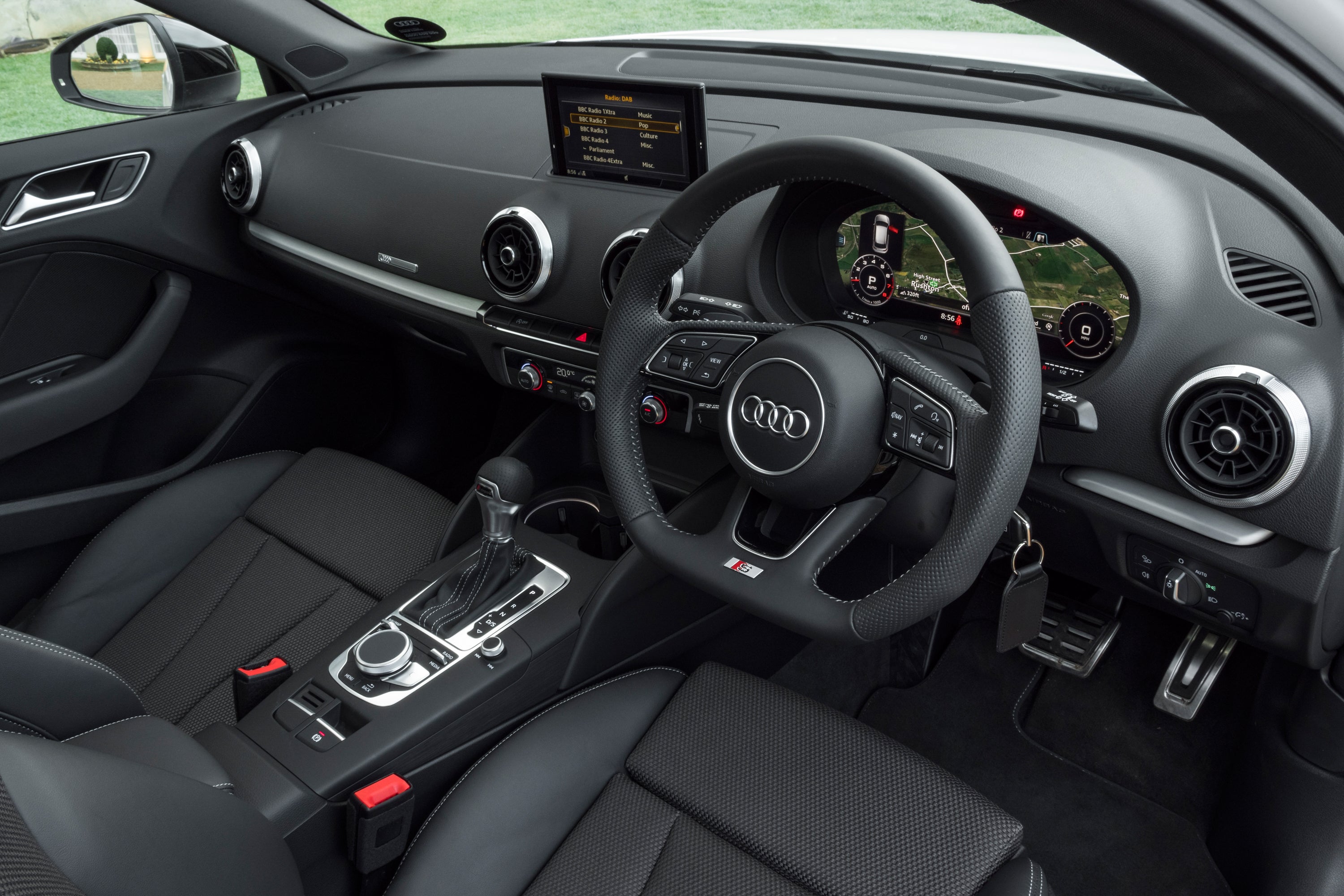 Audi interiors are perhaps the best in the business and there's no exception for the A3. Audi says that when it came to designing the interior, the team were asked to make it just as premium as the luxury A8.
It's the sort of interior that gets better the longer you spend in it. Everything's been well thought through, with just the right amount of buttons laid out exactly where's convenient.
The seats are comfortable and there's a huge amount of adjustment in the driver's seat and steering wheel - meaning most will find a suitable seating position pretty quickly. There's a minimalist dashboard with an infotainment screen popping out the top - something that we're unlikely to see again, as car manufacturers move towards huge digital displays in the centre of dashboards.
While electric parking brakes in place of conventional handbrakes are commonplace today, it was a fairly new feature when the third-generation A3 Sportback came out in 2013. It does a good job of freeing up space while also making the Sportback feel modern.
Quality and finish
As well as looking upmarket, the A3 Sportback's cabin feels like it's exceptionally well made, with plenty of premium, soft-touch materials and satisfyingly robust switches and buttons. If you think you're expecting a Golf-sized premium car, you might be disappointed to find that only sporty S3 models get full-leather seats. They were offered as an extra on the A3 Sportback S line but, costing around £1200, it's an option box that was rarely ticked.
Fortunately, even with cloth (or part-leather) seats, the A3 Sportback still represents a noticeable move upmarket in terms of quality compared to a mainstream alternative like the Ford Focus or Vauxhall Astra.
The S line models come with a host of interior features which make it feel a little more special than a standard A3 Sportback. These include an LED interior lighting pack, as well as aluminium dash inlays and stainless steel pedals. These all add up to really lift an already very good cabin.
Infotainment: touchscreen, USB, nav and stereo in the Audi A3 Sportback (2013-2020)
Not everyone will appreciate the afterthought appearance of the A3 Sportback's infotainment system perched on top of the dash, but the way it slides up electrically was innovative back in 2013. Oh, how times have changed...
Whether you like its position or not, there's no denying that it leaves an uncluttered dashboard. And it's a brilliantly slick system to operate, controlled using a dial positioned between the seats rather than a touchscreen. It's much easier to use when on the move, rather than having to lean forward and tap the screen itself.
SE models do without navigation but they have all the hardware required, so you can get it retrofitted. Models from 2016 onwards have Audi's smartphone interface, giving you Apple CarPlay and Android Auto. This lets you mirror apps from your phone onto the car's infotainment system, meaning you can access your Spotify playlists or use Google Maps rather than the built-in navigation.
Audi's cool Virtual Cockpit is a 12.3-inch digital instrument cluster which was sold as part of the Technology Pack. This does a great job of bringing the cabin up-to-date and A3 Sportbacks fitted with this are definitely the ones to look for.
Space and practicality: Audi A3 Sportback (2013-2020) boot space
If you hadn't figured it out by now, the 'Sportback' bit of the Audi A3's name simply means it's a five-door hatchback. There's also a three-door version but it sold in smaller numbers as most people want the practicality of the Sportback.
It has a marginally bigger boot than the three-door (380 litres compared to the standard A3's 365 litres) and a useful amount of room in the rear. There's space for a pair of child seats in the back, with those rear doors making access easy.
Adults will fit in the back, too, with a reasonable amount of room for a pair of six-footers, although they'll have to expect their knees to stick into the front seats a little. There's a useful adjustable boot floor and the A3 Sportback's low boot entry compared to an SUV makes loading bulky items a piece of cake. The rear seats drop easily - albeit not quite entirely flat - freeing up more room for transporting bigger items.
There's no estate version of the A3 (just like you can't buy a wagon version of the BMW 1 Series or Mercedes-Benz A-Class) so the Sportback's the most practical model on sale - with more room than the three-door hatch, saloon or cabriolet. Up front, there's plenty of space, with enough shoulder room for the broadest of adults. There's plenty of headroom too.
Handling and ride quality: What is the Audi A3 Sportback (2013-2020) like to drive?
"Audi has always lagged behind BMW in the handling stakes and that kind of remains true for the A3. Enthusiastic drivers will rave about the rear-wheel-drive 1 Series and its darty steering as they hurtle down a twisty road."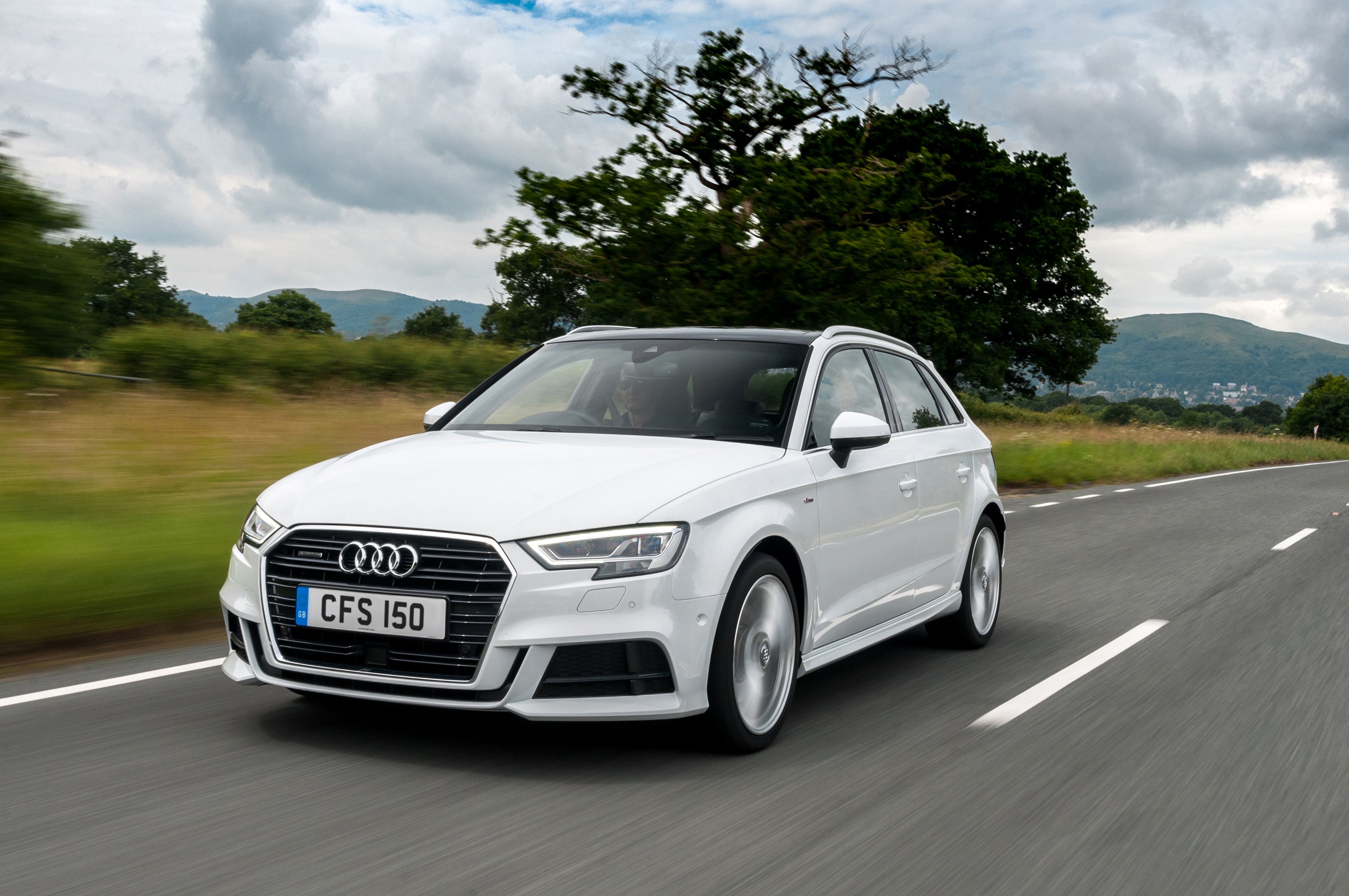 For the rest of us, the A3 Sportback is a perfectly pleasant car to drive. The slightly lifeless steering does the job (nothing more) and it handles a twisty road with impressive composure if little in the way of excitement. But that's fine.
The ride quality does get slightly ruined if you opt for one of the sportier models with their sports suspension, but the standard suspension was available as a no-cost option when new. Hunt out an example with this if ride quality is important, particularly if you live in a town centre with a lot of speed bumps or close to a lot of potholed roads.
The wheel size has a noticeable impact on ride quality, too. The 18-inch or 19-inch wheels available on the high-end trim levels cause the ride to jar a bit, so you'd be better sticking with the smaller 16-inch or 17-inch alloys. Around town, the A3 Sportback is a similar size to a Ford Focus, so you don't need to be a qualified bus driver to squeeze into a parking space. Most models come with parking sensors to make your life easier, while Park Assist also features on some trim levels. This will essentially park the car for you.
What engines and gearboxes are available in the Audi A3 Sportback (2013-2020)?
Diesels were popular in the A3 Sportback when it was new because of their economy but you might just have noticed that diesels are no longer in favour. That said, if you cover a lot of miles (more than 12,000 or so a year) and need a car for long motorway journeys, a diesel will still make sense.
The smaller 1.6-litre diesel (badged the 30 TDI in later years) is the most economical and is more than up to the job. That said, we'd go for one of the 35 or 40 TDI 2.0-litre diesels. They offer a useful amount of low-down torque and make motorway journeys a breeze, without economy being hit too much.
For those who don't cover as many miles, there has been a multitude of petrol engines available. The 1.4-litre is the sweet spot, as well as the 1.5-litre which replaced it - combining decent performance with impressive real-world fuel economy. The 1.8 TFSI (later a 2.0-litre) is fun but a bit pointless, while the 1.0-litre is surprisingly perky for such a tiny, three-cylinder engine.
Then there's the plug-in hybrid, badged the A3 e-tron. This sold in small numbers but there are a few about on the used market, and could make a lot of sense if you can charge the car at home and most of your journeys are about 20 miles. If that works, the A3 e-tron is a very good introduction to EVs without the range anxiety of running a 'proper' electric car.
Refinement and noise levels
It's the refinement levels that contribute to the A3 feeling much more special than something like a Vauxhall Astra. There's just very little in the way of wind, engine or road noise - at least, as long as you don't get tempted by one with the biggest wheels.
Go for a diesel and there's a bit of a clatter on start-up, but no more than in alternatives. This soon quietens down as the engine warms up on a run, too.
The petrol models are perfectly refined, with even the three-cylinder 1.0-litre remaining surprisingly hushed unless you really work it hard.
When it's fully charged, the A3 e-tron is about as refined as you'd expect from a car running under electric power - something it can do at speeds of up to 80mph. There's a bit of a rumble from the petrol engine when it first kicks in, but nowhere near the amount of commotion as you'd get from the Mitsubishi Outlander PHEV.
Safety equipment: How safe is the Audi A3 Sportback (2013-2020)?
Euro NCAP, the independent body responsible for European safety ratings, awarded the A3 Sportback e-tron a maximum five stars when it was tested in 2014. The three-door model also received a five out of five rating two years earlier.
The A3 Sportback holds its shape extremely well in the event of a crash, which is obviously very good news. Also impressive is the amount of technology on hand to prevent you being involved in a crash to begin with.
Clever active safety systems range from Audi's side assist (which warns you if there's a car in your blindspot when changing lanes) to radar-assisted adaptive cruise control and traffic sign detection.
More good news is the A3 Sportback's space-saver spare wheel, which means you won't be left stranded on the side of the road with nothing more than a tyre repair kit in the case of a puncture.
MPG and fuel costs: What does a Audi A3 Sportback (2013-2020) cost to run?
"The thirstiest A3 Sportback engines in the real-world are the 1.8-litre and 2.0-litre petrols. You'll be lucky to see late-30s mpg from these, especially if you buy one with the S tronic automatic gearbox."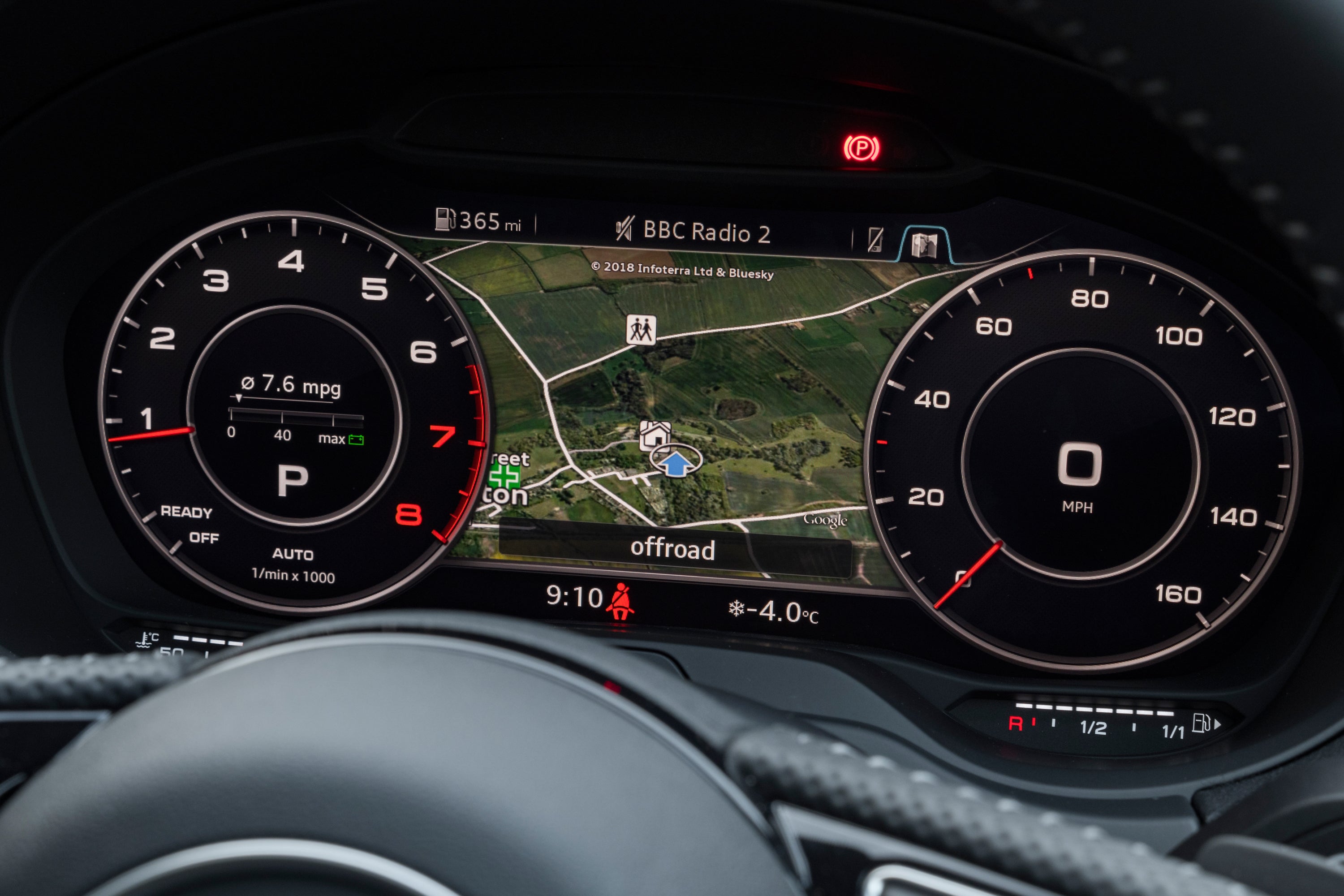 There's not much difference between the 1.0-litre, 1.4-litre and 1.5-litre petrols - these will all return mid-40s mpg in reality, providing you're not too heavy with the accelerator.
Of course, the most frugal of the bunch are the diesels. You should see 60mpg from the 1.6 TDI with some frugal driving, while around 50mpg is more realistic for the 2.0 TDI.
The e-tron's economy very much depends on its use. It can officially cover up to 28 miles under electric power, although around 20 miles is more realistic. If most of your journeys are less than 20 miles and with a fully charged battery, you may rarely notice the fuel needle move. On the opposite end of the scale, if you rarely charge it, it won't be any more efficient than one of the petrol models.
Insurance groups and costs
The Audi A3's insurance groups range from 19 to 32, depending on engines and trim levels. If you're worried about insurance prices, the 1.0-litre petrol will be the cheapest to insure, while the 2.0-litre petrol is the priciest.
All models are comparable to rivals in terms of insurance groups - shop around if your insurance company tries to charge a higher premium for the Audi badge.
VED car tax: What is the annual road tax on an Audi A3 Sportback (2013-2020)?
In terms of CO2 emissions, the A3 Sportback is generally very efficient. That translates to low road tax under the old (pre-March 31st 2017) system, with most models costing £30 a year or less to tax. An exception is the 2.0-litre Quattro petrol, which costs £150 a year in VED.
Petrol and diesel A3 Sportbacks registered from April 2017 onwards will cost a flat £150 a year to tax, while the e-tron is classed an alternative-fuel car with a tax rate of £140/year.
How much should you be paying for a used Audi A3 Sportback?
"If you're looking for a second-hand bargain, the Audi A3 Sportback probably isn't it. The fact that it still looks modern today, is loaded with standard equipment and has that desirable Audi badge means they fetch strong money on the used market."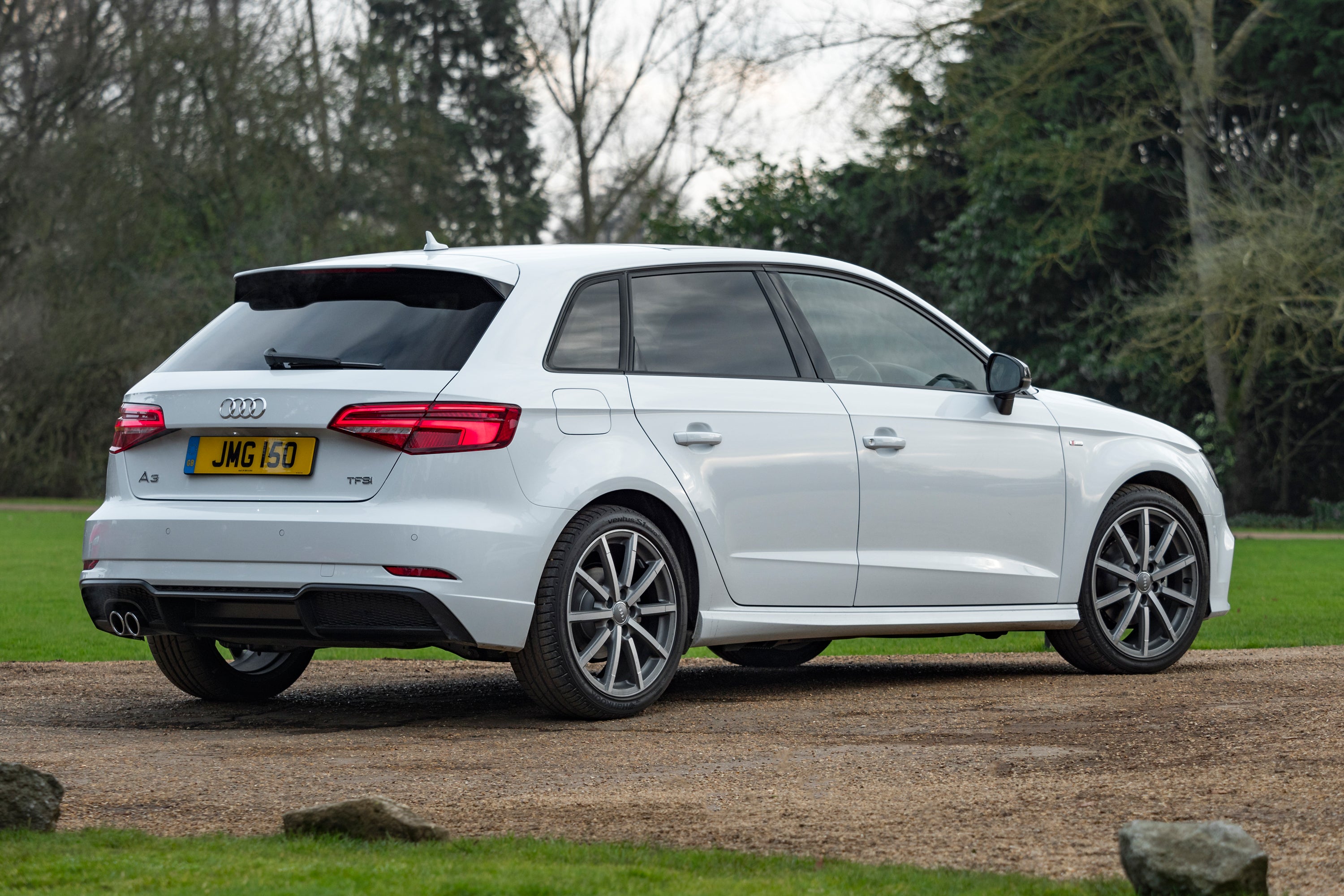 A three-year-old petrol model in S line trim starts from around £15,000 with average miles on the clock and the 1.4-litre petrol engine, rising to £18,000 with a 2.0-litre diesel engine and S tronic automatic gearbox. Black Edition A3 Sportbacks are the priciest, with a three-year-old example topping £20,000 - again, in diesel S tronic guise.
Trim levels and standard equipment
The cheapest model in the A3 Sportback range was the SE model which started from around £20,000 when it was new. Specification included 16-inch alloy wheels, a seven-inch infotainment display with Smartphone Interface and navigation preparation (note: not actually nav!) and cruise control.
The SE Technik was initially sold alongside the SE and eventually replaced it as the A3 Sportback's entry-level model. At one point aimed at company car drivers (thanks to its standard navigation over the SE), it was initially only sold with diesel engines - hence its near-£23,000 start price.
The Sport model added 17-inch alloy wheels, Audi's Drive Select system and dual-zone climate control, as well as various cosmetic upgrades like a chrome exhaust trim and front sports seats. This started from £21,500 with the 1.0-litre petrol engine, while a 2.0-litre TDI Quattro was nudging £30,000.
The high-spec S line would have started around £26,000 when it was new, featuring a whole host of desirable features, like LED headlights, S line body styling, part-leather seats and the Storage Pack. Not to mention undesirable features, like the 18-inch alloy wheels...
Black Edition models topped the range, starting from slightly more than £27,000 when the A3 Sportback was new and rising to nearly £33,000. These featured a premium sound system, privacy glass and a black styling pack, along with 18-inch diamond-cut alloy wheels.
Keep me updated by email with the latest advice, news and offers from heycar
By submitting, you agree to our
privacy policy
.