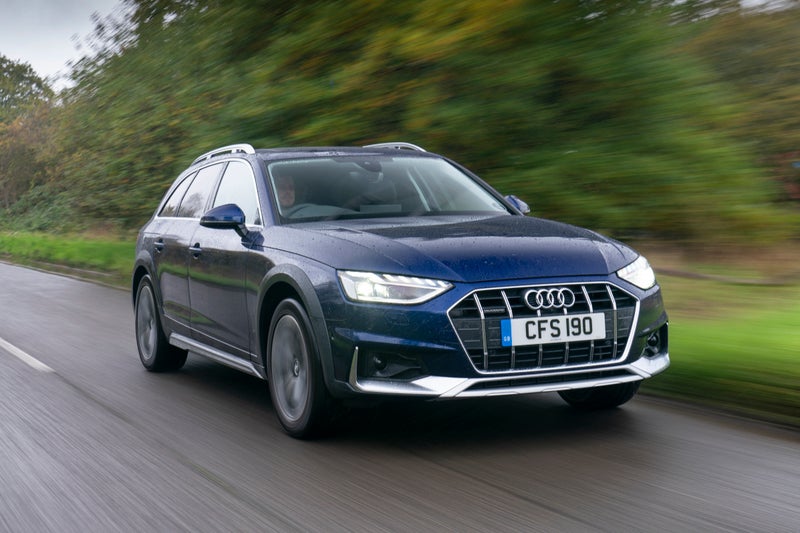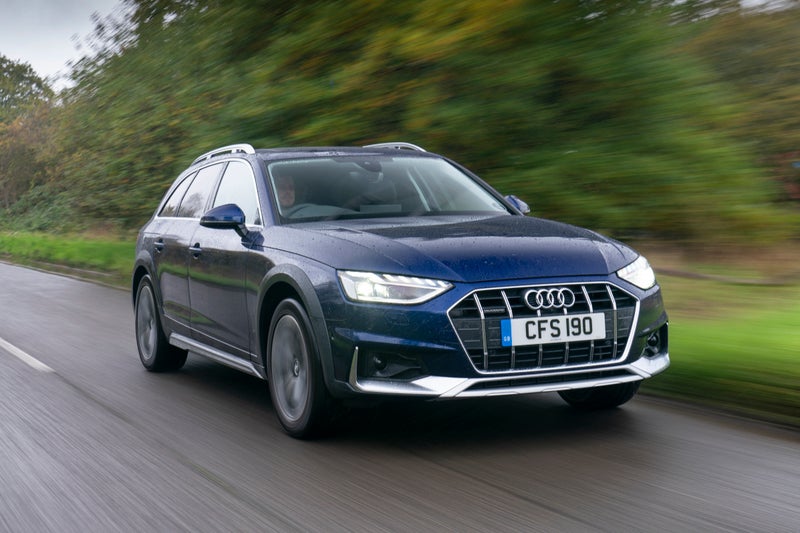 1/10
heycar rating
"Capable and desirable off-roading estate"
Launched: 2015

Estate

Petrol, Diesel
Quick overview
Pros
Raised suspension gives a supple ride
Luxurious, easy to use interior
Four-wheel drive grip and off-road capability
Cons
Expensive compared to the regular A4 Avant
No raised SUV-like driving position
Not as rugged as the best 4x4s
Overall verdict
On the inside
Driving
Cost to run
Prices and Specs
Overall verdict on the Audi A4 Allroad
"Cars like the Audi A4 Allroad have become something of a countryside staple. Much like Barbour waxed jackets, border collies and colourful bunting, there seems to be one in almost every quaint village car park."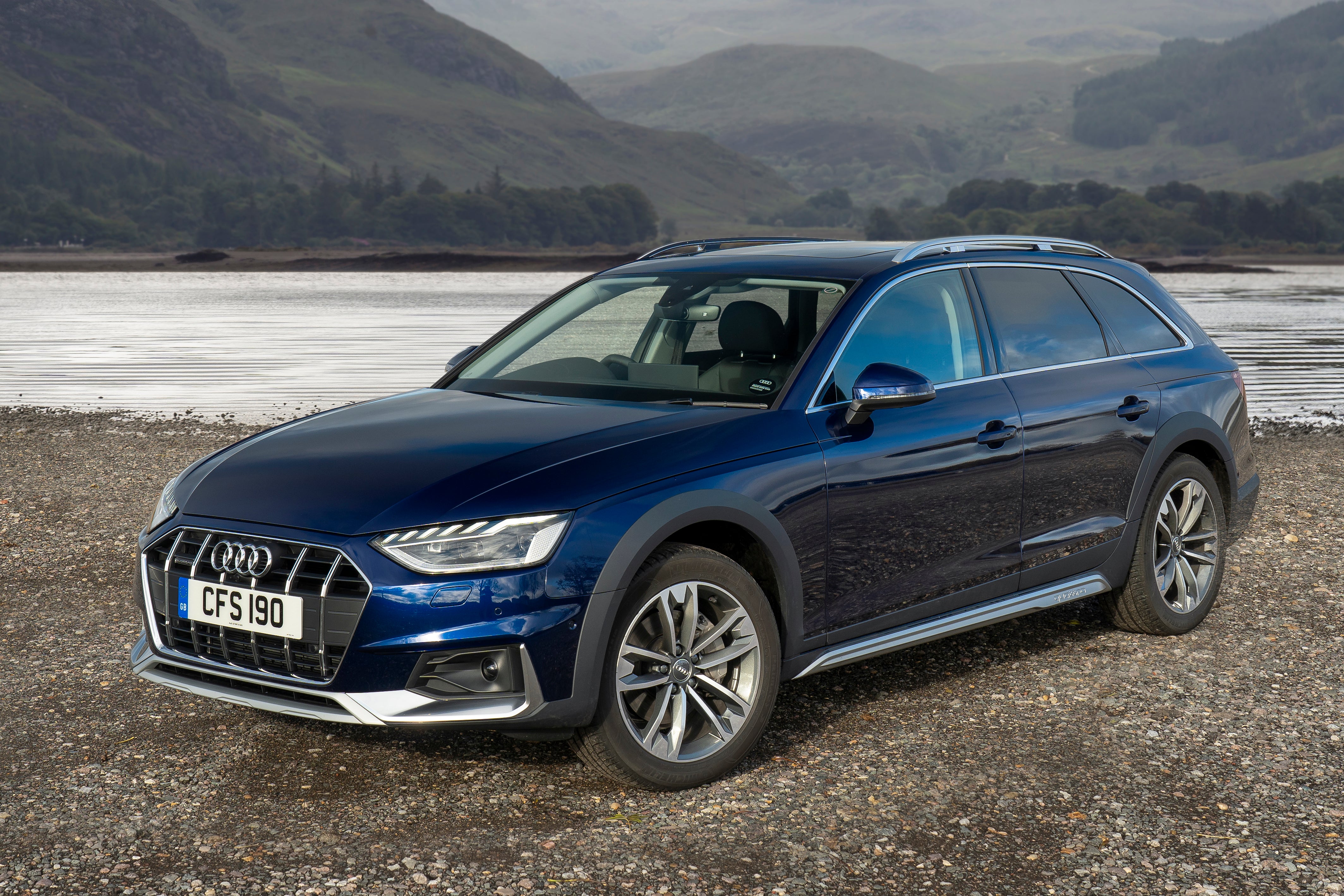 Based on the Audi A4 Avant, it's been given minor cosmetic and mechanical tweaks to give it the off-road capability of an SUV, but without the fashionable image, and the current model is now the third generation.
It looks distinctive, with plastic wheel arch liners, underbody protection, raised suspension and a wider track.
The taller ride height, standard quattro four-wheel drive system and thicker tyres mean that it'll be able to go places normal estate cars can't, with a surprisingly terrain crossing ability that belies its 'soft-roader' image.
Of course, if you don't plan on any off-road adventures, the changes also make it more comfortable in town. With a narrower range of engines, increased equipment levels and just two trim levels (Sport and Vorsprung) it's more expensive to buy and run than the regular A4, making it a niche choice, but it has a unique appeal. It's designed for buyers with active lifestyles, or those who have an occasional need to tackle a muddy field.
Buyers can pick from a 2.0-litre diesel with 190PS, a quicker 2.0-litre petrol with 245PS, or the range-topping 3.0-litre V6 diesel with 286PS. All of these engines are refined, offering strong performance, but the standard diesel will be quick enough for most buyers, and is smoother than the four-cylinder units in its premium rivals.
The stunning cabin is every bit as solid, smartly executed and well equipped as the standard A4 estate, and it's one of the Allroad's standout features. Expensive feeling dash materials, a logical layout and sturdy build quality set it apart from premium rivals such as the Volvo V60 Cross Country and cheaper Subaru Outback.
Its luxuriousness is something of a blessing and a curse since the smart exterior design and plush interior are rather at odds with the tough mud-plugging image of a proper 4x4. We'd stick to light excursions only.
However, the Allroad's exceptional ride comfort and refinement, sure-footed grip and strong engines make it a superlative long-distance cruiser - perfect for big family outings or a continental road trip towing a caravan.
It's no more practical or spacious than the standard A4 estate though, and while that car is adept at carrying both people and luggage, if load capacity is your top priority then there are better options for less money.
Despite an impressive breadth of abilities, most buyers will be better served by the more affordable A4 Avant. That car has lower running costs, sharper handling and can be specified with four-wheel drive. Still, for that select group whose circumstances genuinely call for an estate with off-roading talents, this is one of the best.
Is the Audi A4 Allroad right for you?
There is only a small section of UK buyers for whom a luxurious and adventure-prepped estate car will hold more appeal than a proper SUV, or indeed, a conventional premium wagon. It's for people who need a car that's capable enough to tackle mud, snow and ice when needed, but still has plenty of creature comforts.
Sure, on paper it seems like an expensive alternative to a proper off-roader, but the folks who buy this type of car tend to absolutely love them. It's a genuine automotive Swiss army knife. Blending the cosseting ride and stunning interior of a grand tourer, with the practicality and go (almost) anywhere abilities of a taller SUV.
It's also an excellent tow car - with strong engines, a smooth automatic gearbox and four-wheel drive. Yes, it'll cost more to buy and run than a normal estate, but its exclusivity and tough image might (just) be worth it. If you don't need the 'allroad' bit, there is of course the standard Audi A4 Avant.
What's the best Audi A4 Allroad model/engine to choose?
Choosing a favourite from the Allroad range is a simple matter. While it's easy to be drawn to the power and muscular performance of the 50 TDI, the 40 TDI has more than enough oomph for most buyers.
In Sport guise, it also happens to be the most affordable version with the lowest running costs. That's true for both private and company buyers, since the smaller-engined car has cheaper insurance, VED and BIK costs. Not to mention its superior fuel economy, although we're not sure if affordable is the right word for a £40k car.
That price does include every conceivable item of standard equipment you could want though, and the Sport trim feels just as luxurious inside as the fully-loaded Vorsprung, minus a very fancy stereo and sunroof.
The only fly in the ointment is the 40 TDI's seven-speed S tronic gearbox, which can occasionally be jerkier than rivals systems at parking speeds, and has a tendency to hesitate when you demand a quick burst of speed. The tiptronic eight-speed gearbox in the 50 TDI is no better though, so it's not worth the jump in price.
What other cars are similar to the Audi A4 Allroad?
There are no shortage of rugged go-anywhere estates to suit every budget. If the Audi is just out of reach, the Skoda Octavia Scout has many of the same characteristics, but with a considerably lower starting price.
For buyers who need a more serious off-roader that can stay muddy all year round, the Subaru Outback is not afraid to get down and dirty, but its plasticky interior leaves a lot to be desired compared to the plush Allroad.
The Volvo V60 Cross Country is the closest of its premium rivals. The Swedish car is equally stylish on the outside, and almost as lavishly appointed inside, with closely-matched performance stats and a bigger boot.
If you can afford to pay a bit more, then Audi's own A6 Allroad and the Mercedes E-Class All Terrain both feature adaptive air suspension for even greater terrain-crossing abilities and can swallow a lot of cargo too.
Comfort and design: Audi A4 Allroad interior
"There isn't much wrong with the driving environment in the A4 Allroad. The seating position is spot-on, with a wide range of adjustment to the steering wheel, seat height and distance from the pedals. "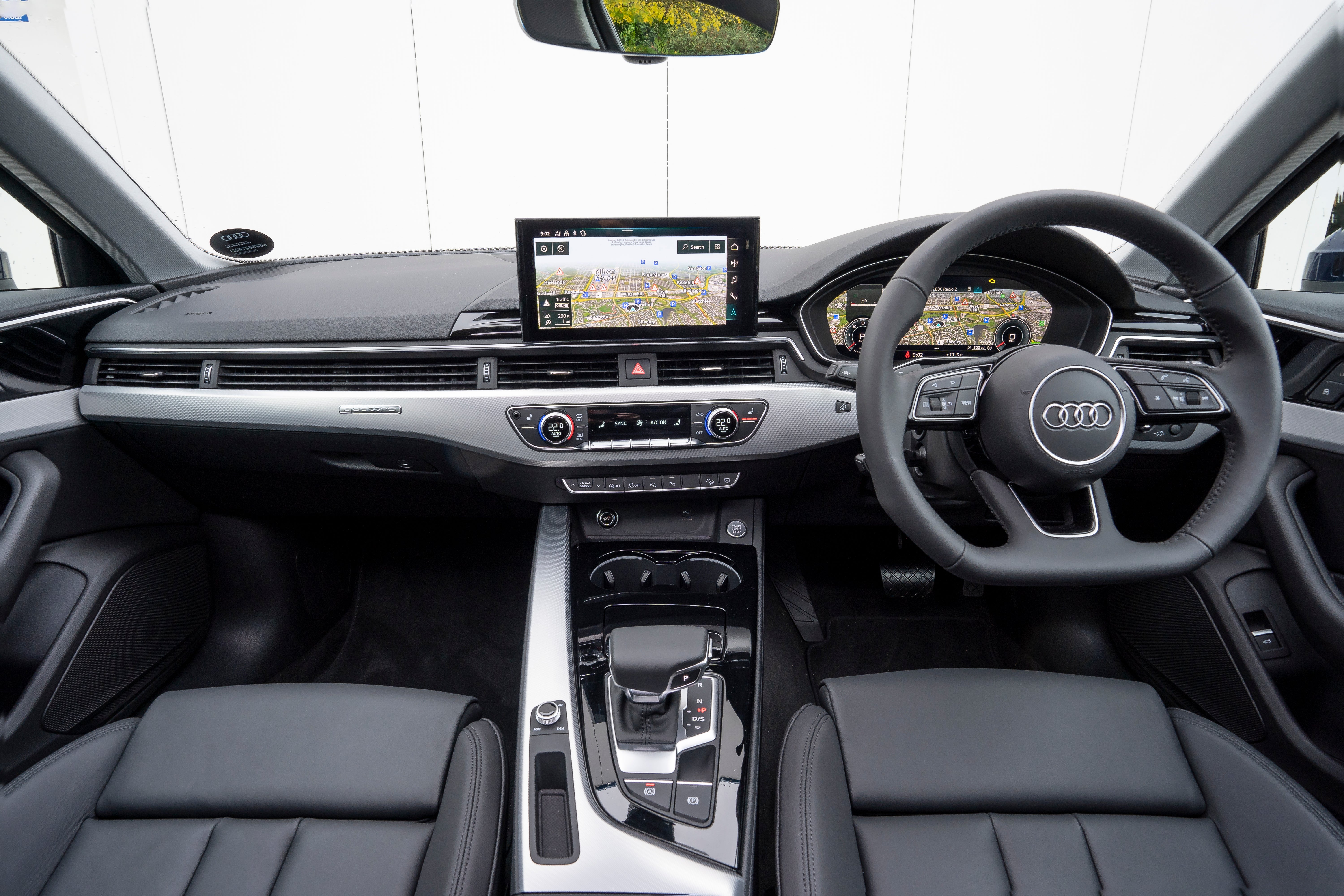 The standard sport seats in the Allroad have an adjustable base that extends for extra thigh support (if you're long of leg) that can make a big difference on longer journeys, and thick side bolsters to hold you nice and steady. Front heaters and four-way electric lumbar support also alleviate the burden of hours at the wheel.
The design is stylish, but in no way a distraction when it comes to trying to navigate the major controls. This is a clear a case of form following function, with the switches thoughtfully grouped together and simple to use.
Unlike some vehicles with off-roading pretensions, forward visibility is no better than on a standard A4 Avant, but the large mirrors, slim door pillars and square rear screen make judging the dimensions straight forward.
Handy touches like a recessed slot for the key fob to sit in, the wide gear selector that doubles as a wrist rest, and a separate volume dial on the transmission tunnel are great timesavers. The multifunction steering wheel buttons also makes using the array of onboard technology and infotainment an intuitive exercise.
It's one of the best modern car interiors, with one small drawback. Older cars had a large rotary dial and four shortcut buttons that made it even faster to cycle through the various menus. This has vanished in the latest model, and unlike other Audis, the touchscreen has no feedback to let you know if you've hit an icon or not.
Quality and finish
Few premium cars feel as solidly built as the A4 Avant, and the Allroad is even more luxurious inside. The V60 Cross Country just edges the Audi out when it comes to seat comfort, but as for material quality the Volvo is a distant second, and cheaper rivals like the Octavia Scout and Subaru Outback aren't even close.
The metal finish on the door handles, engine start button, and climate controls add a sense of quality. It's so substantial in fact, that from a distance you could mistake the slick fascia for a high-end espresso machine.
All the buttons and cubby lids are softly damped, climate control dials turn with a satisfyingly precise click, and the leather-wrapped steering wheel and gear shifter are weighty, solid in the hand and a pleasure to use.
Sport models have leather upholstery, front seat heaters, and aluminium interior trim. Vorsprung versions up the ante in the luxury stakes, with softer Nappa leather, electrically-adjustable massage seats, and a choice of open-grain oak or piano black dash inserts. Quality is the same, but the pricier model looks fancier.
Picking the top trim also adds extended (artificial) leatherette to the central armrest and inside the doors, and a sportier flat-bottomed steering wheel, but again these upgrades are cosmetic rather than material.
Infotainment: touchscreen, USB, nav and stereo in the Audi A4 Allroad
We're not convinced that touchscreens are the best solution when it comes to in-car entertainment. They're a fingerprint magnet, can be distracting when driving, and aren't as intuitive as physical controls. Still, if you must have one, then the new 10.1-inch display in the A4 Allroad is an excellent example of this technology.
Its sheer size (and position atop the dash) means it dominates the cabin but also reduces the chances of you hitting the wrong button by mistake. The graphics are bright and sharp, the essential functions are not buried in confusing sub-menus, and it comes with all the features you'd expect of a premium vehicle.
Sat-nav that you can pinch and zoom into like a smartphone, DAB radio, Bluetooth, an eight-speaker stereo, Apple CarPlay and Android Auto, online services (through Audi Connect) and voice control are all standard.
That smartphone connectivity means you can mirror streaming apps like Spotify or traffic info from Waze, but if you use the latter then you'll only get mapping on the main screen, not the 12.3-inch digital driver's display.
Audi calls it Virtual Cockpit, and it's one of the best alternatives to normal dials we've used. Information is clearly displayed, it's customisable, and reduces distractions for the driver. It used to be a pricey option but is now standard - although the pre-facelift Allroad is a better choice for those who don't want a touchscreen.
Space and practicality: Audi A4 Allroad boot space
Most buyers assume that family SUVs like the Q5 are more practical than a toughened-up estate car, but the differences are not so clear cut. The Q5 has a marginally bigger boot, and a taller roofline that gives it a feeling of spaciousness, but in terms of what they can actually carry, they're quite closely matched.
The A4 Allroad has a 505-litre load bay that expands to 1510 litres once you drop the split-folding rear seats. Access is easy, with a powered tailgate that opens at the push of a button, and an electric luggage cover that slides out of the way when you open the boot. It's a nice feature, but it's very heavy and is a pain to remove.
Sure, the Volkswagen Passat Alltrack (639 litres) and Volvo V60 Cross Country (529 litres) can carry a few extra items, but the Audi's boot is a useable shape, with a flat floor and sides, wide entrance and no load lip. When it comes to carrying passengers however, the Audi has a big advantage over the Cross Country.
It's longer wheelbase (the space between the front and rear wheels) means the A4 has more room for taller passengers to stretch out in the back, and head- and shoulder room are generous too. Seating for five is a tighter fit, with the passenger in the middle seat straddling the transmission tunnel, but it's fine for short trips.
The rear doors open nice and wide, and the additional length comes in handy, so you don't have to contort at a strange angle to fit a bulky rear-facing child seat. The ISOFIX points are readily accessible, and if you need to carry two kids there is just about room for a (slender) adult to squeeze in the middle seat at the same time.
Storage inside is plentiful, with four cup holders, deep door pockets and several smaller cubbies in the front for loose items. The A4 Allroad also comes with the (optional on the Avant) Storage Pack, including elastic map pockets in the back of the front seats, and a reversible boot mat with a rubberised side for muddy boots.
Handling and ride quality: What is the Audi A4 Allroad like to drive?
"Comfort is king in the A4 Allroad. The increase in ride height, a softer suspension setup and higher profile tyres combine to make an already comfortable car wonderfully plush, especially on 18-inch alloy wheels."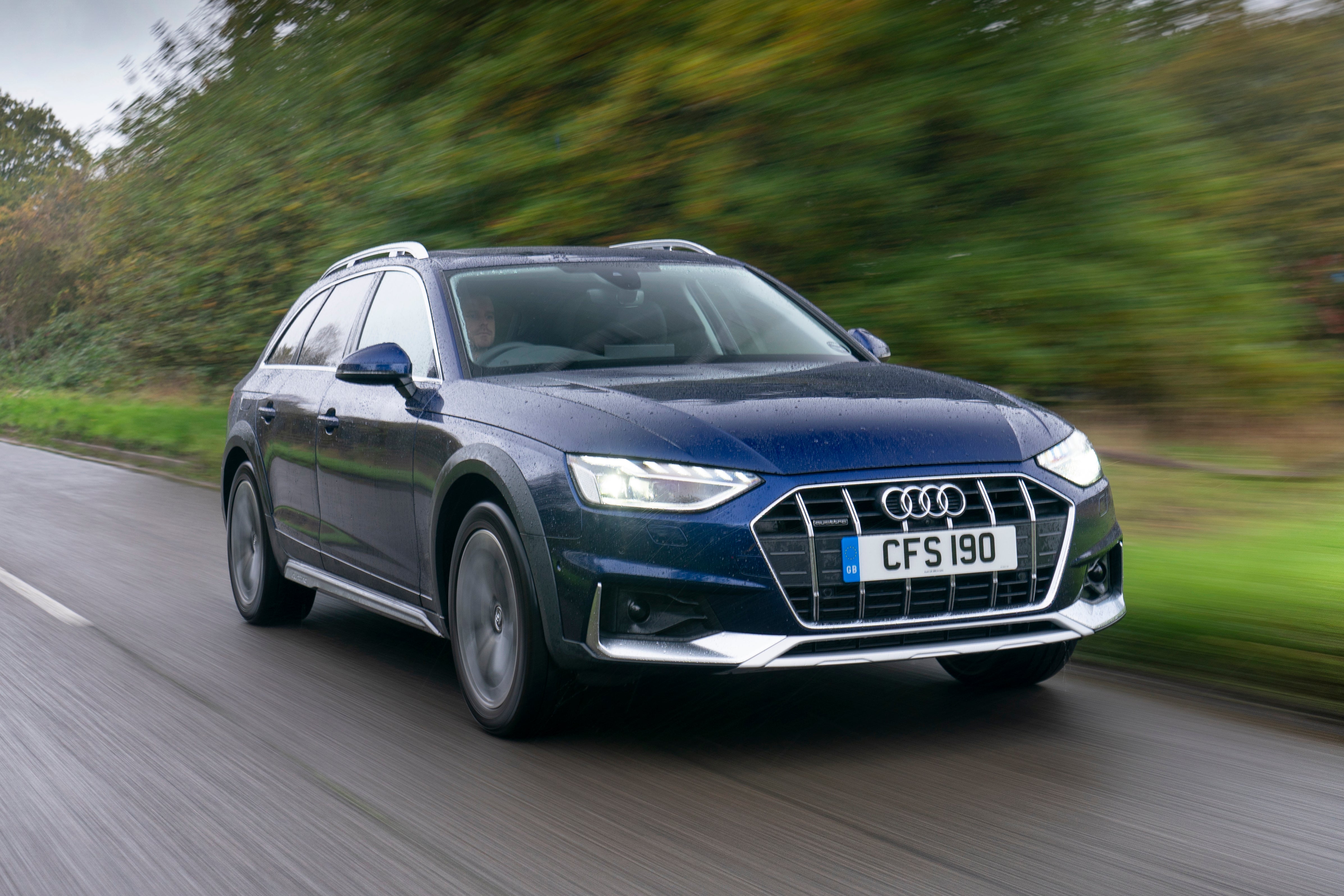 That's not to say it feels like a roly-poly estate car on stilts - far from it in fact - but the steering is not quite as precise as in the regular A4 estate and it rolls a touch more through sweeping turns if you're hustling it along.
Drive it in a more relaxed fashion though, and you'll barely notice the difference. There is an adaptive setup with adjustable dampers that's standard on the Vorsprung models, but it's not as good as the regular springs.
Grip from the four-wheel drive system is tenacious, giving you real confidence to drive in all weathers and you won't be able to notice is switching from two- to four-wheel drive to save fuel: it's there when you need it.
The added traction and ground clearance will certainly come in handy for rural buyers used to navigating the odd flooded lane or icy incline during winter. Yet it's just as useful for city drivers, with large surface changes like speed bumps well smothered by the supple suspension. Sharp ruts will send a slight judder into the seat, but the same is true for Volvo V60 Cross Country, and the Audi has better body control and tighter handling.
Long drives on the motorway are where the A4 Allroad really shines. It feels stable at speed, there is no slack in the consistently weighted steering, and here you won't notice the slightly looser body control. The Sport models are the most comfortable in all situations though - and we'd avoid fitting bigger wheels too.
What engines and gearboxes are available in the Audi A4 Allroad?
There are three engine choices in the A4 Allroad; a 2.0-litre petrol and diesel, plus a 3.0-litre V6 diesel. With 245PS and 370Nm of torque, the 45 TFSI petrol is a smooth, refined performer, but has the poorest economy.
We'd only recommend it over the diesels if you're a private buyer with a low annual mileage, and no plans for towing. The 40 TDI has less power but more low-down torque, making it feel less strained when fully loaded.
This engine is the pick of the Allroad range, blending decent performance with reasonable running costs.
Both 2.0-litre engines use Audi's twin-clutch S tronic automatic transmission, but the 286PS V6 in the 50 TDI has a conventional eight-speed tiptronic 'box. The latter can be frustrating, often hesitating when you need a quick turn of speed (like entering a roundabout) blunting the enjoyment of using all of its 620Nm of torque.
When the current generation first launched in 2016, it came with a wider selection of engines and gearboxes. A 150PS 2.0-litre diesel with a six-speed manual gearbox was the entry point to the range. And there were a pair of smooth 3.0-litre V6 diesels, with either a 218PS or 272PS output. The lower-powered V6 TDI makes a great used buy since it's smoother and faster than the 40 TDI's four-cylinder and almost as economical.
The six-speed manual is accurate and positive in its action, but the automatics suit the A4 Allroad far better.
Refinement and noise levels
The A4 Allroad has a secret weapon for isolating its passengers from the world outside: acoustic glass. The windscreen and front windows are both double the conventional thickness, and the effect is almost magical.
On the move, wind, road and engine noise are incredibly well suppressed. We'd go so far as saying that this Audi is the most refined car in its class, and that really contributes to making this a relaxing car to drive. Most of the engines are barely audible once you're settled into a motorway cruise, and can only be heard in town.
The smoothest engine is the 2.0-litre petrol in the 45 TFSI, followed by the 3.0-litre V6 diesel. However, the 2.0-litre diesel in the 40 TDI is impressively hushed for a four-cylinder, and the differences are minor. You'll hear a distant boomy growl when accelerating in the TDI, but the S tronic automatic gearbox shuffles through its seven gears without a fuss, keeping both engine revs (and cabin disturbance) to an absolute minimum.
Softer suspension and thicker tyre walls mean less suspension noise too, even over fairly rough surfaces. A dull thud is the only noise to alert you to the fact you've run over a pothole or a sunken drain cover.
Safety equipment: How safe is the Audi A4 Allroad?
The A4 Allroad is a safe family car that will protect you in the event of a crash, and try to help prevent one too.
Every model comes with a full complement of airbags, sophisticated electronic stability control systems, seatbelt monitors, tyre pressure sensors, Isofix child seat mounting points and automatic lights and wipers.
Parking sensors and a reversing camera should help you avoid those annoying supermarket scrapes, and it also has Audi's Pre-sense City autonomous braking. This system uses a camera to sense obstacles in the car's path (an unseen pedestrian, swerving cyclist or suddenly-stopped car in front) and will alert the driver if it thinks a shunt is imminent and performing an emergency stop if you don't respond. It works below 52mph.
Another smart feature is multi-collision brake assist. It automatically stops the car if it senses an accident has occurred, stopping the momentum of the crash and avoiding more potential impacts.
All of this equipment translates to an impressive Euro NCAP crash rating. The A4 saloon was awarded a full five stars in 2015, with strong adult and child protection scores, an achievement it shares with the Avant and Allroad. A V60 Cross Country is marginally better at protecting adult occupants, but no safer for children.
Top-spec Vorsprung models come with the optional Driver Assistant Tour pack fitted as standard. It features a suite of active semi-autonomous systems that will brake, accelerate and steer for you in traffic snarl ups.
Despite its rugged image, the Allroad doesn't come with a spare wheel - not ideal if you get a puncture while making the most of its off-road abilities - or just stuck on the hard shoulder waiting for a recovery lorry.
MPG and fuel costs: What does an Audi A4 Allroad cost to run?
"Raised suspension, a four-wheel drive system and larger alloy wheels all have a negative impact on running costs, so as a general rule the A4 Allroad will cost you more in weekly fuel bills than the equivalent A4 Avant."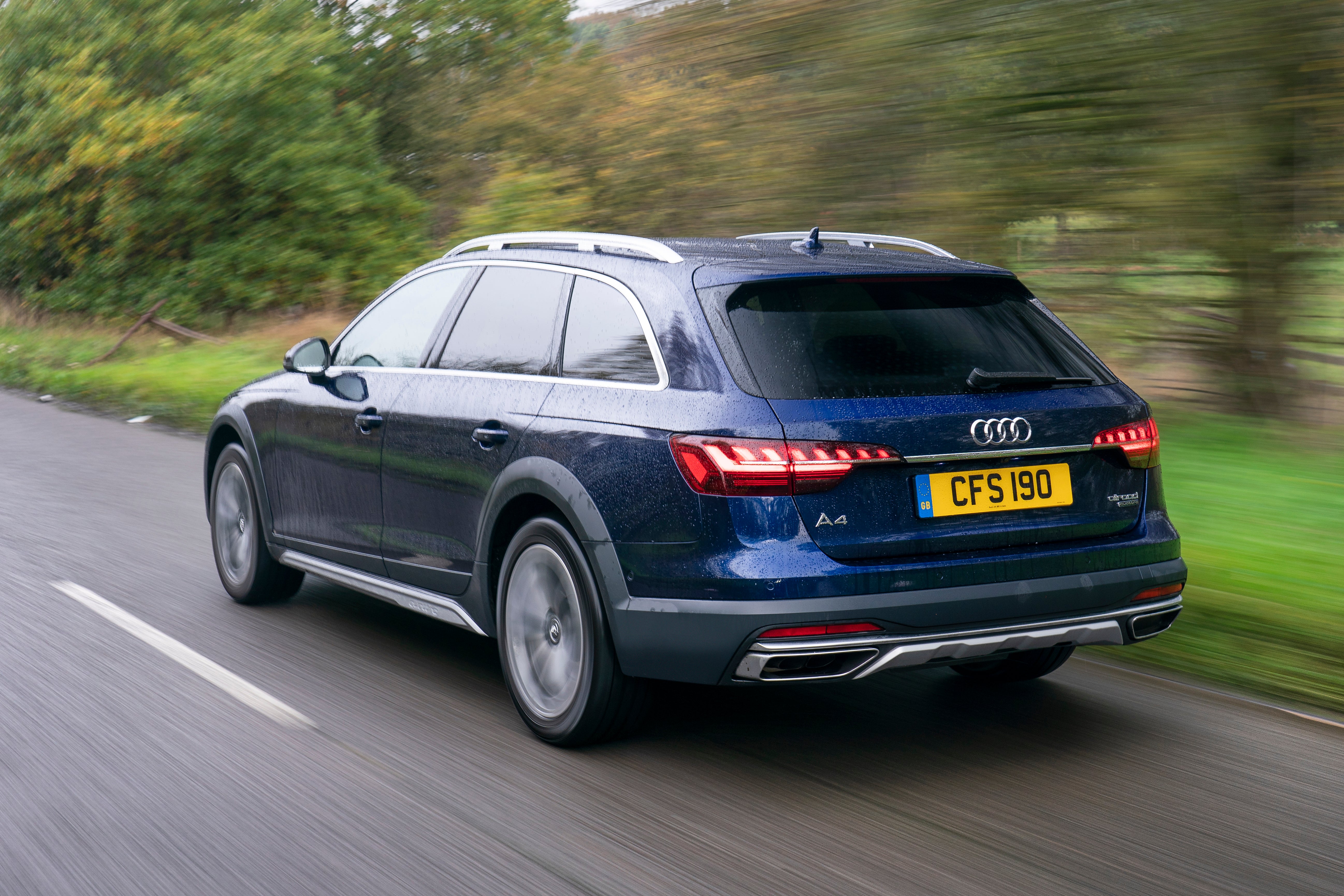 Still, for this type of car the official WLTP economy figure of 44.1mpg for the 40 TDI Sport is competitive. The Volvo V60 Cross Country with a similar power output returns 47.1mpg. Use our Real MPG tool to find out what to expect in real-world driving conditions, with current Allroad drivers seeing 81% of the claimed figures.
With a 58-litre fuel tank, you should be able to get around 550 miles from a full brim of diesel from the 40 TDI. The range of the 50 TDI and 45 TFSI is shorter, sitting at around 450 miles and 420 miles respectively.
Insurance groups and costs
Keeping your A4 Allroad insured will be an expensive undertaking, especially if it's the newest shape. Of the current range, the most affordable to cover will be the 40 TDI Sport, which sits in Group 32E. That's one group higher than the Audi Q5 SUV and a whole seven more than a Passat Alltrack with the same engine.
Annual premiums for the more powerful 45 TFSI and 50 TDI will rival some sports cars. However, if you are buying used, then some pre-facelift models sit in lower groups. The discontinued 3.0-litre V6 diesel with 215PS from 2016 for example, is in Group 28E - giving you more power than the four-cylinder but lower bills.
VED car tax: What is the annual road tax on an Audi A4 Allroad?
Every model in the current Allroad range has a starting price of over £40,000, and it was launched in 2019. That means they have to cough up for a higher premium VED tax rate of £325. That's on top of the standard £150 rate and applies regardless of which engine you pick, for a combined total of £475 from years two- to six.
The 40 TDI will cost buyers £540 for the first year, while the 194g/km 50 TDI attracts a rate of £1305. If you're planning to use the A4 Allroad as a company car, the 40 TDI is the best choice, with a BIK rate of 36% (If it was registered after April 2020 with WLTP) otherwise every version sits in the maximum 37% bracket.
How much should you be paying for a used Audi A4 Allroad?
"Since the A4 Allroad is less popular than the Avant (and often bought by private owners) there is less choice on the used market. Prices for used examples also vary wildly depending on if they are pre- or post facelift."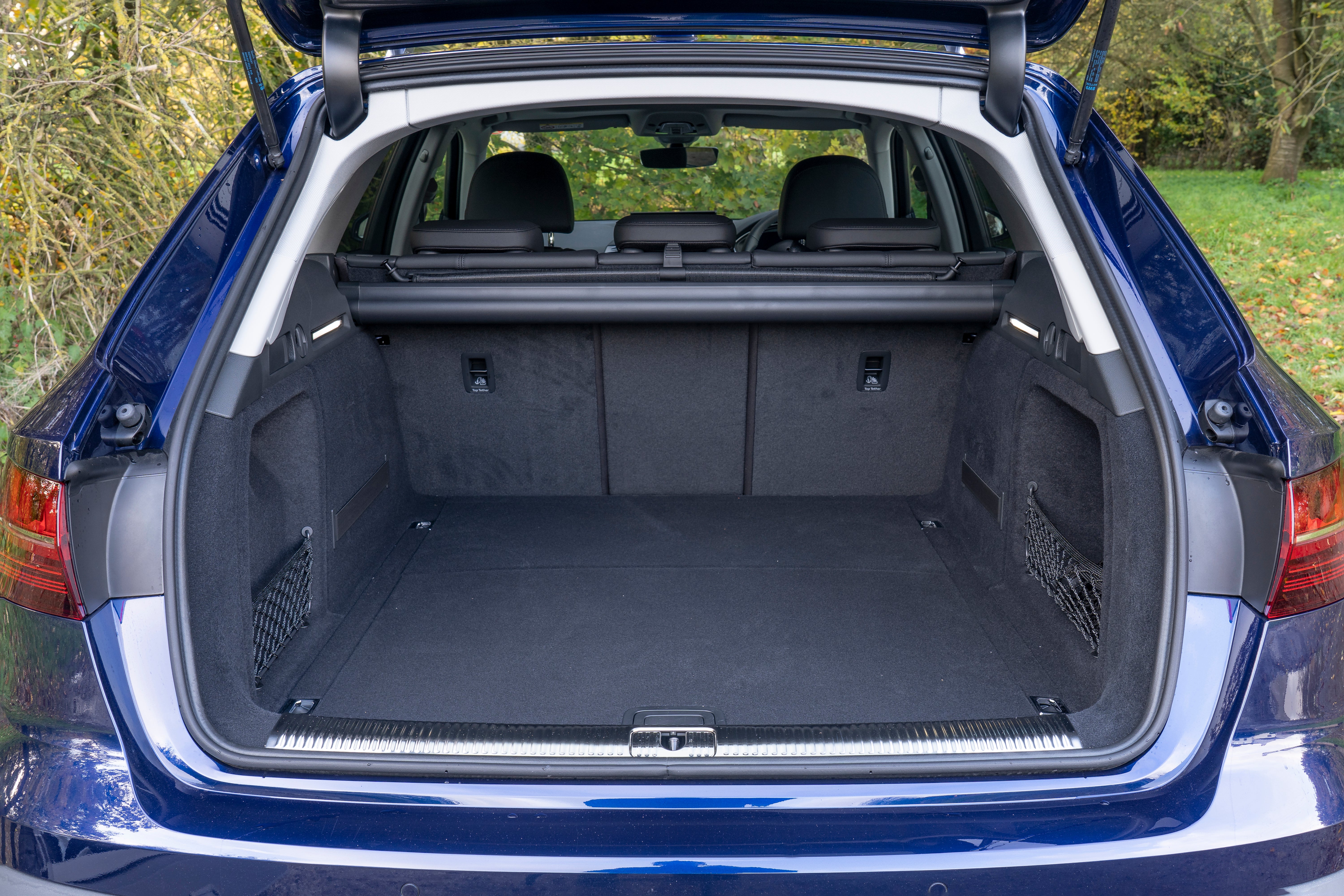 Only a handful of new shape 2019 models are for sale, and most are the 40 TDI in Sport trim. Zero miles pre-registered cars can be found from £38,000 - which is a significant saving on the new list price. Ex-demo models with a few thousand miles on the clock can be had for a fraction less, and 45 TFSIs start at £40k.
Go for the pre-facelift model (with its older generation infotainment system) and the asking prices drop much further. Expect to fork out around £27,000 for a very low miles 2.0-litre TDI, and £30,000 for a petrol version.
While rarer, we do think the previous generation 3.0-litre V6 (with 218PS) is a bit of a steal. Look carefully and you can find 2017 examples can be found with less than 20,000 miles under their belt for about £23,000.
Trim levels and standard equipment
The exclusivity of the A4 Allroad is matched by its expensive list prices - but Audi certainly gives you a lot for your extra cash. The standard car has heated leather sport seats up front, 18-inch wheels, and fancier LED front and rear lights than the regular A4 estate. Practical features like a powered boot lid and luggage cover, plus the added convenience of the (normally optional) Storage Pack are a nice touch, too.
The 10.1-inch touch screen MMI Plus infotainment system, 12.3-inch Virtual Cockpit and satellite navigation all come as standard on the newest shape cars. If you are buying used, it's worth double-checking that these last two desirable options have been fitted - and if not - finding an example that does.
We'd recommend avoiding the fully-loaded Vorsprung models. Use the money you've saved to invest in a few choice options. The excellent B&O stereo that comes as part of the £1395 Comfort & Sound Pack is a nice luxury, as is the semi-autonomous driving gadgets that come with the £1250 Driver Assistance Pack.
Audi A4 Allroad cars for sale on heycar
11,022
Number of cars available
£16K - £47K
Price bracket of these cars
Colours available on heycar
Keep me updated by email with the latest advice, news and offers from heycar
By submitting, you agree to our
privacy policy
.