Audi A5 Coupe Review 2022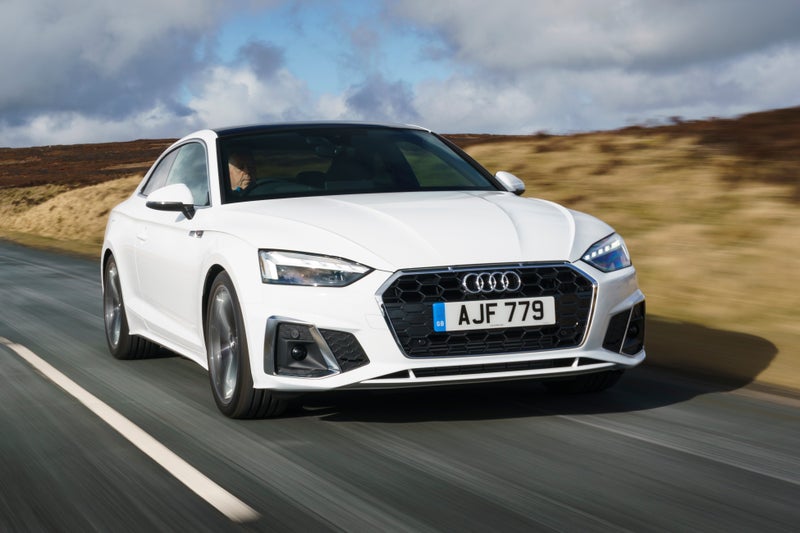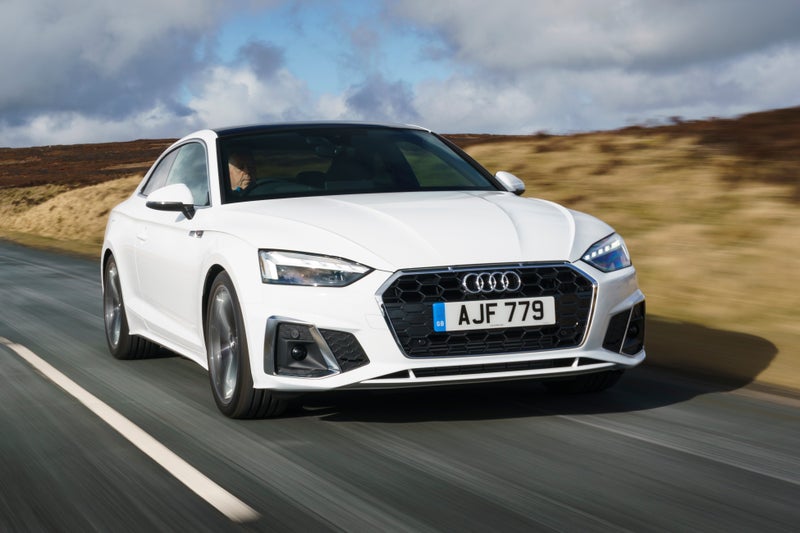 1/10
heycar rating
"An Audi A4 with two doors and a sleeker look"
Launched: 2016

Coupe

Petrol, Diesel
Quick overview
Pros
Stylish inside and out
Practical for a coupe
Strong selection of engines
Cons
Not as fun as a BMW 4 Series
New infotainment is a fiddle to use
Top-end models are expensive
Overall verdict
On the inside
Driving
Cost to run
Prices and Specs
Common questions
Overall verdict on the Audi A5 Coupe
"The Audi A5 Coupe is a bit like being a contestant on Bear Grylls' survival TV show The Island - like being trapped on a tropical paradise for weeks on end, the Audi looks like a lot of fun but isn't as exciting as it appears on paper."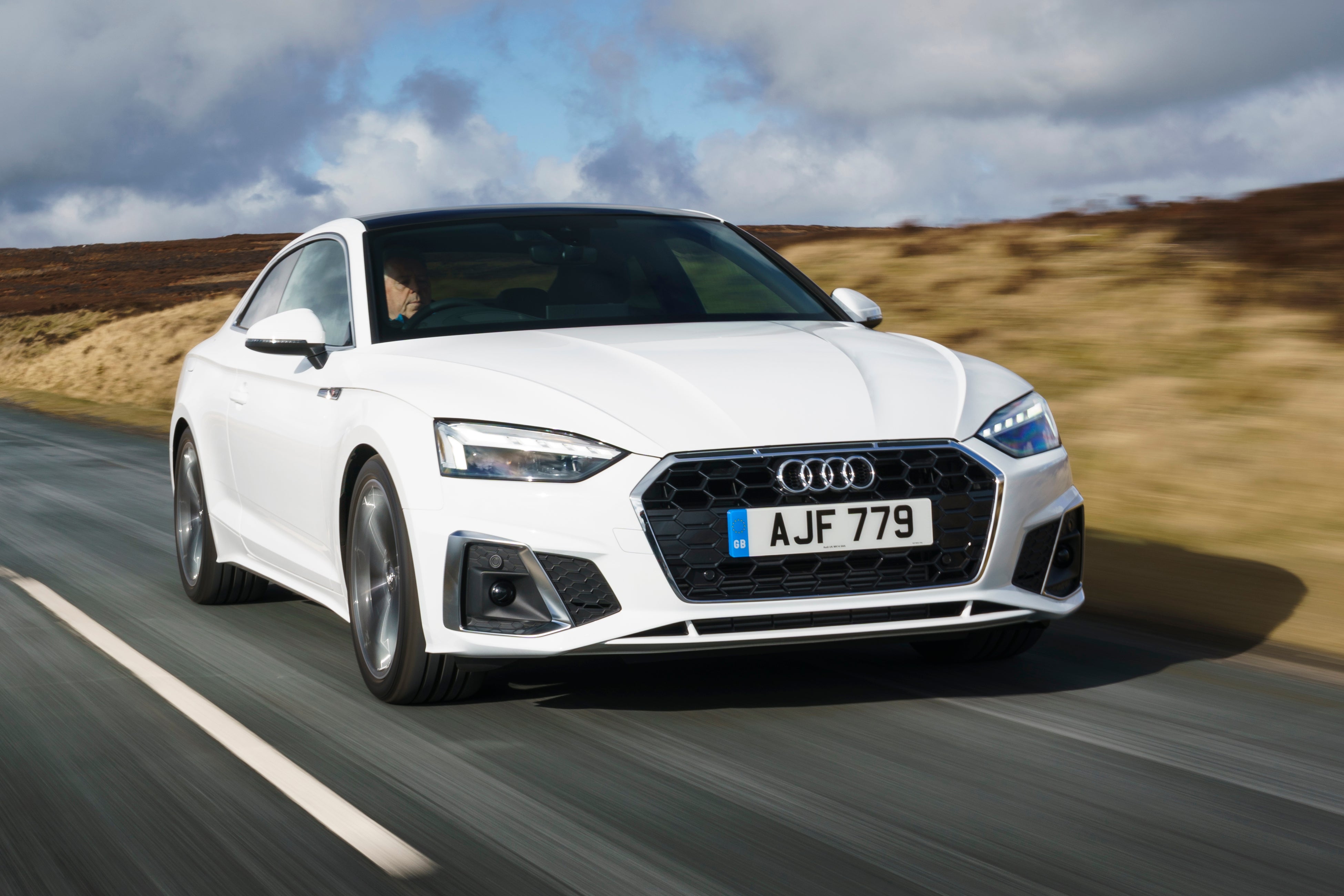 If you look at the 2022 Audi A5 and think it'll be a hard-charging sports coupe, you might be disappointed. It's no Porsche, that's for sure. But if you put any delusions of excitement to one side, you'll find an accomplished all-rounder to compete with The BMW 4 Series and Mercedes C-Class Coupe.
First things first, this is an Audi so naturally its interior is excellent. Inside, it feels like the dashboard has been chiselled from a solid lump of rock and then draped with pretty trim pieces. It feels solid. All models come with a leather interior – top-end versions get softer Nappa leather – and the interior is lit by LEDs that give a classy-looking bright white light.
The infotainment is pretty good, too. You get a large centre screen with crystal clear graphics and Audi's Virtual Cockpit behind the steering wheel – a multi-function digital instrument binnacle which is still one of the best you'll find in any car.
Interior space is also amongst the best you'll find in a coupe this size. The Audi A5 has loads of room up front for tall adults and a couple of tall adults will just about squeeze in the back, if they negotiate a bit of extra legroom from the people sitting ahead of them. Factor in a boot that's big and square and, in terms of practicality, you couldn't ask for much more - although Audi offers it in the form of the four-door Audi A5 Sportback.
The problem, if you can call it that, comes when you get behind the wheel because the Audi A5 can't stir your soul in the same way a BMW 4 Series can – arguably something all sporty coupes should be capable of. The A5 grips hard and doesn't lean in corners but if you're searching for the final granules of engagement, you won't find them. This is more of a fast cruiser than a fun machine.
For this reason, you're better of sticking to the standard range – the powerful Audi S5 is quick but ultimately not all that rewarding to drive – the current batch of 2.0-litre petrol TFSIs come in 35, 40 and 45 power guises producing 150, 204 and 265PS, respectively, so all bar the basic model are usefully quick. You also get a choice of two 2.0-litre diesels – with 163PS (35 TDI) and 204PS (40 TDI) – the more powerful of which gives a nicely muscular feel on the motorway.
And it's here where the Audi A5 is at its best. Its cabin is quiet and comfortable and the optional Quattro four-wheel drive makes it a reassuringly stable way to cover ground quickly. With it fitted, you don't have to worry so much that the steering is giving you little to no feedback.
A manual gearbox is something enthusiasts love to bang on about, so the Audi A5 loses points because it's only available with a seven-speed dual-clutch automatic. In reality though, it changes gear quickly and makes the Audi an easy car to drive in town, all models also come with a reversing camera with a crystal clear display.
This sort of attention to detail makes the A5 an excellent all-rounder. So while it can't put a smile on your face like a proper sporty coupe should, on a cold winter's night when you just want to get home quickly and safely, you'll not regret choosing the sensible option.
Is the 2022 Audi A5 right for you?
The Audi A5 will be right for you if you want a car that is stylish to look at, but also practical and easy to live with everyday. Some models are very quick, but the Audi is comfortable, safe and predictable to drive, if not ultimately entertaining as a BMW 4 Series or dedicated sports coupes.
Essentially, the Audi A5 is an Audi A4 but with two less doors. Access is pretty good to the rear, but if you're using those back seats regularly it's going to become a bit of a pain - particularly if you have to lift child seats in and out. Happily, Audi offers the four-door A5 Sportback, which is essentially an A4 with a more svelte body. Confused?
While this isn't a car for real driving enthusiasts, no version of the Audi A5 is a weak link. Those after all-weather security and strong performance will like the S5, while there's an even faster RS5 if that doesn't cut the mustard. Really, though, one of the middling turbo petrol and diesel models offers a good all-round package.
What's the best Audi A5 model/engine to choose?
Given the Audi A5 is all about style compared with the more humdrum-looking A4, entry-level Sport models aren't the best choice. Their 17-inch alloy wheels looks a bit lost in the body, while without the sportier trim details it looks a little bland.
Choose your Audi A5 in S line trim and you get sportier looks than in a basic model without having to fork out serious dollar on one of the the top-of-the-range models. 18-inch alloys, nicer trim inside and out and standard-fit LED headlights make it a more attractive offering.
In terms of engines, there really isn't a weak link. Even the basic Audi A5 150PS 35 TFSI and 163PS 35 TDI models don't feel gutless, although ultimately their mediocre turn of pace means they don't feel all that premium. Our choice of the petrol lineup would be the 204PS 40 TFSI, which is quick enough for most needs and barely any less efficient than the 35. There's also a 45 TFSI which is quicker still.
Diesel fans, too, will enjoy the more potent feel of the Audi A5 40 TDI model, which offers effortless overtaking performance. However, pre-2019 Audi also offered six-cylinder 3.0-litre TDI diesels, which are smoother and feel really muscular. Expect them to be sought after.
Topping the lineup is the Audi S5, which was offered in petrol form only before 2019 and diesel form after. We'd avoid the diesel model, which isn't that economical or exciting (despite its serious performance).
What other cars are similar to the Audi A5?
The Audi A5's most obvious rivals are the sporty BMW 4 Series and luxurious Mercedes-Benz C-Class Coupe, but you might also consider the Lexus RC – which is available as a petrol-electric hybrid.
No other premium brands offer similar size two-door coupes, as they're not as popular as they once were. However, there is a number of more focused and exciting four-seat sports coupe rivals to choose from: cars such as the Ford Mustang and Lotus Evora. These are nowhere near as practical and cheap to run as the Audi, however.
Comfort and design: Audi A5 interior
"The Audi A5 has loads of adjustment on the driver's seat and a intuitive design which makes it an easy car to get on with straight away."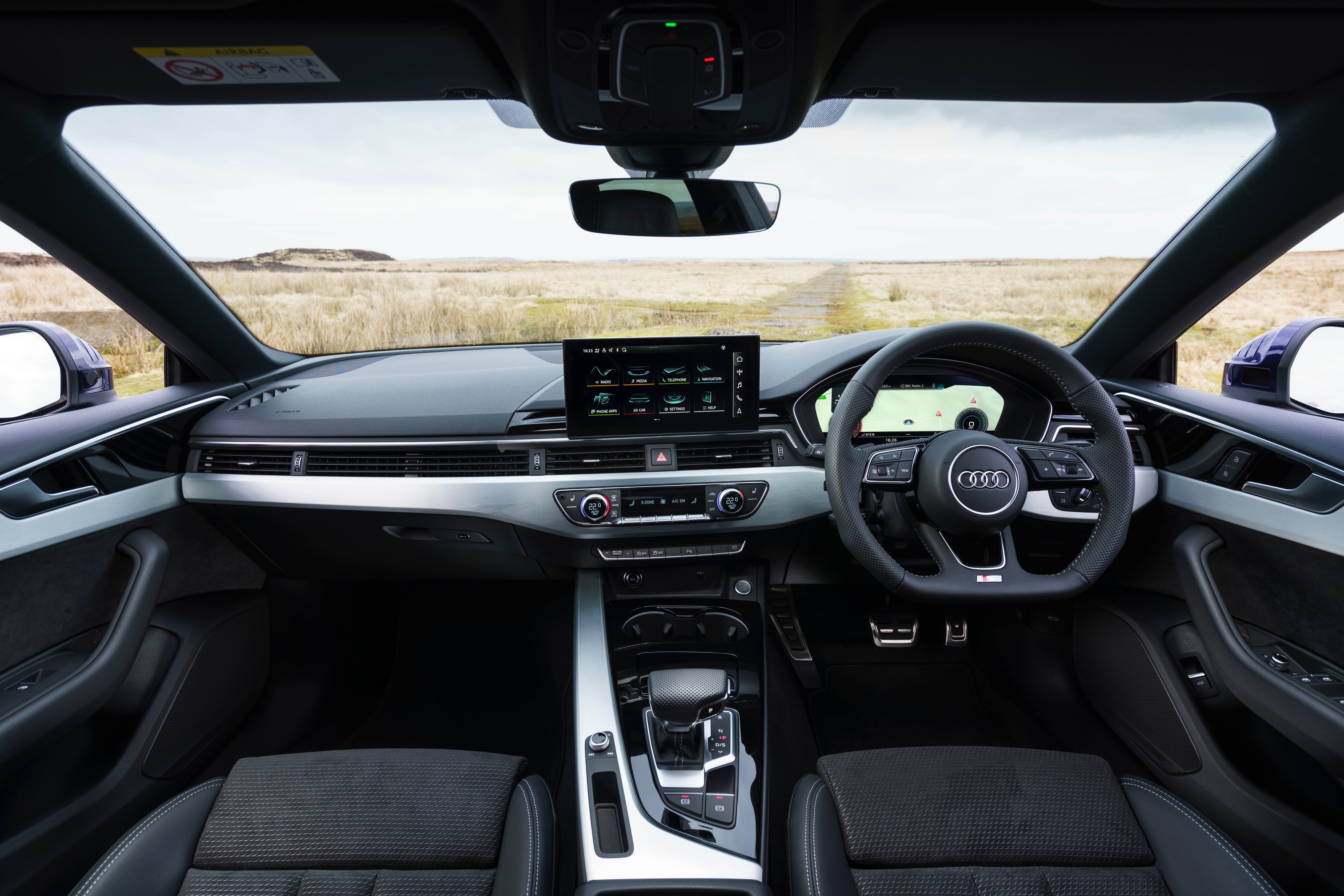 The Audi A5's driving position is first rate. The steering wheel and the driver's seat have what seems like infinite movement and all models come with heated front seats. Another A5 trick is its tri-zone climate control, which means you, your front seat passenger and your kids in the back can set your own temperature.
Sport models get body-hugging sports seats, while S line cars get the same seats but embossed with 'S line' on their backrests. Edition 1 cars add electrically adjustable front seats in softer Nappa leather.
The interior layout of the Audi A5 is attractive yet logical. Audi has stuck with physical climate control dials, and they're a joy to use, with a quality feel and damped action. There's a good balance of physical buttons and controls in the infotainment screen, although it's a shame that facelifted models from late 2019-on do away with the simple-to-use rotary control wheel for a full touchscreen system.
Most models - particularly later or higher-spec cars - come fitted with Audi's Virtual Cockpit digital instruments. They're a real highlight, with a super-clear display, lots of different views and detailed navigation mapping.
Quality and design
Even if you go for the entry level Audi A5 Sport you'll know you've purchased a quality item. Interior fit and finish is excellent, not just in the places you look, but also in the places you don't. Even at the bottom end of the range, a full leather interior comes as standard and you can choose from dark and light colour finishes.
S line models welcome you with lit-up 'S' kickplates on the bottom of the door openings, get a mixture of leather and Alcantara upholstery and shiny metal pedals, while Edition 1 cars have electrically adjustable seats and Nappa leather. Top-of-the-range, Vorsprung models get a panoramic glass roof and multi-colour selectable mood lighting.
It's definitely on a par with the latest BMW 4 Series quality-wise, and substantially nicer than the previous generation car. The Mercedes C-Class Coupe matches it for style but doesn't have the same consistency of fit-and-finish as the Audi.
Infotainment: Touchscreen, USB, nav and stereo in the Audi A5
The Audi A5 comes fitted as standard with the company's Virtual Cockpit, a 12.3-inch digital instrument binnacle which is responsible for much of the A5's interior wow factor. Audi pioneered this technology in the 2014 TT and, although it's been copied by almost everyone since, its system is still the best – putting info like speed and fuel economy exactly where you need it. Its party piece is its ability to punch up a huge Google Maps display that makes it a pleasure – and very easy – to follow the sat-nav's directions.
What's less of a 'win' is the new infotainment system that was brought in when the car was facelifted in 2019. At 10.1 inches in size, it's colourful and clear but the touchscreen interface isn't as easy to use as the toggle/scroll wheel that was fitted to the old Audi A5. It's also a little laggy at times, sometimes taking ages to boot up and load the navigation system.
However, it does come with a three-year subscription to Audi's connected services so it can route around congestion and give you live fuel prices, as well as letting you connect to the car remotely via an app to do things like check its location.
The standard stereo is also solid, an eight-speaker system it has decent power and clarity, although you can upgrade to a Bang & Olufsen 3D Sound System with 19 speakers – including a subwoofer and a centre speaker – and a thumping 755W output. It makes most sense as part of the £1395 Comfort and Sound Pack, which bundles together the fancy stereo, plus keyless entry, handsfree boot opening, a 360-degree camera and LED interior ambient lighting with selectable colours.
Space and practicality: Audi A5 boot space
The Audi A5 may officially be a coupe, but it's based on the A4 saloon so it feels – and really is – more like a two-door saloon.
That's good news for practicality because it means the A5 is not a coupe you have to crawl in and out of, like you do in some sportier options. There's no shortage of space for two bulky adults in the front.
Jump in the back and tall passengers will need concessions to be made in the front to get comfortable and, even then, they'll feel pretty hemmed in on longer journeys. A BMW 4 Series has a tad more kneeroom, but the Audi wins on headroom. It's certainly far more accommodating than more sporting rivals.
It also has a very practical boot for a car this type. It has a 450-litre boot capacity and a square shape that makes it easy to use every every last drop, plus the rear seats also split 40:20:40 so you can carry longer loads while still having room for back seat passengers and the seats fold almost completely flat.
Smaller storage spaces are also in abundance. The Audi's door pockets are massive and you get smaller storage cubbies in the back, a large glovebox and an array of other pockets and cup holders so everything has somewhere to live.
In terms of exterior dimensions, the Audi A5 is 4,697mm long, 1,846mm wide and 1,387mm tall. That makes it between 60-70mm shorter than the A4 on which it's based, and a fair bit shorter than the latest BMW 4 Series.
Handling and ride quality: What is the Audi A5 like to drive?
"The Audi A5 is safe and secure on the road but if you want a practical coupe that's truly enjoyable to drive, you'll be much better served by the BMW 4 Series coupe."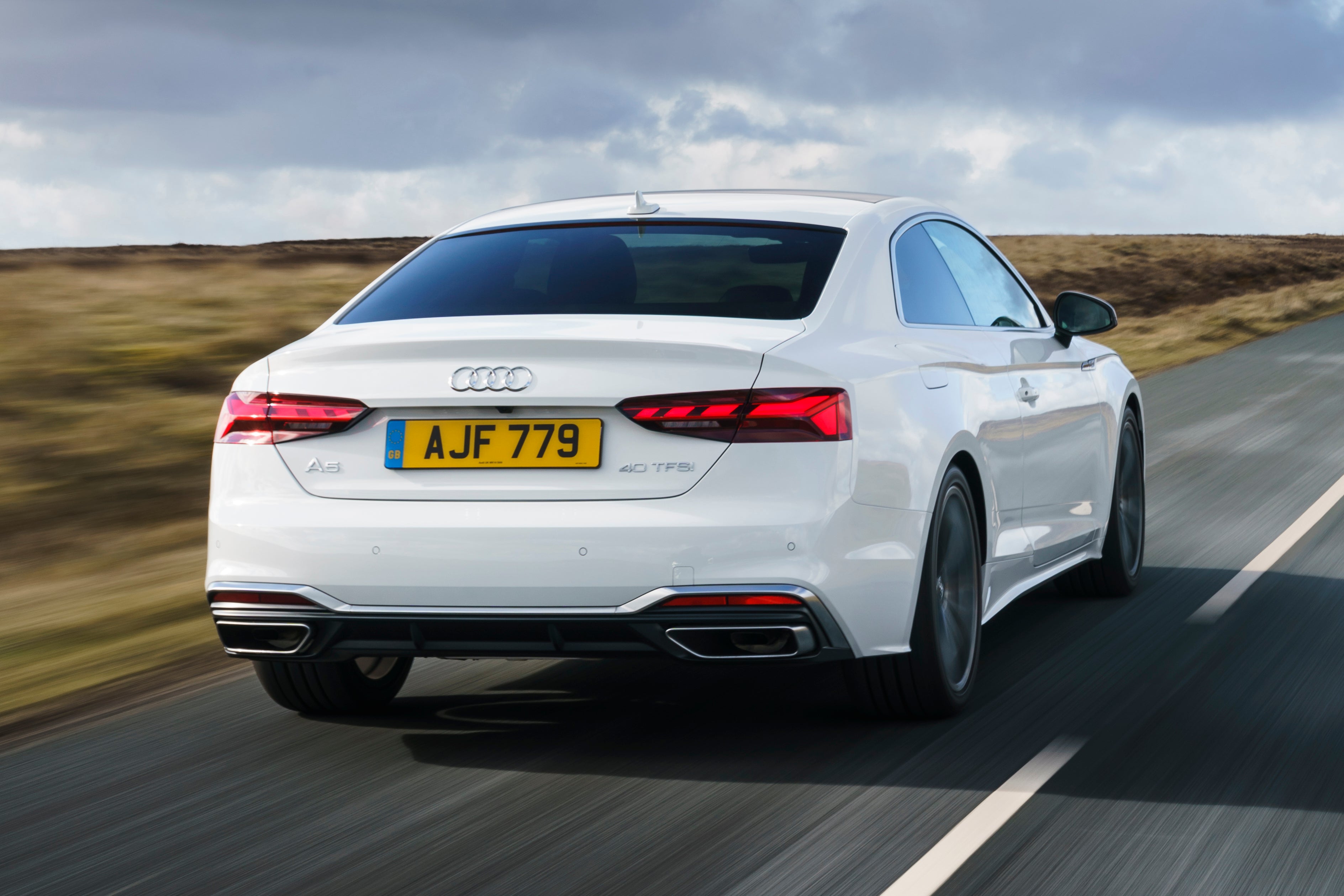 The Audi A5 drives like a slightly sportier A4 saloon, though it is far from the more exciting car to drive amongst its peers.
It grips well and goes where you point it, but doesn't involve you in the process of driving like a BMW 4 Series can. The Audi feels like a cosseting GT, while the BMW leans closer to being a sports car. However, it is more interesting to drive than the Mercedes C-Class Coupe, which is more focused on comfort.
Audi's trump card of offering four-wheel drive isn't what it used to be either, as BMW now offers its 4 Series range with xDrive four-wheel drive which feels more dynamic than the Audi system. Regardless, the A5's quattro four-wheel drive system gives a drama-free driving experience that is a perfect match for the way the car goes about its business.
Where the A5 feels at its best is on the motorway where it is soothing car to drive, especially if you choose a Sport model which has the softer suspension and smaller wheels. It really is effortless at these sort of journeys, which should come as no surprise given the A4 on which it's based is a fantastic mile-muncher.
Pull off the motorway and into the city and the A5 won't transform itself into a cumbersome beast. Its steering lightens up at slower speeds and its precision makes the Audi easy to manoeuvre, you also getting parking sensors and a high-def rear camera which makes it easy to squeeze the car into tight spaces.
What engines and gearboxes are available in the Audi A5?
The latest Audi A5 is available with a choice of three petrol engines and two diesels, all of which come in combination with a seven-speed dual-clutch automatic gearbox that shifts smoothly but can be a little slow on the uptake when you want a sharp burst of acceleration.
The petrol models are all 2.0-litre four-cylinders with 150PS (35 TFSI), 204PS (40 TFSI) and 265PS (45 TFSI). The 150PS model gets from 0-62mph in under nine seconds, it feels fine in normal driving but quickly runs out of puff if you put the hammer down on a country road. With 0-62mph taking just 5.5 seconds, the 265PS version has no such issues. The best all rounder is the 204PS model, which does 0-62mph in 7.1 seconds and feels perfectly pacy without breaking the bank.
Like the petrols, the 163PS (35 TDI) and 204PS (40 TDI) diesels both have 2.0-litre four-cylinder engines and their meaty mid-range means they feel more powerful than the petrols when, say, you go for a motorway overtake. That's despite them being slower on paper – the 35 gets from 0-62mph in 8.2 seconds while the 40 does it in 6.9 seconds.
Prior to the Audi A5's late 2019 facelift, there were some different engine options. The range of four-cylinder petrols and diesels remained similar, but lesser versions had the option of a six-speed manual gearbox. There were also some super-smooth six-cylinder diesels, which offered effortless overtaking pace and decent economy.
Crowning the range is the Audi S5. Interestingly, when the A5 range was facelifted Audi switched out the 354PS twin-turbo V6 petrol engine in favour of a 347PS mild-hybrid diesel. It was an unusual decision, making the S5 even less exciting to drive than it already was. Both offer excellent performance and four-wheel drive security but neither are particularly engaging.
Refinement and noise levels
When the Audi A5 went on sale in 2016 Audi said it was just as quiet as the flagship A8. That A8 has since been replaced with a newer model, but the A5 is still very quiet on the motorway thanks to its standard acoustic windscreen which cuts out wind whistle.
For the ultimate quiet cabin, look out for cars with the optional acoustic side windows fitted. If anything, road noise will be slightly worse than before because all models now come with wheels at least 18-inches in diameter, which generate a little bit more road noise than the A5 models fitted with 17-inch wheels when the car was launched.
Safety equipment: How safe is the Audi A5?
The Audi A5 has never been tested for safety but Euro NCAP gave it a five-star rating based on the fact that it is mechanically identical to the A4 saloon that has been tested.
Standard equipment levels are decent and include six airbags, automatic emergency brakes, a bonnet that pops up to protect pedestrians in an impact and a system that'll call the emergency services if the car is involved in an accident. Lane assist is also commonly fitted, and unlike other VW Group brands Audi has kept a handy switch on the side of the indicator stalk to turn it off when it starts to irritate.
Vorsprung models come as standard with the Driver Assistance Tour Pack (a £2700 option on the rest of the range) which means the car can accelerate, brake and steer itself on the free-flowing motorway or in heavy traffic. It's a worthwhile option if you do lots of long, boring drives.
MPG and fuel costs: What does an Audi A5 cost to run?
"The Audi A5 might be a flash coupe but it doesn't have to come with flash coupe running costs."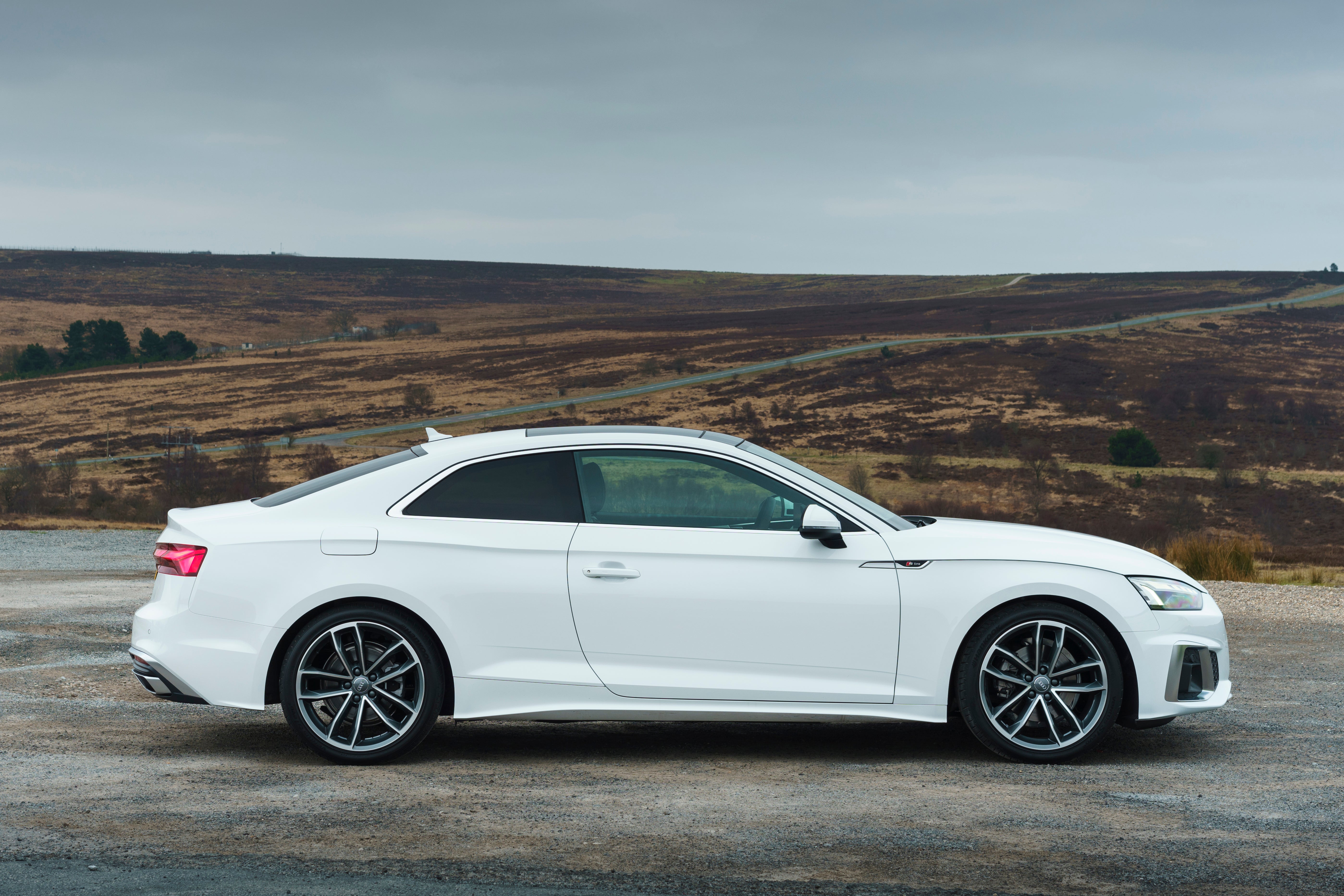 It'll come as no surprise that the Audi A5 is roughly identical in terms of running costs to the A4 on which it's based.
Of course the diesels are the star of the show here. The most economical is the Audi A5 163PS 35 diesel that, despite offering fairly strong performance, will easily return more than 50mpg in a mixture of driving. That means you'll get up to 700 miles out of the A5's 63-litre fuel tank, and the more powerful models aren't far behind. The earlier six-cylinder diesels are a little thirstier but, because they don't need to be worked as hard, can still manage between 40 and 45MPG.
The petrol Audi A5s are of course thirstier, but still won't break the bank. The lowest powered 35 TFSI model promises up to 45mpg, although that'll probably be more like 40mpg in real-world driving. The more powerful 40 TFSI promises identical figures, however.
Four-wheel drive models do suffer on paper, with the 45 TFSI only managing around 37mpg. That's only a couple of MPG more than the full-fat petrol S5. The diesel S5, meanwhile, promises up to 40mpg.
How reliable is the Audi A5?
As Audi is part of the enormous VW Group, a number of its mechanical and electrical components are shared among multiple other models. However, Audi itself is one of the lowest performing brands in the group according to the latest HonestJohn.co.uk Satisfaction Index, coming in 21st out of 30 manufacturers. The only lower ranked VW Group brand is SEAT.
Despite this, the Audi A5, like the A4 on which it's based, has been around since 2016 with only minor updates, meaning its mechanicals are well proven. We have seen no serious issues reported in that time, while Audi's latest infotainment technology seems to be less glitch-prone than VW's.
Insurance groups and costs
The Audi A5's insurance ranges from Group 26 (for a 190PS diesel in SE trim) to Group 40 for the powerful S5 model. Those figures are about par for the course for a car of this size, price and performance.
It's worth bearing in mind, however, that fast Audi models are very popular with thieves. Although unlikely, having yours nicked would have a serious impact on your insurance premium.
VED car tax: What is the annual road tax on an Audi A5?
The Audi A5 models to choose if you want to avoid a hefty tax bill are the 35 diesel or 40 petrol models in Sport trim. The former pays a hefty £540 first-year payment while the latter will cost you £215 in year one, with them both dropping to £150 a year for the next five years after that.
The rest of the range bursts through the £40,000 premium car threshold, so you'll be paying £475 every year for five years after the initial payment of between £215 and £540. This doesn't apply to cars made before April 2018, however.
How much should you be paying for a used Audi A5?
"Prices for the Audi A5 kick off from around £15,000 for a 2.0-litre diesel with around 80,000 miles on the clock and rise to more than £55,000 for a powerful S5 model with a delivery mileage."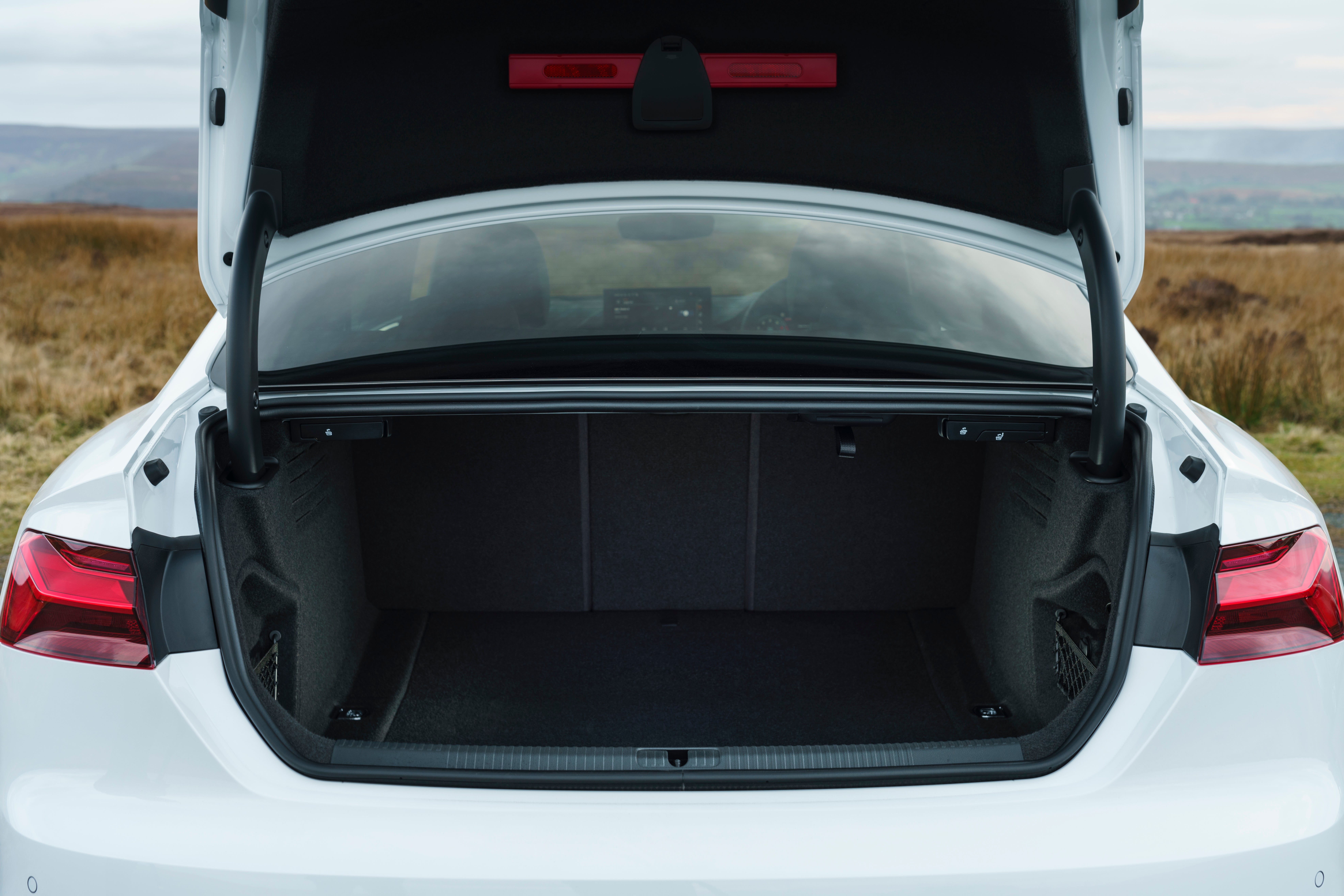 If you're looking for a happy medium, £23,000 is safe budget to start with for an Audi A5. That's enough to get you a 35 TFSI petrol (previously just called 2.0 TFSI) with spritely performance and a little over 10,000 miles on the clock and in sporty looking S line trim.
Do lots of motorway miles? Then you'll be better off with the 35 TDI diesel that'll cost you about the same. If you want the added security of Quattro four-wheel drive, you can expect to pay a premium of around £1000.
The S5 comes with four-wheel drive as standard, as well as a turbocharged V6 petrol engine kicking out 354PS, which was swapped for a 347PS V6 diesel when the car was facelifted in 2019. Less than £28,000 buys you an S5 petrol with under 50,000 miles on the clock and, in many ways, it's the more desirable option thanks to its fruity noise and high-revving nature. That's also about £10,000 less than you'll pay for a later diesel model in similar condition.
Trim levels and standard equipment
The Audi A5 is available in four trim levels – Sport, S line, Edition 1 or Vorsprung. Earlier models could also be had in SE trim, which is largely similar to Sport but with a more subtle exterior look.
Sport models get 18-inch alloy wheels as well as matt aluminium highlights on the outside, while inside they get heated front seats with lumbar adjustment, LED cabin lighting, keyless go and cruise control.
S line cars get sporty looks courtesy of their 18-inch wheels, body kit and matrix LED headlights which can match their beam to the shape of the road, while inside they get a leather and Alcantara interior.
Edition 1 models look even sportier thanks to their huge 20-inch steamroller alloy wheels, they also come with laser matrix LED headlights which are more powerful than the versions fitted to S line models. Inside, they get electrically adjustable Nappa leather seats and piano black interior inlays.
Vorsprung models get lots of kit fitted as standard. They look identical to Edition 1 models, aside from their star-design wheels, but inside they get kit like a full length glass roof, Bang & Olufsen stereo and ambient lighting.
Ask the heycar experts:
common questions
What is the Audi A5?
First introduced in 2007, the A5 is a more stylish, higher spec version of the A4 saloon that comes in more body styles and costs a little more, but shares its engines and technology.

Is the Audi A5 a good car?
The A5 has a superb high-quality interior, it's a refined cruiser, and features a wide range of engines to suit all tastes (and budgets), but it's not the most exciting or sporty coupe to drive.

Answered by
heycar editorial team
Are all Audi A5s four-wheel drive?
No. The two entry-level petrol and diesel versions are both front-wheel drive, but the more powerful models come fitted with quattro four-wheel drive as standard, as do the faster S5 and RS5.

Audi A5 cars for sale on heycar
9,809
Number of cars available
£13K - £70K
Price bracket of these cars
Colours available on heycar
Keep me updated by email with the latest advice, news and offers from heycar
By submitting, you agree to our
privacy policy
.