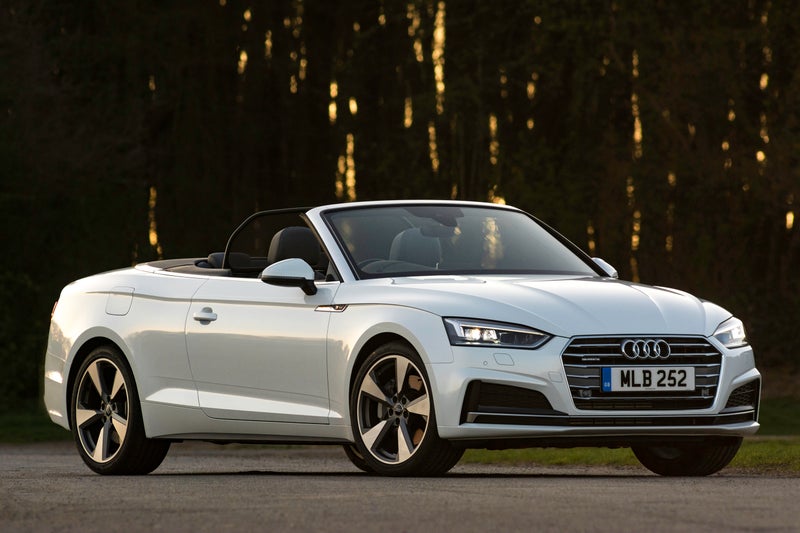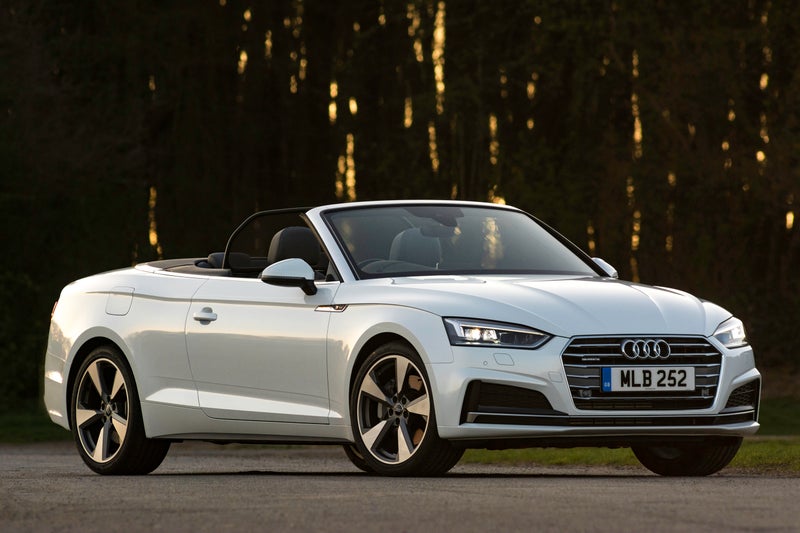 1/10
heycar rating
"Refined, rapid four-seat cabriolet"
Launched: 2017

Convertible

Petrol, Diesel
Quick overview
Pros
Exceptional interior quality
Punchy engine range
Impressive refinement, roof up or down
Cons
Expensive to buy
Characterless to drive
Not the prettiest cabriolet
Overall verdict
On the inside
Driving
Cost to run
Prices and Specs
Overall verdict on the Audi A5 Cabriolet
"Building a four-seat convertible presents a challenging remit. It needs to be practical enough to satisfy those down-sizing from larger cars, sporty enough to feel effortless on the move, without losing any refinement. All while lopping the roof off, adding extra weight and complexity, and losing the natural stiffness of a hard-top."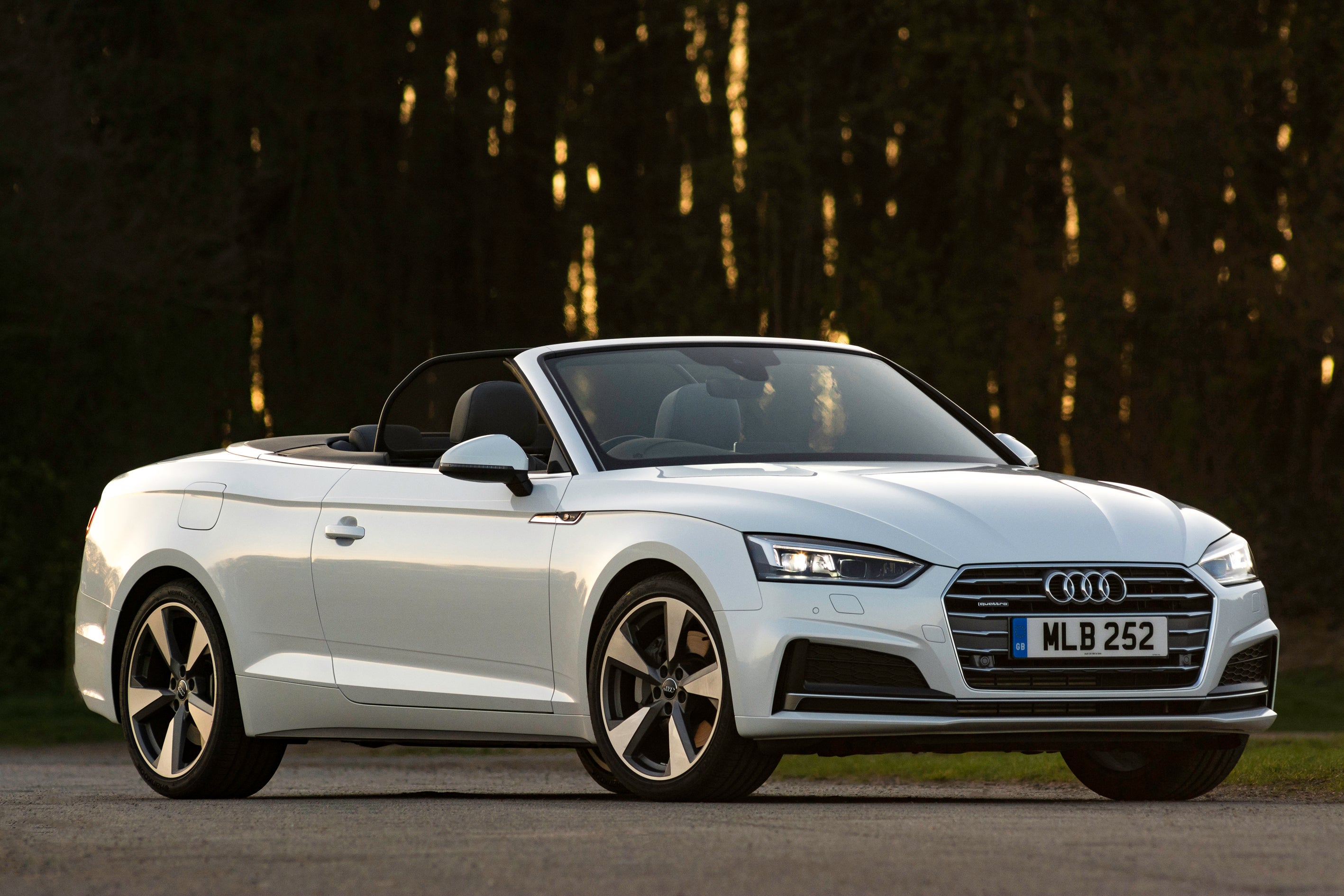 Few rivals combine those disparate elements as successfully as the A5 Cabriolet. It's a car that deals with the daily grind almost as competently as the A4 saloon on which it's based, then turn on the glamour with the literal press of a button, transforming into one of the most comfortable and stylish convertibles on sale.
Audi has years of experience in building soft-tops, and its familiarity with the form is made abundantly clear with the impressive design of the fabric roof. Its triple-layered fabric structure and hidden soundproofing panels ensure the A5 Cabriolet remains almost as hushed inside as the coupe, even at motorway speeds.
It stows neatly into the boot in 15 seconds, and although the complex folding mechanism does limit the size and type of luggage you can carry, a 310-litre minimum capacity is still larger than any of its competitors. Passenger space is good too, with room in the back for two petite adults to sit comfortably for several hours.
Power comes from a range of capable four-cylinder petrol and diesel engines, driving either the front- or all four-wheels through a seven-speed twin-clutch automatic gearbox. They're predictably excellent, supplying enough power to drag the additional weight of the roof around, but efficient enough to be affordable to run.
If you have the urge to turn the gentle breeze on your face into a force ten gale, the rapid S5 Cabriolet has the firepower to turn any drive into a hair-raising experience, although its fast and stable, rather than fun.
Refinement and - in the right spec - comfort are stellar, and the combination of such smooth, quiet engines and supple suspension make this a very relaxing car to while away the miles in; more so than its peers. To keep things as comfortable as possible, you'll want to avoid the lowered sport suspension on S line models.
In fact, there are very few chinks in the A5 Cabriolet's armour. The sumptuous interior delivers Audi's usual devastating mix of superb feeling materials and meticulous attention to detail. It's crammed with technology, but is intuitive to use, and comes with all the standard equipment you'd expect in a car costing over £40,000.
Wrap this appealing package in a chiselled body, and the soft-top A5 makes a convincing case for itself over natural rivals such as the Mercedes C-Class Cabriolet and BMW 4 Series Convertible. What it lacks in driver appeal it makes up for in almost every other area, and while expensive, it feels like a worthwhile investment.
Is the Audi A5 Cabriolet right for you?
First things first: this is not a sports car. If you want driving excitement and a white-knuckle adrenaline hit this is not the car for you. We suggest something with two fewer seats and a fruity exhaust, like a Jaguar F-type.
What the A5 Cabriolet does offer is unrivalled refinement, ride comfort and interior quality in a car that is well suited to the type of low-speed cruising you'll want to do with the roof down and three close friends in tow.
Its four-seat layout makes it pretty practical for this type of car, and with an engine range it shares with the sensible A4 saloon, the running costs are reasonable too, although it is the most expensive A5 body style.
If you're the type of person who wants to make the most of the sun whenever it decides to shine, but also need a car that works all year round, then the A5 is one of the absolute best, but it's not that fun to drive. Of course the A5 range also includes the Audi A5 Coupe and the Audi A5 Sportback.
What's the best Audi A5 Cabriolet model/engine to choose?
In our experience, the best way to enjoy a convertible is with a smooth petrol engine under the bonnet. While it might be tempting to go for a pricier model with more power, the 190PS 2.0-litre TFSI feels quick enough.
It's also smooth, revs cleanly, and works well in tandem with the dual-clutch auto gearbox. In this spec, the A5 is a wonderfully refined, rapid cruiser with an unstressed engine that suits its laid-back character perfectly.
Naturally the 3.0-litre V6 diesels and cooking S5 petrol model feel exceedingly fast, but we're not convinced that they're more exciting to drive than the more affordable versions, even with standard four-wheel drive.
If you do big mileages then the 40 TDI could start to add up, but it's a shame to have such a characterless engine in a car where being able to hear the motor is half the fun. As for the spec, with the latest model the bump in standard equipment is so generous that you'd be mad to get anything except the entry-level Sport.
What other cars are similar to the Audi A5 Cabriolet?
As is often the case with Audi, its closest competition comes from other parts of Germany, with the sportier feeling BMW 4 Series Convertible, and equally luxurious Mercedes C-Class Cabriolet worth your attention.
If you want a thrilling open-top drive then the 4 Series is the best bet, and its infotainment system is easier to use than the A5's while the cleanest versions of the C-Class emit less CO2, so are cheaper company cars.
The fastest version of the A5 is rapid enough, but if you want really high-performance then both BMW and Mercedes will sell you an open-top with over 440PS and track-focused suspension: The M4 and C63 AMG.
Speaking of loud, fast convertibles, the Ford Mustang soft-top is a brash American alternative to these very similar upmarket Germans, but its cramped rear seats and poor refinement make it harder to use every day.
Finally, if you're feeling left-field and want some off-road ability thrown into the mix, the oddball Range Rover Evoque Convertible (now discontinued) makes a very interesting used buy, with prices from around £25,000.
Comfort and design: Audi A5 Cabriolet interior
"Despite its racy two-door image, it won't take long to get comfortable behind the A5's steering wheel. It comes with an impressive range of manual reach and height adjustment to the seat and steering column."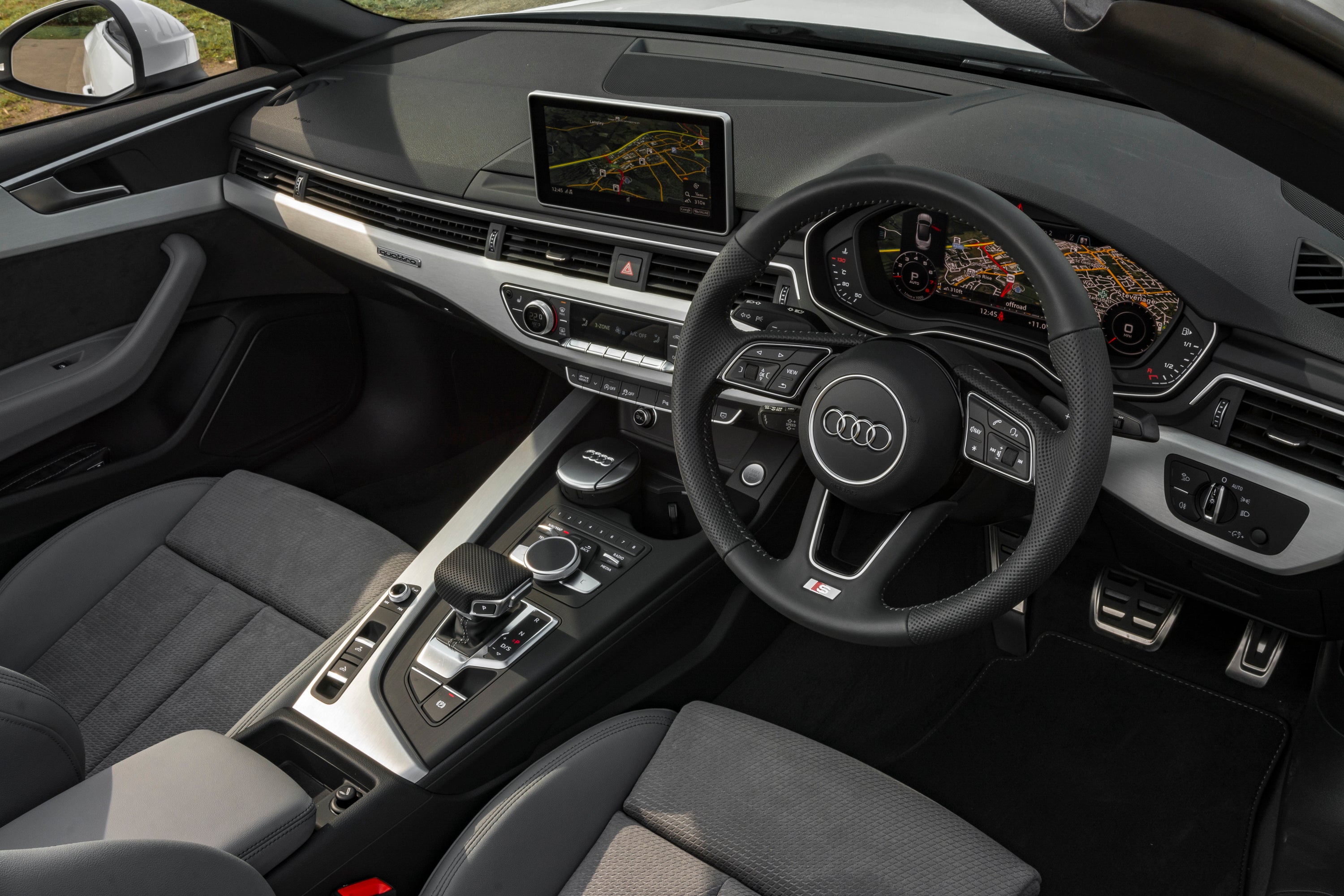 On Sport models, the seats are comfortable, with electric lumbar support and heating as standard, great for chilly autumn evenings when you feel like opening up to see the stars. Still, they're also a bit flat at the sides and don't hold you as tightly in place as the thickly bolstered 'Super Sport' chairs you get in the TT roadster.
Audi divides the A5's interior into three distinct sections, making it really easy to locate everything you need. A strip of material runs the whole width of the cabin, above it is the two infotainment screens, in the middle is a separate pod for the climate controls, and below on the centre console (right next to where your hand will naturally rest) are the roof mechanism switches, a volume knob, and on older cars, the MMI controller.
Everything is easy to read and to reach, and we love the fact that the digital dials and steering wheel buttons mean you rarely need to take your eyes from the road, even when changing the radio or checking your route.
Visibility is not great with the roof up (particularly over the shoulder) so we're glad parking aids are standard.
If we have a complaint, it's that its restrained design lacks the visual flair of some of its rivals, but if the conservative styling is the price to pay for such ergonomic brilliance, then we'll happily pay it time and again.
Quality and finish
You won't begrudge a single moment spent behind the wheel of the A5 Cabriolet, it's a terrific place to sit. It has a minimal elegance that very few brands can carry off so confidently; the quality simply speaks for itself.
Everywhere you look and touch your eyes and fingertips are met by sumptuous materials, weighty switches and dials, and precise shut lines. Yes, this is an expensive car, but my word does it feel it once you're inside.
It looks every bit as plush as a C-Class Cabriolet, but feels more robust and less chintzy than the Mercedes.
All of the surfaces are finished in dense soft-touch material, leather, or metal, and everything fits together with reassuring solidity. The steering wheel (flat-bottomed on top models for a sporty look) and wide gear shifter are especially nice to hold, and you won't find a single poorly-fitted item to spoil the overall effect.
Every A5 Cabriolet feels equally upmarket, but going up the trims does unlock a few extra luxuries. S line cars come with brushed aluminium dash inserts, steel pedals and perforated leather on the steering wheel. Pay a little more for the Edition 1, and you'll get softer leather, electric seat adjustment, plus piano black cabin trim.
Vorsprung models have multi-coloured ambient LEDs lights, oak veneers in the dash, and extended leather.
Infotainment: touchscreen, USB, nav and stereo in the Audi A5 Cabriolet
Audi's MMI infotainment system is one of the best around, and in the A5 it manages the impressive trick of bringing together a lot of different gadgets into a single, cohesive user experience that's still simple to grasp.
In older versions of this car, you got a fixed 7.0-inch display in the centre of the dash (controlled using a chunky scroll wheel between the front seats) and standard dials. Audi gave you the option to upgrade to a widescreen 12.3-inch screen in place of conventional clocks, something the brand calls its 'Virtual Cockpit'.
The latest model though, feels truly cutting-edge, with a new 10.1-inch touchscreen with pin-sharp graphics, and redesigned menus and icons to make it look and feel like a giant tablet. Those digital instruments are now fitted as standard on every trim, and the generous standard feature list leaves you wanting for nothing.
All A5 Cabriolets have a slick sat-nav with 3D mapping from Google Maps, DAB radio, Bluetooth and USB connectivity, eight speakers, a wireless phone charging pad, and online services via an integrated sim-card.
Plug in your phone (Apple or Android) and you'll have full compatibility to mirror your home screen to the in-built display, giving you full access to your favourite navigation, music and podcast applications on the move.
We have no complaints to makes about MMI itself. The menus are clear, the touchscreen is snappy in its responses, and it's intuitive to use. Yet the shift to touch controls has meant Audi phasing out the physical controls, which is a shame. Prodding a screen will always be slower than twisting a dial when you're driving.
Space and practicality: Audi A5 Cabriolet boot space
Many would have you assume that the sheer hassle of owing a convertible would prevent you from enjoying it. Yet the A5 goes a long way to busting that myth wide open, with genuine four-seat capability and a decent boot.
Sure, those rear seats are certain to be a snug fit for most adults, and you need to clamber through the car to get to them, but provided those in the front don't recline too far, most will be perfectly happy to sit there.
Roof up, its dark enough to feel like sitting in the bottom of a well, and taller people will be brushing their hair on the fabric, but compared to its rivals the A5 is more than comfortable enough for short trips in the back. It has easy access ISOFIX points in the rear too, but we'd recommend fitting child seats with the roof open.
Stowing it hassle-free, with a one-touch button in the centre console starting the electrified origami, and the whole process takes around 19 seconds, and can be done while rolling, up to 31mph. Get caught in a storm on the motorway, and you can take the next exit slip, shut the roof and rejoin again without needing to stop.
With 370 litres of luggage space, you'll be able to fit in a buggy or a set of golf clubs, but not too much else. The opening to the load bay is wide, but the space inside is shallow and reduces by a further 60 litres when you do get the top down. Helpfully, Audi has put a switch in the boot, allowing you to drop the box the roof folds into independently of the whole mechanism, allowing you to measure that space before you set off.
The rear seatbacks also split-fold in a 50:50 configuration, helping you carry longer luggage when required. If you're thinking of buying a convertible but are worried about practicality, the A5 Cabriolet is one of the best.
Handling and ride quality: What is the Audi A5 Cabriolet like to drive?
"The A5 Cabriolet comes with a variety of suspension setups depending on the trim level you pick, but the focus is clearly on delivering mild-mannered comfort and composure, instead of a super-stiff or sporty vibe."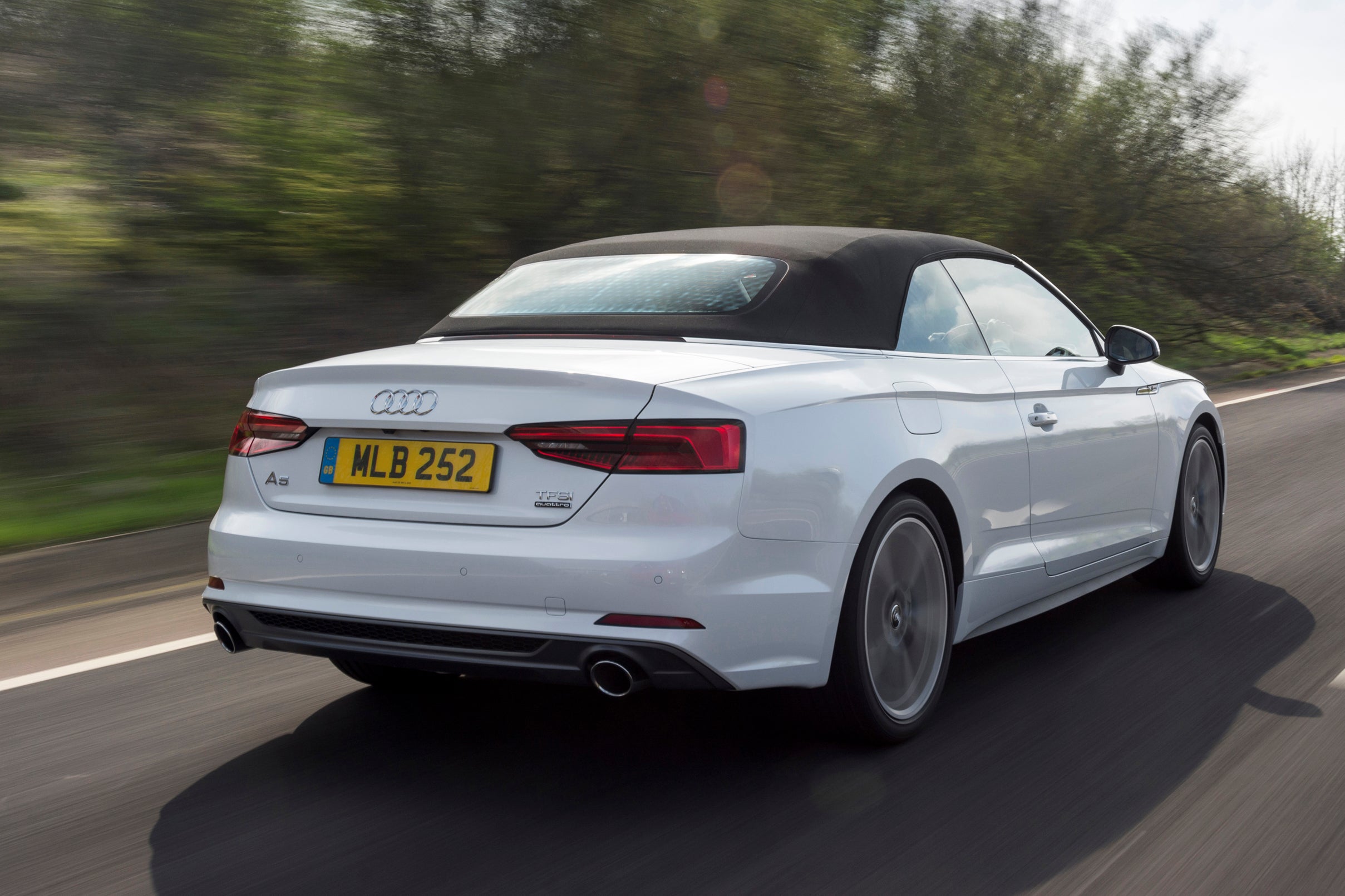 That seems perfectly appropriate for a car that's a chunk heavier and not as stiff as the coupe, and you do feel the difference that additional ballast makes in the corners. That's not an indictment of the A5 - merely an observation that's true of all cars of this type. It handles well, with good body composure and plenty of grip.
The steering is nicely weighted, and there's less body lean and greater agility through tight turns than you'd find in the heavier-still C-Class Cabriolet, although in town the Mercedes' extra weight helps smother bumps.
Gun to our head, we'd say that the 4 Series Convertible is a slightly more involving drive. Its rear-wheel drive layout and sharp steering help it change direction that bit faster, encouraging you to barrel into corners. The A5 can lose grip on a greasy surface in front-wheel drive form, but the quattro versions are unshakeable.
However, when you back off and glide along with the roof off the ride comfort and stable handling comes to the fore, helping the Audi feel really civilised and relaxing. It's impressively stiff, with little flex in the chassis over bumps, so while you can see the rear view mirror wobbling occasionally, you won't feel it in the cabin.
That's the reason we'd avoid the lower, firmer suspension setup and larger wheels on the sportier trim levels. The changes take the A5 away from its core strengths, making the ride fidgety without adding excitement.
Top-spec Vorsprung models have an adaptive setup, allowing you to change the softness of the suspension, along with the steering weight and throttle sensitivity (the last two you can do on the garden variety car too.)
This works brilliantly in its slackest 'Comfort' setting, but we can't see the appeal of the unforgiving 'Dynamic'.
What engines and gearboxes are available in the Audi A5 Cabriolet?
The brand-spanking new A5 Cabriolet comes with a narrower engine line-up than the rest of the A5 range, but the choice is simple, since both petrol and diesel are of identical size (2.0-litres) and output (190PS).
Each is paired with Audi's slick twin-clutch S tronic transmission, which drives the front wheels of the 40 TFSI petrol but sends power to all four corners on the 40 TDI diesel, using the brand's ubiquitous quattro system.
They're both excellent performers, with punchy in-gear acceleration and smooth power delivery - especially in the petrol model - but if you're after a wider choice of powertrains the pre-facelift A5 has got you covered.
The entry-level four-cylinder petrol gave you the choice of a precise six-speed manual gearbox, while there was also a quicker 2.0-litre petrol with 245PS and four-wheel drive that provided excellent all-weather speed.
While slightly more expensive to run, the 3.0-litre V6 models are uniformly excellent, pushing you into the back of your seat with their punchy mid-range acceleration, but perfectly civilised when you're just cruising.

Our choice from the old range would be the 3.0 TDI with 218PS and four-wheel drive. It surges forward on an effortless wave of diesel torque, feels a tad smoother than the 40 TDI, but could still do 600 miles on a tank.
At the top of the performance tree is the S5. Its turbocharged 3.0-litre petrol V6 packs a serious punch and is paired with an eight-speed conventional automatic to cope with its extra grunt, but it's quite a muted motor.
Refinement and noise levels
The A5 Cabriolet is one of the most civilised convertibles you can buy, especially paired with petrol power.
All the engines are very smooth and quiet, but the TFSI is incredibly hushed, particularly at lower speeds.
Diesel models are more muted than the four-cylinder units in rivals such as the BMW 4 Series Cabriolet and Mercedes C-Class Convertible, but do rumble when pushed, and send subtle vibrations up into the cabin.
Still, the Mercedes hits back with powered wind deflectors and neck-level heating vents; the A5 has neither.
Both engines are paired with an S tronic automatic gearbox that's smooth, and eager to swap through all its seven forward ratios as quickly as possible, so at a 70mph cruise you'll be ticking over at barely 1500rpm.
As with its premium rivals, the folding roof is cloth instead of metal, but that means less creaking with it up. It has three separate layers of fabric and soundproofing, so the rush of wind noise at motorway speeds with it closed is barely any louder than in the A5 coupe, and it folds away in 15 seconds, at speeds of up to 31mph.
While you've got the wind in your hair, buffeting is kept under control as long as you keep the side windows up, and it's calm enough (in the front at least) to hold a conversation without raising your voices too loud but rivals do a better job of keeping your hairstyle looking the same when you arrive as when you first set off.
In fact, the A5 is so good in this area that our only issue is with the excessive tyre roar on cars fitted with the largest 20-inch wheels and low profile rubber. We'd avoid these for the most relaxing A5 driving experience.
Safety equipment: How safe is the Audi A5 Cabriolet?
The A5 cabriolet shares a lot of its mechanical parts with the A4 saloon, which got a full five-star rating from crash testing safety body Euro NCAP back in 2015, with high scores for both adult and child protection.
While this rating is shared with the A5 Coupe and Sportback, it doesn't cover the Cabriolet, due to its higher weight. It should still perform well in a crash, with six airbags, a stiffened body shell, and rollover protection.
Fundamental safety features are all present and correct, with electronic stability control, a hill-hold assistant to get you going on steep junctions without rolling back, seat belt monitors, all-round parking sensors, plus a reversing camera with guiding lines and visual aids for helping you back up into really narrow parking spots.
Audi doesn't stop at the bare minimum though, with cruise control (including a speed limiter) and Pre-sense City also standard across the range. The latter is an autonomous emergency braking system, which will scan the road ahead and below certain speeds apply the brakes for you if the car senses an imminent collision.
In previous models, you could cherry-pick extras like blind-spot monitors and traffic sign recognition, but it's now part of an eye-wateringly expensive £2700 bundle called the Driver Assistance Pack. You can't add this to entry-level Sport models, but it does include a range of the very latest cutting-edge active safety systems.
It adds auto-emergency braking protection from the rear, helping protect you further against low-speed city shunts, radar-guided cruise control that will brake to a standstill and then accelerate again. This system also comes with Traffic-jam Assist, a semi-autonomous setup that will effectively drive for you in long tailbacks.
MPG and fuel costs: What does an Audi A5 Cabriolet cost to run?
"The 2.0-litre diesel is likely to be the most popular engine due to its impressively low running costs. In the latest range, it's only available with quattro four-wheel drive, but is still capable of returning a decent 44mpg."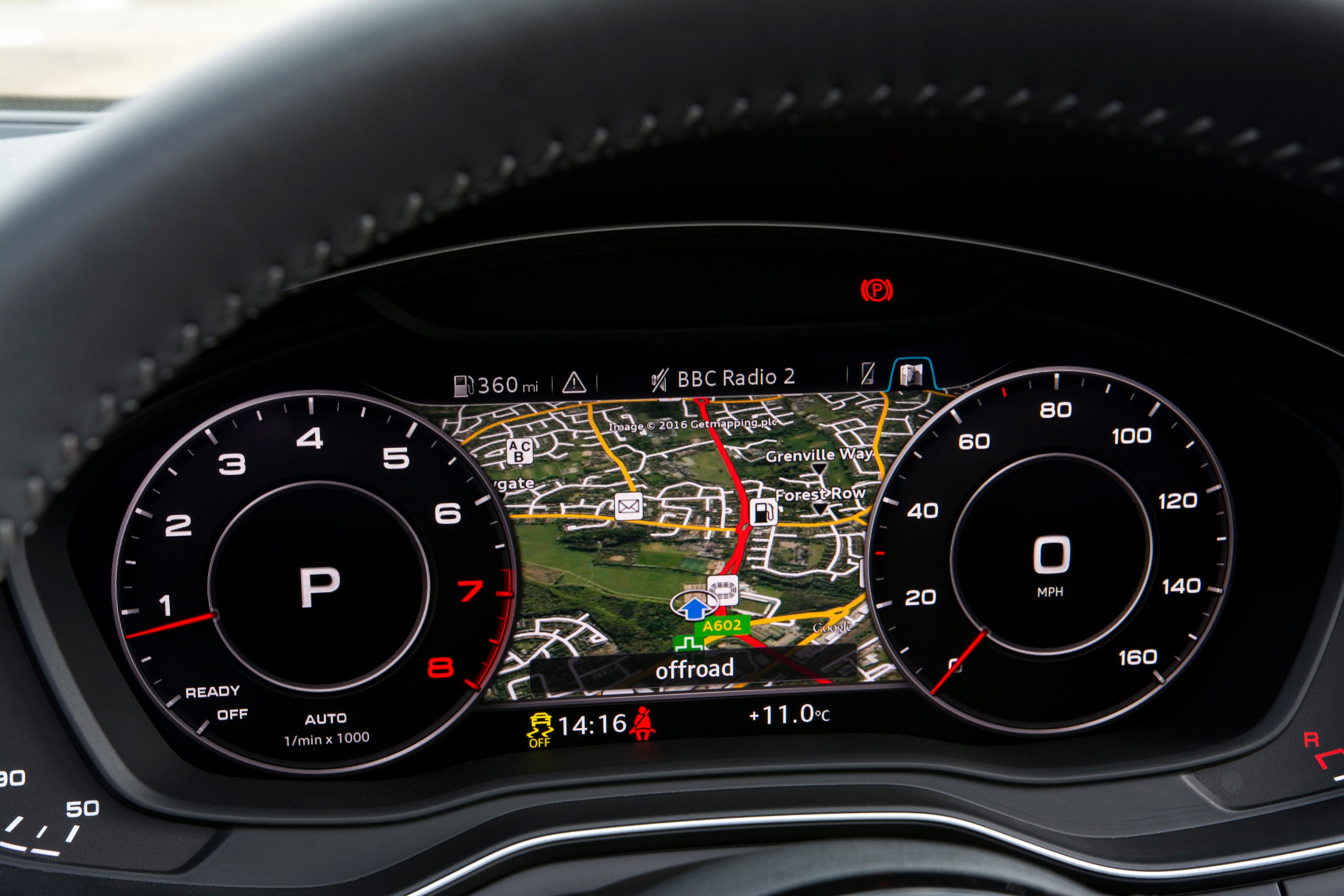 Despite being front-wheel drive, the petrol with an identical 190PS is thirstier but should get around 35mpg in the real world depending on your driving style, and the size of your wheels. Larger rims = worse economy.
Previous front-wheel drive diesels claimed to get close to 60mpg, but that was on the older NEDC tests, so it won't reflect what you'll get in normal traffic, although the newer cars do feature mild-hybrid fuel-saving tech.
As for cruising range, the diesels get a larger fuel tank than the petrol cars, so you'll be able to go over 500 miles between pit stops - perfect for those long stints down to the French Riviera in search of sunny weather.
Insurance groups and costs
As you would expect of any swift, expensive drop-top from a premium brand, the A5 Cabriolet is expensive to insure, with even the cheapest version to cover - the front-drive 2.0-litre petrol in SE spec - in Group 35.
That's seven groups higher than an identical A5 Coupe from the same year, and also several bands up from where the most affordable versions of its main rivals the 4 Series Cabriolet and C-Class Convertible start.
The 2020 A5 range in Group 38 and goes up to Group 44 for the four-wheel drive diesel in Vorsprung trim. In fact, it's only one group lower than the pre-facelift S5 Cabriolet, which had 350PS and a 3.0-litre V6 engine.
VED car tax: What is the annual road tax on an Audi A5 Cabriolet?
Every new version of the A5 Cabriolet costs over £40,000, and is therefore subject to the government's premium road tax rate of £325. That's on top of the standard flat rate of £150 for all diesel and petrol cars, making your annual VED bill a total of £475 for the first five years of ownership after it's first registered.
You also have to pay a first-year tax charge calculated on your car's CO2 emissions, usually this is rolled into the on-the-road price you'll pay at a dealer. Most of the current line-up will cost £540 but be careful, since the high-spec petrol models on the largest wheels creep up another tax band, and will cost you £870 instead.
How much should you be paying for a used Audi A5 Cabriolet?
"Prices for this generation of A5 Cabriolet kick-off around £19,000. We think that sounds pretty reasonable for a four-seater convertible with a premium badge on the nose. For that money, you'll secure yourself a car from 2017 with a higher than average mileage (and most likely) a 2.0-litre petrol engine with a manual gearbox."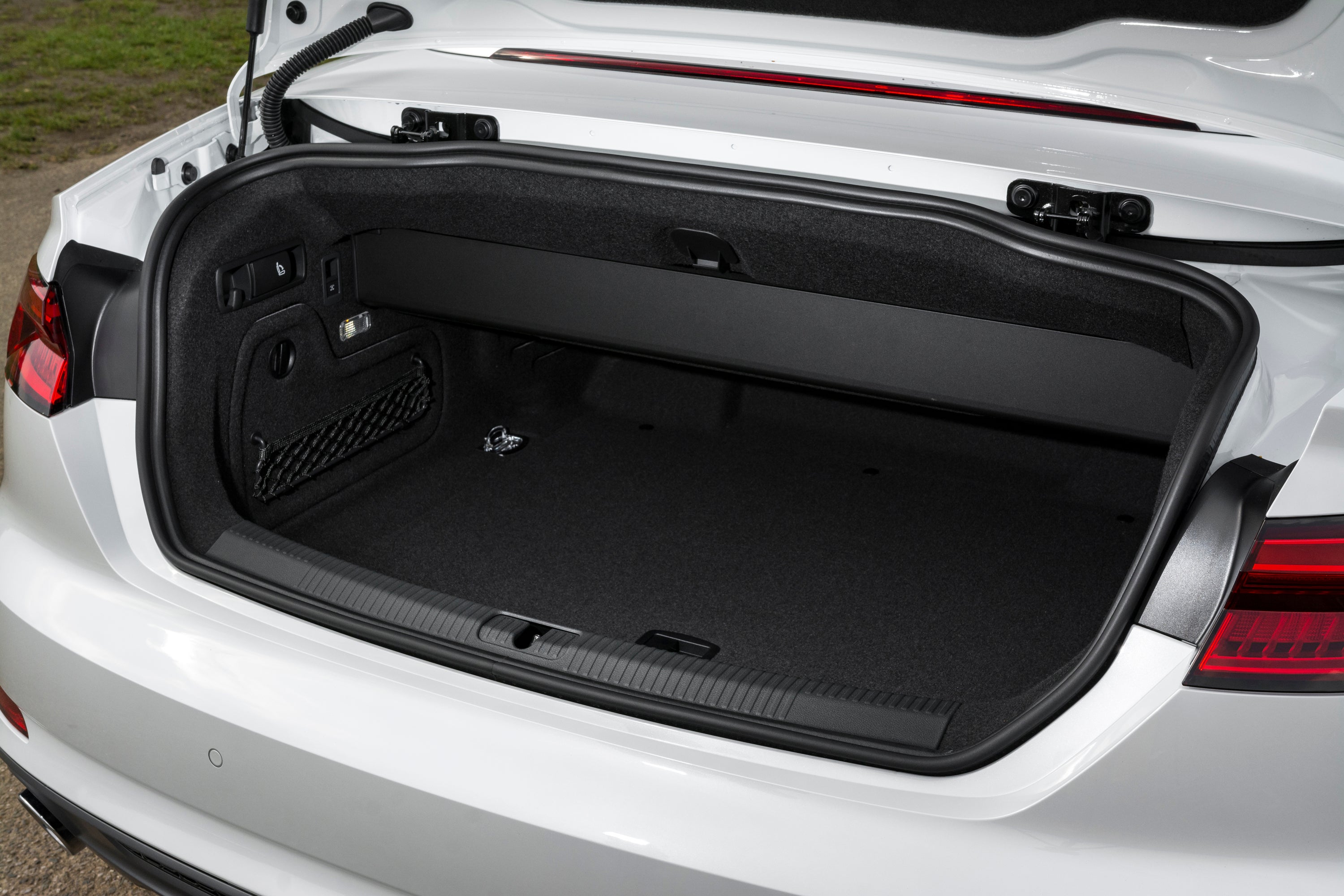 Diesel automatic models start from around £1000 more. The majority are in sportier S line trim, but should have a fully stamped service booklet from a franchised dealership, and roughly 20,000 miles on the clock.
You'll need to save up a little more for cars equipped with four-wheel drive (prices start at around £22,500) and a lot more if you want a newer model. Cars from 2019 begin at £27,000, still pretty good considering that most have driven fewer than 5,000 miles, and pre-registered versions of the latest A5 cost well over £40,000.
Trim levels and standard equipment
Buying an A5 Cabriolet is an expensive business, but Audi won't leave you wanting for kit. Early cars came in SE, Sport and S line flavours, but it's impossible to find one that feels short on luxury, since heated leather seats, three-zone climate control and all-round parking sensors were fitted as standard across the range.
Audi recently updated the A5 however, and the newer models look even sportier than before, and are stuffed with even more technology as standard. 'Entry-level' Sport models now have bright LED headlights, sat-nav, and the brand's slick 'Virtual Cockpit' digital dials, cruise control, and a larger set of 18-inch alloy wheels.
That trim has everything you could possibly need, so upgrading to the S Line, or Edition 1 models is about enhancing the sporty styling more than expanding your specification. The former gets 19-inch alloys, a beefy body kit, and fancier LED headlights with scrolling indicators and adaptive anti-dazzle beam technology.
The latter adds electrically adjustable seats, softer Nappa leather, and laser headlights, while the flagship Vorsprung model includes almost every optional extra and is therefor palatial but also poor value for money.
We like the fact that the specification is now so generous you don't need to part with a single extra penny, but the Comfort & Sound Pack bundle is still likely to prove popular with A5 buyers. For an additional £1395, you get a superb 19-speaker premium Bang & Olufsen Hi-Fi, 360º parking camera, and hands-free boot opener.
Keep me updated by email with the latest advice, news and offers from heycar
By submitting, you agree to our
privacy policy
.