Audi A6 (2011 - 2018) Review

Written by
heycar editorial team

heycar rating
Smart, sophisticated and very capable
Best bits
Discreet, upmarket image
Roomy interior and beautifully finished
Great all-rounder in the shape of the 2.0-litre TDI diesel engine
Not so great
Not as exciting to drive as those from other manufacturers
Estate model is preferred because of greater practicality
Subject to some recalls
Read by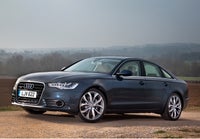 Overall verdict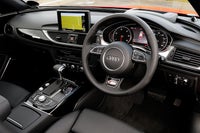 On the inside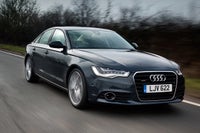 Driving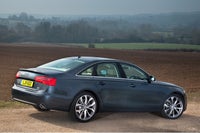 How much does it cost to run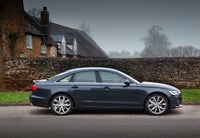 Prices, versions and specification
Overall verdict on the Audi A6 (2011 - 2018)
"The Audi A6 is a strong contender in the car market. It's a bit more stylish than some of its rivals, has an upmarket image, a classy interior and a competitive diesel engine. It's a great all-rounder that will suit the needs of most buyers looking for this type of car."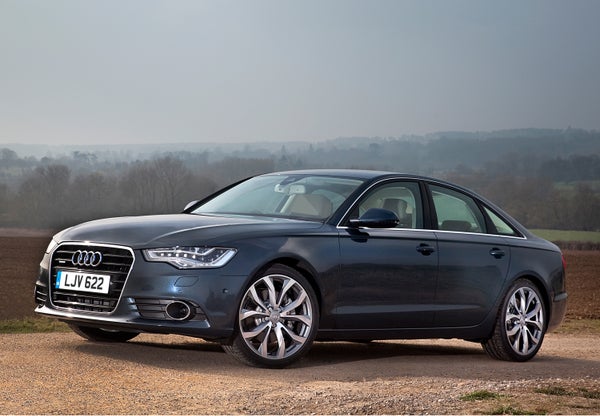 It's Audi's answer to the BMW's 5 Series and Mercedes-Benz E-Class, the A6 is an ageless design that embodies the best of Audi. Owners rate the A6 because its well equipped, spacious and has a superb interior. It makes the epitome of middle-class good taste.
Audis are typically cheaper than premium alternatives from BMW and Mercedes-Benz. While they all have good retained values, this trend carries through to the second-hand market, meaning you'll get a bit more for your money by picking the A6.
The A6 also benefits from being just that bit bigger than its direct rivals. You'll get more rear legroom here than a BMW or Volvo, and the well-shaped boot is practical to use.
This is one of Audi's core models, so the A6 benefits from a huge choice of engines and trim levels. You can choose from miserly diesels, cross-country capable V6s and everything in between. Because it's a fleet car favourite, most models sold used the 2.0-litre TDI diesel engine. With up to 190PS, it has decent power and acceleration, yet can average more than 60mpg. It can even be specified with all-wheel drive, called quattro (yes, with a small 'q'), for assured winter-weather grip.
The A6 entry level model is the SE, later given a spec boost to SE Executive. This gets all the basics you would expect to find on a premium car, including leather seats. Then there's the popular sportier-looking S Line variant. This has racier looks, a sportier suspension set-up and a fantastic set of hip-hugging seats inside. Its desirability is further ramped up on Black Edition models, which increase the standard specification yet further.
The A6 is an assured and confident car out on the road. It feels big and solid from behind the wheel, the sort of machine you sense you could drive all day long at high speeds without feeling a hint of fatigue. You'll find that it's in its element on the motorway, where it devours miles in quiet comfort: the faster you go, the greater it feels.
It's more of a handful in town, where the A6 can feel a bit of a struggle when it comes to parking - it's a long, wide machine (luckily, it has parking sensors as standard). On faster A and B roads where cars can often be more pleasing for the driver, the Audi A6 doesn't offer the driver-pleasing feel and feedback of something like a BMW 5 Series either, but the Audi is a different sort of car, so that shouldn't be seen as a deal-breaker.
The S tronic automatic gearbox is more plentiful on the used market and is available in greater numbers than the six-speed manual. It seems more fitting in a large car like this. Those who want to spoil themselves should look for a 3.0 TDI – a 272PS diesel that still returns over 52mpg, or an unbelievable 62mpg in rare 218PS guise – but the real star performer is the mighty 320PS 3.0 BiTDI. This will take the big A6 from 0-62mph in 5.2 seconds, yet also average 45mpg. It even makes a pleasingly sporty noise and as a result is sought-after by buyers.
A facelift for the Audi A6 came in late 2014, though it wasn't easy to spot the changes. There was a spec upgrade, faster infotainment, eye-catching new LED headlights and improved gearboxes and engines, including the option of an ultra-low CO2 2.0 TDI diesel called Ultra. You shouldn't feel short-changed if you buy an earlier model – many will be hard-pressed to spot the differences.
If you're looking for the newer version, you need our Audi A6 (2018-) review.
Comfort and design: Audi A6 (2011 - 2018) interior
"An upmarket, classy and sophisticated interior is a big part of the Audi A6's appeal. The dashboard is well crafted, exceptionally well put together and has tactile controls, large and clear dials and a well-sited sat nav screen that rises out of the dash when you start the car. You also get an additional colour screen between the instruments that neatly relays sat nav guidance and other information. A key setting is the map view, which is great for helping keep your eyes safely on the road."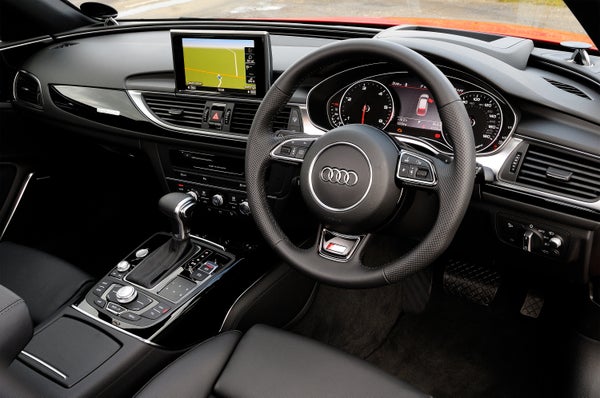 Base A6 SE models have firm and supportive seats, but it's worth going for an S Line car if you can. The seats are a real step up, with feel-good bolstering in all the right places and an extremely rich and attractive 'Valcona' leather upholstery (complete with 'S Line' logos embossed into the backrest).
You shouldn't have trouble getting comfortable, as all the seats have a good range of adjustment – even tall drivers can slide back far enough so they can't reach the pedals. This should help everyone find a good driving position, particularly as the steering wheel also offers a broad range of reach and height adjustment.
What may irritate some is the fact pedals are offset to the right, due to the bulky central tunnel. You won't notice it so much on automatic models, but does lead to a slightly skewed driving position for manual-gearbox models. It does feel a bit odd at first, particularly in such a large car, though you soon get used to it.
Handling and ride quality: What is the Audi A6 (2011 - 2018) like to drive?
"You get a light, easy and precise drive with the Audi A6. Steering is effortless and is communicative enough to help you position this lengthy car into corners with confidence. It's not easily knocked off course either, and is exceptionally stable at higher speeds."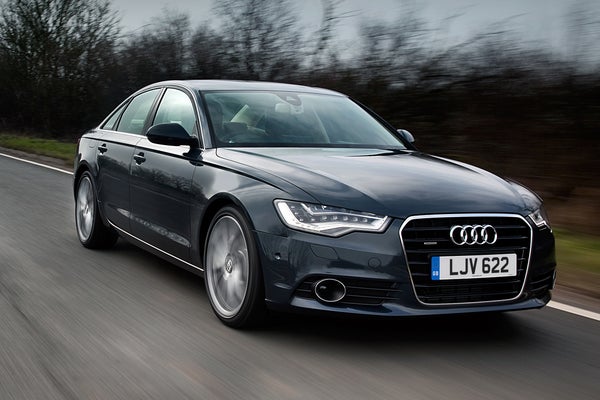 More enthusiastic drivers might miss the last degree of feel, feedback and interaction they get from something like a BMW 5 Series or Jaguar XF, though. Where the Audi trades on low-input refinement rather than seat-of-the-pants thrills. Even the ultra-sporty RS6 isn't as focused as something like a Mercedes-AMG E 63.
The ride quality is good, but not brilliant. It has a reassuring firmness and soaks up nasty road surfaces without too much crash and bang. It does get stiffer and sharper on models with larger alloy wheels (and S Line models have a stiffer setup with 20mm lower suspension). Audi's solution is optional air suspension.
This system delivers a really cushioned ride, and also adds extra functionality to the Audi Drive Select button on the dashboard. In standard cars, this lets owners tailor the weight of the steering, sharpness of the accelerator pedal and shift response of the automatic gearbox. With air suspension, it also lets drivers firm up or soften the ride to suit.
Regular A6 saloons are front-wheel drive, rather than the more purist rear-wheel-drive setups of their key rivals. It does give the Audi slightly better stability on slippery roads, but eager drivers may still yearn for the balance of a rear-driven car in the more powerful versions. Many won't notice the difference.
Of course, Audi's answer is quattro four-wheel drive, which more powerful A6 come fitted with. This makes traction and stability even more tenacious, and even enhances the high-speed planted feel yet further. If you want a car for all weathers, be sure to pick an A6 with quattro.
MPG and fuel costs: What does an Audi A6 (2011 - 2018) cost to run?
"Exceptional fuel economy with the 2.0 TDI is a given. You can expect official figures of more than 60mpg and low CO2 emissions, which, if you have a car registered to prior 2017 is good for keeping annual road tax bills in check. The least powerful V6 TDI is also very efficient and worth looking at."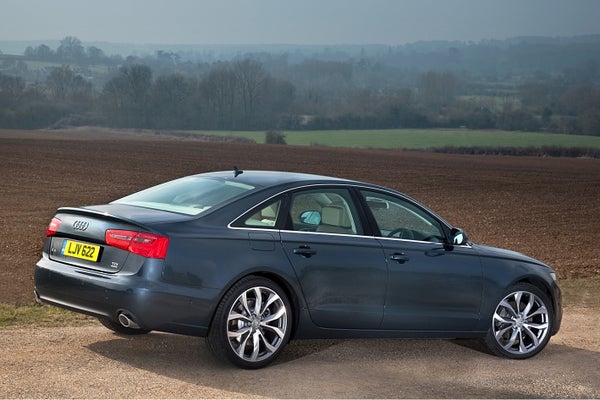 The petrols are much thirstier and, as a result, are rarer on the second-hand market. One exception is the economical 2.0 TFSI four-cylinder, which officially averaged over 45mpg.
Buyers may find that parts for Audis are a bit more expensive than regular cars, although it does benefit from sharing many components with other Volkswagen Group brands. There's lots of independent specialists, which can save you a fortune on routine maintenance – and lengthy service intervals will help high-mileage drivers, too.
The biggest expense on an Audi A6 saloon may be tyres, given how many of them come with big wheels. Quattro versions generally require you to replace both tyres on a single axle, which could double the expense if you're unlucky enough to suffer a puncture.
How much should you be paying for a used Audi A6 (2011 - 2018)?
"Prices get ever more enticing for a car that was rather pricey when new. With a long production run, numerous options and a variety of engines, you're spoilt for choice. A 2.0 TDI SE with below-average miles starts from around £12,000 – and if you're prepared to accept higher miles or a less market-friendly colour, they become cheaper still. A perfectly serviceable A6 from around £10,000, which is a lot of car for the money."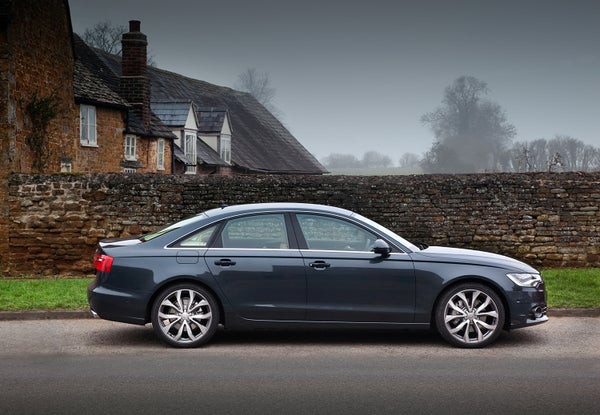 Used Audi A6 saloon buyers will find there's not too much of a price difference between front-wheel drive and quattro models. The bigger difference is found between SE and S Line – the latter is much more desirable, and prices generally reflect this (although it must be remembered S Line variants cost more when new, too).
The most desirable 3.0 TDI versions cost from around £16,000, and if you're lucky, you might find a BiTDI from around £19,000. Both are popular used car purchases with many years of life left in them - and very refined ones at that...
Is the Audi A6 (2011 - 2018) right for you?
The Audi A6 saloon is all about good taste. It looks good, drives well and excels in most areas - it just does it very discreetly. A car that will show that you're doing well for yourself, but in a very subtle way and without being ostentatious.
If you want a sophisticated-looking load-lugger that oozes discerning good taste, the A6 is worth a look. Its shape doesn't shout 'estate car', which will suit those who need the space but don't necessarily want to drive something boxy.
A high-quality interior is an Audi signature, and the A6 doesn't let the side down inside. It uses very good quality materials, meaning it will remain looking fresh and tight for years to come. The same goes for how it drives. Audi builds its cars to a high standard and they stay feeling strong long after the warranty has expired. The standout quality is the surprising efficiency of that punchy 2.0 TDI engine. Just make sure there are no outstanding recall issues with it.
If you need more practicality, look at the Audi A6 Avant or the Audi A6 Allroad .
What's the best Audi A6 (2011 - 2018) model/engine to choose?
The best-selling A6 is the 2.0 TDI and as a result, this is the model that's most plentiful for used car buyers. This is because its CO2 emissions are low, making it tax-friendly for company car drivers, who were by far the biggest customer for the car when the Audi A6 was new. As a result, you can afford to take your pick of models, specs and colours when it comes to this version.
Go for the S tronic automatic if you can. This variant is slightly faster against the clock in terms of acceleration, but returns nearly 3mpg more on the official fuel economy test - quite remarkable. It's a refined, more relaxing car to drive, which suits the A6's perfectly.
For value, look for SE trim. There are lots of them on the used car market. But, if you can, pay a little extra and go for an S Line version. Its extra features really add a dash of style to the A6 saloon, and it's something you'll be that bit prouder to have on your drive...
What other cars are similar to the Audi A6 (2011 - 2018)?
This part of the market is almost exclusively carved up between the three big German brands. German brands dominate this sector of car. The BMW 5 Series and Mercedes-Benz E-Class are two strong rivals to the Audi A6, and both offer a similarly diverse and wide-ranging choice of engines and trims.
Quality and finish
The Audi A6 saloon is a classy operator and that shines through inside the car. Even out-of-reach plastics feel robust and pleasant to the touch, and the broad, sweeping dashboard itself is trimmed almost to luxury car standards. The precision of the fittings is millimetre-perfect and the range of metal, carbon-effect or wood-style inlays is broad (although we'd happily stick with the standard metal-effect finish).
The pleasure comes from the details. The knurled climate control knobs have a satisfying 'click'. The electric window switches, by contrast, work near-silently. And it looks fantastic at night, with the watch-like instruments crisply lit in white, while the rest of the interior is bathed in a modern red glow.
Even the doors close with a quiet, quality 'thud', although you might have to pull them a bit harder than you're used to. The A6's doors are made of lightweight aluminium, and don't have the mass behind them to shut tightly without a bit of a tug.
Infotainment: touchscreen, USB, nav and stereo in the Audi A6 (2011 - 2018)
All A6 models have a sophisticated infotainment system based around a 6.5-inch colour screen in the centre of the dashboard. It is supported by two SD card readers, a single CD player and standard Audi MMI navigation (via SD card). Voice control is also standard, via a button on the steering wheel.
It isn't a touchscreen system, instead being controlled by the Audi MMI dial in the centre console, located roughly where the driver's hand sits when leaning on the arm rest. There are four shortcut buttons on the outside, so it's easy to use on the move, although you do need a bit of patience to individually 'dial in' sat nav directions, letter by letter.
The colour screen in the centre of the dials that repeats the MMI display is optional, although many A6 are fitted with it. The basic system is a monochromatic display.
There was an upgrade available from basic MMI to MMI Navigation Plus with MMI Touch. This grew the central screen to 8.0 inches and also adds a touch pad alongside the gear lever. Drivers can use their index finger to 'draw' instructions, instead of entering them with the MMI wheel. It's a useful feature, although the right-handed will have to get used to writing with their left hand.
Space and practicality: Audi A6 (2011 - 2018) boot space
Practicality is a strong point for the A6. It has a large boot with a wide opening and with 530 litres of space is slightly bigger (by 10 litres) than the 5 Series plus there's a split-folding rear seat as standard so you can carry longer items. Passenger space in the back is good with plenty of headroom and knee space, even for taller people, although the large central transmission tunnel means it's a real squeeze with three in the back.
Where the Audi A6 also delivers is rear-seat space. The back is roomy and comfortable, with lots of shoulder room and ample space for feet. For kids, it will feel like sitting in a limo.
What engines and gearboxes are available in the Audi A6 (2011 - 2018)?
The heart of the engine range is the 2.0-litre TDI diesel and it's a great choice. There's plenty of pulling power and it generally responds crisply to the accelerator. If you find yourself in the wrong gear, it's forgiving - if you're driving a manual model - although the S tronic automatic helps make the most of its power.
It may be a four-cylinder turbodiesel, but the noise it makes isn't too rattly or intrusive. Rev it and the motor becomes more audible, but it's generally kept in the background in daily use – and becomes almost silent at motorway speeds. Post-facelift 2.0 TDI engines are even better in this respect.
If you can afford them, the The 3.0 V6 TDI diesel engines are all impressive. They're super-smooth and make a creamy noise - the best all-rounder is the 245PS quattro. The 320PS BiTDI quattro is a delight. If you don't like diesel, your choice is more limited – and the best all-round petrol engine, the 3.0 TFSI quattro, is hard to find on the second-hand market.
You originally had two different automatic gearboxes as an alternative to the six-speed manual. The Multitronic was a CVT 'single speed' transmission. It's good for efficiency, but drivers generally find its 'slipping clutch' effect unusual. The S Tronic seven-speed DCT alternative felt more natural and the Multitronic was later phased out. Another option was an eight-speed auto called Tiptronic, offered on the BiTDI.
After the 2014 facelift, the most efficient engine became the 2.0 TDI 190 Ultra with the S Tronic automatic gearbox. This averaged an incredible 64.2mpg and emitted just 115g/km of CO2. It also did 0-62mph in 8.5 seconds and could reach 140mph where permitted. Truly, a great all-rounder: spot them by the tiny 'Ultra' badge fitted to the bootl id.
Refinement and noise levels
Refinement is where the Audi A6 saloon comes into its own. It is quiet and peaceful at all speeds, really coming into its own on the motorway, where the world passes almost silently. More expensive models are even better in this respect, as they have double glazing for the side windows, which takes away the disturbance of passing trucks (or being overtaken yourself).
Those cars with bigger wheels do generate a bit more tyre noise at speed, but not enough to be annoying or irritating. The A6 came with a range of audio systems to drown out what noise did pass through: our favourite is the rare (and very expensive) Bang & Olufsen setup, although even the cheaper Bose upgrade is impressive.
Safety equipment: How safe is the Audi A6 (2011 - 2018)?
You get the full safety works with the Audi A6. That means a full complement of airbags and a comprehensive stability control system. Front-wheel drive versions have an electronic limited slip differential that helps minimise steering wheel 'fight' on slippery roads. Go for a quattro all-wheel drive version and you get torque vectoring, which enhances the secure feel through corners.
Modern safety features come in the shape of lane-keep assist and a blind spot warning system. An optional night vision assistant uses a thermal imaging camera to beam video onto the colour screen between the instruments. It's a great safety aid for night-time driving. Driver distraction aids that help concentration include an optional head-up display.
There isn't a spare wheel as standard, Audi preferring a tyre inflation kit instead. Owners could choose to add on a space-saver spare wheel, but this costs more than £500, so few do.
In the Euro NCAP crash tests, the A6 range achieved five stars in 2011, with an excellent 91 percent rating for driver protection and 86 percent for safety assist features. Pedestrian protection was less impressive, though, scoring a lowly 41 percent.
Insurance groups and costs
Go for the 2.0 TDI A6 to keep insurance costs down. Its performance isn't too excessive and its popularity when new means repair costs should be affordable, which keeps annual insurance premiums lower. Naturally, fast V6 versions are pricier, and S Line models have premiums a little higher than SE, because they're both more desirable with more bespoke features.
VED car tax
Most attractive for low VED car tax is the 2.0 TDI, particularly the 2.0 TDI Ultra version, which benefits from ultra-low CO2 emissions for incredibly low road tax bills. A bonus of post-facelift A6 is that they were all fitted with Euro 6-compliant engines, meaning they should be exempt from city centre emissions charges for a long time to come.
Trim levels and standard equipment
The entry-level Audi A6 saloon SE comes as standard with 17-inch alloy wheels, leather upholstery, cruise control, parking sensors both front and rear, auto lights and wipers, Bluetooth and an SD-based sat nav with a 6.5-inch colour monitor (at the time, Audi was one of the few premium makers to fit sat nav as standard).
S Line models added bigger 18-inch alloys, a sporty body makeover, lowered sports suspension, Xenon headlights with distinctive LED running lights, smoother Valcona leather upholstery and hip-hugging sports seats. The interior was also sportier-looking, with chrome-effect trim and a black roofliner.
Black Edition variants had 20-inch alloys with dark titanium finish, black finish for the grille and other body details (including the roof rails), piano black dash inlays and an upgraded Bose premium surround sound system.
Learn more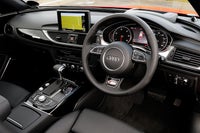 On the inside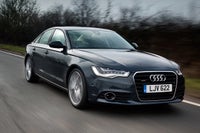 Driving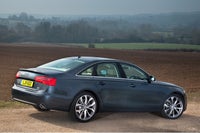 How much does it cost to run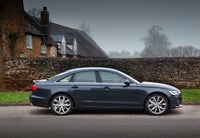 Prices, versions and specification
Reviews of similar cars
Quality checked, all cars less than 8 years old and warranty included