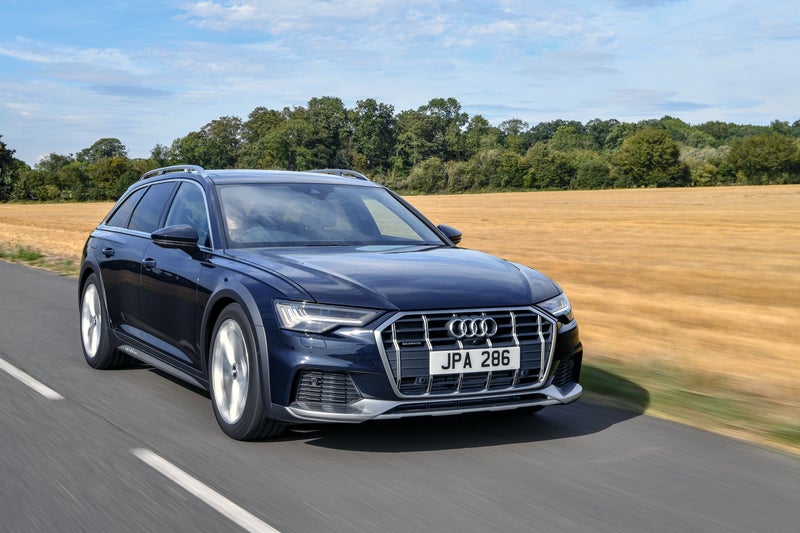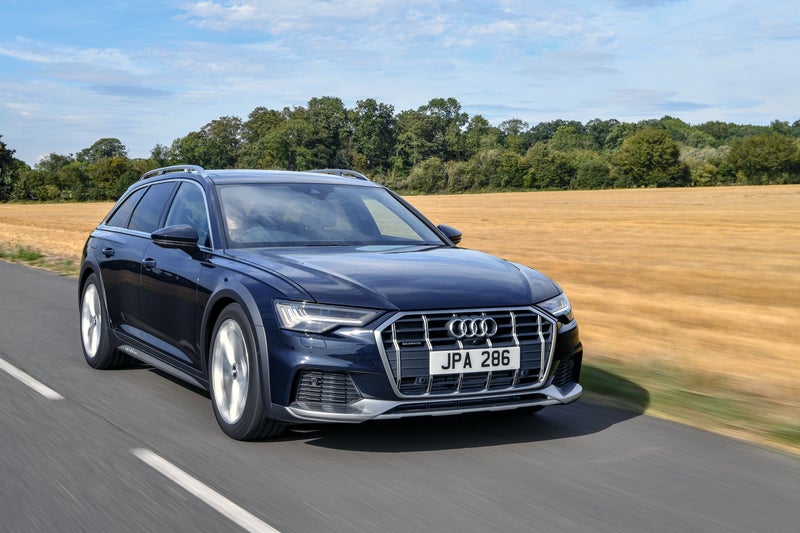 1/10
heycar rating
"Capable estate with frustrating automatic."
Launched: 2019

Estate

Diesel, Petrol
Quick overview
Pros
Incredibly comfortable big estate with air suspension
Ideal for towing with a 2500kg capacity
Beautifully designed modern interior
Cons
Driving experience ruined by awful automatic gearbox
Large central tunnel in the back eats into foot space
55 TSI engine is thirsty and very rare
Overall verdict
On the inside
Driving
Cost to run
Prices and Specs
Overall verdict on the Audi A6 Allroad
"The original Audi A6 Allroad was one of the pioneers of the off-road estate concept and several generations on it seems Audi has refined the formula superbly well. Comfortable, technologically advanced and powerful, this is the ideal car if you want a car with a bit of a 'lifestyle' feel but want to avoid a big SUV."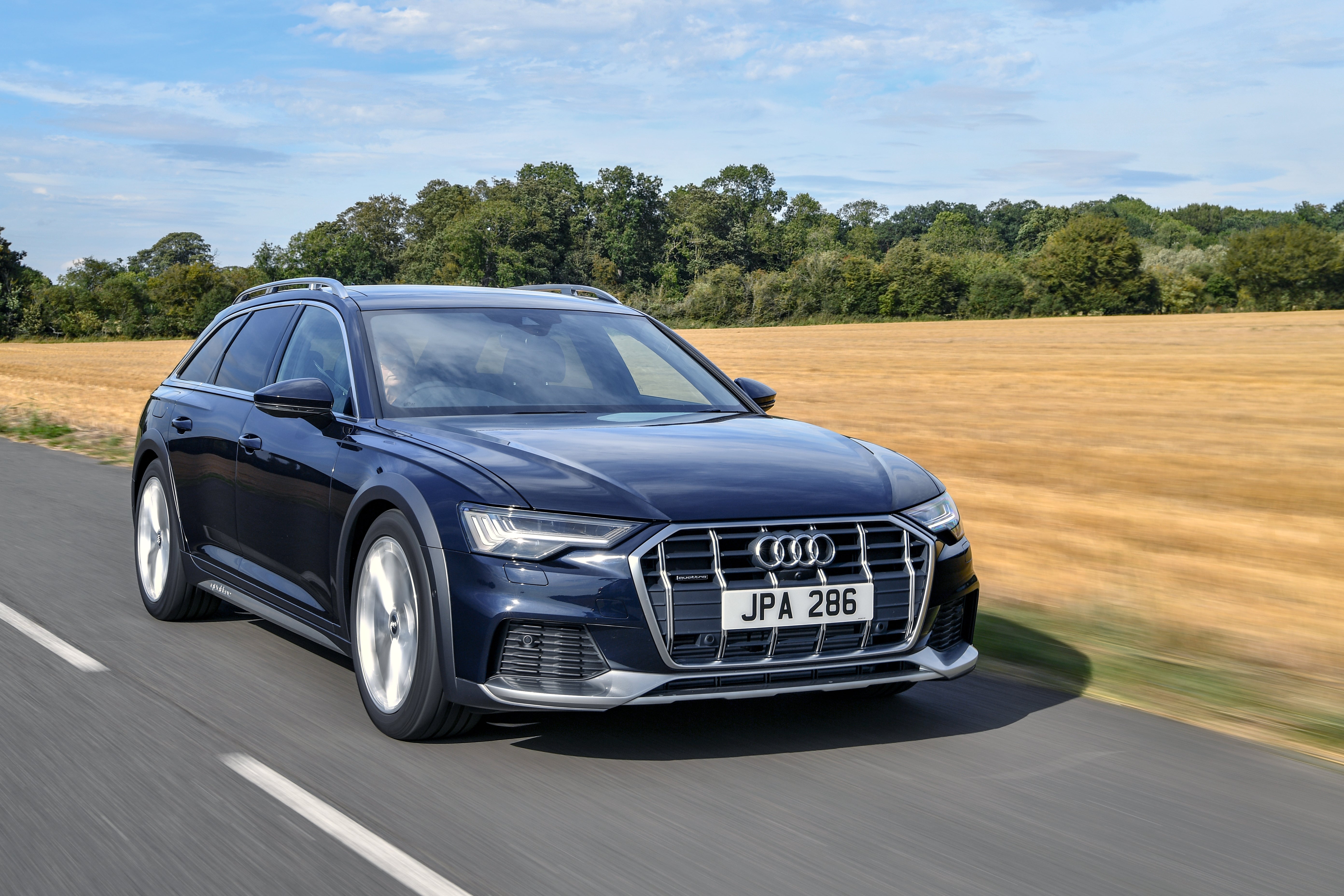 It takes the impressive Audi A6 Avant, adds an adjustable ride height, standard air suspension (meaning superb ride quality) and some plastic cladding around the wheel arches. Et voila, an estate with off-road pretensions. Sort of.
Of course, you aren't going to be taking this thing off-road anytime soon. Unless it's a grass verge next to the village fete. It does have things like hill descent and you can increase the ride height at low speeds, but don't get any ideas the Audi A6 Allroad has proper off-road capability.
That's not to say the A6 Allroad isn't very capable. It's an ideal car for towing for instance and can haul a 2500kg caravan. Plus it's quiet and refined on the move, making for limo-like progress. It's the kind of car that's ideal for a big family trip across Europe. That's helped by a huge boot and lots of interior space, so you can happily carry four adults in comfort.
The interior itself is beautifully designed and in our opinion, one of the best on the market, both in terms of appearance and useability. The twin touchscreens in the middle control most things and the infotainment system itself is well laid out and a doddle to use.
The most popular models are the 45 TDI and 50 TDI, both powered by Audi's excellent 3.0-litre TDI engine with bags of pulling power. There's also a TSI petrol but you'll be hard-pressed to find one.
So far so good then. But here comes the big problem – the gearbox. The tiptronic automatic that's fitted as standard is hugely frustrating with a big delay in response at lower speeds. Slow down for a roundabout, then ask it to accelerate and you're left with a big gap while nothing happens. Sadly, it overshadows the rest of the car.
While there's lots to like about the A6 Allroad, not least its comfort levels, huge list of standard equipment and one of the best interiors around, we can't get past how frustrating the gearbox is to use. It's for this reason we think you'd be better off with a rival from Mercedes or Volvo.
If you're looking for the older version, you need our Audi A6 Allroad (2012-2018) review.
Is the Audi A6 Allroad right for you?
If you want a big family estate car that can do that bit more, the A6 Allroad is ideal. It's the kind of car that suits having a roof box on top and a bike rack on the back. We think marketing people would call it a 'lifestyle' vehicle. Of course, you don't have to tell anyone how often you actually use those bikes. It also doesn't feel as bulky as a big SUV.
While it comes with quattro four-wheel drive, it's certainly not an off-roader, despite what all that cladding on the wheel arches would like to suggest. There is hill descent control and the extra ride height, but what is more useful is the self-levelling air suspension, which makes the A6 Allroad not only hugely comfortable but also great for towing.
What's the best Audi A6 Allroad model/engine to choose?
The standard A6 Allroad Sport model comes with everything you need from a big estate like this. Stuff like leather seats which are electrically adjustable and have lumbar support, naturally, to LED ambient lighting, 19-inch alloys and privacy glass for the rear side windows. The latter isn't just about style, it's useful for cutting out bright sun in the back, handy for young kids on long summer drives.
We'd go for a Sport with the standard 45 TDI engine which is handily also the cheapest model in the range, although when you're looking at a car that was £55,000 new, the word 'cheap' is all relative. It's not worth paying extra for the 50 TDI engine.
Vorpsrung is the high-spec trim and would have cost £72,000 new. Ouch. It does come with pretty much every bell and whistle, so if you can get a deal on one, it's a hell of a lot of car for the money. But unsurprisingly, they are few and far between.
What other cars are similar to the Audi A6 Allroad?
The off-road-sort-of-estate car isn't all that common so there's only two direct rivals to the Audi A6 Allroad - the cheaper Volvo V90 Cross Country and the just as expensive Mercedes E-Class All-Terrain. The Volvo makes a strong case for itself for the money, although it doesn't come with a 3.0-litre diesel. You can go smaller with something like the Volkswagen Passat Alltrack.
If it's a well equipped estate you're after, the standard A6 Avant is probably all you need and comes with quattro all-wheel drive and the same engines. Alternatively you could look at a full-size SUV and there are no shortage of those to choose from like the BMW X5, Audi Q7 and Mercedes GLE.
Comfort and design: Audi A6 Allroad interior
"If there's one thing the A6 Allroad does well, it's comfort. The standard seats may not be as supportive at the sides as a Volvo V90 Cross Country - you need the Audi's optional sports seats for this - but they are still incredibly comfortable and even after several hours behind the wheel, you won't be getting out with back ache. Long distance win."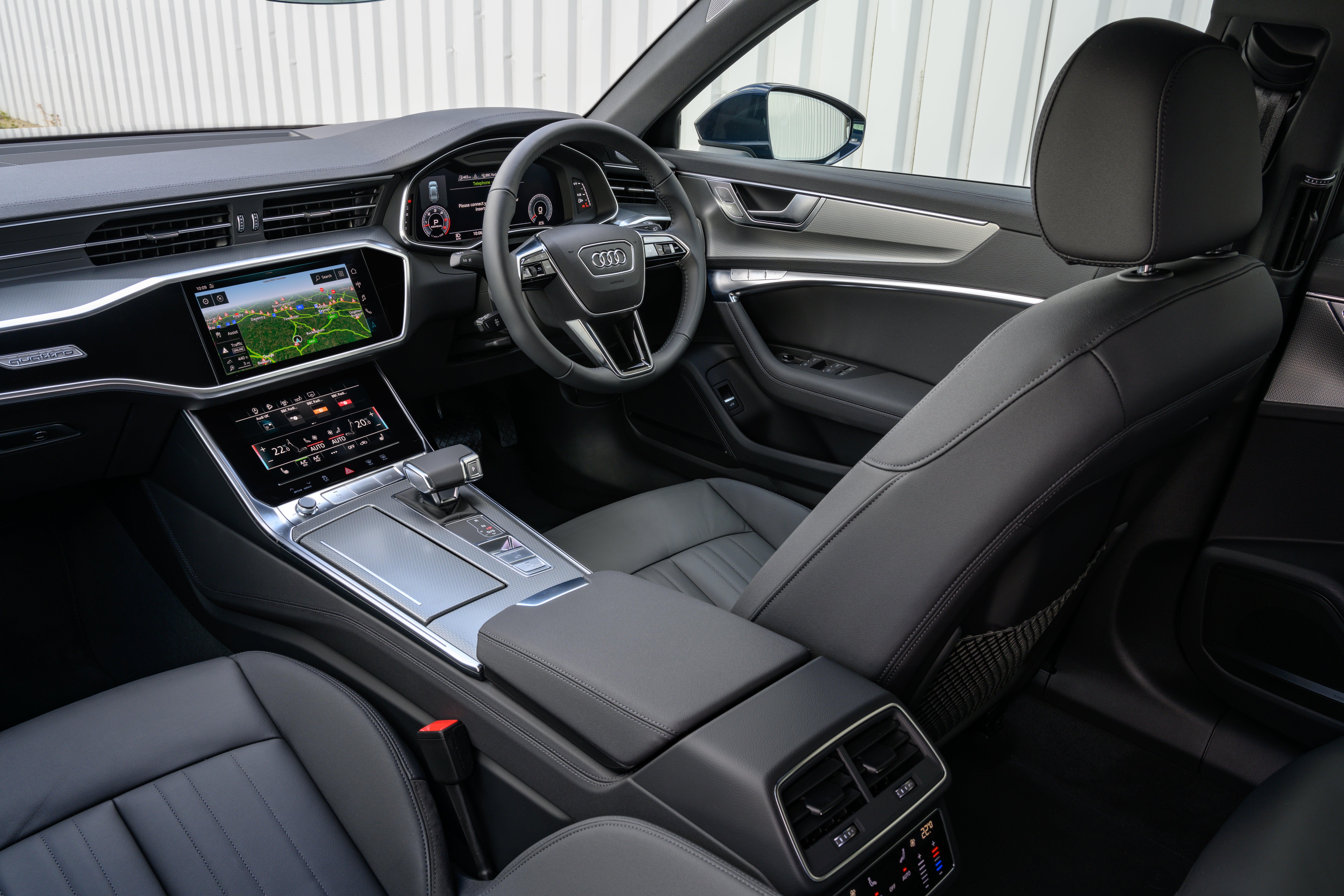 The front seats adjust with the touch of a button as standard and there's also electric adjustment for the lumbar support, so it's a good car for those who suffer from a bad back. This is further helped by the forgiving ride. They're also heated for your pleasure.
Even those with very long legs will find the A6 Allroad comfortable, thanks to front seats that adjust a long way back. Plus with lots of height adjustment, you can either go for a low slung driving position or something more high up. For that full SUV feel.
The cabin design is another highlight of the A6 Allroad. We reckon this is one the best interiors around at the moment for design and quality. There aren't many buttons inside, instead most things are controlled through the twin touchscreens, which makes for a clean and modern look, dominated by a big chunk of metal and piano black trim across the dash.
Quality and finish
It's hardly a shock that the interior of a luxury Audi that costs more than £50k is finished to a high standard. I mean, we'd be more than a little disappointed if it were like a Dacia. You can certainly see where your money goes, there's more metal inside than an Alice Cooper gig, giving the A6 Allroad a chunky and solid feel inside.
If it's not metal or glossy plastic, it's probably covered in leather. Well we say leather, some of it is in fact 'leatherette', basically pretend leather. An extended leather pack was available as a £1000 option and added proper leather to the upper instrument panel, doors and centre console, but cars fitted with this are rare as hen's teeth.
Even without that, every surface you touch in the A6 Allroad has a quality feel to it. The same goes for the buttons (not that there are many) which work with a satisfying click, even small controls like those for the electric mirrors. Nowhere does it feel as though Audi has cut corners with this car.
Infotainment: touchscreen, USB, nav and stereo in the Audi A6 Allroad
What's better than one touchscreen? Two touchscreens if you're Audi. The advantage here is that it means a clean and uncluttered interior. Yet Audi has left some things alone - there's still a proper knob for the volume for instance.
The lower 8.6-inch screen controls the air conditioning and things like the heated seats while the top 10.1-inch screen does everything else like your navigation, radio and displays Apple CarPlay and Android Auto if you connect your phone (but only using a cable - it's not advanced enough to work through Bluetooth).
The system itself is easy to use and clearly laid out with simple boxes for each of the functions. It's certainly more intuitive than the BMW equivalent while the display itself is lovely and sharp. The designers at Audi have clearly been playing with their phones as there are lots of similar functions, for instance you pinch across the lower screen to sync the air conditioning between left and right.
One of the oddities however is the haptic feedback – so the screen 'clicks' when you press. This is one of things that seems like a neat feature, but we found it quite annoying. Instead of just being able to touch the touchscreen you have to press it. Yes, we know, first world problems but it adds another layer of complexity that's not really needed. If it ain't broke...
Space and practicality: Audi A6 Allroad boot space
The Audi A6 Allroad is certainly not short of space, hardly surprising when it's close to five metres long. You can happily carry four proper grown ups in comfort without it feeling a squeeze. Storage is decent with large door pockets although the space under the centre armrest is shallow and only good for phones and wallets.
The one fly in the Audi ointment here is the big central tunnel which makes the middle seat in the back a squeeze unless you want to be very friendly with the knees of your fellow passengers. Stick to two back there and it's much more comfortable. Plus there are separate controls for the air conditioning.
It's ideal for child seats with Isofix points that have built in guides around them plus there are top tether points. The generous legroom in the back means you can fit a rear facing seat with room to spare. Sadly, it won't stop a grumpy six year old from kicking the back of your seat…
The boot is huge at 565 litres and has useful features like an electric tailgate – complete with automatically retracting luggage cover, while the rear seats split 40/20/40 and can be folded down using a handle in the boot. Handy when you're halfway through loading something heavy and realise it won't quite fit.
One standard feature we're not quite convinced by is the luggage-securing boot-rail system which comes with a luggage strap and a net. It's a nice idea but in reality you won't find yourself using the net much and without it, the boot is left with two metal rails that like to collect dirt.
Handling and ride quality: What is the Audi A6 Allroad like to drive?
"The big Audi A6 Allroad is no sports car, as you'll soon discover if you take it through a tight bend. It's far from cumbersome, but it's clearly a car set up for comfort rather than keen handling with a fair amount of body roll."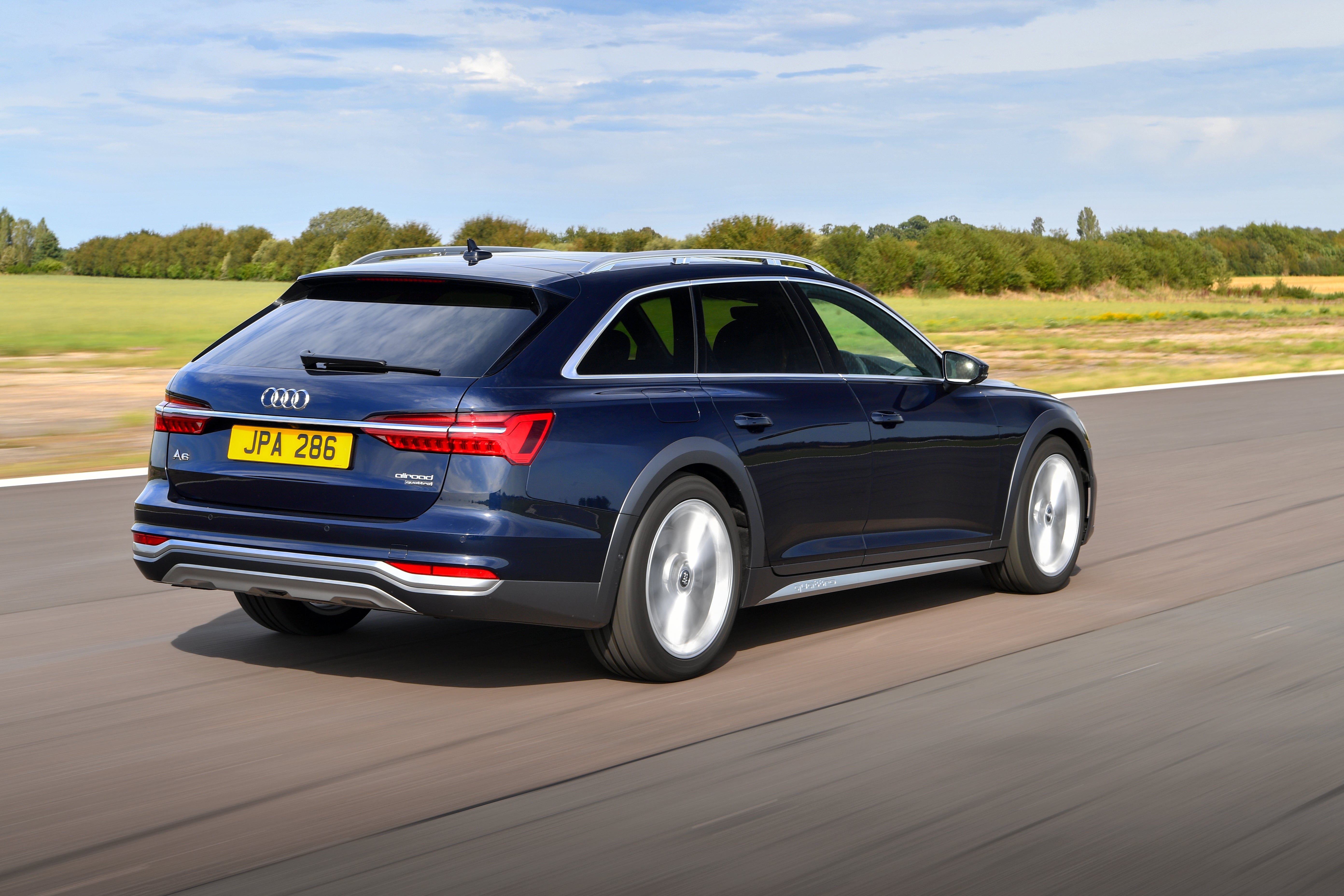 The steering has little in the way of feel but you can at least change the steering weight in the driver select settings, which is handy as many will find the standard set up on the light side.
Of course, few of you are buying an A6 Allroad for its handling prowess, but it still feels stable and secure through corners, it's certainly no better or worse than the E-Class All-Terrain and has more grip than a V90 Cross Country.
It's comfort that the A6 Allroad does so well, thanks in no small part to its self levelling air suspension. It means that even on huge 21-inch wheels, the Audi is smooth without wallowing all over the place.
Load up the A6 with the kids and a boot full of holiday gear and you'll feel safe and secure on long trips. Indeed, the A6 Allroad is supremely adept at high speeds, feeling as serene at naughty Autobahn speeds as it does around town.
What engines and gearboxes are available in the Audi A6 Allroad?
While there is a 55 TSI petrol in the A6 Allroad, you're more likely to find the Holy Grail than come across one. True it's fast, with 340PS but it's also thirsty. The two diesels suit the Audi much better.
Both the 45 TDI and 50 TDI are powered by the same six-cylinder 3.0-litre diesel engine. The 45 TDI has 231PS and 500Nm which we think is more than enough for everyday driving. It's certainly our choice in the range and the most common model around too.
If you do want extra oomph, the 50 TDI ups power to 286PS and boost torque to a hefty 620Nm. There's no denying this thing pulls like a train and is effortless quick, but with the same 2500kg towing capacity as the rest of the range, there seems little point in paying extra for one. You don't even get a different badge on the boot.
But this is where we come to the crunch. Because the one thing that lets the Audi A6 Allroad down is the tiptronic gearbox. This is a conventional automatic rather than a twin-clutch affair and indeed, it shifts up in the blink of an eye with almost unnoticeable shifts.
The problem comes at lower speeds. For some reason there's a delay in the gearbox. It's only maybe a second or two, but when you're pulling out of a junction, or attempting to accelerate across a roundabout, it's noticeable. As a result, the A6 Allroad is hugely frustrating to drive and it overshadows the rest of the car.
Refinement and noise levels
Along with superb comfort, the Audi A6 Allroad is also incredibly quiet and refined, which you'll appreciate on long motorway journeys. There's pretty much no wind noise, helped by the fact the suspension lowers itself by 15mm above 74mph (which also benefits fuel economy) while despite the big wheels, tyre noise is kept to a minimum.
That's down to lots of sound insulation but other things help, such as the air suspension which not only means a comfortable ride but also filters out the vibrations caused by rough and pitted roads.
The 3.0-litre TDI engines are quiet at start up and you'll barely notice any noise, even under hard acceleration plus there's no vibration coming into the cabin. The TSI engine is even quieter, although it does become more vocal at higher revs, albeit in an enjoyable way if you like that sort of thing. Which we do.
Safety equipment: How safe is the Audi A6 Allroad?
There are plenty of onboard safety systems in the Audi A6 Allroad including the Tour Assist package which has efficiency assist, adaptive cruise assist and emergency assist. The City package features the intersection assist and the exit warning. This usefully warns passengers not to open the doors if the car has stopped and it detects cyclists or cars approaching.
As well as land departure warning, there is also a rearview camera and the Parking System Plus with both front and rear sensors. While the A6 Allroad itself hasn't been crash-tested by Euro NCAP, the Audi A6 saloon achieved the maximum five-star rating in 2018 with a high 85 per cent rating for child occupant safety.
Other useful extras for parents include not just window locks but also controls for the child locks on the rear doors. Handily they're right next to the electric window controls and easy to check, with a read light showing they're locked.
MPG and fuel costs: What does a Audi A6 Allroad cost to run?
"The 3.0-litre diesel fitted to the 45 TDI and 50 TDI models is reasonably economical with a claimed WLTP economy figure of 37.7mpg for both."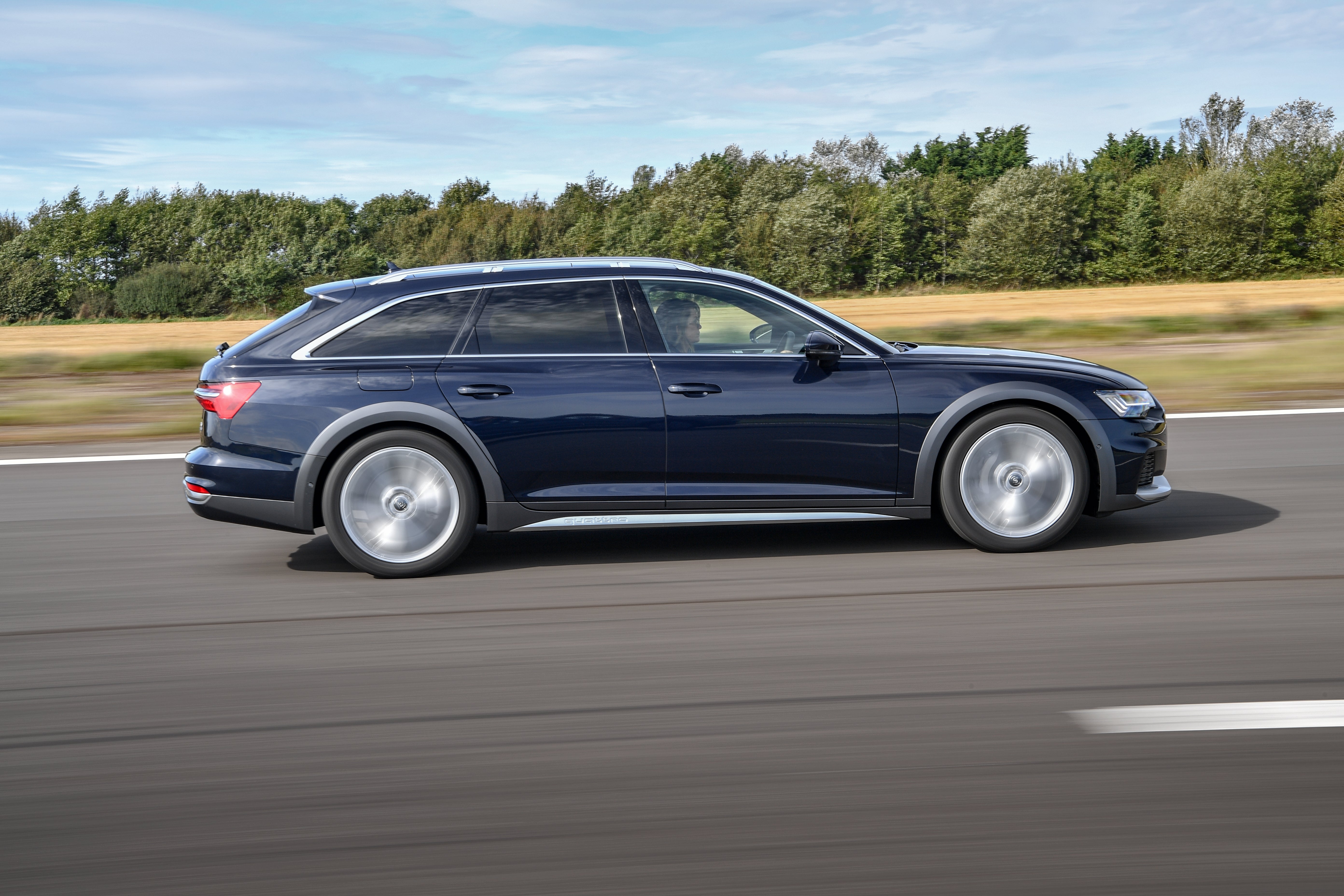 That may not look amazing, but it is at least achievable in real world driving and even if you're sitting in lots of traffic, it will still do around 34mpg."
The diesels have a big fuel tank of 63 litres but there was an option to increase this to 73 litres so if you're buying an A6 Allroad to do big trips, it's worth finding one with this fitted. Even at 34mpg it still means you can cover close to 550 miles on a tank.

As for the 55 TSI, the less said about fuel economy the better. The official figures state 30mpg so in reality you're looking at mid to late 20s. But then no one is buying a 3.0-litre petrol A6 Allroad for the fuel economy.
Insurance groups and costs
The 45 TDI is a group 46 for insurance (yes this gets confusing), a few groups higher than the Mercedes E-Class All-Terrain, so you'd likely be paying a bit more for your premium if you choose the Audi. The 50 TDI sits in group 47 while the lesser spotted 55 TSI is group 48.
VED car tax: What is the annual road tax on an Audi A6 Allroad?
This Audi A6 Allroad was launched in 2019 so you will pay £150 a year in road tax, regardless of what model you choose. Be aware though that with a list price of more than £40k, the Audi A6 Allroad falls into the 'showroom tax' bracket.
This means that for the first five years of its life, owners will have to pay an extra £325 on top of that £150 from the second time the car is taxed.
How much should you be paying?
"New list prices for the A6 Allroad start at £55,000 for the Sport 45 TDI but the all singing and dancing Vorsprung is £72,000. And that's without any options. Ouch. The good news is that as a used car, you're getting a lot for your money thanks to our friend depreciation. "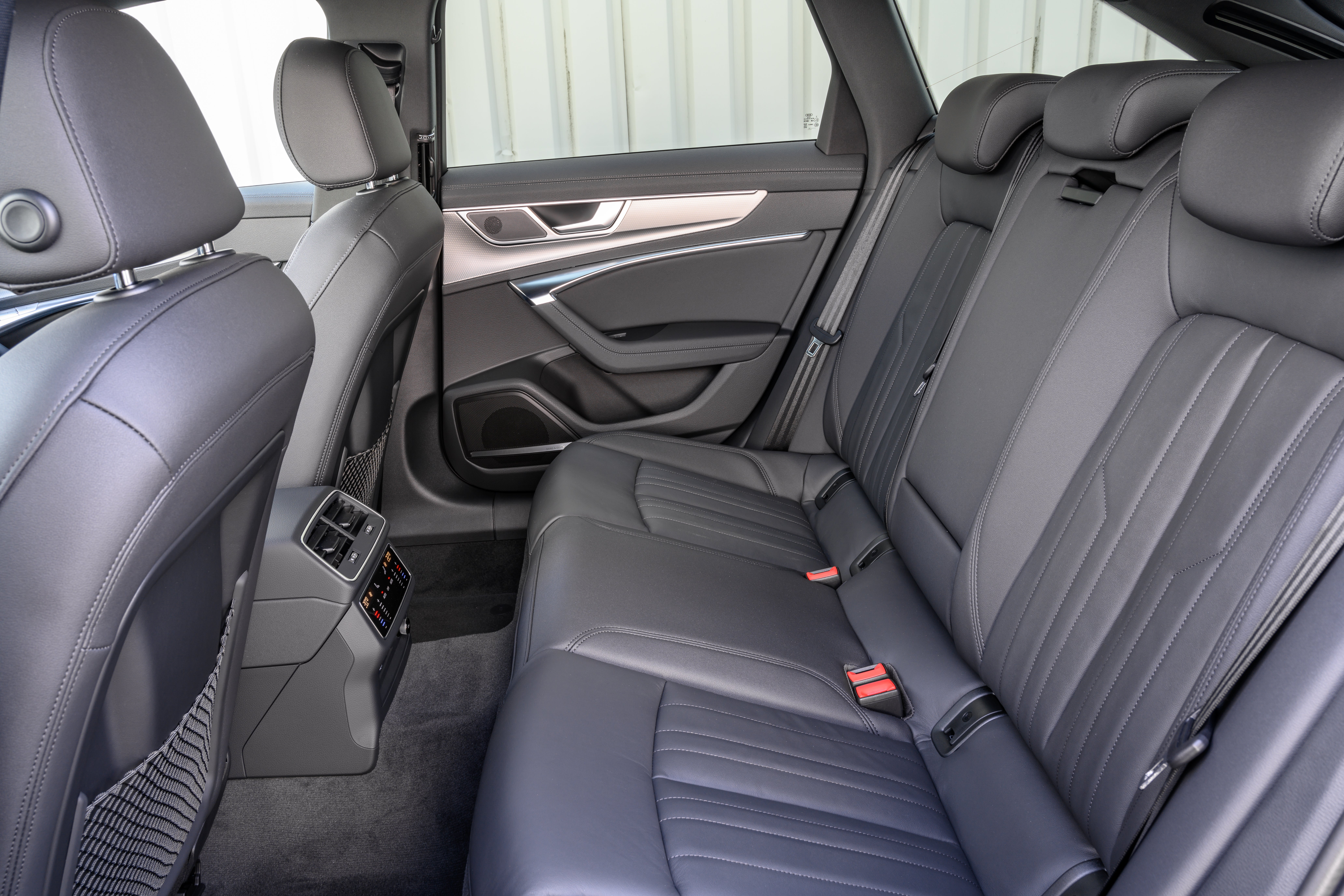 Bear in mind though that A6 Allroad models aren't anywhere near as common as standard A6 Avants, so there will be less room for negotiation. If you can actually find one as a pre-reg model you'll be doing very well indeed. You may to have to travel but the good news is that you'll be getting around £10,000 off the list price
Audi dealers are definitely the best place to find a used example. Most will have plenty of options on, but the Technology Pack is really a must followed by the Comfort and Sound Pack.
Trim levels and standard equipment
There are just two trims - the standard Sport and the top of the line Vorpsrung. For us, the Sport comes with everything you'll need and would expect on a £50k car. So there are leather seats (electrically adjustable), navigation, LED interior ambient lighting, a rearview camera, 19-inch alloys, keyless go and privacy glass for the rear side windows.
It also has Audi's clever Matrix beam LED headlights that keep the main beam on, but avoids dazzling other road users by adjusting the pattern of the beam. It's a genuine clever bit of tech that actually works.
If you can find a Vorpsrung, you'll get every bell and whistle there is including 21-inch alloys, a panoramic glass sunroof, an electric steering column, the extended leather pack, head-up display, Technology Pack, Tour Pack and the City Assist Pack. You'll also get posh power closing doors, for the ultimate limo lifestyle.
If you're regularly towing, look for a car fitted with the optional electrically swivelling towbar which also includes trailer stabilisation with ESC.
Audi A6 Allroad cars for sale on heycar
11,022
Number of cars available
£17K - £73K
Price bracket of these cars
Colours available on heycar
Keep me updated by email with the latest advice, news and offers from heycar
By submitting, you agree to our
privacy policy
.