Audi A6 Avant Review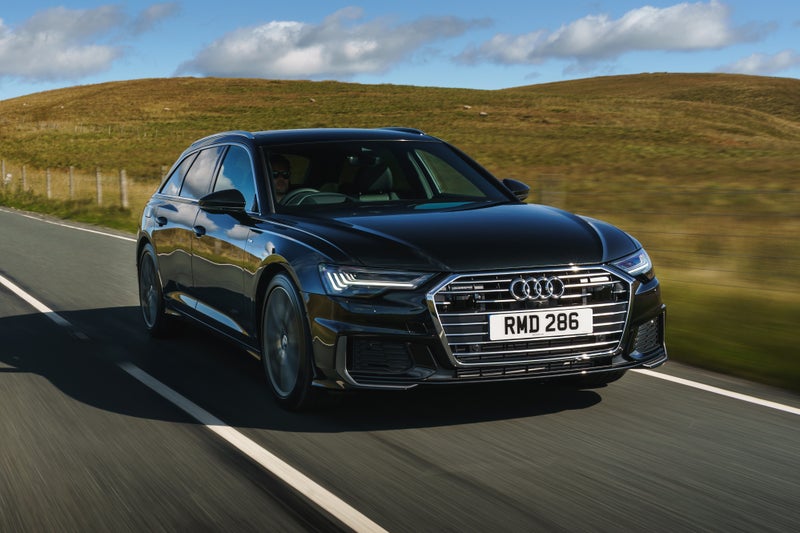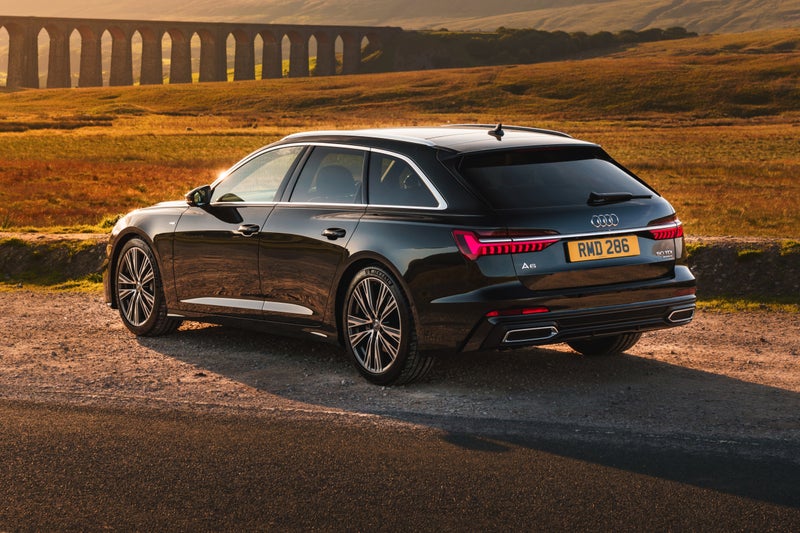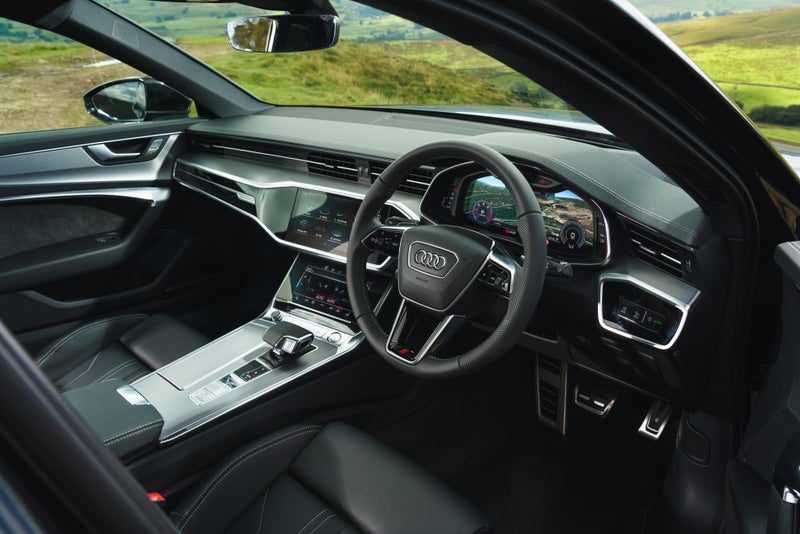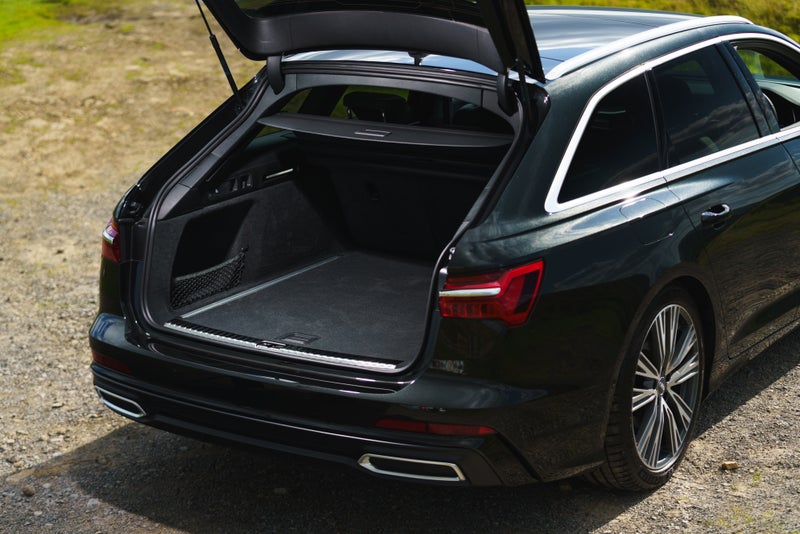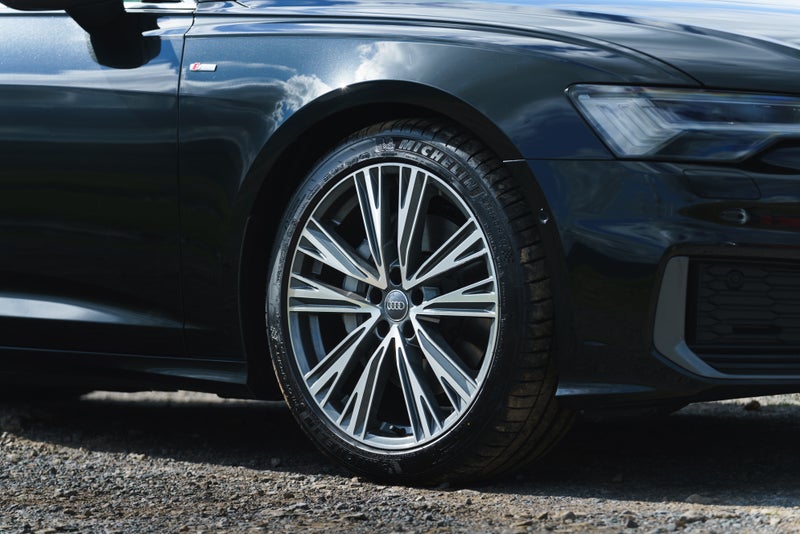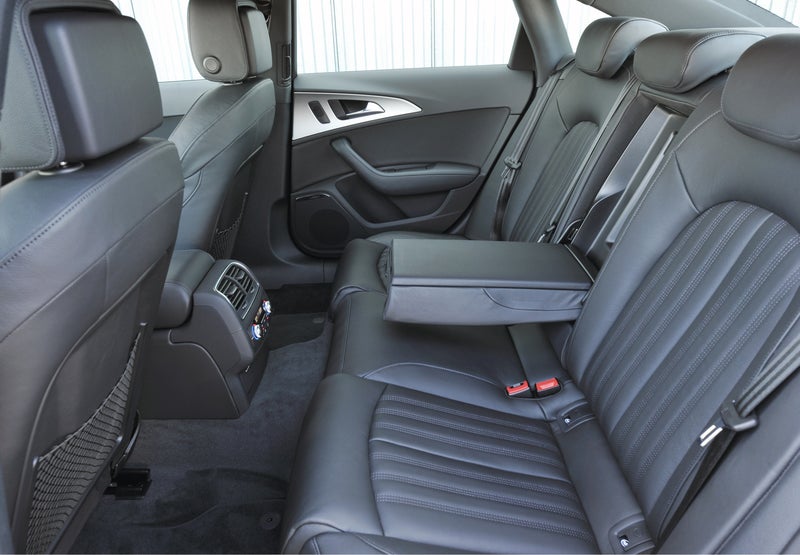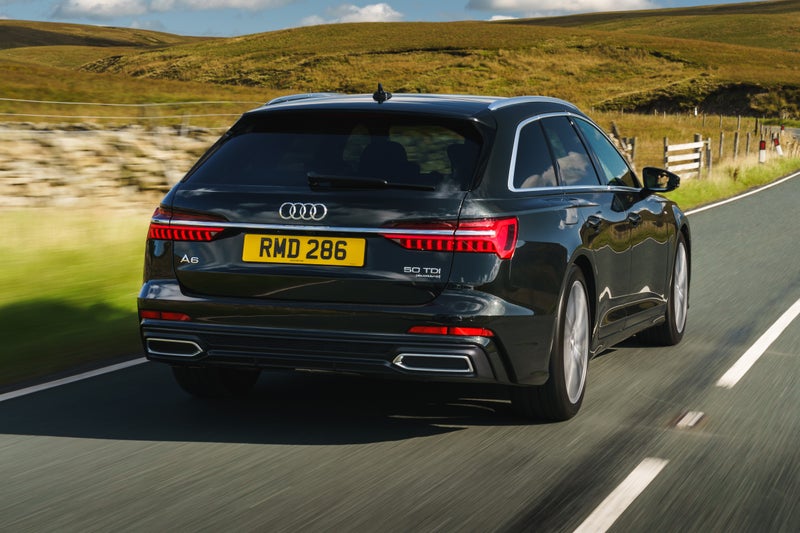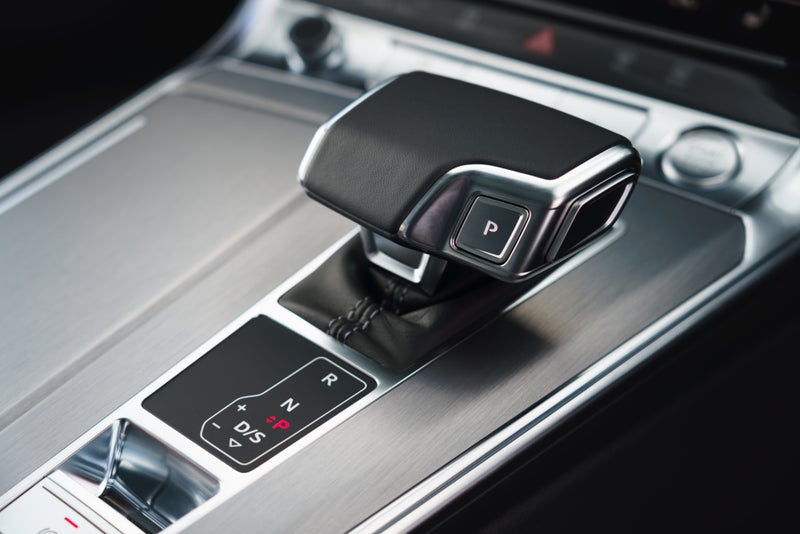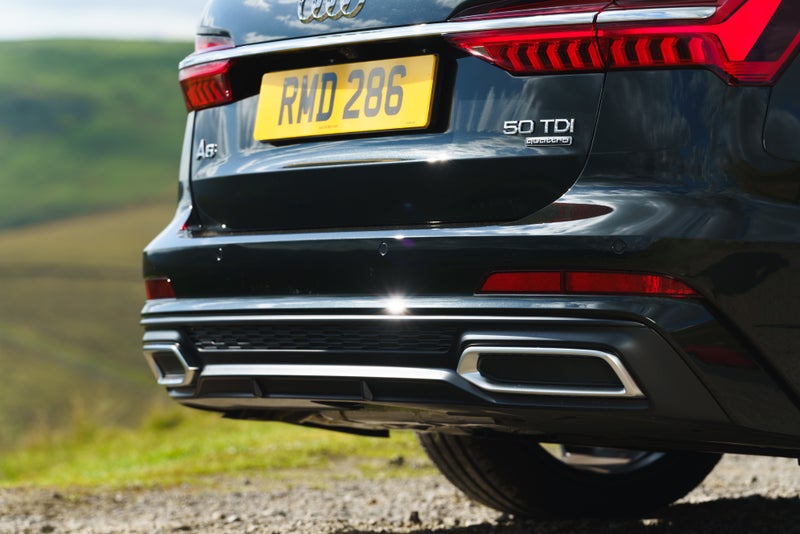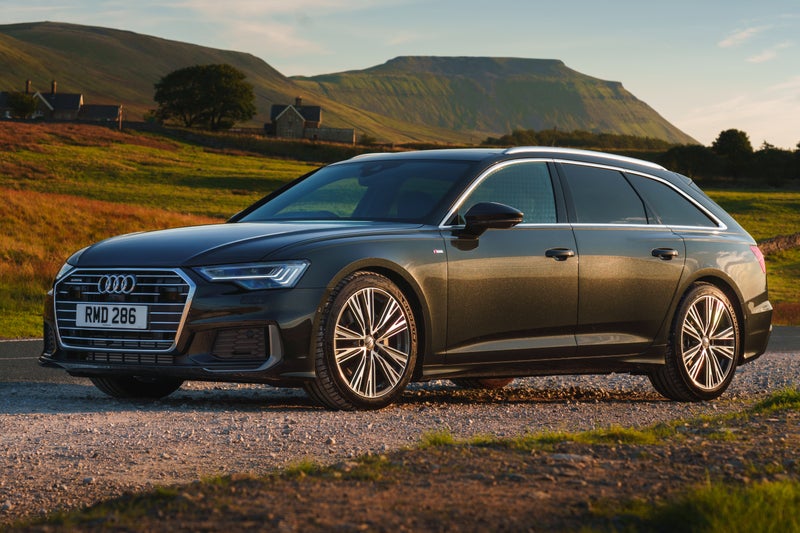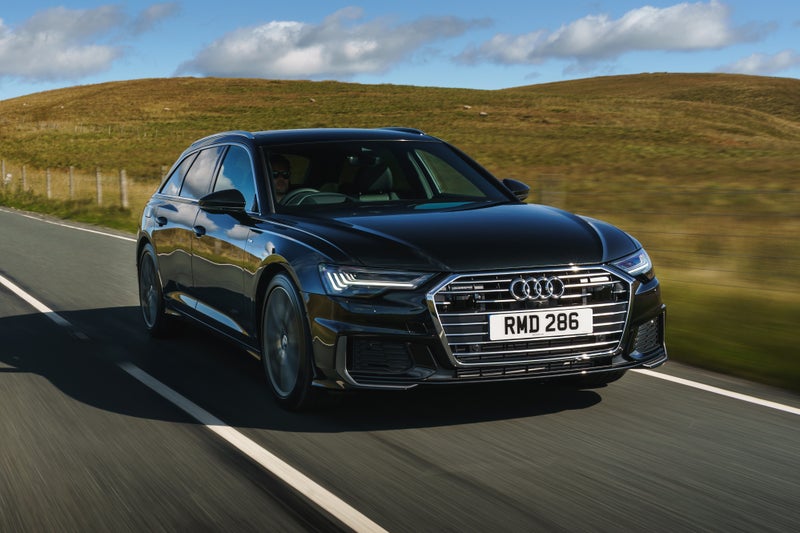 1/10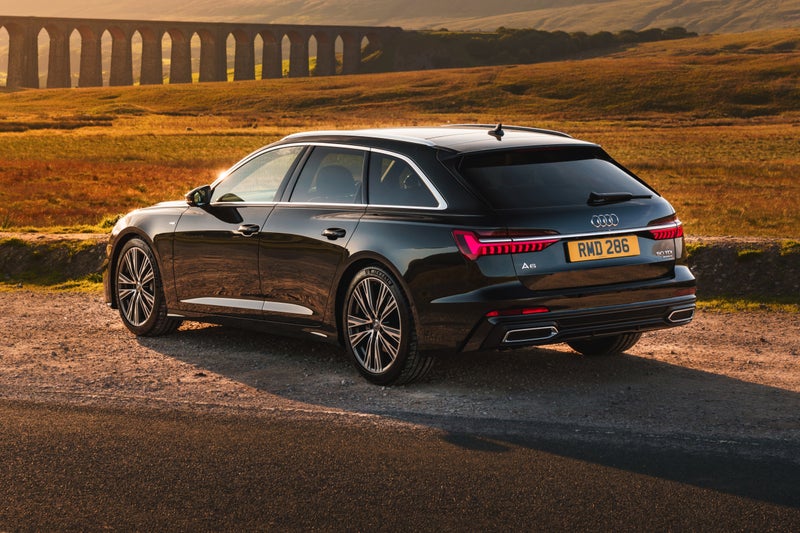 2/10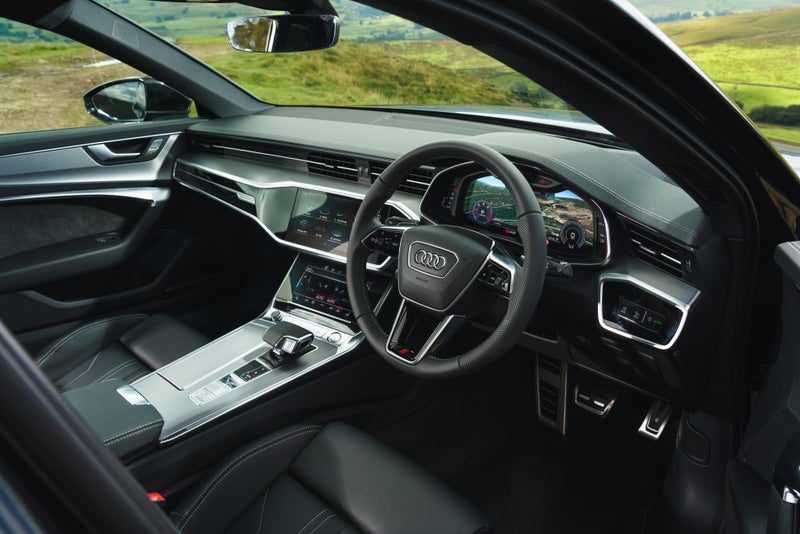 3/10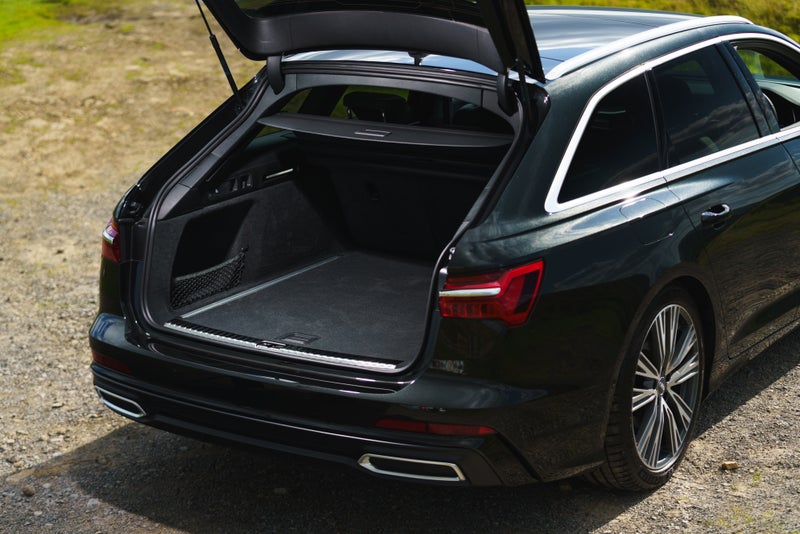 4/10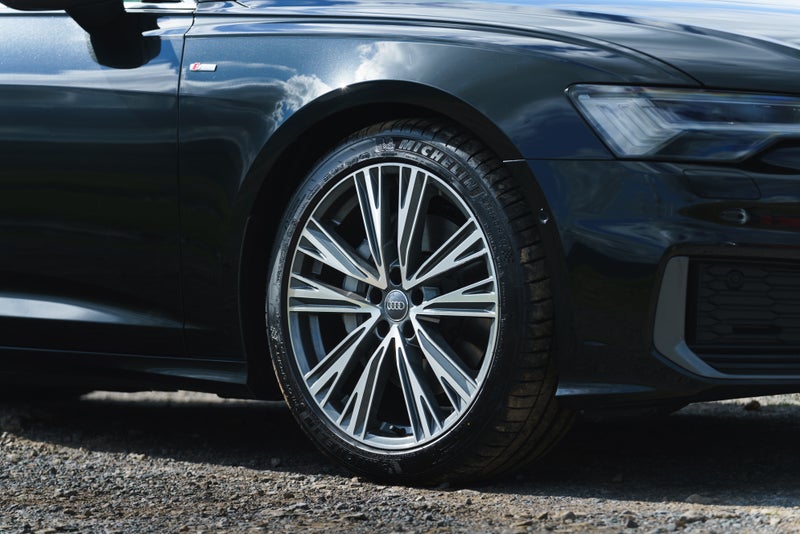 5/10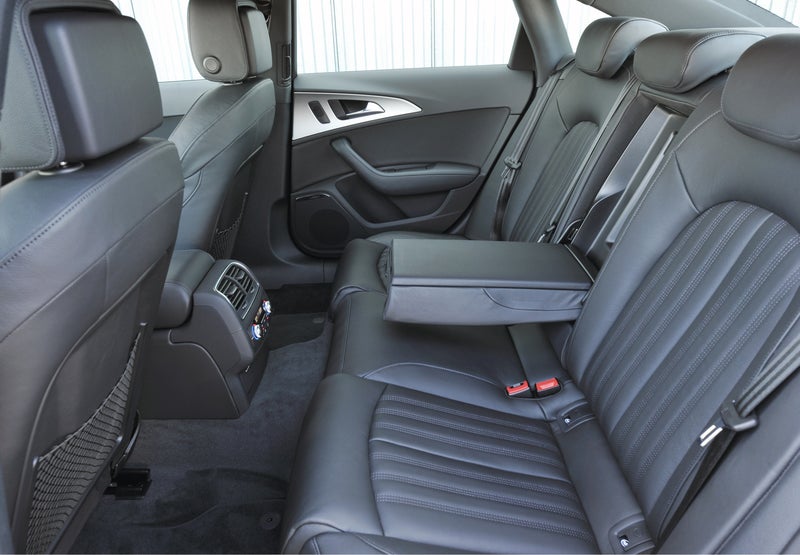 6/10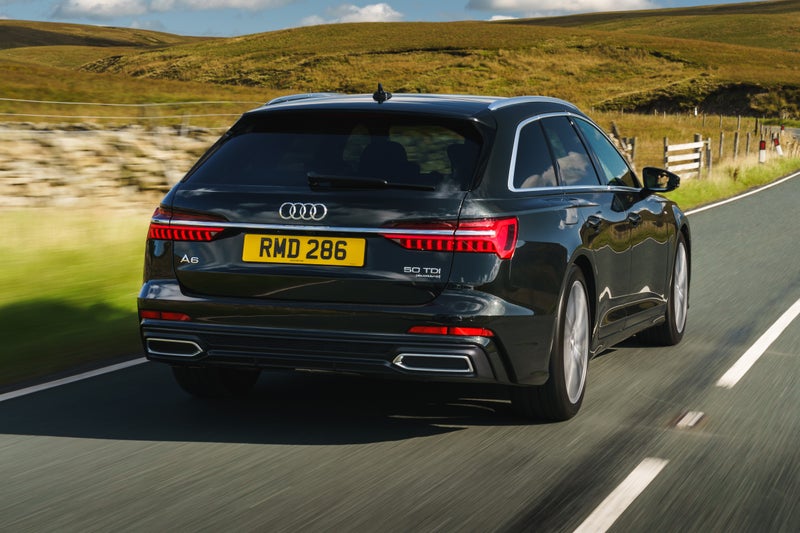 7/10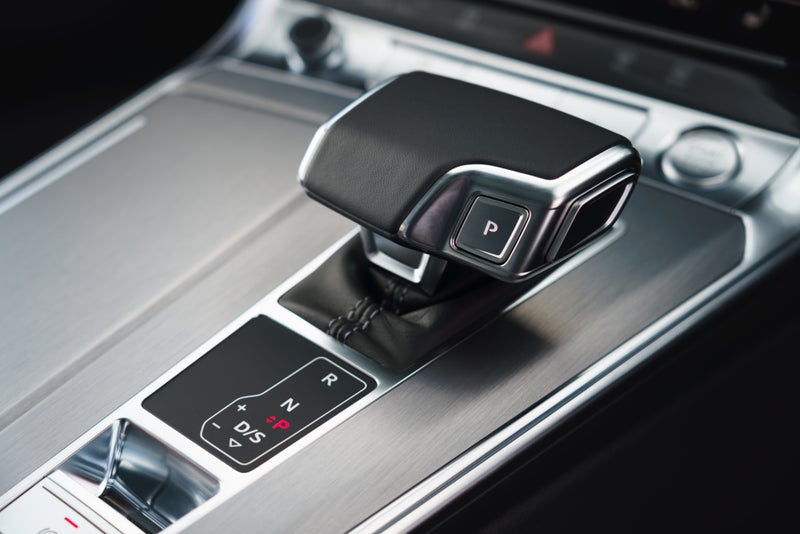 8/10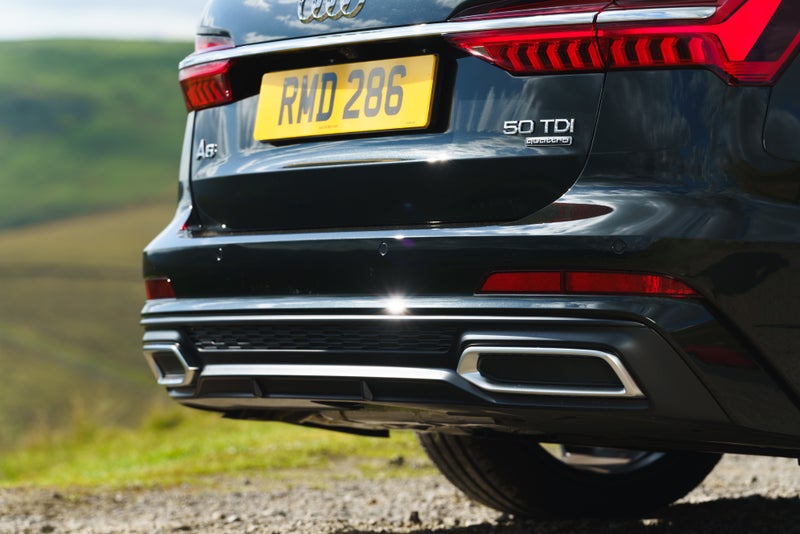 9/10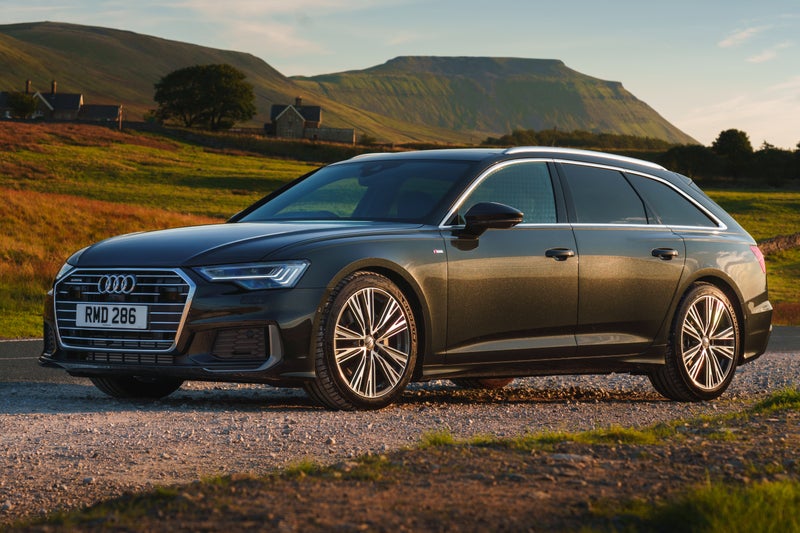 10/10
Launched in 2018

Estate

Petrol, Diesel, PHEV
Launch year

2018

Body type

Estate

Fuel type

Petrol, Diesel, PHEV

Written by
heycar editorial team

heycar rating
Avant-garde and practical estate
Best bits
Striking styling
Colossally capable
Exciting interior
Not so great
Interior a bit too exciting for some
Less roomy than some rivals
Could do with a bit more emotion
Read by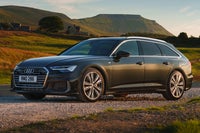 Overall verdict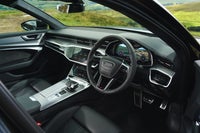 On the inside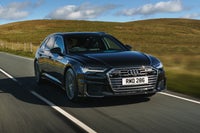 Driving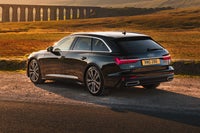 How much does it cost to run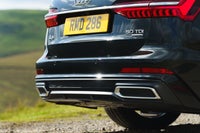 Prices, versions and specification
Overall verdict on the Audi A6 Avant
"Launched in 2018, this A6 Avant is the latest instalment in a long-running line of big Audi estates. It has offered an Avant version for decades, far longer than BMW has a 5 Series Touring, for example. For many buyers, it's a more authentic take on the A6 model line than the regular four-door saloon. This latest one draws proudly from the Audi history books with its striking and classy design."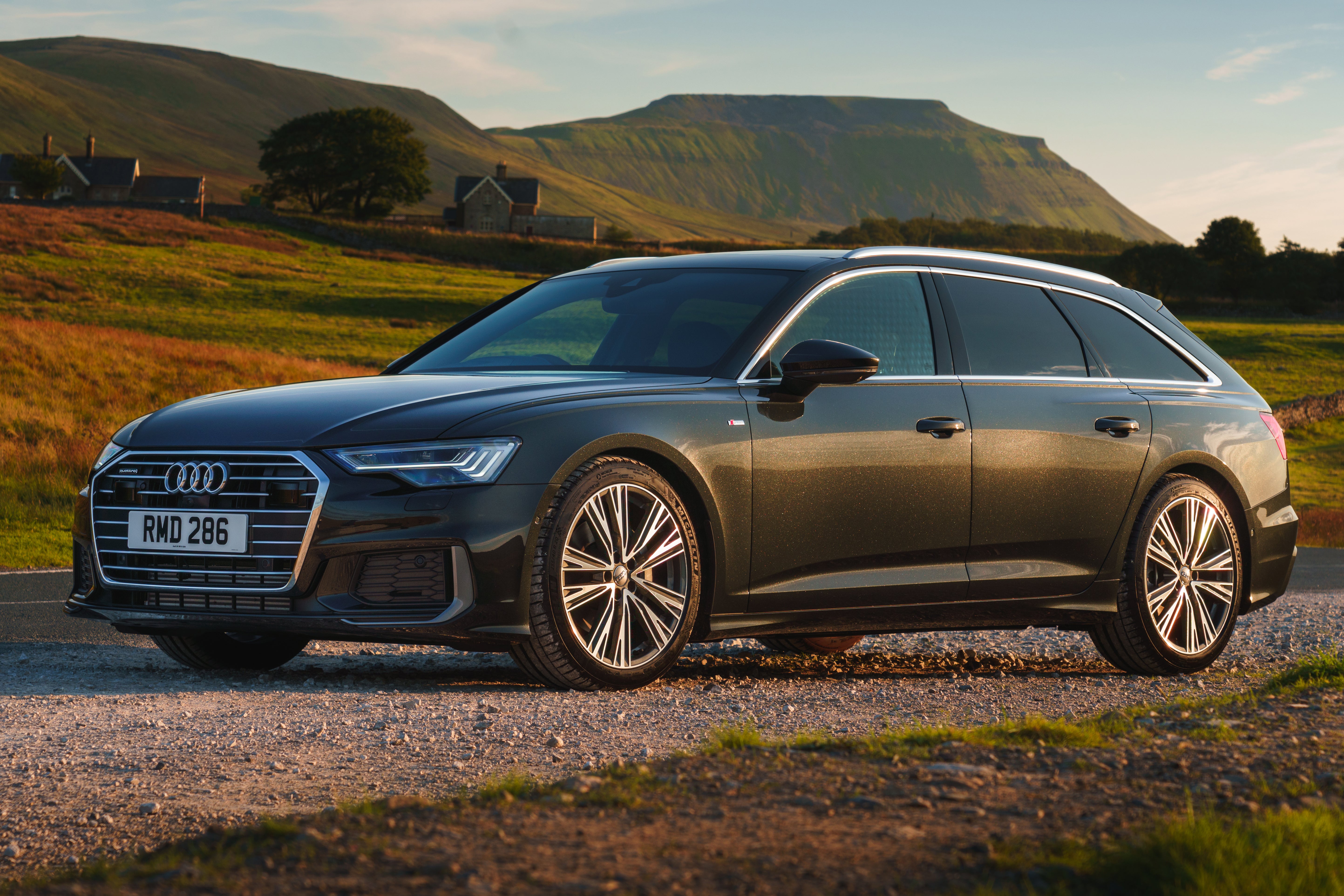 The Avant is more than simply a saloon with a longer load-carrying rear end. Its lines are natural and very distinct from the four-door, particularly the sweep of the rear end, which has more than a hint of coupe about it. The eyebrows of antiques dealers may furrow when they consider how to load in that big, bulky cabinet from the 1850's, but most owners won't bother as they're not buying this car for maximum load capacity.
We would even suggest it's a more successful 'sportback' design than the pricier, posher Audi A7 Sportback itself.
Passenger space is vast, as you'd hope from a car with a footprint this large. And the 565-litre space behind the rear seats is extremely well shaped and easy to access. Some default to an estate simply because they find the narrower boot opening of a saloon less practical – they may never even fold the rear seats.
The engine range is fully on-trend, with mild hybrid technology available across the line-up. Audi insists on using a bizarre naming strategy for its cars, rather than actually revealing what's under the bonnet, so we'll explain which is which later on. For now, you need to know the 40 TDI is cheapest, the 50 TDI is most appealing, the RS6 is fastest and the TFSI petrol power plants have the highest fuel and tax bills.
To drive, it is as sophisticated as it looks. You get a very real sense you're driving a car almost to Audi A8 standard in stature and ability. The sheer size of the latest A6 helps, of course, but so too do its effortless controls and discreet engines.
Keen drivers will probably find it a bit frustrating. A BMW 5 Series gives more tactility and involvement, while a Jaguar XF Sportback is more subtle and feedback-friendly. But there's no denying that if you simply want to get in and switch off, the Audi A6 Avant is the perfect car to eat up hundreds of miles at a time.
The extra confidence you get from all-wheel drive quattro versions is worthwhile, too. This has been another Audi trademark for decades, and the latest system is the most sure-footed yet. Ideal for horrible wintry weather conditions, then.
Inside, it's a real spectacle. The subtle approach Audi used to take with car interiors has been replaced by a bolder and more digital-first design. It's all very modern in feel and does take some time to get used to, but you certainly can't deny it's very 'Vorsprung durch Technik'.
Estates may not be as popular as they once were due to the rise of the SUV, but the latest A6 Avant still delivers. It is a machine with real presence, and feels authentically Audi throughout – even if you do need a course just to learn everything those multiple touchscreens can do…
If you're looking for the older version, you need our Audi A6 Avant (2011-2018) review.
Comfort and design: Audi A6 Avant interior
"Edgy, sharp and very modern on the outside, the latest Audi A6 Avant is crisp and clean on the inside as well. Remember when Audi interiors were all about soft, subtle design, with obsessive sweating over the tiny details that you might not even notice until you've owned one for 18 months? That approach has gone. In-your-face excitement has taken its place."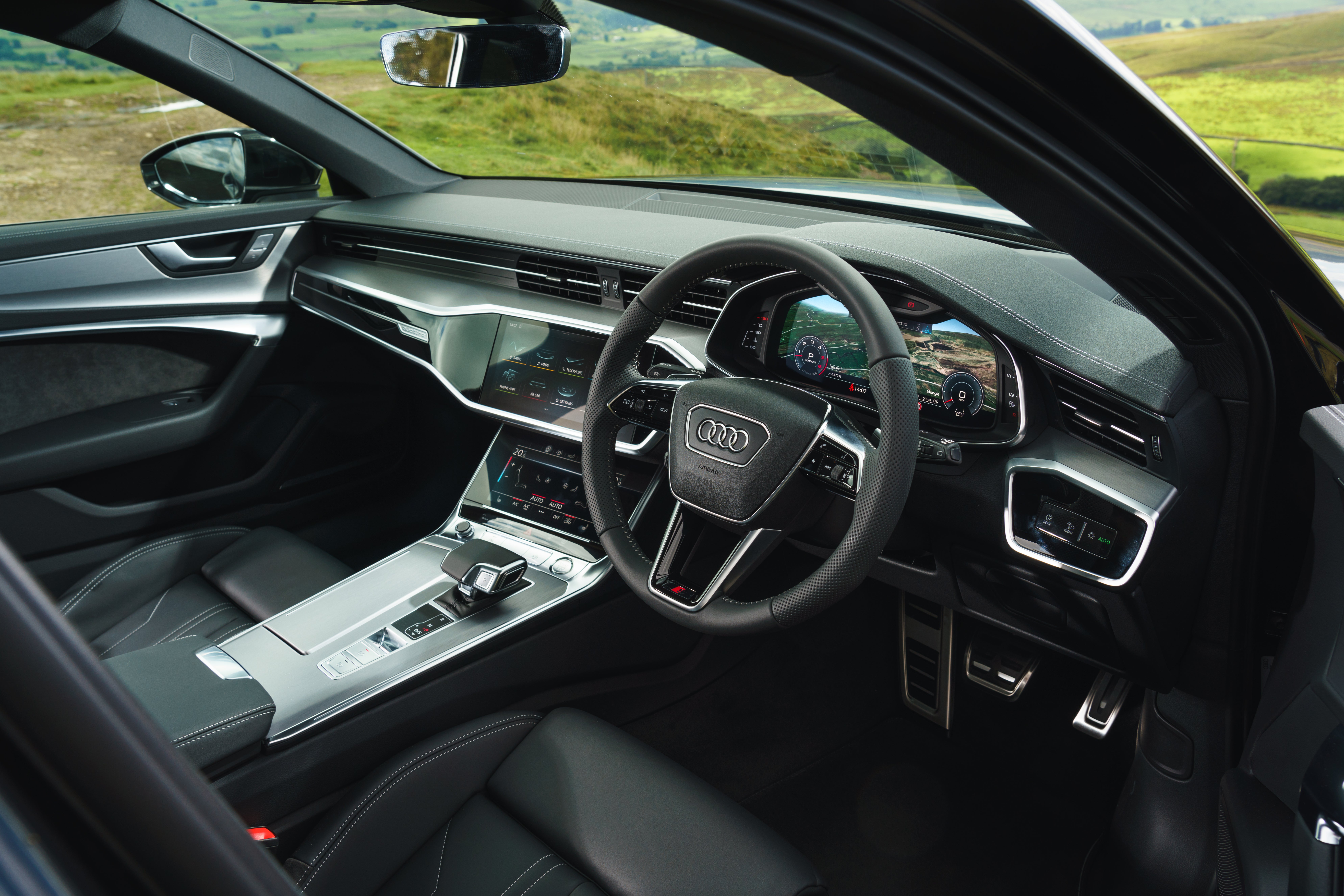 The A6 Avant's interior is striking even at first glance. Buttons are out and glossy glass touchscreens are in – two of them in the centre console, one of which is set within a bold wing-shaped metal frame that can't help but dominate the interior. Above this are plainly-finished air vents (with none of the watch-like tactility Audi used to engineer in) and below is an additional screen with yet more settings, menus and tech-nerd appeal.
Even optional fully-digital instruments are available, taking up the full width of the binnacle ahead of the driver. Previously, it was easy to lose count of the number of buttons within executive cars like this. Now, you can almost count them on one hand. If you love consumer electronics, you'll be in heaven. If you're more a stickler for tradition, you might find a bit much - even adjusting the temperature requires touchscreen input rather than turning a knob.
Traditional Audi-like detailing is still in evidence. We like the sculpted door panels, with nice inlay trim, and the wide centre console is a nice place to rest your arm. The steering wheel is neat and, at night, it's still nicely detailed with the familiar Audi red glow bathing the cabin gently. The firm is particularly good at clever use of ambient lighting.
It's comfortable, too. As all models have a sporty slant, it means they get nicely bolstered seats that are large, fully adjustable and offer plenty of long-distance support. The seats in S Line models are genuinely wonderful.
Handling and ride quality: What is the Audi A6 Avant like to drive?
"Audi has never really worried about delivering the last edge in driver feel and feedback. Its cars are famed for being stable, secure and confident in all weathers, particularly the ultra-tenacious Quattro-equipped machines. And so, it proves with the latest A6 Avant, which uses high-tech underbody architecture to take overall standards to new heights."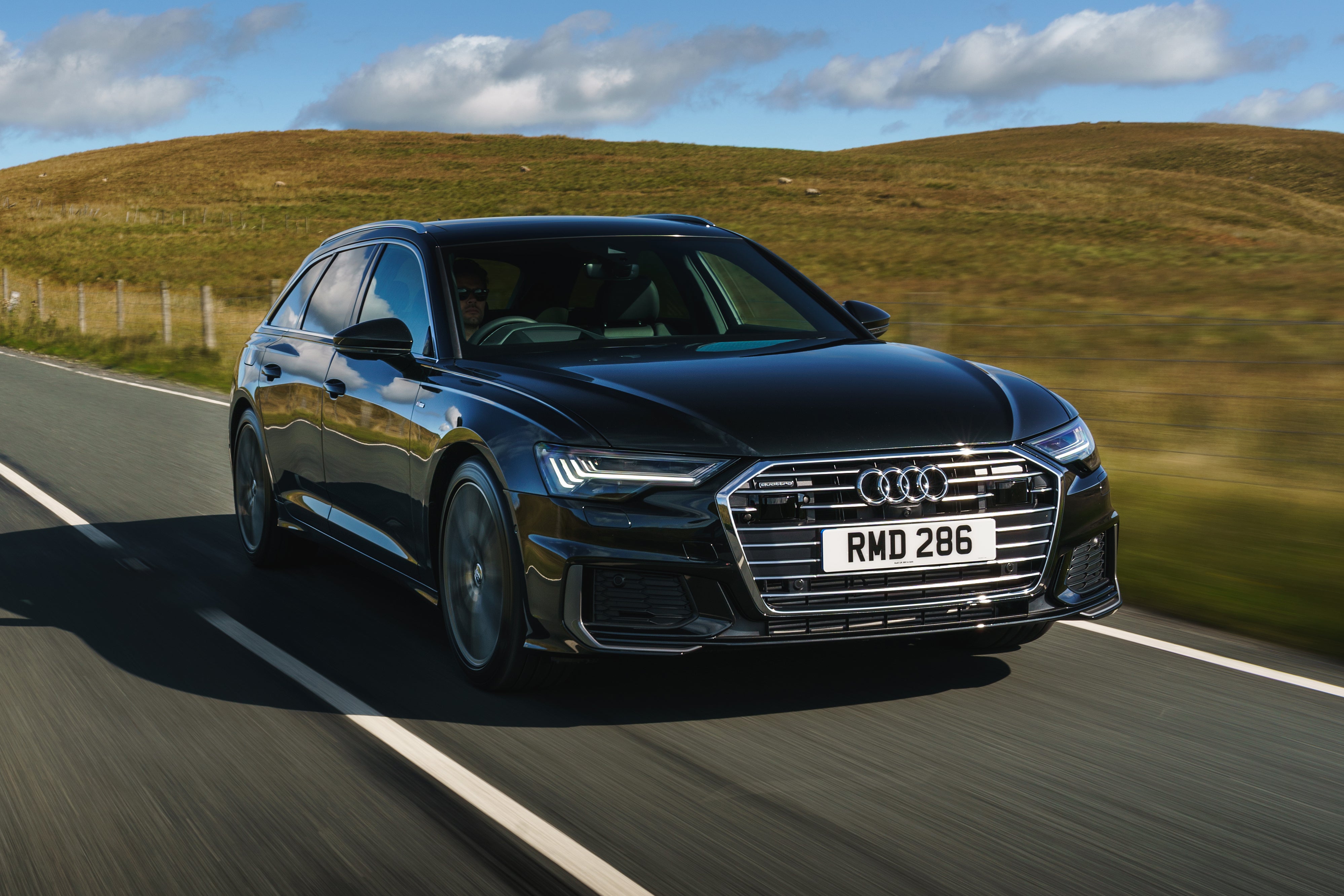 The A6's steering is light, crisp and very accurate. There's not much sense of actually turning the wheels, but it's easy to place the car precisely in corners – which is a good thing, given how big and wide it is.
Progressive steering is standard: this becomes quicker as you apply more lock. Dynamic all-wheel steering, which steers rear wheels as well as the fronts, is optional, making the A6 Avant more stable at higher speeds, but with a smaller turning circle (by more than a metre) when parking.

No fewer than four different types of suspension are available: conventional springs in standard or Sport set-ups, suspension with adaptive dampers and a full adaptive air-spring system (again with adaptive dampers).
The regular car is okay, if forgettable, and the Sport version seems more focused. We like models with adaptive damping, which feel generally unruffled, while air suspension delivers a very appealing and cushioned long-distance ride – albeit at a price. Versions with adaptive suspension can be tailored via the Audi Drive Select dynamic handling system.

All A6s ride with sure-footed confidence. If you don't match the upgraded suspension with larger wheel options correctly, it can sometimes be crashy for such a large and upmarket car, but a dealer will be able to advise on the best course of action here. A Mercedes-Benz E-Class will, broadly, be more supple, while a BMW 5 Series will be more fun.

MPG and fuel costs: What does an Audi A6 Avant cost to run?
"The clever mild hybrid technology can turn off the engine when coasting, even at motorway speeds. That's made possible by the advanced automatic gearboxes, and may well deliver some surprising real-world fuel economy savings, rather than simply those reflected in the official figures."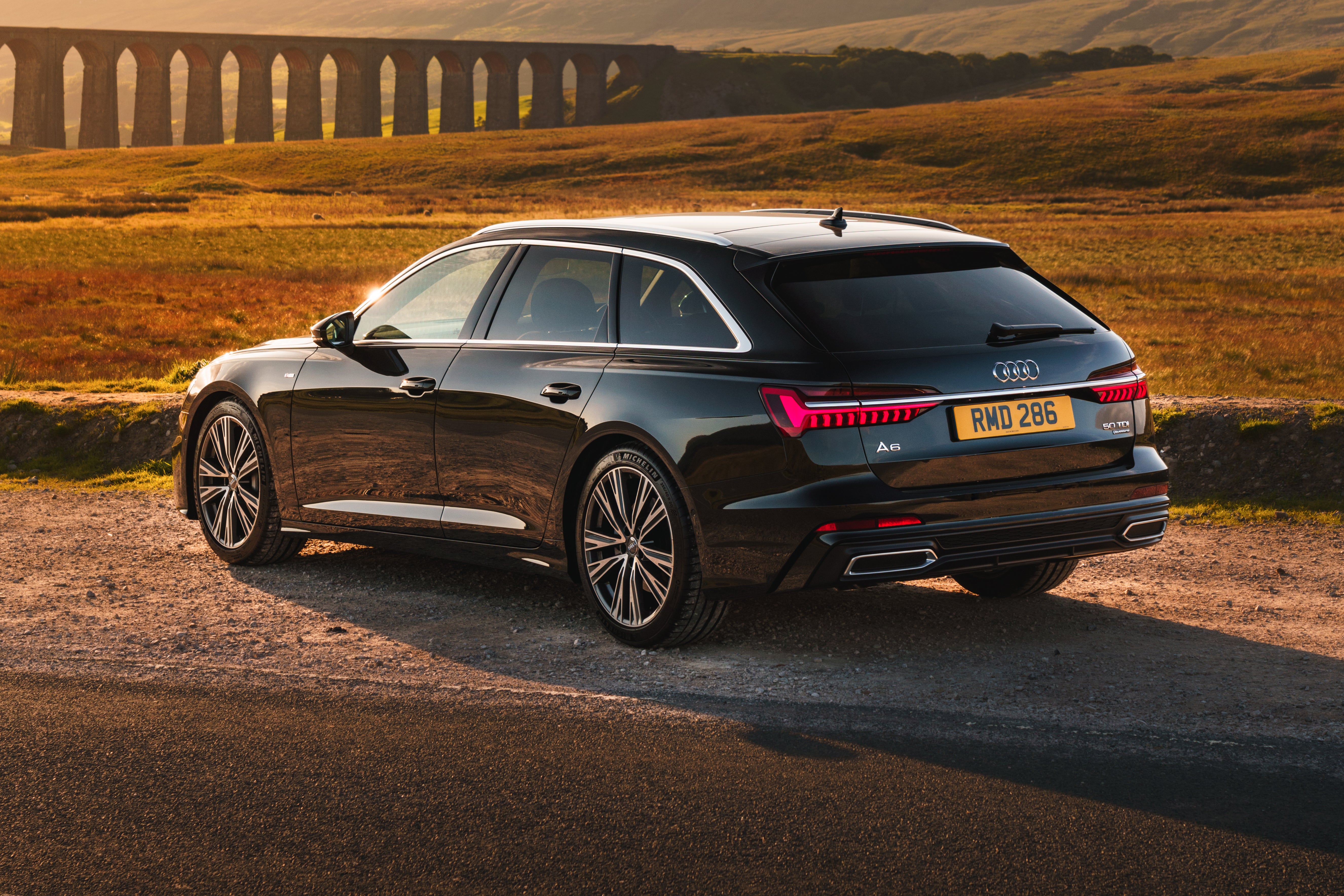 According to the latest WLTP economy tests, the 40 TDI Audi A6 Avant can average up to 48.7mpg, which is pretty good going for such a large car (and proof the mild hybrid tech actually works). Fitting Quattro knocks this down a couple of mpg and Vorsprung models with the very largest alloy wheels are thirstier still.

The 50 TDI averages around 39mpg, the 45 TFSI takes this down to around 33mpg, and the 55 TFSI actually doesn't look too bad at around 30mpg, given how it's a powerful V6 petrol. The Vorsprung version is the only one to officially dip below 30mpg.

How much should you be paying for a used Audi A6 Avant?
Used prices for this latest-generation Audi A6 Avant now start from a very tempting £25,000. This buys a 2018 40 TDI Sport, although you might have to hunt hard. You'll find a better selection if you can up your budget to around £27,000 (and might uncover the odd 2019 car too).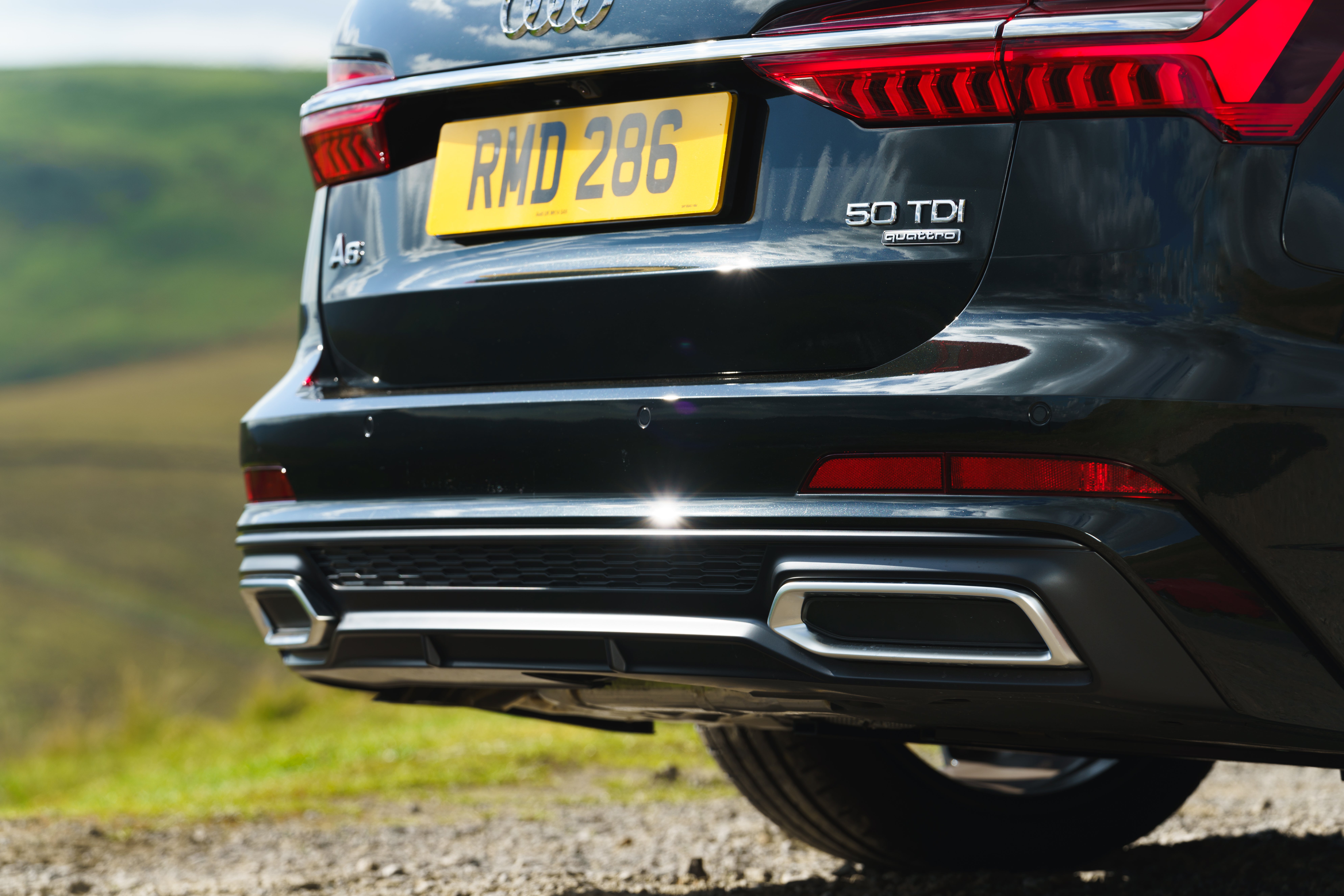 Our preferred S Line trim can just about be found from £27,000, but you'll ideally start at £28,000 to get a broader choice. For other engines and grades, budget from £30,000-plus. Remember, this is still a relatively new car to market, and it benefits from that showroom-fresh appeal to keep resale values high.
Is the Audi A6 Avant right for you?
If you like standing out in a crowd, the Audi A6 Avant could be for you. Audi has eschewed its previously understated style for a much more avant-garde look, and the A6 Avant is a fine example of that. It has bulging wheelarches, bold strakes and a really distinctive profile that easily stands out alongside its rivals.
It's not the most commodious load-lugger, so don't expect class-leading space in the boot. And the interior is a real tech-fest, which can be a bit much for some. But as an example of a modern, contemporary Audi, with the added bonus of low running costs for the best-selling 40 TDI version, it's a more exciting option than anything Audi has offered in this sector for some time.
If you want a more rugged version there's the Audi A6 Allroad.
What's the best Audi A6 Avant model/engine to choose?
Our pick is the 40 TDI. In prime spec, this version emits less than 120g/km of CO2 and can average well over 60mpg. It's the fleet favourite and it's easy to see why. You don't get the purr of a six-cylinder engine, and it is ever so slightly uncouth when driven hard – but most of the time, it's perfectly fine.
Audi doesn't bother with an entry-level SE grade these days. People want cars to look sporty, and it has responded with a choice of two model variants – Sport and S Line. Sport looks fine, and has a bit of attitude lacking in the older, more prosaic SE line. But once you've seen S Line, you'll do anything to get one – that's how appealing it is.
 What other cars are similar to the Audi A6 Avant?
The two direct rivals to the Audi A6 Avant are the BMW 5 Series Touring and Mercedes-Benz E-Class Estate. The BMW is the driver-focused one, while the Mercedes-Benz is the real load-lugger, with the biggest boot and most practical layout. All three are extremely appealing.
Volvo's latest V90 is a very able and desirable car, though, with svelte good looks of its own. It's a prettier car than the slightly awkward-looking Jaguar XF Sportbrake, which also doesn't have the most appealing interior – despite being a great car to drive.
Quality and finish
It's an Audi, so of course it's well finished. Plastics are all very high quality and the A6 Avant has all the familiar solidity the brand is well known for. The few buttons there seem nice to the touch and the metal frames and varied array of trim finishers feel built to last.
There are no muddy, poor-resolution displays here, just HD-style panels that look upmarket and modern. You won't be thinking 'three-generation-old mobile phone', but 'iPhone 11'. The screens also respond smartly to the touch, which isn't always a given in automotive applications.
In other areas though, it's surprisingly un-Audi. The strip of air vents at the top of the dash looks ugly and doesn't have the quality appearance the brand was once known for. Some of the plastics on the lower part of the dashboard also feel a bit built-to-a-price. There was a time where everything inside an Audi was over-engineered. It seems the firm's being a bit more selective these days.
Infotainment: touchscreen, USB, nav and stereo in the Audi A6 Avant
It dominates the interior, so let's dive into what Audi's bold new infotainment system includes. For starters, all cars get the dual-screen display in the centre console. Audi calls it MMI Touch, and regular models get an 8.8-inch top screen for infotainment and navigation (and both Apple CarPlay and Android Auto, if you prefer), plus an 8.6-inch lower screen for climate control, convenience functions and any text entry requirements.
As an option, MMI Navigation Plus (it's included as part of the Technology Pack) sees the top screen grow to a full panoramic-style 10.1-inch display, and if you like the sound of that, you may also complete the digital onslaught with a 12.3-inch HD LCD screen instead of the traditional analogue dials.
However, even cars without the full-width digital instruments get a 7.0-inch information display positioned in between the dials.
MMI navigation plus includes Audi Connect, which builds in a wi-fi hotspot and fast 4G connection. It offers a broad range of online services including, for Android smartphone users, a virtual Audi key that allows owners to lock and unlock the car by waving their phone. Even the navigation system is personalised, using driver preferences stored in the cloud to create intelligent suggestions and optimise the route just how they like it.
Space and practicality: Audi A6 Avant boot space
This is a huge car, almost five metres long, so it won't be any surprise to learn the A6 Avant is extremely spacious inside. Roominess has for some time now been an Audi trademark in this sector, particularly when compared to the more cramped BMW 5 Series, and the German firm hasn't let that crown slip with the latest model.
If drivers want to explore the full range of seat adjustment, they'd better hold on. It's possible to slide it so far back, you won't actually be able to touch the pedals or steering wheel anymore (electric seats are standard only on S Line, not Sport). Smaller drivers can feel a bit overwhelmed, to be honest, but we can't imagine even a 99th percentile adult will feel cramped inside an A6 Avant.
It feels more like an Audi A8 luxury car than a regular executive car, to be honest – such is the impression of space you get behind the wheel. If this means you'll be breathing in a bit when threading it down winding roads, so be it.
Rear-seat space is vast too. To the uninitiated, it may well be confused for an A8, as the amount of legroom on offer seems limo-like. The A6 Avant also has better headroom than the A6 saloon too: the four-door is hardly short on space here, which makes its estate sibling seem genuinely cavernous. Audi calls it class-leading and we don't doubt it.
With the seats up, the 565-litre boot capacity is bettered by the nearly 650 litres you get with a Mercedes-Benz E-Class (although it's still equal to 14 carry-on cases, reckons Audi). Blame the stylish rake to the rear screen. Fold the seats – via standard 40/20/40 folding backrests – and it grows to 1680 litres, again a few hundred litres shy of the best. It's practical, though, with a loading-friendly shape and total bay width of over one metre. Both tailgate and tonneau cover operate electrically as standard.
There are standard rails in the side of the boot floor for lashing down objects, and Audi includes a tensioning strap, net and two hooks as standard. An optional load securing kit with telescopic bar is also available.
The enormous rear cabin is perfect for slotting children into Isofix secured seats – the extra headroom over the saloon makes it just that bit easier, which might be useful for some.
What engines and gearboxes are available in the Audi A6 Avant?
The number of engines available in the latest Audi A6 Avant is surprisingly limited. This is most un-Audi: in years gone by, it was happy to offer endless variations of the same engine, and almost a dozen different types of power plant overall. Those days are gone. So too is any sort of obvious engine identifier in the model branding.
So the range opens with the 40 TDI, which is a 2.0-litre turbodiesel producing 204PS. Like all A6 Avants, it's fitted with an automatic gearbox, in this case the seven-speed S tronic. It drives the front wheels - Audi also offers an all-wheel drive 40 TDI Quattro. The other diesel option is the 50 TDI Quattro, which is a 3.0-litre V6 producing 286PS. This is the only A6 Avant to have an eight-speed Tiptronic gearbox.
If you prefer petrol, the 45 TFSI Quattro has a 2.0-litre turbo four-cylinder putting out 245PS, while the 55 TFSI Quattro is a 3.0-litre V6 with 340hp. Coming soon is a plug-in hybrid, although all regular A6 Avant models have a mild hybrid system that allows extended stop-start running and also provides a bit of electric support to the engine during acceleration.
The plug-in hybrid is called 50 TFSI e and has a more powerful electric motor coupled with the 2.0-litre petrol engine, for total system power of 299PS. It will do around 34 miles as a pure EV and offers preferential company car tax rates for fleet drivers.
Refinement and noise levels
With superb engineering, distant and quiet engines, plus extremely slippery aerodynamics that help keep wind noise to a whisper, the Audi A6 Avant is a very refined car indeed. It fully delivers the premium car experience and, again, does more than a passing impression of the luxurious A8 limo.
Such exceptionally low interior noise levels can be disturbed if you, say, try to drive the 40 TDI like a sports car. The 45 TFSI will also betray its revvy Volkswagen Golf GTI roots if you drive it like the hot hatch it came from. But such moments are exceptions, and in the car's natural element – the motorway – it's superb.
Make the most of such excellent refinement with the optional Comfort and Sound pack, which includes a storming Bang & Olufsen 16-speaker premium sound system with no fewer than 16 speakers. It even has a 3D sound function for the front seats, which is not unlike being in a concert hall (an impression further reinforced by the fact it's so big inside).
Safety equipment: How safe is the Audi A6 Avant?
All the standard safety features come as standard on the A6 Avant, including automotive emergency braking (which Audi calls Pre-Sense). It's high-tech active safety features where car companies make the difference these days. For example, there is a choice of three different types of high-intensity headlights, including Audi's famous HD Matrix LED headlights. These throw out as much ultra-intense light as possible, where you need it, without blinding oncoming drivers.
Two advanced assistance packs are offered. City Assist has a lane-change function and the rather spooky-sounding Pre-Sense Rear, which warns the driver to brace themselves when it detects something coming up quickly from behind. Cross-Traffic Assist Front will also stop the driver pulling out into crossing traffic, which is a boon at busy junctions.
The Tour pack has an advanced active cruise control system that will not only keep the vehicle a set distance behind the car in front, but also centre it within a lane. It's about as autonomous as is legally allowed right now.
The latest A6 has been awarded a full five-star rating in the Euro NCAP crash tests. Adult occupant protection is rated 93 percent, with 85 percent for child occupant protection and 81 percent for vulnerable road users (such as pedestrians). Safety assist features scored 76 percent (the rating would have been higher if more features were available as standard, rather than optional).
Insurance groups and costs
Insurance groupings range from reasonable to rather high. Basic 40 TDI Sport A6 Avants start from group 33, which is a good way to keep insurance costs fairly reasonable. Adding on the technology and spec does edge them upwards, though, meaning a Quattro-equipped Vorsprung will be rather more expensive to insure each year than a regular 40 TDI Sport.
With more power, so the insurance costs go up. The 45 TFSI begins at group 35, and a 50 TDI quickly rises upwards from group 40. It all stands to reason: the flashier your A6 Avant, the more you'll spend each year to insure it.
VED car tax: What is the annual road tax on an Audi A6 Avant?
VED (road tax) bands can again surprise. Emissions of 124g/km CO2 for the 40 TDI, for example, mean a first-year rate of £215, which isn't too bad at all. Then it's the standard rate of £150 a year.
The trouble is, all A6 Avants currently cost more than £40,000, and this means owners are obliged to pay an extra £325 per year for years two to six. On top of that, models with higher CO2 emissions pay more for the first year of tax too: £870 for the 50 TDI Quattro. Not for nothing do so many people prefer the standard engines unless they really need the extra power.
Trim levels and standard equipment
At launch, the A6 Avant was offered in Sport and S Line grades. Either is extremely well specified, with all getting at least 18-inch alloys, LED front and rear lights, a power tailgate, MMI navigation with dual screens in the centre console, lane-departure warning, front and rear parking sensors, rear-view camera and cruise control with speed limiter.
S Line adds 19-inch alloys and sports suspension, more vivid Audi Matrix LED headlights, a full S Line styling makeover outside and in, electric front seats and a perforated leather steering wheel. Even the door mirrors fold automatically.
The Black edition builds on S Line with more moodily-themed trims, while Vorsprung (Audi's new range-topping grade) adds a plethora of extras as standard for a considerable price increase over regular models.
Learn more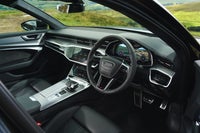 On the inside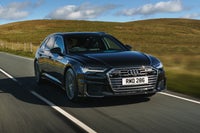 Driving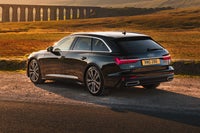 How much does it cost to run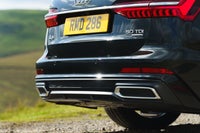 Prices, versions and specification
Reviews of similar cars
Quality checked, all cars less than 8 years old and warranty included
Looking for other Audi cars?
Quality checked, all cars less than 8 years old and warranty included
Keep me updated by email with the latest advice, news and offers from heycar
By submitting, you agree to our
privacy policy
.