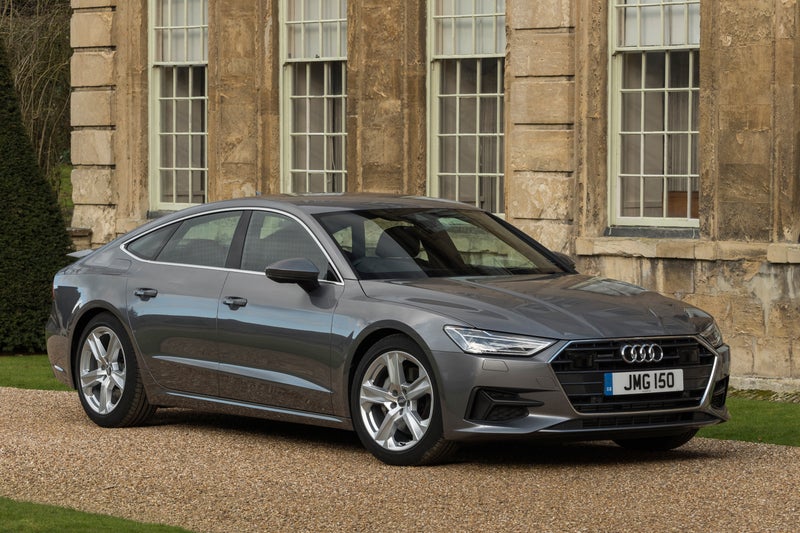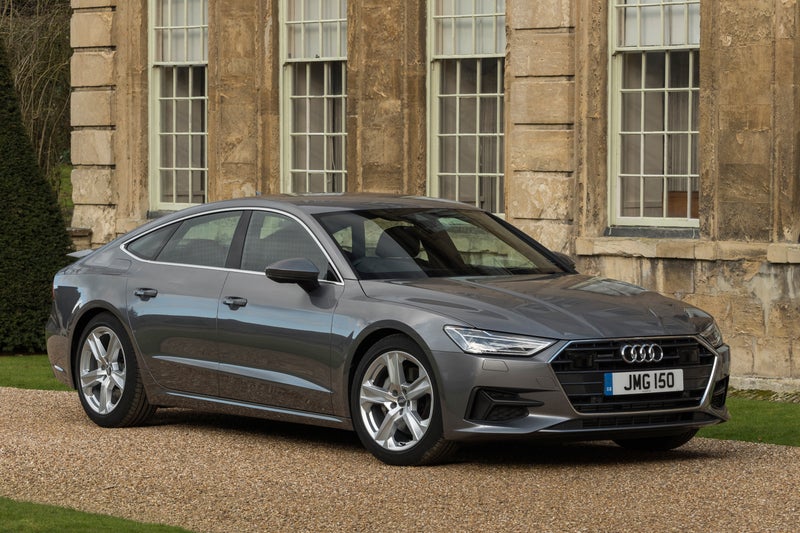 1/10
heycar rating
"Part coupe, part luxury saloon"
Launched: 2018

Luxury

Petrol, Diesel
Quick overview
Pros
Fabulously classy interior
Impressive rolling refinement
Lots of luxury toys
Cons
Not as fun to drive as you might expect
Not as comfortable, either
Infotainment system could be more user-friendly
Overall verdict
On the inside
Driving
Cost to run
Prices and Specs
Overall verdict on the Audi A7 Sportback
"Just because you're a successful businessperson or a captain of industry, it doesn't mean you necessarily want to look like one. When somebody sees a luxury limousine like an Audi A8 or a Mercedes S-Class going by, they usually assume such a person is inside, but not all such people want that sort of attention. They might, however, want attention of a different sort. And that's where the A7 comes in."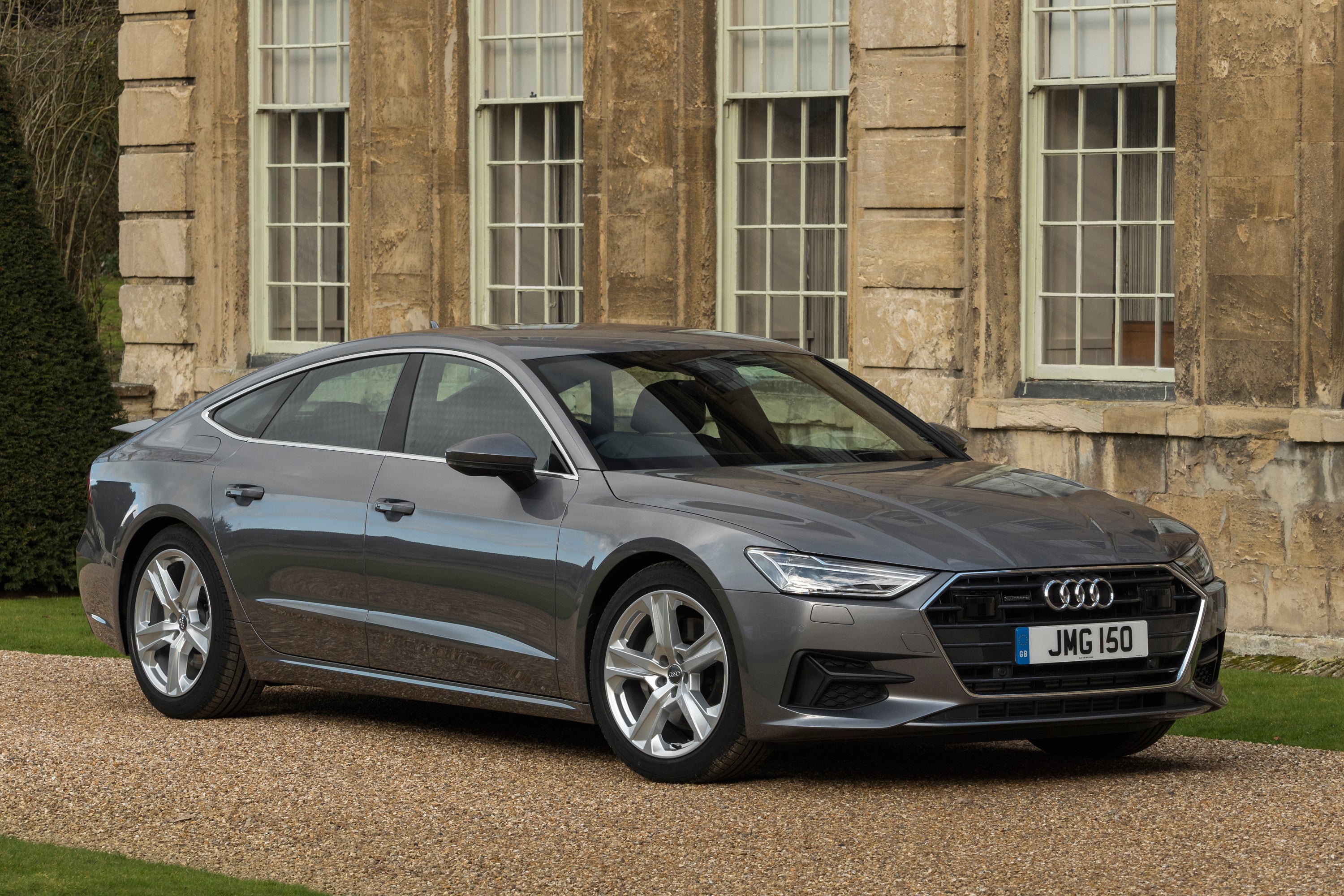 It's designed to deliver most of the same traits as a luxury saloon, but with a good bit more style thrown in for good measure. It certainly achieves that, the bold details and crisp creases combining with the swooping roofline at the back of the car to create some proper visual drama.
And yet, even though some interior space has been sacrificed in pursuit of this visual theatre, it's only a tiny amount. There's a pinch less rear headroom than you'll find in an A6 or A8, but it is only a pinch and tall six-foot colleagues will be just fine in the back. What's more, the boot is actually marginally bigger than an A8's, and because it's a hatch rather than a saloon, you also get much better access to the space. In fact, you could argue that it's actually more practical than the A8 overall. We wouldn't argue against you.
And what are these other luxury car traits on which the A7 delivers? Well, quality is the main one. The interior looks like it's been lifted straight out of the A8, and that means the materials are dense and sophisticated, while the fit and finish are flawless. This is a car that feels posh enough for the very highest of high-flyers. No matter which version you pick, there's also a huge amount of luxury kit on board, and that also helps occupants feel spoiled.
The A7's excellent rolling refinement is also very luxury limousine-like. Wind and road noise are really well suppressed, while the whole range of petrol and diesel engines is quiet and smooth, not to mention powerful. What's not so limousiney, though, is the ride comfort.
All versions are on the firm side - uncomfortably so on the versions with lowered sports suspension - so this isn't the wafty land yacht you might be expecting. It's no sports car, either: it feels capable and assured in bends, but it's not much fun due to its hefty weight and remote steering.
You might not get on so well with the complex touchscreen infotainment system, either, but other than that, the A7 is a very tempting package. Still want that Mercedes CLS?
Is the Audi A7 Sportback right for you?
If you want the kind of attributes that a luxury saloon gives you, but you want them served up in a package that's a bit less staid and a bit more stylish, then the A7 will be a very solid choice.
It's glamorous enough and desirable enough to draw admiring glances from passers-by, and to be fair, you don't really sacrifice too much in the way of practicality to get it: rear headroom is a fraction tighter than in a saloon, but it is only a fraction. It also gives you the impeccable build quality, generous equipment list, strong safety record and excellent refinement that you expect from a high-end Audi.
What's the best Audi A7 Sportback model/engine to choose?
The trim level we recommend is the entry-level Sport. It comes with all the luxury kit you'd need, but more importantly, it has a more forgiving suspension than S line and Black Edition models, so it's more comfortable. The Vorsprung models have an air suspension as standard, which is a bit better, but these are too pricey to recommend.
On the engine front, we reckon most folks will be fine with the entry-level diesel, which has enough go, but if you want more poke - which in a glamorous car like the A7, you might well go for one of the smooth and powerful V6 diesels. We've not tried the 45 TDI yet, but the more powerful 50TDI really is something special.
What other cars are similar to the Audi A7 Sportback?
The A7's most direct rival is undoubtedly the Mercedes-Benz CLS, which is absolutely bang-on for size, price and ethos. Once upon a time, the BMW 6 Series Gran Coupe would've been a rival too, although BMW ditched that model around the time that this version of the A7 was released.
The 6 Series Gran Turismo remains, which is another car that puts a slightly different stylistic take on the executive saloon formula, but that looks more like an SUV than a coupe. There's the BMW 8 Series Gran Coupe but that's a lot more expensive than the A7, as is Germany's other big four-door coupe, the Porsche Panamera.
Comfort and design: Audi A7 Sportback interior
"The A7's dashboard layout is about as minimalist as it gets: there are three screens and pretty much nothing else. Two of them sit on the centre console. The top one controls the infotainment system, while the bottom one takes care of the climate control system, along with a few other things, replacing traditional buttons and dials."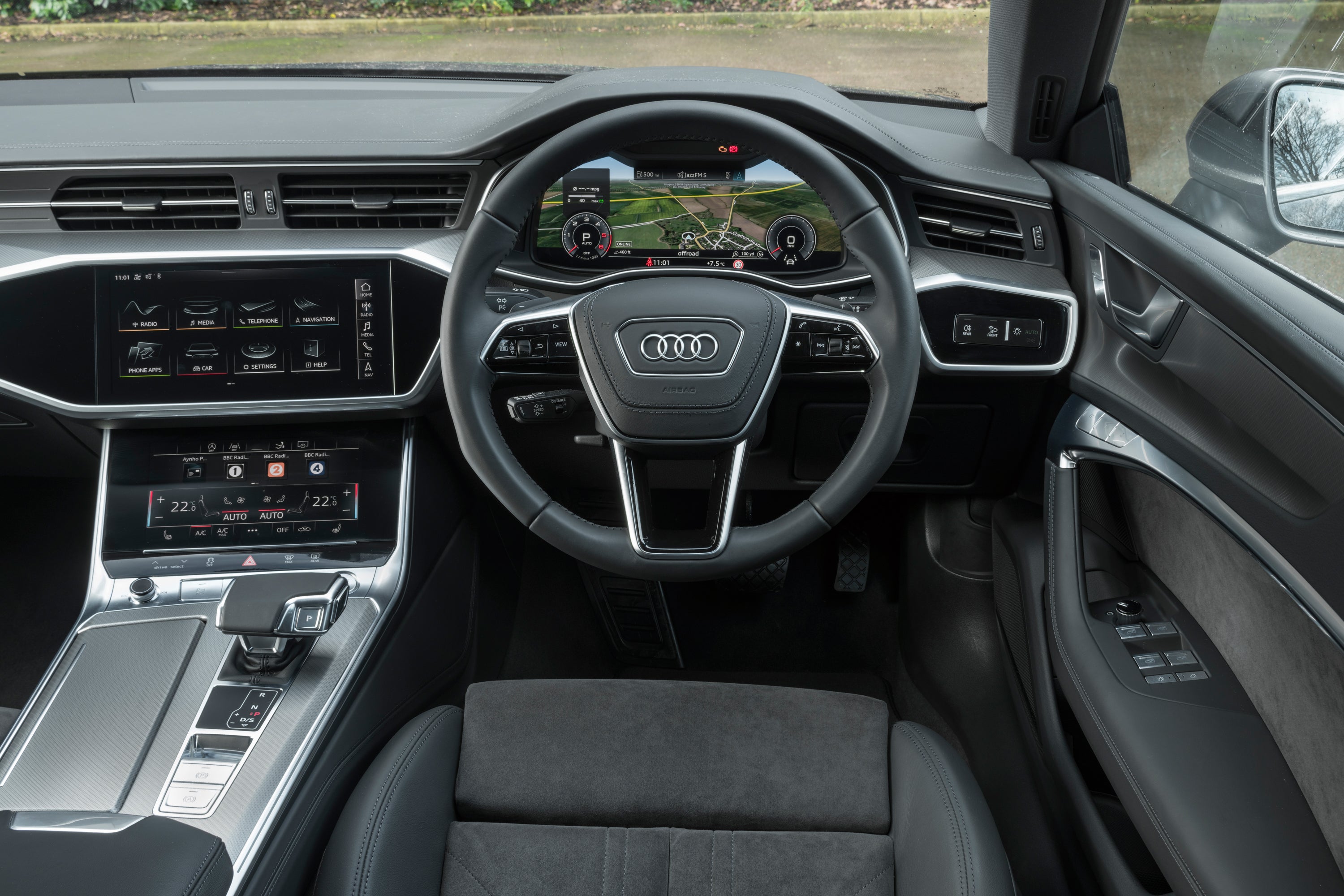 It looks great, but it's not so great in terms of ergonomics. While you can find physical controls by touch after a brief glance, you can't do this with a screen, and that means you have to stare at the screen intently every time you want to do something, and that's more distracting when you're driving.
The digital instrument panel is rather more successful. This displays all the regular information that conventional dials would, but also places selected other bits of information - sat-nav instructions, for example - directly into your eyeline. Despite the large amount of information presented, everything stays clear and easy to process.
The seats are very comfy, and they adjust electrically in all versions, helping you to fine-tune your favoured driving position. You get a clear view out in all directions too, even despite that sloping roofline at the rear. You also have the added assurance of parking sensors at either end and a reversing camera on all versions, while the Vorsprung adds a 360-degree camera.
Quality and finish
You'd expect any Audi to deliver cabin quality worthy of the brand, and the A7 delivers. Every surface has bags of sensory appeal, and even if you hunt around in the lower reaches of the cabin trying to find materials that let the side down, you'll emerge empty-handed.
The way it's all assembled is equally impressive: every panel fits together perfectly and there's no hint of movement in any of the joins. This gives the car a wonderfully substantial, solid feel. And, while different versions might give you the odd interior styling tweak here or alternative trim piece, the quality is a constant throughout all versions, so they all feel pretty much as posh as each other.
Infotainment: touchscreen, USB, nav and stereo in the Audi A7 Sportback
As we've already discovered, the A7's dashboard has two screens housed within its centre console. The 8.6-inch one on the bottom handles the air-conditioning system, the various driving modes and a few other miscellaneous functions, while the top one - all 10.1 inches of it - takes care of everything else.
It all looks great and delivers a really high-tech feel to the cabin. The graphics are super-sharp and the responses are fast and consistent, so there are no annoying pauses or glitches. However, the system has so much going on that finding your way around it can be a bit difficult, and takes quite a bit of time to master.
And, like with any touchscreen, it's more distracting to use while driving than traditional knobs and buttons would be, because you have to concentrate so hard on hitting exactly the right part of the screen, which you can't find by touch alone.
All the functionality you'd expect is covered, though, including navigation, DAB radio, Apple Carplay/Android Auto and wireless phone charging. Upgrade to the Vorsprung model, meanwhile, and you also get an upgraded Bang & Olufsen 3D sound system.
Space and practicality: Audi A7 Sportback boot space
Compared with a regular saloon car, the A7's coupe-like styling will obviously sacrifice a wee bit of cabin space at the altar of style, but it still does a really good job. Up front, there's as much room as you'd find in any limo, while in the back, legroom is also very generous.
And while the swooping roof does mean a shade less headroom, there's still enough for six foot adults to sit comfortably, although you might find your bonce brushing the ceiling if you're much taller than that. You won't want to squeeze a third person onto the rear bench either, due to limited shoulder room, a narrow middle seat and a shortage of foot space. You won't have any issues fitting a pair of bulky child seats in though.
The boot is big, slightly bigger than a Mercedes CLS's, and because the A7 is a hatchback rather than a saloon, you get much better access to the space available, although you will have to muscle heavy items over a fairly big load lip. The rear seats drop in a 40-20-40 format, although the backrests do lie at a slight angle, meaning your extended load area has a small slope.
Handling and ride quality: What is the Audi A7 Sportback like to drive?
"Depending on how your A7 is specced, you'll get one of four-suspension setups. Sport cars get a standard passive suspension, and for reasons we'll explain, this is the one we'd stick with. It's not perfect by any means, sometimes struggling to deal with lumps and bumps at all speeds, but it's comfortable enough for enough of the time to maintain the impression that this is a luxurious car."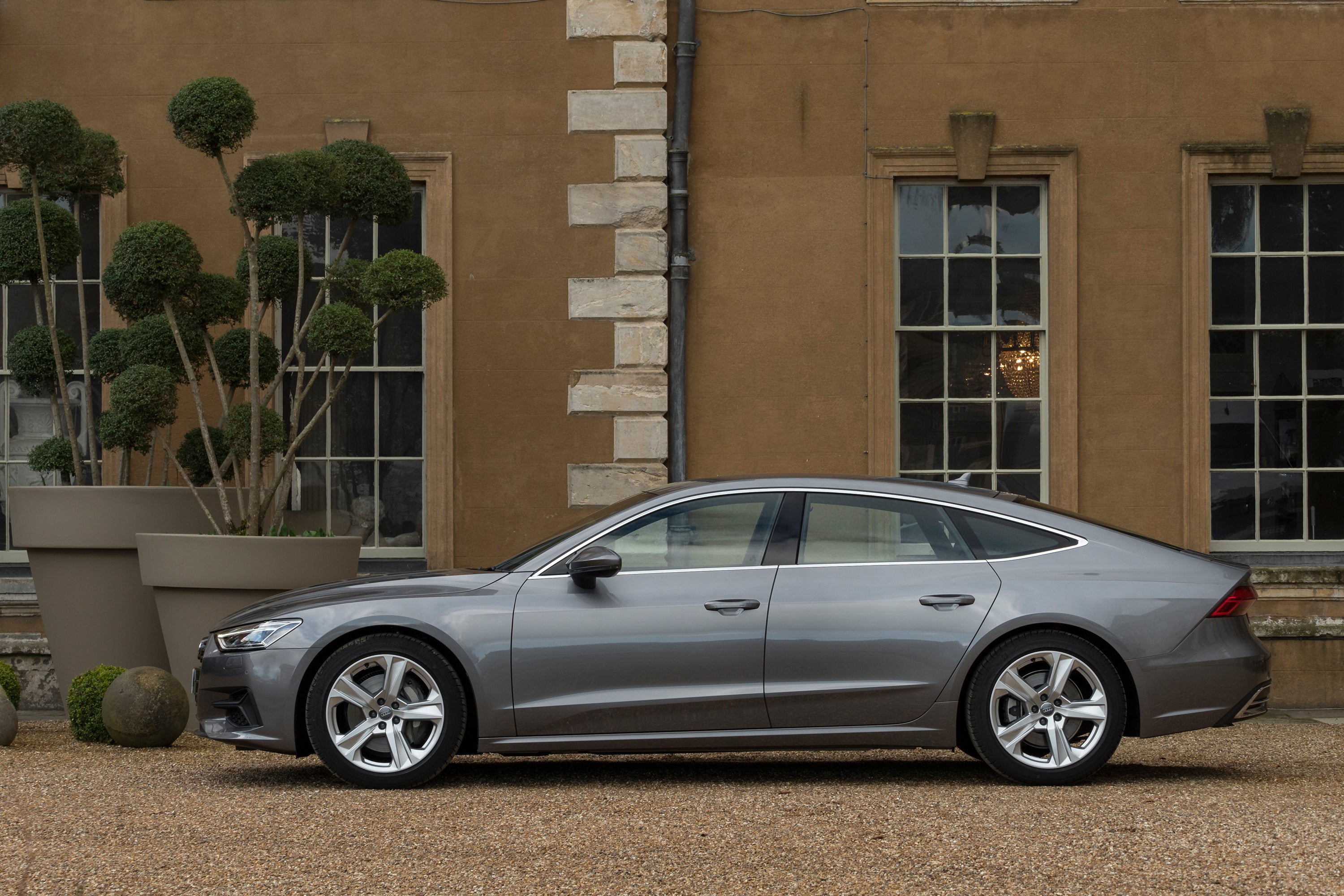 The S line and Black Edition versions, meanwhile, do not. These have a lowered and stiffened set-up designed to deliver keener control in the corners, which it does, but it also scuppers the ride, making it uncomfortably firm. It jitters over small bumps and ripples, and really thuds over potholes, and because this happens at all speeds, it doesn't even settle down on the motorway.
An adaptive set-up is also offered, which we haven't had the opportunity to try, and full-on air suspension is also available, which is standard on the Vorsprung version and optional on some others.
Even this isn't perfect, because you still feel more of a bad road surface than you'd want to in a luxurious car like this. And while the ride comfort it delivers is a little bit better than the standard setup, and a lot better than the S line setup, the improvements aren't big enough to justify forking out the extra it'll cost you.
In all the versions we've tried, the handling is capable, with strong grip and good body control, so direction changes are reassuringly undramatic. That said, if you're expecting the A7's sleek styling to translate into a sporty driving experience, you'll be disappointed. It's too big and heavy for that, and the steering is overly light and rather remote.
What engines and gearboxes are available in the Audi A7 Sportback?
If you ignore the high-performance S7 and RS7 versions (which we will), the A7 comes with three diesel engines and two petrols. The entry-level diesel is a 2.0-litre four-cylinder unit - badged as the 40 TDI - and is the only engine available with a choice of front or four-wheel drive (the rest all get four-wheel drive).
With 204PS, the performance it gives should be adequate enough for most drivers. You're pulled around with a reasonable amount of urgency, and decent low-rev pull means it's pretty flexible, too. However, we reckon many buyers will be looking for something stronger in a glam car like the A7, and for that, either the 45 TDI or the 50 TDI should fit the bill.
Both are 3.0-litre V6s with 231PS and 286PS, respectively. We haven't tried the former but its performance figures indicate that it's much quicker than the 40 TDI, while the 50 TDI is quicker still. It feels properly strong in the lower half of the rev range, too, so much so that you'll be pelting along at a serious pace without really trying.
We haven't tried the entry-level petrol, the 45 TFSI, which uses a 2.0-litre four-cylinder unit with 245PS. We have tried the 55 TFSI, though, which has a 3.0-litre V6 petrol with 340PS. Again, it's quick, even quicker than the 50 TDI against the stopwatch. However, you do have to work it harder for best effect, so the performance, although very strong, doesn't feel as effortless.
However, while all the engines on offer are really good, we can't say the same about the automatic gearboxes. Depending on the version you pick, you either get a seven-speeder or an eight-speeder, and both are very slow to respond to requests for more speed via a prod of the accelerator pedal. That's the case whether you're pulling away or trying to build speed on the move, and it can get really frustrating.
Refinement and noise levels
This is an area the A7 does well in. All the engines are impressively quiet in most circumstances, that they also send very little vibration through to the cabin. Wind noise and road noise are filtered out really effectively, too, so life also stays quiet and serene on the motorway. The only thing that really gets in the way is the gearbox: that reticence to kick down - and the fact that when it finally does, the revs are sent sky high, lurching you forwards untidily - can make it quite difficult to drive the A7 smoothly.
Safety equipment: How safe is the Audi A7 Sportback?
The A7 has achieved the highest five-star rating in Euro NCAP crash tests, and that should provide plenty of peace-of-mind when ferrying around your family.
As well as all the usual airbags and electronic aids to maximise traction and stability, all versions have automatic emergency braking, lane departure warning and LED lighting at both ends of the car. From S line trim upwards, you get cleverer Matrix Beam LED headlights.
Range-topping Vorsprung cars come with a few more safety-focused bits on top. These include a head-up display, camera-based traffic sign recognition and a semi-autonomous adaptive cruise control system. Further autonomous features can be found on the options list, along with a wide variety of other gear.
MPG and fuel costs: What does an Audi A7 Sportback cost to run?
"The front-wheel drive 40 TDI has the best official fuel economy in the range, with a maximum figure of 49mpg, but that drops to 47mpg if you add four-wheel drive."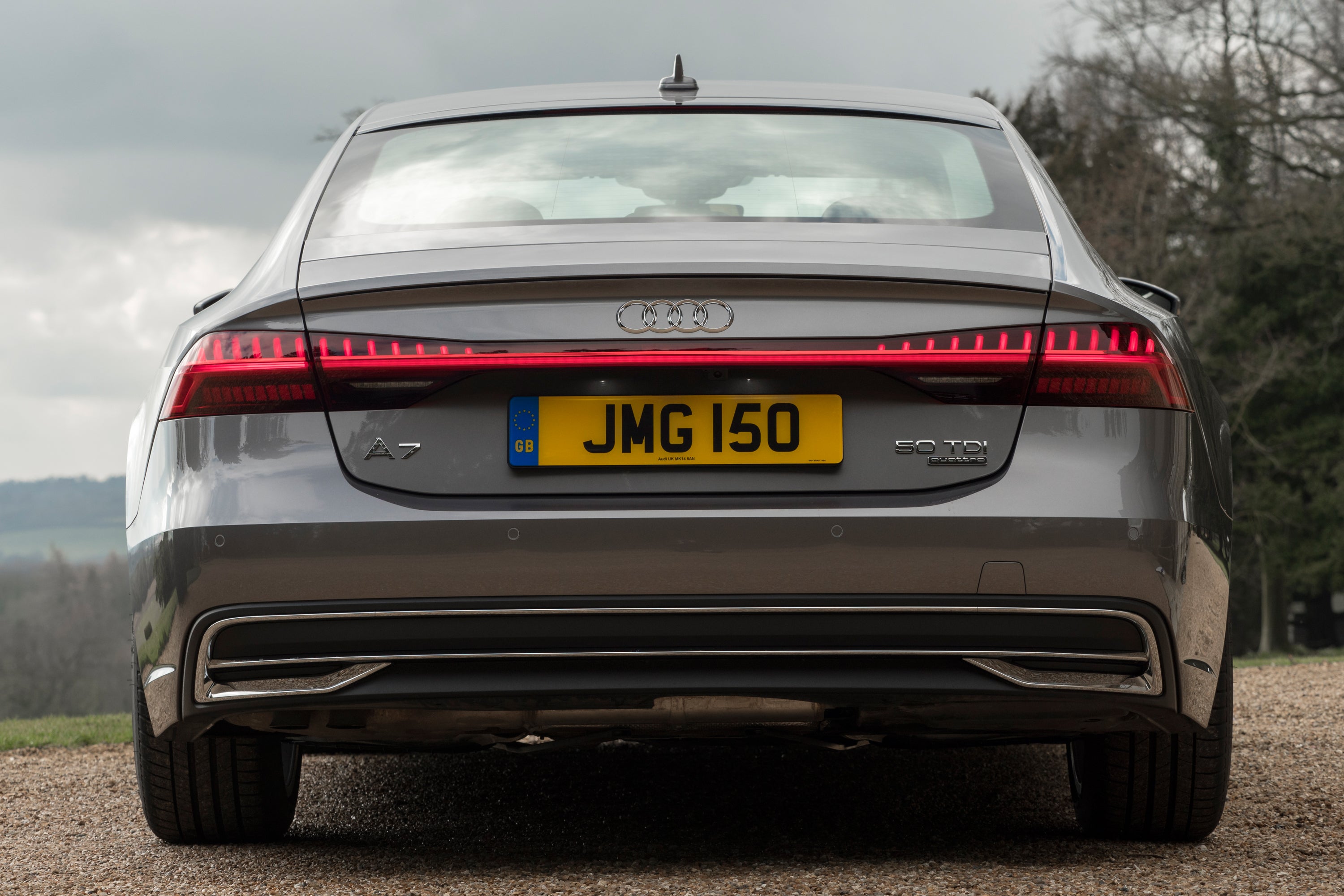 That's still a lot better than the V6 diesels, though, which both have identical figures of around 40mpg. The petrols are significantly thirstier, unsurprisingly, with the 45 TFSI delivering 34mpg and the 55 TFSI giving just 30mpg. Compared with rivals, all those figures are about par for the course.
Insurance groups and costs
Insurance companies classify cars in any one of 50 groups, group one being the cheapest and group 50 being the priciest. Depending on which version of the A7 you buy, it'll sit somewhere between groups 40 and 50. Premiums are never going to be cheap, but if you're wealthy enough to buy an A7, insurance costs are unlikely to worry you.
VED car tax: What is the annual road tax on an Audi A7 Sportback?
This is nice and easy, because all versions of this generation of A7 will cost you exactly the same to tax. That's because the car was introduced after April 1st 2017, when new rules came in that applied a flat rate of £150 for petrol and diesel cars, and a five-year surcharge of £325 was applied to cars that cost over £40,000 when new.
As all A7s cost more than that threshold, then used buyers (having already dodged the exorbitant 'showroom tax' first-year fee that buyers of brand new examples pay) will fork out £475 between years two and six of the car's life, thereafter it'll divert back to the £150 annual rate.
How much should you be paying for a used Audi A7?
"At the time of writing, prices for brand new A7s started at around £47,000 for the Sport 40 TDI model and rose up to a maximum of around £77,000 for the Vorsprung model in either 55 TFSI or 50 TDI form. That's if you don't count the RS7 model, which costs between £94,000 and £111,000."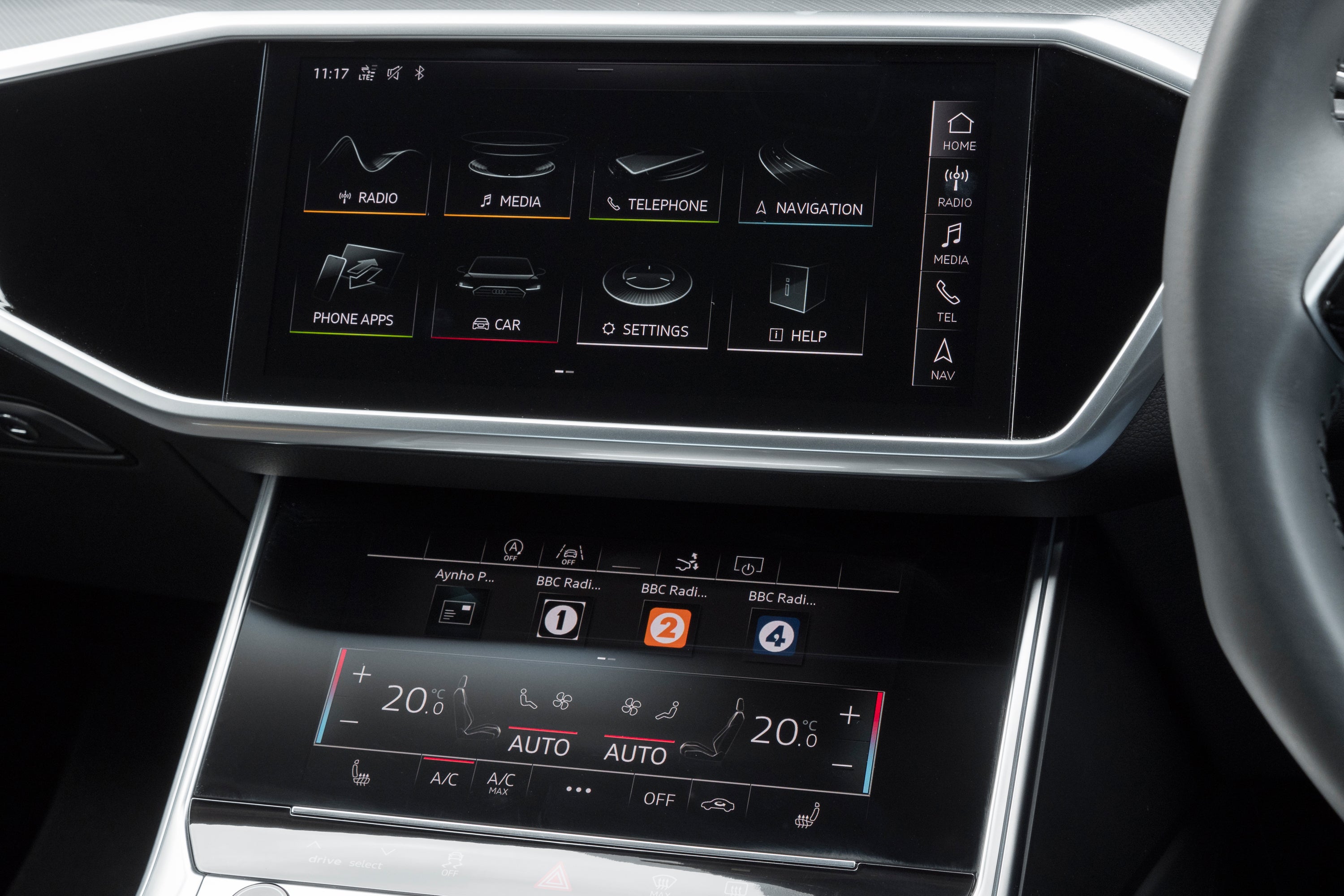 Compare prices with those of equivalently powered rivals, and they're absolutely bang-on with the Mercedes CLS, which is no great surprise. Prices for the BMW 8 Series Gran Coupe and Porsche Panamera are considerably higher, and these don't offer the more affordable versions that the Audi and Merc do, either.
The A7's resale values are also very similar to the Merc's, and both hold onto their value considerably better than the BMW or Porsche, although not by enough to even out prices on your average three-year-old/60,000-mile examples. Check out our listings, and you'll find that early examples of this generation of A7 kick off at around the £30,000 mark.
Trim levels and standard equipment
A posh - not to mention expensive - car like the A7 needs to have lots of creature comforts, and you won't feel short-changed. Even entry-level Sport trim comes with two-zone climate control, leather upholstery, cruise control, LED ambient lighting, keyless go, heated front seats, a powered tailgate and automatic lights and wipers, on top of all the infotainment and safety gear we mentioned earlier.
S line cars add the sports suspension along with sports front seats in leather and alcantara, while the Black Edition models add nothing except a few visual upgrades.
The range-topping Vorsprung model, meanwhile, comes fully loaded, with four-zone climate control, a panoramic roof, heated rear seats, power-closing doors, air suspension and all-wheel steering.
Audi A7 cars for sale on heycar
11,022
Number of cars available
£18K - £70K
Price bracket of these cars
Colours available on heycar
Keep me updated by email with the latest advice, news and offers from heycar
By submitting, you agree to our
privacy policy
.