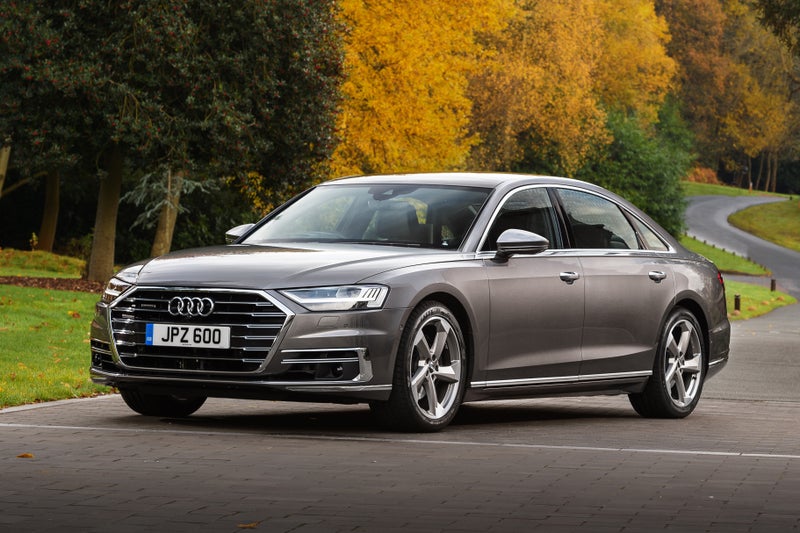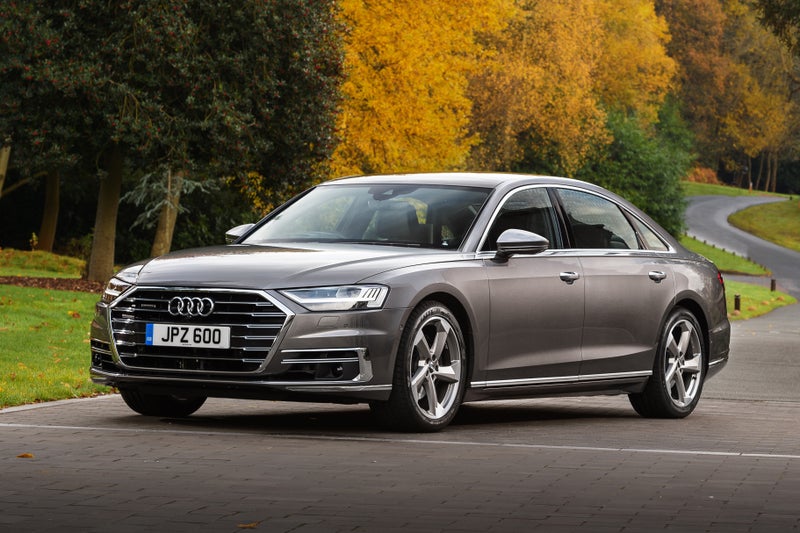 1/10
heycar rating
"Audi's class-leading luxury limousine"
Launched: 2017

Luxury

Petrol, Diesel, PHEV
Quick overview
Pros
One of the smoothest-riding cars on sale
Sensational interior quality
Absolutely packed with luxury kit
Cons
Touchscreen system could be better
Automatic gearbox can be slow to respond
PHEV has smaller boot than the rest
Overall verdict
On the inside
Driving
Cost to run
Prices and Specs
Overall verdict on the Audi A8
"There was a time, not all that long ago, when there was only one sensible choice in the luxury saloon market: the Mercedes S-Class. Dubbed by many as 'the best car in the world', it was more comfortable, more enjoyable and quieter than rivals like the Audi A8, BMW 7 Series and Jaguar XJ, and it was also roomier, better on quality and made more financial sense."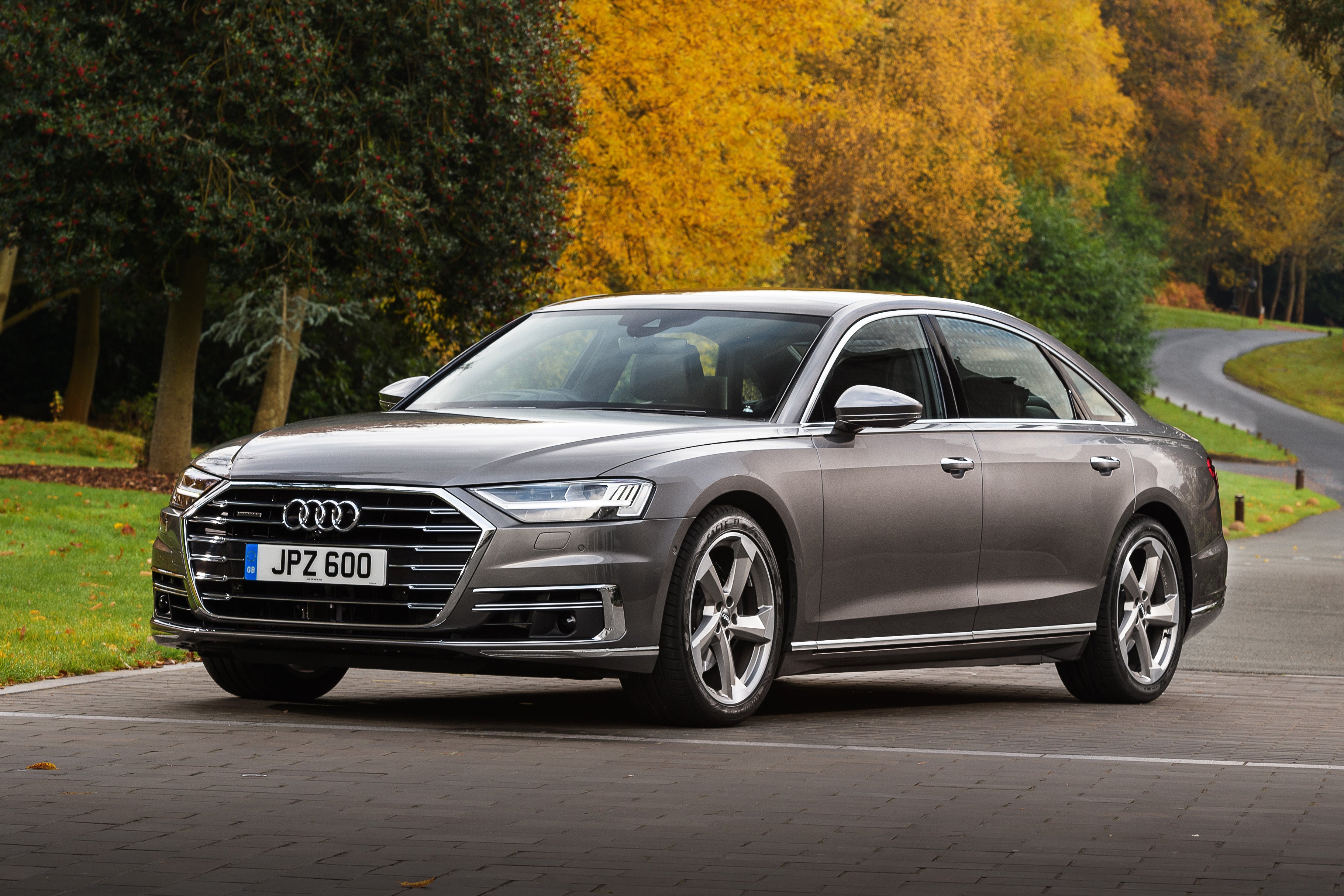 Fast-forward to 2017, though, and out of nowhere, Audi comes up with this, the latest A8. It was big. It was smart. It was packed with technology. Could it finally do the unthinkable and topple the class-leader? Yup. That's precisely what it did.
You see, there are a few things that a luxury limousine needs to get right above all else. The first of them is comfort. That means having enough cabin space for well-heeled occupants to stretch out, and enough luxury kit to keep them relaxed and entertained. Both boxes checked here.
It also means isolating your occupants from the vulgarity of the outside world, by not letting bumps in the road, or exterior noises, ruin the calm. And it's this that the A8 does better than any car of its type. Not only is this the smoothest-riding car in its class, it's one of the smoothest-riding cars in any class. Okay, it may not handle quite as sharply as it's rivals, but who cares?
The other thing that a luxury car needs to nail is quality and sophistication. After all, if you're ferrying around VIPs and captains of industry, they'll want to feel like they're travelling first-class. And again, this is an area in which the A8 leads the way. The standard of the materials on show is second-to-none, and the solidity and attention-to-detail with which everything is assembled is absolutely impeccable. That's why no car in the class makes you feel more spoiled.
It's not just these areas of extra importance where the A8 nails things, either: it does an exemplary job in pretty much every area. The engines are smooth and powerful, the efficiency figures look good, especially on the clever plug-in hybrid version, while all the other ownership costs stack up well, too. Niggles? The touchscreen infotainment system is a bit distracting when you're driving and the automatic gearbox is a bit slow to react sometimes, but that's about it.
Like most Audis, the A8 is a fabulous all-rounder, which helps solidify its place at the very top of the class. If you find yourself in need of a luxury limousine, there's now a different 'only sensible choice'.
Is the Audi A8 right for you?
Are you after a luxury limousine? Are you after the best one you can possibly get, pound-for-pound? Then the A8 is the car you want. Even compared with excellent rivals like the BMW 7 Series, Jaguar XJ and Mercedes S-Class, the A8 is an exceptional all-rounder, doing a great job in every single area.
However, the things it does best are the things that matter most in a luxury car, those being ride comfort, refinement and quality, and that's what puts the big Audi at the top of the class. So, if you're a busy CEO that needs to be driven between meetings, or a chauffeur company operator that needs to drive celebrities between gala dinners and film premieres, this is the car you want.
What's the best Audi A8 model/engine to choose?
In terms of trim level, we can't see much missing from the entry-level Sport car. It gives you all the luxury kit you need and upgrading to S line or Black Edition trim earns you very little except a few aesthetic upgrades. To be fair, range-topping Vorsprung trim adds loads to the roster, but it also adds loads to the price.
Engine-wise, the V6 petrol will probably be of limited appeal due to its thirst, so the diesel will be more popular, especially for high-mileage drivers or those that spend lots of time on motorways. This is the one we reckon will suit most people. The PHEV version, meanwhile, will be of interest to those with short-hop commutes or those who spend most of their time in cities. There are some very useful tax advantages for company car drivers, too.
What other cars are similar to the Audi A8?
You can't talk about any Audi without talking about its inevitable equivalents from old German foes BMW and Mercedes. As Audi's flagship luxury saloon, the A8 goes toe-to-toe with BMW's 7 Series, and Mercedes-Benz's S-Class.
Mind you, Jaguar also offers a temptingly athletic alternative in the XJ, and those who value reliability above all else will want to consider the Lexus LS. The Maserati Quattroporte could be a more glamorous left-field alternative, while a little (well, quite a lot) further up the scale, you have the Bentley Flying Spur and Rolls Royce Ghost.
Comfort and design: Audi A8 interior
"Describing the A8's dashboard layout is incredibly easy: aside from a steering wheel and gear selector, there are three screens and pretty much nothing else. The top touchscreen on the centre console controls the infotainment system, and we'll talk about that in the corresponding section in a moment."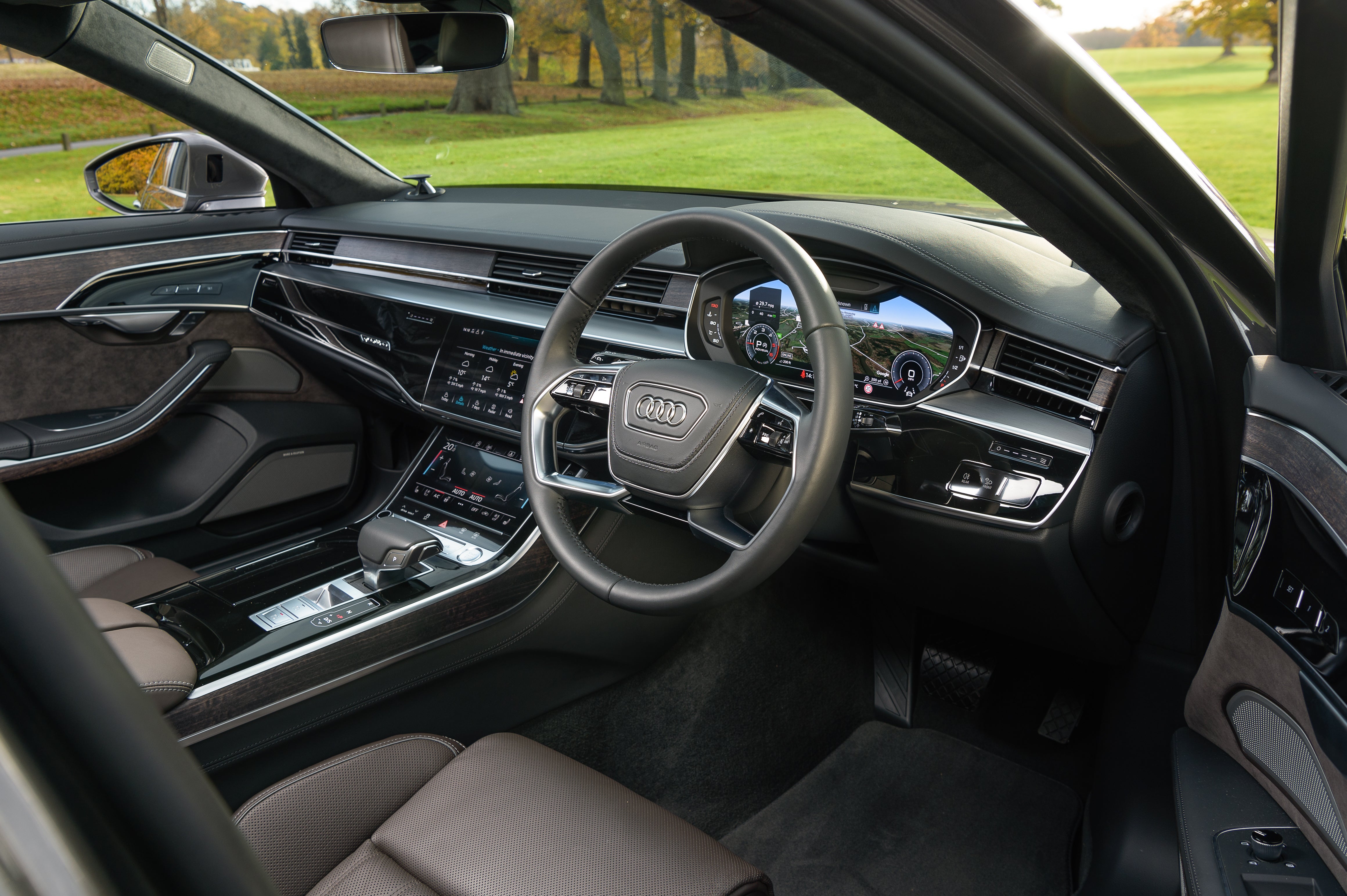 The bottom one controls the climate control system, along with a few other things, effectively replacing traditional buttons and dials. It looks great, but in terms of ergonomics it's a backward step. While you can find physical controls by touch if you need to, you can't on a screen, and means you have to stare intently at the screen every time you want to make a change, and that distracts you from your primary focus of driving the car.
The digital instrument panel, meanwhile - known as 'Virtual Cockpit' - is rather more successful. This displays all the regular information that conventional dials would, but also places selected other bits of information - sat-nav instructions, for instance - directly in front of you. What's more, all A8s come with a head-up display that also beams various bits of information directly into your eyeline. Despite the large amount of information on offer, everything stays clear and it works well.
The seats are very supportive, and they move electrically in all versions to help you find a comfy driving position. You get a clear view out in all directions, too, which is important when driving a car this vast, and you also have the extra assurance of parking sensors at either end and a reversing camera on all versions. The Vorsprung version adds a 360-degree camera.
Quality and finish
You'd expect any luxury limousine to deliver cabin quality worthy of the tag, and when quality is also an Audi speciality, expectations become even higher. Even so, the A8 truly dazzles in this respect. Every surface is dripping with tactile appeal, and even if you grovel around in the lower reaches of the cabin trying to find a single panel that lets the side down, you'll remain unsuccessful.
The way it's all put together is just as impressive: every panel fits together super-tightly and you'll detect no hint of creaks or rattles from any of the joins.
This gives the car a wonderfully dense and substantial feel. Even among limos, this really is as good as it gets, and you'd have to spend more than twice the amount on a Rolls Royce to find anything better. And while in different versions you'll find the odd styling tweak here and the odd bit of extra leather there, all versions of the A8 feel pretty much as posh as each other.
Infotainment: touchscreen, USB, nav and stereo in the Audi A8
Although the quality on show inside the A8 is beyond reproach, it's the infotainment system that really dominates proceedings, with its twin screens. While the 8.6-inch one on the bottom handles the air-con, it's up to the top one - a 10.1-inch item - to take care of pretty much everything else.
The arrangement looks great and gives a really high-tech feel. The graphics are as sharp as they come and the software is super-speedy. However, some of the on-screen icons are a little bit small, and the system is so vast and complex that remembering where everything lives can be a bit difficult, and takes time to master. And, like with any touchscreen, you have to stare intently at the screen before jabbing your finger at it to deliver an instruction, and that inevitably distracts you from the road ahead.
All the functionality you'd expect in a luxury car is covered, though, including DAB radio, navigation, wireless phone charging, AppleCarplay/Android Auto and various connected services. Upgrade to the Vorsprung model, and you also get an upgraded Bang & Olufsen 3D sound system.
Space and practicality: Audi A8 boot space
Limousines are supposed to be roomy - that's precisely why they're so big - so it's no surprise that the A8 follows suit. There's loads of space up front, naturally, but it's the rear of the cabin that matters most in a car like this, and the A8 is positively palatial back there.
ou get masses of headroom and legroom, allowing even the longest-of-leg to stretch out in comfort, and if you go for the long-wheelbase model, there's even more.
There's enough space for a third person to squeeze in on the rear bench, too, and as an option, it's also possible to replace the bench seat with two individual rear chairs that recline electrically for ultimate comfort. Those in the rear seats also get their own tablet device that allows access to certain parts of the car's infotainment system and allows control over climate control settings, seat settings and other convenience features.
The boot, unsurprisingly, is pretty much the same size as that of a Mercedes S-Class, and there's enough space for any number of laptop bags, a couple of big suitcases for long business trips, or a couple of sets of golf clubs for a cheeky weekday round. The saloon car body means the space isn't as easy to access as it would be in a hatchback, but that applies to all such cars.
Also, there's no option of dropping the rear seats to boost space no matter what trim you choose or option you pick. Bear in mind, too, that the hybrid's boot is considerably smaller than the rest because that's where the extra batteries live.
Handling and ride quality: What is the Audi A8 like to drive?
"Cars like these are all about comfort. Those inside are likely to be important, or busy, or both, and they don't want to be jostled around and distracted from their laptops. Just as well, then, that even in a class full of incredibly comfortable cars, the A8 is the most comfortable of the lot."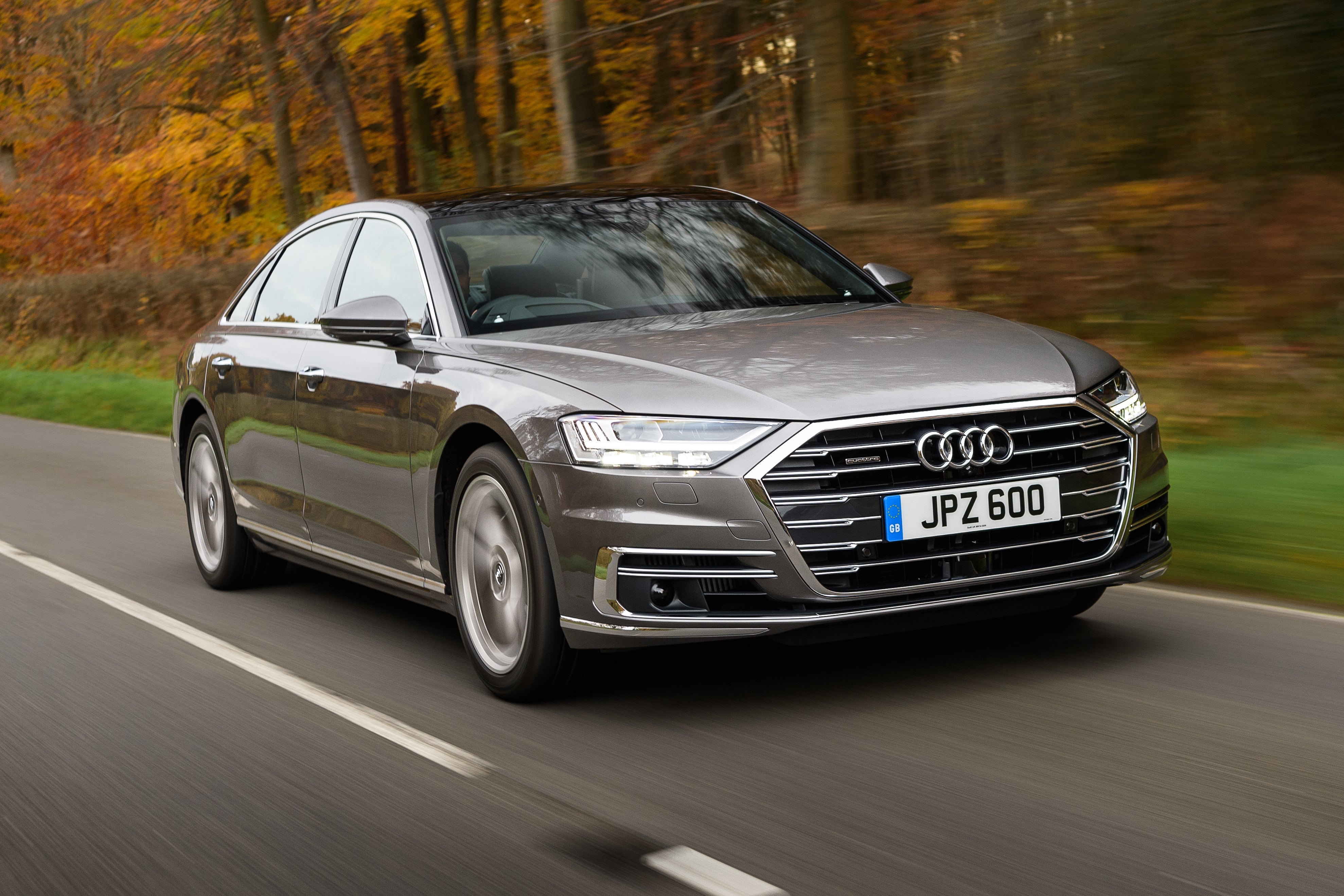 All versions come with air suspension, which does a scarcely believable job of isolating you from the effects of lumps and bumps in the road. You're wafted serenely along on pretty much all surfaces, and at all speeds. Shy of a Rolls Royce, you won't find a more comfortable car than this.
It should be noted, though, that the PHEV version isn't quite as cosseting as the rest due to all the extra weight it has to carry in the form of its batteries. That said, it isn't far behind and still matches the BMW 7 Series and Mercedes S-Class for comfort.
True, the A8 doesn't feel quite so at home on twists and turns as it does going in a straight line, because you'll feel a pronounced amount of body roll as you make your way around a bend. That means it doesn't feel as agile or as engaging as some of its rivals. That said, there's always a huge amount of grip and traction thanks to the four-wheel drive system, and the steering is responsive and well-weighted.
Go for the Vorsprung version and you also get four-wheel steering. At high speeds, this moves the rear wheels in the same direction as the fronts to aid stability, while at low speeds, the rear wheels are moved in the opposite direction to aid manoeuvrability and tighten the turning circle. You'll really see the benefits of this if you spend a lot of time driving through the city, particularly in the massive long-wheelbase version.
What engines and gearboxes are available in the Audi A8?
There's a refreshingly simple range of engines to choose from in the A8, one petrol, one diesel and a plug-in hybrid. The petrol, known as the 55TFSI, is a 3.0-litre V6 with 340 horsepower, and it's the least popular choice due to its thirst, but it's still a very pleasant choice for those with an aversion to diesel. It makes the car effortlessly brisk - if not properly fast - and its power delivery is smooth and muscular.
The diesel, meanwhile, is a 286PS 3.0-litre V6 known as the 50 TDI. It's marginally slower than the petrol on paper, and it's not as keen to rev, either, but it's still brilliant. The swell of urge you get from low revs means your acceleration is even more effortless than in the petrol, and in a car like this, that's just what you want. Its superior economy will also make it more popular.
If you really want to double-down on economy, though, the hybrid might be the choice for you, thanks to its ability to run for short distances on electric-only power. It can do so at well over 100mph before the 3.0-litre V6 petrol engine is called upon to assist the electric motor, although your batteries won't last too long with that kind of treatment. And, with 449PS to call upon from its engine-and-motor combo, it's quick enough to outpace both the more conventional engines.
In all versions, all four wheels are powered through an eight-speed automatic gearbox, which is a little bit hit-and-miss. In most situations, it slushes up and down the gears so smoothly that you barely notice it working. However, ask for a sudden burst of acceleration, and there's an annoying pause before anything happens.
Refinement and noise levels
This is another area in which any limousine worth its salt has to really nail it, and the A8 really does. All of the engines are impressively smooth and quiet, even when you rev them hard, but they have so much low-down muscle that you very rarely have to, and that keeps life very peaceful and relaxed.
The hybrid version is even more serene when running on electric-only power, wafting you along in near-silence. Wind- and road noise are also very well contained, which helps keep the peace, even when you're blatting down a motorway at high speed. Every bit the luxury express it should be.
Safety equipment: How safe is the Audi A8?
The A8 hasn't been crash tested by the experts at Euro NCAP, but it's mechanically very similar to the A7, which has achieved the highest five-star rating. If there's a reason that the A8 should behave any differently in a smash, we're not aware of it.
As well as all the usual airbags and electronic traction and stability aids, all versions have a head-up display, automatic emergency braking, lane departure warning, LED lighting at both ends of the car, camera-based traffic sign recognition and a semi-autonomous adaptive cruise control system. From S line trim upwards, you also get cleverer Matrix Beam LED headlights, while range-topping Vorsprung cars also get cross traffic assistants.
Lots of further features can be found on the options list, including expanded autonomous features that make the A8 the first production car capable of level-two autonomous driving. This isn't yet legal to use in the UK, but it's very cool nonetheless.
Maximum EV range
The official figures say that the 60 TFSI e plug-in hybrid version will do a maximum of 28.6 miles on electric-only power, given a full charge of the battery. This charge takes around six hours on a regular domestic three-pin plus, or two hours if you have a 7kW wallbox charger fitted. Bear in mind, though, that this theoretical range figure is from a laboratory test and in the real world you should only bank on around half that, especially if it's cold.
MPG and fuel costs: What does an Audi A8 cost to run?
"The diesel version gets you an official maximum fuel return of around 40mpg, while the petrol is a way behind on 30mpg. And, because this is a car that encourages you to drive gently, you'll have a reasonable chance of getting somewhere close to these laboratory figures in the real world."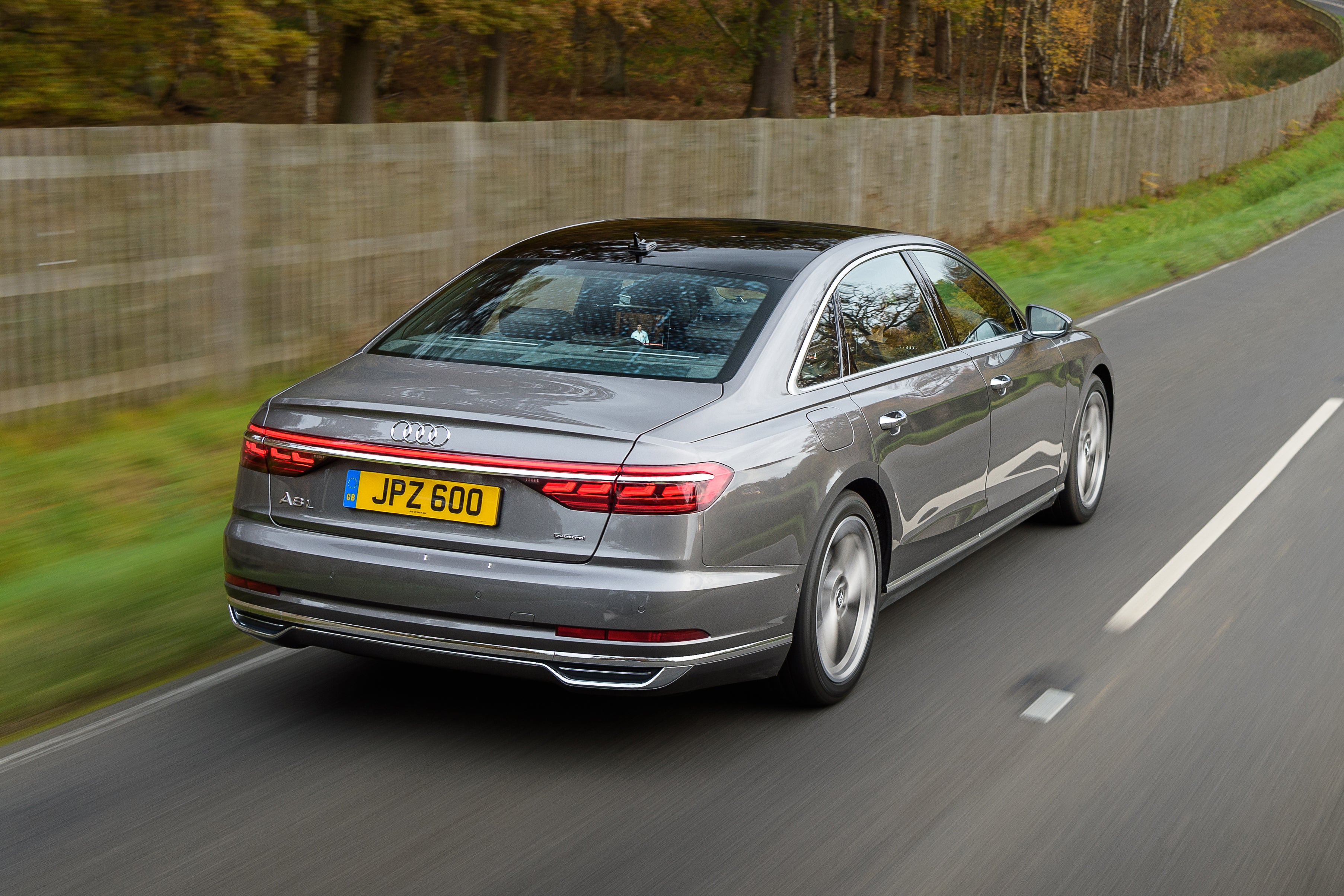 That won't be the case with the PHEV, though. Its maximum return stands at 113mpg according to the official figures, but what you actually get will depend entirely on the nature of the driving you do. Conduct most of your journeys on electric power alone, and you'll maximise your return, but as soon as the petrol engine fires up, your economy will plummet to below that of the petrol version.
Insurance groups and costs
If you go for a Vorsprung model, then your car will sit in the most expensive group of insurance, that being group 50. Other versions sit between groups 44 and 49, making them a little cheaper to insure, but premiums are never going to be cheap. That said, if you're wealthy enough to buy an A8, insurance costs are unlikely to worry you.
VED car tax: What is the annual road tax on an Audi A8?
This is nice and simple, because all versions (with one exception) of this generation of A8 will cost you exactly the same to tax. That's because the car was launched after April 1, 2017, when new rules were introduced that applied a flat rate of £150 for petrol and diesel cars, and a five-year surcharge of £325 was applied to any car costing over £40,000 when new.
All A7s were more expensive than that threshold, so used buyers (having already dodged the exorbitant 'showroom tax' first-year fee that buyers of brand new examples pay) will fork out £475 between years two and six of the car's life, whereafter it'll divert back to the £150 annual rate.
The one exception is the PHEV version, because this version's clever, environmentally friendly drivetrain earns it a discount from the exchequer of precisely a tenner. Brilliant. Why not spend the difference on a bottle of rubbish prosecco to celebrate?
How much should you be paying for a used Audi A8?
"At the time of writing, prices for brand new A8s started at around £70,000 for the Sport 50 TDI model, and rose up to a maximum of around £102,000 for the Vorsprung 55 TFSI. You'd need to add approximately £4,000 if you wanted a long-wheelbase model, while if you were after the super-interesting PHEV version, you'd be looking at a minimum of about £84,000."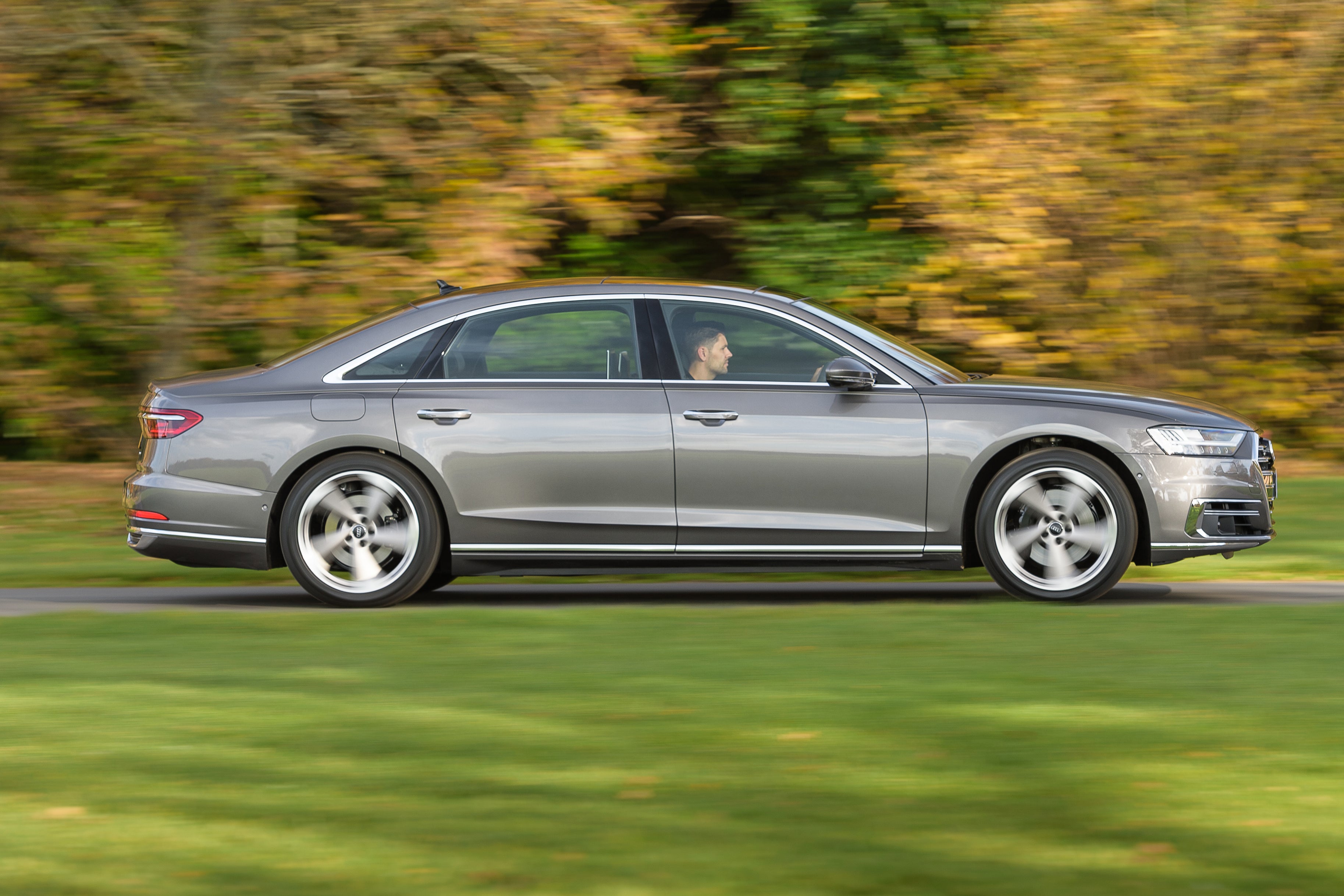 Compare prices with those of equivalently powered rivals, and there's virtually nothing to pick between the A8 and the BMW 7 Series.
Both the Mercedes S-Class and Lexus LS will cost you a good chunk more, while the Jaguar XJ will cost a good chunk less. There's very little difference in the rate of depreciation between the Audi, BMW and Mercedes, too, so used prices will be broadly similar. The Jaguar will again be considerably cheaper on the used market, but because the Lexus holds its value better than any of them (perhaps surprisingly), it'll be the most expensive of the bunch.
Take a look at our listings, and you might find a few early A8s dipping underneath the £30,000 mark, but most will be upwards of that.
Trim levels and standard equipment
Even an entry-level limousine needs to come with enough creature comforts to make its occupants feel spoiled, and the A8 does exactly that. Sport trim comes with air suspension, four-zone climate control, leather upholstery, adaptive cruise control, LED ambient lighting, keyless go, heated front and rear seats, a powered tailgate and power-closing doors, not to mention all the infotainment and safety gear we mentioned earlier.
S line cars add sports front seats, double-glazed windows and a host of styling upgrades, while the upgrades to Black Edition models are purely visual. The range-topping Vorsprung model adds loads, including a panoramic roof, ventilated front seats with a massage function, electric rear sunblinds, adaptive sports air suspension and all-wheel steering.
Audi A8 cars for sale on heycar
9,955
Number of cars available
£25K - £97K
Price bracket of these cars
Colours available on heycar
Keep me updated by email with the latest advice, news and offers from heycar
By submitting, you agree to our
privacy policy
.