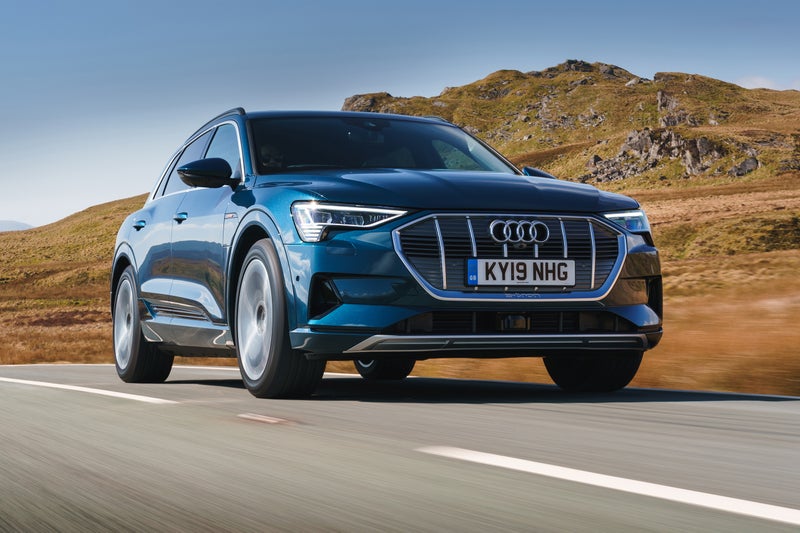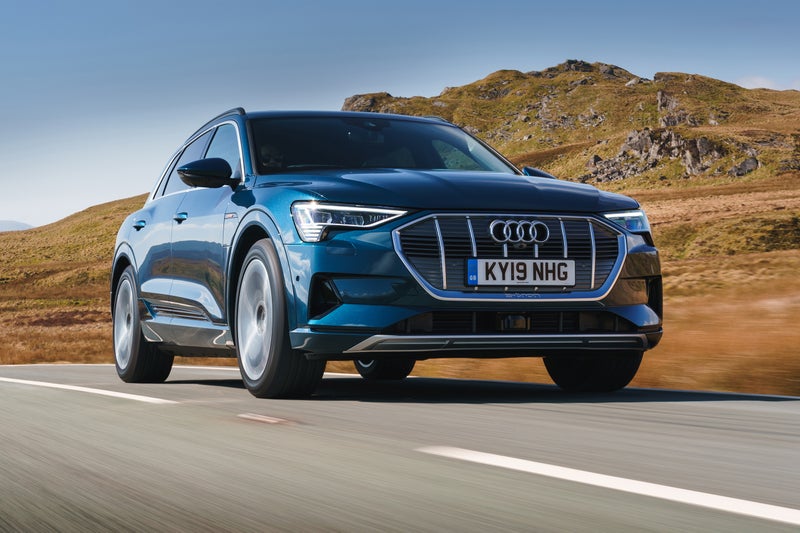 1/10
heycar rating
"Luxurious electric SUV from Audi"
Quick overview
Pros
Wonderfully classy inside
Roomier than most (not all) rivals
Very refined and civilised on the road
Cons
A Jaguar I-Pace is better to drive
A Tesla Model X is more practical
Others have a better range
Overall verdict
On the inside
Driving
Cost to run
Prices and Specs
Overall verdict on the Audi e-tron
"Never one to shy away from filling an untapped niche within its model line-up, it didn't take Audi long to jump on the electric SUV bandwagon. First came the Tesla Model X, then came the Jaguar I-Pace, while the Audi and it's other main rival - the Mercedes-Benz EQC - were pretty much neck-and-neck in their arrival. Prestige SUV EVs might be a relatively new thing, but that's one heck of a talented field, right off the bat."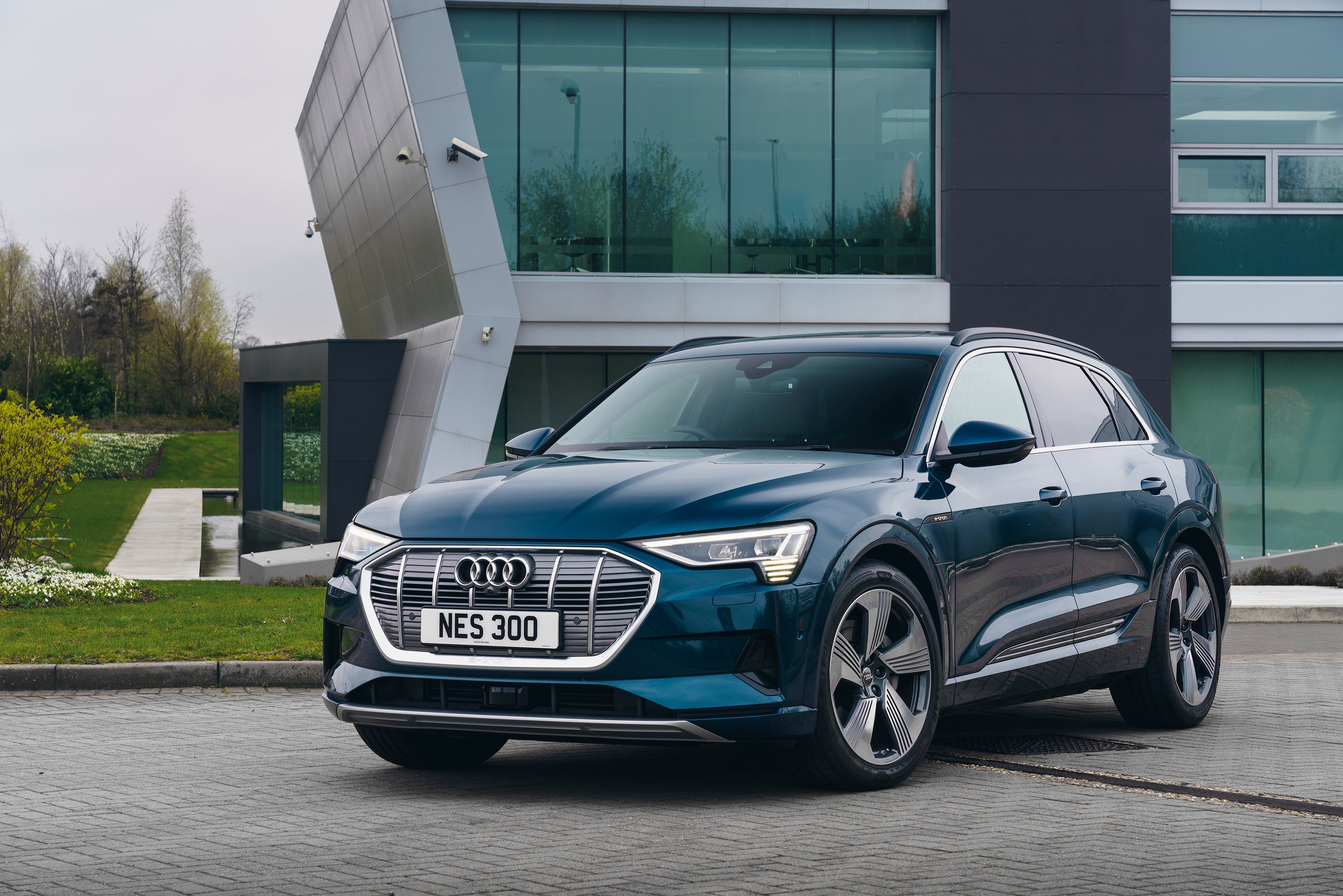 Each offering brings something slightly different to the party, but the e-tron's trump card is undoubtedly the luxury it delivers, and it delivers it in a variety of ways. The first of them is a longstanding Audi trademark, and it's the e-tron's immaculate quality.
The cabin is nothing short of a sensory delight, with beautiful, thoughtfully finished materials and a standard of assembly that feels like it could withstand a nuclear blast. Yes, the Audi's various touchscreens could be easier to use, especially while driving, but there's no denying the high-tech feel and the drama they add to the interior, on top of all that quality. The cabin also has lots of space and bags of creature comforts, making it feel even more like a luxury limousine on stilts.
Also reminiscent of a luxury limousine is the level of refinement the e-tron displays. Electric motors - by their very nature - are much quieter than combustion engines and that's a very good start. But the job is finished incredibly well by seriously impressive suppression of wind- and road noise. At a steady motorway cruise, there's not much more than the scenery rushing past your windows to let you know that you're moving at all.
The e-tron is good to drive in other areas, too. The more powerful 55 version we've tried has more than enough pace for most drivers, while the standard air suspension provides a really good balance of comfort and control.
Granted, you'll pay a lot to buy one, but the same applies to all its rivals and you'll enjoy low day-to-day running costs. The e-tron can't match its best rivals for driving range, either, but unless you regularly drive more than 150 miles in a day, which not many of us do, then it's unlikely that these small differences are going to make any significant difference to you.
In short, the Audi e-tron might not be one of the best electric cars out there, but it is a very good choice for those looking for a big dose of luxury in their electric SUV, and is well worthy of your consideration.
Is the Audi e-tron right for you?
If you want the most practical electric SUV you can get, then no it isn't. You'll be wanting a Tesla Model X. If you want the sportiest one there is, you'll want the Jaguar I-Pace, and if you want the one with the snazziest infotainment system, it's the Mercedes-Benz EQC.
If, however, you want your electric SUV to feel more like a luxury limousine, with incredible interior quality, generous cabin space, lots of luxury toys, superb refinement and a comfortable ride, the e-tron is definitely the electric SUV for you.
What's the best Audi e-tron model/engine to choose?
There are two versions of the e-tron available, the 50 and the 55, which have different power outputs. We haven't tried the weaker 50 yet, so we don't know if it's appreciably different to drive than the 55, but with 312PS, we reckon it'll probably be rapid enough for most.
All versions of the e-tron are well equipped, so we can't see all that much sense in venturing too far high up the model range. Whichever power output you choose, stick with the most basic trim.
What other cars are similar to the Audi e-tron?
Not so long ago, all-electric premium SUVs didn't exist at all, but buyers now have several to choose from, albeit ones that vary quite a lot in size. The e-tron's closest competitors in that regard are the Jaguar I-Pace and the Mercedes EQC.
The Jag is designed to be the sporty one of the bunch, while the Mercedes is a more sensible, relaxed choice. The Audi, meanwhile, is more like a luxury car that happens to also be an electric SUV plus it's also appreciably bigger. Bigger still is the Tesla Model X. It's also quite a bit more expensive but can be had with seven seats.
Comfort and design: Audi e-tron interior
"The e-tron gets the same dashboard layout as Audi's other latest luxury cars, meaning there are three screens. It looks great, but the absence of traditional buttons and dials isn't so great for ergonomics."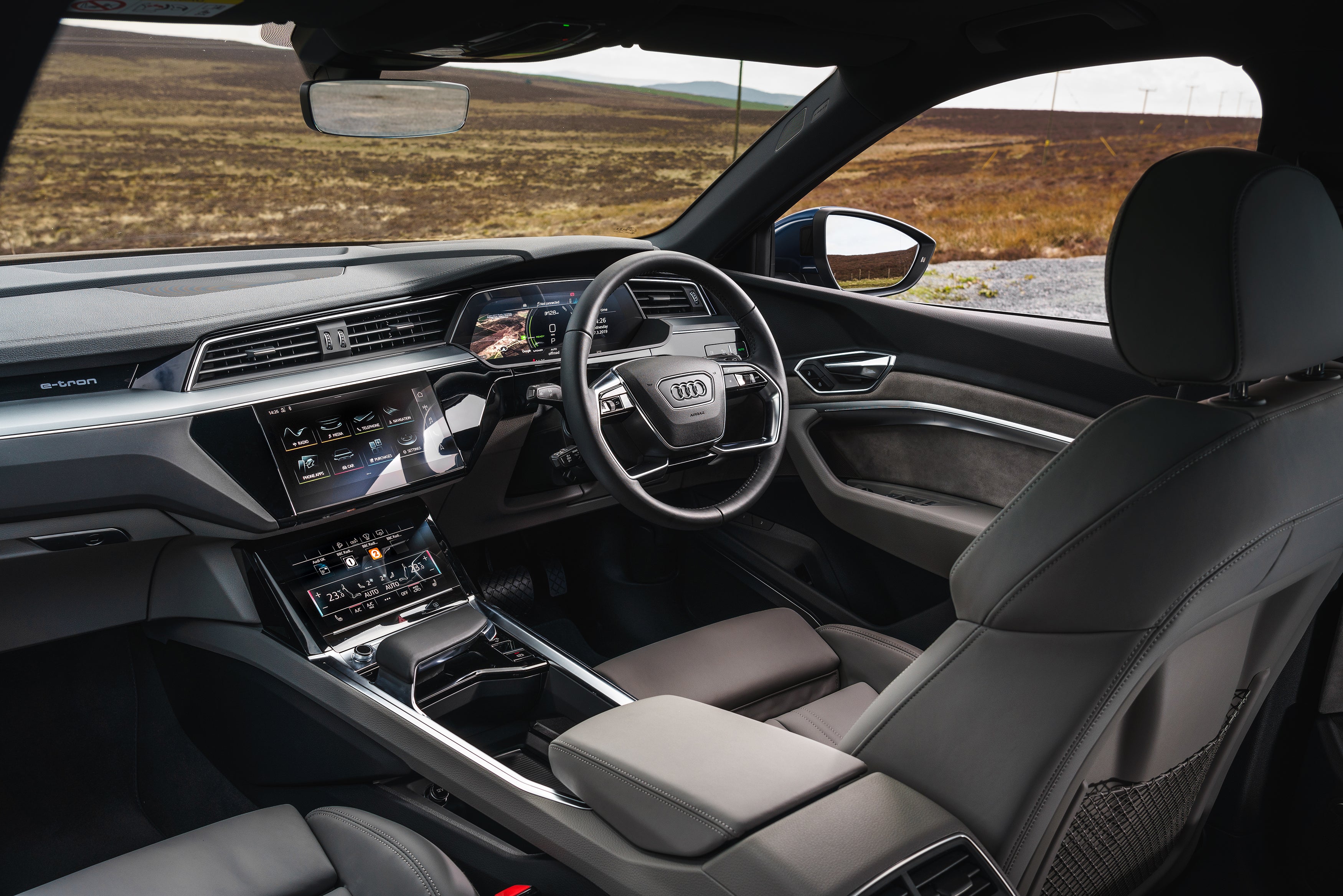 While you can find physical controls by touch after a brief glance, that's not possible with a screen and that means you have to concentrate hard on hitting exactly the right part of the screen. That's inevitably more distracting when you're driving.
Two screen sit on the centre console: the top one controls the infotainment system, while the bottom one primarily takes care of the ventilation system, along with a few other miscellaneous functions.
The third screen - a digital instrument panel behind the steering wheel - is great, though. This displays all the regular information that conventional dials would, but also places other selected bits of information - such as your sat-nav instructions - directly into your eyeline. Despite the large amount of information you get bombarded with, everything stays surprisingly clear and easy to process.
The seats adjust electrically in all versions, helping you to fine-tune your favoured driving position, and the seats themselves are also very supportive. You get a decent view out in all directions and on all versions, there's the added assurance of a reversing camera and parking sensors at either end. The Vorsprung gets a 360-degree camera, meanwhile.
Quality and finish
You'd expect any Audi - even an electric one - to deliver cabin quality worthy of the four rings, and the e-tron doesn't disappoint. Every surface is dense and lustrous, while even the panels tucked away in the lower reaches of the cabin are of a uniformly high quality.
If anything, the way it's all assembled is even more impressive: every panel fits together with pin-point precision. If you hear squeaks or rattles, it's more likely that you've left a mouse and a snake in your glovebox, rather than your car being responsible.
The different versions have slight differences in interior styling and the nature of the - and amount of - leather on show. But essentially, all e-trons feel like proper luxury cars. And importantly, they feel every bit as posh as the Mercedes EQC, which is also very impressive on this score, and considerably posher than the Jaguar I-Pace and Tesla Model X.
Infotainment: touchscreen, USB, nav and stereo in the Audi e-tron
As we've already discovered, the e-tron's centre console has two screens. The 8.6-inch one on the bottom handles the air-conditioning system, while the top one - measuring 10.1 inches - takes care of pretty much everything else.
It all looks great and delivers a really high-tech feel to the cabin. And as touchscreens go, it's pretty good. The graphics are really sharp and the responses are lightning quick, so you won't be left waiting for the screen to catch up with your inputs.
However, the sheer amount of functions to find your way through can be rather bamboozling. And like with any touchscreen, it's more distracting to use than traditional knobs and buttons, because you have to concentrate so hard on hitting exactly the right part of the screen.
All the functionality you'd expect is covered, though, including navigation, DAB radio, Apple Carplay/Android Auto and wireless phone charging. There's also a clever function that lets you precondition the car by turning on and setting the climate control through your smartphone before you even get in.
Upgrade to the Vorsprung model, and this functionality is extended: you can also switch on your heated seats and your window de-icers. The Vorsprung also gets cameras to replace the door mirrors.
Space and practicality: Audi e-tron boot space
In this area, the e-tron can't live with the Tesla Model X, which is considerably bigger and is offered with seven seats. Compare it with other electric SUV rivals such as the Jaguar I-Pace and Mercedes EQC, though, and things look a lot rosier. The front seats have plenty of space, as front seats usually do, but the rear of the cabin is roomier than in both its main rivals, with a shade more legroom and headroom.
There's enough shoulder space to fit three across the rear bench, too. Whoever's in the middle pew will have to put up with a narrow seat with rather firm cushions, but there's more foot space than in most cars thanks to a rear footwell that's almost flat.
The boot is roughly the same size as the Jag's and bigger than the EQC, so most families will be content with the amount of cargo space they get. The rear seats also drop in a 40/20/40 configuration (more versatile than the Jag's 60/40 split) allowing you to boost your cargo capacity, but the backrests lie at a slight angle, leaving you with a sloped load area. There's an annoying lip that you have to lug heavy items over, too.
Handling and ride quality: What is the Audi e-tron like to drive?
"The e-tron gets air suspension as standard and it provides a really good balance of abilities. The ride quality isn't quite flawless - you do feel some bigger lumps and bumps banging their way into the cabin - but most of the time, on most surfaces, it's really comfortable. "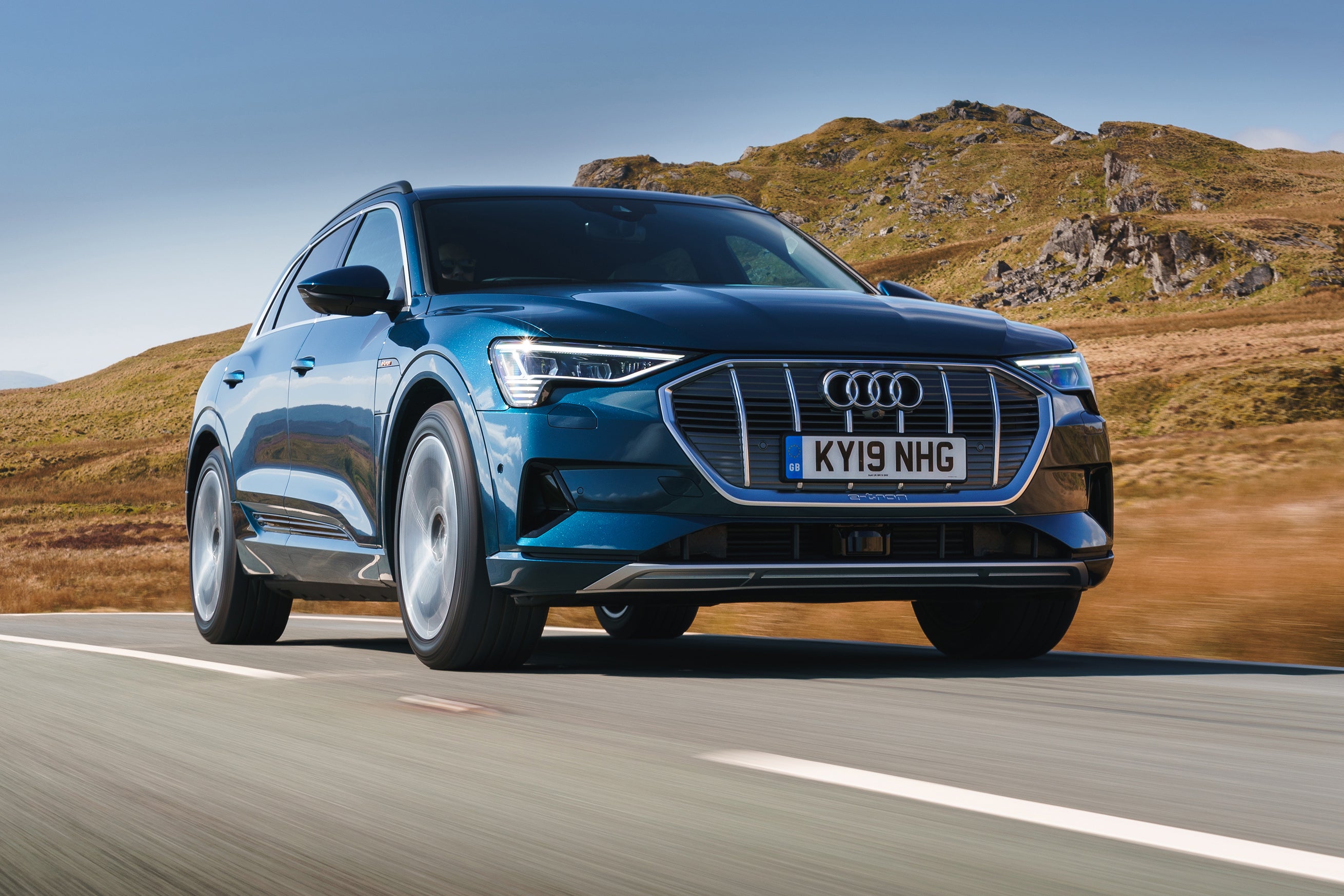 Switch the car from Comfort mode into a sportier setting, and things get noticeably firmer, so you'll want to avoid this setting over battered urban streets.
It's the one you'll want on fast, undulating b-roads, though, because it gives the car better control over its vertical movements and stops the body bobbing up and down. The handling is also pretty neat for a big, heavy car (well over two tonnes) with a tall SUV body.
The standard four-wheel drive gives bags of grip and traction, while the tight body control ensures that direction changes aren't too overly dramatic. However capable the e-tron is in the corners, though, it's still not as enjoyable as a Jaguar I-Pace, which feels more nimble and has sweeter steering.
Engines and gearboxes
There are two versions of the e-tron, known as the 50 and the 55. We haven't yet tried the 50 with its power output of 312PS, but we've had a shot in the 55, which has a maximum of 408PS. That's identical to what you get in the Mercedes EQC, and slightly more than the Jaguar I-Pace.
There is a difference, though. While the other two cars have that power on tap the whole time, the Audi only delivers it when you stick the drive selector into S mode - and then only for bursts of a few seconds at a time. Otherwise, the output drops to 360PS, which extends the car's 0-62mph time from 5.7 seconds to 6.6 seconds. It should also prolong your battery's useful lifespan, though, so it's probably worth it.
And even then, the performance is pretty brisk and instantaneous, whether you're getting away from the mark or putting your foot down on the move. The single-gear arrangement also means your progress isn't made staccato by pesky gearshifts.
Refinement and noise levels
Because electric motors are much quieter than those that run on petrol or diesel, most electric cars are considerably quieter than their combustion-engined counterparts. Even by these standards, though, the e-tron takes things to another level. Predictably, you hear barely a whistle from the motors, and despite having fat tyres, there's barely any road noise, either.
Wind noise is also fabulously well contained, and that's whether you have the regular door mirrors or the substitute cameras that you get on the Launch Edition. This really is a very quiet, serene way to get about.
Maximum EV range in the Audi e-tron
There are small variations in range figures between various trim levels, but official figures for the 50 stand at a maximum of 191 miles, whereas the 55's maximum figure is 252 miles. The 55's maximum is about the same as the Mercedes EQC's, but both are behind the Jaguar I-Pace.
Remember, too, that these are laboratory figures - and as such, are not ones you should be relying on in the real world. In perfect conditions, we reckon you can expect a maximum of around 200-220 miles from the 55, but if it's cold or your journey involves lots of stopping and starting, then you'll get a lot less, maybe 150 miles.
Safety equipment: How safe is the Audi e-tron?
The uninitiated might have questions over the crash safety of an electric car: How does a battery behave in an impact? Will it burst into flames? That sort of thing.
Well, you can take solace from the fact that batteries are very stiff structures that are usually built into the central structure of the vehicle, so with many EVs, crash safety is actually excellent. If you need proof, the e-tron's five-star Euro NCAP rating should help provide it.
All e-trons come with automatic emergency braking and lane departure warning, on top of all the usual airbags and electronic aids to maximise traction and stability. The Launch Edition also comes with a cross traffic alert system (that prevents you pulling out into the path of traffic) and a semi-autonomous adaptive cruise control system.
Charging times: how much does it cost to charge the Audi e-tron?
" Both the 50 and 55 will charge in less than an hour if you can find a super-high capacity rapid charger of 150kW, but that time might tip just over the hour mark on a slightly slower connection. Juice your car up overnight in a 7kW wallbox charger, as most buyers will, and the 50 will take around ten hours while the 55 will take more like 14 hours."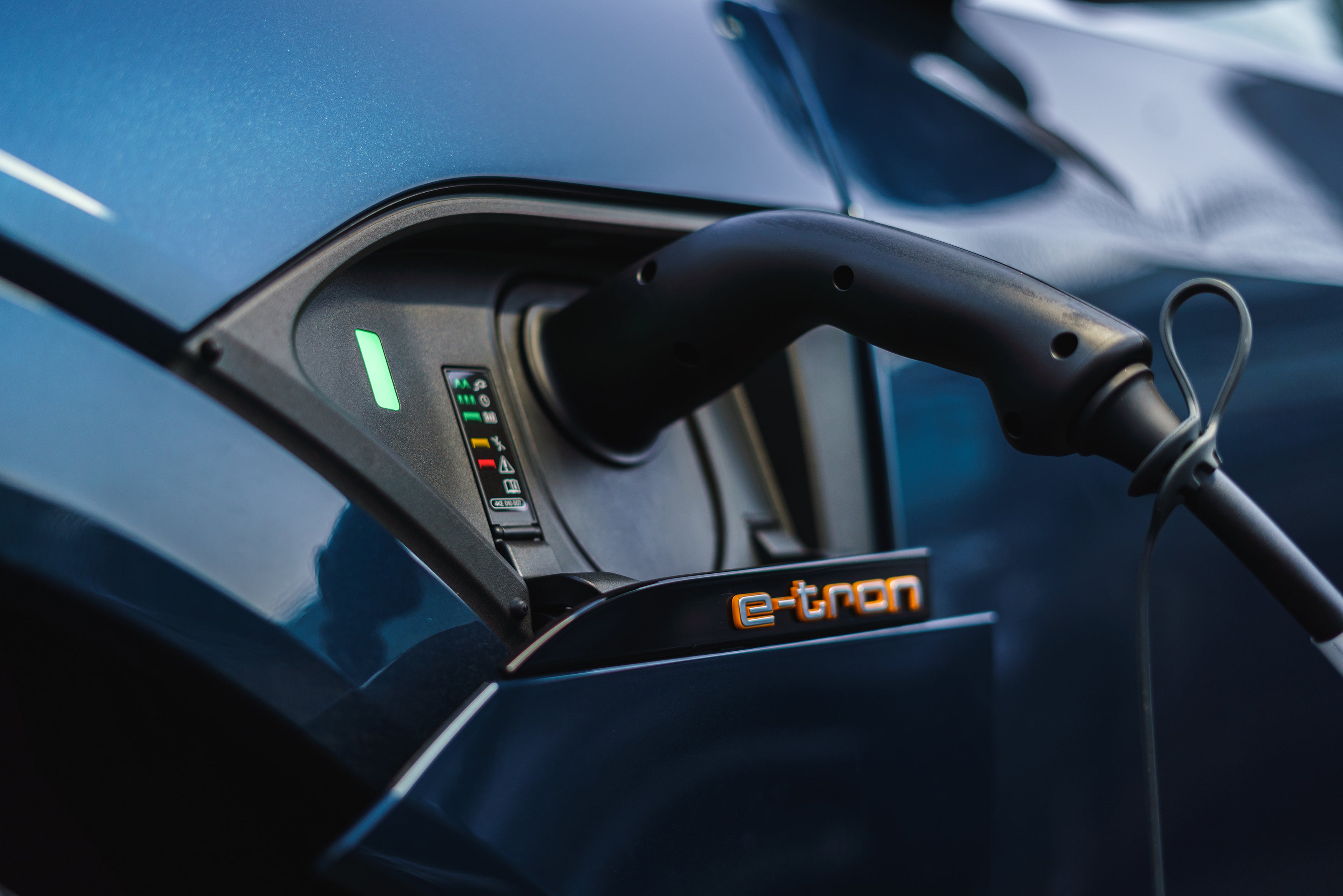 Each should cost you less than a fiver on cheaper overnight electricity tariffs. You don't want to know how long a full charge would take on a three-pin domestic socket, but that's not something we'd recommend doing on a regular basis anyway.
That kind of cable is supplied for emergencies, though, as is a 4.5-metre Type 2 cable for public AC charging, and it's also worth noting that the e-tron uses the CCS (Combined Charging System) socket standard, meaning it's compatible with most connector types currently in circulation.
Insurance groups and costs
Whichever version of the e-tron you pick, it won't be cheap to ensure. Some sit in group 49 for insurance, but most sit in group 50, which is the priciest group there is. Still anyone wealthy enough to consider buying an e-tron has probably got enough cash to insure it, too.
VED car tax: What is the annual road tax on an Audi e-tron?
There was a time when EVs were exempt from all sorts of taxes, VED included. For some EVs, that continues to be the case, but because all versions of the e-tron cost more than £40,000 when new, they're all subject to a temporary surcharge. So, between years two and five of your car's life, you'll pay annual tax of £325. After that, though, your tax bills drop back down to zero. Happy days.
How much should you be paying for a used Audi e-tron?
"At the time of writing, prices for brand new e-trons started at £59,000 for the 50 Technik, while buyers of the 55 would've paid between £71,000 and £82,000. Compare those prices to rivals, and they're broadly similar to those of the Jaguar I-Pace and Mercedes EQC, but considerably cheaper than those of the Tesla Model X. "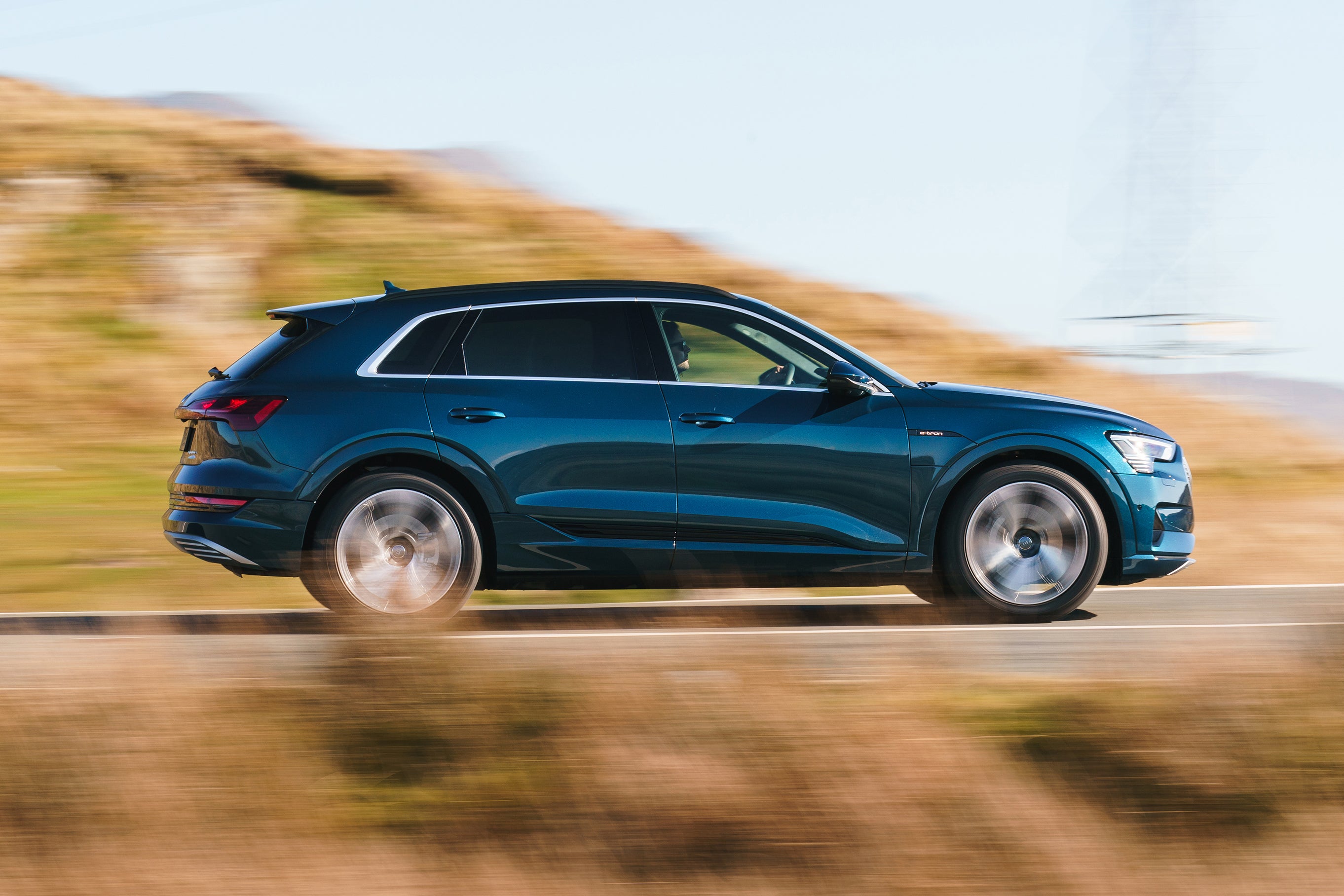 The Tesla loses its value quicker than the rest, too, but not by nearly enough to level out the price difference over the average three-year, 60,000-mile ownership period. As a result, the Audi, Jag and Merc will cost significantly less for used car buyers, and will set you back roughly similar amounts across the board. Our listings show plenty of 55s for below the £60,000 mark, which sounds pretty tempting to us.
Trim levels and standard equipment
As the luxury limousine of electric cars, even the entry-level e-tron needs to come with enough creature comforts to make its occupant feel spoiled. As such, Technik trim comes with air suspension, two-zone climate control, leather upholstery, cruise control, LED ambient lighting, keyless go, heated front seats and a powered tailgate, not to mention all the infotainment and safety kit we mentioned earlier.
Sport models add front sports seats and more USB sockets (some in the rear), but not much else, while S line cars add very little other than a few styling upgrades.
The Launch Edition car gives you those cameras that replace the door mirrors, along with a panoramic roof and electric steering adjustment. Oddly, though, those trim levels only apply to the 50 model. The 55, meanwhile, comes in either basic trim or Launch Edition trim.
Audi E Tron cars for sale on heycar
11,022
Number of cars available
£44K - £95K
Price bracket of these cars
Colours available on heycar
Keep me updated by email with the latest advice, news and offers from heycar
By submitting, you agree to our
privacy policy
.