Written by
heycar editorial team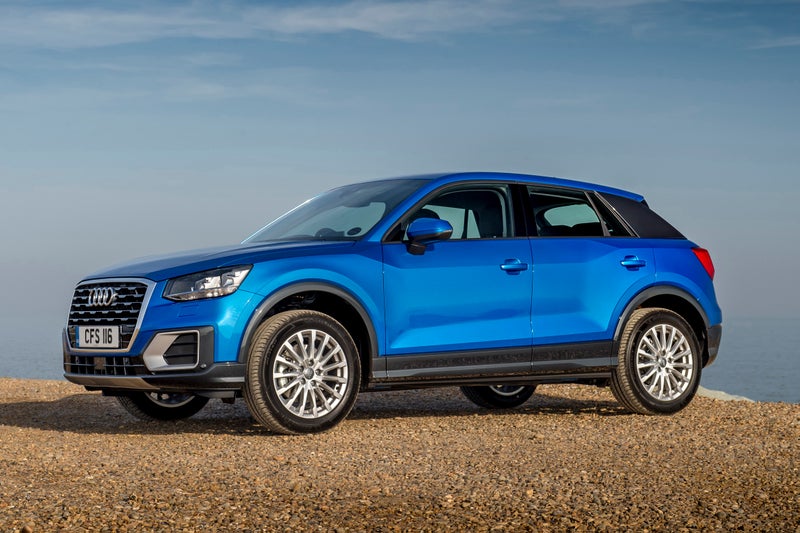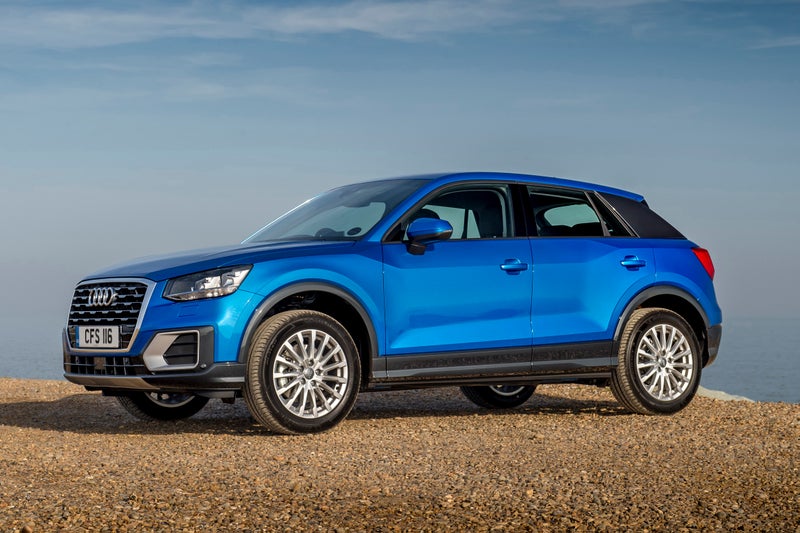 1/9
heycar rating
"Audi's trendy yet compact SUV"
Launched: 2016

Small SUV

Petrol, Diesel
Quick overview
Pros
Frugal front-drive models
Sharper to drive than most small SUVs
Wide range of strong engines
Cons
Base trims lack kit
Costlier than many rivals
Firm ride in town
Overall verdict
On the inside
Driving
Cost to run
Prices and Specs
Common questions
Overall verdict on the Audi Q2
"The Audi Q2 is a premium alternative to small SUVs like the Nissan Juke and Peugeot 2008. It costs a little more than its mainstream competitors, but offers a stylish exterior design, classy and functional interior, and a broad range of engines and drivetrain options. It's not the most practical or affordable though."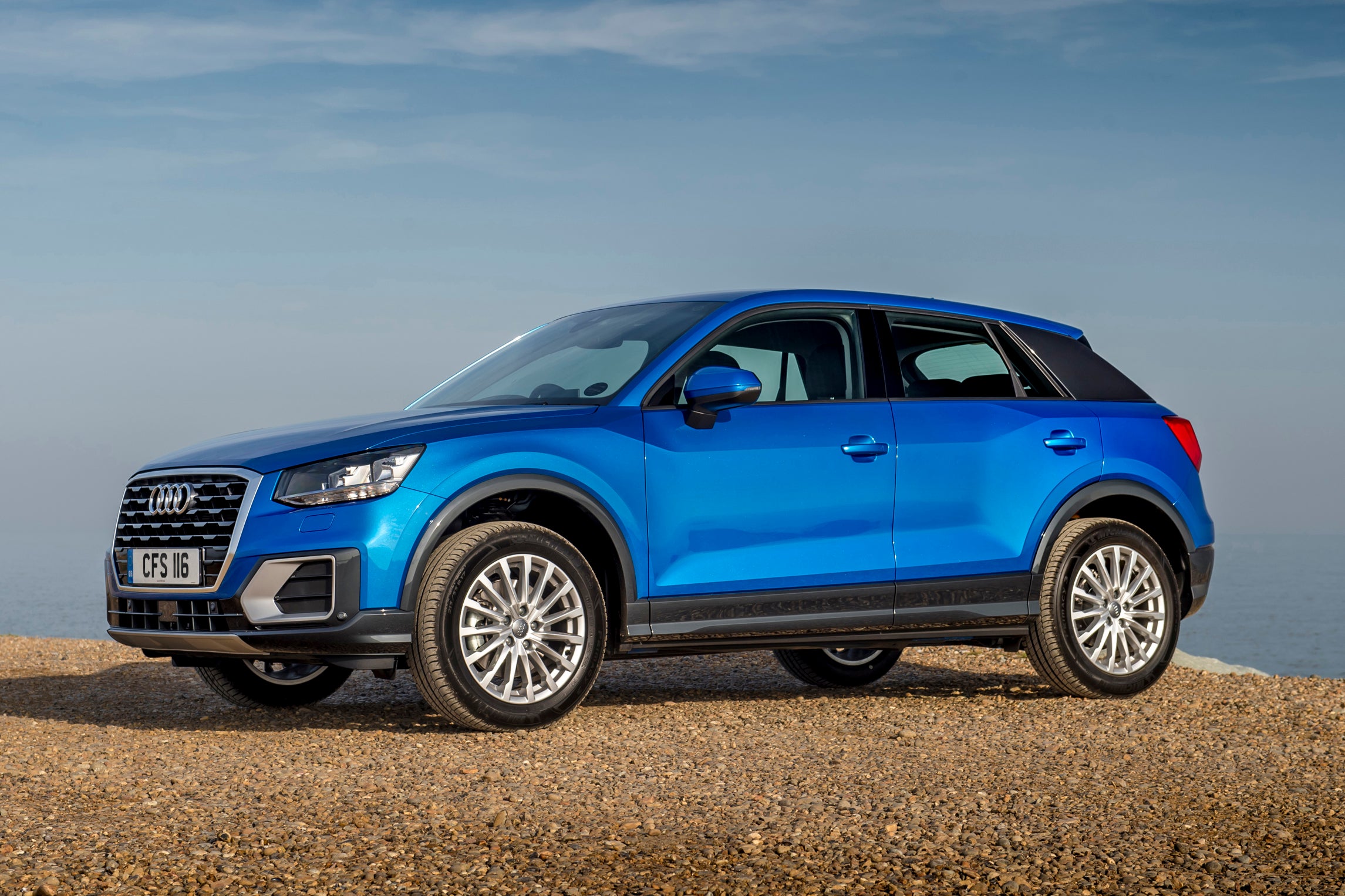 Underneath the metal, the Audi Q2 is based on the old A3 hatchback, and comes with five doors, and a choice of two or four-wheel drive, six-speed manual and seven-speed automatic gearboxes. It shares its sibling's minimal, stylish cabin and expensive-feeling materials, although the standard equipment list is a little on the stingy side. Let's see how it stacks up against its rivals in our 2022 Audi Q2 review.
There are four different trims available on the Audi Q2: Technik, Sport, S line and Black Edition. Audi Q2 Technik models seem to cover most essentials, with a powered tailgate, air conditioning, cruise control, rear parking sensors, and DAB. Our issue is with how much of the best equipment missing. Even on the top two trims you need to pay extra for climate control and a large infotainment screen, the latter only available as part of a very expensive Technology Package.
Entry-level Audi Q2 models are front-wheel drive, kicking off with a 1.0-litre three-cylinder with 115PS. Move up and you get a 1.5-litre with 150PS, and a choice of transmissions. They're badged as Audi Q2 30 and 35 TFSI. The latter will be the best choice for most buyers, with reasonable running costs and smooth, flexible performance.
On the diesel side, there are two options with the Audi Q2, a 1.6-litre with 115PS called the 30 TDI, or a 2.0-litre with 150PS that comes as standard with quattro four-wheel drive and an automatic gearbox, the 35 TDI. Both are quiet cruisers with strong pulling power, although they don't manage to match the petrols for refinement in town.
At the top of the range is the high-performance Audi SQ2, which features bespoke sporty styling, a 300PS petrol engine, and serious turn of speed. It can keep up with several sports cars, and costs as much as one too.
Regardless of the model you pick, all Audi Q2s are sharp to drive, with tidy handling, quick steering, and tight body control. They feel composed and stable on country roads, and body roll is minimal, but the stiff springs mean it's not as comfortable as some rivals on poorly surfaced roads, especially with larger alloy wheels.
The front seats in the Audi Q2 are very accommodating, and we like the logical layout of the dash. Everything you interact with is simple to understand, and there are plenty of storage spots for keeping the cabin free of clutter. The boot has some clever functionality and can carry a surprising amount thanks to its flat-sided, wide shape.
However for carrying people, whether that's four or five adults, or two parents and kids in child seats, the Q2 is not even in the same league as rivals like the MINI Countryman, Volvo XC40 and BMW X1. Its cramped for head and knee room, and too narrow to sit three across for anything more than nipping to the shops.
When it comes to premium brands, small doesn't necessarily equal cheap, but the Audi Q2 feels like not a lot of car for quite a lot of money. While it's possible to make it really luxurious, you pay through the nose to do so.
Is the 2022 Audi Q2 right for you?
The Audi Q2 is on the small side (even for a bite-size SUV) and its cute dimensions are a blessing and a curse. It's small enough to never feel intimidating to drive, so it will be great for buyers who want a raised-up driving experience but don't want to feel like they are driving a cumbersome, lumbering off-roader.
The Audi Q2's easy to drive on congested city streets and a doozy to park, and Audi has managed to give it a decent size boot considering its small footprint. Where you pay the penalty is in the cramped rear seats. So if you have teenage kids, regularly want have four adults on long journeys, or need a little flexibility, the Q2 ain't it.
Its polished driving experience is a major plus, but it doesn't feel fun, just neat and tidy, with predictable handling and fine body control thanks to firm suspension. A Ford Puma will put a bigger smile on your face.
What's the best Audi Q2 model/engine to choose?
With a fairly aggressive pricing strategy that sees the Audi Q2 stack up against some seven-seat SUVs in the top trim levels, we think it's better to stick to the lower end of the spectrum, with a front-wheel drive petrol model.
The entry-level 1.0-litre Audi Q2 30 TFSI is chirpy enough to potentially be all the car you really need, it feels light on its toes and is fun to drive, but will struggle to perform once the car is fully laden with people and luggage.
So for us, the pick of the engine range is the 1.5-litre 35 TFSI petrol, with smoother performance, responsive in-gear acceleration, and excellent cruising refinement. Keep your right foot in check, and its also capable of returning over 40mpg, so everyday running costs are only marginally higher than in the less powerful model.
It's worth going for the Audi Q2 Sport trim so that you at least have the option to upgrade the infotainment system - if you don't then your Q2 will start to date pretty quickly.
What other cars are similar to the Audi Q2?
If you are just looking for a compact SUV with a posh badge, then the Mercedes-Benz GLA is very similar to the Q2. Both are based on a big-selling family hatchback, but as of 2019 it comes with petrol power alone.
However if you want genuine load-lugging ability and space for four adults, the MINI Countryman and Volvo XC40 are a lot more spacious in the back. Each can squeeze in an extra 50 litres of carrying capacity too. True, they are both bigger cars overall, but have premium interiors that come close to matching the Audi for quality, and are available as plug-in hybrid models with very low running costs and zero-emissions capability.
If you don't care about brand snobbery, the Peugeot 2008 is even more stylish than the Q2, and available as a pure EV, while its siblings like the Skoda Karoq, SEAT Arona and Volkswagen T-Roc feature the same engine range for less cash.
Comfort and design: Audi Q2 interior
"The Audi Q2 is quite conservatively styled inside. It's not a design that bowls you over when you first step inside, but the simplicity of the layout and spot-on driving ergonomics are qualities you'll really grow to appreciate."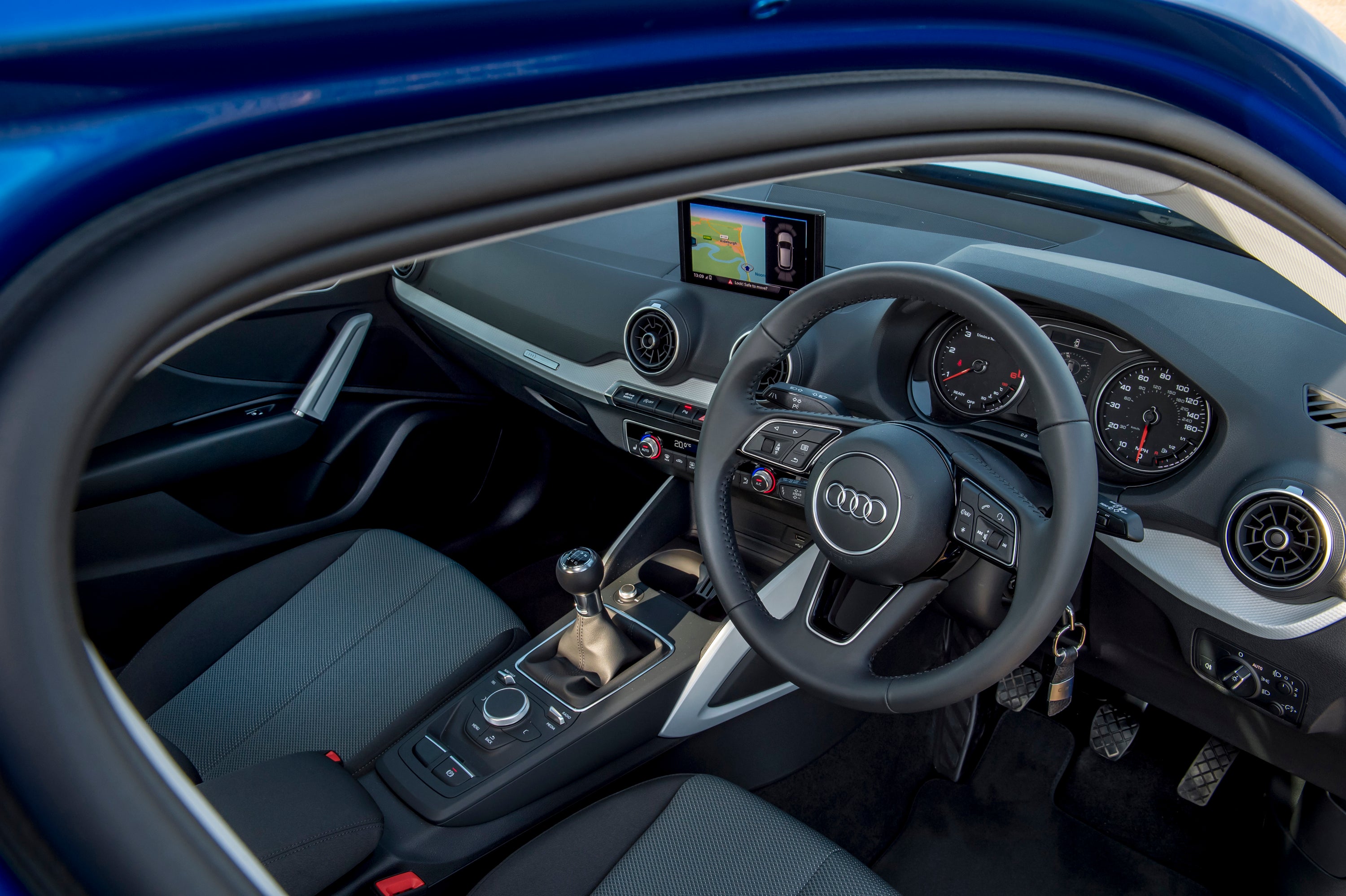 The Audi Q2 gets all the basics right, which is not a given in cars like these. The driver has plenty of room to adjust the steering wheel (for reach and height) and the seats slide back far enough for even the longest-limbed folks. The front seats are supportive, especially the sport seats that are standard on all but the entry-level model.
The layout of the controls is very logical and easy to understand, with only a thin strip of switches housed in the blade-like centre console, and an electronic handbrake freeing up space around the gear selector. Audi uses that space for its MMI controller, a big scroll wheel with shortcut buttons that controls the infotainment.
Every car in the Audi Q2 range has clear, easy to read dials, and a multifunction steering wheel, so you don't need to take your hands away from the controls to pick up a call, change the radio station or crank up the volume.
It has attractive details like the four large circular air vents on the dash, and a pop-up infotainment display that rises from the dash (and stows neatly away when you don't need it) plus a gently raised driving position.
Although you don't sit much higher than in a standard hatch, forward visibility is good in the Audi Q2, but the shallow rear window with its thick side pillars does mean you'll be craning your neck trying to see over your shoulder. It does come with rear parking sensors as standard though, which should help keep the paint work pristine.
Quality and finish
This is an area where Audi excels, and the cabin does feel more upmarket than almost any other small SUVs. It's not quite up the exceptional standards the brand sets in its other cars, but lives up to its premium billing.
The top of the dash is covered in dense, squidgy soft-touch plastic, the steering wheel and gear stick are both high-quality items wrapped in leather, and the gaps between the different interior panels are wafer thin. Some areas aren't quite as polished, with harder plastics in the middle of the doors and around the footwells, but it all looks smart, and feels durable. The standard air con switches are a bit budget, especially compared with the slickly integrated digital read-out and knurled metal dials you get with the (optional) climate controls.
Most Audi Q2s have cloth seats, or a mixture of fabric and faux leather on S line and Black Edition models, but you can add a full serving of cowhide for a mere £1300. It's standard on a top spec Countryman and BMW X1.
Although most of the cabin is quite dark, you do get a splash of colour on the dash and chunky grab handles in the doors, and on higher trims you can swap this out for brushed aluminium or glossy black trim instead.
Infotainment: Touchscreen, USB, nav and stereo in the Audi Q2
Audi's approach to hardware is not as democratic as other manufacturers. If you want the best kit in your Q2 then you should be prepared to pay extra for it, even on the highest trim levels. To us it's a bit mean spirited.
The basic setup covers the fundamentals, with a DAB digital radio, four speakers, Bluetooth connectivity, and a 7.0-inch screen that rises out of the top of the dash. You can't touch this screen (well you can, but nothing happen if you do) but it's easier to navigate its menus with the big rotary control wheel next to the gear stick.
Android Auto and Apple CarPlay smartphone mirroring is also standard. This lets you bypass the system and use all your favourite apps for navigation and media duties on the main display, and it's smartly implemented.
From Sport trim upwards a memory card based navigation system is included, the number of speakers doubles. Still, you get a pretty basic monochrome 3.5-inch driver's information screen, even on the top Black Edition. Audi will let you upgrade this with a colour display for £150; but you're better off with the Technology Pack. Ticking this box will lighten your wallet to the tune of £1500, but brings a lot of tangible benefits, including a larger 8.3-inch display, faster internal processor and Audi's excellent 'Virtual Cockpit' digital dials. The whole instrument binnacle is replaced with a bright, clear 12.3-inch screen that gives you a widescreen map view.
Space and practicality: Audi Q2 boot space
If you are looking for a really practical five-door family car, then the Audi Q2 might be a bit of a disappointment. It has slightly more luggage space than the A3 Sportback that its based on, but is compromised in other areas.
In the back seats things feel quite cramped, especially if you're above average height. The high window line and thick C-pillars don't let much light, and the middle seat is very narrow, so carrying five will be a tall order. There is a big hump the floor between the front seats, and the car just isn't as wide as some small SUVs, so you'll be rubbing shoulders with the person next to you through the corners. The rear bench doesn't slide to free up space, and its backrest is upright and can't recline, so it's not as comfy as cars with greater flexibility.
Those in the front fare much better, with room to stretch out, a shared armrest and plenty of storage spots for loose items. The glovebox is nice and deep, and you can fit large bottles in the cupholders and door pockets. Even so, the MINI Countryman is much better for carrying three across the back, and its wider rear doors make it easier to wrestle a bulky child seat base into the back. The Q2 can take a group 1/2/3 or iSize seat, with ISOFIX points and top tethers on the outer seats, but a rear-facing seat is a really tight squeeze.
At 405 litres, the boot space on the Audi Q2 is a decent size. Front-wheel drive versions get a variable height floor that lets you choose between a flat loading bay with no irritating lip, or dropping it down to increase the capacity. It's wide enough to fit a pram, or holiday luggage for a family of four, but plenty of its rivals can carry more. The four-wheel drive models (including the SQ2) don't have this feature, since they need the space under the boot floor to fit the extra drive shafts in, and total boot space drops to 355 litres. The Q2 has other niggles too, like needing to extend all three headrests so the rear seats lie flat, and no option for a 40:20:40 split/fold.
In terms of dimensions, the Audi Q2 is 4028mm long, 2009mm wide (including door mirrors) and 1508mm high.
Handling and ride quality: What is the Audi Q2 like to drive?
"The Q2 is an easy car to drive, with light controls, predictable handling and plenty of grip. It offers a polished driving experience that won't have you reaching for the keys with every spare second, but won't grate either."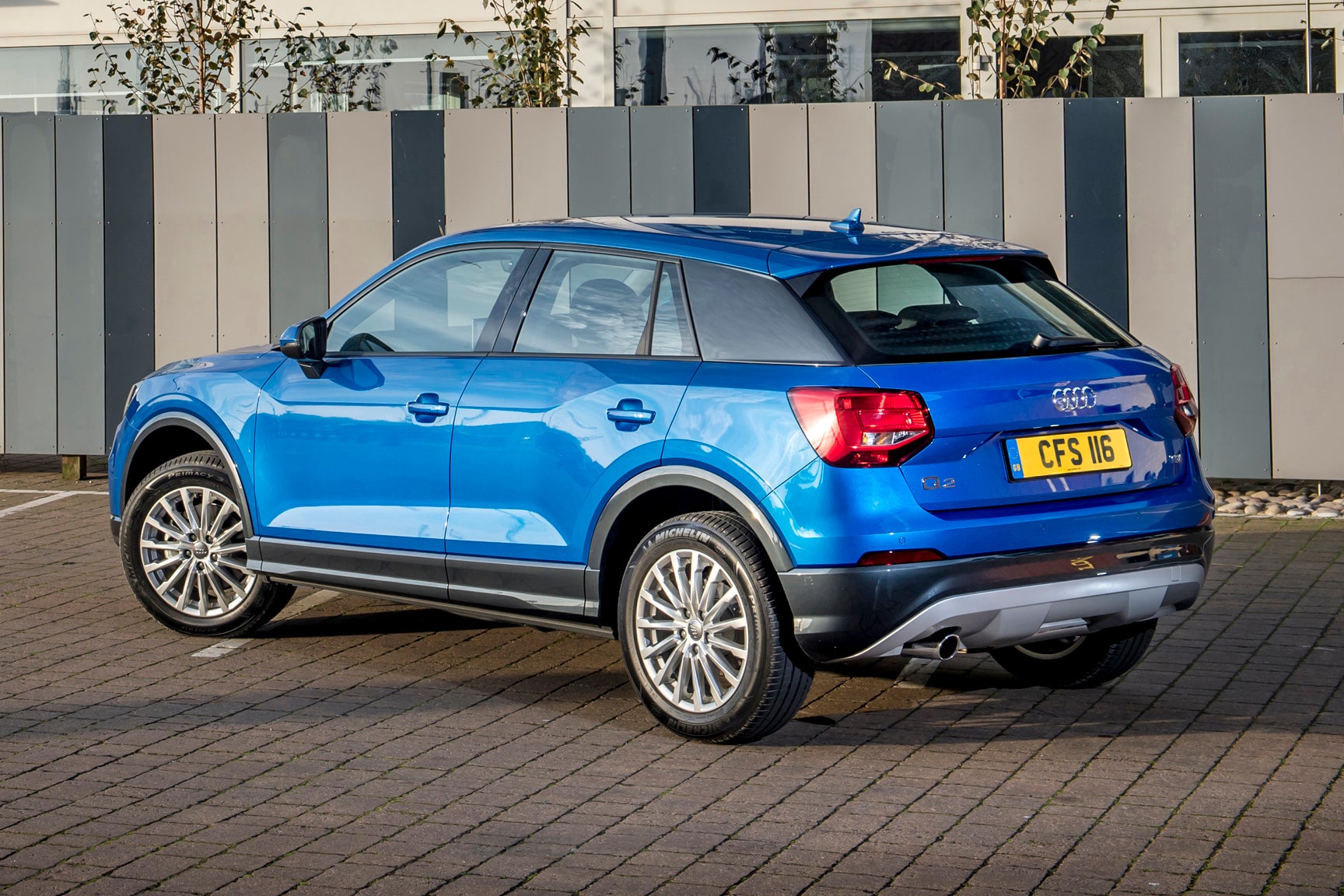 Audi is known for putting stiff suspension on its cars to make them feel sportier, and the Audi Q2 is no exception. Unlike in its larger models all the standard trims come fitted with an identical 'Dynamic' suspension setup.
It's several degrees firmer than its peers, especially the Peugeot 2008 and Renault Captur, and you'll feel the effects of these stiffer springs on patchy urban roads, where the wheels will patter over small imperfections. This fidgety character is less pronounced in cars fitted with smaller alloys and fatter tyres, which is a good reason to stick to either the Technik or Sport trims. They'll deal with speed bumps and potholes far better. There is one exception to this rule. The (now discontinued) Vorsprung trim came with adaptive dampers that gave it a really supple ride, despite its huge 19-inch wheels, and could then tighten up again on twisty roads.
On smoother roads and at higher speeds, you won't notice the difference as much, and you'll be glad of the Audi Q2's tight body control, strong grip, and precisely-weighted controls, which help it feel planted and secure. In fact, Audi's smallest SUV handles better than almost any of its rivals - even the MINI Countryman - but Ford's Puma manages to deliver similar enjoyment from behind the wheel without the harsh edge to the ride.
All models come with progressive steering. This changes the responsiveness of the wheel depending on the driving situation, so it's light and feels very quick when you're parking, but gets slower and heavier at speed. It works well, never feeling too artificial, and adding a welcome sense of stability on motorway journeys.
What engines and gearboxes are available in the Audi Q2?
Primarily the Audi Q2 is a front-wheel drive car. So while you can spec it up with four-wheel drive and powerful 2.0-litre petrol and diesel engines (just like in Audi's larger models) most buyers are very unlikely to do so.
Kicking off the range is a 1.0-litre three-cylinder turbocharged petrol with 115PS that is badged as 30 TFSI. It's a perky little unit, with surprisingly eager performance, but feels overworked when the car is fully loaded.
Most buyers will be better off with next step up the ladder; the 35 TFSI. It's a 1.5-litre that can shut down two of its four-cylinders to help save fuel, so it's nearly as economical as the smaller engine, but a lot punchier. It also comes with the option to fit Audi's S tronic seven-speed automatic gearbox; the 30 TFSI is manual only.
Anyone after lower running costs and racking up plenty of motorway miles should go for 30 TDI. It also gets a choice of transmissions, and despite not feeling especially quick off the mark, it has decent in-gear shove.
As we've mentioned the 2.0-litre models - badged 40 TFSI and 35 TDI - come with Audi's famous quattro four-wheel drive system for improved traction and the S tronic gearbox as standard. With 190PS the petrol car feels fast, but is only available on the top trims, so you're paying a lot for that extra performance and grip.
Sitting at the top of the tree is the SQ2. Audi's engineers effectively shoehorned a hot hatch powertrain into this flagship car, so while not quite as potent as the brand's 'RS' models, with 300PS it's still indecently quick.
Refinement and noise levels
Every version of the Audi Q2 is fairly civilised, whether you're pottering through town or cruising the motorway. It generates a little wind whistle around the edges of the windscreen at speed, but this never gets too intrusive.
Road rumble from the tyres is nicely suppressed, although the sportier trims with 19-inch wheels and thinner rubber do create noticeably more background roar than the more sensibly specified cars in the range.
The 30 TFSI is the only three-cylinder engine in the range, giving it quite a characterful raspy exhaust note that is particularly noticeable at low speeds. It's not unpleasant, but the four-cylinder 35 TFSI is smoother. If you push the latter a little harder it starts to sound gruff, whereas the 2.0-litre 40 TFSI is sweeter at high revs.
As for the diesels, both the 30 TDI and 35 TDI are competent cruisers, settling into a peaceful cruise once you get them up to speed. The entry-level car is noisier when worked, but no more than in the Q2's rivals.
The standard six-speed manual gearbox is easy to use smoothly, with an accurate shift and light clutch. The S tronic twin-clutch automatic is more of a mixed bag. It's great on the motorway, but can be abrupt and jerky when you're manoeuvring into a parking space, and occasionally hesitates in auto mode, which is frustrating.
Safety equipment: How safe is the Audi Q2?
The Audi Q2 is one of the safest cars in this class. It received the maximum five-star rating from Euro NCAP in crash safety tests, with very high scores of 93% for adult occupant protection and 86% for child protection.
Only a handful of its rivals performed better (Mercedes-Benz's GLA and Volkswagen's T-Roc among them) and it has all the mandatory passive equipment to keep you safe if the worst happens. This includes six airbags, stability and traction control, and multi-collision brake assist. This stops you sliding into other cars after an impact occurs.
The Audi Q2 also comes with Audi's Pre-sense system, which is the brand's fancy name for auto-emergency braking. It has a camera mounted behind the rear-view mirror that looks out for pedestrians and obstacles around town. If the car senses a collision and you don't react to its initial warning, it'll apply the brakes to prevent a shunt.
Handy features like cruise control and rear parking sensors are standard across the range, but you have to cough up for the whole Comfort & Sound option bundle if you want front sensors and a reversing camera. You get this equipment thrown-in as standard on most mid-range versions of the Q2's mainstream rivals.
Another optional extra is Audi Side Assist with Cross Traffic Assist. This mouthful includes a pair of active systems, one of which lets you know if there are cars or motorbikes in your blind spots on the motorway. The other applies the brakes if it senses any passing traffic when reversing out of an unsighted driveway. Cheekily, Audi charges separately for a spare wheel (£100) and the tool kit you need to actually use it (£25).
MPG and fuel costs: What does an Audi Q2 cost to run?
"Since the Q2 shares most of its components with a family hatchback and not a proper 4x4, running costs are lower than you might expect. Most versions will return mid-forties economy figures, apart from the quicker 40 TFSI quattro and of course the powerful SQ2. The latter will manage around 29mpg if driven really gingerly."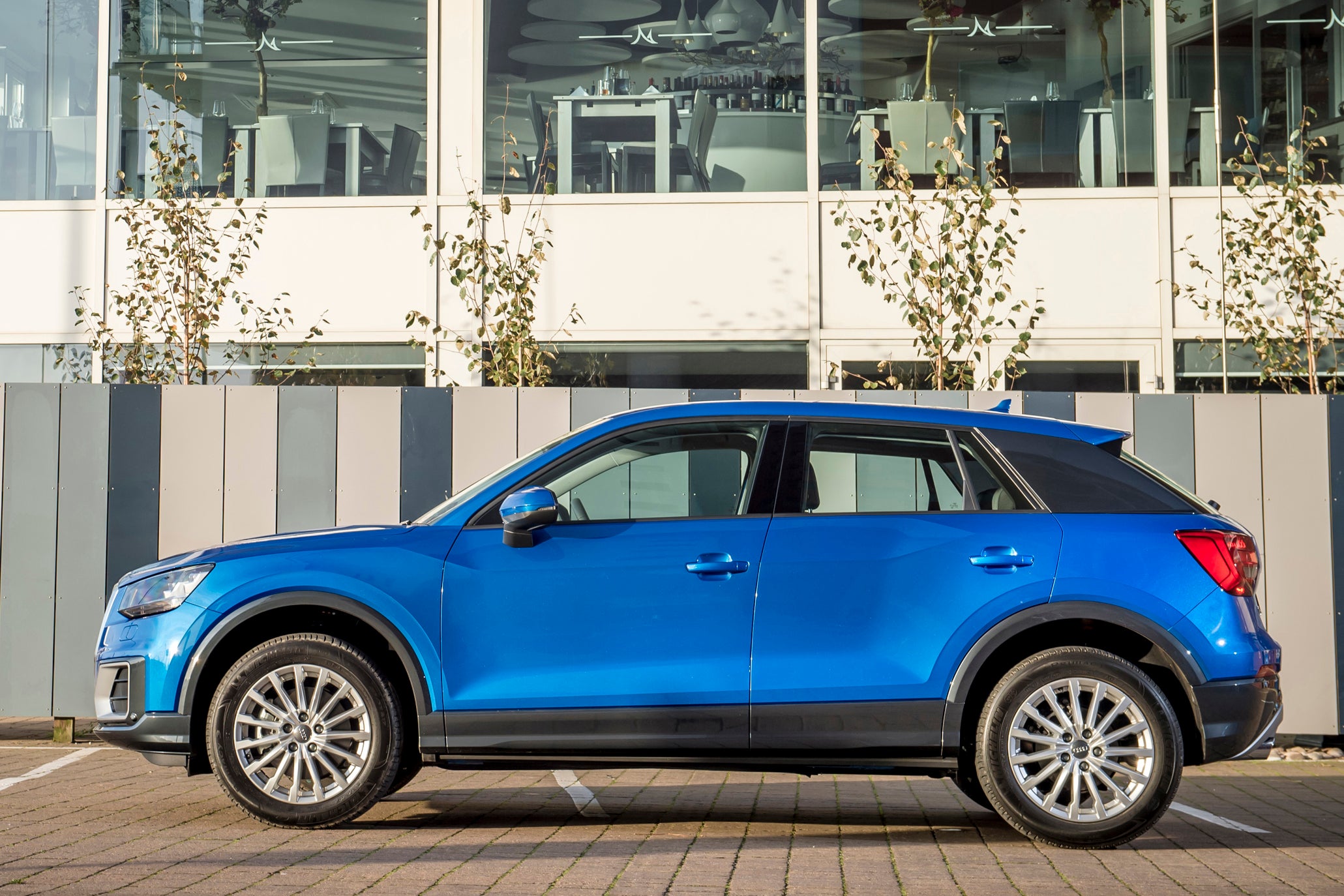 According to the tougher new WLTP tests, the most efficient model in the range is the diesel 30 TDI Technik, which posts an official figure close to 50mpg when equipped with the standard six-speed manual gearbox. Real MPG testers back that up, with owners returning an average of 48.8mpg with the 1.6-litre engine.
Luckily, speccing four-wheel drive or the S tronic auto gearbox doesn't make a huge dent in overall efficiency (especially in the 2.0-litre diesel) but unlike a MINI Countryman, you can't get the Q2 with plug-in hybrid tech.
How reliable is an Audi Q2?
We've heard of a few issues with the Audi Q2 – namely minor things like juddering brakes and blocked windscreen washers.
That said, the Audi Q2 is fundamentally a very reliable car. Audi scored an above-average 9.12 out of 10 for reliability in the 2020 HonestJohn.co.uk Satisfaction Index.
Insurance groups and costs
The Audi Q2 range has a broad spread of insurance costs depending on the engine and trim level, perhaps even wider than most of its rivals. The cheapest to get cover for is the 30 TFSI Technik, which sits in group 14. The majority of the range falls between this and group 20, although your premiums will go up considerably if you choose one of the quicker four-wheel drive models, or pick the most expensive Vorsprung specification.
Meanwhile the high-performance SQ2 flagship with 300PS sits all the way up in group 39. That's very much in line with its rivals from MINI, Mercedes-Benz, and BMW, but its mainstream sibling the Volkswagen T-Roc will cost less.
VED car tax: What is the annual road tax on an Audi Q2?
The majority of Q2 owners will be charged the new flat-rate of £150 in road tax (VED) every year. The only exceptions are older versions registered before 1 April 2017, which pay a fee based on their CO2 outputs.
Some of these used cars will be quite cheap - the 1.0 TFSI and 1.6 TDI will cost just £30 - especially when you consider that an SQ2 fitted with a few options will creep over the £40,000 threshold for the premium rate.
Called the 'showroom' tax, you have to pay this higher rate for the first six years of ownership. It comprises an additional £325 charge over and above the standard £150 under the new system, for a £475 yearly total.
How much should you be paying for a used Audi Q2?
"The posh badge on the Q2's nose means you'll be paying more for one of these then similarly sized Skoda Kamiq or Nissan Juke. New prices start from over £20,000 and go right up to over £40,000 for the SQ2."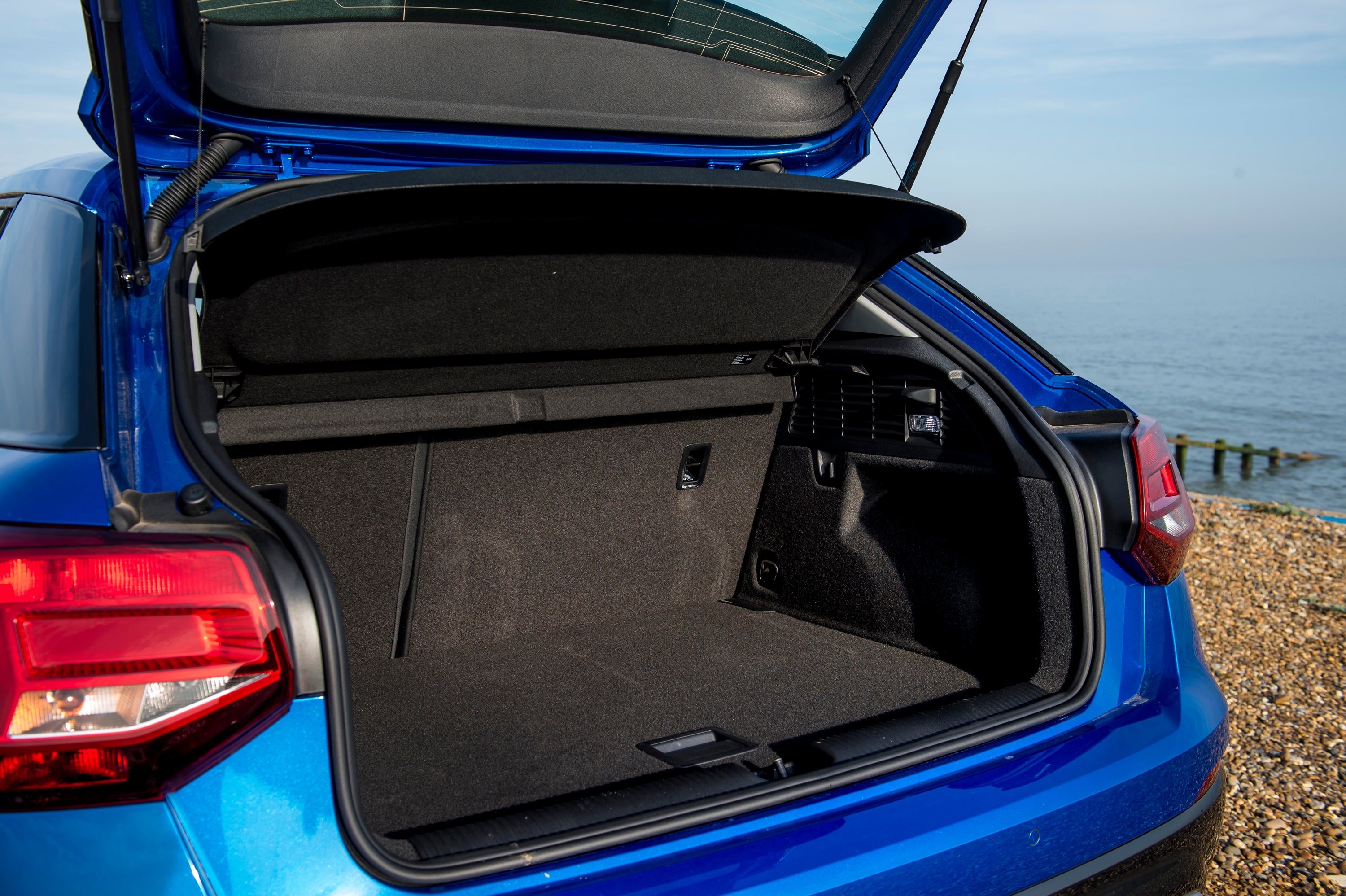 A good way to get around this steep pricing is on the used market, where you'll need around £12,000 to get your hands on a high mileage 2016 model, most likely fitted with the 1.6-litre diesel engine in the old SE trim.
We would raise a bit more cash and go for a newer example with the 1.0-litre three-cylinder petrol. Expect to part with around £15,000 for a 2017 Sport model with below average mileage for the year, and a full history.
You'll need at least £18,000 if you want one of the powerful 2.0-litre models with four-wheel drive, while cars with the S tronic automatic gearbox (and front-wheel drive) are a little cheaper, starting for about £1500 less.
Trim levels and standard equipment
All Audi Q2s come with alloy wheels, air conditioning , 7.0-inch media screen with DAB radio, Bluetooth, Apple CarPlay and Android Auto, classy leather steering wheel, cruise control, rear parking sensors and a powered tailgate.
That's on the entry-level Technik trim. Stepping up to the Audi Q2 Sport gets you a built-in sat-nav, Audi's Drive Select system with four preset modes that alter the steering and throttle, and eight speakers instead of four.
Q2 S line models get a sporty bodykit, LED headlights, and an interior makeover; including steel pedals and a three-spoke wheel. Black Edition trim is a classic case of style over substance with 19-inch black wheels, lots of black trim on the outside and scattered in the cabin, and darkened rear privacy glass.
The main reason we'd choose the Audi Q2 Sport is the availability of the Technology Pack. At £1,495 this bundle isn't exactly cheap, but does bring with it a larger 8.3-inch display, a quicker built-in processor, and best of all Audi's excellent 'Virtual Cockpit' digital dials, which really transform the look and functionality of the interior.
It's pretty tight-fisted of the brand that you have to pay £525 for climate control even on the priciest versions, but we do think it's worth it. The upgraded dials look and feel a lot more premium than the standard air con. If you're feeling flush the Comfort & Sound Pack is another way to make your Q2 feel really upmarket inside. For just over £1000, it adds an excellent B&O sound system, heated front seats, and a reversing camera.
Ask the heycar experts:
common questions
What is the Audi Q2?
The Q2 is the smallest, most affordable SUV in the Audi line-up, but despite having a lower price it offers a smart interior, the option of quattro four-wheel drive, and a hot SQ2 version.

Is the Audi Q2 any good?
The Audi Q2 is the brand's least expensive SUV, and it gives buyers access to Audi's impressive cabin design and wide engine range at a lower price, but it's not as practical as some rivals.

Answered by
heycar editorial team
What is the difference between the Audi Q2 and Q3?
The Audi Q2 sits below the Q3 in the range, so it's smaller inside and out, and a fair bit cheaper too. Both come with the option of two or four-wheel drive and manual and auto gearboxes.

What insurance group is the Audi Q2?
The Audi Q2 range has a broad spread of insurance costs. The cheapest to get cover for is the 1.0-litre TFSI SE, which sits in group 13. The majority of the range falls between this and group 30, but the high-performance SQ2 Vorsprung flagship sits all the way up in group 39.

How much boot space does the Q2 have?
SUVs are supposed to be more practical than standard hatchbacks, and with 405 litres of boot space the Q2 is marginally larger than the A3 Sportback. Still, that space is a fair bit less than that of the MINI Countryman, and it doesn't have the flexibility of sliding rear seats.

Audi Q2 cars for sale on heycar
12,029
Number of cars available
£14K - £47K
Price bracket of these cars
Colours available on heycar
Keep me updated by email with the latest advice, news and offers from heycar
By submitting, you agree to our
privacy policy
.