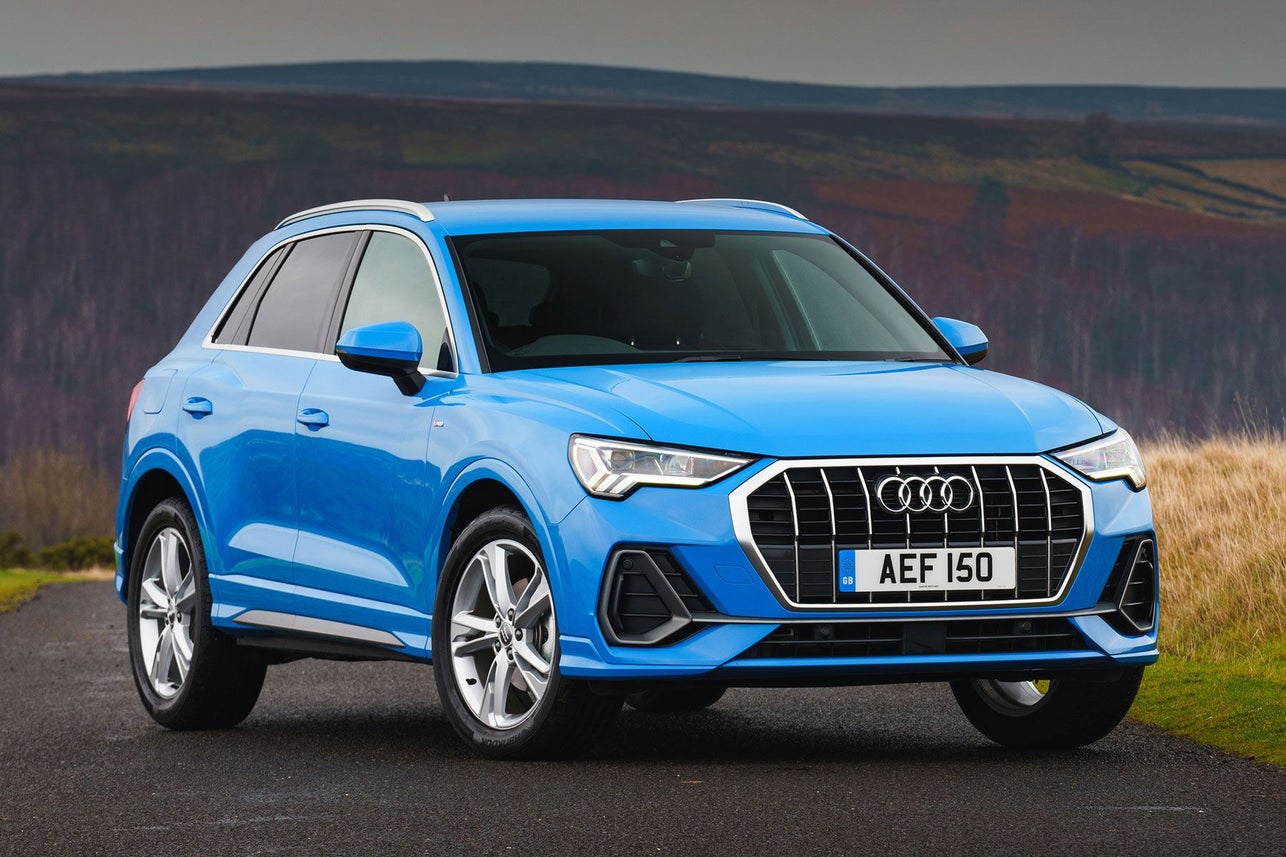 heycar review
Feel-good interior

Superb style everywhere you look

Reassuring safety tech

Feels serene to drive

Smooth ride
Need to know
The Q3 model is all about giving you more - more sporty, more dynamic and more mature is how Audi describes it. But one thing it doesn't say is crossover. That word is conspicuously absent whenever it talks about the Q3 - instead, this is now a compact SUV.
Common questions
Is the Audi Q3 a good car?

It's a premium car with a premium inteior.

Which is better Audi Q3 or VW Tiguan?

If you need to move people, then the VW Tiguan has more space for passengers and luggage.

When did the new shape Q3 come out?

The latest Audi Q3 went on sale in 2018.

Are Audi Q3s expensive to maintain?

Audi offers a service plan to help keep costs under control.
Interior & Exterior Design
It's a pretty good looking thing from the outside. Get up close and you'll find it seats a lot taller than the old Q3 and feels bigger all round. The rear seats slide forward by 15cm, giving you a bit more flexibility if you want to carry big stuff in the 530-litre boot. The seats also tilt. It's perhaps here where this Q3 is most improved from the old model. It's far less cramped with more space for your elbows and far more legroom.
The close to ancient interior design of the old Q3 has been replaced by a lovely posh new cabin that's essentially a scaled down version of what you'd get in a Q8 or A7 Sportback. This is one of the best interiors ever committed to a car - and it's a very successful transition into the Q3. The quality of the finish is impeccable and it has that same luxury sensation as you'd find in the aforementioned Q8. It certainly feels streets ahead of a BMW X2 or Mercedes-Benz GLA.
The car also comes with niceties such as Audi's 'virtual cockpit', essentially replacing the analogue dials with a high res screen. Don't get too excited though, the full version is an optional extra - otherwise it's a slightly less posh but still digital 10.25-inch screen. The MMI (Multi Media Interface) Navigation system - standard on all models - is excellent and really easy to use, plus it's a proper touchscreen rather than needing a dial controller.
What to look out for
Thanks to Audi's new baffling badging system, the 1.5 TFSI petrol engine is now called 35 TFSI - available with an S tronic gearbox (which combines the sporty characteristics of a manual gearbox with the advantages of an automatic). There is also a 2.0 TFSI engine, plus of course the ubiquitous 2.0 TDI that comes with 150PS, badged 35 TDI, or 190PS, called 40 TDI. As everyone abandons diesel quicker than first class passengers jumping into lifeboats on the Titanic, it's no surprise that the 35 TFSI with the S tronic automatic is the model Audi predicted will be the most popular.
That said, it doesn't make for the most convincing drive. First the positives - it's very smooth and quiet, unless you rev the bolts off it and has decent get up and go initially. But it's really hampered by the S tronic gearbox which seems to sap the power - and enjoyment - out of what is, we know from other Volkswagen Group cars - a great little engine. It's slow to respond when you ask it for any acceleration, and when you do, the revs pick up and it's pretty noisy.
That lag quickly becomes frustrating, especially when you slow down for a roundabout at around, say 20mph, before accelerating again. The wait for power to kick in is in borderline 'build the tension before announcing who's going to be given the boot on X Factor' territory. On the other hand, the steering is a vast improvement with a more fluid nature and it still handles well. The ride is a touch on the firm side which you'll notice as soon as you get on a bit of broken tarmac, but that said, it's not uncomfortable. We wouldn't say it's an engaging car to drive, but it is comfortable and serene on the move.
What we think
If you're in the market for a small SUV (or crossover, call them what you will), the new Audi Q3 is very desirable. And that's up against some very good alternatives like the Volvo XC40 and BMW X2. There are fine margins here but sadly, the 1.5 TSI and S tronic combination does not show the Q3 at its best. The manual gearbox is a much better choice and it's that we'd be waiting for here.