Written by
heycar editorial team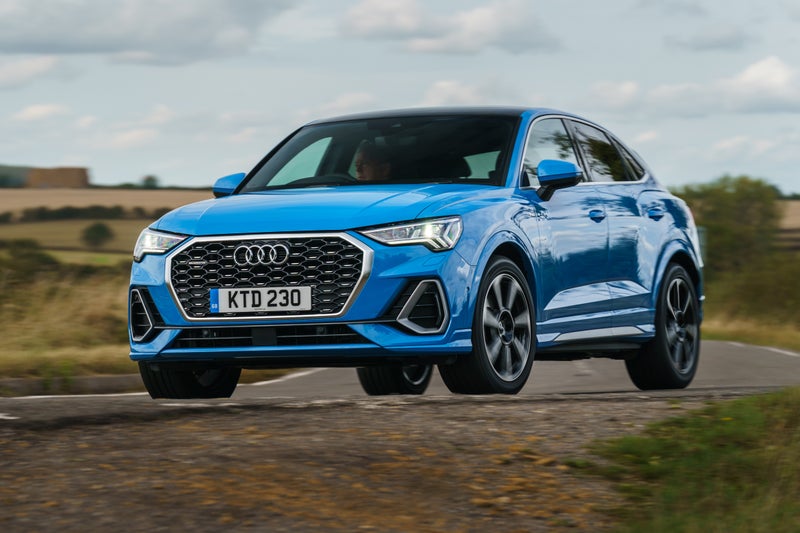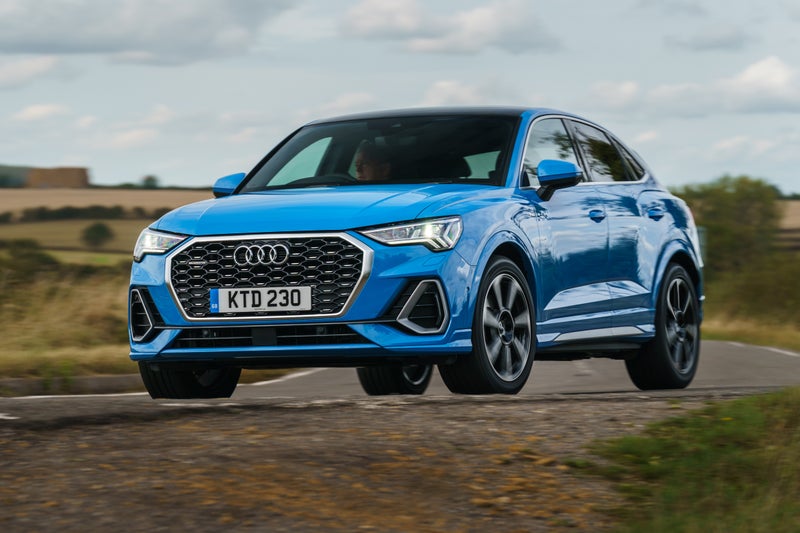 1/10
heycar rating
"Stylish looks in compact package"
Launched: 2019

Crossover

Diesel, Petrol
Quick overview
Pros
Looks more expensive than it really is
The tech-packed interior feels satisfyingly premium
Almost as practical as the standard Q3
Cons
Automatic gearbox is hesitant
Not as agile as a BMW X2, nor as comfortable as a Volvo XC40
Firm ride, particularly with big wheels
Overall verdict
On the inside
Driving
Cost to run
Prices and Specs
Overall verdict on the Audi Q3
"The Q3 Sportback is far from flawless, with a harsh ride and limited rear headroom compared to the standard model. But we know that many people will live with that for its stylish looks and impressive interior. It's also cheap to run and, of course, has that Audi badge on the grille..."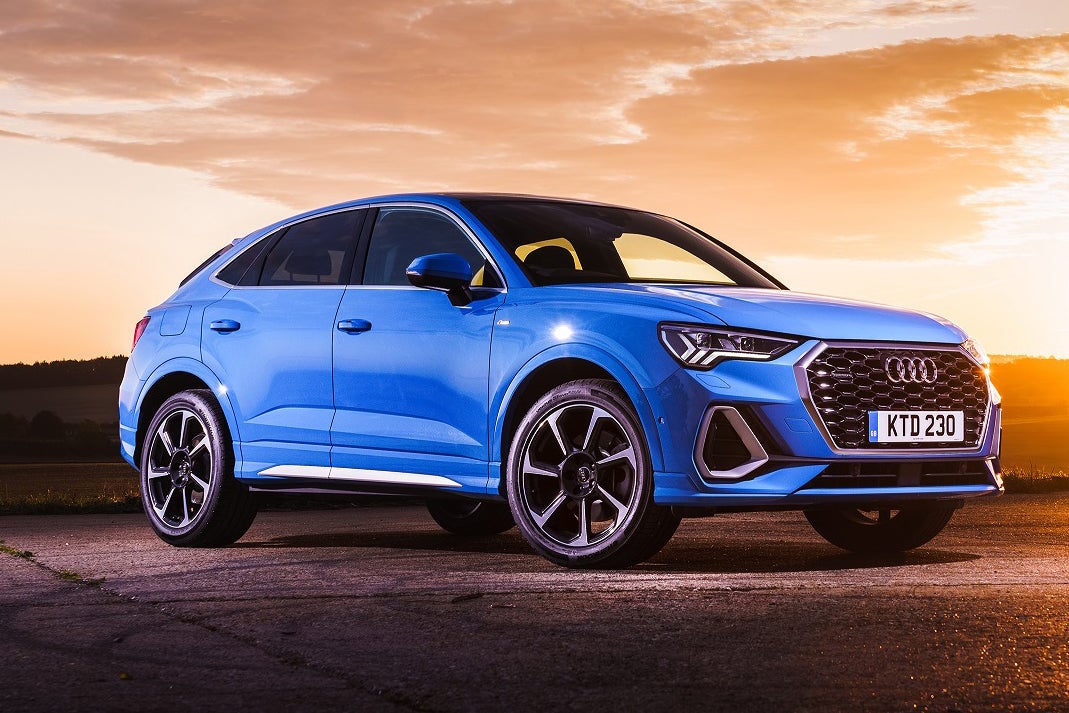 Is it any wonder that small, premium SUVs like the BMW X1, Volvo XC40 and Range Rover Evoque are endlessly popular with the great car buying public? They combine the luxury you'd expect from much posher cars without the running costs associated with much posher cars - while still being surprisingly practical.
The Audi Q3 was one of the first cars of this ilk, and it proved so popular that the brand is now extending the range with a niche compact-coupe-SUV-type-model-thing - the Q3 Sportback.
Based on the second-generation Q3, the Sportback has all the features that make the standard car so desirable. A brilliant, well-finished interior and generous levels of standard equipment. It also won't break the bank, in terms of running or buying costs, either.
All this is packaged in a slightly more aesthetically pleasing exterior, taking a similar approach to the humongous Audi Q8. That means it looks sportier than the standard car, with a rakish rear roofline and slightly longer body.
Of course, that means compromise - but not as much as you might expect. There's a noticeable drop in rear headroom, although that won't really matter unless you regularly transport adults in the back. The boot isn't any smaller, either… slightly shallower, sure, but it can carry up to 530 litres - the same as the standard car.
This is helped by the trick rear seats which can slide backwards and forwards (letting you prioritise between space for luggage or rear passengers) and even recline. So grandma can have a nap.
Those in the front won't notice much difference between the Q3 and the Q3 Sportback. As one of Audi's latest models, it's loaded with the latest technology - including a 10.1-inch media system across the range and Audi's very cool Virtual Cockpit - this replaces the standard dials with a digital instrument display.
The cabin is extremely well finished, with plenty of plush materials and fancy ambient lighting on all but the entry-level Sport model. Having said that, the standard Sport will have most things you need - including navigation, LED headlights and the aforementioned Virtual Cockpit.
The Q3 Sportback comes with the usual mix of petrol and diesel engines, including 1.5-litre and 2.0-litre TFSI petrols and a 2.0-litre TDI with a variety of power outputs. There's also two- or four-wheel-drive, although most should stick to the standard front-wheel-drive models.
No matter which engine you choose, the Q3 Sportback is refined and easy to drive, with a high seating position giving you a commanding view of the road ahead. A harsh ride means it's not as comfortable as the Volvo XC40, though, yet it's not as sporty as the BMW X2.
If the Q3 Sportback's flashy appearance has caught your eye, it's not going to disappoint. Its interior is a masterpiece, while the engines are refined and efficient. And there are some good deals to be had on used examples.
If you're looking for the high performance version, you need our Audi RS Q3 review while if you want the standard model, that's the Audi Q3 review.
Is the Audi Q3 Sportback right for you?
You'll struggle to find any objective reasons to buy a Q3 Sportback over the standard Audi Q3. But, if you want to stand out, the Sportback is rarer than the regular car and barely any more expensive on the used market. It's cheap to run - and it's more practical than you might expect.
Combine that with low running costs and a strong engine line-up (including the 1.5 mild-hybrid petrol), and the Q3 Sportback gets easier to justify.
Sure, a cheaper alternative like the Volkswagen Tiguan will do the job, but the Q3 Sportback will attract more envious looks from your neighbours. It's also got a brilliant interior that will keep you comfortable on long journeys and will continue to feel special the longer you spend in it.
What's the best Audi Q3 Sportback model/engine to choose
We reckon the most affordable engine in the Q3 Sportback is actually the one to go for. The 1.5 TFSI is quick enough for most drivers, cheap to run and available with a manual or S tronic automatic transmission. An automatic gearbox is desirable in a car like this but it can be a bit hesitant, so don't dismiss the manual.
In terms of trim levels, the Q3 Sportback will look sharper and get more equipment if you opt for one of the pricier models, but the standard Sport model has pretty much everything you could possibly wish for. In typical Audi form, the Q3 Sportback is at its most comfortable on the smallest wheels - the 18-inch alloys fitted to Sport models.
What other cars are similar to the Audi Q3 Sportback?
The BMW X2 is the Q3 Sportback's main rival - based on the X1 with sleeker looks and a less practical cabin. We'd be very tempted by the Volvo XC40, which is a trendy small SUV with a brilliant interior, while the latest Range Rover Evoque is another solid alternative (although don't be tempted by the old model, replaced in 2019).
If practicality's what you want, look at the standard Audi Q3 instead, or the very similar (but less premium) Volkswagen Tiguan. Then there are left-field alternatives like the Lexus NX and even the bigger DS 7 Crossback.
Comfort and design: Audi Q3 Sportback interior
"If you've poked around the Volvo XC40, you might find the Audi Q3 Sportback's cabin a little disappointing at first. It lacks the wow factor - it could be any other generic Audi."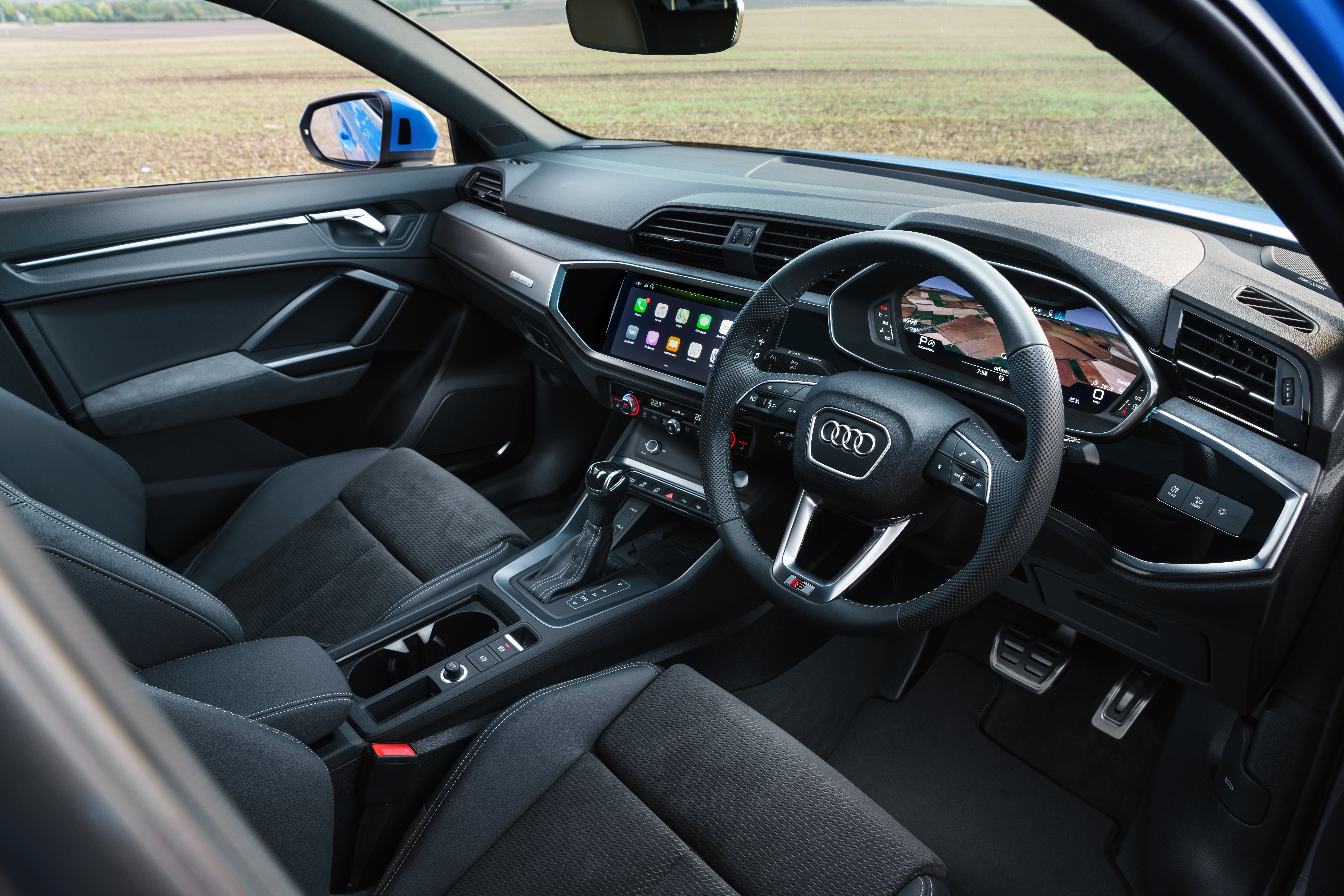 The longer you spend in the Q3 Sportback, though, the more you'll appreciate it. Getting comfortable is easy, with plenty of adjustment in the seats and steering wheel, while the pedals align nicely - meaning you don't have to sit at an awkward angle when driving. Always a good thing.
Audi is a little tight about things like electric seat adjustment, so you'll find that most Q3 Sportbacks will come with manually-adjustable front seats unless you hunt out one of the high-spec Edition 1 or Vorsprung models.
It has a higher seating position than an A3 Sportback, naturally, meaning you get a good view of the road ahead and feel slightly superior to lesser motorists in their conventional hatchbacks.
The seats are a little on the firm side (another Audi trait) but supportive, with sports seats fitted as standard across the range. If you want leather, you'll have to look for an Edition 1 or Vorsprung model. The standard Sport comes with cloth, while the S line features part-leather seats which look pretty smart.
Quality and finish
If you're looking for a quality interior, you won't go wrong with an Audi. The Q3 Sportback's cabin feels every bit as upmarket as we've come to expect from the brand, with lots of soft-touch materials and finishes that feel like they can take decades of abuse.
Having said that, once you start to rummage around, you might find a few plastics which feel a bit on the flimsy side. The glovebox lid, for example, and some of the plastics lower down on the doors. Not that these are things you'll touch regularly.
As well as leather upholstery, higher-spec models come with things like ambient lighting and brushed aluminium dash inlays which do a really good job of making the cabin feel that bit more special.
There are various buttons and switches around the cabin that feel satisfyingly German in their operation. It might sound like a small thing, but even tapping the indicator reminds you that you're driving a premium car thanks to its smooth operation (not to mention the pleasing indicator sound). It's probably time we moved on...
Infotainment: touchscreen, USB, nav and stereo in the Audi Q3 Sportback
No matter which specification you opt for, the Q3 Sportback comes with a 10.1-inch touchscreen display with navigation and Apple CarPlay and Android Auto (the former with wireless functionality… clever).
This is an easy system to use with logical menus and fast responses. It's a shame that you can only operate it via the touchscreen. Older Audis (and, indeed, the BMW X2) use a rotary controller positioned between the front seats - this is much easier to use on the move than jabbing away at the touchscreen. There aren't any physical shortcut buttons, either.
We're not entirely against progress though. Audi's Virtual Cockpit is the kind of feature you didn't know you needed until you tried it. It's standard across the range, using a 10.25-inch digital display instead of conventional dials.
A button on the steering wheel lets you switch between various displays such as a widescreen map of your location, information about what song is playing on the radio or useful stuff like your current speed. Unfortunately, you can't display phone apps on here via Apple CarPlay or Android Auto.
Space and practicality: Audi Q3 Sportback boot space
With its rakish rear roofline, you might expect the Q3 Sportback to be less practical than the standard Q3. But it's probably not as impractical as you might think.
The rear seats slide backwards and forwards, providing up to 530 litres of boot space. Fact fans will notice that's exactly the same as the standard Q3 - that's because the Sportback is slightly longer, providing a longer (but shallower) boot. The rear bench can be split into three and dropped easily, creating up to 1400 litres of lovely space for carrying bulky items. That's loads of room.
You'll obviously have to lift items higher into the Sportback's boot than you would a conventional hatchback like the A3, but access is fairly easy and a standard electric tailgate helps (provided you don't mind waiting for those annoying few seconds as it slowly lifts up).
If you want to minimise the boot lip when loading, the boot floor can be used at various levels.
As well as being able to slide backwards and forwards (by up to 13cm), the rear seats can be reclined - allowing your passengers to lie back and pretend they're in the bigger, more luxurious Q8, if they really want.
Indeed, space for rear-seat passengers is fine for most, apart from the tallest of adults who will find the roof messing up their hair. How inconvenient.
Up front, there's loads of the space for the girthiest of drivers and passengers. You're unlikely to have an issue with headroom and that seat adjustment we discussed earlier means there's plenty of legroom, too.
There are stowage areas aplenty (in the front and rear), with generously-large door bins big enough to take bottles of water and everything else a family might want to chuck in them.
Handling and ride quality: What is the Audi Q3 Sportback like to drive?
"You might be surprised to learn that, for a vehicle with 'sport' in its name, the Q3 Sportback isn't really that sporty. At least not in the handling stakes."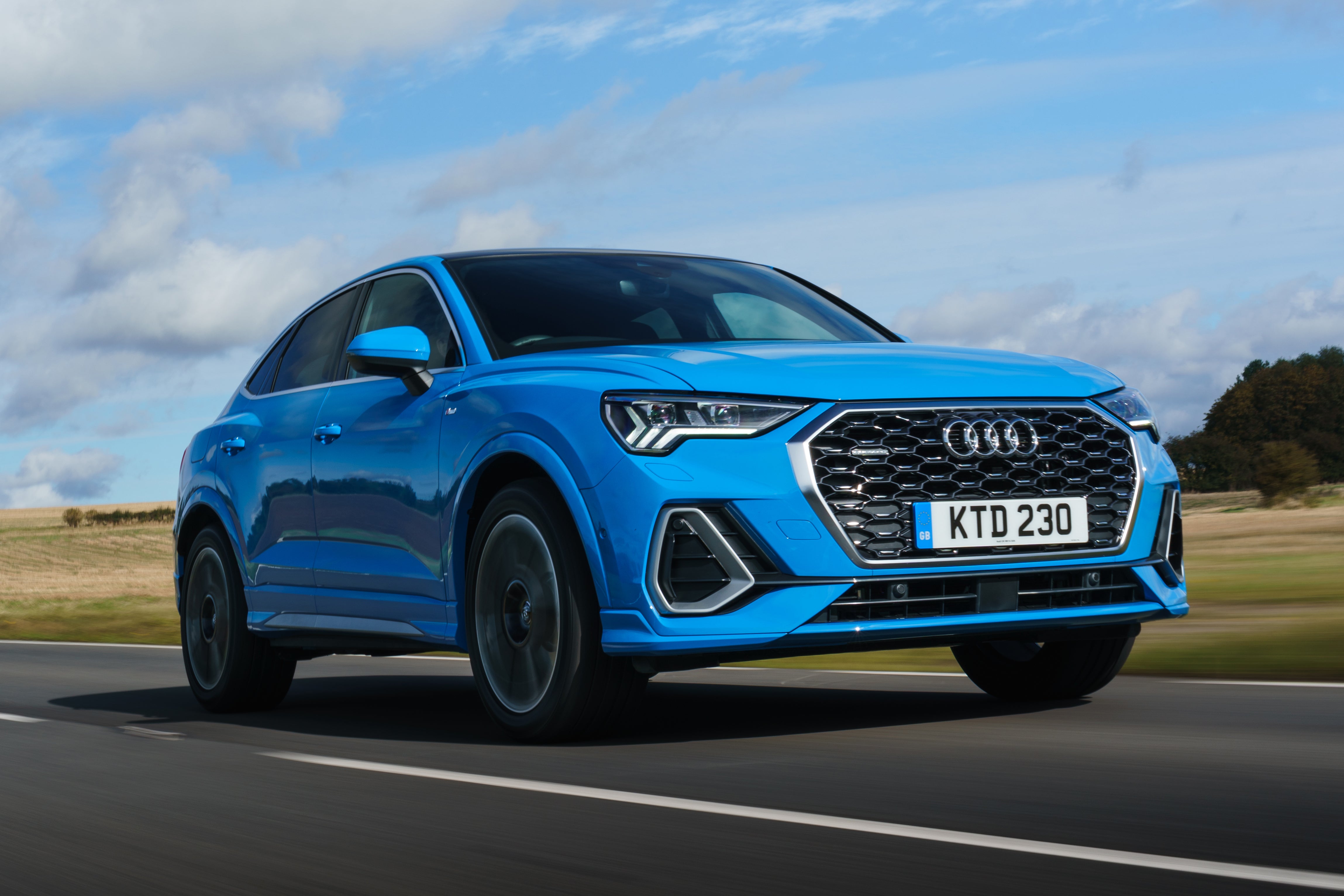 Sure, there's plenty of grip (no matter whether you buy a two- or four-wheel-drive model), but it's nowhere near as agile as a BMW X2. The steering is light and lifeless plus it leans quite noticeably in the bends.
Not everyone wants a car that handles like a sports car, but neither does the Q3 Sportback boast an especially comfortable ride. It's quite harsh, particularly with the standard suspension and larger alloy wheels. With the Vorsprung's adaptive suspension (optional on lesser models), it's better - but it's still not as smooth-riding as the Volvo XC40.
To be honest, the adaptive suspension is a bit of a gimmick. It lets you use the Drive Select system to firm up the suspension in sportier drive modes, but then it just becomes overly harsh (especially with the 20-inch alloy wheels fitted as standard on the Vorsprung). For your passengers' sakes, just leave it in comfort mode.
Around town, the Q3 Sportback's high seating position provides a usefully commanding view of the road ahead. The same can't be said for rear visibility, which is best described as poor. The shallow rear window doesn't offer a great view when reversing and this is hindered by the rear headrests.
Fortunately, rear parking sensors are standard across the range, while top-spec Vorsprung models come with a very useful 360-degree camera which helps considerably when reversing into parking spaces. A rearview camera was a £395 option on other models when new so look out for a Q3 Sportback with this fitted if you're concerned about parking.
Most Q3 Sportbacks sold are front-wheel-drive, although quattro four-wheel-drive models are also available. For most drivers, quattro is an unnecessary expense and complication, although if you're worried about winter roads or plan to tow, the extra traction could be useful.
What engines and gearboxes are available in the Audi Q3 Sportback?
Unless you cover mega miles, the majority of Q3 Sportback drivers will be best buying one with a petrol engine. We rate the entry-level 1.5-litre petrol engine, which produces 150PS and is confusingly badged the 35 TFSI.
This is available with a manual or S tronic automatic gearbox - while an auto is tempting in a car like this, it can be a little hesitant. With that in mind, it might be worth saving money and opting for the manual.
If you're after more performance, there's a 2.0-litre petrol available with 190PS or 230PS, badged the 40 and 45 TFSI respectively. Combined with Quattro all-wheel-drive and the S tronic transmission as standard, these feel pretty rapid and fun to drive - although you'll have to be prepared for how much fuel it uses.
The big-selling diesel engine is the 35 TDI, which is a 2.0-litre diesel with 150PS. This is available as a Quattro with a manual or automatic gearbox, or a front-drive model with the S tronic transmission. If you cover a lot of motorway miles, this is the engine for you - it's more frugal than the petrols and has plenty of torque for effortlessly covering distance.
If the standard 35 TDI isn't powerful enough, there's also a top-of-the-range 40 TDI. Again, this uses a 2.0-litre TDI but with power boosted to 190PS. With an automatic gearbox and quattro four-wheel-drive as standard, this will be the Q3 Sportback of choice for anyone looking to tow anything.
Refinement and noise levels
It's the Q3 Sportback's refinement levels which distinguish it from more mainstream crossovers - and even other pricey competitors. No matter which engine you go for, the Q3 Sportback is an extremely refined choice, doing a superb job of lowering noise levels and making sure you reach your destination feeling thoroughly relaxed.
The 2.0-litre petrols are more refined than the 1.5, despite the smaller engine using a 48-volt mild-hybrid system when combined with the automatic gearbox. This allows the Q3 Sportback to coast with the engine off, primarily aiding fuel economy but also improving refinement levels, particularly in stop-start traffic around town.
Of course, the diesel engines are a little noisier - particularly when cold. But no more so than other diesels and once up to speed and temperature, there's little in the way of engine noise.
One important thing to bear in mind if you're concerned about refinement is your choice of wheels and suspension. The adaptive suspension helps improve refinement and comfort thanks to its more compliant ride but cars with large alloy wheels counter that improvement.
Safety equipment: How safe is the Audi Q3 Sportback?
The Audi Q3 Sportback comes with a long list of standard safety equipment intended to prevent you having a crash. And, in the case of an accident, keeping you and your family safe.
It features Audi's Pre-Sense Front with pedestrian and cyclist detection. This clever system uses radar sensors to detect other vehicles, pedestrians and cyclists in front of the car.
If it detects an imminent collision, it will warn the driver - and if you don't react, it applies the brakes to prevent a crash or, at the least, reduce the impact. We wouldn't recommend trying it out, but it's certainly a good feature to have.
Other handy safety tech highlights include a lane departure warning, which will nudge the steering if you accidentally stray from your lane, plus a camera-based traffic sign recognition system. Again, these are standard across the range - meaning all used Q3 Sportbacks will have them.
Vorsprung models do come with some extra features such as the cross-traffic assist rear system. This will alert the driver of any approaching traffic when reversing out of a parking space - and even apply the brake if required.
Euro NCAP is the independent body responsible for crash testing new cars in Europe. While it hasn't tested the Q3 Sportback, the standard Q3 performed very well indeed when it was tested in 2018, receiving a maximum of five stars out of five.
It scored well across the board, receiving a 95% rating for adult occupants and 86% for children. NCAP also awarded the Q3 85 per cent for its safety assist features, and 76% cent for protecting vulnerable road users.
MPG and fuel costs: What does an Audi Q3 Sportback cost to run?
"As you'd expect, the diesels are the most efficient, with the 35 TDI returning more than 42mpg under the latest WLTP fuel economy tests - meaning you should see fairly close to this in the real world."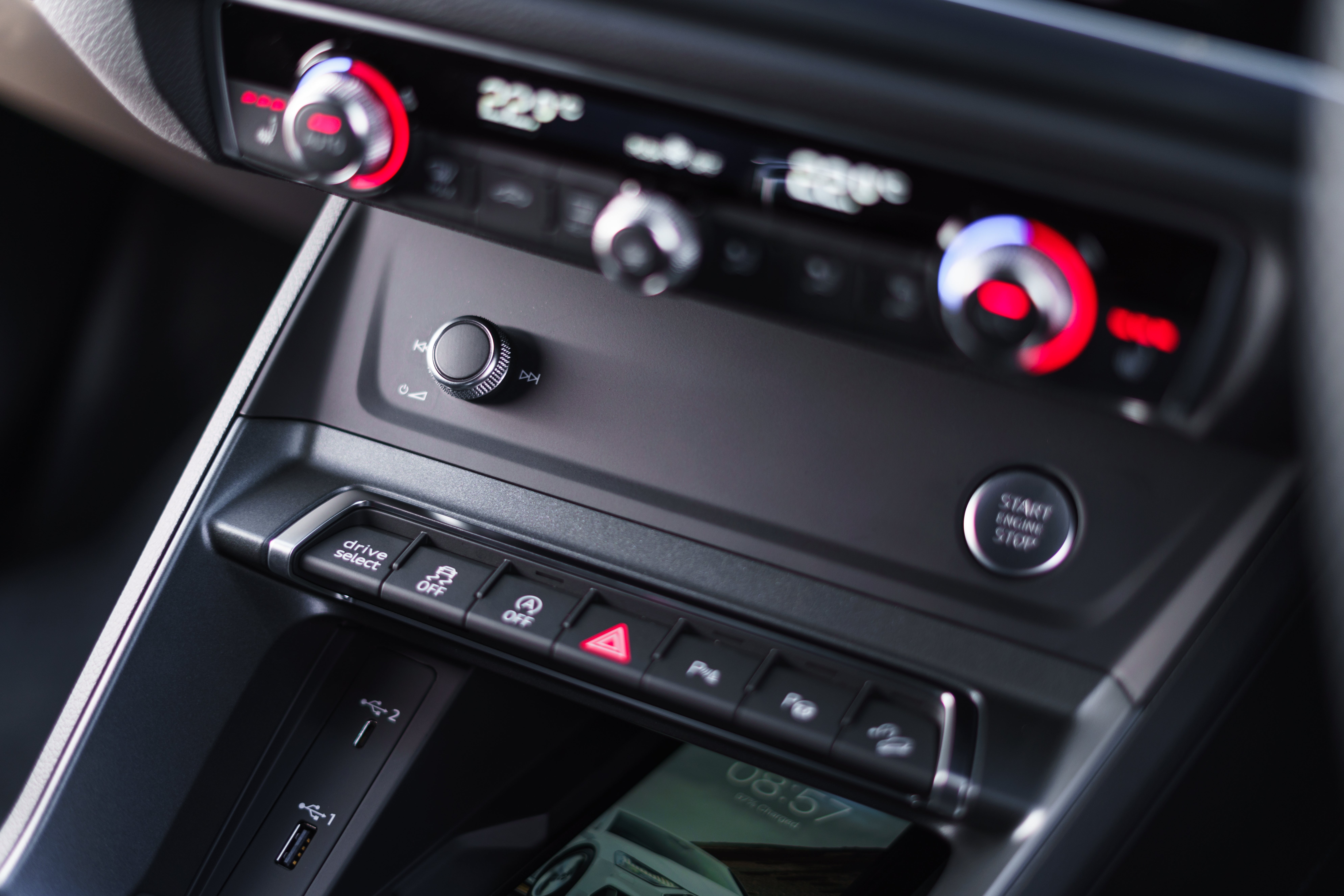 Quattro models are slightly less frugal, so avoid these unless you really need four-wheel-drive. Officially the 35 TDI Quattro returns around 41mpg depending on specification.
The mild-hybrid system means the 1.5-litre 35 TFSI engine with the automatic gearbox returns surprisingly close to diesel-like economy, officially for up to 42mpg. The 2.0-litre petrol is the thirstiest - returning 31mpg when combined with quattro and the S tronic gearbox. Ouch.
Insurance groups and costs
Insurance groups range from 20 to 27 depending on engine and trim level, with the Sport 35 TFSI manual being the cheapest to insure. That's broadly in line with competitors like the BMW X2.
Unsurprisingly, you're likely to pay a little more to insure the Q3 Sportback than something like a Volkswagen Tiguan. Shop around if you're concerned - unless you're a young or inexperienced driver, insurance for the Q3 Sportback shouldn't be extortionate.
VED car tax: What is the annual road tax on an Audi Q3 Sportback?
The Audi Q3 Sportback was launched in 2019 so all models will cost a flat £150 a year in road tax under the latest system.
Be careful you don't get stung by the so-called 'premium tax', though. This applies to all vehicles with a list price of more than £40,000 - meaning some Q3 Sportback models. If the car you're looking at cost more than £40,000 when it was new, you'll have to pay an extra £325 a year for the first five years.
How much should you be paying for a used Audi Q3 Sportback ?
"When new, the Audi Q3 Sportback costs a premium of around £1150 over the equivalent Q3. List prices start from around £31,500 for the Sport 35 TFSI with the six-speed manual gearbox, topping at £47k for the Vorsprung 45 TFSI Quattro S tronic."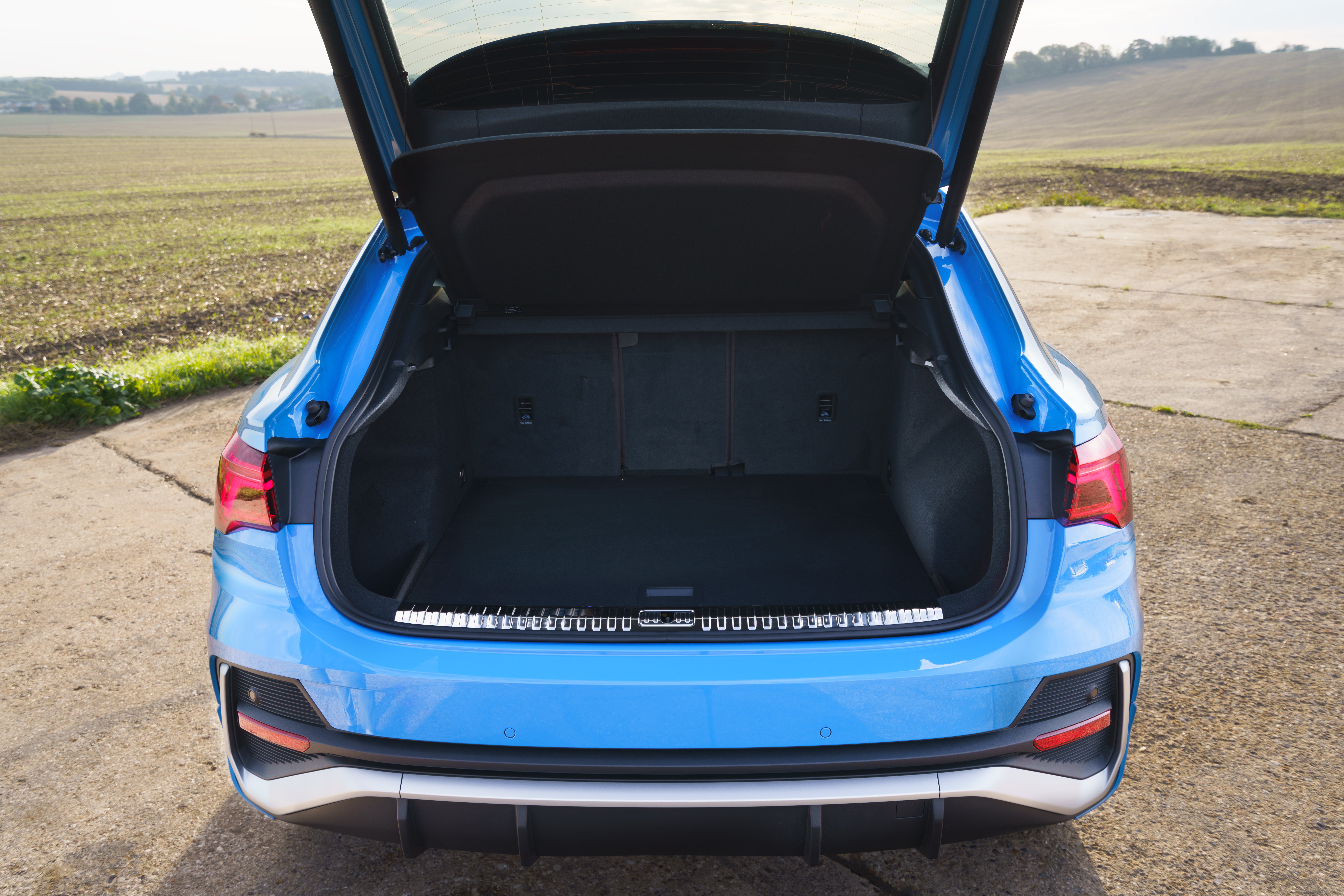 There are quite a few option boxes you can tick, too, giving the Q3 Sportback a totally premium price tag. Of course, thanks to the wonders of depreciation, you're not going to pay these prices if you buy one second-hand. It may be in demand, but there are still deals to be had. We've seen as-new examples advertised for £3000 less than list price.
Trim levels and standard equipment
The entry-level Sport model is well-equipped as standard, with highlights including 18-inch alloy wheels, LED headlights (and fancy dynamic rear indicators), cloth sports seats and Audi's MMI Navigation Plus, as well as its Virtual Cockpit. Apart from looking a little less special than more premium models, there isn't really anything missing from the Sport trim level.
The S line builds on that with 19-inch wheels and bespoke exterior styling with privacy glass - making the Q3 Sportback look a bit fancier. Other highlights include part-leather sport seats and ambient interior lighting, both of which make the Sportback feel a bit more special.
Edition 1 models are pricey but feature things like 20-inch wheels, Audi's clever Matrix LED headlights (including front and rear dynamic indicators), a black exterior styling pack and full leather upholstery. The ambient lighting pack is extended, too, giving you a choice of colours.
Topping the range is the Vorsprung model, which comes with its own take on 20-inch alloy wheels, a panoramic sunroof and premium Bang & Olufsen sound system. It also has the Driver Assistance Pack which includes a range of nice-to-have features like adaptive cruise assist and a 360-degree camera.
While Audi's options list is fairly extensive, there aren't any that will make a car particularly more desirable on the used market. The Comfort & Sound Pack is worth looking out for on lower-spec models - this adds things like the posh B&O sound system, a rear-view camera and heated front seats.
Keep me updated by email with the latest advice, news and offers from heycar
By submitting, you agree to our
privacy policy
.