Audi Q4 e-tron Review 2022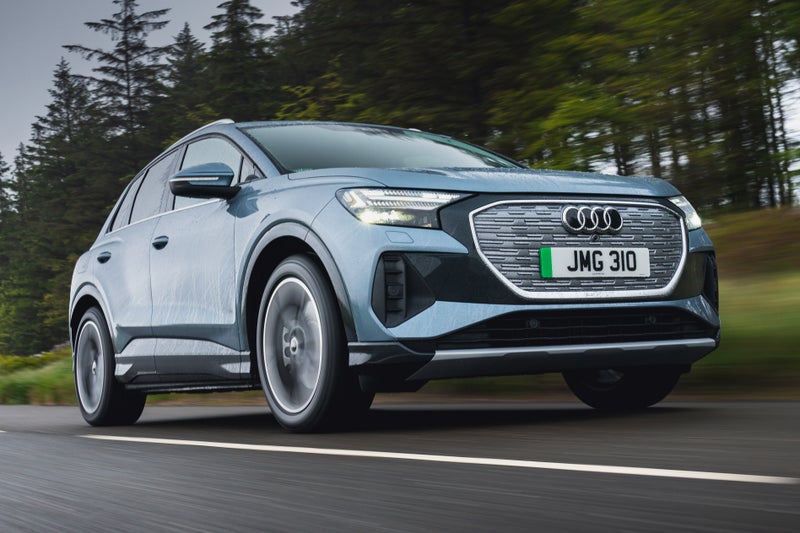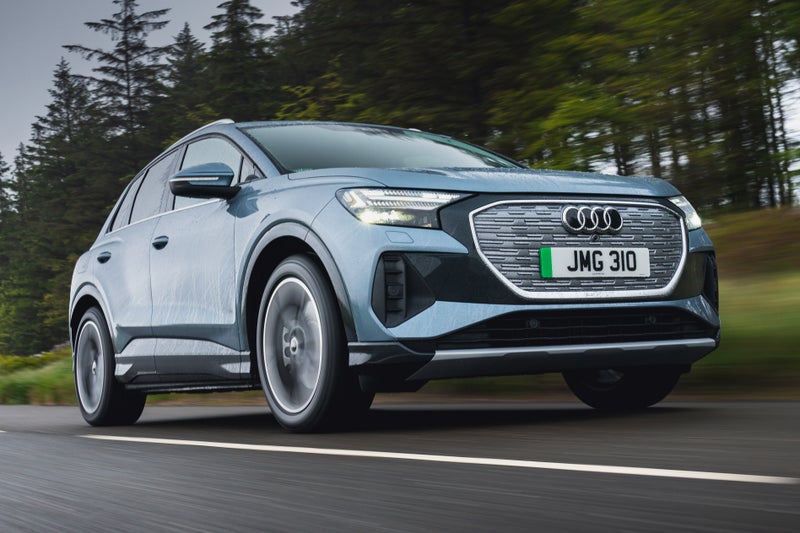 1/10

heycar rating
"Posh and practical electric SUV "
Quick overview
Pros
Interior feels posher than rivals
Very comfortable with impressive ride quality
Can travel up to 316 miles between charges
Cons
Not eligible for plug-in car grant
Alternatives are quicker and more exciting to drive
It looks a bit 'generic Audi'
Overall verdict
On the inside
Driving
Cost to run
Prices and Specs
Common questions
Overall verdict on the Audi Q4 e-tron
"The Audi Q4 e-tron is a thoroughly impressive premium, electric SUV. Buy one with the bigger battery and it'll cover more than 300 miles between charges, while its plush interior justifies the price hike over the Volkswagen ID.4 and Skoda Enyaq iV."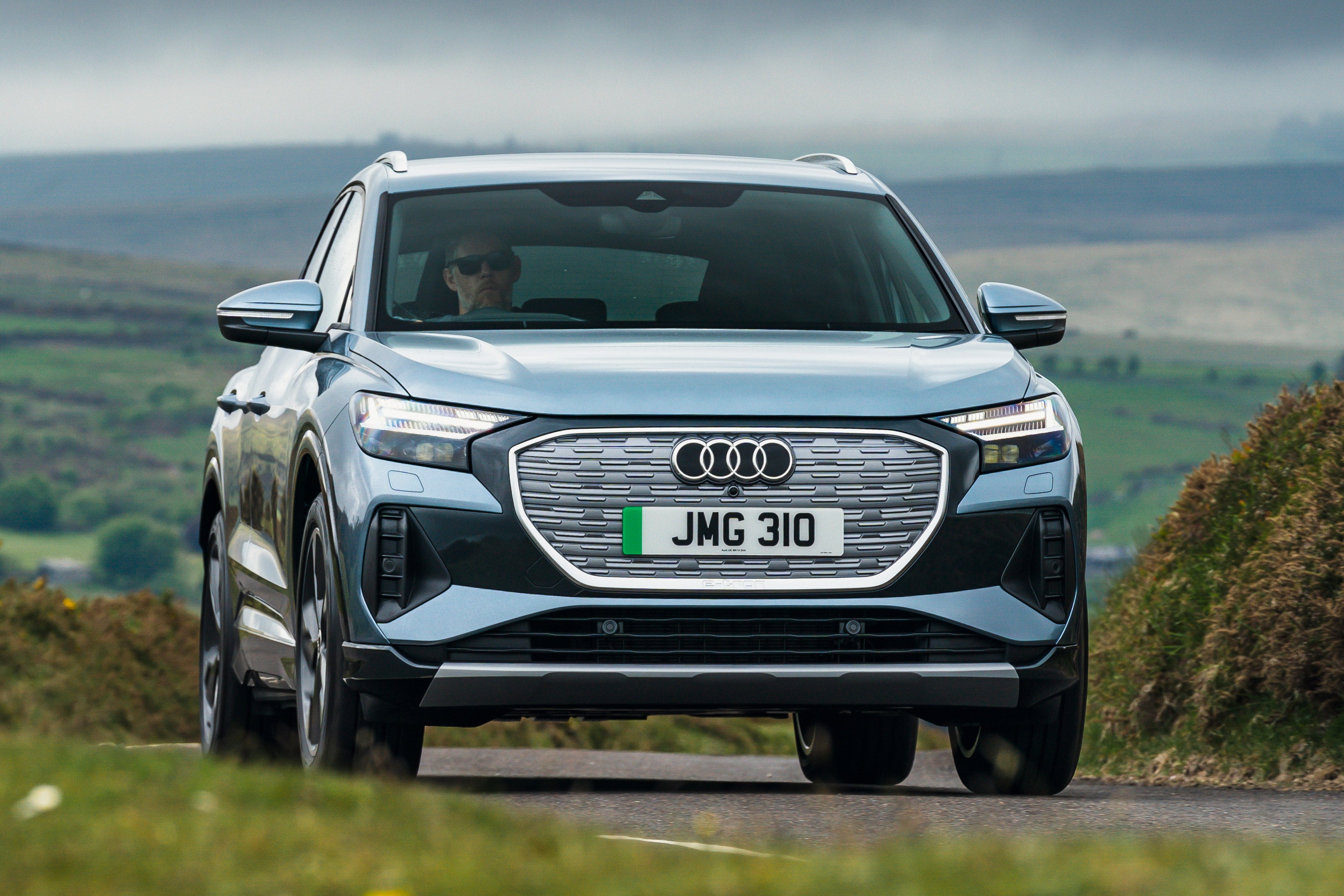 As its name suggests, the new Audi Q4 e-tron sits between the Q3 and Q5 in terms of size. It's only available with electric power – but don't write it off as a niche contender in the SUV sector. Audi reckons it'll sell more of these next year than any other model, bar the ever-popular A3 hatchback. Read our full 2022 Audi Q4 e-tron review to find out whether it deserves to be ranked as one of the best electric cars you can buy.
It'll be competing with a growing number of premium mid-size electric SUVs. Cars like the BMW iX3, Mercedes EQB, Volvo XC40 Recharge, Polestar 2 and upcoming Tesla Model Y are all in Audi's sights. Going by the brand's sales projections, it expects the Q4 e-tron to trounce them all.
Take a seat in the Q4 e-tron's cabin, and it's easy to see why Audi's so cocksure about the Q4 e-tron. You won't find a gimmicky oversized infotainment screen or a button-free dashboard, but you will find a totally modern and upmarket interior that totally justifies the premium price tag. We've only driven the most affordable Sport model, but it didn't leave us wanting more.
It's a spacious interior, too. There's loads of space in the front, while those in the rear won't feel like second-class citizens. The boot's a healthy size and usefully square in shape, although the cheaper Skoda Enyaq iV has the edge in overall capacity.
There are three core drivetrains available: the Audi Q4 35 e-tron, with a 55kWh battery and 170PS motor; the mid-range 40 e-tron with a bigger 82kWh battery and 204PS electric motor; and the top-spec 50 e-tron, with the same 82kWh battery powering an electric motor on each axle to produce a combined 299PS.
We've driven the Audi Q4 40 e-tron and it's quick enough to pull the proverbial skin off a rice pudding, but it's not going to put a smile on your face in the same way as a Ford Mustang Mach-E or BMW iX3. It's extremely refined, though, and its ride quality is more comfortable than we've come to expect from heavy electric SUVs (or, at least, it is with the optional adaptive suspension of our test car).
Of course, the sensible money will continue to go on the equivalent Skoda model – in this case, the Enyaq iV, or the similar Volkswagen ID.4. But if you want a premium electric SUV, the Audi Q4 e-tron is an utterly convincing choice. Its interior is superb, there's loads of space and it's incredibly comfortable. Just don't expect jaw-dropping acceleration.
What's the best Audi Q4 e-tron model/engine to choose?
We've only driven the Audi Q4 40 e-tron Sport and didn't find it lacking in any particular area. It's probably the perfect blend of performance, electric range and affordability. If you need punchier performance or the reassurance of all-wheel-drive, consider the Audi Q4 50 e-tron Quattro instead.
What other cars are similar to the Audi Q4 e-tron?
There are suddenly a whole load of premium competitors in the electric SUV market. If you're looking at the Audi Q4 e-tron, you should also be considering the BMW iX3 and Mercedes EQB. The Ford Mustang Mach-E is a slightly left-field alternative, as is the Polestar 2 and Volvo XC40 Recharge. You might also want to consider the Tesla Model 3 (and upcoming Tesla Model Y), or slightly more affordable Volkswagen Group EVs like the Skoda Enyaq iV and Volkswagen ID.4.
Comfort and design: Audi Q4 e-tron interior
"The Audi Q4 e-tron's interior manages to look ultra stylish and modern, without making a grandiose statement about its electric underpinnings. It's just suave and sophisticated in a typically Audi way, with a minimalist dashboard and almost-retro twin-spoke leather steering wheel."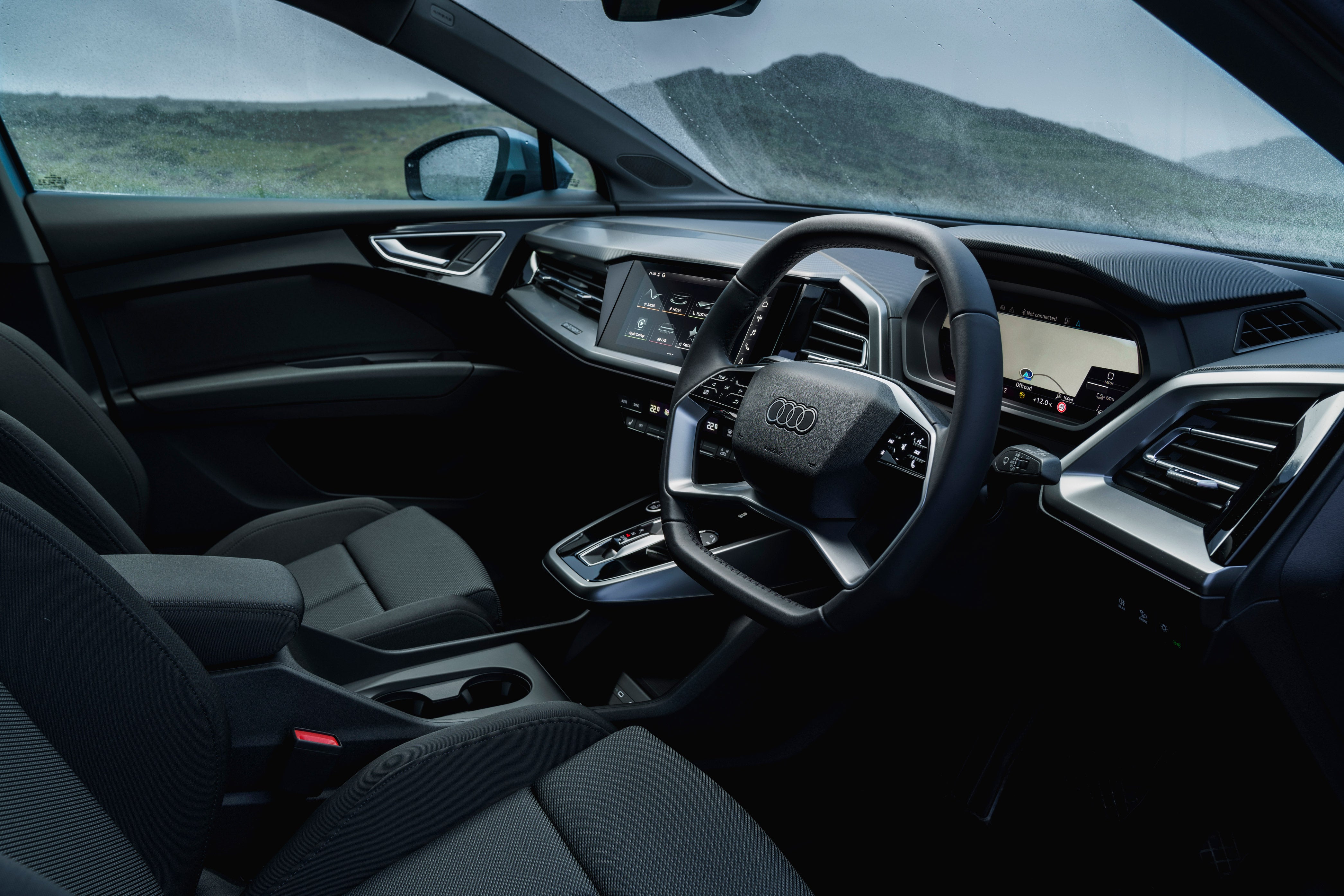 While it might look a bit modern and fancy, the Audi Q4's cabin is also instantly comfortable. All trim levels get adjustable lumbar support in the front, while the standard sport seats hold you in place without prodding you in the sides uncomfortably.
The dashboard is angled slightly towards the driver, providing an almost cockpit-like vibe. That's not to say that passengers are treated like second-class citizens; even the back seats are supportive, while USB charging points are standard in the back on Vorsprung models.
Quality and finish
You only need to sit inside the Audi Q4 e-tron to see what sets it apart from its platform-sharing siblings. While we can't really knock the Skoda Enyaq iV or Volkswagen ID.4 (we're yet to try the Cupra Born), the Audi Q4 e-tron sets new standards in the electric SUV market. Everything feels plush and tactile, with a distinct edge over alternatives like the Ford Mustang Mach-E. Tesla can only dream of creating interiors like this.
You don't need to go to town on the options, either, or stretch yourself to a pricier model. The Sport trim level covers the basics, with things like a leather steering wheel, auto-dimming rear-view mirror and heated front sports seats – not to mention a plethora of interior LED lighting. Our test car felt like a classy affair, despite not being loaded up to the hilt with options.
Infotainment: Touchscreen, USB, nav and stereo in the Audi Q4 e-tron
All Audi Q4 e-tron models feature the same 10.1-inch navigation system. Refreshingly, this isn't a large Tesla-like portrait display, rather the kind of easy-to-use touchscreen we're used to from Audi. It's intuitively laid out, with sharp graphics and speedy reactions, while Apple CarPlay and Android Auto are also standard (the former wireless). There are even some physical buttons for the climate control system – old-fashioned, perhaps, but easier to use than the touch-sensitive sliding bar used in the Volkswagen ID.4.
There's also a trick augmented-reality head-up display available as part of the Technology Pack (standard on Vorsprung models). This isn't necessarily as fancy as it sounds – it just points in the direction you need to drive when you're following navigation directions. A useful feature, if a bit gimmicky.
Space and practicality: Audi Q4 e-tron boot space
Just like other Volkswagen Group vehicles based on the MEB platform (namely the Skoda Enyaq iV and Volkswagen ID.4), the Audi Q4 e-tron's wheel-at-each-corner approach provides an impressively roomy cabin. It feels light and airy, although it's probably worth hunting one out with the optional panoramic sunroof (standard on Vorsprung models) for the ultimate sunlit interior.
There's a generous amount of room for rear-seat passengers, although you might need to look at the bigger e-tron if you expect to regularly transport three adults side-by-side. The Q4's stylish nature does mean it feels a bit more claustrophobic back there than the Enyaq. Both outer rear seats come with Isofix mounting points for child seats, while the high seating position aids access.
Like most SUVs, access to the Audi Q4 e-tron's luggage space is fairly high, which might prove an issue if you're trying to tempt an ageing labrador or lift heavy bags of shopping into the boot. There's not much of a lip, though, helped by a false floor which also provides a useful stowage area for charging leads.
There are some useful tie-down points while the Q4's fairly square boot means it's very practical, even though it's not as big as a Skoda Enyaq iV (520 litres compared to 585). The rear seats split 60:40 (40:20:40 on Edition 1 and Vorsprung models) and drop fairly flat.
If you're wanting to fit the Audi Q4 e-tron in your garage, note that it's 4588mm long, 1865mm wide (2108mm including door mirrors) and 1632mm tall. It has a wheelbase (that's the space between the front and rear wheels) of 2764mm.
Handling and ride quality: What is the Audi Q4 e-tron like to drive?
"Most electric cars struggle with ride quality – the weight of the batteries is hard to disguise; but this is one area in which the Audi Q4 e-tron particularly impresses."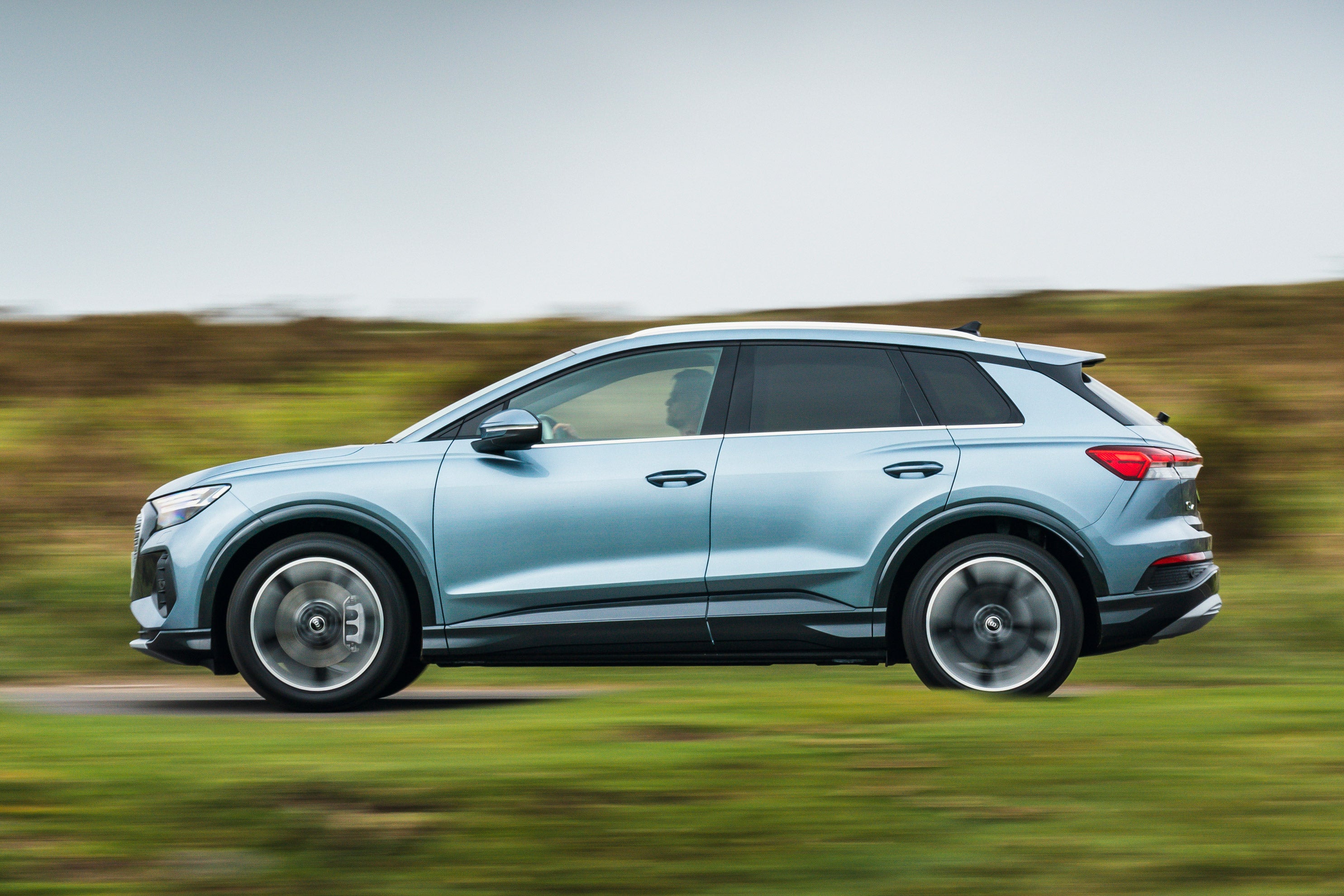 While the Q4 e-tron hardly provides a magic carpet ride, it's more than acceptable for an electric vehicle with 20-inch alloy wheels (as fitted to our test car). Our test car was also fitted with the adaptive suspension (a £950 option on Sport models), which no doubt also contributed to its superior ride quality.
Audi Q4 35 and 45 e-tron models are rear-wheel drive, with a single electric motor driving the rear axle. This means that they feel quite agile, particularly around town where an impressive turning circle means you can perform 360s until your heart's content. There's loads of grip out of town, too – while a low centre of gravity means you won't be feeling sea sick in the corners.
What engines and gearboxes are available in the Audi Q4 e-tron?
The Audi Q4 e-tron is available in three core flavours. The entry-level car is the 35 e-tron, which uses a 55kWh battery and a 170PS motor driving the rear wheels. With 310Nm torque, this'll saunter to 62mph in 9.0 seconds flat.
We've driven the mid-range model, which is the Audi Q4 40 e-tron. This uses an 82kWh battery and a 204PS electric motor, again driving the rear wheels. With 310Nm of torque it takes 8.5 seconds to cover 0-62mph – not a particularly rapid time by electric vehicle standards, but pacey enough to take the stress out of joining fast-moving traffic.
Topping the range is the Audi Q4 50 e-tron Quattro. As its name suggests, this uses two electric motors (one on each axle) to provide up to 299PS and a healthy 460Nm of torque. This can sprint to 62mph in 6.2 seconds and, although we've only had a brief drive in a Q4 Sportback 50 e-tron, it feels noticeably perkier than the 40. If you really want shove-you-back-in-your-seat acceleration, the Volvo XC40 Recharge can cover 0-62mph in just 4.7 seconds... though no one needs their electric car to be that quick.
Maximum EV range in the Audi Q4 e-tron
All Audi Q4 e-tron models come with a very useable electric range. The entry-level Audi Q4 35 e-tron can travel up to 208 miles between charges (in Sport trim), while the 40 e-tron – with its bigger 82kWh battery – is capable of an impressive 316 miles. The faster 50 e-tron Quattro can travel up to 298 miles between charges.
This is, of course, very dependent on the kind of driving you cover and whether you make full use of the Q4 e-tron's regenerative braking system. This slows the car down using the electric motor, recuperating any energy you'd ordinarily lose under braking. It's actually very clever in the Q4, using data from the navigation system to ramp up the regen when it thinks you'll need to slow down (approaching a roundabout, for example). You can also increase the recuperative braking manually by shifting the gear selector to B or, on Edition 1 and Vorsprung models, using the paddles behind the steering wheel. None of these are as severe as you'd find in some electric cars, though – don't expect to resort to one-pedal driving around town.
As a comparison, the Volvo XC40 Recharge can travel up to 260 miles on a charge, while the BMW iX3 has a range of up to 282 miles. The Mercedes-Benz EQA has an all-electric range of up to 263 miles, while the Ford Mustang Mach-E can cover up to 379 miles (depending on model). So, the Audi Q4 e-tron scores highly compared to its direct premium competitors, but there are options which can travel further...
Refinement and noise levels
An obvious advantage of an electric car is the near-silent running compared to a conventional petrol or diesel model. That means the Audi Q4 e-tron is a very relaxing companion, while wind and road noise is also well hushed. It seems to put a focus on comfort more than alternatives like the Ford Mustang Mach-E, which means it's a very soothing, relaxing companion on a long journey.
Of course, the lack of a combustion engine means you're more likely to pick up on other minor noises. We did notice a few clonks and rattles from the suspension of our Q4 e-tron 40 test car, but generally it's as impeccably refined as you'd expect.
Safety equipment: How safe is the Audi Q4 e-tron?
The Audi Q4 e-tron is yet to be crash-tested by Euro NCAP, but we'd be surprised if it achieved anything less than the full five stars. Standard safety kit is comprehensive, with driver-assistance features including Audi's Pre-sense front with pedestrian and cyclist detection. This can detect a possible collision and apply the brakes to mitigate, if necessary. Lane departure warning is also standard, as well as a turn assist function which can prevent you colliding with oncoming traffic when turning into a side road.
Audi Q4 e-tron Vorsprung models also come with the Assistance Package Pro (with adaptive cruise assist and a four-camera system providing 360-degree visibility), as well as the Safety Package Plus (which comes with Audi Side Assist blindspot monitoring and rear cross traffic assist reversing aid).
Charging times: How much does it cost to charge the Audi Q4 e-tron?
"If you can find a suitable public rapid charger, an Audi Q4 e-tron with the smaller 55kWh battery can charge at a rate of 100kW. In plain English, this means it can be topped up from five to 80% to less than 40 minutes."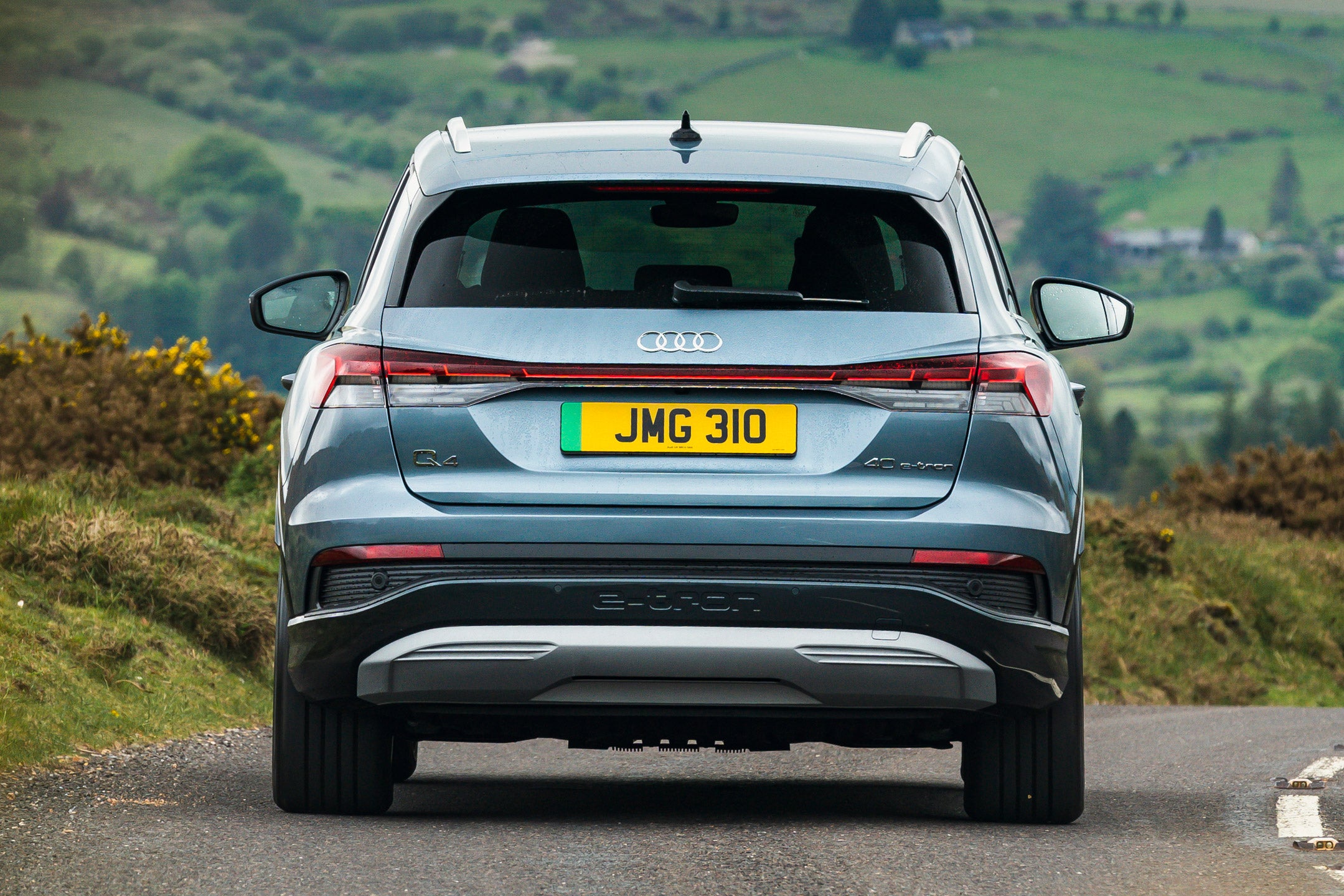 The bigger 82kWh battery can be charged at a rate of up to 125kW, providing an additional 80 miles of range in about 10 minutes. Perfect for a quick top-up while you grab a coffee.
Of course, to get the most out of an electric car like the Audi Q4 e-tron, we'd recommend a home charger. A typical home wall box will recharge a fully-depleted 55kWh battery in around 7.5 hours, while an 82kWh battery will take 11.5 hours. That means both can be topped up fully overnight. The cost of home charging will depend on your electricity tariff, but you'll probably pay around £9.50 to charge the smaller battery and £14 for the bigger one.
How reliable is an Audi Q4 e-tron?
We've heard of very few issues reported with electric Audi models, including the Q4 e-tron and the regular e-tron. Audi as a brand is generally very reliable, while electric cars are usually more dependable than their petrol or diesel counterparts.
Insurance groups and costs
Insurance groups for the Audi Q4 e-tron are yet to be confirmed. As ever, it's worth shopping around for car insurance quotes - particularly if you're a young or inexperienced driver. You might find our guide to the cheapest electric cars to insure helpful.
VED car tax: What is the annual road tax on an Audi Q4 e-tron?
As the Audi Q4 e-tron is a pure electric vehicle, it's exempt from VED (vehicle excise duty – a.k.a. road tax).
How much should you be paying for an Audi Q4 e-tron?
"None of the Audi Q4 e-tron range is eligible for the government's plug-in car grant, with the cheapest model starting from £40,750."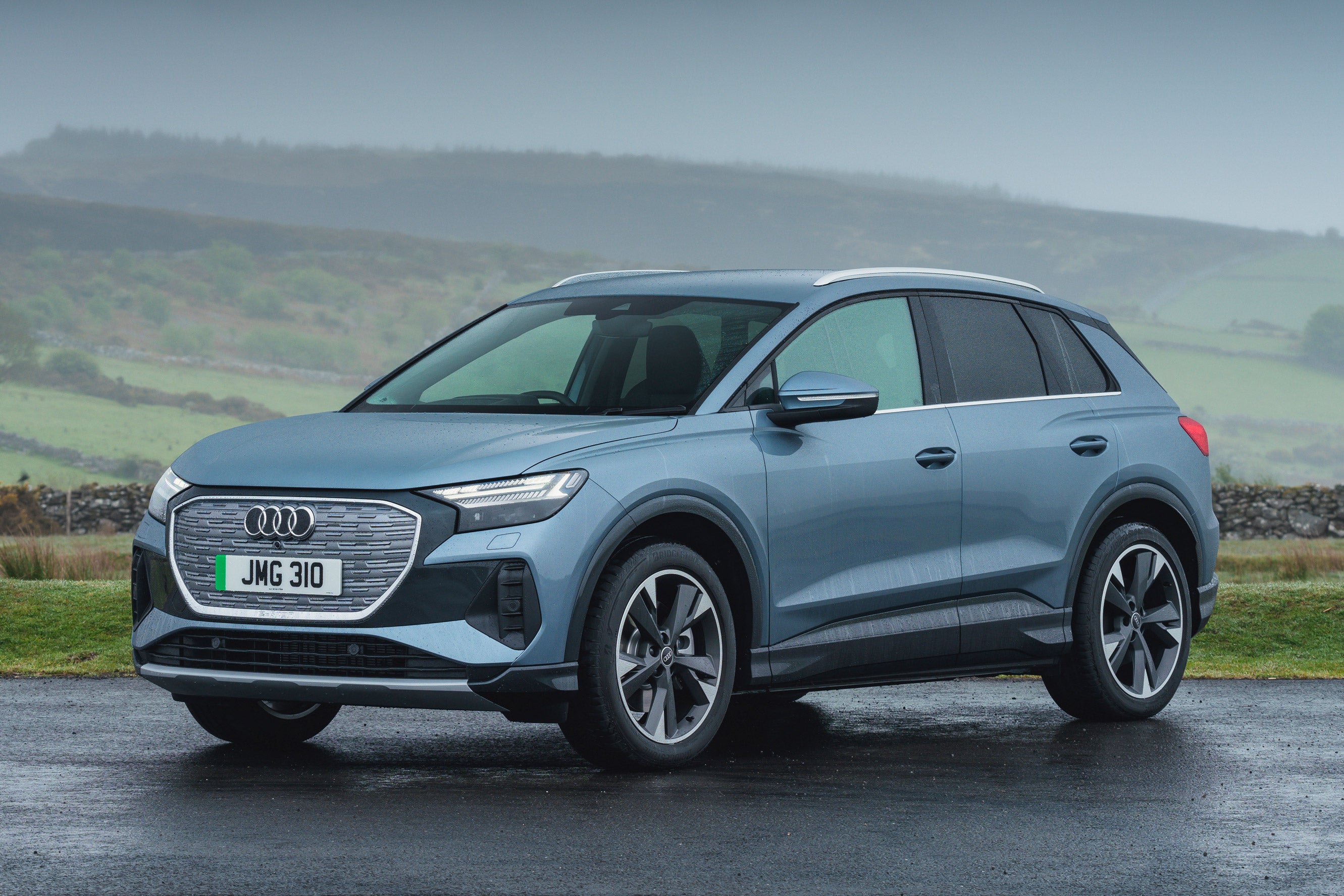 That's for an Audi Q4 35 e-tron Sport, while the more powerful 40 e-tron Sport starts from £44,990. The twin-motor Audi Q4 50 e-tron Quattro Sport starts from £51,370, rising to £65,070 in top-spec Vorpsrung trim.
These prices are clearly a bit higher than other Volkswagen Group models based on the same platform (cars like the Skoda Enyaq iV, Cupra Born and Volkswagen ID.4). The Audi Q4 e-tron's strong residual values should help lease prices, though, while rivals such as the Mercedes EQA, Volvo XC40 Recharge and BMW iX3 are just as (if not more) expensive.
You can save money by looking for an Audi Q4 e-tron on the used market, although even ex-demonstrator models are yet to filter down. Give it six months and you might be able to skip the waiting list, but we reckon strong demand will lead to high prices for a while yet.
Trim levels and standard equipment
Standard equipment on the Audi Q4 e-tron Sport includes 19-inch alloy wheels, LED headlights and aluminium roof rails. There's a powered tailgate as standard, while inside you'll find sport seats (heated in the front), automatic three-zone climate control and LED interior lighting. A twin-spoke leather steering wheel is standard, as well as a 10.1-inch navigation system and 10.25-inch Virtual Cockpit.
The Audi Q4 e-tron S line builds on the Sport trim with 20-inch alloy wheels, sport suspension (with a 15mm drop in ride height), S line exterior styling and front sport seats in part-leatherette. There are dark matt brushed aluminium inlays on the dashboard, while the steering wheel gets chrome-look trim and perforated leather with contrast stitching.
The Audi Q4 e-tron Edition 1 features 20-inch alloy wheels, Matrix LED headlights, a choice of four driver-selectrable digital light signatures and a full-width rear LED light strip. The interior features electrically-adjustable front leather sport seats, a flat-top and bottomed twin-spoke leather steering wheel (with shift paddles for recuperation) and a range of ambient lighting.
Highlights of the top-of-the-range Vorsprung model include 21-inch alloy wheels, suspension with damper control and a panoramic glass sunroof. There's front sport seats finished in Nappa leather, Virtual Cockpit Plus and a premium sound system. Driver assistance systems including augmented reality head-up display, Audi parking system plus, Audi pre-sense basic and pre-sense rear, Audi side assist, cross-traffic assist rear, reversing camera, adaptive cruise control, emergency assist and advanced key with wireless communication, including electric boot release using gesture control.
Ask the heycar experts:
common questions
How much is the Audi Q4 e-tron?
Prices start from £40,750 for the Audi Q4 35 e-tron Sport, rising to £65,070 for a Q4 50 e-tron Vorsprung. That makes it pricier than other Volkswagen Group rivals like the Skoda Enyaq iV, Cupra Born and Volkswagen ID.4, but it's priced in-line with other premium alternatives like the Volvo XC40 Recharge, BMW iX3 and Mercedes EQA.

Is the Audi Q4 e-tron fully electric?
The Audi Q4 e-tron is a fully-electric SUV. Power comes from a 55 or 82kWh battery pack, with one or two electric motors depending on which model you go for.

Answered by
Russell Campbell
What are the dimensions of the Audi Q4 e-tron?
The Audi Q4 e-tron is 4588mm long and 2108mm wide, while its height is 1632mm (including roof rails). That means it's only slightly smaller than the Audi Q5.

Keep me updated by email with the latest advice, news and offers from heycar
By submitting, you agree to our
privacy policy
.