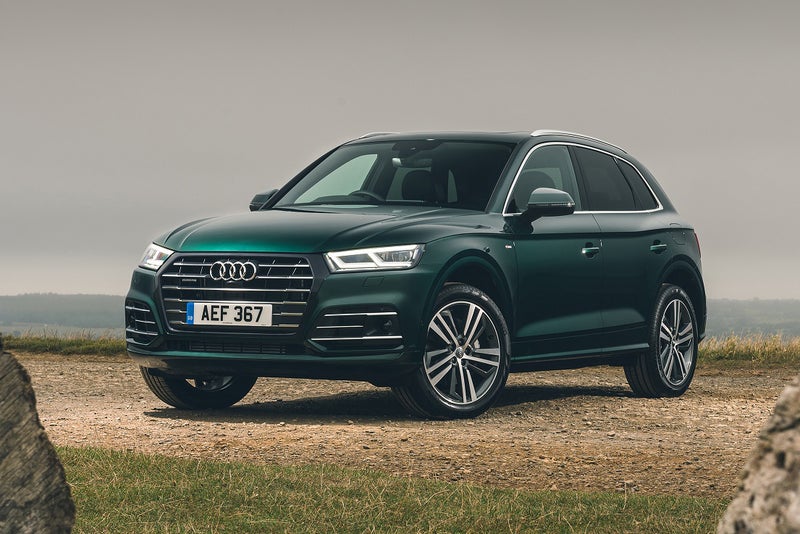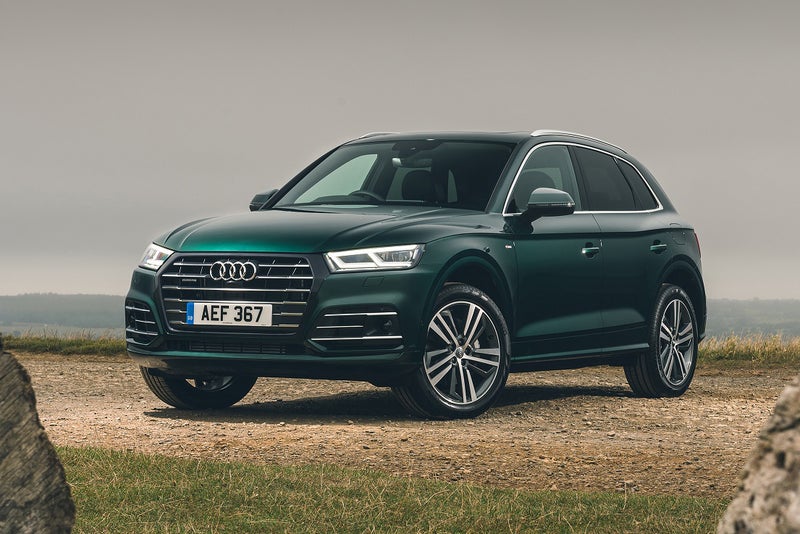 1/9
heycar rating
"Polished and refined all-rounder"
Launched: 2017

SUV

Petrol, Diesel, PHEV
Quick overview
Pros
Posh interior
Superb cruising refinement
Great passenger space
Cons
Expensive optional extras
Last generation infotainment
Narrow engine range
Overall verdict
On the inside
Driving
Cost to run
Prices and Specs
Common questions
Overall verdict on the Audi Q5
"Picking the Audi Q5 used to be a clear cut choice. It's not the most strikingly styled off-roader, but a beautifully made interior, powerful engines and a refined driving experience all made it something of a crowd pleaser. It's also supremely quiet and comfortable on the motorway; exactly the qualities you want in family transport."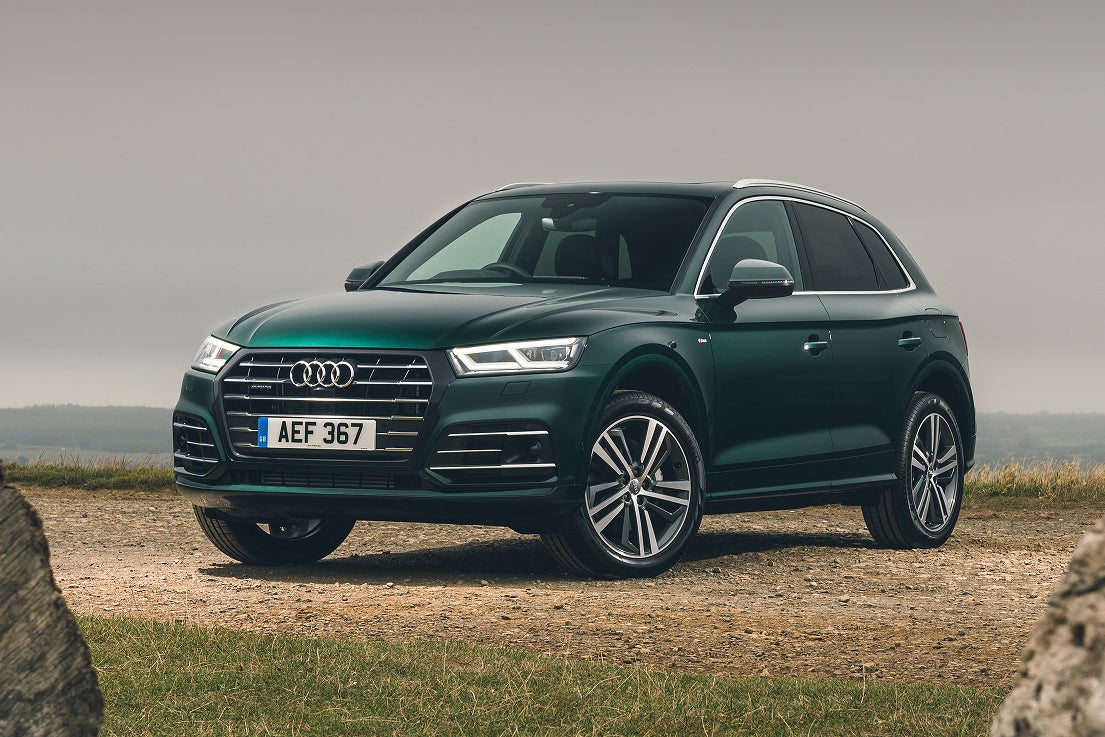 Those qualities still shine through with the, but a wave of newer rivals has made the Audi Q5 feel a step behind in its on-board technology and fuel efficiency, while the standard equipment list holds too much of the best stuff back.
There are four trims available with the Audi Q5: Sport, S line, Black Edition, and Vorsprung, plus the high-performance SQ5, but in all but the top two, you'll be paying out thousands for better infotainment, digital dials or the latest safety gear.
It might sound like we're writing the Audi Q5 off at this point, but in truth there is still a huge amount to like here.
For starters, the Audi Q5 is good to drive, with sure-footed handling and decent ride comfort. It feels more like an estate on stilts than a lumbering SUV, with tidy body control, and impressive agility for such a big, heavy car.
Buyers can choose between petrol, diesel and plug-in hybrid power, but all Audi Q5s feature as standard Audi's familiar quattro four-wheel drive system, paired up to either a seven or eight-speed automatic gearbox. Our favourite is the Audi Q5 190PS 40 TDI, since it's a decent performer, with reasonable fuel economy and refinement.
If you feeling like pushing the boat out financially, then the Audi Q5 plug-in hybrids are a tempting choice. They pair a 2.0-litre petrol engine with a powerful electric motor and battery pack. In hybrid mode, this combination turns the Audi Q5 into a seriously quick car, while in its pure EV setting you can travel 20-30 miles emissions free.
These models are not as practical as the standard Audi Q5, since their electric gubbins cut boot space by about a fifth, although passenger space is unaffected. You can fit four adults in here without an issue, and it will carry five when required, just not as comfortably as rivals with three individual seats. Still, tick the options box for a sliding rear bench, and suddenly the Audi has a distinct advantage as a load-lugger.
The SQ5 is the only model with a six-cylinder engine, and produces its speed and efficiency in a rather more conventional manner, with a stonking great 3.0-litre twin-turbo diesel motor that has towering in-gear muscle.
Overall, the Q5 might not be quite as alert in corners as a BMW X3 or feel as posh inside as a Mercedes GLC, but it's more comfortable than the former and easier to operate than the latter. It'll get fuel economy a Land Rover Discovery Sport can only dream of and has an interior that makes a Porsche Macan's feel dated. In fact, the Audi Q5's the very definition of a great all-rounder.
If you're looking for the older version, you need our used Audi Q5 (2008-2017) review, while those looking for something a little more stylish might be interested in our Audi Q5 Sportback review.
Is the Audi Q5 right for you?
The Audi Q5 is an excellent all-rounder that will suit a wide variety of buyers. The important things to know here are that this is a comfortable, refined family SUV with lots of practicality and a nice, high-set driving position.
The Audi Q5 will look great on the driveway, and has a stylish cabin that feels luxurious. Combine this sense of quality with its relaxing road manners and you have a car that is superb on long journeys, family holidays, or commuting.
The Audi Q5 has standard four-wheel drive that disengages when it's not needed to help save fuel, but gives useful extra grip on slippery roads or when you're towing. Although a Land Rover Discovery Sport is a better bet if you need to drive off-road.
That premium image comes with a high price tag, and if you just need a spacious family SUV there are a lot of mainstream rivals that do the same job for less money. Still, few have the same level of polish as the Audi Q5.
The Audi Q5 is a great option for early adopters of expensive new technologies like plug-in hybrid power, but this is not the off-roader of choice for tackling muddy fields, or indeed transporting a seven-a-side sports team.
What's the best Audi Q5 model/engine to choose?
Despite falling popularity, modern diesels are still the most effective way to deliver strong performance while avoiding ruinous fuel economy in an SUV. That's why we think the Audi Q5 is at its best in 40 TDI quattro guise.
This 2.0-litre engine is impressively smooth in the Audi Q5, and quick enough to never feel strained, even fully loaded. It's not especially economical, but an official figure close to 45mpg gives it lower running costs than the petrols.
If you are worried about tightening emissions regulations and want to avoid diesel altogether, we would opt for the 50 TFSI e plug-in hybrid. It's a stretch up in price from the 45 TFSI, but has the performance to match most six-cylinder engines, huge tax benefits for company car users, and an even smoother S tronic gearbox.
Whichever version you land on, we would recommend speccing S line trim with the Audi Q5. There are some items of kit that Audi makes you pay extra for, like a bigger screen, or reversing camera, but it has all the essentials covered. It looks sharp and has a sporty interior, plus more available safety and practicality options than the base car.
What other cars are similar to the Audi Q5?
With its five seats, premium badge and a spacious, high-quality interior the Audi Q5 is the do-it-all of big SUVs. It's expensive, but that high price brings with it four-wheel drive, stunning materials and some powerful engines.
For similar money you could get yourself a Mercedes-Benz GLC, which was revised in 2019. It brings a lot of technology to the party, a stronger diesel engine, and more generous equipment, but is a little less refined.
Another closely-matched contender is the BMW X3. It's equally practical when carrying luggage or people in the back, and comes with a wider selection of engines to choose from, with six-cylinder petrol and diesels.
The Lexus NX might not have the badge appeal of the Audi Q5 but it is an excellent SUV with a comfortable interior and an efficient range of petrol hybrid engines. The NX also provides better boot space, while its softer suspension set-up makes it better suited for rough roads and potholes.
However if you need your SUV to carry seven passengers, then the Land Rover Discovery Sport, or cheaper alternatives like the Skoda Kodiaq both offer an occasional third row of seats, but aren't quite as comfortable as the Audi Q5.
Still, if your kids have flown the nest and you fancy something a bit sportier and fun, then the pricey but agile Porsche Macan, plus certain versions of the Jaguar F-Pace and Alfa Romeo Stelvio are all worth a test drive.
Comfort and design: Audi Q5 interior
"Finding the right driving position is a simple task. Getting in is easier than a normal saloon due to the tall suspension, and there's a wide range of manual adjustment to both the seat and steering wheel. We really can't picture any driver being unable to position themselves comfortably behind the slightly off-set pedals."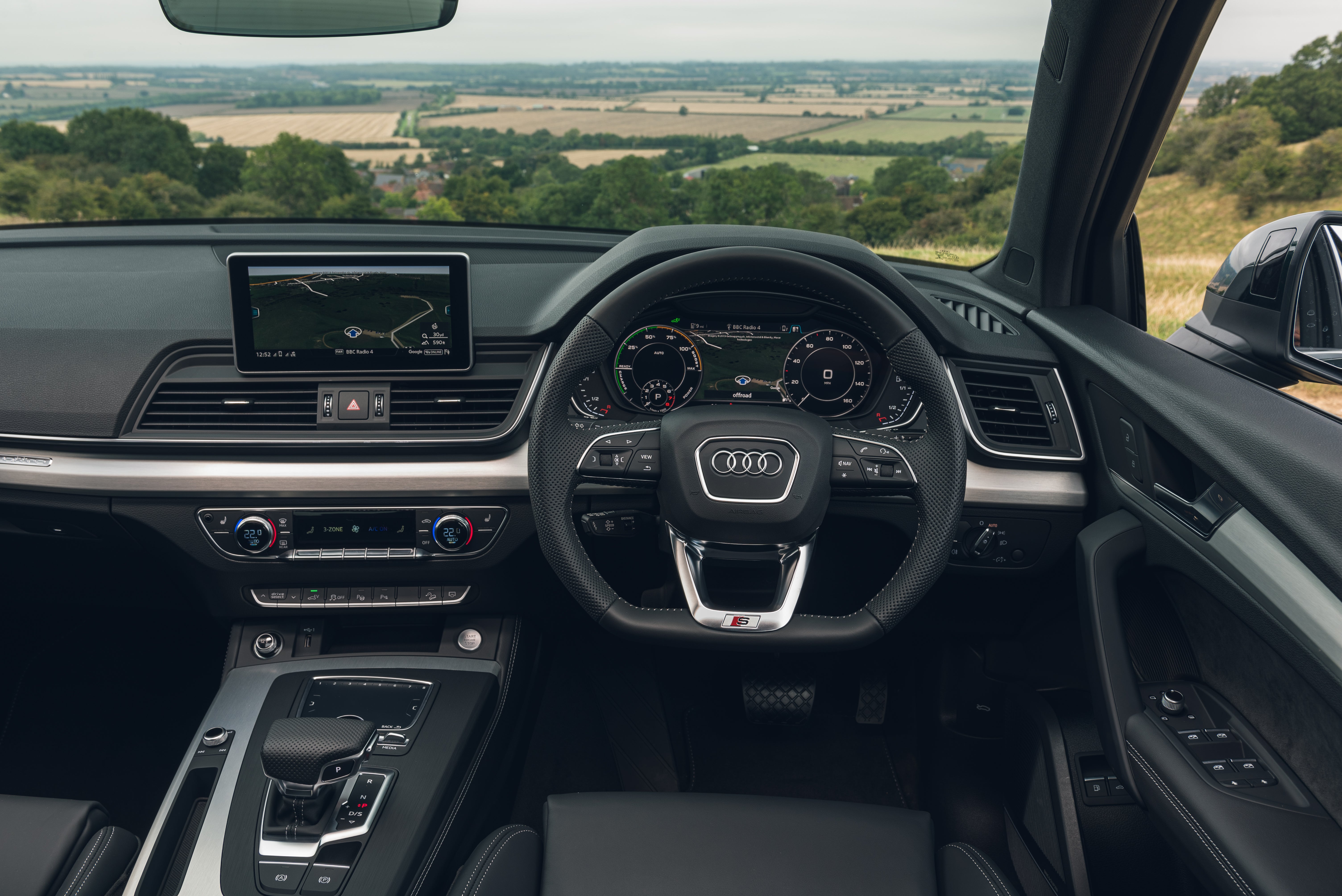 Some Audi Q5 rivals do offer electric seat adjustment, giving you a greater range of flexibility to tweak your posture, but most people will find few issues with using the levers and backrest wheel, it just takes a little bit longer.
Electric lumbar support is fitted across the range, helping alleviate back pain after longer days in the saddle.
Not to suggest the standard chairs in the Audi Q5 are anything other than comfortable and supportive, but we do prefer the extra padding and grippy side bolsters of the sport seats that come fitted to higher trims.
You sit up nice and tall in the Audi Q5, improving the view out, but a high window line makes it feel more car-like and cosy than, say, a Land Rover Discovery Sport, which feels like sitting in a pulpit and staring out at traffic below.
The interior of the Audi Q5 is as logical as Spock's briefcase, with a neat layout, and everything placed within easy reach for the driver. It has more buttons and switches than you'd find in the wonderfully minimal Volvo XC60, but all of them are clearly labelled, and grouped together by their function, so it's rare to lose track of any key controls.
Quality and finish
The difference between an Audi Q5 and mainstream family SUVs is like the gap between a rented suit and something that's been tailor-made. The shape and layout are similar, but the fit and detailing is a cut above.
Prominent areas that you'll touch regularly are covered in dense, expensive-feeling materials, and cheaper plastics - if you can find any - are kept hidden out of sight. The rich mix of leather upholstery, with aluminium finishers in the doors and climate control switches that are cool to the touch, enhances the upmarket appeal of the Audi Q5.
Audi Q5 S Line models feel especially plush inside, thanks to a set of thickly-bolstered sports seats finished in leather and suede-like Alcantara, with contrasting stitching, bright stainless steel pedals and sportier steering wheel.
The gaps between the overlapping panels and control clusters are precise to the millimetre, and nothing that should be fixed in placed moves or creaks when prodded. It feels exceptionally solid and robust.
Travelling to the upper reaches of the range means you get some extra leather, open pore wood, and fancy multi-coloured LED lighting to bathe the cabin in your preferred hue, but every model feels luxurious to sit in.
Only the BMW X3 comes close to delivering the same level of attention to detail.
Infotainment: Touchscreen, USB, nav and stereo in the Audi Q5
Audi is often at the forefront of in-car connectivity, but the Q5 feels a generation behind the brand's latest models. In a world where most superminis have a flashy touchscreen, a 7.0-inch display doesn't really cut it.
As part of a model refresh in 2020, the Q5 received a 10.1-inch touchscreen system that made the display easier to use and read. But the rotary wheel was dispensed with, which means you need to access everything via the screen or the buttons and dials on the steering wheel.
True, it's easier to control than a touchscreen when you're driving, with a rotary controller and shortcut keys mounted next to the gear selector that let you easily scroll and click through the different lists and car menus.
The feature list is decent on the Audi Q5, with DAB radio, Bluetooth, basic voice commands, navigation and a pair of USB charging ports (plus a more traditional Aux-in), but importantly Apple CarPlay and Android Auto are standard and allow wireless Bluetooth connectivity on models built from 2022 onwards.
This software lets you use selected apps from your phone on the main screen, making it easier to message or call your close contacts, navigate around nearby traffic jams or listen to your favourite tunes and podcasts.
Those should all sound great too, since every Audi Q5 comes with a 10-speaker stereo paired with a punchy amp.
Space and practicality: Audi Q5 boot space
Buyers can rest easy knowing the Audi Q5 will be more than able to cope with the hectic demands of daily life. Measuring 4663mm long and 1893mm wide, it means that the Audi Q5's spacious cabin has room to seat four in total comfort, and the boot is big enough for a wide array of luggage.
This means the Audi Q5 has a 510-litre boot capacity, which is a little short on the 550 litres you get in the Mercedes-Benz GLC and BMW X3. However accessing the Q5's boot is as simple as pushing a button on the key fob, since all models come with a powered tailgate as standard. Fold the rear seats down and this expands to 1,480 litres, although these figures fall to 465/1405 litres in the plug-in hybrids.
There is a slight load lip that stops you from sliding heavier items straight in and out, but apart from that we have nothing but praise for the layout of the luggage area. It's a nice square shape, with tall sides so it swallows bulky suitcases without complaint, and it's deep enough to carry longer stuff like golf clubs with the seats up.
As standard on all Audi Q5s, the rear bench splits three ways, in a configuration that allows you to carry awkward items like skis and two people at the same time, but you can pay extra to make the seats individually slide and recline.
This is a worthwhile option, as it allows you to increase boot space when needed, or maximise knee room on a longer trip, and will certainly be welcomed by any passengers who feel like taking a snooze sat in the back.
The outer seats are sculpted to make them really comfortable, holding passengers in place, but whoever sits in the middle is going to feel like a second-class citizen. It's narrow and not as well padded, with less head and knee room, and the large hump in the footwell means you have to straddle your legs to plant your feet.
Fitting a child seat is no hassle thanks to the clearly marked ISOFIX anchor points, and Audi gives you two sets in the rear and another in the front passenger seat, so that you'll be able to carry triplets in a pinch.
On board storage is plentiful with the Audi Q5, with deep door pockets and a generously-sized glovebox, and you can stash even more stuff under the armrest. On some trims, it has a neatly integrated wireless phone charging tray.
Another (relatively affordable) option with the Audi Q5 is the Storage Pack, which gives your rear passengers a place to put a magazine or tablet computer, cupholders in the rear armrest, and a useful set of stowage nets in the boot. It should really be standard, as should a spare wheel, but Audi does at least provide a foam tyre repair kit.
Handling and ride quality: What is the Audi Q5 like to drive?
"It seems like the penny has finally dropped for Audi when it comes to ride comfort. It used to offer the Q5 with a lowered 'sportier' suspension on its higher trim levels, but this always felt too firm for scarred British roads."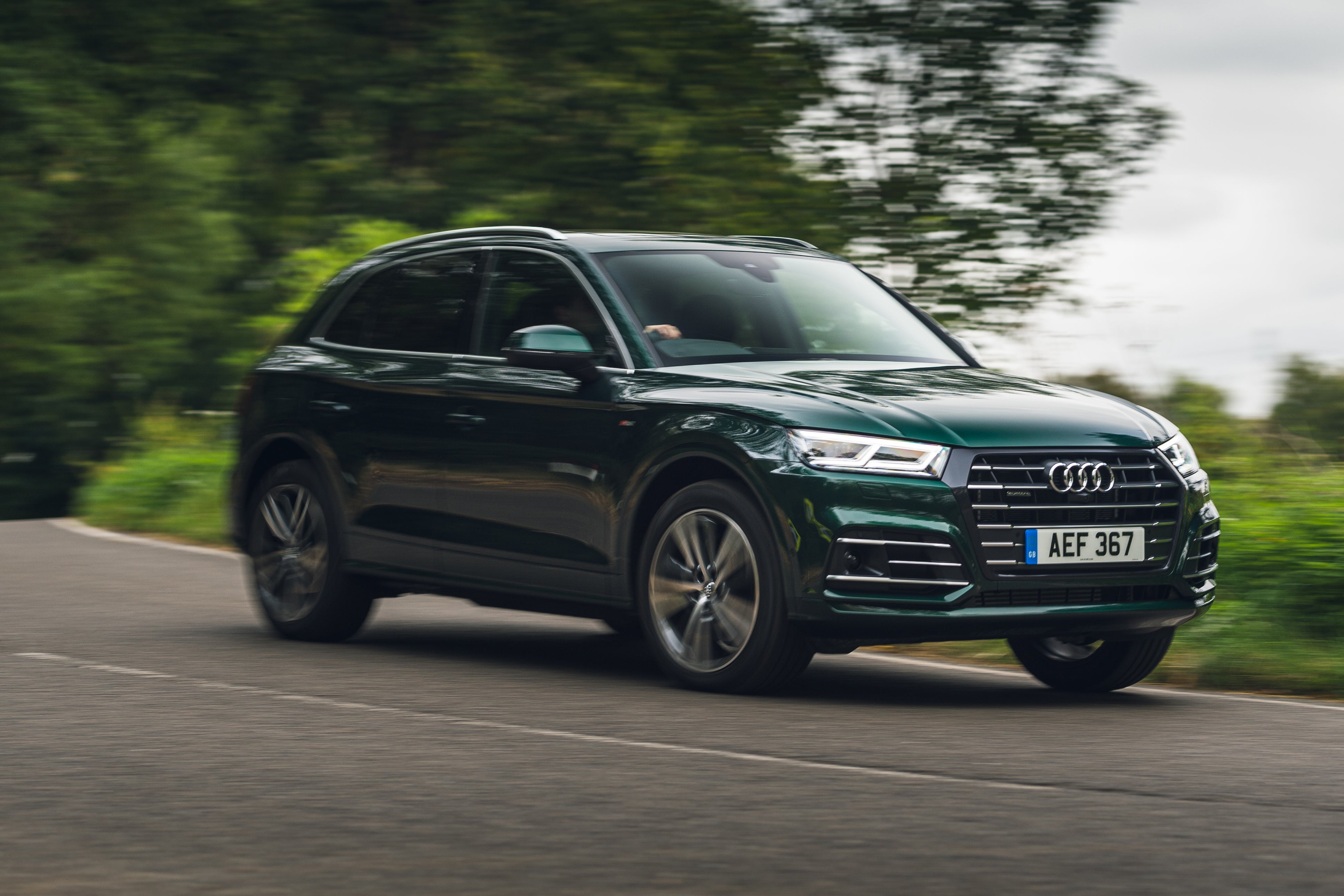 Now, Sport, S line and Black Edition Audi Q5 models all feature the same comfort-biased setup. So buyers can pick the equipment and styling upgrades they want, without worrying about getting a bone-shaking ride thrown in.
This conventional setup on the Audi Q5 is on the firm side, and you'll feel this rigidity as the wheels roll over ruts or kerbs at low speed. It's more a case of being made aware of the surface you're driving on, rather than any discomfort. You'll find larger sets of alloys will make it feel jittery around town, so we'd choose to avoid them if possible.
Everything smoothes out nicely once you pick up speed, and on fast A-roads and motorways the Audi Q5 is plush and settled. Hit a bump mid-corner and car shrugs it off with a single movement, without losing composure.
Flagship Vorsprung models come fitted with adaptive air-suspension that transforms the ride. It feels super plush and glides over dips and crests, but some of that extra compliance is negated by its 21-inch wheels. You can also lower or raise the suspension to help when loading the boot or improve ground clearance, but despite these impressive abilities, it doesn't feel worth the money; since you can't fit it as a separate option.
The Audi Q5's handling is also very tidy and reassuring, with less body lean through corners than some tall SUVs. This makes it feel agile and confidence-inspiring, and the added grip from the four-wheel drive improves stability.
Through a series of corners, the Audi Q5 keeps things tightly controlled, with no tendency to float or wallow as it changes direction like softer rivals from Volvo or Land Rover. The steering is light and remote though, so that while it's safe and secure, it's not as much fun to hustle along quickly as a Jaguar F-Pace or Porsche Macan.
What engines and gearboxes are available in the Audi Q5?
The standard Audi Q5 has pretty a narrow engine range. Buyers get to choose between petrol or diesel, but both the 40 TDI and 45 TFSI have four cylinders, and are 2.0-litres in size; with 190PS and 245PS respectively.
No matter which you choose, you'll be getting a strong engine, that's happy to pull from low revs and breezes up to motorway speeds expending a minimum of effort. The 45 TFSI feels usefully quicker, but most of that extra urgency is only apparent at higher revs, so you'll only notice any performance boost when you push it.
However, driving it enthusiastically will see its fuel plummet well below 30mpg. For most buyers that's why the easy-going and sensible 40 TDI is the better bet. It's got a little bit more in-gear grunt for towing too. Both are paired with a seven-speed automatic gearbox that's quick to shift when using the paddles on the steering wheel, but can be frustratingly hesitant left to its own devices. It's also nowhere near as slick as a BMW X3's.
These models are brisk in a straight-line, but if you want something with a bit more muscle you'll need to pay a lot for the privilege. The 50 and 55 TFSIe plug-in hybrids pair a tuned version of the 2.0-litre petrol in the standard car with a 143PS electric motor, for a total output of 299PS in the former and 367PS in the latter.
Those figures translate to eye-widening pace in the real world. In hybrid mode, the instant torque from the motor combines harmoniously with the smooth and punchy petrol, and it feels especially quick off the line.
We do think it's a shame Audi only offers a meatier six-cylinder engine to buyers willing to pay for the SQ5. It features a 3.0-litre V6 diesel with two turbos and nearly double the pulling power of the 45 TFSI, making it by far the quickest model in the line-up, but it builds speed steadily rather than pinning you back into your seat.
Refinement and noise levels
While the Audi Q5 is not the most exhilarating of SUVs from behind the wheel, it is one of the most relaxing. For a tall car, wind noise is virtually non-existent, even at higher speeds, and road rumble is fairly well stifled too.
Every model features a thicker 'acoustic' glass windscreen that muffles the sound of air rushing over the front of the bonnet, and apart from the entry-level Sport, all other models get double-glazed side windows as well. This makes the Audi a calm companion on arduous motorway slogs, cocooning you from the world outside.
Choosing the Vorsprung models - with their adaptive air suspension - means you won't hear any noise from the springs thudding on challenging road surfaces, but this is a pretty rare occurrence on the standard car.
All the engines in the line-up are smooth and civilised, even when you work them harder. The 40 TDI is one of the quietest four-cylinder diesels in this class, narrowly beating out the GLC 220 d and X3 20d for finesse.
Apart from the SQ5, every Q5 comes fitted with Audi's twin-clutch S tronic gearbox. While it does a fine job of swapping between its seven ratios on fast and flowing roads, it can be a bit jerky to use at parking speeds.
The two TFSI e plug-in hybrids use the instant torque from their electric motors to help smooth out the gaps between changes, so they feel slicker than the conventional cars as a result. The only thing you'll hear while running solely on battery power is a gentle whine from the motor; the transfer to petrol power is seamless.
Safety equipment: How safe is the Audi Q5?
Almost every premium SUV in this price range has been awarded the maximum five stars for crash safety by testing body Euro NCAP. Does that mean they are all identically safe? Not quite. Looking at the breakdown of the scores in the individual categories, the Audi Q5 doesn't perform as competently as many of its close rivals.
It received a decent rating of 93% for adult protection and 86% for safeguarding children, but was beaten by both the Mercedes-Benz GLC and class-leading Volvo XC60, which got 98% for the former and 87% in the latter.
Its overall score was also dragged down by a low 58% for safety assistance, since Audi only offers lane-keep assistance as part of a pricey optional Tour package that bundles together adaptive cruise control, traffic sign recognition, and an increased range of operating speeds for the vital auto-emergency braking system (AEB).
Nevertheless, the Audi Q5 is still a very safe way to transport your family, with all the latest modern equipment to help prevent accidents or at least significantly lower the chance of injury if the worst does happen. All trims get six airbags, a seat belt monitor, cruise control, and hill hold assistant to get you going up steep inclines.
The Pre-sense City AEB system mentioned above works below 52mph. It uses a hidden camera to scan the road for cyclists, pedestrians and cars, warning you if you're about to hit something, and applying the brakes.
Pay to upgrade to the Tour pack and this system works right up to 155mph, so covers the motorway as well.
Acoustic parking sensors are standard on the Audi Q5 to help you with low-speed manoeuvres, but if you want a reversing camera you have to stump up for the Comfort & Sound Pack. To provide even more assistance, Audi asks you to plump up for a different kit bundle, the Parking Assistance Pack. It includes blind-spot monitoring to warn you of motorbikes hidden out of sight, a 360-degree parking camera, automatic parking, and cross-traffic alert.
MPG and fuel costs: What does an Audi Q5 cost to run?
"Although the Q5 has the same engines as the A4 saloon, its heavier body, standard four-wheel drive system, and blocky shape mean it's nowhere near as fuel efficient. Yet it also lags behind most other upmarket SUVs."
Under the more stringent WLTP official tests, even the most efficient diesel in the Audi Q5 returns less than 40mpg, and that number falls further once you fit bigger wheels or more standard kit. In petrol models expect around 32mpg.
The exceptions to this are the plug-in hybrids; the Audi Q5 50 and 55 TFSI e. Both use the same 14.1kWh batteries and 143PS electric motor, but don't fall for the incredibly high claimed economy figure of 117mpg. That's dependent on always having it fully charged. Drive in EV mode and you'll go about 20 miles before running low on electricity, and recharging takes seven hours from a domestic socket and two and a half from a wallbox.
The necessary cables for both charging types come supplied with the car, but unless you drive it very gently it's not as easy to avoid using fossil fuel, even on shorter commutes, than on pricier PHEVs like the BMW X5 45e and Lexus NX450h.
How reliable is the Audi Q5?
The good news is that there doesn't appear to be any common faults with the Audi Q5 that we've seen while Audi performs very well as a brand when it comes to reliability, scoring 9.12 out of 10 in the HonestJohn.co.uk Satisfaction Index.
Insurance groups and costs
Getting coverage for your pride and joy will cost you a little more in the Audi Q5 than some other premium SUVs. Naturally, the cheapest model in the range, the 40 TDI Sport, is the least expensive to cover. It's in Group 31.
Trim levels have a surprising impact on the insurance rating too. Pick the same diesel engine in Black Edition specification and it goes up by one band to Group 32, but the all-singing Vorsprung model is up in Group 35. Check out our guide to the cheapest Audis to insure for more info.
That's in-line with its premium rivals, although in their most popular 2.0-litre diesel guises the BMW X3 and Jaguar F-type are in Group 29, so will cost a bit less in annual premiums, especially if you have a few claims.
VED car tax: What is the annual road tax on an Audi Q5?
All new Audi Q5s have a starting price over £40,000 and that means they are liable to pay an additional rate of road tax (VED) for luxury vehicles, during the first six years of ownership. That means owning one is going to cost you £475 per year over that time, before dropping down to the standard rate, currently it's £150 a year.
The Audi Q5 50 TFSI e plug-in hybrid version is another exception. It qualifies for a £10 alternative fuels discount on the standard rate, but more significantly it will save you money when you buy the car new at a dealership.
That's because the first-year charge (usually rolled into the on-the-road price) is calculated on a car's CO2 efficiency, so you'll pay just £15 instead of £1305 for the 40 TDI diesel and a whopping £1850 for the SQ5.
This model is also the one to go for if you're a company car driver, since its 14% Benefit-in-Kind rate means it'll be much cheaper to tax than the maximum 37% charge you'll have to pay for petrol and diesel versions.
How much should you be paying for a used Audi Q5?
"The Q5 is one of Audi's most popular and desirable models, so there is a lot of choice for used car buyers. Since the current car has been on sale since 2017, you can now pick early examples up for about £22,000."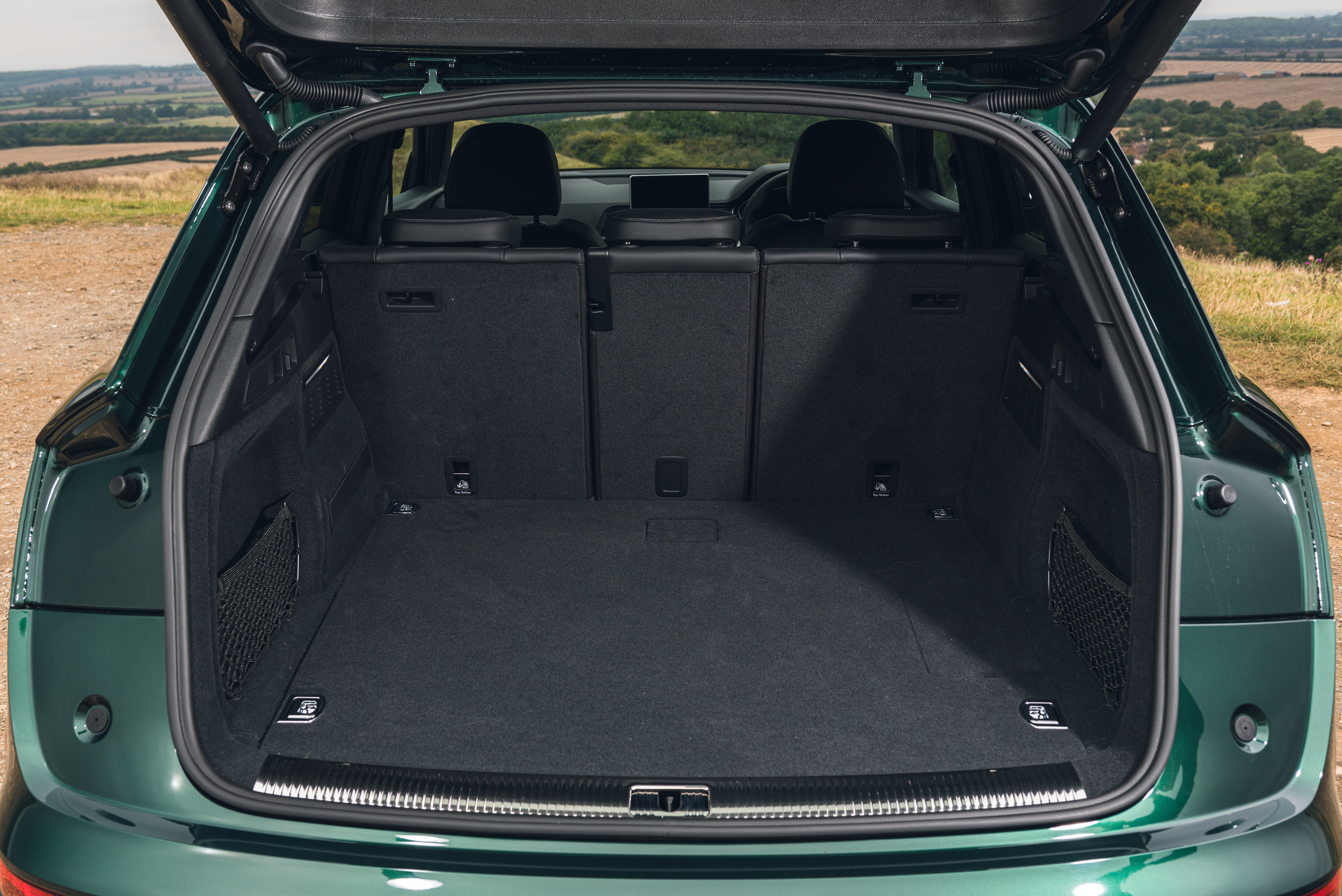 That tidy sum should secure you a Audi Q5 2.0-litre TDI diesel in Sport or S line trim, with above average miles for the year and a full service history. Stretch the budget out to £25,000 and you'll get behind the wheel of a car with around 20,000 miles showing, and choice optional extras like the superb Technology Pack fitted. This is also how much you'll need to be prepared to part with if you want your Q5 to be petrol powered instead of diesel.
You'll need anything from £28,000 for a newer 2019 Audi Q5 model, but scrape together £2,000 more and you can get your hands on a nearly-new example with less than 100 miles on the clock and your choice of engines.
The one exception is the Audi Q5 55 TFSI e plug-in hybrid, currently you won't find one for much less than £44,000.
Trim levels and standard equipment
When the current Q5 launched, Audi offered it in a temptingly affordable SE trim that skimped on a few carefully selected items of equipment that the brand knew you were likely to add later from the options list.
It has since dispensed of this base spec, and Sport trim is now the jumping-off point for the Audi Q5 range. The starting price has ballooned to over £44,000, but the spec sheet looks a bit mean spirited for that money.
Sure, it's great that climate control, leather upholstery, heated sports seats in the front, parking sensors and sat-nav are standard, plus a 10.1-inch infotainment screen, Bluetooth, DAB, cruise, and a powered tailgate.
However, this is the bare minimum we expect from a premium family SUV. Some Audi Q5 rivals now offer LED head lights, larger touchscreen media displays, digital dials and reversing cameras across their ranges. Audi does offer all of this equipment, but the last two desirable items are optional extras; even on pricier models. One of those more generous peers is the Mercedes-Benz GLC.
Still, Audi offers Apple CarPlay and Android Auto smartphone mirroring as standard on the Q5, whereas it's not available (even as an option) on the GLC's first two trims.
We think it's worth upgrading to the Audi Q5 S line model. It's not a lot more expensive, and you get 19-inch alloys, brighter LED headlights, leather and suede seats, and rear privacy glass. You'll still need to pay up another £1400 for the Technology Pack, for a larger infotainment screen, faster processor and 12.3-inch digital dials.
Black Edition Audi Q5s are about in-you-face styling upgrades instead of a useful equipment boost, and while top Vorsprung trim comes with every possible option box ticked, it also starts at over £16,000 more than a Sport.
Further evidence that Audi knows it's falling behind in the specification game is the plug-in hybrid 55 TFSI e model. It gets its own special S line trim, with the Virtual Cockpit, a larger screen, and electrically adjustable front seats with a massage function; if only conventionally powered models were so generously kitted out.
Ask the heycar experts:
common questions
Is the Audi Q5 a 4x4?
Yes. Every single version of the Q5 comes with Audi's world famous quattro four-wheel drive system as standard, although it's not quite as capable off-roading as a Land Rover.

Is the Audi Q5 a good car?
Although it's perhaps not as exciting to drive as other SUVs, the superb build quality, on-board tech and fantastic refinement make the Q5 an excellent all-rounder that's at the top of its class.

What is the size of the Q5's boot?
With sliding rear seats, you can increase the Q5's carrying capacity by sliding them forward, from 510-610 litres, or fold them down entirely to free up a 1480-litre loading bay. That max size is less than most of its rivals though, especially the considerably bigger Jaguar F-Pace.

Audi Q5 cars for sale on heycar
9,955
Number of cars available
£16K - £80K
Price bracket of these cars
Colours available on heycar
Keep me updated by email with the latest advice, news and offers from heycar
By submitting, you agree to our
privacy policy
.