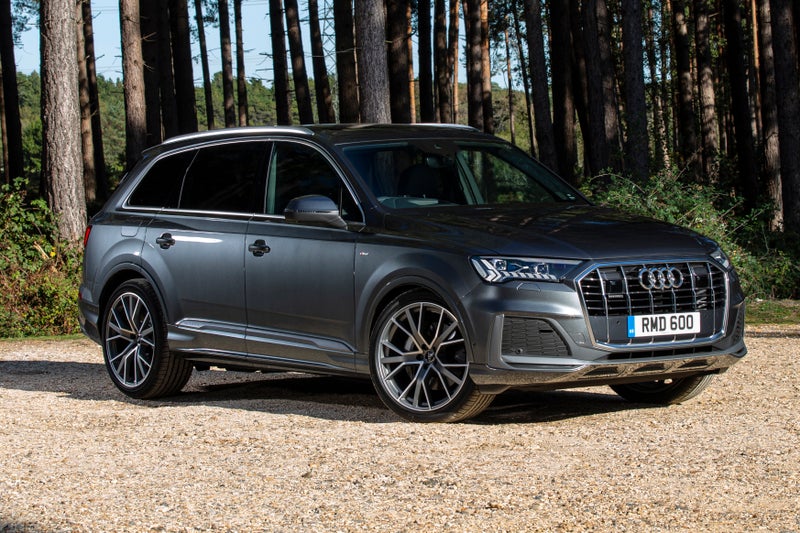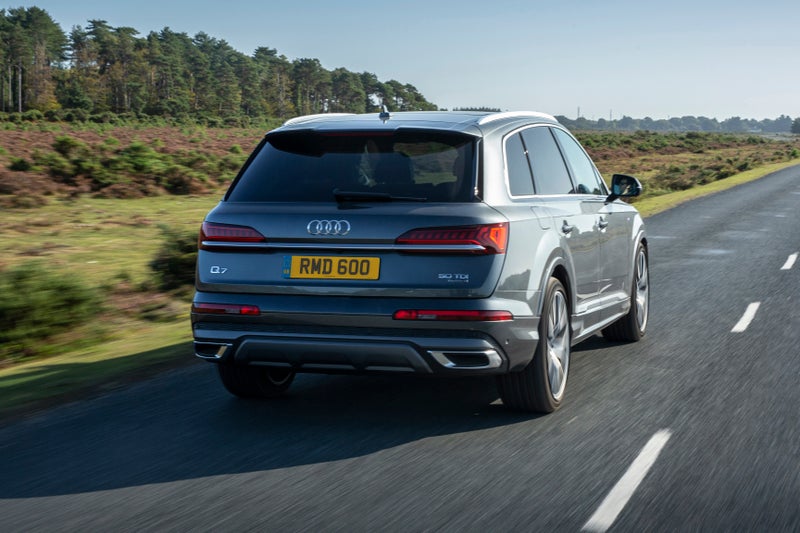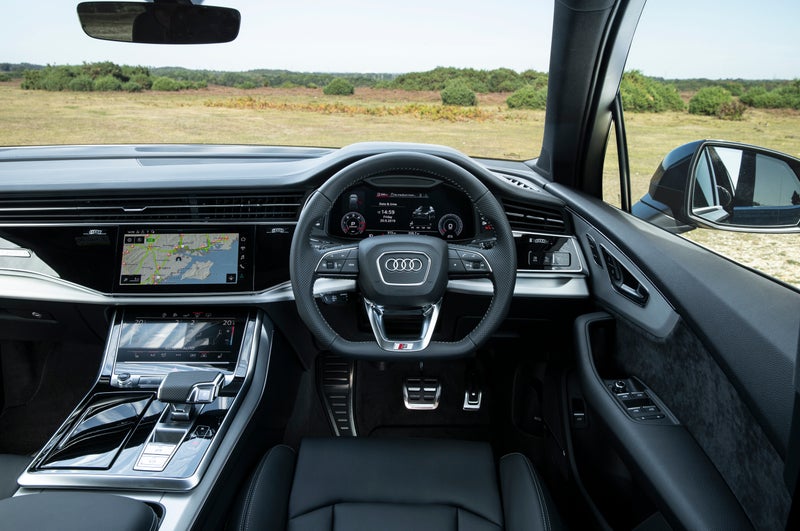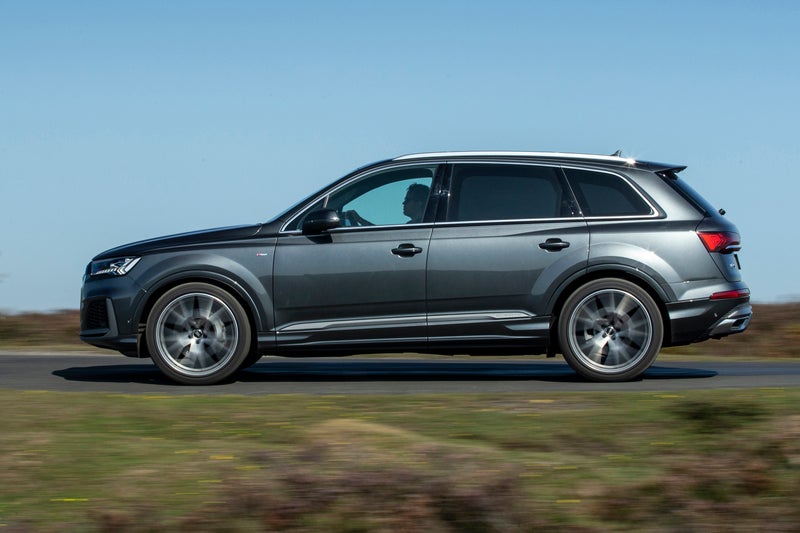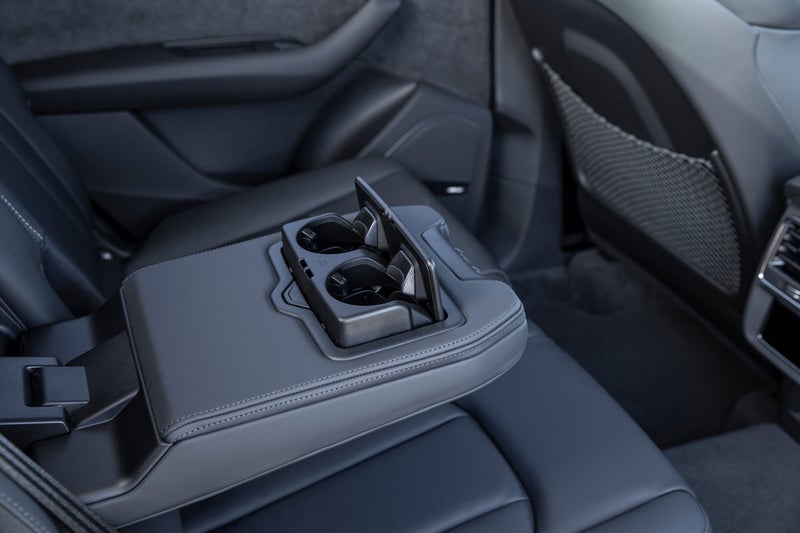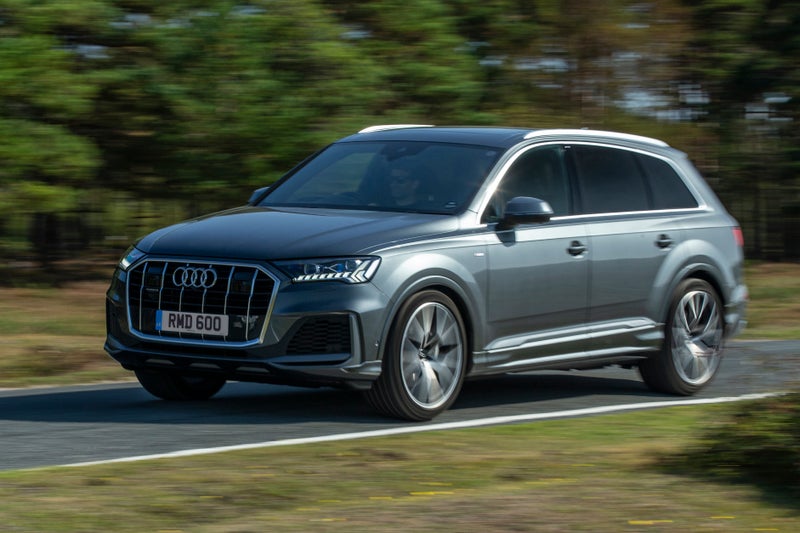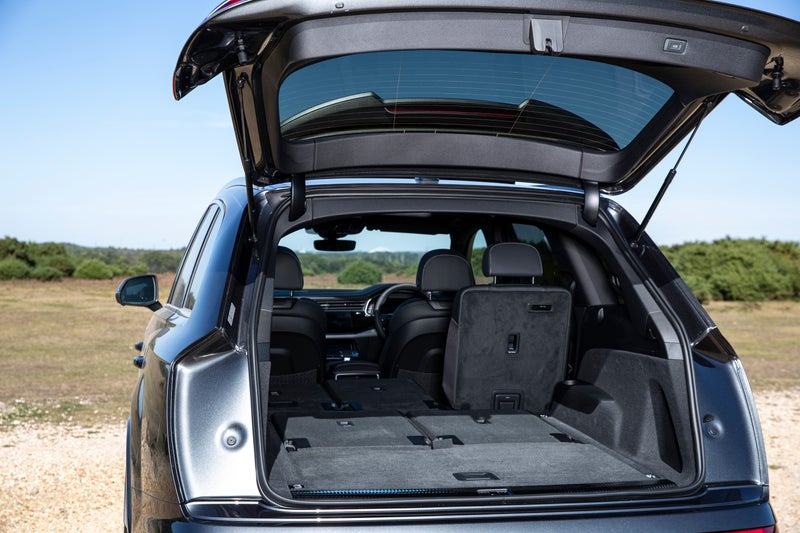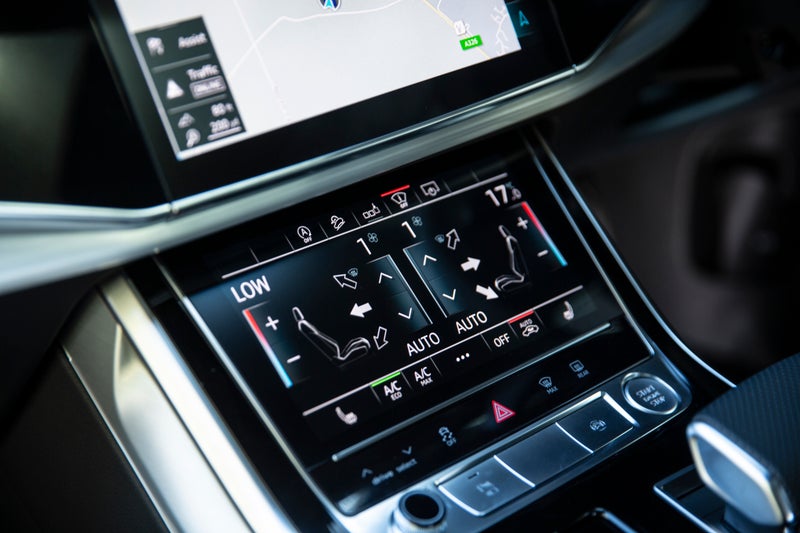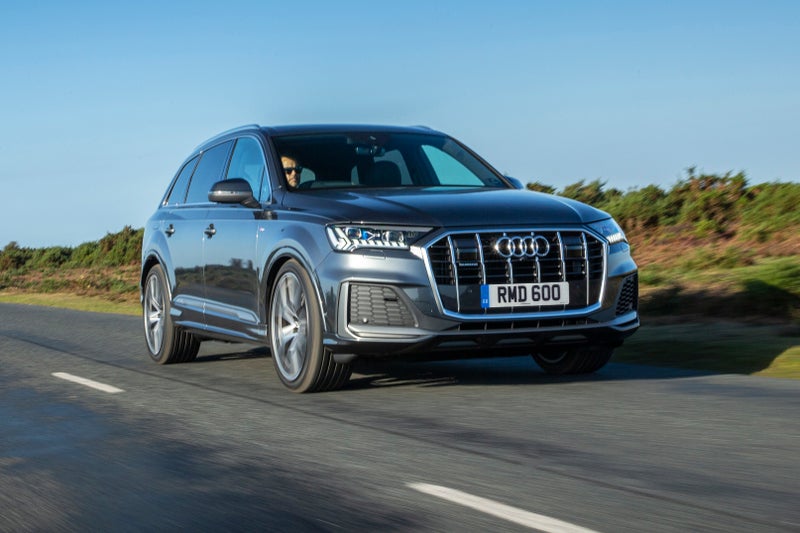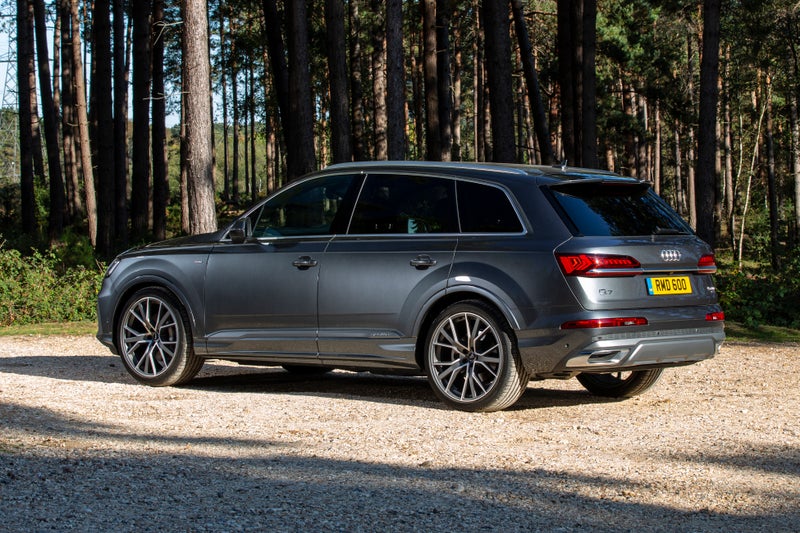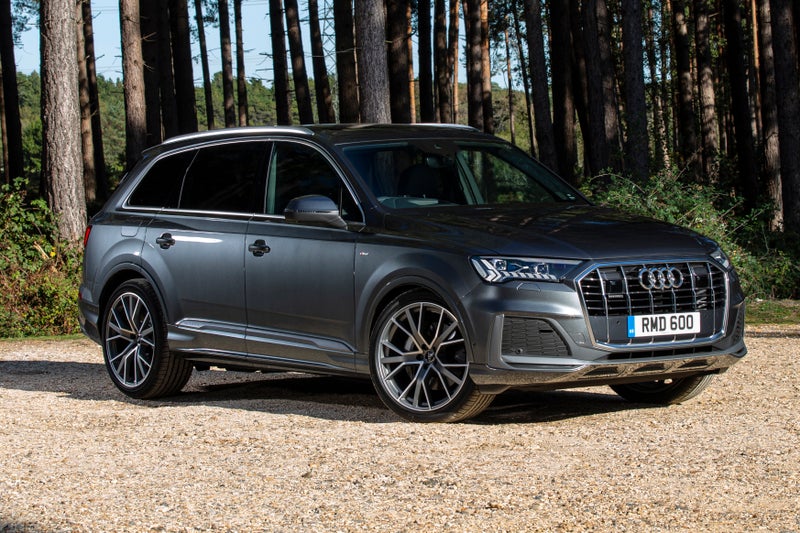 1/10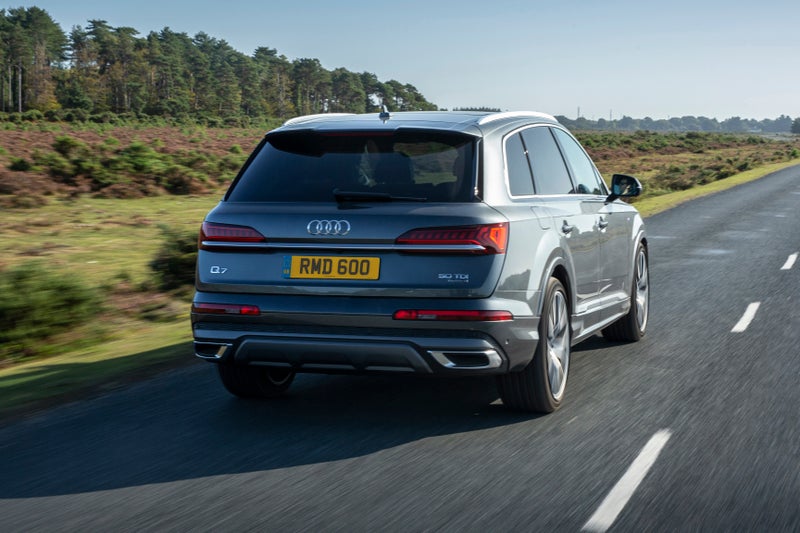 2/10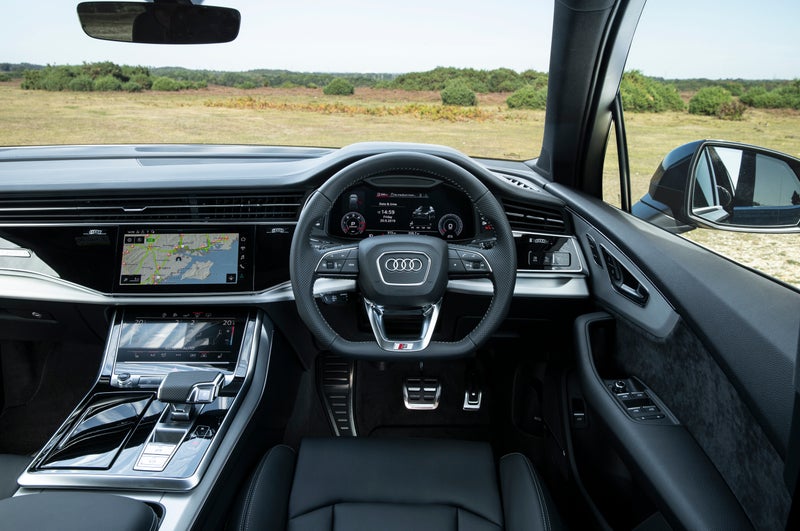 3/10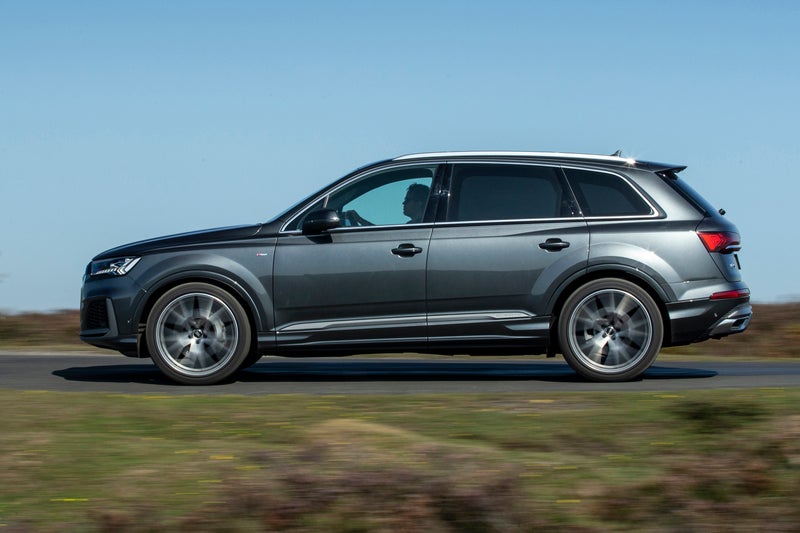 4/10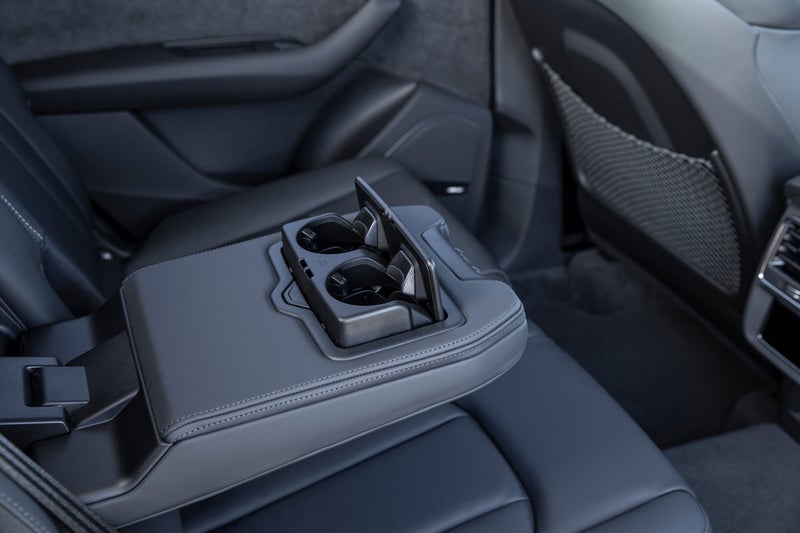 5/10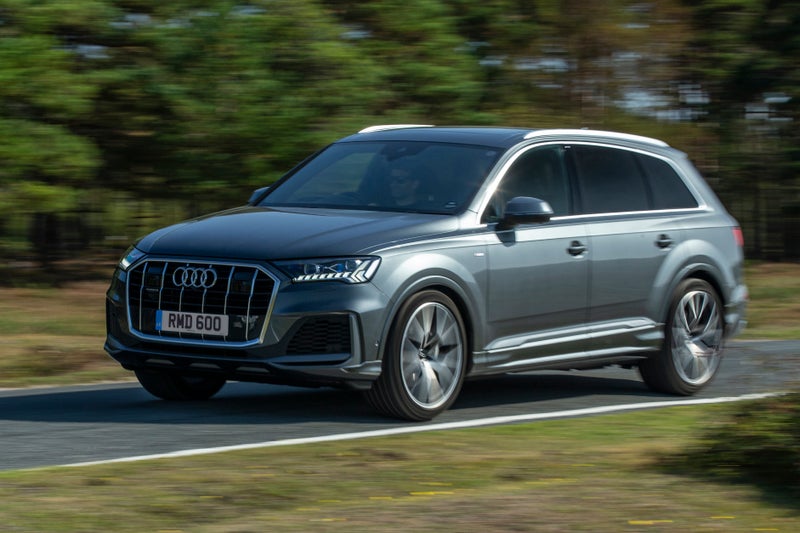 6/10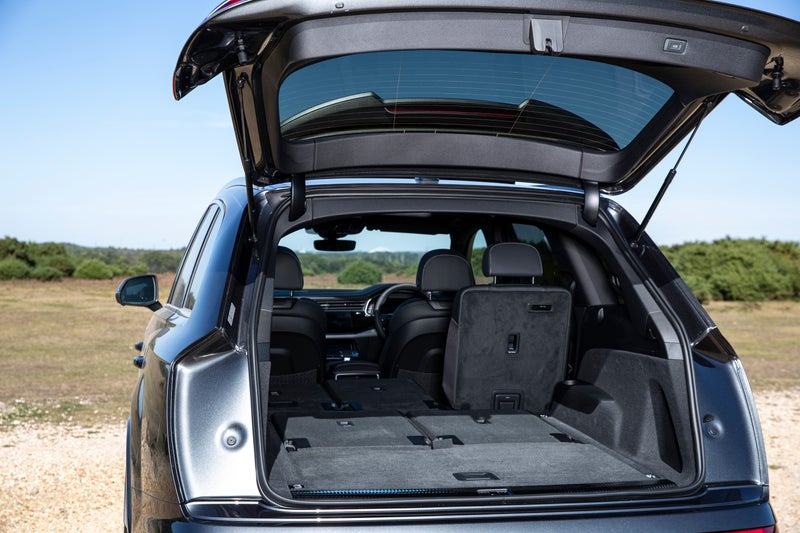 7/10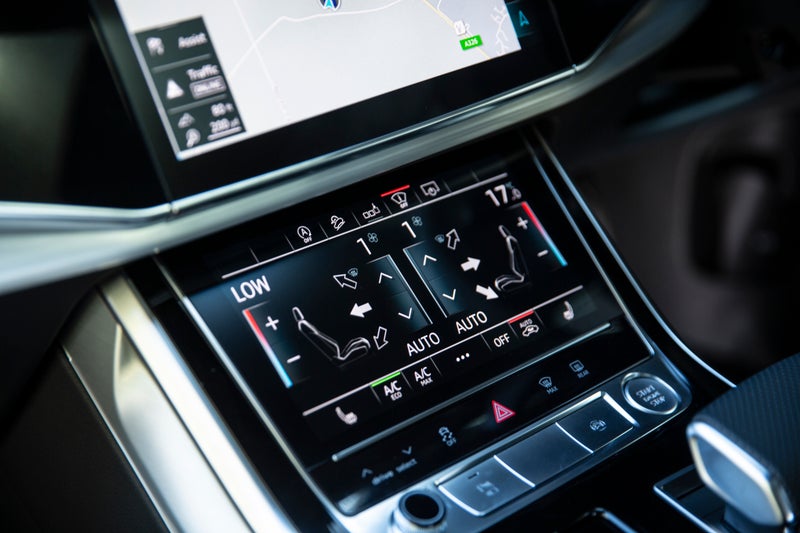 8/10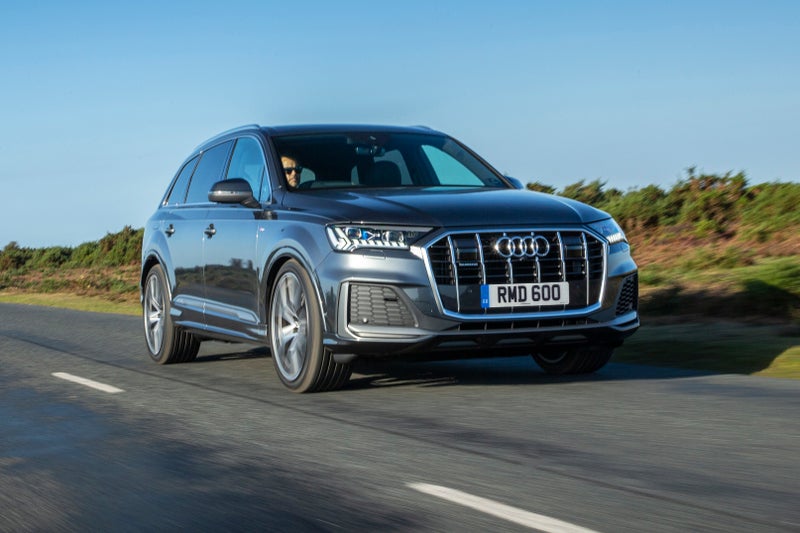 9/10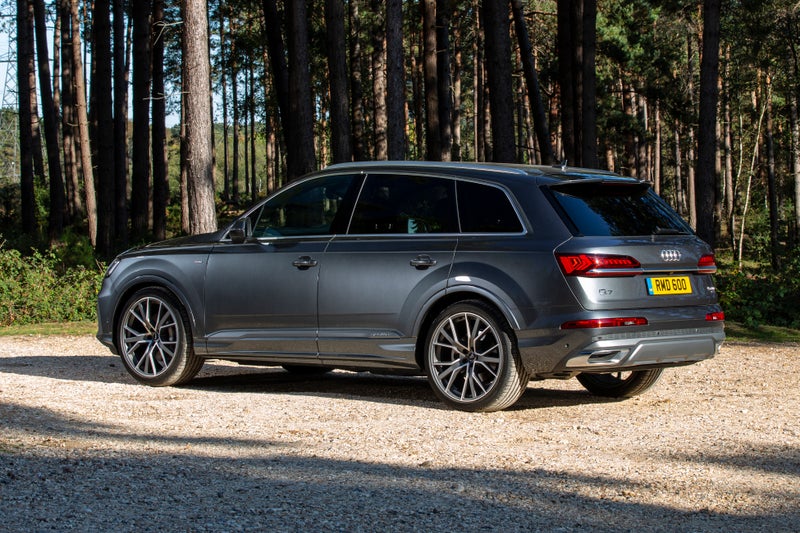 10/10
Launched in 2015

SUV

Petrol, Diesel
Launch year

2015

Body type

SUV

Fuel type

Petrol, Diesel

Written by
heycar editorial team

heycar rating
Brilliant seven-seater luxury SUV
Best bits
Comfortable and quiet on the road
Cabin is practical and great on quality
Lots of luxury equipment
Not so great
Distracting touchscreen infotainment system
PHEV version only has five seats
Not much else, really
Read by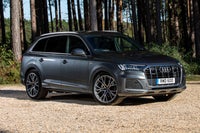 Overall verdict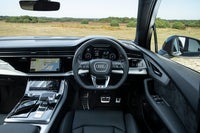 On the inside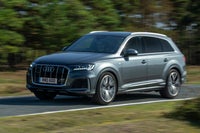 Driving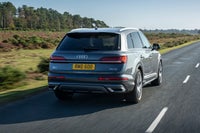 How much does it cost to run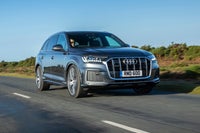 Prices, versions and specification
Overall verdict on the Audi Q7
"The Q7 is a prime example of what can be achieved through attention to detail. Leave no stone unturned, and great things can happen."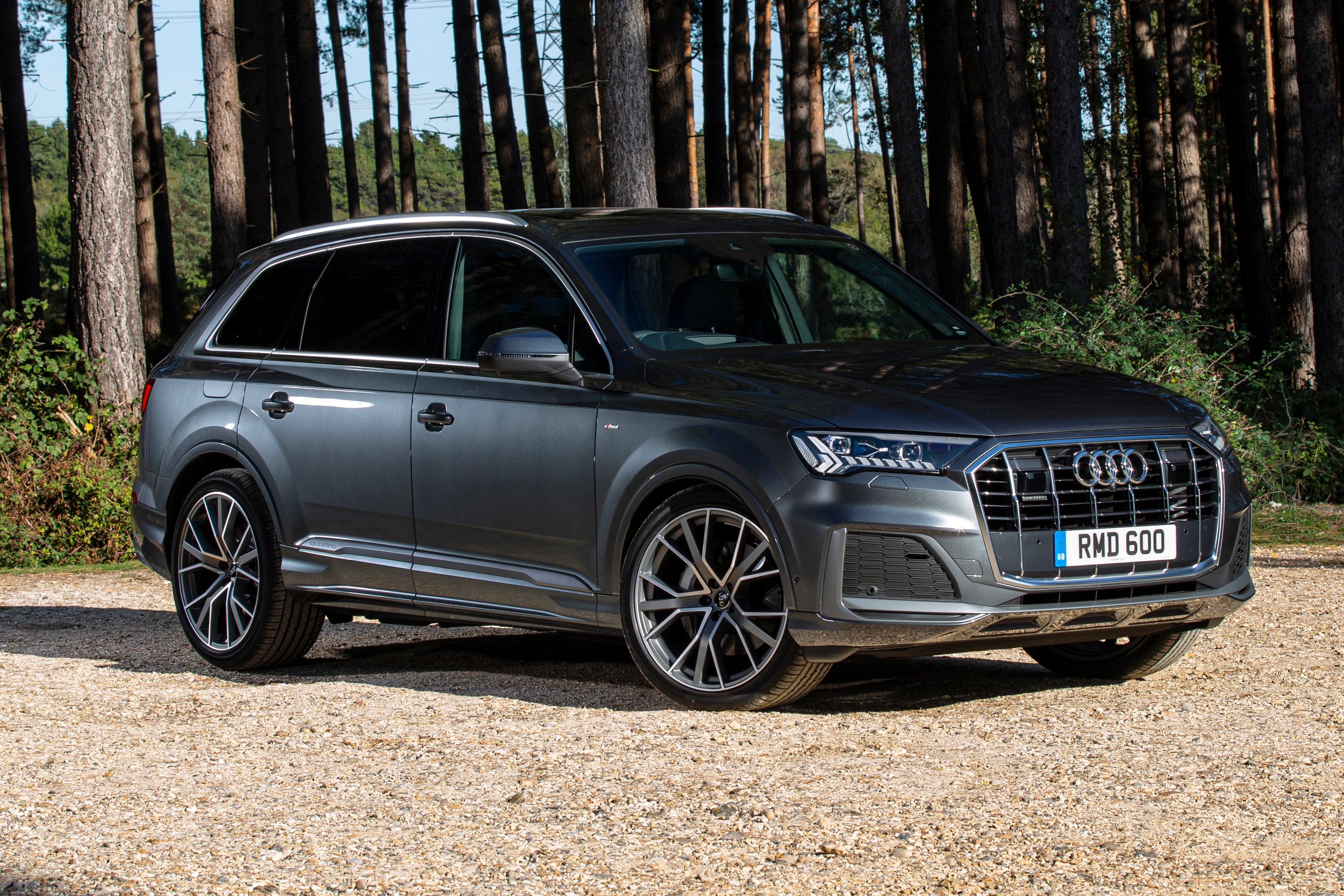 You see, there isn't a single area in which Audi's big seven-seater SUV doesn't do a thoroughly brilliant job. That's what makes it the best all-rounder in the class, and for that matter, the best car in the class.
First and foremost, it's a brilliant family car. It's among the roomiest cars of its type, with generous space surrounding each of its seven seats, and with so many different options over how much of the space is used for seating and how much is used for cargo, it's also incredibly versatile. Those on board will also feel spoiled due to the amazing cabin quality and generous luxury kit.
Just as importantly, it's an ideal family car in the way it drives. On all sorts of roads, the Q7 stays comfortable and quiet, keeping life relaxed and peaceful on every journey.
And despite its impressive comfort, it's still impressively agile in corners, keeping things safe and settled for passengers, and surprisingly entertaining for the driver. One quick caveat here: the best Q7s ride on air suspension. This was standard on post-facelift cars of 2019 onwards, but optional before that. If you're buying an earlier car, check it has air suspension fitted, because you definitely want it.
The engines, meanwhile, give an impressive blend of performance, economy and refinement, while lots of safety equipment and a five-star Euro NCAP rating means your family will be well looked after. Any complaints? Well the touchscreen system on post-facelift cars is a bit fiddly and distracting, and the automatic gearbox could be quicker to respond, but other than that, there's very little to grumble about.
When this car was first launched back in 2015, many members of the motoring press criticised it for being dull, and lacking character. We disagree, but everyone's entitled to their opinion. Besides, who needs character when you're absolutely brilliant at everything else? Just look at David Beckham for heaven's sake...
Comfort and design: Audi Q7 interior
"What you see inside your Q7 will very much depend on how old it is."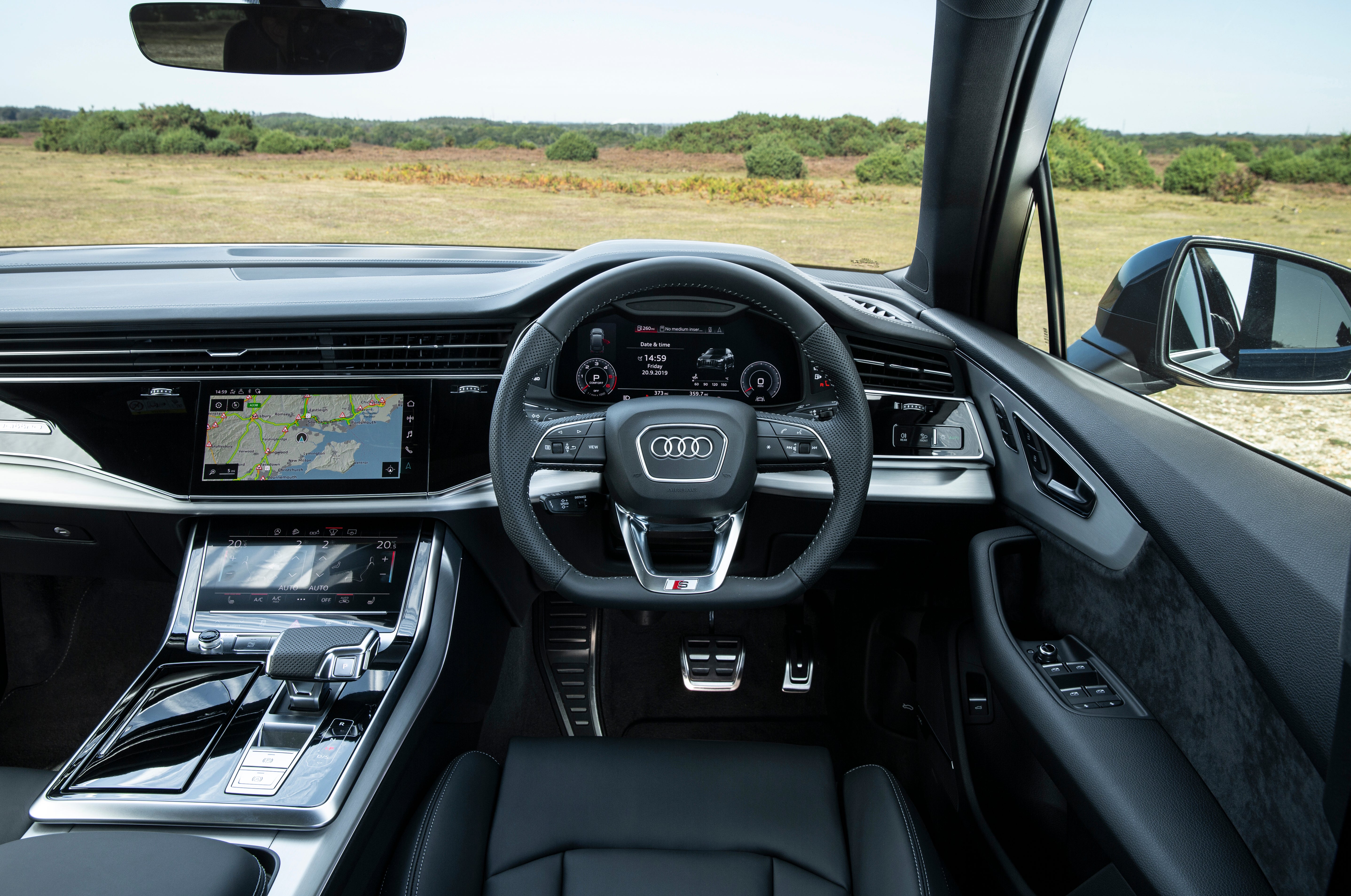 Early versions of this generation of car had conventional knobs and buttons slap-bang in the middle of the dashboard to control the ventilation and various other bits and bobs, while an infotainment screen popped up electrically out of the top of the dash. The various buttons and dials were clearly marked and worked well. The instruments were digital items rather than the traditional analogue dials, and these also presented all sorts of other information and functionality to the driver, and they worked well, too.
The dashboard design changed unrecognisably after the 2019 facelift, though. This integrated the infotainment screen into the dashboard itself and replaced the physical ventilation controls with another touchscreen panel, bringing the design into line with Audi's newer luxury offerings such as the A8 and e-tron.
If we're honest, it was a backward step in terms of ergonomics. While you could find the old controls by feel, that's not the case with the screen, and you have to stare intently at the small on-screen icons to make any changes, distracting you from the road ahead. That said, it does all look very cool.
All versions have supportive seats that move electrically to help you find a comfy driving position. You sit up high and get a nice clear view of the road ahead, but wide rear window pillars can hamper your rear view. At least every version comes with front and rear parking sensors and a reversing camera.
Handling and ride quality: What is the Audi Q7 like to drive?
"Early cars came with a standard suspension that was a wee bit firm around town and allowed a bit too much body lean in corners."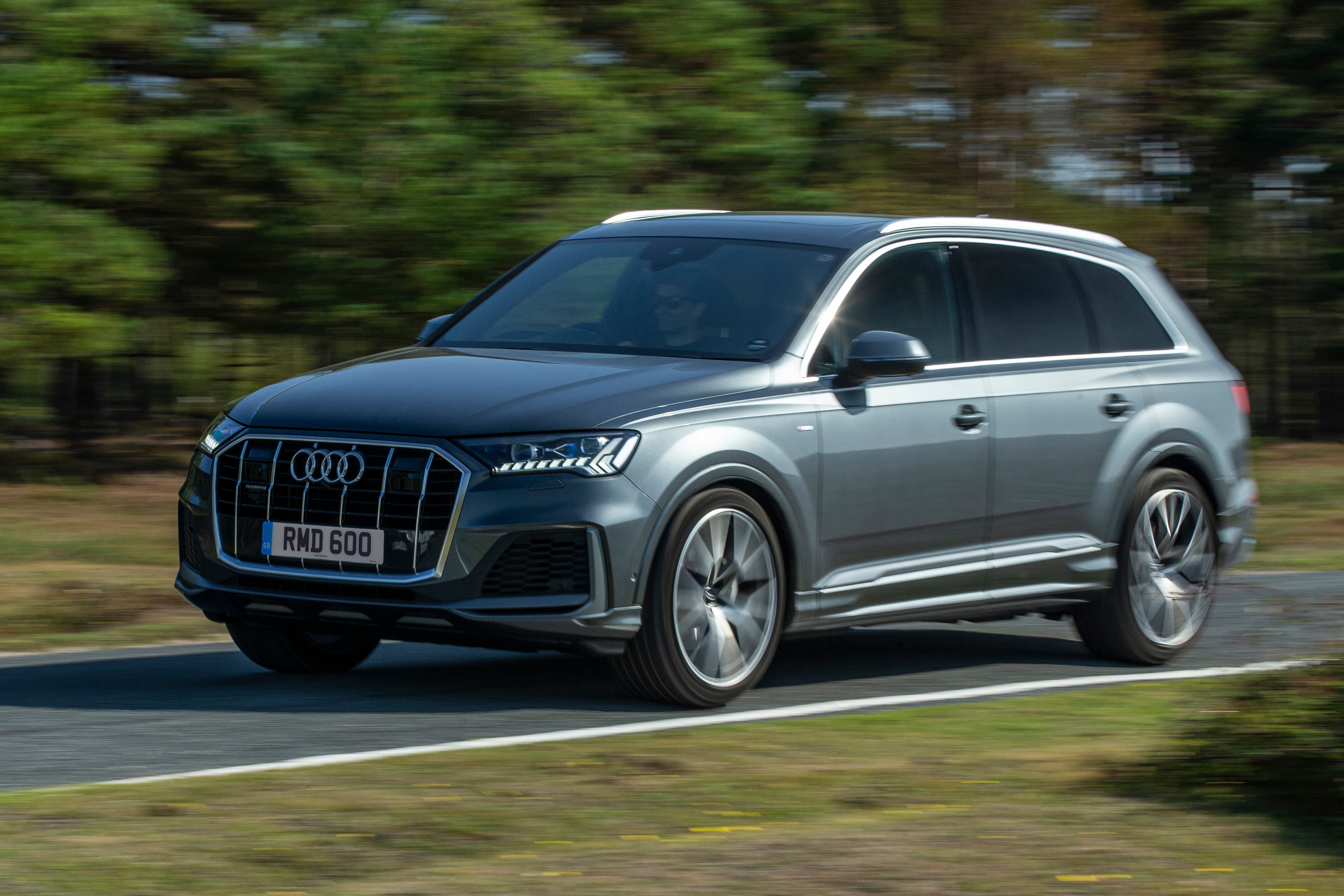 However, find yourself a car equipped with optional air suspension, or go for a post-facelift car that got it as standard, and the Q7's balance of abilities here become seriously impressive. Most importantly in a car designed to carry large families, it's extremely strong on comfort.
The suspension absorbs bumps of all shapes and sizes pretty much imperceptibly, making this one of the most cosseting and soothing cars in the class. Given this incredible comfort, it's perhaps even more astonishing that the Q7 feels so agile in the corners. It has huge grip levels and uncannily strong control over body movements, and this means that the car feels like it shrinks around you on a twisty road. Steering that's responsive, accurate and well weighted even lets you have a bit of fun occasionally.
Black Edition and Vorsprung versions also get air suspension, but it's lowered by 15mm. As a result, the ride isn't quite so effortlessly plush as it is in Sport and S line models, but it's still more comfortable than most other cars in the class. That becomes even more impressive when you consider that the Vorsprung has gigantic 22-inch wheels, yet it still keeps you comfy. The SQ7's suspension is sportier still, but we haven't tried it yet.
MPG and fuel costs: What does an Audi Q7 cost to run?
"All the engines use mild-hybrid technology to eke more miles out of each gallon of fuel, and the Q7 is one of the more efficient cars of its type."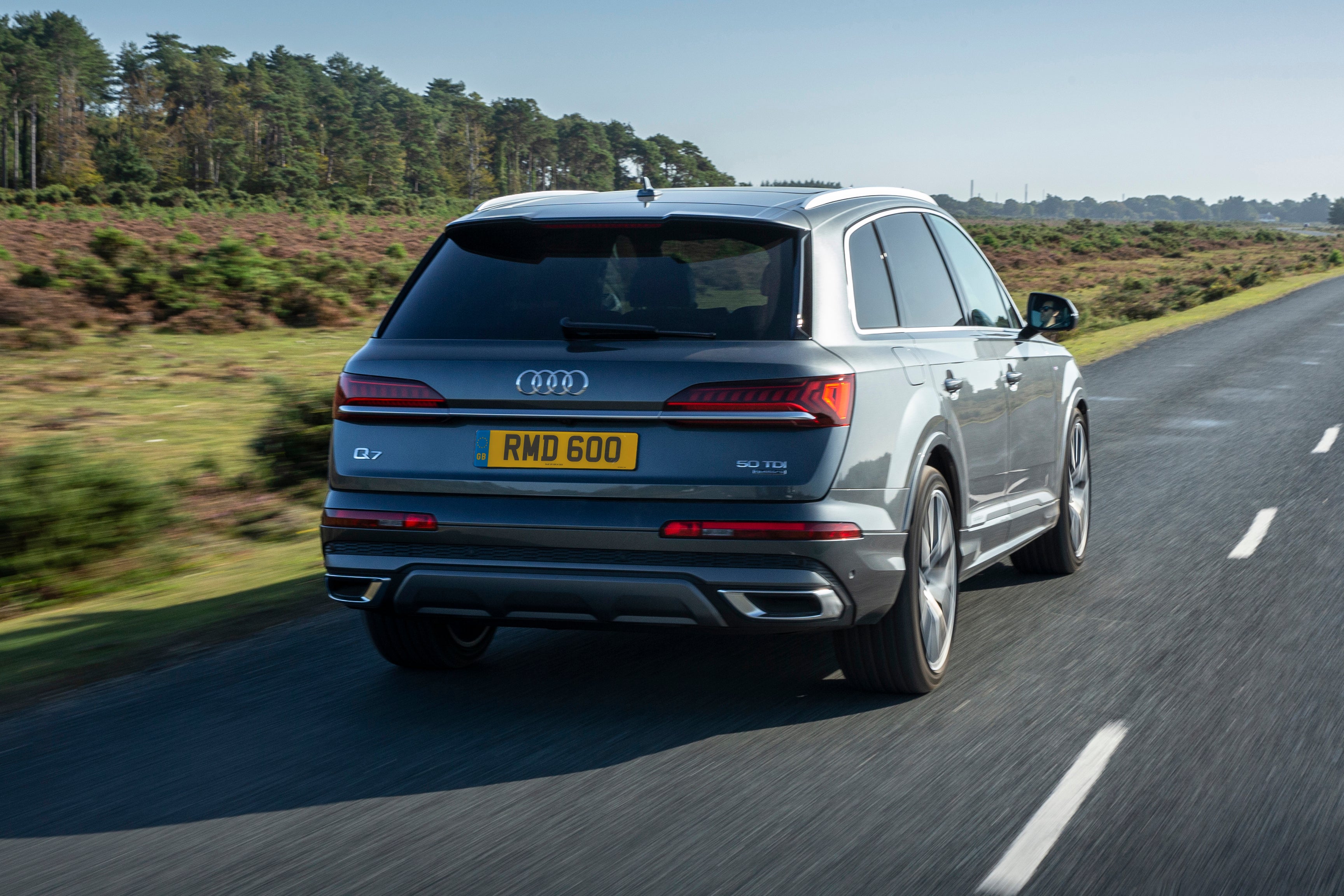 Despite their difference in power, both the 45TDI and 50TDI engines have an identical maximum figure of 33mpg on the WLTP combined cycle, while the 55TFSI petrol gets about 26mpg. Matching these figures in the real world will be difficult, but you should get reasonably close if you drive sensibly. Which in a sensible car like the Q7, you probably will. The E-Tron PHEV will be the exception, though, as it has an official (NEDC) figure of 156mpg. Good luck with matching that.
How much should you be paying for a used Audi Q7?
"Prices for brand new Q7s - at the time of writing - began at around £54,000 for the 45 TDI Sport, while £82,000 would get you a 50 TDI Vorsprung. Compare prices with those of rivals such as the Land Rover Discovery, Volvo XC90 and BMW X5, and the Q7 isn't the cheapest car of it's type, but it is very competitively priced."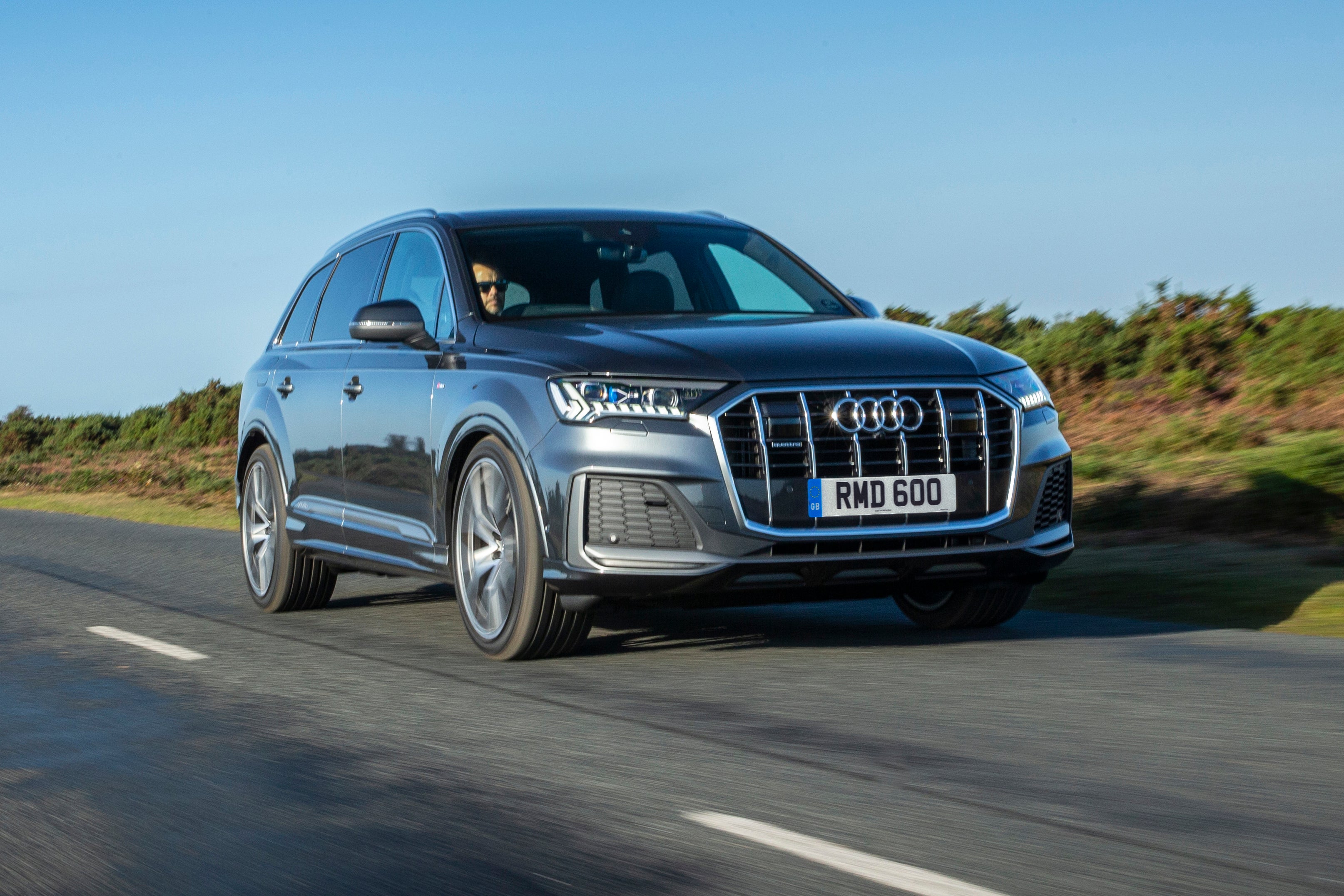 Resale values are very similar across the board, so the price differences on used examples will probably be just as marginal. And, because this generation of Q7 has been around for a good few years, and the car has proved very popular, finding a good used one should be very easy indeed. Check our listings, and you'll find lots of tempting-looking examples coming in at below the £30,000 mark.
Ready to get your top quality Audi Q7?
All cars come with a warranty
Selected dealers only
All quality checked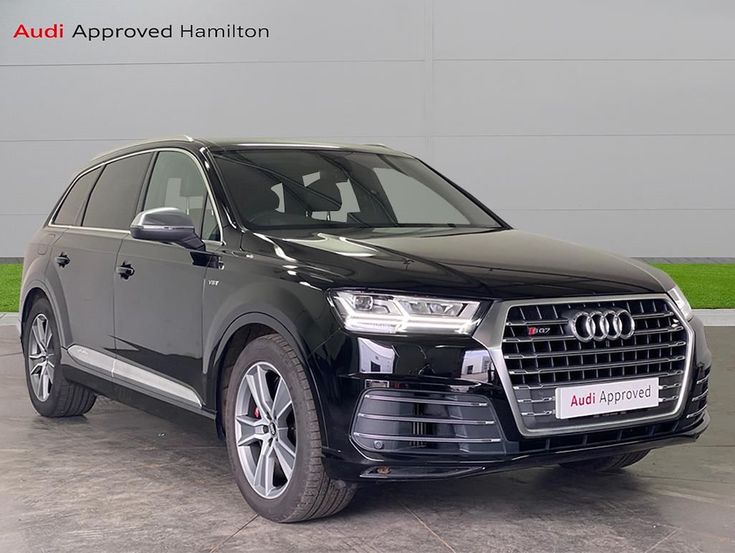 Audi Q7
SQ7 Quattro 5dr Tip Auto
Manufacturer Approved
Lookers Audi Hamilton

Lanarkshire, ML30EJ
PCP: £765.28/mo
Representative example: Contract Length: 36 months, 35 Monthly Payments: £765.28, Customer Deposit: £7,049.00, Total Deposit: £7,049.85, Optional Final Payment: £22,073.75, Total Charge For Credit: £8,909.40, Total Amount Payable: £55,908.40, Representative APR: 9.9%, Interest Rate (Fixed): 9.89%, Excess Mileage Charge: 26.38ppm, Mileage Per Annum: 10,000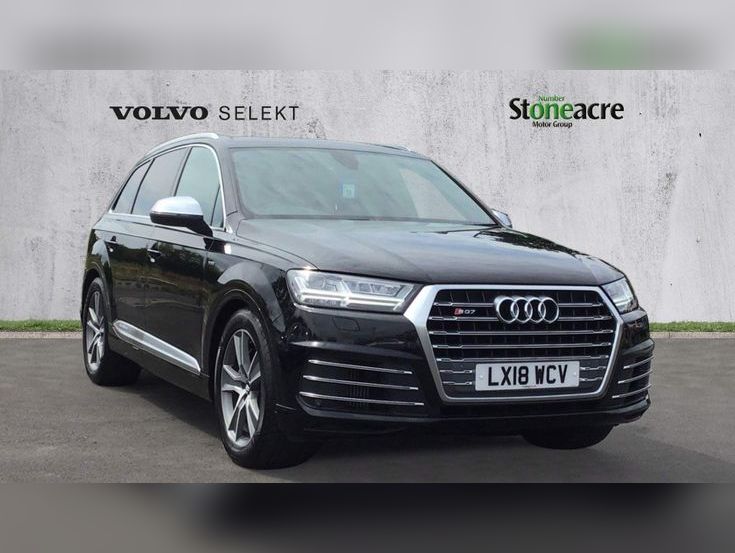 Audi Q7
SQ7 Quattro 5dr Tip Auto
Stoneacre Volvo Chesterfield

Derbyshire, S419AJ
PCP: £734.50/mo
Representative example: Contract Length: 36 months, 35 Monthly Payments: £734.50, Customer Deposit: £8,099.00, Total Deposit: £8,099.85, Optional Final Payment: £32,966.52, Total Charge For Credit: £12,774.87, Total Amount Payable: £66,773.87, Representative APR: 11.3%, Interest Rate (Fixed): 5.81%, Excess Mileage Charge: 18.69ppm, Mileage Per Annum: 10,000
Is the Audi Q7 right for you?
Ask yourself one question: Do I want arguably the best seven-seat SUV there is? Of course you do. Why wouldn't you? If that's the case, then the Audi Q7 is it.
It's not the biggest car of its type, or the cheapest, or the most practical or the most ergonomically sorted. However, in those areas in which it doesn't lead the class (there are plenty in which it does, but the way), it's still right up there with the cars that do. This makes the Q7 an unbelievable all-rounder that'll slot seamlessly into the daily life of any well-heeled family, instantly making it easier, more relaxing, more comfortable, more entertaining and more sophisticated.
Granted, if you're after a luxury off-roader with seven seats, rather than an SUV, then the more rugged Land Rover Discovery will suit you better. If you're like most SUV buyers, though, and you never venture further into the countryside than the car park of your local greengrocer, then the Q7 will be the perfect family car.
What's the best Audi Q7 model/engine to choose?
Whatever vintage of Q7 you're considering, we'd recommend one of the 3.0-litre V6 diesel engines. The more powerful of the pair is worth paying extra for if you can afford it thanks to its extra muscle and more relaxed performance, but in truth, most drivers will probably be fine with the weaker one.
If you're considering the older car, then there isn't much you'd want that the entry-level SE car doesn't give you, so we'd stick with that to keep the price down. If you can, though, try to find a car with optional air suspension fitted, because it truly transforms how the Q7 behaves on the road. Post-facelift cars had it as standard, so happy days, and again, stick with the entry-level trim, from then on known as the Sport.
What other cars are similar to the Audi Q7?
Quality and finish
This area is an Audi trademark, so it's no surprise that the Q7 absolutely smashes it here. All of the materials on view - whether they're dense soft-surfaced plastics, stitched leather, glossy veneers or genuine metallic trims - are extremely high-grade, and they're blended thoughtfully and tastefully to deliver a sense of effortless class.
You have to delve very deep into the lower reaches of the cabin before you find a single panel of a quality that doesn't quite measure up to the high standards of the rest, and even then, the differences are miniscule.
The precision and solidity with which everything is bolted together, plus the slick, deftly-damped way all the switches and controls work, also help toward providing a level of sophistication that is unsurpassed by any of the Q7's rivals, even bigger, pricier ones like the BMW X7 and Mercedes GLS. True, newer cars feel a little more high-tech than the older ones due to the extra screen, but both versions are pretty much flawless when it comes to quality.
Infotainment: touchscreen, USB, nav and stereo in the Audi Q7
As we've already said, the Q7's interior and infotainment system changed completely during the 2019 facelift, so we effectively have two systems to talk about here.
The earlier one was great. An 8.3-inch screen rose electrically from the top of the dashboard, and you scrolled through the logical on-screen menus using a rotary dial controller and a handful of shortcut buttons. Simple, intuitive and undistracting. There was also a touchpad provided that allowed you handwrite instructions, which was rather more of a faff, but there was nothing you couldn't do without it if you chose to ignore it.
With the 2019 facelift, though, the motoring world's obsession with touchscreen technology took over, and this system was ditched for a new twin-screen arrangement that was controlled by jabbing fingers at a screen. In fairness, it's not bad as touchscreens go with sharp graphics and quick responses. However, some of the on-screen icons are a bit small and tricky to hit, and the fact remains that touchscreens are way more distracting when you're driving than physical controls.
All the functionality you'd expect in a luxury car is covered, though, including DAB radio, navigation, wireless phone charging and various connected services.
Space and practicality: Audi Q7 boot space
Even in the context of large, luxurious seven-seat SUVs, this is about as good as it gets on practicality. There's loads of space up front, obviously, and the three individual chairs in the middle row are very generous on both headroom and legroom, so tall adults will fit comfortably.
There's enough shoulder space to sit three adults across the rear bench, too, and the middle seat is almost as wide as those either side, but whoever's in the middle will have to sit with their legs splayed either side of a bulky transmission tunnel.
Each one of the middle-row chairs slides and reclines independently, and the outer ones tip and tumble far enough out of the way to allow pretty easy access to the third row. The space surrounding these rearmost seats is among the most generous in the class: not quite as much as in a Land Rover Discovery or a BMW X7, but it easily has the beating of a BMW X5 or Mercedes GLE. Adults of a reasonable size will fit, but those much over six foot will probably want to bagsy one of the chairs further forwards on long journeys.
With seven seats in place, there's more boot space than in many rivals, enough for a few shopping bags. The rearmost chairs drop flush into the floor to give you a massive boot in regular five-seat mode, enough for pushchairs, kids' bikes, or anything else a family could think to carry. The middle row also drops flat into the floor, leaving you with an extended load-bay that's level and true, not to mention massive.
What engines and gearboxes are available in the Audi Q7?
Early on in the car's life, you had the choice of two 3.0-litre V6 diesel engines with either 218PS or 272PS. We never drove the former, but the latter was great. Whether you were getting away from the mark or picking up speed on the move, it managed to hustle the enormous Q7 along with a surprising amount of urgency, and your progress alway felt as effortless as it did brisk.
Later, these engines were upgraded to deliver 231PS or 286PS, and rebadged to become known as the 45 TDI and 50 TDI, respectively. The more powerful one feels pretty much indistinguishable from the one we've just described, just with the undetectable advantage of a few tenths against the stopwatch.
The lower powered version, meanwhile, will be strong enough for most drivers, but it does have to work a wee bit harder for equivalent performance, which is why the more powerful option edges it as our favourite.
A couple of other versions are offered, too, none of which we've had the opportunity to try. The SQ7 range-topper has a 4.0-litre diesel V8 delivering a monstrous 435PS, and there's also a diesel plug-in hybrid version that combined the V6 diesel engine with an electric motor to give 258PS. The sole petrol option is the 55 TFSI, which uses a 340PS 3.0-litre engine.
All versions are mated to an eight-speed automatic gearbox, which slushes up and down the gears, quickly, smoothly and easily. However, it's annoyingly hesitant to respond when you ask for a sudden burst of acceleration. That's something you can say of most cars like this, but it's particularly noticeable in the Q7.
Refinement and noise levels
Another area in which the Q7 does a super-impressive job. Even on a coarsely surfaced motorway, you hear very little in the way of road noise, and wind noise is also very well isolated. You'll barely hear a peep from the suspension, either, even when bumps in the road are doing their best to upset the calm.
The engines we've tried, meanwhile, finish the job off spectacularly well. You'll hear a bit of a clatter when you first fire them up, but that melts away once they're warmed through, and from then on, they're fabulously quiet and smooth. You only really hear them if you really get your clog down, which you seldom need to thanks to the engines' prodigious muscle, and even then, the faint noise you hear is more satisfying than troublesome.
Safety equipment: How safe is the Audi Q7?
The Q7 has scored the maximum five-star rating in Euro NCAP crash tests, and when you look at the amount of standard safety kit it gets, that's really no surprise. There's LED lighting front and rear, a shedload of airbags, tyre pressure monitoring, automatic emergency braking, traffic sign recognition, lane departure warning and no fewer than six Isofix child seat mounting points.
The roster doesn't change too much as you move up the range, either, although the range-topping Vorsprung version does get a head-up display and a huge suite of autonomous driver assistance systems that'll pretty much drive the car for you under certain circumstances.
Electric range and charging
The PHEV version is said to have a maximum theoretical range just shy of 40 miles on electric-only power, but what you actually get will depend on a number of factors: how you drive, the temperature, traffic conditions and so forth. In unfavourable conditions, you shouldn't bank on getting more than 25 miles or so. A full charge of the battery will take around three hours on a 7kW wallbox charger or a little over twice that on a domestic three-pin plug.
Insurance groups and costs
On post-facelift Q7s, insurance groups start at 35 for the 45 TDI Sport, and rise to 49 for the fire-breathing SQ7. However, the majority of versions sit in groups 40 or 41, so somewhere in the middle. That means premiums won't exactly be cheap, but then again, you wouldn't expect them to be on a big, expensive car like the Q7, and they will at least be very competitive with those of rivals.
VED car tax: What is the annual road tax on an Audi Q7?
Due to new tax rules that came in on April 1st 2017, all Q7s registered after that date will pay annual tax of £475 per year between years two and six of the car's life, and annual bills will drop to £150 after that. The one exception is the E-Tron PHEV, which gets a discount of precisely a tenner thanks to its clever hybrid drivetrain. Woo hoo. Cars registered before this date vary tremendously. E-Tron buyers pay absolutely nothing, while charges on the other versions range between £165 on the entry-level diesel to £305 for the SQ7.
Trim levels and standard equipment
The trim levels available - and what came with them - has changed a bit during the Q7's life. Here, we'll concentrate on post-facelift cars, so bear in mind that there will be differences on earlier examples. The entry-level Sport version is the one to go for, because it gives you all the items of kit you could want, plus a few more besides.
That includes air suspension, leather upholstery, a powered tailgate, heated front seats, dual-zone climate control, cruise control, keyless go and front and rear parking sensors. S line cars don't get much more other than sports seats in upgraded leather and a few styling bits, but nevertheless, this is still the most popular trim.
The Black Edition adds a few more styling bits, along with sports suspension and four-zone climate control, where the Vorsprung is packed with pretty much anything your average luxury car owner could think of. Soft-close doors, four-wheel steering, heated rear seats, a BOSE sound system, a head-up display and autonomous driving aids are all provided.
Learn more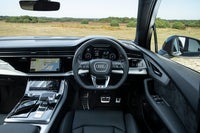 On the inside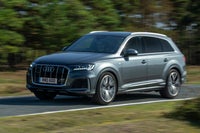 Driving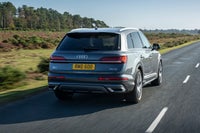 How much does it cost to run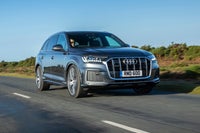 Prices, versions and specification
Ask the heycar experts:
common questions
Is the Audi Q7 a good car?
The latest Q7 is not the most distinctive SUV, but it's incredibly comfortable, luxurious and practical inside, with a huge array of standard equipment and some excellent engines too.

Does an Audi Q7 come with seven seats?
Yes. Just like its rivals the Volvo XC90 and Land Rover Discovery, the Q7 has seven seats as standard, but enough space in the third row that even shorter adults will be comfortable. It also comes with six ISOFIX child seat mounting points, for those with two pairs of triplets.

Where is the Audi Q7 made?
The current generation of Q7 was launched in 2015, but given a big styling and interior makeover in 2019, however both are built at Volkswagen's Slovakian facility, in Bratislava.

How much is road tax for an Audi Q7?
The Q7 gets a double sting from the taxman, since its list price starts well above the £40k threshold, attracting an additional £465 per year for the first five years of ownership. For the diesels (which emit 180-184g/km of CO2) you also have to pay £855 in the first year too.

Answered by
heycar editorial team
Reviews of similar cars
Quality checked, all cars less than 8 years old and warranty included
Looking for other Audi cars?
Quality checked, all cars less than 8 years old and warranty included
Keep me updated by email with the latest advice, news and offers from heycar
By submitting, you agree to our
privacy policy
.