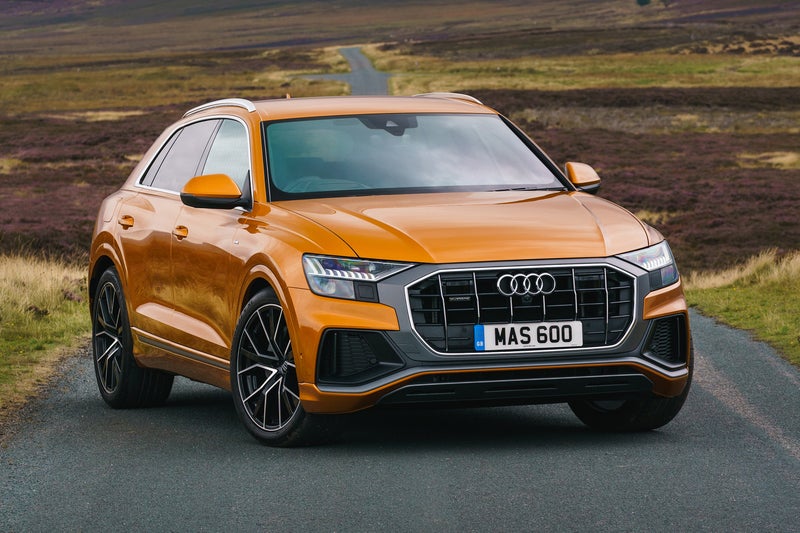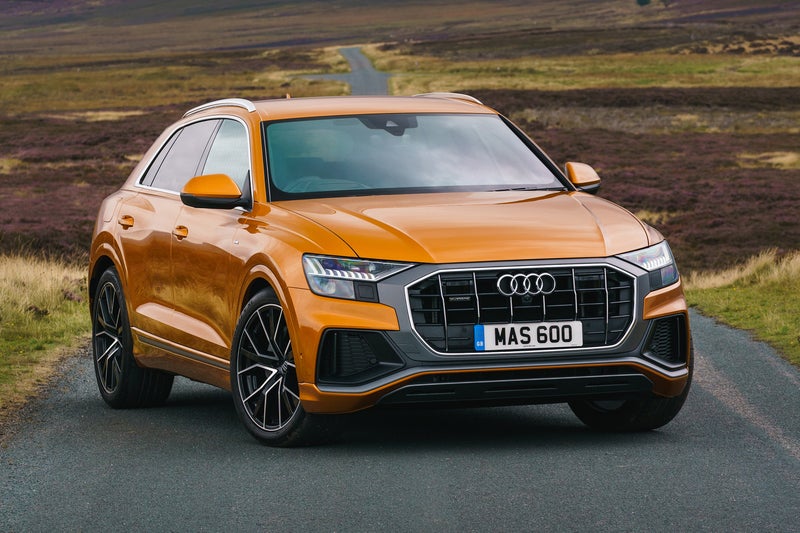 1/10
heycar rating
"Style-focused SUV from Audi"
Launched: 2018

SUV

Petrol, Diesel
Quick overview
Pros
Impeccable interior quality
Good to drive
Spacious cabin and a big boot
Cons
Only five seats
Infotainment system can be a bit distracting
Not cheap to buy or run
Overall verdict
On the inside
Driving
Cost to run
Prices and Specs
Common questions
Overall verdict on the Audi Q8
"We always bang on about the huge number of SUVs on our roads these days, but there's a very good reason why they're so popular."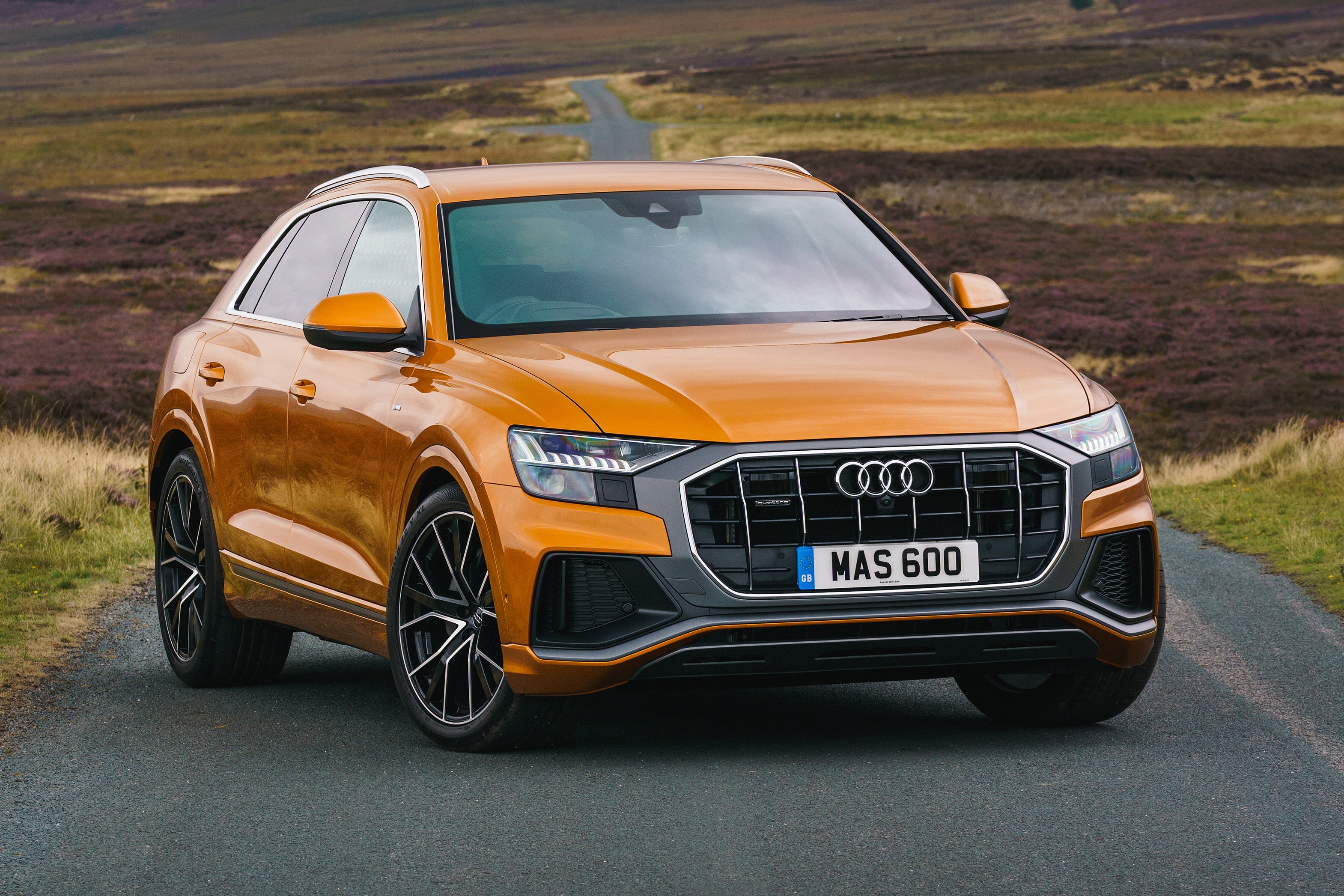 They give family car buyers the space and practicality they need, but with all the style and luxury they desire. However, not everyone needs the versatility of a seven-seater, so the Audi Q8 is designed to dial down the former, and double-down on the latter.
If you need seven seats, then Audi will point you towards a Q7. The five-seater Q8, meanwhile, has a slinkier, less-boxy design to make it more elegant and more desirable, desirability that's topped off by the aspirational Audi badge.
There are plenty of other Audi trademarks that are present-and-correct, too, not least, the impeccable build quality. Every surface you look at or touch is an absolute treat for the eyes or the fingertips, so this feels like a very classy product indeed, good enough to have the beating of rivals such as the BMW X6 and Mercedes-Benz GLE Coupe.
Yes, this is a very expensive car, but jaw-dropping quality like this helps make the Q8 feel worthy of the price tag. So does the stack of luxury and safety equipment you get as standard, the latter of which helps the Q8 achieve that all-important five-star rating from Euro NCAP.
On the road, the R8 is very relaxed and quiet, with fabulous rolling refinement and a diesel engine (we haven't tried the petrol offering yet) that is smooth, subdued and effortlessly powerful. Granted, the ride isn't as cosseting as the slushiest SUVs, but it'll keep you comfortable most of the time, and you get impressively sharp handling as a payoff.
And practicality? Well, it may only have five seats, but they're all just as roomy as the equivalent seats in the Q7, so this is a very roomy, comfortable car. A big boot also helps it perform family duties impressively well.
Downsides? Well the infotainment system could be more user-friendly and, like we said earlier, it's pretty pricey. But otherwise, the Q8 is a very good premium all-rounder that's perfectly suited to the buyers it's aimed at. If that's you, you're in for a treat.
Is the Audi Q8 right for you?
If you're after a five-seat luxury SUV and you enjoy the finer things in life, then the Q8 will suit you down to the ground. Even compared with high-class rivals such as the BMW X6 and Mercedes GLE Coupe, the Audi feels like a cut-above in terms of interior quality, and that really helps justify the high price tag.
It'll also suit you if you value agile handling over outright comfort, because it does feel impressively athletic in a set of bends, although despite there being a firm edge to the ride, this is not an uncomfortable car by any means. And, if you're a gadget fan, the Q8 has that covered, too, with a huge variety of luxury equipment and all the latest infotainment tech.
What's the best Audi Q8 model/engine to choose?
There are only two engines available, and we've only tried one of them, so we'll have to go with that one. However, we probably would've recommended that engine - the 50 TDI diesel - anyway because it's so much more fuel efficient than the 55 TFSI petrol. It's also enormously powerful and impressively smooth and quiet. In terms of the trim level you want, there isn't much you'd demand in a luxury SUV that the entry-level S line trim doesn't give you. Edition 1 and Vorsprung versions add even more toys, but they also add a lot to the price.
What other cars are similar to the Audi Q8?
The Q8 is a luxury SUV that's focused on style rather than practicality, and it's certainly not alone on that score. The BMW X6 and Mercedes GLE Coupe are probably its most direct rivals on size, price and ethos, while Land Rover will have a couple of contenders in the mix with the Range Rover Sport and the Velar.
Buyers might also be tempted by the Porsche Cayenne Coupe if they're after something a little sportier.
Comfort and design: Audi Q8 interior
"Like all of Audi's latest luxury cars, the Q8's dashboard has three screens. One of them is a digital instrument panel that sits behind the steering wheel, replacing conventional dials. It displays all the same information, but also places selected other bits of information - like your sat-nav instructions - directly into your eyeline. That means there's a lot going on in front of you, but despite the large amount of information, everything stays clear and easy to process. "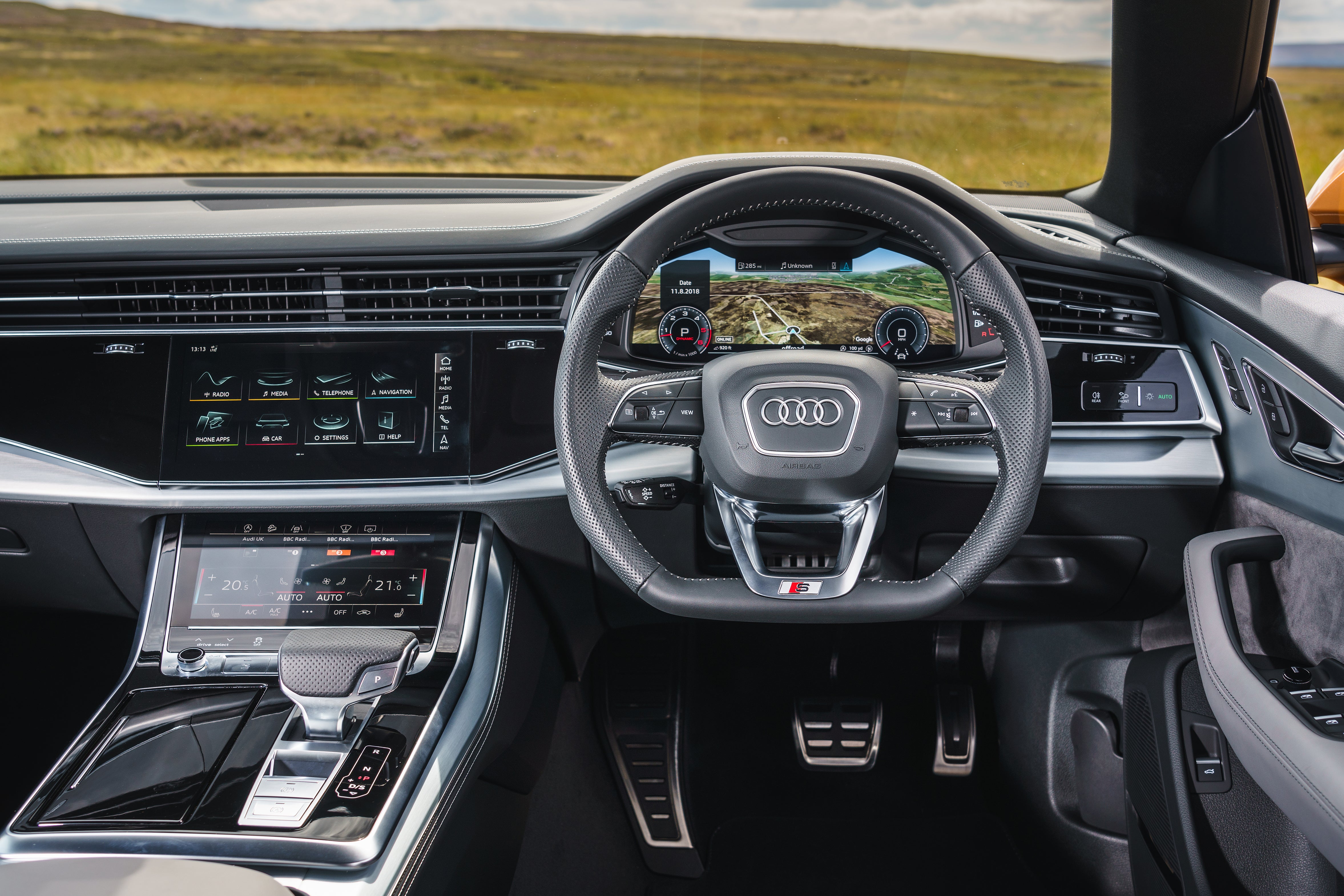 The other two screens sit on the centre console. The top one controls the infotainment system (we'll talk about that in the corresponding section in a moment), while the bottom one takes care of the climate control system, along with a few other minor functions.
It looks great, but it's more distracting to use on the move than traditional dials and buttons. With those, you can glance at them quickly and then find the control you want by feel. With a screen, you have to press the screen in exactly the right place, and that takes more concentration, diverting more of your attention away from the road.
You'll have no complaints over comfort, though. The supportive seats have electronic adjustment in all versions, helping you to fine-tune your favoured driving position. You get a clear view out in all directions, too, and to help you further with parking manoeuvres, the standard kit list on all versions includes parking sensors at either end and a reversing camera. The Vorsprung adds a 360-degree camera.
Quality and finish
High quality is an Audi trademark, and you'd expect the firm's most luxurious SUV to be the showcase for its impressive skills in this area. Even with expectations so high, the Q8 still manages to dazzle.
Every single surface encountered by your eyes or fingertips is a joy for both senses, which immediately gives those inside the impression that they're travelling first-class. Make the effort to delve deep into the lower reaches of the cabin in search of hidden away panels that don't quite measure up, and even those with the detective skills of Hercule Poirot will be wasting their time.
The flawless way everything is assembled gives an even more high-grade feel, with barely perceptible panel gaps and not even the merest hint of a creak or a flex. There's the odd styling tweak here and there between versions, but despite these, even the entry-level Q8 feels just as sophisticated as the range-topper.
Infotainment: touchscreen, USB, nav and stereo in the Audi Q8
As we've already talked about them (in the Comfort and design section), we'll ignore the two of the Q8's three dashboard screens here, and talk solely about the main one, the 10.1-inch touch-sensitive item found at the top of the centre console that takes care of pretty much all of the car's infotainment functionality.
As touchscreens go, it's pretty good. It looks fab for a kick-off, lending the interior a really high-tech feel, while the crisp graphics and speedy software means your progress through the various menus and widgets is brisk and smooth. However, there are just so many of these menus and widgets, due to the vast array of functionality that the system controls, and that means using the system can be a little bamboozling. That said, the steering wheel has lots of buttons and dials that allow you to bypass many of the touchscreen controls without lifting a hand from the wheel.
That vast array of functionality includes navigation, DAB radio, Apple Carplay/Android Auto and wireless phone charging. Upgrade to the Vorsprung model, meanwhile, and you also get an upgraded Bang & Olufsen 3D sound system with 17 speakers and 730 watts of power.
Space and practicality: Audi Q8 boot space
Unlike many large SUVs - including the Q7 it's based on - the Q8 is offered with no more than five seats. That means it won't be as suitable for families that are large in number, but it'll be just as good for families that are large in the size of the individuals. The front seats have loads of space, and because the Q8 has exactly the same wheelbase measurement as the Q7, there's just as much rear legroom, which will be plenty for even the gangliest of passengers.
What's more, the rear seats slide back and forth, allowing you to dedicate the space available to legroom or luggage, depending on your needs at the time. And, while many slinky, coupe-like SUVs suffer with limited rear headroom due to their swoopy lines, the Q8 suffers no such affliction.
The boot is a really good size, too, if not ultimately as enormous as a Q7's, but it does compare well with rivals such as the BMW X6 and Mercedes GLE Coupe. There won't be many loads that the Q8 can't carry, and if you need to maximise space, the rear seats fold down in a 40-20-40 split. They leave you with a slightly sloped load area because the backrests lie at an angle, but there are no awkward steps and no irritating load lip.
Handling and ride quality: What is the Audi Q8 like to drive?
"Every version of the Q8 comes with air suspension as standard, which varies its stiffness according to which of the various driving modes you select. Even in Comfort mode, the ride still has a firm edge, so if you're expecting to waft along like you do in a Q7 or Range Rover, you'll be disappointed. Having said that, the ride is still forgiving enough to keep life comfortable on all but the worst surfaces, and at all speeds."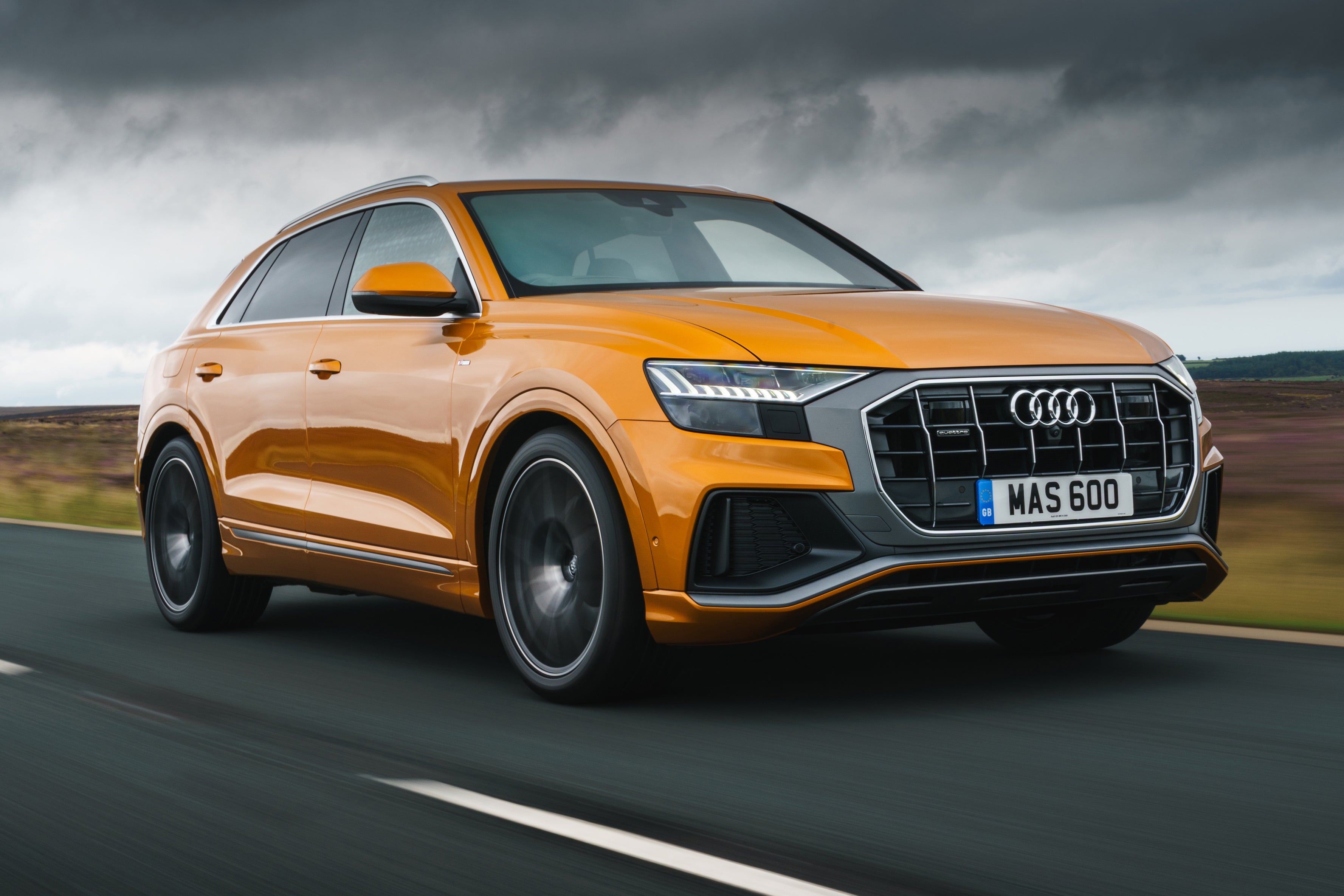 Don't go thinking that four-wheel drive will make the Q8 a Range Rover-beater in the rough stuff, though. It'll cope with an uneven track or a moderately muddy field, but this is no hardcore off-roader.
The ride does get appreciably firmer in the sportiest setting, too, and it might prove a bit too much for some drivers. The payoff for that extra firmness is tighter body control through the bends, but to be fair, it's still pretty tight in Comfort mode, making the Q8 feel impressively nimble for a big SUV. It never completely shakes off its two-tonne bulk, but the standard four-wheel drive gives the car huge grip and traction, and all its responses are consistent and predictable.
Vorsprung versions also get four-wheel steering as standard. At high speeds, this turns the rear wheels in the same direction as the fronts to aid stability, while at low speeds, the rears are moved in the opposite direction to tighten the turning circle. It's on the latter score where you'll most see the benefit of this, though, because it does help make manoeuvres easier.
What engines and gearboxes are available in the Audi Q8?
Only two engines are available in the Q8, one of which we've not yet had the opportunity to try. That's a 3.0-litre V6 petrol with 340PS, known as the 55 TFSI. The one we have tried is the 50TDI, a 3.0-litre V6 diesel with 286PS. It delivers strong pull from low revs, so the car builds speed in an easy, relaxed manner. Press the pedals harder, and it delivers a turn of pace that's strong enough to see off many hot hatches, let alone fellow luxury SUVs.
Annoyingly, though, the eight-speed automatic gearbox gets in the way. Under normal circumstances, it swaps cogs smoothly and cleanly, but when you ask for a sudden burst of acceleration - either when pulling away or picking up speed on the move - the gearbox has to consider its options for a second or two before deciding which gear it wants to give you, and that results in a frustrating pause before anything happens.
Refinement and noise levels
You'll have no complaints in this area. The diesel engine is quiet and cultured most of the time, even when you stick some revs on the dial, and you barely hear it at all once you've settled down to a steady motorway cruise. Very little vibration is transmitted through to the cabin, too, such is the unit's smoothness. Perhaps more impressively, the huge tyres don't even kick up that much road noise at higher speeds. You will hear a slightly rustle of wind noise fluttering around the door mirrors at 70mph, but that's about it.
Safety equipment: How safe is the Audi Q8?
The Q8 has already been smashed to smithereens by the good people of Euro NCAP, and in those crash tests (it wasn't just for fun), the car achieved the highest five-star rating. That should provide plenty of peace-of-mind.
All versions get all the usual airbags and electronic aids to maximise traction and stability, and they also get automatic emergency braking, lane departure warning and ultra-bright Matrix Beam LED headlights.
Go for the Vorsprung range-topper, and you'll also get a head-up display, cross traffic alert at both the front and rear (to stop you pulling out in front of oncoming traffic) and a semi-autonomous adaptive cruise control system. Further autonomous features can be found on the options list, along with a wide variety of other stuff.
MPG and fuel costs: What does an Audi Q8 cost to run?
"According to the official figures, the diesel will give you a maximum average fuel return of 33mpg, while the petrol gives you just 26mpg. "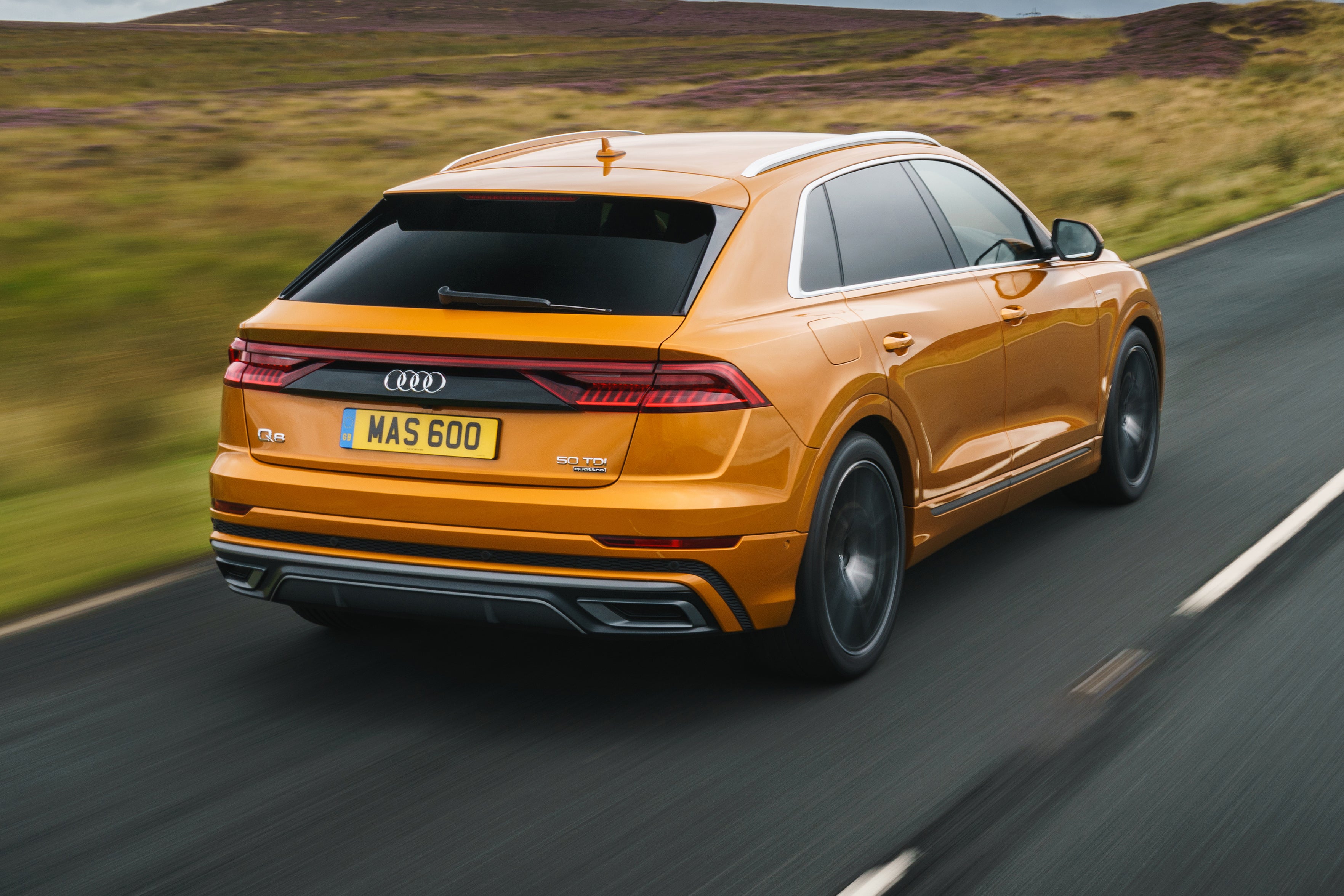 Those laboratory figures aren't too far away from those of rivals, so the Q8 is competitive, but don't go expecting to match them in the real world. Use the prodigious performance on offer on a regular basis, and your returns will tumble. This won't be a cheap car to run, then, whichever version you choose, but then again, you probably wouldn't expect it to be.
Insurance groups and costs
It's expensive and it's got big powerful engines, so it's no surprise that the Q8 will be very expensive to insure. Sure enough, most versions sit in group 50, the priciest group there is, but perhaps the biggest surprise is that some versions actually make it down as low as group 47.
VED car tax: What is the annual road tax on an Audi Q8?
You always know where you are with road tax bills on the Q8, because all versions cost the same. On the negative side, it is rather expensive. The Q8 was introduced after April 1 2017, when new rules came in that applied a flat rate of £150 for petrol and diesel cars, and a five-year surcharge of £325 was applied to cars that cost over £40,000 when new. All Q8s cost considerably more than that threshold, meaning that used buyers (having already dodged the exorbitant 'showroom tax' first-year fee that buyers of brand new examples pay) will fork out £475 between years two and six of the car's life, after which it'll divert back to the £150 annual rate.
How much should you be paying for a used Audi Q8?
"If you were to buy your Q8 brand new then, at the time of writing, the cheapest S line 55 TFSI version would've cost you around £64,000, while the most expensive regular version - the Vorsprung 50 TDI - would've set you back £84,000."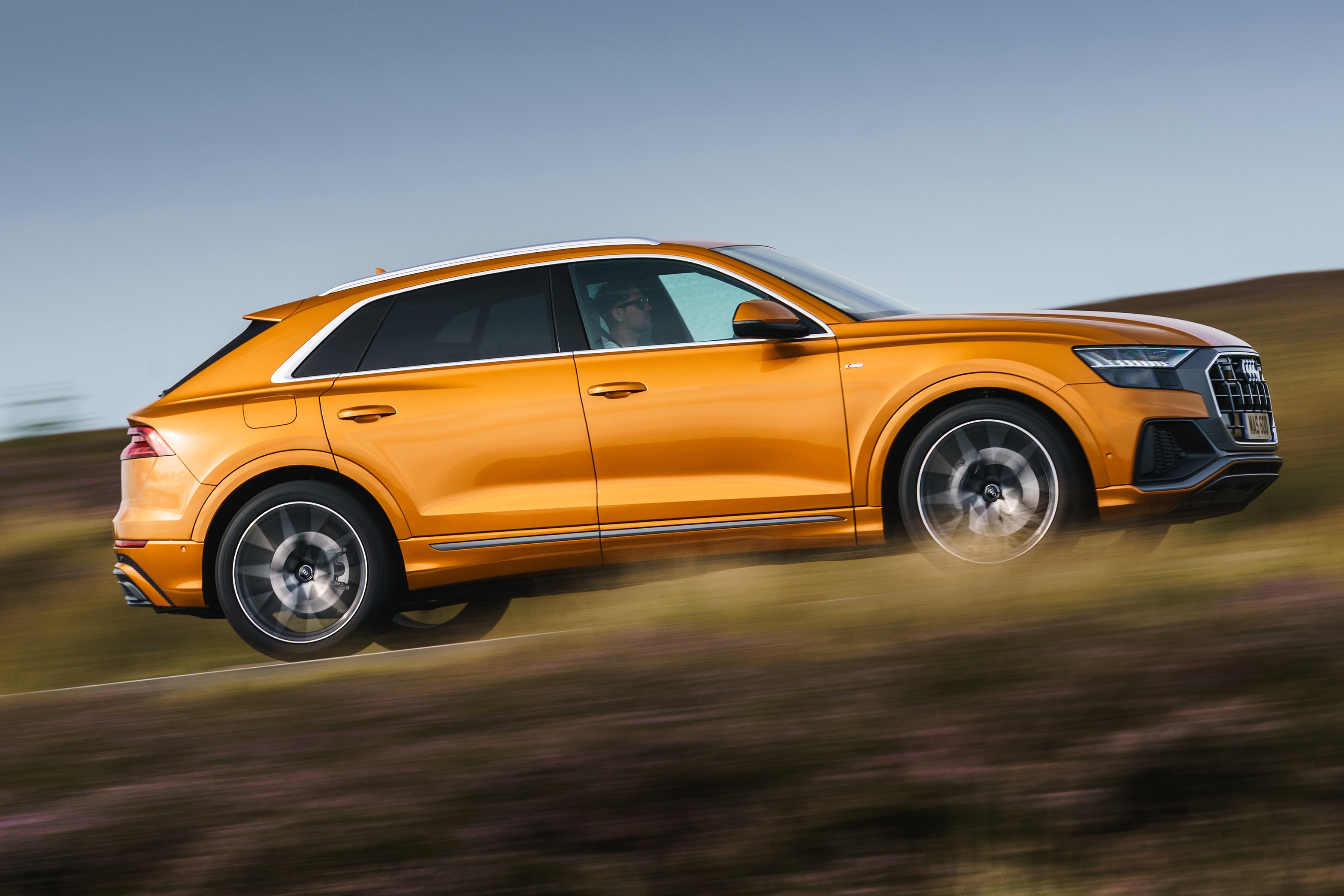 Comparing prices directly with those of rivals is a little difficult because, although they're all five-seat luxury SUVs, there are some fundamental differences across the board in terms of size, equipment levels, power and various other things.
In that respect, the Range Rover Sport is probably the Q8's most direct rival (although the comparison is still far from perfect), and prices are very similar as a result.
The BMW X5 and Mercedes GLE cost you less, while a Porsche Cayenne costs you more. However, due to how well each car holds onto its value, used car prices for the Q8 will be far closer to those of the cheaper cars than they are to the more expensive cars. Our listings show lots of very tempting-looking examples for below the £50,000 mark, in some cases, well below.
Trim levels and standard equipment
Audi's flagship SUV needs to come with enough creature comforts to make its occupants feel spoiled, and the Q8 doesn't disappoint.
The trim range starts with S line - reaffirming the Q8's sporty intentions - and this version comes with two-zone climate control, air suspension, leather upholstery, cruise control, LED ambient lighting, keyless go, heated front seats, privacy class and a powered tailgate, not to mention all the infotainment and safety gear we mentioned earlier.
The Edition 1 adds a variety of styling upgrades, but also adds a panoramic roof, heated rear seats, electric rear sunblinds and four-zone climate control. Upgrade to the Vorsprung, meanwhile, and you'll get power-closing doors, ventilated front seats with a massage function and all-wheel steering.
Ask the heycar experts:
common questions
Does the Q8 have the option for seven seats?
No. It's dramatically sloped roofline means that anyone sat in a third row of seats would lose their heads every time you close the boot, so the Q8 is a strict five-seater with a larger boot.

Is the Audi Q8 bigger than the Q7?
The bigger the number, the larger the car right? Not so, at least in the case of the Q8, which is actually a bit shorter (and a 40 millimetres lower) than the cheaper Q7 seven-seater SUV.

Answered by
heycar editorial team
How much boot space does the Q8 have?
Its svelte design does hamper practicality, since the boot is shallower and smaller than you get on the Q7, but capacity is still decent, with 605 litres of space with five seats in place. If you fold the seats then this extends out to 1,755 litres, which is more than its German rivals.

How does it compare to its rivals on price?
Just like the R8 supercar, the Q8 is a serious financial investment. But used prices for nearly new models knock a sizeable chunk off the list price, and the high level of kit means it's not too hard to find the right spec. Rival luxury SUVs from BMW and Range Rover have been around longer (so can be found with bigger discounts) but at higher mileages than the Audi.

Audi Q8 cars for sale on heycar
10,972
Number of cars available
£47K - £105K
Price bracket of these cars
Colours available on heycar
Keep me updated by email with the latest advice, news and offers from heycar
By submitting, you agree to our
privacy policy
.