heycar rating
The best all-round supercar
Best bits
Brutal straight-line performance
Powered by Audi's legendary V10
Refined and comfortable at low speeds
Not so great
Not as sharp as its rivals to drive
Frightening thirst for fuel
Early models lack essential kit
Read by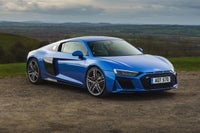 Overall verdict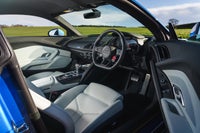 On the inside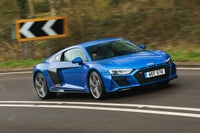 Driving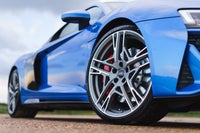 How much does it cost to run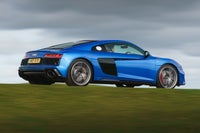 Prices, versions and specification
Overall verdict on the Audi R8
"It might not be as sharp to drive as a Porsche 911 or McLaren 570S, but the Audi R8 remains one of the most accomplished supercars on sale. Easy to use, comfortable and wonderfully refined, the R8 surpasses its rivals for everyday useability, while its vocal V10 and sophisticated four-wheel-drive system make it surprisingly easy to master."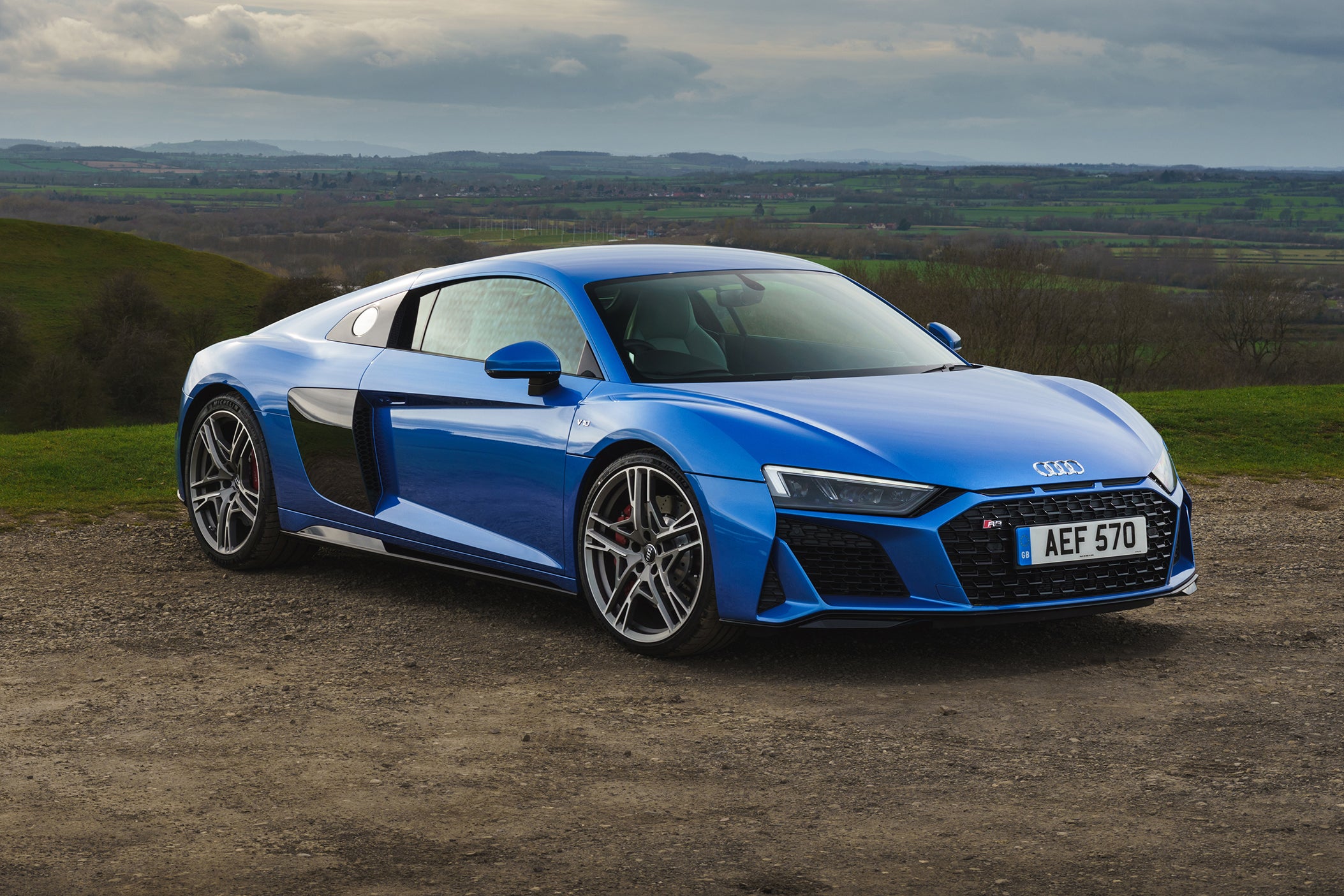 Motoring clichés are easy to come by, but every now and again a car comes along that's so brilliant that it qualifies for every stock phrase you can find. The Audi R8's one of those cars: it's revolutionary, a game-changer and it really does handle like it is on rails.
On the open road the R8 is scintillating, with outstanding acceleration and a wonderful soundtrack that builds with the revs. The V10 is theatrical, flamboyant and high-revving. It starts up with a chorus of crackles and pops plus it thunders along at sub-30mph with surprising grace.
The steering is light and responsive while the large mirrors provide excellent all-round vision. The pedal action is also refined, which means you can apply small amounts of brake or throttle in traffic, without the usual supercar jarring.
The seven-speed S tronic automatic gearbox works well with the V10, holding the gears in the corners and providing rapid changes as you push it on the straights. The R8 is fitted with a set of driving modes that let you tailor the handling and exhaust note, but there's plenty of fun to be had in even the most sedate settings.
While the steering impresses, it still lacks the precision of the Porsche 911 or McLaren 570S, which feel sharper. However, the R8 rides extremely well and will easily cope with the roughest of surfaces.
In fact, as a daily driver at urban speeds, the R8 is the best in the business and this means it's one of the best high performance cars for daily driving.
If you're looking for the convertible version, you need our Audi R8 Spyder (2017-) review.
Comfort and design: Audi R8 interior
"Audi has poured all of its everyday car knowhow into the R8. This means the dashboard is easy to read and you don't require a degree in race car engineering to start the engine or enter a postcode into the navigation."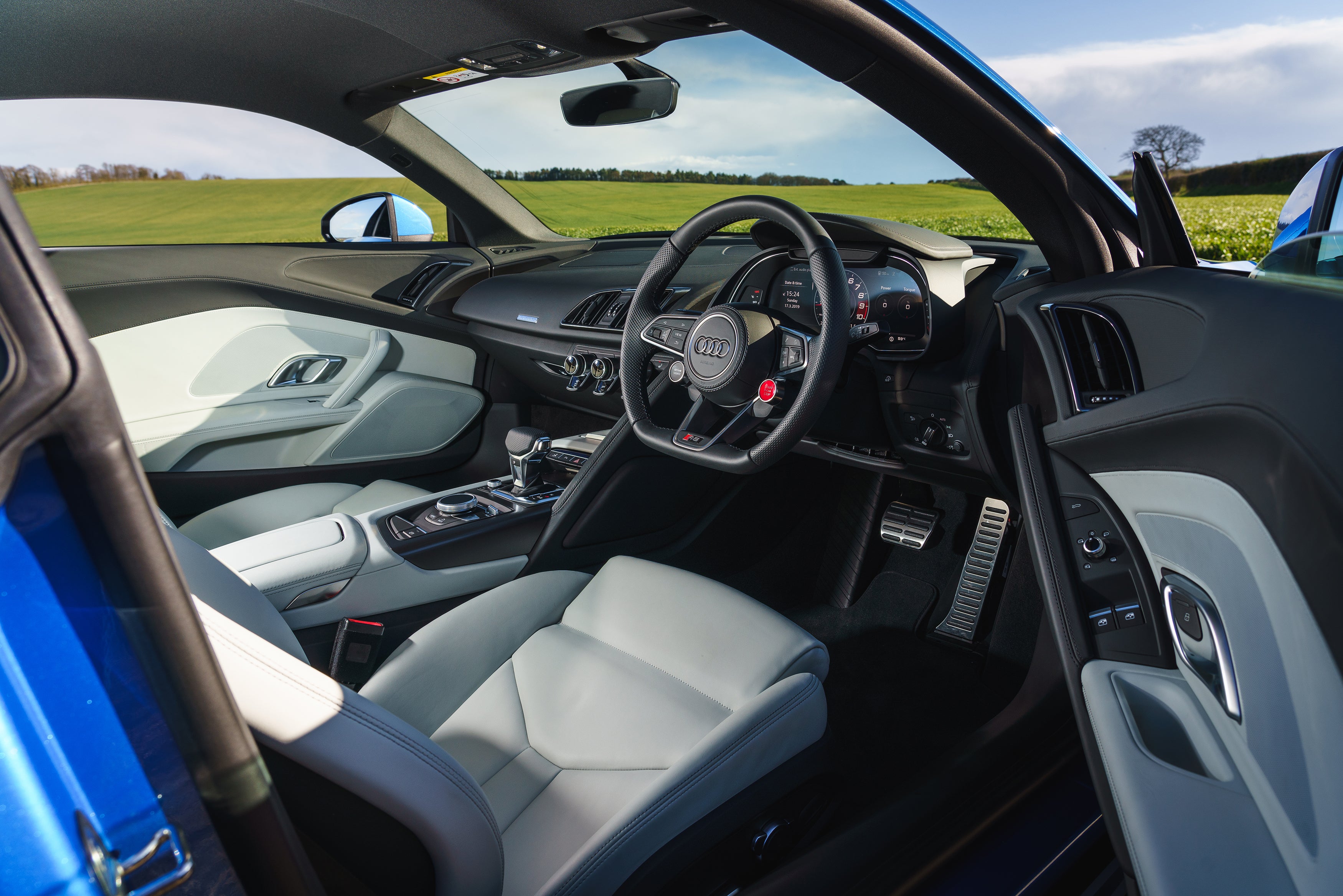 The driving position is excellent, with everything within easy reach. The steering wheel is fully adjustable and the centre console has an armrest, which makes it easy to get comfortable and reach the gear lever.
The high-spec models get the best seats for comfort, with electronic height adjustment and lots of padding for the lower back and upper leg areas. The basic seats are not bad, but some areas are quite firm and tall passengers might find them uncomfortable over a long journey.
Despite its low slung appearance, there is plenty of head and shoulder space for large adults to get comfortable. The shelf behind the seats has 226 litres and this should be sufficient to store a squishable overnight bag and a couple of jackets.
The doors are long and require a wide area to sweep open. This means it can be very difficult to get in and out of the R8 with any form of grace. There are a pair of cupholders, but the door pockets are tiny and will struggle to hold anything of use.
Handling and ride quality
"The Audi R8 is scintillating to drive. The V10 is smooth and predictable with its power delivery, while the four-wheel-drive system is rear-biased and gives the R8 the feel of a monstrous American muscle car."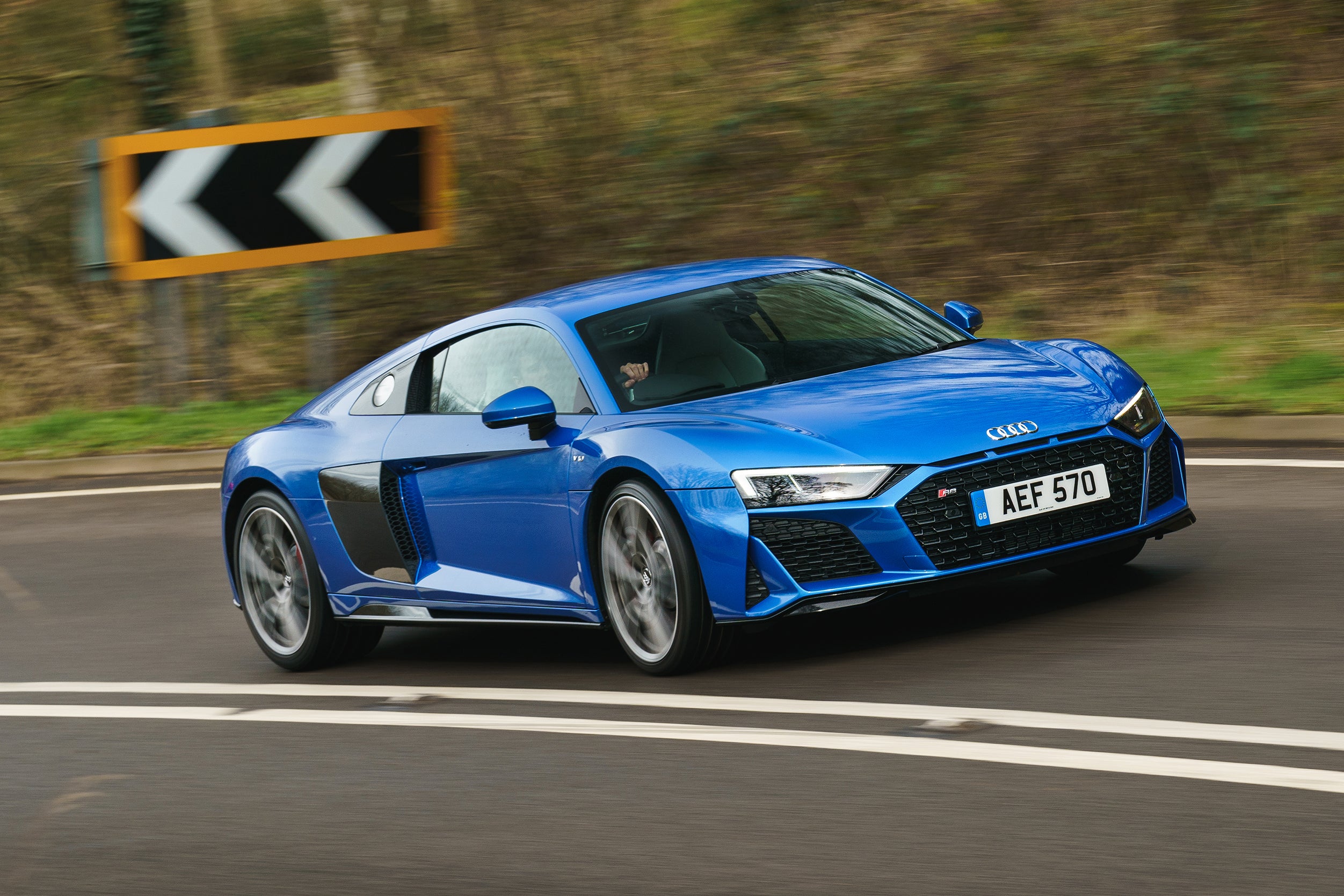 Like all high-performance track cars, the chassis is light, stiff and designed for speed. The pedals and steering are nicely weighted and this means you get a good feel for the road surface and grip.
Some might find the power steering to be slightly overweighted, which means the McLaren 570S and Porsche 911 are better for drivers who regularly take their supercars to the edge of the handling envelope, but the R8 is still one of the most accomplished supercars and only the supercar veterans will be able to pick holes in its technical ability.
The R8 shines as a daily driver. It's easy to use and wonderfully composed at urban speeds. This means you can happily pootle around town, without any nasty jolts from the throttle or heavy bounces from the suspension. You also get a comprehensive array of parking sensors, which means the R8 is easy to park at your local supermarket.
In our opinion, it's worth finding a model with the optional adaptive damper system fitted. In 'comfort' mode, we think R8 matches the smaller TT for comfort over rough roads and potholes.
As part of the mid-life 2019 update, the R8 received some subtle but important updates that make the handling sharper and more responsive. The key advancement is the introduction of dynamic steering, which lets you adjust the steering ratio (via a dial on the wheel) to make it firmer and more responsive.
MPG and fuel costs
"The 5.2-litre V10 has a frightening thirst for fuel, which means you'll be on first name terms with the staff at your local petrol station."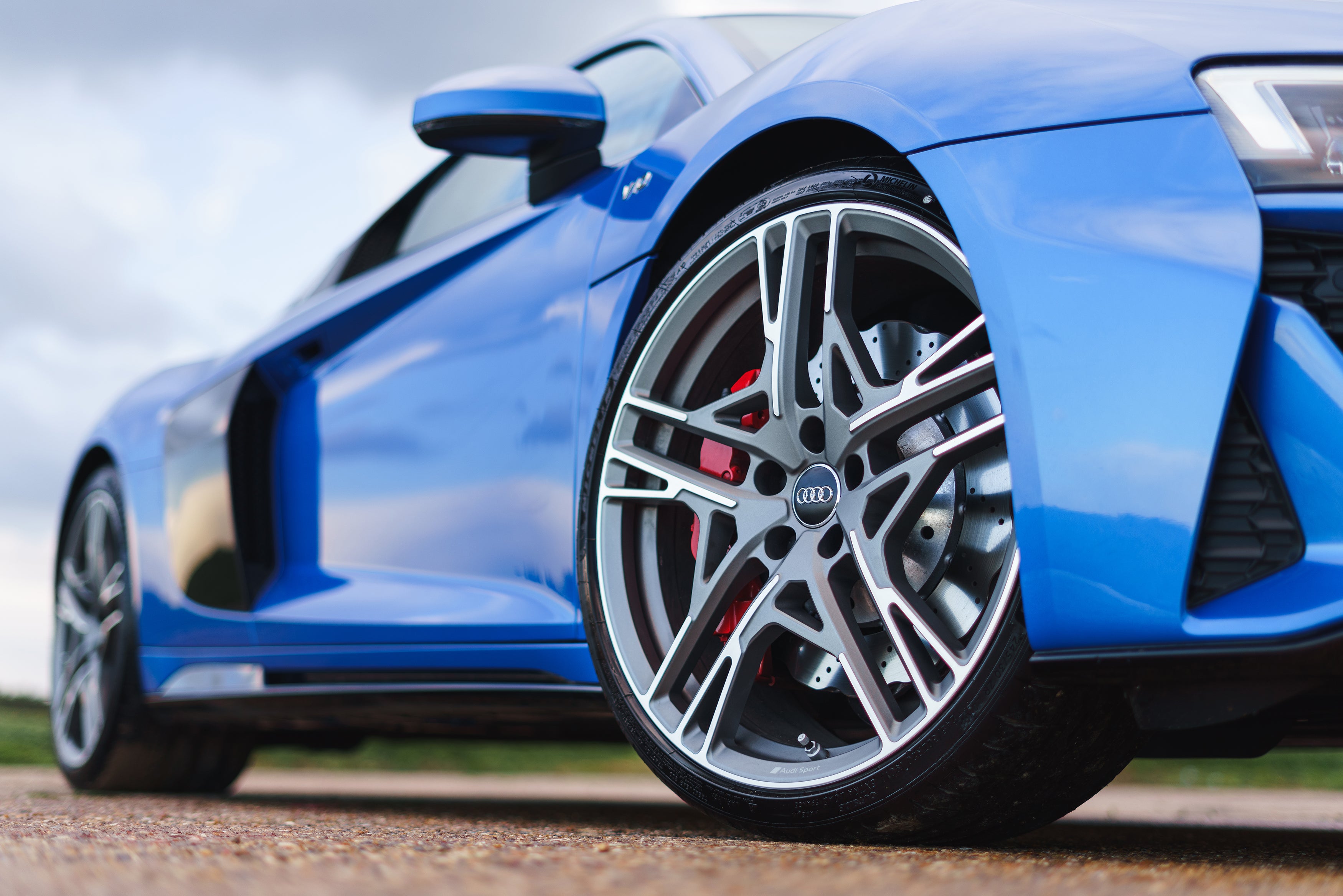 Entry-level models are advertised with 25mpg, while the track-focused V10 Plus and Performance models will officially return up to 22mpg.
These figures are generally true on the motorway, with cruise control activated, but in reality the R8 will struggle to surpass 20mpg on the open road. Spirited drivers will easily get the mpg down to single figures.
How much should you be paying for a used Audi R8?
"Supercars by their nature have a tendency to be super expensive, and the Audi R8 is no exception. A new rear-wheel drive R8 starts at £113,000, while the range-topping V10 Performance quattro will easily set you back £140,000."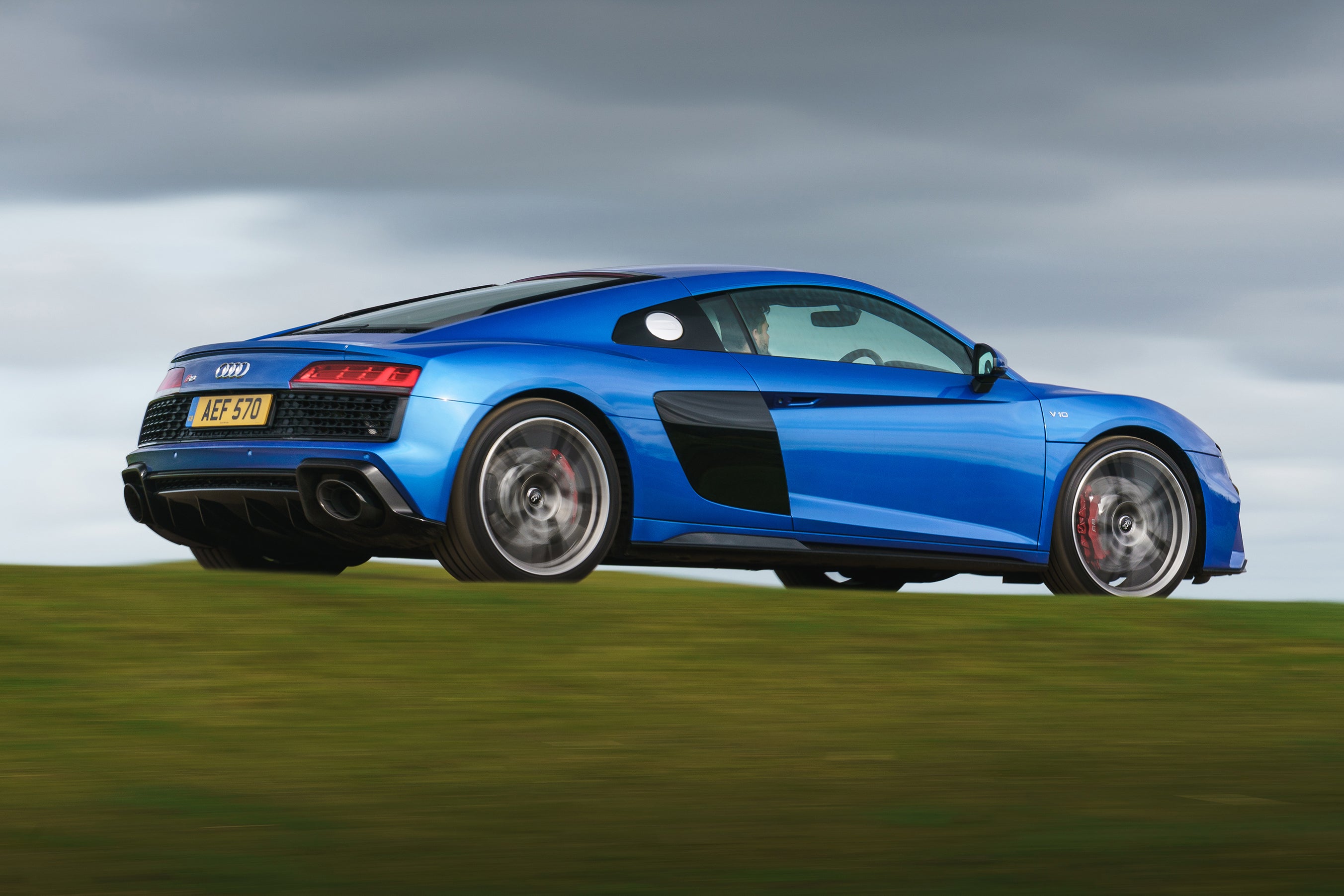 Buying used, most adverts for a 12-month old V10 quattro are between £110,000 and £125,000, while two-year-old examples start at £84,000.
The oldest examples of the second-generation R8 date from 2015. These start in the region of £57,000 and peak at £80,000, depending on mileage and condition.
Ready to get your top quality Audi R8?
All cars come with a warranty
Selected dealers only
All quality checked
Audi R8
5.2 FSI V10 Quattro Perform Carbon Bk 2dr S Tronic
Manufacturer Approved
Sinclair Audi Swansea

Glamorgan, SA18QY
PCP: £1,780.83/mo
Representative example: Contract Length: 36 months, 35 Monthly Payments: £1,780.83, Customer Deposit: £20,325.00, Total Deposit: £20,325.00, Optional Final Payment: £71,711.25, Total Charge For Credit: £18,865.30, Total Amount Payable: £154,365.30, Representative APR: 6.9%, Interest Rate (Fixed): 6.9%, Excess Mileage Charge: 72ppm, Mileage Per Annum: 10,000
Audi R8
5.2 Fsi V10 Quattro 2Dr S Tronic
Manufacturer Approved
Sinclair Audi Swansea

Glamorgan, SA18QY
PCP: £1,822.04/mo
Representative example: Contract Length: 36 months, 35 Monthly Payments: £1,822.04, Customer Deposit: £17,925.00, Total Deposit: £17,925.00, Optional Final Payment: £58,387.50, Total Charge For Credit: £20,583.90, Total Amount Payable: £140,083.90, Representative APR: 8.8%, Interest Rate (Fixed): 8.84%, Excess Mileage Charge: 72ppm, Mileage Per Annum: 10,000
Is the Audi R8 right for you?
The Audi R8 is a very fast but forgiving supercar. All versions are easy to drive, well-equipped and comfortable over long journeys.
If you're unfamiliar with the performance and handling characteristics of 200mph high-performance vehicles then the R8 will be a good place to start. The cabin is luxurious, spacious and easy to use. Top-spec models get a comprehensive package of parking sensors and cameras, which means you won't have to spend 15 minutes trying to successfully park at your local supermarket.
The naturally aspirated 5.2-litre V10 engine may look and sound intimidating, but this engine is one of the most predictable high-performance engines on the market. The power delivery is smooth and predictable, while the seven-speed automatic gearbox is smart and will not hesitate on either the up or downshift.
The R8 doesn't feel as cutting edge as its rivals at speed: the steering is slightly overpowered and the four-wheel-drive system can make it difficult to explore the car's limits. The four-wheel-drive system provides mind-boggling levels of grip, but it has its limits and only veteran drivers will be able to read the minute tell-tale signs of when they are being surpassed.
However, for everyday comfort and easy to use, we rate the R8 as the best all-round supercar.
What's the best R8 model/engine to choose?
The Audi R8 is unlikely to disappoint. It's fantastic to drive, brutality fast and comfort for everyday driving. However, if you want to get the most out of your R8 experience, we'd encourage you to buy one of the facelifted models (sold from 2019 onwards).
The mid-life update provides higher levels of standard equipment and important tweaks to the suspension and steering. Audi's 'virtual cockpit' system also became a standard, replacing the traditional instrument dials with a 12-inch HD screen.
The V10 is offered with two outputs, with the range-topping models getting the most power. Owing to its higher equipment levels and enhanced exterior styling, we think the V10 Plus/Performance versions provide the best R8 experience.
What other cars are similar to the Audi R8?
The Porsche 911, McLaren 570S and Honda NSX are all key rivals to the Audi R8. Both the Porsche and McLaren are sharper and more involving to drive, while the Honda has lower fuel costs due to its hybrid powertrain.
The R8 is easier to live with on a day-to-day basis, with its refined low-speed handling and useful driver tech making it easier to use. Audi's comprehensive parking assistance package (fitted as standard) makes parking a breeze.
If you want a comfortable supercar with a luxurious interior then the Audi R8 will probably be the car for you. The R8's cabin is far superior to the 911, 570S and NSX, with higher quality materials used throughout. Audi's infotainment system is also head and shoulders about anything that's produced by Porsche, McLaren and Honda right now.
Quality and finish
The quality of the cabin is one of the best in the supercar segment. The fit and finish is excellent and on par with anything else in Audi's line-up.
The low roofline and wrap-around dashboard cocoons the driver and passenger, but never feels claustrophobic. The dashboard is covered with a sea of soft-touch leathers and plastics, while the door pillars are covered in a high-quality suede cloth.
The steering wheel is a particular highlight on post-2019 models, with a large starter button on the lower part of the flat bottomed wheel. The outer edge of the steering wheel and gear lever is covered in a grippy microfiber suede material that adds to the race car feel.
Infotainment
The Audi R8 has one of the best infotainment systems of any supercar. All versions get a sophisticated navigation system as standard, along with DAB audio and Apple CarPlay/Android Auto compatibility.
Audi's 'virtual cockpit' replaces the traditional instrument binnacle with a 12.3-inch display with pin-sharp graphics. This lets you toggle between different display modes and also adjust the digital instrument cluster to suit your driving mood.
At launch, the virtual cockpit system was only fitted as standard to V10 Plus models. However, as part of the mid-life update in 2019, it was added to all models as standard. We wouldn't buy an R8 without it.
Most of the infotainment controls are operated via buttons and wheels on the steering wheel. There is also a rotary dial with a finger pad in the centre console. However, unlike the 911 and 570S, there isn't a central infotainment screen on the dashboard.
Space and practicality
Supercars seldom win awards for practicality and the Audi R8 is no exception. The 112-litre boot is large enough for a couple of cabin bags, but little else.
There's some storage space and a shelf behind the seats in the cabin, which means you can squeeze a soft overnight bag into the interior. But the R8 isn't a car that'll cater for those who require lots of luggage.
There is space for a couple of cups in the centre storage box. There is also a pocket at the lower part of each door, but the space is small and only suitable for loose change or loose scraps of paper.
Engines and gearboxes
There isn't much choice when it comes to engines. The Audi R8 is limited to a naturally-aspirated 5.2-litre petrol V10. This isn't a problem, however, because this V10 is quite simply one of the greatest engines ever built.
The V10 shares 50% of its components with the legendary R8 LMS GT3 race car. This means you get a genuine hand-built legend. And it shows in the numbers, with top-spec models capable of reaching 205mph.
At launch, the V10's output was split between 540PS and 610PS. The 0-62mph sprint takes 3.5 seconds (3.2 for the V10 Plus) and peak power is delivered at 8100rpm, which means the V10 has a high-revving nature.
In 2019, the V10 received a power upgrade as part of its mid-life update. The entry-model was uprated by 30PS ( to 570PS) while Audi rebranded the V10 Plus as 'V10 Performance' and received an extra 10PS, taking its total output to 620PS.
Power is fed to the quattro all-wheel-drive system via a seven-speed dual-clutch automatic gearbox - there's no manual gearbox option. The driver can manually select the gears via steering wheel mounted paddles.
A rear-wheel-drive version of the R8 was added as a special edition model in late-2018 and became a permanent part of the model line-up in mid-2019. The R8 RWD uses the same engine and gearbox as the coupe, but uses a limited-slip differential on the rear axle to maximise rear-wheel drive traction.
Refinement and noise levels
Supercars don't traditionally rate highly for refinement, with carmakers happy to sacrifice noise suppressing materials for lightness and speed. However, while the R8 might be a noisy brute, it fares better than many of its supercar rivals for general refinement.
The cabin quality's on par with anything from Audi's luxury car range, with low levels of ambient road and wind noise. Very little heat or vibration is transferred to the cabin from the R8's huge V10 engine, which is located behind the passenger compartment.
This is particularly noticeable when driving the R8 through heavy traffic; a situation where the mid-engine layout will usually cook up the interior as the engine heats up.
The Audi R8 is not a quiet car, though. The naturally aspirated ten-cylinder V10 will wake your neighbours in the morning, as it barks into life. And even the lightest touch on the throttle will prompt the ten-cylinder into a deep burble that'll rattle nearby windows.
Things do quieten down on the motorway, with the V10 ticking over at 2500rpm, but the low-din of the engine is ever-present. Some drivers and passengers will find the harsh engine noise tiring over a two- or three-hour journey.
Safety equipment
The R8's bodyshell is constructed from a combination of aluminium and carbon fibre, which makes it lightweight and extremely strong. Audi has never submitted the R8 for Euro NCAP testing, but all models get driver, passenger and side-impact airbags, along with a seatbelt pre-tensioner system that's designed to mitigate whiplash-type injuries.
Then R8 gets the usual mixture of high-performance ABS and electronic stability control systems, which will tame the 5.2-litre V10 engine when roads are challenging in wet or wintery weather conditions.
However, while top-spec cars get a comprehensive array of parking aids and cameras, there is no blind-spot monitoring system. Autonomous emergency braking isn't offered, either.
All versions get a set of ISOFIX anchor points for the passenger seat, which means you can fit a child seat. The front passenger airbag can also be deactivated, which lets you carry a child seat facing backwards.
There is no spare wheel of any kind in the R8, but a tyre repair kit is available if you do suffer a puncture. A first aid kit can also be supplied with the car, as an options extra.
Insurance groups and costs
The R8 is the fastest and most desirable car in the Audi range. This means all versions sit in Group 50 for car insurance. It pays to use a specialist supercar broker to find the most comprehensive cover, as sometimes the cheapest deals will also have the highest excess costs. Owing to its colossal tailpipe emissions, the R8's BIK rate is 37% across the range.
VED car tax
The naturally aspirated 5.2-litre V10 in the R8 isn't what you'd describe as an 'eco-friendly' engine. In fact, with CO2 emissions exceeding 300g/km, the R8 is among the most polluting cars on the road.
The highest road tax costs are for models registered between 2015 and 2017 - these fall into the old CO2 based VED system, of which the R8 sits in the highest band (M) which means you'll be looking at £600 for 12 month's VED.
Things are slightly better for cars registered after 1 April 2017. These models are taxed against the newer VED system which employs a flat rate for all petrol and diesel cars. This means you'll be looking at £475 per year.
When the car reaches six years of age the £40,000 premium rate is dropped and this lowers annual VED for the Audi R8 V10 to just £150 per year. So it pays to find a car that qualifies for the newer 2017 VED system.
Trim levels and standard equipment
Given its supercar status, it won't surprise you to hear that all versions of the Audi R8 are well-equipped as standard.
Luxury features, like LED headlights, 19-inch aluminium wheels, metallic paint and leather seats are fitted as standard. The cabin features leather heated sports seats with electric adjustment (as standard) along with automatic air conditioning and a fully digital instrument display.
However, if you want height-adjustable seats, you'll need to buy the V10 Plus model, which also adds bucket sport seats and stainless steel pedals. Cruise control is also added, but strangely there is no adaptive cruise control option.
Range-topping models get some notable exterior upgrades, with a carbon fibre front spoiler and a large fixed rear spoiler replacing the hydraulic adjustable system used on the 'standard' R8. V10 Plus models also get ceramic brakes, in place of the steel discs used in the entry-level model.
The R8 was given a comprehensive update in 2019, with Audi's virtual cockpit system fitted as standard. The V10 Plus was also rebranded as V10 Performance and given 20-inch wheels and a new multifunction steering wheel with a built-in starter button.
Over the years Audi has launched a number of special editions for the R8, with most getting 20-inch wheels and a multitude of aerodynamic tweaks to sharpen the styling and race track performance.
The most exclusive edition of the R8 is the 10 Plus Selection 24h, which was commissioned to celebrate the R8 LMS GT3 car's 300th victory. Just 24 examples were built, with each features an exclusive tricolour paint finish and track-focused interior.
Rear-wheel-drive models were added to the R8 range in 2019. These can be identified by the larger front grille and rear diffuser. The side blades (the bits of coloured bodywork that sit behind the door and window) are also finished in a glossy mythos black, while the bottom blade is painted in the colour of the vehicle.
Learn more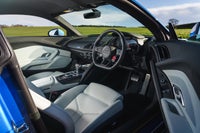 On the inside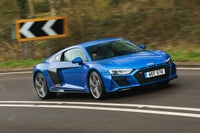 Driving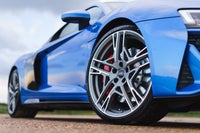 How much does it cost to run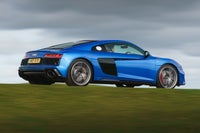 Prices, versions and specification
Ask the heycar experts:
common questions
Is the Audi R8 a good car?
Very much so, although did we don't expect anything less from a company like Audi. The R8 is good because it's comfortable and refined enough to use every day but also astonishingly quick.

How fast does an Audi R8 go?
None of them are slow, but the quickest will get you to 62mph from standstill in 3.1 seconds.

Is the Audi R8 a supercar?
While the car it's based on - the Lamborghini Huracan is a nailed on supercar - some would say the Audi badge disqualifies the R8 from being a supercar. We don't agree - the R8 is the supercar you can live with every day.

Answered by
heycar editorial team
What makes the Audi R8 special?
It's a two-seater sports car that has a V10 engine mounted amidships. It's arguably one of the only supercars you can stop off at Tescos with to pick up a few things up on your way back from giving it a damn-good thrashing on track.

Answered by
Russell Campbell
Reviews of similar cars
Quality checked, all cars less than 8 years old and warranty included
Looking for other Audi cars?
Quality checked, all cars less than 8 years old and warranty included