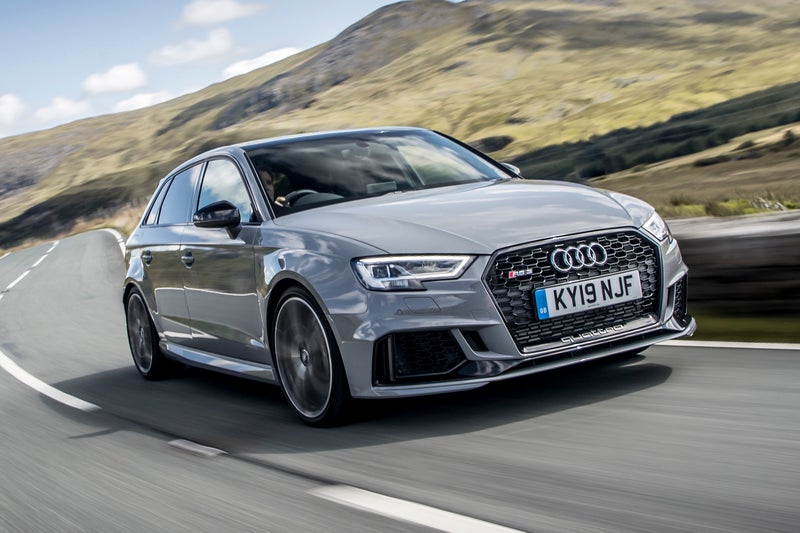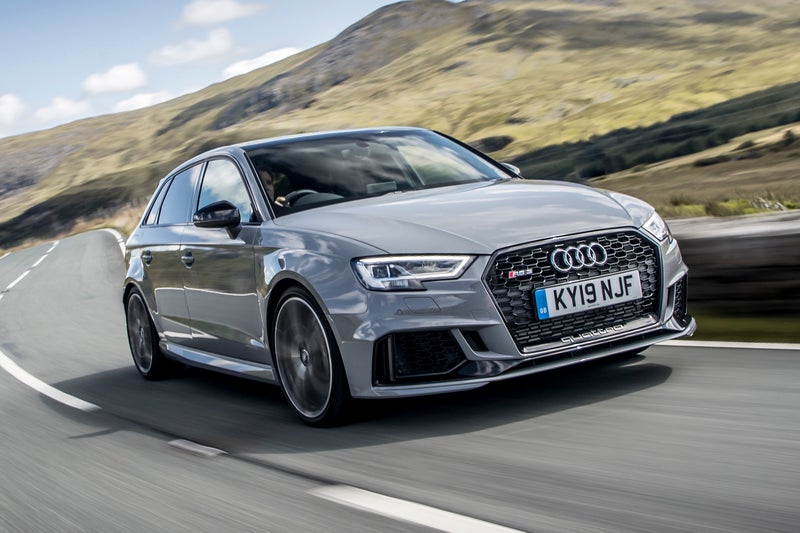 1/10
heycar rating
"Power mad premium hot hatch"
Launched: 2015

Hot hatch

Petrol
Quick overview
Pros
Outrageous performance
Practical interior
Raucous exhaust note
Cons
Thirsty five-cylinder engine
Very expensive to buy
Numb handling
Overall verdict
On the inside
Driving
Cost to run
Prices and Specs
Common questions
Overall verdict on the Audi RS3
"The idea behind a hot hatch is simple enough. Take any ordinary family car, give it a little more power and cooler styling than standard, and fine-tune the handling to make it a smidgen more fun to drive. The Audi RS3 takes this basic concept and stretches it to breaking point - with sports-car rivalling pace and a price to match."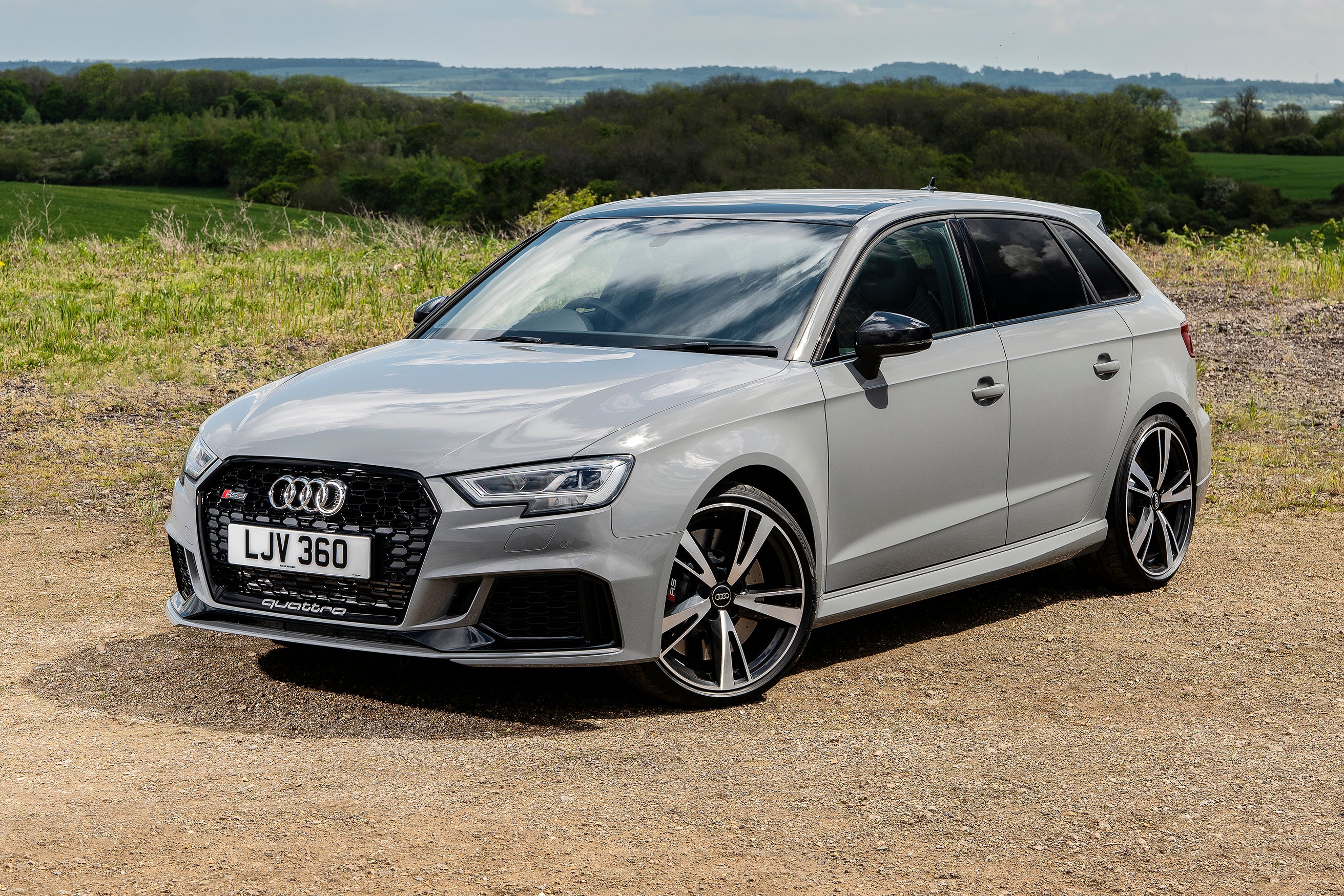 Based on the old Audi A3 Sportback, this range-topping flagship feels like its on borrowed time, a dinosaur from an age where buyers were more interested in stratospheric power figures than the lowest CO2 emissions. That said, there's a new model on the way and it uses the same glorious engine.
Launched in 2015 with 367PS, it was the fastest accelerating hot hatch we'd ever seen, and retook that title in 2017 after a mid-life facelift that boosted its power, lightened its engine and improved its numb handling. This nip-and-tuck also introduced more standard kit, and a new sleeker body style too: The RS3 Saloon.
As with all of Audi's flagship models the RS3 comes with a solitary engine option, but it's a real firecracker. It produces a staggering 400PS and 480Nm of torque, but brings a lot more to the party than just performance.
An unusual five-cylinder layout and above average 2.5-litre capacity make it feel brawnier (and sound better) than most of its four-cylinder hot hatch rivals, and the fantastically raucous noise it generates is addictive.
Predictably, it comes with a standard quattro four-wheel drive system to help marshal all that power into real straight-line speed, and sends the propulsive force to each corner via a seven-speed dual-clutch gearbox.
Bring those attributes together and you have a car that is shockingly fast at covering ground in all types of weather. The unshakeable cornering grip, decent composure (on the optional adaptive suspension) and the glorious soundtrack from the oval sports exhausts make the RS3 feel every bit as extreme as its RS siblings.
Yet this is no white-knuckle ride. Despite its bombastic engine and rampant power delivery, the RS3 still feels like a family hatchback to drive. The steering is light, the gearbox is smooth, and it won't intimidate its driver.
Some buyers want their high-performance machines to provide a challenge, to reward them for skilful inputs and scare them when they get it wrong. This is not the car for them, and a BMW M2 Competition, or even the cheaper Honda Civic Type R provide the same outrageous point-to-point speed in a more engaging way.
Still, the Honda is not exactly what we'd call subtle, and one of the RS3's main strengths lies in its relatively restrained looks and classy cabin. There aren't many cars at this price that let you fly under the radar so well.
In Sportback five-door form it's almost as practical as a normal A3, and its interior is just as beautifully made.
So the Audi RS3 is not only faster than most of its hot hatch peers but also easier to live with everyday. It also has one of the best cabins - with almost all the standard equipment you could possibly need. However, if you add a few tasty options this is a £50,000 car and all the major running costs will be comparably senior.
That high price just seems impossible to justify, if only shaving a few fractions of a second from the performance figures, especially when the cheaper S3 Sportback delivers such a similar driving experience for much less.
Is the Audi RS3 right for you?
If you are the type of person who scans straight to the bottom of every wine list, ticks every option box, and enjoys going for a seven-course tasting menu instead of the pre-theatre special, the RS3 is definitely for you.
Putting supercar-like performance into a sensible family hatchback is conspicuous consumption alright, but for a time, the RS3 held the title of being the fastest, most expensive five-door money could buy. It's since been usurped from its throne as the hot hatch king by the Mercedes A 45 S, losing some of its raison d'être.
Its brilliant engine remains a compelling reason to buy one over and above the already very fast S3, but you can get the same 2.5-litre stick of dynamite in the considerably sportier TT RS for similar money. In fact, for the £50,000 or so you'll need to afford one, there's a lot of fast and very desirable machinery to choose from.
Nevertheless, most of these rivals will not be able to play the Jekyll and Hyde roles of ballistic road missile and sensible shopping car quite like the RS3 Sportback - it's a really unique car. Excessive, but charming.
What's the best Audi RS3 model/engine to choose?
Originally Audi offered the RS3 as a Sportback - brand speak for five-door hatch - but from 2017 buyers were given the choice of a four-door saloon. Both feature the same stonking 2.5-litre engine and S tronic gearbox.
Picking between them may be as subjective as deciding which you think looks the best. The RS3 saloon has a lower roofline, wider rear track and a more streamlined profile, where the Sportback looks a bit stubbier.
The tradeoff is in practicality. The boot is around 20 litres smaller in the saloon, with reduced access due to the absence of a hatchback tailgate. The load bay is actually a bit longer than the Sportback's but shallower.
We'd pick the flexibility of the hatch over the saloon (and save ourselves a grand in the process) but if you tend to drive solo and storage space isn't a big priority, the saloon is a little rarer, giving it an air of exclusivity.
There are no trim levels as such, but Audi does offer a - confusingly named - Audi Sport Edition. It's similar to the Black Edition on other models in the range, with cosmetic styling tweaks, plus a smattering of extra kit. A sunroof, carbon fibre cabin trim, and Super Sport seats with quilted Nappa leather are the main highlights. However, since the standard car is £4,000 cheaper and nearly as well equipped, it's definitely not worth it.
What other cars are similar to the Audi RS3?
Audi and Mercedes have been locked in a literal power struggle to produce the most extreme hot hatch ever, and this fierce competition has created one clear rival with a big title: The Mercedes-AMG A45 S 4MATIC Plus - the high performance version of the Mercedes A-Class.
Unbelievably, it's even quicker than the RS3, producing 421PS from a smaller 2.0-litre engine. It'll sprint from 0-62mph in under four seconds, and like the Audi, it has a four-wheel drive system to help it deploy that grunt. It's also more expensive, but a recent facelift means the flagship A-Class looks and feels very modern inside.
Buyers less interested in bragging rights and more concerned with driving dynamics will prefer the BMW M2. Its six-cylinder engine is just as characterful (and thirsty) as the RS3's but a rear-drive layout and the option to have a manual gearbox make it more engaging on a B-road blast than either of its German competitors.
Of course, if you want a powerful, usable four-wheel drive hot hatch then a Volkswagen Golf R provides a very similar driving experience at a far lower price, even if it can't match the RS3's overtly aggressive image.
Comfort and design: Audi RS3 interior
"You'll have no trouble at all getting comfortable in the RS3. The seats are mounted a little higher than in cars such as the Mercedes A 45 S, but offer good support, with manual adjustment for both height and leg length."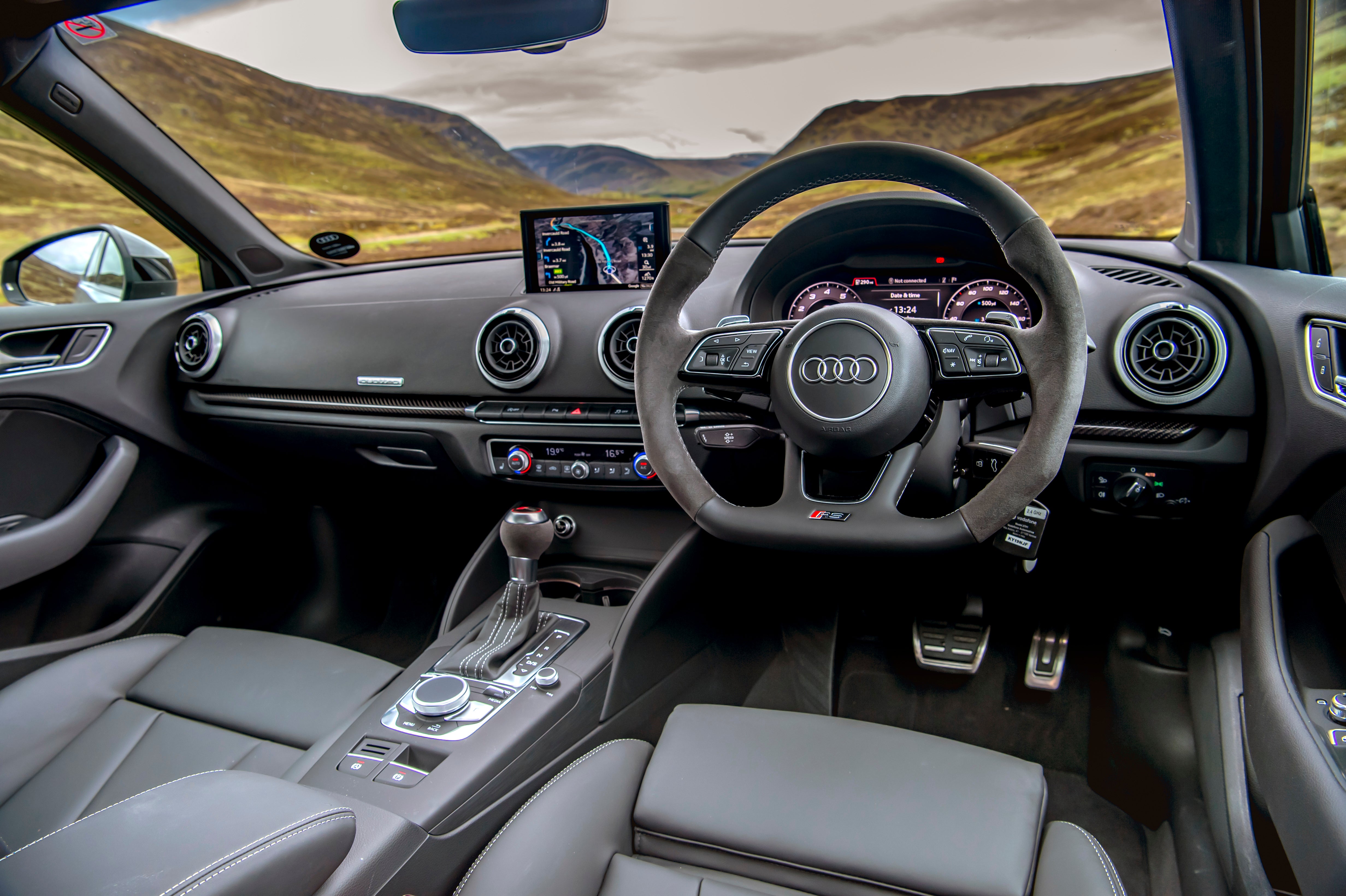 The Super Sport items in the Audi Sport Edition have wider backs with integrated headrests and plush nappa leather, and will hold you in place better when cornering really hard, but both are comfy enough for daily use.
Ergonomically speaking, this interior is close to perfect. Many hot hatches get far too caught up in draping their cabins in flashy go-faster extras, but the RS3's is classy and restrained, so it's much simpler to use. The switches are clearly labelled, and grouped together by function. Rest a hand on the gear selector and you'll be within easy reach of all the climate controls, or be able to quickly rotate the infotainment controller.
Neat solutions like the electronic handbrake and a central display screen that slides into the dash when not in use mean there's no unnecessary clutter. It's just a shame that modern touchscreens don't do the same.
Quality and finish
The regular Audi A3 that this car shares its cabin with is old now - but the interior feels far from worn out. In fact, it's still plusher than most of its rivals inside, which is a testament to the quality of the materials on show.
There are soft plastics, stylish chrome accents on the prominent air vents and climate control switches, and enough bespoke touches to remind you that you're in the full-fat model. The flat-bottomed steering wheel is lovely to hold - trimmed in a combination of leather and suede - and there are RS logos in the headrests.
Build quality is superb. Everything inside fits together with precision, and nothing creaks or feels hollow if you rap it with your knuckles. It's hard to find any evidence of cost-cutting, and if this cabin wasn't quite so close to the standard A3's we might be tempted to say that it feels worthy of this car's shockingly high asking price.
Some buyers might find things a bit sombre in the RS3, but you can change the colour of the headliner or add racy red stitching to the leather upholstery if you so wish. You can also swap out the slender trim insert in the dash for brushed aluminium (£295) or carbon fibre (£850) instead, but it's still subtler than an A 45 S.
Infotainment: Touchscreen, USB, nav and stereo in the Audi RS3
The RS3 comes with an entertainment system that is now several generations behind Audi's latest models. Where the brand's newer cars have monolithic touchscreens that gently vibrate as you push them, the RS3 makes do with a 7.0-inch central display that rises from a hidden slot in the dash when you start the engine.
Still, while the graphics might not be as pin-sharp as on the latest systems, it is easier to use while you're on the move, since you navigate the various menus using a wide rotary dial mounted right behind the gearstick.
Audi's excellent Virtual Cockpit display is fitted as standard on the post-facelift version. It doubles up on map duties with the main screen, with a 12.3-inch screen set behind the steering wheel. It shows your speed, revs and current route in the satellite navigation system, which also comes included in the RS3's equipment list.
It even has a special mode unique to RS models, with a huge rev counter flanked by power, torque and G force readouts. We'll admit it's a bit of a gimmick, but means this ageing car can still feel modern and slick. A more useful standard feature is Apple CarPlay and Android Auto smartphone connectivity, which lets you use your favourite apps like Spotify, Waze and Google Maps directly through the car's two built-in screens.
It comes with a sim-card to give you online services like real-time traffic info, and a wireless charging tray for your phone, meaning you don't need to clutter up the neat cabin with USB cables. The system in a Mercedes A-Class certainly looks more cutting-edge, but for usability we'd argue that the Audi's MMI setup is better.
Space and practicality: Audi RS3 boot space
In keeping with hot hatch tradition, the RS3 gives away very little practicality in its pursuit of performance. If you wanted to use it as a family car, it would perform that task almost as well as the standard A3 Sportback.
Due to tight packaging issues with the four-wheel drive system, the 335-litre boot has less capacity than the 380 litres in the standard car (and 370-litre luggage bay in the Mercedes A 45) but it's a usable, wide shape. It has a height adjustable floor that reduces the loading lip, and with the rear seats folded (they split 60:40) it ensures the load bay floor sits flush with the seat backs, letting you slide heavier items all the way inside.
The RS3 Saloon is more expensive, but can't match the five-door when it comes to carrying luggage. It might only give away 20 litres of overall boot volume, the opening is nowhere near as wide, and it's shallower too.
Choosing the saloon also has an impact on your passengers. They get the same decent rear legroom as in the Sportback, but the four-door's low roof eats into headroom, so taller adults will be brushing the headliner. The RS3 is great for carrying four people comfortably, but trying to squeeze three in the rear row is trickier.
Both versions have Isofix anchor points for fitting a child seat. They're easily accessible, and because the rear doors open nice and wide, you won't have any trouble manoeuvring the base or mounting the seat itself. Up front, there is more than enough space to stretch out, and visibility is excellent (but parking sensors are fitted as standard should you need them) and lots of places to chuck a water bottle, snacks or even an iPad.
The RS3 comes with the storage pack fitted as standard too, which means you get elasticated nets behind the front seat backs, and an extra cubby beneath the rear bench. It also gives you a luggage net in the boot, very handy for keeping the eggs intact when you decide to take the long route home from the local shop.
Handling and ride quality: What is the Audi RS3 like to drive?
"The overriding sensation you get from driving an RS3 is how easy this car is to drive fast. Machines with this much performance usually come with a certain level of intimidation attached, but the Audi is a real soft-touch."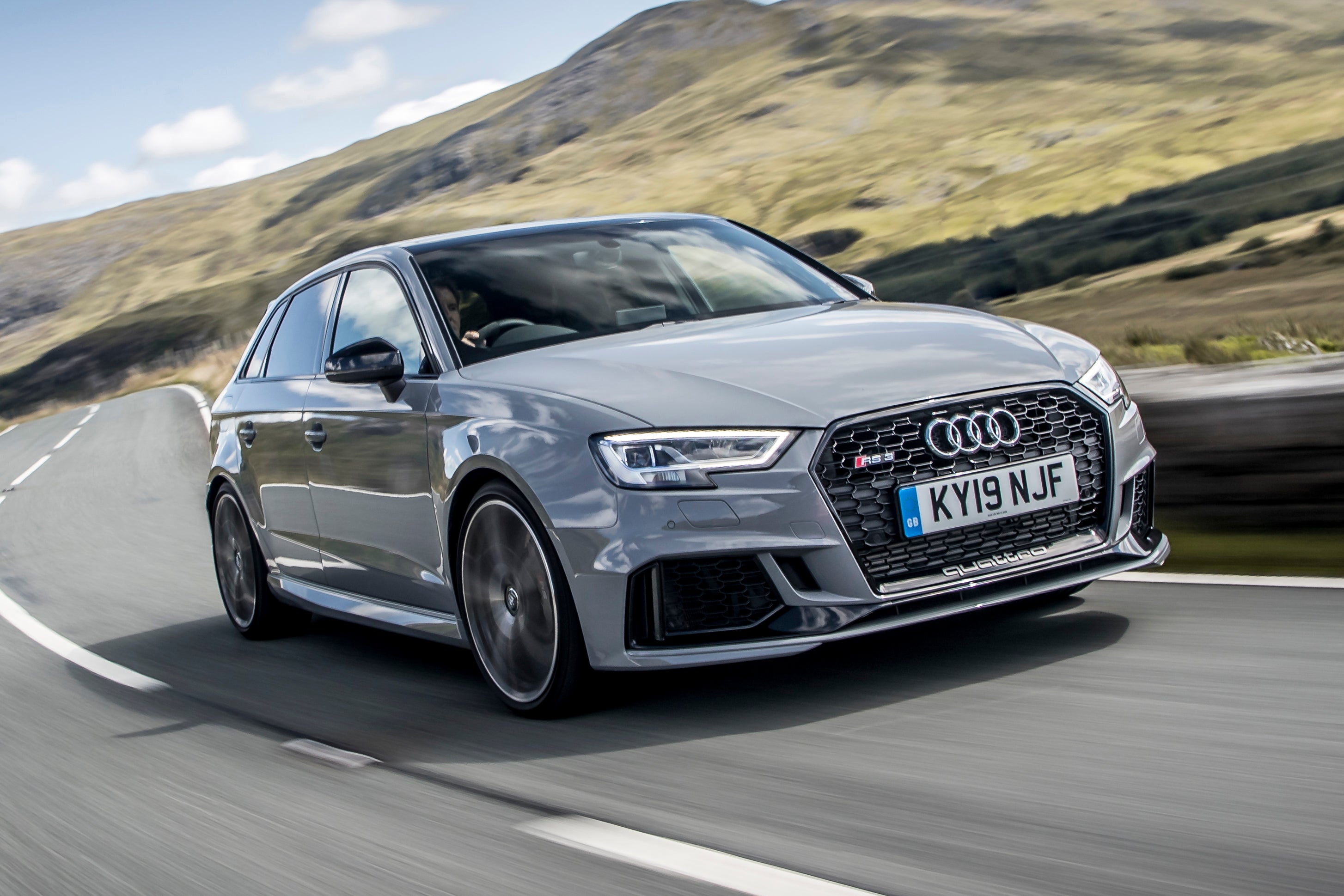 There are two reasons for this. The first is the quattro four-wheel drive system, which provides so much grip that you soon have total confidence in the car's ability to stick firmly to your chosen line, no matter the speed. It can shuffle power around between the front and rear wheels if required, but you'll rarely feel this working, and it simply means that in greasy or wet conditions there are very few cars that will be faster from A-to-B.
The second is the well sorted suspension. The RS3 is lowered by 25mm compared to the standard A3, and given its own specific tune to cope with the extra weight of its big engine and all-wheel drive paraphernalia.
It's pretty hard at low speed, and if you catch one of the 19-inch wheels on the edge of a rut you'll certainly know about it. However, while it makes you aware of bumps in the road, it doesn't crash over them either. That composure becomes even more important when you're driving the car quickly, reassuring the driver that the RS3 won't lose its stability if you suddenly encounter an unexpected dip halfway through a tight bend.
With the optional adaptive dampers fitted, it's range of abilities is even greater, but 'Dynamic' mode becomes too harsh for most British roads. It's better left alone unless you're on a smooth circuit or European Tarmac.
If you do take your RS3 to the track, you might be disappointed. On the road, it's sheer competency is part-and-parcel of what makes it so impressive. It doesn't punish you for mistakes, but won't reward you either. It handles better than the nose-heavy 2015 version, but the steering is still numb, lacking genuine feedback. For this much money, we'd want a car that was less brutally effective and more engaging at lower speeds.
What engines and gearboxes are available in the Audi RS3?
Initially the RS3 came with an older version of the 2.5-litre engine with 376PS and 465Nm of torque. It was already extremely fast, but the arms race between Audi and Mercedes meant that it was given a boost in 2017.
The reworked 2.5-litre in the current car is a lot lighter than before, but also comes packing an even bigger wallop - with 400PS and 480Nm of torque - and a 0-62mph time of 4.1 seconds flat. Naturally, BMW and Mercedes both took up the gauntlet, producing rivals with even more power, but the RS3 is not far behind.
With a clever four-wheel drive system that's able to send maximum power to the rear wheels when needed, it has no issues putting all that power down either. It launches with neck-wrenching violence, firing up the road and hitting the legal speed limit almost before you've had a chance to catch your breath, come rain or shine.
Despite being turbocharged it's a really responsive motor (even from low in the rev range) giving the RS3 a muscular feel. The effortless way this engine and snappy twin-clutch gearbox work together to pile on speed mean it's easy to get carried away. Driving this car on public roads is often an exercise in sheer restraint.
That gearbox itself is well-suited to the car, but not without its faults. It will occasionally hesitate, pausing for a moment when you push the throttle before engaging a lower gear. It's a disconcerting, unwelcome trait.
Refinement and noise levels
For those expecting the RS3 to be a brash, anti-social travelling companion, fear not. Since it shares so much of its engineering with the standard A3, it can play the role of a cooking 2.0-litre petrol convincingly.
Keep it in 'Comfort' mode using the drive select button, and it's fairly docile around town. The twin-clutch gearbox shuffles itself smoothly into top gear without moving the needle past 4,000 rpm, so it's hushed too. It's a similar story once you're up to motorway speeds. Wind noise is barely noticeable, but the low profile tyres and 19-inch alloy wheels do generate some road rumble that can start to grate after a long journey.
That's good news for when you need to keep a low profile or creep out of the driveway early one morning without waking up the neighbours, but what about when you want to summon a bit of fire and brimstone? Select one of the more aggressive driving modes, and take control of the gearbox using the shift paddles on the steering wheel, and it's a totally different story. Poke the 2.5-litre engine with a stick, and the exhausts (which has valves that open up to release more noise) emit a delightful full-throated growl that's hard to miss.
The optional RS Sports exhaust is even louder still, popping and cracking on downshifts and giving the RS3 a junior rally car vibe that is wonderfully addictive - and setting it apart from run-of-the-mill four-cylinder rivals.
Safety equipment: How safe is the Audi RS3?
Although the RS3 itself has not been specifically crash tested by Euro NCAP the standard A3 on which its based was awarded a full five star rating. It got a 95% score for adult protection, and commendable 87% for child occupant protection. That was way back in 2012, and in the meantime the tests have got a lot harder.
Nowadays, the RS3's lack of standard active safety features - especially autonomous emergency braking - would certainly count against it, although at least it's possible to add this functionality from the options list.
As standard, the car comes with stability and traction control, front, side and curtain airbags, plus one for the driver's knees, and a pop-up bonnet that protects pedestrians should the worst happen in a crowded street.
Raid the options list though, and it's possible to make your hot hatch a lot safer. The Driver Assistance Pack might cost £1,540 but it brings with it a full suite of assistance systems. High-beam control dips the lights as you pass other traffic, and Pre-sense is Audi's name for the all-important auto emergency braking feature.
That's not all though, since you also get blind-spot monitors, a lane keeping function, and even a Traffic-jam assistant, which uses radar to brake, accelerate and steer for you in gridlock, up to speeds of 37mph. As a bundle it's hugely impressive, but we wish Audi gave you the option to add some of these items separately.
MPG and fuel costs: What does an Audi RS3 cost to run?
"The official fuel economy for the RS3 are 29.7mpg, with no penalty to pay for choosing the saloon over the Sportback. That doesn't sound too bad, considering the fire-breathing performance, right? Take it from us, as soon as you start picking up the pace, that figure will begin to plummet faster than the 2008 stock market."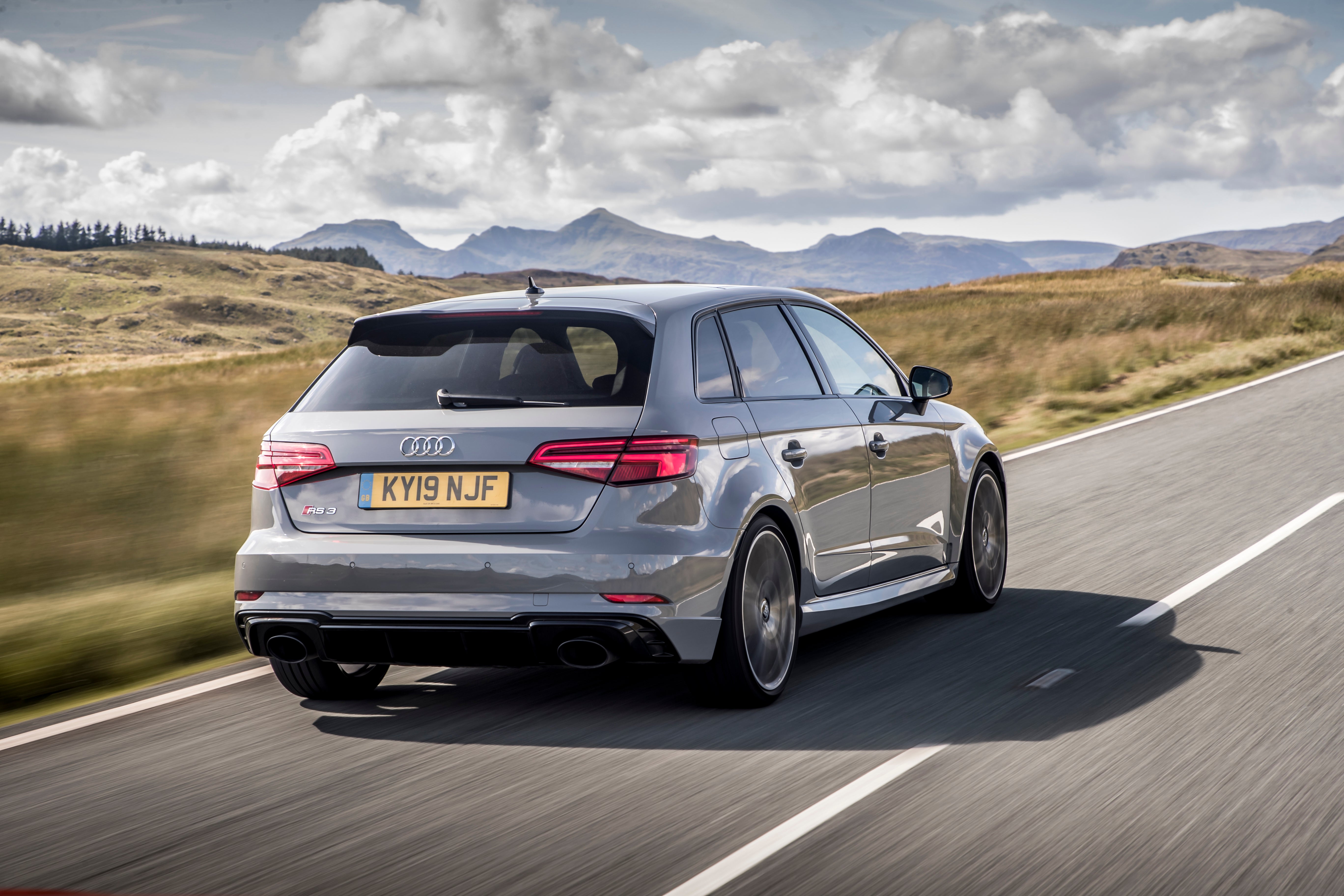 Realistically, expect to average around 25mpg in mixed driving, which is the same as our Real MPG testers have reported. Keep the S tronic gearbox in its most relaxed setting, and it's possible to eke out a little more. With a 55-litre fuel tank that gives the RS3 a range of 300 miles or so between stops for premium unleaded.
Insurance groups and costs
With such an overabundance of performance, it's no surprise to learn that the RS3 occupies the upper echelons of the UK insurance group ratings. It's in Group 46 (of 50) whichever body style or trim you go for. That certainly means it'll be expensive to cover, even if you have a spotless driving record and live in the safest post code in the country (Isle of Man). For comparison, the less potent S3 Sportback is in Group 36.
That's close to some of its key rivals, such as the BMW M2 Competition (Group 47) but several bands higher than the faster Mercedes A 45 S. That's in Group 41 thanks to its far more generous standard safety kit.
VED car tax: What is the annual road tax on an Audi RS3?
As is the case with the RS3's other running costs you'll be paying more in road tax than you will in other A3s. Its newly WLTP emissions tested 215g/km CO2 output means you'll pay £1305 in first year 'showroom' tax.
After that, it's high price means you're also liable for the premium rate of £475 per year for the first five years after its first registered (That's comprised of the £150 standard rate plus a £325 surcharge). It also sits in the highest 37% Benefit-in-Kind (BIK) tax bracket for company car drivers, making for punishingly high tax bills.
It'll come as a relief to know that used models (registered before 2017) won't be much cheaper. Under the old tax rules you'll still need to cough up £305 a year. That's despite the older car's lower 367PS output.
How much should you be paying for a used Audi RS3
"Around £25,000 is the starting point for securing a used RS3 Sportback. That price will get you a 2015 car with average mileage and a full main dealer service history - essential on such a rarefied model."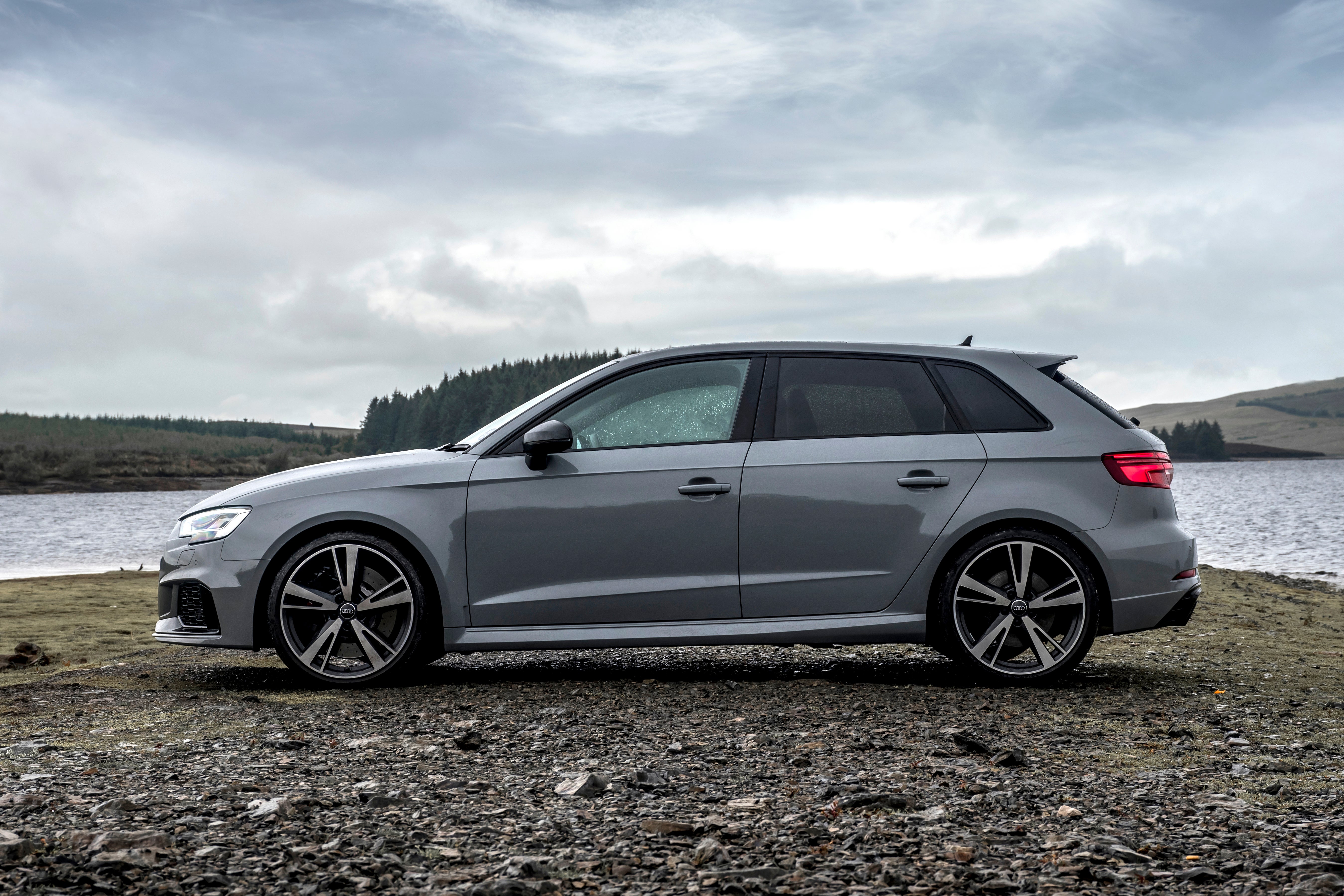 Post-facelift versions with the more powerful, lighter 2.5-litre engine start from £32,000 for the Sportback and £34,000 for the Saloon, but the majority of these will have covered less than 20,000 miles from new.
We'd strongly recommend avoiding any Category N or S vehicles - which have been crashed and repaired - it's not uncommon to find some for sale with this type of car, but it's certainly not worth the potential risks. There is a decent number available, so make sure you search for an example with the most desirable options fitted. Pre-registered brand new cars can also be had for up to a £4000 discount off the list price.
Trim levels and standard equipment
There is only one trim level, but buyers can go for the Audi Sport edition, which bundles together a selection of optional kit (including a glass sunroof, Super Sport seats and carbon dash trim) for a £4,000 premium.
On the outside, the RS-specific body kit, 19-inch alloy wheels, LED headlights, huge air vents and wide-bore oval exhausts - plus a load of RS badges - make it fairly easy to differentiate from its lesser siblings. You can upgrade to an even fruitier sports exhaust for £1,000, or adaptive 'Matrix' LED headlights for around £900.
Inside, there is an RS-specific flat-bottom steering wheel wrapped in a mixture of leather and Alcantara, plus Sport seats and Audi's 12.3-inch Virtual Cockpit. The latter comes with sat-nav, connected online services, and Android Auto and Apple CarPlay smartphone functionality as standard, along with a wireless charge pad.
Essentials like climate and cruise control, parking sensors and heated leather sport seats are all present and correct, but there are some notable absences from the standard spec. Electric lumbar support, many of the clever active safety systems, electric seat adjustment, and power folding door mirrors will all cost you extra.
Audi also offers some equipment in expensive bundles that quickly push up the price. The Audi Sport Pack (surprisingly not fitted to the Audi Sport Edition) includes the naughty exhaust and a set of adaptive dampers - a worthwhile dynamic upgrade. The Comfort & Sound pack adds a booming stereo and a reversing camera - but unless you want to spend more time listening to your tunes than the bombastic engine, we'd skip it.
Ask the heycar experts:
common questions
What is the Audi RS3?
Based on the highly successful (but far more sensible) A3 hatchback and saloon, the RS3 is the flagship high-performance version, and a junior to cars like the RS4 and RS6 estates.

Answered by
heycar editorial team
Does Audi still make the RS3?
Yes. The brand took the RS3 off sale for about a year, while it was adjusted to meet tighter WLTP emissions regulations, but it returned in 2019 with a few tweaks but the same power.

What is the engine capacity of the RS3?
The RS3 has the largest engine capacity of any of its rivals, a 2.5-litre turbo with a sports car-rivalling 395bhp output and a very distinctive sound thanks to its five-cylinder layout.

What does the 'RS' in RS3 stand for?
RS-badged models are the fastest Audi makes for the road. The letters in the badge are translated from the German 'RennSport', which literally translates as racing sport.

How efficient is the new RS3?
The mighty performance means that real world fuel efficiency (especially when you really press on) isn't great. However drive it gently and you'll get close to the official 33.2mpg.

Audi RS3 cars for sale on heycar
9,784
Number of cars available
£30K - £84K
Price bracket of these cars
Colours available on heycar
Keep me updated by email with the latest advice, news and offers from heycar
By submitting, you agree to our
privacy policy
.