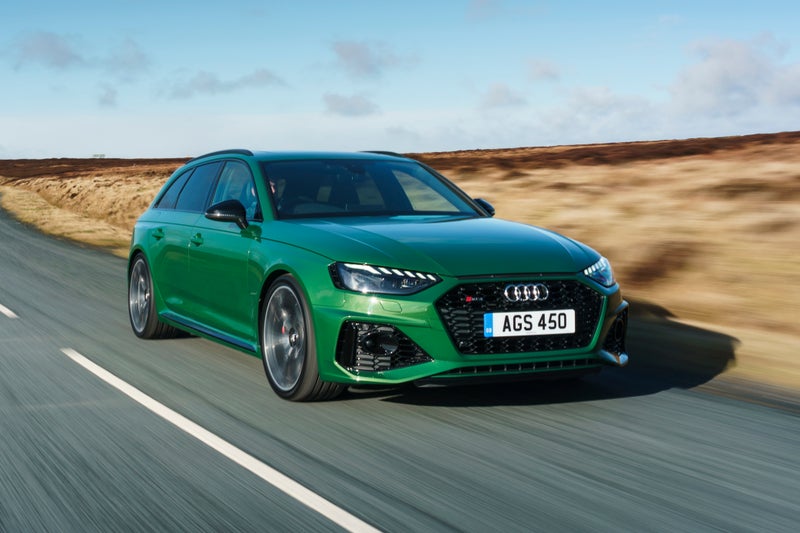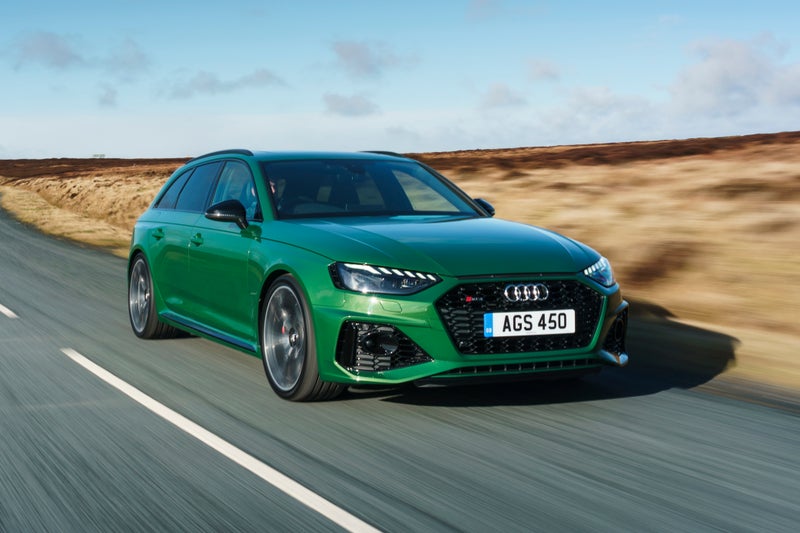 1/10
heycar rating
"Sports and family car combined"
Launched: 2018

Performance

Petrol
Quick overview
Pros
Incredible potential performance, mated to a surefooted four-wheel drive system
Lighter than its predecessor, and more economical, too
Audi remains the class leader when it comes to interiors, and the RS4 exemplifies this even further
Cons
Yes, it's fast and enormously capable, but all that's achieved without a huge amount of fun
Audi is cheeky making you pay extra for the RS Sports Exhaust
The standard suspension is a bit too taut around town, but the optional set-up too loose in the bends
Overall verdict
On the inside
Driving
Cost to run
Prices and Specs
Overall verdict
"Few cars offer the rounded capability of the Audi RS4, there's near supercar pace, all-weather capability and practicality. It really is a one car fits all machine. Throw in a beautiful interior and it's a compelling buy, though for all its pace and performance, it's a little bit lacking in driver engagement.  It does everything, is capable of shocking pace, but for all of that it's a bit lacking in charm."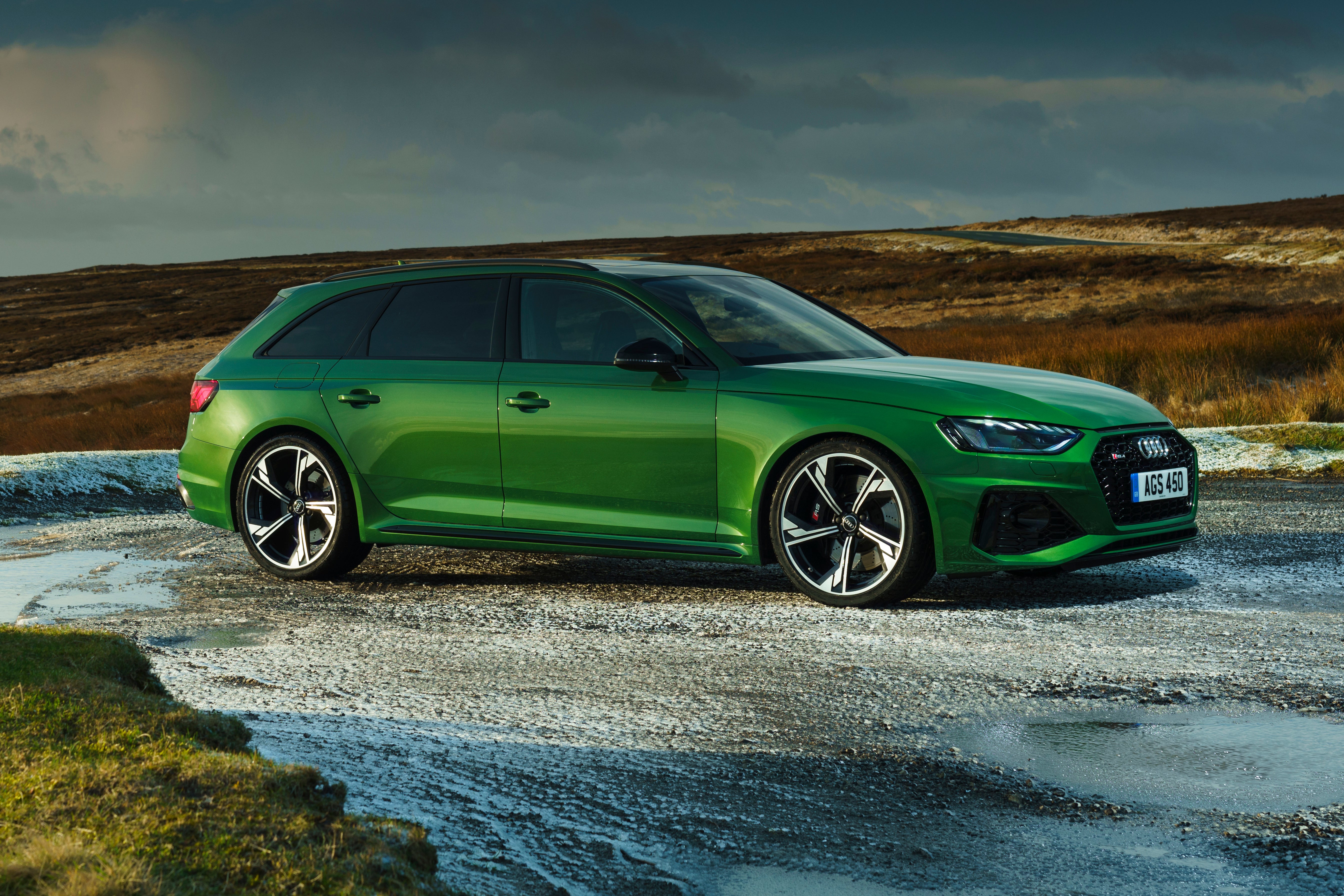 Think fast estates and it's impossible not to think of Audi, and its RS4. The company almost single-handedly, created the rocketship fast family hauler, and it remains inextricably linked to them.
The RS4 uses big power, 450PS to be exact with quattro four-wheel drive to exploit it. And it's all wrapped up in a sensible estate car body that's based on the Audi A4 Avant. That sensible part is relative, here, as for all the RS4's practicality, it's quite obviously not a 1.6 turbodiesel powered A4. Indeed, the RS4 is almost comically proportioned with swollen wheel arches filled with 19- or 20-inch alloys, a front bumper with intakes in it big enough to swallow oncoming traffic, while the exhaust pipe finishers round the back are the diameter of storm drains.
There have been a few RS4s to get us to this current one. Previous models all doing the same thing - speed and space - though Audi hasn't stuck to an engine type, with the genre having everything from an in-line 5-cylinder turbo, 2.7-litre twin turbo V6, 4.2-litre naturally aspirated V8 and, thanks to emissions and economy regulations, a 2.9-litre twin turbo today. It was launched back in 2018, though late 2019 saw the RS4 revised for the 2020 model year onwards.
The current car gained no new sheet metal, but the bumpers swelled in their proportions and bold, functional style front and back, while the RS4 adopted the A4's most recent head and tail lights. Inside nothing much changed, save for some updates to the infotainment system, while Audi removed some weight and tweaked the engine and transmission to produce better economy and emissions figures. It did so without changing the 450PS output, or the 600Nm of torque that 2.9-litre twin turbo V6 engine develops. It's an engine, which serendipitously, has a link to that RS2, because it's an engine that's used by Porsche, in the Panamera.
Audi's usual attention to detail inside is apparent the second you get in it. Few companies do interiors with such fine materials and design, it all beautiful to look at and operate. Direct rivals are few, BMW has never offered is 3-Series performance flagship M3 in estate guise, while Alfa Romeo doesn't currently make an estate version of its Quadrifoglio, leaving only Mercedes-AMG with the C63S estate and Alpina with the B3 Touring to rock up to a RS4 triple test with any chance of taking on the RS4.
Other, indirect, rivals could be any number of high performance SUVs, though the RS4 does seem to appeal to the type of driver who's wedded to the idea of estate cars over the idea of SUVs, and, driving the RS4, it's difficult not to agree with them.
Is the Audi RS4 right for you?
You'll read everywhere that the RS4 is the perfect all-round car for a family in a hurry, but you don't actually have to have any children for it to make perfect sense. Indeed, if you've a busy life and want to keep the miles off your super or sports car, then an RS4 is quite possibly the perfect choice. Fast and incredibly surefooted, it's an all-weather weapon that'll carry everything you could possibly want it to, without having to hire a van with an afterburner.
It might have slightly overt looks, but it's still a fairly stealthy way of having a mega performance car, without necessarily shouting about it. People will look and think 'sensible estate' leaving only the well-informed knowing its real potential. Take the badges off it, order it in a sober colour and go with the standard 19-inch wheels and you'll increase that effect even further. If you're even reading this, then the RS4 is almost certainly a car you should consider.
What's the best Audi RS4 model/engine to choose ?
As the range-topping car in the A4 range, the RS4 only comes with a single engine and transmission choice. That's a 450hp, 2.9-litre twin turbo V6, which allows it a 4.1 second 0-62mph time and a 174mph potential top speed – if you've paid Audi to up the electronic speed limiter from the normal 155mph limit.
There are different choices within the RS4 line-up though, the standard car, the RS4 Avant (that's estate in Audi speak – no saloon available with any RS4) followed by the Carbon Black, which, unsurprisingly, adds some black carbon outside and in, and covers all the brightwork on the standard RS4 and paints it black.
That's a £6000 lift in price over the circa £65,000 price of the 'entry' RS4. If you're the type of buyer who wants absolutely everything, and, let's face it, a lot of RS4 buyers will fall into this category, there's the Vorsprung (advancement, roughly translated from German) which is a tech-laden RS4.
None of the Vorsprung's extra equipment would be a deal-breaker for us over the standard RS4, and certainly not enough to justify the near £20,000 price difference. Add the optional sports exhaust to the standard car, though, it's a must-have, likewise the Comfort and Sound Package.
What other cars are similar to the Audi RS4?
Audi has pretty much had this marketplace to itself for a long time, but that's not to say there aren't rivals, there just aren't that many of them. The most obvious is the Mercedes-AMG C63/C63S Estate, which is powered by a turbocharged V8 engine, with even more power than the RS4. It's a lot more of a handful to drive, thanks to rear-wheel drive only.
The only other direct competitor is the Alpina B3 Touring, the small firm's BMW-based machines are coveted by car enthusiasts, the B3 being based on the BMW 3 Series. Like the RS4, the B3 Touring is powered by a turbo charged six-cylinder (straight, not V6) engine, and features four-wheel drive. There's not a great deal of choice then, but what choices there are, are all rather appealing.
Comfort and design
"Sports cars come with a certain expectation that there'll some trade-off in comfort for the performance that they deliver, and that's true here with the RS4."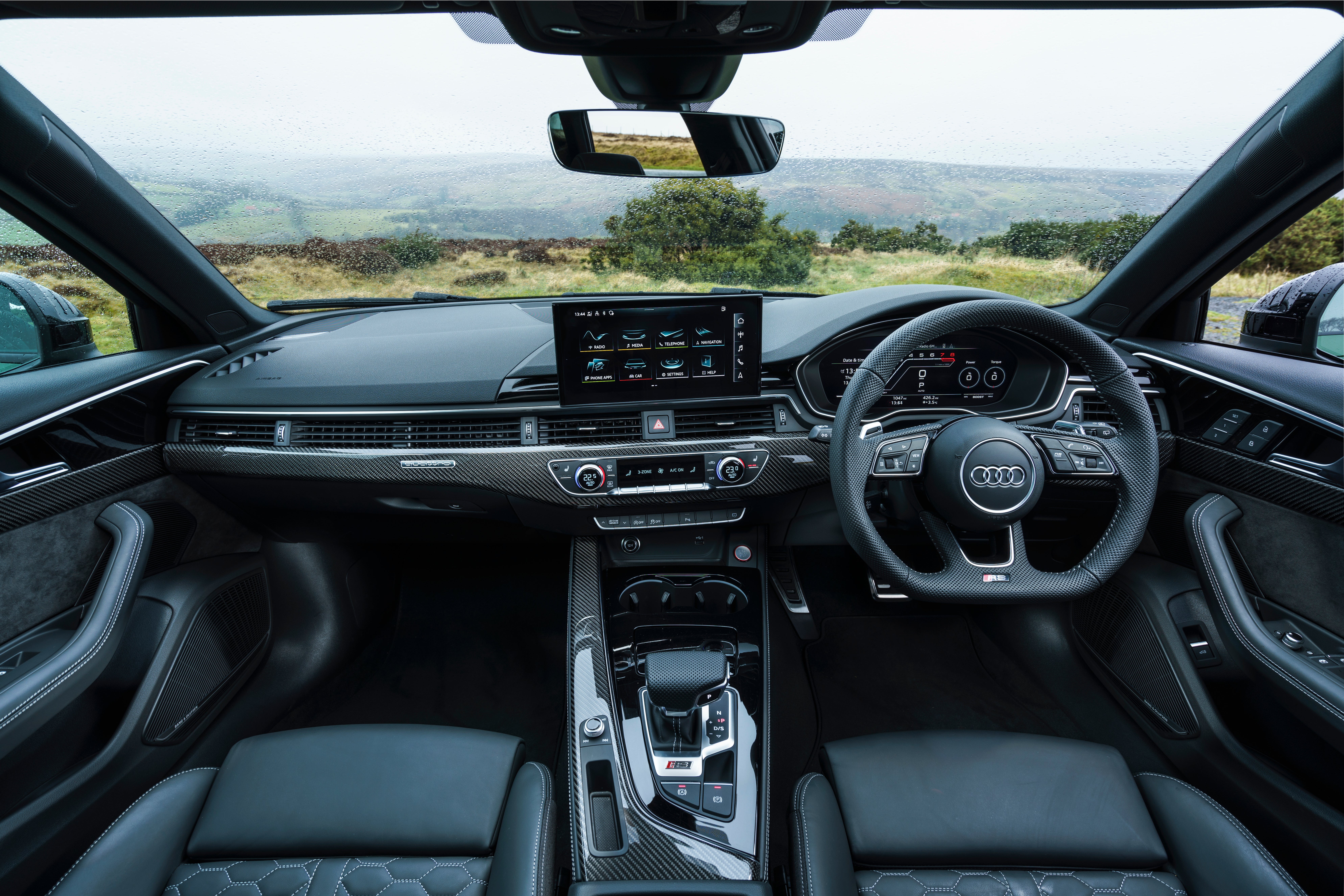 Audi could offer the RS4 on suspension from its more mundane A4 relations, but it'd be a disaster to drive, the RS4 having heavily revised suspension to cope with its significantly greater output, and it rides far more firmly as a result.
You're more likely to feel it inside, too, likewise, there'll be a bit more road noise from the larger wheels and tyres, and that drivetrain is more vocal, but in a good way. Inside you'll find tight body-hugging seats, which are designed in a way to connect you to the car more, so you can enjoy the performance without being thrown around.
They're a bit trickier to get into and out of than regular car seats, but once you're in them you'll likely find them beautifully supportive, and necessary, with the forces the RS4 can place upon you.

As standard those seats are electrically operated, the front seats heated, while there are pneumatically adjustable seat bolsters, on those seats, too. Add the Comfort and Sound Pack and you gain the ease of keyless entry and starting, an excellent Bang & Olufsen 3D sound system and even multi-coloured extended LED lighting, which you can set to your preference.
Luxury equipment like heated rear seats are available – on the outer pair, only - while multi-zone climate control is also standard.
Quality and finish
Audi excels at interiors, relating to not just the visuals, tactility and design, but the entire operation and functionality of all the controls. The RS4 is no exception, indeed, its flagship status means it gets the very finest materials, from soft leather throughout, beautiful stitching and all the best equipment, with things like the 10.1-inch centre screen getting distinct RS upgrades and graphics, likewise, the Virtual Cockpit having its own bespoke RS4 visuals and functions.
Everything, from the chunky feel of the steering wheel, to something as mundane and out of sight as the inside of the glovebox, it all feels like it's worth the money you've paid for it, even at the RS4's loftiest price point above £80,000.
That's evident throughout, Audi's reputation for making the very finest interiors meaning there's nothing that you look at and think 'why they didn't spend a bit more?', though there is one proviso, and it's discussed below.
Infotainment
Given Audi's impeccable reputation for interiors the one stand out thing that lets the side down is the positioning of the 10.1 inch infotainment screen. It does look a bit add-on rather than fully integrated, that feeling not helped as it's a touchscreen, its position such that it's not unusual to find yourself steadying your hand on the top of it, while prodding it with your thumb. Do that, and the screen moves ever so slightly. It's a thing because the rest of the cabin is so well done, we'd probably not even notice it on a rival.

The infotainment itself is, largely, easy enough to operate, with sensibly configured menus, with most necessary functions easily accessed – and echoed by wheel controls and the RS4's Virtual Cockpit instruments ahead of the driver.
Of course, there's Apple CarPlay and Android Auto connection here, Bluetooth connectivity and DAB. It's worth adding the Comfort and Sound Pack for the benefit of the Bang & Olufsen stereo. Controlling all that is via the touchscreen, or an MMI touchpad, Audi, inexplicably replacing its brilliant MMI rotary knob and supplementary switches with a laptop-style touchpad in the centre console. It'll take some practice to work comfortably with it, and, frankly, it'll never prove as easy to operate as the previous solution, it a rare backwards step from Audi.
Mercifully, Audi's resisted the temptation to integrate the heating and ventilation controls into the infotainment, it operated by simple dials and switches below the main screen.
Space and practicality
There's plenty of space up front, while there are good-sized door bins, a usefully sized glovebox and a deep central bin between the driver and passenger under an armrest. A pair of cupholders sit in the transmission tunnel, too, and there's a tiny little tray alongside the gearstick that we've no idea what what the use of is. A lipstick or something, perhaps?
The rear seats are a good size for children, though adults, and particularly if you're taller, might find them a squeeze for head and knee room. Really, the RS4 a comfortable four-seater, then, and with the capacity to add a fifth passenger occasionally, the middle rear seat raised, offering little in the way of support and thanks to the location of the transmission tunnel, there's very little foot room for a fifth passenger.
The outer rear seats have Isofix child seat mounts, as does the front passenger seat, and Audi will sell you child seats to fit the RS4 perfectly.
Enough about the seats, this is an estate car, so you want the volumes, don't you? Well, there's 495 litres of space in the boot with the seats all in position, dropping them allowing the RS4 to swallow 1510 litres, that, coincidentally, the exact same volume as the RS4's AMG C63 rival. Fold those rear seats and the floor isn't entirely flat, but it's long and useful, regardless. To carry more, at this pace and price, you'll need to look at performance SUVs.
That boot is easily accessed, while dropping those seats is a cinch, too, it just a lever pull near the tailgate and they'll drop. They do so in 40/20/40 format, allowing you to throw in longer items, while retaining some additional seats.
One of the few options available, but useful is the Storage Pack, which adds storage nets on the back of the front seats, a lock to the glovebox and a cupholder in the rear armrest. It also adds tensioning straps, a 12V socket and a luggage net in the boot, all for just £195.
Handling and ride quality
"The RS4 has always been lauded as a surefooted, capable express, maximising traction from its quattro four-wheel drive system, making it quick in all conditions."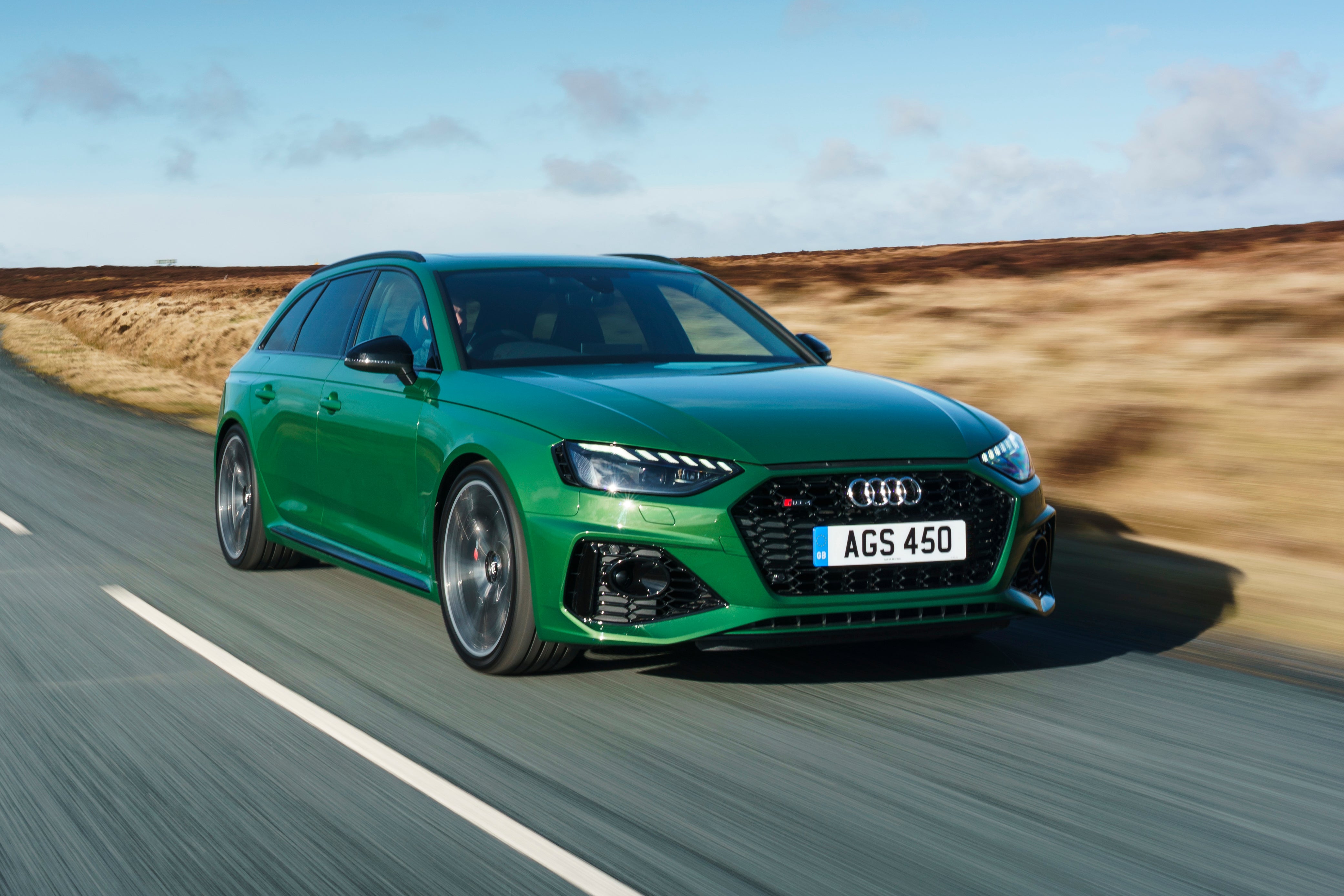 That's not always translated to the most engaging, exciting driving experiences, but it's one that seems to have satisfied its previous customers, so there's more of the same here.
Either that AMG or Alpina will deliver a more interesting drive, be it their steering weighting or precision, the way the suspension handles the bumps. Certainly in the case of the AMG with its rather wild rear wheels, spinning up its tyres at any opportunity and needing skill to exploit its ample power, particularly in damp or wet conditions.
The RS4 is a polar opposite to its sometimes tricky German rival, point the Audi at a corner and it'll just grip and go, the traction and grip it delivers is mind-bending at times.
What's interesting is the differing suspension choices, the standard set-up being a passive spring and damper, it riding firmly at lower speed but giving the RS4 fine roll control and a natural feel in bends, the RS Sports Suspension Plus with Dynamic Ride Control – with three drive modes - doing an incredible job with low speed ride, but lacking a bit of composure when you start leaning on it. It's a variable damper system, the dampers linked, the benefit supposed to be that they can tauten up body control when needed, yet deliver a fine ride, too.
That variable suspension is standard on the Vorsprung, but we'd recommend the RS4 without it, as for all the improved ride around town, it robs the car of some of its appeal on the sort of driving roads you really ought to be seeking out if you own a car like an RS4. Likewise, we'd avoid dynamic steering, which robs the steering wheel of its linear ratio, and feels a little bit unnatural.
Engines and gearboxes
Only one engine and gearbox is offered with the RS4, and it's a 2.9-litre twin turbocharged V6. RS4 fans might have balked when they realised that the glorious 4.2-litre naturally aspirated V8 engine was a victim to ever-tougher emissions regulations, but the new engine does produce the same 450PS as that old V8, and is more flexible, and, crucially, a whole lot clearer and economical.
It also nods to the RS2's link with Porsche, the same turbocharged V6 used in the company's Panamera range. In the RS2 that power, mixed with its sizeable 600Nm of torque, allows a 0-62mph time of 4.1 seconds and a 155mph top speed, or 174mph if you pay Audi a bit more. The twin turbochargers mean that peak torque figure is available throughout almost the entire range of the engine's operation, making it feel faster more of the time than the peaky delivery of its predecessor.
That engine drives through an eight-speed automatic transmission, which, like all performance cars with automatics, offers finger-flipping control via paddle shifters. How nobody at Audi has not yet realised its paddle shifters are far too small, and lack the sort of satisfying action in operation of many rivals is an absolute mystery, especially as Audi is masterful in the pleasing operation of virtually every other switch and dial in the RS4's interior.
The gearbox is quick, not as lightning quick as you'll get in some of the sports and supercars the RS4's performance apes, but quick enough to be enjoyable.
Refinement and noise levels
Audi managed to ditch quite a lot of weight in creating this RS4, and some of it was sound deadening. That's not necessarily a complaint, this is, after all, not a car you'll buy without knowing what you're getting. That is a powertrain you'll want to hear, indeed, we've recommended a couple of times here that you'll want to option the RS Sports Exhaust to do exactly that.
Do so and the engine is more vocal, pleasingly so, it crackling and growling, shrieking and popping, which is part of the reason you buy cars like this.
There's always something of a flip-side, and it's that the tyres needed to put all that power to the road to transmit a bit of road noise to the interior, aided by the tauter suspension that they're hanging off. It'll all quieten down on a long cruise, the V6 working not very hard in eighth gear, but, if refinement and hushed quiet when you're driving is your estate car vibe, then Audi will be only too happy to direct you to one of their more mundane, less focussed A4 Avants, instead.
Safety equipment
A full five star EuroNCAP crash test score when it was tested, in its humdrum A4 guise which shares the same structure and safety equipment, underlines the RS4 should protect you if you crash it. That the RS4 has bigger, better brakes, is more stable thanks to wider track widths, has more actual rubber on the road should help you avoid an accident in the first place. As should the traction, stability control and the anti-lock brakes.
Standard safety equipment includes Pre-Sense City, 360 birds view parking camera, Parking Assist, Hold Assist, a rear view camera, Audi Side Assist and enough airbags inside that it'd surely float if you inflated them all.
Add the Driver Assistance Pack and you get even more active driver aids, including Adaptive Cruise Control with Stop&Go, Traffic Jam Assist, Pre-Sense front, Camera Based Traffic Sign Recognition and Active Lane Assist. Audi also offers a pair of cameras front and rear to record any accidents, while standard tyre pressure monitoring also help keep you safe.
MPG and fuel costs
"It might have a downsized twin turbo V6 engine instead of the old V8, but the RS4 is never going to be an inexpensive car to own."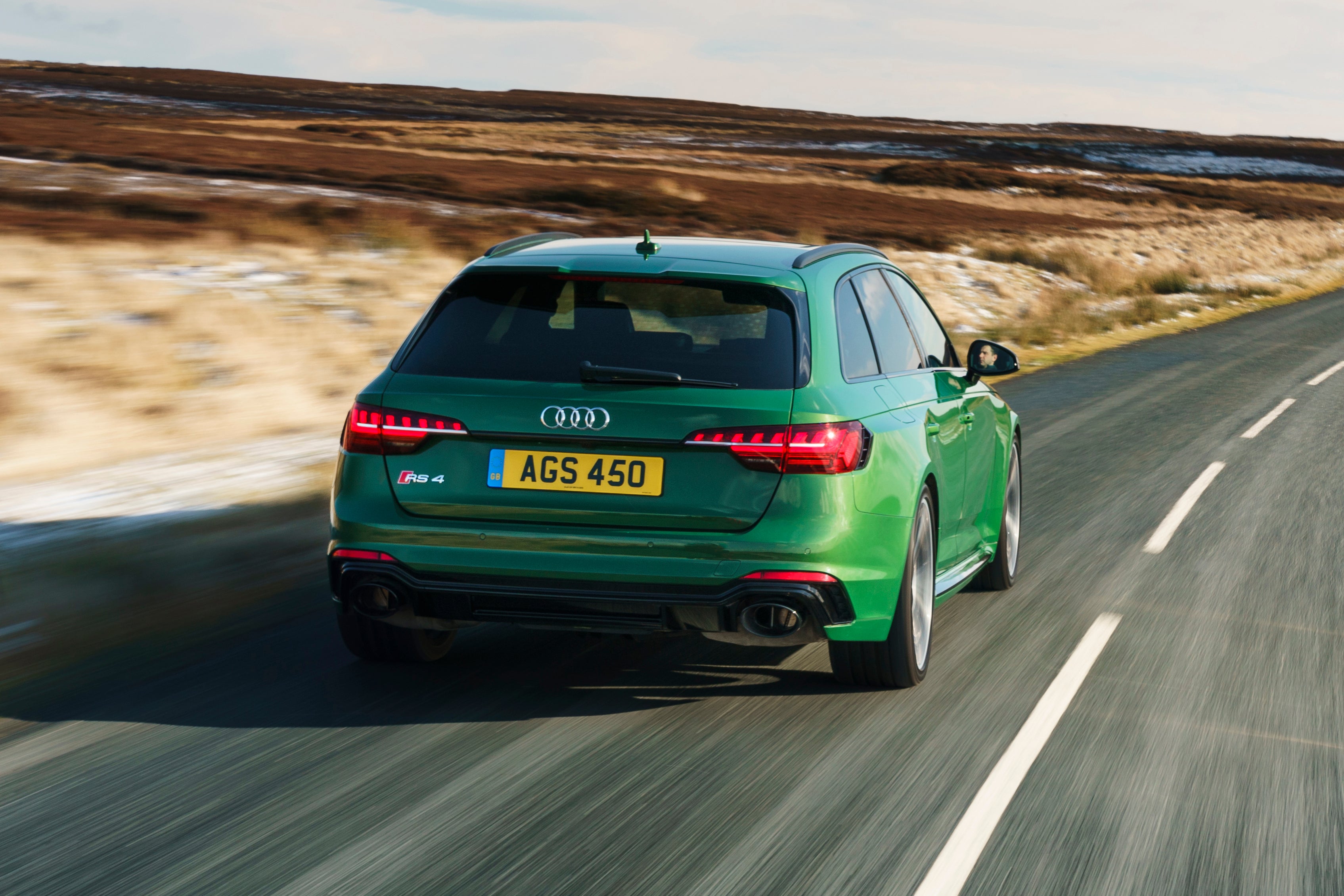 Fuel consumption is quoted at 29.1mpg on the official combined cycle, that being tested to the tougher, more realistic WLTP protocol. The reality will be a little bit less, but on a longer drive the RS4 should be relatively frugal, certainly taking into account its performance potential. Drive it hard, and that will tumble, but you know that anyway, and there are diesel A4s available if you've an eye on the fuel gauge all the time.
Insurance groups and costs
The RS4 will have a broad customer base, covering people who have it as their only car, to those buyers who'll have it as a fast daily driver that gets parked up in a garage alongside a bunch of super and sports cars. What you pay for your insurance will vary wildly depending on your circumstances, driving record and where you park it, but it's listed in group 42.
VED car tax
Being over £40,000 means for the first five years of ownership you'll pay £310 over the standard VED tax rate. After that it'll revert to the standard rate.
How much should you be paying for a used Audi RS4 ?
"The Audi RS4 sells comparatively well, so there's a decent selection of used cars out there, many still delivery mileage pre-registered examples, or ex-demonstrator vehicles."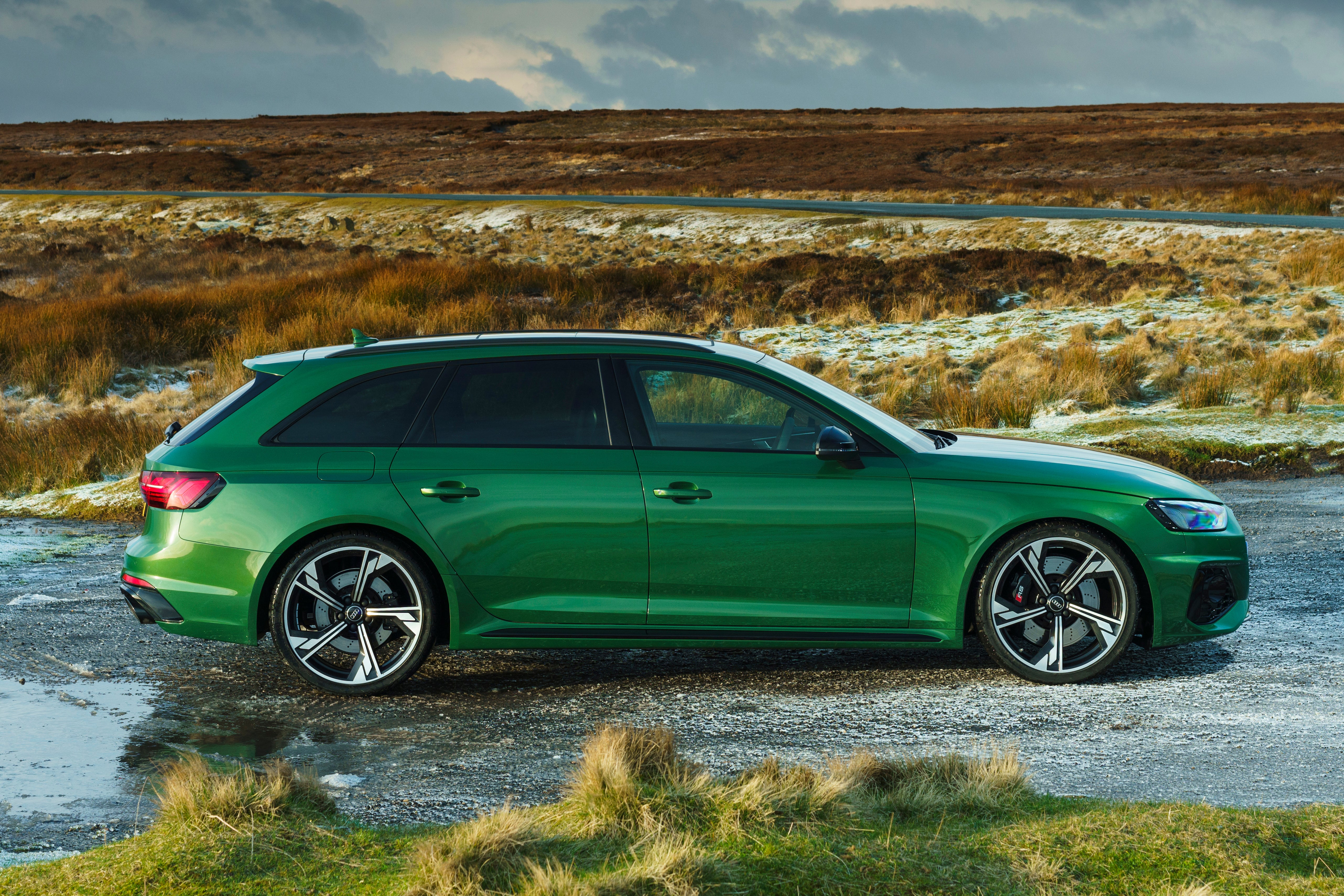 You'll pay around 5% less than the list price for these, though with a good number around you'll be in a decent position to negotiate that down a bit more, some delivery mileage cars listing with as much as a 10% discount."
Cars a few years old with between 1000 to 6000 miles are under £60,000, with £50,000 being the lower end of the market for 2018 and onwards model (at the time of writing this in May 2020).
Trim levels and standard equipment
The RS4 might sit at the top of the A4 Avant range, but more realistically its better thought of as a model in its own right, as an Audi RS car.

Three different options are, usually, offered to buyers, with occasional special editions mixing that up a bit.
The standard RS4 Avant comes with a huge standard specification, indeed, all it really lacks is Audi's Comfort and Sound Package for about £1,400 which brings advanced options on the keyless go system, a 360 degree parking camera, LED interior lighting and a Bang & Olufsen 3D sound system. If you want your RS4 to sound as good outside as it does inside with that package then the RS Sport Exhaust is an absolute must, indeed, we'd be amazed if any are sold without it optioned.
The Carbon Black model adds a lot of carbon, and black, for about £7000. Vorsprung chucks absolutely everything at the RS4 for those too time poor, but cash rich to buy it, as they'll need to be with a price over £82,000.
Audi Rs4 Avant cars for sale on heycar
9,955
Number of cars available
£32K - £78K
Price bracket of these cars
Colours available on heycar
Keep me updated by email with the latest advice, news and offers from heycar
By submitting, you agree to our
privacy policy
.