Written by
heycar editorial team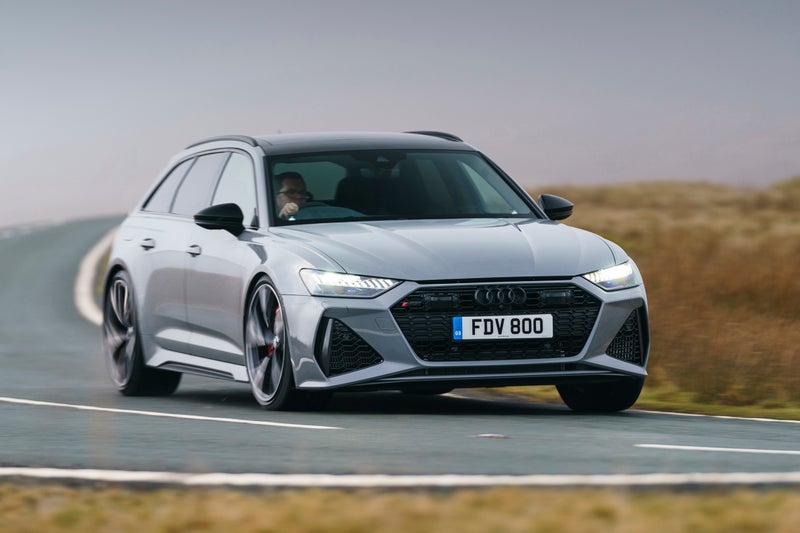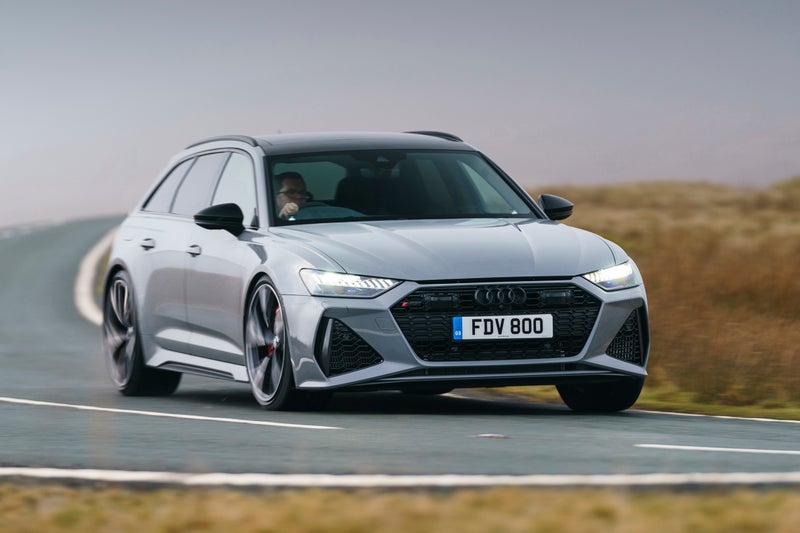 1/10
heycar rating
"Supercar pace, estate car space "
Launched: 2020

Performance

Petrol
Quick overview
Pros
An iconic badge, huge power and ridiculous performance
Audi are the absolute masters when it comes to interiors, the RS6's beautifully finished throughout
The load space is vast and well-shaped, so if you need your flatpack home faster than you can blink, look no further
Cons
More fun than previously, but not as laugh out loud enjoyable as some of its rivals
Asking extra for a Sports Exhaust on a car like this isn't uncommon, but it doesn't make it right
A good chunk of Audi's safety equipment remains on the options list, including rear side airbags
Overall verdict
On the inside
Driving
Cost to run
Prices and Specs
Overall verdict
"Audi has a long, established history of producing shockingly quick estate cars, and the RS6 is exactly that. All the space and grace of a regular A6 Avant too. Where it's lacking is in relation to engagement, it is fast, surefooted and able, but for all its incredible ability it's a bit devoid of excitement."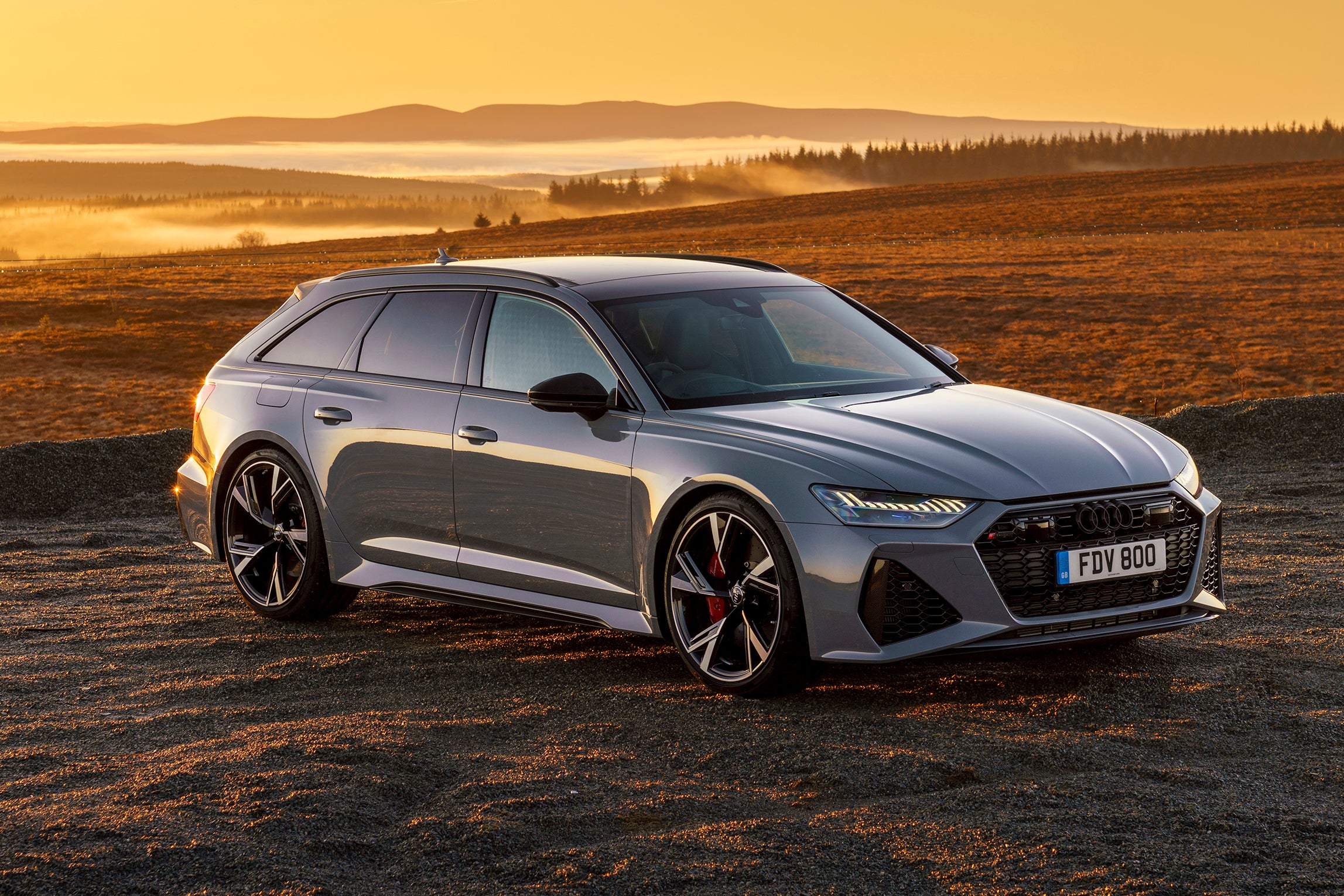 The Audi RS6 is in its fourth generation, this iteration of Audi's rapid estate car being introduced late 2019 and available in the UK from early 2020. It follows a now familiar brief, taking the Audi A6 Avant (that's estate in Audi speak) and shoehorning a massive power engine into it.
Needless to say Audi doesn't just stop there, the fitment of a 4.0-litre twin turbo V8 with 600PS and 800Nm of torque does mean that they've also been very busy thoroughly revising the suspension, brakes and everything else to manage that prodigious output.
It looks a good bit more muscular than its A6 Avant relations, but not so wild that to many it's little more than a handsome, big estate car. It's all that, and more, as the mighty output means this is an estate that can carry four in real comfort (five at a push) with a boot load of luggage, at a pace you'd usually need a supercar for.
That power, and the massive 800Nm or torque, a quattro four-wheel drive transmission and an eight-speed automatic gearbox allow the RS6 to launch to 62mph in just 3.6 seconds. That's just half a second slower than a Ferrari 488 GTB, and the same as a Porsche 911 Carrera 4S. The RS6 is quite ridiculously accelerative for something so big, and useful.
Keep the accelerator buried in the floor, and so long as you're in its German homeland on an unrestricted autobahn, you'll be able to keep those exotic cars honest chasing ever bigger numbers. Audi electronically limits its top speed to 155mph, but you can pay to have that raised to 174mph, or, indeed, completely removed. Do that and the laws of physics will eventually rein in the acceleration at 1mph shy of 190mph, all this in a car that's got a boot which, with those rear seats folded, has a maximum capacity of 1,680 litres.
It's a very capable, rounded car, then, with the everyday practicality of a big estate car, combined with the outrageous pace of sports and supercars.
There are a few compromises because of this, that big engine will burn though plenty of fuel, and all other associated running costs will be higher, too. Given it effectively combines all the cars you could ever want or need in one package, you can make a strong argument that it's actually a very sensible proposition, saving you buying a Ferrari, Porsche or even an Audi R8 to park alongside one of the RS6's more sensibly powered A6 Avant relations.
It retains all the A6's qualities too, so the cabin is spacious and well designed. Audi is head and shoulders the class leader when it comes to the quality of its interiors too. A supercar you can actually justify, not just as an indulgence either, as the RS6 is a car that can be used and enjoyed everyday, doing everything from the mad to the mundane, and everything in between.
Is the Audi RS6 right for you?
The RS6 is a car that will be bought by a wide range of people, assuming you've got the deep pockets required to pay for it. Prices start at around £93,000 and rising up to £110,000, that before you've added any options.
If you have a sports or supercar in your garage, and are used to, and expect that kind of power in your family wheels, then the RS6 is probably right for you, or at least be one of the three performance estates you're considering. Rivals are relatively scant, with performance SUVs more prevalent, but Alpina and Mercedes-AMG do offer direct rivals with the B5 Bi-Turbo Touring (based on the BMW 5 Series) and the E63S Estate, respectively.
Of the three the RS6 is arguably the most sensible, crazy as that might sound, the Mercedes-AMG being a more wild drive, while the Alpina is a very niche choice in an already niche marketplace, however good it might be. There's a good chance you've owned an RS4 before considering the RS6, or, indeed, the S6, the RS6's slightly less outrageous understudy in the Audi line-up.
What's the best Audi RS6 model/engine to choose?
Like the RS4 below it in Audi's madcap, rapid estate car line-up, the RS6 is offered in three trim levels. There's the standard RS6 Avant, the RS6 Carbon Black and range-topping RS6 Vorsprung.
All are powered by the same 4.0-litre twin turbo V8 petrol engine, which, in a bid to improve economy features a 48 Volt Mild Hybrid System – essentially an extended stop-start system that allows the RS6 to coast and scavenge back energy when possible. They all feature an eight-speed automatic transmission and drive all four wheels via Audi's quattro system, and, unlike some previous RS6s, it's only offered in Avant guise.
The RS6 Avant comes hugely specified, the Carbon Black model adding black detailing for a more menacing look inside and out. The Vorsprung has a specification list befitting its flagship status, gaining things like RS Sports Suspension with Dynamic Ride Control, the best audio equipment and all of Audi's available driver assistance systems. A standard RS6, with the Comfort and Sound Pack, and the RS Sports exhaust system is all you really need.
What other cars are similar to the Audi RS6?
The performance estate marketplace is relatively small, inexplicably, it's ignored by BMW, it not offering a load friendly version of its M5, though Alpina does make the B5 Bi-Turbo Touring AWD, which has a 4.4-litre turbocharged V8, 3.7 second 0-62mph time and 200mph top speed, allied to a 1700 litre maximum boot capacity.
Mercedes-AMG has the E63 S 4Matic+, which, again, has a twin turbo V8, with 612PS, a 3.5 second 0-62mph time and 186mph top speed. It's also got the biggest boot here, at 1820 litres maximum capacity. Porsche's Panamera Sport Turismo is worth considering, too, if you're sold on the estate car vibe, without necessarily wanting the huge luggage capacity, though it's not as small inside as you might imagine.
Comfort and design
"It might be billed as a performance car, but it's a luxury car at the same time, with a huge list of standard equipment to make sure you're hugely comfortable inside. The interior is beautiful, the front passenger area dominated by a pair of RS Sports Seats as standard.£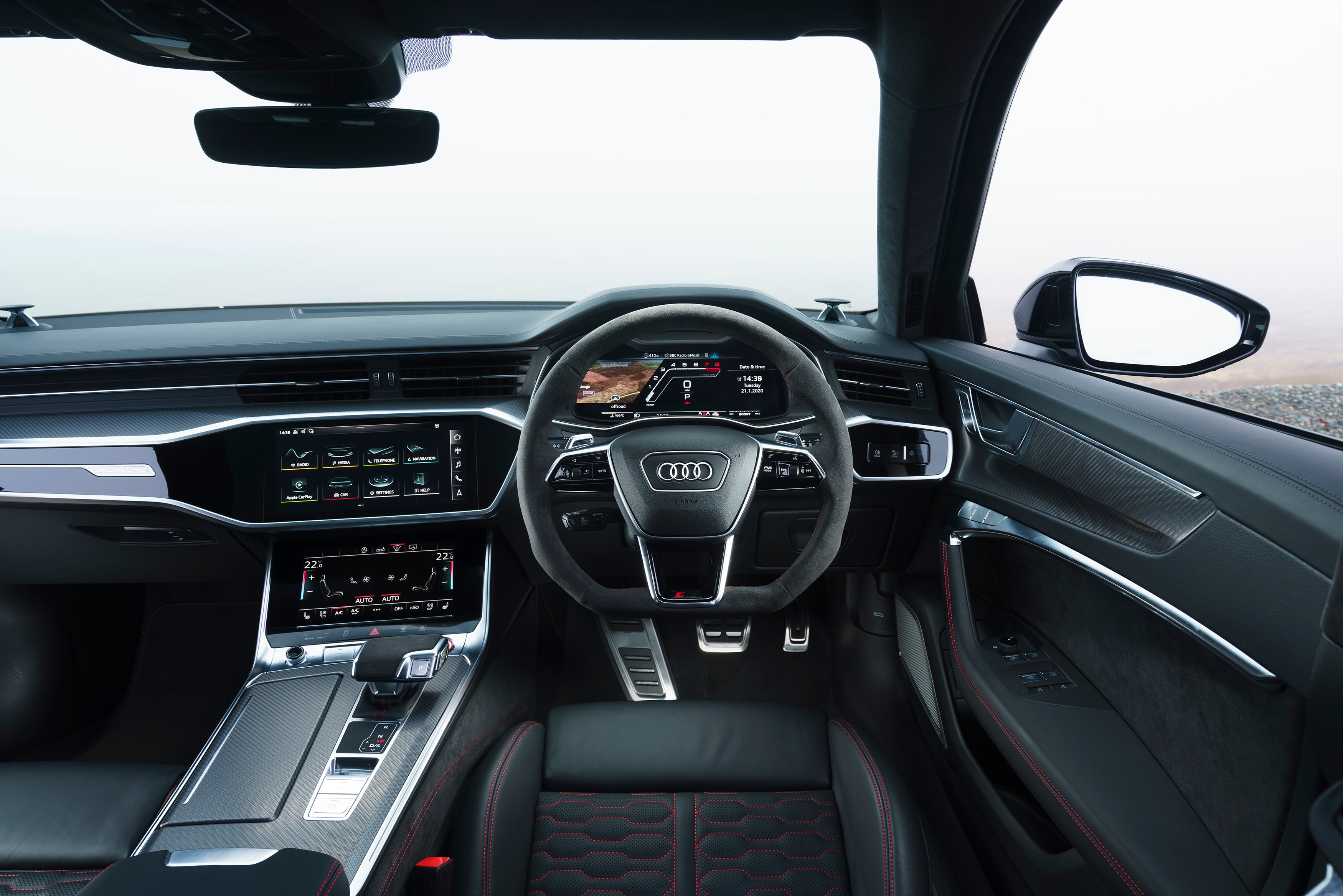 They're not just deeply bolstered to hold you in place in the bends, that grip meaning they're hugely supportive, and endlessly adjustable, too, thanks to full power adjustment, including the lumbar support. The electric operation also having the convenience of memory settings, while they also both feature individual heating and ventilation functions.
There's a centre arm rest between those two front seats, the centre console in front of it having controls for the four-zone deluxe air conditioning, leaving only a fifth passenger in the middle without the opportunity to pick their desired temperature. There's a Comfort and Sound pack available, this adding an upmarket Bang & Olufsen stereo and advanced key with keyless operation as well as the convenience of a 360 degree parking camera.
Oddly, Audi will ask you to pay £150 extra if you want your rear-view mirrors auto dimming (standard on the Vorsprung), though, as standard they are electrically operated and heated.
The design inside follows Audi's current design style, which means it's adopted a cabin that's almost devoid of what you'd call traditional buttons. There's haptic touch surfaced buttons or touchscreens throughout, only the steering wheel controls and a few at the bottom of the centre dash being conventional. The touchscreen obsession in interiors might have gone too far here, as, for all its cool, smooth look, it's not the easiest interface to operate.
Quality and finish
You can dig around the deepest recesses of the RS6's interior, and you'll just not find anywhere where Audi has cut corners, or saved a few Euros on its build costs on out of sight materials inside. That's hugely commendable, and the reason why the firm has such an incredible reputation for interior quality, even among its upmarket, premium rivals.

All the materials exude quality, the finishes tactile, the design and layout all pleasing, too. Being the top model in the range there's some additional personalisation possible, you can ask Audi to paint your RS6 almost any colour you like, for a sizeable premium, while the interior can be finished in a choice of fine leathers, with extended leather covering the dash and more if you want it.
We know from experience, too, that the RS6's interior will wear incredibly well, those materials not just looking and feeling good now, but certain to in the future, too.
Infotainment
At this level you'd expect the very best, and Audi throws pretty much everything at the RS6. It's gone touchscreen mad, there being two in the centre dash, the upper one containing info and entertainment functions and connectivity, the lower one taking care of the heating and ventilation for all four zones.
As smart as the lower screen looks, having to prod and slide it to do something as simple as change the temperature a degree or two is overly fiddly. That obsession with touch screens is not unique to Audi, and while they've certainly got their place in car interiors, we wish Audi had stuck with conventional, simple and easy to operate knobs and buttons for the ventilation and heating functions.
There's Audi's Virtual Cockpit in front of you, which like the centre screen can display navigation and RS specific screens. The standard audio is great, but the Comfort and Sound pack adds Bang & Olufsen for not much more, while Audi's Connect system allows you to have Amazon's Alexa along with you for the ride, should you want big data listening to you in the car…
You can, of course, connect your smartphone via your preferred service, Apple CarPlay or Android Auto being standard, while that Audi Connect offers all sorts of App downloads and services you didn't know you'd need, or wanted, and might not bother paying the subscription for once its three free years run out.
Space and practicality
It might have Ferrari and Porsche chasing, and bettering, pace, but if that's all you want with an Audi badge on it then you could always have an R8 instead. The RS6 does all that, but with space and practicality, by the bucketload, which is why you'll have bought it.
The cabin feels spacious, even with those big, heavily bolstered sports seats up front. That's true in the rear, where, unlike the RS6's smaller RS4 relation, it's actually quite accommodating for adults, even if they're at the taller end of the height spectrum. That's for four adults. Five will squeeze in in a push, with foot room a bit lacking in the centre rear seat, likewise, the seat itself a bit of an afterthought.
Estate cars are all about the usefulness of the boot space though, and the RS6 isn't short of it. Leave the seats in position and there's space for 565 litres of luggage, Audi claiming that accounts for 14 carry-on cases, which might make check-in at the airport interesting. Fold all the rear seats forward and you'll add 1115 litres of space on top of that, which by our calculations would allow you a further 27 carry-on bags, should that unlikely airport run scenario ever arise. The rear seats fold in a 40/20/40 split, too, for longer loads combined with passengers when needed. You can also open the boot without your hands, the RS6's tailgate being powered.
It's massive, then, if not quite as commodious as either that Alpina B5 Bi-Turbo Touring or the Mercedes-AMG E63 S 4Matic+ estate, though a good bit more than the 1,390 litres of the Porsche Panamera Turbo Sport Turismo with its seats down.
There's decent oddment storage throughout the interior, too, with a good-sized glovebox and door bins, as well as a pair of cupholders between the front seats.
Being part of a bigger estate car range, Audi can sell you all manner of boot liners, dividers, ski bags, and trays, while the roof bars can be fitted with bike racks and sports equipment carriers, as well as a roof box, just in case you find a few more carry-on bags that need transporting. There's the availability of a tow bar optionally, too, it more likely an RS6 owner would use it to tow a classic racing car rather than a caravan. ISOFIX child seat mounts feature on the rear outer seats, as well as the front passenger one.
Handling and ride quality
"The RS6 has always been fast, but for all its incredible cross-country, all-weather pace it's never been the most dynamically involving car to drive. Surefooted, authoritative, and capable have always been words you'd read relating to the RS6's handling, but rarely would you read things like adjustable, involving and fun, but that's not the case with this car. "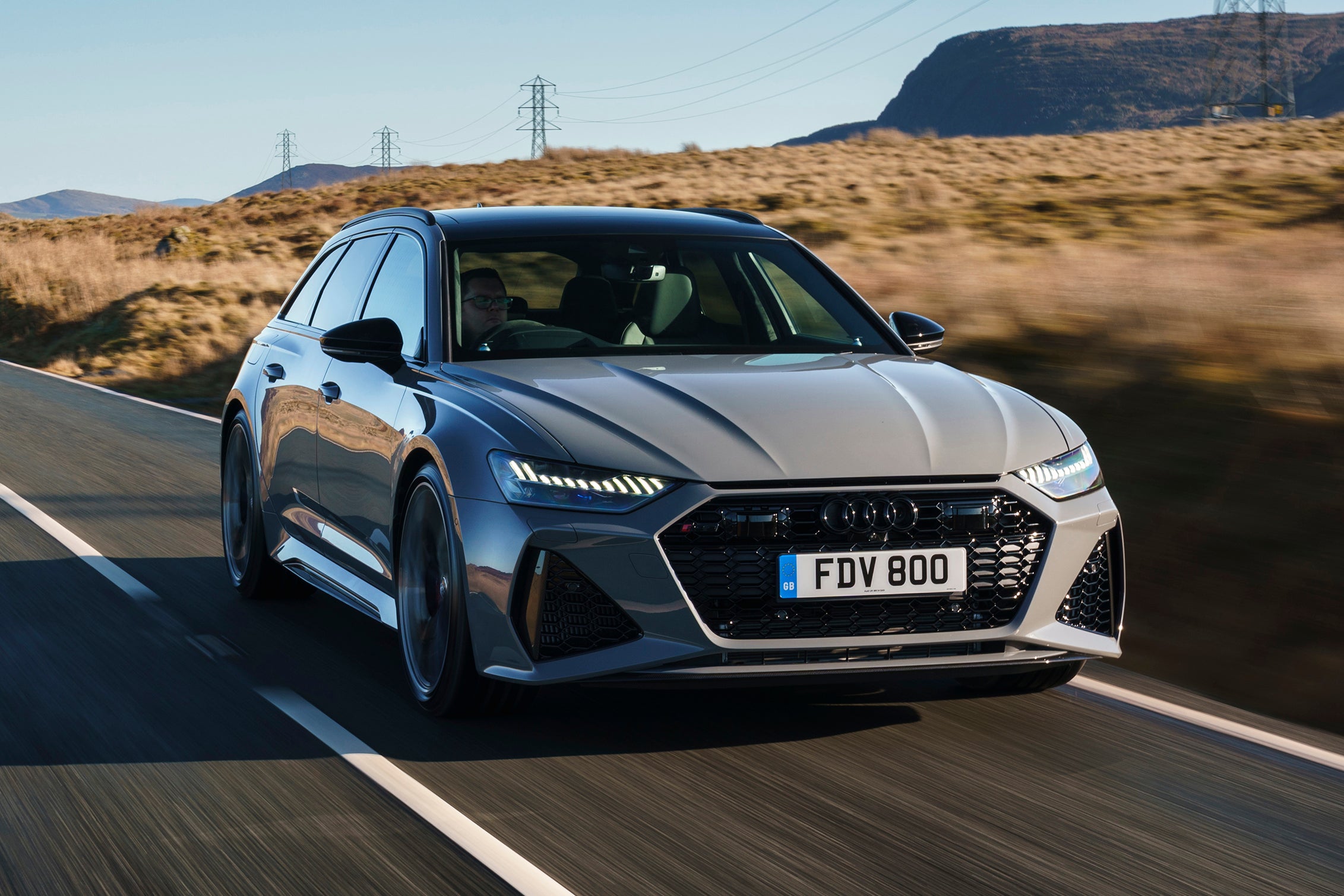 Don't think for a moment that that's been achieved at the expense of the RS6's usual skill set, it's still fairly unwavering in its surefootedness, only now it's achieved without completely removing the driver from the equation.
All RS6s come with Audi's Sport Differential as standard, which means, despite its quattro four-wheel drive it does, at times, feel like it's the rear that's doing most of the work. It's not as wild as an AMG E63 S is, particularly as the AMG offers the ability to switch off the four-wheel drive and make it rear-wheel drive only, but who really does that?

The RS6's standard fitment of rear-wheel steering is crucial in aiding that boosted agility and enjoyment. Depending on the speed it turns either with or opposite to the front wheels, aiding high speed stability and quickening turn in response, it effectively, virtually shortening the wheelbase. That rear-wheel steering actually makes the RS6 feel as nimble as its smaller RS4 relation.

Two suspension choices are offered, a standard RS air suspension set-up which offers a fine low speed ride, impressive given the standard 21-inch alloy wheels (or optional 22-inch items), and the optional Dynamic Ride Control suspension, which improves the RS6's cornering ability further by offering even greater roll stabilisation in the bends, it losing the air springs and getting steel springs.

Inevitably, there's a limit to what the suspension can do on poorer surfaces, the combination of the RS6's focus and those huge alloy wheels with low sidewall tyres meaning there's the odd knock and bump through the suspension, but it's the best riding, handling RS6 yet, the steering too offering a modicum of feel allied to its fine weighting and clear response.
Engines and gearboxes
There's only one engine in the RS6 line-up, but it's a cracker. Power comes from a 4.0-litre twin turbo V8, which produces 600PS at 6,000rpm, that high revving power underpinned by a huge peak 800Nm torque figure providing plenty of twist from 2,000rpm, and hanging around until 4,500rpm. That's enough to give the RS6 the ability to sprint to 62mph in 3.6 seconds, which given the RS6 weighs in at over two tonnes is impressive indeed.
That powerhouse of an engine is smooth and eager, its low rev torque giving it real flexibility. The eight-speed automatic transmission helps, of course, though it's not quite in the same league as some rivals for speediness, as it's a conventional torque convertor unit compared to some rival's DSG twin clutch designs.
That does mean it's smoother a slower speeds, which isn't a bad thing. The eight-speed transmission drives the quattro four-wheel drive system through a central differential, this usually distributing the drive with a 40:60 torque split front to rear, but it can push as much as 85% of the drive rearwards if necessary.
For all its outrageous performance the RS6 isn't completely oblivious to the environment, indeed, to that V8 Audi has fitted a 48 Volt mild hybrid system. It's not a plug-in system, or one used to drive the car, but one that scavenges back otherwise wasted energy to assist. It's effectively an enhanced stop-start system, which allows the RS6 to coast at speed, the V8 engine also fitted with cylinder-on-demand technology, which shuts down four of the eight cylinders under lighter throttle loadings.
Refinement and noise levels
It's inevitable that the RS6 is going to be a bit louder than its A6 Avant relations, after all, that's kind of the point. The 4.0-litre twin turbo V8 is heard, then, in a good way, it pleasing with its melodious V8 wuffle, it shrieking as you wring it out and crackling and popping on the overrun. To hear it at its best you need to add £1,450 to its list price and specify the RS Sports Exhaust system, that more tuneful tailpipe coming as standard with Vorsprung specification.
Take it on a longer cruise and it all settles down, the RS6's V8 working quietly in the background, riding the ample torque in the upper ratios to swallow miles as effortlessly as its boot does loads. There's the odd bit of tyre slap and road noise on poorer road surfaces, but for a car that's got so much performance potential, and so much tyre on the road it's genuinely impressive how Audi has managed to improve on its dynamic ability, without depriving it of its touring and comfort credentials.
Safety equipment
The A6 has been independently crash tested by EuroNCAP, and it scored a maximum five star score. That's hardly a surprise, and with the RS6 sharing the same structure and equipment, it would score the same, if not better than its A6 relations, the RS6 potentially safer because it's got greater stopping power.
The standard safety equipment list is extensive, with the RS6 Avant and Carbon Black models have Pre sense city, Cruise control with a speed limiter, forward camera with dynamic road sign display, lane departure warning, passenger presence detection, ISOFIX anchors on the outermost rear seats and front passenger seat – with airbag cut off – a tyre pressure monitoring system, Emergency call service, Lane Departure Warning, a first aid kit with warning triangle, front driver and passenger airbags, front and rear side airbags including head airbags.
The Vorsprung gains all Audi's most advanced safety equipment, including a head-up display, Adaptive Cruise Assist, Emergency Assist, 360 degree cameras, Audi Side Assist, Pre sense rear and cross traffic assist front – these extras available by specifying a combination of the Tour and City Assist packs.
If you want the maximum potential stopping power you can option your RS6 with carbon ceramic disc brakes, too, though at over £9,000 they're an expensive add on, and not really necessary unless your commute takes in a track day.
MPG and fuel costs
"Fuel economy and twin turbo V8 engines with 600PS, hauling around over two tonnes are an unlikely mix. Even with that mild hybrid allowing coasting here and there. And so it proves, the RS6 is far from parsimonious, but then, you knew that didn't you?"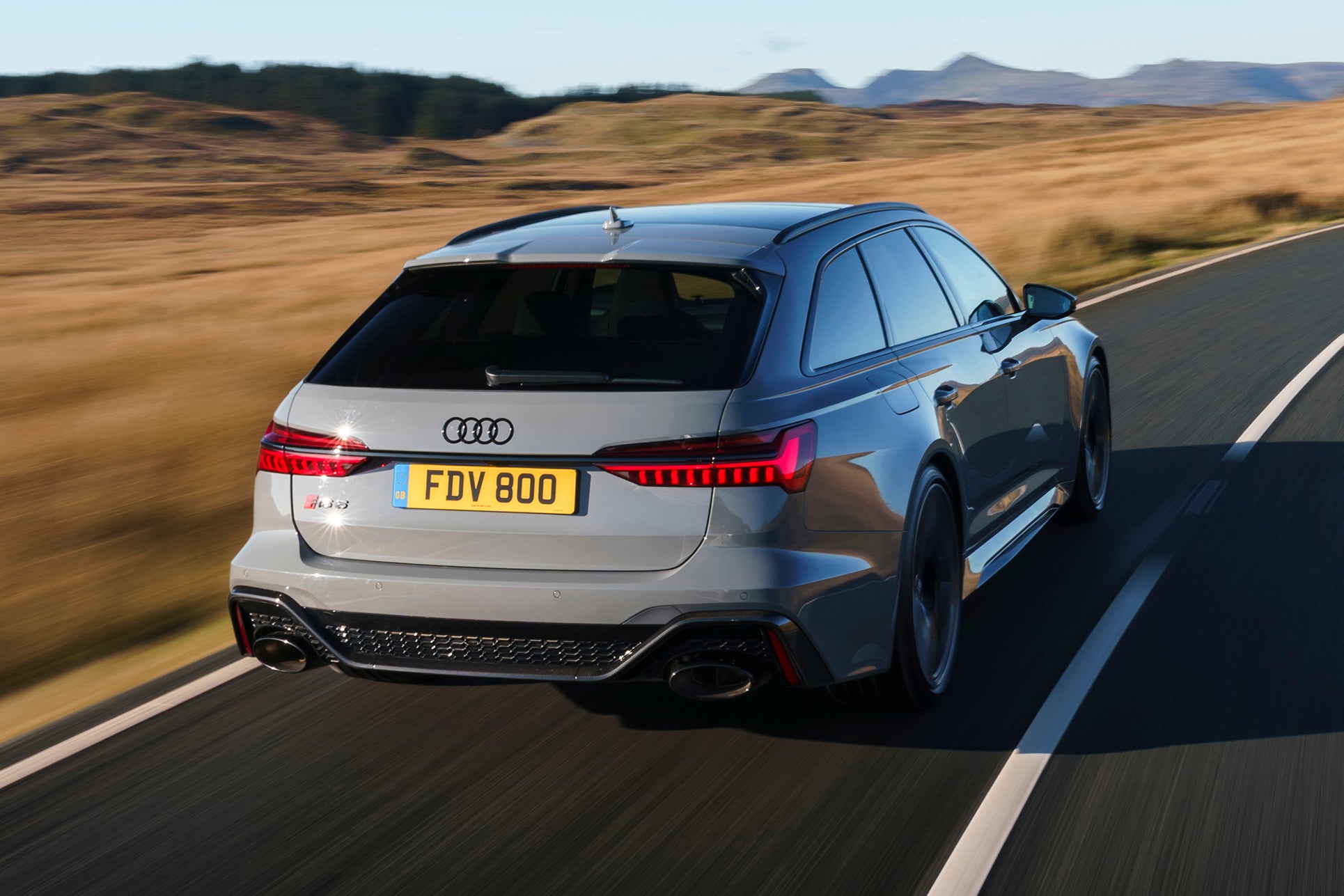 Tested to WLTP procedures, which give a more realistic view of consumption than the old measurements, the official combined figure is just, gulp, 22.6mpg. Drive it with any vigour and it won't be too difficult to get it into the early teens, and if you're in a massive rush back from Waitrose, then you might even manage single figures.
Insurance groups and costs
Top whack, that's what you can expect to pay when it comes to insurance, which is hardly surprising. It's probable you've other cars, with equal, if not better performance, so you're unlikely to find the insurance costs a shock. You can buy an extended warranty, adding a fourth/fifth year if you like. Servicing will be expensive, those huge tyres won't be cheap, nor will other consumables like brake pads and fluids. That said, it'll be cheaper than a Porsche 911 which its performance rivals, you keep telling yourself that in justification and you'll be just fine.
P4 - VED car tax
It's a £80,000-£100,000+ car with a 600PS 4.0-litre twin turbo V8 petrol engine, so the government isn't going to do anything but put you in the top tax band to pay for it. VED for the first five years attracts a premium, and buying it on the company won't be cheap, either, with CO2 of 283g/km.
How much should you be paying for a used Audi RS6?
"The RS6 has only just returned to the UK market, so aside from delivery mileage examples, there's very little in the way of used stock."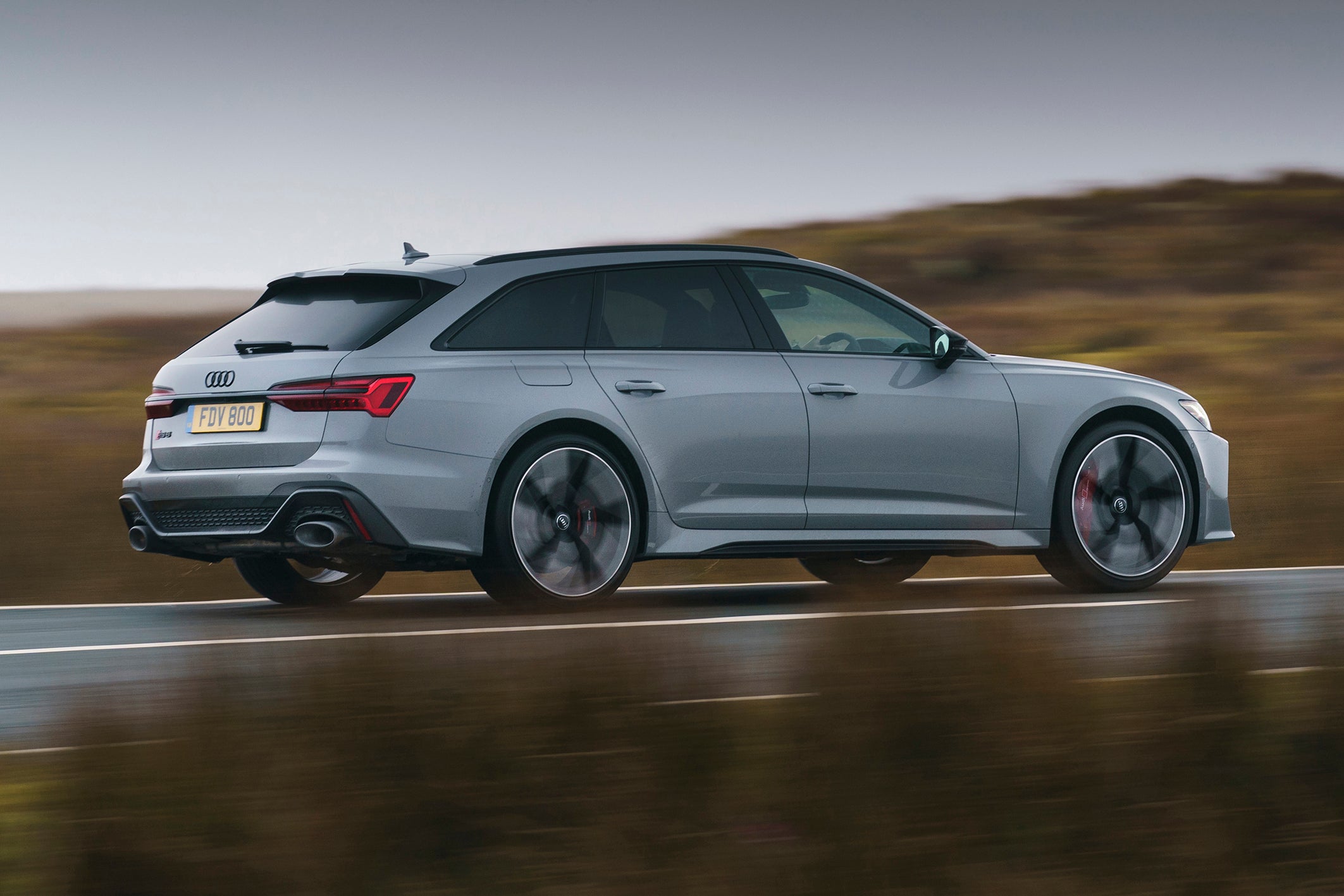 Certainly, if you're looking for a sizeable depreciation and mileage inflicted discounted RS6 you'll be in for a wait for a year or two. You might squeeze a few thousand pounds off an early car, but good luck trying, for now.
Trim levels and standard equipment
The RS6 comes, like its smaller RS4 relation, in three trim levels. The line-up is started with the RS6 Avant, it comes with everything you really need, though we'd add the Comfort and Sound Package, to its specification, as well as the RS Sports Exhaust.
Above it is the Carbon Black, which does as its name suggests, there's some carbon (black, unsurprisingly) and some additional black elements inside and out for a stealthier look to your RS6. It also gains 22-inch alloy wheels over that 'ordinary' RS6's 21-inch ones. Again we'd add the Comfort and Sound pack, as well as the sports exhaust.
The Vorsprung gets both of those as standard, indeed, go onto Audi's online configurator and you'll do well to find anything to add to its specification. It's absolutely fully-loaded, though so it should be, as it's around £13,000 more than the standard RS6.
Audi RS6 cars for sale on heycar
11,985
Number of cars available
£45K - £116K
Price bracket of these cars
Colours available on heycar
Keep me updated by email with the latest advice, news and offers from heycar
By submitting, you agree to our
privacy policy
.