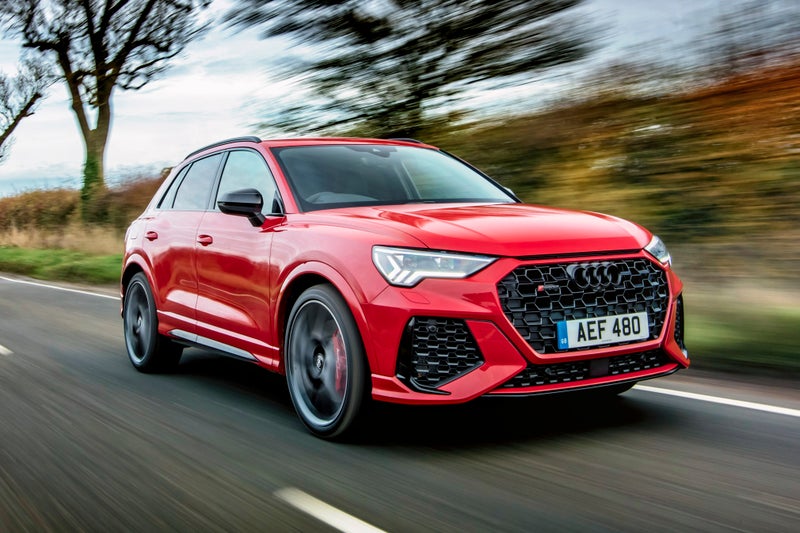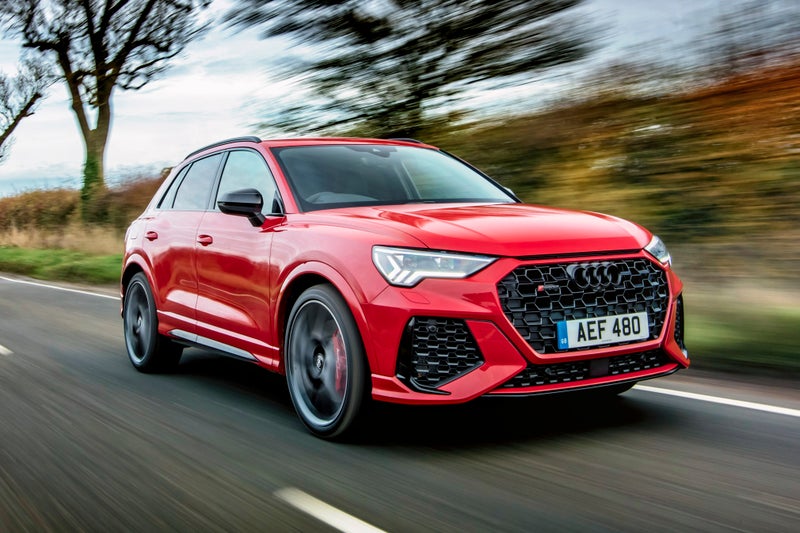 1/10
heycar rating
"Characterful and sophisticated sporting SUV "
Launched: 2020

Performance

Petrol
Quick overview
Pros
Brilliant engine
Distinctively sporty looks
Fairly practical
Cons
Expensive to buy and run
Lacks driver involvement
Image is too aggressive for some
Overall verdict
On the inside
Driving
Cost to run
Prices and Specs
Overall verdict
"The Q3 is Audi's second-smallest SUV, now into its second generation. And the cult success of a leftfield sporty version of the original, the RS Q3, has encouraged the marque to quickly launch a follow-up. Wisely, Audi has stuck to the original template, which proved such a guilty pleasure."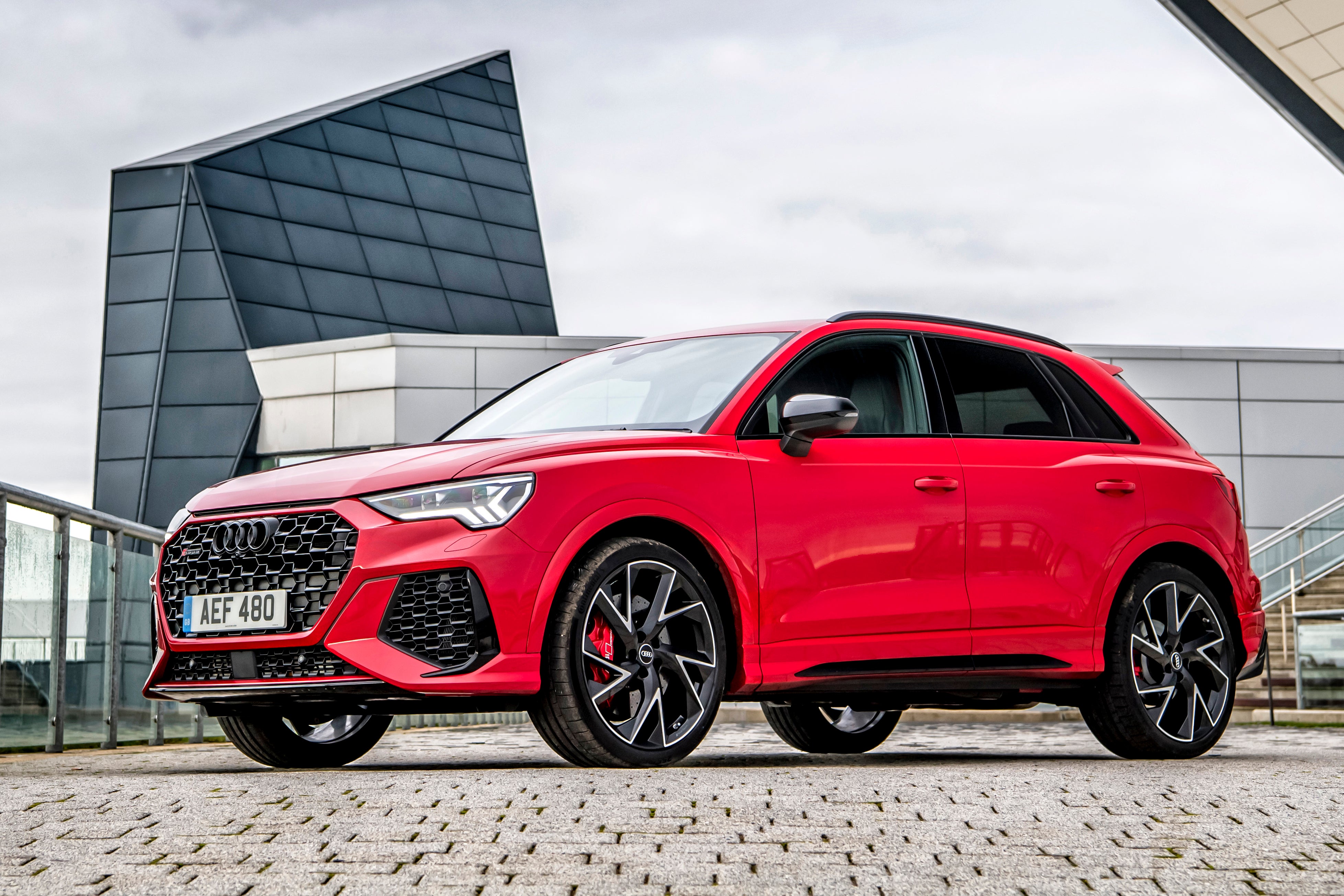 Under the bonnet sits the same star of the show: a 2.5-litre five-cylinder turbo engine. This is a classic Audi configuration, made famous by the original Audi Quattro of the 1980s, and demonstrates all its burbly character in this latest application.
With 400PS, performance is startling, with 0-62mph taking just 4.5 seconds. Top speed in standard guise is 155mph, or you can pay extra to raise the speed limiter to 174mph. As for fuel economy, though, it's best not to ask. Oh, go on then: less than 29mpg – and CO2 emissions top the 200g/km barrier.
You also can't buy even a basic RS Q3 for less than £52,000, so it's a big investment to make. But the ever-growing popularity of such performance SUVs, evidenced by rivals from BMW, Mercedes-AMG and Porsche, suggests that people aren't shy in forking out. Indeed, Audi even offers a range-topping variant of the RS Q3 called Vorsprung, which it expects to be popular, that costs more than £60,000.
Suitably aggressive styling comes as standard. The latest Audi Q3 is already a sharper, more angular machine than the original, and the RS Q3 turns the dial up further. There are huge gloss black air intakes in the front bumper, massive 20-inch alloys and gigantic dual exhausts poking out of the large rear diffuser.
The RS Q3 sits 10mm lower than a regular Audi Q3, and the options list includes plenty of bespoke customisation features and even larger 21-inch wheels. Needless to say, it's impossible to confuse it with a regular Q3.
Inside, the dashboard is dominated by dual screens, an Alcantara flat-bottomed steering wheel, heavily bolstered seats and the sort of special-finish trim you'd expect from a car costing so much. Audi even fits an 'RS' button to the steering wheel, so drivers can quickly call up their favourite settings.
As this is a performance Audi, the RS Q3 comes with Quattro all-wheel drive as standard. This gives it stupendous traction, and is responsible for its breathtaking ability to leap away from the line. The Audi isn't as engaging as the more dynamic Porsche Macan, though. The RS Q3 is about fast point-to-point driving, rather than overall feedback.
Being an SUV also means the Q3 is more family-friendly than the Audi A3 Sportback, its natural hatchback alternative. There's decent space in the rear and the boot is a fair size. Occupants also get that raised SUV seating position that many find so appealing.
It's not for everyone, but it's hard to ignore the growing number of high-performance compact SUVs. We're certain the RS Q3's success will only continue as it evolves from a charming curio into a mainstay of the range.
If you're looking for the standard version, you need our Audi Q3 review.
Is the Audi RS Q3 right for you?
Just as ultra-fast hot hatchbacks are popular right now, so too are their SUV equivalents. As they stretch across every sector of new car, it's almost inevitable that performance versions will grow in desirability.
That's exactly what Audi found with the RS Q3: the original was something of a 'bitsa', a car you sense was conjured up almost as an experiment. But people liked it, and that encouraged the firm to develop this all-new version.
Love exceptional speed and dynamics within a compact overall package, but still want to experience the SUV stance and higher driving position? Then it's likely you'll want to check out the RS Q3. And if this regular version isn't quite sleek enough for you, Audi now offers an RS Q3 Sportback with a swooping roofline and even sportier looks.
What's the best Audi RS Q3 model/engine to choose?
There's only one engine offered in the RS Q3, that rorty 2.5-litre five-cylinder petrol. With any other engine, it wouldn't be an authentic junior RS vehicle. Audi also only sells it with a seven-speed automatic gearbox, called S Tronic.
There are three model variants - regular RS Q3, Sport Edition and Vorsprung. The latter two have larger alloys and other extras, while Vorsprung is packed with equipment – including almost every bit of tech usually on the options list.
If you want a less potent alternative to the RS Q3, you need to choose something like a Q3 Sport 45 TFSI Quattro, which has a 230PS 2.0-litre TFSI petrol engine. We await with interest the arrival of an SQ3 to plug that massive gap in power…
What other cars are similar to the Audi RS Q3?
The Porsche Macan is an obvious rival to the Audi RS Q3. Whereas the Audi is a sporty version of a conventional car, the Porsche is a more performance-oriented machine from the outset. The V6-engined Macan S may not have the sheer firepower of the Audi, but it's not far off – and it costs similar money.
Mercedes-AMG is another performance sub-brand stretching out into SUVs, and the GLA 45 is a ferocious little rocket. BMW offers the X2 M35i, but this is more of an SQ3 alternative than a full-on RS Q3 rival. Time will tell whether the firm rolls out a full-fat X2 M.
Comfort and design
"Audi has a longstanding reputation for building brilliant interiors, and the RS Q3 is nothing if not distinctive inside. The layout follows the company's new approach, designing things around a huge central touchscreen, with an additional large display in the instrument binnacle to replace the traditional dials."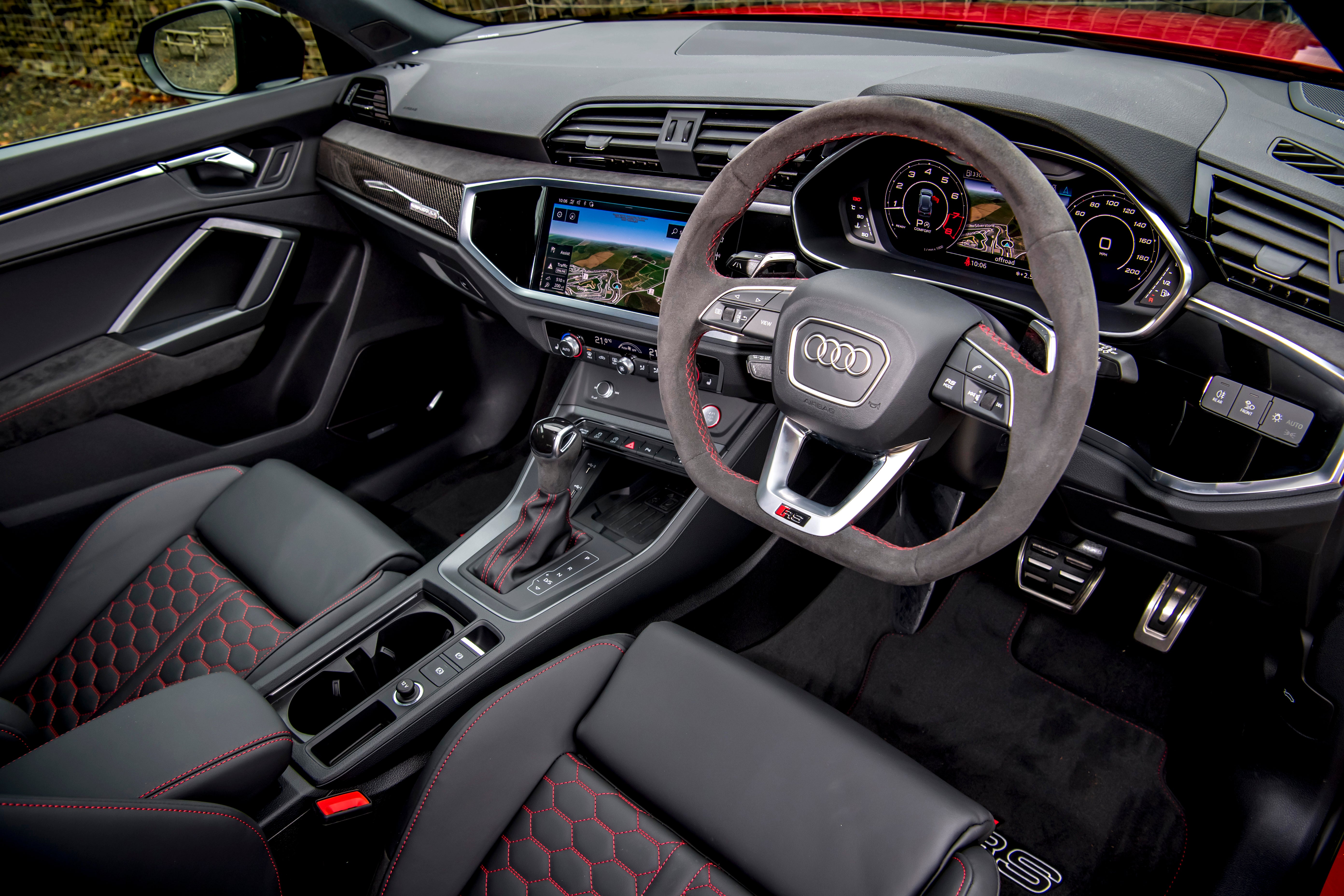 The central screen is a 10.1-inch widescreen display, positioned within its own cutaway section of the dashboard. The display ahead of the driver is even larger, at 12.3 inches, and relays a myriad of information to the driver.
It's a very bold design, but lacks the sophistication of older Audis. It's dominated by angles and a mix of materials, amplified by polished aluminium highlights. There's a lot going on in there. We do like the shape of the centre console though, which is angled to give a semi-sporty feel behind the wheel, despite the SUV stance.
The seats are extremely comfortable. Audi has fitted a proper performance car set of front seats, with chunky bolsters and an adjustable base squab to give extra under-thigh support. They almost completely vanquish the 'perched' feel you sometimes get from SUVs, and feel much more enveloping than the original RS Q3's seats – they felt a bit like sitting on a dining room chair.
The RS sports seats are trimmed in beautifully soft Nappa leather, with honeycomb stitching to match the shape of the front grille. They're embossed with the RS logo and even have four-way electric lumbar adjustment.
Quality and finish
Audi has a great reputation for interior quality too. However, while the RS Q3 is undoubtedly well built, some of the trims aren't quite as indulgent as they once were. Investigate parts of the dashboard with your hands and you'll discover some surprisingly hard and scratchy plastic in places. That's fine on the regular Q3, but seems a bit out of place in a vehicle costing as much as £60,000.
The RS Q3-specific materials are better. We've mentioned the wonderfully rich seats, with Nappa leather that also covers the door panels and steering wheel. Both colour screens are crisp and high-resolution, and the piano black panel in the centre of the dashboard is deep and lustrous.
The sparkling polished aluminium trim looks and feels high-end too. And Audi has added the distinct feature of Alcantara trim panels into the dash – which you can even option in bold orange if you wish. Naturally, minor controls are solid, from the stalks behind the steering wheel to the tactile climate control switches.
It's outstandingly well built on the outside, with ultra-thick paint, precise panel gaps and well-executed styling add-ons that help justify a heady price tag.
Infotainment
All Audi RS Q3s come with the same MMI Navigation Plus system, which uses a central 10.1-inch touchscreen and the 12.3-inch Audi Virtual Cockpit instrument display. It is a very sophisticated set-up with a brilliant array of features, including some RS-specific displays to provide some extra pizazz. The latter include a G-force meter, bar-shaped rev counter, power and torque percentage outputs, turbo boost, oil temperature and a light that indicates whether you're in custom mode RS1 or RS2.
The central touchscreen has Audi Connect Infotainment Services Plus built in, and a free three-year subscription to the online functionality it offers. This includes full Amazon Alexa integration, while the Audi Smartphone Interface includes wireless Apple CarPlay. There's a regular USB socket and a more modern USB-C connector, voice control with natural language processing, plus DAB and Bluetooth.
Regular RS Q3s have a normal Audi sound system, which is upgraded in the Vorsprung to a Bang & Olufsen 3D set-up. These variants also get a driver assistance pack, which is masterminded through the infotainment system.
Space and practicality
The slightly odd driving position of the previous Q3 is no more. In that car, you felt like you were sitting on top of the vehicle, towering over the dashboard, with the pedals positioned too close and the steering wheel not quite stretching far back enough.
It's much more natural in this latest Q3. The pedals are further away, and located a bit more in front of you, rather than below. The foot well is roomier and the seat has a more natural position relative to the rest of the interior.
It makes the RS Q3 feel more commanding to sit in, and also gives you the confidence to press on through twisty corners without feeling a little like you might fall out of your seat.
Despite the chunky front chairs, space in the rear is good – again, much better than the old model. The rear bench seat slides and has an adjustable 60:40-split backrest. There's a decent amount of headroom, even in models fitted with a standard panoramic glass roof, and seat comfort is good in the rear as well as the front. The seats again carry stitched patterns and the Nappa leather is as rich as that in the front. Only the view forwards might give cause for grumbles – the single-piece backrests of the RS front seats do block forward vision a little.
The boot is wide and very well shaped. An adjustable floor gives it a flat load space, with a smooth metal load protector making it easy to slide things in and out. Its maximum capacity is 530 litres with the seats up, extending to a huge 1,525 litres with the seats fully folded. The backrest is split 40:20:40 for even more flexibility.
We also like how Audi has created a space beneath the boot floor for storing the parcel shelf, so you don't have to either leave it behind or have it resting annoyingly on top of whatever bulky load you're carrying.
There are two rear Isofix mountings for child seats, concealed behind marked plastic panels in the seat base. Loading and unloading children is easier in the RS Q3 than the RS Q3 Sportback, due to the latter's plunging roofline and smaller door openings.
Handling and ride quality
"The RS Q3 sticks closely to the Audi performance car form book in its setup: it's firm. Ride quality has an unyielding attitude, with a stiff and jiggly feel. You'd expect nothing less, as this is a very high-performance machine, but it may be a surprise for those used to softer and more supple SUVs."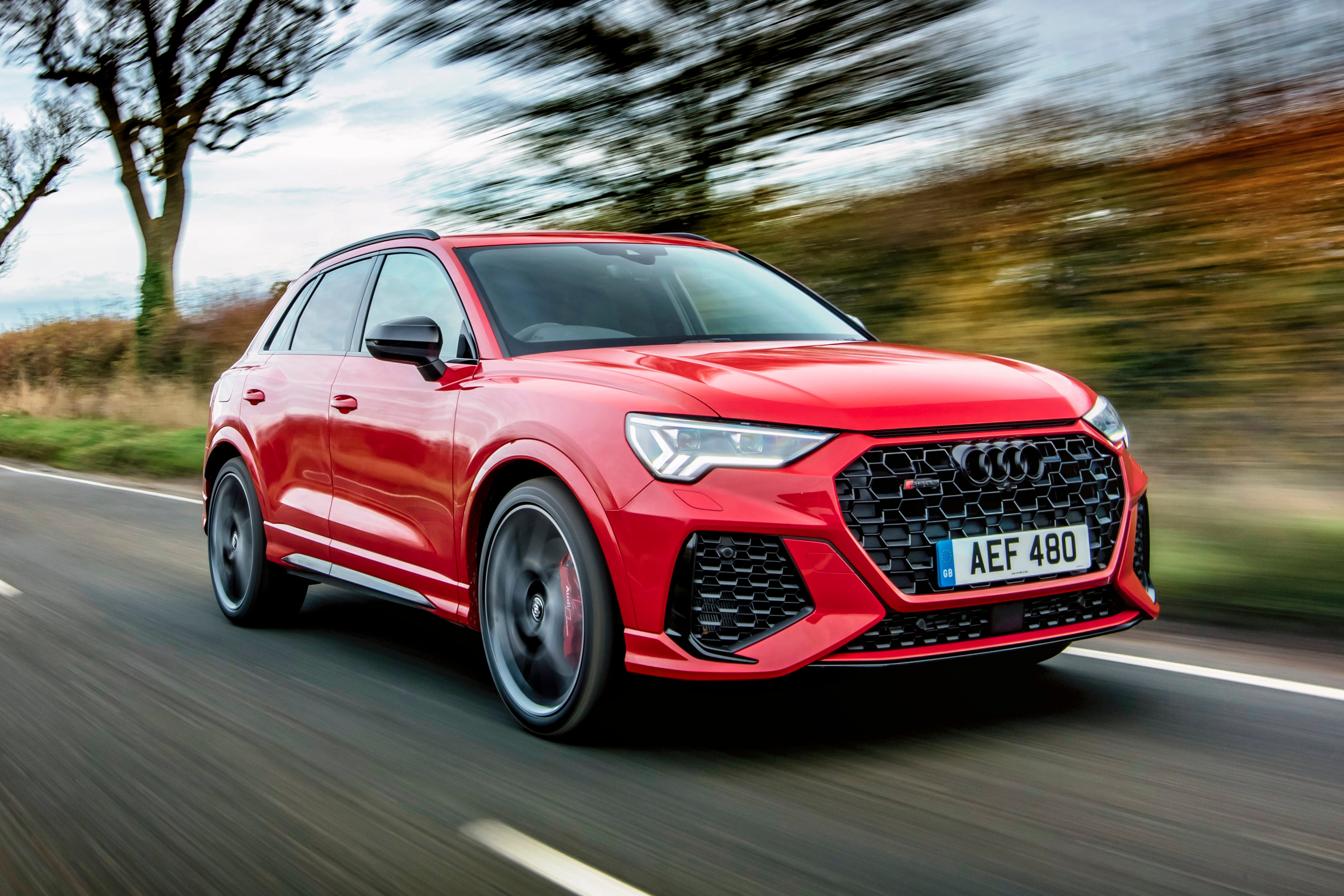 Optional ceramic brakes are available. They cost a small fortune but give immense and tireless retardation from high speeds, although they're a bit grabbier in day-to-day use. We'd save the £5k and spend a more manageable £1k on adaptive dampers instead (they're part of the Sport Suspension Plus kit, and fitted as standard to Vorsprung models). These help reduce the crashiness of the ride over poor surfaces, and give an extra dose of body control at higher speeds.
When you select adaptive dampers, it also adds extra functionality to the RS mode button on the steering wheel. Drivers can choose from two configurations, depending on how stiff (or not) they want the suspension to be. Other settings are adjusted, including the weight of the steering and the spiciness of the accelerator pedal response.
Handling is faithful and trustworthy, with an exceptional amount of grip. It's higher off the ground than a performance hatchback, but still hunkers down and holds on when being chucked around tight corners at silly speeds. Such speeds really are easy, thanks to the bite from the tyres and the security of the Quattro all-wheel drive system.
The RS Q3 can send up to 85 percent of its drive rearwards, but it never particularly feels rear-driven. It's not particularly involving either, with the steering seeming remote despite its firm weight. This is Audi's trademark feel – total security whatever the weather. If you want more involvement, Volkswagen Group sister brand Porsche is there to deliver that.
 Engines and gearboxes
The 2.5-litre five-cylinder single-turbo engine fitted to the RS Q3 is brilliant. It absolutely is the highlight here. For starters, there's the noise. It may not be quite as incendiary as it once was, but it's still exceedingly charismatic, with a thoroughly authentic five-cylinder burble that turns into a rousing blare at higher revs (it's redlined at a heady 7,000rpm). Rally-style pops and crackles from the exhaust are entertaining as well – particularly from Sport Edition versions, which have a standard sports exhaust.
It's remarkable how quick it can launch itself off the line, and the power seems to build right through the rev range. It may only have one big turbo rather than two smaller ones, but it's hard to catch the engine off-boost. Most of the time, it will respond to the accelerator pedal with an instantaneous kick.
We love how free-spinning it is, too. This is a fairly large engine, with five big cylinders, but it's silky-smooth and feels incredibly inertia-free.
The S Tronic gearbox is a bit more frustrating if you leave it to its own devices. It has a tendency to change up a bit too early, even in Sport mode, seeming reluctant to hold onto gears. Take matters into your own hands with the paddle shifters behind the steering wheel, though, and you can flick near-instantly between the dual-clutch transmission's gear ratios.
Refinement and noise levels
If you're erring towards the RS Q3, you probably won't grumble about one source of noise – the engine itself. Indeed, you'll probably want even more of it. The sound is entertaining, but the exhaust crackles and bangs aren't quite as intense as they once were, as the car is now fitted with an exhaust particulate filter.
It still sounds unlike any other engine, though, and is one of the most authentically 'Audi' engines out there. Big wheels mean a fair bit of road noise is inevitable. The tyres do generate quite a roar, particularly at higher speeds. Naturally, the 21-inch wheels are worse in this regard, and they also pick out more lumps and bumps in the road.
Otherwise, it's not too bad, with the aero-enhanced body generating less wind noise, and the sturdy build not disturbing refinement inside with any rattles or buzzes.
Safety equipment
A comprehensive haul of standard safety gear includes six airbags, an extra ISOFIX mount on the front passenger seat, front passenger airbag deactivation, remote electrically-operated rear child locks and a first aid kit with a warning triangle.
Driver assistance features include autonomous emergency braking in towns (complete with pedestrian and cyclist detection), camera-based road sign recognition and the Audi Side Assist blind-spot warning system. When you engage reverse gear, a cross-traffic assist system warns of approaching cars or pedestrians, and will jolt the brakes if it thinks a collision is inevitable.
There's a lane-departure warning system, cruise control with speed limiter, an electric parking brake and, amusingly, hill descent control. Not that we imagine a single RS Q3 owner will ever venture far enough off-road to actually use this.
Vorsprung models get a driver assistance package including a 360-degree camera and adaptive cruise control. This maintains a set distance from the vehicle in front, and gives steering assistance to help the driver stay within their lane. It works at speeds of up to 124mph. Euro NCAP has awarded the Q3 range a full five-star safety rating.
MPG and fuel costs
"By modern standards, the Audi RS Q3 is a thirsty machine. It's rare that even performance cars in this sector weigh in with fuel economy below 30mpg, but the Audi manages it."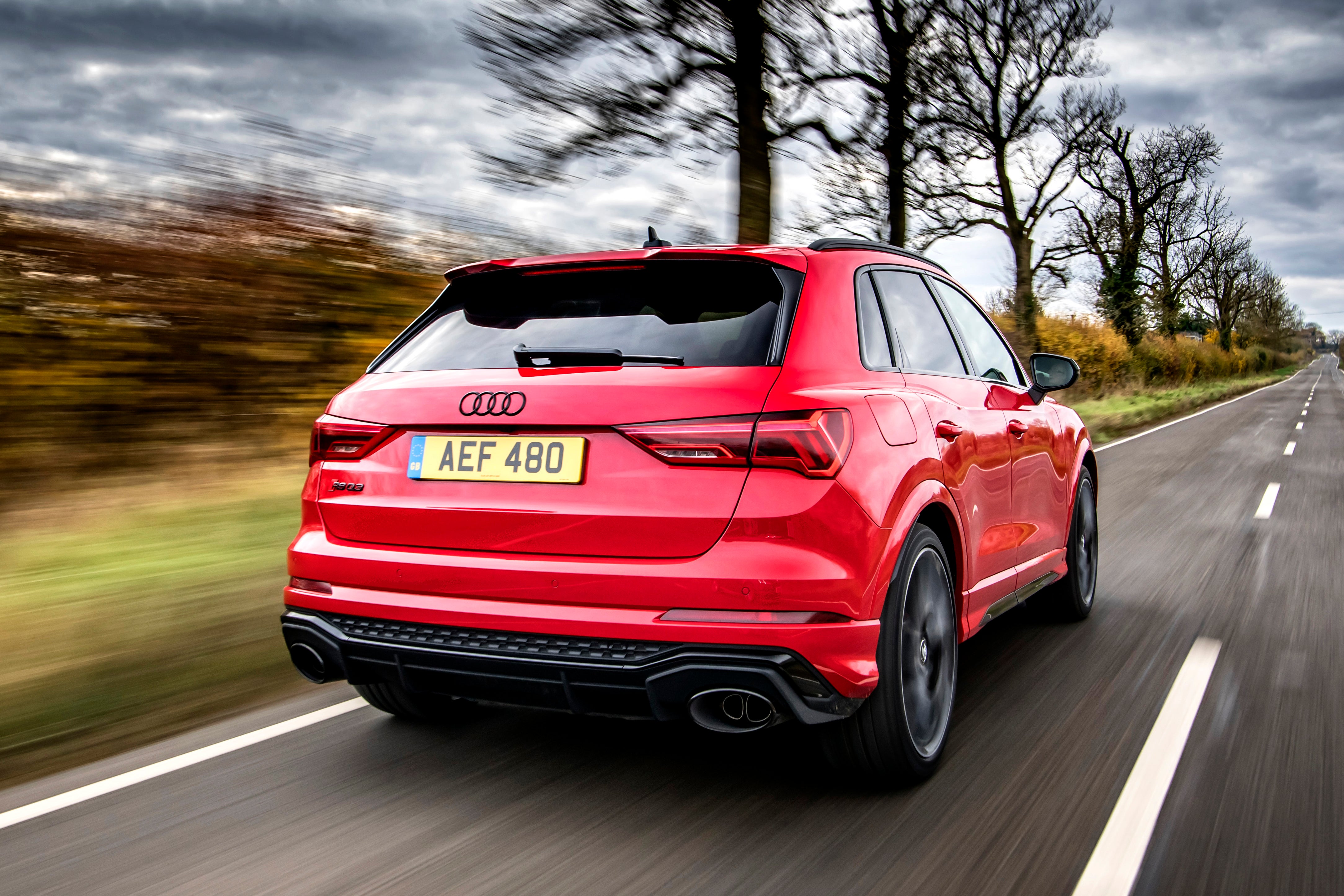 Its average combined figure is 28.9mpg. Fuel costs will reflect this, particularly if you use the full performance of the engine. It does, however, come fitted with a standard exhaust particulate filter. This helps keep emissions under control, no matter how hard you drive it. Good news for our city centres.
Insurance groups and costs
Insurance groups and costs are high, but maybe not quite as prohibitive as you might fear. The regular Audi RS Q3, for example, comes in at group 40 – that's expensive, but this is a 400PS vehicle with a wildly fast 0-62mph time. It could be a lot worse.
The fancy Vorsprung version may have extra active safety features, but it also has larger wheels and more expensive kit elsewhere. It is therefore a bit more expensive to insure, with a group 42 rating.
VED car tax
Heady CO2 emissions of 202g/km mean the RS Q3 drops into a steep £1,305 first-year VED (road tax) rate. And because it costs more than £40,000, owners will also have to pay the £475 'premium car' tax rate for years two to six.
At least after that, car tax drops down to the regular £150 a year level. Under the old pre-2017 system, RS Q3 owners would have forked out more than twice this per year.
How much should you be paying for a used Audi RS Q3?
"New Audi RS Q3 prices start from over £52,000, or £57,000 for the Sport Edition and nearly £61,000 for the Vorsprung."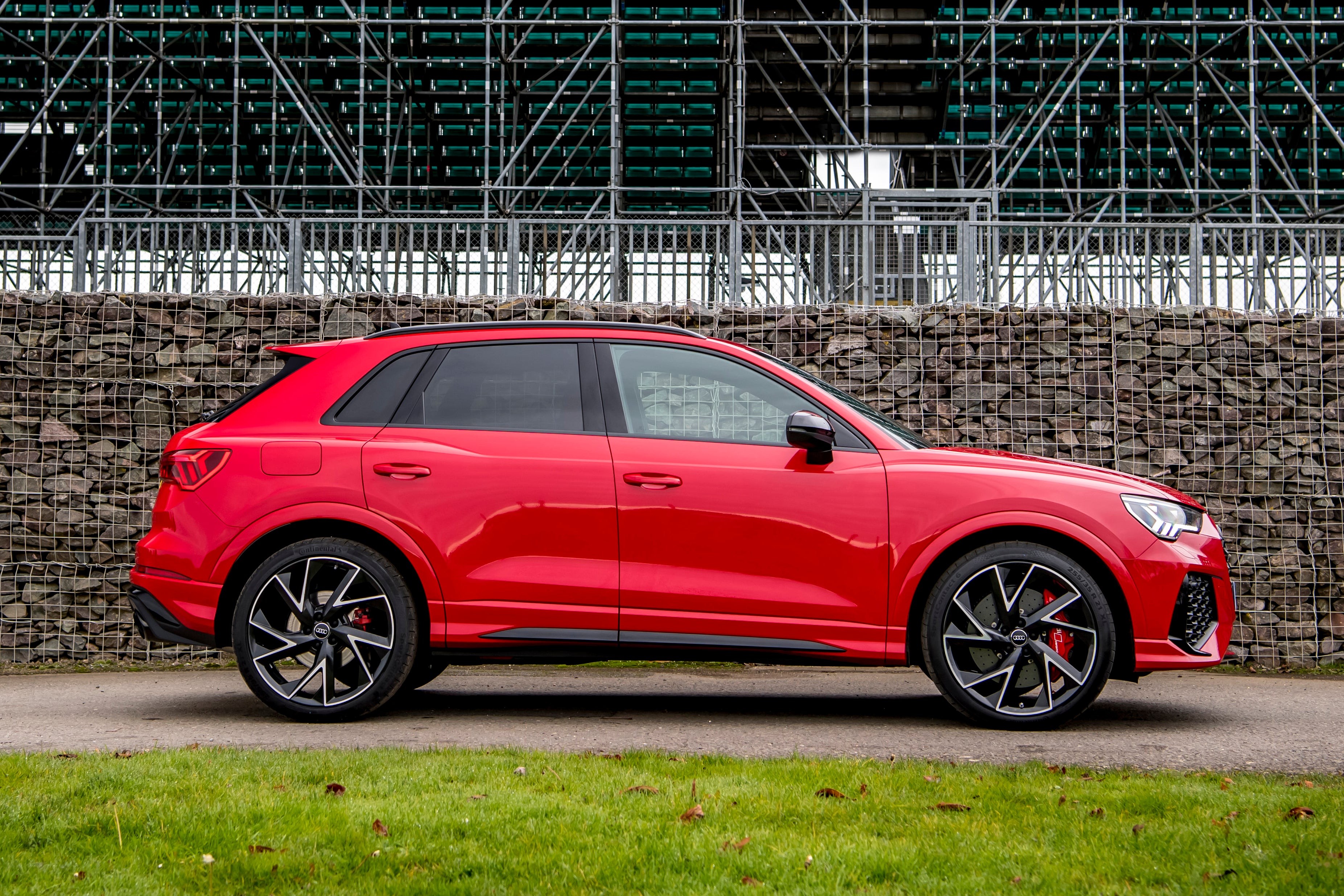 You can keep adding expense on top of this too: ceramic brakes alone are £5,000, for example. The RS Q3 is still a very new car, so there are few currently available on the secondhand market. Those that are up for sale have generally covered fewer than 1,000 miles, usually as dealer demonstrators. They are well-specced, beautifully prepared, available immediately… and still generally priced upwards of £50,000.
Nearly-new cars are worth checking out for one particular reason – the potential for generous standard specification. Dealer demonstrators might carry features that new buyers will pay extra for, meaning you can pick up a car with a better spec without having to pay full list price for the added features.
Trim levels and standard equipment
You'd hope a car costing over £50,000 would offer a good level of standard equipment and the RS Q3 doesn't disappoint. Even the smallest alloy wheel is 20 inches in diameter, LED headlights and rear lights are standard, the Nappa front seats are electric and the comprehensive Audi MMI system is included.
Sport Edition sees the alloy wheels grow to 21 inches, and they're painted black, while the black styling makeover also adds moody highlights throughout. Even the headlights are dark-tinted Matrix LED items, and both a panoramic glass roof and RS Sport exhaust are standard.
Vorsprung builds on this with luxury features such as the Bang & Olufsen sound system, driver assistance pack, carbon door mirror housings, diamond-cut 21-inch wheels and standard RS Sport Suspension Plus.
Audi RS Q3 cars for sale on heycar
11,022
Number of cars available
£26K - £64K
Price bracket of these cars
Colours available on heycar
Keep me updated by email with the latest advice, news and offers from heycar
By submitting, you agree to our
privacy policy
.