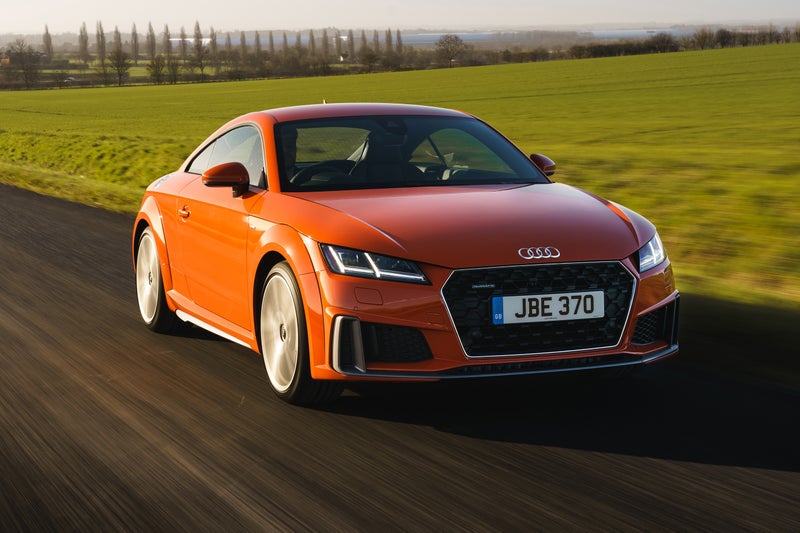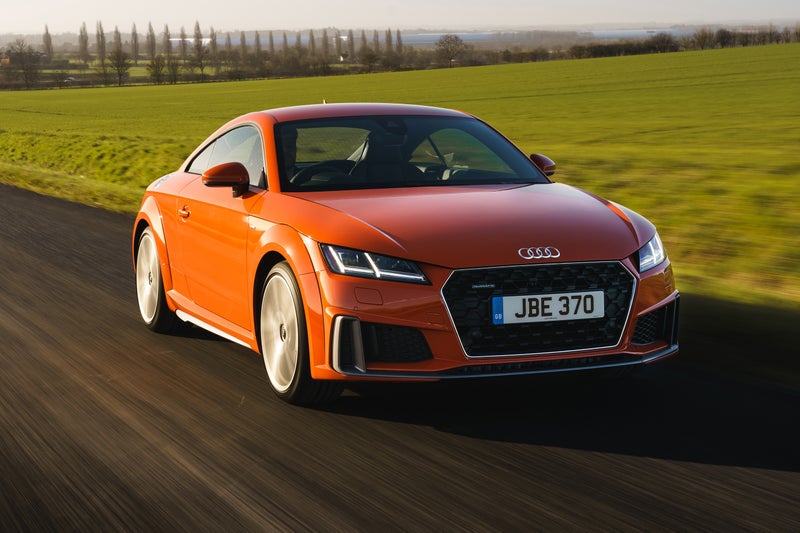 1/10
heycar rating
"Highly desirable and accomplished coupe"
Launched: 2014

Coupe

Petrol, Diesel
Quick overview
Pros
High quality interior
Easy and fun to drive
Very practical for a coupe
Cons
Navigation is a pricey option
Cramped rear seats
Firm ride on larger wheels
Overall verdict
On the inside
Driving
Cost to run
Prices and Specs
Common questions
Overall verdict on the Audi TT
"As a package, the Audi TT is one of the best coupes on the market. Its sporty image and classy interior are matched by a highly polished driving experience, but we do wish it was better equipped as standard."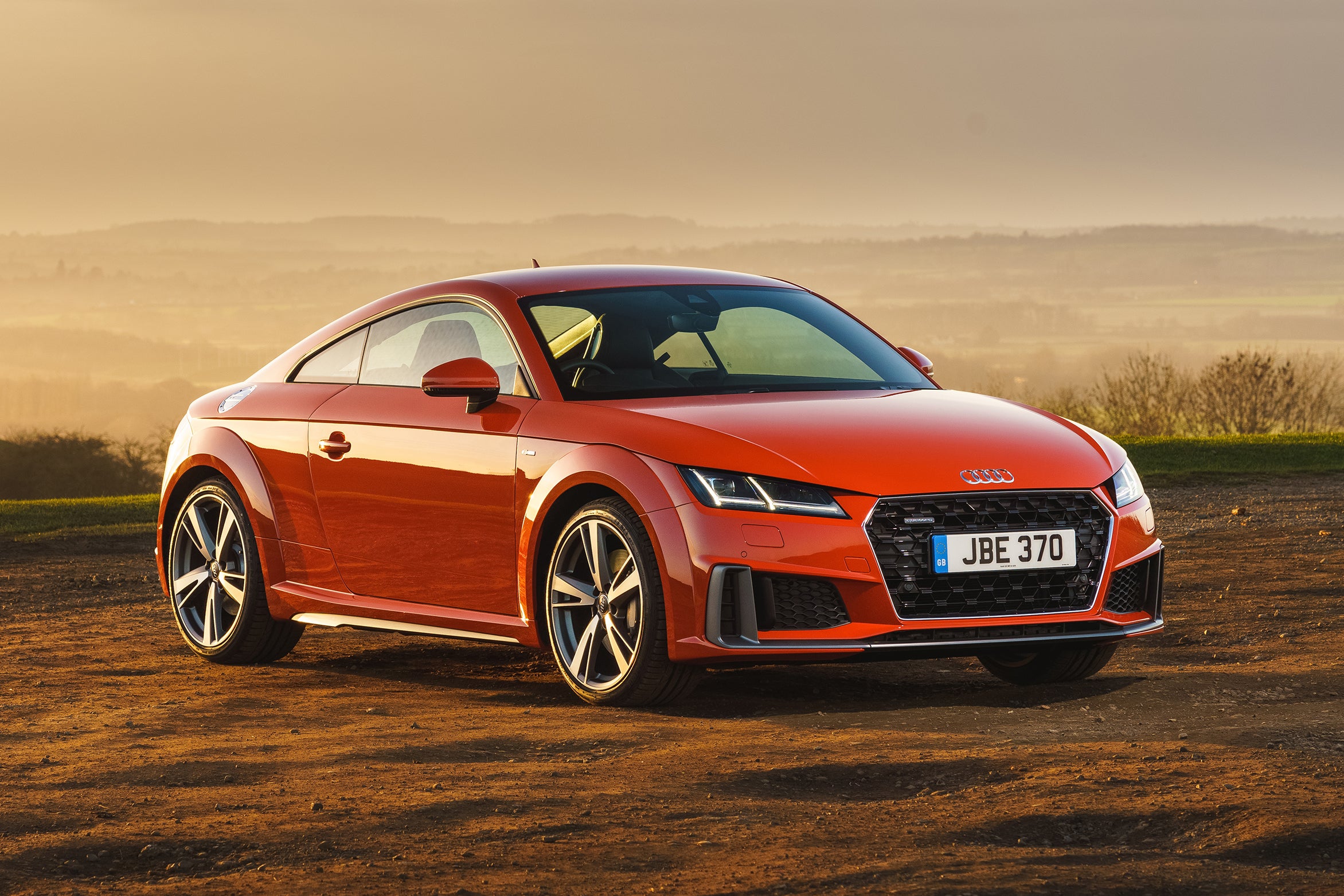 Now into its third incarnation as reviewed here, the Audi TT has filled out a little over the years. But it still remains a sporty and stylish small coupe with seating for four (at a push), meaning it rivals cars such as the BMW 2 Series, plus strict two-seat alternatives such as the Porsche Cayman and Alpine A110.
The exterior design of the Audi TT is a core part of its appeal over similarly priced hot hatchbacks or saloons. It's evolved a fair bit in the last three generations, but its curved, low-slung shape remains recognisable. The latest model adopts some of the more angular and aggressive design elements from elsewhere in the Audi line-up.
The Audi TT features a fantastic driver-oriented interior that sets the class benchmark for quality, with an uncluttered dash and a 12.3-inch digital instrument display that places the media and drive settings right in your eye-line. The plush materials and impressive build quality are Audi hallmarks, but it's also roomy and neatly laid out.
Under the skin, it shares a lot of its components with the humdrum hatchbacks like the Volkswagen Golf, but that shared DNA also makes the Audi TT a very practical choice, with two small rear seats, and a generous boot. You're unlikely to carry four passengers often, but being able to fold that rear bench to free up luggage space means you can fit a whole lot more into this compact sports car that you would in a more focused two-seater.
Its desirability has never been in doubt, but the latest Audi TT has also evolved into a great car to drive. It has fun but secure handling, with precise steering and strong grip; feeling nimble and responsive on a twisty road. This newfound driver focus hasn't come at the expense of usability though. All of the engines are impressively refined at low speeds, visibility is good, and although the ride is firm, it's comfortable enough for longer trips.
Most of the range is powered by a 2.0-litre TFSI turbo petrol engine, with between 197PS and 306PS. The flagship TT RS coupe features a ballistically quick 2.5-litre TFSI five-cylinder - click the link to see out separate review of that car.
The range was simplified in 2018 following a facelift. Tighter emissions regulations put an end to the 1.8 TFSI petrol and popular 2.0 TDI diesel model. That means the entry-level car now has the same engine capacity as the high-performance TTS, but drives just its front wheels through a dual-clutch automatic transmission.
Picking the mid-range Audi TT 45 TFSI brings a wider set of choices. A six-speed manual gearbox is standard, with the S tronic automatic transmission and quattro four-wheel drive both optional; Audi TTs with both are very quick. Fuel economy is excellent across the board - you'll be able to return 40mpg if you drive carefully enough.
The Audi TT is an attractive coupe that backs up its sharp looks and high-quality interior with a fun driving experience that mixes stable, grippy handling with refined cruising manners and brisk performance. A lovely object that demands few compromises from its owner, it's only weaknesses are a poor standard kit count, tight rear seats and high price.
If you're looking for the convertible version, you need our Audi TT Roadster review while the high performance version is covered in our Audi TT RS review.
Is the 2022 Audi TT right for you?
The Audi TT is about having your cake and eating it too. This is a sports car that says you can have the looks, performance and luxury of a coupe, without the drawbacks of high running costs and poor practicality.
It's smaller and lighter than many of its rivals, so it's a doddle to drive around town and park, but also refined and comfortable enough inside to drive every single day, no matter how long your commute to the office is.
Having four seats and a flexible boot means it can moonlight as a family hatchback (just) when required, yet it remains great fun to drive, with sure-footed handling, positive controls, and a range of fast petrol engines. Combine these qualities with its relatively low running costs, and you've got a brilliant all-round package. We suspect that owning an Audi TT would be as hassle-free as having a sports car gets, so what's the catch then?
Well, the mature driving experience it delivers robs the Audi TT of some of the drama and excitement that sports car buyers want, and its rivals that are rougher round the edges do feel more memorable to drive as a result. If you want a coupe as your only car the Audi TT is a compelling choice, but it might leave the keenest drivers unfulfilled.
What's the best Audi TT model/engine to choose from?
Audi has refined the driving experience in the Audi TT to the point that every model in the line-up feels largely the same. The only real difference between an entry-level 40 TFSI and the all-singing TTS is how fast the numbers come up on the speedo.
Both cars share the approachable handling, sharp responses and accurate steering that make the TT so confidence inspiring on an unfamiliar road, but the four-wheel drive car just grips a little harder in the turns and feels a bit more secure in bad weather.
As a result, we think the entry-level car - with its 197PS output and front-wheel drive - is the one to go for. It's fun to drive, and feels plenty fast enough, but it's also the cheapest to buy, own and insure, making it excellent value. If you want the meaner styling and figure-hugging seats in the S line model then it's a sensible upgrade from the basic Sport, but bear in mind you'll still need to pay for sat-nav, climate control and front parking sensors.
The 45 TFSI is the only Audi TT with a manual gearbox. However, you can't combine shifting gears yourself with Audi's quattro four-wheel drive system - it's one or the other - and the automatic gearbox is effective but won't excite keen drivers.
With its fancy adaptive suspension, highly-tuned 306PS engine and generous standard equipment levels, a TTS takes the standard car's winning formula and adds a welcome pinch of spice, but it's also quite expensive as a result.
What other cars are similar to the Audi TT?
If you're in the market for sporty coupe there's no shortage of options, but few feel as well polished as the Audi TT. Premium buyers who want similar levels of practicality and a roomier cabin (but also a six-cylinder engine and rear-drive excitement) will be well served by a BMW 2 Series Coupe. Those looking at a higher-spec TTS would be well-served with the fast, six-cylinder M240i model.
Other alternatives include the excellent Toyota Supra and (if it's a roadster you want) the related BMW Z4. The Ford Mustang is an altogether different beast. It's hugely charismatic - especially with the V8 engine option - with feisty handling, but also deeply flawed, with a cheap feeling cabin and ruinously high fuel costs.
If your budget is a little lower, but you still want a fun driving experience and a manual gearbox, the Toyota GT86 and Mazda's folding hard-top MX-5 RF will fit the bill; but neither is as refined or well built as the Audi.
Several high-performance hot hatches can match the straight-line speed and tenacious four-wheel drive grip of an Audi TTS, but it competes closer with driver-focused, mid-engined two-seaters such as the Porsche Cayman and Alpine A110.
Comfort and design: Audi TT interior
"There is a simple elegance to the Audi TT's cabin layout that sets it apart from other sport coupes. With no central display screen, and just a few buttons on the slimline dashboard, it allows you to focus on the driving experience."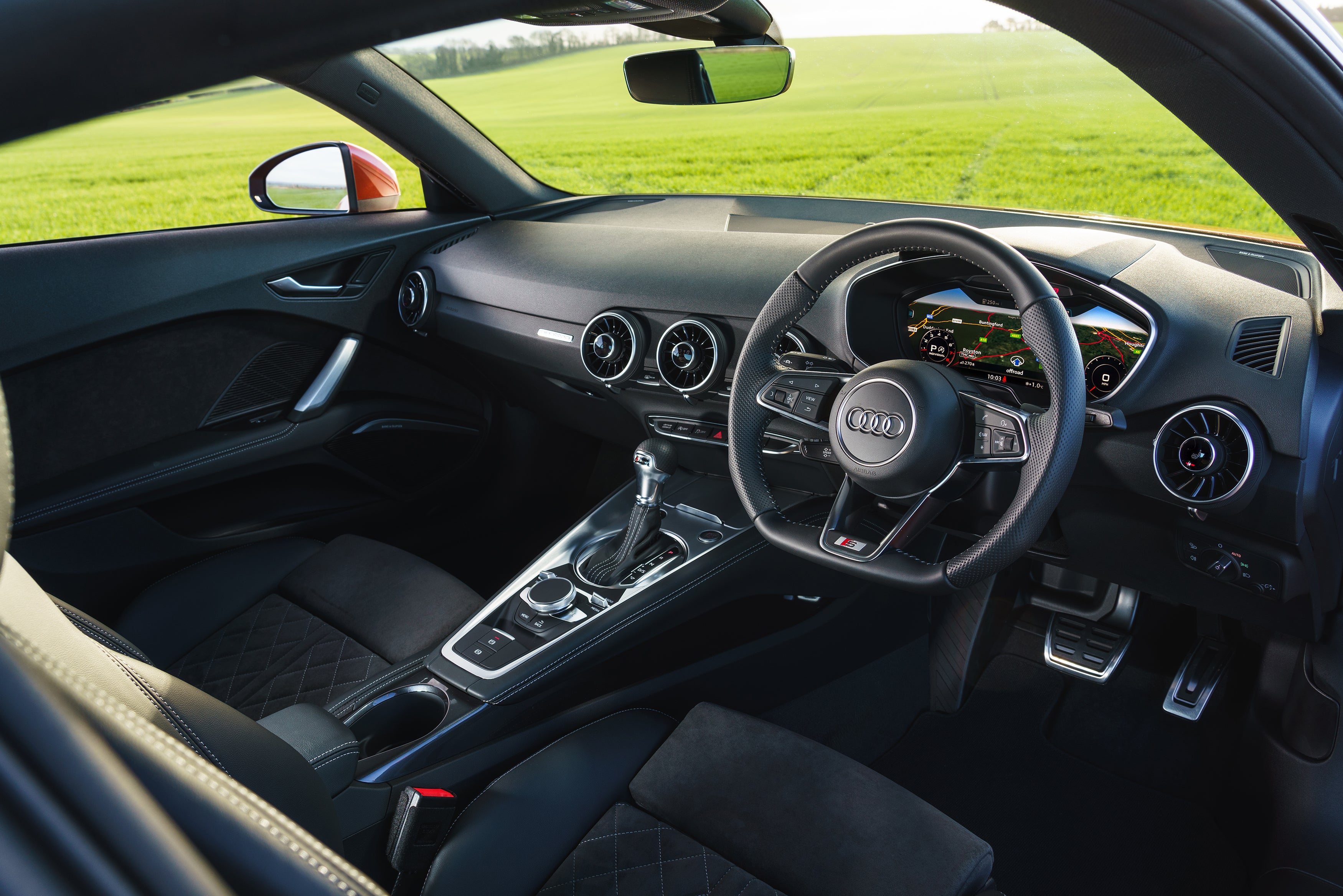 Overall, despite its compact size the Audi TT is reasonably practical. You have to duck under the curved roof to get inside, and the front seats are mounted close to the ground for a sportier driving position, but you still get a pretty decent view out of the road ahead and directly behind you. When pulling out of tight junctions you'll need to tilt your head to try and look past the thick window pillars.
The cabin is wide enough for two burly adults to sit comfortably next to each other, and if you are on the larger side, there's enough manual adjustment in the seat and steering wheel to find a good driving position. Entry-level Audi TTs are the only ones without electric lumbar support, but it's standard from S line trim upwards.
S line cars also come fitted with Super Sports seats. They have thicker side bolsters that help hold you firmly in place when cornering, squeezing you more tightly than the standard chairs. All TTs have heated seats, but electric adjustment (and being able to tweak the thickness of the side bolsters) is reserved for the top model.
The driver-centric dash may leave your passengers feeling left out; perhaps Audi knows it's more important to make the one sat behind the wheel feel like a VIP. Getting used to controlling the multimedia, drive modes, and (where fitted) navigation through a single screen takes some practice, but quickly becomes second nature.
Quality and design
When it was first launched the Audi TT's interior instantly became the benchmark that all other relatively affordable sports coupes would be judged against. Not only did it look stunning, but the fit and finish was of a level never seen at this price.
The dash plastics are soft and squidgy, and more expensive materials feature in abundance. There's metal in the centre console and chunky grab handles, faux suede in the doors, and a lots of stitched soft leather too. You can add a splash of colour with orange, blue or red inserts, while the top spec TTS has carbon inlays.
Even now, the sheer quality of the materials used inside, and the precise way everything fits together mean rivals such as Alpine A110 pale in comparison, and it makes the Ford Mustang feel like cheap children's toy. All of the major controls have a reassuringly solid heft to them. Buttons and dials click into place like the bezel of a luxury watch, with the only exception being the plastic shifter paddles on the automatic versions.
Stylish details like the frameless rear-view mirror and the TT's trademark turbine-style air vents add a touch of class, and with the optional climate control, you get a neat digital temperature readout set into their centre.
Infotainment: Touchscreen, USB, nav and stereo in the Audi TT
The Audi TT's driver focused approach to cabin design has just one screen, a 12.3-inch panel mounted directly behind the steering wheel, in place of normal dials. It's the same layout as the R8 supercar, and makes the Audi TT feel super sporty, but the absence of an additional display in the centre of the dash - while great for removing clutter - does create some issues with its usability.
Your front passenger will be craning their neck attempting to skip music tracks or find a radio station, so it's best to let the driver do the DJ-ing using the steering wheel buttons or big rotary dial in the centre console. On the plus side, the LCD display gets very bright, with colourful, clear menus that are logically laid out and fairly easy to learn. It comes with eight speakers, DAB radio, Bluetooth and USB connectivity as standard, but frustratingly navigation is a pricey option on all but the highest trim level; for us it's an essential piece of kit.
Vorsprung and TTS versions are also the only models featuring Apple CarPlay and Android Auto smartphone mirroring (it's not even an option on lower trims) and the implementation isn't as good as in Audi's other cars. Your apps share the screen's real estate with the dials, and the lack of a touchscreen slows things down too.
For most functions you'll end up using the buttons on the wheel, and learn to just glance down at the screen while driving, but entering addresses is fiddly. If you're driving alone it's smart to do this before setting off, but there's a touchpad on top of the control wheel that lets you trace out letters and numbers to find post codes.
Space and practicality: Audi TT boot space
If you are expecting the Audi TT to fill the role of a family car then it'll leave you disappointed. Measure it against its two-door rivals though, and the Audi is a surprisingly practical choice, partly thanks to its four-seat layout.
The TT's dimensions make it one of the smallest cars in its class. At 4191mm long, 1966mm wide (including mirrors) and 1355mm tall, it's barely bigger than a modern supermini. It's more compact than a Toyota Supra and BMW 2 Series, and makes the Ford Mustang look like a tank.
True, those rear seats are small (even kids won't want to sit there long) and the sloping roofline and tiny side windows give anyone in the back a fairly accurate picture of what travelling inside a postbox might feel like. Clambering into them is also a real challenge, and the poor access makes trying to fit a child seat (using the integrated ISOFIX points and Top Tether) a proper wrestling match - you're unlikely to come away unscathed.
Still, they'll often come in handy for stowing bags or thick coats during the winter months, meaning you don't feel as hemmed in as you would in a strict two-seater. They also fold flat, creating a much bigger boot area.
With the seats up you can fit up to 305 litres of luggage in the back - about the same as a small hatchback - but if you fold the seats down you're left with a broad, perfectly flat load bay that can take up to 712 litres of stuff. That's big enough to carry awkward items like a bike with its wheels off, and the hatchback design makes it nice and easy to lower bulkier cargo inside without damaging the paint; giving the TT surprising flexibility.
You do pay a price for the low-profile exterior design though, and more conventional looking rivals like the BMW 2 Series Coupe are roomier inside, especially if you often want to carry more than one passenger. Up front, Audi gives you a few places to stash loose items, including a shallow covered tray in the centre console and armrest, reasonably deep door bins, and a narrow glovebox - just about enough for a road trip.
Your takeaway coffee will fit neatly into the centre console, and there's a second flip-out cupholder hidden inside the armrest but neither can hold a water bottle without blocking access to the gear stick and infotainment controls.
Handling and ride quality: What is the Audi TT like to drive?
"This third generation of TT is the best to drive yet. It adds significant dynamic substance to a car that in years gone by has relied more on its sharp looks than the way it can deftly tackle a challenging cross-country road."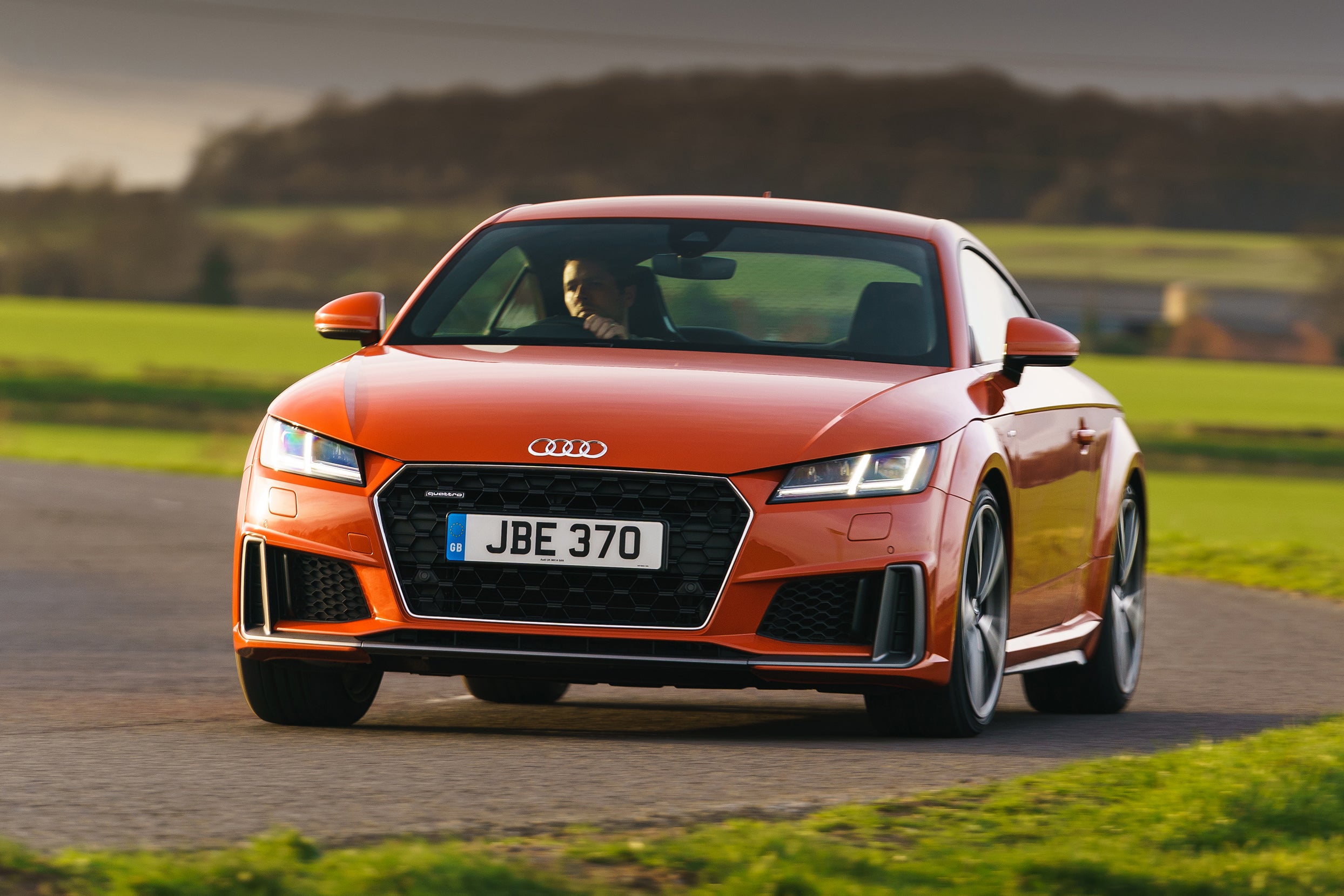 It's clear from the off that Audi wants the TT to feel sportier than, say, an A3 hatchback. The ride is certainly firm, but tolerably so - as long as you avoid the temptation to fit the largest wheel sizes. Even with the lowered 'sports' setup that's standard on S line models and above, it absorbs crests and dips while keeping the body flat and level. Sharper ruts will still send a nasty jolt up through the steering wheel.
The TTS has adaptive dampers that let you adjust the suspension on the fly, using the 'drive select' button to switch between driving modes, which also alters the weight of the steering and throttle map on normal TTs. In its most relaxed 'Comfort' setting the TT glides along nicely, but the 'Dynamic' option stiffens things up too much, making the car feel too jittery and unsettled at low speed; thudding over every lump and bump it hits.
The steering itself is lighter than in some rival sporty coupes, but accurate enough to position the car exactly where you want it to go. Turn the wheel and the front tyres respond snappily, simply latching on hard and carving a neat path around each twist and turn. It's stable and very effective, but not hugely exciting either.
That won't matter to most buyers, who'll enjoy the TT's broad spread of abilities and accessible handling. They'll also prefer the fact that its light controls and small footprint make it easier to drive in town than rivals.
Still, there are no hidden depths to discover with the TT - it rides and handles with accomplished ease, but won't respond to more spirited driving. In front-wheel drive cars, the tyres will eventually release their grip, but with Audi's quattro system fitted this car simply bites and goes without any drama, whatever the weather.
What engines and gearboxes are available in the Audi TT?
You won't be left wanting for performance in the Audi TT. Even the 'slowest' version produces close to 200PS and has a 2.0-litre engine capacity, with the added benefit of a turbo that gives it plenty of mid-range urgency.
In 2018 the range was simplified (the 1.8 TFSI and 2.0 TDI diesel were discontinued) and now every TT in the line-up runs on petrol power, and depending on the version, a choice of either front- or four-wheel drive. Some buyers may mourn the loss of the frugal diesel, but its gruff tone and one-dimensional performance were not well suited to the rest of the TT's driving experience, and the smoother, linear petrols are far better.
Our favourite engine, the entry-level 40 TFSI, drives its front wheels through a seven-speed S tronic automatic gearbox (older versions had a six-speed dual clutch unit). It feels eager and nippy, whether you're buzzing around town or driving on faster, more open roads, with quick enough responses to overtake without a fuss.
The 45 TFSI has an additional 48PS, and comes with a six-speed manual gearbox as standard, with the option to upgrade to the S tronic. Quattro four-wheel drive is also available, but only with the automatic 'box. It should feel a lot quicker than the 40 TFSI, but in everyday driving you'll struggle to notice a big difference.
The newer automatic transmission swaps through gears effectively by itself, but you can also push the shifter to the left (or use the plastic paddles on the wheel) to take over manually. It's a little jerky at low speeds, but that's the price you pay for a quick-shifting dual-clutch gearbox.
With 306PS the TTS is quick enough to beat a Porsche Cayman off the line, with standard four-wheel drive to make deploying all that performance as simple as keeping the steering straight and flexing your right foot.
Refinement and noise levels
The Audi TT is a very undemanding sports car to live with day-to-day. It certainly keeps things in the cabin quieter than in say - a Ford Mustang or Toyota GT86 - filtering out more unwanted engine and tyre noise than either.
It helps that the 2.0 TFSI engine is very smooth (regardless of the power output) and transmits very little noise or vibration through the controls. In fact, you're unlikely to hear its raspy exhaust note unless you provoke it. Models fitted with the seven-speed S tronic gearbox are the most relaxing to drive on long motorway stint. It blurs through changes, shifting up smartly in 'Comfort' mode and holding each cog a bit longer in 'Dynamic'.
The six-speed manual in the 45 TFSI has a light clutch, but an overly long throw. Still, it also gives you more chances to interact with the car, since the TT can be a bit too effective at isolating its driver from the action.
Despite placing the driver close to the road surface, the only things likely to disturb you at cruising speeds are a flutter of wind noise from the door mirrors, and a rumble from the tyres. It's among the better choices of sports coupe for a refined daily driver.
Safety equipment: How safe is the Audi TT?
The TT received four stars (out of five) when it was crash tested by safety body Euro NCAP. That result might give cause for alarm, but it was one of the first models to undergo a stricter test regime that put the emphasis on active systems like automatic emergency braking - something the TT simply doesn't have.
It could be worse; with the rival Ford Mustang only getting a two-star rating in 2017 (upgraded to three after Ford fitted an auto emergency braking system) and scored well below the Audi in every category. The TT got an 81% rating for protecting adults inside, and 68% for children - the Ford gets a worrying 32% for the latter.
Although it misses out on the latest driver aids, every model has the standard safety kit you'd expect. Four airbags, electronic stability and traction control, tyre pressure sensors all feature, as do parking sensors. A hill-hold assist that stops the car rolling backwards is included too - handy at elevated junctions.
Optional safety equipment includes Blind spot monitors (showing you if it's safe to pull out or not) for £595, and traffic sign recognition (£155). There is even a parking assistant that will measure a tricky spot and steer into it for you, while you control the throttle and brakes (£595) but no radar-guided cruise control is offered.
The 45 TFSI and TTS come with Audi Lane Assist, which gently corrects the steering if you veer off course on the motorway, but this feature just isn't as useful as auto-emergency braking or advanced cruise control.
MPG and fuel costs: What does an Audi TT cost to run?
"The TT is very efficient for a sports car due to its small size, low kerb weight and aerodynamic shape. All engines (except the hot RS model) are four cylinders, although it's a shame there's no longer a diesel option for ultra-low fuel consumption."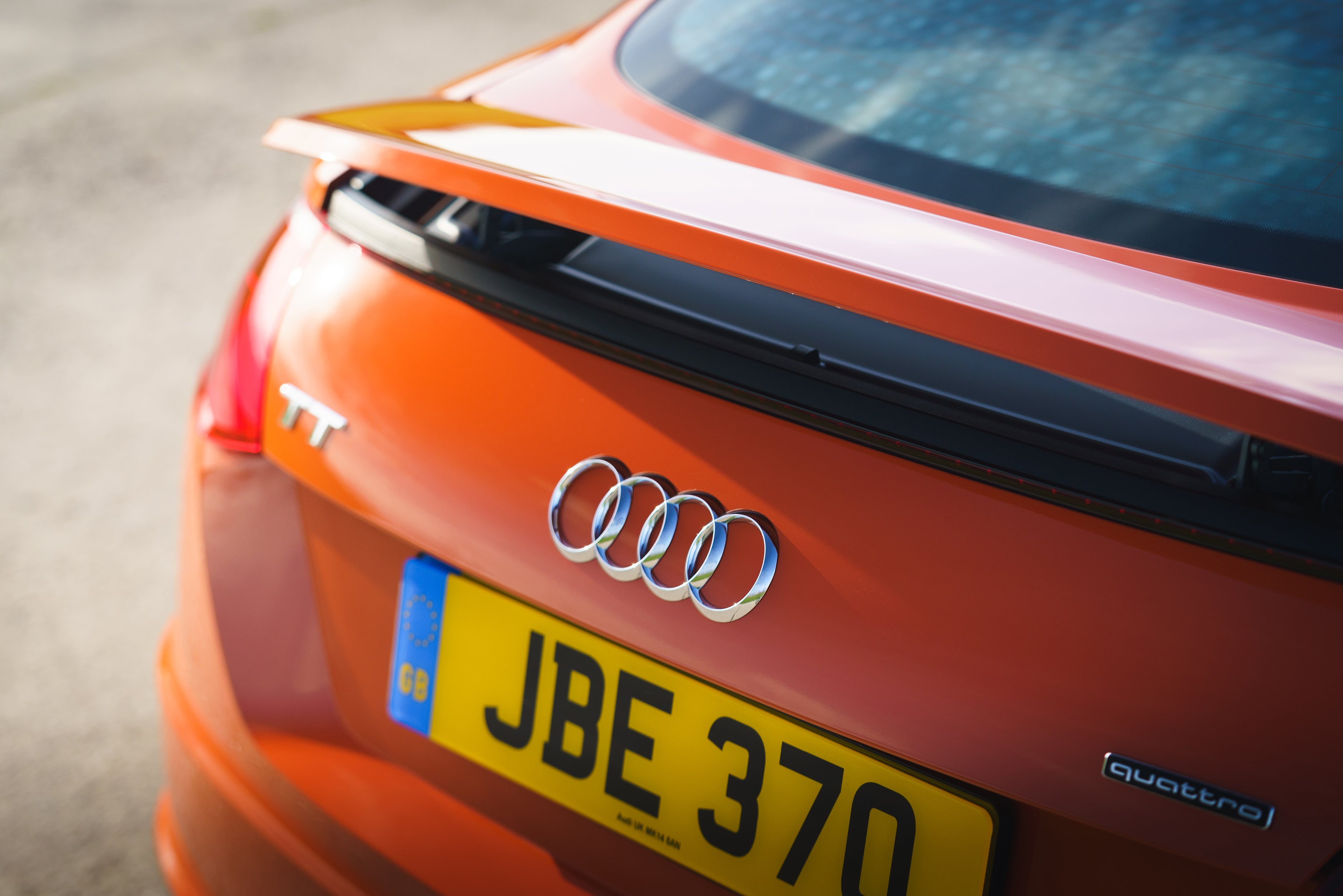 A front-wheel drive 40 TFSI version of the Audi TT will be kindest on your wallet, returning an official 40.9mpg. Combined with a 50-litre tank you should be able to get a range of around 430 miles, if you're not cursed with a heavy right foot.
The 45 TFSI is only a little thirstier, but adding four-wheel drive cuts the official figure down to 35.3mpg, the same as the brawnier TTS. Driven with intent (or more likely in slow traffic) and expect to get around 25mpg.
On the plus side, quattro versions of the Audi TT do come with a larger 55-litre tank to improve the cruising range. Still, none of the current cars come close to matching the 50mpg+ real world figure of the old 2.0 TDI.
How reliable is the Audi TT?
Audi is a well-placed brand in the VW Group, benefitting from a number of components shared across numerous brands. However, the Audi brand itself is one of the lowest performing of the group in the 2021 HonestJohn.co.uk Satisfaction Index, with only SEAT in a worse position.
However, the TT has been around for several years now, with only the odd minor issues reported. Its engines and mechanicals are well proven, having been used across the VW Group line-up. The same applies to its tech - all of it is familiar fare from other Audis over the years.
Insurance groups and costs
With its premium badge and sporty image the Audi TT is not the cheapest car to insure. The new line-up starts in group 35 for the 40 TFSI Sport; seven bands higher than the equivalent Mazda MX-5 RF 2.0-litre.
The most affordable version to cover is the (discontinued) 1.8-litre TFSI, which is group 32. Popular S line and Black Edition trims start in group 38, while the range-topping Vorsprung model go upward from group 41.
Pick the 45 TFSI and manual Sport models sit in the middle of this range, with an insurance rating of 37. That compares favourably with the 2.3-litre Ford Mustang (39) but matches the much faster Toyota Supra.
VED car tax: What is the annual road tax on an Audi TT?
If you plan on buying new, then the amount of road tax VED you'll need to pay each year will largely depend on its asking price. Cars costing less than £40,000 (about two thirds of the range) will cost £150 for the five years following its first registration, and between £540 and £870 in first year tax depending on its CO2 emissions.
The pricier Vorsprung versions and TTS are both subject to a premium rate of £325 on top of the standard charge - for a total annual cost of £475 - before dropping back down to the flat £150 rate again after six years.
Buy a used TT though - especially one registered before April 2017 - and it'll cost a lot less. Under the old tax system, cars with the lowest tailpipe emissions were the cheapest to run, regardless of fuel type. That means the company car favourite 2.0 TDI Ultra (with its official 110g/km output) will cost just £20 a year in VED.
How much should you be paying for a used Audi TT Roadster?
"The Audi TT's popularity and advancing years mean a huge amount of choice for used buyers. It won't take long to find the right trim and colour combination, and you can afford to be choosy about the car's condition."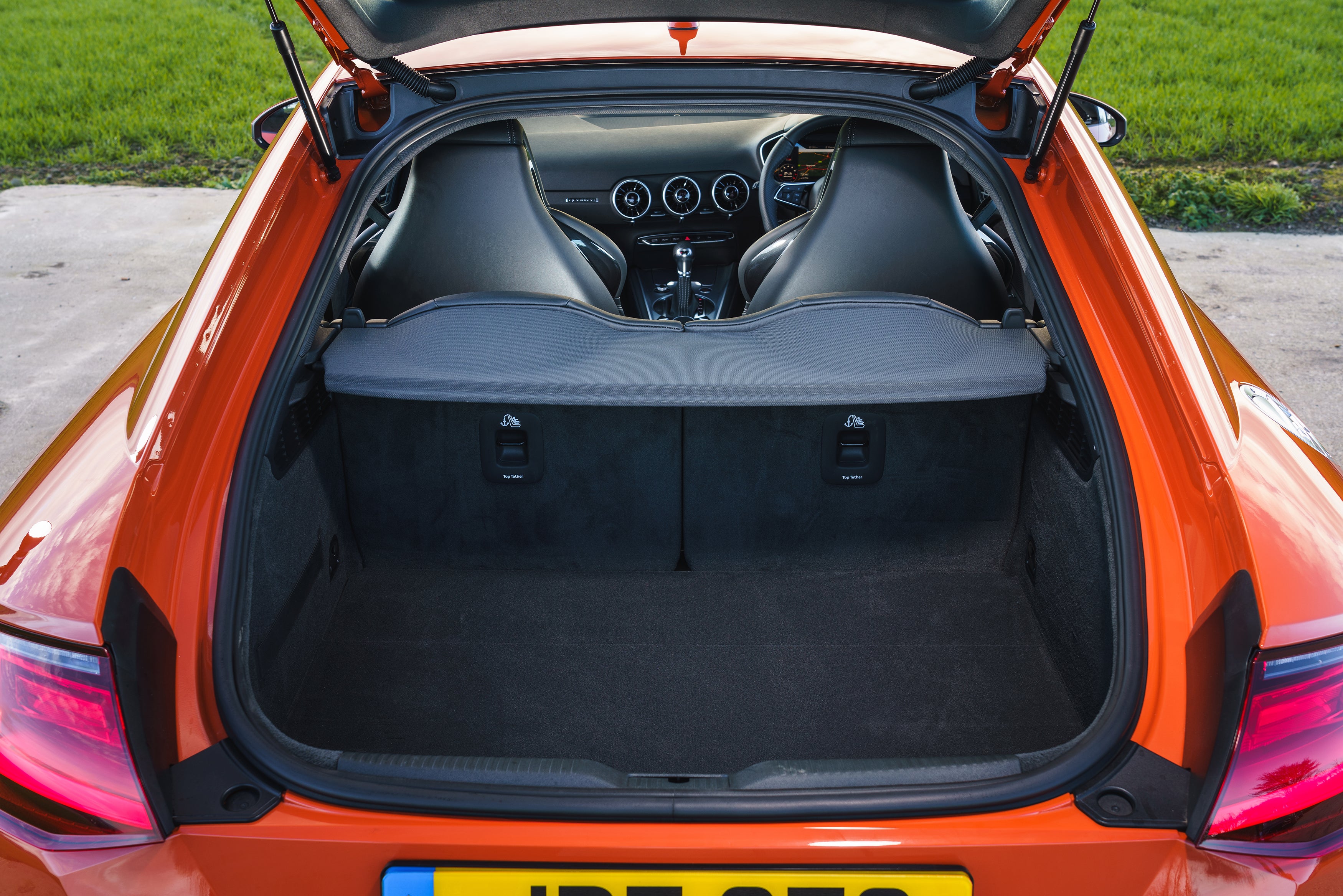 Seek out desirable options like navigation and digital climate control, especially on Sport and S line cars. At the lower end of the market, expect to pay around £12,000 for a 2.0 TDI with a manual gearbox and about 50,000 miles on the clock. That's the older shape, but the interior is largely unchanged versus the 2018 car.
Petrol powered versions of the pre-facelift Audi TT having covered shorter distances start at around £14,000 for a manual. If insurance cost isn't a factor, then we'd plump for the 2.0 TFSI with 230PS over the slower 1.8. Expect to pay around £2000 more if you want one with four-wheel drive and an automatic gearbox fitted.
At the top-end of the market, prices for the current shape car are much stronger. There are small discounts available on brand new pre-registered cars, but usually only the flashiest Vorsprung and Black Edition trims. However, nearly-new cars with just a few thousand miles are cheaper - a 45 TFSI Quattro starts at £34,000.
Trim levels and standard equipment
Compared with some of Audi's own mainstream models the TT's standard equipment list appears a bit on the stingy side. As standard the car has manual air conditioning, automatic lights and wipers, cruise control, power folding door mirrors, DAB radio and Bluetooth, plus luxuries like heated leather seats and 18-inch alloys.
The S line trim looks more aggressive, with lowered suspension, a sportier body kit, bright LED headlights and 19-inch wheels, while inside you'll find figure-hugging Super Sports seats with electric lumbar support.
Black Edition models - as the name implies - get huge gloss black 20-inch alloys, black door mirrors caps and a racy fixed rear spoiler (like the TT RS) but no additional interior equipment. That means you'll need to raid the lengthy options list for climate control (£845) sat-nav (£1495) or any additional safety features.
If those options sound expensive that's because Audi doesn't let you cherry-pick useful items like a reversing camera separately - instead offering them in package bundles that quickly push up the total asking price. The range-topping Vorsprung trim has every single option box ticked, but is eye-wateringly expensive as a result.
The one useful item the top trim does have is Audi Smartphone Interface, which allows you to use the apps on your phone via either Apple CarPlay or Android Auto software via the 12.3-inch Virtual Cockpit display.
Of the three most popular option packs, we think that the Technology Pack (nav, wireless phone charging and connected online services) is essential. If you can afford it, the Plus Pack (deluxe climate control and privacy glass) will also help make your TT a more attractive proposition when the time comes to sell it on.
Ask the heycar experts:
common questions
What does the 'TT' in the name stand for?
A common mistake is thinking these letters stand for 'Technology & Tradition' but it actually refers to a famous motorbike race held on the Isle of Man - the Tourist Trophy.

What is the difference between the TT convertible and the coupe?
Apart from the number of seats (two in the convertible, four in the coupe) the convertible costs a little more, has a smaller boot and is also a little heavier, but they share engines.

Which version of the TT comes with quattro four-wheel drive?
Like all high-performance Audis, the TT S and TT RS have four-wheel drive as standard. On the normal version, it's offered as an optional extra on the more powerful automatic version.

Isn't there a diesel version of the TT?
There used to be, but the 2.0 TDI was discontinued in 2018. It wasn't as exciting to drive or quiet as the petrols, but it was very economical, and capable of returning 60mpg.

Audi TT cars for sale on heycar
11,022
Number of cars available
£13K - £68K
Price bracket of these cars
Colours available on heycar
Keep me updated by email with the latest advice, news and offers from heycar
By submitting, you agree to our
privacy policy
.