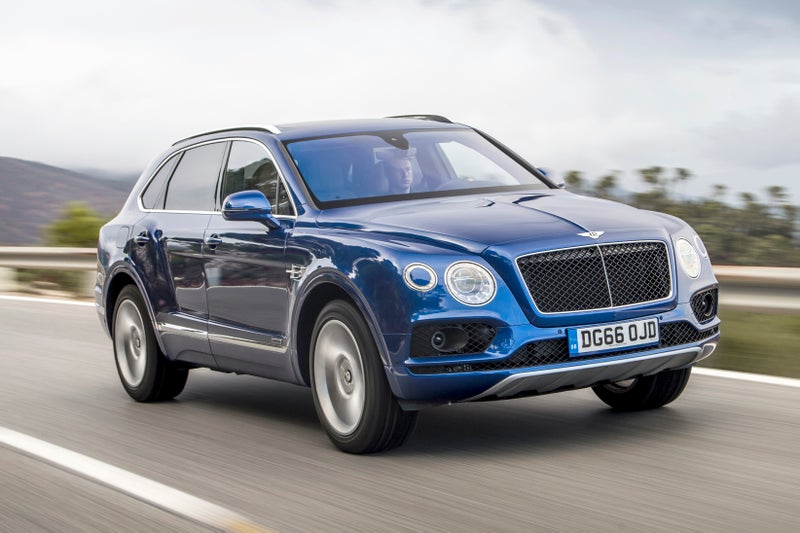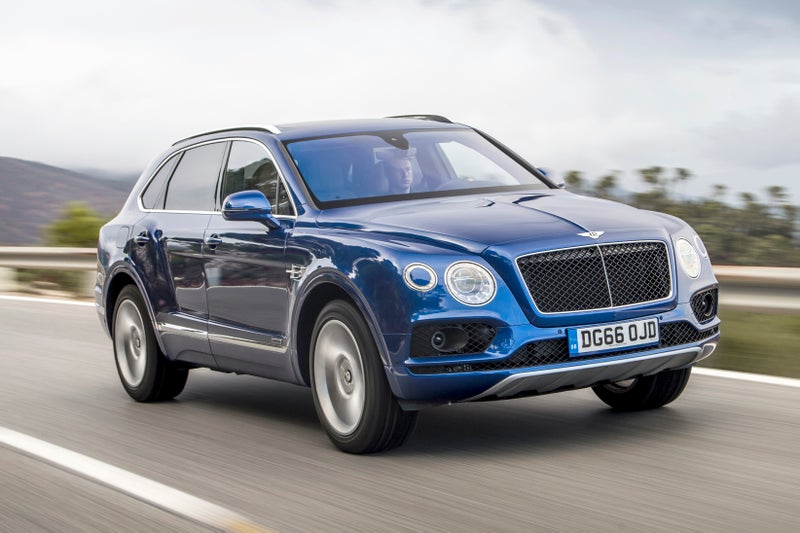 1/8
heycar rating
" SUV that's also a Bentley"
Launched: 2016

Luxury

Petrol, Diesel, PHEV
Quick overview
Pros
Beautifully appointed interior
Good blend of comfort and handling
Lots of luxury equipment provided
Cons
Interior space and boot are only so-so
Very expensive to buy and run
An Audi Q7 does a similar job for a fraction of the cost
Overall verdict
On the inside
Driving
Cost to run
Prices and Specs
Overall verdict
"Even when considered against other super-luxurious SUVs, the Bentley Bentayga is a very tempting option. Granted, there are far cheaper SUVs that do a fairly similar job, but none of those have the quality, craftsmanship or heritage of a Bentley. Strong in every area, so a great all-rounder."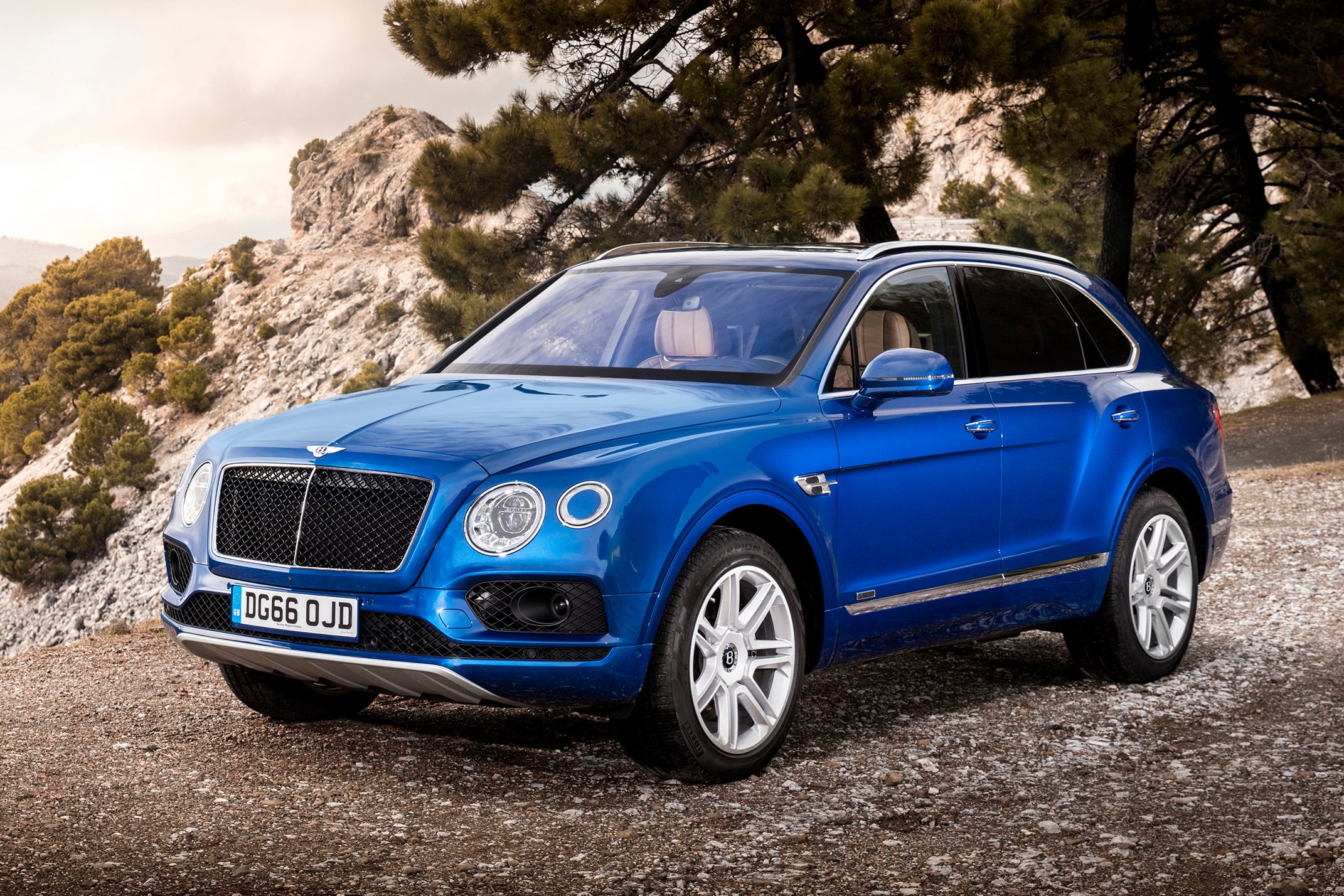 It wasn't all that long ago that the Range Rover had the luxury SUV market all to itself, but those days are no more as every luxury car maker with an ounce of business sense attempts to cash in on the enormous popularity of SUVs.
Bentley isn't alone in chasing this piece of the pie with the Bentayga. Porsche did it years ago with the Cayenne, and Rolls Royce and even Lamborghini have since followed with the Cullinan and Urus, respectively.
Aston Martin will shortly join the party with the DBX, and every time the Ferraris and McLarens of the world proclaim for the billionth time that they'll never offer an SUV, their words are met with increasing amounts of scepticism. Some will argue that all this constitutes these great brands selling out and dumbing down, others will argue that they're merely giving the people what they want. Whatever the case, these cars are here to stay.
Judged purely on its own merits, you'd have to say that the Bentayga does a very good job of giving buyers what they want. You'll make your own judgment on the way it looks, but its brash styling and desirable Bentley badge ensure that it always gets noticed. Climb inside, and you'll find every ounce of the quality, craftsmanship and class that Bentleys are famous for, with beautiful materials and flawless assembly.
The cabin is big enough and practical enough to serve the needs of a well heeled family, or to ferry colleagues between business meetings, and there's as much luxury kit as you'd expect in a car like this. On the road, it's comfortable enough and quiet enough to deliver the first-class experience to all those inside, yet it's also agile enough to let the driver have some fun when the working day is done.
Yes, none of this comes cheap. Even when you're buying used, you're probably facing a six-figure sum at least, and no matter which of the various engines you pick - with power outputs that range from potent to preposterous - your running costs will be off the scale. The thing is, if you're wealthy enough to even entertain the idea of buying a Bentayga, then the costs involved are unlikely to bother you one jot.
So, if you're bored of Range Rovers, you want something a bit more easy-going than an Urus, and you think the Cullinan looks too much like a stately home on wheels, then the Bentayga could well be the car for you.
Is the Bentley Bentayga right for you?
Considering the tiny number of people who can afford them, there's a ludicrous amount of choice for buyers of cars like these. It often feels like there are as many rivals for the Bentayga as there are pounds in its pricetag. So, what marks the Bentley out against the rest?
Well, its blend of abilities for one thing. While the Lamborghini Urus is the racy option and the Rolls Royce Cullinan is the wafty option, the Bentayga sits slap bang in between and provides a good mixture of both. Its Bentley badge means it creates the right impression, and it's practical enough and comfortable enough to be the everyday car that buyers will need it to be. Quality and craftsmanship are Bentley's other trademarks, and the Bentayga has them in spades.
What's the best Bentley Bentayga model/engine to choose?
The following statement may sound like a cop out, but it applies more to the Bentagya than it does to most cars: that largely depends on what you want. There are various flavours of Bentagyga, and each of them will suit different buyers with different priorities.
If you want the ultimate Bentayga, it has to be the Speed, with it's enormous W12 petrol engine. If you want the cerebral choice, the V8 petrol will be more up your street, while if you spend your life ploughing up and down motorways, the V8 diesel will be the pick (you'll still spend shedloads on fuel, but you'll have to stop less often to put the stuff in). That said, if you've got one eye on either the environment or the Exchequer, then the plug-in hybrid version will be worth considering.
What other cars are similar to the Bentley Bentayga?
Over the years, Bentley's biggest rival in the luxury marketplace has been Rolls Royce, so although there's a colossal price difference, the Bentayga will inevitably be compared with the Cullinan.
The Lamborghini Urus is also likely to be considered by luxury SUV buyers, too, but it should be noted that the three are all very different in character. The Urus is like a supercar on stilts, the Cullinan is like a softly-waftly limousine, while the Bentayga is bang in the middle, trying to provide a blend of sportiness and luxury, rather than nailing its colours to either mast in particular.
Other cars in the mix for your cash will be the Range Rover and Porsche Cayenne, and cars like the Audi Q8, BMW X7 and Mercedes G-Class shouldn't be discounted, either.
Comfort and design
"Bentley makes its own seats in-house - no off-the-shelf stuff here - so it's no surprise that they cradle and cuddle you in all the right places."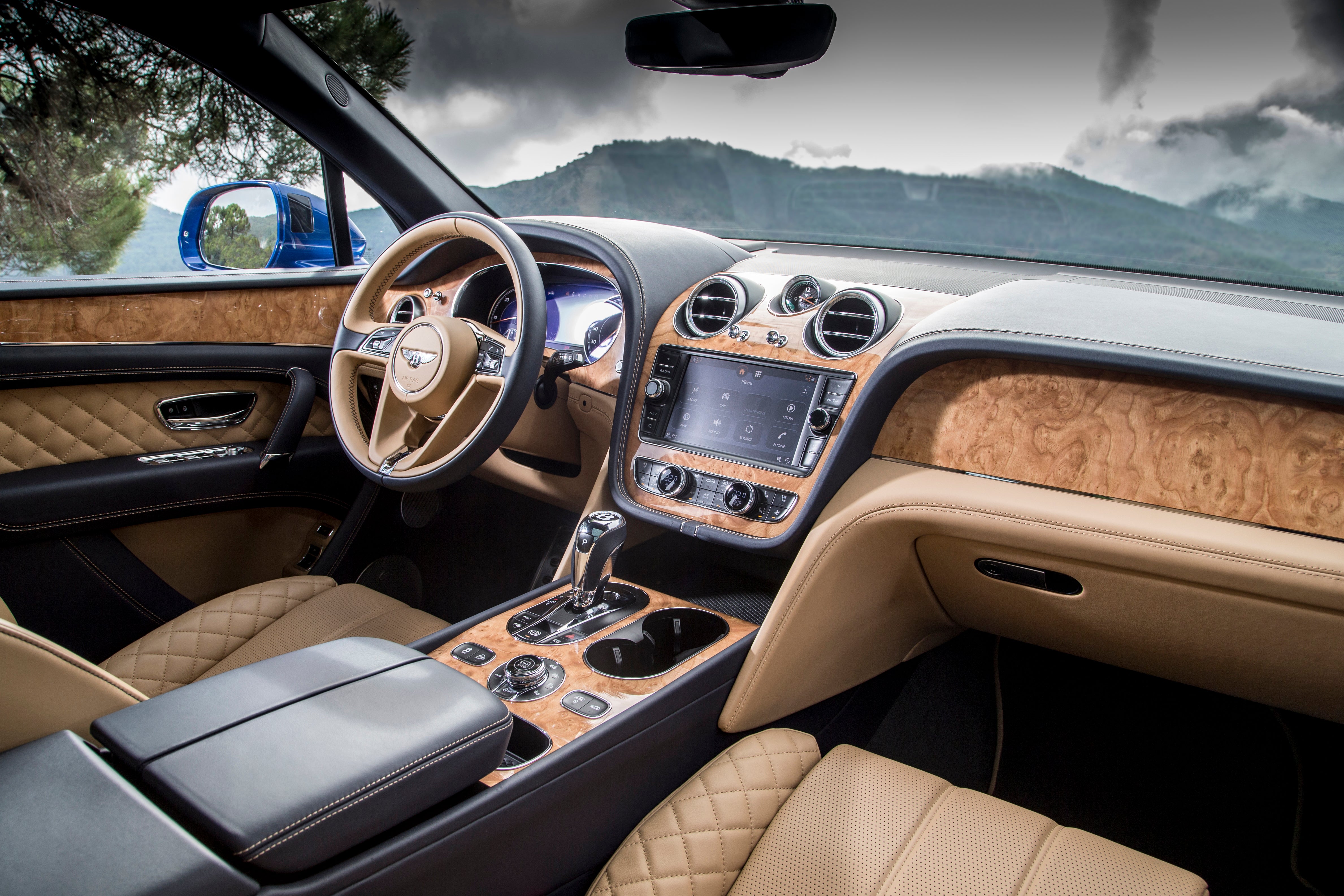 The driver's seat and steering wheel both adjust electrically, too, making it super-easy to find a comfortable driving position. You sit high up, which most SUV buyers will love, and your visibility is pretty clear in all directions. Even so, front and rear parking sensors, and a reversing camera, are on hand to lend some extra assistance with parking manoeuvres.
The dashboard layout is fairly conventional, so everything sits pretty much where you expect to find it. The air-con system has its own controls, so you can adjust the cabin temperature without having to delve into the complexity of a touchscreen system, and the buttons are well marked and big enough to hit at a glance. The same goes from pretty much all the switchgear on display, actually.
Unlike in many cars these days, the instruments take the form of traditional dials rather than a digital display, but there is a screen in between them to serve up useful additional information. The arrangement looks good and works well.
Quality and finish
This is the whole reason you buy a Bentley in the first place. Yes, you'll recognise many of the switches and dials from far cheaper Audi models, but most of the rest of the cabin is made and finished by hand.
Everywhere you look, there's soft leather, turned aluminium and polished wood veneers, all of which has been painstakingly prepared by highly skilled masters of their various crafts in a large room in Crewe. And the intricacy and precision with which it's all stitched, screwed or slotted together shows just as much attention-to-detail.
The feeling of quality this brings cannot be overstated. Yes, and Audi is nice to sit in, but this is another level entirely. If you're being super-critical, a Rolls Royce Cullinan feels even posher, but in fairness, the price difference between the two cars is colossal.
Infotainment
The Bentagya's 8.0-inch colour touchscreen looks a little bit small set into the chunky dashboard of such a huge car, and because it's an older system than the one found in newer Bentleys like the Continental GT and Flying Spur, it looks a bit dated as well. The graphics are rather old-hat, and the responses and screen transitions can also be a little slow at times.
That said, the menus are reasonably logical in their arrangement, so it's a pretty easy system to find your way around. The shortcut buttons running down the sides of the screen come in handy, too. It'd be better if there was a rotary dial or some other controller to act as an alternative to the touchscreen functionality, though, because it'd be less distracting to use on the move.
The system supports most of the functionality you'd expect to find, including sat-nav, Bluetooth, DAB radio, a (60GB) hard drive and a wifi hotspot. There's Apple Carplay, too, but Android Auto isn't supported.
Even the standard stereo gives great sound quality, but among the myriad optional extras are various upgrades that bring more and more in the way of speakers and wattage.
Space and practicality
You'd expect any luxury SUV to offer plenty of space, and the Bentayga delivers. The front seats have bags of room and there's enough headroom and legroom in the back for lanky adults to get comfy, too. Granted, a Range Rover provides a smidge more, but you'll hardly be feeling like you're cooped up.
Early on in the car's life, five seats came as standard, and in these versions, there's enough shoulder space for three people across the rear bench.
Whoever's in the middle will have to straddle the large hump in the floor made by the transmission tunnel, though. The seats are split 40-20-40, allowing you to fold them down in various configurations to give more versatility when carrying bigger loads. With all the seats in place, the boot is large, if not as gargantuan as in many rivals. That said, you probably won't be doing many dump runs in your Bentayga.
You might also find Bentaygas with four seats instead of five. This was an option (which Bentley says most buyers did specify) on early cars, and standard in later ones. The two individual seats can recline electrically and massage you at the same time, making life very luxurious, but they do rob you of the ability to fold the seats down. At the same time these were made standard, Bentley also started to offer the Bentayga with seven seats.
We've not encountered one of these versions yet, but with the limited amount of space available, we'd expect the two extra pews to be on the snug side.
Handling and ride quality
"Some of today's super-SUVs are very distinct in character. The Lamborghini Urus is basically a jacked-up supercar that aims to out-handle all-comers, while the Rolls Royce Cullinan would never consider doing anything so vulgar, instead preferring to waft its occupants along on a wave of peace and sophistication. The Bentayga's character, meanwhile, sits slap-bang in the middle."
Importantly, it does a good job on comfort. It doesn't really matter which of the car's four driving modes you select, the air suspension will mop up most minor marks in the road surface, and only a big bump or pothole will cause you any disturbance. It's not as comfortable as a Cullinan, then, or a Range Rover for that matter, but it'll drive away from both around a set of bends.
Again regardless of mode, the air suspension does a really impressive job of keeping body lean in check, helped in no small part by active anti-roll bars, while there's also bullish grip and meaty, satisfying steering. It all means the Bentagya changes direction far more crisply and cleanly than the Rolls or the Rangie, even if it doesn't have the outright athleticism of the Urus.
Engines and gearboxes
Whichever version of the Bentayga you choose, you'll be getting a very fast car. The only question is how fast. The fastest version, the Speed, uses the flagship twin-turbocharged 6.0-litre W12 petrol engine that the firm is famous for, tuned up to give 635 horsepower.
We haven't tried the Speed yet, but we have tried the engine in its standard form, which still delivers a very healthy 608PS. It'll sprint from 0-62mph in just 4.0 seconds, but while that's an impressive figure for a car weighing two-and-a-half tonnes, what's more impressive is the smooth, muscular, effortless way it achieves that acceleration. You put your foot down, the engine growls, the world immediately starts moving past your windows much more quickly, and then you ease off and there's peace once more.
That said, it's a similar story regardless of which of the various engines you pick. The 550PS V8 petrol engine is half a second slower on the standard sprint, but it's very similar in character and still feels brutishly quick.
For a very brief time, Bentley also did a version with a V8 diesel engine (it was discontinued fairly soon after launch once diesel became a dirty word), and if you can find one, it might just be the version to have. With 435PS, it's only marginally slower than the petrols, yet it can go far longer between fill-ups, useful when you've got a continent to munch through in a hurry. A plug-in hybrid version is also offered, that combines a 3.0-litre V6 petrol engine with an electric motor to deliver 449PS, but we haven't had the chance to try it yet.
All Bentagygas drive all four wheels through an eight-speed automatic gearbox, and in all of the versions we've tried, it's fabulous. It shuffles up and down the gears smoothly when you're pootling along, quickly when you're getting a move-on, and when you nail the throttle, it kicks down instantly and always finds the right ratio first time.
Refinement and noise levels
This is one of the areas in which you'd expect any Bentley to excel, and the Bentayga doesn't disappoint. All the engines we've tried are super-smooth and quiet.
At tickover, you barely know whether the car is turned on, and on the move, you hear barely a murmur as you whisk along. Until, that is, you nail the throttle pedal, whereupon you're treated to a fabulous mechanical snarl that gets your juices flowing as quickly as your car. And, if you ever had the misfortune to feel any unwanted vibration is your Bentayga, then there would most likely be a powertrain engineer somewhere in Crewe falling on his sword with the dishonour of it all.
Things are just as impressive on wind- and road noise, too, despite the car's blunt shape and fat tyres, so whether you're plodding along the King's Road or blatting down an Autobahn, the Bentayga's cabin stays impressively serene.
Safety equipment
The Bentayga hasn't been crash tested by Euro NCAP yet, and it's sold in such low numbers that it probably never will be. Mechanically, however, it's related very closely to the Audi Q7, and that's a car that's scored the full five-star rating. In terms of the safety gear you get as standard, the Bentayga does an adequate job, but it doesn't go the extra mile as you might expect in a car costing this much.
There are six airbags and an autonomous emergency braking system, but most other clever safety features - such as radar-guided cruise control, lane keep assist, head-up display, traffic sign recognition, pedestrian detection and self-parking functions - are bundled up into option packages that cost the original buyer extra.
Maximum EV range
The official figures suggest that a full charge of the battery will allow the plug-in hybrid version to go around 25 miles on electric power alone. We wouldn't bank on getting any more than 20 miles in the real world, and considerably less in cold weather. A full charge will take around two and a half hours from a 7kW wallbox home charger, or about three times longer if you try doing it from a domestic three-pin plug.
MPG and fuel costs
"This is unlikely to be an area of priority for Bentayga buyers, because all versions are fantastically juicy."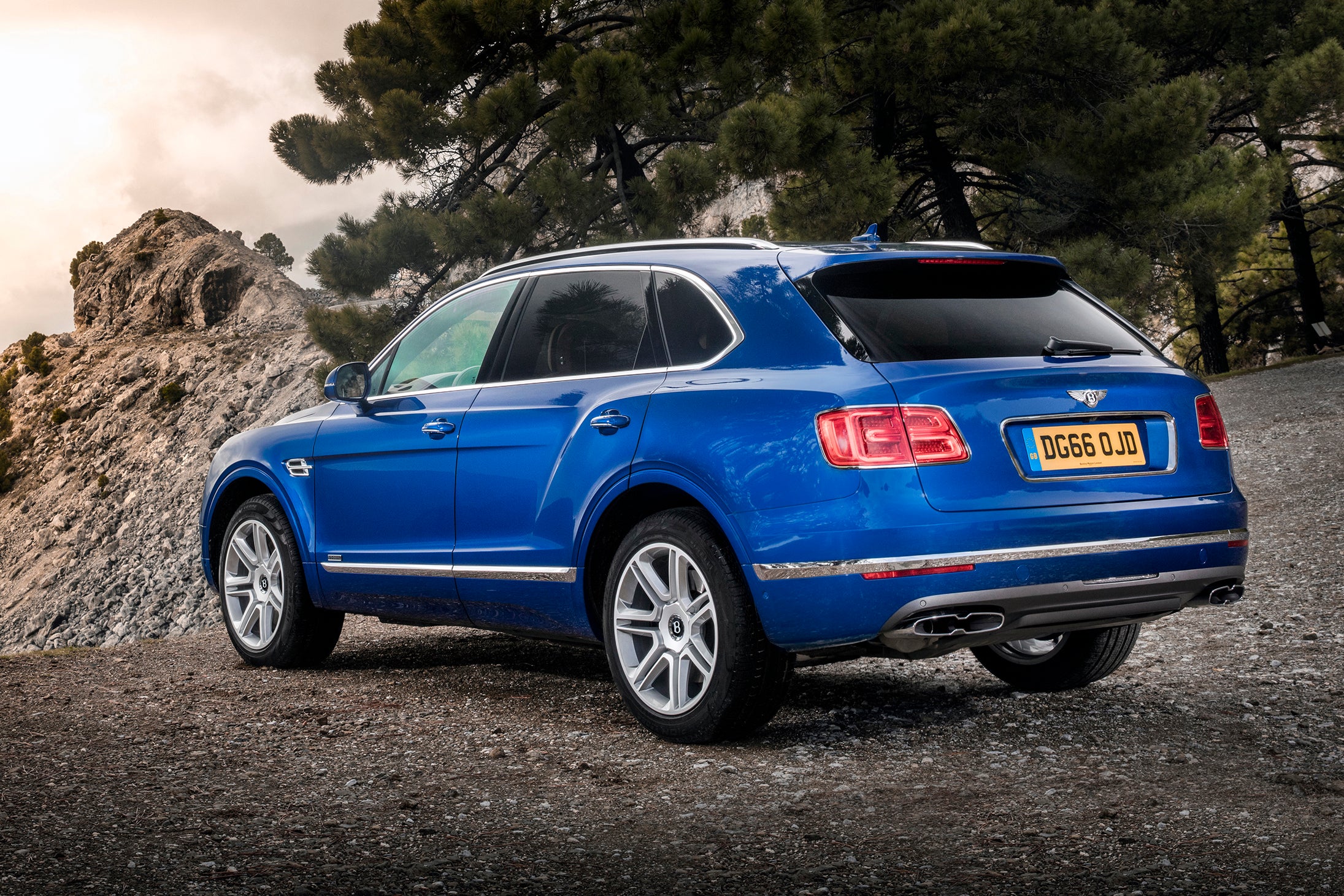 Even if you're considering the PHEV or the diesel, you're probably far more interested in the tax breaks available, or the distance you can go between fill-ups, than you are about precisely how much motion lotion you're getting through. Even so, you'll have virtually zero chance of matching the official figures, key examples being 20mpg for the W12 and 35mpg for the diesel. Meeting the hybrid's claimed figure of 80mpg, meanwhile, will probably happen the same day that Hades experiences a stiff frost.
Insurance groups and costs
It's a Bentley. It costs six figures new. It's got ludicrous performance. So obviously, it's going to sit in group 50 for insurance, the highest, most expensive one there is. Then again, if you're worried about the size of an annual insurance premium, you're unlikely to be considering a car as fantastically expensive as the Bentayga.
VED car tax
If your Bentayga was registered after April 1st 2017, then you'll pay the maximum VED bill available under the current tax system. That's £475 per year between years two and six of the car's life, and then £150 every year after that. That's on all except the hybrid, which qualifies for a £10 discount. Break out the Champagne, Jeeves.
All Bentaygas registered before that date will be taxed under the old CO2-related system. Cars of this vantage will be either W12s, which will cost you £580 per year, or diesels, which will cost £330. Having said all that, though, if you can afford to buy a Bentayga, the cost of a now-metaphorical tax disc is unlikely to put you off.
How much should you be paying for a used Bentley Bentayga?
"At the time of writing, prices for brand new Bentaygas ranged between £130,000 for the hybrid and £200,000 for the Speed."
The Lamborghini Urus costs around £160,000, meanwhile (but don't forget that there's only one high-powered version with 650PS, more than the Speed), while high-end versions of the Range Rover and Porsche Cayenne sit in the same ballpark. However, all those pricetags look positively puny compared with the Rolls Royce Cullinan, for which bids start at quarter of a million.
When such sums of money are involved, depreciation losses will be huge, but the good news for used buyers is that depreciation on the Bentayga is heavier than on most rivals. That means you'll be able to pick up second hand examples for a much more reasonable sum, although don't go expecting them to be a snip. Check HeyCar's listings, and you'll find a few examples under the £100k mark, but not that many.
Trim levels and standard equipment
Trim levels aren't really a thing where Bentleys are concerned. The various different versions are separated by their level of power and method of propulsion, rather than the kit they come with, which is fairly standard across the board. That said, there's no such thing as a 'standard' Bentley.
The level of equipment that comes included - which includes LED headlights, automatic wipers, cruise control, a panoramic roof, climate control, heated leather seats and all the various infotainment and safety gear mentioned earlier - is merely a starting point for how new car buyers spec their cars using the vast array of weird and wonderful options available, many of which will set them back five figures.
For used buyers, it means that you'll probably never find two cars the same, and whether or not the car you find has the bits you want on it will probably be something of a lucky dip.
Bentley Bentayga cars for sale on heycar
103
Number of cars available
£98K - £225K
Price bracket of these cars
Colours available on heycar
Keep me updated by email with the latest advice, news and offers from heycar
By submitting, you agree to our
privacy policy
.