Bentley Continental GT Review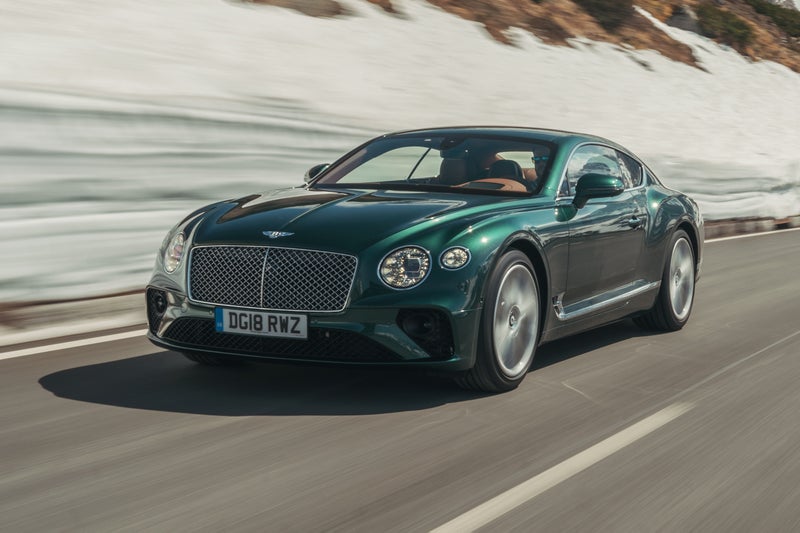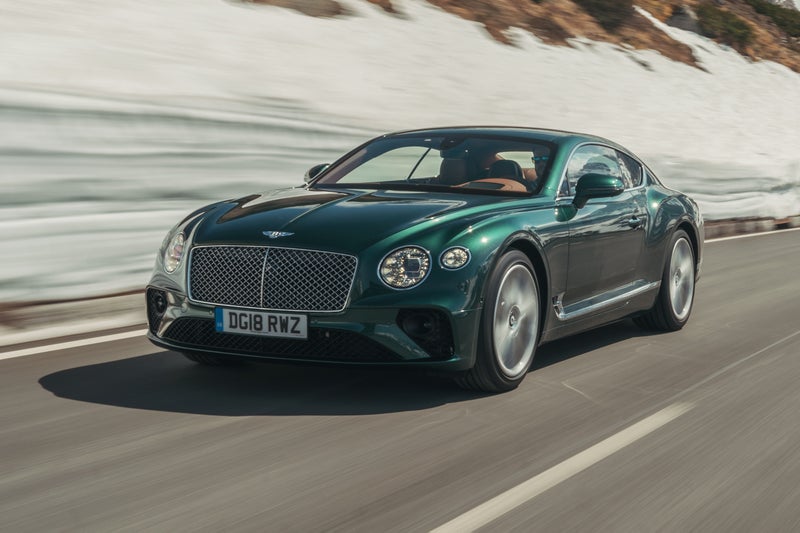 1/10
heycar rating
" Gloriously sumptuous, capable Grand Tourer "
Launched: 2018

Luxury

Petrol
Quick overview
Pros
Utterly glorious interior, that offers huge scope for personalisation
Fine looks, beautiful detailing and feeling of solidity throughout
Huge, effortless all-weather performance potential, and vice-free handling
Cons
The list price really is a starting point, you'll spend a lot on all those options
The latest driver assisting safety equipment remains on the options list
Epic fuel consumption if you're in a hurry
Overall verdict
On the inside
Driving
Cost to run
Prices and Specs
Overall verdict
"The Continental GT is a hugely capable all-rounder, with hand-built, sumptuous luxury mixing with mighty performance and, now, a chassis that's better equipped to enjoy and exploit it. It's little wonder it's been such a big seller for Bentley, as it's difficult to find fault with as a fast, comfortable grand tourer. Fast and capable the Bentley Continental GT is an indulgence that's difficult to ignore, offering a fine cocktail of luxury and performance, all wrapped in a sophisticated, relatively understated package. "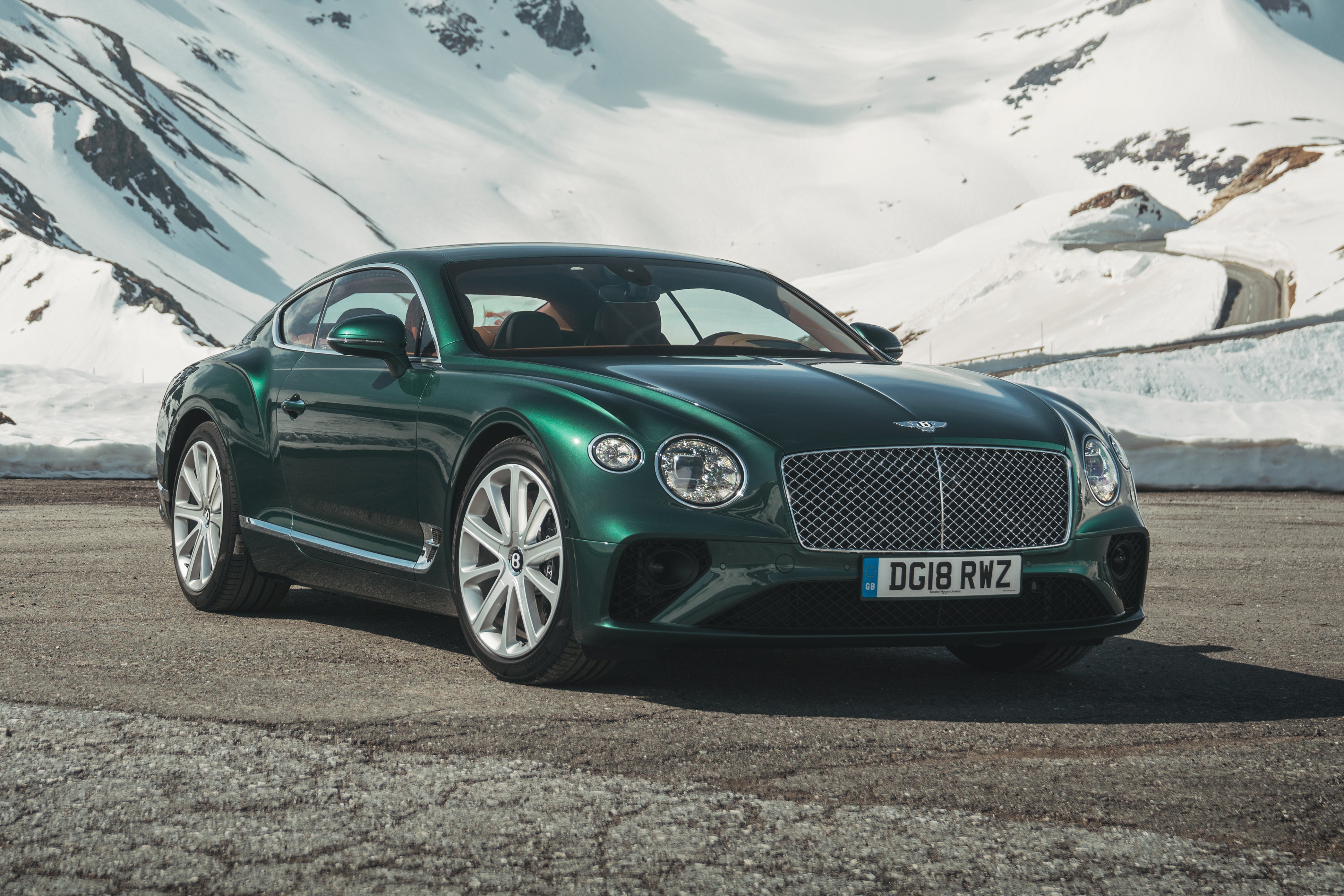 In 2003 Bentley launched the original Continental GT and it's been instrumental in Bentley's success ever since. Revised on a couple of occasions during its lengthy life cycle, the Bentley Continental was finally replaced by this all-new model in 2018.
There's no ambiguity in its name, either, the Bentley coupe being a Grand Tourer (GT) rather than a sportscar, built to fulfil the now somewhat outdated (and romantic) concept of the wealthy elite charging high speed through countries, perhaps swinging by Paris for breakfast, stopping at Le Mans to take part in a race, before heading to Antibes afterwards to party."
To do that a GT car has to fulfil a wide spectrum of capabilities. These notably encompass huge power and effortless long-legged performance, a sumptuously comfortable interior with a modicum of practicality and an exclusive badge that's fiscally out of reach of the hoi polloi. The Bentley Continental GT fulfils that brief pretty much to the letter, it being offered with a choice of two prodigiously powerful twin-turbocharged engines with either eight- or twelve-cylinders, a spacious interior that mixes of gloriously indulgent old-school luxury and modern technology, and a price, well, if you have to ask…
While Bentley's success with the Continental GT has unquestionably allowed the company to flourish, it wasn't without a little bit of assistance from a rich benefactor. In Bentley's case, that's Volkswagen, it bankrolling the first GT's development, borrowing elements from elsewhere within Volkswagen's sizeable product and brand portfolio to help create it.
That remains the case today, though unlike the original GT, which used some underpinnings from the Volkswagen Phaeton luxury saloon, the current Bentley Continental GT shares elements of its structure with the Porsche Panamera.
As a basis that's not a bad starting point, and it's helped address one of the few criticisms of the old model, that being its agility. The Bentley Continental GT now offers the promise of more poise than previously, giving it a better chance against its more driver-focused rivals from Aston Martin and Ferrari, among others.
It's achieved that without throwing out what made the original Continental GT so appealing though, it retaining the feeling of utter imperviousness to the road or conditions, thanks, in no small part to its standard four-wheel drive, and the hushed, cosseted interior you're ensconced within.
You can take it as read, then, that if you're in the realms of buying a Bentley Continental GT that you've done well for yourself, and the Continental GT is one hell of a reward for all your hard work.
It's a car that can, and is likely to be, used by its owners, the GT's wide bandwidth meaning it's by far the easiest car among its competitors to live with on a day-to-day basis. Indeed, in that respect the big Bentley is like a grown up, super luxurious Porsche 911. It's also relatively discreet compared to some of its more overt rivals, it being elegant and understated rather than showy or obnoxious. That's undoubtedly a sizeable part of its appeal for its buyers.
Joined in 2019 by the GTC, the coupe's convertible alternative, while 2020 saw Bentley's Mulliner coach building department create an exclusive run of 12 cars based on the GT called Bacalar, each costing a cool £1.5m, these all already sold out.
If you're looking for the older version, you need our Bentley Continental GT (2010-2018) review.
Is the Bentley Continental GT right for you?
It's highly improbable that you'll arrive at a Bentley dealership without having owned, and still have a garage stocked with, a back catalogue of exclusive, expensive luxury, SUVs, sportscars, GTs and supercars.
The chances are then you'll know that the Bentley's exactly what you're after. You want the pace of those sports and supercars, but want the assured stability, vice-free handling and usability the Continental GT brings, while not being showy outside, but beautifully indulgent and hand-crafted inside.
The Continental GT does all that, while adding some practicality with a decent-sized boot and a pair of occasional rear seats. The likelihood is you'll actually use it too, and regularly, rather than the occasional playthings its performance rivals, this, again, one of the Continental GT's strengths. Throw in a huge scope for personalisation, inside and out, and buying and specifying it, it well worth a visit to Bentley's Crewe home to do so, is as large a part of the experience as owning and driving it.
What's the best Bentley Continental GT model/engine to choose?
There are two engines and two body styles – ignoring that Bacalar – to pick from, either the coupe, or the GTC with its folding canvas roof, powered by the choice of a 4.0-litre twin-turbo V8 with 550PS and 770Nm of torque, or a 6.0-litre twin-turbo W12 with 635PS and 900Nm. All drive all four-wheels, via an eight-speed automatic transmission.
If you measure best by pure numbers, then that flagship W12 coupe has it, it able to reach 62mph in 3.7 seconds and a top speed of 207mph. The V8's only marginally slower though, with 62mph reached in 4.0 seconds and it trailing its 12-cylinder relation's top speed, if you happen to be passing through Germany, by just 9mph.
Buying the GTC has no impact on the performance figures. Which you'll buy is likely down to your location, the coupe more popular in the UK, with the GTC selling in greater numbers in markets like the USA. You could just buy a different one for each of your houses, but, being rational, a V8 coupe is all you really need.
What other cars are similar to the Bentley Continental GT?
The Continental GT operates in a fairly rarefied marketplace, but there are alternatives to it, from a number of exclusive and luxury brands. Ferrari's V8 GTC4 Lusso and V12 GT4Lusso are the company's most obvious competitors for the coupe, with the Portofino a possible alternative to the GTC. Aston Martin's DB11 fills a similar brief, but it's more overtly sporting, in either coupe or Volante (open-topped) guise. Rolls-Royce offers the Wraith, too, as a potential rival. The Porsche 911 Turbo S is similarly useable, fast and capable, and again with a more sporting edge, while cars like the BMW 8 Series and Mercedes-Benz S-Class Coupe also fill a similar brief to the Bentley, albeit without quite the bespoke look or feel.
Comfort and design
"Quite simply, the Bentley Continental GT is glorious inside with the right balance of traditional looks mixed with modern elements."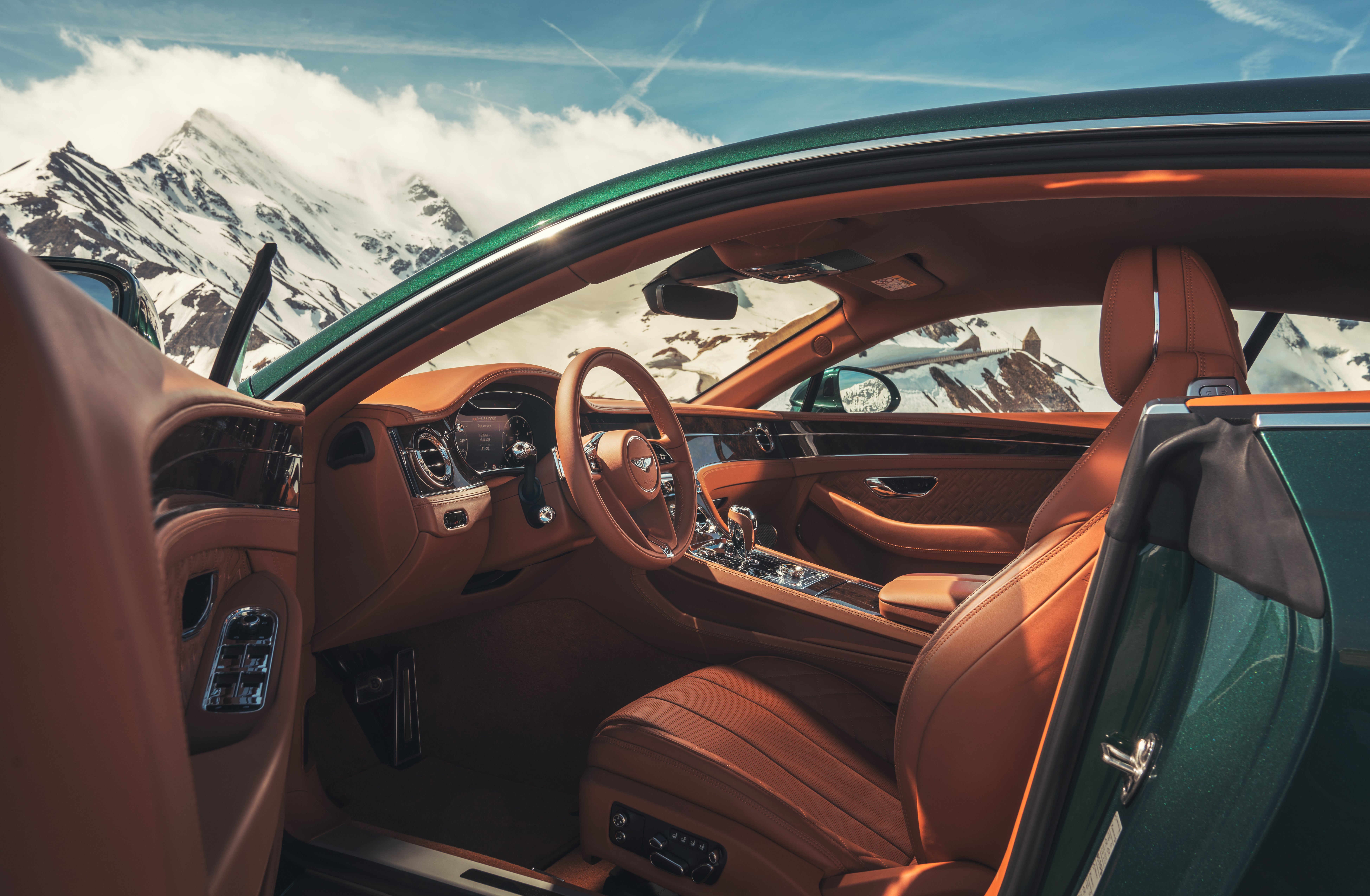 Indeed, the interior design hasn't deviated too much from that of the old car, with the driver and passenger sat in in large, comfortable seats, that offer a huge range of adjustment as standard. If you want the very best seats, though, you'll need to option the Front Seat Comfort Specification, which adds electrically adjusted headrests, adjustable cushion length and adjustable side bolsters and ventilation and massage functions. Putting on the massage function has it kneading your back with an intensity that you'd usually have to visit a masseuse for. The steering wheel can be heated, likewise the seats, and there's mood lighting, too. It's so comfortable you might just find yourself sitting in it in the garage, not wanting to get out.
The large expanse of the dashboard area allied to the wide centre console feels indulgent in their scale, and while the Continental GT sits relatively low on the road, you do sit up quite high in it. That means the view out is reasonable, though the thick a-pillars do restrict sight lines at times, while the large rear window is so steeply raked you only get a letterbox view out of it in the frameless rear view mirror. It's all very hushed, too, with laminated glass reducing noise from outside, the Continental GT about as comfortable environment as you could possibly imagine.
Quality and finish
With its hefty price tag comes weighty expectations, and the Bentley Continental GT really doesn't disappoint, being so far ahead of its competition its only direct rival for interior quality is Rolls-Royce. You just need to feel the slick operation of the organ pull stops that control the ventilation to justify the cost, while the bulls eye vents themselves move with a similarly beautiful weight and resistance. Every element you touch inside is superb, from the knurled finishes to the chrome column stalks, to the smooth, cool tactility of the door handles, the Continental GT having a feeling of solidity that really places it on another level from even the luxury car norm.

The material mix and its finishing depends entirely on your choices, with everything from perforated to smooth leathers, and any number of stitching patterns, colours, quilting or embroidered personalised details able to be added to your specification. That's true too of the wood veneers, which are deep in their lustre and glass smooth in their touch, Bentley also offering carbon fibre or mechanical turned finishes in certain areas. The overall effect inside is one of beautiful, hand crafted luxury, that's classily executed throughout, and feels like it'll last a lifetime.
Infotainment
The touchscreen, connected, digital connectivity of modern cars could sit incongruously with the indulgent, traditionally trimmed luxury of the Continental GT's cabin, but Bentley has integrated all he technology you'd expect inside with a lightness of touch that's very impressive indeed. The instruments ahead of you are all digital representations, but very neatly done, looking analogue in standard guise, but offering some configurability to incorporate navigation, entertainment or connection details. The 12.3-inch central touch screen is smart, its operation familiar and easy, it offering the ability to connect via Apple CarPlay or Android Auto, too. There's the clever option of a Bentley Rotating Display, which variously allows you to remove that screen altogether, instead displaying a trio of traditional instruments displaying time, temperature and a compass, or, when locked another strip of wood veneer. It might sound like a gimmick (and at a few hundred pounds shy of £5,000, it's not cheap) but it works beautifully, allowing you to remove the touchscreen out of sight once you've set it all up, and rely on the screen in the instruments and steering wheel control buttons for the major functions.
The standard 10 speaker 650 watt DAB audio system isn't likely to disappoint, but the likelihood is buyers will upgrade, with Bentley offering either a £5,075 Bang & Olufsen 1,500 watt system with 16 speakers, or above that a Naim Audio system which ups the speaker count to 18, and pumps out 2,200 watts through a 20 channel amplifier. That premium Naim system costs £6,600, but hearing it makes you realise where the money has been spent, as it's incredible. There's the option of a TV tuner and inductive phone charging, too.
Space and practicality
Built for speed to cross continents, in grand style as its name suggests, the Continental GT has to have a modicum of practicality for it to fully fulfil its wide brief. It does so, too, the boot being 358 litres, which is actually more voluminous than a Ford Focus. More than the boot's space, it's actually a decent shape, being both deep enough and wide enough to pack a couple of sizeable suitcases and stuff some soft bags down the side. There's even the possibility of longer loads being accommodated, with the armrest between the rear seats allowing through loads, but you'll struggle with more than one pair of skis, so narrow is the opening – it's fiddly, too, requiring a bit of dismantling to do it. Stick the skis on a roof rack instead if you're off to the slopes, where, four-wheel drive, and Bentley's availability of a spare set of wheels with winter tyres fitted, will make the Bentley the perfect alpine car.
The front seat space is generous, there's a decent amount of oddment storage and a pair of sizeable cupholders, too, which can, when not being used, be hidden under the sliding armrest. The rear seats will fit adults, just, but you'll have to be under 6ft if you don't want your head meeting the roof lining (even if it's rather fine to the touch), and the driver or passenger in front of you will need to move their seats forward to accommodate your legs. There's precious little foot room, too, those seats then are best considered occasional use only, and really for smaller, more malleable children than inflexible adults, tiny children accommodated in their child seats thanks to a pair of Isofix mounts in the rear.
All said, for a car that's able to cruise at in excess of 200mph, while being able to hear the air pass the conductors' baton on a classical recital on that epic Naim audio, space and practicality is really very good indeed. It all lives up to its Grand Touring title rather convincingly, indeed, we can think of few cars we'd rather add a +1 to and spear across a country to some glamorous destination in. Naturally, the GTC loses some of that practicality due to its folding roof, with the boot capacity dropping to 235 litres, and those rear seats less useful, too.
+ Car Seat Chooser
Handling and ride quality
"All that wood, leather and chrome is weighty, with even the V8 model having a kerb weight of 2,165kg, and the W12 around 100kg more than that."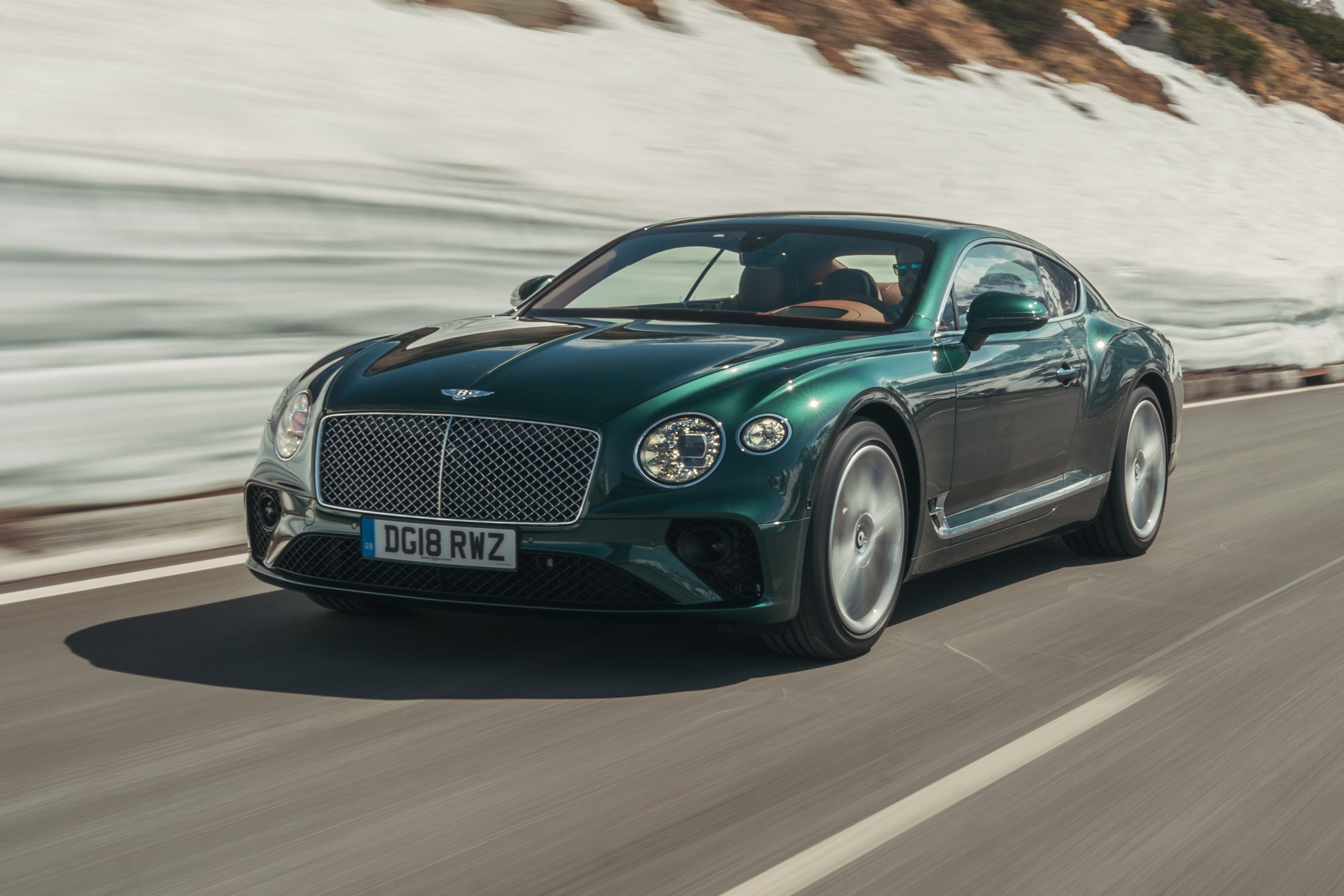 More than two tonnes, then, which makes it hardly surprising that the front brakes feature ten piston callipers to haul the GT to a stop. Even so, the GT disguises its mass rather well, exhibiting agility and keenness to steering that just wasn't evident in the old car, yet retaining its glorious fast, comfortable cruising ability, stability and surefootedness. That retained distance-swallowing ability is key to its appeal, while the greater agility on offer now only adds to it. There's a limit though, and eventually physics will take over, but if you're reaching them on the road then you really ought not to be, because you'll be travelling indecently quickly to do so.
Key to that gain in ability is the adoption of an air spring suspension system with far larger chambers than the old car, allied to 48-Volt roll control system, allowing finer body and wheel control in the bends. This allows Bentley to further tune the chassis, allowing impressive ride comfort, without sacrificing that agility. There are various modes to pick from, these having an effect on the engine and transmission characteristics, too, but the 'B' 'Bentley' mode, which the car defaults to is the one that Bentley's engineers prefer, and we're not about to disagree. Sport only adds brittleness to the ride, though Comfort is useful if the roads are particularly poorly surfaced. The four-wheel drive system feels more rear-biased than previously, and while we're not about to say the Continental GT will delight like a Ferrari GT4Lusso or an Aston Martin DB11 on a winding road, the gap between them is more like a deep crack these days than a gaping chasm and the Bentley's overall spread of ability is far greater than any of its rivals.
Engines and gearboxes
When the Bentley Continental GT was originally launched it was only offered with its innovative 12-cylinder engine with its layout eschewing the usual V format, and instead being arranged in a W. This has the advantage of making it more compact, while still retaining its power and smoothness. A V8 followed, and has been the W12's slightly more economical, but barely less powerful companion in the range ever since. That remains the case today, with the 6.0-litre twin turbo W12 heading the line-up, its 635PS and 900Nm of torque making light work even of the GT's ample bulk. It'll pass 200mph, reach 62mph in 3.7 seconds, but it's the huge flexibility that its 900Nm peak torque brings, right from 1,350rpm that makes it so capable. Add eight ratios from the automatic transmission and the engine can produce alarming any rev pace, but in a wonderfully dignified Bentley manner.
The V8 might lack the prestige of and cylinder count of the W12, but it's really no poor relation. With 550PS and 770Nm of torque developed from 2,000-4,500rpm it's still an engine that feels very unstressed, but does require more revs to produce its best. Of the two, it's arguably more enjoyable and engaging to drive, as it demands more from you, but the W12 is compelling, simply because you'll never tire of its effortless urge. If there's a weak link it's the gearbox, which for the most part shifts imperceptibly, but on occasion can be caught out, those odd fluffed shifts somewhat unbecoming in a car that's so otherwise so smoothly accomplished. There's no plug-in hybrid model for now, but it's inevitable that one will come in time, particularly as the Panamera that it's based on is so equipped.
Refinement and noise levels
Long drives are tiring, particularly if they're noisy, so a proper GT car should provide hushed refinement along with its high speed gait. The Continental GT delivers here, the engines providing a rousing, welcome backing track when you want them to, but quieting down to a dignified, quiet cruise at the sustained speeds the GT is so easily capable of. At UK motorway speeds, thanks to the ample torque and the automatic transmission's plentiful ratios, either engine is working at little over tick over.
The noise suppression elsewhere is admirable, with wind being whisper quiet thanks to the use of laminated glass, it especially noteworthy that Bentley has achieved this despite the GT (and GTC's) frameless side windows. That GTC doesn't really suffer from any loss of refinement thanks to its fabric roof is impressive, and, Bentley says, as quiet as the old coupe inside. That's near silent, then, and so it proves, while dropping the roof, and keeping the windows up and wind deflector up (losing the rear seats to do so), makes for an open-topped drive that's all but draught free inside. Impressively quiet, then, as they should be given it's part of the GT's remit, that near silence only adding to the feeling of luxury.
Safety equipment
It's a given in the luxury car marketplace that you'll spend money on plentiful personalisation choices, but, sadly, some of the Continental GT's most advanced safety equipment languishes on the options list. There is anti-lock brakes as standard, driver, passenger front, side and knee airbags, as well as stability and traction control. There's tyre pressure monitoring, too, as well as a standard heated windscreen and parking sensors.
To that you can add a Touring Specification pack, which costs £6,300, it adding Lane Assist, Adaptive Cruise Control with Traffic Jam Assist, Bentley Safeguard Plus – including Emergency Lane Change Assist – Night Vision and a Head-up display. It's also possible to specify the City Specification pack, which brings a Top View Camera, Traffic Sign Recognition, Pedestrian Warning, Reversing Traffic Warning and Automatic dimming mirrors. That City Specification adds a further £4,000 to the price.
The rotating centre display can be considered a safety aid, as it reduces distraction from the large screen, while the head-up display also means the driver's eyes are off the road for less time, which is to the benefit of safety.
The Continental GT hasn't been independently crash tested, but it's likely to protect you very well in the event of an impact, not least because it's so substantial.
MPG and fuel costs
"Fuel consumption simply won't be a consideration to buyers, but for the record, the W12 returns just 20.8mpg on the official WLTP combined consumption cycle."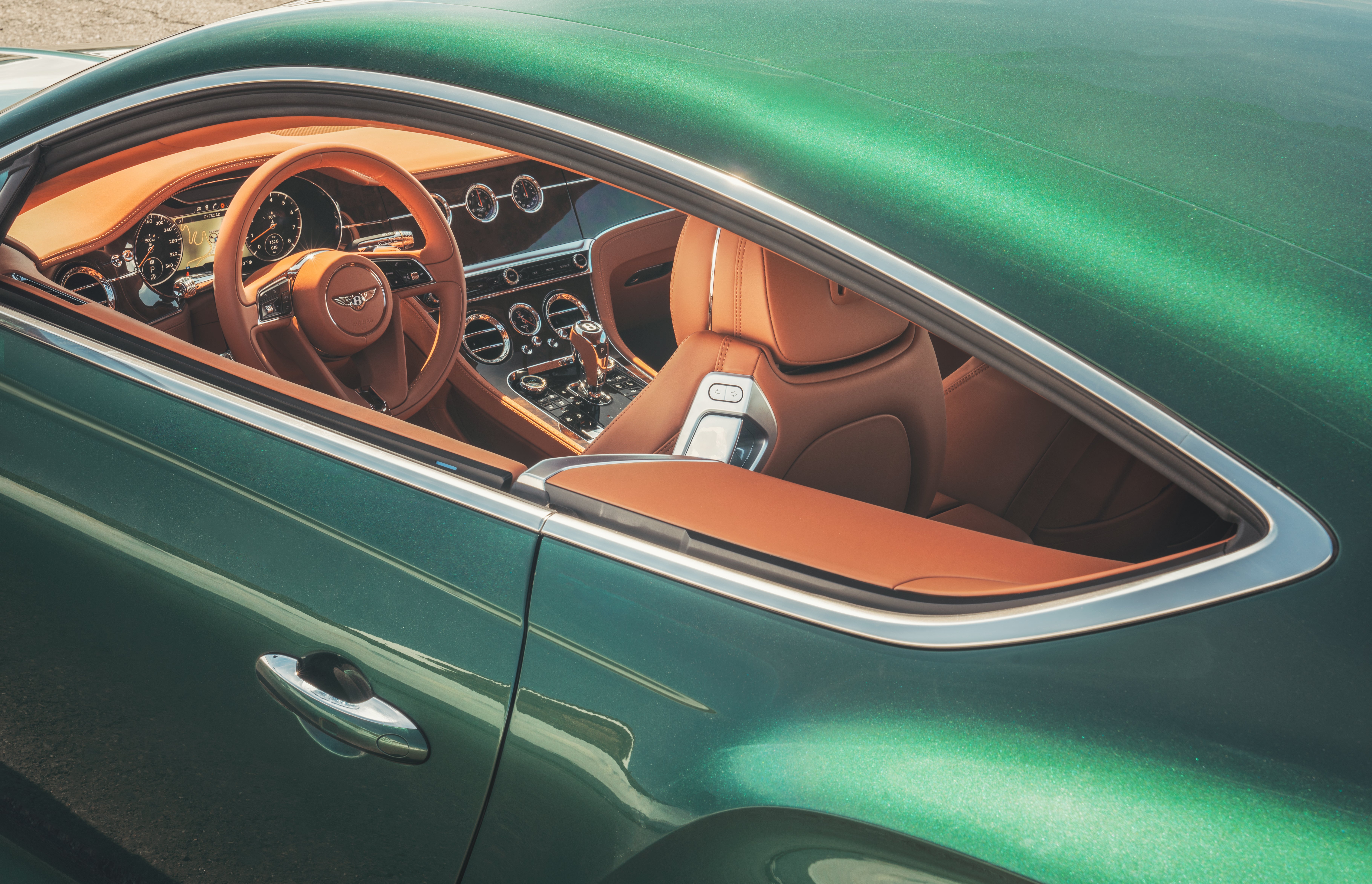 That's more accurate a measure than previously tested, but you'll still be looking at a real world figure around the mid- to late- teens, and into single digits if you're in a hurry climbing an alpine pass to your ski chalet. The V8 does better, a little, with a combined consumption figure of 23.9mpg. Both have usefully large fuel tanks (just as well) at 90 litres, so if you drain it fully you'll be popular at the local fuel station.
Insurance groups and costs
Like fuel consumption, insurance groupings and any other costs are likely to be of little concern when you're dropping an absolute minimum of £150,000 on your Bentley Continental GT. All attract the highest insurance group ratings, but you'll know that, and it's likely you'll have it on a multi-car policy with some other luxury and exotic cars, or have the company pay for it as a business expense somehow. Servicing won't be inexpensive, either, but then, again, that's unlikely to be a surprise to buyers in this rarefied marketplace.
VED car tax
No Bentley Continental GT emits less than 268g/km and the list price ensures you'll pay all the tax the Government can squeeze out from you. It'll not worry you, as it's small fry to the taxes you're paying (or not given the likelihood you've got a clever accountant) elsewhere. If it's really a problem, register it at your Monaco address, which might handily help you avoid parking tickets in the UK.
How much should you be paying for a used Bentley Continental GT?
We're concentrating on post 2018 models here, but if you want a big slice of luxury, for not much money, then the earliest Continental GTs are able to be picked up for around £20,000.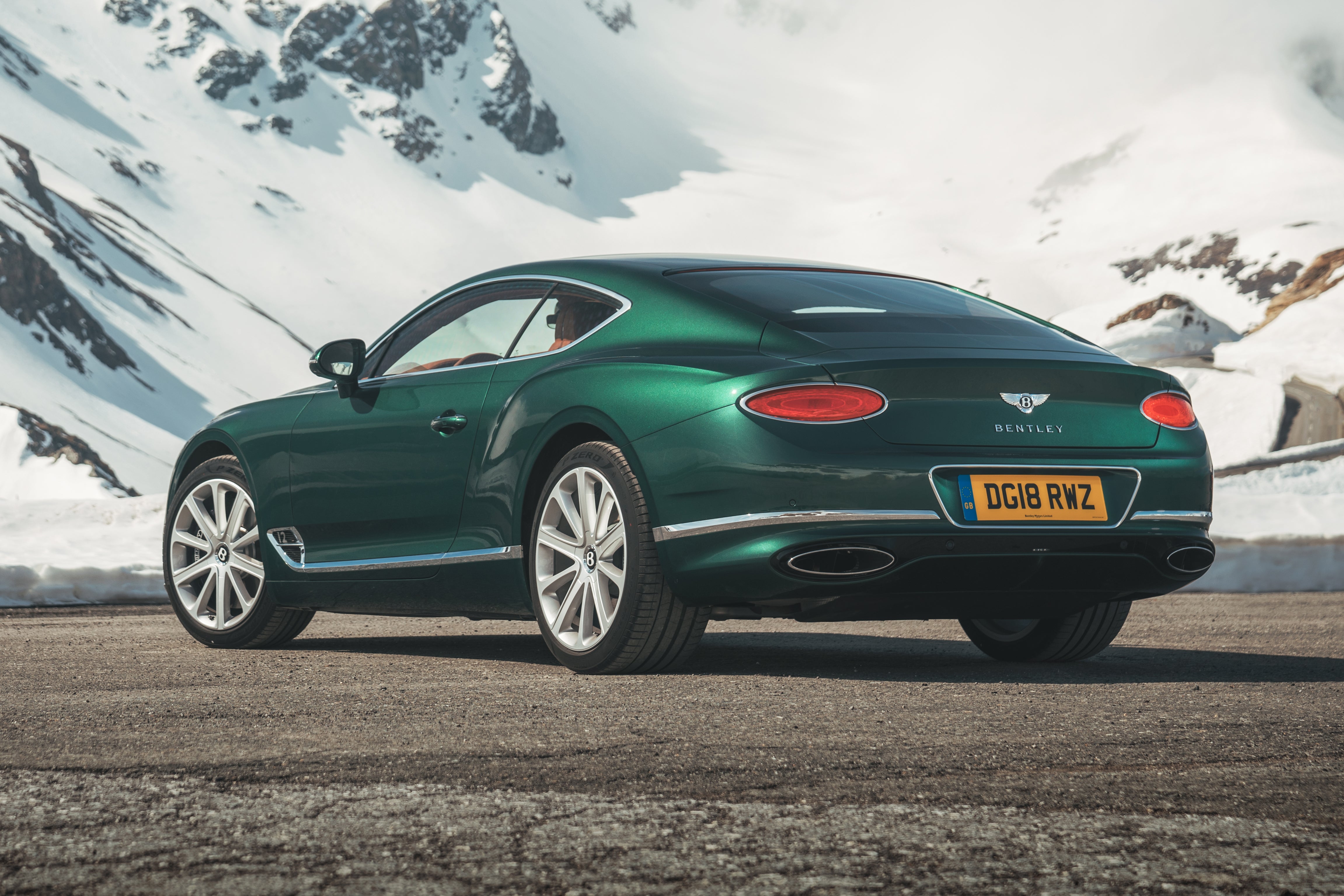 For anything built from 2018 onwards you will, in 2020, need to add an absolute minimum of £100,000 to that, and, realistically if you want a decent choice with low miles, more like £110,000 for a total budget of £130,000 and above. Here you'll find a decent selection of two-year old models with comfortably under 10,000 miles having rolled beneath their large alloy wheels. Most are W12 models, by virtue of the fact it was launched first, and there will be a few First Edition specification models, which introduced the new model.
Trim levels and standard equipment
There aren't any specific trims as such, the Continental GT available with a choice of engines and the minor differences in specification that these bring – these being mostly cosmetic.
Standard equipment is as you'd expect, with climate control, leather seats, parking sensors, sat nav, cruise control and suchlike, but it's a Bentley, so the expectation is you'll spend considerably more on options personalising it. Think at least 15-20% of its list price, if not a lot more.
Bentley Continental GT cars for sale on heycar
103
Number of cars available
£57K - £269K
Price bracket of these cars
Colours available on heycar
Keep me updated by email with the latest advice, news and offers from heycar
By submitting, you agree to our
privacy policy
.