Continental GTC (2011-2018) Review
Bentley Continental GTC (2011-2018) Review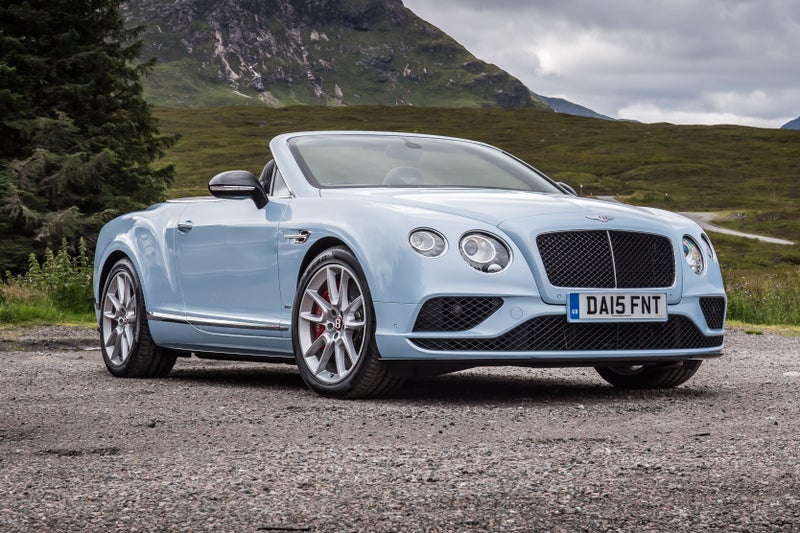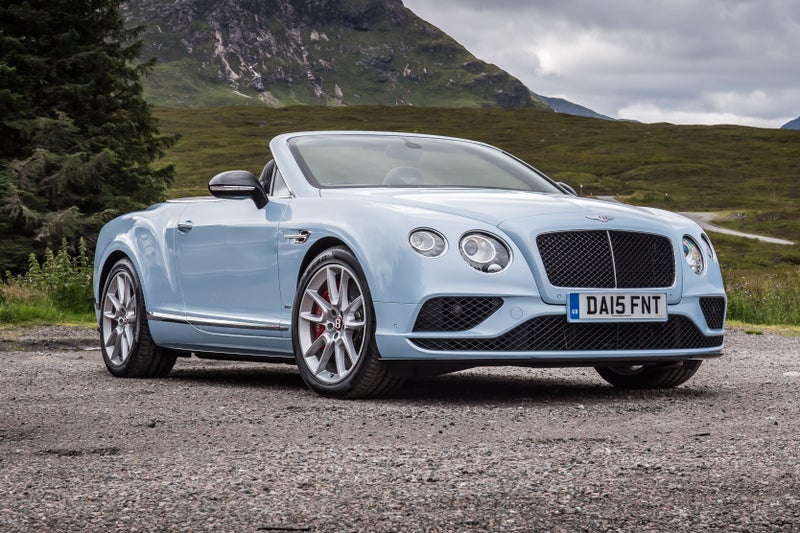 1/10
heycar rating
"Potent, prestigious and premium convertible"
Launched: 2011

Convertible

Petrol
Quick overview
Pros
Genuinely effortless luxury
Beautiful interior is a real haven
It's a brilliantly adept everyday drive
Cons
W12 is extremely thirsty
This is a big, heavy car, with high-end running costs
Keen drivers will find an Aston Martin or Porsche more exciting
Overall verdict
On the inside
Driving
Cost to run
Prices and Specs
Overall verdict
"The Bentley Continental GTC is a brawny British GT car and a powerful take on the world of open-top motoring. It is muscular and effortless to drive, yet finished to the highest standards and boasts the finest luxury. Four-seat motoring is rarely more appealing."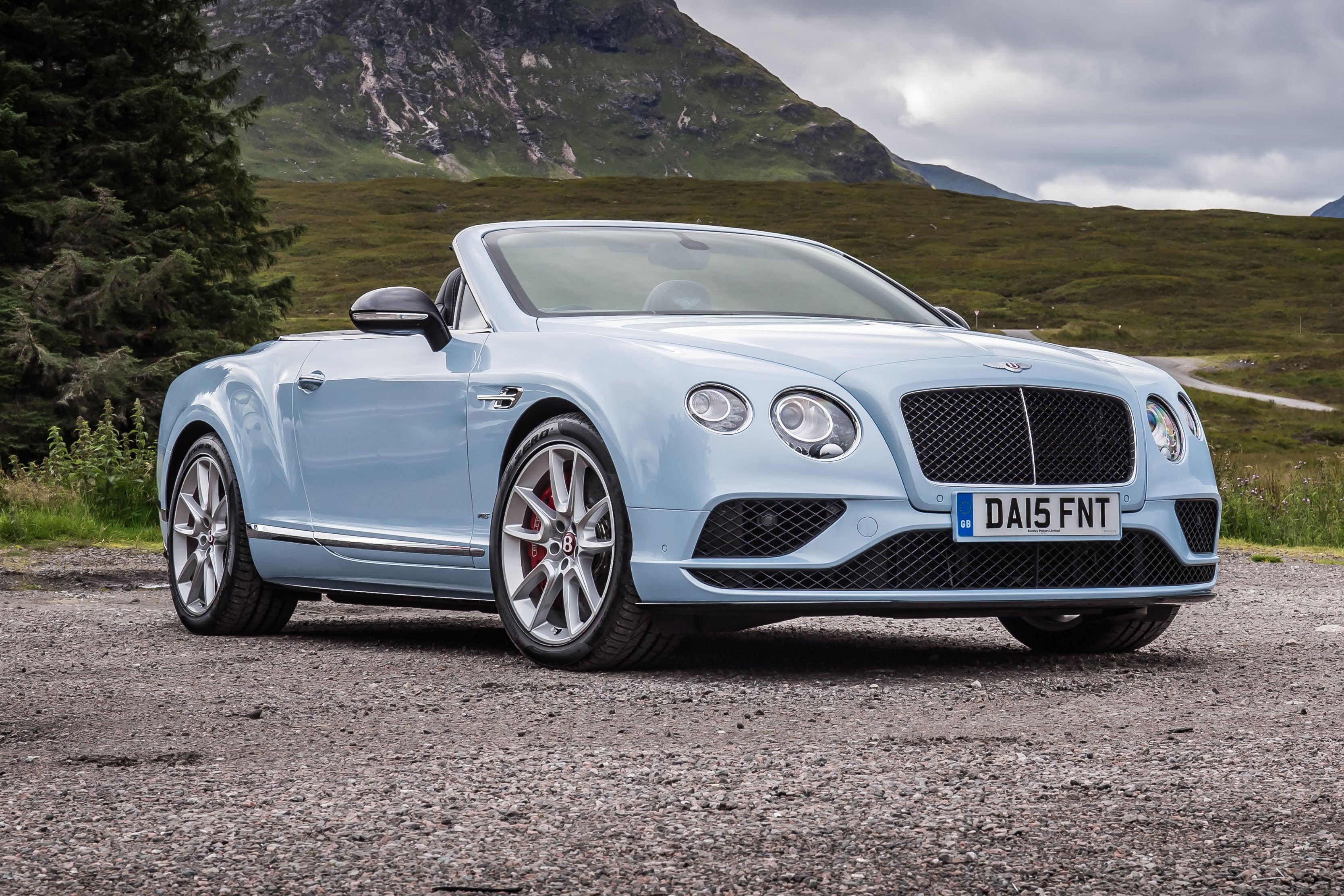 You would expect no less, given what it cost when new. And just a few minutes with the Bentley options list often saw five-figure sums added on top. Nonetheless, such is the unique appeal of the Continental GTC, its exclusive clientele were happy to buy into the dream.
Besides, this is a big, commanding car that has a real presence on the road. It's a purposeful machine that oozes power, from its quad-headlight front end with the famous (and frequently copied) Bentley grille, to its powerful haunches and, with the roof down, highly alluring interior.
Ultra-luxurious convertibles are pretty rare propositions, and the fact the Continental GTC can take four well-heeled passengers to, say, Royal Ascot in such refined comfort defines its appeal. Even if the daily reality might be ferrying the kids to school and back.
And that's a likely scenario for the Bentley. It's such a great all-rounder, many lucky owners use it as a daily-driver, helped in no small part by its brilliant refinement, effortless power and capable all-wheel drive.
Even its convertible roof adds to the comfort. This is a luxury car, so has a luxury soft-top, made from multiple layers and padded with noise-isolating materials. The heated rear window is acoustic glass, no less. With the roof up, it's as snug as the Continental GT coupe.
Launch models from 2011 came with a monster of an engine, a 6.0-litre W12 twin-turbo. It produced a colossal 575PS, which gave this 2.5-tonne machine the acceleration of a supercar. A later 507PS 4.0-litre V8 turbo was almost as fast and gave the GTC a boost in economy, from horrendous to merely poor. You can spot them by their 'figure of eight' exhaust pipes and red Bentley 'B' badges.
We love the W12 and driving it is an experience in itself. With 700Nm of torque, it has brawn by the bucketload, making any journey utterly effortless. It will also do 195mph, but that 17mpg thirst may eventually frustrate you. So we'd perhaps choose the plenty-quick-enough V8 instead: it still has 660Nm of torque, but will manage 26mpg, meaning fewer stops to fill the giant fuel tank.
The model line-up at launch was simple: just the Continental GTC W12. The V8 followed a little later, with a W12 GTC Speed performance range-topper arriving in summer 2012. This produced even more power, 625PS, for a remarkable top speed of over 200mph. Suspension was given a thorough makeover, too (and even bigger brakes fitted).
Whichever version you choose, the Bentley Continental GTC is guaranteed to deliver an imperiously upper-class drive to soothe even the most frayed nerves. It is powerful, has presence, and there are few finer ways to enjoy open-top motoring. It's expensive, but just one drive will be enough to convince you it's worth it.
If you're looking for the newer version, you need our Bentley Continental GT (2018-) review.
Is the Bentley Continental GTC right for you?
Obviously you need to have a healthy bank balance: there's no such thing as a bargain Bentley. But it's easy to see where your money goes – if you're looking for one of the world's finest luxury drop-tops, the Continental GTC ought to be right up your street.
Both engines are incredibly powerful, and the four-wheel-drive system deploys this power completely without fuss or hesitation. It's a potent long-distance tourer, and one that asks for little effort from its driver.
The real highlight comes when you drive it more slowly, though. Even with the roof down, the interior is a haven of isolation and decadence, feeling fit for royalty (and more than likely earning you a few glances from passers-by).
It really depends how bespoke the original owner wanted the interior – and how much they wanted to spend. Bentley builds all its cars as custom creations, and if you really want to go all-out and make a machine worth a quarter of a million pounds, you can. If you want the coupe version, you'll need the Bentley Continental GT (2010-2018).
What's the best Bentley Continental GTC model/engine to choose?
The core of the Continental GTC range is the W12 engine. This is a unique Bentley motor and is so popular, it's helped the firm become the biggest manufacturer of 12-cylinder engines in the world. There's nothing like it, particularly the souped-up Speed version.
Truth be told, there's nothing like its thirst either. You can almost literally watch the fuel gauge go down. Even if you have the means to afford this, the frequent refuelling stops will become tiresome.
That's why our favourite Continental GTC is the V8, which has a charismatic feel of its own. It's still beautifully refined, of course, but the more focused throb of a throaty V8 seems more fitting for a Bentley. It's hardly any slower than the W12 either – you still have an excess of power – and there's the added convenience of almost 50 percent better fuel economy.
What other cars are similar to the Bentley Continental GTC?
Rivals at this end of the market are a select bunch indeed. There's the Ferrari California and its Portofino successor, for those who want a more vibrant interpretation of four-seat luxury motoring. There's also the Rolls-Royce Dawn for even more exclusive open-top British decadence. And straddling the two somewhat, there's the Aston Martin Vanquish Volante.
The Porsche 911 Cabriolet is very much a 2+2, rather than a proper four-seater. But it's such a popular supercar, it's hard to ignore. There's also the Mercedes-Benz SL: it's cheaper, and only seats two, but has built such a reputation over more than four decades that it will frequently be considered an alternative.
Comfort and design
"The Bentley Continental GTC's interior is not a mere car cabin; it's a sanctuary from all the troubles of the world. Stepping in and closing that long, heavy door (you'll be thankful for the 'soft-close' door-assist system) seals you off from the outside and lets you survey one of the most luxurious hand-crafted interiors money can buy."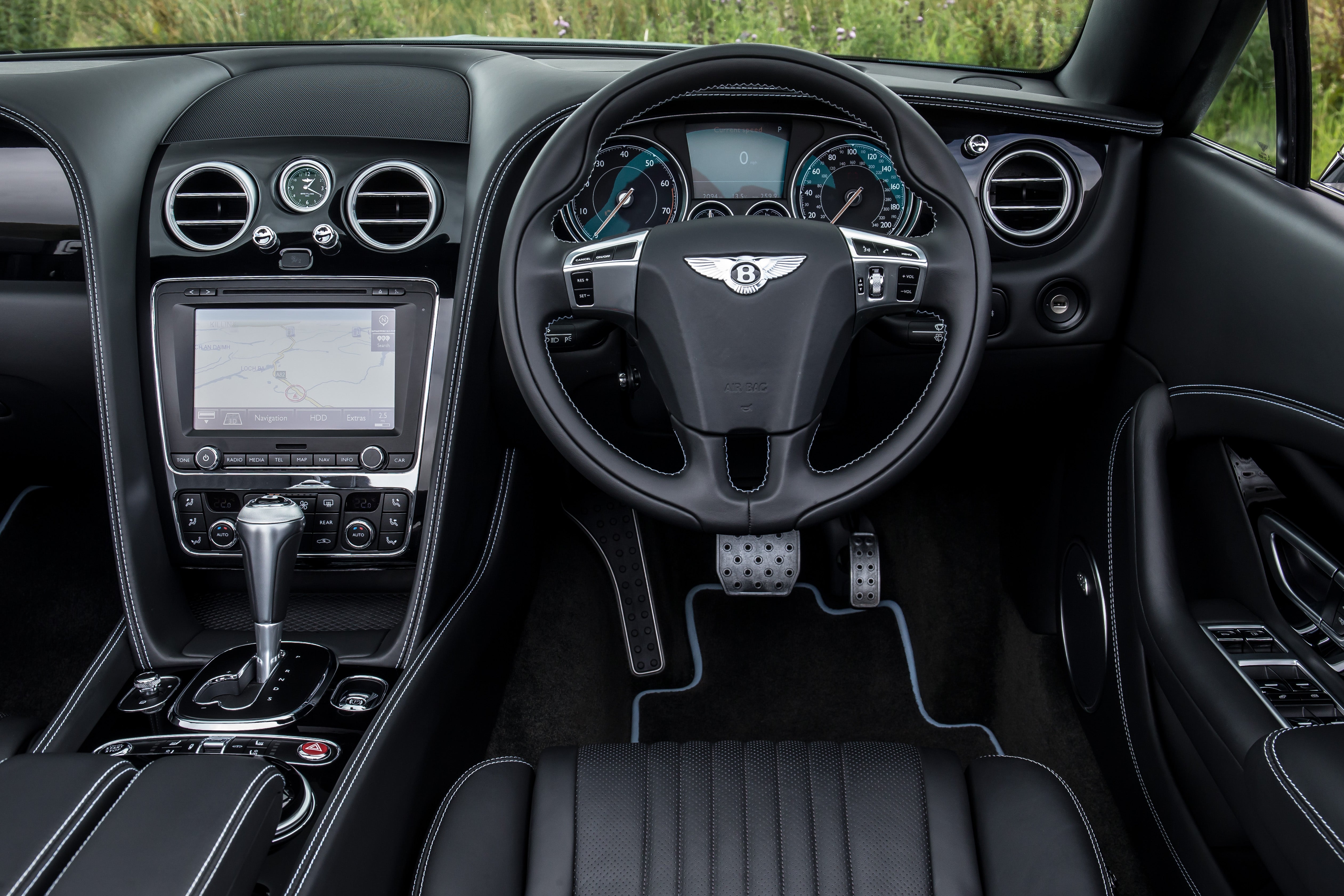 The design is characterful, with each front seat set within its own cocoon. Bold details abound, such as the trademark metal air vents with their 'push-pull' toggles, plus a huge range of trim materials including Bentley's famous wood veneers which are 'matched' side-to-side. Speed models have a darker, sportier interior ambience.
The driver has the best seat in the house. He or she faces jewel-like instruments and gets to play with a huge array of buttons and switches. If you drive a Volkswagen Golf, you'll recognise a few of them, but there are worse brands to share bits with than Bentley's parent company.
Everyone has a high-end seat to sit in, though. The front chairs are just that – like armchairs, finished in the richest leather you can imagine and benefitting from electric adjustment in more ways than you knew existed. They are outstandingly comfortable and, of course, are both heated and cooled to make all-year-round motoring tolerable. From the 2014 facelift, massaging functionality was added, along with a choice of seven different interior trim packs.
The two rear seats are individually crafted, and are much better than the usual bench rear seats you sometimes get in sports cars (we're looking at you, Porsche). Those in the back also get their own climate controls, to make the cabin temperature just-so. We would expect no less.
As for the roof, it isn't the fastest in the business, taking around 25 seconds to automatically retract. That's partly because it's so big – but you can do it at speeds of up to 20mph, which should save your blushes should you get caught out at the traffic lights.
Quality and finish
There are few cars built to a higher standard than a Bentley. Quality is of the highest order – the leather covering almost every surface, for example, is a rich treat to the touch, and Bentley has an entire division in its Crewe factory dedicated to crafting wood veneer. The amount of work that goes into a Bentley interior almost makes the cars seem cheap.
This is a car that weighs a mammoth 2.5 tonnes, but it's easy to sense that a lot of that weight has gone into interior fixtures and fittings, which are made from materials designed to last a lifetime. Few cars feel this robust.
This hand-finished machine is almost guaranteed to have a flawless finish, with an interior as perfect as the deep, rich paintwork and chrome on the outside. The Volkswagen parts it calls upon for minor controls are also better quality than many of its peers. It makes a Ferrari feel flimsy in places.
It's the sort of car where you'll focus on the details, because they're so gorgeous. Do so and you'll discover quality in depth, from the tactile knurled knobs for the climate control and steering wheel rotary dials, to the perfectly-oiled, hushed motion of those air vent knobs.
Infotainment
Infotainment is pure Volkswagen Group – the same top-end system you'll find in expensive Volkswagens and Audis. This is not meant as a criticism: it means Bentley buyers get to enjoy the latest standards in infotainment technology, complete with crisp and detailed route guidance and full connectivity with the latest devices. From the 2014 facelift, the system became fully touchscreen-functional.
You can pair it with some premium sound systems, including a genuinely breathtaking Naim audio setup. Look for the logo on the door speakers to see if it's fitted. Better still, simply play some music – you won't believe your ears.
Perhaps the biggest grumble with the infotainment is that, despite a bit of a Bentley makeover, it still shows its Volkswagen Group roots in some of the menus and page displays. Again, if you've come from a Volkswagen Golf, you'll instantly know how to use it. And while this is not necessarily a bad thing, it is a rare area where Bentley perhaps doesn't quite offer the high-end experience you would expect.
Space and practicality
The Bentley Continental GTC is an enormous car on the outside. It is more than 4.8 metres long and almost two metres wide – something you'll certainly be aware of when threading it down a narrow country road. In the front, though, you feel the benefit of this, with an abundance of space.
The seats are mounted high, the automotive equivalent of thrones, and give a commanding view down that fluted bonnet. The range of adjustment is considerable – all via electric assistance, of course – and we'd recommend using the memory settings to save your favourite driving position once you've found it. Repeating it again if someone else drives it takes an age, so numerous is the array of adjustments.
However, for such a large car, rear space perhaps isn't as palatial as you'd imagine. Sure, it's much bigger than the usual sports car norm, and will take adults in tolerable comfort. It's just that those in the front may need to compromise a little to free up enough legroom for passengers. Our top tip, when carrying four, is to simply lower the roof, which eradicates the cocooned feel they get with the soft-top up, and also makes it easier for them to clamber in and out – the front seats are so large, they do get in the way a bit.
The boot is on the small side for a large car, because that enormous roof has to fold away somewhere. With it down, load capacity is just 210 litres, expanding to 260 litres with it up. With such large alloy wheels as standard (even the smallest are 20 inches), you don't get a spare, but Bentley does fit rear ISOFIX mountings so you can fit two child seats at the snap of a finger and thumb.
Handling and ride quality
"A big, brawny bruiser: that's what the Continental GTC is like to drive. It's rare to find a car this large that feels so potent and fast: the Bentley is a genuine heavyweight – and by that, we mean a sports car perfectly tuned and trained to do its job, rather than something that's overweight and leaden. This is a precision instrument, despite its SUV-toppling kerb weight."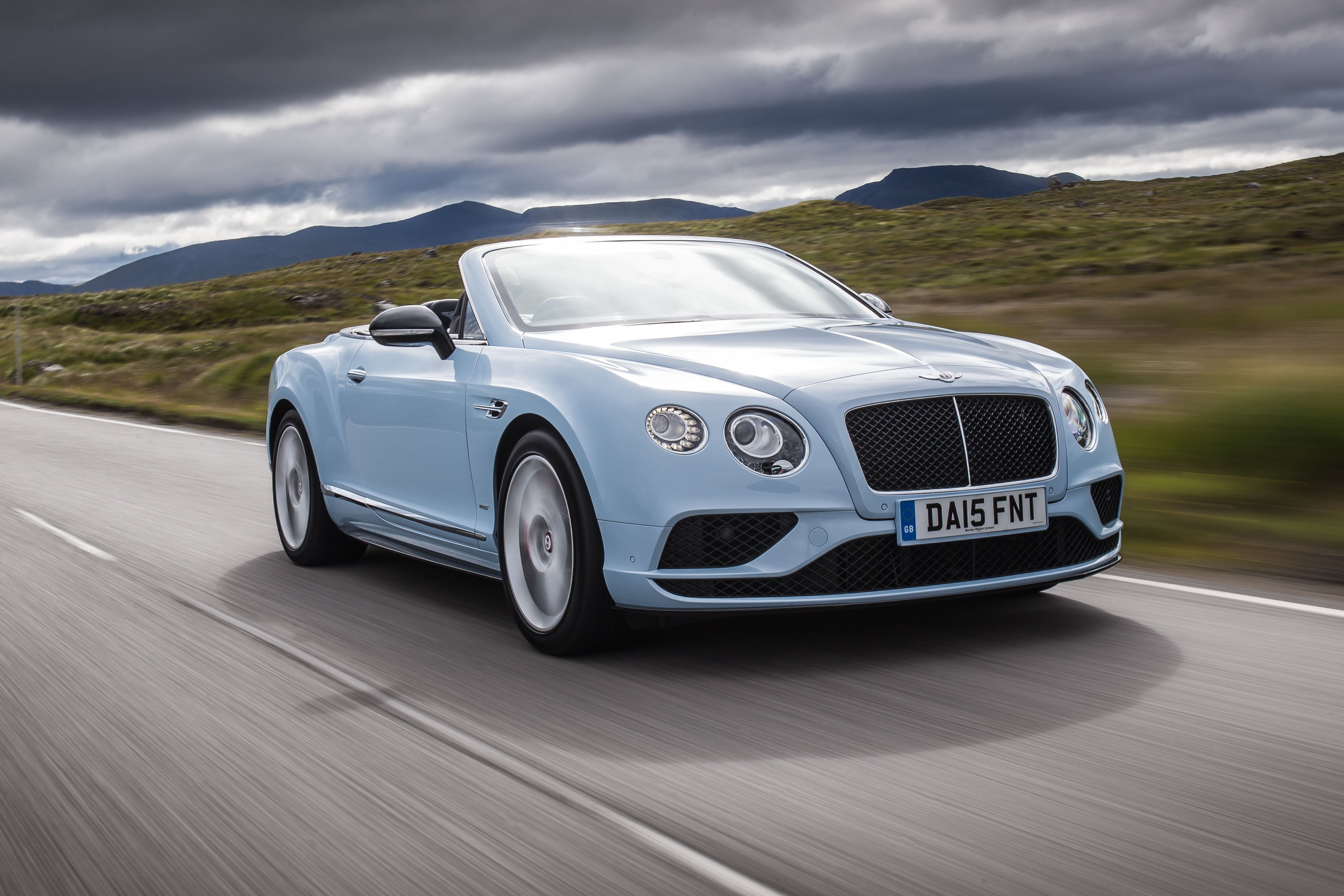 The W12 best sums up the experience. With all that power, you never need to worry about maintaining speed or eking out the last bit of road for maximum acceleration. Simply press and go as fast as you want, leaving you to concentrate on threading this big beast around Britain's compact roads. This is where the accuracy of its steering, with light, alert response to fingertip inputs, comes into its own.
The four-wheel-drive system is a key part of the experience. With a slight rearward bias, it gives a sporty feel during faster motoring, and crucially also ensures the Continental GTC is never left floundering, even when trying to dish out lots of power when the roads are wet or wintry. It's cultured and never gets hot under the collar.
The 4.0-litre V8 feels a tiny bit lighter on its feet, with slightly sharper front-end response. This is relative, though, because the GTC is a heavy car, and not built for being chucked around tight, twisty B-roads. Its natural home is big, fast-flowing roads, where it handles with neatness and a light touch, four-wheel drive and clever computer-controlled suspension giving it a feeling of absolute confidence and stability. It's a genuine long-distance GT car.
A big, heavy car needs big brakes, and the Bentley's anchors are suitably powerful. You can choose carbon ceramic discs, too: they're fiercely expensive (spot them from the red calipers), but are guaranteed to never fade. They wear at a much slower rate as well.
Despite the wheels being so large, the GTC rides as you'd expect, with a cushioned and softly-flowing gentility that cannot help but soothe stress away. Even the Speed, with its firmed-up settings, is good in this respect. Only at slower speeds might it occasionally be caught out by the worst of city potholes – again, though, only with a dull thud rather than a heavy crash.
Engines and gearboxes
The W12, a gigantic 6.0-litre motor hand-built in Crewe, is the core version, and serves up an almost other-worldly combination of grunt and effortlessness. It runs near-silently, responds without hesitation, and propels you towards the horizon on a never-ending surge of acceleration. Naturally, the standard automatic gearbox never jars, either.
Indeed, the trickiest part may be keeping your speed down to remotely legal levels. As its name suggests, the Speed is even quicker, with stupendous acceleration and 205mph bragging rights that feel entirely feasible on a German autobahn.
The V8 has a slightly sportier feel. It's barely any slower, but is a bit more driver-focused – it likes to rev more and, roof down, the raspy exhaust note is entertaining. It also likes to use more revs, so drivers may be encouraged to switch the automatic gearbox into manual mode and play with the paddle shifters behind the wheel.
The paddle shift levers themselves are, in typical Bentley fashion, massive and extremely over-engineered – and all the better for it. Oddly, they're fixed, so don't move with the steering wheel, but they're so big, you shouldn't have any trouble reaching them. Earlier generations of Continental GTC used a six-speed automatic, but we prefer the eight-speed auto that came later (all V8s use the eight-speed).
Refinement and noise levels
Refinement really is the name of the game here, both with the roof down and up. With the soft-top raised, it's hard to tell any difference in noise levels versus the Continental GT Coupe. Perhaps there might be the odd 'whoosh' from a passing truck, but otherwise it's still a haven of serenity.
There's little tyre roar – quite an achievement, given the size of the wheels – and the only engine noise that does filter through is so enjoyable and rich, you really won't mind. Turn on the stereo to drown it out if you wish.
Roof-down refinement is on another level to most open-top cars. Bentley has ensured wind doesn't buffet or blow occupants around, and those massive front seats do a brilliant job of cocooning passengers from passing air. Keep the double-glazed windows up and noise levels are fine even at speed, meaning you can have the roof down on a motorway in comfort. And on twisting roads, it means you can enjoy more of those beautiful exhaust noises as well.
From 2014, a neat All-Seasons Specification became available, which included neck warmers, a heated steering wheel and a removable wind deflector.
 Safety equipment
Bentley fits a comprehensive array of safety equipment, including all-round airbags and the cream of Volkswagen Group safety assist systems. Highlights included automatic seatbelt tensioners that hugged passengers more tightly in extreme conditions, while rollover protection front and rear is suitably substantial.
The Continental GTC's dynamic abilities help enhance its safety credentials, too. The four-wheel drive system gives assured driving in all weathers, and the engines are powerful enough to get you out of trouble. Just be careful they don't get you into trouble in the first place…
The 2014 model onwards gained a rear parking camera – a useful feature in a car this large – and a clever valet key, so you can restrict the speed and other functions when handing over the car to a parking valet.
MPG and fuel cost
"We've prepared you for this one, by already mentioning how thirsty the W12 is. There's no sugar-coating it: 17mpg is a best-possible case and you're more likely to see low teens, or worse. Let the Speed model stretch its legs and you'll get fuel economy figures normally associated with Formula 1 cars"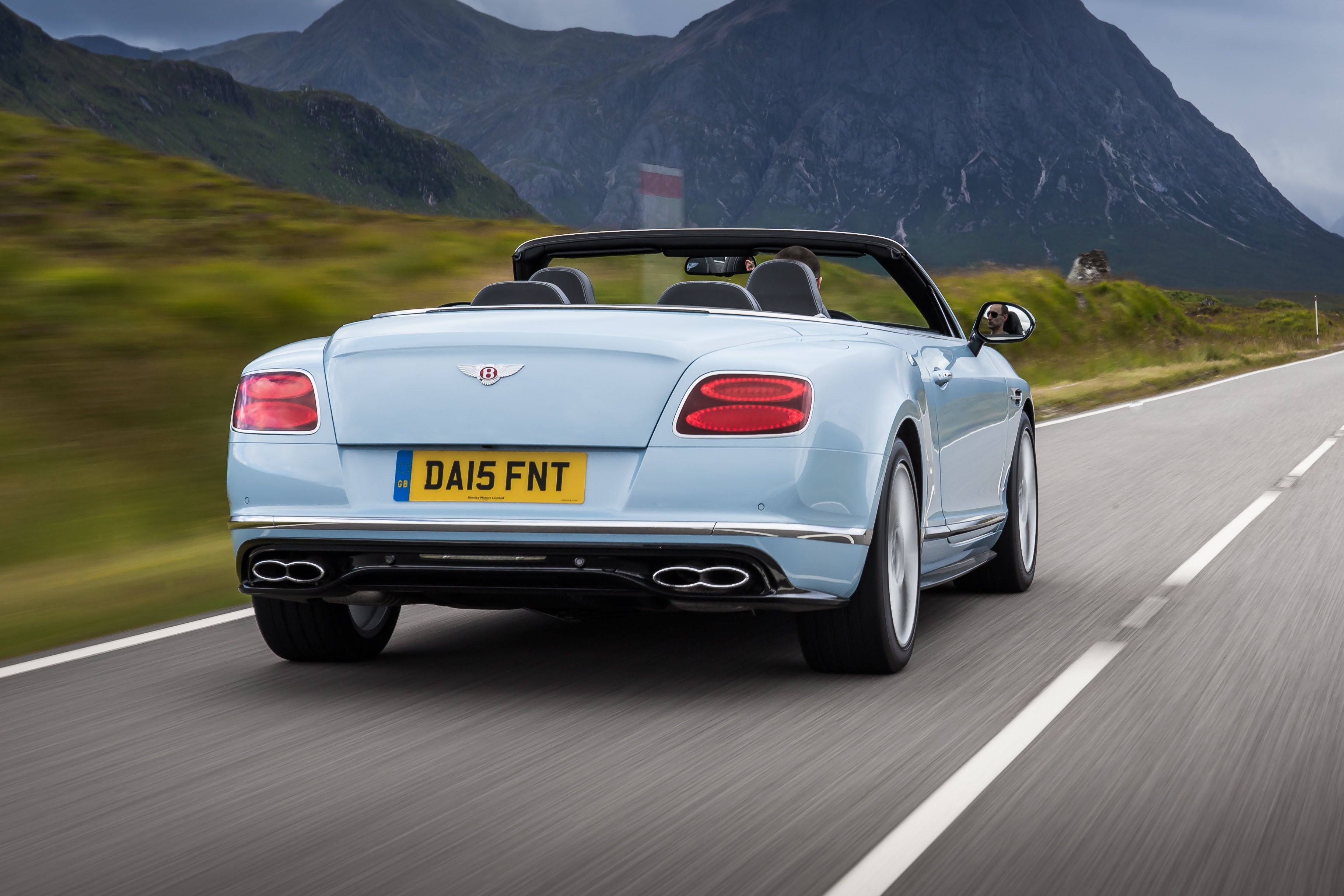 The V8 is much better. It has an ingenuous variable displacement system, automatically shutting down four cylinders and turning from a V8 into a V4 during light running. It's totally imperceptible, yet has a big effect on fuel economy. Just as official figures give a 50 percent improvement, you'll see this in real-world use – maybe even better in the right conditions.
Continental GTCs are expensive cars to run in other respects. Servicing is costly, and it has a big appetite for consumables such as tyres and brakes – and the cars themselves are extremely expensive. You certainly can't run a Bentley on a budget; beware of cars that show signs someone has tried...
Insurance groups and costs- UK specific
Insurance group 50 for all Bentley Continental GTCs is a given. It will be a bit more expensive to insure than a Continental GT too, given the perceived extra security risk of a soft-top over a metal roof. V8 models will be a little cheaper than the stock W12, and Speed models a little more expensive. However, no Continental GTC is going to be cheap to insure.
VED car tax - UK specific
Pick out the very highest VED road tax band, and the very highest annual payments, to find out how much you'll spend to tax a Continental GTC. Even the V8's CO2 emissions, which are 40 percent better than the W12, are still high enough to incur steep tax bills. There's no escaping it: taxing this open-top Bentley will cost hundreds.
Even worse are the bills for W12 cars registered from 1 April 2017, which still fall into the highest band – meaning an annual road tax bill of more than £2,100. The one saving grace is that V8s, courtesy of their 254g/km CO2 emissions, just escape the punitive ultra-high payment. Their annual liability is a mere £1,850…
How much should you be paying for a used Bentley Continental GTC
"When new, the Continental GTC costs from £167,900. The V8 was cheaper, from around £151,000, while the Speed started from £186,000."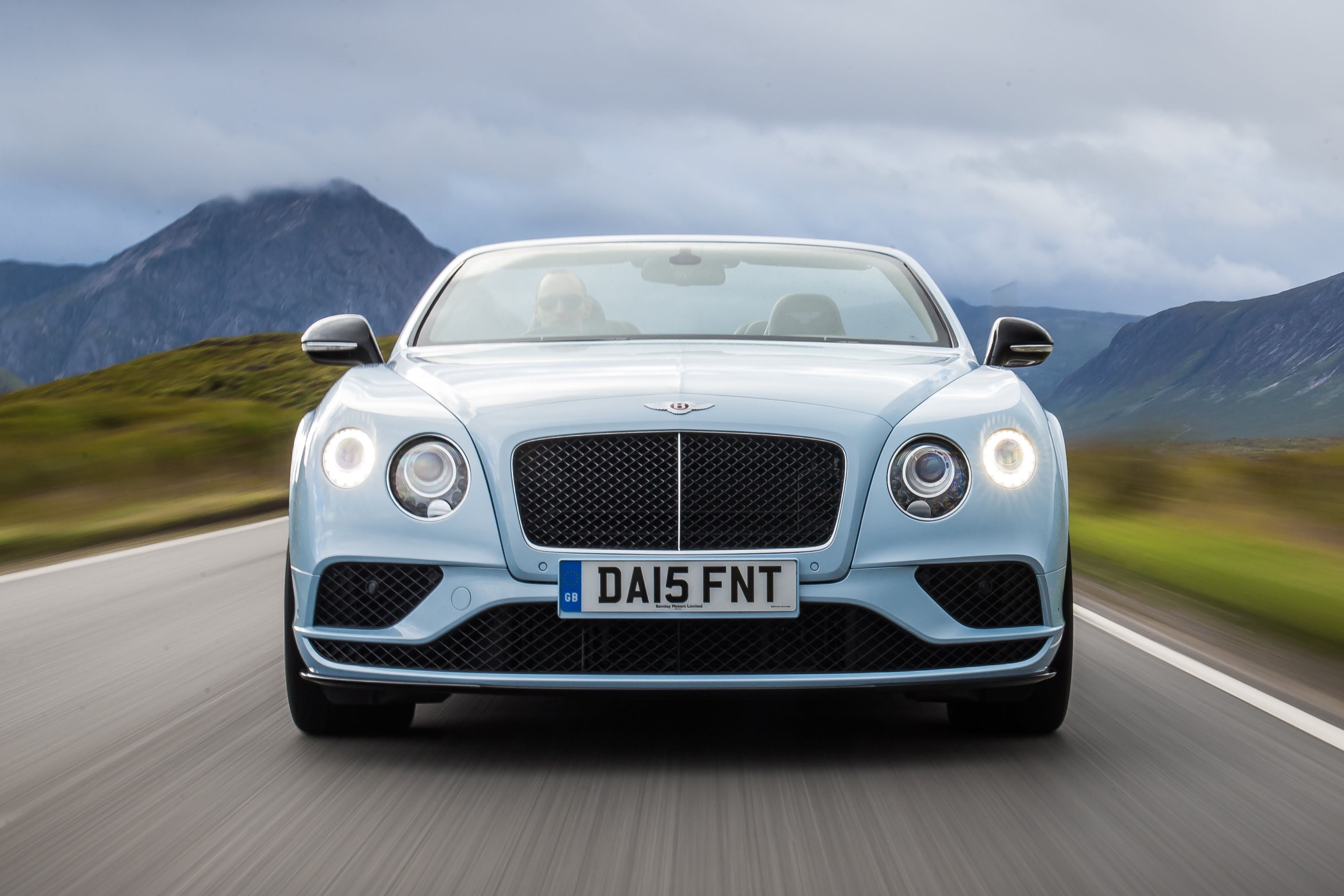 Second-hand models are more affordable. Today, you can pick up a V8 from around £70,000, with earlier W12s starting from £75,000. Saying that, it's also possible to spend a small fortune on a bespoke custom-created Continental GTC. It's not uncommon to see low-mileage models with exotic specifications starting from around £200,000 – and rest assured, they will have cost the original owner plenty more on top.
Trim levels and standard equipment- UK specific
All Bentley Continental GTC come with sumptuous soft leather hides offering a choice of 17 colours and six colour combinations. Every conceivable extra is fitted as standard, meaning the options are largely focused on what sort of materials you want to deck out the interior – such as the choice of seven different wood veneers or an array of other materials including carbon fibre.
Speed versions have a sharper exterior appearance courtesy of a front splitter, side skirts, rear diffuser and 21-inch alloy wheels: standard models have 20-inch rims. They get a monotone interior with contrast stitching, plus beautiful diamond quilted leather.
Bentley later introduced a Mulliner Driving Specification trim pack. This also included diamond quilting, plus a tactile knurled gear lever, drilled pedals and ultra-special 'jewel' fuel filler cap.
Bentley Continental GTC cars for sale on heycar
100
Number of cars available
£85K - £260K
Price bracket of these cars
Colours available on heycar
Keep me updated by email with the latest advice, news and offers from heycar
By submitting, you agree to our
privacy policy
.