Bentley Flying Spur Review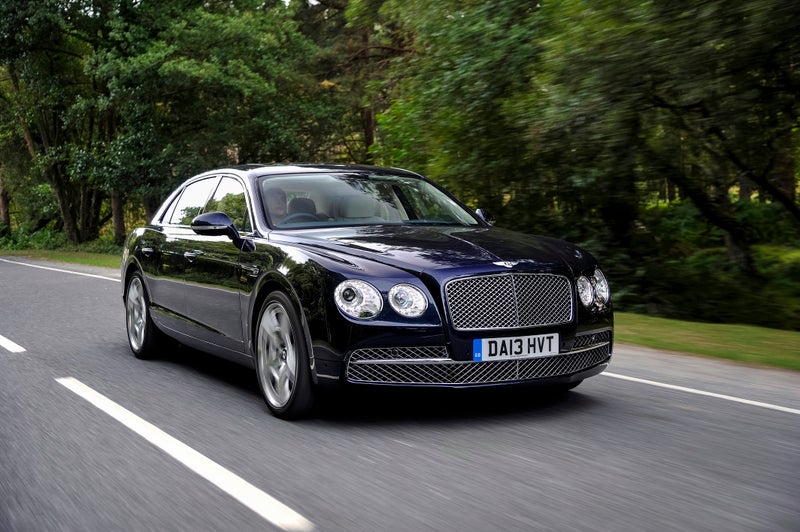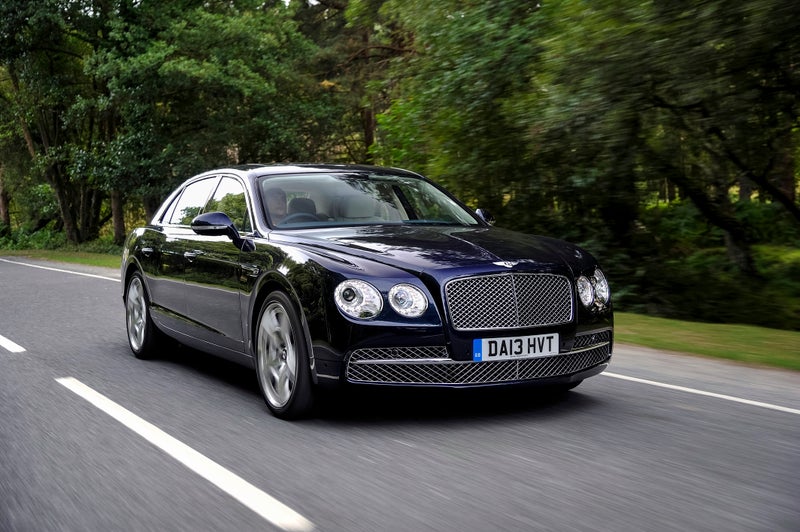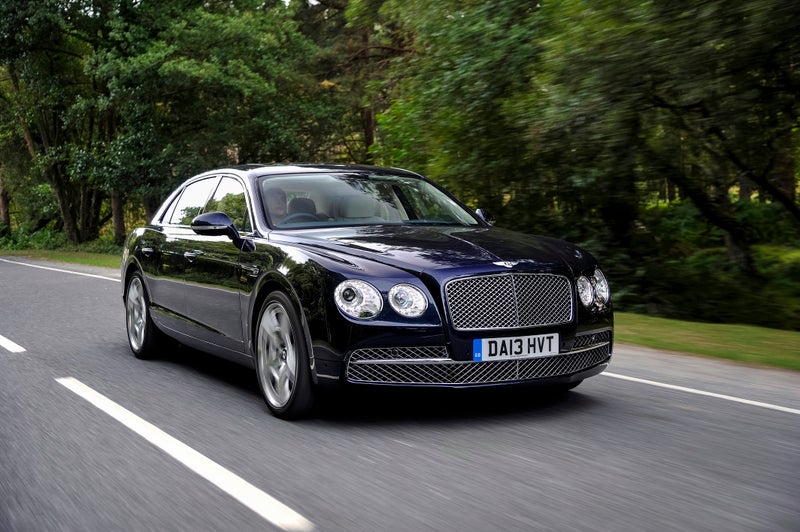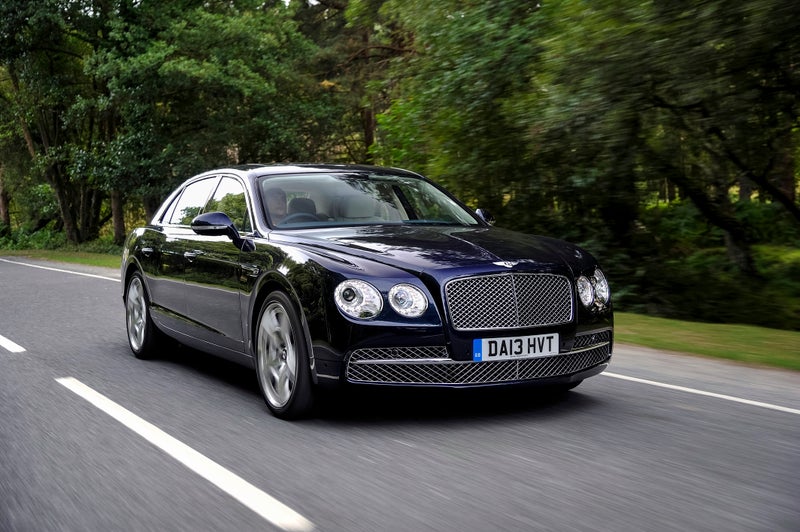 1/10
heycar rating
"Luxury and speed finely balanced "
Launched: 2013

Luxury

Petrol
Quick overview
Pros
Graceful image
Considerable turn of speed
Sublime cabin
Cons
Sometimes firm ride
W12's running costs
Driving position adjustment
Overall verdict
On the inside
Driving
Cost to run
Prices and Specs
Overall verdict
"Few brands hold the same appeal and caché as Bentley. That famous winged badge has always been associated with opulence and performance, which is an image the brand continues to enjoy. Few manufacturers have such a rich heritage and very few make cars in the same way Bentley does with so much still completed by hand rather than robot."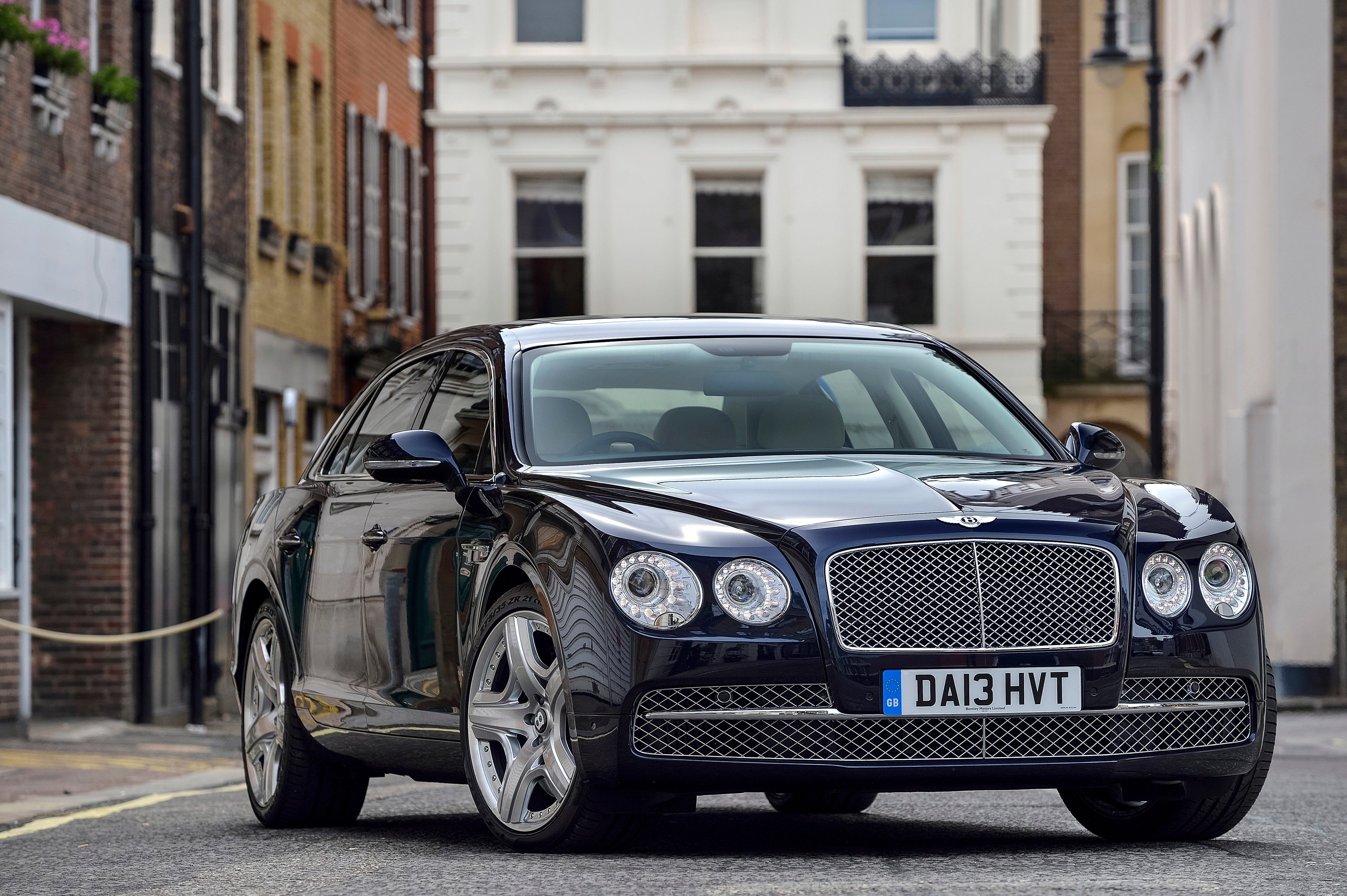 The second-generation Continental Flying Spur is unmistakably a Bentley, with large, round twin-headlights and purposeful yet understated styling. It's got the power it needs to be a true Bentley, too – the 6.0-litre W12 produces 625PS and 800Nm of torque. That's sufficient for a 200mph top speed and a 0-60mph sprint of 4.3 seconds.
Of course, even Bentley has to cede to the modern world and this is why a twin-turbo 4.0-litre V8 engine joined the range in early 2014. It's more frugal by comparison with its 12-cylinder sister yet you could hardly call 0-62mph in 5.2 seconds and a 183mph top speed slow.
All models have all-wheel drive and are fitted with a ZF eight-speed automatic transmission. Improvements have been made to fuel economy over the first-generation model, but don't expect frugality as a combined cycle economy is 19.2mpg and emissions are 343g/km for the W12 mean you need deep pockets to fund this upscale saloon.
The cabin is as sumptuous as you'd expect with soft leather, seat heating and ventilation for all occupants, and there's lots of seat adjustment to maximise comfort. All of the wood veneer, which amounts to almost 10-square metres per car, is hand-crafted and seven variations are offered. Of course, customers could also indulge in any finish they like were they prepared to dig even further into their wallets.
The Flying Spur is offered in four- or five-seat form. The former features an extra storage area with a stowage case trimmed in veneer to match the interior of the car. There are electronically operated rear privacy blinds fitted as standard to both versions of the Continental Flying Spur.
It's not all traditional, though. There's an 8-inch touchscreen with sat nav, voice control and Bluetooth. Rear seat passengers can control the touchscreen with a remote, while hard workers can specify a Bentley Connectivity Unit, which adds 10-inch screens to the rear headrests and web-connectivity.
The Flying Spur really is a special car and one that's a pleasure to drive or be lucky enough to be driven in. It's the only real alternative to a Rolls-Royce Phantom but still manages to be more engaging and fun to drive than its equally famous British rival.
It is, of course, a very expensive luxury and that's just the purchase price. Running costs will require a steady input of funds for fuel, road tax and servicing. Even so, there are plenty of less expensive limousine-like models out there, but nothing can hold a candle to the Bentley. It really is in a class of its own.
Is the Bentley Continental Flying Spur right for you?
For those fortunate enough to be in the position of considering a Bentley Continental Flying Spur as their car, there is very little in the way of competition for your attention. The only real contender is the Rolls-Royce Phantom, which is a very different type of luxury car to the more driver-focused Bentley.
So, the Bentley is ideal for those who want to enjoy long-distance travel in the lap of luxury and take three or four others along for the jaunt. The cabin is discreetly packed with all of the opulence and technology you'll ever need, while the boot is more than big enough for holiday luggage.
The Flying Spur is also a fine way to conduct daily driving duties, though you will have to bear in mind its sheer size when looking for parking spaces and trickling through densely packed city streets.
What's the best Bentley Continental Flying Spur model/engine to choose?
There is only really one major decision to make when choosing a second-generation Bentley Continental Flying Spur and that's which engine to go for. There will be some who will only consider the top of the line W12 for its undeniably silky smooth performance and effortless pace, even when pushing past 150mph on an autobahn.
However, the twin-turbo 4.0-litre V8 engine is also creamily svelte and makes a wonderfully cultured growl when pressed hard. Admittedly, it's not quite as quick off the mark as the W12, but this is more because the 12-cylinder model is just so fast. As a result, the 4.0-litre Flying Spur is the one to go for in our book as you get all of the best bits of this car with running costs that have at least a foothold in the real world.

Those costs matter when comparing the W12's 19.2mpg combined economy with the 25.9mpg of the V8. It also matters when servicing the V8 is significantly cheaper too as it all adds up.
What other cars are similar to the Bentley Continental Flying Spur?
The only real alternative to the Bentley Continental Flying Spur is the Rolls-Royce Phantom. The Rolls errs even further towards ultimate luxury with its massive rear legroom and lofty driving position, so it's one for people who want to be chauffeured rather than drive themselves.
Mercedes Maybach range gets close to the Bentley in concept and equipment, but it doesn't quite deliver the same regal image. Nor do any of the most highly specified saloons like the the Audi A8, BMW 7 Series, Maserati Quattroporte or Porsche Panamera.
Comfort and design
"The Bentley Continental Flying Spur is a big car. In fact, it's a huge car, so it comes as a little bit of a disappointment to find it doesn't offer as much headroom for the driver as you would expect. The amply padded seat provides superb comfort and support, but it would be even better if it could adjust down a little more so that taller drivers don't feel their hair brushing the headlining."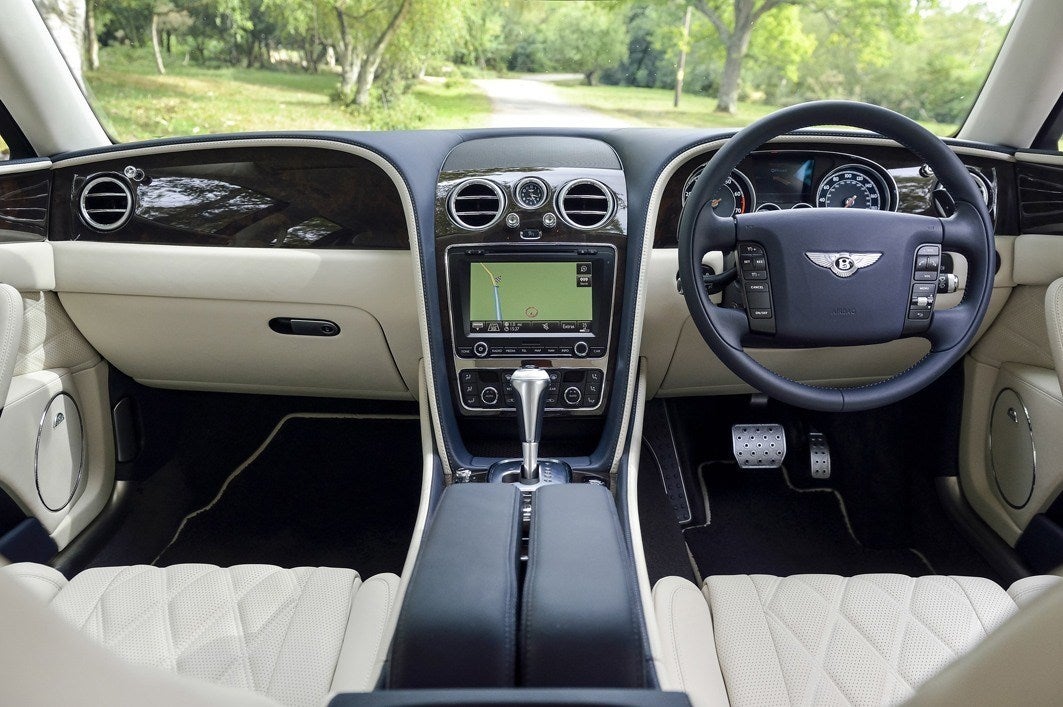 We also find the steering wheel doesn't have as much movement for depth as we'd like, which means some drivers will have to compromise a little to find a workable driving position. On top of this, the rear window is quite small, so keeping an eye on what's behind needs a longer glance. Or perhaps this is to deter the chauffeur from seeing what's going on the back seat…
The dash is free from the clutter than some luxury cars feel is needed to justify their price. In the Bentley, less is definitely more, so the main dials are clear to read, and the heating controls simple to use. Only the infotainment screen, which is set low in the centre console, lets the side down with its clunky interactions. Its positioning also means the driver needs to look away from the road for longer than is desirable to read it compared to the latest screens placed higher up.
Despite this, the Flying Spur's driver enjoys a wonderful sense of hand-built luxury and splendour.
Quality and finish
There is an undoubted sense of quality as you step into the Bentley Continental Flying Spur. All of the leather, and there are swathes of the stuff, is softer and better than you'll find anywhere else other than a Rolls-Royce. Along with the real wood trim and solid metal used for the air vents and elsewhere, it imparts the feeling of a car that has been carved out of a solid billet of Britishness.
However, and it's an important point, all that hand-crafting cannot mask that some of the joins between panels are not as consistent as you'll find in a Mercedes S-Class cabin. The Flying Spur is vastly better built than Bentleys that went before it, but you can spot the occasional misstep in the fit and finish. Some will count this as evidence of its hand-built nature, others will regard it as a faux pas.
Either way, the Bentley's materials are all top grade. What you may find lets the side down more are glitches with the infotainment's interaction that can mar the overall feeling of lofty class.
Infotainment
Should you choose a Bentley Continental Flying Spur from earlier in the car's production life, you will have to expect an infotainment system that is practically from the Palaeolithic period in terms of functionality next to the latest offerings. The 8-inch touchscreen is lifted from the Volkswagen Group parts shelf but does not feel in step with the Bentley's upscale cabin due to its slow-witted responses. Thankfully, this was improved in 2015 with a much better system.
Rear-seat passengers get a better deal thanks to the Touch Screen Remote display that is a hand-held device and much more responsive to inputs than the earlier infotainment screen in the front cabin. It allows them to control settings such as sat-nav, ventilation, multimedia and seat heating. This also shows where Bentley expects most of its Flying Spur customers to be sitting in the car.
Bentley also offered a Multi-Media Specification as an option that provided internet connectivity and pair of 10-inch LCD screens fitted into the back of the front headrests. These can be connected to USB sticks or other devices such as an iPad or smartphone.
Space and practicality
Practical is a relative term where the Bentley Continental Flying Spur is concerned. Will it take care of a trip to Ikea? Probably not if you're buying some bookshelves. However, if you want to travel four- or five-up in huge style, the Bentley has it covered.
The rear seat area was offered with a three-seat bench as standard, though many customers opted for the two individual rear chairs with electric adjustment. This offers two adults all the space and comfort they could ever need in a car and it's more akin to first class airline travel. With this set-up, you get a centre console with storage and Bentley offered such extras as an integrated fridge to chill the champagne.
If you go for a Continental Flying Spur with the standard three-seat bench, the middle pew has a raised cushion that makes it fit only for children. Luckily, Bentley supplied three-point belts for everyone. In those with the two-seat arrangement, the chairs can be adjusted to offer near bed-like laid back seating and there are also electrically worked blind to give privacy and shade from the sun if you need a power nap.
Take the long walk round to the back of the lengthy Flying Spur and you find a boot with powered lid. Once open, it reveals 475-litres of luggage space, which is about the same as you get with most executive saloons. So, it's big enough for most needs but not quite as massive as the exterior dimensions might lead you to expect.
There's no option to extend the boot space as the rear seats do not tip and fold, so you'll be sending the butler ahead with any extra baggage. On the plus, side, the load sill is quite low and the entrance wide and rectangular. It's also finished to the same high standard as the rest of the interior with plush carpet.
Handling and ride quality
"The Continental Flying Spur isn't a car that's just about being driven in. Bentley was always keen to emphasise the driver focus and performance of the Flying Spur and it's certainly no cumbersome lump on the road."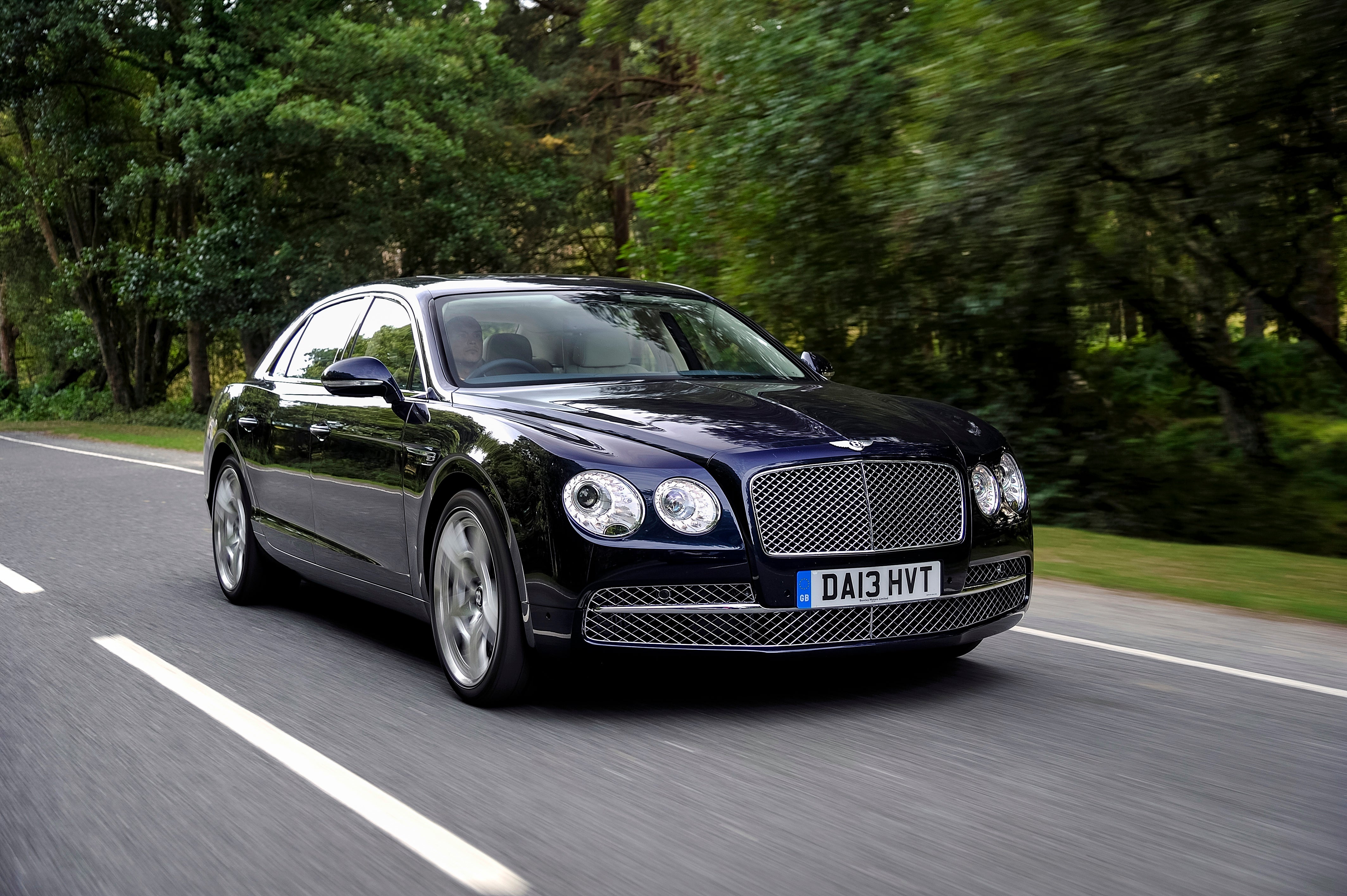 It may be 50kg lighter than its predecessor but it is still hefty, tipping the scales at almost 2.5 tonnes. However, despite its huge bulk, the car always feels light on its toes, with an ability to stop and go with no pitching or diving if you're more aggressive with the accelerator pedal and brakes.
The ride is generally impeccable thanks to independent computer-controlled air suspension. The Flying Spur also gets new springs which are softer in the standard driving mode but have stiffer settings for cornering which means less body lean. However, should you choose a firmer set-up, there is a trade-off between finer cornering control and comfort as the suspension will pick up on smaller ridges and let them be felt in the cabin.
Yet the Flying Spur is a car that's still relaxed and will happily tackle tight turns effortlessly and without rolling all over the shop. Standard four-wheel drive means traction is superb with a 60/40 split in favour of the rear wheels, although the system can alter this so that up to 85 per cent of power is sent to the back axle for an even more athletic feel.
The standard wheel is a 19-inch design with a tyre that was specifically designed for the Flying Spur. It has a bigger sidewall than before for extra ride comfort. Bentley actually tried 12 different tyre compounds before choosing this one, so be sure any car you consider has the correct rubber fitted. Of course, if you're more concerned with style, fear not because optional 20- and 21-inch wheels were available.
From behind the wheel of the Bentley, you never forget that you're driving a big car, yet it does surprise you with how nimble it is considering its size. The steering has a good weight to it and is light when parking.
Engines and gearboxes
Gone are the days when Bentley merely stated its engines had 'adequate' power. Instead, the W12 produces a massive 625PS in standard for or you could opt for the S version from late 2016 with 635PS. This later development was enough to push the Continental Flying Spur past 200mph, making it the fastest Bentley saloon every made up to that point.
The W12 engine makes a very discreet noise when pushed hard, but you rarely need to drive like this as it has so much power in reserve for every occasion. It's also supremely smooth as it builds revs, so you won't be disturbed by it as you drive along.
The 4.0-litre twin-turbo V8 engine can be a touch more vocal when stretched but it tends to keep itself hushed and get on with the job of powering the Bentley in a delightfully understated manner. This is the best engine option for most Flying Spur customers as it provides ample power and performance without the mammoth running bills of the W12.
Both engines are coupled to a near seamless eight-speed automatic gearbox that demands no effort from the driver other than to snick it into Drive through gear lever mounted on the centre tunnel. With all-wheel drive as standard, the Flying Spur has no trouble deploying the might of its engines and it also means you can use their power much more effectively than you might at first think with a car of this size and type.
Refinement and noise levels
The Bentley Continental Flying Spur may be old-fashioned in its approach to interior appointments and hand finishing, but there's nothing old hat about the way it cuts through the air. Its sleek exterior allows it to travel at motorway speeds with barley any wind noise audible inside the cabin, helped by the acoustic glass that works to prevent sounds from passing through.
There is far more noise insulation used in the Bentley's body than in most other saloon cars, which again helps to quell any disturbance from wind or road noise. Further aiding here is the Flying Spur's air suspension that separates the wheels from the main body structure to reduce the transmission of any vibration.
Add to this mix a pair of engines that are hushed and so smooth that you barely register they are working and you have a supremely refined car. Even under hard acceleration, the motors make more of a turbine whirr than any real growl, emphasising the sensation of the Continental building speed effortlessly.
All of the Flying Sur's controls work with well damped precision and even the glovebox has a soft-opening action that speaks of top-drawer refinement.
Safety equipment
Every Bentley Continental Flying Spur has all-wheel drive as standard, giving this large saloon plenty of traction even if the roads are greasy. There is also ESP stability control and ABS anti-lock brakes, and buyers could upgrade the already substantial normal steel brakes discs with optional carbon ceramic discs for greater stopping power and resistance to fade from high speed retardation.
Inside, the Flying Spur comes with twin front, side and curtain airbags, as well as side airbags for the rear seat passengers. All of the occupants get a three-point seat belt, including the centre rear passenger in five-seat models. There are no Isofix child seat mounts.
Rear parking sensors are standard and vital on a car of this size, but it seems odd that Bentley then charged a hefty premium for cruise control to be added as an option. Another point that seems strange given the size, is that the Flying Spur is the car only car that comes with a tyre repair kit rather than a full-size spare wheel as standard. This was an option and at least a tyre pressure monitoring system is standard on all models.
MPG and fuel costs
"Choose the 4.0-litre V8 version of the Bentley Continental Flying Spur and you get fuel economy that is at least some way towards affordable. While no luxury car will sip fuel like a supermini, this Flying Spur offers an official combined consumption of 25.9mpg versus the W12's rather more costly and wallet-draining 19.2mpg figure."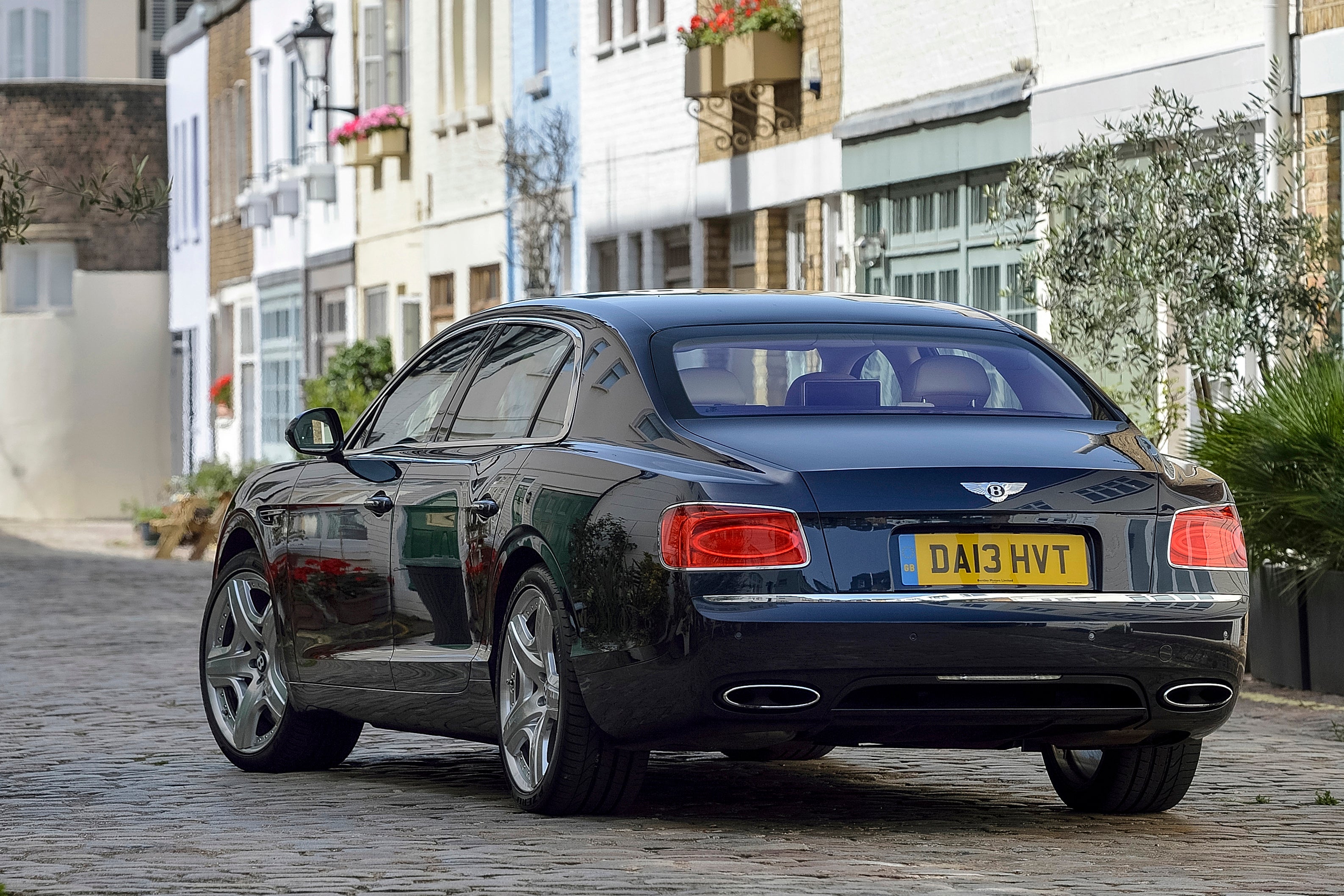 There are no Real MPG numbers for either version of the Continental Flying Spur. However, experience shows the V8 will deliver more than 500 miles from a tankful when cruising on the motorway for most of the journey.
Insurance groups and costs
It won't raise any eyebrows to read that every model of Bentley Continental Flying Spur from this second generation of the model sits in the highest group 50 band for insurance. While that means cover will never be cheap compared to a family hatch, it's need not be as expensive as you might imagine. Most Flying Spurs belong to owners with more than one car, so they use the Bentley for fewer miles per year than many more mainstream luxury models like a Mercedes S-Class or Jaguar XJ.
VED car tax
In the grand scheme of running costs, the Bentley Continental Flying Spur's road tax is one of the cheaper elements of its financial outlay. As most versions will have been registered before 31 March 2017, a V8 model will cost you £555 and the W12 comes in at £570.
Cars registered from 1 April 2017 onwards will attract a VED bill of £475 as they attract the £375 penalty for vehicles with an original list price of more than £40,000 when new.
How much should you be paying for a used Bentley Continental Flying Spur?
"Entry to the Bentley Continental Flying Spur ownership experience starts from around £38,000 for one of the first second-generation models. This will be for an eight-year old W12 with around 40,000 miles under its wheels and a full service history, which is essential."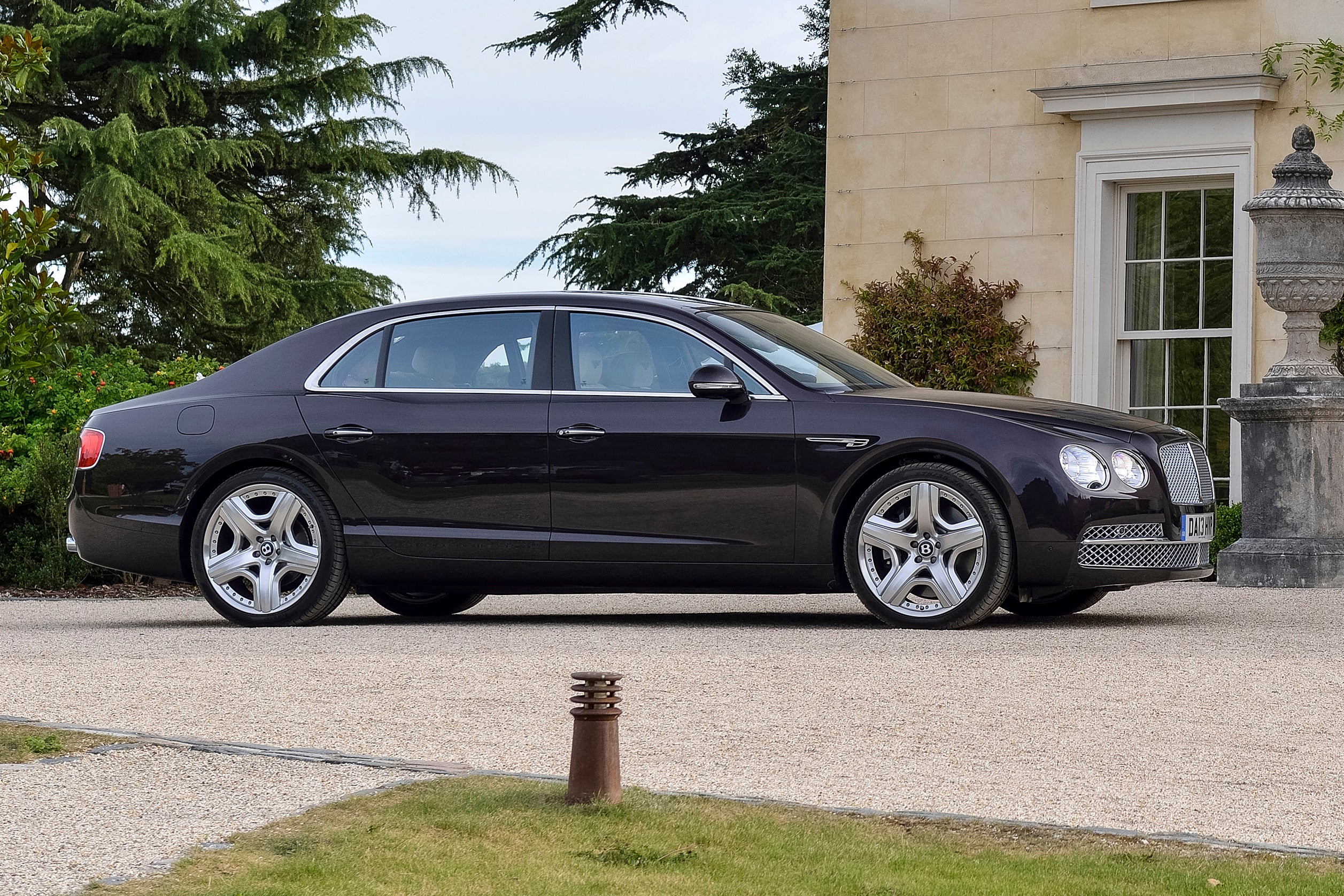 If you'd rather have a V8, they start from around £50,000 for a five-year old example, though it will have more miles as these models tend to get used more by their owners. So, expect to see 50,000 miles on the clock.
A late model second-generation Flying Spur can still command £90,000 for either engine type and with only a handful of miles to its name. However, that represents good value compared to the latest Flying Spur that will double that number by the time you've added a couple of choice options to the standard price.
Trim levels and standard equipment
The Bentley Continental Flying Spur was offered in a single, very highly equipped specification to which almost every buyer would add their own options to. However, there was the V8 Beluga Specification model that came with 20-inch machined alloy wheels and gloss black radiator grille. It also had piano black dash inserts.
The V8 S came with an extra 21PS over the standard model's 507PS, while the W12 S gained an additional 10PS to deliver 635PS from its 6.0-litre engine.
As standard, every Flying Spur has 19-inch alloy wheels, leather upholstery, climate control, sat-nav and the Touch Screen Remote for rear-seat passengers. There's 14-way electric seat adjustment for those in the front and the option of two individual seats in the back in place of the bench with three pews.
On top of this, buyers could choose from an optional palette of more than 100 exterior colours, two-tone colour schemes, and larger 20- or 21-inch alloy wheels. For the interior, options included the Mulliner Driving Specification with quilted stitching, greater choice of upholstery colours and five more wood veneer finishes. Other extras also included a fridge mounted behind the armrest between the rear seats big enough to chill a bottle of bubbly.
Bentley Flying Spur cars for sale on heycar
106
Number of cars available
£70K - £225K
Price bracket of these cars
Colours available on heycar
Keep me updated by email with the latest advice, news and offers from heycar
By submitting, you agree to our
privacy policy
.