All-electric Mercedes-Benz EQA revealed: Prices, specs and options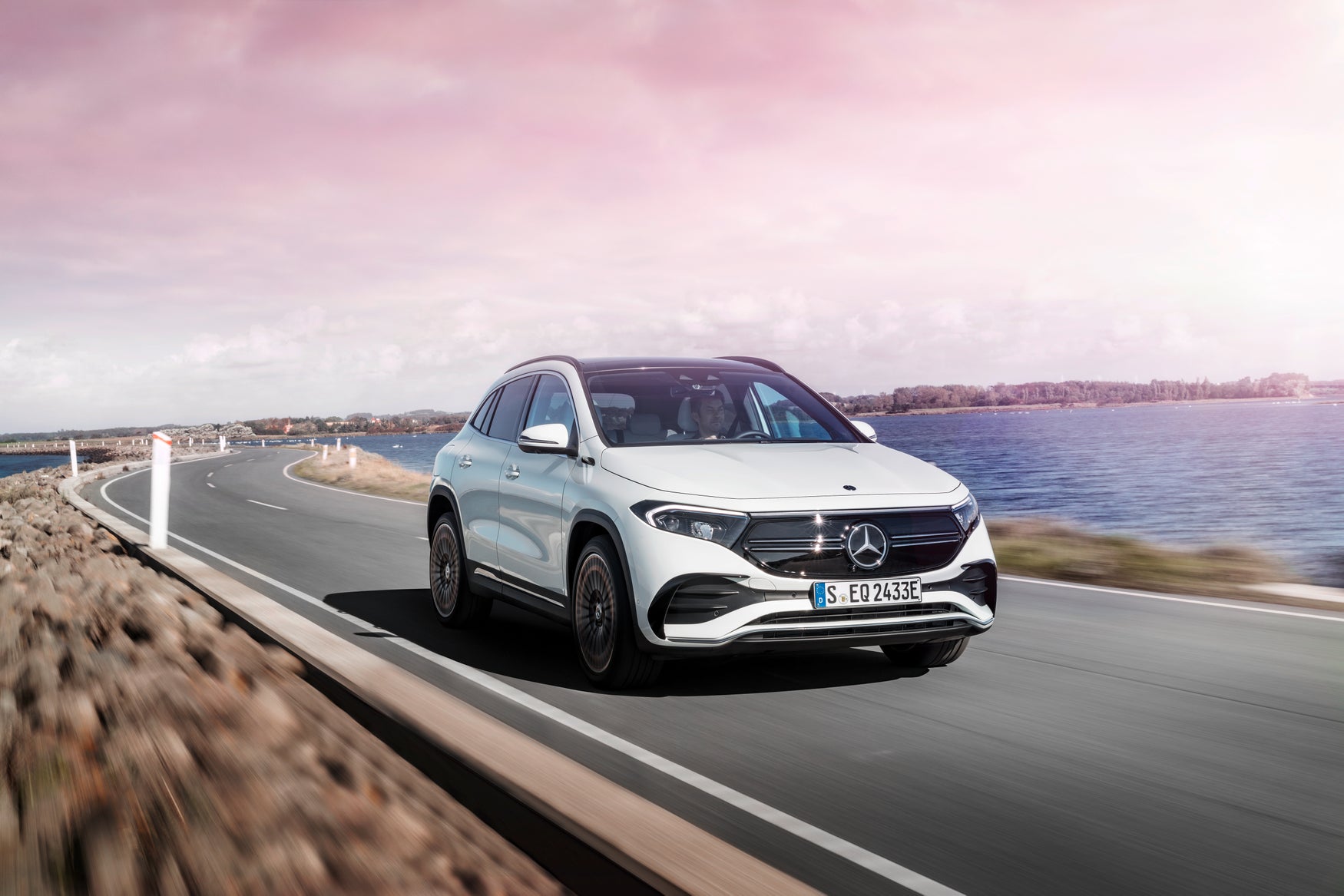 New Mercedes-Benz EQA is small all-electric SUV
Based on the popular GLA
Has a different exterior look to the petrol/diesel version
Interior is from the superb GLA
Will have a range of 265 miles
Available with four-wheel drive
A version with longer range in the works
Expect prices to start between £40,000 and £45,000
Mercedes-Benz has revealed an all-electric version of its popular GLA small SUV. The EQA is set to be the latest addition to a line up of small electric SUVs, which includes the BMW iX3, Volkswagen's ID.4 and the Skoda Enyaq iV. It's set to join the existing Mercedes-Benz EQC in the range, but expect it to go further on a single charge.
Different looks set the new Mercedes-Benz EQA apart from the new GLA
There's some notable styling difference between the Mercedes-Benz EQA and the GLA, which should make telling them apart much easier.
First up, there's no grille. And why would there be? With no engine to cool, there's no need to allow air to circulate into the engine bay, so this is replaced with a small air intake on the underside of the car, just one of the cues that they've moved across from the EQC. Another feature that's been carried over from the larger EQC are the full-width daytime running light between the headlights, which is a trend that other manufacturers seem to be adopting too - expect to see much more of this in the future. It's a similar story at the back of the car, where Mercedes-Benz has moved the number plate to the bumper in order to accommodate a full-length taillight to echo that of the front.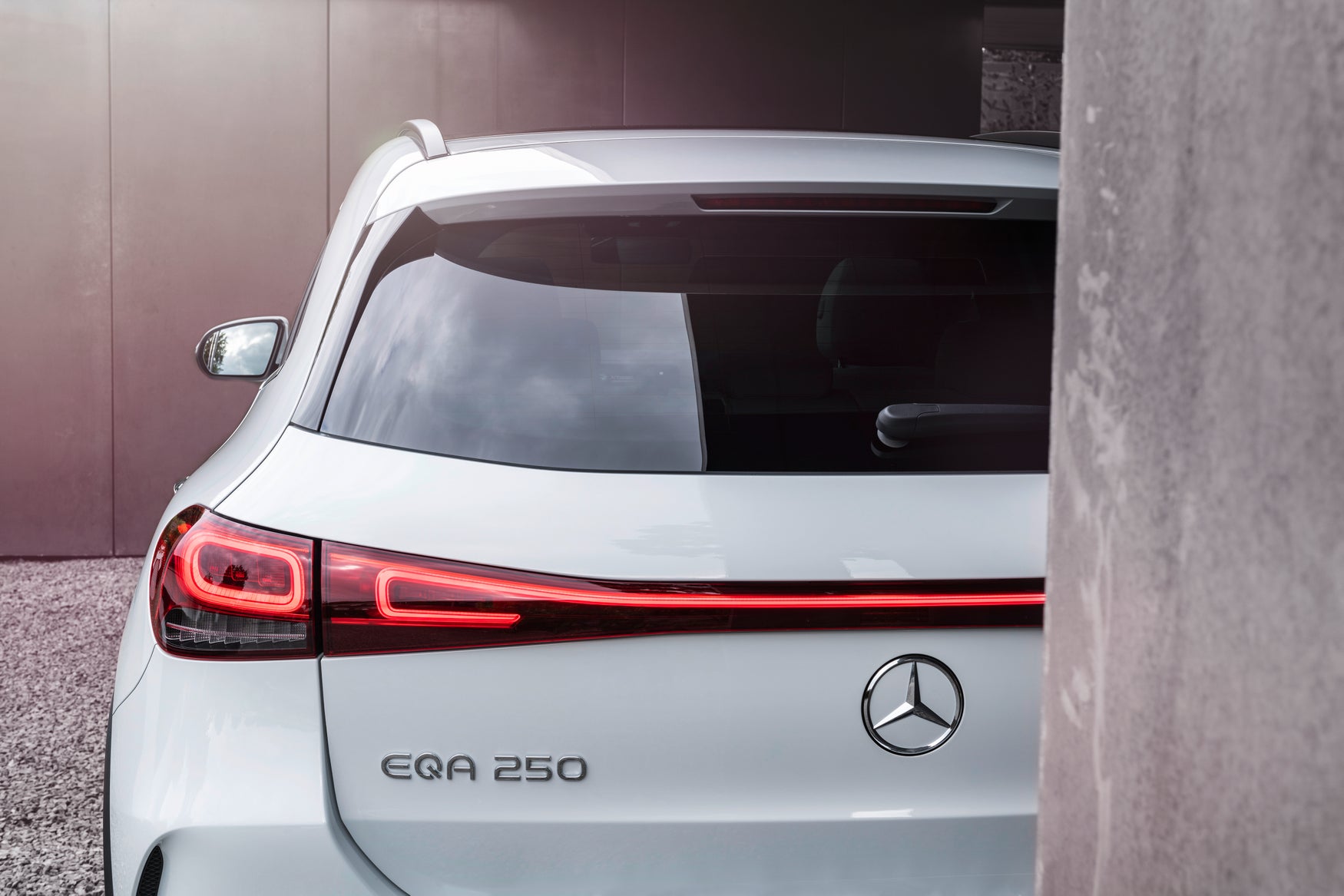 Top speed and performance for the new Mercedes-Benz EQA
There's only one version of the EQA to begin with, so that means one type of motor and battery. The EQA 250 has a single electric motor with 190ps and 375Nm of torque. It's front-wheel drive and will accelerate from 0-60mph in 8.9 seconds, which is about the same as a regular GLA 200 with a 163ps petrol engine. You might expect an electric car to be a little quicker than that, but you'll need to bear in mind that that the EQA is heavy - it weighs more than two tonnes (around 370kg heavier than a GLA 200).
Being a Mercedes-Benz, the EQA is packed with safety kit, such as automatic emergency braking and lane-keeping assist, as standard but there's also a system that'll spot pedestrians in the road. And, it can warn you if it spots someone on the pavement who looks like they're about to step onto a zebra crossing. It'll also alert you if you're about to open your car door into pedestrians or cyclists.
New Mercedes-Benz EQA mileage range and charging
Figures from Mercedes-Benz show that the EQA will be capable of 265 miles on a single charge. That's likely to make the new EQA a real alternative to the conventionally-powered GLA SUV for families looking to make a change to electric. It's also worth noting that the 265 mile range figure is from stricter WLTP test, so should be pretty close to what's achievable in real life conditions.
In terms of speed of charging, you're looking at around six hours from an 11kW wall box, which makes it suitable for overnight charging. If you're using a fast charger at a motorway services you can get to an 80% charge in less than half an hour.
On the cards is a version with greater range - we're expecting that to be capable of in excess of 310 miles on a single charge, which edges it ever closer to the range to that of petrol and diesel-powered cars and a figure that an increasing amount of buyers are comfortable with.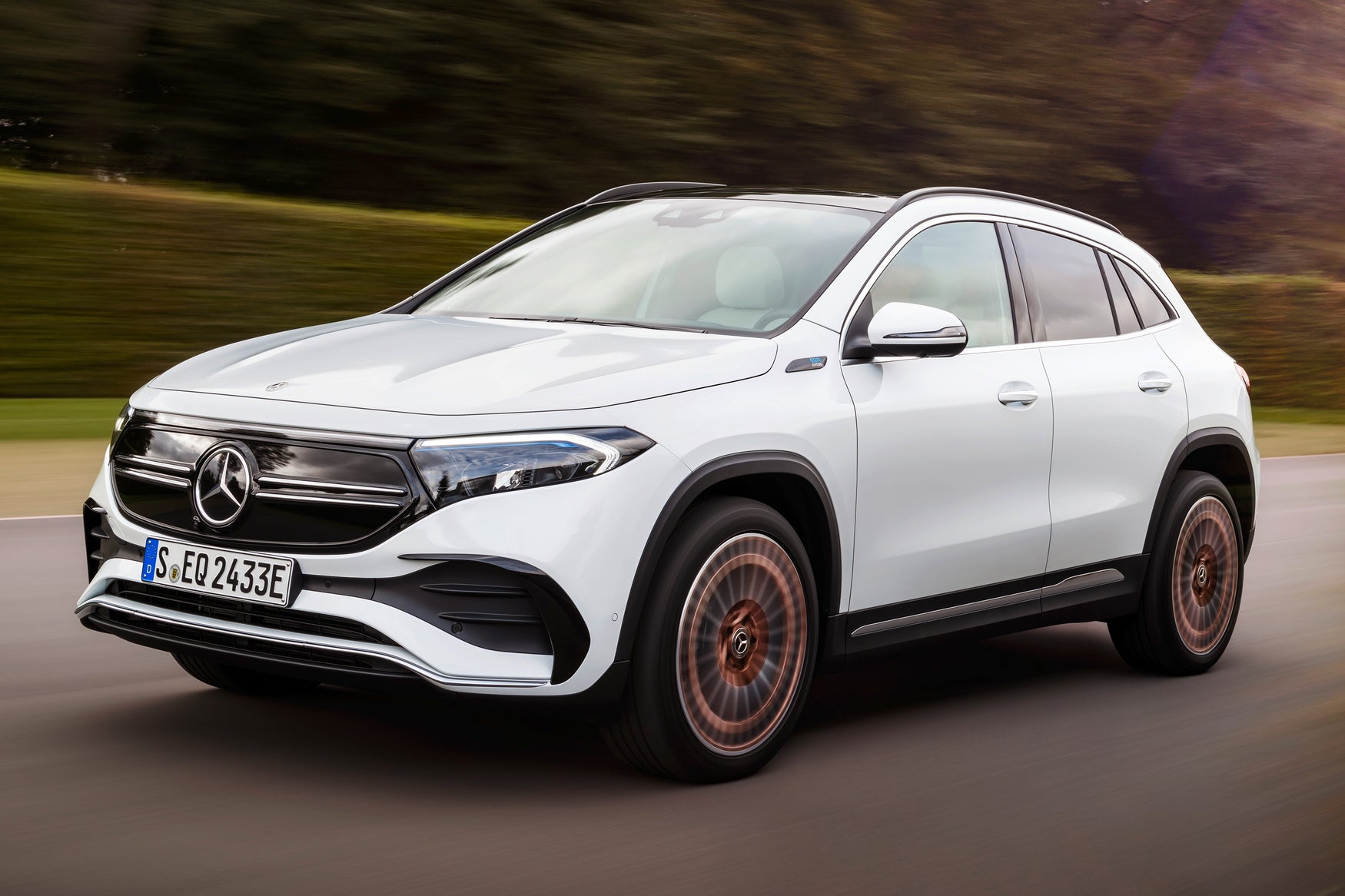 Interior and infotainment for the new Mercedes-Benz EQA
While the battery tech and electric powertrain is new and cutting edge, the interior is much more conventional. That's not to say boring, after all this is the acclaimed interior of the GLA, which has been on sale for less than 12 months.
That means buyers get the same intuitive layout and a near-identical dual-screen infotainment system as standard, which includes two small seven-inch screens or two ten-inch screens on higher spec versions. All cars get sat nav as standard, which includes integration with a charging point database, to ensure you can find charging points quickly and the 'hey Mercedes' voice command system, as found on almost every car across the range. If you've ever used Amazon Alexa or hey Google, you'll get the idea.
There are some subtle differences, however. For instance, 64-colour ambient lighting is part of the £3000 Premium Pack on the GLA, but is standard on the EQA, helping to justify to higher price tag. There's also a new 'mood-lit' dashboard too.
As far as options to, you can get rose gold trim on the air vents and seats with matching trim made from recycled plastic bottles.
How much will the new Mercedes-Benz EQA cost?
We're expecting the EQA to be in dealerships by the middle of the year, with starting prices of somewhere between £40,000-£45,000. It's available in Germany a little sooner than that, priced from €47,500. That's list price of course, meaning you'll see that figure come down by £3000 thanks to the government's plug-in electric car grant.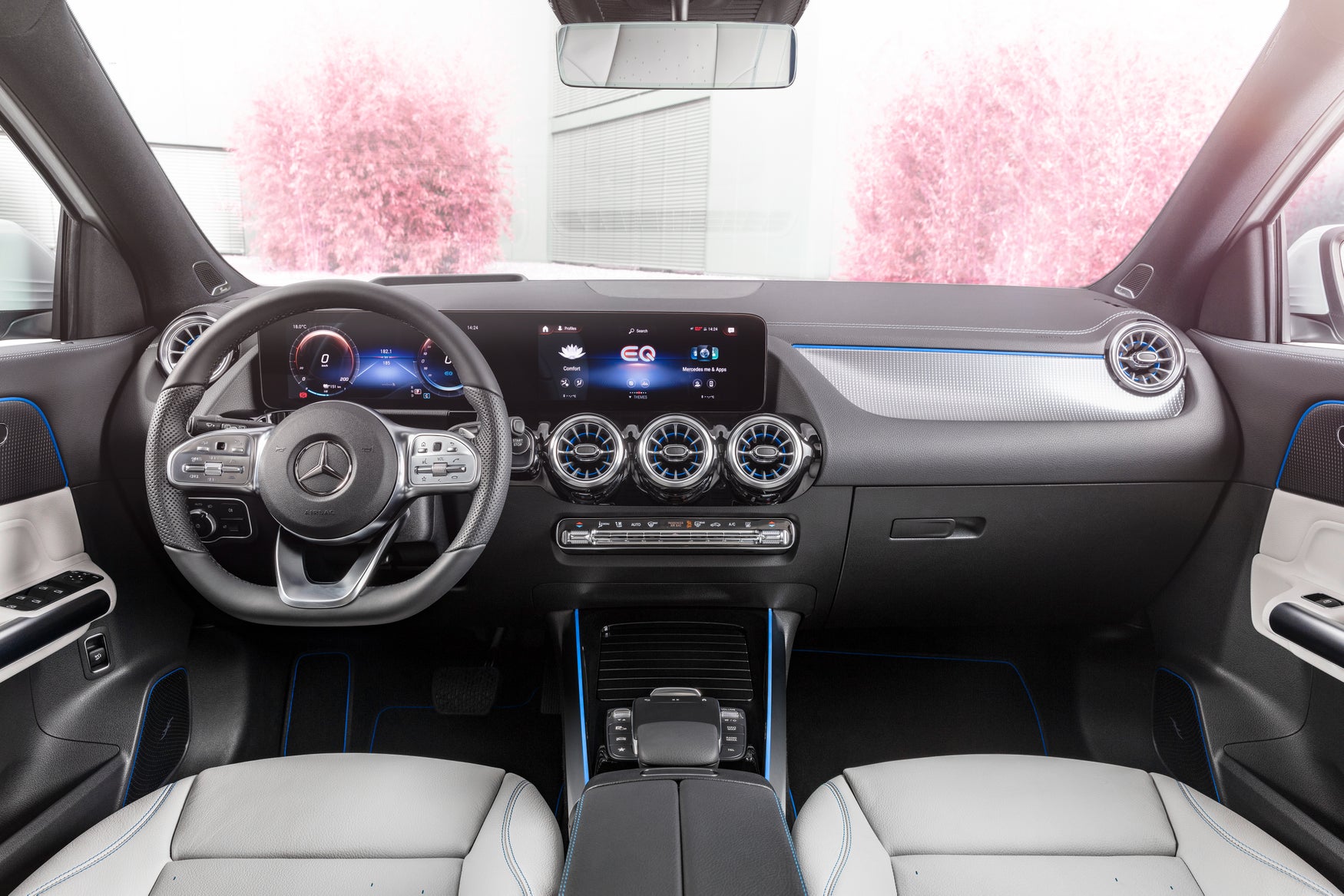 Three stand-out features of the all-electric Mercedes-Benz EQA
Expect up to 265 miles on a charge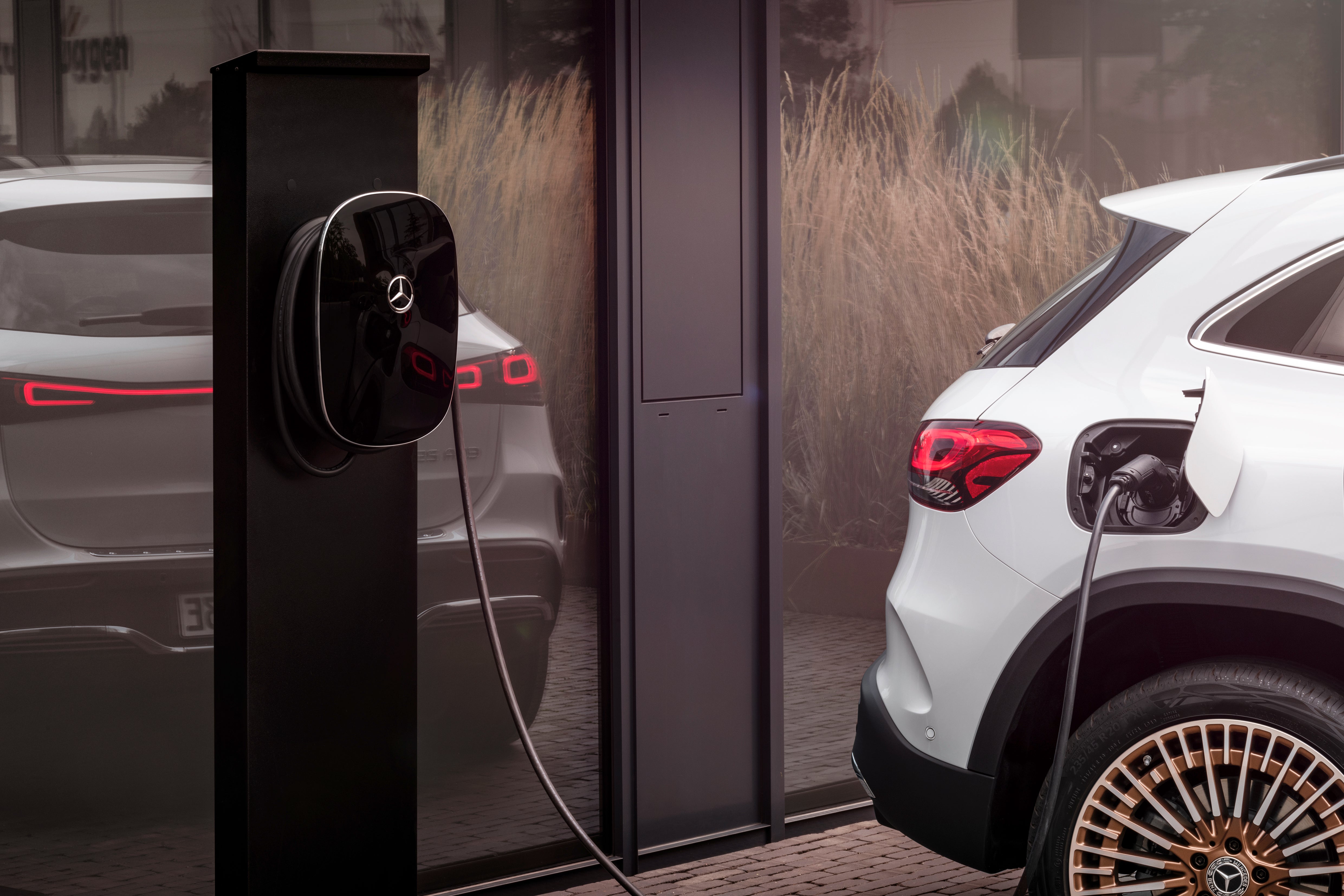 The new Mercedes-Benz EQA performs better than the larger EQC. It's a viable option for buyers who want to go electric, but have been put off until now by range anxiety. Install an 11kw wall box and you'll find that you can charge a new EQA in around six hours. Opt for a fast charger and the new EQA will go from 10% to 80% in half an hour.
The GLA's smart interior is carried across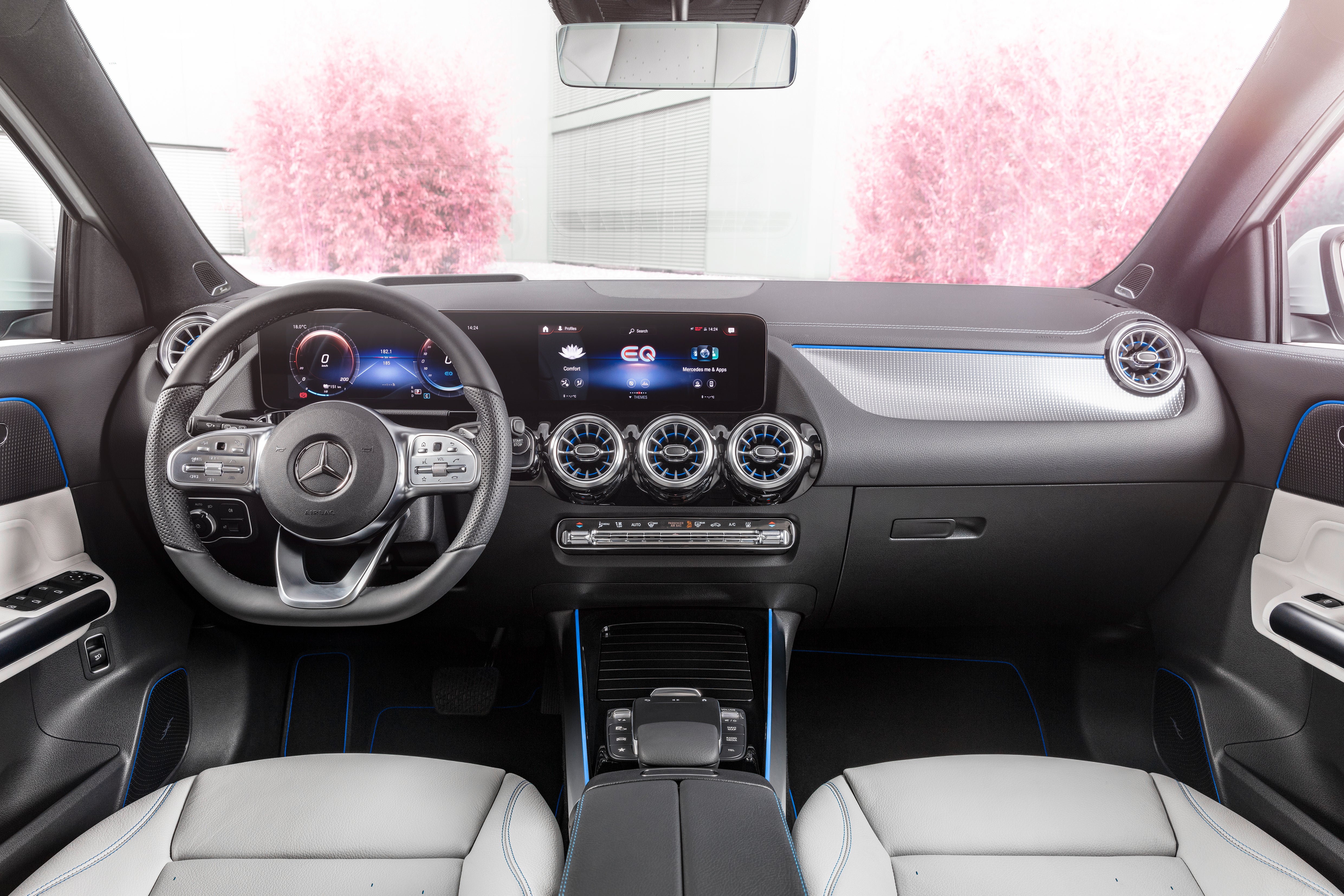 No need for wholesale change with the interior of the new EQA. That's because the GLA, on which it's based, is pretty good already with contemporary turbine air vents and a twin-screen infotainment system (each measuring up to 10-inches on high-spec models GLA; seven-inches on more affordable versions). It's also available with the clever augmented-reality navigation system which debuted on the A-Class.
Full length running lights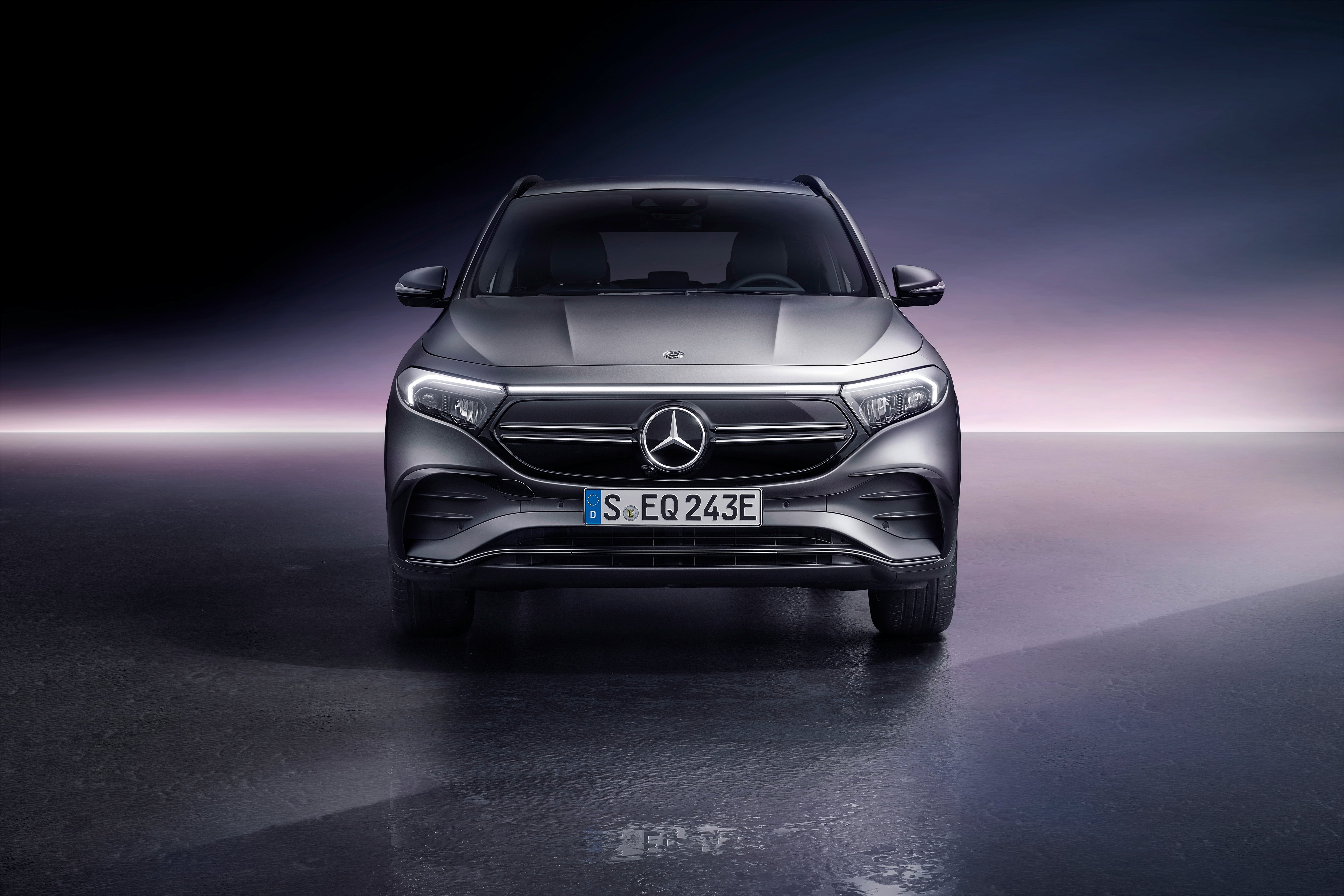 Here's something that you won't see on the conventionally-powered Mercedes-Benz GLA, at least not at the moment: full-length daytime running lights. These are available front and rear and give the new EQA a fresh, distinctive look.
Which other electric cars should you consider instead of a Mercedes-Benz EQA?
Peugeot 2008
100kW GT Line 50kWh 5dr Auto
Manufacturer Approved
Vospers Peugeot Plymouth

Devon, PL68AY
PCP: £558.29/mo
Representative example: Contract Length: 36 months, 35 Monthly Payments: £558.29, Customer Deposit: £4,867.00, Total Deposit: £4,867.50, Optional Final Payment: £12,064.00, Total Charge For Credit: £4,021.65, Total Amount Payable: £36,471.65, Representative APR: 6.9%, Interest Rate (Fixed): 6.68%, Excess Mileage Charge: 9.6ppm, Mileage Per Annum: 10,000
Kia E Niro
150kW 4 64kWh 5dr Auto
Manufacturer Approved
Marshall Kia Ipswich

Suffolk, IP39SS
PCP: £533.91/mo
Representative example: Contract Length: 37 months, 36 Monthly Payments: £533.91, Customer Deposit: £5,017.00, Total Deposit: £5,017.50, Optional Final Payment: £14,641.72, Total Charge For Credit: £5,429.98, Total Amount Payable: £38,879.98, Representative APR: 8.4%, Interest Rate (Fixed): 4.32%, Excess Mileage Charge: 14.9ppm, Mileage Per Annum: 10,000
Nissan Leaf
160kW e+ Tekna 62kWh 5dr Auto
Manufacturer Approved
Bassetts Nissan Bridgend

Glamorgan, CF313UL
PCP: £477.45/mo
Representative example: Contract Length: 37 months, 36 Monthly Payments: £477.45, Customer Deposit: £4,348.00, Total Deposit: £4,348.50, Optional Final Payment: £13,662.00, Total Charge For Credit: £6,208.70, Total Amount Payable: £35,198.70, Representative APR: 10.9%, Interest Rate (Fixed): 5.61%, Excess Mileage Charge: 8ppm, Mileage Per Annum: 10,000