First Drive: Skoda Enyaq Coupe iV vRS
First Drive: Skoda Enyaq Coupe iV vRS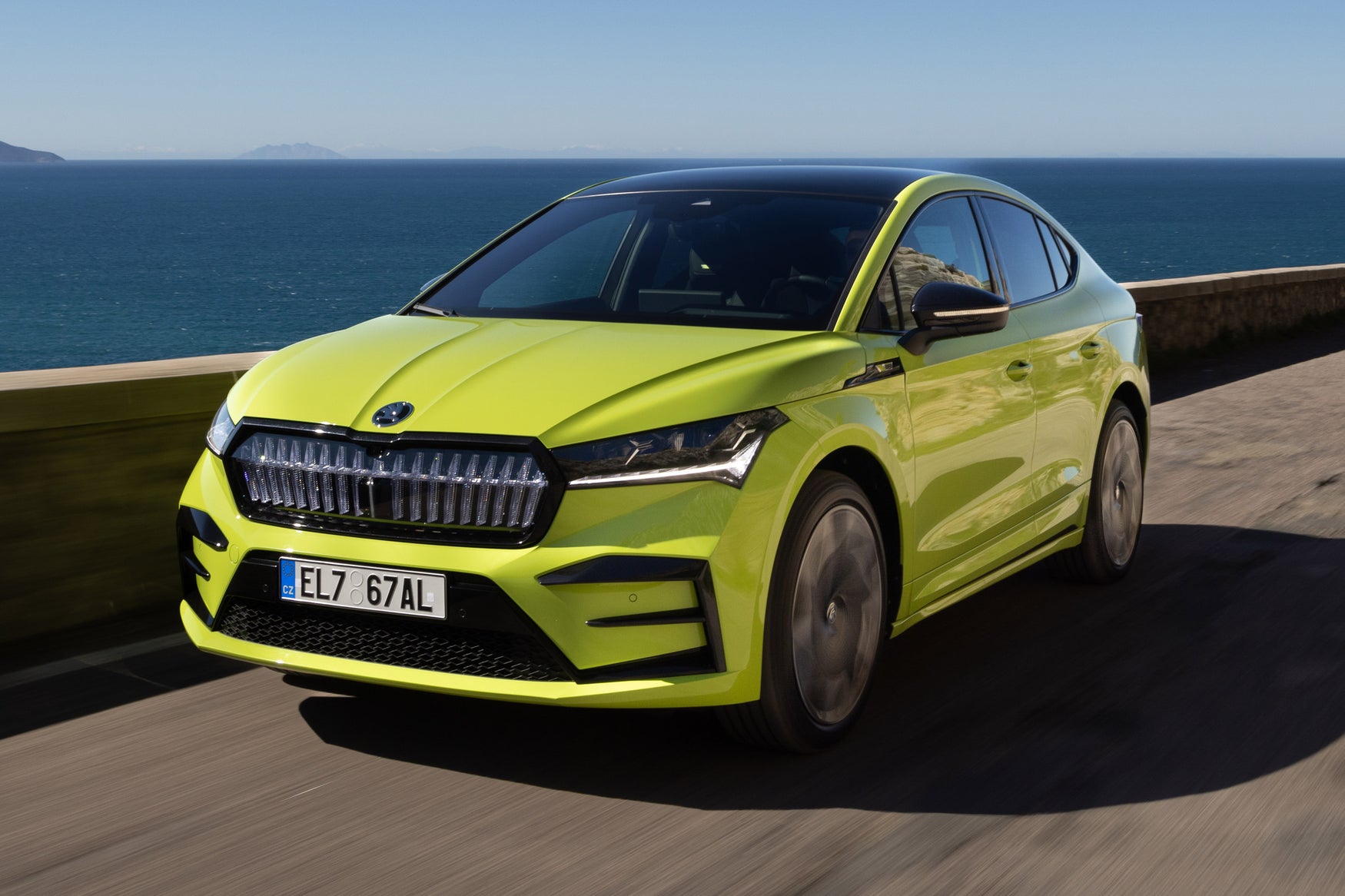 Best bits
More stylish yet almost as practical as the regular Skoda Enyaq iV
82kWh battery pack provides a 309-mile range
It's available in other colours
Not so great
It's not as fun as the bright green paint job suggests
Boot isn't as big as the regular Skoda Enyaq iV
It starts at more than £50,000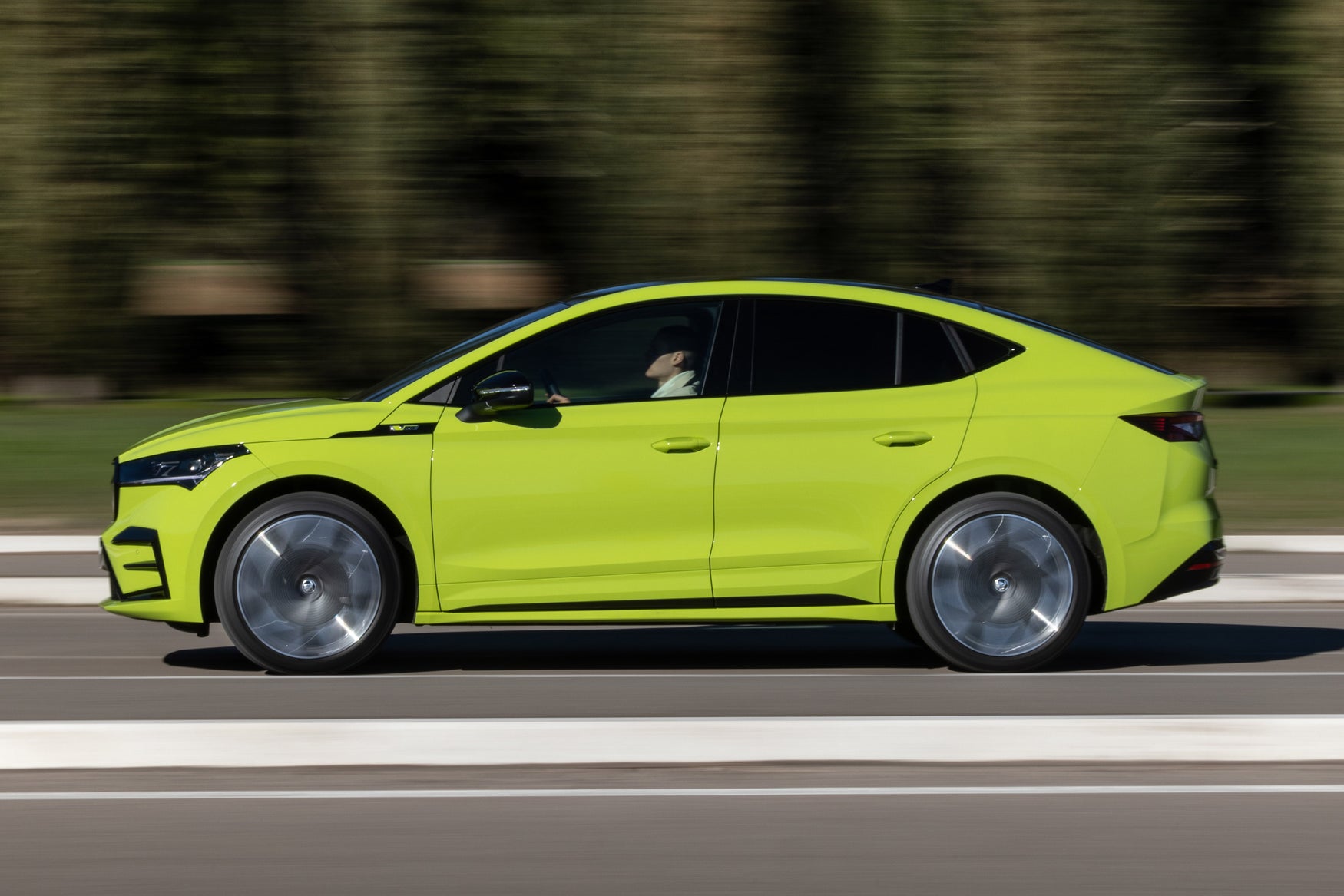 What is it?
The world's most unexcitingly competent electric family SUV has been given a lurid paint job and a modest power boost.
The Skoda Enyaq Coupe iV vRS will act as a flagship for the brand's expanding electric car line-up, which is set to expand with a further three vehicles over the next few years. For now, though, the £52,000 rapid range-topper is set to square up against the likes of the Kia EV6, Ford Mustang Mach-E and the new Tesla Model Y, as well as in-house alternatives in the form of the new Volkswagen ID.4 GTX and Audi Q4 e-tron.
It's also the first coupe-SUV version of the popular (and very likeable) Skoda Enyaq iV – you'll soon be able to buy a rakish-roof derivative of less powerful Enyaq models. But for now, we'll concentrate on the sporty Enyaq Coupe iV vRS, which is identified by its angular bumpers, gloss black exterior highlights and a light-up Crystal Face grille as standard. Oh, and it's Hyper Green finish, if you really must get it in the launch colour.
Inside, all UK Skoda Enyaq Coupe iV vRS models get the same vRS Suite Design Selection with heated leather sports seats, aluminium pedals and carbon effect inserts on the dashboard. It all looks very smart, although we reckon the Alcantara dash and green stitching offered elsewhere in Europe feels a bit more vRS somehow. Skoda's product planners tell us it wouldn't sell in big enough numbers in the UK to make it worthwhile bringing it over and, hey, they're probably right, but we still think that's a bit of a shame.
You might think that the stylish rear-end will be a disaster for interior space, but it's not all bad. All Skoda Enyaq Coupe iV models come with a massive panoramic sunroof which has been specially designed, apparently, to reflect the sun's rays. That means they don't need to fit a sun blind which would eat into precious headroom.
It's actually surprisingly spacious in the back, with no loss of headroom compared to the standard Skoda Enyaq iV. The boot sees a 15-litre reduction in capacity, but it's still useable enough for a style-led SUV while a false floor hides away storage for your cables.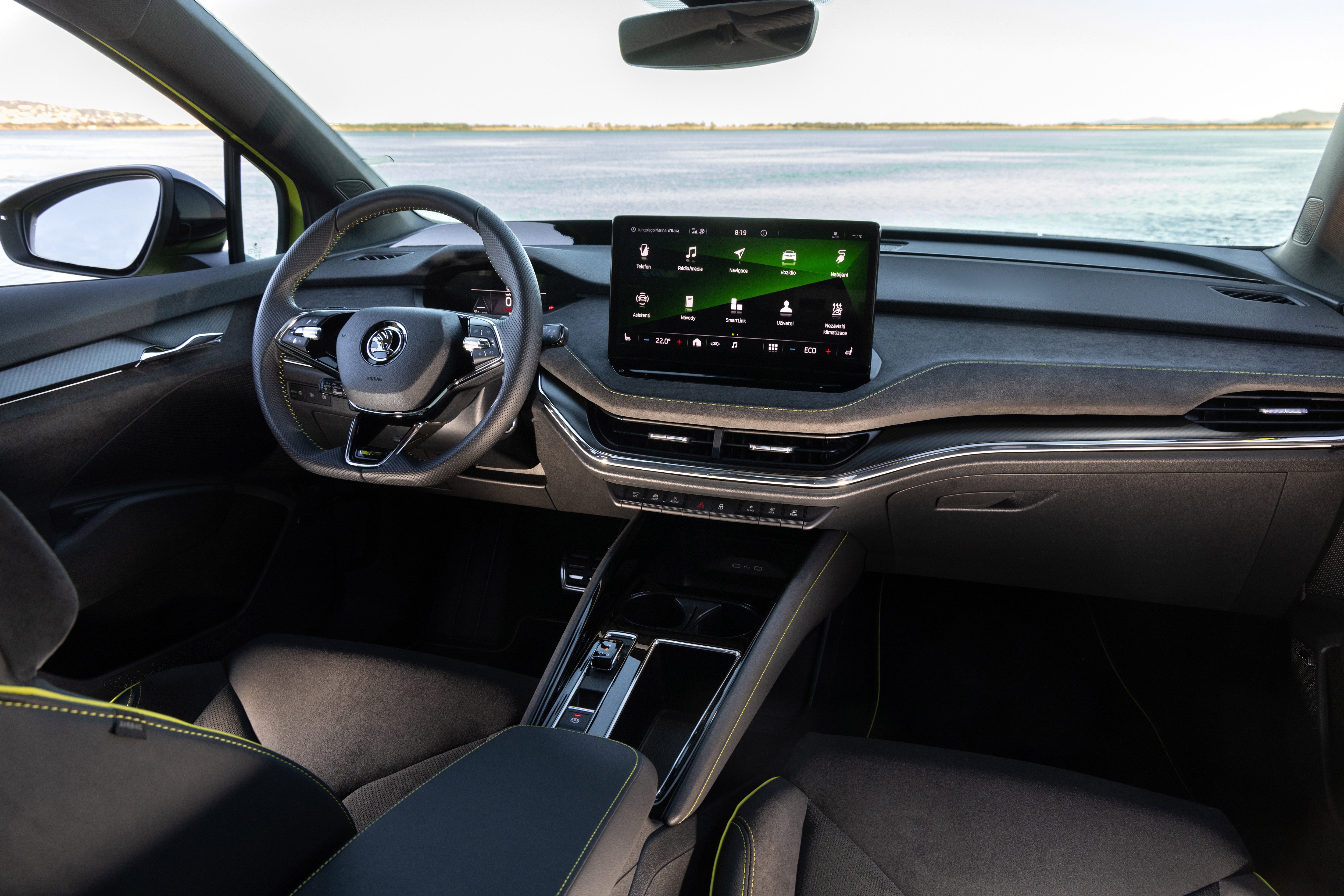 No, you can't have an Skoda Enyaq Coupe iV vRS with Alcantara and green stitching in the UK...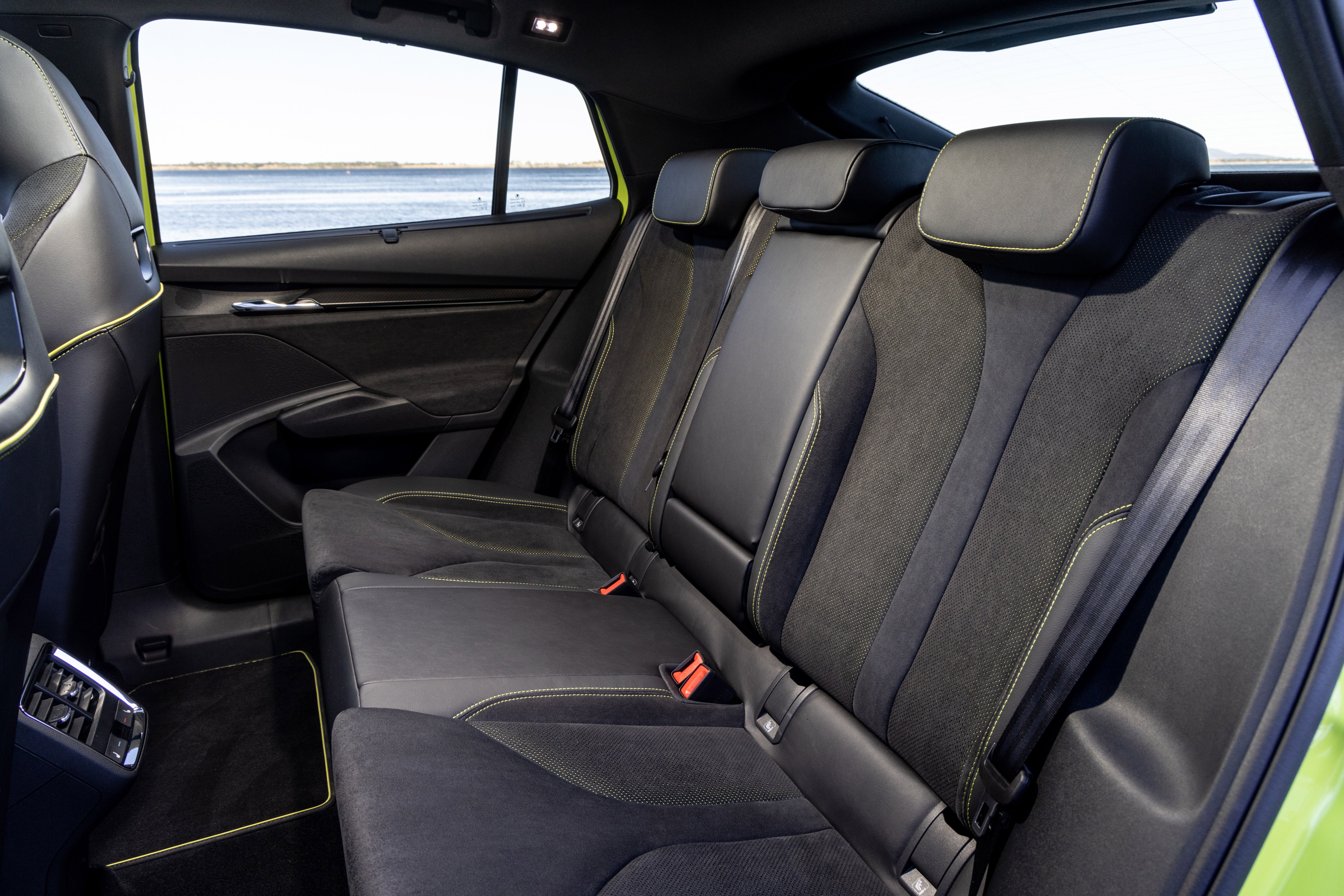 Headroom in the back of the Skoda Enyaq Coupe iV vRS is identical to the standard SUV
How does the Skoda Enyaq Coupe iV vRS drive?
We'll start by looking at the numbers. It uses the same 82kWh battery pack as other Enyaq iV models, but the Coupe's slippery shape gives it a tidy boost in efficiency. As a result, it can officially cover up to 309 miles between charges according to WLTP tests. That's pretty decent. It can also be rapid charged at speeds of up to 135kW meaning, if you find a punchy enough charger, it can be charged up to 80% in a little over half an hour.
With an electric motor on each axle, the four-wheel-drive Skoda Enyaq Coupe iV vRS has a combined power output of 299PS and 460Nm of torque. As a result, it'll accelerate silently to 62mph in around 6.5 seconds while top speed is 111mph.
That's sprightly enough, but it doesn't feel particularly quick in the acceleration stakes. If you haven't driven an electric car before, its instant acceleration might come as a bit of a surprise, but that novelty soon wears off. It just doesn't shove you back in the seat as you might expect for a car wearing the vRS badge.
It is a heavy, electric SUV, though, and you're in no danger of forgetting that. It's pretty anodyne in its approach to corners, with the lifeless steering doing a good job of hiding how hard the stability control is working. It feels safe and reassuring, sure, which is kind of what Skoda should be all about. But a vRS-badged model should also be fun.
The good news is that, despite the sports tuning of the Enyaq Coupe iV vRS's adaptive suspension, it smoothens over broken road surfaces at low speeds much better than the Ford Mustang Mach-E. It feels rather floaty when you up the pace, though, even on the optional 21-inch alloy wheels fitted to our test car.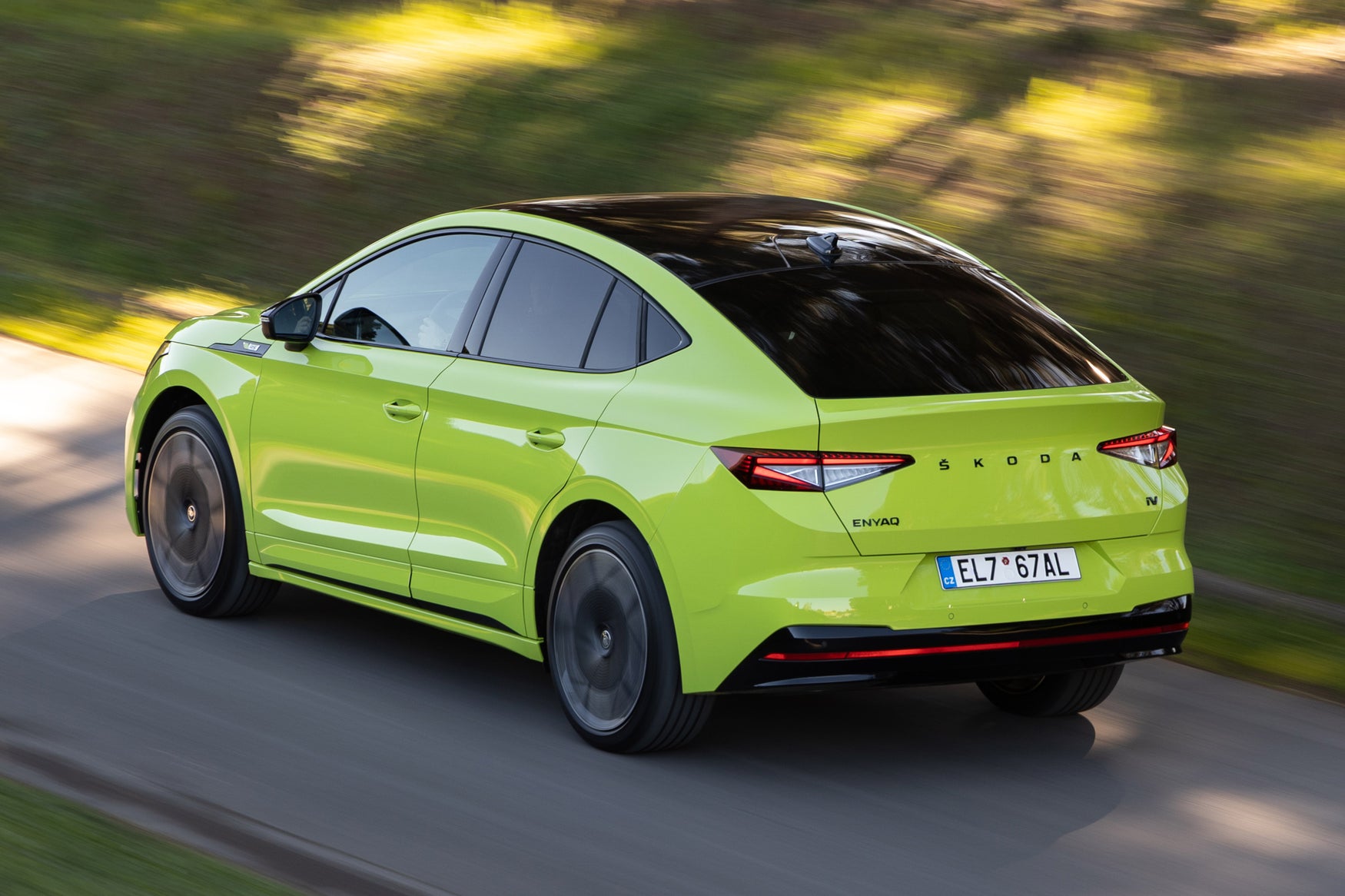 It doesn't sound like you're convinced…
We still think the standard Skoda Enyaq iV is one of the best electric cars you can buy – and we quite like the sporty looks of the Enyaq Coupe iV, too. But by offering the new range-topper in a lairy yellowy-green colour with vRS badging and lots of talk about the brand's heritage, it's kinda writing cheques it can't cash. If you currently drive something like a Volkswagen Golf GTI and think this is the woke 2022 equivalent, you're going to be a bit disappointed when you drive it.
Viewed simply as a fully-loaded version of the Skoda Enyaq Coupe iV, the vRS is likeable enough. It's as quick as many buyers will want, and most won't be fussed about how this electric SUV deals with hasty direction changes. You get plenty for your money, including a recently updated version of the 13-inch infotainment system and some nifty driver-assist features as part of the Travel Assist pack.
Order now and you'll pay £51,885 for the Skoda Enyaq Coupe iV vRS with the first customers taking delivery from July 2022. That means it's about £5000 more than a standard Skoda Enyaq iV 80x Sportline, and equally pricier than a top-spec Kia EV6 or all-wheel-drive Ford Mustang Mach-E. We'd be tempted to wait until non-vRS versions of the Enyaq Coupe iV arrive later in the year.
Watch: Skoda Enyaq Coupe iV world premiere
Skoda Enyaq Coupe iV vRS: the facts
Model tested: Skoda Enyaq Coupe iV vRS
Engine: Twin electric motors
Gearbox: Single-speed
Power/torque: 299PS/460Nm
Range: 309 miles
Price from: £51,885
Let's break up that lengthy nomenclature. The Skoda Enyaq is a very competent family electric SUV that represents impressive value for money with a versatile interior and generous equipment levels. The Coupe version is broadly the same, albeit with a sloping rear roofline and slightly smaller boot. The vRS model, tested here, is the 'hot' range-topper that'll compete with the likes of the Volkswagen ID.4 GTX.
The Skoda Enyaq Coupe iV vRS features an electric motor powering each axle, meaning it's four-wheel drive. Don't expect to go off-roading in the Enyaq iV VRS, but its all-wheel-drive layout provides a little extra reassurance when making the most of its 299PS of power and 460Nm of torque.
The Skoda Enyaq Coupe iV vRS is priced from £51,885. Skoda is yet to announce prices for less Enyaq Coupe models.