First drive: Genesis G80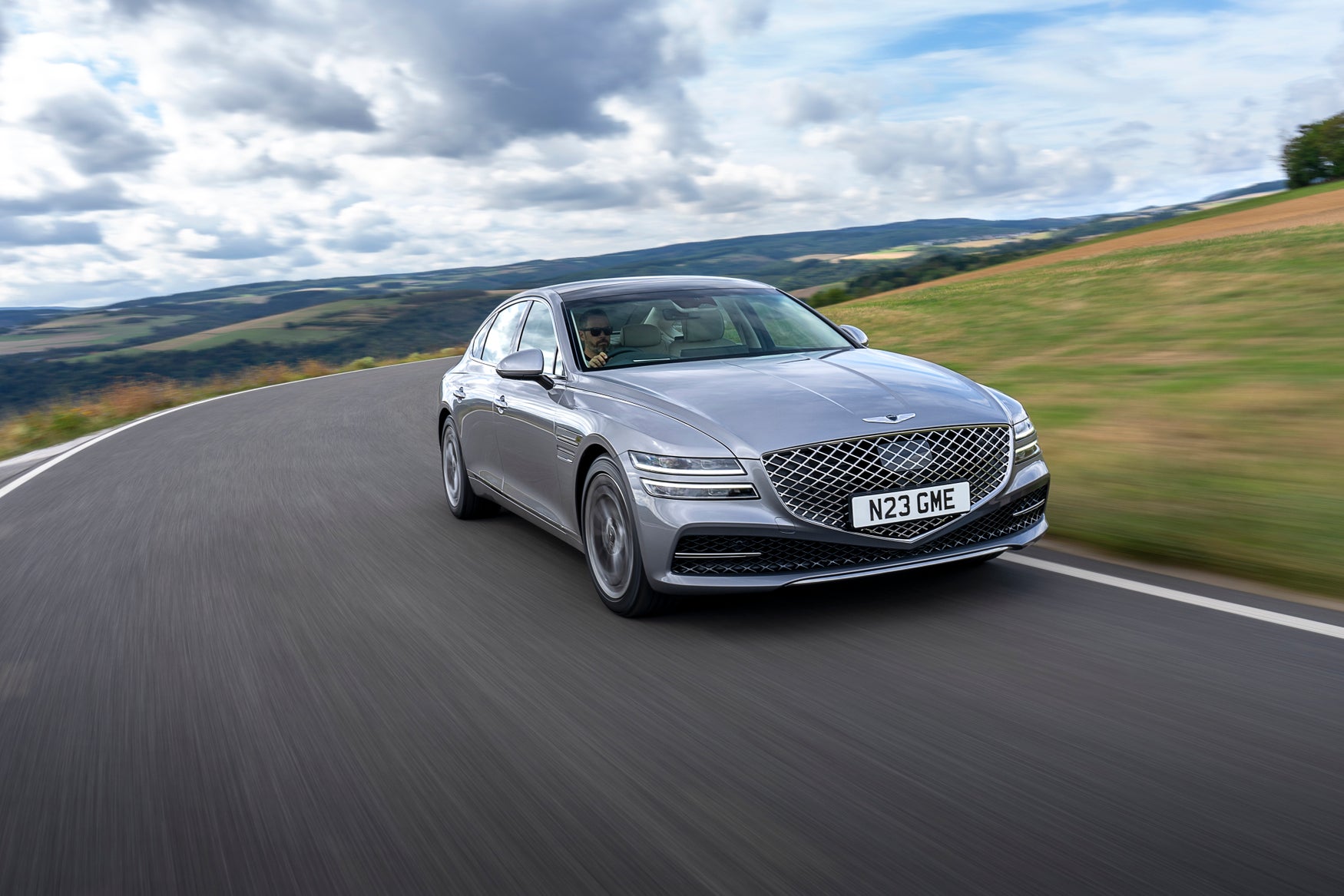 Best bits
Should be a great ownership proposition
Smart exterior looks, material quality of the cabin
Great for tackling long journeys
Not so great
Undefined character
Doesn't ride as well as a specced-up competitor
Thrashy petrol engine isn't great on fuel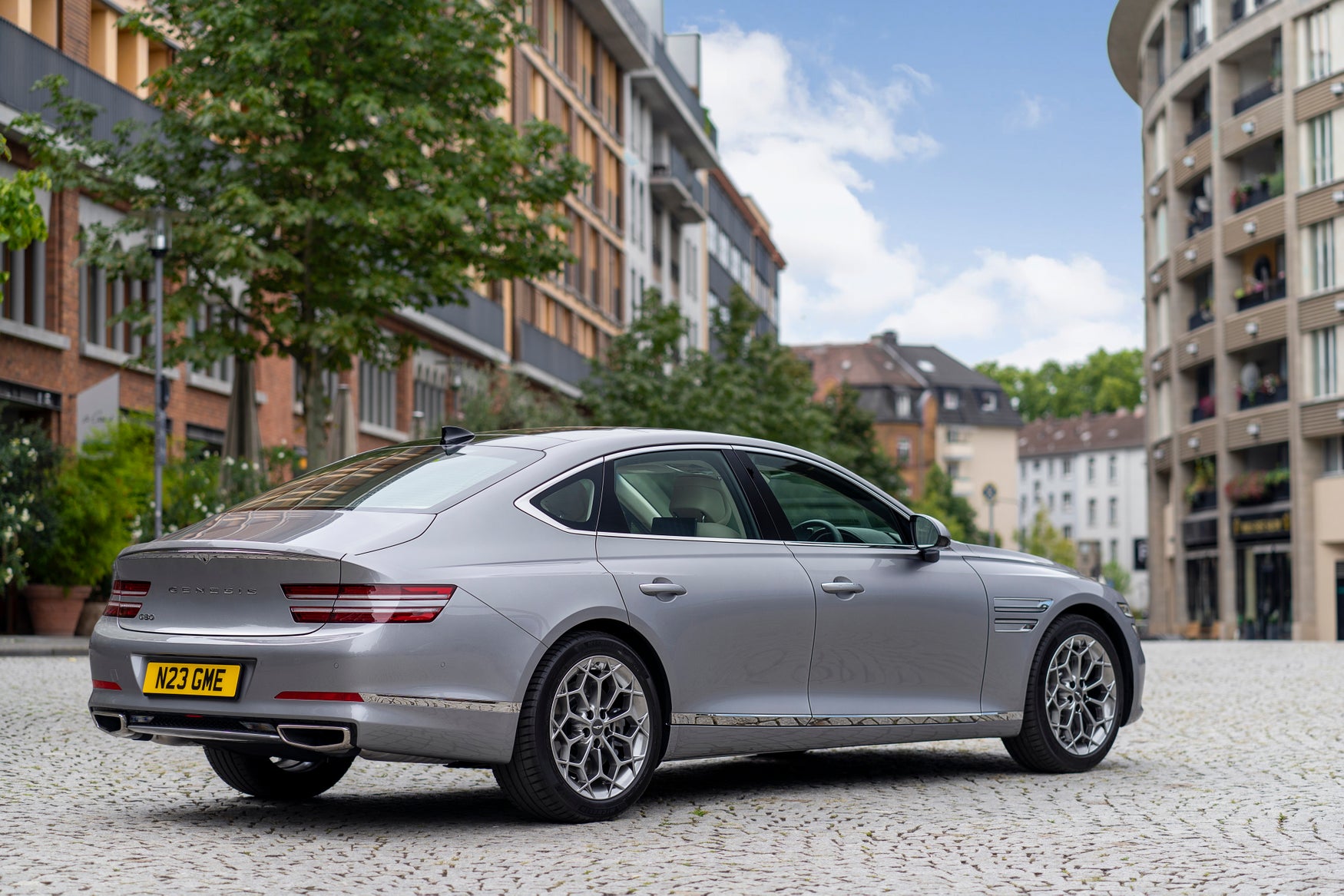 What is it?
It's the ultimate ownership proposition (and also a car, we'll get to that bit in a sec). Genesis has decided that the current way of buying and maintaining your car doesn't work and we're inclined to agree.
You don't want the awkwardness of haggling down the price of your new wheels and you don't want the inconvenience of taking your car to get serviced or the outlay of having to pay for it. Nor do you want to spend extra on breakdown cover or the resulting repairs and you definitely don't want to pay even more money to keep your sat-nav updated. Rejoice then, because if you buy a Genesis you'll do none of these things in the first five years of ownership.
Your experience begins in a Genesis Studio (note, not a showroom) located at Westfield Shopping Centre – the only one in the UK but more are on the way. There the price you see is the price you pay and the pumps are manned (or womened, because Genesis' staff will closely mirror the wider populous) by advisors on a salary, rather than the shoal of commission-paid piranhas you'll find at rival premises.
Can't stomach the idea of the studio? Fine, Genesis will bring a test car to you in a covered trailer and take it away again no questions asked. If you like it, you can buy it online having never stepped foot in a sho...studio .
Signing on the dotted line gets you a car, but also a five-year unlimited-mileage warranty (BMW, Mercedes and Audi give you three years). For the same length of time, you also get free servicing - during which Genesis will drive to your house, unload a brand new Genesis courtesy car, scoop yours up and bring it back again when the work is done. Roadside assistance and sat-nav updates – the kind others will charge you for – also come free for five years.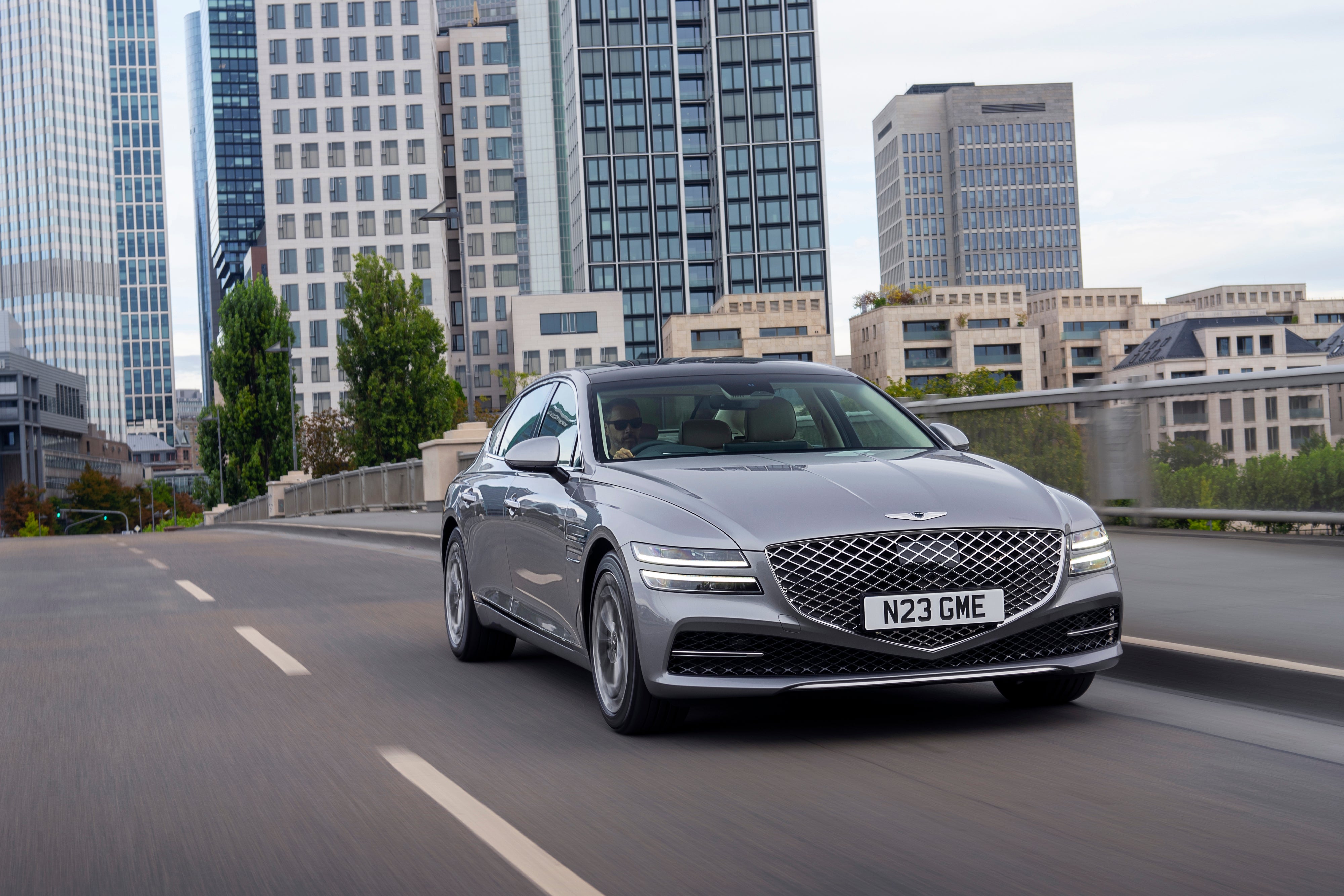 There's a hint premium Britishness to the winged badge and chrome grille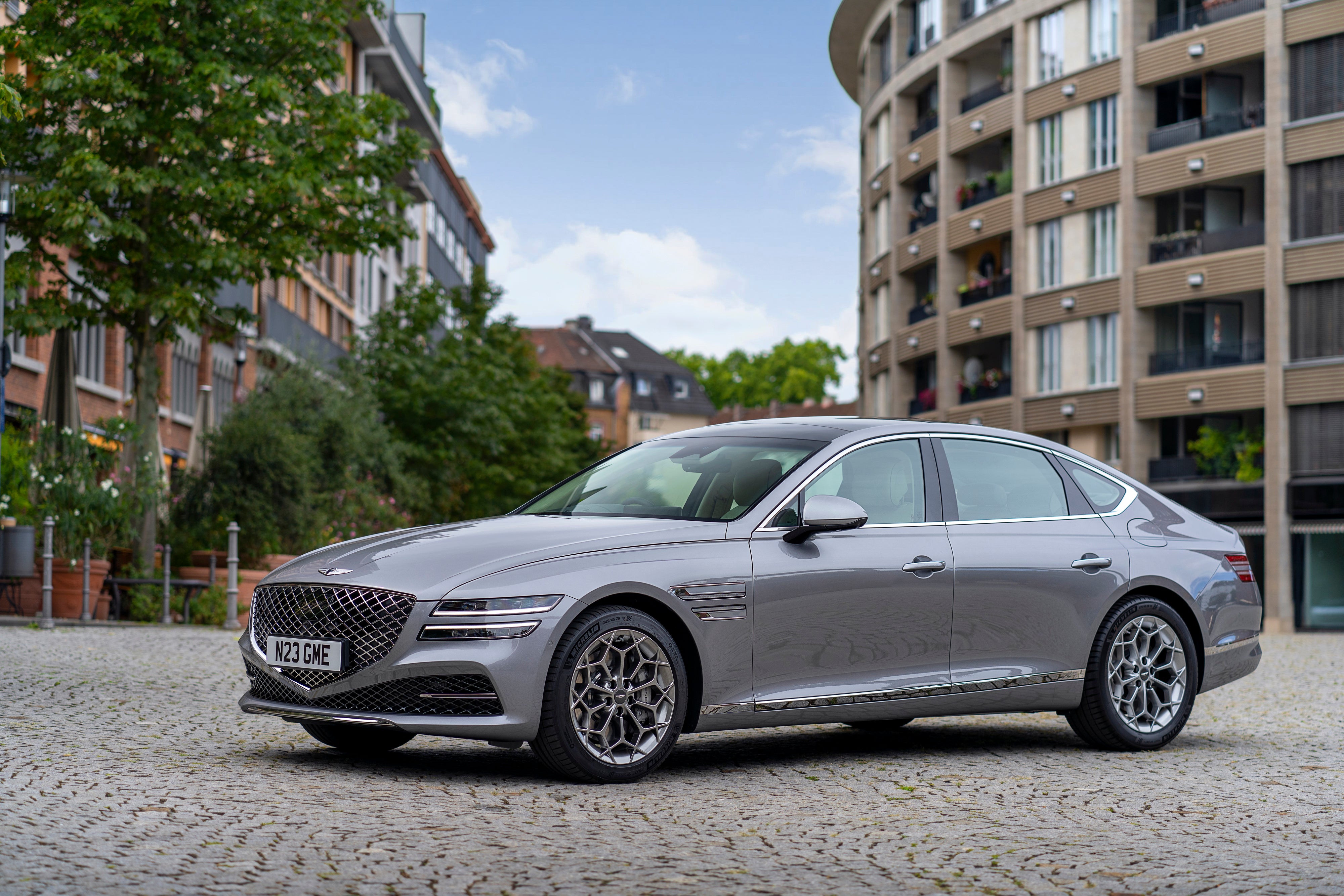 It might look like a fastback, but the Genesis is a saloon
I like the sound of all of that, what's the car all about?
The one we're looking at here is the Genesis G80 saloon, which in petrol form starts from £47,950 and is a rival to models such as the BMW 5 Series (starting from £39,275), Mercedes E-Class (£39,760) and Audi A6 (£39,970) – needless to say, competition doesn't get much stiffer.
The car we drove had the 2.5-litre, 304PS 2.4-litre petrol engine – a 210PS, 2.2-litre four-cylinder diesel is also available – and was finished in top-of-the-range £45,800 Luxury Line spec, which adds things like a real leather interior and a heated steering wheel over the £41,000 Premium Line model.
Go gung ho with the options – Genesis did on our test car – and you can pack it with gizmos and pad out almost every surface of the interior with leather or leatherette, but you'll pay more than £60,000 to do it.
So it's just as well it is a good looking car. An imposing chrome grille, creases above the wheels and a sleek rear end sparked all kind of Bentley references over lunch, meanwhile Genesis's 'two line' design language is evident in the stacked headlights, indicators and tail lights.
It's a handsome, though slightly glitzy Americanised affair which lacks one very important factor – a well-known German badge.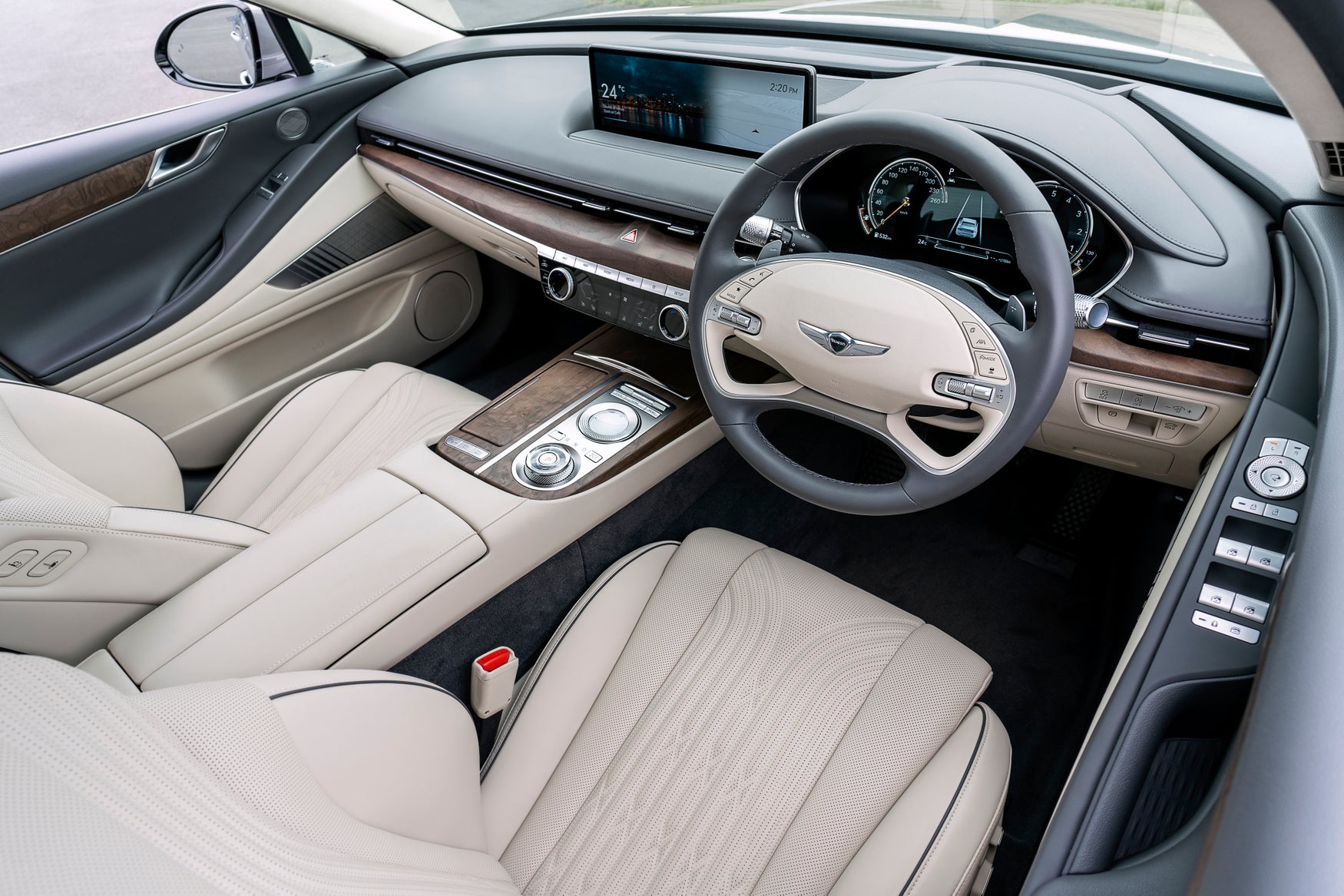 And the inside?
You know what you get with those German badges so when you open the door to your BMW, you expect to find a driver-centric design, a thick rimmed steering wheel and an infotainment system that works with extreme logic at its core. You know an Audi A6 will be a teutonic powerhouse and a Mercedes E-Class will drip with luxury (once you've gone awol on the options, anyway). It's gospel.
In this respect, the Genesis is an unknown, unless you are one of the tiny handful of people who bought the Hyundai Genesis which came and went (quickly) a few years back.
If you had bought one of those then you'll recognise Stars and Stripes feel of car that's loaded with good ol' wood, leather and gadgets, but doesn't have the elegant flowing lines and turbine style air vents you get in a Mercedes E-Class. Material quality is very high, buttons are metal and even the column stalks are capped in the cold-to-the-touch stuff, but the uneven row of switches on our test car let the side down.
The switchgear is not particularly easy to use, either. A sunken scroll wheel deals with most of the menu navigation, though to sweep up and down sub menus you have to spin it with your finger – like a DJ lining up their next floor filler.
The gear selector, thankfully, sits prominently, plus you get two knurled-metal barrel switches for the stereo volume and to zoom in and out of the sat-nav map.
Factor in the touchscreen main display and haptic feedback lower screen (not as nice looking as an Audi A6's) and you're left with an interface that will require significant reprogramming of your muscle memory. And quite a lot of patience.
On a more positive note, there's little complain about in terms of space. Four tall adults will have plenty of room to stretch out and buttons on the front passenger seat mean its occupant can be slid out of the road from behind if needed. Cubby space isn't quite as generous as in rivals and the boot is also a little off the cavernous spaces offered elsewhere.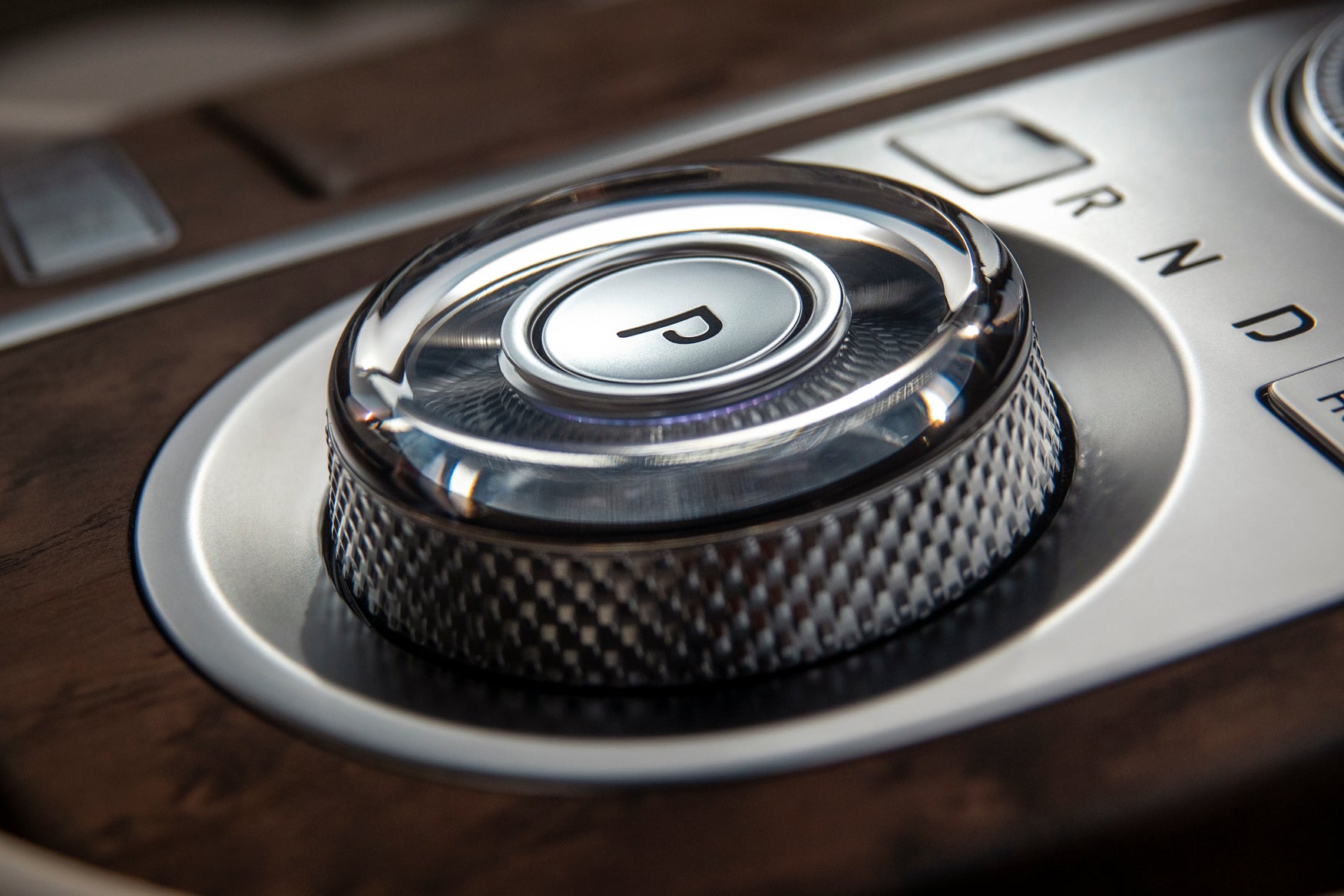 And how does it drive?
Sad to say, the driving experience (Genesis calls it 'premium comfort') like the interior, lacks a little bit of character.
The steering filters out almost all feel and the engine sounds thrashy when pushed. Sure, Sport mode overlays the noise with a speaker produced roar, but it sounds very fake, and fuel economy that will easily drop below 20mpg – the G80 weighs 1930kg, afterall – doesn't exactly encourage such behaviour.
It's much better to drive it as its maker intended and you'll learn the Genesis is consummate mile muncher. Its seats are some of the most comfortable we have ever come across and the cabin is incredibly quiet – thank headphone style noise cancelling and all round laminated windows for that.
Driven at a normal pace, the eight-speed gearbox is smooth and the engine muted, while the standard four-wheel drive – diesels are rear-wheel drive – delivers power to the road with no drama and you get a long list of driving aids that can do the piloting for you on motorways and A roads.
The Genesis would be certified great comfort car were it not for suspension that occasionally gets caught out by small bumps and surface changes at slower speeds. Clearly, the adjustable dampers and camera that scans the road to prime them isn't enough to offset the fact that our Genesis rolled on optional 20-inch rims. Suggesting the standard 19s are the better bet.
Whatever the wheel size, an E-Class with air-suspension would remain the better wafter.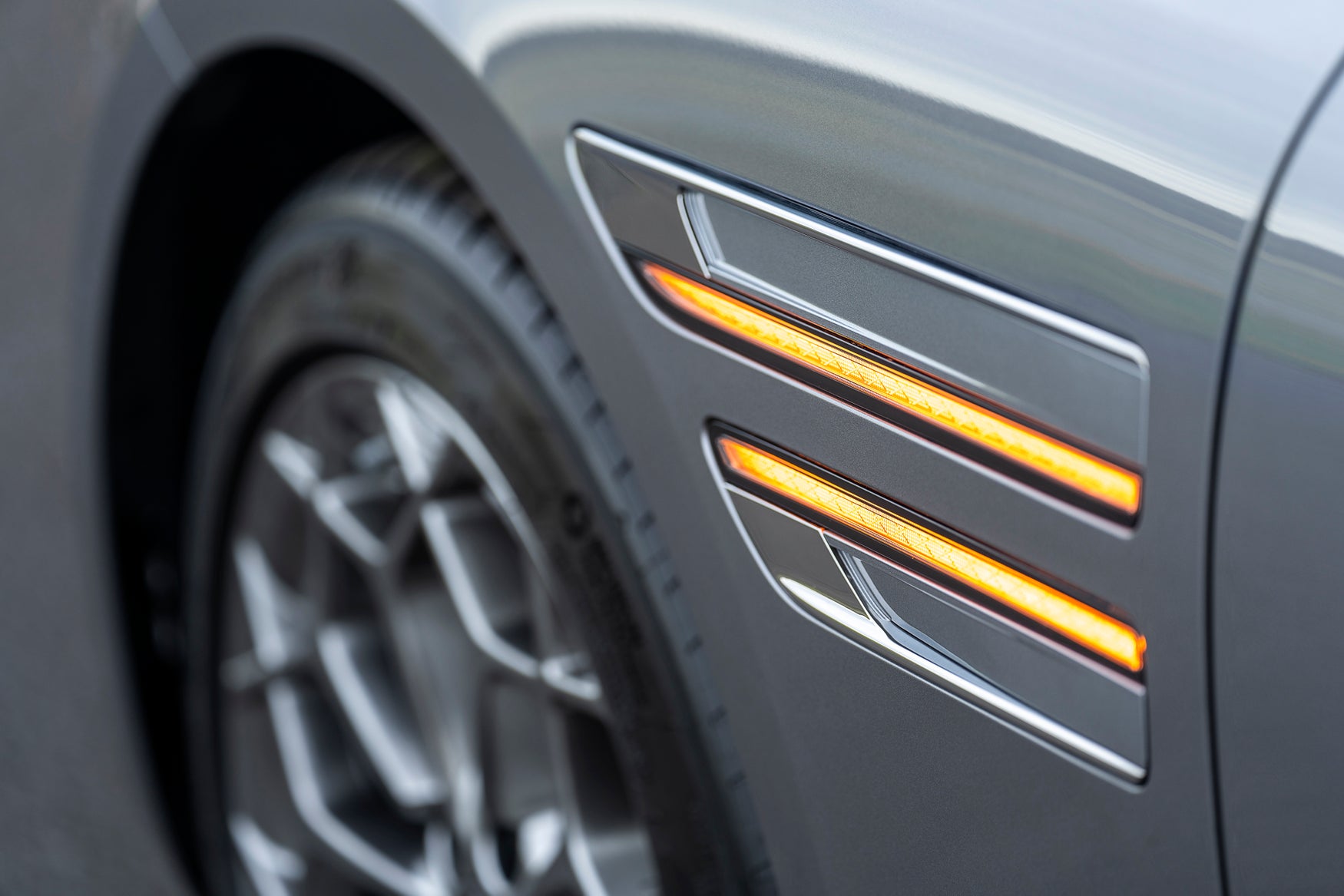 Not as good as the Germans, then?
Sadly not. All is not lost though, because what the G80 shows us is that Genesis can produce a decent machine straight out the blocks and with a future that already includes a pure electric G80 as well as two other electric models, maybe it's these cars we should pin its hopes on. Tesla has shown us that EV buyers are far more likely embrace an unknown brand if it hits on a winning formula.
Rather annoyingly, Genesis's current USP – the aforementioned buying and owning experience – is the only part we couldn't test and it is likely to hold huge appeal to anyone who has experienced the bad side of car sales and customer care.
Factor in a JD Power survey award cabinet which has seen Genesis scoop the Quality Award (for fewest reported problems in the first 90 days of ownership) three times in a row and it is clear the South Korean has a solid foundation to build on.
Should have asked, but what actually is Genesis and who owns it?
The answer to these questions could be both a good and a bad thing for Genesis.
First to the bad. Genesis is a premium brand owned by Hyundai. It's what Lexus is to Toyota, or more worryingly what the recently defunct (in the UK) Infiniti was to Nissan and the struggling DS brand is to Citroen. A mainstream manufacturer launching a posh brand is well-trodden path, but often not a fruitful one.
On the upside, Hyundai – a firm that two decades ago was pumping out uninspiring, budget machines – has now well and truly mastered the mainstream market and, if its excellent electric cars are anything to go by, you get the distinct impression there's a lot more to come.
If anyone can pull off a Lexus you'd have thought Hyundai would have as good a chance as any. Only time will tell.
Watch: LA Street Style | 2021 Genesis G80
Genesis G80: the facts
Model tested: Genesis G80
Engine: 2.5-litre petrol
Gearbox: eight-speed automatic
Power/torque: 304PS/422Nm)
Combined fuel economy: 31.2mpg
CO2 emissions: 205g/km
Price from: £XXX
As tested: £XXX
Genesis is a South Korean car brand which is owned by Hyundai and sells cars everywhere from the US to the UK, Australia, Canada, Switzerland and Germany.
Genesis has won numerous ownership awards which suggest owners are happy with the car as well as the buying and owning experience.
Genesis is owned by Hyundai and the cars share parts, however you wouldn't really know it – Genesis models look more stylish and are a lot posher inside.