First drive: Genesis GV80 3.D Luxury Line
First drive: Genesis GV80 3.D Luxury Line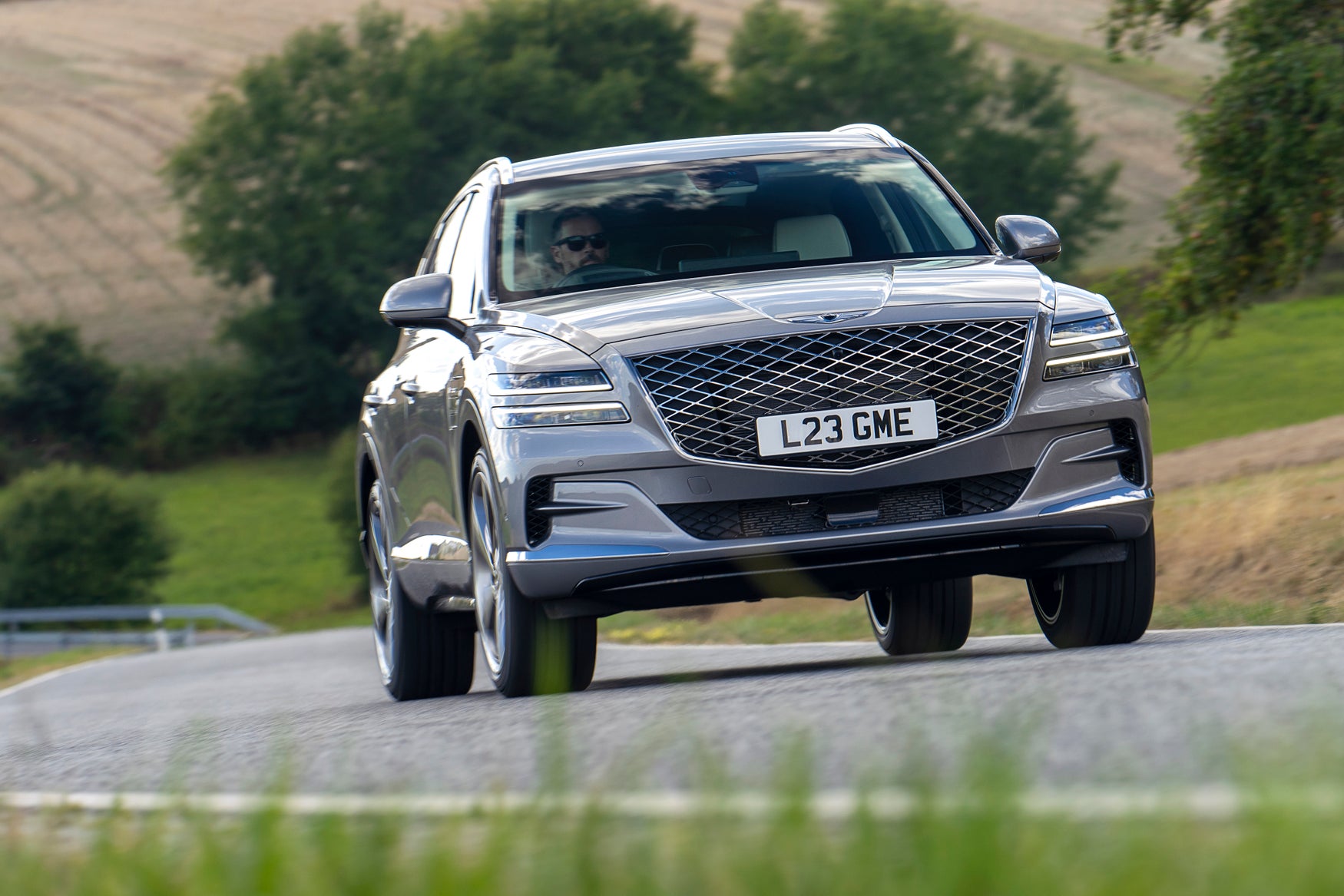 Best bits
Interior drips with material quality
Six-cylinder diesel engine smooth and powerful
Comfortable and practical
Not so great
Badge will be a turn off for most
Buying experience is the only USP
Brutal depreciation all but guaranteed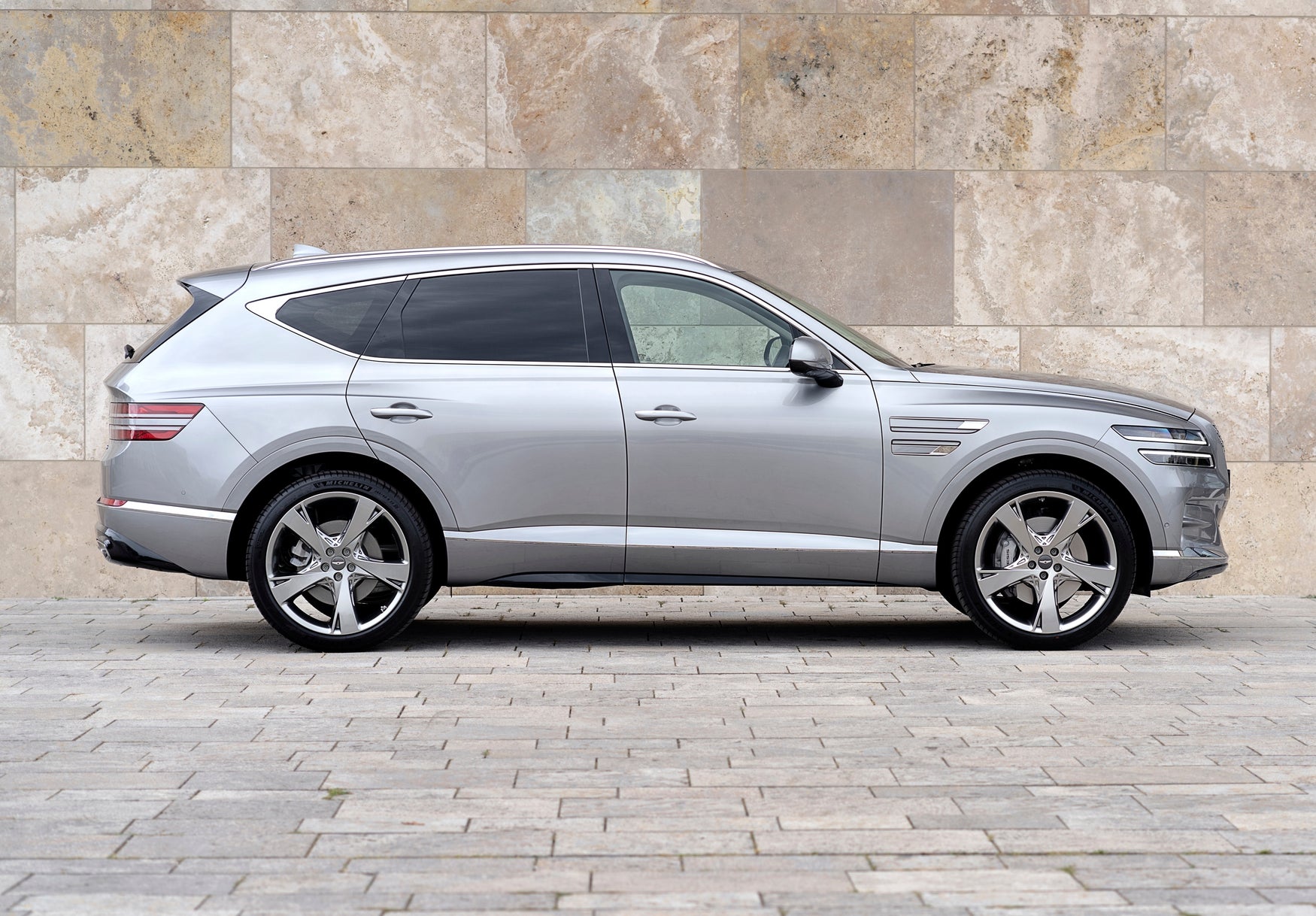 Ooh, is that the new Bentley SUV?
...Is exactly the question its maker wants you to ask because the car you see in front of you is in fact the new Genesis GV80, Genesis being Hyundai's premium answer to Toyota's Lexus. Basically, it's designed to slip that Mercedes key out your fingers, much like Hyundai has stolen sales from the likes of VW and Ford.
Based on looks alone, it's in with a chance. The GV80 has the 'out my way peasants before I crush you' presence that has proven such a hit if you drive an Audi Q7, Mercedes GLE or Range Rover Sport. You get the huge grille, wheels fit for a steamroller and rear-wheel haunches that might be inspired by the beefy behind of the Bentley Bentayga. The only thing the Genesis lacks is a well-known badge and the brand awareness that comes with it.
Amazingly (light sarcasm detected), Genesis thinks that big presence alone isn't going to lure you from behind the wheel of rivals so the SV80 comes complete with a unique buying and owning proposition, too.
Long story short, if you fancy a GV80, Genesis will deliver one no strings attached to your house for a test drive and, if you like it enough to buy it, you can do that online or at a pressure-sales-free-zone Genesis studio (there's only one, for now – in London's Westfield shopping centre), where the price you see is what you pay. For the first five years, all Genesis cars get warranty and breakdown cover, servicing, infotainment updates and access to a courtesy car included in the price.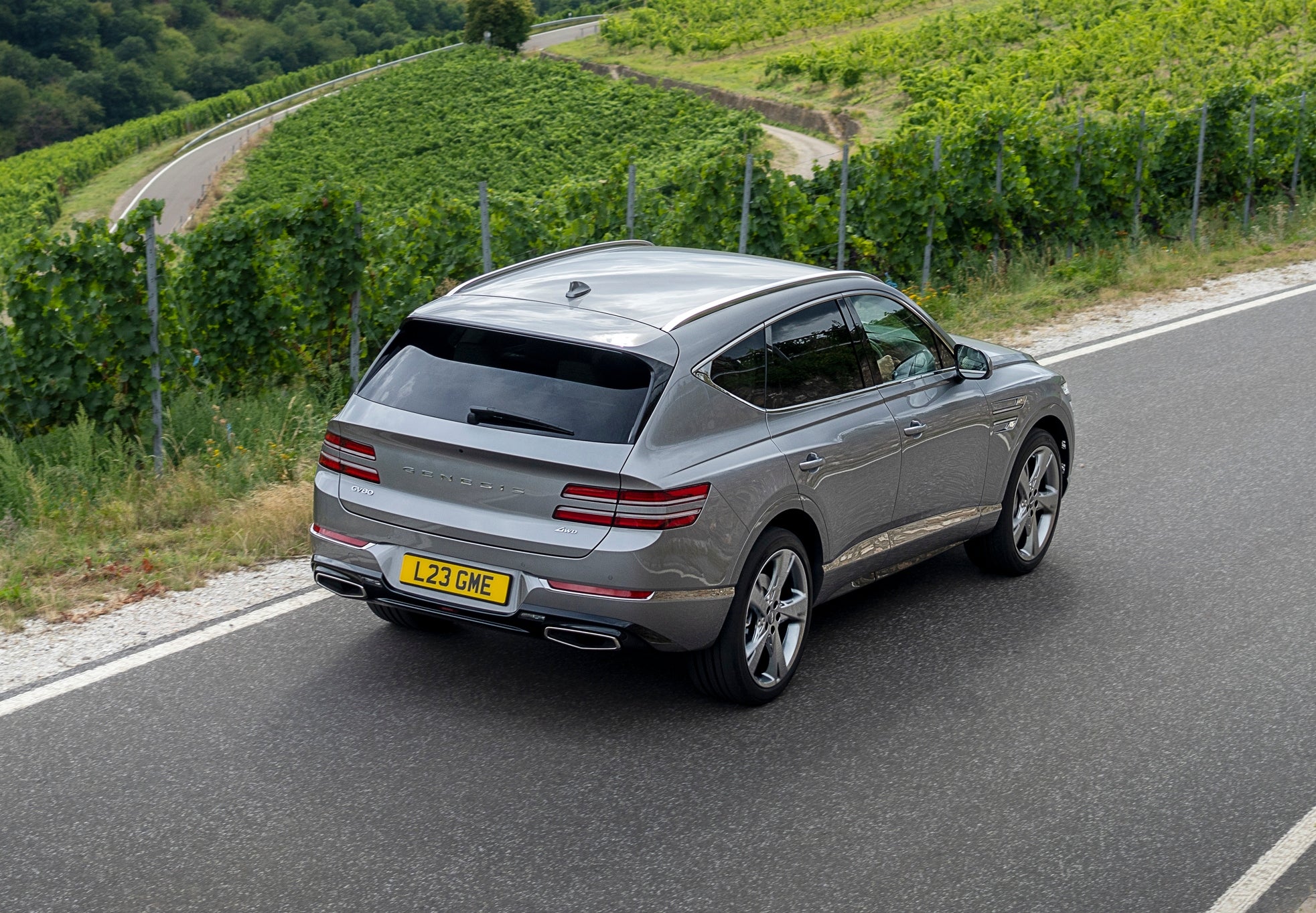 Stacked headlights, indicators and tail lights emphasis Genesis' 'two line' design theme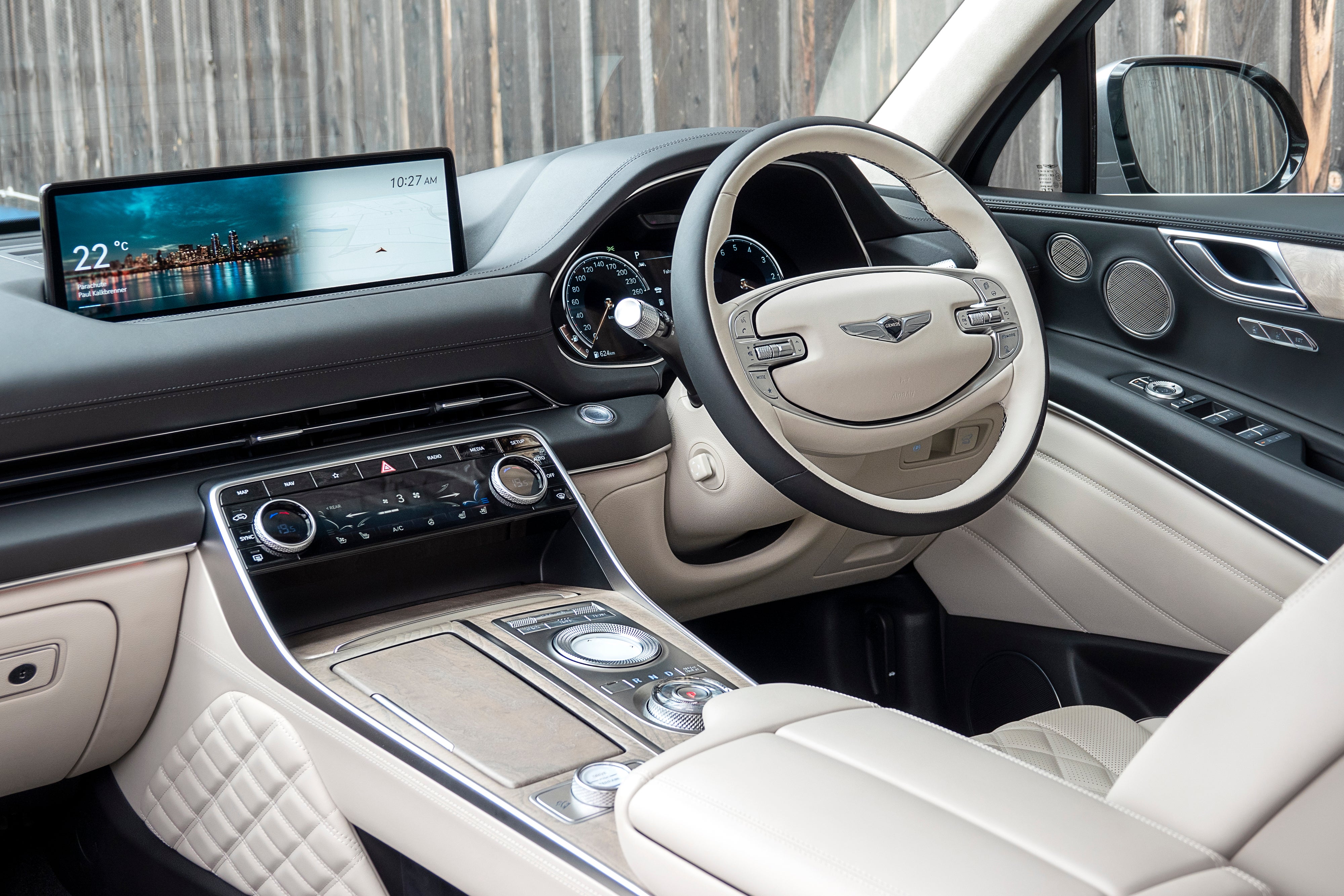 The GV80's interior is more convincingly luxurious than the cheaper G80 saloon
Alright, alright but what's it like to drive?
Clamber inside the GV80 and you're treated to material quality that's at least on a par with rivals – all the buttons you touch are metal and all the surfaces are padded with leather, while open pore wood trims sweep over anything remaining.
It looks and feels very nice, but doesn't have the downright glitz of a Mercedes, spaceship's-flight-deck feel of an Audi or quite the same commanding driving position of a Range Rover with its low-set window line.
It's as spacious as all of them, however. You can have your GV80 as a seven-seater, but the version we tried was a five-seater with loads of passenger space and a boot that could rival Australia's expansive open spaces. Even the load bay was decked out in thick expensive feeling carpet, had a place under the floor to store the parcel shelf and back seats that fold away electrically.
The GV80 feels huge from the driver's seat. You peer over a massive bonnet, the large rear window seems miles away and you tower over other cars, a feeling that's increasingly rare in modern SUVs.
Under the bonnet you'll find another dying breed – a big diesel engine. The Genesis' 278PS 3.0-litre six-cylinder motor makes a strong case for why this is the only type of engine that should ever be fitted to a big SUV.
It has a smooth powerful growl and, with 588Nm of torque from 1500rpm, effortless twist for overtaking. It'll return an easy 30mpg and is well suited to the Genesis slushy eight-speed torque-convertor automatic gearbox. A 2.5-litre four-cylinder petrol is also available. We can see no reason why you would choose it.
Certainly, the GV80 isn't the kind of sports SUV that demands a powerful petrol engine (with 304PS, the 2.5 is relatively average anyway), it's more of a La-Z-Boy Sofa fitted with 22-inch wheels. Its seats are some of the most comfortable we've ever come across and the massive armrest that stretches between them highlights the luxurious levels of space.
There are plenty more concessions made to comfort, including a noise-cancelling system that uses the stereo's speakers to intercept and quash cabin noise. Then there's the suspension which is wired into a camera in the windscreen that detects ruts and bumps and primes the dampers to deal with them. It works well at motorway speeds, but never quite pampers like the air suspension in rivals.
Given how comfortable it is, it's impressive that the GV80 doesn't feel completely remote to drive. It's steering is quick and precise, it doesn't lean overly and if you do go too hard the chassis pushes predictable through corners.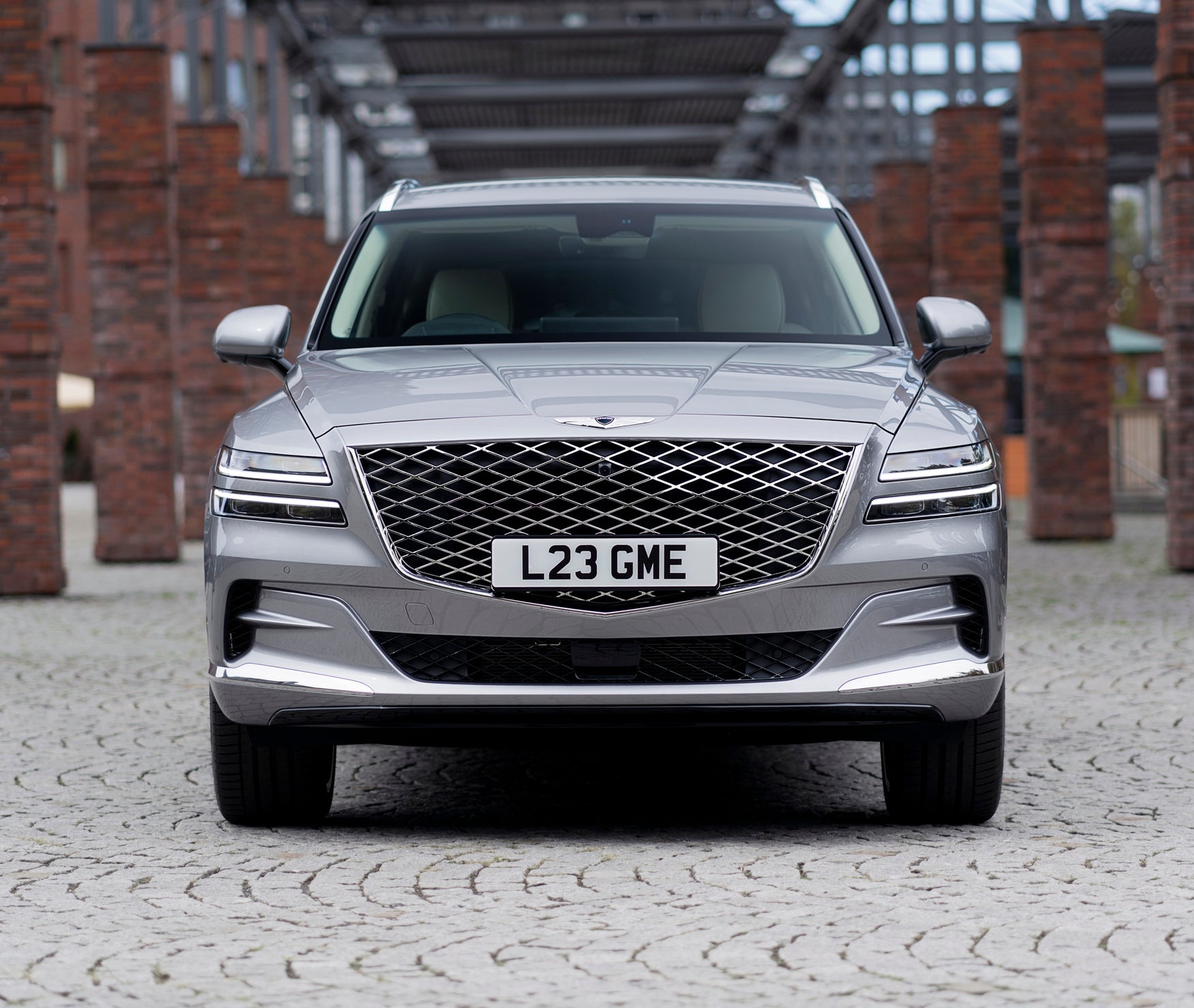 Time to trade in my Mercedes SUV?
In terms of the car itself, there's no particular reason you wouldn't – the GV80 does a much better impression of being a posh SUV than the confused G80 (which we reviewed earlier) does of being a luxurious saloon. What it lacks is a well-known posh badge though, something you're entitled to expect when you're shelling out plus-£70,000 for a new SUV (our GV80 was specced to the hilt, retailing at £74,170).
And it's not just the snob value of that badge, it also gives you some faith in your new car's residuals – not something posh SUVs are known for as it is – we fear the GV80 might fair particularly badly after three years of deprecation has done its thang.
That's not to say you should completely rule it out. There's much to like about the buying proposition and there could also be something to be said for taking advantage of that five-year/unlimited-mileage warranty. Run it into the ground, move on.
That being said, where it's likely to make even more sense is as a five-year-old second-hand purchase. By that point, depreciation will have done its worst and (noting the free servicing that'll have been lavished upon it) you should be able to pick up a car that has been exceptionally well maintained at a knockdown price... We're already counting the days to 2026.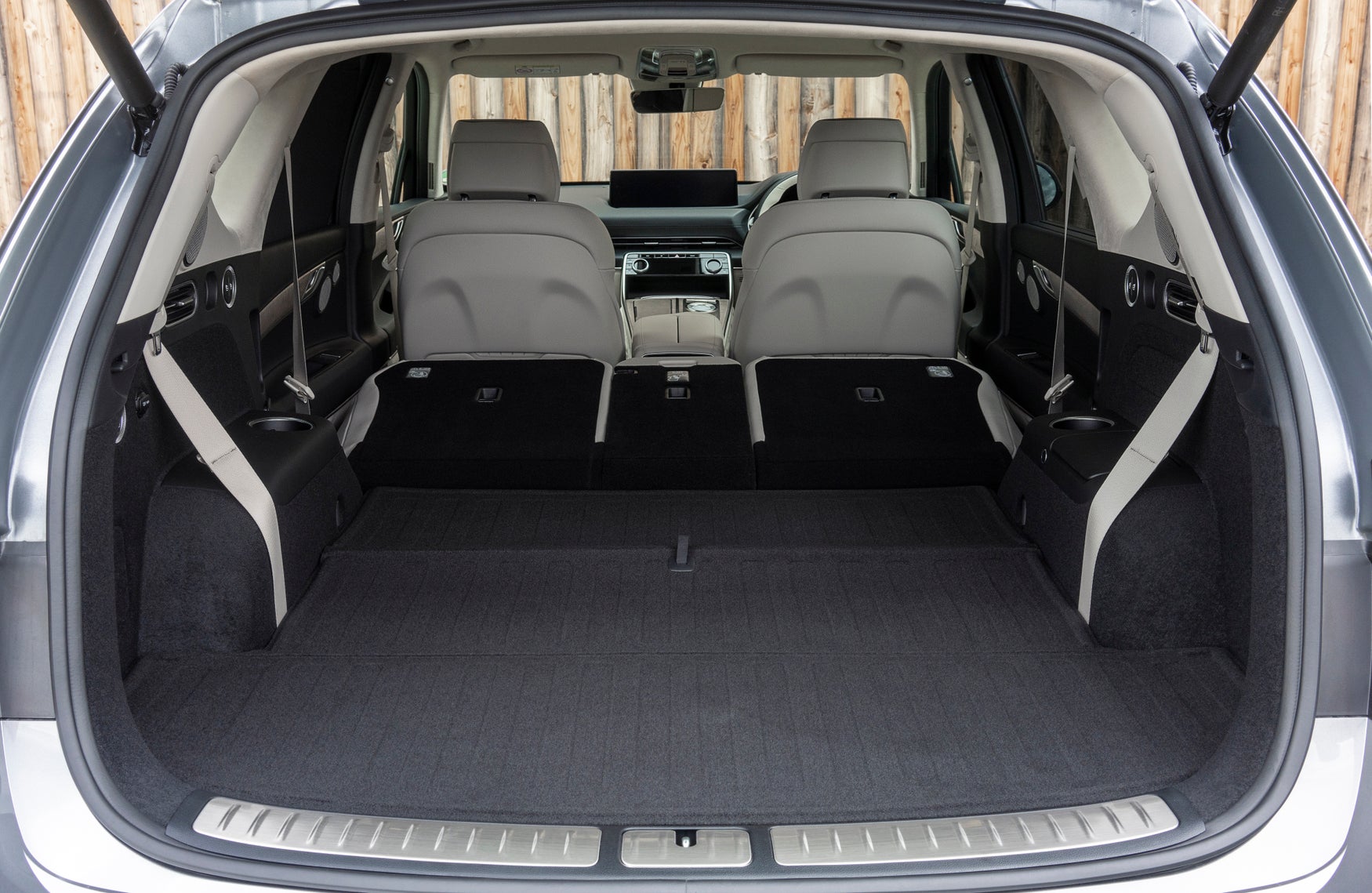 Watch: Genesis GV80 | Nothing Feels Like The First Time
Genesis Genesis GV80 3.D Luxury Line: the facts
Model tested: Genesis GV80 3.D
Engine: 3.0-litre diesel
Gearbox: eight-speed auto
Power/torque: 278PS/588Nm
Combined fuel economy: 33.1mpg
CO2 emissions: 220g/km)
Price from: £54,100
As tested: £74,170
The Genesis GV80 is priced from £54,100 for a basic model in Premium Line trim with five seats and the 2.5-litre petrol engine. We would recommend spending another £100 for the quicker and more economical diesel, however. At the top of the range, you'll find the seven-seater Luxury Line model which costs £60,200. A comprehensive list of option packs means it is easy to add another £10,000 to the asking price.
Genesis is Hyundai's luxurious brand. It's what Lexus is to Toyota, Infiniti is to Nissan and Acura is to Honda in the US.
Considered in isolation, the Genesis is a comfortable, spacious and luxurious SUV, however it lacks the posh badge of rivals and residuals are likely to suffer badly as a result.