First drive: Hyundai i20 N 2022
First drive: Hyundai i20 N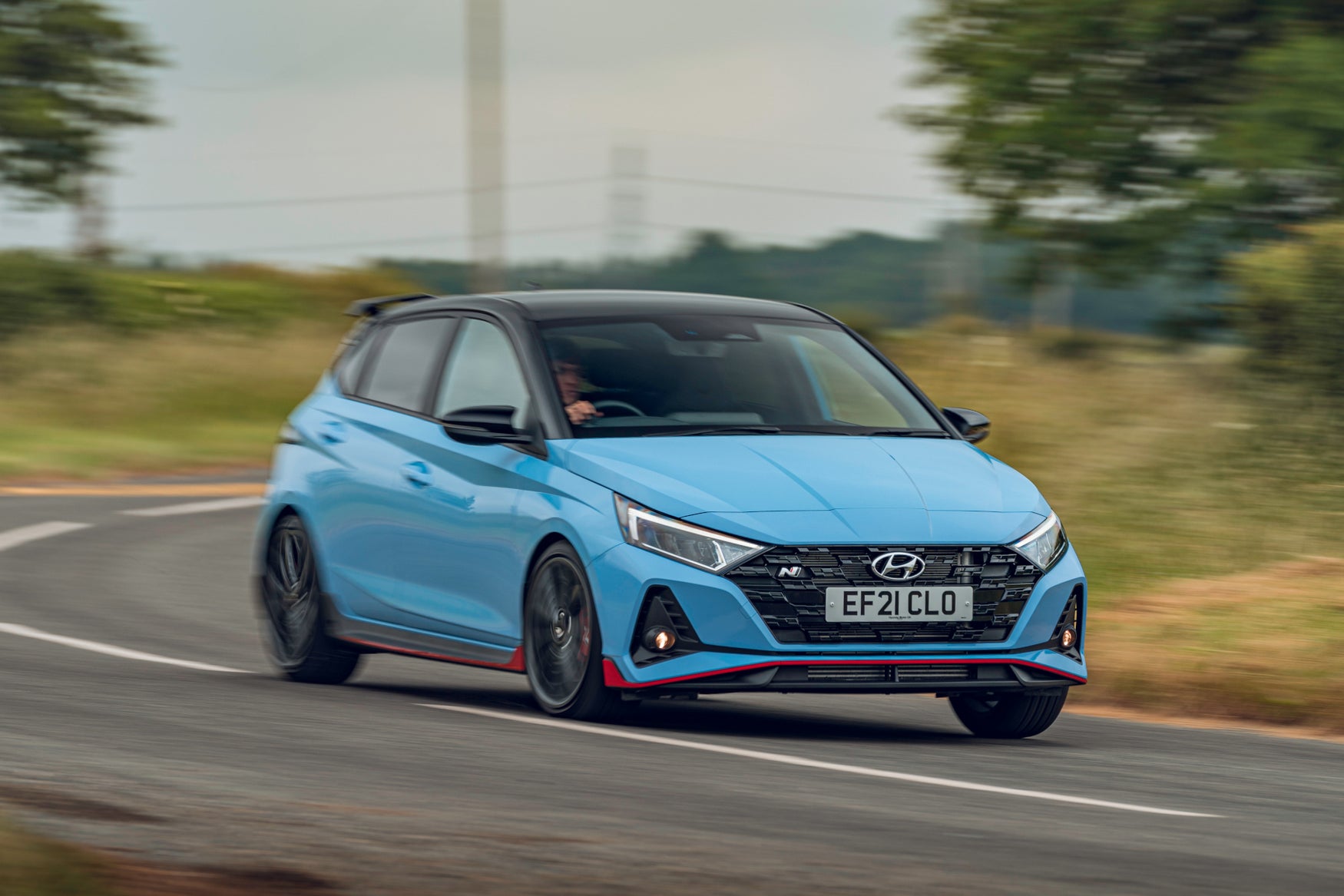 Best bits
Great fun to drive on twisty roads
Strong performance and decent economy
Plenty of standard equipment
Not so great
No adaptive dampers to soften the ride
Annoying rev-hang between gearshifts
Quite a few hard plastics in the cabin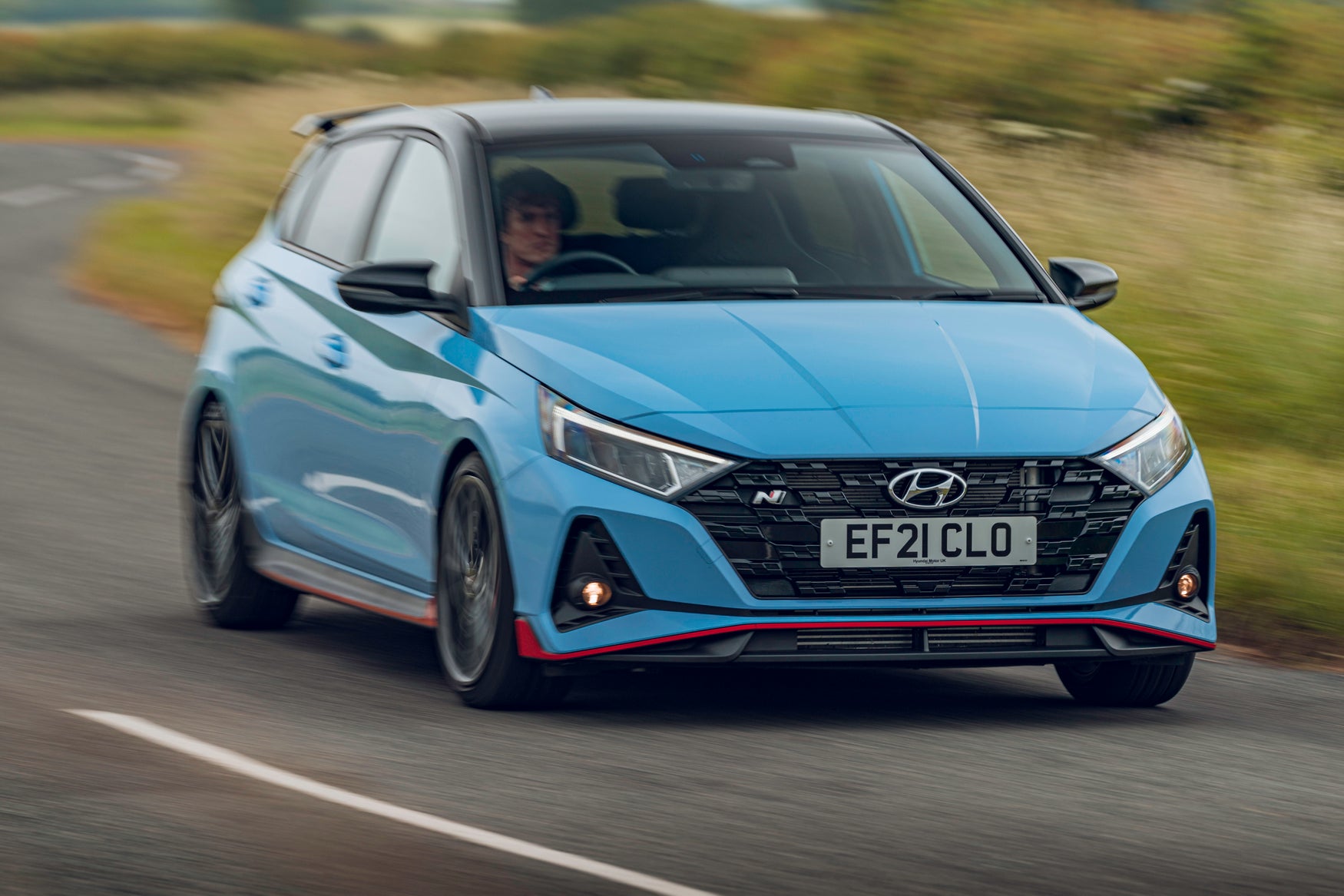 What is it?
The smallest of Hyundai's three UK models to benefit from the company's 'N' performance treatment. If you don't know what Hyundai N is, it's a bit like Ford's ST, Volkswagen's GTI and Renault's RS sub-brands.
The 'N' stands in part for Nurburgring, the fearsome German race circuit where Hyundai tests its hot models, and the division is headed up by the former engineering boss of BMW M.
This isn't just a case of slapping some wings and badges on an i20 supermini and copy and pasting the word 'sporty' in the brochure, then. The Hyundai i20 N gets uprated, lower, stiffer suspension, beefier brakes and a proper mechanical limited-slip differential. The car's bodyshell has also been strengthened, while Pirelli P-Zero tyres get a specific compound for this model.
The engine is a 204PS 1.6-litre turbo petrol unit driving the front-wheels only through a six-speed manual transmission: unlike the i30 N, there's no dual-clutch automatic option here. 0-60mph is taken care of in 6.1 seconds – a pretty serious number for a small, front-driven hot hatch.
That means it has the substance to complement the body upgrades, which include a red and black lower bodykit with a diffuser-style rear bumper, a chunky single-exit exhaust, 18-inch wheels hiding natty red brake calipers, a unique grille and an awful lot of N badging. Oh, and that unsubtle rear wing, which helps generate actual downforce. How could we miss that out?
Inside, you'll find bespoke sports seats that you won't get in a regular i20, an N-specific gearknob and a steering wheel festooned with buttons. That brings us on to the driving modes, of which there are many: you can change the exhaust volume, the steering weight, the engine and throttle response and the level of stability control. You can even change how ferocious the rev-matching system is - this blips the throttle to allow smooth downshifts, meaning you don't need to bother trying to heel-and-toe.
The Hyundai i20 N sits below the first N model to launch, the i30 N hot hatch, as well as the Kona N hot crossover. The i20 N's natural rivals include the Ford Fiesta ST (the benchmark small hot hatch), the VW Polo GTI and the cheaper and less powerful, but still fun, Suzuki Swift Sport.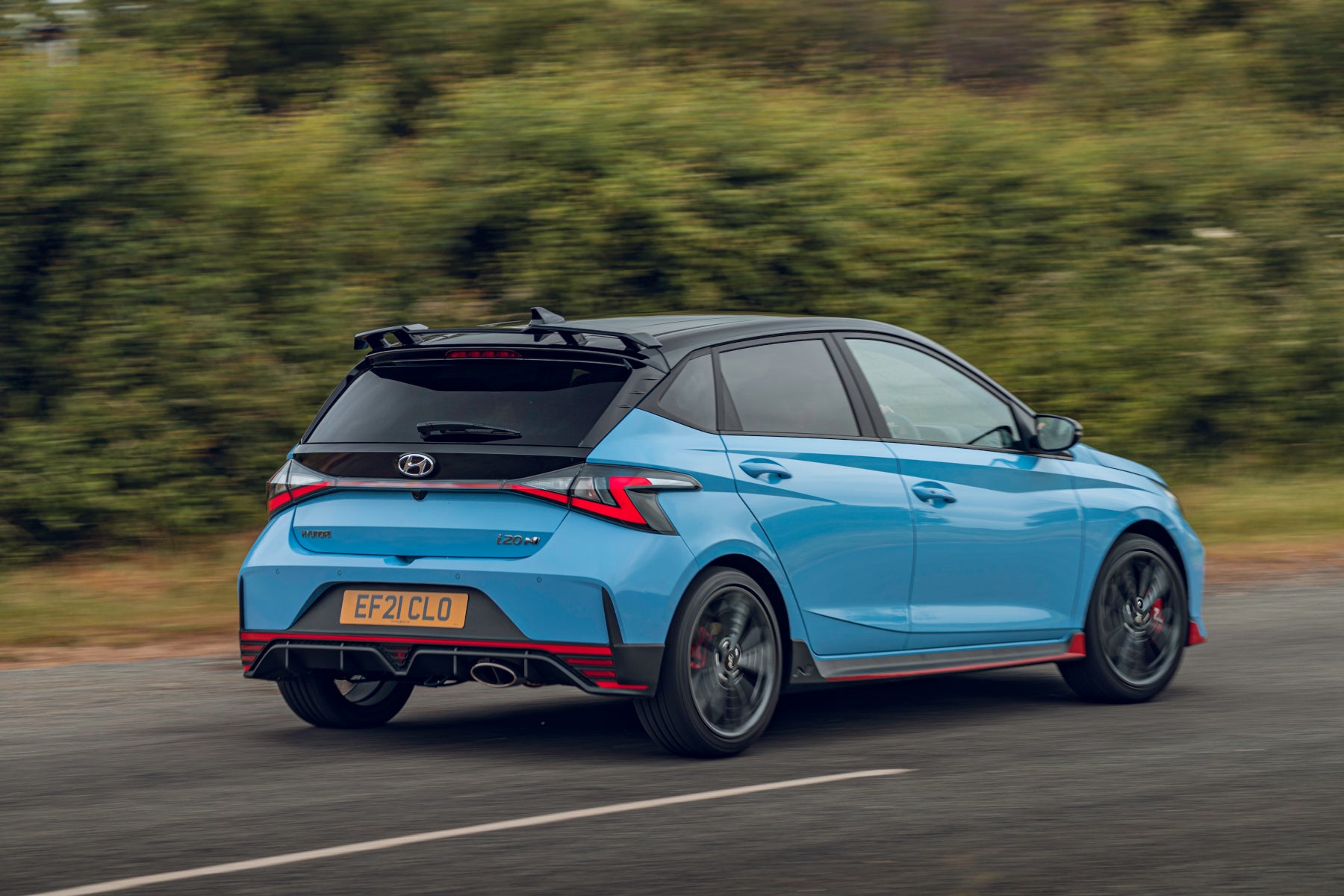 A red and black bodykit helps mark this out from any other i20.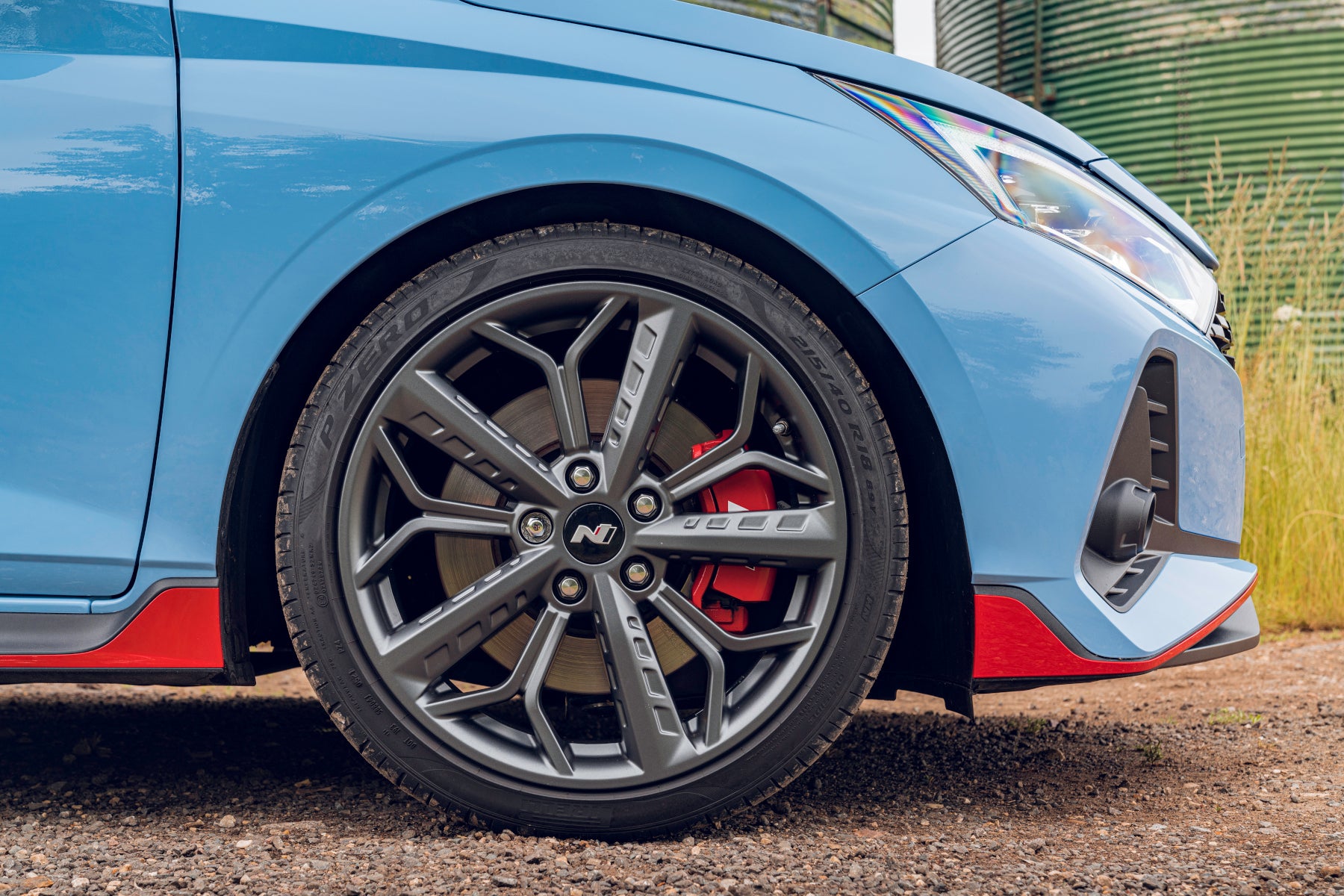 The i20 N sits 10mm lower to the ground than the standard i20, with 18in wheels hiding bespoke brakes.
How much does it cost?
Unlike the first i30 Ns, which were available in cheaper entry-level form or more powerful 'N Performance' form before Hyundai realised nobody really bothered with the cheaper one, there is only one version of Hyundai i20 N. It starts from £25,250.
That price is actually cheaper than the Fiesta ST as, at the time of writing, Ford is only selling the high-spec ST-3 version for new built models. It's also £2,500 less than the VW Polo GTI's starting price. Yes, gone are the days of sub-£20k hot hatchbacks...
And it's not as if the i20 N isn't generously equipped itself: there's plenty of standard kit including a large infotainment screen with Apple CarPlay, Android Auto and wireless phone charging, digital dials, heated front seats and a heated steering wheel, climate control and keyless entry. Indeed, the only options are paint and trim colours, or a Bose sound system.
It's also worth noting that there's a pretty chunky £9,000 jump to get the larger, more powerful I30 N on your drive instead, and even more for the Kona N. So this is easily Hyundai's cheapest performance product, until some bright spark decides to give the little i10 city car the hot hatch treatment.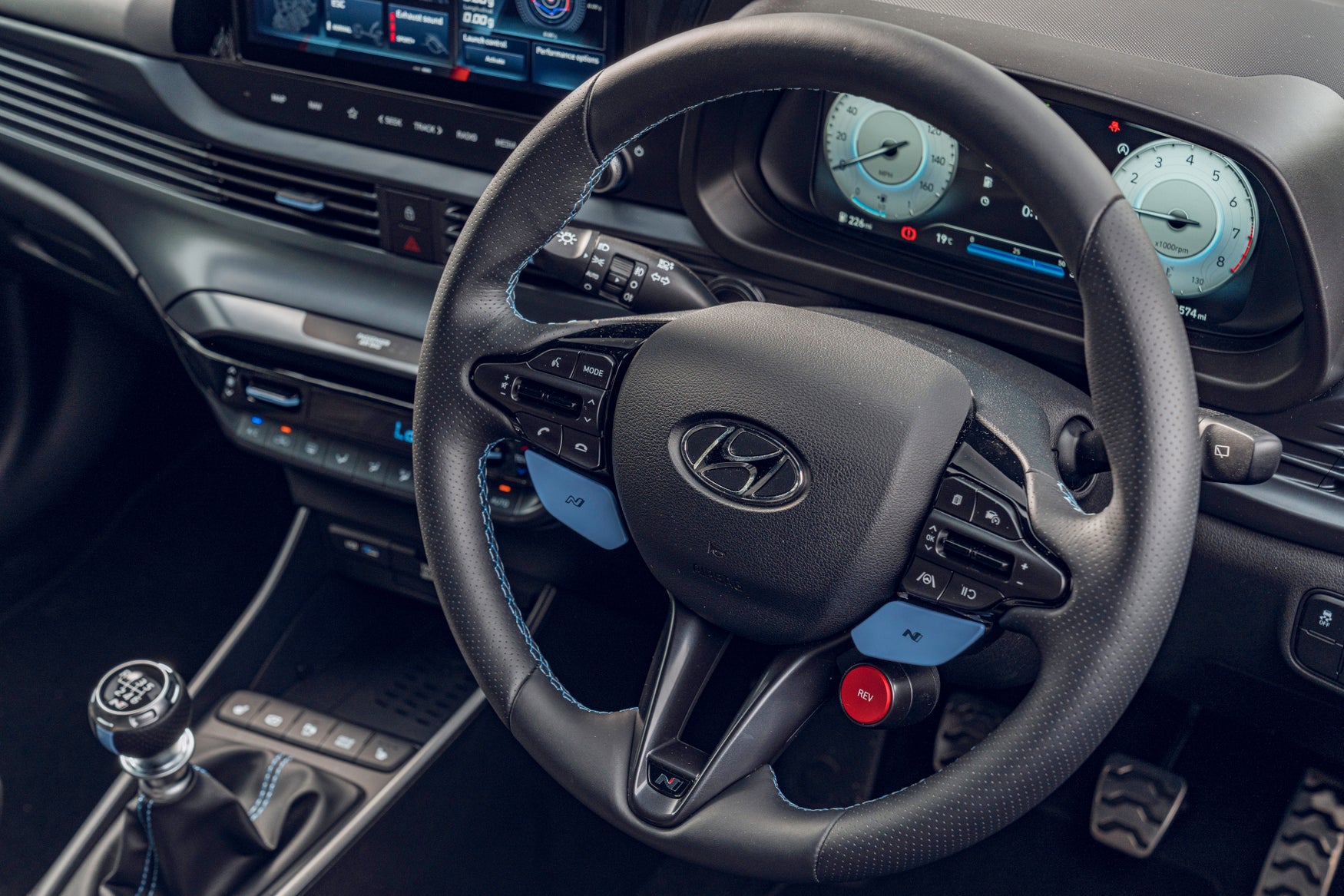 What's it like to drive?
The regular i20 supermini is a solid base to create a good hot hatchback. It's not ultimately as fun as a Ford Fiesta, nor is it as comfortable as a VW Polo, but it sits somewhere in the middle. Those sharp-edged looks also lend themselves to the N's sporting treatment.
But so much has been changed underneath - suspension, differential, brakes and engine - that even within the first few yards of driving the Hyundai i20 N, you can tell it shares very little with the base car in the way it drives.
It's the ride that highlights the differences most notably. That lower, stiffer setup means it feels quite harsh at low speeds, emphasising potholes and surface imperfections rather than smothering them. Unlike the bigger Hyundai N cars there is no adaptive damper option here, which would no doubt add to the price but also make the i20 N easier to live with as a daily driver.
Putting that aside, given the Fiesta ST doesn't have that option either and feels similarly firm around town, the i20 N's tight body control means it doesn't bounce too jarringly over rough roads. It also becomes more comfortable above, say, 40mph, where the dampers allow it to breathe with the surface a bit more. It might get pretty tiresome if your commute involves lots of rough roads, but it's not unbearable.
The trade off for the abrupt low-speed ride is superb handling. That limited-slip diff works really well in boosting grip, naturally stopping understeer out of a bend while avoiding the unnerving feeling of it tugging you this way and that.
The steering is direct and precise, and if you avoid the overly heavy modes, pleasingly weighted. It's not as sharp and darty as the Fiesta's, but some people might prefer this because it's easier to place on the road and doesn't feel nervy. Overall, the whole car feels incredibly well tied down with very little body roll or unruliness.
There's the engine, too, which even in its least shouty mode makes a rorty grumble on startup. The bassy exhaust note gets even more aggressive in N mode, matching what is a pretty impressive turn of pace for a small hot hatch. It's not quite as fizzy and characterful as the three-cylinder engine in a Fiesta ST, but it certainly delivers the goods.
The i20 N's rev-matching tech is excellent, too, flattering you on the downshifts through the slick six-speed manual gearbox. But our one grumble is the so-so throttle response, and the way it continues to rev even while you're changing up, which is a little irritating.
Learn to live with that, though, and it's very impressive. It's a different type of hot hatch to the Fiesta ST, with huge levels of front-end grip and a tied-down, neutral feel. The Ford has a bit more body lean, but also feels more playful and willing to let the back-end swing round into oversteer.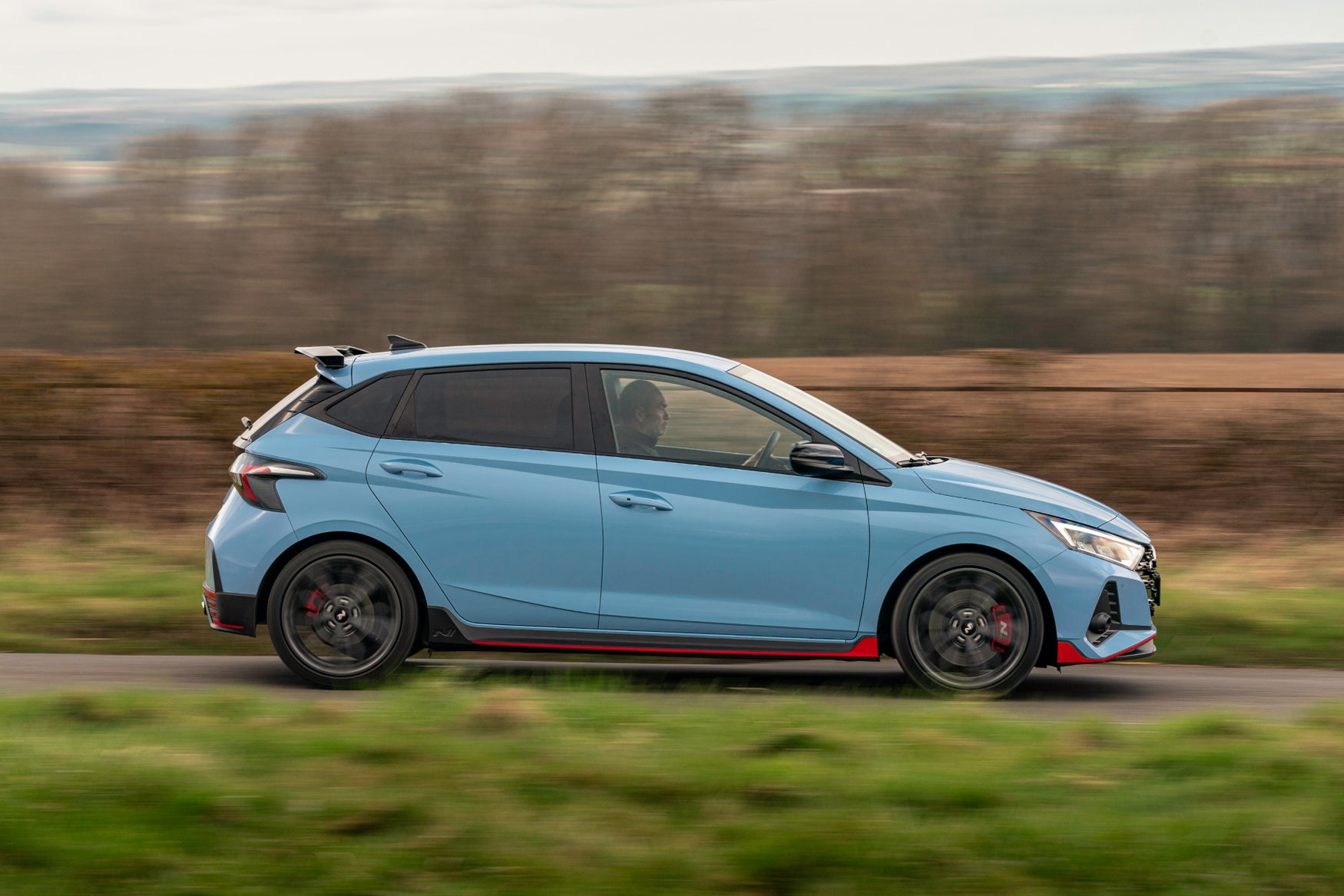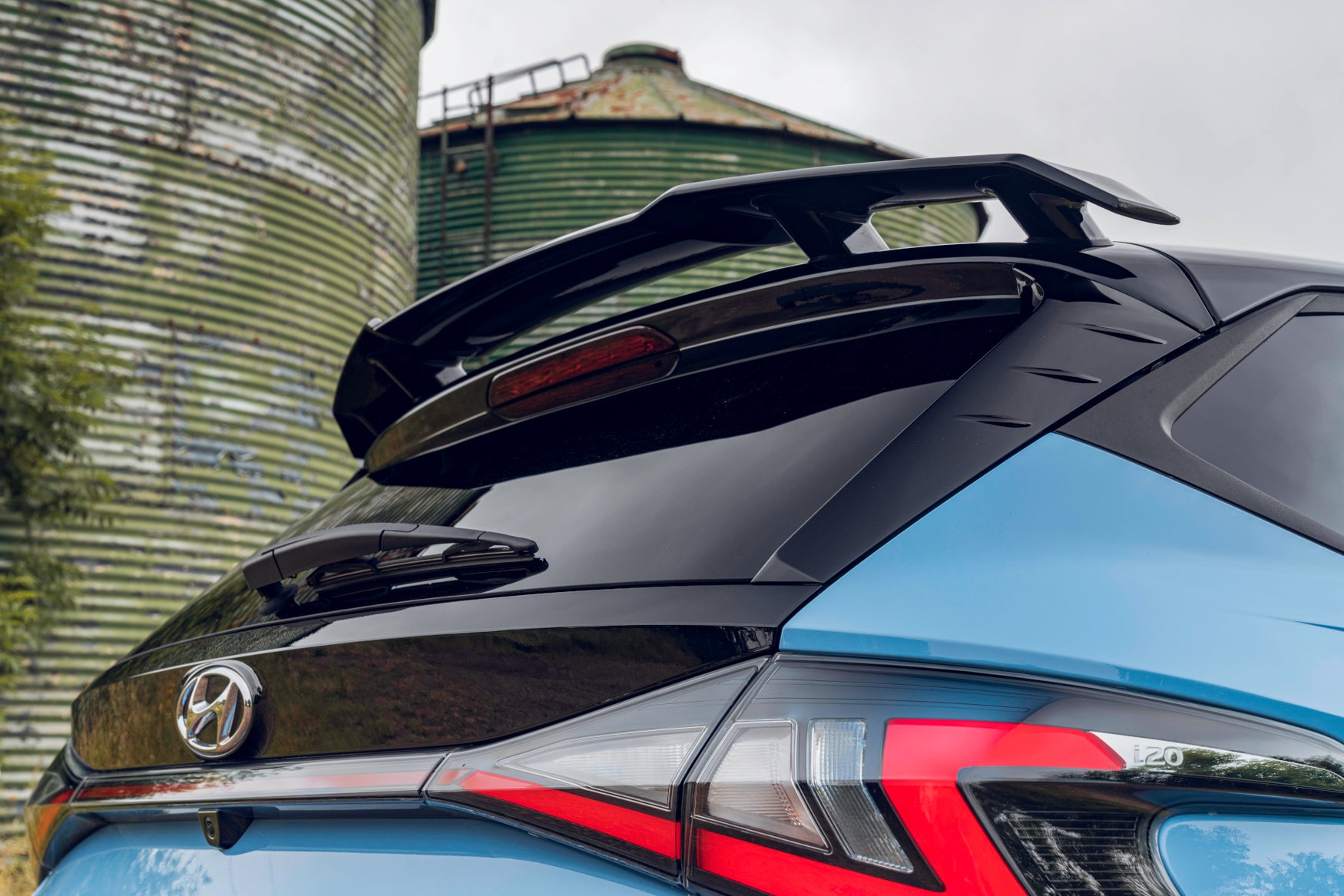 So is the Hyundai i20N better or worse than the Fiesta ST?
This is what matters most: the Ford Fiesta ST is such a brilliant small hot hatch that brands such as Peugeot and Renault, known for decades of brilliant fun small cars, have given up competing with it altogether.
So we can tell you that the Hyundai i20 N is a great hot hatch on objective merit. In some rational ways, certainly, it's actually better than the Ford: it'll probably carry more speed through a corner, it definitely has more space in the back and in the boot, and its interior looks and feels (for the most part) a little bit more expensive.
But will it put as big a smile on your face as often as the ST would? That would have to be a no. The question to ask yourself is: do you want the fastest small hot hatch? Get the Hyundai. Do you want the most fun small hot hatch? It has to be the Fiesta still.
Hyundai i20 N: the facts
Model tested: Hyundai i20 N
Engine: 1.6-litre 4cyl turbo petrol
Gearbox: Six-speed manual
Power/torque: 204PS/270Nm
Combined fuel economy: 40.4mpg
CO2 emissions: 158g/km
Price from: £25,250
As tested: £25,250
Hyundai's N models are its sportiest and most focussed, developed by a specific team for better performance and handling. The 'N' stands both for Namyang, Hyundai's global R&D base in Korea, and Nurburgring, an iconic German racing circuit where Hyundai develops its N models.
Hyundai N models have significantly more performance and sharper handling than Hyundai's N-Line models. N-Line is primarily a sporty-looking trim level, a bit like Volkswagen's R-Line.
The Hyundai i20 N is very good hot hatchback: fast, really grippy and planted and it certainly looks the part. It's perhaps not as entertaining as a Ford Fiesta ST, however.