First drive: Hyundai Kona N 2022
First drive: Hyundai Kona N 2022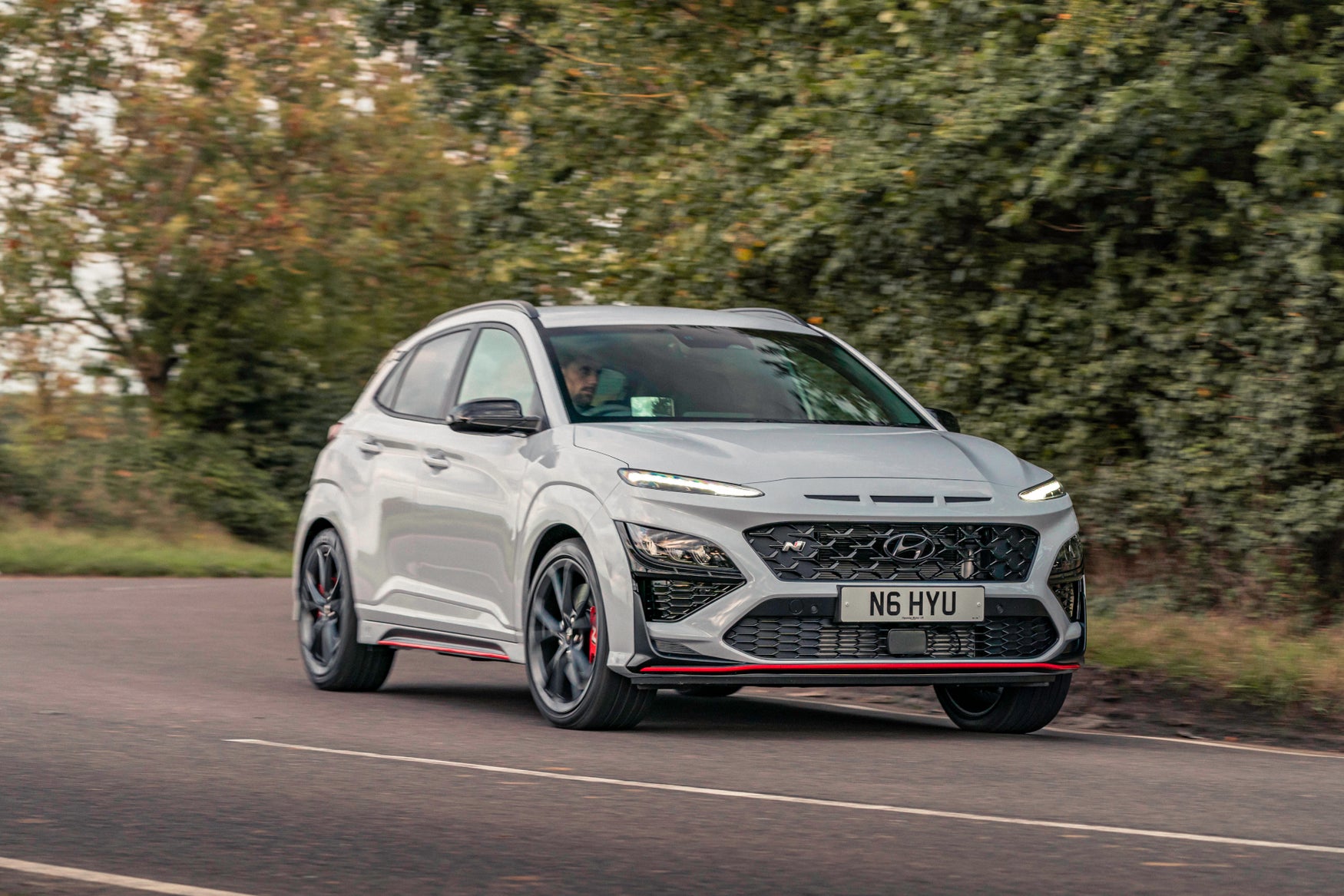 Best bits
One of the most fun to drive small SUVs
A bit more comfortable than other Hyundai N cars
Generous level of equipment
Not so great
Ford Puma ST is much more affordable
No manual gearbox option
Styling definitely isn't to all tastes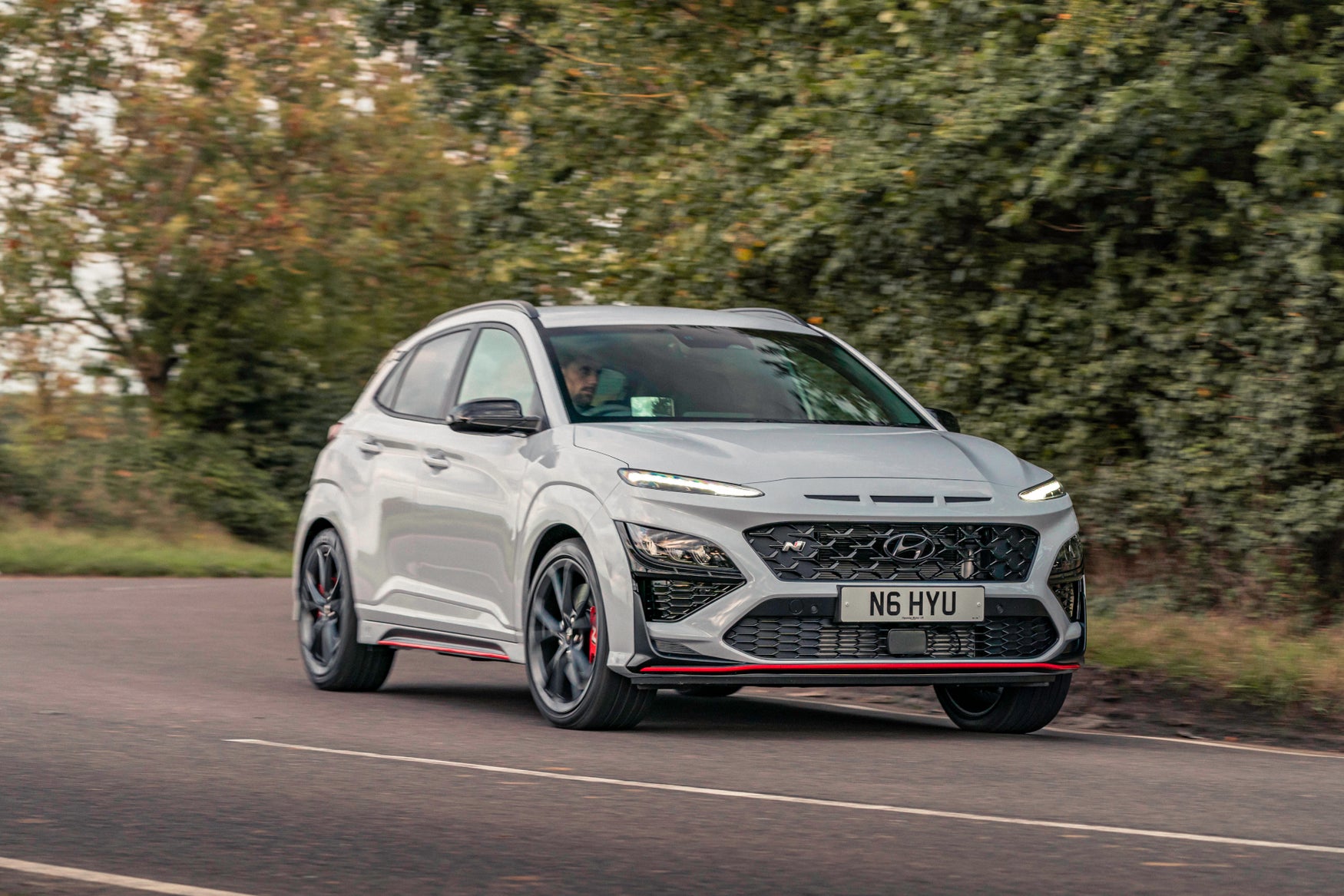 What is it?
The latest in a growing sector of sporting small SUVs based on hot hatchbacks. The Kona N is also Hyundai's first raised-up model from the now well-established N division, following the i30 N and smaller i20 N.
The Kona N is actually based on the i30 N under that, erm, distinctive body. It uses the same 280PS 2.0-litre turbo petrol engine, a similar suspension set-up and power goes through the front wheels only despite its SUV profile. It's also available with the same eight-speed dual-clutch automatic gearbox, although unlike the i30 N the Kona N doesn't have any manual option.
It doesn't actually ride any lower than a regular Kona, meaning that it can (in theory) still be used to mount kerbs on the school run if it needs to. But everything else is different: the body is stiffer and stronger, there's a limited-slip differential to help the front wheels put all that power down, and there are all sorts of modes to adjust various driving parameters. Hyundai has even given it a manual handbrake, unlike the normal Kona, to appease old-school driving enthusiasts.
Of course, you don't do all that and leave the new car looking like any old Kona. To that end, Hyundai has drafted in a load of extra front grilles, some questionable fake vents below the bonnet, bigger wheels, red brake calipers and a chunky rear bumper design with, you guessed it, more fake vents. It's certainly pumped up and is anything but dull, yet we don't think anyone would call it elegant.
The exterior styling might divide opinion, but the interior is a bit less 'out there'. There's the usual large central infotainment screen and (unlike the i30N) digital dials as standard. But there's also a pleasing mix of physical buttons, most noticeably in the Kona N for the drive modes and settings on the steering wheel and around the gearlever. You also get figure hugging sports seats, of course.
There are rivals for the Hyundai Kona N, which include the Ford Puma ST, Volkswagen T-Roc R and Cupra Formentor. But it's not a direct competitor for any of those, which we'll discuss in the next section.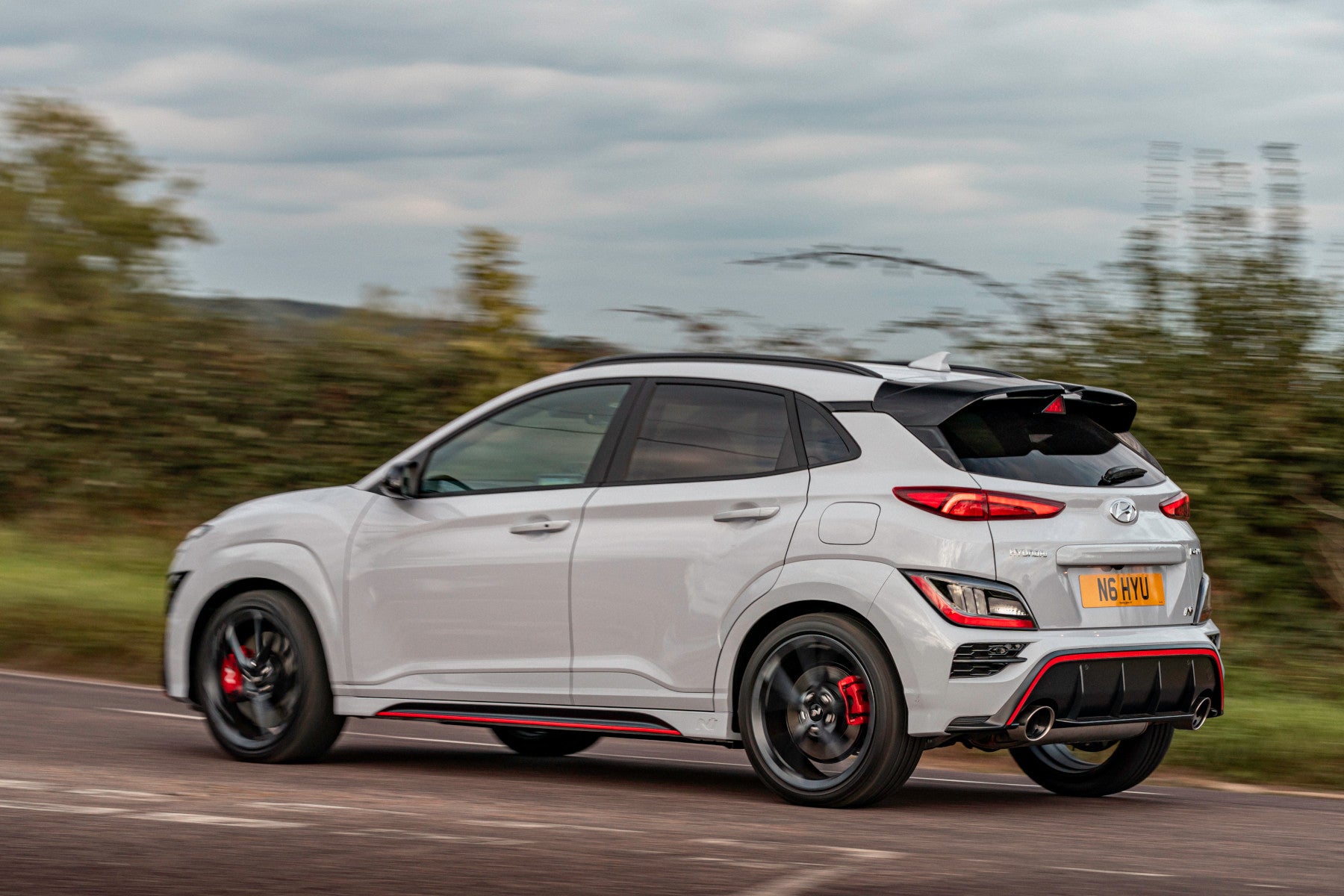 A red and black bodykit helps mark this out from any other Kona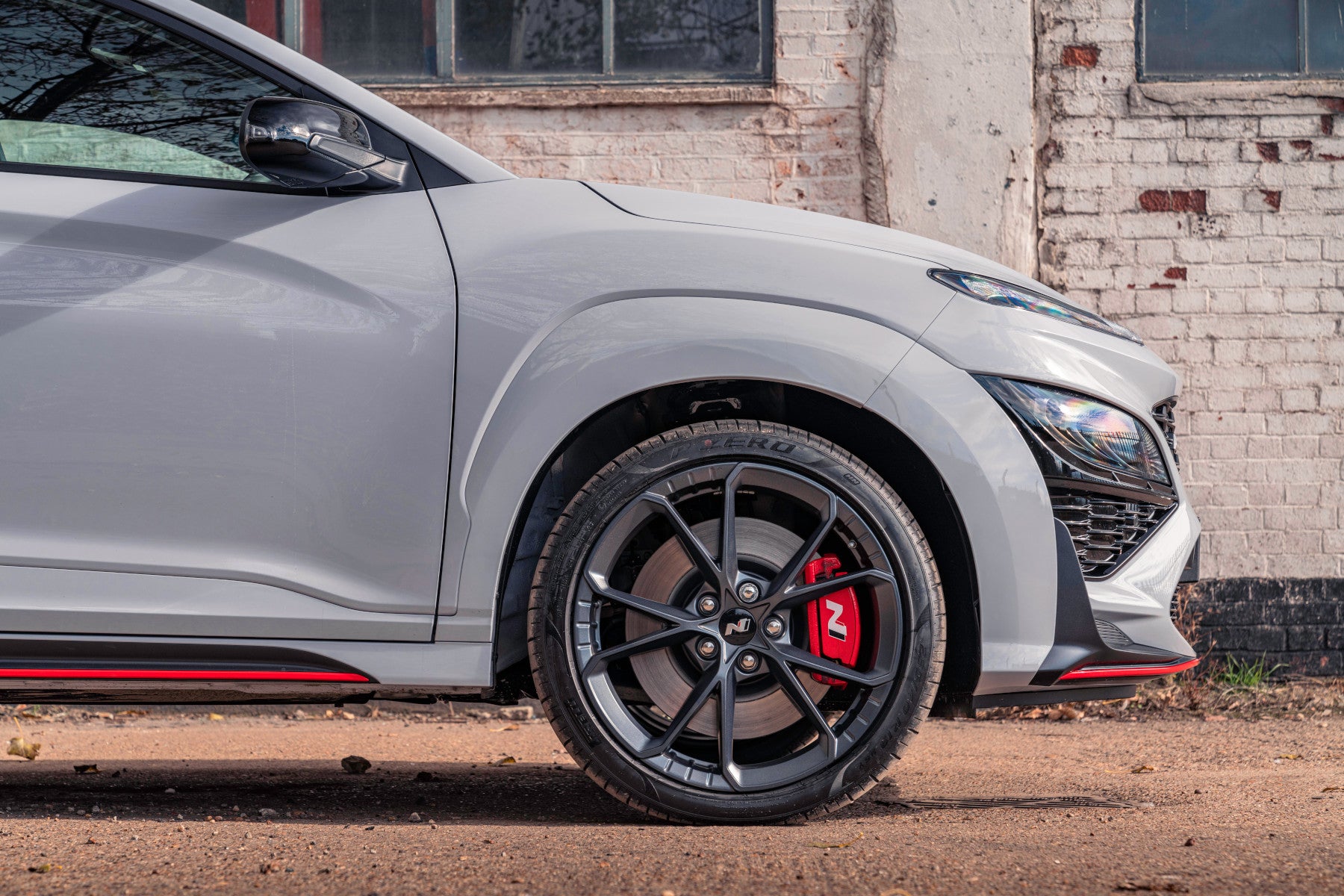 The Kona N gets lower and stiffer suspension, beefier brakes and Pirelli tyres designed specifically for it
How much does it cost?
The Hyundai Kona N starts from just under £36,000 at the time of writing. That might sound like a lot, but literally everything is thrown in as standard: electric, heated and even ventilated front seats, a suite of parking cameras and sensors, the full roster of infotainment features and even a premium sound system. The only optional extras are paint colours.
The Ford Puma ST looks a better deal at nearly £6000 less on cash terms, but it's significantly less powerful than the Hyundai, and some features such as the limited-slip diff and driver assist tech are on the options list.
At the other end of the scale, the T-Roc R and Formentor are more expensive, and still demand you peruse the options list for certain features. But they have two more driven wheels, and (if the Cupra is in top-spec 310PS form) both would monster the Kona N away from the lights. In many ways, then, the Kona N is in its own middle ground.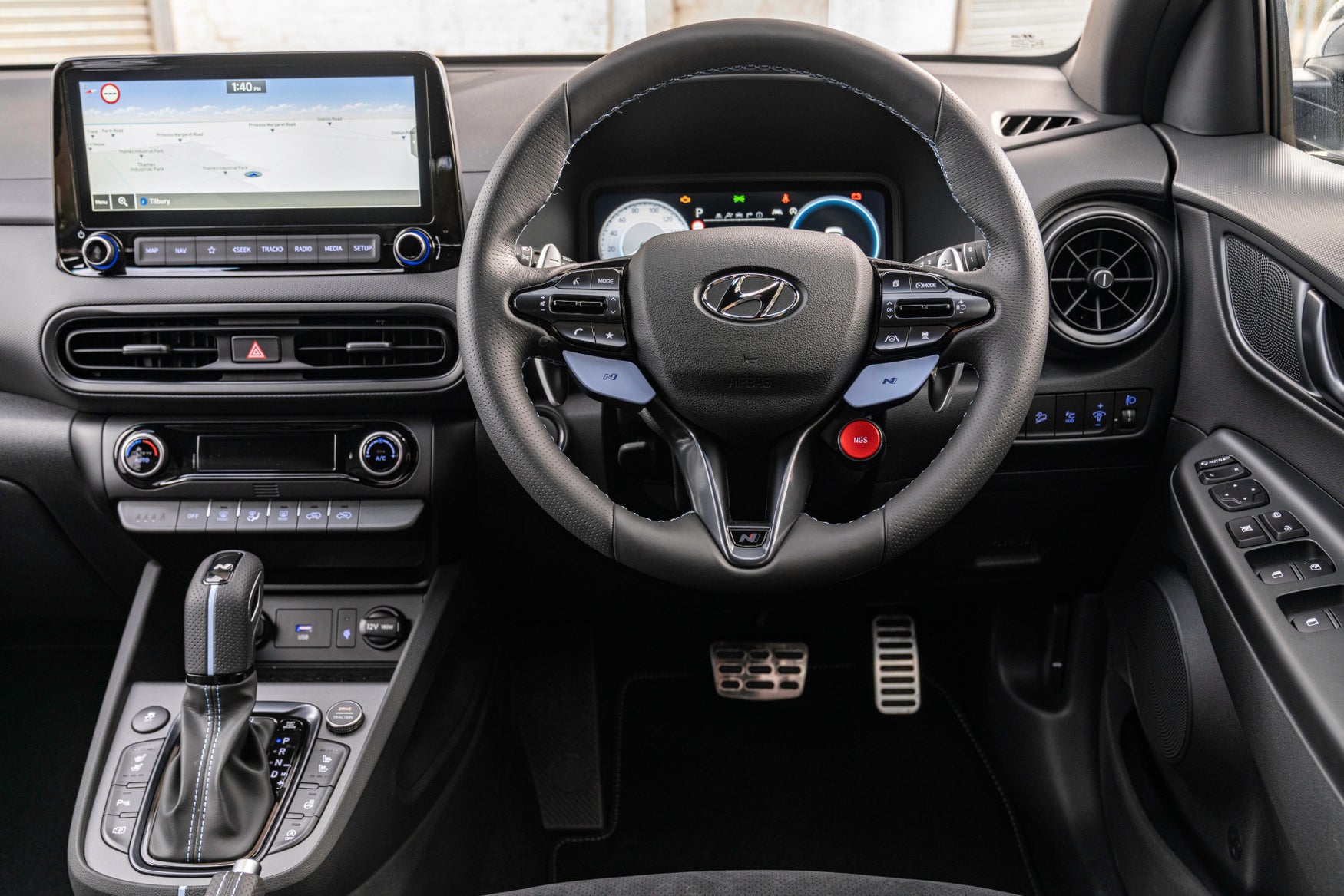 What's it like to drive?
Early versions of the Hyundai Kona base car were not brilliant to drive, but as part of its facelift in 2021 the ride and handling got closer to the class standard. The Kona N just dials everything up to 11 in the pursuit of real driver appeal.
In many ways, the Kona N driving experience shouldn't come as a surprise if you've spent any time in the i30N. For all intents and purposes it feels very similar, just with a shorter wheelbase and taller body.
The engine is just as keen to egg you on. Even with the dual-clutch gearbox, which is actually pretty smooth if you're just pottering about, you always get the sense this motor is happier being let loose and delivering its full performance than it is on a gentle cruise.
Even though it's never truly quiet, you can make the exhaust note more raucous by fiddling around with the sportier engine map modes in the touchscreen menu. But to make it easier, Hyundai has given you a switch on the steering wheel called 'N Grin Shift'.
That might sound corny, but it activates an overboost mode giving an extra 10PS for 20 seconds, while ramping up the gearshift ferocity and making lots of pops and crackles. It's certainly fast, and unlike the VW Group's hot 2.0-litre engine it doesn't deliver all its power low down and fade out at the top of the rev range - the harder you work the Kona N, the more it delivers.
N Grin Shift is just scratching the surface of the Kona N's ability to let its driver set the car up exactly how they want it. There are four separate settings for the gearbox, two for the limited-slip diff, three for the suspension and a few more for the steering and throttle response. It'll even detect a twisty road up ahead and prompt you to change the driving modes.
It's worth spending some time finding the right feel, as the Kona N can become far too hardcore in the wrong mode. This is most apparent in the suspension – keep it in its softest 'normal' tune and it's actually the right side of firm, just taking the edge of the worst potholes. But the harder modes go from too stiff to utterly intolerable on British roads. You really can mess this car up if you're not careful.
We found it best to keep the suspension in its softest setting, the steering weight in a middling tune and the engine and gearbox in their sportier modes, then set that as a custom preset mode. That results in a really fun and entertaining drive - it feels agile and tied down, the steering is positive and precise, the gearshift is quick and the front diff means it puts it tugs itself out of a corner more like a sports car than a tall SUV.
We reckon in this state of tune the ride is actually more civilised than the i30 N, and certainly less jiggly than in the i20 N (which doesn't have adaptive dampers). You still know very clearly that it's not a regular small SUV, but you don't wince over every single pothole.
There are niggles: the gearshift paddles feel cheap (something that the Kona N's VW Group rivals also suffer from), it'll be pretty thirsty if you use the performance and there's quite a bit of road noise at speed. Like the standard Kona it's also not all that practical – there's less space in the back than most rivals, while the boot isn't all that huge either.
There's little to complain about up-front, though. The driving position is sporty and low-slung, material quality seems decent and the infotainment is intuitive enough to operate. We like the flashes of flames on the digital dials, too, showing Hyundai wants to ensure this car has character.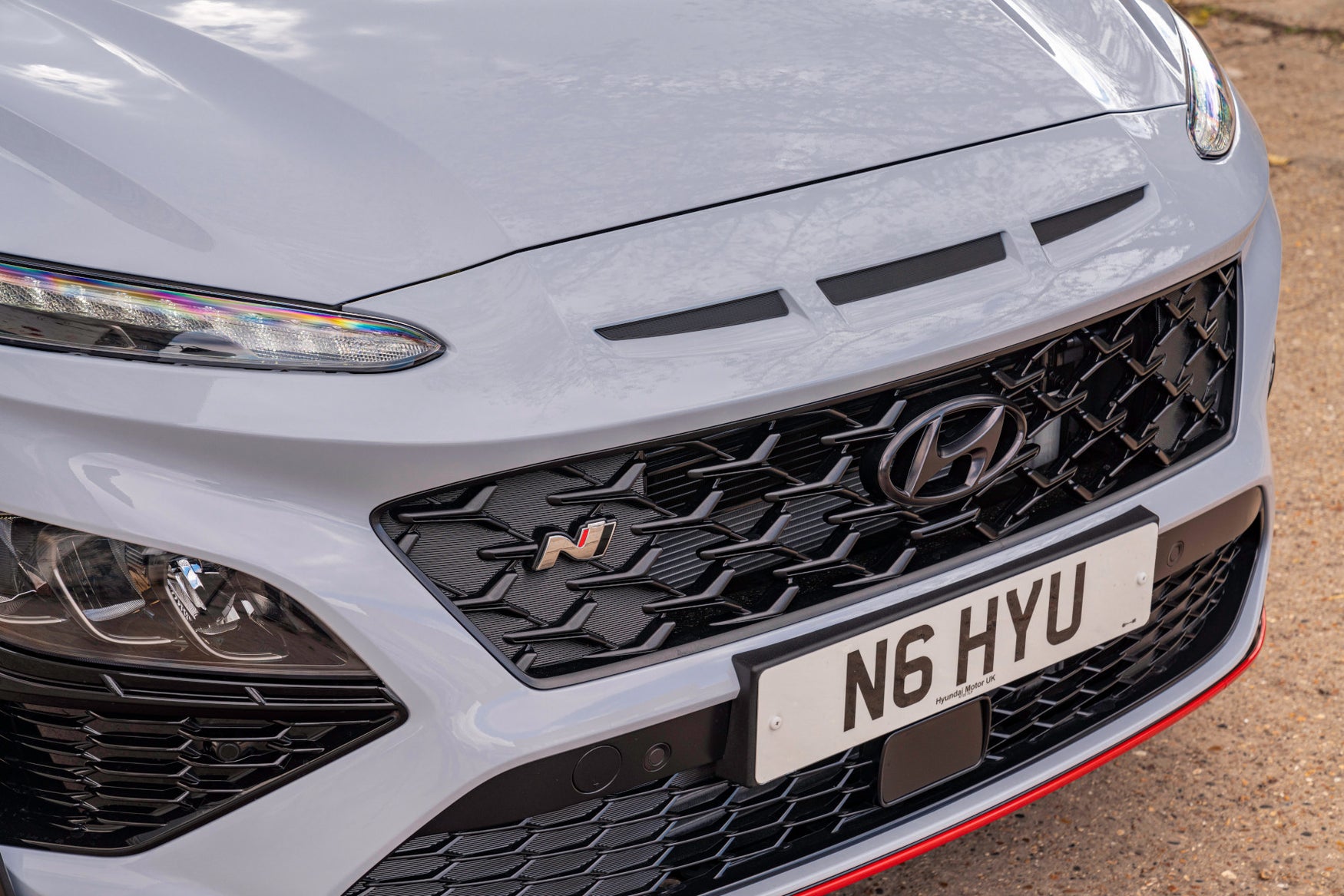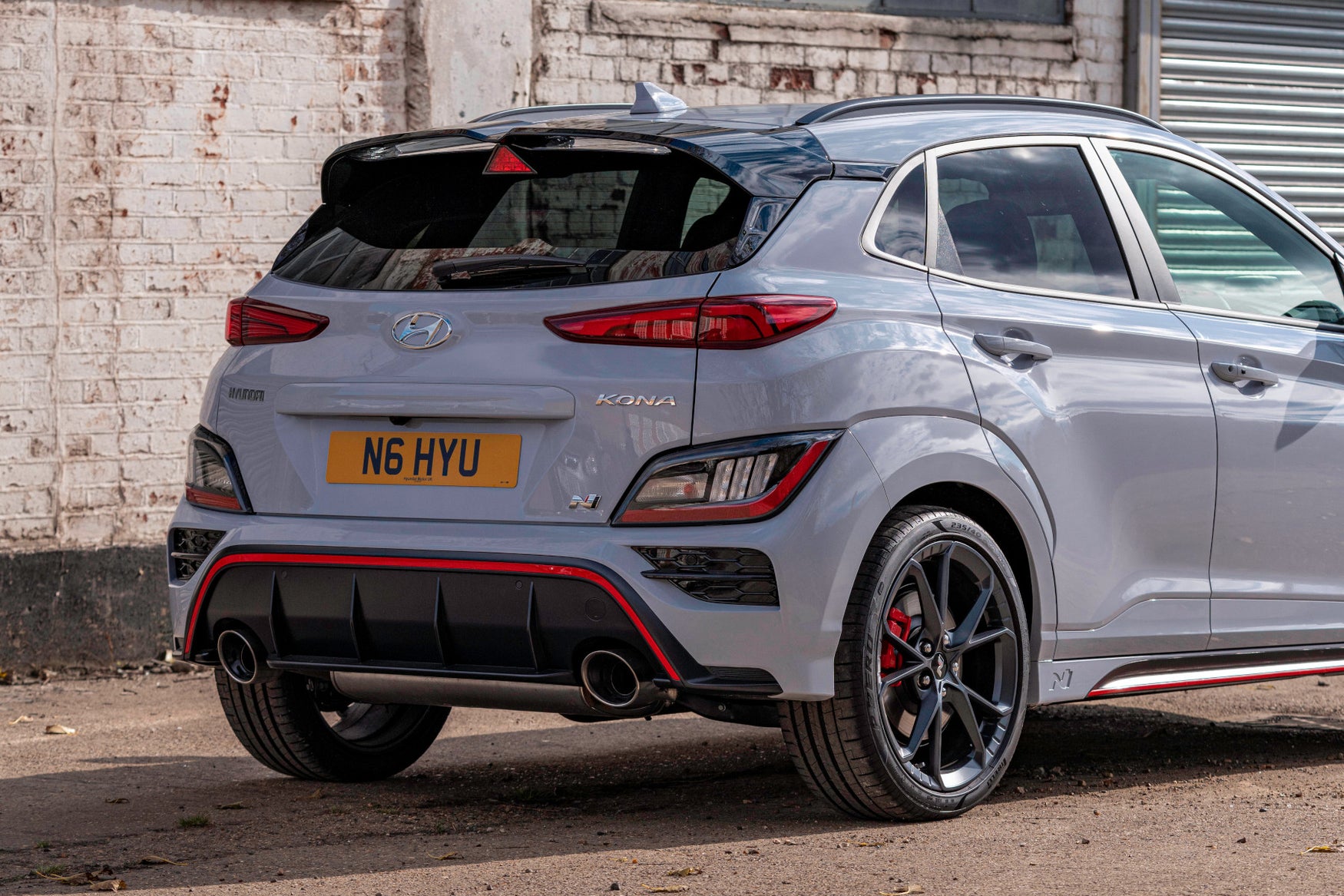 So is it worth picking the Hyundai Kona N over its rivals?
There's a lot to like about the Kona N. It's fun, boisterous, and never dull to drive, while there's a generous equipment tally and a nice front cabin. It's also a little less focused and firm than other Hyundai N models.
We reckon the adaptive dampers and less darty steering makes it a little more tolerable in the daily grind than the Puma ST, which is even more playful when you're on it but a bit tiring when you just want to get home. The Hyundai is less comfortable and refined than the VW Group rivals, meanwhile, but more entertaining when you're in the mood.
But as many people expect more practicality from small SUVs. The Puma, for example, is noticeably roomier for passengers and luggage than the Fiesta on which it's based. The Kona, though, just isn't all that spacious or practical given its class positioning.
We'll let you make up your own mind about the styling, though. What we will say is the Kona N might not be the consummate all-rounder, but it's got a real sense of personality and feeling of fun that's sorely missing in some more expensive hot SUVs.
Hyundai Kona N: the facts
Model tested: Hyundai Kona N
Engine: 2.0-litre 4cyl turbo petrol
Gearbox: Eight-speed dual-clutch automatic
Power/torque: 280PS/392Nm
Combined fuel economy: 33.2mpg
CO2 emissions: 194g/km
Price from: £35,820
As tested: £35,820
Hyundai's N models are its sportiest and most focussed, developed by a specific team for better performance and handling. The 'N' stands both for Namyang, Hyundai's global R&D base in Korea, and Nurburgring, an iconic German racing circuit where Hyundai develops its N models.
Hyundai N models have significantly more performance and sharper handling than Hyundai's N-Line models. N-Line is primarily a sporty-looking trim level, a bit like Volkswagen's R-Line.
The Hyundai Kona N is an excellent small performance SUV. It's actually the most liveable of all the Hyundai N cars because it has a more comfortable ride, but it's still fast and fun to drive.