Isuzu D-Max DL40 Double Cab First Drive 2021


Best bits
Long list of standard safety equipment
Properly capable off road
Likely to be very reliable
Not so great
Engine lacks pulling power compared to rivals
Dated suspension setup
Not really a genuine SUV alternative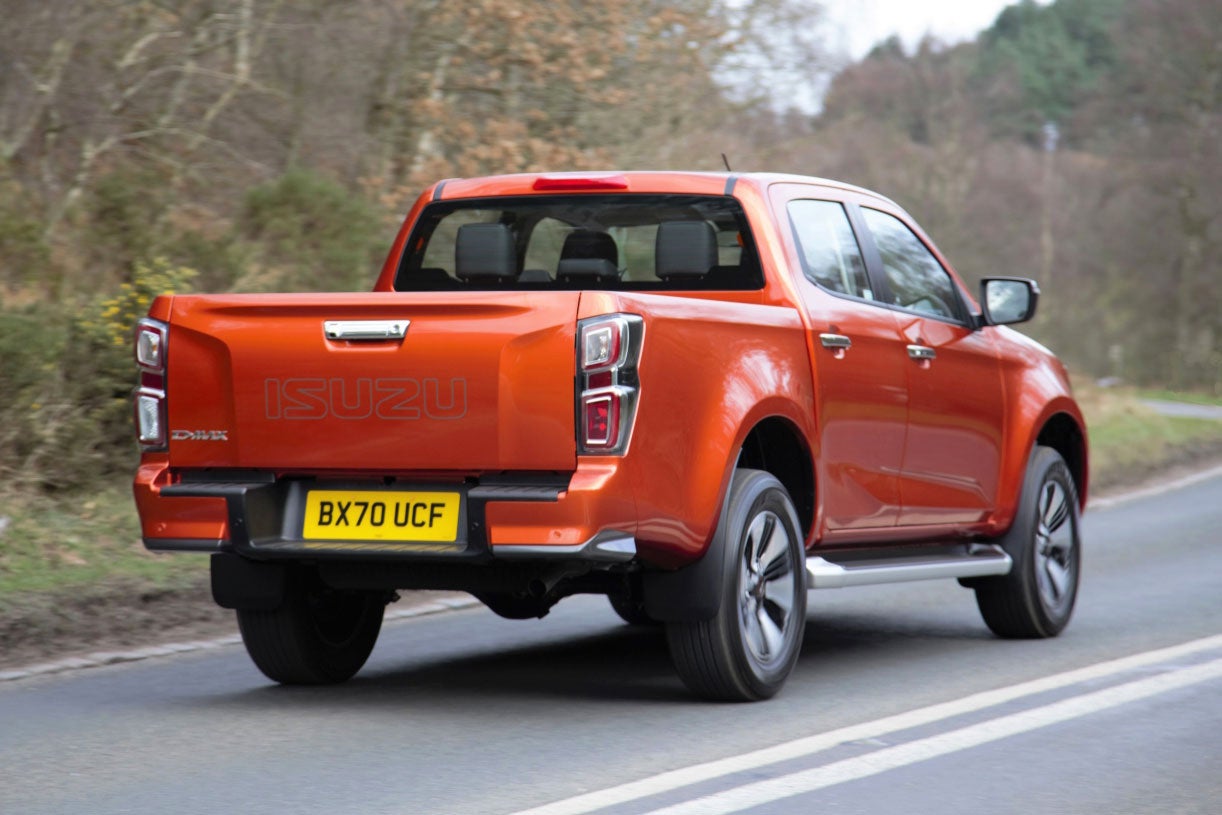 What is it?
This is the vehicle Isuzu is going to use to take over the world. Or the pick-up world, at least.
You see, the Isuzu D-Max has developed quite a following since it first arrived in 2012. From farmers to mountain bike enthusiasts, the D-Max has built a fan base of people who want a no-nonsense, dependable pick-up truck with genuine off-road ability.
However, the D-Max is now set to lose a number of its key rivals. Mitsubishi is pulling out of the UK and taking with it the L200; the next Nissan Navara won't be sold here; while the Navara-based Mercedes X-Class has already been axed. You can't currently buy a Volkswagen Amarok, and a Land Rover dealer will look at you strangely if you ask for a pick-up version of the new Defender.
So, suddenly, the pick-up market is down to three key vehicles: the Toyota Hilux, Ford Ranger and the Isuzu D-Max. And Isuzu is capitalising on that by launching a heavily updated model available in a range of shapes and sizes, and numerous different trim levels – from the basic to the actually quite luxurious.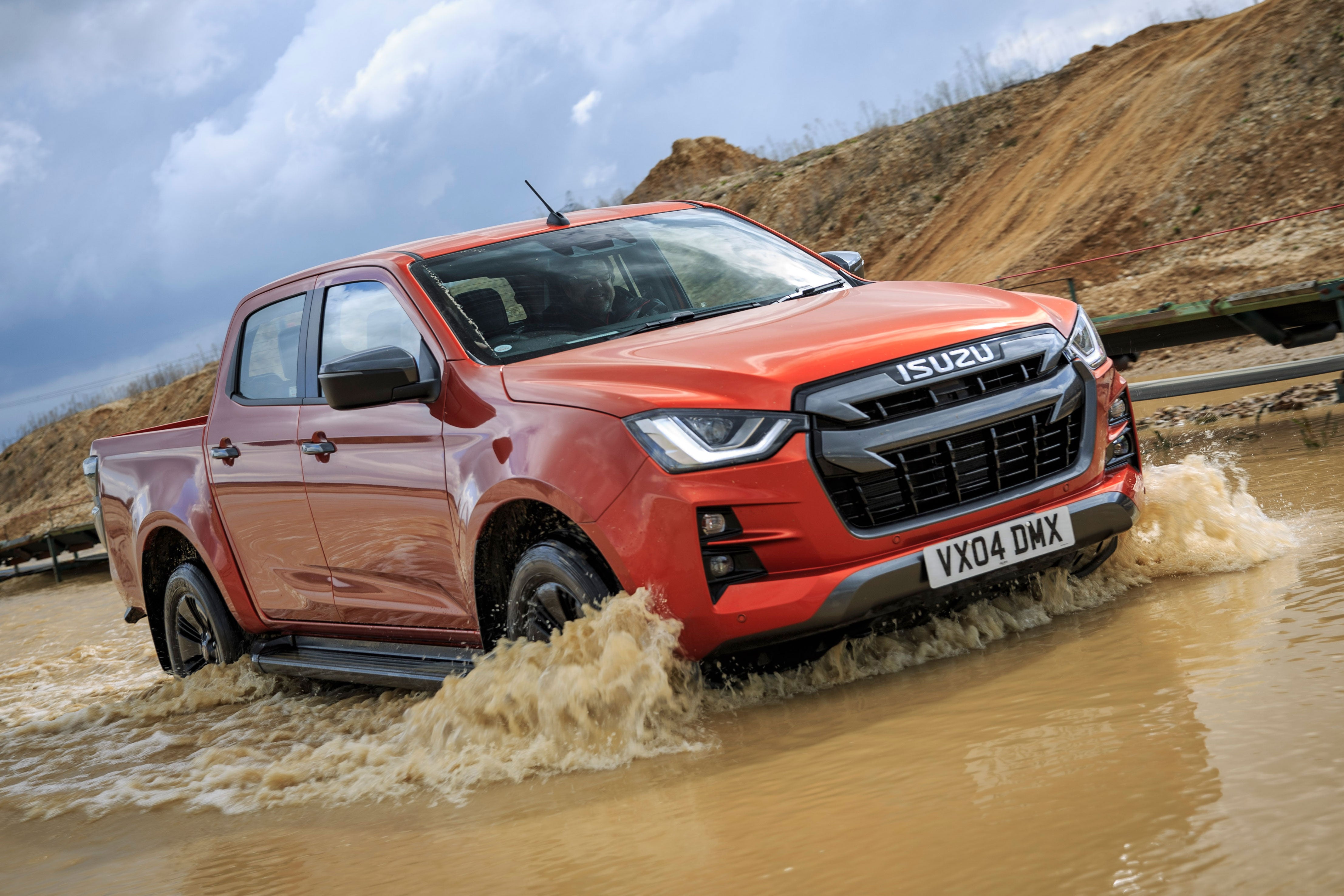 'DL' stands for 'diff lock'.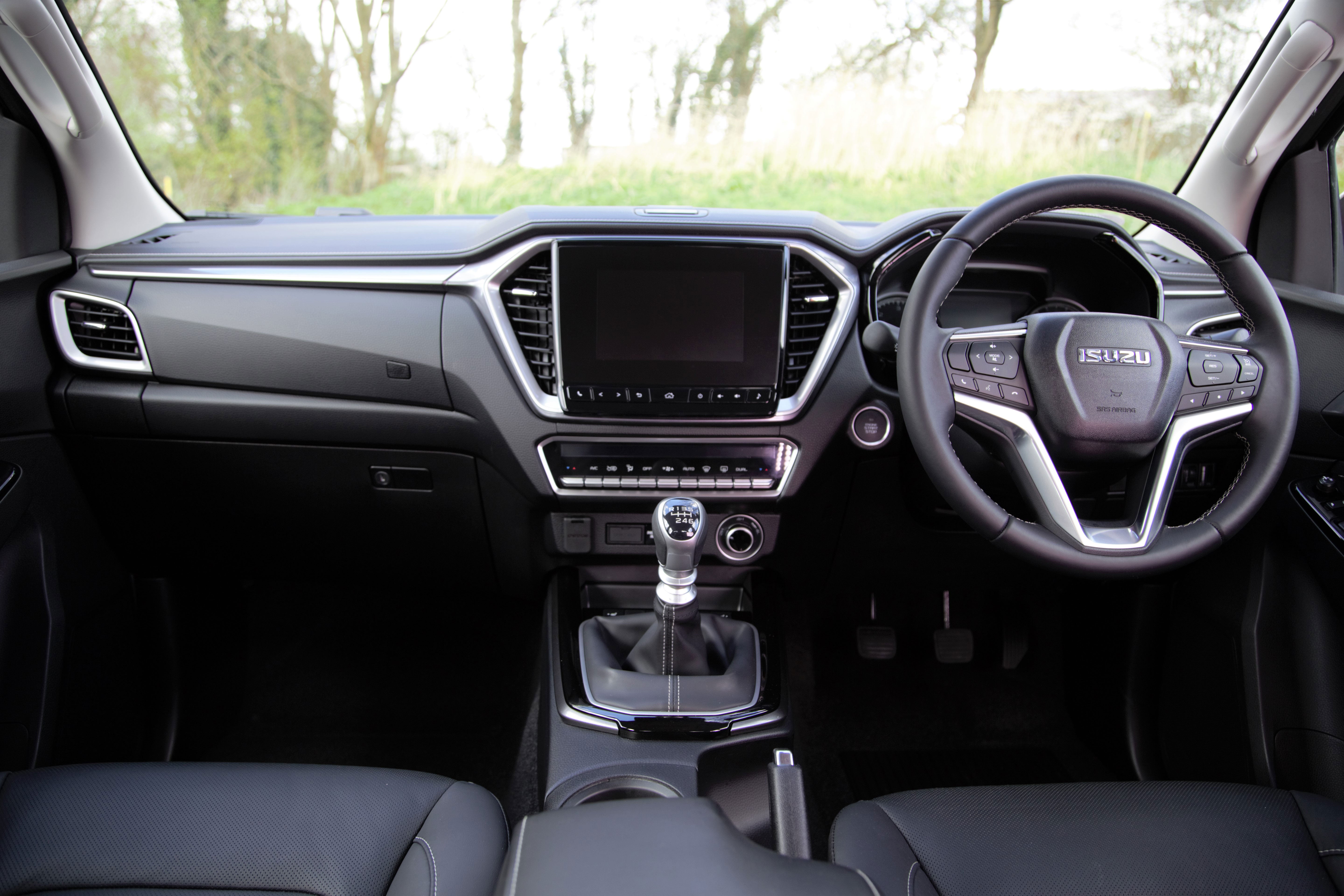 A seven-inch media system with Android Auto and Apple CarPlay is standard on the D-Max DL40.
Luxurious..?
OK, 'luxurious' might be an exaggeration. But it is surprising how different a top-spec V-Cross feels compared to the boggo Utility model. The DL40, which we're testing here, comes with a seven-inch touchscreen media system (with Apple CarPlay and Android Auto), dual-zone climate control and heated leather seats. All the kind of features you might expect in a crossover SUV, not a truck.
The cabin is pretty spacious, with the sort of high seating position that makes you feel invincible on the road. There are loads of clever storage areas (we counted no fewer than 10 cup holders and two glove boxes), and those in the front will get comfortable fairly quickly.
As this is a double cab model (like most of the D-Max trucks Isuzu expects to sell, in fact), five seats are standard. The redesigned exterior with a stubbier front end means there's more interior space than before, while wider door openings help with access. It's certainly not as comfortable as something like a Volkswagen Tiguan, but the D-Max is more than pleasant enough for a workhorse like this.
Any misconception that the D-Max is an SUV will be dashed as soon as you start the engine and hit the road. It's fairly ponderous, although its old-school leaf-sprung suspension means it clatters over bumpy surfaces.
There's just one motor available: an updated version of the old 1.9-litre diesel found in the previous model. We don't really mind a bit of noise and vibration in a car like this – it adds to its 'rugged' vibe, but it could certainly be more refined.
With 164PS and 360Nm of torque, it won't pull a trailer as well as a Toyota Hilux (with its 420Nm of torque). These figures do contribute to a maximum payload of more than 1000kg (depending on trim level) and a braked towing capacity 3500kg – two very respectable figures.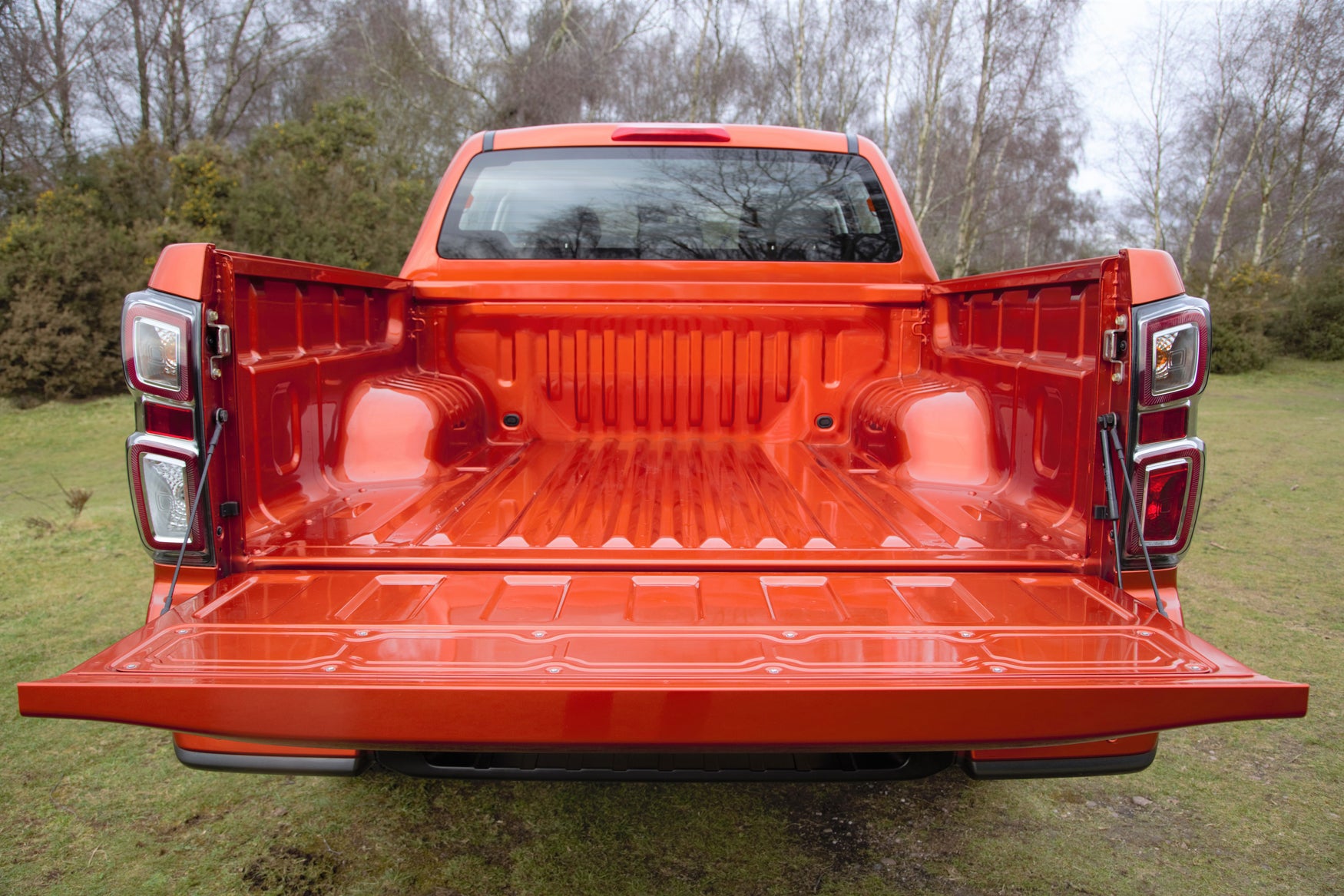 What's the D-Max like off road?
Pretty unstoppable, really. OK, a Defender might have the edge, but that's by the by as you can't currently buy a Defender pick-up truck.
An approach angle of 31% means you can point it at some pretty serious slopes, while there's a range of knobs and levers on hand for when the going gets properly tough. Four-wheel drive can be selected on the move, while there's a low-range gearbox to aid low-speed maneuvering. A rear-diff lock is standard on DL20 models and above (that's what 'DL' stands for…), while standard features like Hill Descent Control help you remain in control.
Pleasingly, Isuzu has lifted a load of safety kit from the Subaru car range to make the D-Max one of the safest pick-up trucks you can buy. All models come with a host of advanced driver assist systems, including an Autonomous Emergency Braking system and Lane Departure Warning. These are powered by a twin-camera setup which (Isuzu claims) works better than radars.
Our DL40 automatic test car goes further, with desirable safety features like a Rear Cross Traffic Alert and a clever Pedal Misapplication System. This will detect if there's a wall (or any other obstacle) in front of you when setting off and ask if you really want to drive towards it.
Prices for the new D-Max start from around £21,000 (before VAT), rising to more than £32,000 for top-spec models. The DL40 Double Cab Auto we've tested here will set you back £31,259, which makes it a competitive alternative to the Ford Ranger and Toyota Hilux. Chuck in generous equipment levels, a five-year warranty a reputation for being indestructible, and the latest D-Max is more convincing than ever.
If you're looking for the older version, you need our Isuzu D-Max (2012-2021) review.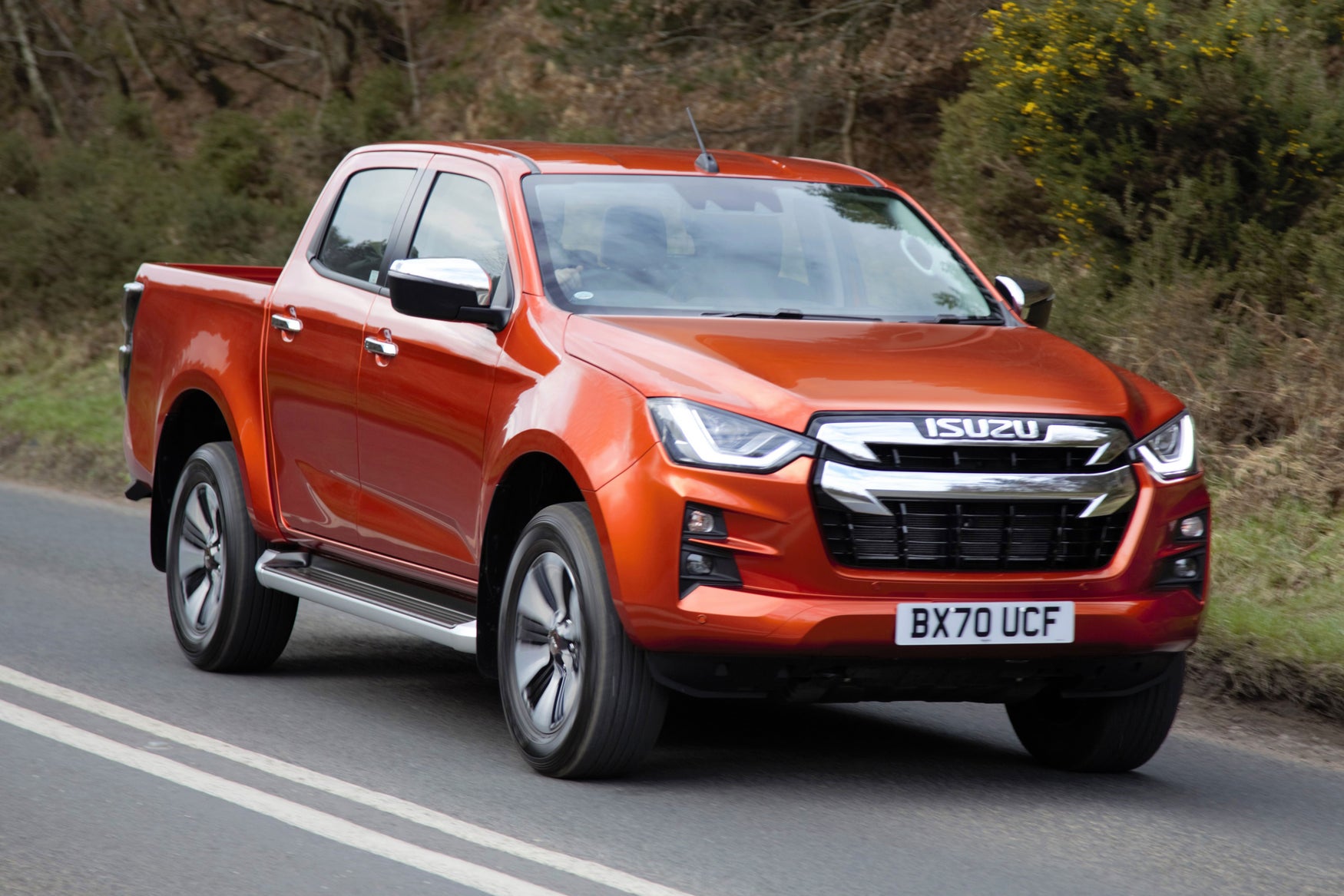 Watch: the new Isuzu D-Max
Isuzu D-Max: the facts
Model tested: Isuzu D-Max DL40 Double Cab
Engine: 1.9-litre diesel
Gearbox: Six-speed auto
Power/torque: 164PS/360Nm
Combined fuel economy: 30.7mpg
CO2 emissions: 241g/km
Price from: £21,009 (ex VAT)
As tested: £31,259 (ex VAT)
The Isuzu D-Max is a really competent four-wheel-drive pick-up truck with generous equipment levels and a reputation for dependability. It might not be as posh as something like a Mercedes X-Class, but it's a vehicle you can rely on for work and play.
The Isuzu D-Max is a very capable off-road pick-up truck. Most models are four-wheel drive, while a rear diff lock is standard on DL20, DL40 and V-Cross variants.
Isuzu has a strong reputation for reliability. The 1.9-litre diesel used in the latest D-Max is an updated version of the engine used in the outgoing model. It might not be the most refined engine in the world, but it scores well for robustness.