First drive: Land Rover Defender 110 D250 Hard Top
First drive: Land Rover Defender 110 D250 Hard Top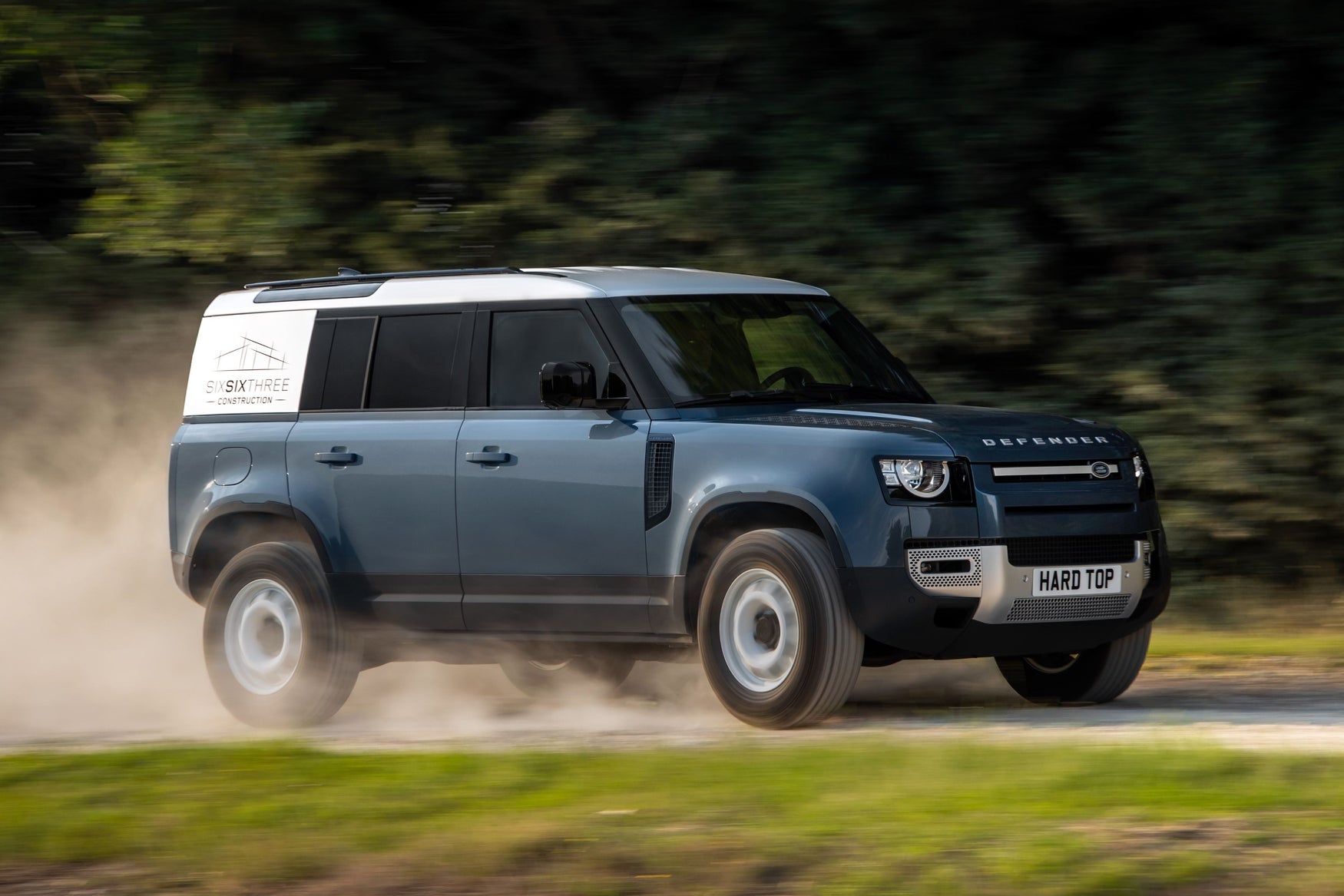 Best bits
Refined, practical and brilliant to drive, this is probably the best 4x4 van money can buy
Punchy six-cylinder diesel engine is perfect for off-roading and towing
Filled with useful tech and available with three seats in the front
Not so great
Expensive to buy and run
Practicality limited by the lack of bulkhead load-through hatch
Pick-up rivals are cheaper to buy and have greater payloads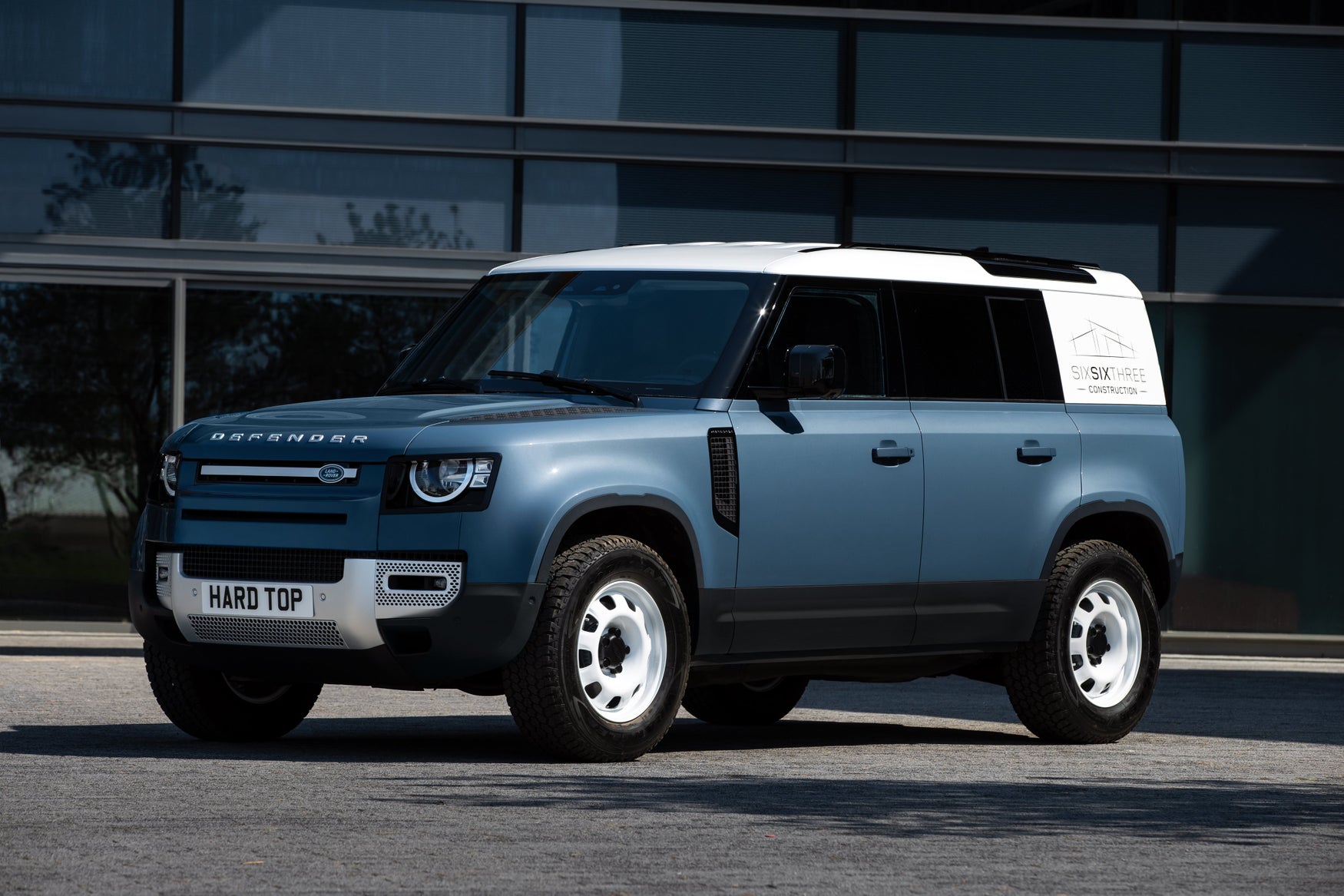 What is it?
Hold on to your gilet and Wellington boots, because here comes the new Land Rover Defender Hard Top van. This is the 4x4 commercial vehicle that farmers, builders and small businesses have been waiting for because it's the spiritual successor to the Series 1 Hard Top Land Rover from the 1950s.
Based on Land Rover's rugged SUV, the Defender Hard Top blends the comfort and refinement of a luxury 4x4 with the practicality and loadspace of a van. Available as a short '90' wheelbase or long '110' wheelbase, the Defender Hard Top provides 1355 and 2059 litres of cargo space respectively which makes it perfect for lugging big, heavy things across fields.
The load area is covered in hard-wearing plastics and features a rubber floor covering that can be easily hosed down. You also get LED interior lighting and lockable underfloor storage compartments that should make it easy to find and secure tools on those dark mornings or evenings.
Land Rover says the Defender Hard Top is a proper workhorse - and it has the numbers to back its words. Maximum payloads, for example, range from 670kg to 800kg. You also get Land Rover's powerful six-cylinder turbodiesel engine that will tow up to 3500kg. Off-roading should be a breeze thanks to the Defender's wading depth of 900mm, while its boxy body shape gives the 110 approach, breakover and departure angles of 38, 28 and 40 for tackling the toughest off-road conditions.
Obviously, it almost goes without saying that you get four-wheel drive as standard. But unlike Land Rovers of old, you don't need a degree in mechanical engineering to get the best out of the 4x4 system. The Defender Hard Top doesn't have any levers or knobs, instead, it uses an electric system - called Terrain Response 2 - that controls all of the technical stuff. All you have to do is tell it what type of terrain you are driving on - mud, sand, snow - and the system will automatically direct power to whichever axle or wheel needs it the most.
The Defender Hard Top rivals pick-ups like the Mercedes-Benz X-Class and Volkswagen Amarok; however, while most pick-ups will carry four adults in comfort, the Defender is supplied with just two seats as standard. But you can upgrade to a three-seater with Land Rover's optional 'jump seat' - adding a foldable seat in the middle.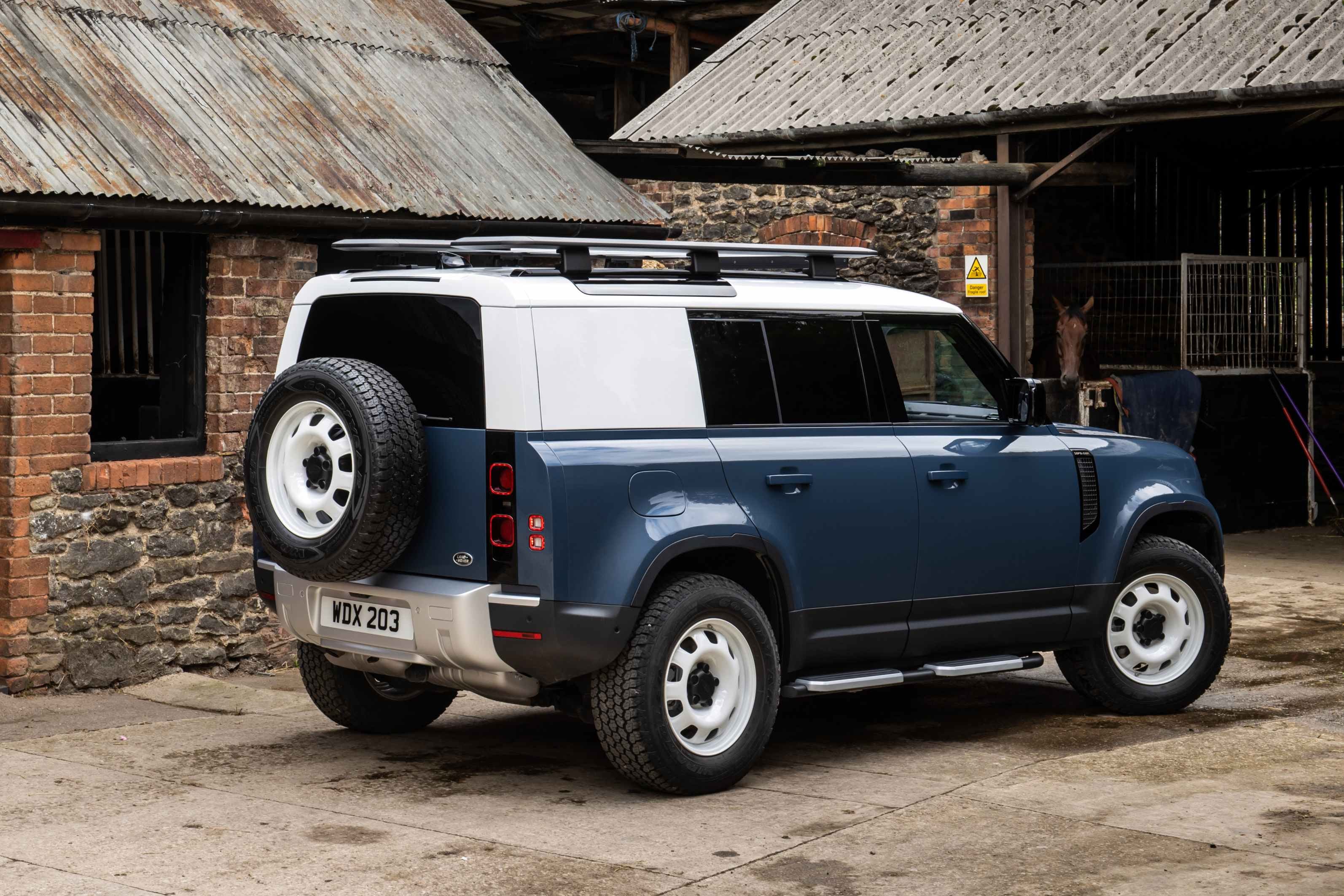 All versions of the Defender feature four-wheel drive as standard and Land Rover's Terrain Response 2 system allows the vehicle to tackle everything from sticky mud to heavy snow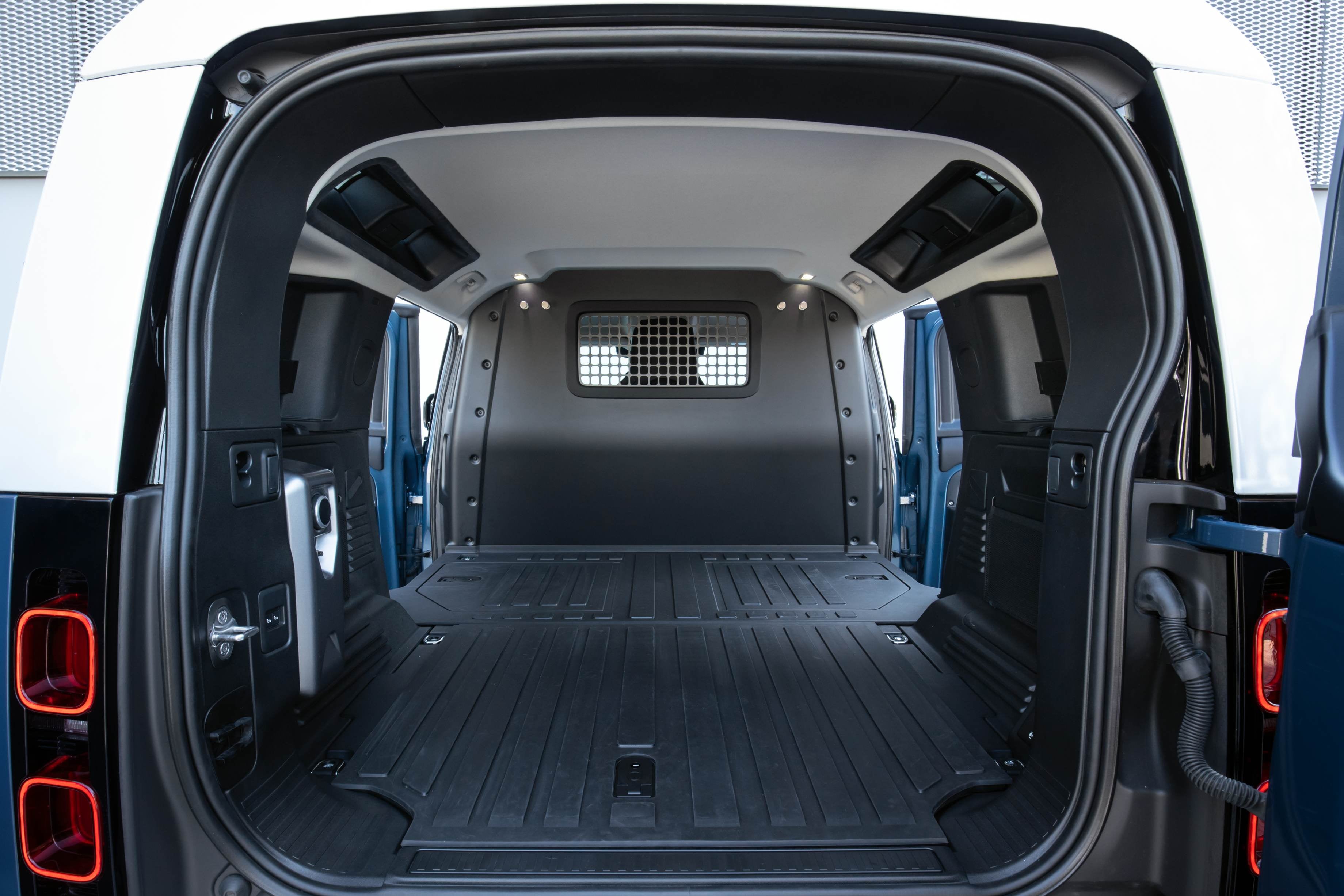 The Defender 110 Hard Top has space for a Euro pallet, while maximum payloads for the 110 peak at 778-800kg
Is the new Defender van any good?
Sorry, Land Rover purists. The new Defender Hard Top van is brilliant. Easy to drive, practical and filled with useful tech, it is the best 4x4 van money can buy.
The model we are testing here is the 110 D250, with its 3.0-litre six-cylinder engine producing 250PS and 570Nm of torque from as little as 1250rpm. That's a huge amount of low-gear pull, which means the Defender is perfectly suited for heavy-duty off-roading and towing. In the unlikely event of needing more power, you can also order the 110 with the D300, which produces a chair tilting 300PS/650Nm.
As with many fun things, there is a drawback to having a big 4x4 that's capable of covering 0-62mph in under eight seconds. And fuel costs for all versions of the Defender Hard Top is high. Both the D250 and D300 will return just 29.5mpg, according to the official numbers. And if you plan to use your defender for towing then the true figure will probably be much lower.
The Defender Hard Top is great to drive, though. The steering is perfectly weighted and the four-wheel drive system provides mountains of grip. As a result, the new Defender is head and shoulders above its predecessor on the road. Engine and road noise levels are also extremely low, which means you can cover long motorway distances in peace and comfort. You also get loads of useful tech, with 3D surround cameras and wade sensors that will tell you when you are nearing the Defender's 900mm wading depth.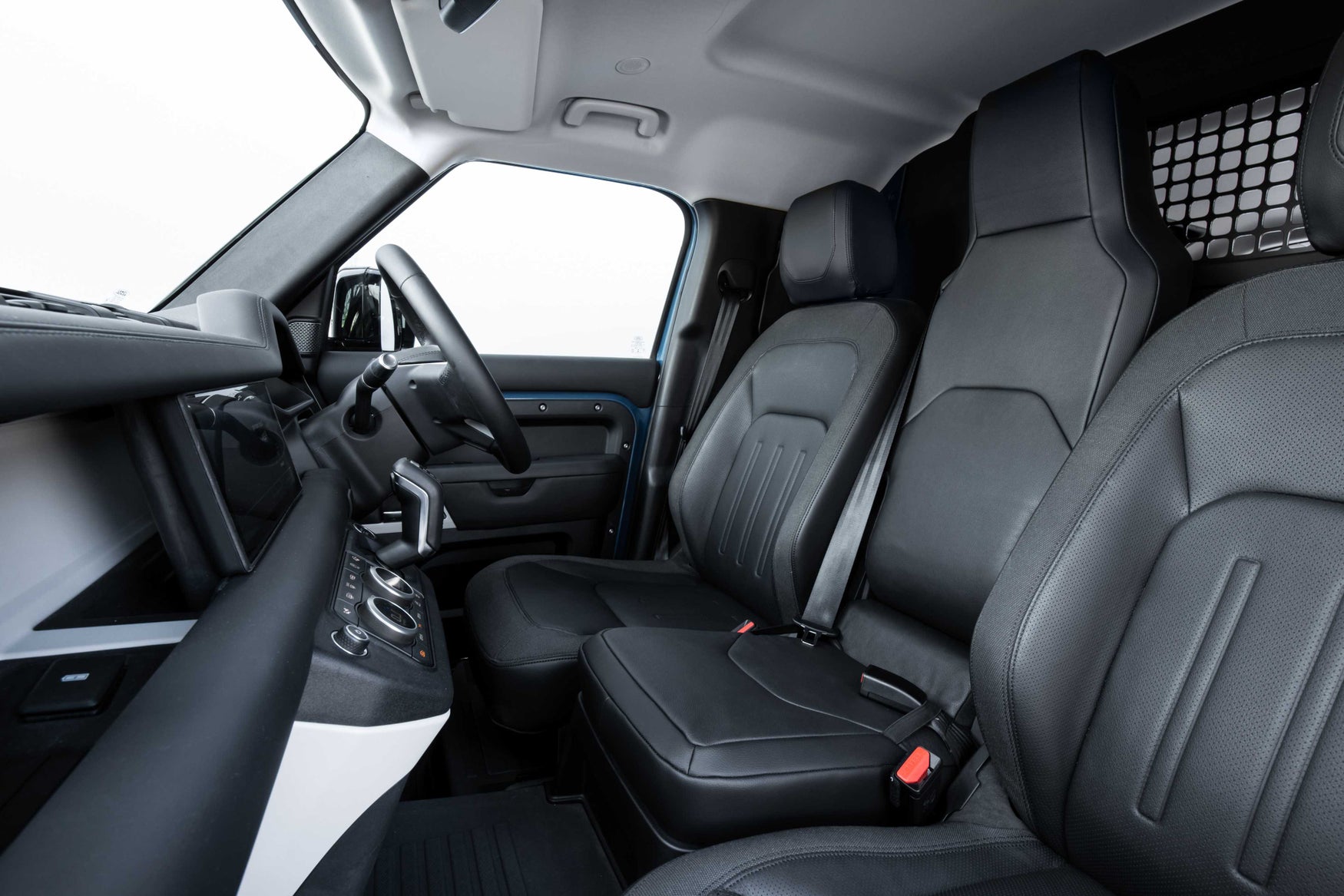 Should I buy a Defender 90 or 110
If you need to carry lots of heavy tools and materials then the Defender 110 Hard Top will be best for you. It has the largest payload - up to 800kg - and space for a standard-sized Euro pallet. What's more, with its side rear doors, the 110 lets you access the load area without having to physically climb into the back of the vehicle.
The 90, in comparison, will carry up to 670kg but its loadspace is just 1030mm and this is almost half a metre shorter than the 110. The 90 is also three-door only and limited to the 200PS version of the six-cylinder diesel engine.
The main drawback with the Defender Hard Top is the lack of a load-through hatch in the bulkhead. Medium size vans like the Transit Custom feature a useful little bulkhead door that lets you make full use of the vehicle's size - perfect for planks of wood or copper pipes. Sadly the Defender has no such option. And you can't remove the bulkhead either, which means some pick-ups and vans are cheaper to buy and more practical.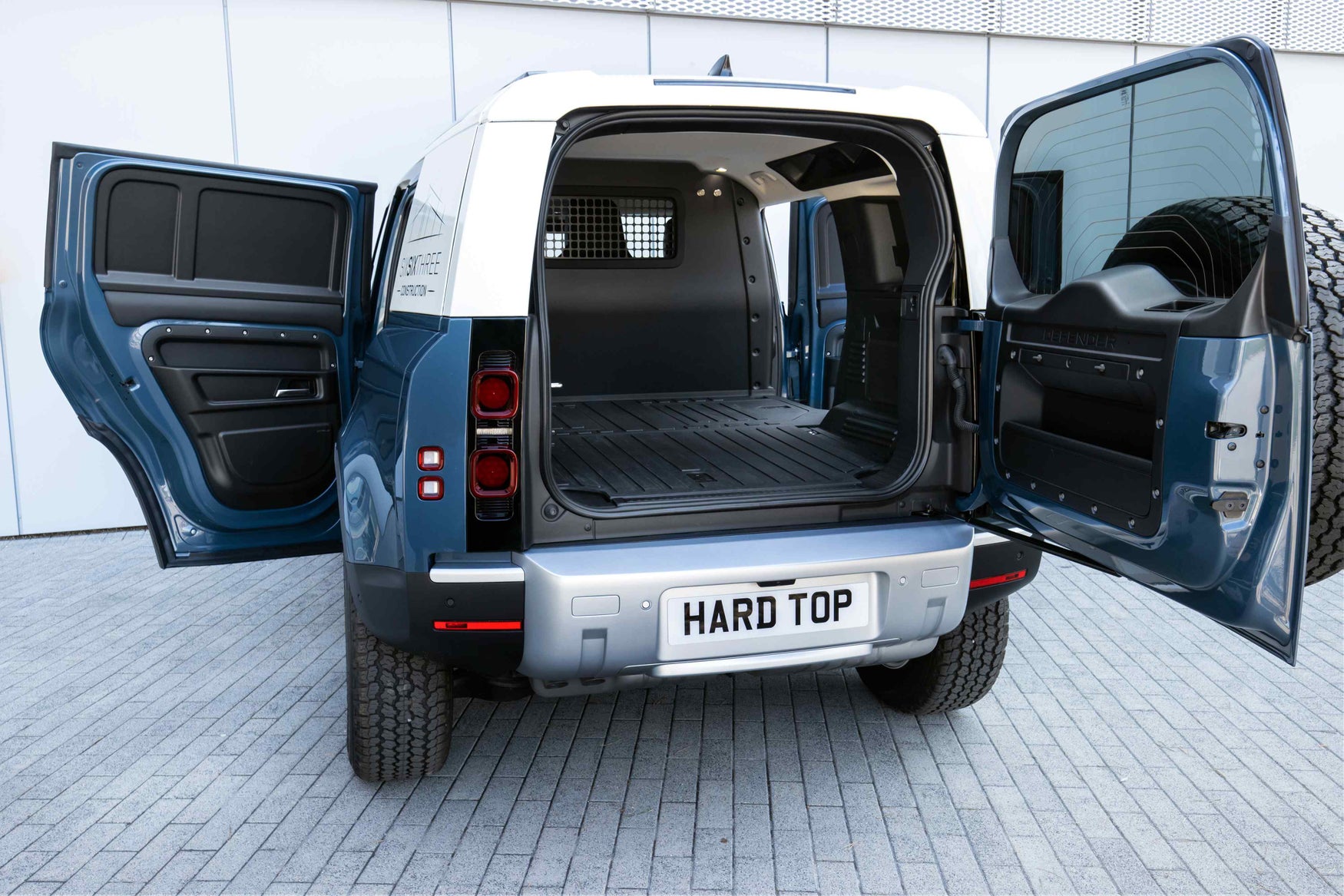 Watch: New Land Rover Defender – the Ultimate 4x4 for Adventure
Defender Hard Top: the facts
Model tested: Defender 110 D250 Hard Top
Engine: 3.0-litre petrol
Gearbox: eight-speed automatic
Power/torque: 250PS/570Nm
Combined fuel economy: 29.5mpg)
CO2 emissions: 251g/km)
Price from: £52,460 (including VAT)
As tested: £60,780 (including VAT)
The Land Rover Defender features two front seats as standard. This can be extended to three seats with Land Rover's 'jump seat' option that adds an additional seat between the driver and front passenger.
The 90 is the smallest model in the Defender Hard Top line-up. It only has three doors but features a large load bay that provides a maximum load length of 1030mm. The Defender Hard Top 110 is larger and gets five doors, while its load space measures 1472mm long and 1326mm wide.
The Defender Hard Top is the commercial vehicle version of Land Rover's popular and rugged 4x4 SUV. The Hard Top name originates from the 1950s when the Series 1 soft-top Land Rover was offered with a removable hard top load covering.
Rivals to the Land Rover Defender 110 Hard Top