Maserati Ghibli Hybrid First Drive 2021


Best bits
A brutally fast hybrid that's built for motorway mile munching
A stylish alternative to premium German saloons
Excellent Maserati interior quality
Not so great
Expensive to buy and run
Uncomfortable ride quality on less than perfect roads
BMW 5 Series and Mercedes-Benz E-Class Coupe are more rewarding to drive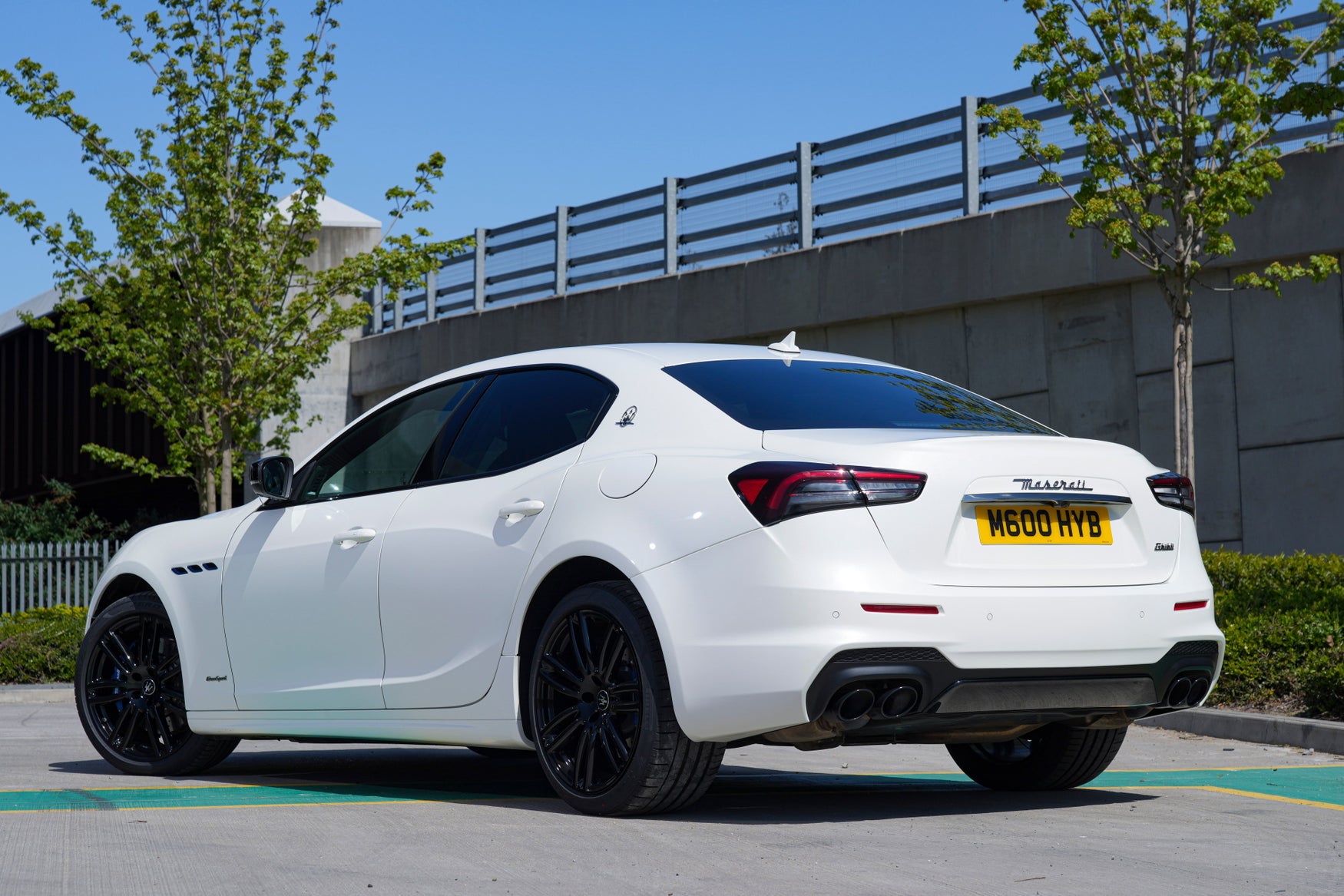 What is it?
This is the Ghibli Hybrid, the world's first-ever electrified Maserati. However, don't go cancelling that Tesla S order just yet because the Ghibli Hybrid isn't really a true electric car (there are no plugs. charging leads or electrical sockets).
The Ghibli Hybrid is what car marketing people call a 'mild hybrid', which means it combines a turbocharged 2.0-litre petrol engine with a small battery, a belt starter and an eBooster unit that gives the powertrain a zap of performance at low-revs. It's different from a plug-in hybrid car, but you can find out the differences in our guide to what is a hybrid car.
The Ghibli Hybrid is the replacement for the diesel model, which has been axed as part of a 2021 model update. The new Ghibli Hybrid is designed to give you all of the fun and thrills of a petrol V6 while delivering diesel-like fuel economy.
On paper, the Ghibli Hybrid looks rather good and boasts some toe tingling performance figures. The petrol-hybrid powertrain, for example, develops 330PS which means this Italian Stallion will gallop from 0-62mph in just 5.7 seconds. And the top speed? That will be a licence shredding 158mph.
Maserati has given the Ghibli a styling refresh for 2021, too, with a new front grille and redesigned rear light clusters. However, it is inside that the most important updates are found with a frameless 10.1-inch touchscreen system that replaces the slow and disappointing 8-inch system that was fitted to older versions of the car.
What's more, being a Ghibli, you get a luxurious cabin that rivals the BMW 5 Series and Mercedes-Benz E-Class Coupe, with an abundance of high-quality, hand-stitched Italian leathers and soft-touch materials. The Ghibli Hybrid also has a good-sized 500-litre boot that can be opened and closed hands-free by waving your foot under the rear bumper.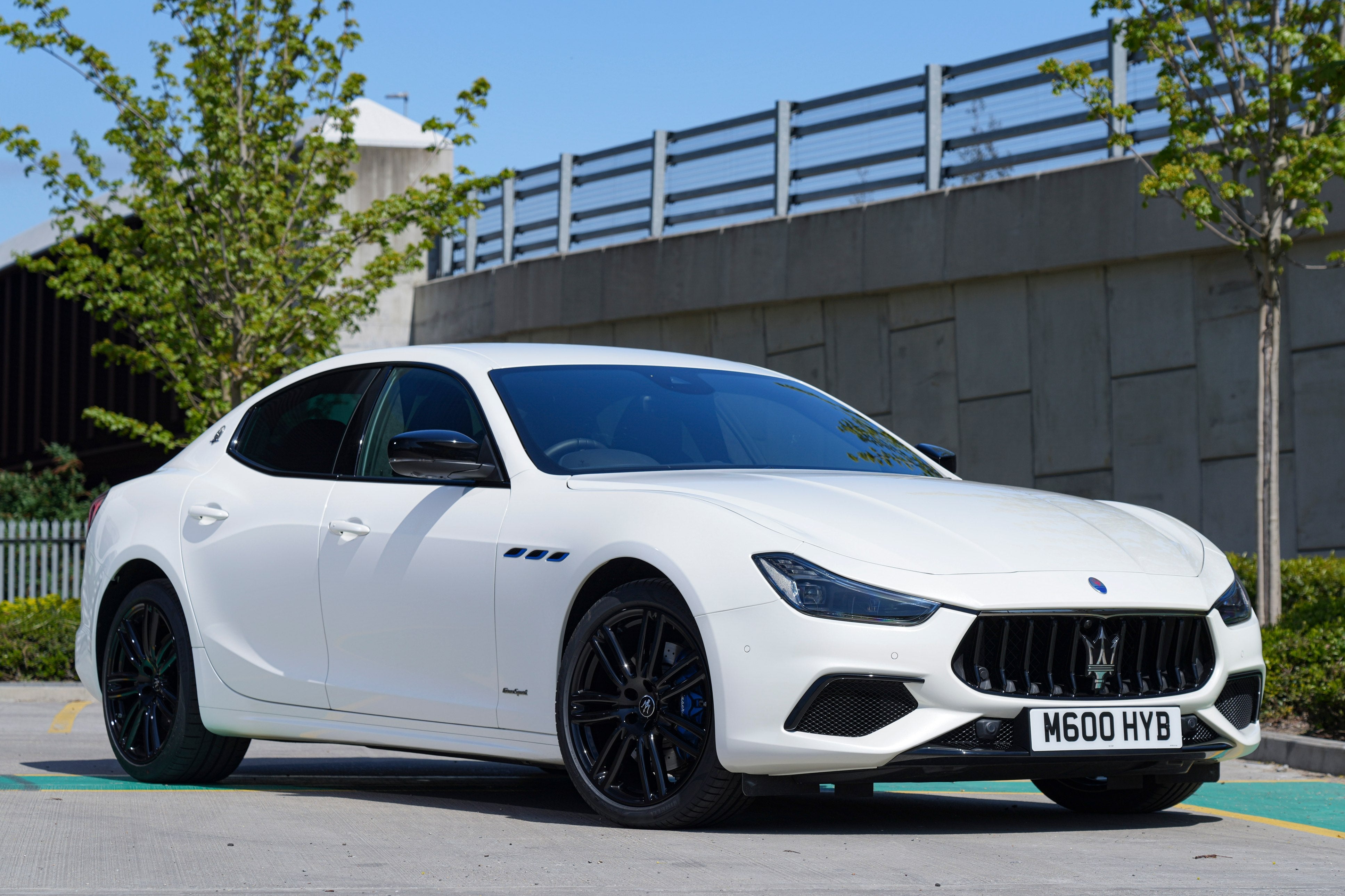 The 2021 Maserati Ghibli has been given a light styling refresh, with a new front grille and redesigned rear light clusters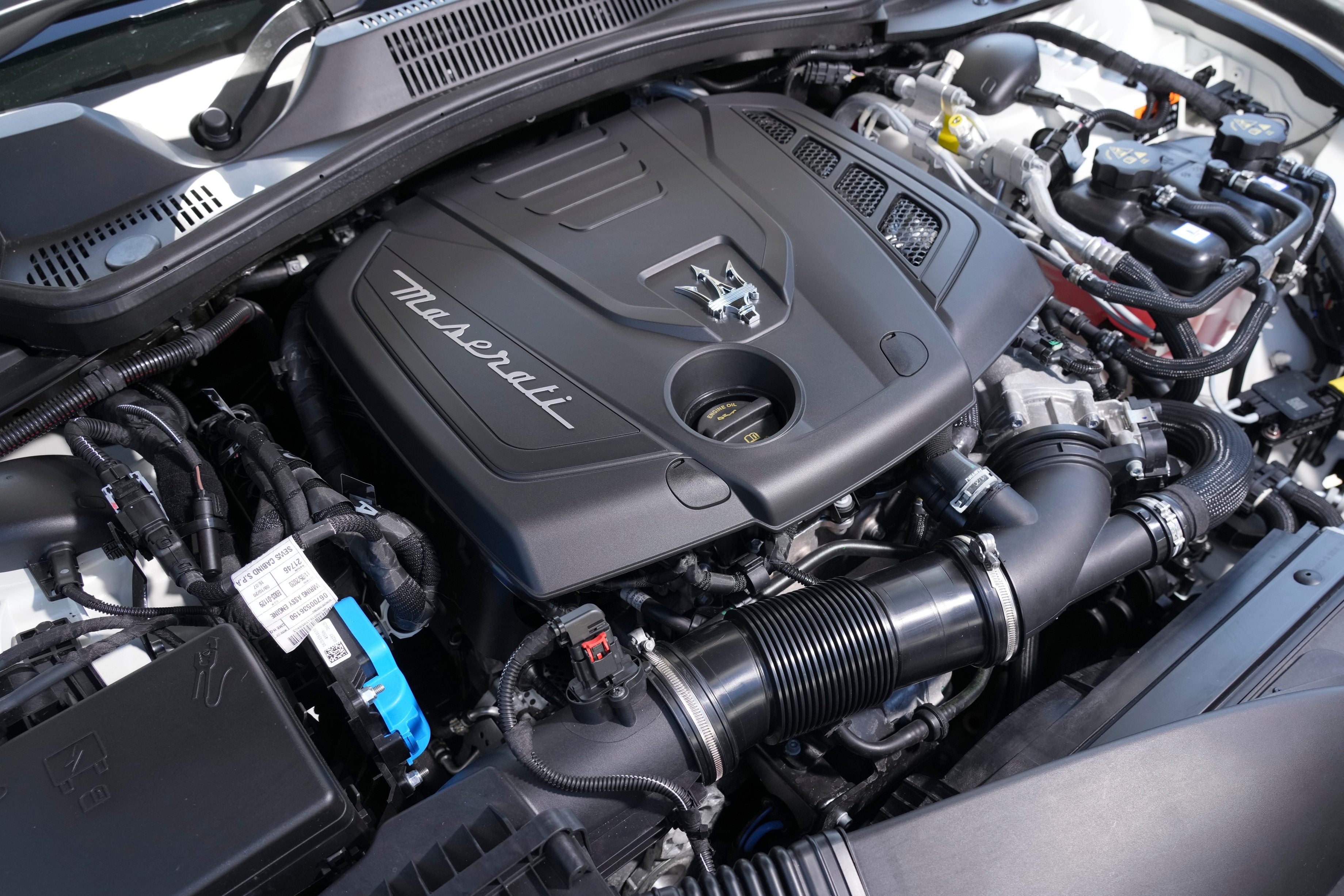 The Maserati Ghibli Hybrid is powered by a new turbocharged 2.0-litre petrol hybrid system that uses a 48V battery to recovers energy and boost straight-line performance
How does it drive?
The Maserati Ghibli Hybrid is something of a mixed bag to drive. As a luxury performance car, it ticks all of the fundamental boxes. The petrol hybrid powertrain develops 330PS, which means you can thump the throttle and smile as the Ghibli lifts its nose and thunders towards the horizon.
The 2.0-litre engine emits a pleasing sound but it doesn't match the throaty soundtrack of Maserati's fabulous V6. That said, the eBooster system does a pretty good job of keeping things moving in a rapid fashion. The eight-speed automatic gearbox is a good match for the petrol hybrid powertrain which means the up and downshifts are conducted in a snappy manner. You can also change the gears manually with metal paddles behind the steering wheel. But most people will simply let the auto 'box do its thing.
Maserati claims the Ghibli Hybrid is better to drive than the standard petrol models, with the battery placed at the rear of the car to improve balance. If truth be told, we couldn't tell the difference. The Ghibli Hybrid is a competent performance saloon to drive but it lacks the sharpness and finesse of the 5 Series and E-Class Coupe.
The Ghibli Hybrid is fine on the motorway but venture onto a twisty A road and the two-tonne kerb weight and overpowered steering starts to hinder any meaningful bond between the car and driver. The suspension also transfers a few notable lumps and bumps into the cabin, too, which gives the Ghibli an unsettled feel on less than perfect roads.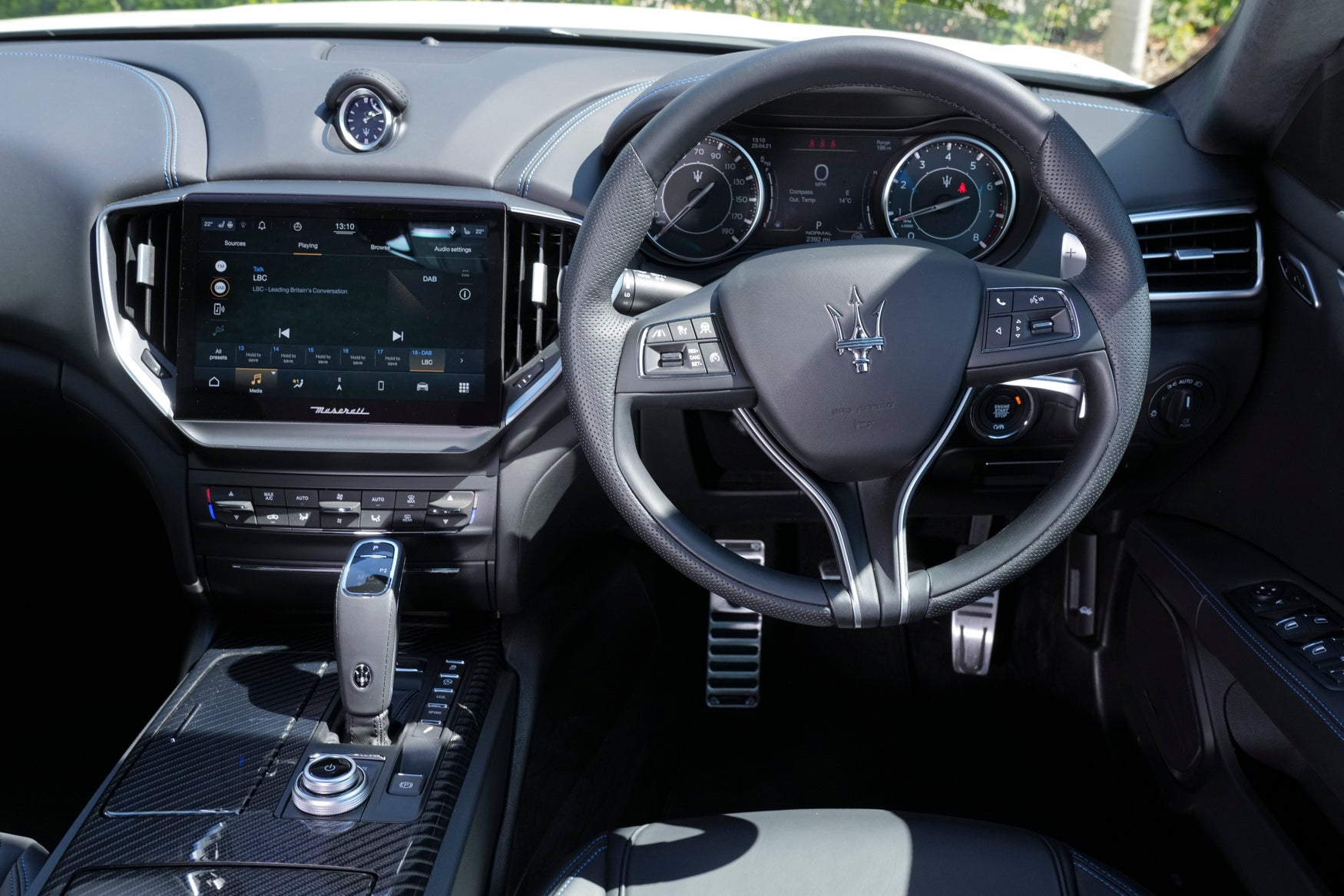 What about the Maserati Ghibli Hybrid's running costs?
The Ghibli Hybrid is a car that's designed to fill the diesel-size hole in Maserati's saloon line-up. However, with advertised fuel economy at 29.4mpg - 33.2mpg, the Ghibli Hybrid is far from frugal. And its estimated CO2 emissions of 192 - 216 g/km are also far from class-leading, either.
It may seem pedantic to criticise a Maserati over fuel economy but it really is difficult to recommend the Ghibli Hybrid over its accomplished diesel rivals. The BMW 530d SE, for example, returns an official 48.7mpg while the Mercedes-Benz E-Class Coupe 300d is advertised 47.9mpg. Both cars are more involving to drive and provide better comfortable over rough roads.
The Ghibli Hybrid isn't without its charms, of course. We think it's one of the best looking cars in its class, which means it will appeal to buyers who want something that will genuinely stand out from the premium car crowd. And as long as you can afford the fuel costs, we don't think you will be disappointed.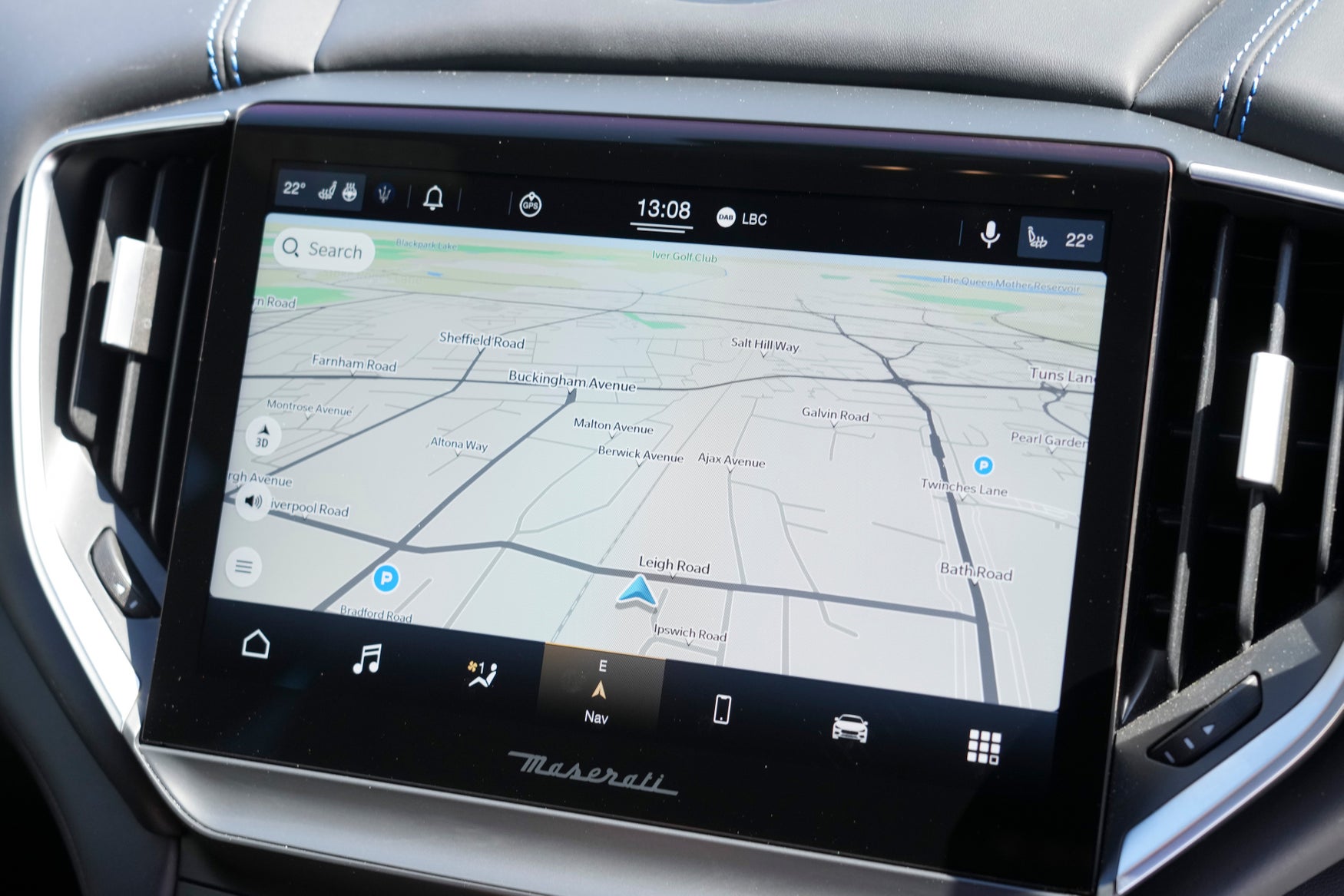 Watch: Maserati Ghibli Hybrid Global Digital Premiere
Maserati Ghibli Hybrid: the facts
Model tested: Maserati Ghibli Hybrid GranSport
Engine: 2.0-litre turbocharged petrol 48V mild hybrid system and eBooster
Gearbox: Eight-seed automatic
Power/torque: 330/450Nm
Combined fuel economy: 29.4mpg - 33.2mpg
CO2 emissions: 192 - 216g/km (TBC)
Price from: £63,700
As tested: £85,785
The Maserati Ghibli Hybrid returns 29.4mpg - 33.2mpg. This means it is more expensive to fuel than its diesel rivals from BMW, Audi or Mercedes-Benz.
The starting price for a new Maserati Ghibli Hybrid 2021 is £58,500. The range-topping GranSport model starts at £65,100. It is possible to make some savings by choosing a nearly new or ex-demonstrator model.
The Maserati Ghibli Hybrid is a very powerful and fast car. The hybrid system combines a supercharged 2.0-litre petrol engine with a 48 volt battery to generate a whopping 330PS. This means the Ghibli Hybrid has a top speed of 158mph and is capable of sprinting 0-62mph in 5.7 seconds.