First Drive: Mazda CX-60 2022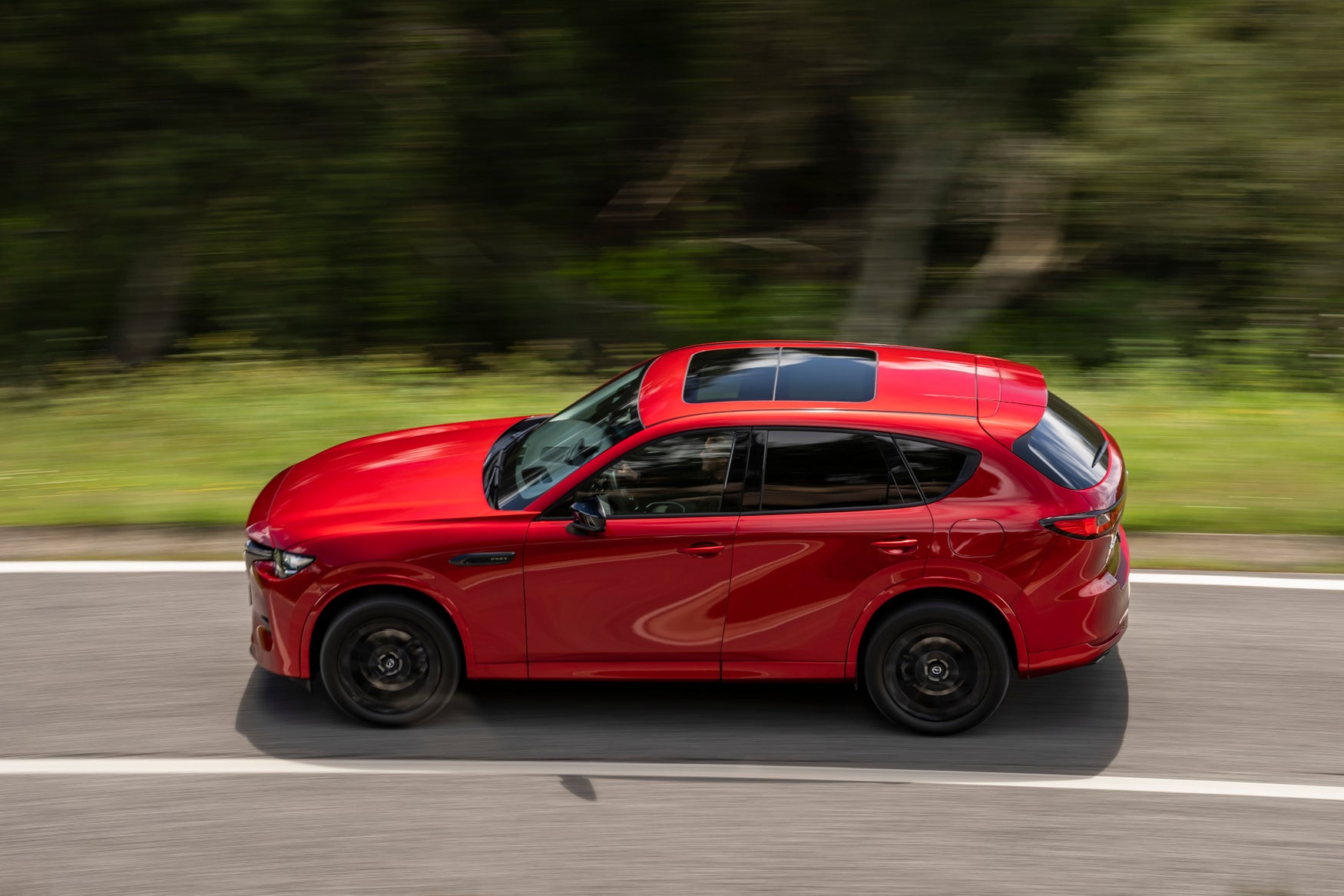 Best bits
Punchy hybrid powertrain
Smart, driver-focused cabin
Tidy handling for a two-tonne SUV
Not so great
Question marks over the ride
And the plug-in system's refinement
So-so practicality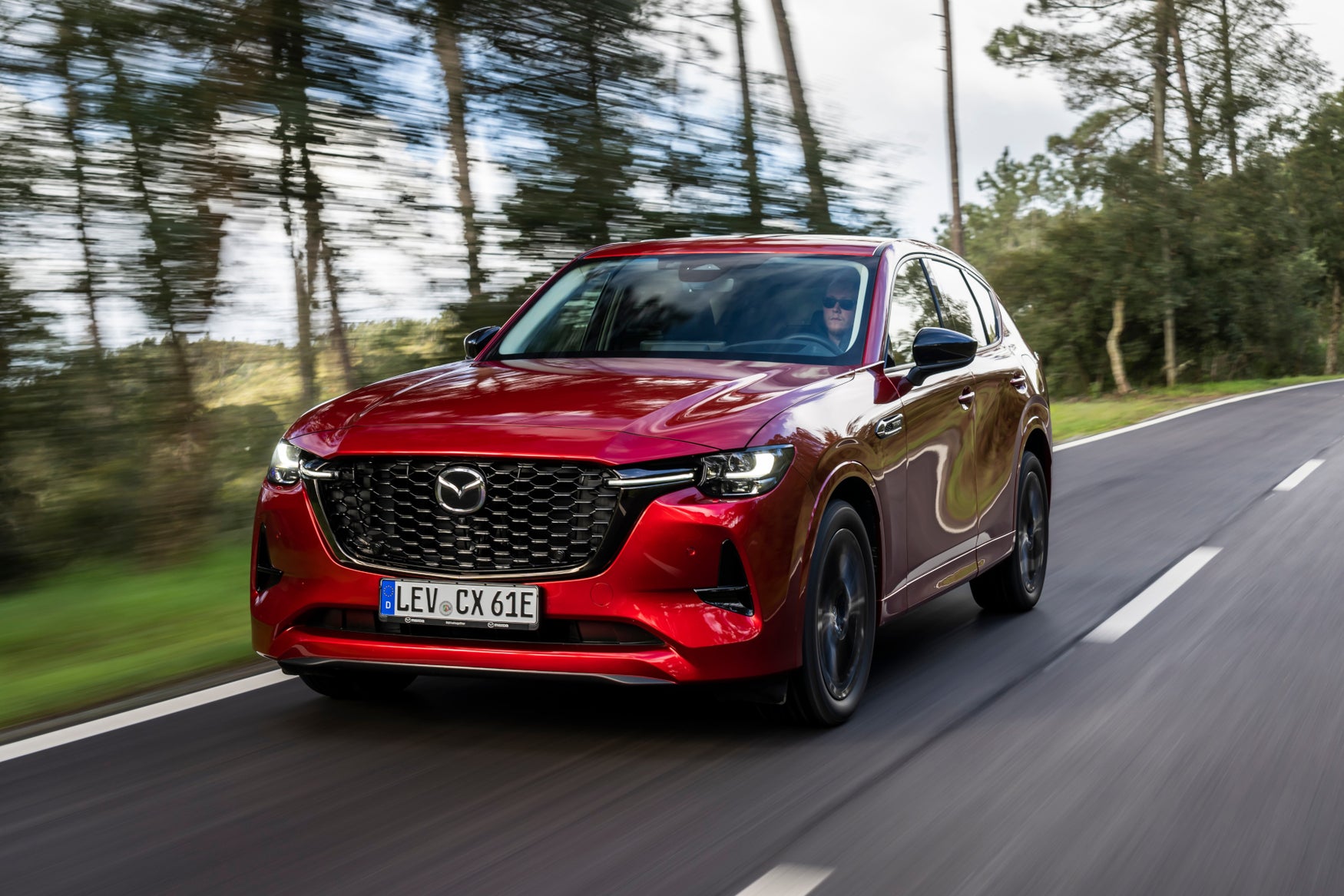 What is it?
Simply put, the CX-60 is Mazda's new flagship SUV in the UK, sitting above the CX-5 and offering the brand's first plug-in hybrid engine option, which we're reviewing here. But it's a bit more complicated than that.
Unlike most 'mainstream' brand's biggest SUV offerings here - think Skoda's Kodiaq, Kia's Sorento, Toyota's Highlander, etc - it's not a seven-seater. In reality, it's not significantly more practical than the aforementioned CX-5. So what is it for?
Well, it's a core part of Mazda's long-running goal to push itself upmarket and really start challenging the established high-end brands. And the shape of it might be a clue; a lot of the CX-60's 190mm of extra length over the CX-5 goes into its thrusting bonnet, with the passenger compartment pushed back.
That's down to its all-new rear-wheel drive platform. Granted, the plug-in hybrid we're driving here is four-wheel drive, but there will be purely rear-driven versions with new mild-hybrid straight-six petrol and diesel engines coming within the next year. That chunky new bonnet is to house those engines sitting lengthways rather than widthways, as in the front-drive CX-5 platform.
So rather than a Kodiaq rival, the Mazda CX-60 is aimed more at cars such as the BMW X3, Mercedes-Benz GLC, Jaguar F-Pace and Alfa Romeo Stelvio - a step above the CX-5 in 'premiumness', then.
The plug-in hybrid (PHEV) version is expected to account for the lion's share of sales in the UK, hence why it's being rolled out here before those straight-sixes. It's a pre-production example, with some fine tuning being done before the CX-60 reaches showrooms.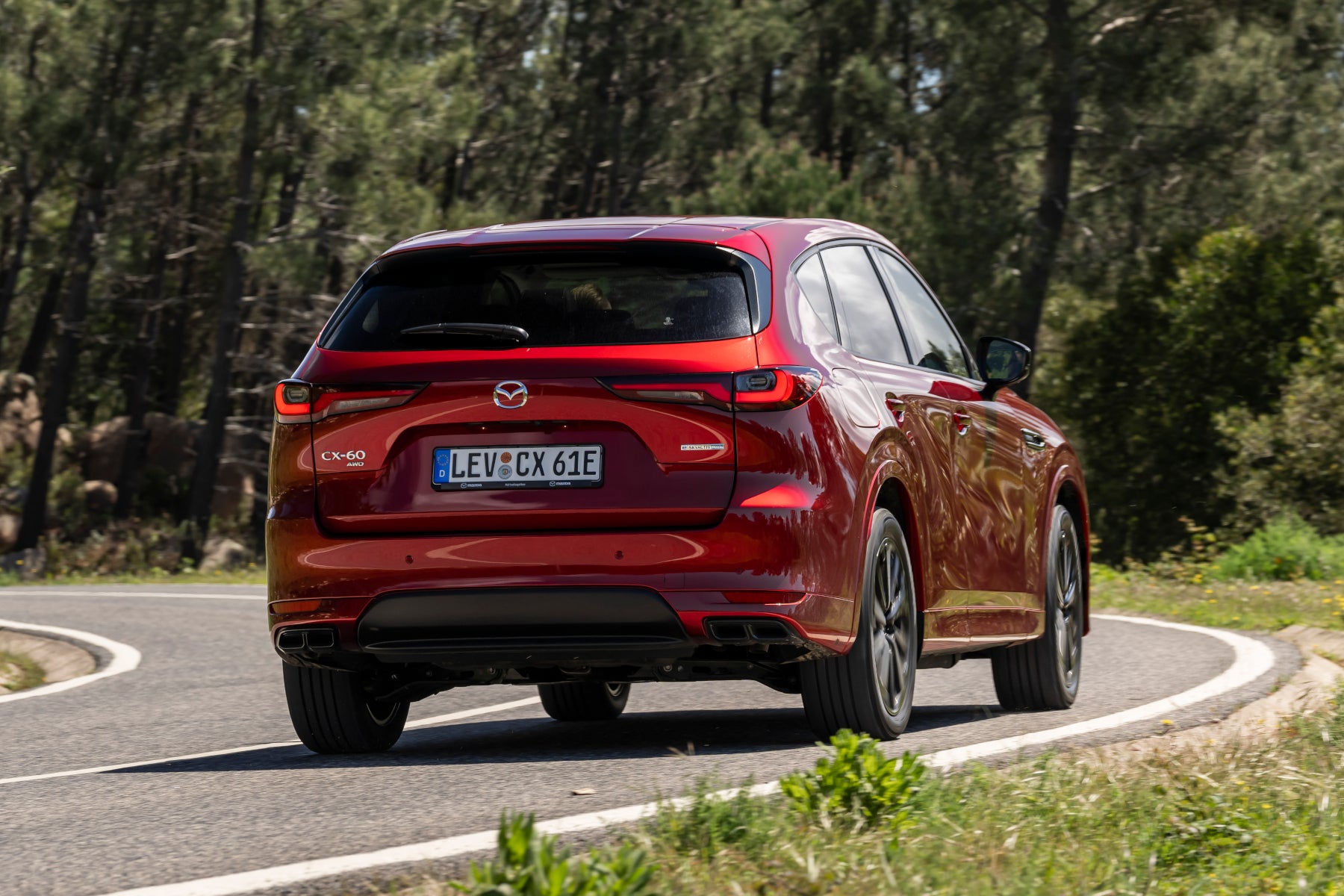 The CX-60 is 190mm longer than a CX-5, but that doesn't mean loads more practicality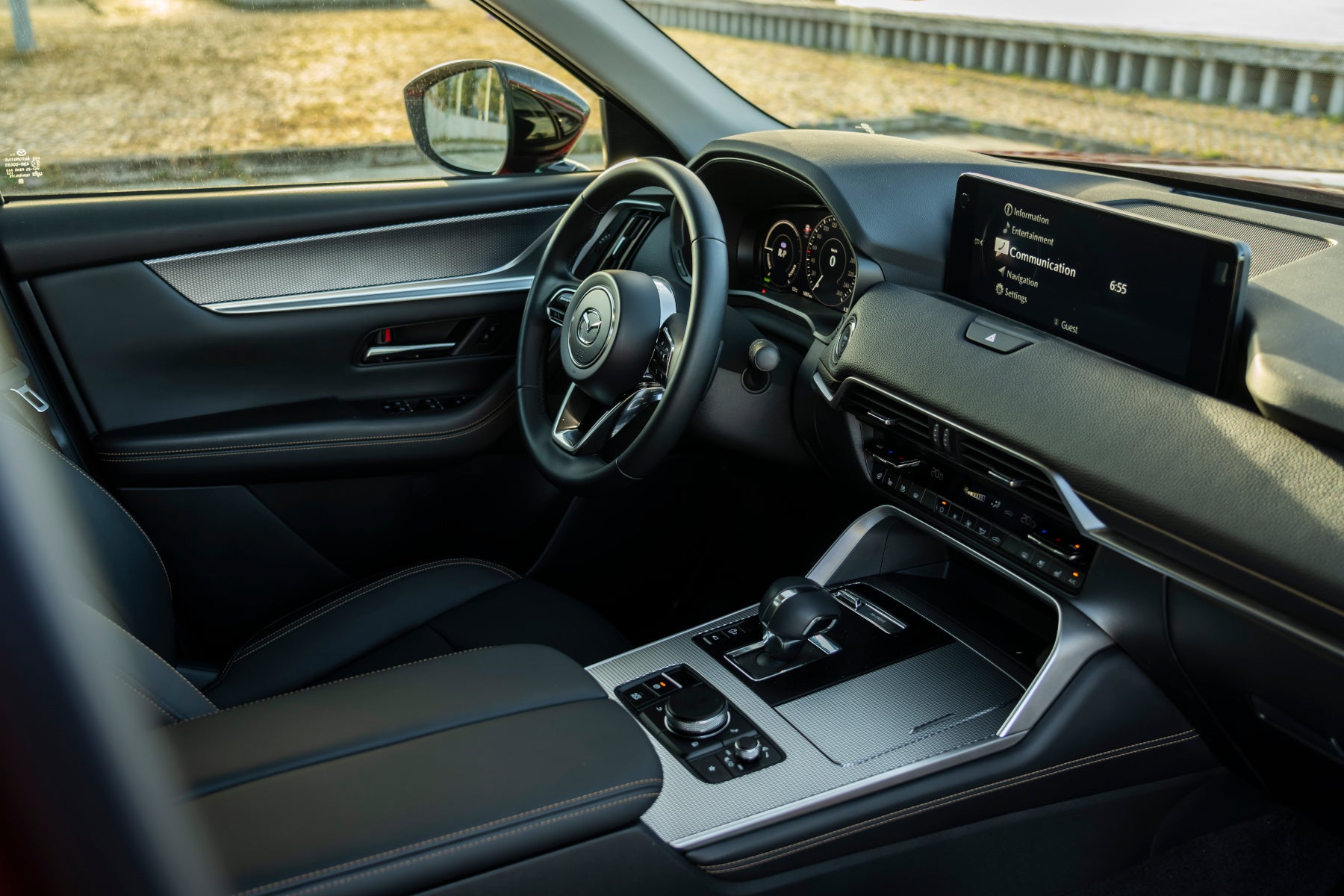 Cabin design is driver-focused and elegant, with a nice mixture of materials
What's it like inside?
The first thing of note when climbing into the cabin for the first time is that, on mid-spec Homura trim and above, there's no need to faff about adjusting the electric seats and wheel. Tell Mazda's new 'Driver Personalisation System' your height and it'll scan your eye position and adjust everything (seat, wheel, mirrors, head-up display) to suit.
Oddly, it decided this 6ft 3in tester should recline right back like being flopped on a poolside sun lounger, though it worked better for others. It'll switch profiles for different drivers via facial recognition, too.
Elsewhere inside the CX-60 it's familiar Mazda fare, just a bit posher. Mazda always bangs on about minimalism and driver-centric design, and that's very evident here - some SUVs feel like they're designed around the infotainment screen, here it feels like there's a bit more to it, with a pleasing mix of textiles, leather and chrome and an attractive design. Poke around the cabin a bit and there are some elements that aren't all that premium in this pre-production example, but overall it's a step up from the mainstream sector..
That's not to say it's lacking in the tech department, either, with a standard 12.3-inch digital dial display, head-up display, 12.3-inch infotainment system and wireless Apple CarPlay/Android Auto.
Mazda is pretty much the last big manufacturer to resolutely shun touchscreens, so everything is done via the usual rotary controller flanked by physical shortcut and volume buttons. We're so used to touchscreens now that it takes some getting used to, but do that and you'll soon realise it's actually more natural and intuitive to use on the move.
The driving position is great, finding that perfect balance between the desired raised up view forwards of an SUV and the ability to sit low enough that enthusiastic drivers will feel at home. There's loads of adjustment in the seats and steering wheel, which itself is perfectly shaped; not too thin or thick and flanked with proper switchgear (no touch capacitive nonsense).
Step in the back and you might be a bit disappointed, though, because the CX-60 doesn't really feel any roomier than a CX-5. That's the downside of the rear-driven platform, but also in part because the batteries for the PHEV are mounted under the floor (Mazda says for better weight distribution) rather than under the boot.
That means the floor sits a bit high, like in some electric cars, while neither leg or headroom are overly generous. Still, a couple of tall adults can still get comfortable, while the extra cabin width means the middle seat is far from useless. The seats also fold 40/20/40 via boot-mounted levers, and can recline, but there's no sliding. At least the doors open nearly 90 degrees to make mounting a child seat easier.
The boot is a thoroughly decent size, however, with a nice square shape, a large aperture and underfloor storage, which you often don't get in other plug-ins. The 570-litre capacity beats even the standard BMW X3, let alone the 450-litre capacity of the hybrid version.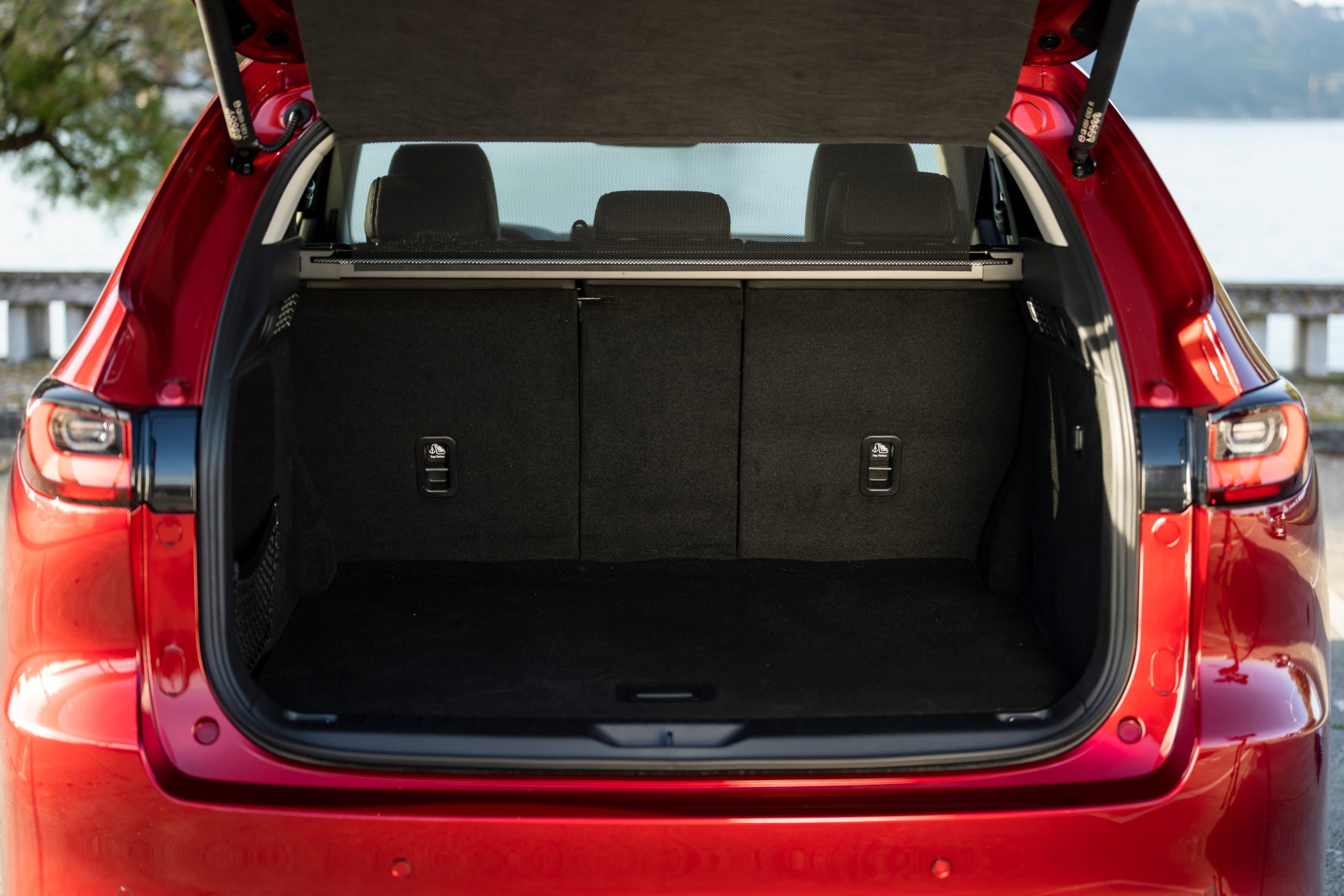 What's it like to drive?
Most of the hybrid Mazda CX-60's power comes from a 2.5-litre naturally aspirated four-cylinder petrol engine, mated to a 136PS electric motor for a total of 327PS. Yes, Mazda's most powerful car ever is a hybrid SUV…
Unlike some PHEVs both petrol and electric power goes through all four wheels all the time, rather than the e-motor powering the rear axle. That means, if you are one of the few owners to actually take it off-roading, you could do so without burning a drop of fuel. There's a hearty 500Nm of torque, too, plus a competitive all-electric range of 39 miles from a 17.8kWh battery.
The CX-60 will pootle around town nicely in EV mode with decent throttle travel before the engine kicks in, although we were surprised at some of the odd whirring and whooshing noises it made in this mode. A Mazda engineer told us the finished models have had more refinement work, so we'll give this CX-60 the benefit of the doubt until we try those.
Stay gentle with the throttle and you can do some out-of-town work in EV mode, but eventually you'll fire the engine into life. When you do you'll notice it's definitely more vocal than most turbocharged rivals, but the noise isn't unpleasant, with a nice throaty growl as you move up the rev range. What's mildly irritating is the vibration the engine introduces into the cabin once fired up - again, this may be improved on final versions.
But blimey, it sure is brisk for a car of this type. Stamp on the throttle and get the two power sources working in unison and that 5.8-second 0-62mph time seems almost modest - it rears up and fires itself towards the next bend with a satisfying swell of torque, while it isn't averse to being revved out. Under full power there's a weird supercharger-like whine from the gearbox, though, which we weren't expecting but weren't offended by either.
That gearbox is an all-new design, ditching the old torque converter found in other Mazdas for a new Mercedes-style multi-plate clutch approach. This helps efficiency, although on this short drive we weren't fully convinced it offers the smoothness and response of the best gearboxes in the class. That's not uncommon in PHEVs where the car is juggling power sources, but we were hoping for better. Perhaps it'll be sharper in the eventual six-cylinder versions, and again engineers say there's room for improvement on the final car.
The ride is another potential issue. Mazda's cars are usually biased towards handling and a sporty feel, and that's clear again in the CX-60 - key if you're going up against the X3 and F-Pace, for example. It deals with speed humps and big potholes well, suggesting the underlying setup is well-sorted, but for a premium SUV it seems a touch firm and fidgety on the sort of rubbish low-speed surfaces that blight UK roads.
Adaptive damping, which Mazda doesn't offer on the CX-60, might help the ride, as would opting for the base model with its 18-inch wheels (our higher spec test cars rode on 20s, although we suspect the CX-60 would look rather under-wheeled without them). Once you're out of town and going faster the underlying firmness is much less of an issue.
The trade-off of that somewhat compromised ride is really sorted handling. Mazda's done a superb job of disguising the extra heft associated with PHEVs (indeed this CX-60 weighs around two tonnes). Fling it into a bend and, while there's some body movement, it's not excessive, so it flows very nicely between a series of corners and masks its mass tidily.
That confidence-inspiring handling is aided by excellent steering - it's light enough around town, weighting up nicely at speed and feeling precise and direct without being unnaturally quick. It all adds up to a pleasurable fast road driving experience. We can't wait to try the straight-sixes, which will hopefully ally lighter weight with a more responsive and characterful motor.
Sounds decent, but how much is it?
Usefully cheaper than the competition. Prices for the Mazda CX-60 start from just under £44,000, and if that sounds expensive, bear in mind that other premium PHEVs such as the Lexus NX and BMW X3 are almost all over £50k at a starting level.
Those base cars are also pretty well-equipped, with the full infotainment roster, heated seats and wheel, neat LED headlights and the full suite of active safety kit. Mid-spec Homura trim looks like it'll be the most popular with the desired bigger wheels and kit such as electric seats with ventilation, an electrically adjustable wheel, ambient lighting and a Bose surround sound system. We do really like the classier white interior of top-spec Takumi trim, however…
There's a more thorough verdict to come for the Mazda CX-60 later this year. Underwhelming rear seat space and question marks over the ride aside, though, we can already tell that the CX-60 is a welcome addition to the premium SUV sector.
Mazda CX-60: the facts
Model tested: Mazda CX-60 PHEV Homura
Engine: 2.5-litre four-cylinder naturally aspirated petrol
Gearbox: Eight-speed automatic
Power/torque: 327PS/500Nm
Combined fuel economy: 188mpg
CO2 emissions: 33g/km
Price from: £43,950
As tested: £47,700
Yes, it's 190mm longer and 50mm wider, but roughly the same height. It's not much more practical, however - the new rear-wheel drive platform and bigger engines account for most of the length increase.
The 'CX' element in Mazda's model names essentially stands for 'Crossover', although it's also used on Mazda's US market big SUVs.
It doesn't seem so, not - not yet at least. The CX-50 is a similar size to the CX-5, but has a bit more of an off-road focus and engines suited to the US market.