First drive: Mercedes-AMG A 45 S
First drive: Mercedes-AMG A 45 S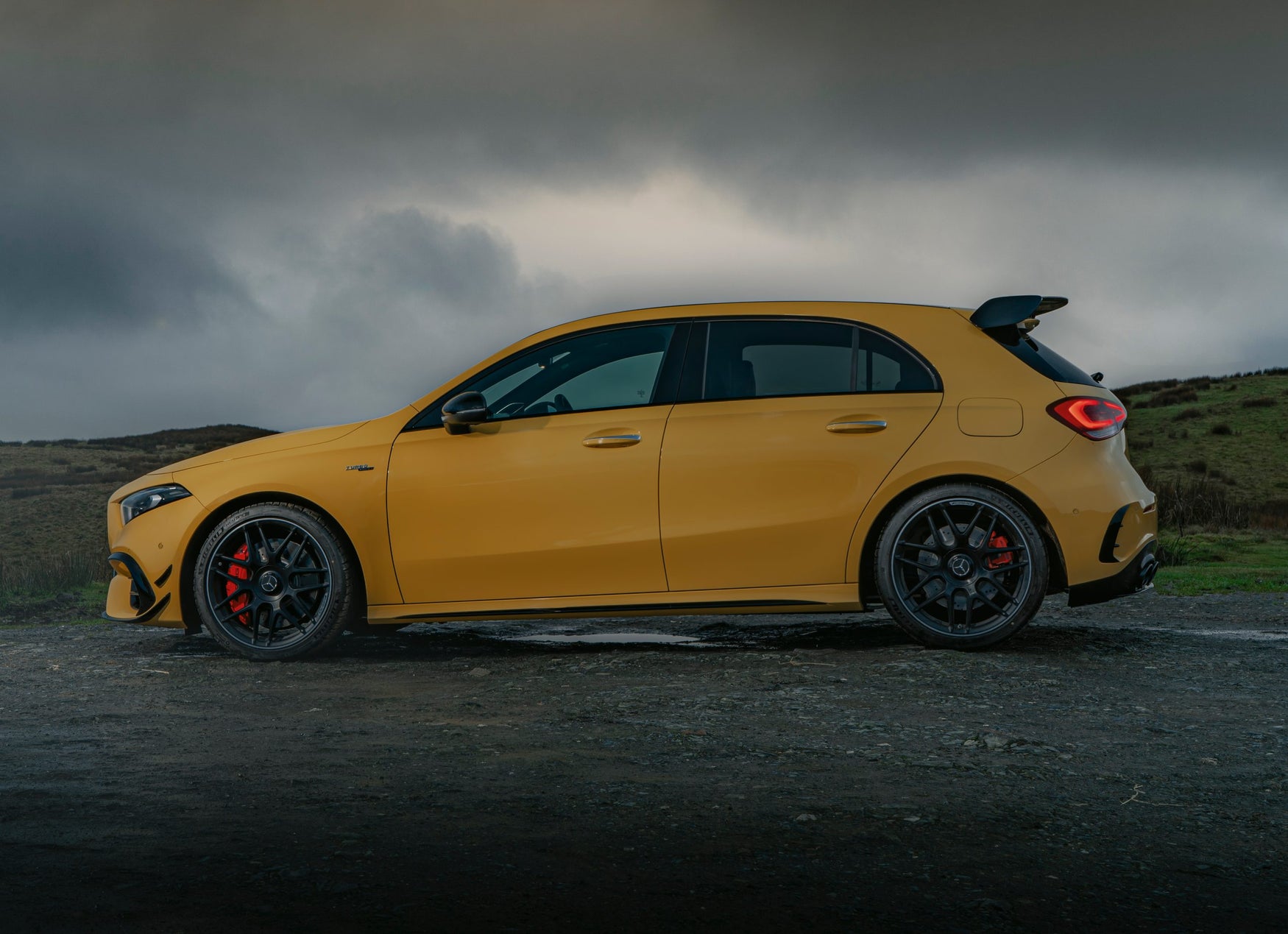 Best bits
Vivid performance
Cornering champion
Great at the everyday grind
Not so great
Multilayered competence doesn't come cheap
The cheaper A35 looks very similar
You only get the S model in the UK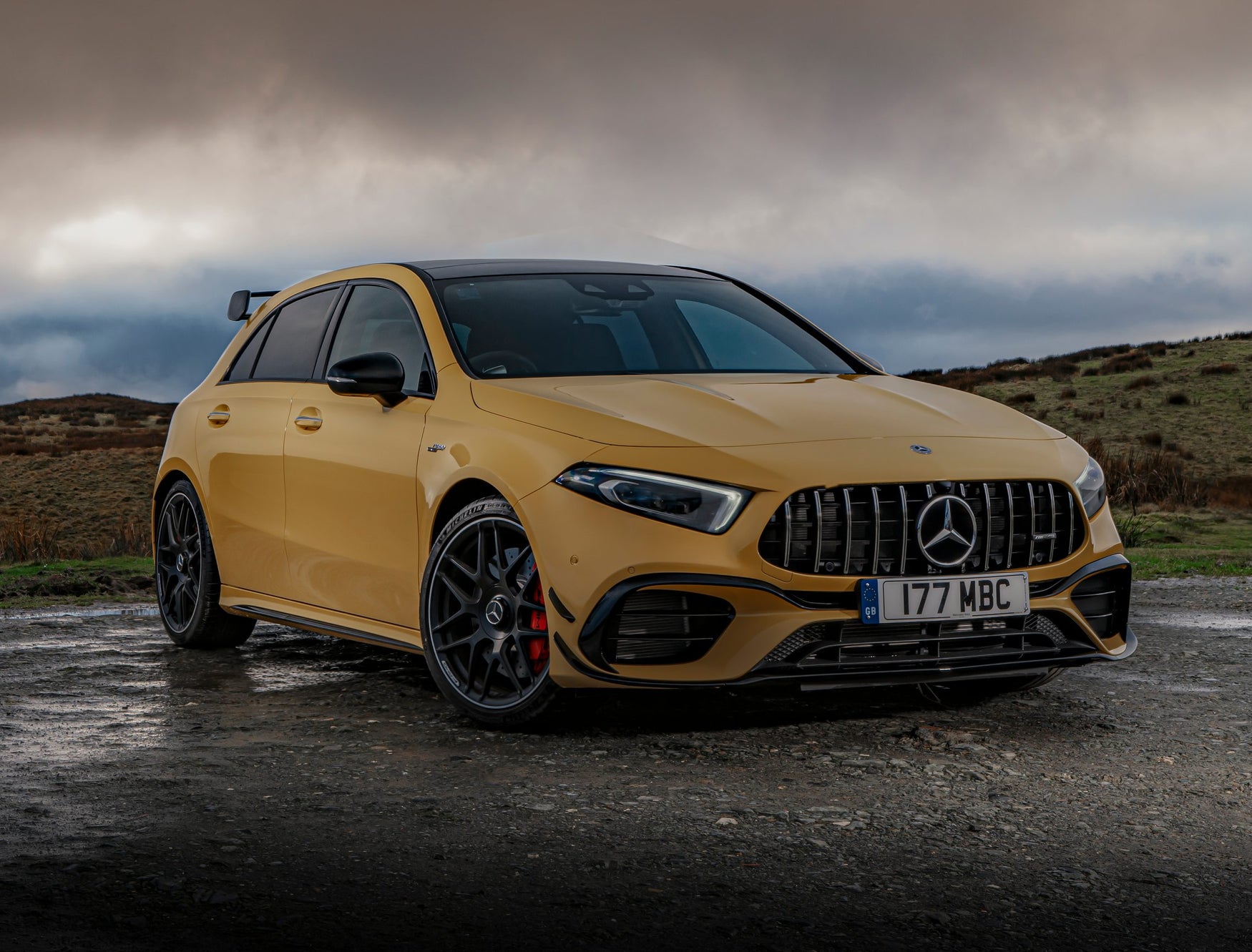 What is it?
It's a ballistic missile with a Mercedes badge on its nose cone, five seats and two fancy infotainment screens as its payload. It's your cheapest route into Mercedes-AMG ownership and, with 421PS, the missile analogy is fitting. Remember, the same-size Volkswagen Golf GTI is a fast car, and the AMG A 45 S has as-near-as-makes-no-difference double the power. This is one fast Mercedes A-Class.
It's hard to drive the Mercedes-AMG A 45 S without feeling like your foot's hanging over the big red button – push the accelerator and it sucks up the countryside like you've engaged warp drive. The figures speak for themselves, 0-62mph takes 3.9 seconds, 0-100mph is done in 10.5 seconds, and it keeps on going until you hit 168mph – needless to say acceleration, as your bang through the gears of the lightning-fast eight-speed dual-clutch gearbox, is relentless.
The AMG A45's skill set falls well beyond straight-line demolition, though. With quick steering that's plenty reassuring, a front end that digs into corners and compact dimensions that make it easy to place, the Mercedes is one of fastest cars we've ever driven point to point.
Also due a debt of gratitude is the four-wheel-drive system. It sees to it that the AMG A 45 S projects its power into the road with no drama, whatsoever, its point-and-shoot performance is in no way intimidating.
Yearn for some fear factor? Worry not. Stick the Mercedes' drive select in Race and it reveals a whole new side to its dynamic repertoire, you can now feel the back of the car swinging its nose into corners with satisfying yaw. Credit to Mercedes-AMG that it avoids the one-dimensional nature that has caught out many a four-wheel-drive hatch in the past – we'd love to know exactly what it would do on track.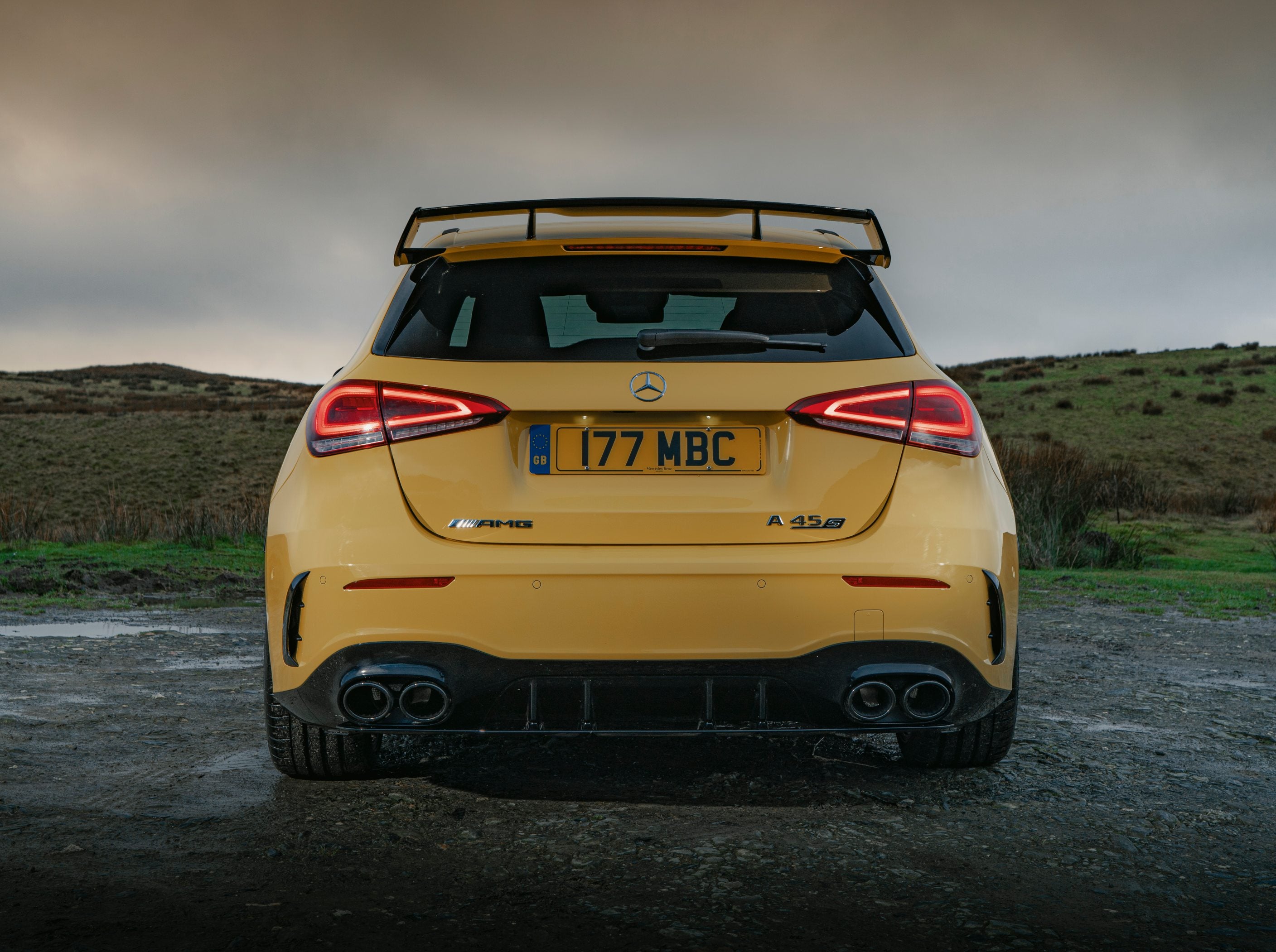 Quad exhausts prove you haven't 'skimped' with the A35 model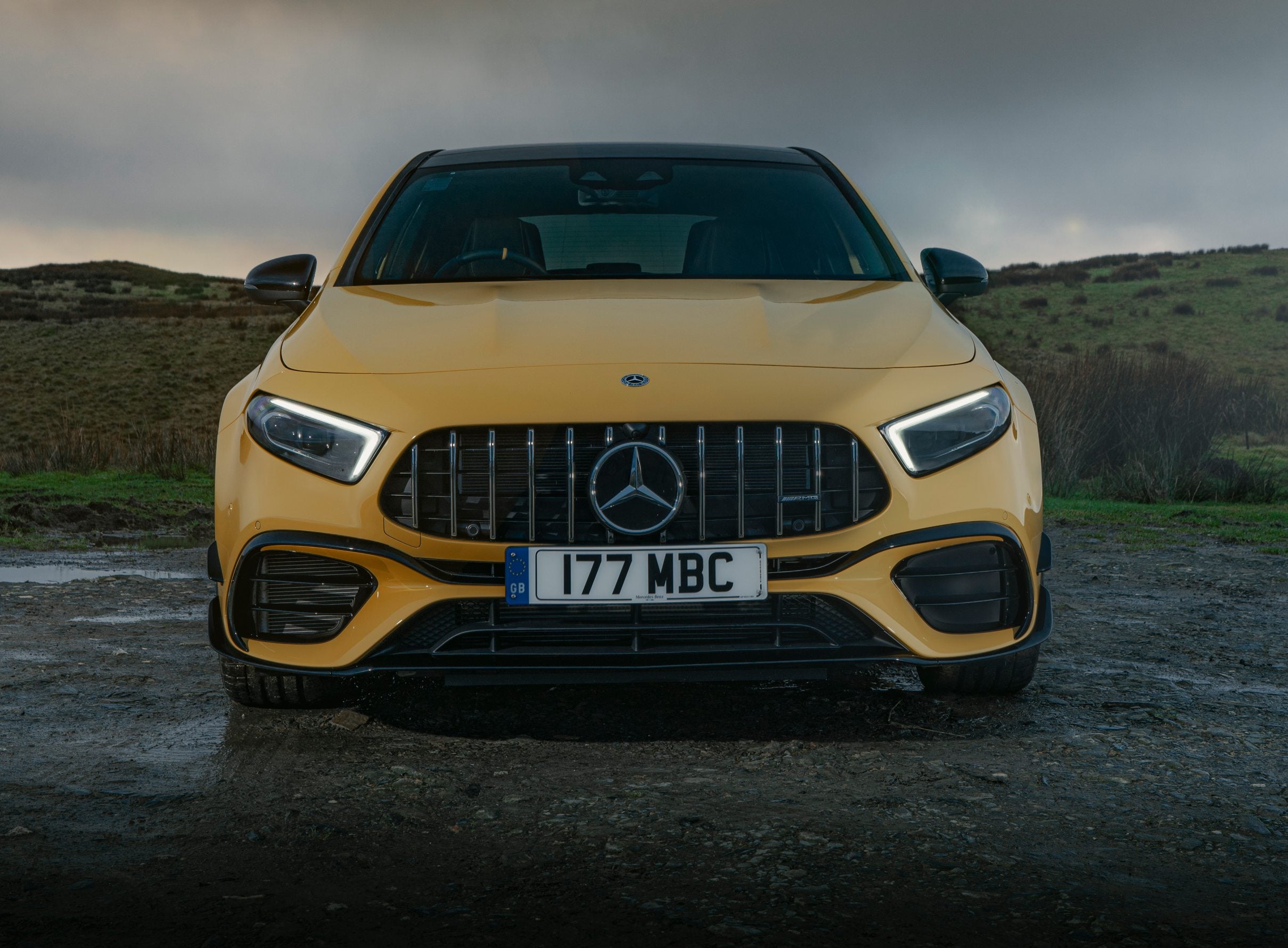 A45 Plus cars get gaping front bumpers with tiny winglets
More fun than an Audi RS3?
It's impossible to talk AMG A45 S without the ominous form of an Audi RS3 looming on the horizon hand-in-hand with its five-cylinder engine and some unoriginal analogy about 80s rally cars warbling in the woods.
The Audi RS3 is the original hyper hatch – the first to prove the general public's desire to have huge dollops of power in a humble hatchback. But for all the Audi RS3 delivers more horses than a Sheikh's equestrian centre and sounds utterly fantastic, it's not without its pitfalls. Fact is, the Audi RS3 feels like a nose-heavy sledgehammer to the Mercedes-AMG A45's ballet dancer in corners.
Ah yes, but the new Audi RS3 solves all these problems, doesn't it? It may well do – we've yet to sample it – but the semi-conductor crisis means you'll be lucky to get your hands on one any time soon, second-hand Mercedes-AMG A45s, meanwhile, are readily available.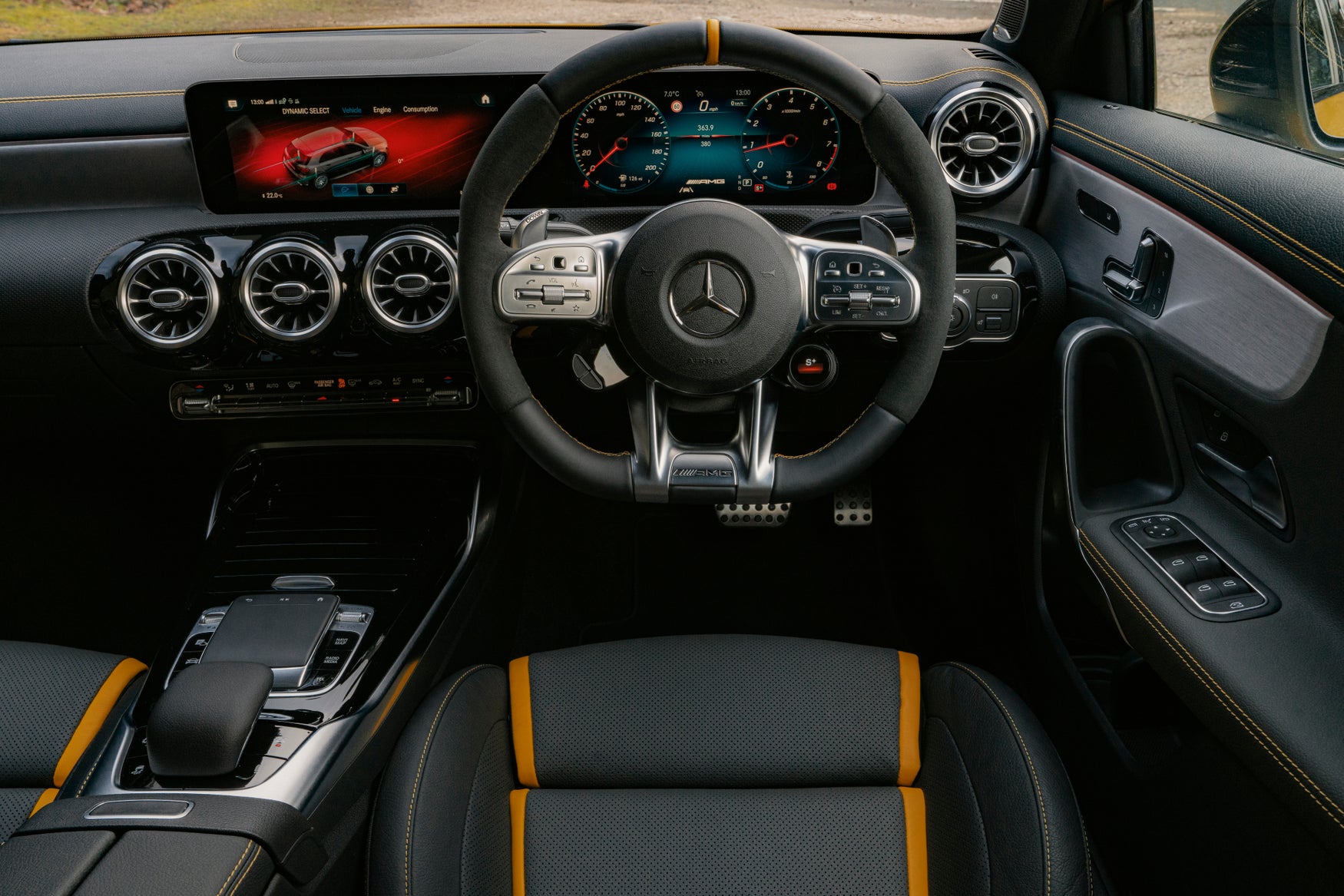 Ah, but you're ignoring the elephant in the room?
Elephant? We'd rather talk about that huge £50,595 price tag. 'Our' A45 Plus was a shade under £60,000 – close enough to double what you'll pay for a mainstream hot hatch.
What does that buy you? Well, from the outside, it buys you one aggressive looking muther – plus models adding 19-inch forged alloy wheels painted in matt black, an air-gobbling front bumper complete with winglets and a rear spoiler big enough to host impromptu picnics. To our eyes, it looks perfect although only the quad exhaust pipes differentiate it from the dual-piped (and much cheaper) A35 Plus.
Inside, you get an even bigger sense of where your money's gone. The Mercedes-AMG feels like it comes from a planet far, far, far away from other hot hatches, one where huge infotainment screens with augmented sat-nav are the norm. You get pretty trims pieces everywhere, turbine air vents and the cool glow of the Merc's mood lighting.
Having said that, you'll notice a few things you wouldn't find in a Mercedes saloon-like hard plastics low in the cabin and seats that don't have a full range of electrical adjustment.
The A45's cruising comfort isn't quite at the same level as a long-wheelbase AMG saloon that creams over bumps better and has a quieter cabin on the motorway. Nonetheless, the optional driver assistance pack takes a lot of the monotonousness out of long drives and even without it, the Mercedes-AMG A 45 S is more relaxing than your average hot hatch.
Anyway, we'd suggest that comparing the Mercedes-AMG A 45 S to mainstream hot hatches – and indeed other AMGs – is the wrong thing to do, what you have here is a Porsche Cayman rival.
How so? Well, picture the scene, you love your Porsche but you're getting older, a baby's on the way and you need a car that can ferry the child and your other half about most of the time, while still offering the thrills you've become accustomed to on that rare occasion you get time to yourself.
From this perspective, the Mercedes' price is no longer so prohibitive and its performance no less devastating – it's certainly the car we would choose if we found ourselves in this situation.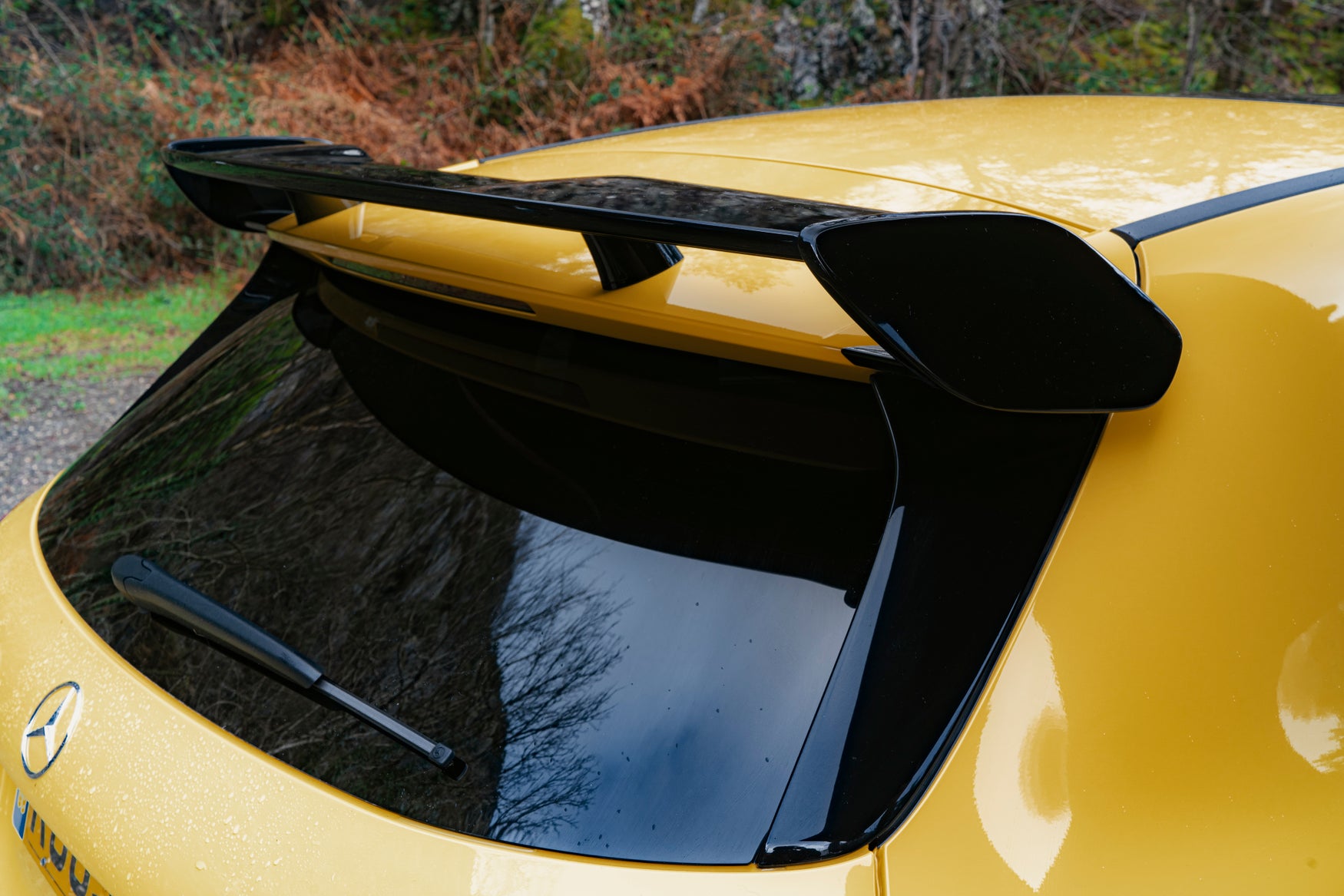 Watch: Mercedes-AMG A 45 S 4MATIC+ (2020) World Premiere
Mercedes-AMG A 45 S 4MATIC+: the facts
Model tested: Mercedes-AMG A 45 S 4MATIC+
Engine: 2.0-litre petrol
Gearbox: eight-speed dual-clutch automatic
Power/torque: 421PS/ 500Nm
Combined fuel economy: 31.4mpg
CO2 emissions: 194g/km
Price from: £50,595
As tested: £59,485
No, the Mercedes A45 has a hand-built engine with a single turbo.
The Mercedes A45 AMG costs from £50,595.
The A45 has performance you'd expect of an AMG Mercedes, even if it lacks the V8 power and rear-wheel drive that are traditional features of most AMGs.
Rivals to the Mercedes-AMG A 45 S 4MATIC+