2022 Mercedes-Benz EQE EV: price, release date, design, interior, power, range
2022 Mercedes-Benz EQE EV: price, release date, design, interior, power, range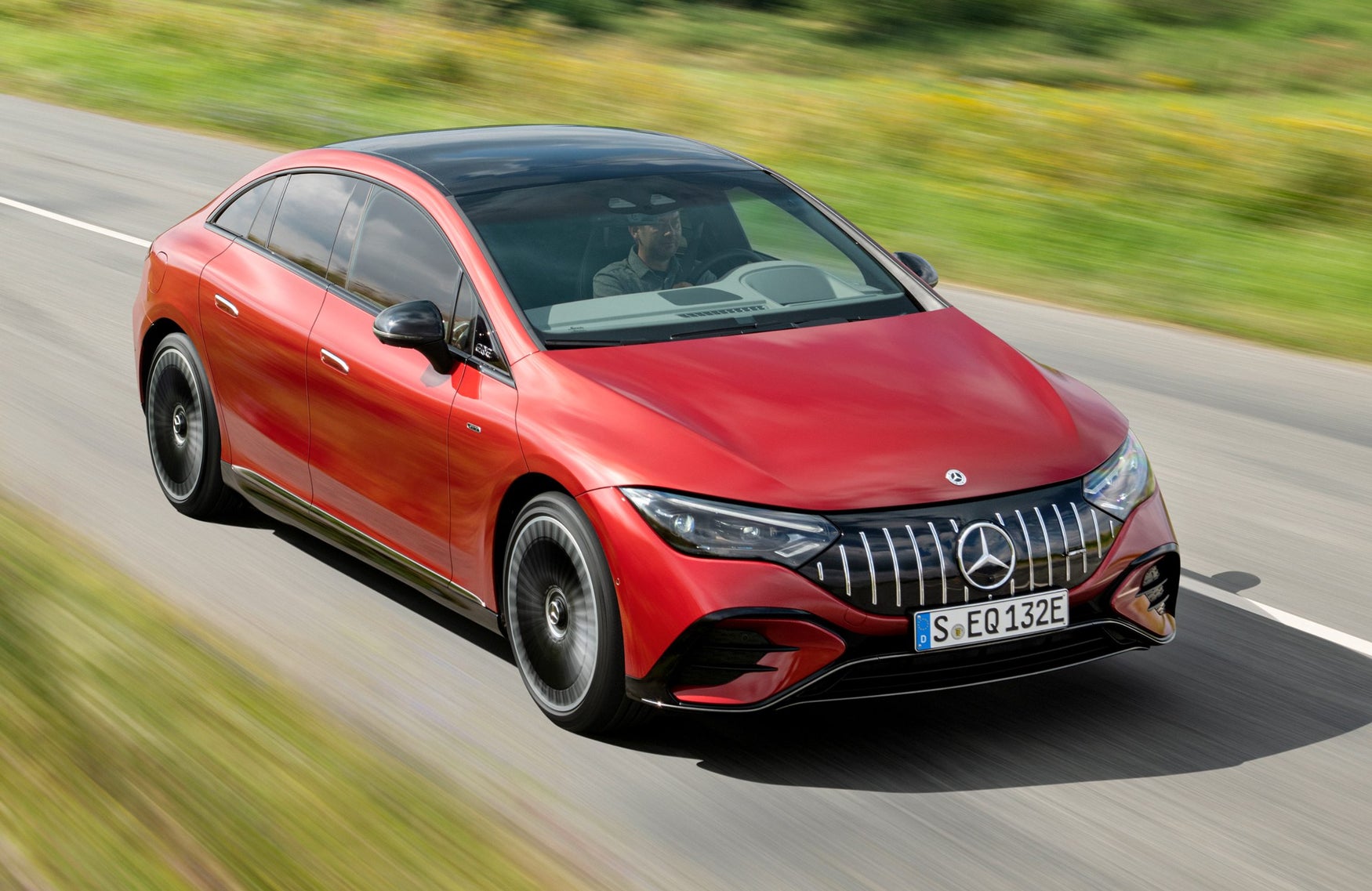 The Mercedes-AMG EQE 43 and 53 have been revealed.
They're an alternative to fast electric cars such as the Porsche Taycan and BMW i4 M50, giving you acceleration of 0-62mph in as little as 3.3 seconds and a top speed of up to 149mph. While we've known about the Mercedes-Benz EQE for some time now, this is the first time we've seen the finished performance models. They promise to be some of the best electric cars going.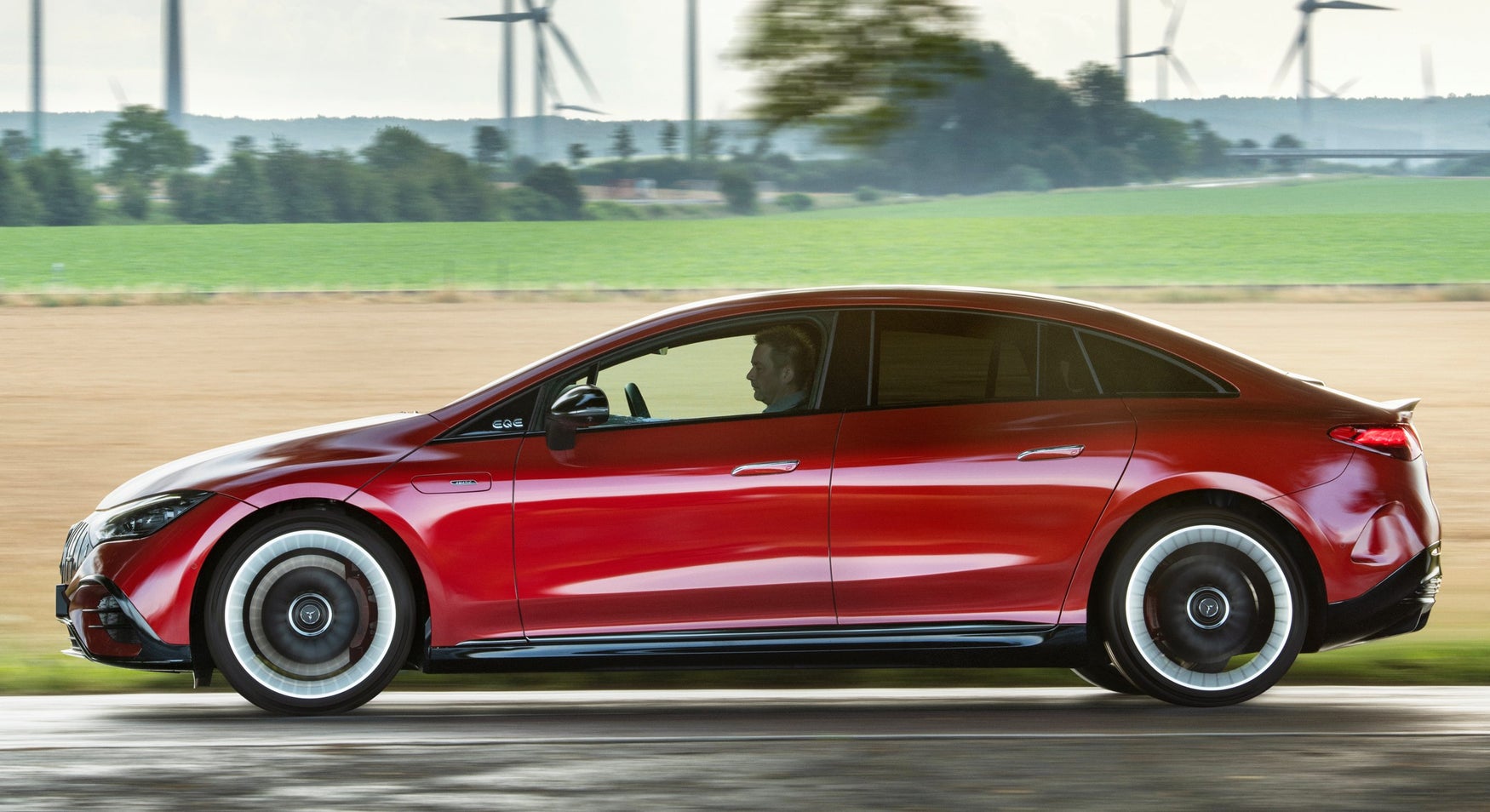 Mercedes-AMG EQE 43 4Matic and 53 4Matic+: power and performance
Like in its conventional saloons, the 43 4Matic is what Mercedes calls its 'entry level' performance EV. Still, with 476PS and a full fat 858Nm of torque to call on, it's not exactly wanting for performance. It gets from 0-62mph in 4.3 seconds and has a top speed that's limited to 130mph.
Not enough for you? Then the E53 gives you more of everything. It ups the outputs to a mighty 626PS – more than you get from a Ferrari Roma – and 950Nm of torque, firing you like a hypersonic missile from 0-62mph in 3.5 seconds.
If you still want more, then you'll need to spec your 53 with the AMG Dynamic Plus Package which opens the taps to fire hose proportions, slugging out 687PS and a whole 1000Nm. The result? It'll get from 0-62mph in 3.3 seconds and tops out at 149mph, up from the standard 53's 137mph.
While the figures sound terrifying, you can expect the delivery to be anything but. Both the 43 and 53 have 4Matic four-wheel drive as standard, with an electric motor at the front and the back metering out power with precision a mechanical system could only dream of.
You even get four driving modes (Slippery, Comfort, Sport, Sport+) that alter power between 50-100% so your AMG EV can be as scary or as relaxed as you want it to be.
Both models also come with air suspension that can be stiffened or slackened depending on your needs and four-wheel steering that makes the EQE (which weighs 2525kg, the same as a G-Wagon SUV) feel as alert and nimble as a car weighing half as much.
Even if it all goes wrong, huge six-pot caliper front brakes should scrub speed like you've just released a parachute. They can be upgraded to carbon ceramics – yep, like you get in an F1 car – in combination with the optional 21 inch wheels.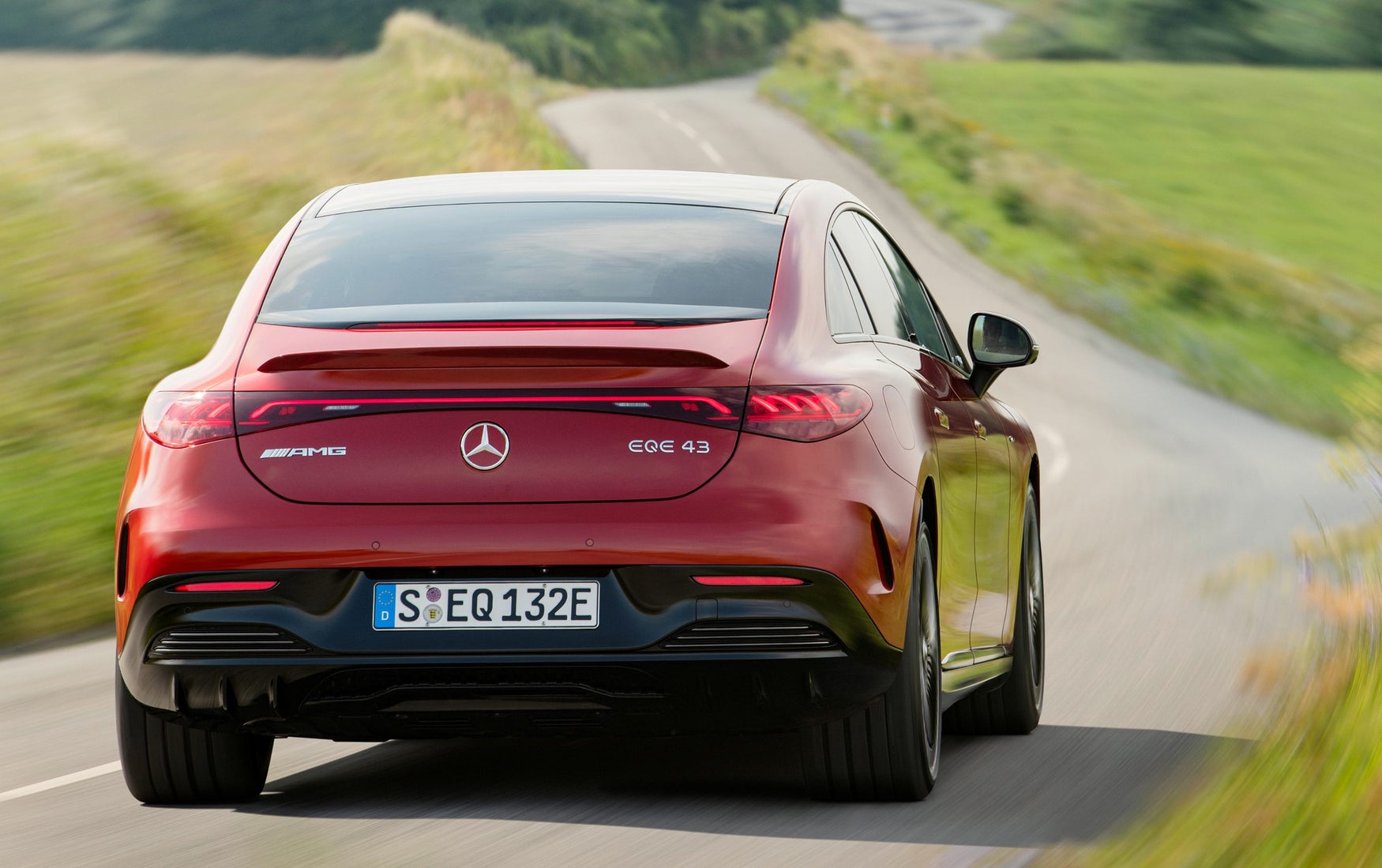 Mercedes-AMG EQE 43 4Matic and 53 4Matic+: battery and range
That ticks all the performance boxes, how about range? Well, both models have a huge 90.6kWh battery giving a range of up to 331 miles (43) or 321 miles (53).
A 170kW fast charging capability means you can add 112 miles worth of range in as little as 15 minutes of charging time and the car's sat-nav can plan routes that factor in charge speeds along the way.
The battery, meanwhile, is warranted for 10 years or 155,000 miles.
Mercedes-AMG EQE 43 4Matic and 53 4Matic+: styling and interior
While the Mercedes-AMG EQE 43 4Matic and 53 4Matic+ plus have the performance to humble almost any super saloon, you'd never guess it from the looks.
Even with their standard matrix LED headlights AMG specific grilles, lower front bumper, side skirts and rear diffuser, the new AMG models have all the aggression of a mildly hacked off manatee. Blame that on their aero friendly smooth shape and the bulky design needed to accommodate the huge battery.
As well as upgrading the standard 20-inch wheels for 21-inch items, you can also spec the optional Night Pack. It adds black exterior highlights, carbon fibre trims and paints the brake calipers red.
It's much the same treatment on the inside where you'll find AMG-embossed seats, an AMG steering wheel and aluminium pedals with 'AMG' illuminated door sills.
Keep reading below for EQE 43 and 53 prices, as well as everything you can expect from the standard EQE.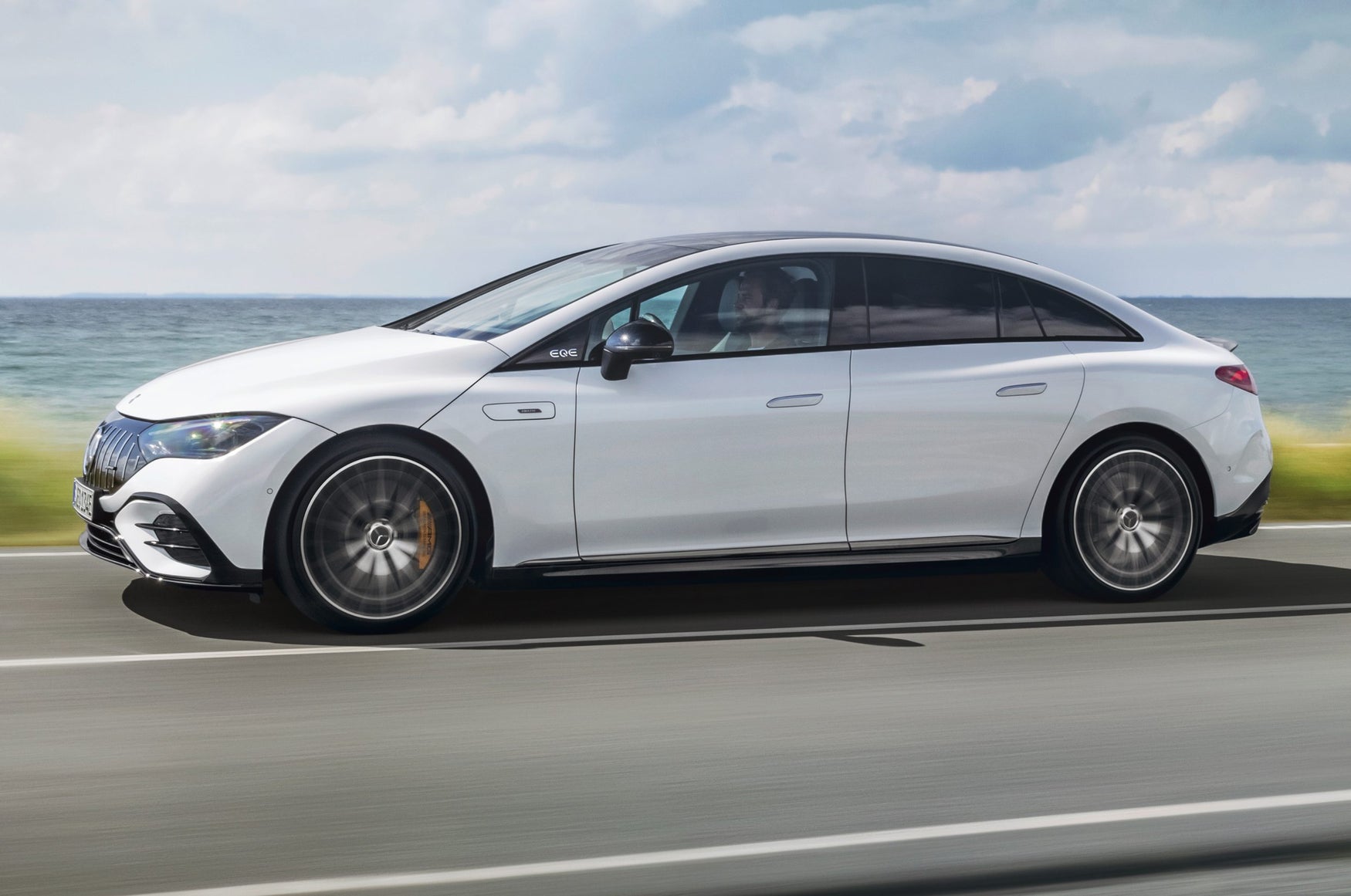 2022 Mercedes-Benz EQE EV price and release date
The 2022 Mercedes-Benz EQE EV is expected to be priced from £60,000 when it goes on sale in the middle of 2022, meaning it'll cost £8000 more than an entry-level BMW i4 and almost £20,000 more than a basic Tesla Model 3. You can expect the EQE 43 4Matic and 53 4Matic+ to be priced between £80-100,000 and to go on sale at the same time as the standard car.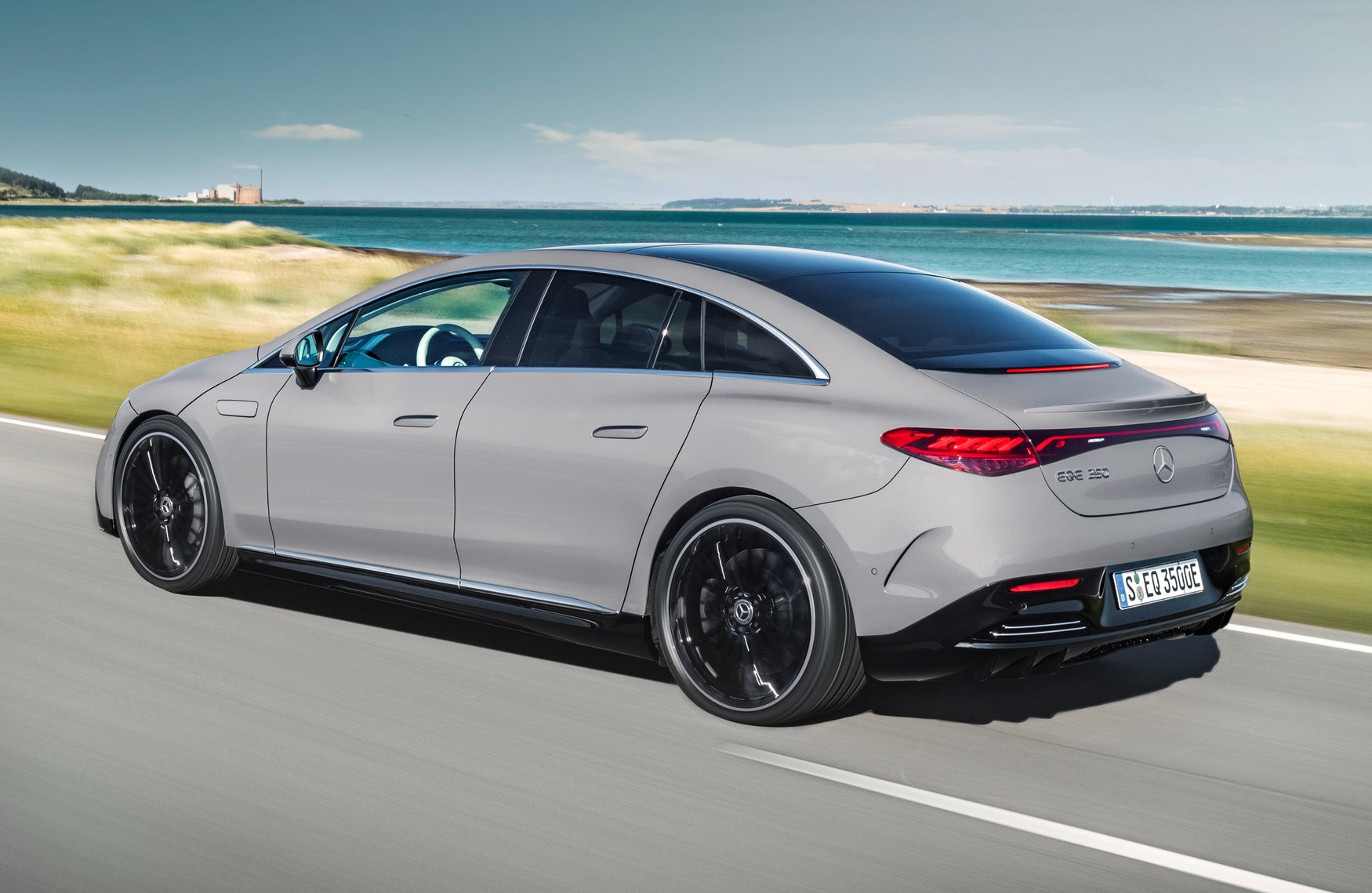 2022 Mercedes-Benz EQE EV styling
The standard Mercedes EQE looks similar to the EQS thanks to its shaped-by-water body shape, but it is smaller and has a shorter wheelbase than Mercedes' EV range-topper. To our eyes, the EQE looks like an S-Class that's had a run in with a blowtorch, but that's mere subjective opinion.
You get classic EV features like a flush grille and recessed door handles, but there are plenty of conventional Mercedes saloon cues too, most notably the huge three-pointed star on the nose.
The flush grille serves a purpose, hiding the sensors used by the car's various autonomous driving aids rather than locating them in a separate unit. As you can see in these pictures, you can have the grille with a three-dimensional, star finish. Bookending the grille are standard LED headlights, which you can upgrade to Digital Light units at extra cost.
The EQE has a cab-forward design with a stubbier bonnet than you'll find in a petrol or diesel Mercedes, so more of the car's length can be devoted to the passenger compartment. The easy packaging of the electric motors and the fact that the battery under the floor makes this possible.
Around the sides, you see frameless doors and a service hatch on the wing, where you can top up the window washer fluid. The actual bonnet should only ever be opened by your mechanic.
You can choose from wheels between 19 and 21 inches in size and chrome trim running down the sill between them is supposed to guard against stone chips.
There's no chrome around the back of the car – even the fake exhaust pipes we're used to seeing have gone – but on the upside, you do get a cool light bar that stretches the width of the car. Meanwhile, the 3D helix tail lights give following drivers something to gaze in wonder at.
In terms of size, the EQE is 4946 mm long, 1961 mm wide and 1512 mm tall or about the same size as the Mercedes CLS.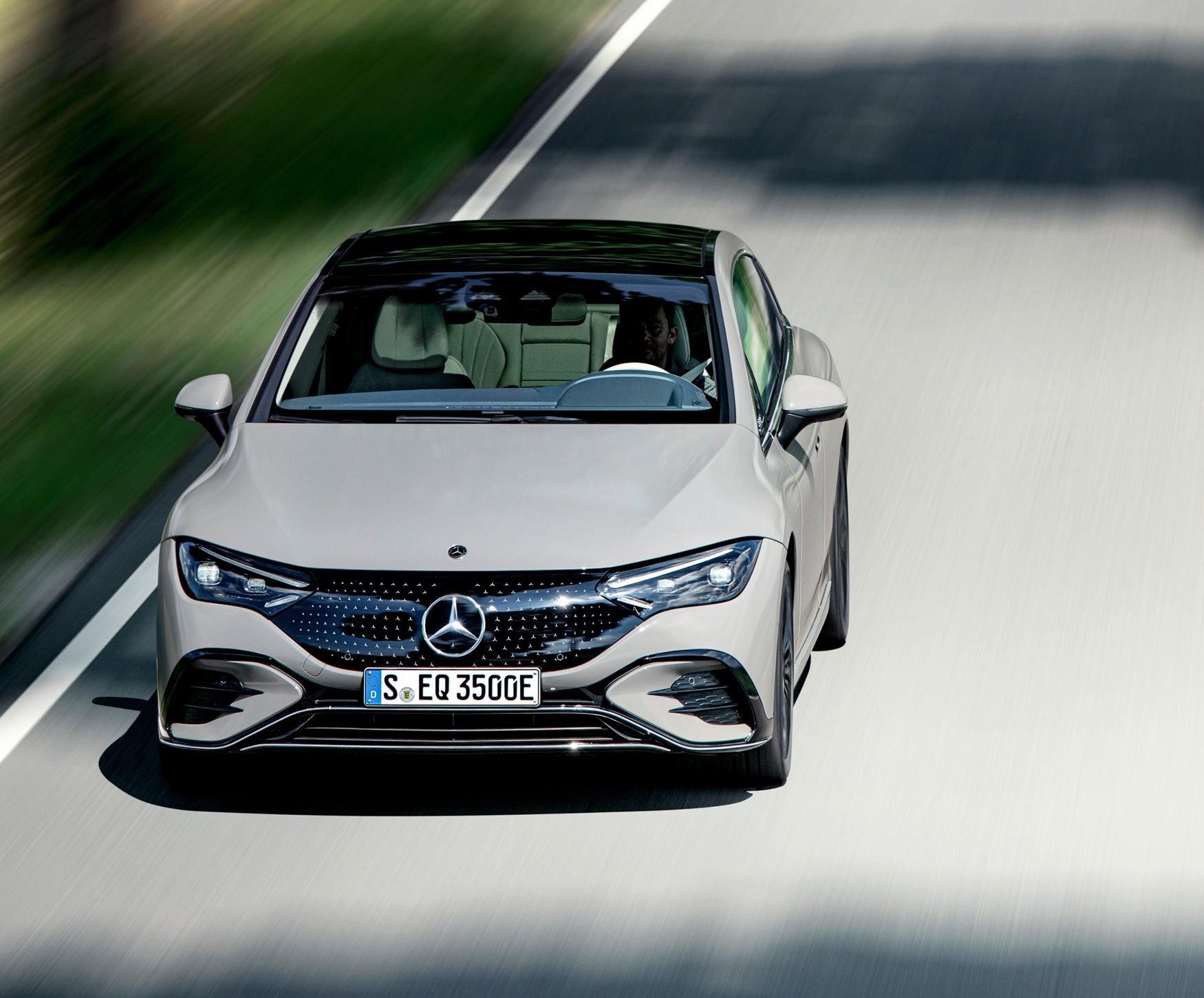 2022 Mercedes-Benz EQE EV aerodynamics
In terms of aerodynamics, the EQS – which has a 0.20 Cd rating – will remain the most efficient thanks to its long shape and standard air suspension, which means it can lower itself at speed, however, the EQE will be extremely slippery.
It has grilles that can close over at speed, a smooth underbody, wing mirrors mounted on the doors and optimised wheel designs.
These design features will also make the cabin quieter – which is desirable when there's no engine sounds to mask other noises.
To this end, the EQE gets new door and window seals first seen on the EQS, while the Acoustic Comfort Pack adds laminated glass to the front side windows and extra interior sound deadening.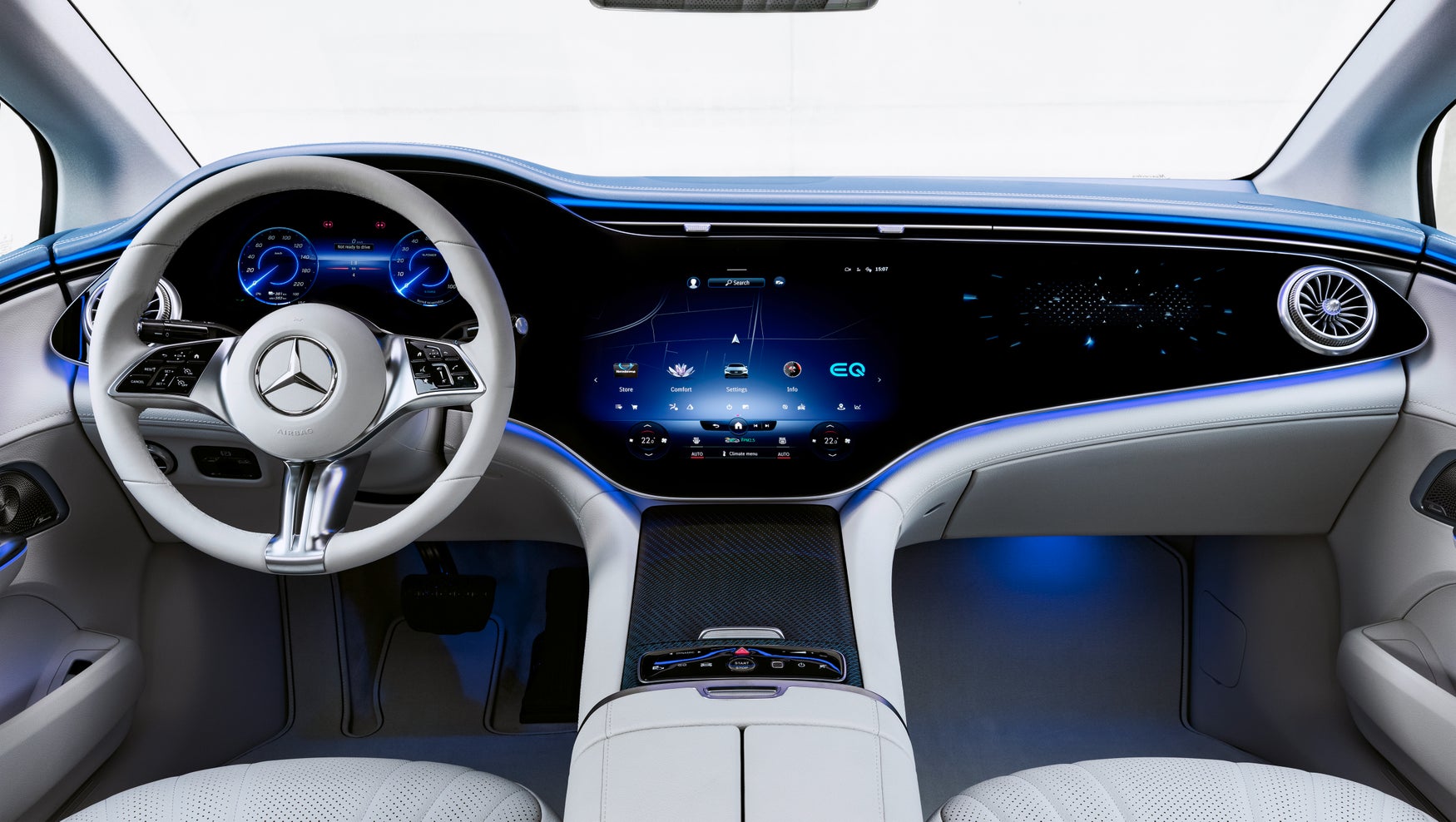 2022 Mercedes-Benz EQE EV interior and infotainment
Much like the outside, the 2022 Mercedes EQE's interior is a blend of traditional Mercedes and bang up-to-date EV. A standout feature is the optional Hyperscreen – what appears to be a single wide-screen display that takes the place of a conventional dashboard.
It is composed of two 12.3-inch OLED displays with a 17.7-inch slotted in the middle. The centre screen (and the passenger display) features haptic feedback, to make it feel like you're pressing actual buttons and the car's climate controls are permanently displayed to make them easier to use on the move.
It has three styles (Discreet, Sporty, Classic) and three modes (Navigation, Assistance, Service). In Discreet mode, for example, readouts are kept to a minimum, while Assistance gives you an overview of all the car's autonomous driving aids.
The sat-nav is also bang up to date. As well as being able to plan routes taking account of traffic and factoring in charging stops, it can also predict battery usage based on things like ambient temperature, the topography of the route, interior heating and cooling, as well as your speed. It can then calculate the cost of the journey based on live electricity prices and make it as quick as possible by prioritising fast chargers along your route.
The centre screen is backed up by a 12.3-inch OLED display for the front seat passenger. It means your passenger can watch videos or browse the internet while you get on with driving. The screen is automatically dimmed if you look at it and, if there's no front seat passenger, it instead displays a static image like a starry sky.
It's all controlled via the latest version of Mercedes' MBUX operating system, which predicts the functions you're about to use and presents them to you, without you having to dig through menus and sub-menus. 'Zero layer' design is what Mercedes calls it. Apple CarPlay and Android Auto are bound to be fitted as standard.
Amongst all this technology, you'll find familiar Mercedes features like the turbine air vents at either end of the dashboard, seat controls on the doors and polished metal speaker covers.
Expect the EQE to have enough space inside for four tall adults, although the 430-litre boot is relatively small (an E-Class has 540 litres).
You'll be able to choose between the simplicity of the comfort seats in standard models or the sportier, more heavily bolstered chairs you get with AMG Line trim. The dashboard and doors meanwhile are finished in Neotex, which looks like leather but is in fact neoprene.
You can also finish the interior with a choice of six colours including also brown-neva grey and biscaya blue-black, while rose gold is used to highlight the infotainment screen surround.
Throw in laser cut trims with a Mercedes brand backlighting, your choice of open-pore woods and a mini light show that is performed every time you get in and out of the car and, it is fair to say, you can expect the EQE to feel 'proper' premium.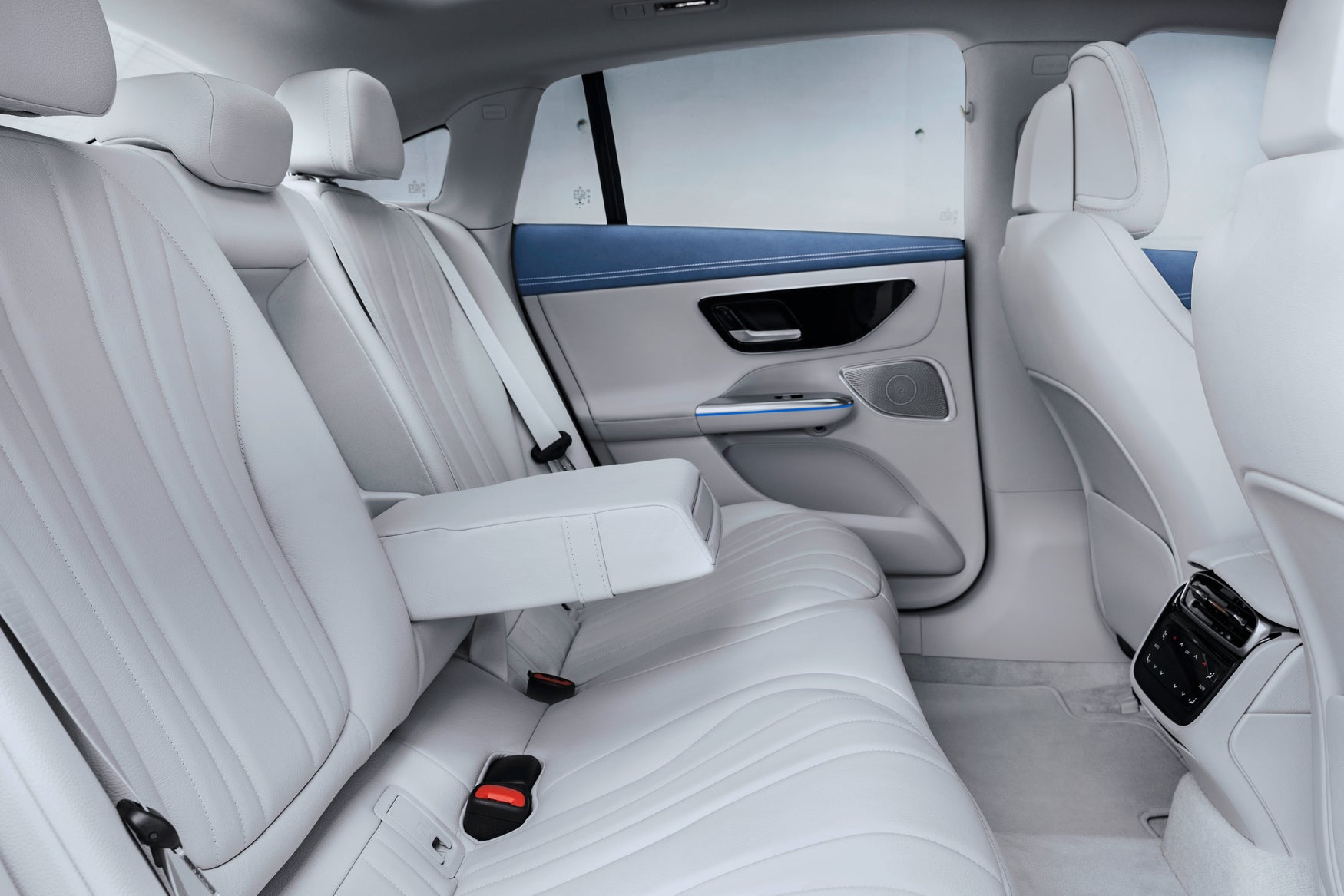 2022 Mercedes-Benz EQE EV power and drivetrain
The 2022 Mercedes-Benz EQE will launch in EQE 350 specification, along with another unnamed model with more to follow soon after. Expect the range to mirror Mercedes' conventional saloons, with names like the EQE 400, 500 and 600.
Launch cars will all be rear-wheel drive, with an electric motor acting directly on the back axle, but later on, in the car's life, you'll be able to have 4Matic four-wheel drive courtesy of another motor mounted on the front.
The rear-wheel-drive EQE 350 revealed in Munich has 292PS, gets from 0-62mph in 5.6 seconds and is limited to a top speed of 130mph to preserve some semblance of range. Mercedes says this performance will be repeatable, too, unlike Tesla that's battery sometimes needs a moment to cool.
For the kind of Lamborghini-beating acceleration that Tesla has become famous for, you'll need to wait for the four-wheel-drive 680PS model that will doubtless wear an AMG badge.
Out-and-out performance isn't what standard versions of the EQE will be all about, instead, expect them to focus on comfort. To that end, you'll be able to drive the car using one pedal most of the time thanks to regenerative brakes that engage when you lift your foot off the accelerator. You can adjust their force between D+, D and D- modes, the D standing for deceleration.
Even the magnets in the motor are arranged in a way that cuts down on noise vibration and harshness (NVH), while the motors themselves are wrapped in foam and mounted on elastomeric bearings. The air conditioning compressor is another component that is soft-mounted to the body to dull out vibrations.
Want sound? Then you'll need the optional Burmester surround sound system which can produce three 'soundscapes' silver waves, vivid flux and roaring pulse.
By contrast, a comfortable ride is something we have come to expect of a Mercedes and the EQE's four-link front and multi-link rear setup is a close match for the new S-Class' setup.
Naturally, you can chuck a load of options at it, upgrading it for air suspension with adjustable dampers and adding rear-wheel steering. The latter cuts the EQE's turning circle down from 12.5 to 10.7 meters, by turning the back wheels by up to 10 degrees.
2022 Mercedes-Benz EQE EV battery and charging
The 2022 Mercedes-Benz EQE EV's power comes from a 10-cell 90kWh battery that's power management can be updated over the air as new software becomes available. It gives the EQE a range of up to 410 miles.
The battery has an Eco charging function that helps prolong its life and it can be recharged from a public charger at speeds of up 170kWh – that means 155 miles worth of battery power in just 15 minutes. The catch? There currently are no 170kWh chargers in the UK.
The battery, meanwhile, comes with a ten-year, 155,000-mile warranty and Mercedes me Charge gives EQE owners access to more than 200,000 chargers in Europe so you don't (or shouldn't) need multiple accounts for different providers.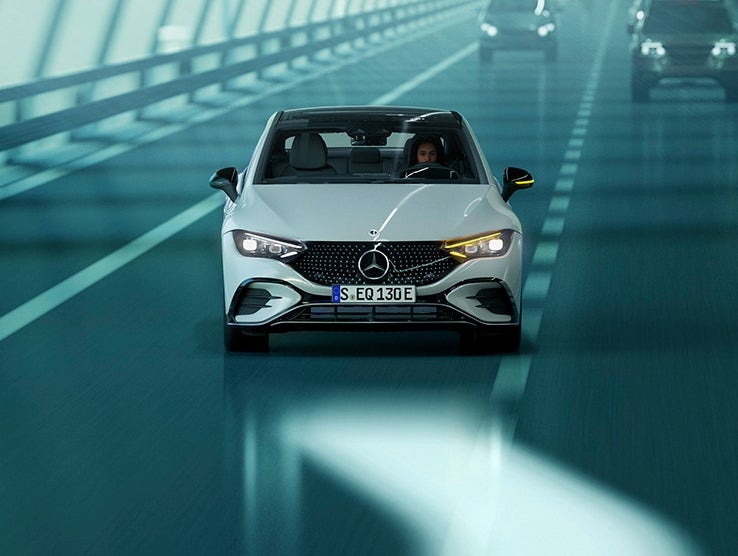 2022 Mercedes-Benz EQE EV options
Something we'll see in the new Mercedes EQE and many more cars going forward are over-the-air options. In other words, options that are already fitted to the car but you have to pay extra to activate. They'll include things like a sporty driving mode, games for the infotainment screen, light animations for the LED headlights and many more.
Options that can't be downloaded have not been consigned to the history books just yet, though. You'll be able to have your EQE with doors that open automatically when they sense your presence and close again when you put your foot on the brake.
Want to brighten up your life? Then you'll need the Digital Light option, which swaps the standard LED headlight for uprated units. With three large LEDs each, their light is then reflected by 2.6 million micromirrors, allowing the EQE to intricately light up the road around other cars without blinding their drivers.
Another option is the 710W Burmester stereo that has 15 speakers.
2022 Mercedes-Benz EQE EV safety
The 2022 Mercedes EQE EV can, according to Mercedes, be made even safer than one of the company's conventional saloons because there's no hard engine block to play havoc in the event of an accident. A five-star NCAP safety seems a guarantee as a result and you expect the EQC to have at least tow Isofix mounts for the safe fitting of a child's seat.
The car will also come with Mercedes latest autonomous driving aids, meaning the car can accelerate, brake and steer itself during normal driving and in the event of an accident. An augmented reality sat-nav system that can warn of hazards and a new function on the Attention Assist will also be available. The latter detects micro-sleeps by monitoring the driver's eyelids and warning them if they're judged to be falling asleep at the wheel.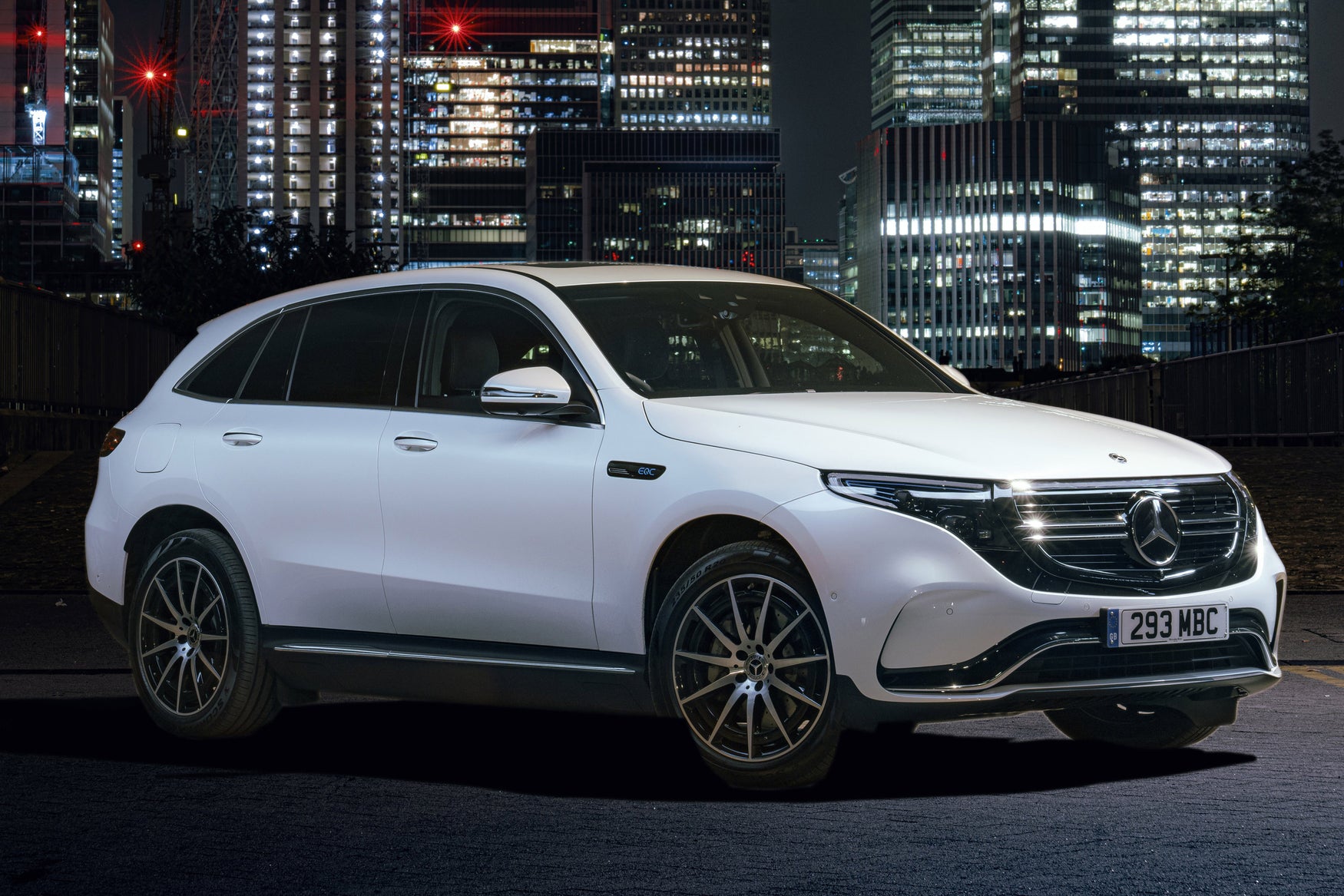 See deals on the Mercedes-Benz EQC
Dying to get your hands on an electric Mercedes, but can't bear to wait for the new EQE? Then the Mercedes EQC is a car you might want to consider – it's fully electric, is brimming with power and has practical interior that's posh and modern. Prices start from £55,000 for a 2019 car with less than 10,000 miles on the clock, rising to more than £75,000 for a new car fitted with the desirable Premium Plus pack.
Looking for more new car news?
Click on for the latest on the Ineos Grenadier and Toyota Aygo X, new Vauxhall Astra and the Alfa Romeo Tonale.
The EQE will cost from £60,000 when it goes on sale in 2022. That will buy you a basic rear-wheel drive 350 model, expect prices to rise to more £100,000 for one of the high-perfomance models fitted with four-wheel drive.
The Mercedes EQS is expected to go on sale at the end of 2020, with prices starting from £80,000. It will sit up the EQE in Mercedes' electric car range.
Mercedes has already brought out electric cars headed up by the Mercedes EQC SUV, EQA SUV and EQV posh people carrier. The EQS saloon soon will soon join the range, followed by the EQB SUV and EQE saloon.
The New EQE: World Premiere | Trailer
Cars the 2022 Mercedes-Benz EQE has to beat