MINI Hatch John Cooper Works First Drive 2021

Written by
Russell Campbell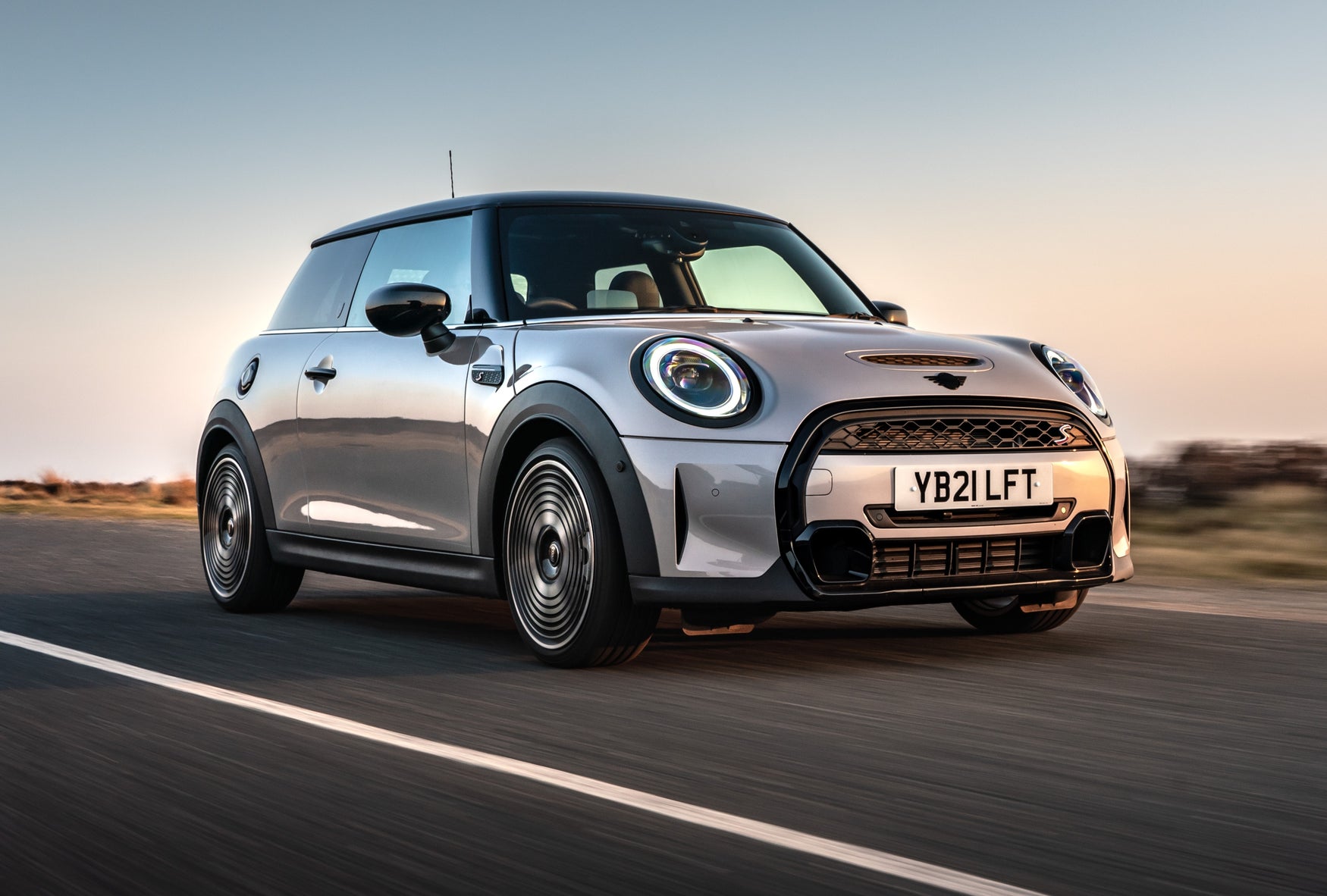 Best bits
Highly customisable
Great to drive
Posher than your average hatchback
Not so great
Pricey on paper
Adults wont enjoy the back seat
Other small cars are more comfortable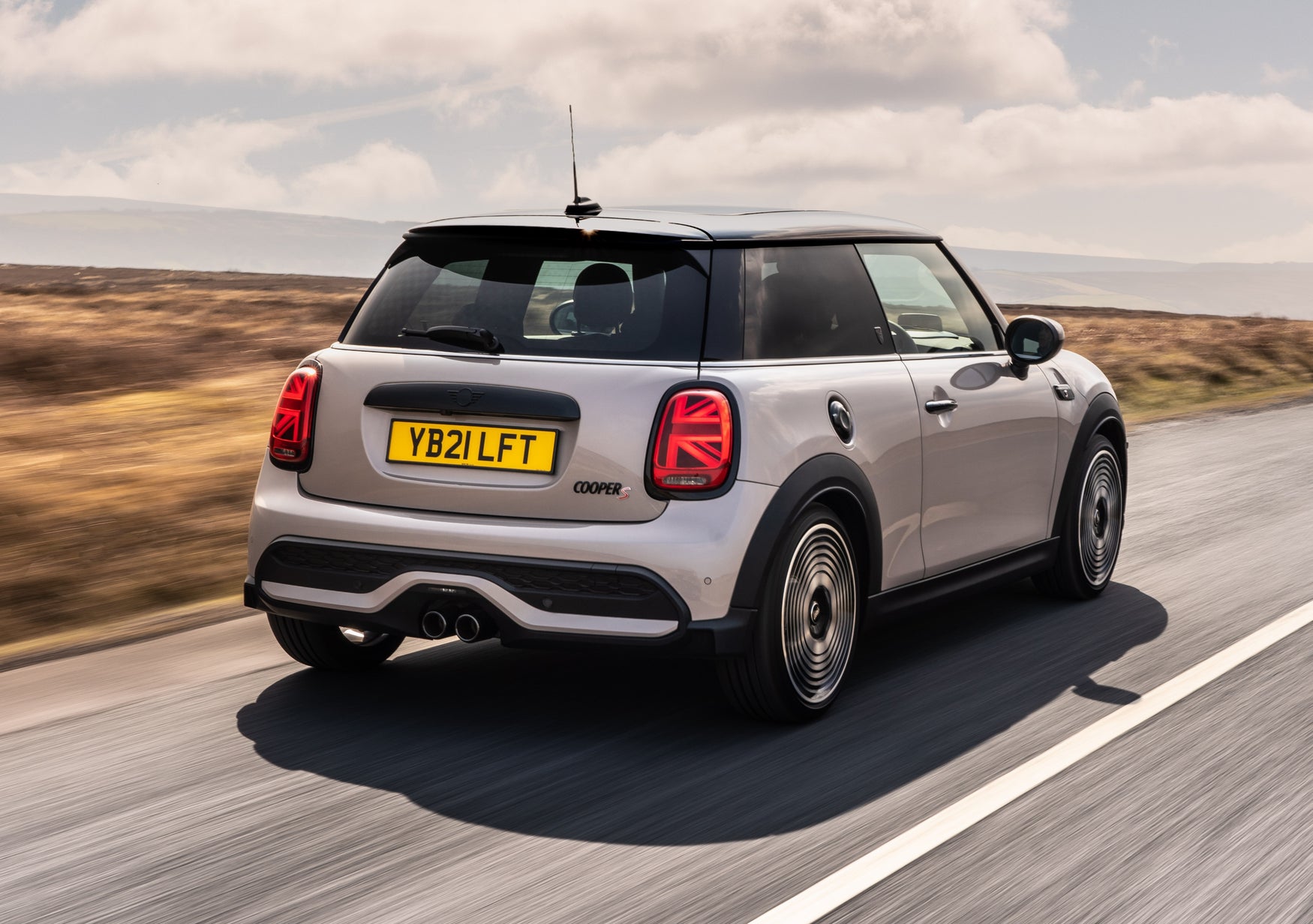 What is it?
You know the drill. A series of facelifts has kept the current MINI Hatch – a car that has been on sale since 2013 – looking sharp and these moody new tweaks equip it for 2021 and beyond.
It gets a new larger, shiny-black plastic grille with a body-coloured bumper running through it. The headlight units are also finished in black where they were previously chrome and their light-up bezels take the form of daytime running lights. You'll now find air vents where the front fog lights used to be while around the sides, you get LED indicators and revised wheel arch trims. Pub fact fans should note that the LED strip above the exhaust is, according to MINI, the smallest fog light fitted to a production car.
Personalisation options – a cornerstone of the MINI experience – have also been extended with a choice of three new colours: Rooftop Grey, Island Blue (nicked from the Countryman) and Zesty Yellow, which somewhat underplays its acidity. This most striking of shades is only available on the Convertible, which can now also be decked out with a Union Jack roof, while across the range you get a choice of five new alloy wheel designs.
The Piano Black Exterior pack, meanwhile, finishes parts like the fuel-filler cap, badges, boot lid and exhaust tips in glossy black. Meanwhile, a truly unique feature comes in the from of the Multitone Roof with San Marino Blue, Pearly Acqua and Jet Black bands that fade into each other, the wet-on-wet spray process used to apply the paint means no two roofs are the same.
The inside of the MINI looks as bang up to date as the outside. An 8.8-inch colour infotainment screen now comes as standard as do glossy-black trims, while chrome – so 2010s, darling – has been reduced. Naturally, you can now also have a 5.0-inch digital display in place of the analogue dials behind the steering wheel because a car isn't new if you can't have a fully digital dashboard. Well, we say that, direct sun light reveals the rev counter needle to in fact be, whisper it, analogue.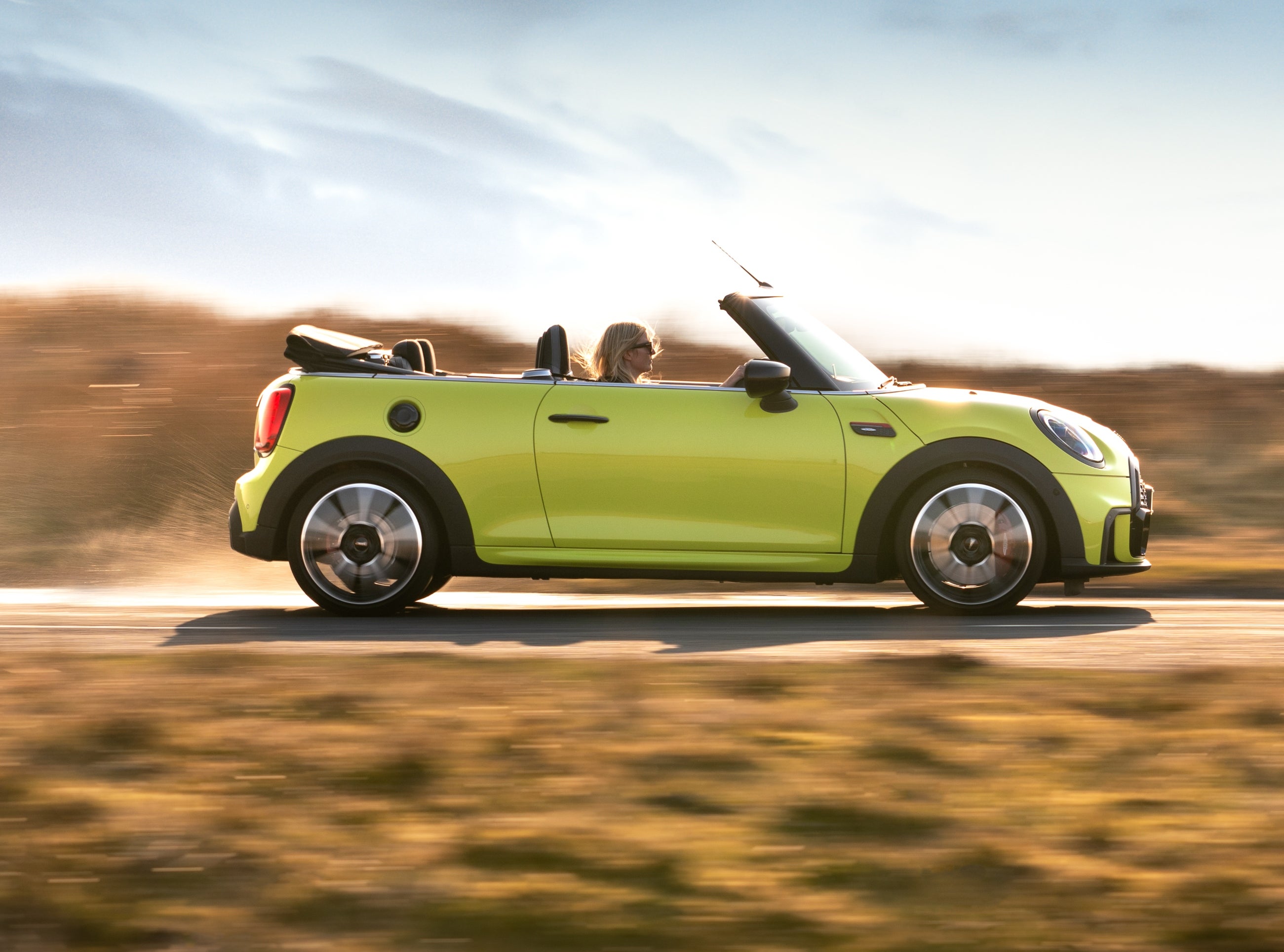 Eye searing Zesty Yellow is only available on convertible models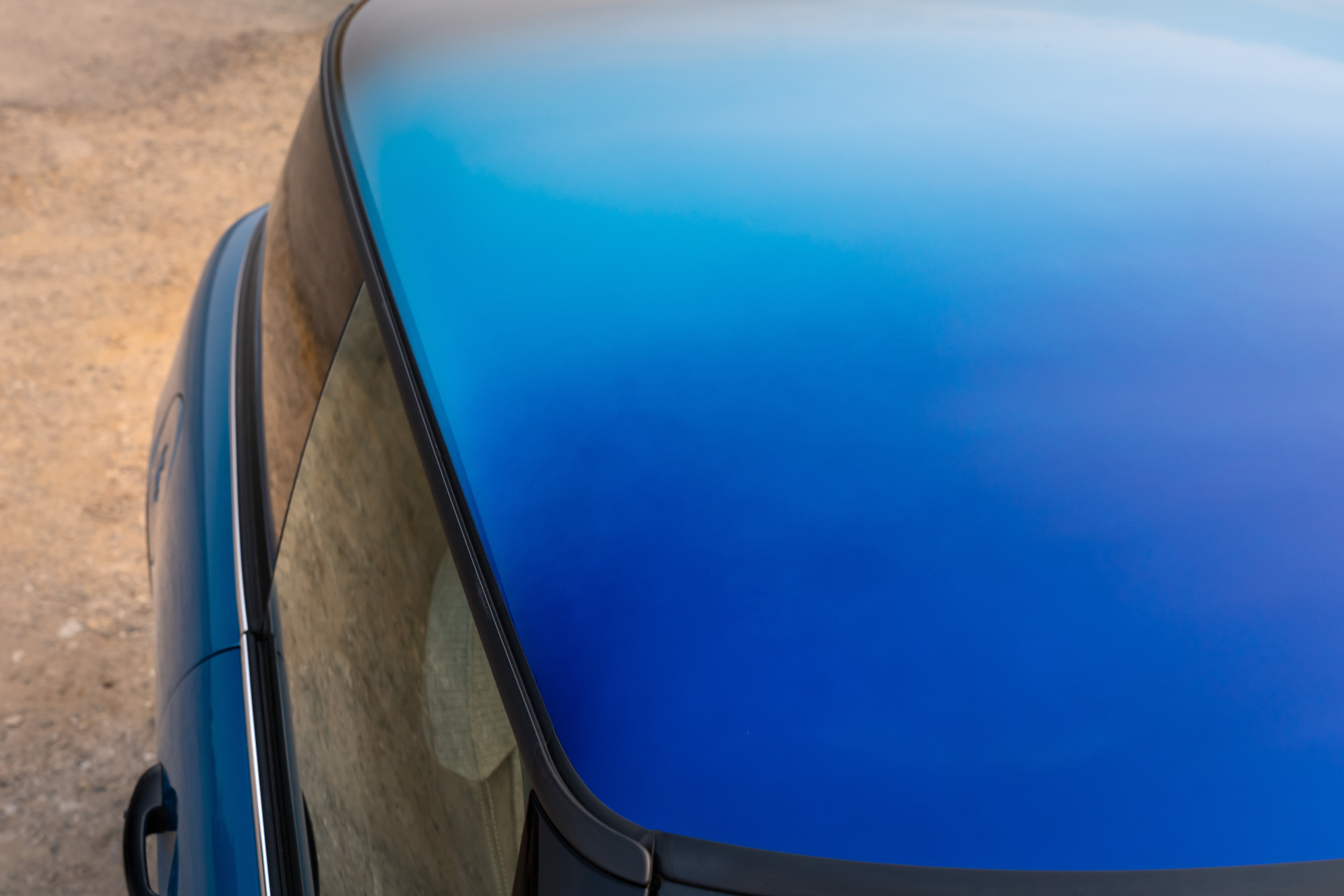 That be the Multitone Roof
Anything else I need to know?
If you're a driving geek then you should know that the new MINI comes with Adaptive Suspension which replaces the selectable system in the old car, it comes as standard on Sport models and is a £400 option on entry-level Classic and posh Exclusive models.
These clever passive dampers aim to give you an optimal balance between a sporty and comfortable drive, they can react to big bumps in as little as 50 milliseconds, reducing the damping force by up to 50% to take the edge off big bumps.
Taking the edge off long drives is the updated Driver Assistance Pack which costs £800. It has the latest active cruise control which means your MINI can stop and make off again automatically in traffic so long as it is fitted with an automatic gearbox. The pack also includes lane assist which vibrates the steering wheel when it thinks you're about to career off the road.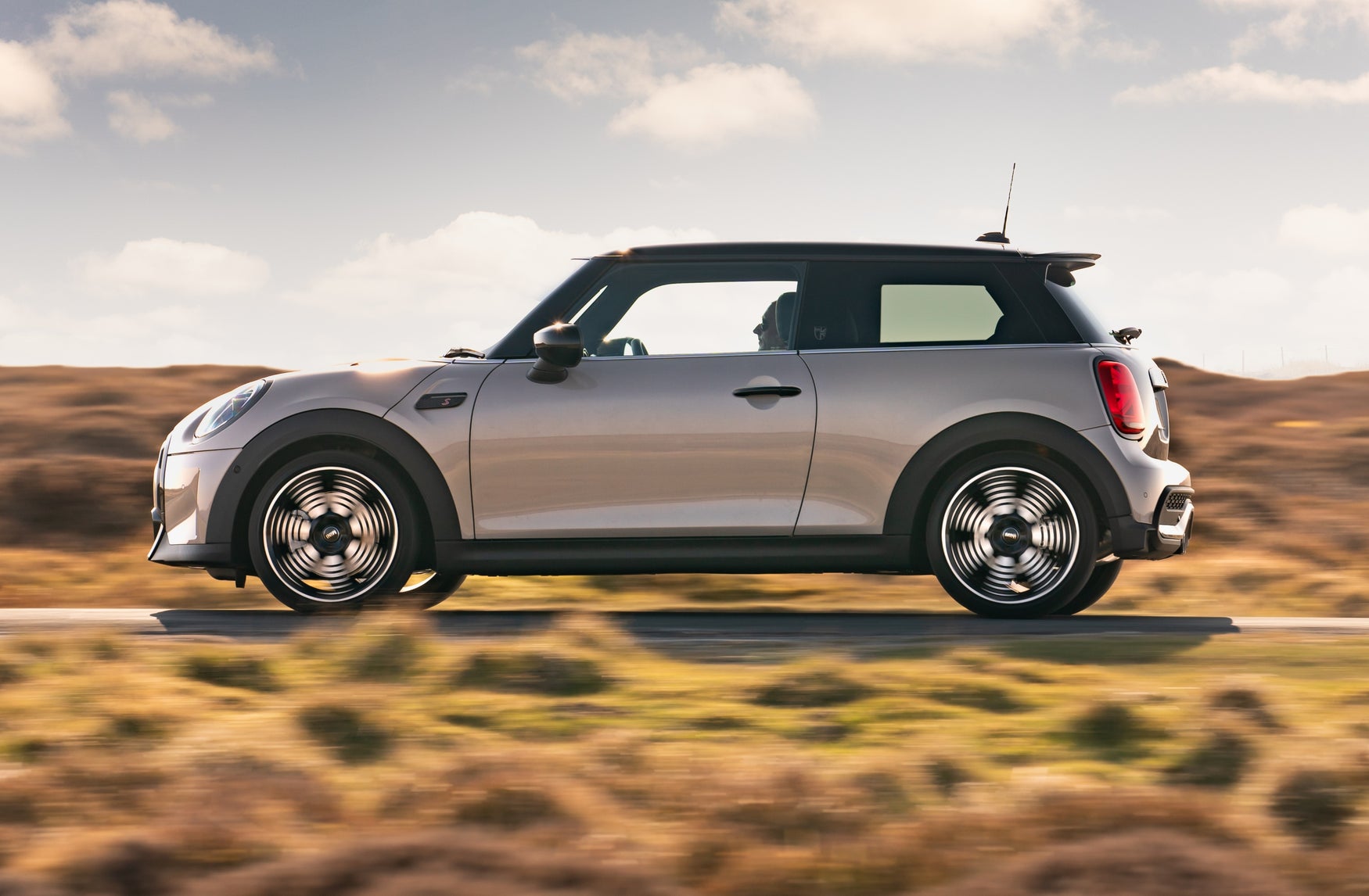 Still the MINI we love?
In a word – yes! We're not massively keen on the new MINI's goth-black dress sense, but this should be taken as cast iron confirmation that it is indeed modern and stylish. It certainly looks just as eye-catching as posh rivals like the new Audi A1. Impressive for a relatively old design.
And it's much the same on the inside, too, where the MINI exudes a premium feel that its rivals – even the Audi – can't quite match. You get thick spongy plastics on the dashboard top and centre console and they're plastered with your choice (of many) fancy trim pieces. Even the seats feel very supportive and feature more adjustment than you get in your regular small hatchback. You can also deck them out in a huge variety of leather and fabric upholstery.
If we were being uber picky, we would say the MINI's retro design – with its multitude of shapes and textures – isn't as cohesive as the A1's cabin and its pretty infotainment screen isn't as easy to operate. We should also point out that the MINI, even the five-door model, feels cramped inside compared to the Audi.
If you can live with that, though, you'll be rewarded with a small car that is truly rewarding to drive. Naturally, we plumped for the top-of-the-range JCW model which has a 2.0-litre four-cylinder engine producing 231PS and 320Nm of torque – meaty figures in a car the MINI's size.
Sure enough, it scampers from 0-62mph in 6.1 seconds and will nut 153mph square in the gonads. But while the power of its punch isn't lacking, some Mohammed Ali like pizzaz wouldn't go a miss – something the Fiesta ST serves up in spades with its throaty growl and pops and splutters on the overrun.
While we're having a moan, we'd also swap the eight-speed auto of the car we drove for the added engagement of the six-speed manual. Thus equipped, the MINI would be a great B road blaster with quick and weighty steering that lends it an ability to dart around corners like a squirrel in heat.
Yes, the ride can be a little crashy but more often than not it is rubbery-firm, with a sophistication that even the Fiesta can't match. Alas, this playfulness does come at the expense of cruising refinement where the MINI suffers from a noticeable road noise, it's by no means a deal breaker, but an Audi A1 is a quieter car to tackle the motorway in.
Arguably, the JCW's biggest competitor comes from within its own ranks. The 136PS Cooper we also sampled is a fabulous little machine that's plenty quick enough (0-62mph in 8.2 seconds, top speed of 130mph) and also riotously good fun in bends. Best of all, it'll get 40mpg all day long.
All of the above could have been said about old MINI, what this facelift does is update a proven formula to keep it well on pace with the competition. So, while a basic MINI hatch might have a sizeable £17,000 price tag, rising to £18,200 for the Cooper, £21,900 for the Cooper S and £27,300 for the JCW, it's not hard to see where your money is going.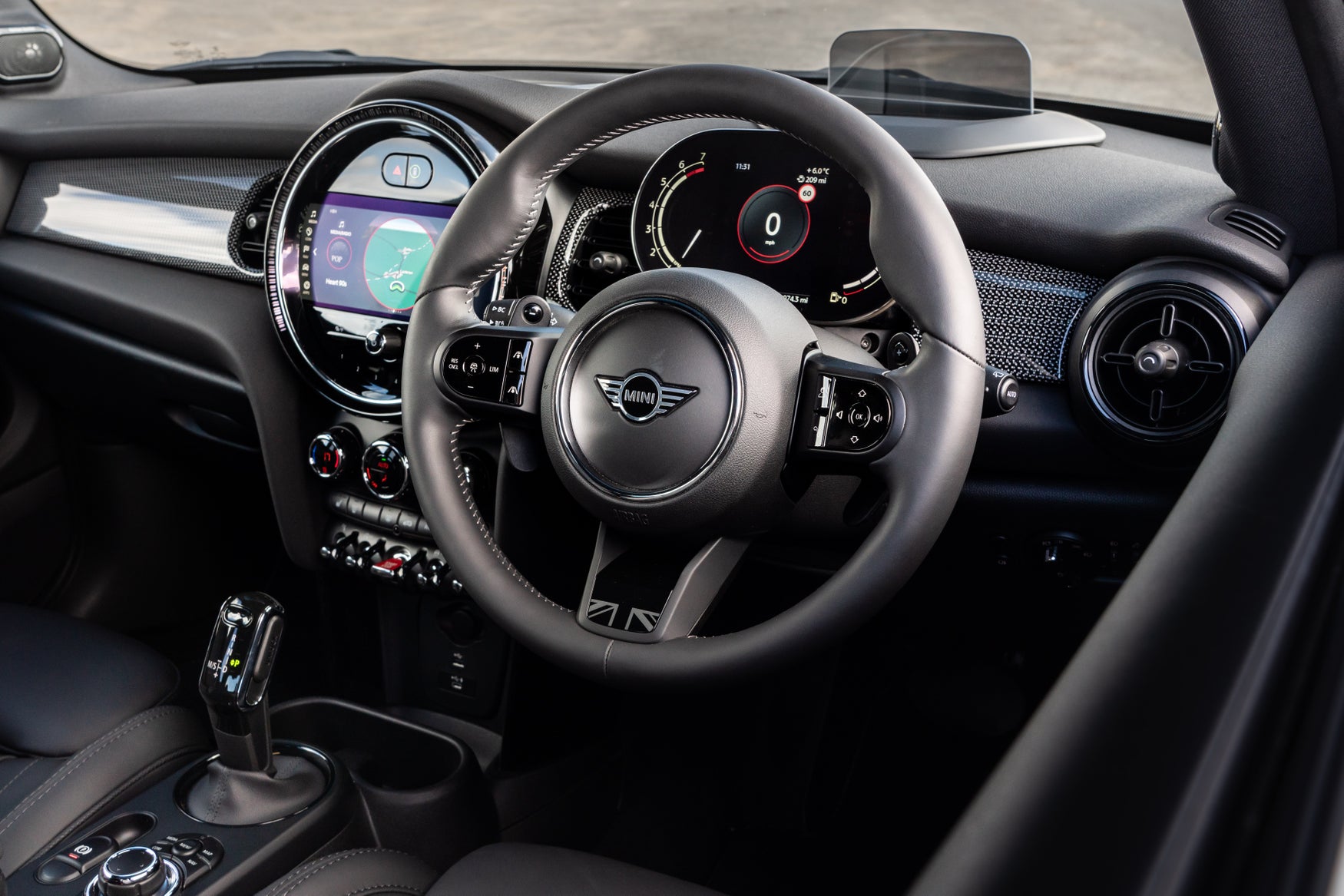 The 2021 MINI: What's New?
MINI hatch John Cooper Works: the facts
Model tested: MINI hatch John Cooper Works
Engine: 2.0-litre
Gearbox: eight-speed automatic
Power/torque: 231PS
Combined fuel economy: 42.8mpg
CO2 emissions: 124g/km
Price from: £27,300
As tested: £34,535
MINI revised the Cooper 3-Door and 5-Door Hatch as well as the Convertible for 2021. The new models are already on sale with a starting price of £17,000, the John Cooper Works starts at a little over £27,000.
MINI Coopers tend to hold their value better than other small hatchbacks. Their cool retro styling, high levels of customisation, premium feel and sporty drive mean they are more desirable than rivals, although you will pay a premium to buy one.
The MINI Hatch John Cooper Works is the car for you if you like your hot hatch to be crammed full of retro style, while offering a level of personalisation that means you can make it unique. It might not quite have the character of a Ford Fiesta ST but it feels more planted in corners and has plenty of straight line performance.
MINI Hatchback
2.0 Cooper S 3dr
Peter Vardy MINI Edinburgh

Midlothian, EH151ED
PCP: £296.30/mo
Representative example: Contract Length: 36 months, 35 Monthly Payments: £296.30, Customer Deposit: £2,400.00, Total Deposit: £2,400.00, Optional Final Payment: £6,066.40, Total Charge For Credit: £2,836.90, Total Amount Payable: £18,836.90, Representative APR: 9.9%, Interest Rate (Fixed): 9.9%, Excess Mileage Charge: 3.69ppm, Mileage Per Annum: 10,000
MINI Hatchback
2.0 Cooper S Exclusive II 3dr Auto
Manufacturer Approved
Ocean Group MINI Plymouth

Devon, PL97HE
PCP: £458.14/mo
Representative example: Contract Length: 36 months, 35 Monthly Payments: £458.14, Customer Deposit: £3,817.00, Total Deposit: £3,817.50, Optional Final Payment: £10,181.87, Total Charge For Credit: £4,584.27, Total Amount Payable: £30,034.27, Representative APR: 9.9%, Interest Rate (Fixed): 9.9%, Excess Mileage Charge: 6.43ppm, Mileage Per Annum: 10,000
MINI Hatchback
2.0 Cooper S Sport Ii 3Dr Auto
Manufacturer Approved
Ocean Group MINI Penryn

Cornwall, TR108AD
PCP: £408.58/mo
Representative example: Contract Length: 36 months, 35 Monthly Payments: £408.58, Customer Deposit: £3,367.00, Total Deposit: £3,367.50, Optional Final Payment: £8,802.03, Total Charge For Credit: £4,019.83, Total Amount Payable: £26,469.83, Representative APR: 9.9%, Interest Rate (Fixed): 9.9%, Excess Mileage Charge: 5.82ppm, Mileage Per Annum: 10,000
Rivals to the MINI Hatch John Cooper Works